Updated on: October 2nd, 2022
Swingers Date Club
& 12 TOP Hookup and Sex Dating Sites Like SwingersDateClub.com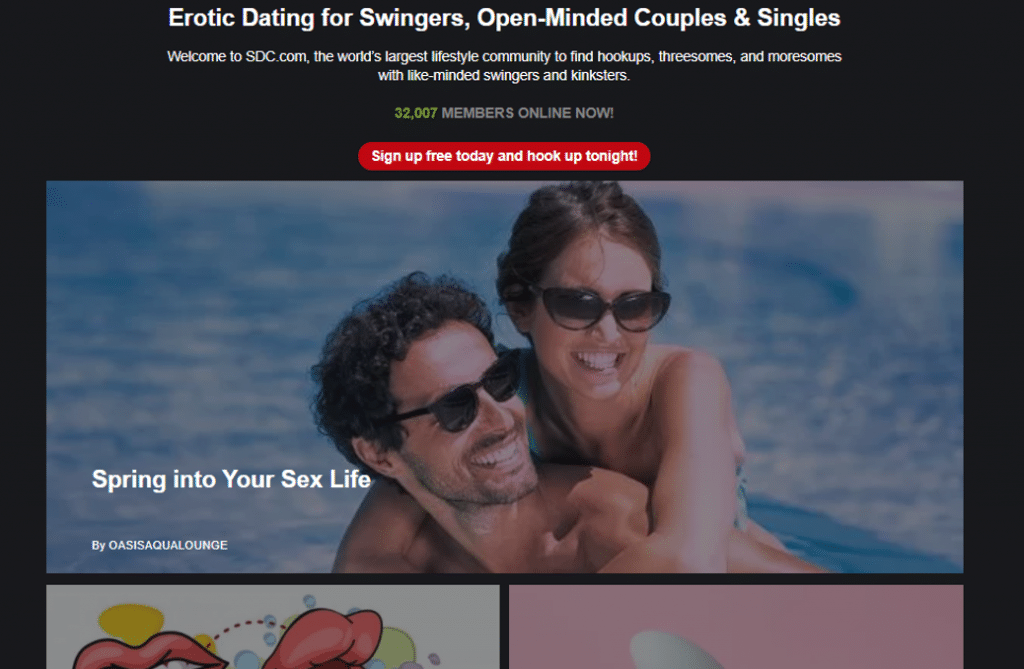 SwingersDateClub is a social gathering place for anybody interested in the swinging lifestyle. Also referred to as SDC, this platform is one of the internet's oldest and most well-known swingers' groups. The site was founded in early 2000 and has created a dynamic community for people searching for sexual experiences of different sorts, focusing on numerous partners and group activities. Hence, it doesn't matter if you are a novice polyamory or a seasoned pro here. With this, you will find a lot of common interests among the individuals you speak with. Sounds fun and intriguing, right?
Official URL: https://www.sdc.com/
Of course, the swinging lifestyle is famous and in demand to those who enjoy and love the luxury of meeting different persons in one venue. Hence, the site aimed to cater to both singles and couples. Moreover, it functions similarly to a social networking site, with many articles about sex and dating. These features and more make it much easier to join in on the Swingers Date Club chats and get things started.
More about SwingersDateClub
Another exciting fact about SDC is that they offer a higher priority on events and parties than typical dating services, which center on individual connection through profile search and matching. Members can browse for open-to-all public gatherings or seek invites to private functions organized by other participants. They want to get to know their audience and assist them in finding parties and events where they may indulge their sexual appetites and desires.
Thankfully, these programs and services are accessible in most countries across the world, even though most users are from the United States and the Netherlands. Other than that, the creators and people behind the site are proud to achieve an extensive database of over 3 million individuals in a span of more than two decades. Truly, a manifestation of success and glamour to a site that knows its core and purpose.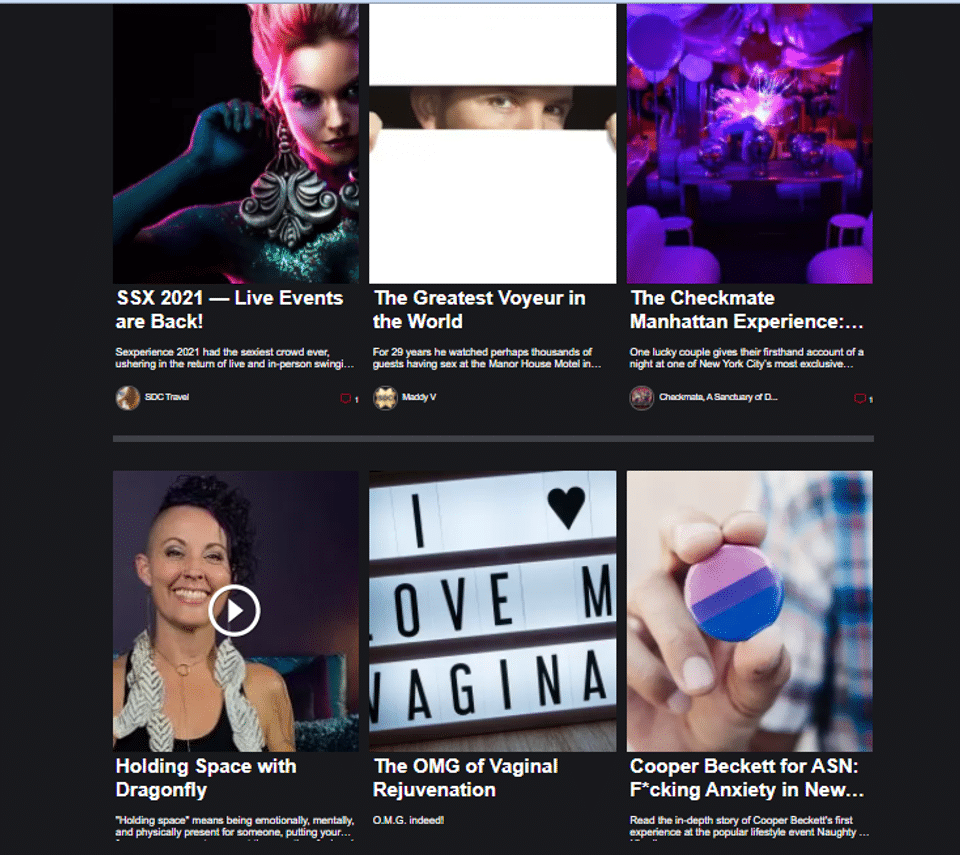 Participants Keep Coming In…
As mentioned here at SDC, millions of individuals have already joined the platform. Hence, if you finally decided to join, you can choose and pick from over 3 million profiles registered at SDC. This growing population covers both single and committed individuals. Looking at the platform, male personalities mostly dominated it. They roughly comprise almost 30 percent of the people.
More so, couples manifest their interest by representing 60 percent of the group. The rest now belongs to the singles, females, and other sorts of website users. The page also has a vast statistic for individuals visiting daily, weekly, or even monthly. Therefore, the number speaks of how massive and flourishing SDC is.
In addition, it is highly noted that the most active users of the site belong to the age bracket of 42-45 years old. However, there are still young daters who love the kinky offerings. So better expect to see such age proportions here, or if you belong to the bracket too, then perhaps this is the sign that awaits you. Join the fun now!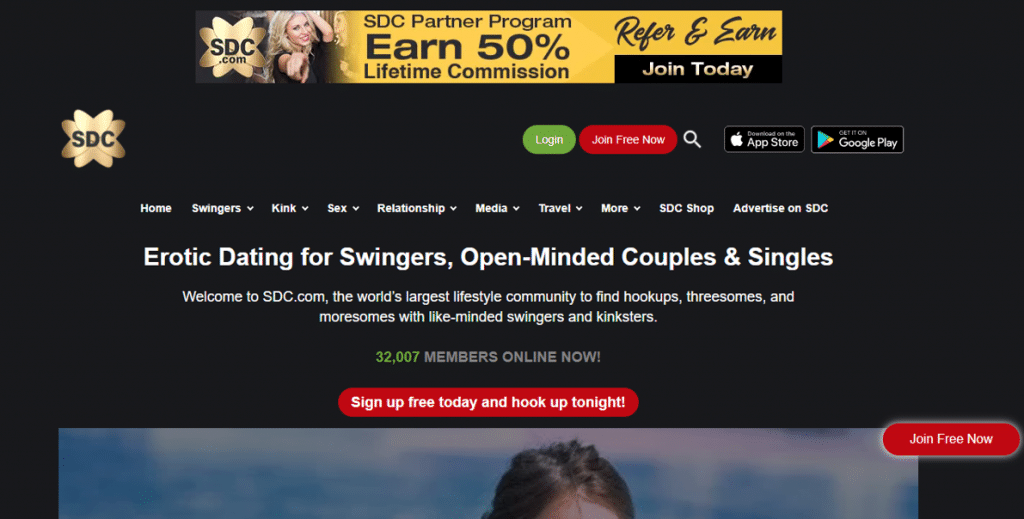 An Enticing SDC.com Design
The website is attractively created. It's clean and straightforward, and it has a really sophisticated look to it. It appears, or the design creates an atmosphere more like a well-designed media or lifestyles publication's website. The layout clearly describes all of the site's functions and features. Furthermore, the site's creators used an exquisite color scheme, opting for a primary dark hue that lends beauty to the site's appearance. Perfectly tempting and alluring, indeed.
A sleek and simple site navigation bar sits at the top of the page, providing quick and easy access to all of the site's many parts. When you hover your mouse around one of the areas, an attractive little dropdown menu appears below it; discover some of the section's content and main themes without ever departing the website. Through utilizing these sections, you will gain access to categories like relationship, sex, LGBTQ+, health, travel, and a lot more.
As I said earlier, the look of the page introduces a professional and lifestyle atmosphere. Being true to that, you will discover a wide range of articles organized by category here. Each piece displays a thumbnail image that is related to it. Attach to it too is a synopsis or little introduction of the presented article. What makes the site impressive is that they arranged the details meticulously, giving the area a fashionable collage aura. Lastly, the navigation is smooth and hassle-free; I fucking love it. Thumbs up, SDC!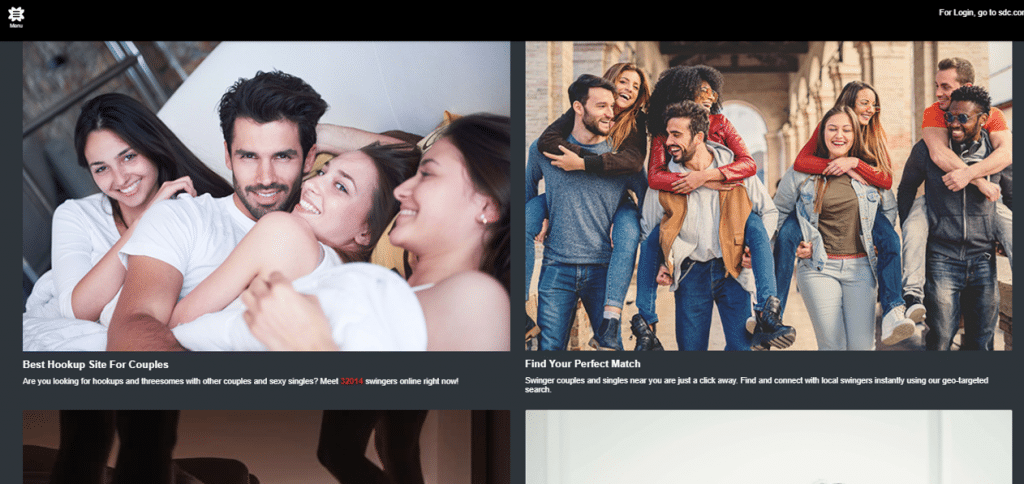 Let's Get Started, Be a Member on SwingersDateClub, ASAP!
Good news! SDC's structure has been simplified and made more efficient. You will see that the sign-up procedure takes only a few seconds to complete. The best part is that you can immediately dive into the realm of SDC and begin discovering your rocking passion! Users must first give their email addresses and create login details like a username and a password. After that, a confirmation email will go straight to your mailbox from the organization.
After completing the fundamental enrollment, you will be asked a few questions about your swinging tastes and habits. Be mindful that couples and singles have a bit distinct sign-up process because their priorities and choices are subtly different as well. And just that, you are in and good to go, have fun, pal.
How do Things Work on SwingersDateClub?
One more thing, after the registration, you are awarded a 7-day trial period, congratulations, you can start your adventure. However, if you wish to communicate with other members of SDS, you will need to pay for a membership. The sad part is, the trial period does not cover the sending and receiving message feature. Moreover, SDC, like other dating services you have come across, provides both free and premium memberships with varying perks. Let us discuss them one by one.
Free Membership
Yes, registering and using many of the site's features is completely free. Speed dating, joining SDC groups, editing Travel plans, uploading movies and photographs, and creating a personal account can all be enjoyed without a piece of your money. Additionally, you can get a glimpse of the website's community and functionality using these services, but you won't be able to meet anybody. Hence, it is recommended that you utilize a premium subscription; otherwise, you will not fully use the site.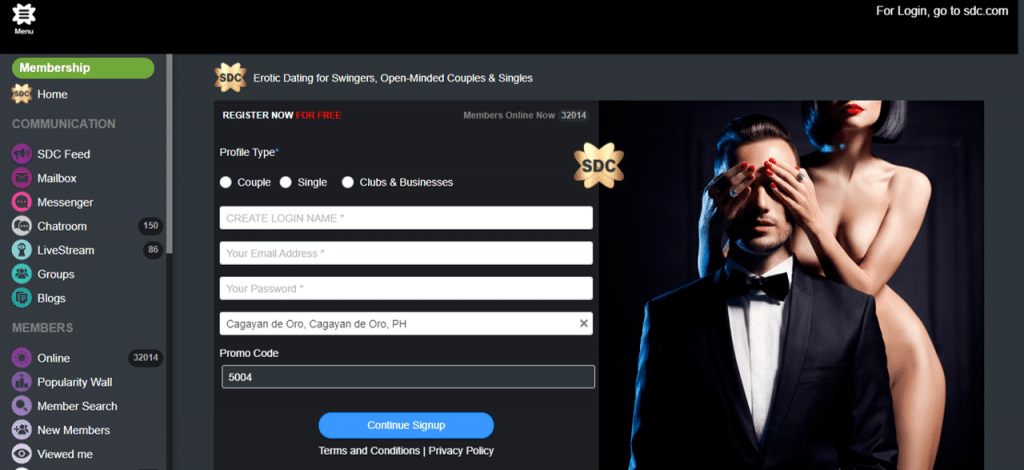 Premium Membership
The premium edition of the website gives you access to all of the networking capabilities. Premium users engage with other SDC members and utilize the online chatrooms and the established messaging feature. Paid members also can update their swinger blogs and have the power to check and verify other subscribers' profiles. Attending other members' activities, gatherings and publishing in their blogs are all options available for them too. Below is the list of prices suitable for you.
1 Month — 29.95 USD / Month
3 Months — 19.98 USD / Month
6 Months — 16.66 USD / Month
12 Months — 12.50 USD / Month
How can I pay?
SDC accepts credit and debit cards, as well as cash and fund transfer. The website agrees with various online payment methods, but you should check with the staff first. They have an accommodating and responsive customer service, who are more than happy to help and assist you with your needs. Do not hesitate and communicate with them today.
Exciting Features of SwingersDateClub Available For You!
Members may connect and discover friends, love, and sexual partners using the site's numerous features. You can see who's online, arrange your search, and store your searching selections while doing so. You can also participate in the different speed dating events organized by the site administrators.
The Travel part of the SwingersDateClub website is the most useful and an added feature you may avail. This section is where you will uncover fantastic new holiday ideas in swinger-friendly locales and get hooked up. Before you plan your vacation, you will be able to speak with individuals from your location and learn more about what's going on. You can also look for possible mates before boarding an aircraft. Amazing, indeed. You can plan and get to see potential sexual partners in a few clicks.
Moreover, these features and tools give you access to all of your media options. SDC also has an integrated messenger for immediate conversation, although this is only available to VIP members. You may also use chatrooms to exchange your movies and photos, watch other users' broadcasts using the Voyeur Cam function, and join swinger groups. These communal discussion forums and groups are great for meeting new people.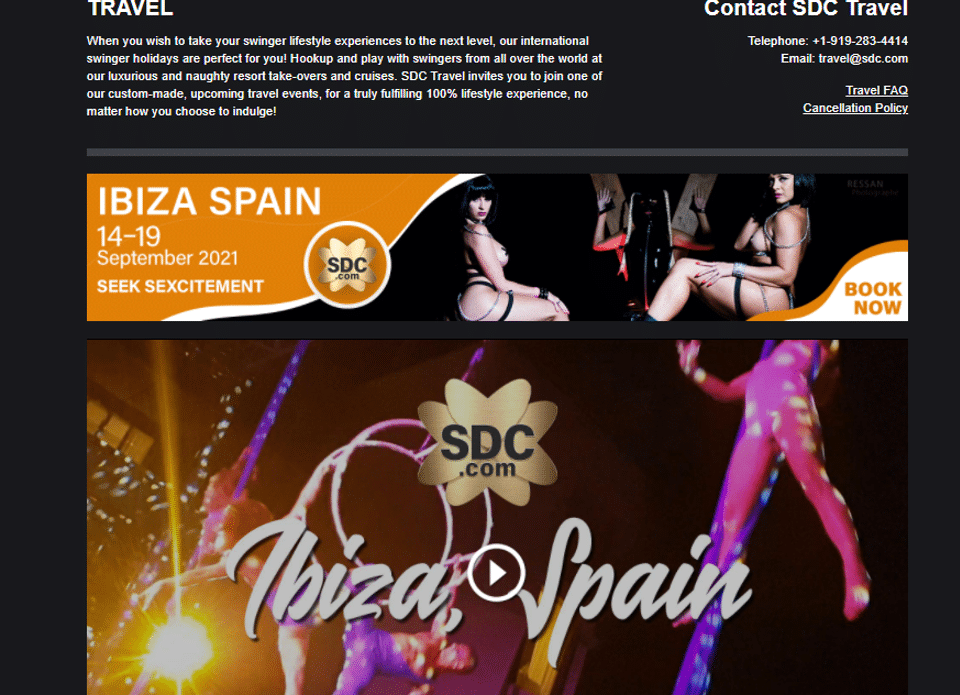 Users' Profiles
You can learn more about other people's accounts in this area. Hence, your membership will identify you into one of these three groups: bachelor, married, or corporation. Each user must post at least one photo, but you can publish as many as you like and organize them into galleries. Members can choose to conceal their material from the Feed and just enable verified partners to see their photos.
Moreover, your profile descriptions are extracted from the responses and answers you provided during the initial registration process. Luckily, you may also change and edit these descriptions, your address, selected payment details, and many others.
The Pros and Cons of SwingersDateClub.com
PROS:
Active community
Well-designed and full of information
It looks like a lifestyle media page
Features are lit
Best profiles
Massive users' database
Sexy yet educational at the same time
Awesome parties and events
Good customer support
CONS:
No videos
Needs to sign up and pay to avail features
Does not have pornography
---
12 TOP Hookup and Sex Dating Sites Similar to SwingersDateClub.com: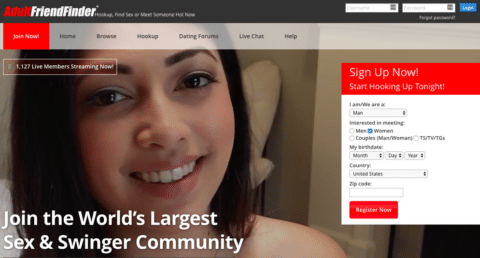 The Adult Friend Finder website is famous all over the world. It has more than eighty million members desiring erotic interactions with multiple women. Similarly, it provides numerous flirtatious relationships, such as casual connections, monogamy, couples, fuck buddies, and many more.
Indeed, this is an excellent experience that spices things up in the bedroom, especially between open-minded people willing to examine their sexual orientation. Finally, registration is relatively stress-free and straightforward, so members finish it in less than five minutes.
Here's the full review of AdultFriendFinder.
PROS:
Registration is free and fast
The members of the website are active in looking for casual hookups
Plenty of options in terms of communication
Watching videos and viewing images are free
You can write blogs and engage in a group conversation
The app is available for download and compatible with both iOS and Android devices
CONS:
The number of male members is greater than the females
Limited options for free basic accounts
---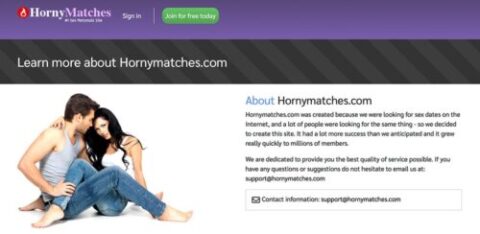 An online sex dating website for adults called HornyMatches includes participating members searching for casual dating and relations. Also, people had no trouble seeking satisfying experiences here, as the title of the website shows. Everyone can find their best matches and enjoy a sexy time together as quickly as possible. Besides, several of its services are for premium members exclusively, like messaging, viewing personal images, and many others. However, some functions are typically available to use by free members.
Here's the full review of HornyMatches.
PROS:
Simple design but very easy to use
Active community
Responsive members
The help page is available to cater to issues, problems, and many more
Registration is free and easy to understand
There are many members in any areas
CONS:
Some members reported fake account.
---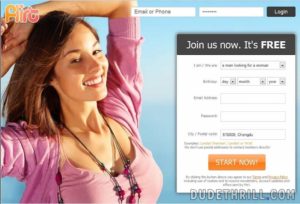 Flirt is a dating website that has gained a notable reputation in catering to casual hookups and explicit relationships since 2009. Over the years, many people have trusted this site and earned millions of members around the globe. The site offers a three-day trial for membership subscriptions and lets people experience what Flirt can offer. If not satisfied, it provides a Satisfaction Guarantee program that a full refund is awarded to members. Your data and other sensitive information are secured here as it strictly implements anti-scamming features and safety procedures at all times. All your experiences here in meeting casual sexual encounters and hookups are protected.
Click for a full review of Flirt.com
PROS:
More than a million members around the world
Numerous members are actively seeking an online day today
Low cost on the trial membership fee
Diverse nationality and sexuality are welcome
Locked messages features allow deleting automatically within 24 hours
The verification process is utilized for suspicious members
CONS:
Sending and receiving messages is for paid members only
---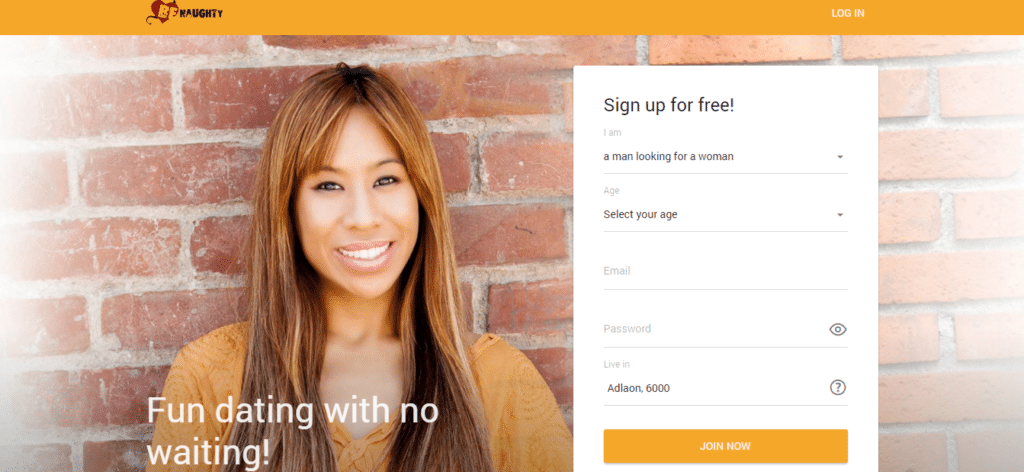 BeNaughty has attracted a lot of users worldwide. It appears as if it is like any other mainstream dating site. But actually, it caters mostly to those who are looking for casual hookups, cybersex partners, or both. This has appealed to a lot of people especially those who want to be discreet with their sexual adventures.
Since the site isn't very strict during the registration, they added a feature to counter possible fake profiles. They have a full safe mode wherein only accounts that are verified can send you a message. Another is the basic mode wherein if you turn it on it will automatically block accounts that were flagged due to suspicious behavior.
PROS:
Mass messaging system
Many members
App available for both Android and iOS
CONS:
Live notifications can be annoying
Redirecting links posed as site feature
---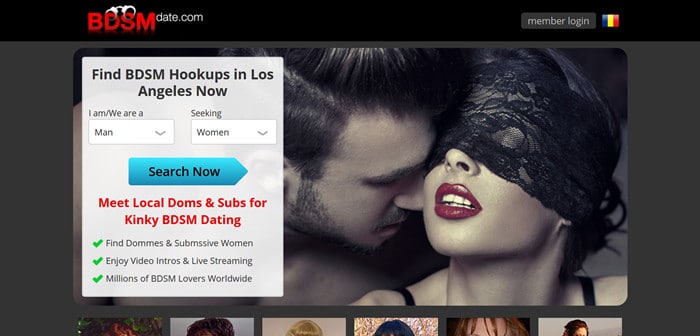 Certainly, spanking feels so deliciously good. Here in BDSMDate, you can find thousands of males and females who love dirty and kinky sex. Enjoy the pleasure of sending flirtatious messages to your future slave when watching live streaming videos. Fortunately, you may remain anonymous on this website since the registration process does not include any intrusive questions or confidential details. Despite that the website interface has similarities to the other website out there, it is very open and clearly displays some mobile-friendly options.
Here's a full review of BDSMDate.
PROS:
The website has US and UK versions
Registration is free
Focuses on local kinks and BDSM
More women members compared to men
CONS:
All members want to fuck
Recurring automatic payment
---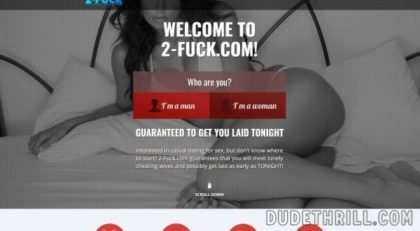 If you are tired of the simple dating apps that don't give you the result you need, this site might answer. 2Fuck is entirely new to the adult dating realm, but it has already gained millions of users, a relatively significant number. The site is similar to other social media platforms and provides you with several options for interacting and communicating with other users.
PROS:
Lots of users
Design and interface are pleasing
Joining is for free
CONS:
Can be pricey
Privacy is low
---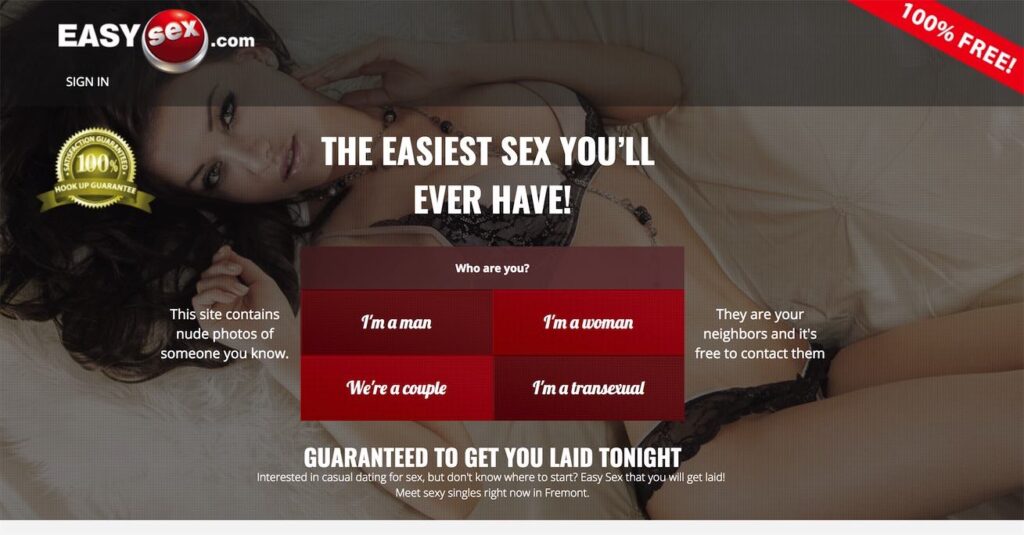 Quick sex and satisfaction of sexual urges are what people are seeking out right now; hence, some sites offer such convenience to people's lives. That includes Easysex.com, wherein adults gather together from all over the world to find their perfect match. In here, casual hookups and no-string-attached relationships are highly encouraged, and members do not judge or discriminate against others. Everyone is welcome to use this site no matter what is your sexual or gender orientation.
PROS:
Registration is free
Users of this site can add photos pr videos of themselves to boost their profiles
Women are free to use the website and its features
There are available sex toys you can buy
It caters to multiple types of relationships and hookup arrangements
CONS:
A paid subscription is required to access its features fully
---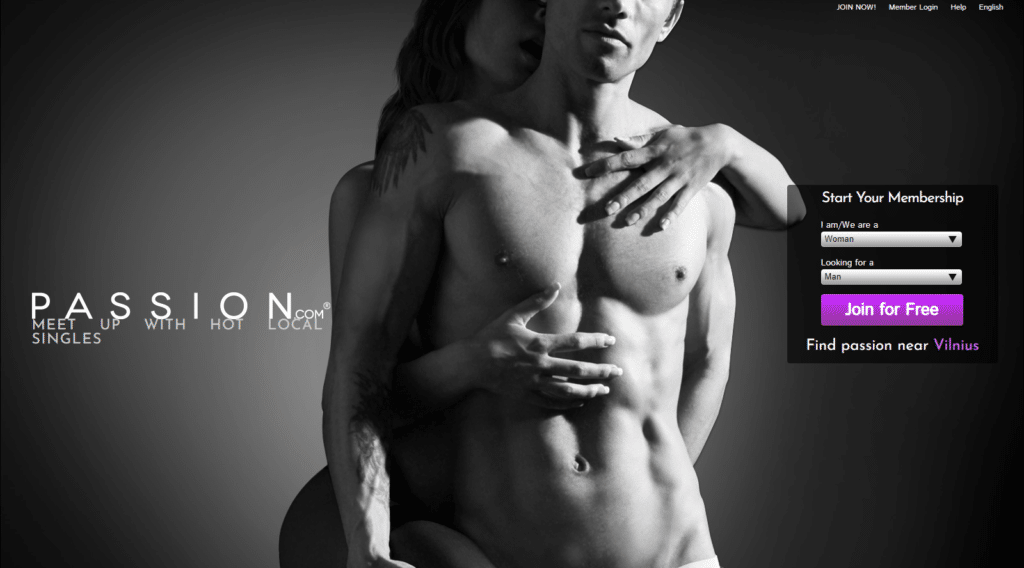 Lustful, playful, and passionate, these are the images and videos that will welcome you when you visit Passion. True to its name, the site will give you the sensual sexual adventure you have been looking for. The site has been growing day by day and has retained a high percentage of active users.
A full review Passion.com here.
PROS:
The site is easy to navigate; very user-friendly
Lots of active members
Most of the active members are for real passionate
CONS:
No mobile application
Limited access for free members
---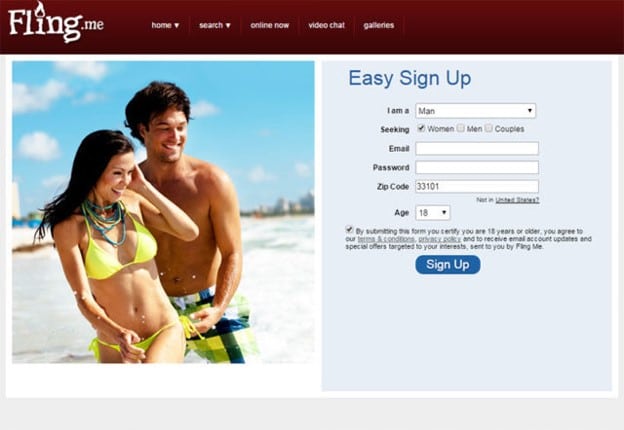 Fling is one of the more famous sites when it comes to dating and hookups. It has a record of more than 3 million visitors every day. When you visit the site, you will be greeted with explicit photos and videos. You are given the option of whether to meet with the person who piqued your interest or just do it online. Cybersex is a welcome setup in Fling too.
PROS:
3-month get laid guarantee
Variety of active users daily
Stimulating interface
CONS:
No matching scheme
Features can be overwhelming to newbies
No app
---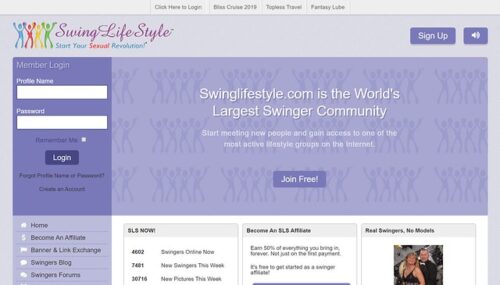 SLS or commonly known as Swing LifeStyle is a USA based website that provides swingers the best platform to explore, expand, and experience the swinger lifestyle. Its popular tagline, "Start Your Sexual Revolution" demonstrates how enthusiastic the people behind this site regarding non-conventional relationships and the swapping of partners.
More about Swinglifestyle.com.
PROS:
One of the oldest websites dedicated to the swinger lifestyle
Members are very active every day on the site
Numerous events are planned in major cities
There are available lists of swinger clubs nationwide for your reference
CONS:
Only Premium membership allows you to message people
---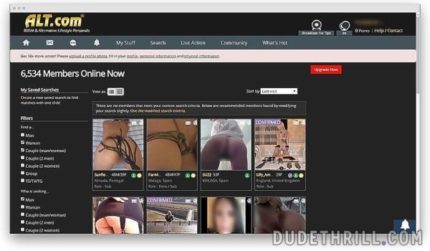 ALT.com is a platform for individuals involving in unconventional types of intimate relationships and intimacy. This site provides options that you can definitely not discover on the most popular platform on the internet today, with anything from unusual fetishes to unconventional dreams. Experience the erotic joy of unconventional sex. Providing raunchy bondage sex, BDSM, adventurous sex, romantic lovers, deepest desires, swingers, sex dating, and many more.
Full review of ALT.com.
PROS:
Active members are seeking casual encounters
The user base is large
Free membership to the site is available
CONS:
Interface and design is quite confusing
Limited features for free accounts
---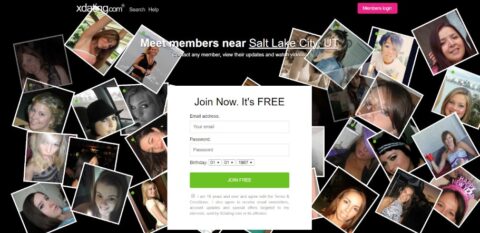 Xdating is another dating website that offers casual fun time with like-minded people. Certainly, this website also brings everyone interested in one-night-stand to arrange meetups instantly. Not to mention, it uses a matching system that brings along compatible members and matches them to make initial connections.
So, if suggested matches get along, then the communication features of the website will assist in digging deeper connections. Indeed, dates on this website are very easy to achieve. Within just few moments, you are already talking to a random person that will later turn into a steamy conversation.
PROS:
Photos categorized to make matching more accurate and precise
The features are almost like the Tinder app
Maps serve as easy access to locate interesting members
Live cam sex is available
Premium members have special attention and recognition within the website
CONS:
Computer-generated profiles reported as one of its issues
Limited searching capacity
---
Final Words
SwingersDateClub is a highly reliable site you might consider exploring any minute from now. You may also read about and debate everything relating to sex here. Tips for female pleasure and how to bring up your swinging habits to your most loved mate are here right at the tips of your fingers. In addition, SDC recognizes our life's quest to be joyful, satisfied, and delighted — sexually, intellectually, and emotionally. And I believe SDC identifies, pinpoints, and meets all these.
Furthermore, the service is welcoming to persons of all colors and ethnicities and is supportive to LGBT groups. The service's primary goal is to bring individuals together who wish to exchange sexual encounters, travel, and pursue sexual interests. More so, the page is well-designed and perfect for those who love this niche or those who plan to start doing it. So, what are you waiting for? Go and type SwingersDateClub.com on your browser today and experience swinging in a positive way.