Updated on: December 4th, 2023
Pure Review
& Top-12 Must-Visit Sex Dating and Hookup Sites Similar to pure.app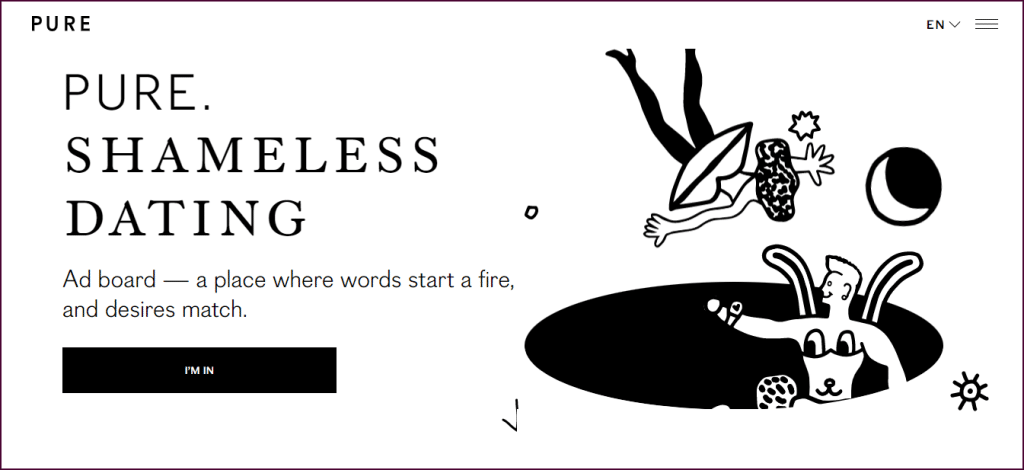 What bursts into your head when hearing the words hooking up anonymously? I'm guessing it's all good stuff since the term "hooking up" itself is a notorious thing to do. But, an element of anonymity makes the whole experience exceptionally more notorious. However, Pure puts hookups and anonymous users into a specific sex dating site. And with all these sites' claims, I'm pretty sure that in just a matter of seconds, all your hesitance and preconceived notions about stranger hookups will just melt away. As the site says, when you feel fucking in-the-mood and wish to fuck someone's brains out, the Pure app is just one click away!
Official URL: https://pure.app/
Embracing the Hookup Culture
As a result of our deeply ingrained lifestyle and history, the "hookup" practice is strongly criticized by society. But the reality is that as people, we can't live everyday life without meeting our "essential" needs. Good thing that today, in the modern-day world, hookups and casual flings have become more popular than ever before. Perhaps, we have to owe our civil liberties, a wider range of views, and media platforms. In fact, if you think about it, hooking up and enjoying some casual fun may not be as dreadful as boring people make it out to be.
Unfortunately, approaching somebody personally to have little stupid fun isn't all that simple either! Many matchmaking apps promise to assist you in discovering romance or long-term relationships, but only a few of them specialize in effective hookup platforms. Lucky for us, we have Pure; now, you don't have to hide your true intentions or go around in circles just to get what you want. Who cares about feelings? There's a shitload of people dying for a single night of fun, and this app is here to help.
What is the Pure.app?
The Pure app is a GPS-focused online hookup platform developed by GetPure Inc.
Its primary purpose is to link up singles from numerous parts of the world within a specific duration. Yes, you read it right, "within a specific duration." And because user profiles are just valid for an hour and disappear right after, they encourage users to get things done faster while ensuring their privacy.
Initially, Pure was heavily advertised with the tagline "Sex Here and Now." And in the following years, between 2014 and 2015, it became commercially available so that even Asian, European and American users would take advantage of their exciting hookup services. Even though the Tinder app is the most popular dating website, Pure quickly grows and gains popularity. Actually, there were over 100K+ users who had already signed up for a membership even before the app was officially released! Can you guess how thrilled the people were about the crazy stuff Pure offers?
The "Anonymous" Hookup Concept of Pure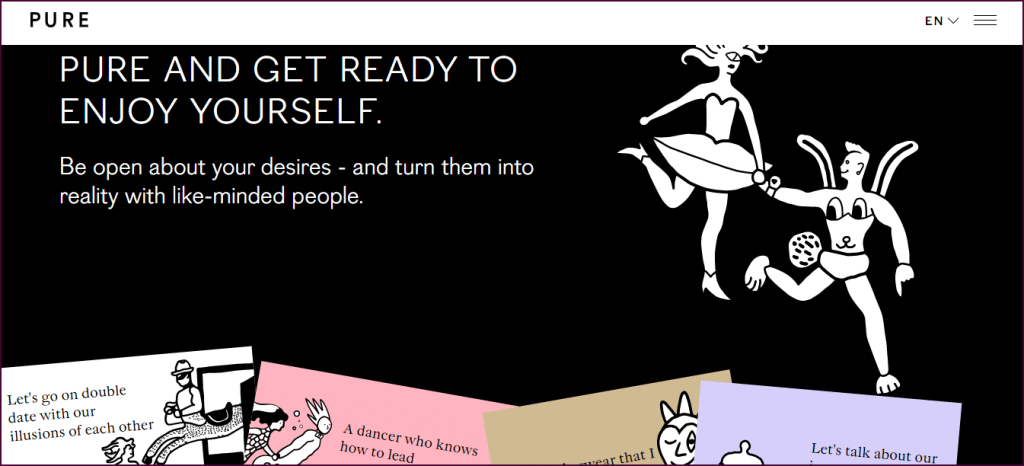 The Pure app was marketed as a hookup app with the complete anonymity of users. And that's because Pure users can choose not to submit any personal information, not even photos or contact numbers. Sure, it may seem a little intimidating considering its anonymity claims, but this app isn't built specifically for scared individuals. But to ease your worries, numerous people have had tremendous success with Pure, and it isn't quite as intimidating as you would imagine!
Even though Tinder app is a widely used hookup service today, I gotta admit that Pure is more secure compared to its swiping-system counterpart. Pure's "expiring" accounts concept, a key marketing element of this site, is the inspiration for its continuous success. Not only do you have the freedom not to use whatever private details you have, but your accounts will automatically dissolve in one hour. Also, Pure claims that it doesn't keep any data within its database and is committed to initiating appropriate efforts to ensure confidentiality among users.
How Does Pure.app Work?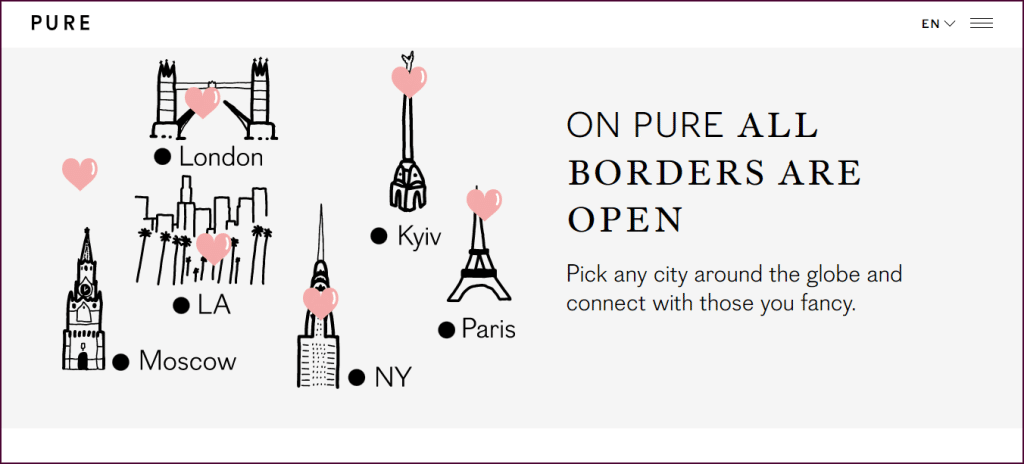 Pure is a straightforward app, and I'm confident you'll quickly get the hang of it after first use. To start, you have to start downloading and installing the Pure app since it doesn't have a site available. Next is creating an account through photo uploading, and once that pic has been presented to the server, that's already a signal for a hookup request.
Now, your profile will be visible to other users' feeds and available to all app users within nearby locations. After an hour, the profile disappears, including all the connections and conversations you have made. I know at this point you're probably frowning your eyebrows, scratching your heads, and questioning, "Why?" The reason for this is that Pure tries to store as little information as possible to avoid a possible cybersecurity compromise.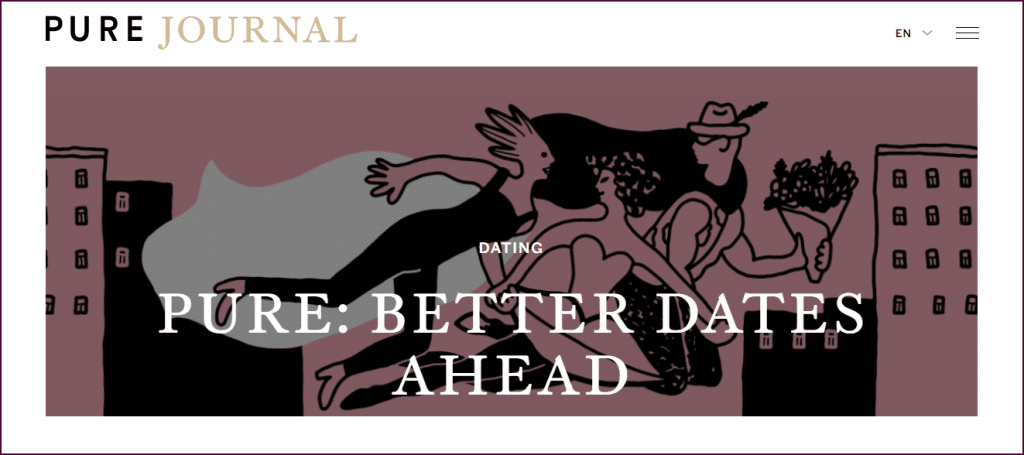 Meanwhile, once you're in and done creating an account, there will be numerous member photos on your screen. These photos are the currently active users available within the nearest proximity. And if you find someone interesting, just tap the heart button, and the other users will get a notification within a second. If you're lucky enough and the other end finds you attractive, the site will automatically create a pop-up chat box where you two can exchange conversations. But let me remind you about the disappearing profiles, so better be quick and get things done faster before time runs out.
In the end, once the profile expires, not a single photo or an ounce of data will remain in the app. So, don't bother deleting it since the app itself will melt it away. So, every time you want to connect and find matches, you gotta do it from scratch.
My First Impression on Pure's Design and Usability
Design Analysis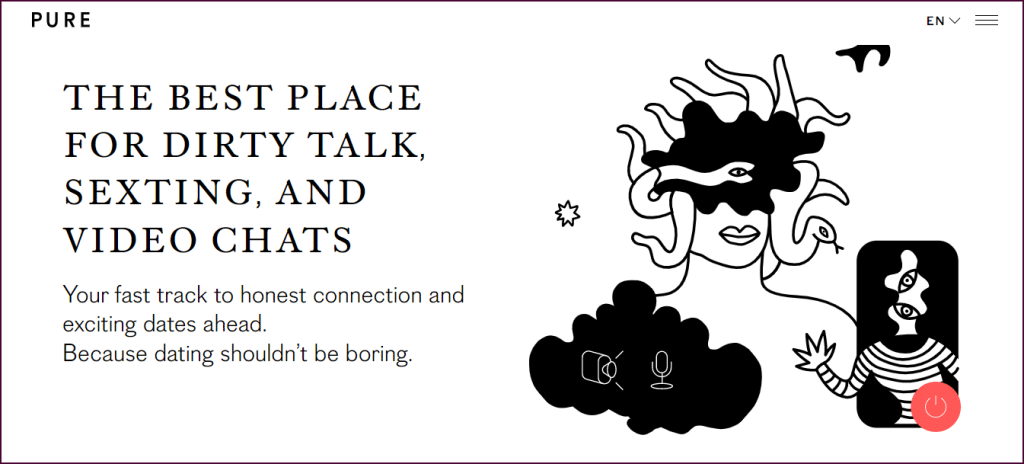 You can immediately tell what kind of tone they're going for when you search for Pure app in Google or Appstore. In fact, only adventure-seeking users and those with a liberal mindset who prefer spontaneous sex will find as an excellent option. When you see the Pure app's interface and sample photos, you know for sure it would be popular with the younger generation since they appear as they came straight out of a hipster magazine.
Additionally, Pure boasts among the best-looking designs among dating websites and applications. Using only white and black as a primary visual style, the overall aesthetic is certainly crisp and uncluttered. Plus, you won't take much time to get the hang of it and its features.
Certainly, Pure has kept its interface basic and tidy, as the title suggests. It sticks to a minimalistic look coupled with few but relevant features. Plus, switching across your messages, profile, and matches section is relatively straightforward. Ultimately, the Pure app is simple enough to operate even for a non-technical person.
Impressive Usability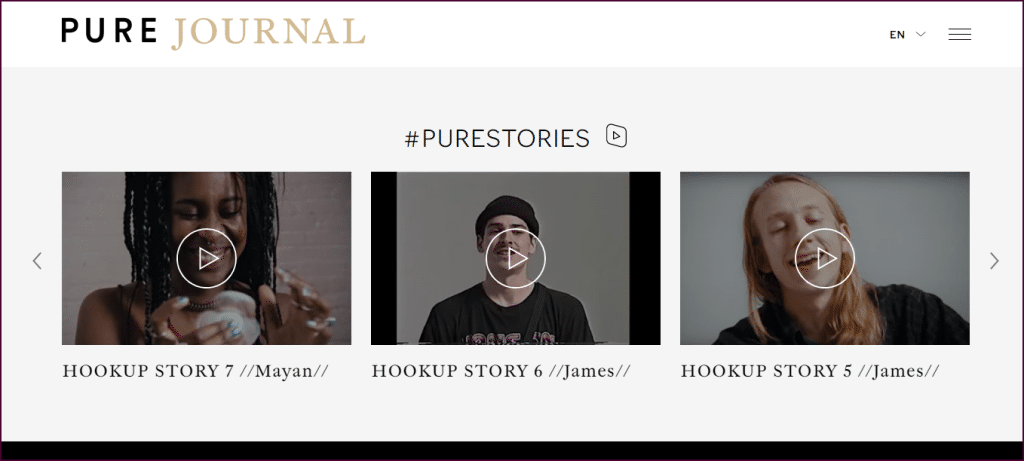 As I mentioned, Pure is a straightforward app, so the moment you visit it, the interface and usability will hint that it's not for romantic, long-term relationship lovers. Obviously, the app does not require any verification process and social account linking because of its anonymous nature. The single thing that's needed from you is your location, and if you'd be willing enough to share some of yourself, then a picture would be great too.
All in all, I gotta say that the Pure app is not just a simple app but also integrates basic functionality that could make everyone, even less tech-savvy folks, effortlessly manage it.
Special Features of Pure.app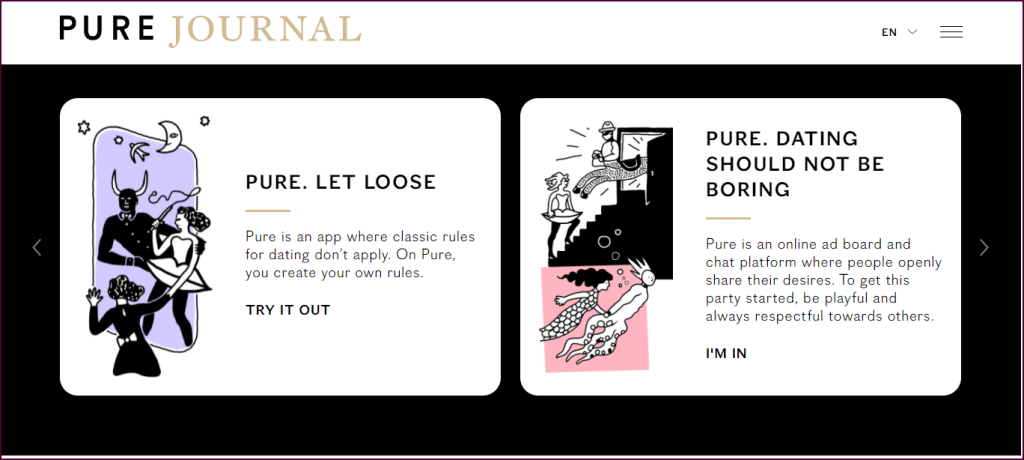 This feature is a valuable and convenient solution for those who don't like piling up on the page because you can request a hookup. With this, you can skip the tedious process of finding a match because the site will do it for you.
As we all know, Pure only allows chatting when the other party has shown similar interests. But for those impatient users, Instant Chat could help. You can easily chat and connect with anyone I like for an affordable price. Now, you don't need to wait for them to "like" you back.
For just $1.99, you can use the KingoftheHill feature that will push your profile to the highest spot, where the girls can see right off the bat. Certainly, that would instantly increase your chances of getting more than just one hookup.
Pure.app Membership and Prices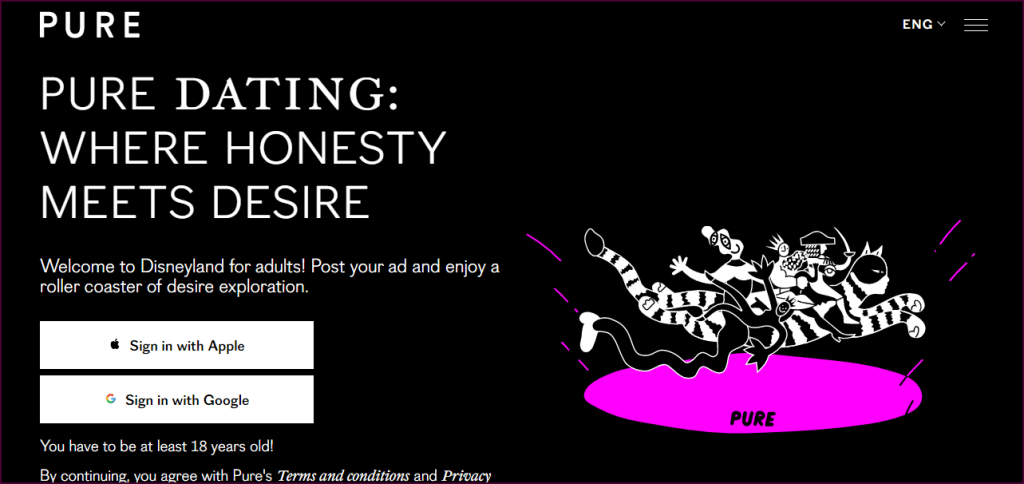 First of all, the only free service on Pure is the app, and the rest requires payment. However, the excellent news for all female users is that the app offers free services! Yes, you read that right! Everything's free for the ladies; perhaps it's the app's way of encouraging them to use the Pure app.
But obviously, I'm sorry dude; you gotta pay the price for the guys. Don't worry, though; I'm sure for a desperate, horny guy like you, a few dollars won't rob your bank account to its last cent. Currently, the Pure.app has four affordable and convenient options for subscription. But if you're still unsure about how effective the app would be, there's a trial membership for three days. It will give you member-like perks and use the app to its fullest within a limited period.
One-Week Membership – $14.99
One-Month Membership – $29.99
Three-Month Membership – $49.99
12-Month Membership – $69.99
Pros and Cons of Pure.app
PROS:
Very safe to use
Anonymous identity
High level of privacy
Ladies are free to use
Efficient and fast hookup
Fewer bots available
Does not waste your time or money
CONS:
Trial membership requires credit card info
Limited time to connect
Low-quality algorithm for matching
---
Top-12 Must-Visit Sex Dating and Hookup Sites Similar to Pure.app: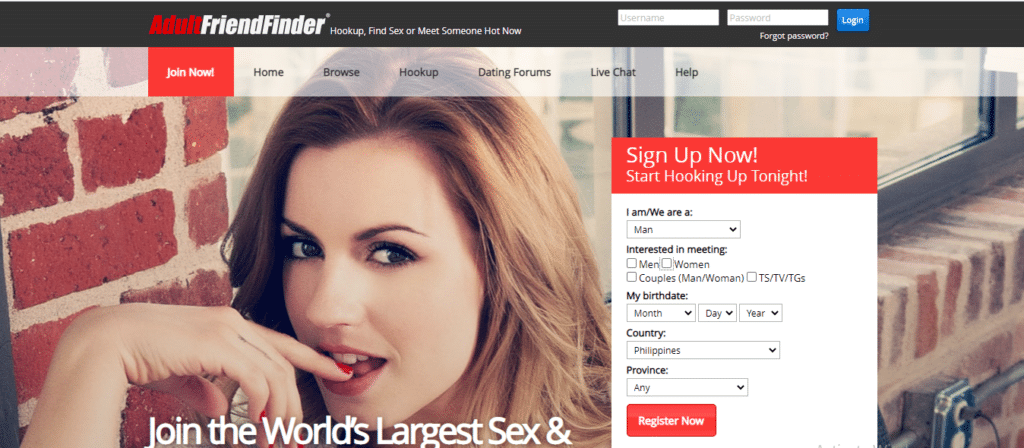 The Adult Friend Finder website is famous all over the world. It has more than eighty million members desiring erotic interactions with multiple women. Similarly, it provides numerous flirtatious relationships, such as casual connections, monogamy, couples, fuck buddies, and many more.
Indeed, this is an excellent experience that spices things up in the bedroom, especially between open-minded people willing to examine their sexual orientation. Finally, registration is relatively stress-free and straightforward, so members finish it in less than five minutes.
Here's the full review of AdultFriendFinder.
PROS:
Registration is free and fast
The members of the website are active in looking for casual hookupsPlenty of options in terms of communication
Watching videos and viewing images are free
You can write blogs and engage in a group conversation
The app is available for download and compatible with both iOS and Android devices
CONS:
The number of male members is greater than the females
Limited options for free basic accounts
---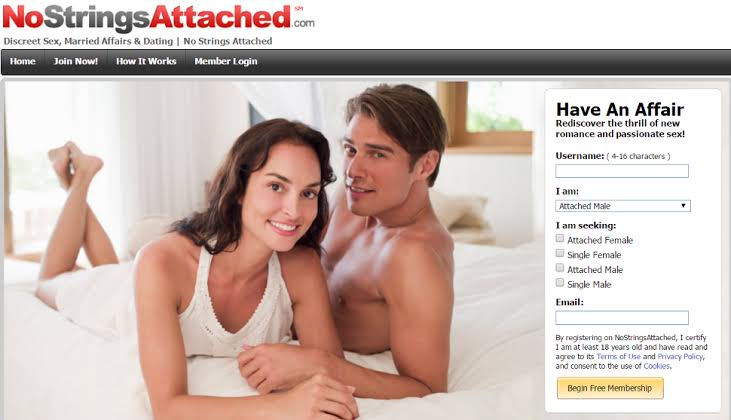 This hookup/dating website was created for persons who desire anonymous sex without the worry of being caught. It's a perfect spot for those who are already committed, engaged, or in a long-term relationship to enjoy intimate moments with others without terror or worry of being prosecuted for an affair. NoStringsAttached has a robust online presence, an excellent user base, and responds to everyone's unique demands. In other words, getting a bang every day is just an understatement.
Click here for NoStringsAttached full review.
PROS:
Well-designed websites
Innovative algorithm for matching members
Simple layouts and easy navigation
Valuable features that make hooking up easy
Tips and guidelines to cheat is a unique feature
Anonymity and privacy are top-notch
Plenty of active members
CONS:
No app available
The website has no multiple languages option
---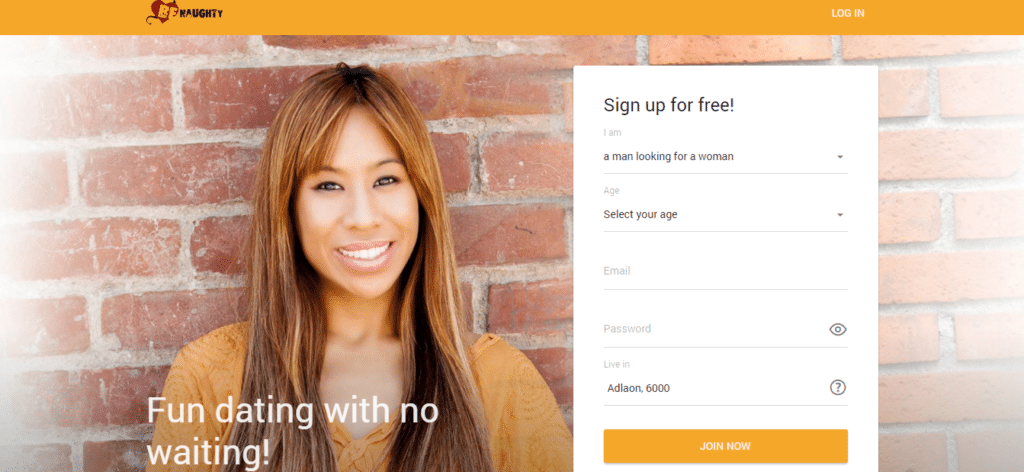 Introduced in 2000, it became an increasingly successful dating website that works in partnership with Flirt, IWantU, and UpForIt to provide proven quality and comfortable environment for the users. Each day it has over 13 million visits, and there are over millions of individuals worldwide considering signing up as official users.
This is indeed a perfect outlet for getting wild and engaging among married people and single individuals in sexual activities and relationships. Your private data sent to the BeNaughty site is safely secured because it uses the SSL Encrypted method and has followed the validation phase for all accounts. Everything enables the entire journey to be more enjoyable and avoids any money-making scheme.
PROS:
Established over 20 years already
Every day, there are an increasing number of people signing up
Members are responsive and active
Free five chats daily for free basic accounts
Easy to navigate and simple interface website design
Video chat is available
CONS:
Some accounts do not provide much information on their profiles
Advertisements are plenty and annoying
Annoying live notifications
---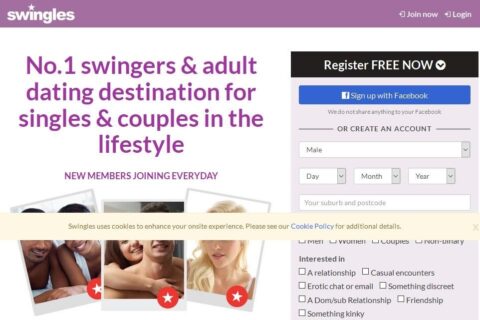 A quality site that provides comprehensive tools and features for the swinger lifestyle has come here. Swingles has thousands of members and features singles, couples, and swingers the opportunity to explore the swinger lifestyle without judgment. It has a fast and easy registration process, and your account is ready to go. If you feel uncomfortable about showing yourself online, the site allows you to go invisible mode and upload sexy photos. Other members can only view it as per the invitation of the account owner.
PROS:
Plenty of members interested in swinging
Chat rooms and live chats are available
CONS:
Newbies of the site may find the website confusing at first
---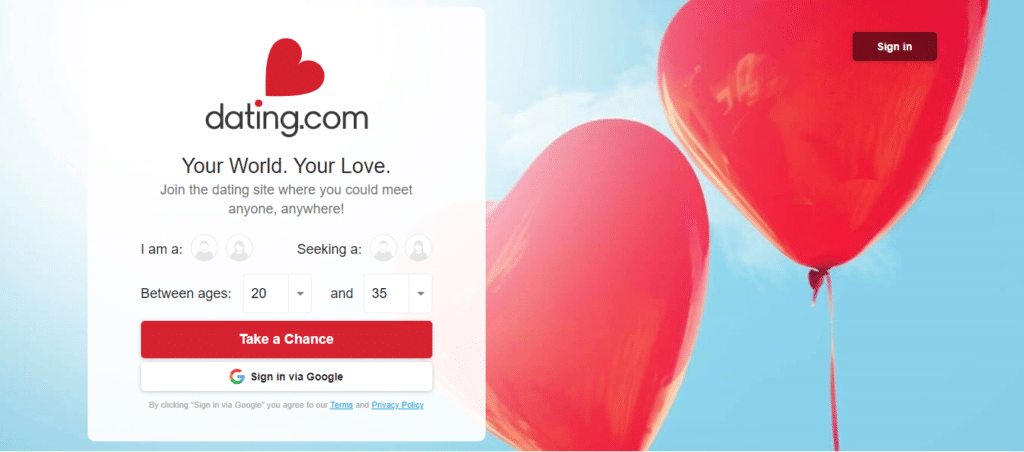 Dating.com is a must-visit website where you can find romantic affairs and hookups. Certainly, it brings all singles worldwide together in one fantastic place where they can start a new romantic connection. Also, it uses unique advanced features that allow members experience dates in more accessible, efficient, and faster ways. Indeed, if you are looking for a reliable website to find fuck buddies, then Dating.com is the best of all.
PROS:
Members are from various parts of the world
Advance searching can filter based on your choices and interests
Live chat support is always accessible
Registration follows the simple and easy process
It does not require verification of email address after registration
Account creation is free
Tailoring of the search result according to preferences is available
Viewing of Profile pictures is for free
CONS:
The app is only for Android users
---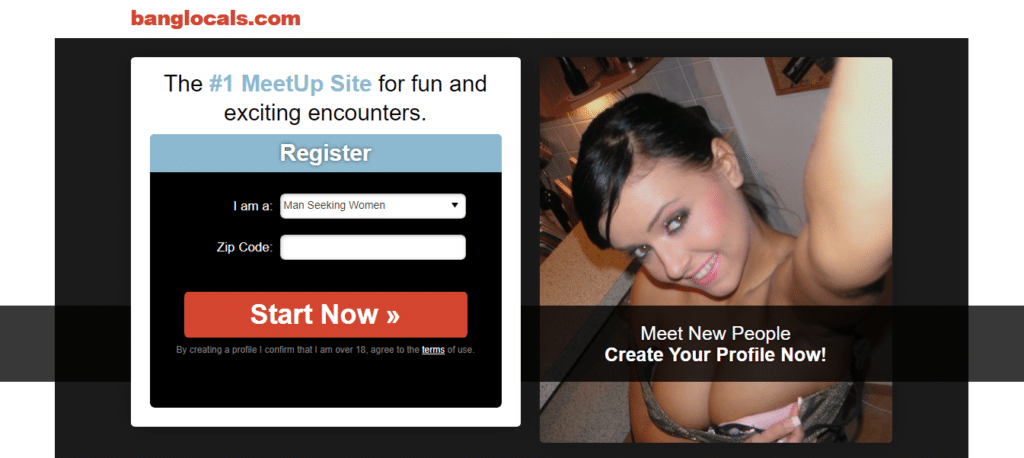 Banglocals is a must-visit website for people looking for a perfect match for sex, dates, and casual affairs. Regardless of the number of competitive websites out there, it has remained on the leading spot today. Indeed, our lives are a shitload of work and stress. All we want is relaxing and calming ways to release it.
Certainly, a great buddy who will stimulate our sexual desires can make life full of enjoyment. Good thing, Banglocals is a sex dating website that uses a simple process in registration. So, everyone will right away experience pleasure. Indeed, everyone has the chance to find a hot, sexy mate.
PROS:
People can create a sex date network
Free to search profiles of other members
View galleries of images and videos
People can give ratings to hot members
Registration is free and easy
Encourages to post personal images or upload public contents
You can contact people through text or email
CONS:
No x-rated videos
No trial period
---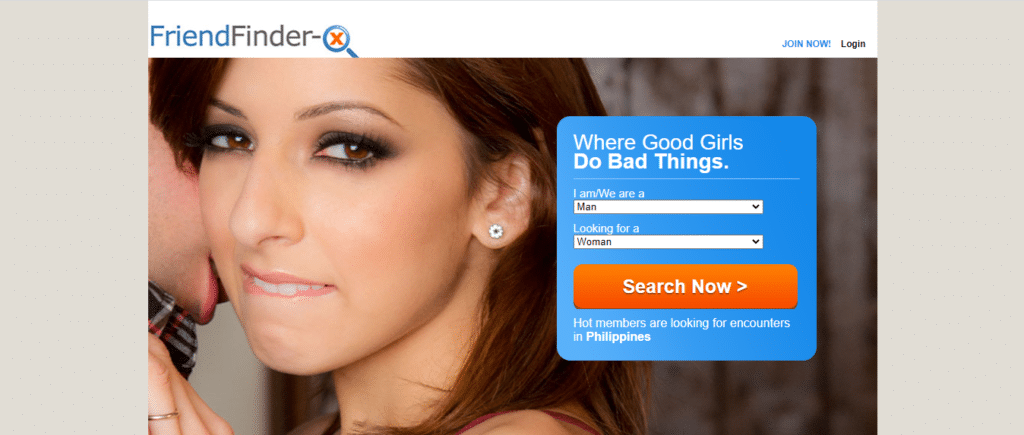 FriendFinder-X has created a name for itself in the field of swinger dating sites. It is popular to provide entertainment and a community of welcoming members. Judgment and criticisms have no space within this zone. All the members can freely do whatever they desire and reach out to others without worries. So, if you are in for a threesome, swingers, orgy, hookups, kinks, and many others, then FriendFinder-X is flawlessly suitable for you. With over 1.2 million visitors monthly, most of them end up becoming official members. Indeed, plenty of people are actively seeking casual encounters around the site, and you are in for a great treat.
Take a look at FriendFinder-X review.
PROS:
Automatically sorts of videos, members, and photos according to trend and hotness
Advanced sorting and filtering are available
Members can customize their profiles extensively
CONS:
Communication with other members is only for premium members
Videos, chats, and sending gifts to come with a price
---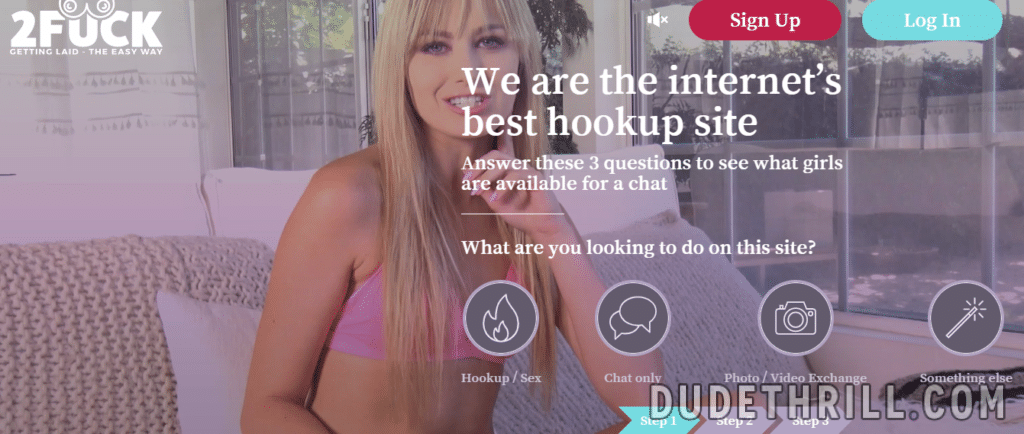 This site might answer if you are tired of the simple dating apps that don't give you the result you need. 2Fuck is entirely new to the adult dating realm, but it has already gained millions of users, a relatively significant number. The site is similar to other social media platforms and provides you with several options for interacting and communicating with other users.
PROS:
Lots of users
Design and interface are pleasing
Joining is for free
CONS:
Can be pricey
Privacy is low
---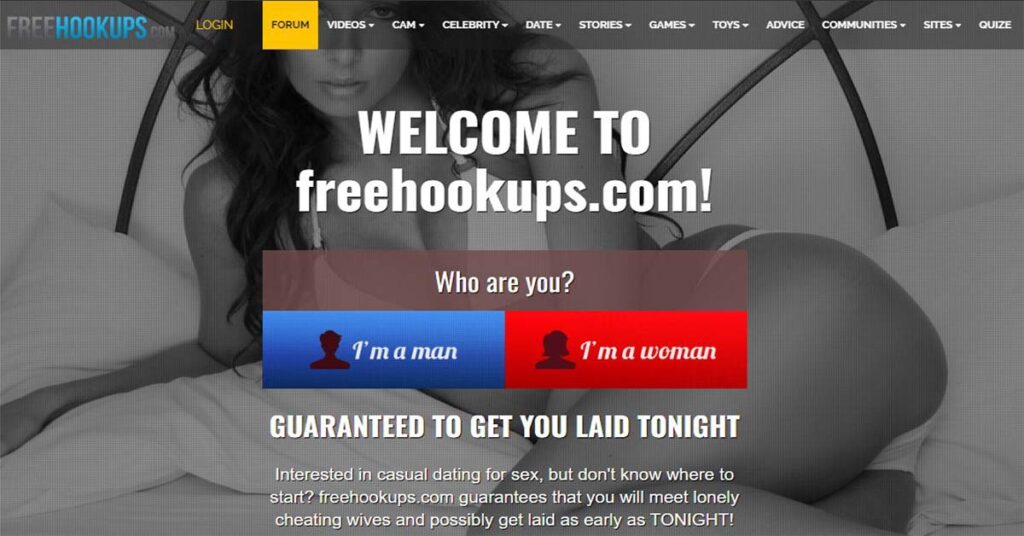 Freehookups.com is an amazing hookup and sex dating website. With this in mind, it ranked #1 on the list of quality websites worldwide. As the site asserts, 92% of its members end up having a hookup partner. Certainly, FreeHookups is the place to go if you like to have multiple orgasms. Also, there are many women to choose from this platform. Finally, the most remarkable feature is that no fraud or phishing scams lurk around.
Full review of FreeHookups here.
PROS:
Various classes of girls to choose from
The design of the website is simple to use and enhances features even more for premium members
CONS:
The payment for premium membership is extra costly
---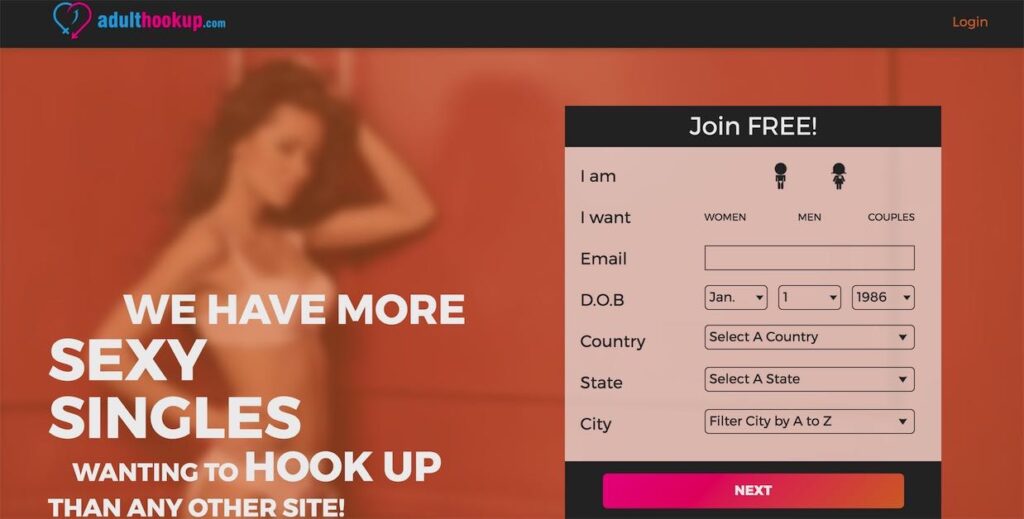 Adult hookup is a dating website that will indeed surpass all your expectations in terms of hookup and dating. Regardless of being new, the Adult Hookup website provides excellent ratings in giving a pleasurable and convenient experience among its members in finding a match. The website has a very stylish design and is simple to use.
Also, more than millions of its members are actively engaging in sexual connections every day. Indeed, there are many forms of communication between members, including video chats and instant messaging. Above all, Adult Hookup commits to giving its members the best sex and matches of their lives. Thus, they offer a 100-day Guarantee program that assures you to have sex less than this duration.
PROS:
SSL certificate and encrypted service used for Payments and transactions
New users can benefit from the free trial membership
An enormous collection of users worldwide
CONS:
Vast and distinct components of the site are available for premium members only
---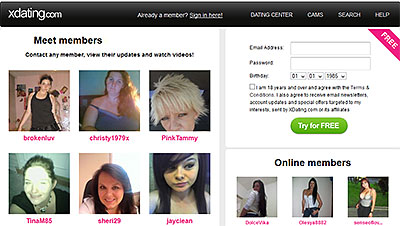 Xdating is a dating site that offers casual, fun times with like-minded people. This site brings everyone interested in one-night-stand encounters and arranges meetups instantly. It employs a matching system that brings along members that appears to be compatible and matches them to make initial connections. If suggested matches get along, then the site's communication features will assist in navigating deeper relationships. Indeed, hookups on this site are extremely easy to achieve. Within just a few moments, you are already talking to a random person that will later turn into a steamy conversation.
PROS:
Photos categorized to make matching more accurate and precise
The features of the site are almost alike as Tinder app
Maps serve as easy access to locate attractive members
Live cam sex is available
Premium members get special attention and recognition within the site
CONS:
Computer-generated profiles reported as one of its issues
Limited searching capacity
---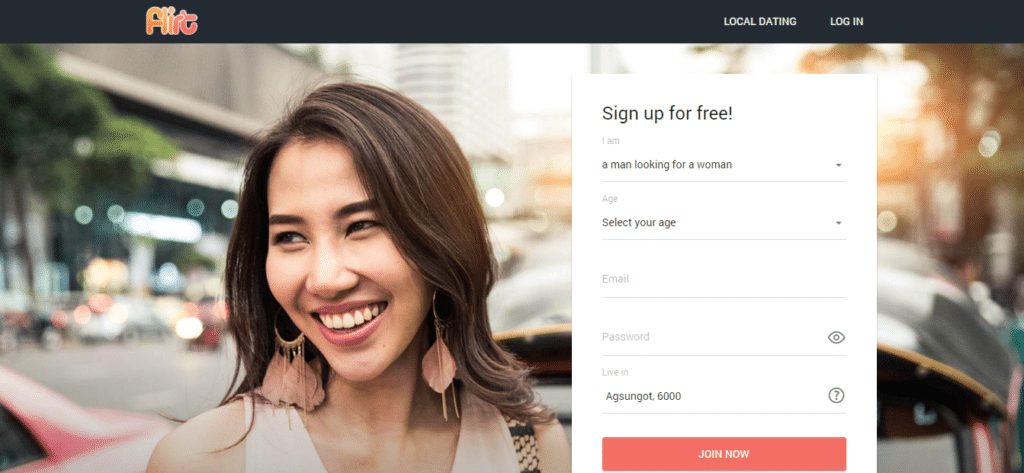 Joining an online adult dating website with a genuine and fantastic number of features is relatively tough to find. Only a few have proven their reputation because of the numerous dating sites lurking on the Internet today. Indeed, one website met users' expectations in terms of romance, flirting, and dating, and that is Flirt.com!
Indeed, for so many years in the business, this website has also been a notable brand that competes with other top-rated dating platforms. Certainly, just by merely scrolling, browsing, and clicking, you will have an instant date from the millions of choices around the world.
PROS:
Members with suspicious information will undergo anti-scam verification
Fast registration process
Millions of members around the world
Members are young and active, usually between 20-35 years old
There are plenty of active members looking for casual fun daily
Affordable price 3-day Trial is available
CONS:
Only premium members can send messages
Some of the profiles have poor details and information
---
Final Thoughts
The Pure app was sent from heaven and gave us a fulfilling way to find hookups fast. Everything I've learned from this experience is promising, and Pure's claims seem reasonable. However, for some of you living in a rural or away-from-the-city kind of area, finding a hookup would be a time-waster. I've witnessed how many users from the significant cities get easy hookups from time to time, but I wish you good luck for most parts outside metro cities.
So, before attempting to purchase a subscription package, test out the app first using the trial version and see if things work out. I can't speak on behalf of the worldwide population since I'm not familiar with Pure app users around your area.
But if we eliminate that issue, this app would be perfect. After all, no hookup site or app has ever provided such minimalistic feels and looks, coupled with relevant features and a unique hookup concept. With more and more people signing up day by day, I'm pretty sure that even the farthest locations won't hinder you from finding a hookup match.
All 75 Other Sites in This Category Worth Checking Out:
Top-5 Dating & Casual Hookup Sites That Actually Work in 2023 Perfect for ~20-55 year olds, with & without spouses! These are not some "fake" ones pretending to have girls, they are real, worldwide largest networks. Jump to Top-5 Dating & Hookup Sites Hey, I know that jerking off is quite exciting and cool. But… nothing […]