Updated on: December 5th, 2023
Cougared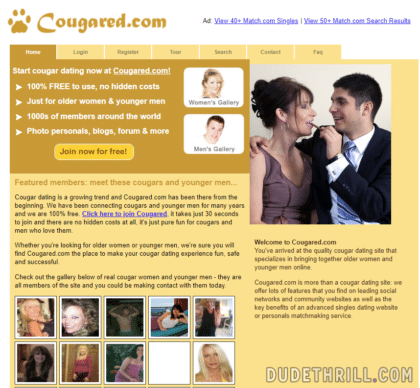 Imagine this — hot, sexy, and sexually-charged 40-somethings as your hook-up buddy. Getting involved with cougars can be enticing and sensual; it sounds too good to be true but with the help of some great platforms like Cougared.com, it will happen for you. Connecting with older women who want to play with younger men is now a lot easier and convenient with the help of the Internet. Many websites cater to cougars and cubs alike, so you might want to check this article and start enjoying the world of older women aka MILFs.
What is Cougared.com?
Cougared.com promotes itself as a platform that promises you a 100% free tool to be in contact with cougars. There are lots of dating sites out there that focus on different kinks and fetishes so if you wish to be in a cougar-cub relationship, then this site is a perfect place for you. At first glance, you would be pretty much put off because its homepage design looks so outdated and tacky. It's like a website that came to life from the early 2000s. Since the homepage is the first one we would see upon visiting the site, it is worth mentioning that it looks this way. But forgetting the appearance, Cougared.com makes up for it with its functionality. You would need to sign up using a valid e-mail address to start things off. Do take note that Cougared.com is not necessarily a sex dating website, although in most cases, relationships formed here would lead to some steamy times.
MILF Profiles & Getting Approved
For people looking for romantic relationships with older women, especially ones that will benefit them or are casual and no-strings-attached, Cougared.com offers lots of features for easy communication that is guaranteed to bring you closer to your potential cougar. Since the website is 100% free, it is only expected that there are inactive accounts and/or fake profiles popping up from time to time. But worry not because most women registered on-site, which are older (and take note, hotter!), they have real details on their profiles, even doing so much as to uploading pictures of them and some quick bios. Upon signing up, you will need to wait for a few hours (or even longer) before you can start browsing the site. But this is a good thing because it means that Cougared keeps track of their users and verifies their profiles carefully. This is done to protect users and avoid spam and scammers onsite. Once your profile gets approved, you can start browsing through profiles and look for cougars or cubs, depending on which one you are looking for. You can start communicating with your potential matches and since Cougared.com is available worldwide, you can surely make use of it wherever you are and start meeting older hotties.
User profiles are pretty detailed so you can get a glimpse of the people behind the good-quality photos. A lot of Cougared's users come from the USA, Europe, and even Canada, but your search results will still come up with potential matches regardless of your location. There are thousands of registered users on site, with more than 5,000 users online at any time, so you will have high chances of meeting someone good here. Searching options are pretty good since it will allow you to pinpoint specifics so you can look for someone with your preferences. You can keep tabs of your favorite matches and send emails or even winks to them, or better yet, send those instant messages. You can also participate in their interactive forums where you can contribute your thoughts or read other users' musings and blogs. Cougared.com is also friendly and welcoming, they have a special page for newcomers featuring site tours, FAQ sections, and active email support for assistance.
Things I Liked & Disliked About Cougared.com
PROS:
Instant messenger feature
Site moderators check profiles' authenticity
Hot older women with good quality photos
CONS:
Some inactive and/or fake profiles
Few hours upon signup before profile gets approved
Mobile app not available
---
12 Best Cougar Dating & Hookup Sites Similar to Cougared.com: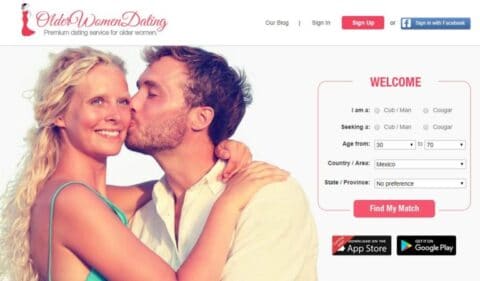 A premium site for every mature woman and a younger man who wishes to meet and fuck around to fulfill each other's desires and fantasies, this is cougars and cubs' go-to site in searching for all kinds of relationships. If you want to form friendships, dating, or just fuck around, then OlderWomanDating is a must-visit site. There are lots of older women signed up here who are looking for younger and more exuberant men. Most men with accounts on this site also have the same goal, to form relationships with older women with maturity and experiences. The site also offers some Sugar Lifestyle options which is perfect for those who are looking for a sugar mommy or boy toys. To sum it up, OlderWomanDating is a place where you can understand that not everyone is searching for the love of their lives, but more on the life of their nights.
PROS:
Best help and support service
Easy navigation
Join for free
Mobile app available
CONS:
Unimpressive interface
Pricey membership fee
Only a few traffic
---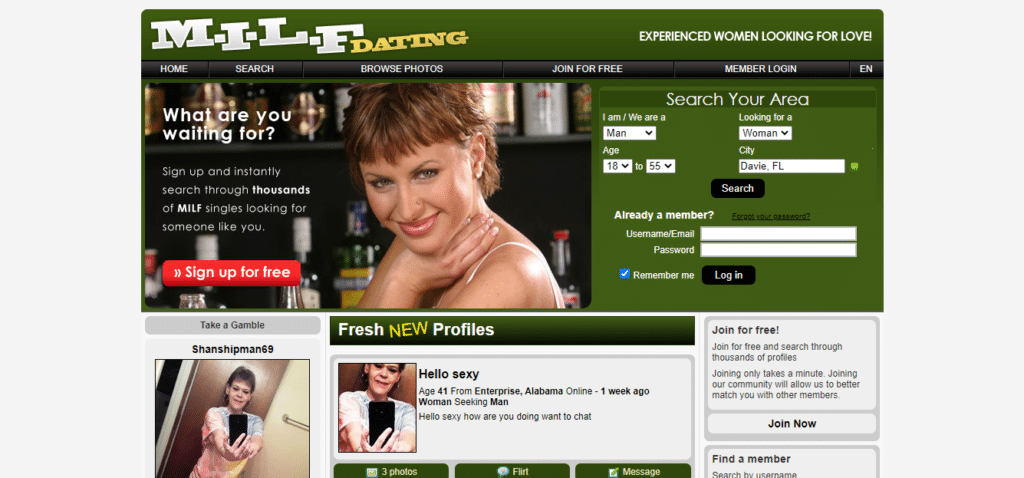 Older women going for younger men has been a thing for a long time now. MILF Dating is one of the first few sites to cater to that need; it has been around for a long time that it contributed to the rise of MILF niches. If you are into MILFs and are looking for one, then this site is one that should be on the top of your list. It has an intricate matching system with a huge user base that you can enjoy. It is widely used in the USA and allows you to search within every state and major city. Creating a profile is very easy and can be done for free. You can then begin your MILF hunting the moment you are registered. Although MILF Dating requires an upgrade to premium memberships for you to enjoy better features, even with a standard one, you can still start up your MILF search. Even as a free user, you get good features and communication tools to connect with potential cougars or cubs. The site also makes it clear to every user about what they are looking for on the site; elaborate questions are asked so you can directly be given a list of possible matches that suits your preferences.
PROS:
Easy signup
Free users can enjoy good features
Huge user base
Great matching system
CONS:
Only available in the USA
Expensive premium membership
Not strict with verifications
---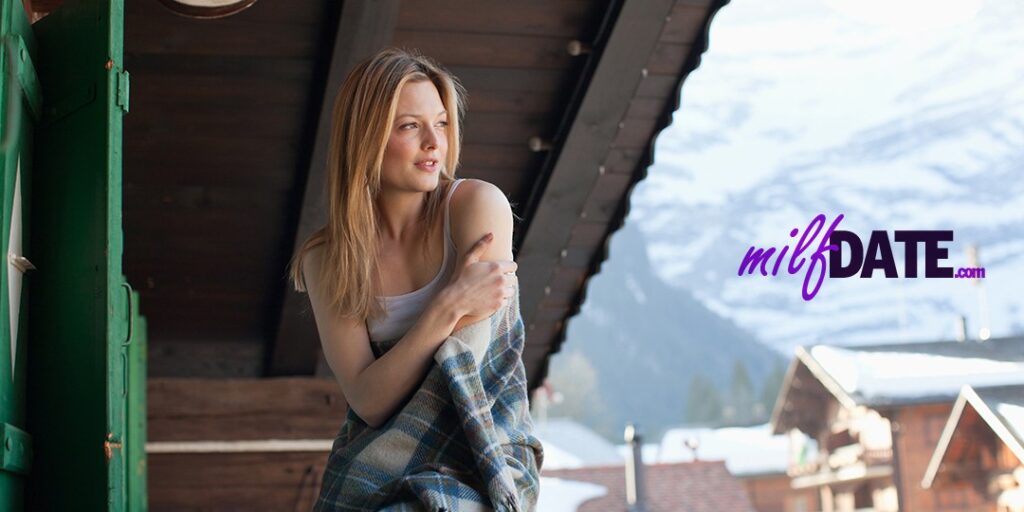 There are some illegitimate MILF sites online, but this one is not one of them as it is one of the best ones out there. It has a simple layout and straightforward menu that will make it easier for you to navigate around the site easily. There are lots of members — young men and mature women flocking onsite hoping to satisfy their sexual needs. This one ranks on the top list of Cougar dating sites and they do deserve it. Their number of users keeps growing each day and it will surely give you your best shot in finding who and what you desire. If you are an older woman looking for fresh young men and have your needs, fantasies, kinks, and fetishes satisfied, then head on to MILF-Date and start hitting up on the thousands of users available online. Even without signing up, you can start browsing up and register later on if someone has caught your interest. But you will need to upgrade to a paid account to communicate with other members. Most members are appealing enough so it's a great feature that they offered photo ratings.
PROS:
Browse through profiles without signing-up
Rate photos
Search by sexual interests
CONS:
No video chat available
No last-sign in details for other users
No ID confirmation
---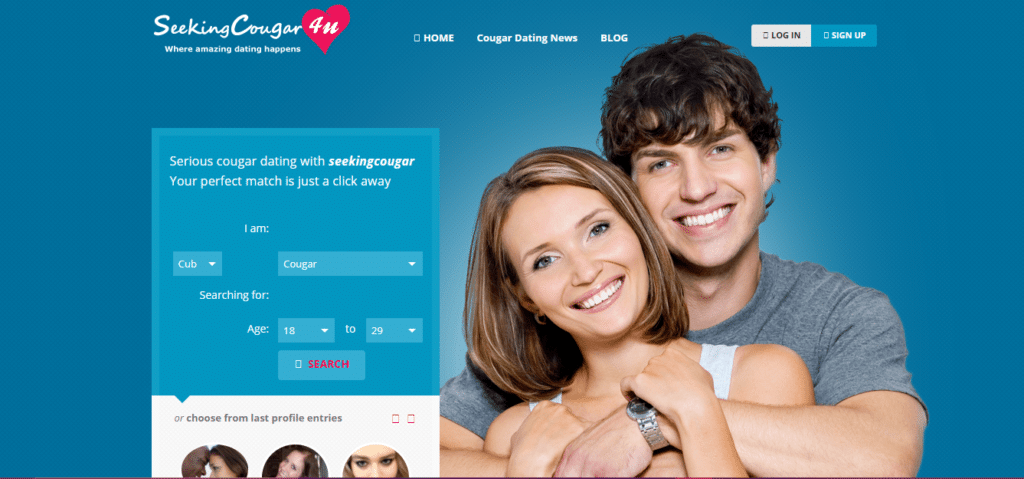 As stated on their website, Seeking Cougar is where the "amazing dating happens". Unlike some sites that cater to a more carefree side of cougar dating, focusing on random hookups and MILF hunting, Seeking Cougar is for the serious ones. For those who specifically want to get serious with cougars and cubs, then this is it. This is the go-to site for anyone who wants to look for legit boy toys and sugar mommies. It has a huge user database and continues to expand each day because more people are now appreciating the charm that MILFs can offer. Seeking Cougar aims to be a platform where like-minded people can meet and share stuff about them and perhaps more. It has decent functions and features, and if you can spare some cash, then going for a premium membership will be a good idea as well. With the use of Seeking Cougar, you are bound to meet someone with the same intentions as yours and you will surely get your needs and fantasies fulfilled.
PROS:
Extensive search options
24/7 email support
Real-time messaging
Verifies every profile registered
CONS:
Pretty expensive rates
Limited unique features
Few perks for free members
---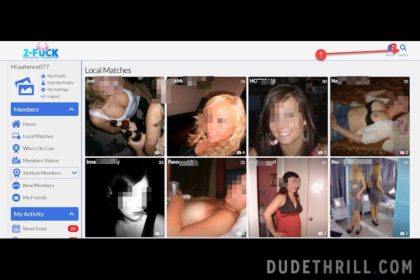 A whole lot different from the mainstream porn and social media that we know of, 2Fuck continues to gain popularity all over the world because it is a great avenue for people to make meaningful connections online. It's an online dating and hookup platform that allows you to meet, keep in touch, and possibly find the right people to have some sexy and nasty fun with. It has a simple and easy to navigate layout; you can sign up for free and you can already make use of its features. All you will need is your valid e-mail, birthday, and location so you can get started. Age verification is also done since you will be asked to provide your credit card info, although that doesn't mean that the site will be charging you for anything. They will only charge if you authorize them to proceed with your paid membership plan. The site offers some different options and questions so that 2Fuck will know which ladies will spark your attention. Simply state what you're looking for on the site. Hookup? Escort services? Chat only? Media exchange? Or you can also specify which niches interest you. Teens? Asian? MILFs? There are a lot of choices and these will make it easier for you to get your curated list of possible matches. 2Fuck is also home to the hottest MILFs in town and someplace else. Matured women have also flocked over onto 2Fuck due to their easy functionality and effectivity in looking for cougar-cubs relationship. Do remember that you will need to specify your different kinks and fetishes as well.
Don't hesitate to check our extended 2fuck.com review.
PROS:
Millions of subscribers
Easy navigation
Free to join
CONS:
Free users only enjoy little features
---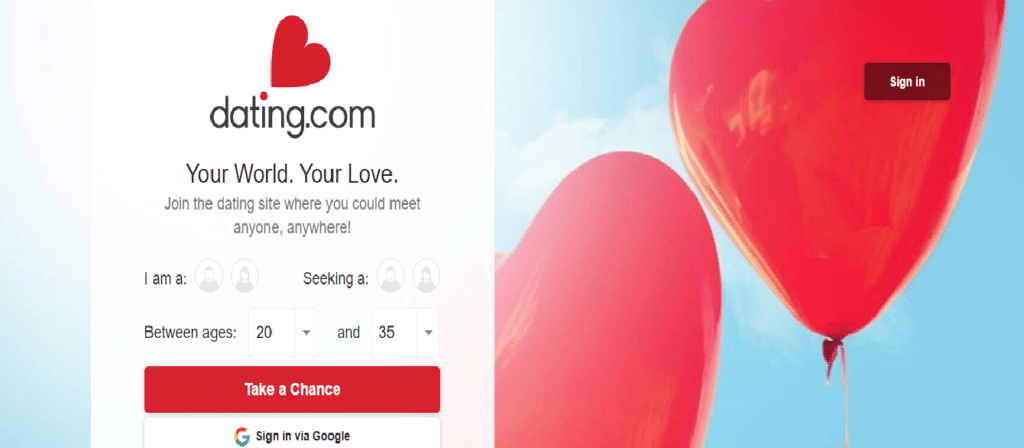 The site's goal is to bring singles from different places to start new and flourishing relationships. It offers unique communication tools and features that will make it easier for you to meet others. Creating a profile in Dating.com is easy and 100% free. It offers a lot of messaging tools like standard chats, webcam, or video chats, and has a "Let's Mingle" option where you can send one intro message to many dates at the same time. It also has a mobile app that is very responsive, available for both Android and iOs users. With Dating.com, you can create a profile for free and still enjoy perks even without a premium membership. You can send winks, post photos, and a lot more. As for the premium members, you can have unlimited access to every feature available, plus extra perks like viewing profile photos, check out who viewed your profile, or sending and receiving emails.
For full Dating.com review – click here.
PROS:
Very many members
Instant chat and messenger available
Active customer support
Easy sign-up
CONS:
Free members have limited access
---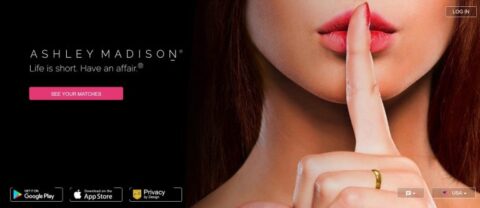 Being the talk of the town for years now, AshleyMadison has successfully set its name in the world of online dating. This site is for people who want to have some affair, especially extra-marital ones. According to the site's famous tagline, "Life is Short. Have An Affair", and indeed Ashley Madison has become an outlet for people to experience new and fun things to do with like-minded people. You can go for the rich and older men on-site, or you can hook-up with that hot housewife who is bored of her married life. Most of Ashley Madison's users are the older men and women looking for attractive young ones. If you want to meet cougars and cubs, you can also trust on AshleyMadison to lead you to one. This site is basically a social network for adults who wants casual relationships and hookups. It focuses more on married people or those in committed relationships. Although AshleyMadison's concept is pretty taboo and negative, there are actually a lot of supporters who still use the site up to this day. Their members are also growing each day; these people are confident with how AshleyMadison keeps to their promise of hiding their identities, especially since after that incident where user information was leaked on their site.
Want to know more? Here we have an en extended review of Ashleymadison.com.
PROS:
Popular and unique niche
Free sign-up
Anonymity is highly valued
Women can use the site for free
Has an efficient mobile app
CONS:
Men need to get premium subscription to send messages
---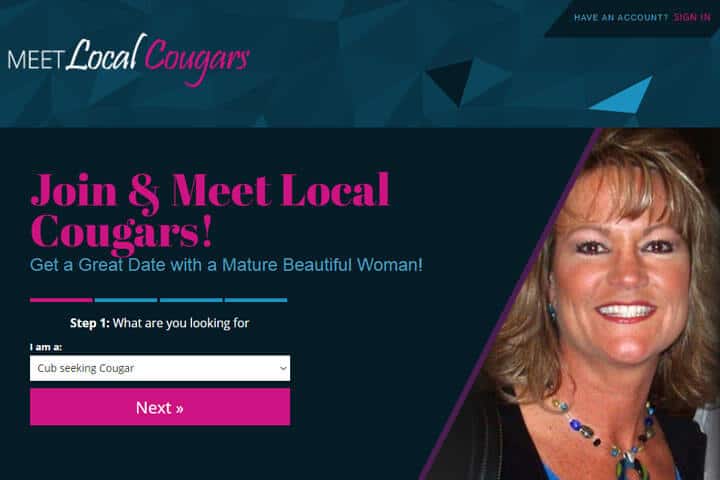 If you are into cougars and would want to meet some around your area, then you might want to check out this site. There are lots of cougar dating sites available but only a few that really live up to your expectations. Fortunately, Meet Local Cougars doesn't disappoint. All you need to do is to sign up for a membership and even without paying a single cent, you get to enjoy every feature there is. The website has made its purpose clear: meeting, dating, and/or hooking-up with older women. You will be welcomed with profiles of members upon visiting the homepage so you can surely say that the site is a legit one with real members. Designed in a more classic but functional way, Meet Local Cougars can do a lot better with their interface but the features work fine. You won't be bothered by too many details or unorganized features; you will be surprised at how the site presents itself as a sexy and classy one with no vulgar pictures or videos. The site is bug-free and with less to no issues with functionality. Members' profiles are very detailed, with thought-provoking and informative questions to make it easier for others to judge if this user is a good match for them or not.
PROS:
Most ladies are pretty straight-forward
Detailed profiles and informative questions
Users from all over the world
CONS:
Some inactive profiles
The website can be improved
Pricey premium membership
---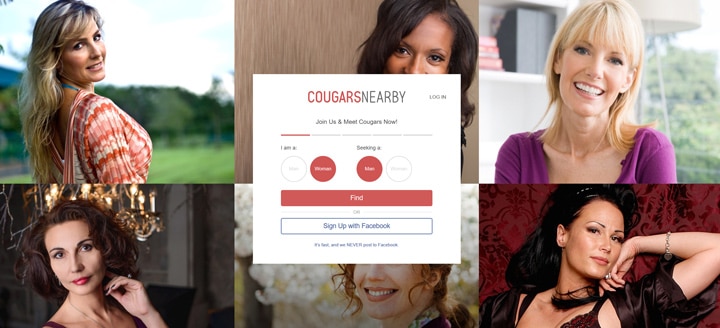 A refreshing new site that is very promising and definitely delivers, Cougars Nearby gives you a decent impression upon first glance. It looks pretty basic, with its simple features and stripped-down design, but it is very functional and works without any problems. Cougars Nearby runs smoothly, ensuring that you have the best cougar or cub search experience. It is pretty much similar to Tinder, where you will be swiping on potential matches and be fed with hundreds of profiles. The whole site is minimal and nothing way too fancy or over the top; it is very simple and unpretentious. It is designed to highlight its efficiency and great features, although design-wise, they can improve in that area, as well. There is a seamless matching algorithm used by Cougars Nearby, which, true to its name, will show you the hot mommas near you. You can check out their profiles and have a glimpse as to what they're like with their posts, photos, and bios. Everything is customizable although there are only a few options, making you focus on what really matters. You can also opt for VIP status, which will allow you extra privacy and boost your profile so the best potential matches can see you and retrieve your previous dislikes or swipes.
PROS:
The simple and no-nonsense design
A new and refreshing platform for cougar dating
Mobile app available
CONS:
Only a few members as of the moment
No advanced search
---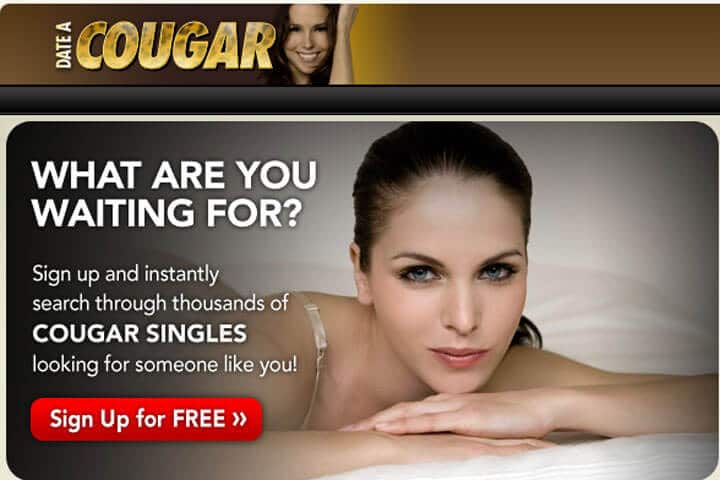 This one is definitely one of the best and top sites to go to if you want to look for the hottest cougars in town. No excessive details that will only distract you and slow you down while you are on the search among the sea of older women. Date A Cougar runs smoothly and fast, ensuring that you get what you want in no time. Unlike some websites that go overboard with their design and graphic details, you won't find anything like that here in Date A Cougar. It looks pretty much clean and minimalistic, focusing on giving you the best access for meeting cougars. Functionality-wise, you will have an easy time looking for options and features. Date A Cougar surely lives up to "less is more". You can enjoy its communication tools that will ease you into opening up to potential matches and definitely letting you meet the nice and sexy cougars for casual relationships or maybe even serious ones.
PROS:
Wide choices for potential matches
The minimalistic approach in design and features
Very functional and easy to navigate
CONS:
Pricey premium
Gives off a boring feel
Not a lot of members
---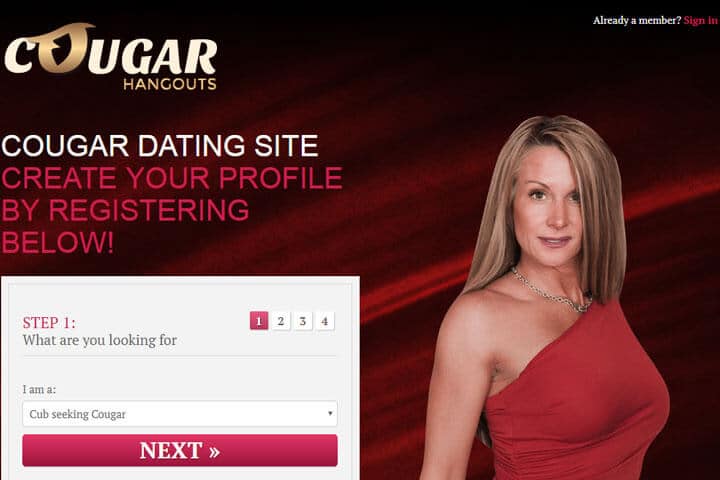 You might have that first impression that this site does not have much to offer but no, all of its features and functionalities are seamless and effective enough for you to get to your goal – which is to meet cougars near you and start relationships with them. Although everything on Cougar Hangout is the same with others, which is just all that you need so you can jumpstart your cougar dating journey. No need for flashy novelties since everything works well enough. Conveying a sense of section and mystique with the use of dark colors, Cougar Hangout gives off classy vibes while still keeping true to its goal of assisting cougars and cubs to mingle. You can enjoy various features depending on your type of membership. More options would mean more fun while you're on the site. It also has quick search options and some detailed browsing. You can set filters so you can sort outmatch results and have them in line with your preferences.
PROS:
Highly functional
Easy to navigate
A quick search or advanced search
CONS:
More female population
No unique features to offer
---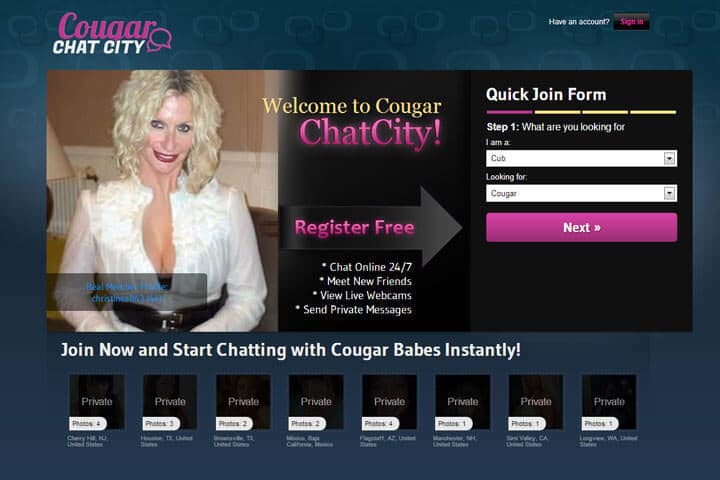 Offering pretty much the same features as the previous ones listed in this article, Cougar Chat City makes really good use for its edge: its large base of members. You can opt for free memberships which will get you only a basic subscription or you can also go premium, where you will definitely enjoy more of the high-end perks that this site has to offer. Mainly using chat as the communication tool to connect with potential matches, it has lots of chatrooms and video chat features with no shortage of members you can hit upon. Cougar Chat City is designed in a much more classic and no-nonsense way. Little to no ads can be seen, which plays a huge part in your browsing experience. One great consideration from the site is that they have organized their chatrooms into different categories so you can go to one which suits your preferences: singles, married, matured, and many more.
PROS:
Large member base
Organized chatrooms
Heavily focused on chat
CONS:
No unique features to offer
Limited access for free users
My Verdict
It is kinda ironic to think that years ago, porn was dominated by older women, mostly around the 30s to 40s but when the Internet era has started, the spotlight has shifted to younger ladies. This is why it is such a delight to have the MILF niche because we still get to enjoy these older ladies and their glory – we all ought to show them some love because they still got game, after all. Now, there are more opportunities for these older ladies to bring back their lead. These women still got game and are very much willing to play around with men, especially younger ones. So that's what's Cougared.com is all about. And if you feel it's not 100% for your — those 12 alternatives I presented above will surely meet your needs!
The idea of MILFs is just so… hot. These are all women in their prime. She has been through a lot and is still winning. She knows all the right moves, the do's, and don'ts, especially with sex and intimacy. She knows what she wants and is very keen on getting it. You can also expect her to teach you a thing or two, guide you in many ways, especially while you're pounding on her with your hard dick. These hot MILFs, with their age and maturity, could sometimes be away from drama so that is also one advantage of dating one. You can see all these older women enjoying themselves in the best ways that they can, which most usually involve younger partners. With their wisdom, body, experiences, stability, and maturity, they can fuck whoever they want and are always willing to be nasty for you.
If you asked me — what I recommend myself from the list above, I will surely say my TOP 3 would be:
#1: AshleyMadison.com — it's highly reputable and site is mainly filled with older, hot women.
#2: Dating.com — also a very well known place with LOTS of members. You can filter their age easily.
#3: DateACougar.com.
So, with all these sites listed above, go ahead and visit them. We're sure that watching the hot MILFs in it won't ever let you stay calm. These hot and mature women will get you into a sexual frenzy. Although most of these sites require membership, especially premium ones, there are still lots of stuff you can do and watch for free. MILFs emphasizes their age, grace, and beauty, so you will rest assured that these ladies are not just down to fuck, but also willing to be in relationships with you if it goes well.
All 75 Other Sites in This Category Worth Checking Out:
Top-5 Dating & Casual Hookup Sites That Actually Work in 2023 Perfect for ~20-55 year olds, with & without spouses! These are not some "fake" ones pretending to have girls, they are real, worldwide largest networks. Jump to Top-5 Dating & Hookup Sites Hey, I know that jerking off is quite exciting and cool. But… nothing […]