Updated on: December 4th, 2023
CougarLife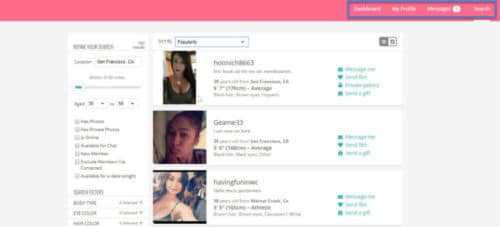 A lot of older women are in search of younger men to just meet, hookup, and hopefully, start new relationships with. In this modern world, we live today, everything has become easier and instant — with just a few clicks you can enjoy meeting strangers online. CougarLife encourages older women to get down with younger men. As seen on their website, it is the perfect place where modern and confident older women can connect and have fun with younger men, most especially geared towards relationships. So, in other words, if you are into mature, hot, and sexy women, then this is the perfect site for you. As they always say, "age doesn't matter", and true enough, this saying goes a long way to websites like CougarLife, and read on to discover more about this popular site.
Let's start with CougarLife's signup process. Unlike most dating and hookup signs, their registration takes some time and effort since you will need to input lots of information, but more on your likes and physical attributes. Although most fields are not necessarily needed, it would look great for your profile to be complete with all the details so you might want to spend some time writing up answers to most questions during the sign-up. Once you're done completing the required fields for registration, you should upload a picture so you can send 3 free messages that will help kick-start your Cougar journey.
On the website, you will be familiar with the main tabs: Dashboard, My Profile, Messages, and Search. These are the tabs you will be frequently used throughout your stay on the site. With the Dashboard, you will find new cougars who have just recently joined the site and also online members. This is where you can perfectly find someone to chat with and send some messages to a new user. My Profile speaks for itself, it is where you can add or change details about you, upload pictures, and even see the gifts that are given to you by other users. Messages tab is self-explanatory, it is where you will find your interactions with other users. As for the Search tab, it might come across as familiar especially if you have already tried browsing dating or hookup apps. You can set filters so you would lead to users who are picked for you based on your preferences. The Search tab will be your best friend, as it is going to be your main tool in looking for the perfect cougar or young hookup partners.
As for the money talk, the membership cost will depend on whatever package you chose for yourself. It depends on the duration and the perks you want to enjoy. You can choose from a 1-month, 3-months, or 12-months subscriptions. The website also gives out several coupons and discounts but most of them are available during specific seasons and occasions only. You can safely use Paypal or credit cards when paying for a membership, and you won't have to worry about the security of your financial details since CougarLife is a safe one.
So, if you are in hopes of looking for an older woman, CougarLife is the place to be. It is reasonably priced, has a user-friendly interface, and with lots of useful features that will aid in your Cougar escapades. It is a site that is safe and reliable for online dating purposes, as long as you keep in mind your safety and avoid divulging too much information with strangers. If you have already tried CougarLife or you are planning to, then go ahead and enjoy your good time on the site. In this article, you will also read about similar sites that work the same as CougarLife.
Sites Like CougarLife.com: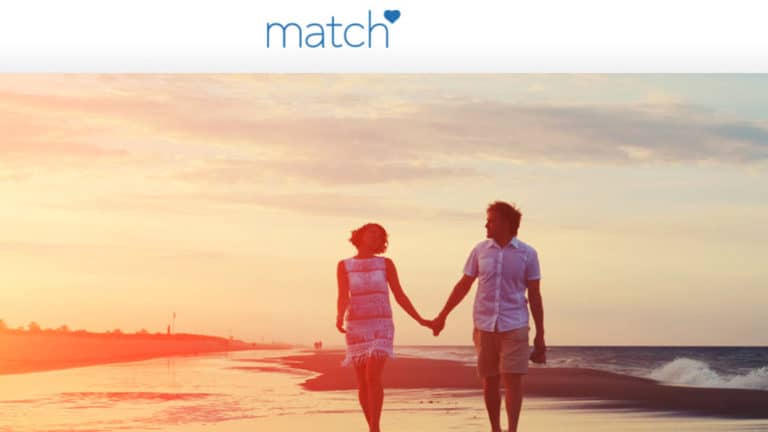 This might sound a bit surprised when we talk about Cougar websites, but yes, this is an effective platform in meeting older women and "cubs". This site boasts of a very large user base out of the millions of dating websites online so that alone is a reason why it is an effective Cougar site. People from different walks of life are in Match.com and whatever you are searching for in a potential partner, you can find it here. When you explore the site, you will be amazed at their search and filtering features since it makes it easier for cubs and cougars to be in a common ground. All you need to do is specify the age range of your preferred matches and you are good to go. You can also specify that you are interested in a "cougar and cub" relationship. The site's male-female ratio is just close so you won't have to worry about not getting enough matches.
PROS:
Offers a three-day free trial
Has been around since 1995
Easy to navigate
CONS:
Canceling policy or subscription takes time
Block feature doesn't happen easily
You can't message anyone unless you get a paid membership
---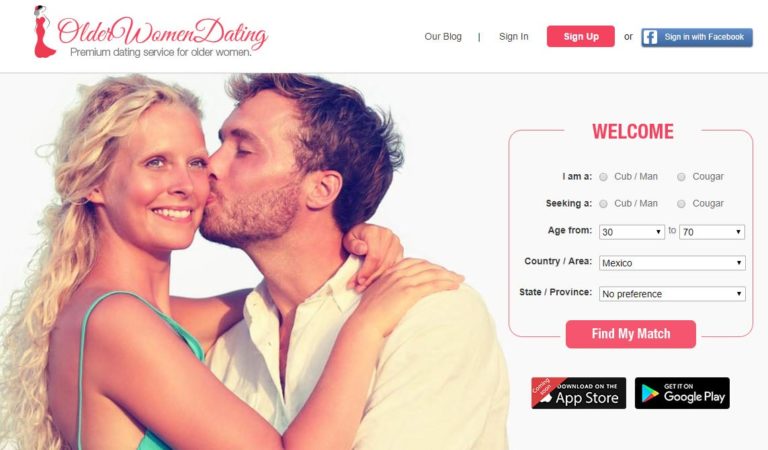 Most cougar sites have been around for quite a long time, just like Older Women Dating which has been connecting cougars and cubs since 2001. It has managed to build and maintain its reputation of being one of the best platforms for cougars and cubs to build relationships. Aside from being a cougar site, it is also known as a site for meeting sugar mommies which helps cubs and boy toys find one whom they are looking for. The website looks on point, as well as its layout and design. They even have a mobile app available for both Android and iOs. One great feature of Older Women Dating is that they have this feature that verifies every profile so you would know as a user that this account is made by a "real" person. With many sites going around and fake profiles here and there, it is very helpful to sort and verify the authenticity of users. For cougars, the membership is free while for the cubs, they will need to pay around $15-$30.
PROS:
Sign up via Facebook
Free account registration
Mobile apps available for both Android and iOs
Verified profiles
Free search
CONS:
Premium features are pricey
More men than women on site
Messaging only possible for premium accounts
Cubs need to pay for the membership
---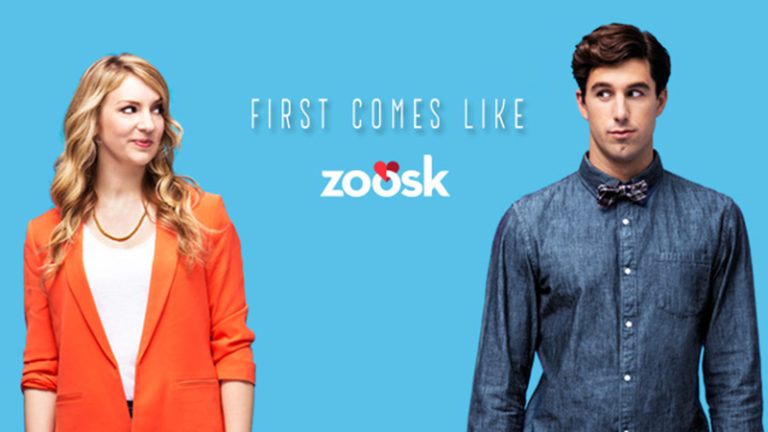 With more than 40 million users, Zoosk makes it on top of other online dating sites making it effective as a platform for cougars and cubs meeting in one site. With a large number of users, you will have higher chances of scoring matches. Since the average age for Zoosk, users are from the 20s-30s and are marketed towards the younger crowd, cougars and even sugar mommies can make use of this opportunity to look for potential cubs and boy toys. Zoosk also offers a lot of useful features and unique ways to enhance your cougar-cub experience. It works like Tinder, with its swipe feature, and you can simply set the age range so you can surely be matched to younger men or older women depending on your preferences.
PROS:
Available on mobile apps
Well-designed website and app
Easy to navigate
CONS:
Messaging comes with a price
Lots of ads
More men members
---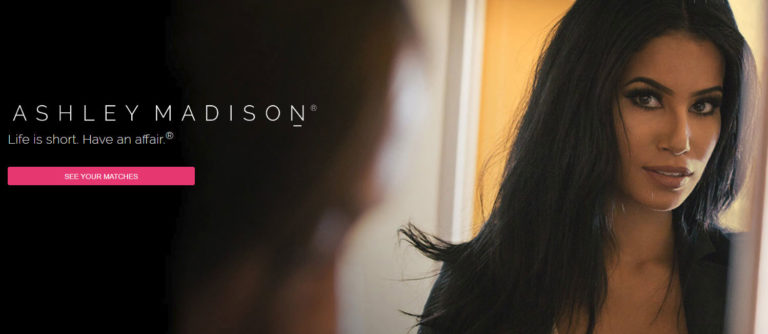 Another site with a whopping number of users, Ashley Madison is not only applicable for those who want to enter the world of extra-marital affairs because, in this site, you can also look for cubs if you are an older woman wanting some sexy fun with some stranger. Since the website promotes extra-marital affairs, you will find lots of older, married women on-site and most, if not all of them, are looking for some fresh and young blood. This site is more recommended for cubs and boy toys if you want to meet older women because most of them frequent this site. Ashley Madison is also available in a mobile app for both Android and iOs so you can enjoy its feature wherever you are. Whether you are a cougar or a cub, you won't need to worry about your identity being exposed negatively since the site values anonymity. They also have unique features that you don't usually encounter in other dating sites, just like their ZIP code feature where you just need to enter one and you might just find someone nearby.
Also, feel free to check out our full review of Ashley Madison here.
PROS:
Easy to use
Affordable price
Unique ZIP Code feature
Intense security and privacy for users
CONS:
The monthly subscription is not fixed
---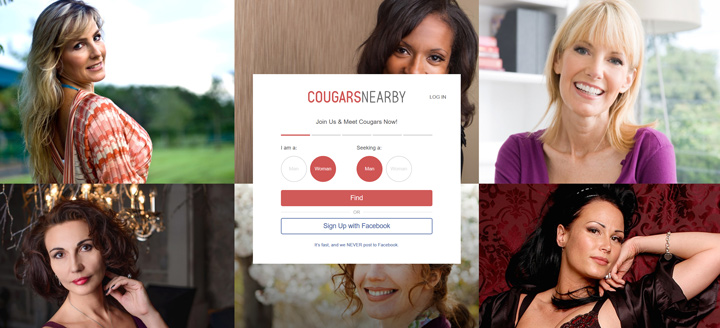 Although the site is not that big yet, this is a refreshing all-new platform for cougars and cubs alike. The site is basic in the sense that its features are all simple but still functional and works without any interruptions. It is also similar to Tinder with the swipe system, but with a more minimalist approach. After signing up for an account, you will be matched with people in your area who are down to meet fellow strangers. Check out their profiles, look at their photos, and read their bios. If you like them and are interested, you simply click or tap the "heart" icon right under their picture. As the site is only starting, it doesn't have lots of members yet but there are enough variety of cougars and cubs looking all great and dashing in every photo uploaded. Of course, when you are on a dating website like this one, you would always want to look your best and give off a good impression.
PROS:
A promising website with minimalist features but functions well
Most members are looking for older women
A 5-day free trial is offered
CONS:
Some fake profiles and trolls
You must pay before you can start chatting
No mobile app available
---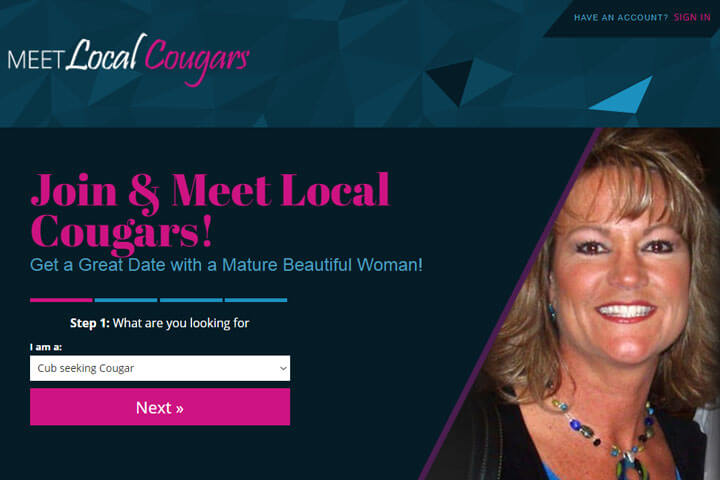 You know how there are lots of websites that cater cougars and cubs alike, but among them all, Meet Local Cougars is the one that still lives up to its name and promise. Upon visiting the website, you will already know that it aims to connect strangers all over the world and get into relationships with older women. Pictures of every member are being displayed right on their homepage so you can say that the site definitely has real members. Since the site's target market is older women and younger men, it is made easier for users to navigate through its features and functionalities. Everything on site looks plain and basic, but this time, it is not in a bad way. Basic in the sense that they keep everything to a minimum to ensure a smooth-sailing experience for users since there are lesser details that would less likely slow the site down. Its color scheme is made up of dark colors and you can say that it has just the right amount of playfulness and sexiness to it.
Since older women frequent the site, you won't have to worry about getting your time wasted on here because these cougars know exactly what they want and are not at all afraid to show it. No bullshits, only straightforward conversations between cougars and cubs so everyone can get straight to the point but still keeping the fun and excitement afloat.
PROS:
Basic users can already enjoy a lot
Affordable pricing
High functionality website
CONS:
Few bugs and crashes
No strict verification process
Website colors are really dark
---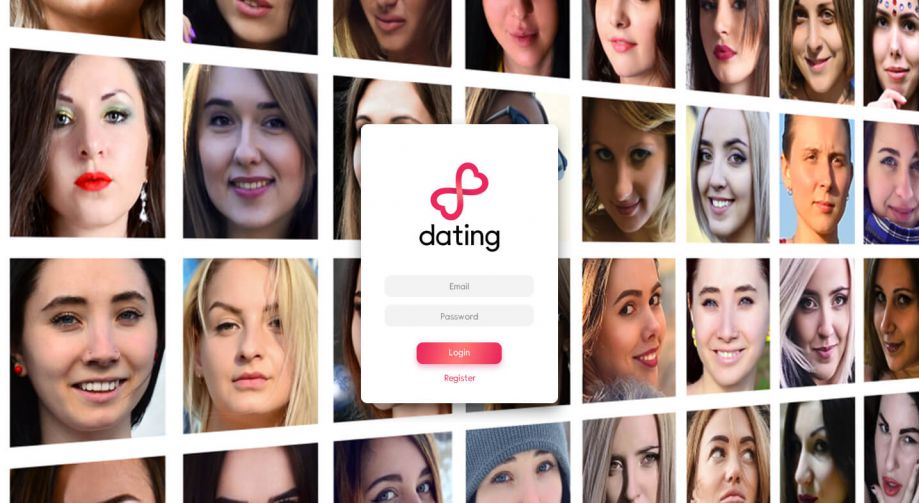 Bringing singles together from all over the world, this straightforward website has been known for its reputation in the online dating world ever since 1993. It is the perfect platform for everyone to meet and form meaningful connections with others with their highly functional communication tools and features. Since users come from different places and Dating.com has a solid number of users already, you can expect to be matched with many people that will fit your interests.
Although just like most dating sites where you need to pay for membership first before you can send messages, there are still a lot of features you can enjoy for free. But of course, you can enjoy a whole lot more exciting features if you are a premium member. Since members are from different walks of life, you can expect everyone to be from different ages as well. If you are into older women, then you can score some hot MILF or cougar on this site, and you bet they are all looking for someone younger to have fun with, too.
We also recommend checking out our in-depth review of dating.com by clicking here!
PROS:
A large number of members
Instant messaging available
Customer support is very active
Google or Facebook accounts can be used for sign-up
CONS:
Advanced search is limited
---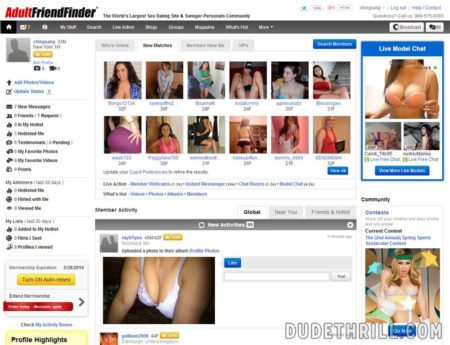 The name says it all — AdultFriendFinder is your go-to place if you want to look for some fun among a sea of strangers, especially if you are into older women. The site is marketed towards being a regular hookup site, so you can enjoy browsing through profiles of individuals who are always down for some sexual adventures. Explicit photos are usually uploaded in people's profiles and all you have to do is reach out and make your intentions known, then you're good to go. But really, almost everyone has the same intentions in coming to the site so there will be no more fuss. Getting an average of 25 million site visits per month, you can surely say that AdultFriendFinder is HUGE.
The site works so fast in generating matches for you, even with just putting up small details or information that could lead you to thousands of matches already. This is the perfect platform for every older woman who is looking for some younger guy to hang around with. You can specify in your profile what you are actually looking for, so you will be matched with people who are into the same thing. Since AFF is a large site with many members, their features will never disappoint as well. Lots of unique perks and ideas are being enjoyed by members, be it for premium or free.
If you want to know more — here's our full review of Adult Friend Finder.
PROS:
Adult chat rooms are available
Lots of NSFW contents
Sending virtual gifts
Connected with Sex Academy and allows buying of courses
CONS:
The mobile app doesn't work 'perfect'
---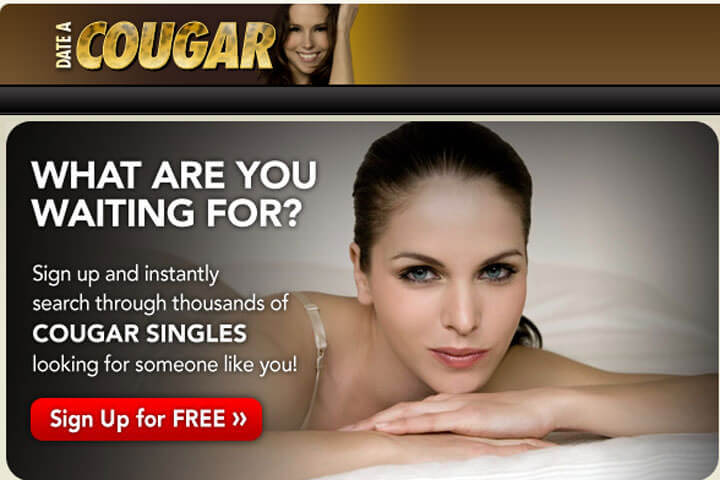 Boasting of its large member base, at first glance you will immediately see that the site looks clean and functional. Everything falls into place, to make your cougar-cub experience more worthwhile. If you visited the site in hopes that you could meet an older woman nearby, then consider it done because that is what Date A Cougar is all about. Since the site uses a minimalistic approach with its interface and designs, you will not have problems with it and just enjoy seamless browsing. Following a "less is more" style, you will find out that there are lots to enjoy on this site although it may not seem like it. Chatrooms and video chat options are available so you can communicate with different people and simply pick one out of the many cougars or cubs in the area. Housewives, divorcees, or just plain and single ladies are frequent visitors on this site and they are all looking for younger guys who can bring them some hot and sexy fun.
PROS:
Minimalist style
Lots of older women on site
Diversified members
Offers webcam features with models
CONS:
Some fake profiles
Users encounter problems upon sign-up
No mobile app
Expensive prices
---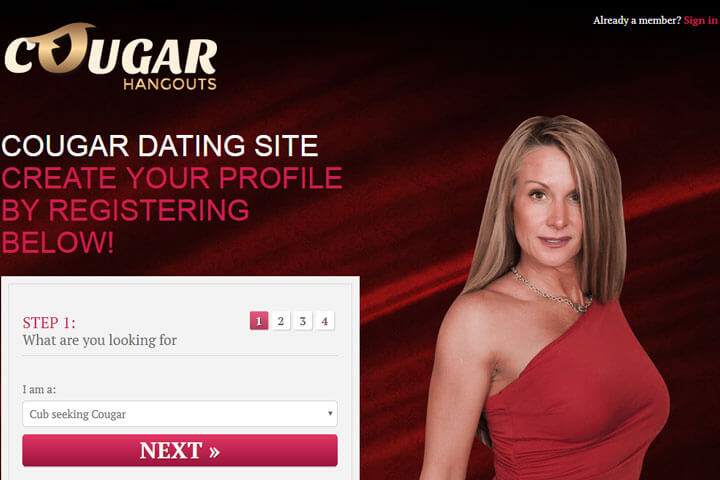 Heavily using darker colors to convey sensuality, seduction, and elegance, Cougar Hangout is one of the many websites that allow a cougar-cubs relationship to prosper but also gives off a unique and functional approach. Like every dating site out there, you can still use with a free membership but when you go premium, you will get to enjoy its full features and perks. Messaging has never been easier and basic browsing is enhanced for you to get more out of searching for your very own cougar or cub. Their search options are also good, you can easily filter via different categories so you can pick one closest to your type. In terms of population, there are easily more female members than males, so cubs can have a good time in choosing profiles here, and most users are coming from the United States. Middle-aged women frequent the site so for younger men, you can start checking this site out and you might just end up with the cougar you have always wanted.
PROS:
Great messaging features
Appropriate color schemes fit for an adult dating site
Legit mature female members
CONS:
The pretty bad female-male ratio
Site is still new so not a lot of members yet
Few ads here and there
---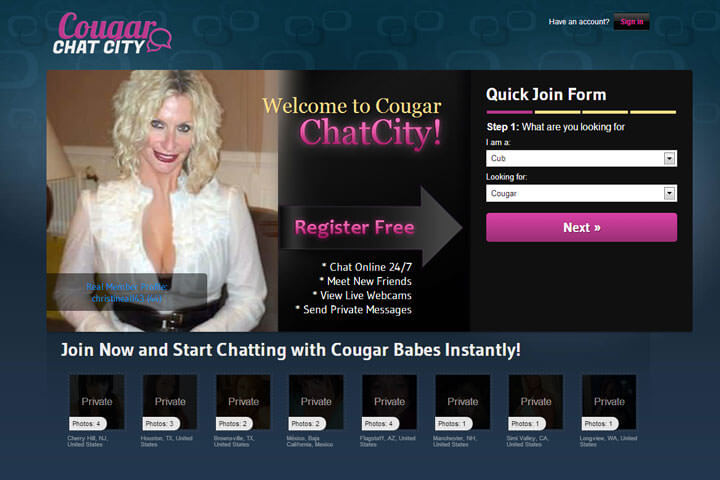 You know how most sites have fake profiles and bots to boost their population count; you won't have to worry about that happening here on Cougar Chat City because they have enough members and we can say that it's a large one as of today. More of a chat-oriented site, you will have fun conversing with middle-aged women and younger guys who are frequent visitors of the site via chatrooms and video chat. Feature-wise, their chat services are highly functional and easily accessible since it is where the real action would take place. Given its number of members, you will have thousands of well-curated profiles to check out. One remarkable feature of Cougar Chat City is how they have organized chats into different categories. Whether you are single, married, or just want to hang around with cougar/cubs, then you just have to click on which category would fit your needs.
PROS:
Flirty members guarantee you to have some fun time
Chatrooms and video chat features are highly functional
Organized chats depending on your needs
CONS:
Frequent ads hinder seamless browsing
Not yet available on mobile apps
Only a few features to enjoy
All in All
Most people today live their lives around the Internet; phones on their hands almost whole day, people facing computers on a daily basis, and everything just gets easily connected, making it easier for online dating to happen. These cougar dating sites are compiled to help you choose and find a comfortable platform in looking for lovely cougars and handsome cubs. There are lots of websites out there that will match older women and younger men, but some of them won't offer many functionalities like these sites above. Online dating is now made easy, and all you need to do is put your best pictures and words on, be comfortable in your own skin, and mingle with strangers who might just end up as people having huge importance to you.
Most of these sites are just affordable for their price since we figured it is an important factor in choosing which cougar website would be the best option among them all. Features and functionalities are thoroughly explained along with their advantages and disadvantages. Check out these sites and you will surely have the best time of your life getting along with cougars and cubs.
And as all of the websites are pretty good with finding you a milf to hookup nearby. I would surely recommend these TOP 3 industry leaders:
#1: Dating.com;
#2: Adult Friend Finder;
and #3: Ashley Madison.
You can't go wrong with these. Good luck on finding yourself a good MILF!
All 75 Other Sites in This Category Worth Checking Out:
Top-5 Dating & Casual Hookup Sites That Actually Work in 2023 Perfect for ~20-55 year olds, with & without spouses! These are not some "fake" ones pretending to have girls, they are real, worldwide largest networks. Jump to Top-5 Dating & Hookup Sites Hey, I know that jerking off is quite exciting and cool. But… nothing […]