Updated on: December 10th, 2023
Undertable
& 12 Best Hookup and Sex Dating Sites Like Undertable.co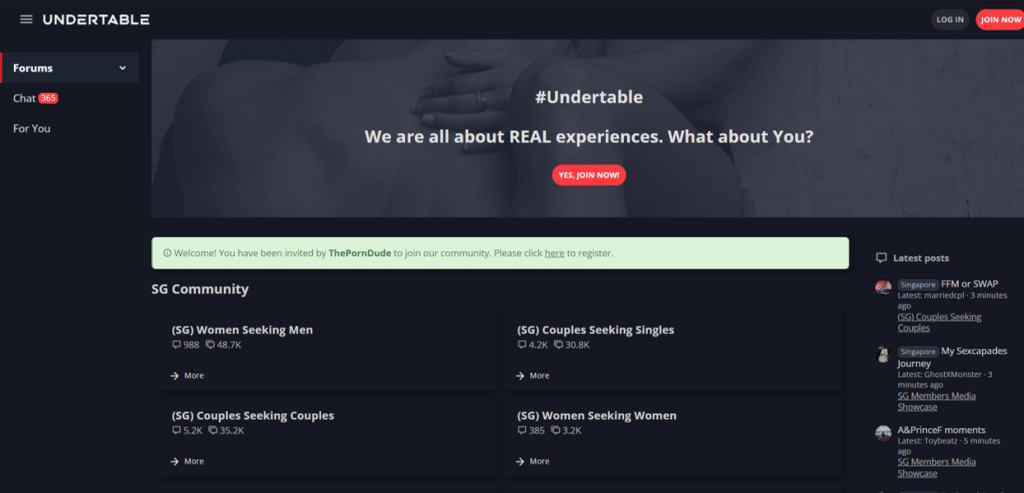 Undertable! This site name makes me think about what exactly happens under the table. Oh, secrets, lies, deception, and steamy encounters engulf the under-the-table scenes. If you love to watch movies and series, you will see how under-table scenarios provide mystery and thrill. Perhaps, this appeal is what the site Undertable likes to showcase. It gives a high bar of curiosity and euphoria in one location. Hence, let us start sharing sexy secrets the Undertable way!
Official URL: https://undertable.co
Truly, I am mesmerized to discover another location to get hooked. Fans can commence the fire within them for hookup sessions. A lot is going on, and Undertable is your go-to accomplice. It knows what you are doing and is happy to keep it private. The rest of the world does not need to identify your affairs; Undertable will do the nastiness. Indeed, Undertable is the suited venue to stay low-key but filled with satisfying hookups and sex dates.
Asia's #1 Adult Community
Have you read that bold claim right there? I bet you did, pal. I know it is early to agree or disagree, but I commend Undertable for bravely believing in its capacity. Who else would trust us if we didn't start that within ourselves? Hence, the page's confidence assures me that Undertable must be up for really something good. If not, the site would not be standing tall against other massive erotica competitors.
If you are still in limbo about the exact service of Undertable.co, the domain hosts locations for discussions and messages with swingers and escorts globally. However, Undertable mainly specifies its service for Asian countries like Singapore, the Philippines, Malaysia, and more.
Undertable has reached milestones over the years, capturing dicks and aching sexual needs. It recorded a hundred thousand monthly visits and bankable additions to the community. A healthy and sexy forum to live daily, I am thrilled!
Undertable, Making it Hot!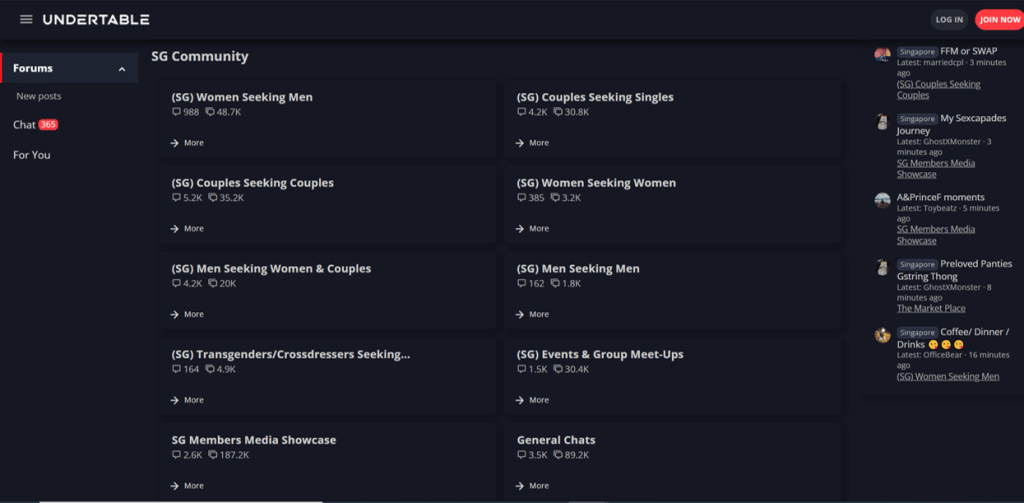 The page wants real experiences; thus, this is what we are all craving. You expect to unleash a tremendous masturbatory and jam-packed exploration when you visit hookup sites. After every pleasant stimulation, you can exchange thoughts and perhaps designate personal encounters. The swingers around are happy to entertain, and Undertable loves to partake. Each orgasmic deal surrounds our obsessions and fantasies. Therefore, it is high time to relish them all.
Undertable entices you to join the hot bandwagon of service providers and clients. The more you dig into the massive repository, the more you appreciate the shivers it gives. The vast number of participants makes Undertable a thriving location. You can presume its satiating impact and response to clients through looking at numbers and daily joiners. Reviews applaud Undertable, so we shall try it; start by hitting the registration button, pal.
Undertable's Registration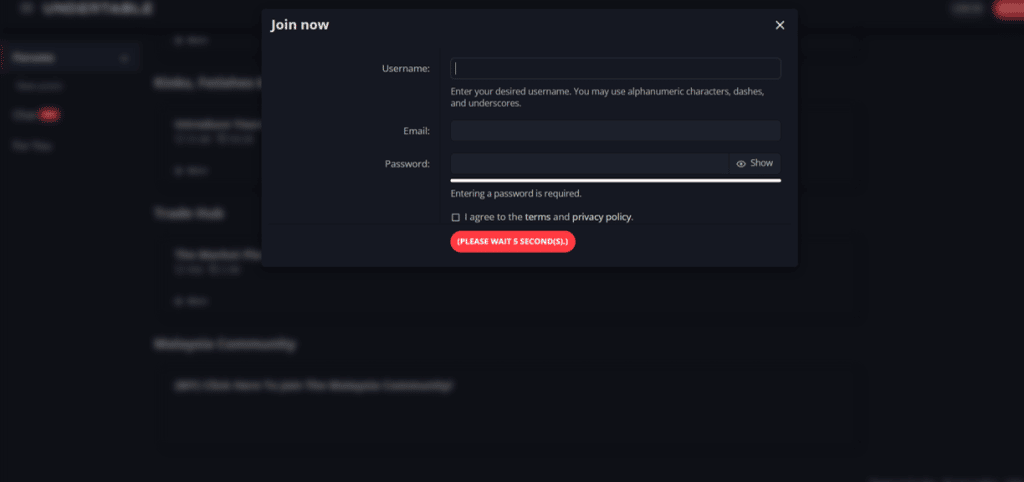 Before we go to the various treats, I shall first discuss the importance of having a secured account here at Undertable. Undertable, like most sites, encourages you to enroll on the page to follow and enjoy the rest of its service. In short, fans will not have limited access to Undertable's banquet of appealing engagements. You must not be apprehensive about it, as the page has one of the most straightforward registration procedures.
The familiar supplication of information is also available at Undertable. With that, username, password, and email address are the key components to upgrade your stay in the arena. Next, clients or joiners must also read and understand the domain's privacy policy and conditions. Yes, pal, I know how demanding and tedious that could be, but believe me, you will get more ideas about the features. If everything is set, you must click submit and wait for a few seconds to receive confirmation; that's it!
Low-Key Undertable Design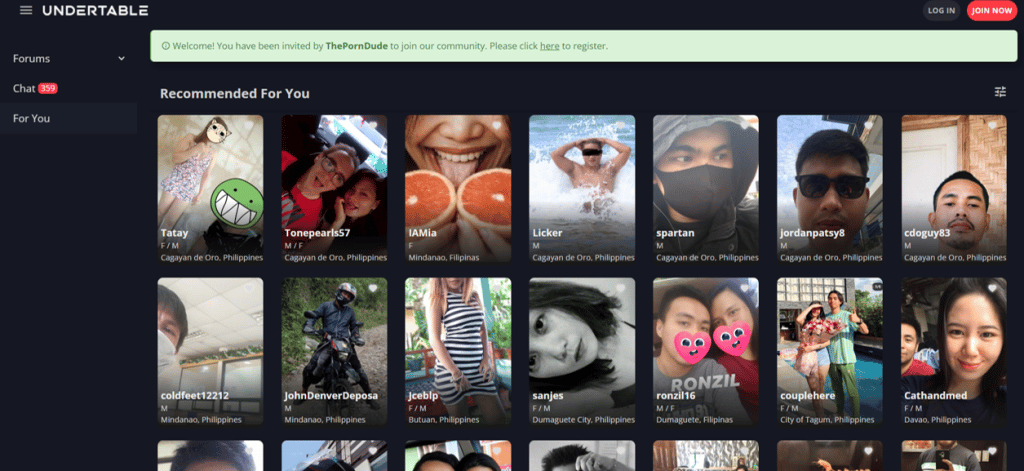 You will never know how much sexiness and nastiness are going around the Undertable community if you base your judgments on initial impressions. Yes, Undertable looks discreet and private. There are no traces of sensuality on the page except for the black and white sexy image at the header. In fact, you have to stare at it first to comprehend the picture entirely. But one thing is for sure; the black backdrop made every bit appealing and erotic.
Furthermore, all your favorite topics and materials are disguised by message boards. Some may find this sight unappealing, but our secretive pals love these handy layouts. With that, they can log on to their accounts during office hours and in public places because the page looks decent. I also appreciate the red icons used to highlight valuable features and more. In addition, it is easy to locate the buttons leading to join now, forums, chats, and for you (recommendations).
A Decent and Nasty Tour Around Asia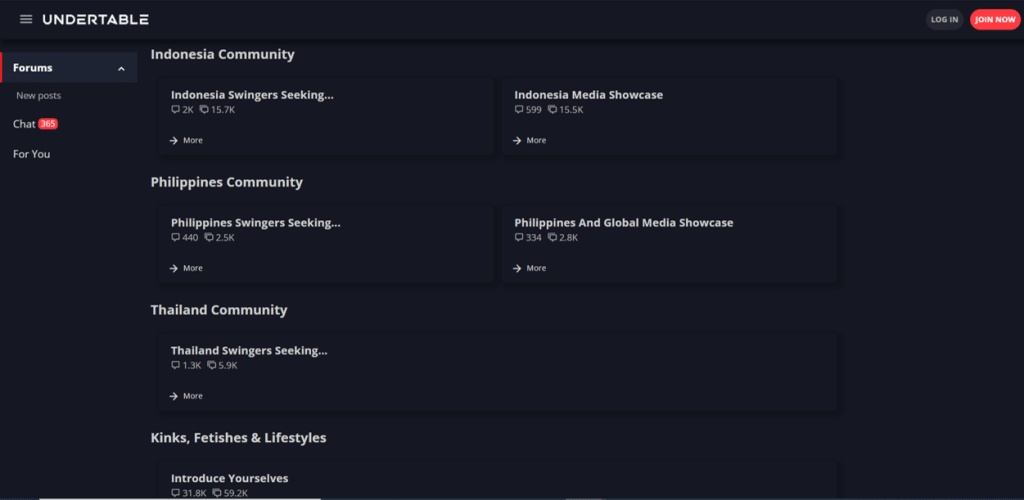 Asian porn cuisine is in with Undertable. As you can readily see, a bunch of Asian swinger locations surrounds Undertable, making me think how rich Asian countries are with hot and sumptuous ladies. The page aims its service to fans raving about swingers from Singapore, The Philippines, Thailand, and Indonesia. It is highly noticeable that Undertable fails to incorporate the services from Japan, Korea, and China. Probably, the page is providing a limited audience for more exquisite and focused service.
Nevertheless, the countries mentioned are already a bonus reason to pay attention to Undertable. Sadly, I noticed the Malaysian community here before, but now it seems like a new site occupies its space. The sister site that I am talking about is SwingThat. Anyway, we will focus our review on Undertable and the subforums it has. Presently, I am awed to see a bulk of activities on the page. Let us discuss them piece by piece.
Sub-Forums and Hottest Undertable Deals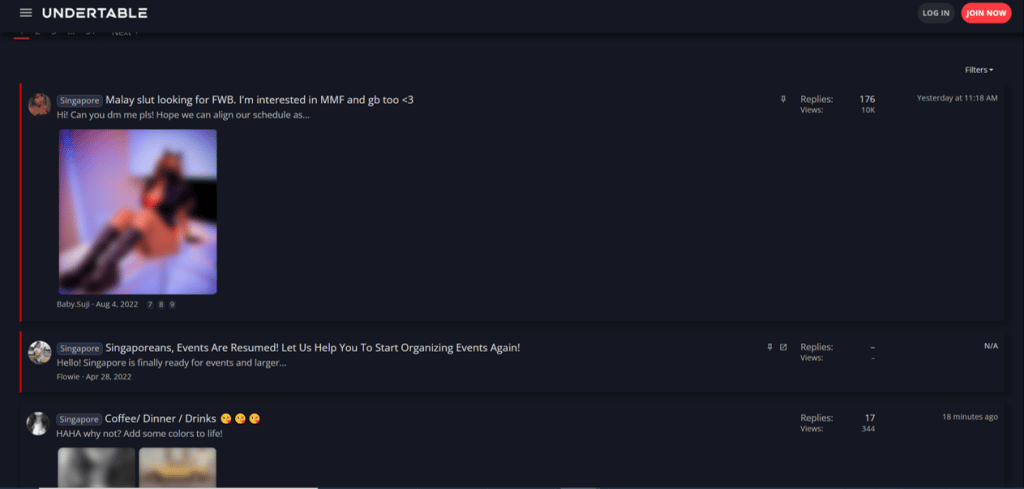 Yes, the bunches of forums make Undertable plausible to its clients. The forum is divided into 11 various subforums. These discussion boards are present in the countries I mentioned a while back. Thus, you need not worry as Singapore, the Philippines, Indonesia, and Thailand have their own set of engagement services. You can closely interact with community members per country and the hottest swingers available.
For example, each subforum contains a specific area of your needs. You can start with the Women seeking Men board, Couples Seeking Couples, Events and Groups Meet-ups, Women Seeking Women, and Couples Seeking Singles. There are also options for General Chats, Transgenders, Crossdressers, and more. In fact, for the Singaporean community, you can relish SG Members Media Showcase to see what tempting materials the Singapore babes and gents have in store.
Sadly, some countries like Thailand don't have a media showcase. Hence, lower your expectations with the varieties from other destinations. On a positive note, it is highly notable here at Undertable that the community is active and vigorous in keeping the boards going. Each subforum contains more or less forty thousand messages and exchanges of discussions. I am starting to get hooked; Asians are indeed a staple for my sexual adventure.
Kinks, Fetishes, and Lifestyles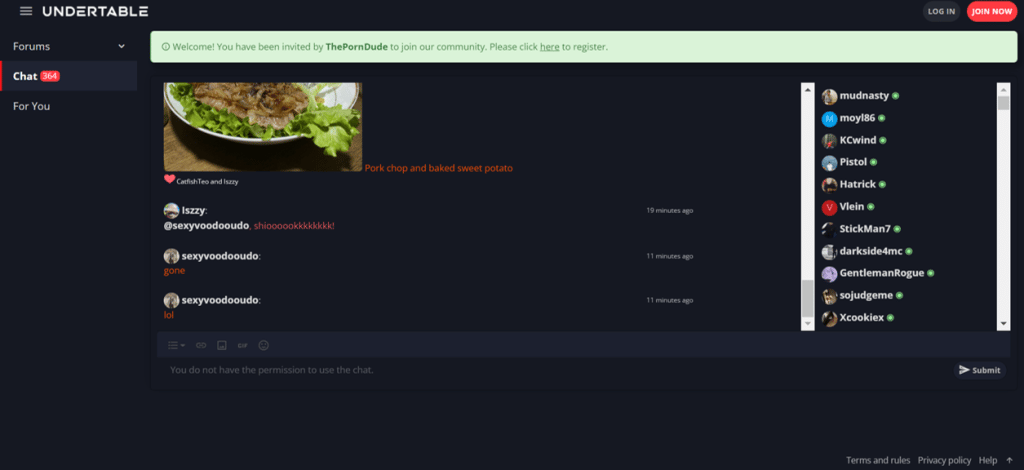 Oh boy, this area is one of the best spots at Undertable. I commend this entire segment as it houses a place of intensifying allure. Under this category, you can get an Introduce Yourself board where you may optimize your stay by engaging with other members in a more relaxed and personal way. The members will know your obsessions and sexual fetish, which makes it even salivating to explore. The more you open your secrets in the open, the more tempting it is to address your cravings.
Not just that, Undertable has a fascinating marketplace called Trade Hub. Here, members can sell and trade their sensual belongings like images, hot videos, used panties or lingerie, vibrators, and whatnot. You will love how knowledgeable and engrossed the community is about sex escapades, materials, and stimulating pieces. My interest was heightened with the gathering of jerk instruments and sensual pursuits. Oh, pal, do not forget to check the media showcases, as they got a parade of titties, desirable nudity, and more drooling content.
Chat Now and Get Some Undertable References
Apart from the thirst-quenching offerings at the forums, there is a live Chat feature here at Undertable. You will love it, pal, as this segment collates a massive number of users. Each participating user has a green dot adjacent to their name, a simple indication of their status. Interestingly, the chat is going hot during my visit. I was tempted to share my wild thoughts too. Other than that, there are days where topics revolve around general entries and friendly notes.
Most times, people interact about daily lives, stressors, and food. In addition, it is easy to get to know people because Undertable has a recommended list of users to savor. The "For You" button jots down the members who share the same or are nearby to your location. It isn't hard to get aroused on the roster of users and services. Much more when these like-minded individuals share amateur stuff. It will then be a nice treat to delectably feast.
The Pros and Cons of Undertable.co
PROS:
Dark page
Active live chats
Media showcases are horny
Trading sex stuff is available
Delicious Asian collection
Discreet and lowkey features
CONS:
Needs to open forums to see orgasmic materials
---
Top 12 Best Hookup and Sex Dating Sites Similar To Undertable.co: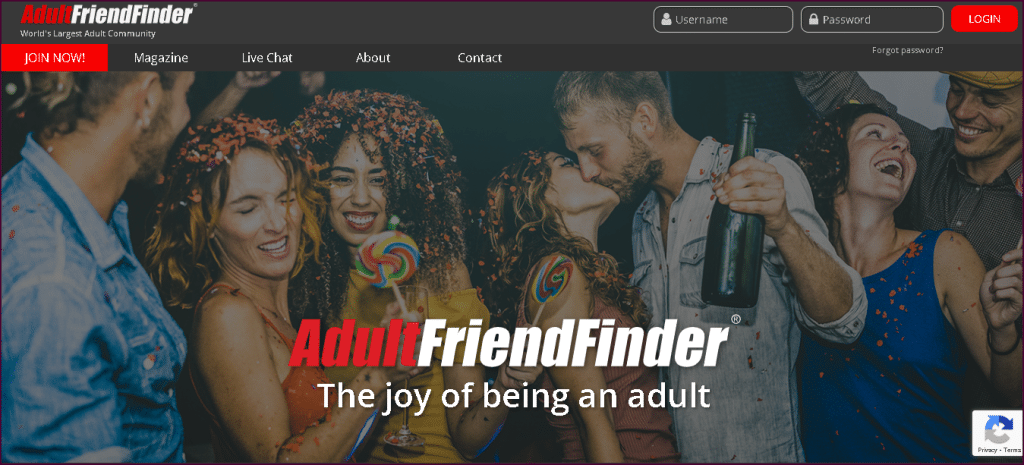 The Adult Friend Finder website is famous all over the world. It has more than eighty million members desiring erotic interactions with multiple women. Similarly, it provides numerous flirtatious relationships, such as casual connections, monogamy, couples, fuck buddies, and many more.
Indeed, this is an excellent experience that spices things up in the bedroom, especially between open-minded people willing to examine their sexual orientation. Finally, registration is relatively stress-free and straightforward, so members finish it in less than five minutes.
Read AdultFriendFinder full review.
PROS:
Registration is free and fast
The members of the website are active in looking for casual hookups
Plenty of options in terms of communication
Watching videos and viewing images are free
You can write blogs and engage in a group conversation
The app is available for download and compatible with both iOS and Android devices
CONS:
The number of male participants is larger
Limited options for free basic accounts
---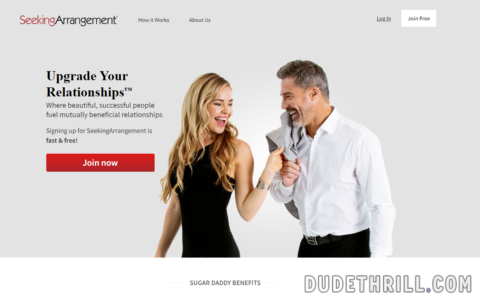 A niche dating platform that attracts daily visitors is Seeking Arrangement. Since this is not a regular matching website, its design could throw off several individuals who occasionally come on this. Nevertheless, it does a brilliant job of providing a secure atmosphere for the type of partnership and interaction it promotes. Moreover, it is intriguing to discern that it has a fair number of people internationally for a platform that contains a relatively fundamental concept.
Seeking Arrangement is a place for youngsters to engage sugar mommies and daddies who could deliver monetary support and encouragement for them. Sugar babies must provide love, sex, affection, and lengthy connections in exchange. Seeking Arrangement redefines an ideal relationship as it undermines the conventional means of internet wooing. The site delivers an oasis where you can incorporate enjoyment with a company.
Grab a quick bite with this Seeking.com review.
PROS:
The verification process is strict
Within just five days, the site guarantees users can find ideal arrangements
It has over ten million members actively seeking and involved worldwide
The majority of members are from the United States
The registration process is easy and swift to finish
Free sending of messages to other verified members only
CONS:
Few fake sugar baby accounts
Requires permission to view a private gallery of other members
---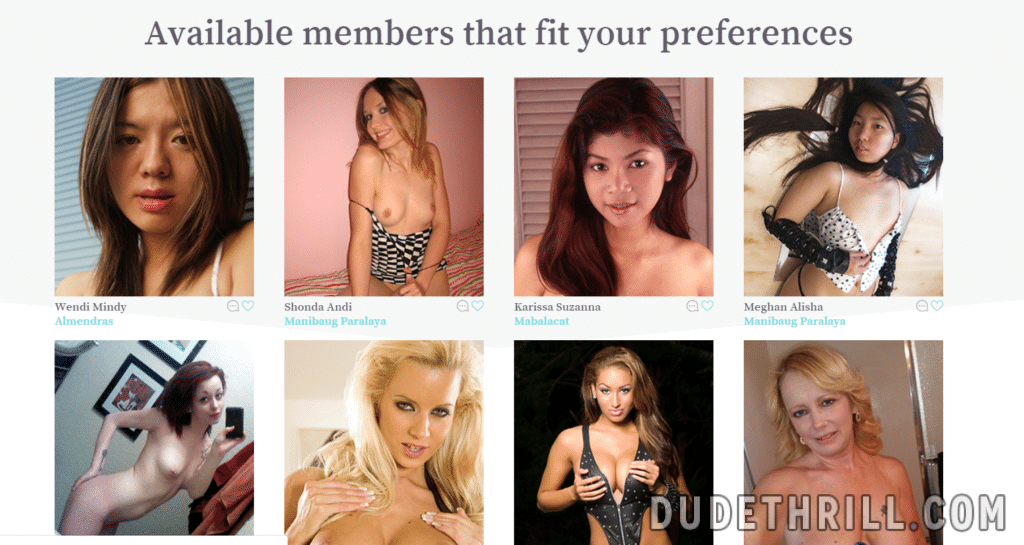 This site might answer if you are tired of the simple dating apps that don't give you the result you need. 2Fuck is entirely new to the adult dating realm, but it has already gained millions of users, a relatively significant number. The site is similar to other social media platforms and provides you with several options for interacting and communicating with other users.
PROS:
Lots of users
Design and interface are pleasing
Joining is for free
CONS:
Can be pricey
Privacy is low
---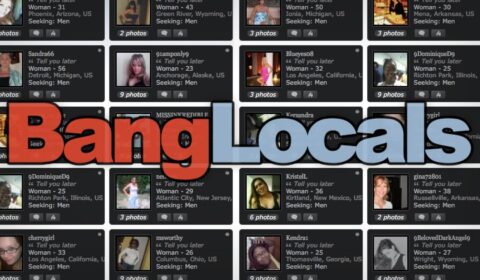 Banglocals is a must-visit website for people looking for a perfect match for sex, dates, and casual affairs. Regardless of the number of competitive websites out there, it has remained on the top spot today. Indeed, our lives are a shitload of work and stress. All we want is relaxing and calming ways to release it. Certainly, a great buddy who will stimulate our sexual desires can make life full of enjoyment. Good thing, Banglocals is a sex dating website that uses a simple process in registration. So, everyone will right away experience pleasure. Indeed, everyone has the chance to find a hot, sexy mate.
Read this full BangLocals review.
PROS:
People can create a sex date network
Free to search profiles of other members
View galleries of images and videos
People can give ratings to hot members
Registration is free and easy
Encourages to post personal images or upload public content
You can contact people through text or e-mail
CONS:
No x-rated videos
No trial period
---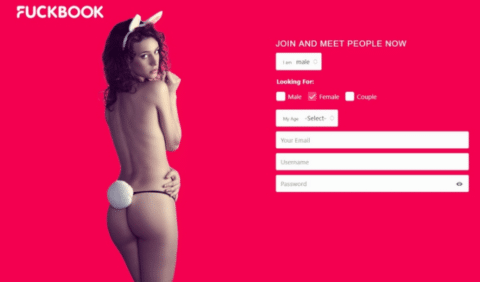 A perfect website for casual relationships and sex hookups is called FuckBook. Here, you are given opportunities to find swinger encounters, sex dates, and many more. This is convenient for people seeking a no-strings-attached relationship as quickly as possible. From the name of this site itself, you know exactly what you are getting into once you scroll through the platform. The interface and features of the FuckBook are straightforward and convenient compared to other swinger dating sites on the internet.
Read FuckBook's full details here.
PROS:
Profiles created are numerous
The website has a design that is easy to navigate and use
Signing up is fast and instant
Membership is affordable but with lots of advantages
CONS:
There are annoying advertisements on the site
---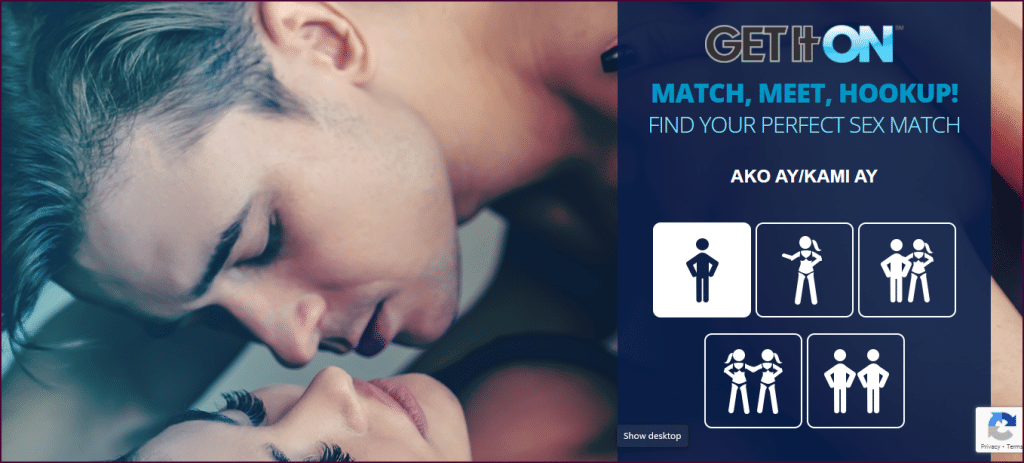 GetItON is an excellent hookup website that helps people find casual sex fun, easier, and more convenient way. Its sophisticated matching approach is very practical in finding your best sexual matches. With this ranking and features available, GetItON definitely offers efficient and easy access to all the hottest and sexiest users in the world.
PROS:
Massive members
Users are actively participating
Features are cool
Easy hookup method
Design is great
CONS:
Requires premium Membership
Features are primarily for premium users
---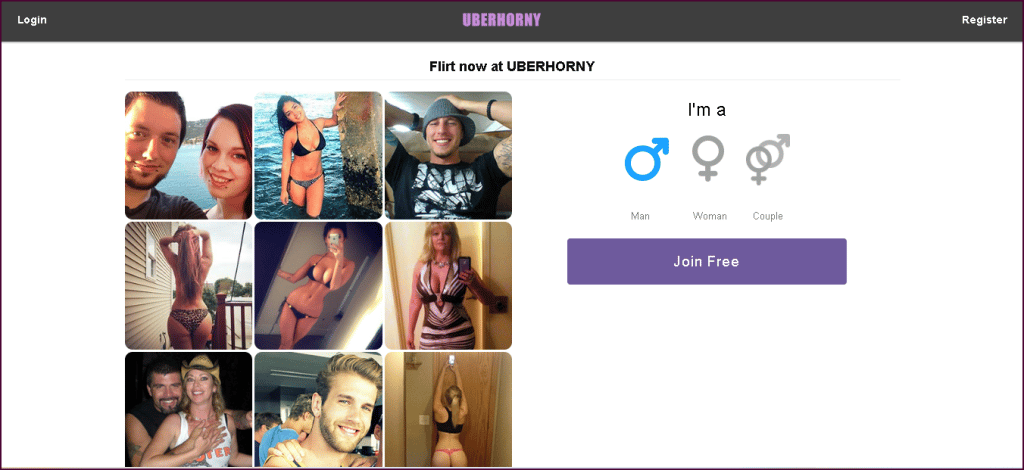 For people seeking a platform to engage in casual entertainment, date, and passionate relationships, the Uberhorny dating website is a great way to express your romantic and erotic urges in life. Due to the unique features and services it delivers, it has achieved over 2 million members worldwide.
In contrast to other dating websites, ample of scams, the Uberhorny encourages genuine relations and interactions. Of course, with a much faster digging of casual connections nearby. Also, Uberhorny provides a trial membership within two to seven days to allow the new members to discover if the platform is worth the investment.
Take a look at Uberhorny review.
PROS:
There are various women in different local areas
The trial version is available at the lowest price
There are more than two million registered members around the world
Many members of different ages are available
Most members are within the United States
Requires only around three to five minutes of registration
Searching is distributed into categories to help to browse efficient matching
Free sending of likes and winks
Suspected fake accounts get suspended immediately
Verification of profiles is available to increase viewing
CONS:
Reminder for payment of membership is constant popping
Profiles of members are accessible when subscribed to premium membership
Limited actions and functions if accounts are in a free subscription
---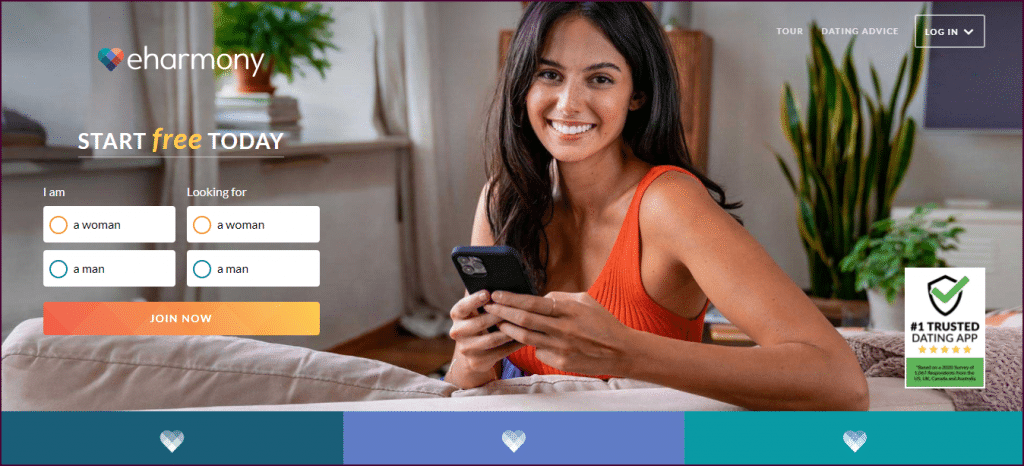 eHarmony is not like your typical dating site as it promotes members to find serious matches that can be capable of long-term relationships. The dating site utilizes a unique compatibility system for matching and narrows down to your considerably possible match. Intending to help its members land on genuine love across the globe, the eHarmony has prevailed to persist in meaningful relationships since 2000.
According to reports, the site creates over fifteen million matches every day, and over 600,000 pairs matched here got wedded. With this, eHarmony has established an excellent reputation through its compelling communication features and deep knowledge of the members' backgrounds. If you are specifically looking for a dating site to meet long-term relationships and profound connections, this is worth trying.
Here's the full review of eHarmony.
PROS:
A precise and accurate method of matching
Millions of members across the world
Numerous privileges offer for premium members
Website design is simple and easy to understand
Free sending of winks
App version is available for download both for iOS and Android devices
Minimal number of advertisements
CONS:
No communication medium variety
Viewing of profile pictures is exclusive for premium members only
---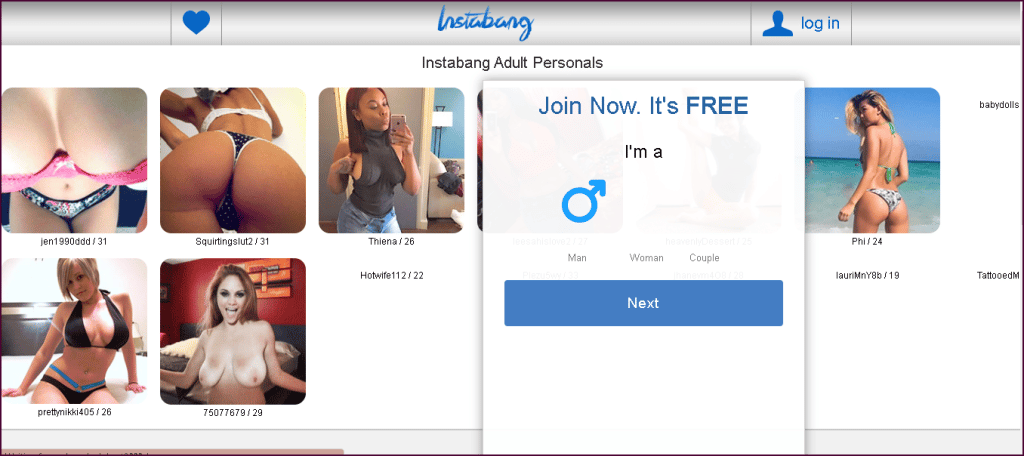 Bringing the community together is Instabang's primary objective. This platform was deliberately developed to provide users with hectic lives through its promising speedy service. Indeed, there is a quick gratification of sex life among its members. Hence, if you are searching for non-committed partnerships or just occasional connections with people with common needs, you are ideally suited to this platform. Indeed, the participants will never encounter problems locating a one-night stand buddy with many sensual girls and young women with attractive bodies.
Read our full review of Instabang.
PROS:
It contains various languages for the most convenient usage of non-English speaking members
Members provide abundant images and videos on their galleries
The advanced searching option is available to make accurate searching
Safe mode feature is available when browsing by blurring any explicit images or scenes while in public areas
Preview of videos is available before making payments
The homepage is straightforward to understand and use
CONS:
There are fake profiles reported
A paid subscription is required to send messages
---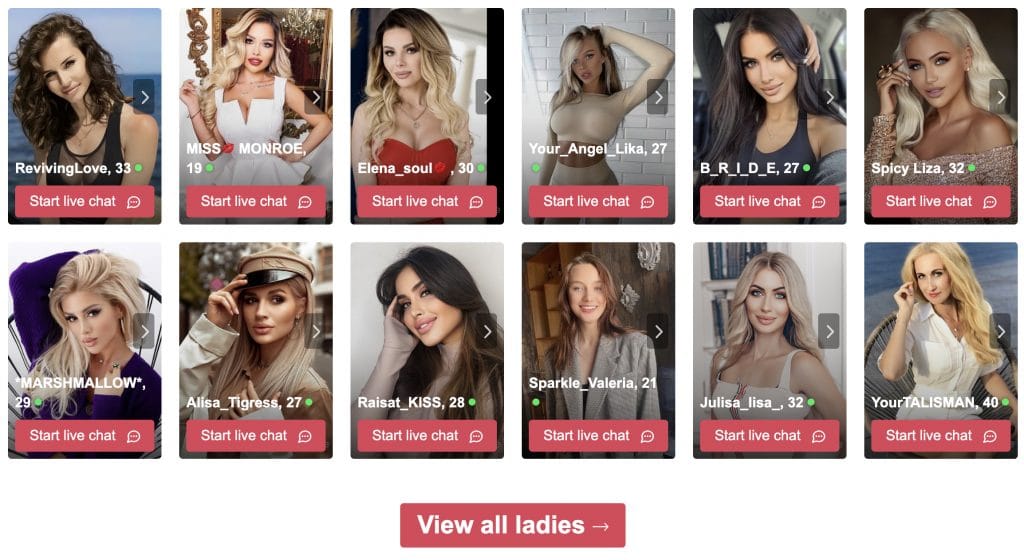 Find-Bride is one of these dating sites providing a popular online matchmaking service for single, desperate men worldwide. Here you can discover and meet hundreds of breathtakingly beautiful women looking for a "perfect" husband. Find-Bride's girls are pretty serious and interested in finding someone they can love and respect. There's literally no room for playdates or no-string attached relationships.
Click here for Find-Bride full review.
PROS:
View profiles without registration
Amazing navigation
No ads
Thousand women
Plenty of communication features
CONS:
Some women have children
Limited to East European girls
Not all profiles are detailed
---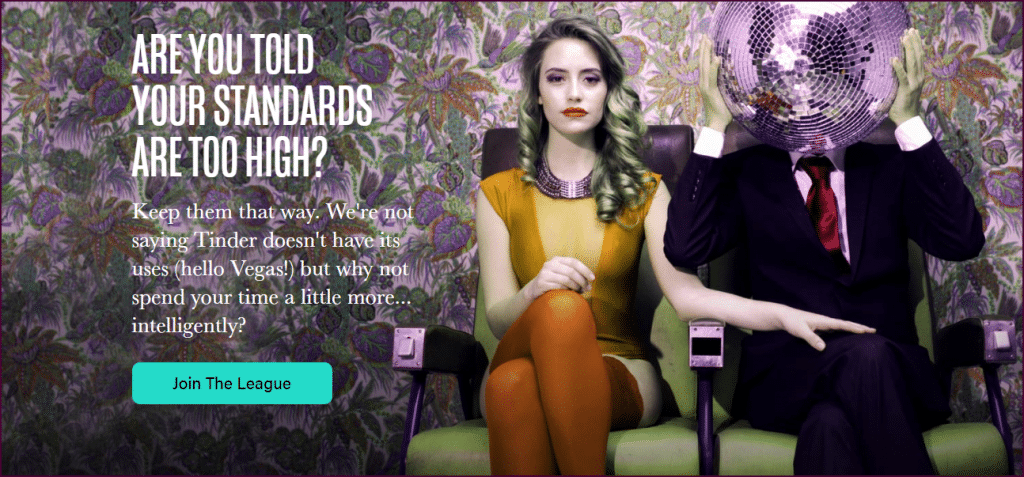 TheLeague is an elite and legitimate matchmaking service that promotes career-minded, hardworking, and enthusiastic adult professionals to discover their dream partner. So, those who put a great value on intellectual prowess and aspirations were this service's primary target audience. By the nature of this site, it's not surprising that some people may be put off by the site's "exclusivity," especially those hoping for a husband or wife in a matter of days.
PROS:
Reliable members
Easily link relevant websites and other social media accounts
Robust verification process
It has incredible features and design
Cam2cam chatting
CONS:
Only a few LGBTQ+ members
Long waiting list
Some users are not on LinkedIn
---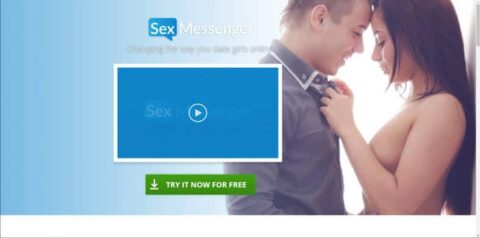 For lonely single males and females across the globe, the Sex Messenger sex dating website has quite a ton to give. Honestly, this website helps you watch several of the website's finest live streaming cams you will ever imagine.
Despite your interests, sexual orientation, or fetishes, there is a good amount of people you can choose from. In your location precisely, a high chance of meeting thousands of new participants and old members is very likely. Currently, people can register for a basic version. But, switching to a paid subscription offers all kinds of fantastic bonus features.
PROS:
Advanced search is amazing
Live cams are hot and always available
You will not encounter fake accounts
Bonus features are available for premium members
Design is clean and relatively simple
Many members from all over the world
CONS:
Many of its features are only available for paid members
---
Final Words
Undertable offers an entire site of Asian hookups, swingers, and more delicious treats. Every horny jerker will enjoy the lineup of Singaporean, Filipino, Thai, and Indonesian hotties. Also, the topics are steamy and on-point to every sexual need. You can quickly meet new people, engage, and share the fun with them. Not just that, the general chats, media showcases, trade hubs, and forums exhibit every juicy image, video, and sexual tool for your perusal. Start your swinger engagement at Undertable today! The site promises an honest and discreet experience.
All 75 Other Sites in This Category Worth Checking Out:
Top-5 Dating & Casual Hookup Sites That Actually Work in 2023 Perfect for ~20-55 year olds, with & without spouses! These are not some "fake" ones pretending to have girls, they are real, worldwide largest networks. Jump to Top-5 Dating & Hookup Sites Hey, I know that jerking off is quite exciting and cool. But… nothing […]