Updated on: December 5th, 2023
Dating.com
The Ultimate Review of Dating.com Site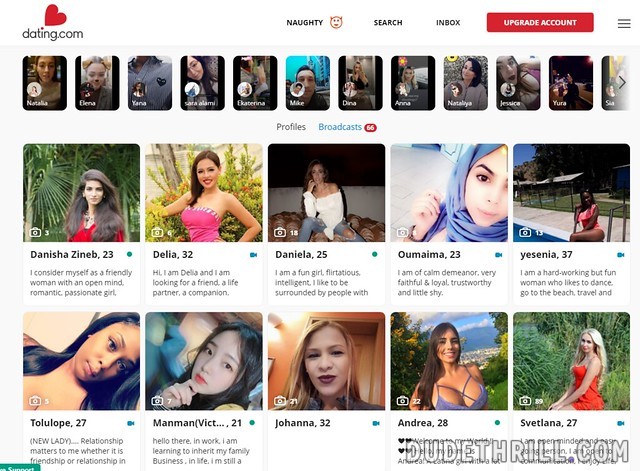 A lot of love stories originated online. Many people are wanting to communicate with other people which really helps since there are lots of online sites to choose from. As the saying goes, there's someone for everyone out there… which is the main concept for dating sites which has become really popular these days. As people spend more and more time with their mobile phones, it has been a trend to meet and mingle with strangers on various platforms.
With its presence known from different places, Dating.com is a famous site that aims to bring singles all over the world together so they can meet and start new relationships. It is very popular in the US, Latin America, Europe, and even in Asia. Therefore becoming an effective platform to mingle with singles coming from different cultures and backgrounds.
Various communication tools and unique features are offered by Dating.com, allowing its members to really make use of the website and connect with each other. Through communication, they are able to interact and get to know one another and get closer despite the distance and differences.
In this review, learn about how Dating.com works, important information about the website such as its sign up process, members' profile, and its different features and functions. Continue reading below to learn more about the site and decide if you want to give it a try and perhaps lead you to someone new and interesting.
Dating.com And Its Members

Almost half of Dating.com members are male adults in their 20s, also known as the Millenials. As they are known to be very tech-savvy and open-minded towards meeting people from the Internet, 85% of them use this website through their mobile phones. There are approximately 60% male members on the site, which is why the most common audience interest is about women, adult content, and dating sites.
The top 5 countries with the most number of members are the following: USA, Philippines, Mexico, Ukraine, and the UK. This further shows that the website really has diversity in terms of members and how it appeals to a lot of people regardless of their race and nationality.
The Signing-up Process and the Homepage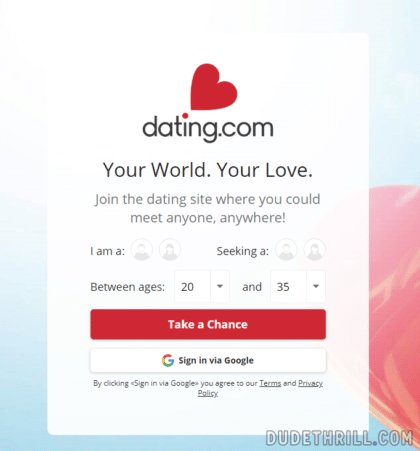 Joining Dating.com is very easy and hassle-free. Upon visiting the site, you will see its homepage where you can start to register for an account. You can do the manual sign up or use your Google account, whichever works best for you.
After signing up, you will have to fill in the "About You" portion, which will later be shown in your profile. It includes basic information like name, birthday, location, and gender preference. Although these sections are not required, a complete profile would look better. When you pick a gender preference for the ones you're going to "meet", you can even select the same gender then you can specify the age range.
When you're done, you will immediately be able to explore the website via their homepage or "Discover" page. This time, you can start meeting other people already. There's no need for email verification to complete your registration.
The homepage displays a gallery of profiles and it is arranged based on your preferences upon registration. You can also make use of the search button. At the top of it, there's a list of stories, somewhat similar to the Instagram stories that has photos and videos. The Broadcast button gives you the list of members who are currently streaming and those you can watch.
Chatrooms are available and you can write to the person who is hosting a broadcast. If the current list of users doesn't satisfy you, you can click Search and refresh the list. This function is pretty comprehensive since it can ask for specifics like location, age, online status, and if you're available for a video chat or not. By clicking more, you can then find people who share the same interests with you, based on what you provided in your profile.
Start Contact and Mingle!
Dating.com offers various communication tools to help members interact and connect with each other. These tools are vital in creating meaningful connections among members. Basic chat and messaging can be used to immediately contact individuals who caught your attention, while video chats allow one-way or two-way video call/chat with another. They also have "Let's Mingle" option which allows a member to simultaneously send introductory messages to their chosen members, and it can either be invited to hang out or invite them to chat or video call. You can also send "wink" toward a specific member, like their profile, and use a webcam. The website also has a comprehensive search to help members in searching up their preferred prospect mates.
Members' Profile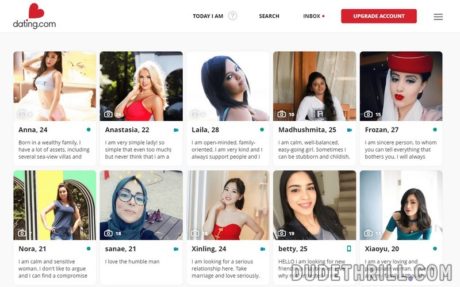 Although signing up for the website is easy, members' profiles are usually complete and contains interesting stuff. The "About Me" section works like magic since contains basic info and interests which could be used as icebreaker topics to talk about.
Viewing a profile is free and you can easily check them out. You can check them out and add them to your list of "Favorites". One great feature of Dating.com is that they enable members to set "dates" where two people will have their schedules meet and they can start talking and communicate more. You can also view others' cover photos for free. By taking a look at their profile, you get a glimpse of who and what they are, and then you can start the conversation from there.
Although the site keeps a strict eye on fake profiles, there really are some instances of these being true. But Dating.com has always been trying to improve in terms of that; making sure that members are well-aware of it and to report immediately if they notice something suspicious or if someone appears to be a scam. They also have a protection policy for the members so it's well-taken care of.
Mobile App and Go Premium!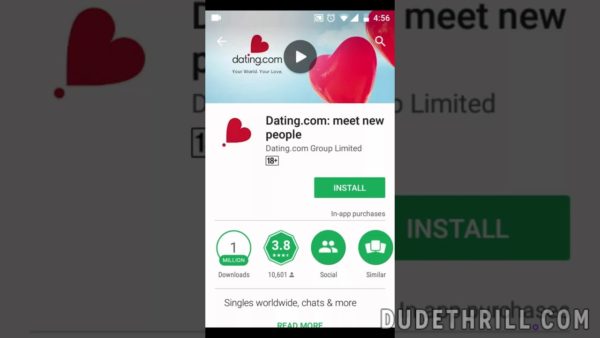 So far, the mobile app is only available on Android and it's made similar to the website so members won't have a hard time browsing through it. It's branding, color scheme, as well as features and functionalities, are almost the same. Just one big difference between the website and the mobile app would be the need to upgrade to a premium membership for you to access all the app's features.
When you subscribe to a premium membership, you can enjoy these benefits:
24/7 friendly customer service
50% discount on all-site purchases
Unlimited streaming
"Let's Mingle" feature
Costs and Prices
Here's a small guide to walk you through features and functions from Dating.com which can be accessed either by free membership or by availing premium ones.
Free:
The search function (still comprehensive despite being free)
"Send wink" feature
Upload photos
Premium:
All "free" functions
View profile pictures of other members
See who views your profile
Email sending and receiving
… and much more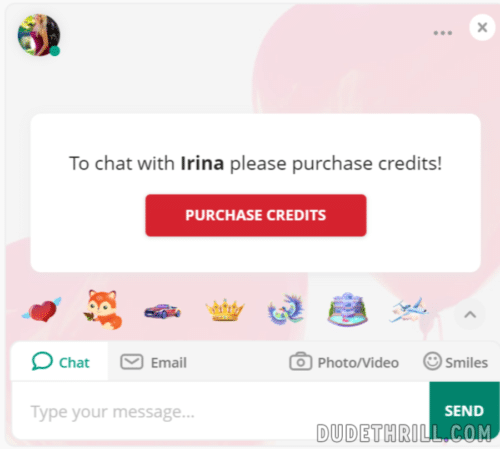 Payment options include both Debit and Credit cards as well as Paypal. Also, it offers payment discretions, meaning, if you purchase anything from the site, it will appear as "Dating*" on your statements. Although joining a dating site is nothing to be embarrassed about, it saves you face and questioning glances especially for those who can see your sensitive financial info like bank statements.
Instead of going for a premium, standard members have the option to purchase monthly credits from the site. These credits can be used to use various features such as basic chat, email, video calls, and buying presents for other members. These credits also allow members to access paid site features like "Let's Mingle" and enable them to send stickers, smiley, and even offline messages.
You can also send gifts to any member that you like. Most of these gifts such flowers, gadgets, gift cards, and other items and its prices depend on which ones you would use and are tailored bit based on your likes
Features, Functions, Pros and Cons
Since there are more dating sites sprouting everywhere, it is a must for them to offer "something that is not served in the table yet". Some features that will be available are the following: basic messaging, standard messaging, webcam or video chat, Let's Mingle.
PROS:
Males in their 20s are the most common in the site
The site is very convenient since most people are always on their phones
You can meet people with various interests
This site is very popular especially for singles
Easy sign-up; Sign-in via Google is enabled and no need for email verification
Almost 180,000 singles are active weekly
Account creation is absolutely free
Search results are tailored-fit for your preferences
Aside from email, basic chat, and video calls, chatrooms are also available
CONS:
Quite a number of fake profiles
Not available for iOs users
Credits are quite expensive and expire fast
Gifts cost a lot
No promo codes available to lessen the cost of credits and gifts
You cannot chat a member unless you buy credits
You can only read the first message; you'll need to subscribe to read the succeeding ones
Filtering searches is not that advanced yet
After signing up, you'll receive a lot of "welcoming messages" where some of them are spam / from fake accounts
Online Dating: Must Remember Tips!
Whether you're new to the online dating scene or not, you can use some advice or two to get yourself going and make the most out of it. These tips will be very applicable especially for those who are just starting to get a hang of these dating sites.
Make sure your bio says a lot about you
Pick the best profile photos
ALWAYS stay safe online
Don't be overly clingy and balance out your communication with your matches
Skip the Facebook stalking phase when you're using dating apps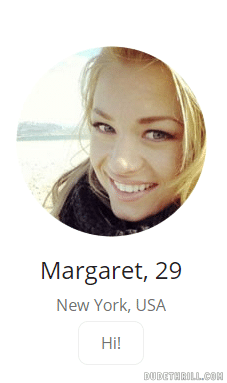 One thing that sets Dating.com apart from the bunch of dating sites available right now, is that they give off that fresh, casual, and vibrant feeling. No need to fill up questionnaire-like items during the sign-up process. Just a few clicks here and there, and you're good to go. It's a big plus for singles who want to mingle since they won't be wasting time in accomplishing long sign-ups. Other dating sites have registration processes that almost feel like they're out to have people apply for loans because of the number of irrelevant questions.
The chances of meeting someone is increasing as there are millions who are also single, just like you. Being a global social discovery platform, it enables people to connect and learn about each of their interests then start from there.
Dating has been and will always be about taking chances. Chances to meet someone new, chances for them to introduce you to different people, places, and things you never knew before but you'd come to love. It's the chance that you won't like them as much as they do, or it's the chance that maybe you'll like each other, too. The chances of spending some precious time together, probably just for an hour, or to the chances to spend a whole lifetime with one another. It's the chance that there might be something more, someone, new, and someone better. Dating has never been about data or algorithms. Not even about the number of friends that you have in common, or even with your specific likes and ideals, be it physical aspect or not. It's not about having someone tall, sexy, or has a great eye and hair color.
Dating.com really gives a superb chance to any person to meet their significant other without any hassle. Millions have already tried it. Why don't you? 🙂
Take the chance now!
All 75 Other Sites in This Category Worth Checking Out:
Top-5 Dating & Casual Hookup Sites That Actually Work in 2023 Perfect for ~20-55 year olds, with & without spouses! These are not some "fake" ones pretending to have girls, they are real, worldwide largest networks. Jump to Top-5 Dating & Hookup Sites Hey, I know that jerking off is quite exciting and cool. But… nothing […]