Updated on: October 1st, 2023
AdultSearch
& 14 Best Escorts Sites Similar to AdultSearch.com
If you look up adult job listings and escort sites on the Internet, you will find AdultSearch topping the list. It is a site that really stands out among them all because it has a large number and diverse escort listings. A lot of people have now gotten used to accessing the Internet to search for nearby escorts and just about any other adult job in the area, and AdultSearch would gladly assist you with that.
When Should I Consider Trying Adultsearch.com?
Are you traveling alone in an unfamiliar place? Or you just suddenly feel horny and wants to have some fun time with some random chick? Go ahead and book those escort services which you will mainly find in AdultSearch. Although there are some areas with little to no escorts at all, there are also areas where there are lots of them, and when we say "lots", there really are a LOT of them. So, if money is not a problem, and you want someone to accompany you in your travels, and most importantly, have your sexual fantasies fulfilled by someone who is game to do just about anything sexual, try AdultSearch. Female, male, and transgender escorts are always ready to serve you with their steamy services. AdultSearch even has listings for body rubs and massages, especially ones that offer happy endings. Most countries, states, and even suburban areas are listed on the site so you can be sure that there is someone around the area ready for some booty call via AdultSearch.
What Does AdultSearch Offer?
AdultSearch also offers links to other adult sites, so you can easily check them out even if they are not under AdultSearch's website branches. You will practically find everything on their homepage. You will even see the links for signing up as a member, or if you want to advertise some services, or if you want to sign up as an escort. Although there are some ads on AdultSearch, especially ones that would lead you to adult cam sites, it is not that annoying type to really disturb your browsing experience. Their services are wide-ranged; as stated above, most would go for escorts and body rubs, but they also offer just about anything related to kinks and fetishes so if you are up for such things, you would gladly enjoy it. They also have listings for massage parlors, gay bathhouses, adult clubs especially ones that host BDSM-related activities.
Are Escorts on AdultSearch.com Any Good (and Real)?
You won't regret trying AdultSearch because most of their escorts are smoking hot and sexy. They all come from different body types, ethnicities, and you get to assess each one of them via profiles and pictures. If there is no picture of their pretty faces (some would prefer to keep it lowkey for privacy reasons), then you will have your eyes blessed with seductive photos of these escorts flaunting their bodies for everyone to drool over. As AdultSearch is one of the top escort sites to ever exist, it has earned its reputation and of course, they can surely boast of their advanced features. You can make use of their advanced search and filter the escorts based on their ethnicities, body types, skin and/or eye colors, spoken language, and type of services offered. AdultSearch also has a lot of options for payment so you will have plenty of ways to avail of their services.
If everything said above isn't enough to have you convinced that this is your sign to start typing AdultSearch.com on your web browser now, then feel free to check out more info about the site, as well as similar websites that you can visit that offers the same services. Of course, because we recommended these sites, these are proven and tested; you will get a good time of your life once you visit and book in these escort sites so it's a must-try!
Get Ready To Get Laid With Just A Few Clicks And Taps at AdultSearch!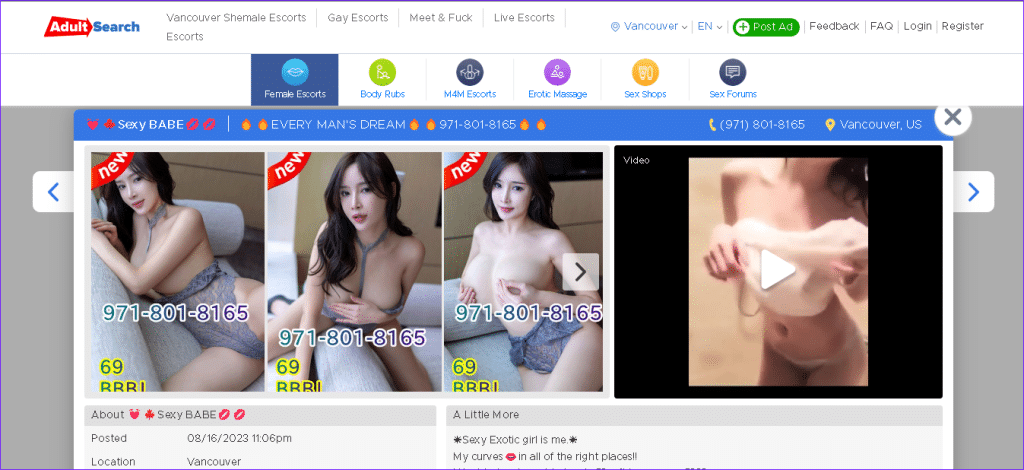 AdultSearch is a site that's like no other you've ever seen. Seriously, this place is a unicorn in the vast meadow of the internet, and it's all because of one big reason: escort listings. Yeah, you heard that right. This isn't your typical "find-a-date" kind of deal. We're talking about escorts, folks. Before your imagination runs wild, let's get one thing straight – not all escorts are here for the steamy stuff. Many are about companionship, which is as legal as your grandma's apple pie in most places.
So, what's the deal with this site? Well, picture this – you're looking for a bit of adventure, a hint of excitement in your mundane life. And what's better than having an escort by your side, right? Whether you're scouting for some company in your hometown or need a wingman (or wing woman) while on that epic vacation, AdultSearch is your one-stop shop. Think of it as your escort Yelp – no reviews, though.
Now, don't think this is just for folks with deep pockets. You don't need Scrooge McDuck's fortune to make things happen here. From a cozy night in town to jet-setting across the globe in search of that perfect fantasy companion, AdultSearch has got you covered. And guess what? It's all free. Yep, that's right – no hidden fees or secret handshakes.
Enjoy Different Fuck Services and Experience Real Pleasure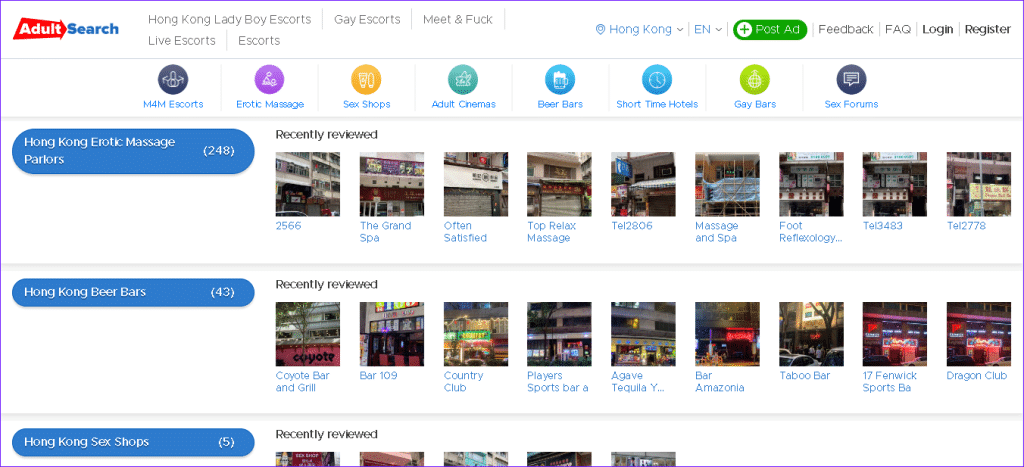 Finally, it's time for AdultSearch to show you a world of options to make your head spin. We're talking a shitload of choices – from female escorts to the dazzling world of trans babes. But that's not all! They've got your back with sex shops, body rubs, and even massage places. It's like a buffet of, well, let's call it "adult delights."
Now, brace yourselves – this isn't just about the big city lights. Nope, AdultSearch has gone all-inclusive and is catering to suburbanites too. So, if you're thinking, "I live in the suburbs; what are my options?" fret not! You might be surprised to find a shitload of choices in your backyard. But don't let that fool you – the main areas remain where the action's at. It's like escort central, and trust me, these lovely ladies (and gents) know where the party's poppin'.
Adultsearch Is Not Just An Escort Directory But A Playground For a Shitload of Connections!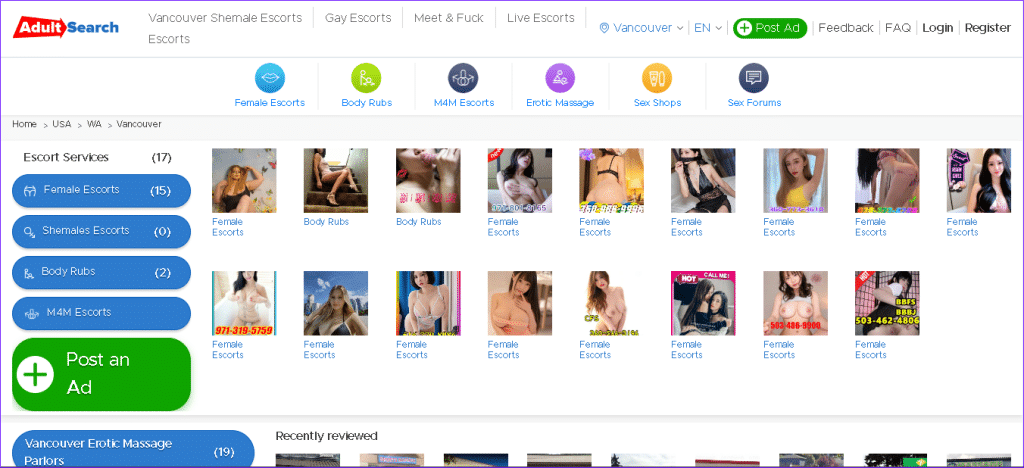 In terms of design and features, AdultSearch is like that well-organized closet you always wished you had. It's simple and sleek, and there's a legit link right there at the bottom to report any shady stuff because we're all about keeping things safe and sound in the adult world. Also, don't even get me started on the contact link – they're practically rolling out the red carpet for your questions and curiosities. Also, for obvious reasons, this place is like a treasure chest of options, loaded with all sorts of escorts. Plus, they've got options that could fill a phone book (remember those?), especially in the big cities.
However, this isn't just a digital directory but a playground for connection. Also, who doesn't want a little extra in the personal interaction department? Trust me; these ladies know how to dial up the sassiness and the heat. So, my advice? Don't just swipe and scroll – take your time. This is the same as a buffet of tempting treats; the best way to savor it is to indulge in good ol' browsing. You never know that perfect woman who's sassy, erotic, and just the right amount of wild might just be waiting for you to click on her profile. It's like window shopping for a date – but way more exciting.
Various City Options for a Limitless Escort Searching at AdultSearch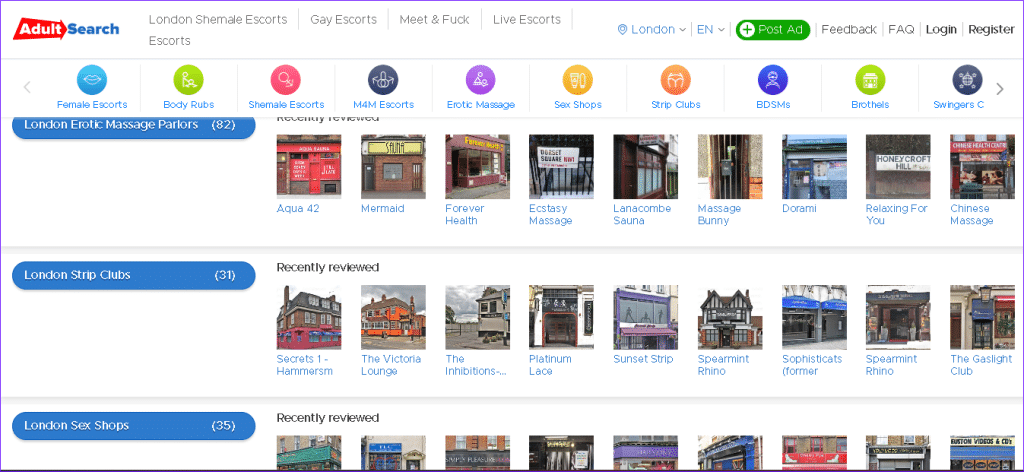 Now, let's talk strategy, my savvy searchers. Sometimes, you might find escorts thinking that the extensive city links are where it's at – and let's be honest, it's hard to resist the appeal of the bright lights. But here's the secret sauce – don't be afraid to venture beyond your city limits. You might just stumble upon that hidden gem in a neighboring town. Also, some folks are masters of cross-posting, so make sure you're casting a wide net.
I gave it a spin for my city and holy smokes, there were more escort babes than I could shake a stick at. And let me tell you, these are no ordinary babes – we're talking absolute stunners. They've assembled a lineup of the hottest folks in town and put them all in one place. Who knew meeting escorts could be this easy – and this much fun?
More Surprises When You Check Out Various Offers of The Big Cities!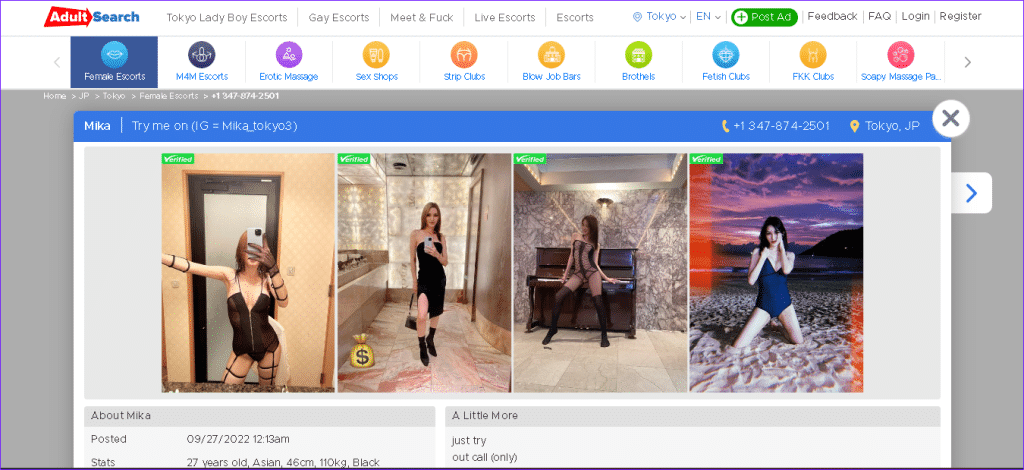 Alright, buckle up because AdultSearch is about to open the doors to a diverse library of sexy possibilities. Imagine a virtual parade of numerous bodies and a rainbow of ethnicities showcasing their services. It's like a buffet of beauty, with options for everyone's appetite.
However, here's the lowdown – you'll find many photos, but some keep their faces hidden. Honestly, who can blame them? Privacy is like gold in this game; these ladies know how to play it smart. But, the ones brave enough to flaunt their faces? They're not holding back on showing off their sizzling bodies, either. I even stumbled upon several clips – talking about a delightful surprise!
Moreover, those bios are like tiny windows into these escorts' worlds, and trust me, there's plenty of playfulness to go around. Some go for the listing route, while others let their personalities shine in their words. It's like a parade of individuality, and it's fascinating. Seriously, though, a nifty filtering system enables you to sort through this delightful mix, like picking out your favorite candy from a jar. You can filter by language, body, race, hair color, eye color, and even their services. The only thing missing is a "body type" – nevertheless, you don't have to worry about that because there's a silver lining. Those AdultSearch babes are pros at flaunting their curves in pics so that you won't be disappointed.
Finally, let me remind you that some ladies are all about cold, hard cash, while others are cool with swiping that plastic. But let's be honest; money is like this area's universal language of transactions. It's like a secret code everyone understands – especially in places where this scene is technically hush-hush. And hey, Dudethrill isn't here to play judge or jury, and you won't catch me dialing the cops. AdultSearch is all about freedom, baby. Wherever you are, whatever country you're in, consider it a playground for finding your kind of fun.
Taste the Best Babes, Spas, Massages, and Sex Shops in Every Country at AdultSearch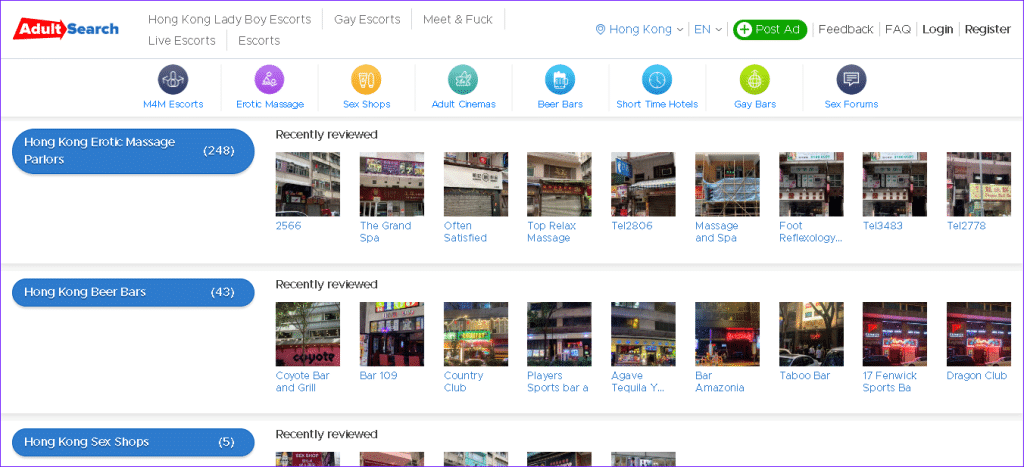 Well, well, well. It looks like my AdultSearch adventure doesn't stop at just escort listings. Oh no, my friends, it's like opening a treasure chest and finding a bunch of secret compartments packed with naughty surprises. Does that city search once you're in the mood for some spying? But wait, don't just pause there; keep browsing and browsing. You won't believe what you'll unearth. I'm talking listings for different erotic places like bathhouses, strip clubs, BDSM clubs, and much more. Unfortunately, not every city will have these delights, but AdultSearch has your back when they do, ready to reveal the hidden gems.
But that's not all. Guess what? Nudists can also get a spot here. However, I didn't stumble upon a single one. Anyway, let's be real – there must be a few out there, especially in those pockets where baring it all is just a casual day out. So, if your heart yearns for a sun-kissed adventure where clothes are optional, keep your eyes peeled. Pretty sure, AdultSearch might surprise you with an unexpected nudist oasis.
There Are Plenty Of Hot Babes And Escorts For Your Peculiar Needs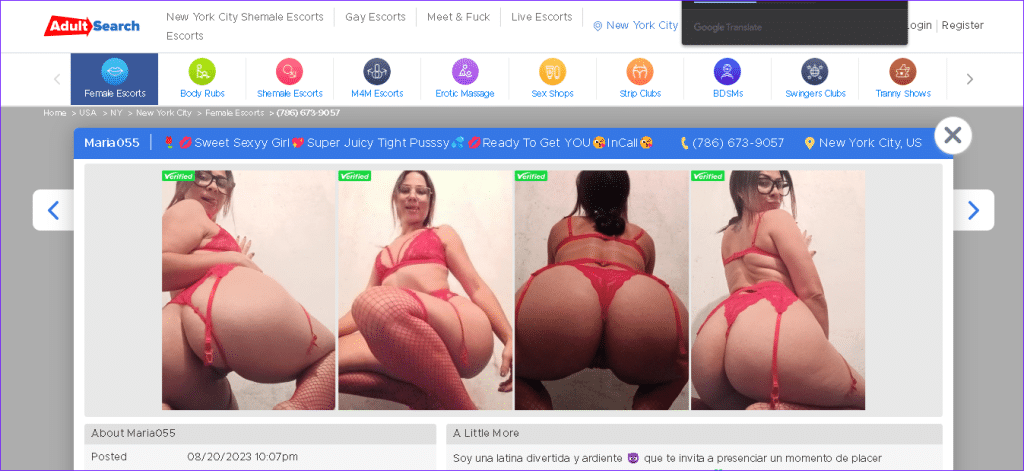 Dudethrill has your back if you're up for some sizzling hot meet and you're ready to flash that cash for a little extra… companionship, shall we say? Oh, and did I mention the bonus? An escort site with not too many pesky ads getting in your way? My friend, it's like a VIP ticket to the ultimate adult playground. Now, let's get real. Look at how other thrill-seekers are having a blast here – this place is the search engine of your naughtiest dreams. Trust me, I've seen users sifting through the goodies, and they're like kids in a candy store… or maybe adults in an… adult store?
But here's the golden rule: location, location, location. It's similar to finding the secret entrance to a hidden club – being in a bustling city makes it easier to hit all the right spots. If you're in the good ol' New York City, why not consider moving to some expensive, crowded place? I get it; packing up and relocating isn't precisely a snap. From what I've seen, the Dudethrill crew is ready for some wild moves – and I'm not just talking about dance moves. You might just become the legendary client these glamorous sex contacts have been waiting for. The moral of the story? This platform is your fairy godmother of adult classifieds – a few hiccups, thrills, and a sprinkle of magic for good measure.
Pros & Cons of AdultSearch.com
PROS:
Top escort listings
Variety of services
Escorts of diverse statistics
Wide range of supply
CONS:
Some places without escorts
Some ads and links
Unorganized categories in some cases
---
14 Other Escort Sites Similar to AdultSearch.com: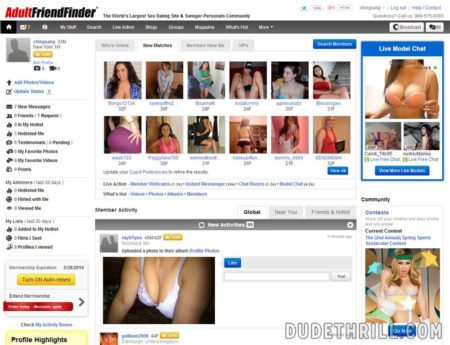 This is not just the most popular adult dating site to ever exist, this is also the easiest and most convenient way to score hookups and meet escorts from all over the world. Also known as AFF, looking for potential matches has been as easy with their advanced search with millions of members as to date. Although you will encounter a few scammer and fake profiles along the way, you just need to be vigilant at all times and get your guards up even when you are trying to mingle and flirt with online strangers. The site has a premium subscription that will let you enjoy more features to make your AFF journey more enjoyable. You will meet men and women from different walks of like in AFF and most, if not all, are down for any adventure. Hookup? Someone who is up for a one night stand? Escort services? Just name it and AFF got it.
Care to know more about it? Check our full review of AdultFriendFinder here.
PROS:
Unique and useful features
The large population of members
Very popular among hookup and dating platforms
CONS:
Security and verification of profiles is not too strict
---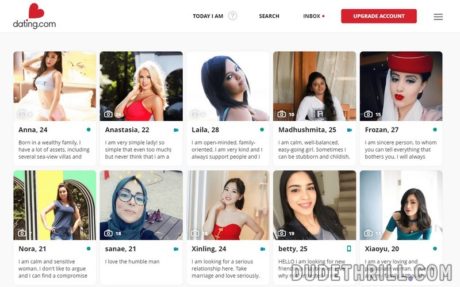 Another big name in the online dating and hookup world, Dating.com offers you lots of features that are not only limited to meeting fellow single people but also knowing like-minded individuals who are down for some good time not just over the Internet. The site also offers a lot of communication tools that will help enhance your experience. Since there are millions of users online, you can surely find people who are up for some sexy time, as there are also escorts on site. With the advanced search, you can type up some keywords and results will be filtered to fit your preferences. There are affordable packages for premium memberships and even with a free account, you can still use and enjoy lots of perks already. If you just search around Dating.com, you will eventually be matched with hot girls who can offer you with their escort services and have your own fun time together.
Don't think it's worth it to try Dating.com yet? I urge you to check our in-depth review of Dating.com and find out!
PROS:
Large database of profiles
Mobile-friendly
Available on mobile apps
CONS:
Free users only have a few access to features
---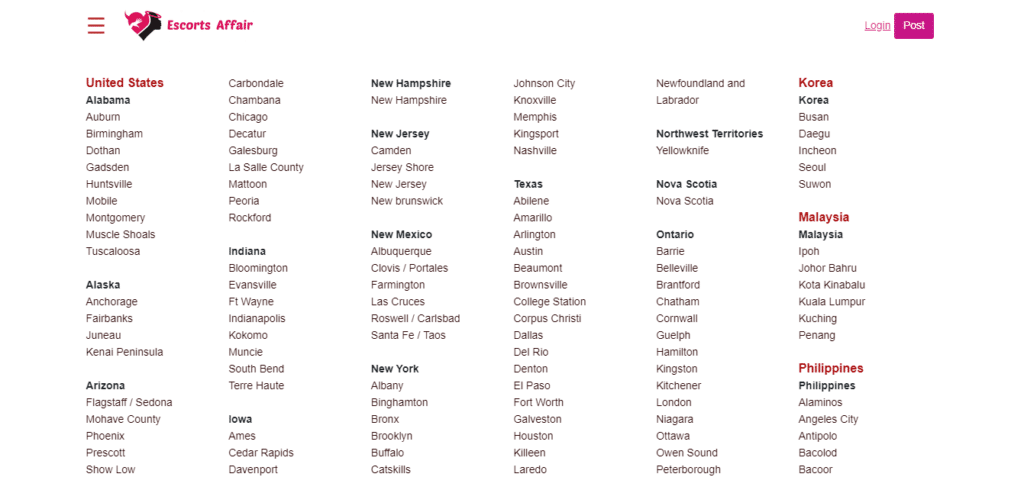 This site is perfect for individuals with blazing hot hormones who just want to fuck amateur girls in a more professional arrangement. No need for awkward first dates or whatnot because with Escort Affairs, you will get to browse local escorts in your area and pick one that would suit your tastes – one that would be your companion for your specified period of time. If you want someone with big tits, curvy bodies, or just about anybody type of your preference, then you can pick one easily because the site enables you to filter out each escorts with different classifications. You also get to check out their bios and profile pics. It would pretty much be like ordering your local pizza and have it delivered, only that this time it's a different kind of hungry and would only be appeased by fucking some hot escort.
PROS:
Free registration
Many escorts available
International listings offered
CONS:
Not really strict with verification
A few ads
The pretty basic-looking site and interface
---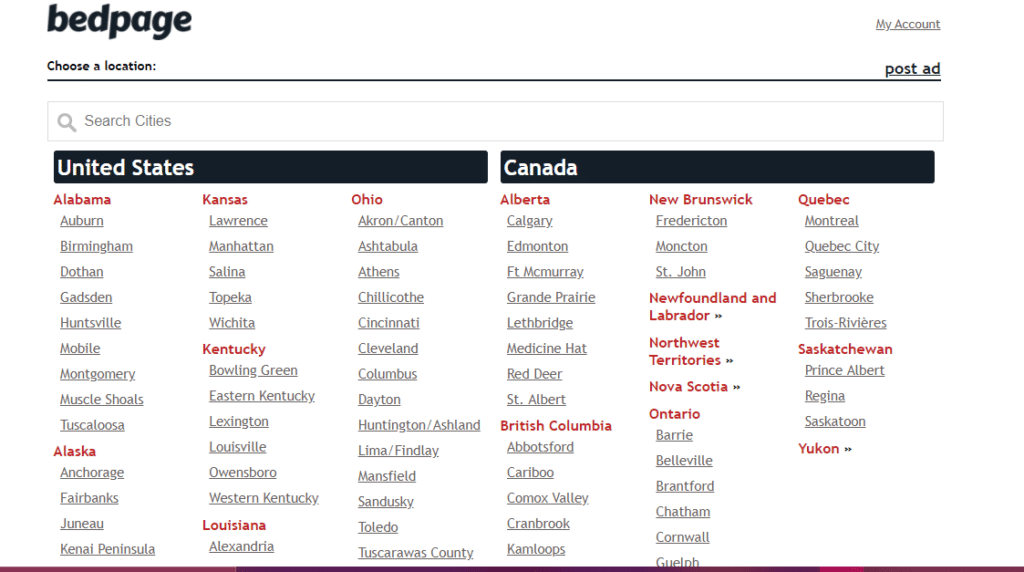 Popularly known as a mirrored version of Backpage, this is also another escort site that boasts of its numerous listings and the long list of loyal users. You will easily find adult services of almost everything here. It is not even just purely about adult stuff, but you will also find literally any kind of adverts here – from home related to the reason why you are reading this article right now: escort services. The website is optimized well to be more accessible and useful for users and not compromising the visual and sleekness of their interface. Since Bedpage is very popular, you would find escorts available in almost any place. Not just escorts, but also strip club, gay bars, erotic massages, and back rubs/massages with happy endings. For places with quite a number of escorts available, you will be in awe at how quickly the site gets updated, on average they could have new adverts in just a few minutes. You will also be at ease while using this site because they verify each and every one of their escorts. So if you decide to try your luck on this site, in hopes that it will lead you to the escort you have been dreaming of, then make sure to choose BedPage-verified girls.
You can also check more info on Bedpage and it's similar sites here.
PROS:
Strict verification for escorts
Useful and accessible homepage and interface
Lots of escorts and members available
CONS:
Website looks dull
Only a few reviews can be found on the site
The whole interface looks unorganized
---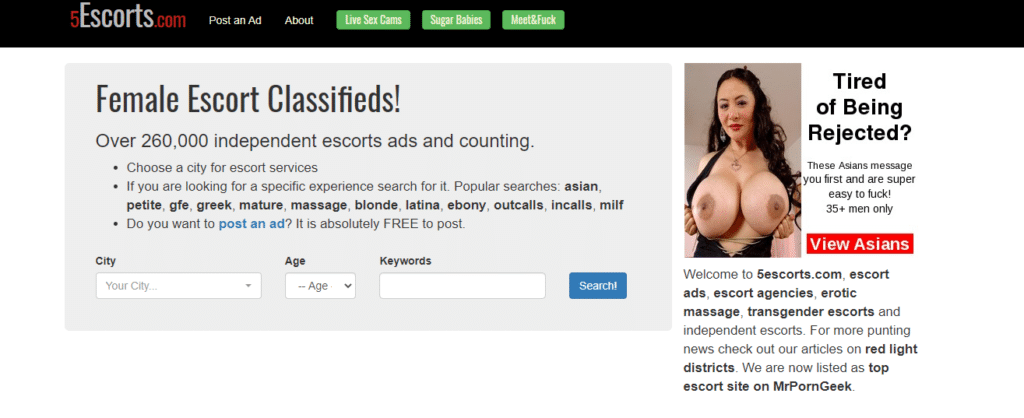 5Escorts name sounds unique and intriguing, but this website is one of the go-to platforms for anyone who wants to get laid easily with the help of escorts. Since this is global, you will be able to browse through pictures of girls from all over the world. The site even has a strict profile verification, so as to avoid catfishing which has been very prevalent lately. Escorts' profiles have plenty of details on them so you would not have a hard time getting to know them beforehand, and then eventually contact them for the deal. Over 250,000 service providers frequent 5Escorts so you will really know that the site has an almost unlimited supply of escorts who are ready for anything.
PROS:
Over 250,000 profiles
Verified escorts
Easy navigation
CONS:
Heavily focused on North America
No advanced sorting
No advanced search
---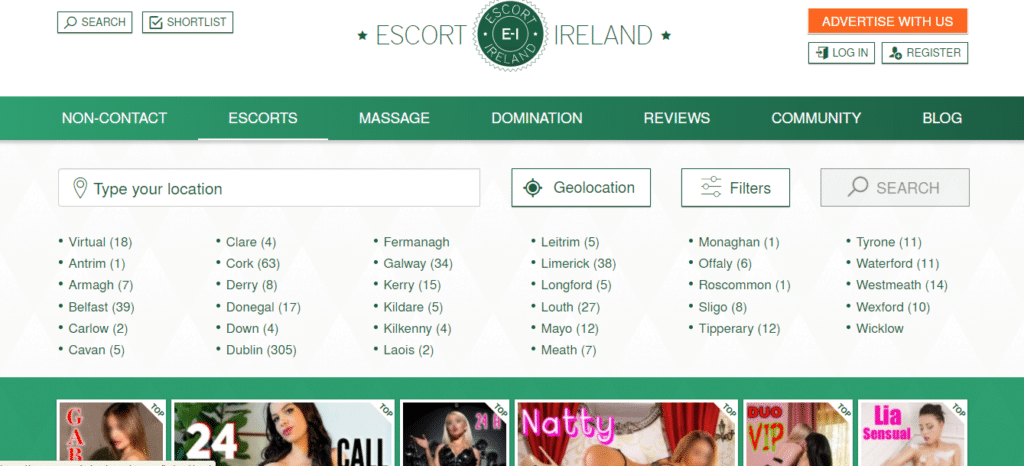 Escort services are very common in Ireland, but it has only been recent since they started adapting to online escort bookings and such technology-related services. Escort-Ireland brings you a lot of wonderful service providers who will always be down for anything, sex-related or not. One great feature of Escort Ireland is that its users can use geolocation to make it easier for you to have matches. Body types, ethnicities, and many other categories are carefully organized so you can easily check out those criteria you really want to see in someone you are going to play such a fun time with. And just like any other adult site, you will find links to different services like happy ending massages, and other themed escort services. A diary-like feature for the escorts is also included, making it more up close and personal. Although most girls on site do not fully utilize this unique feature, there are still some of them who like telling potential clients anything about themselves. Registered clients also have the option to write reviews for the girls, they can even indicate the meetup location as well, just as long as the escort allows it.
PROS:
Hot Irish escort
A diary-like feature making it more personal
Clients' extensive review about escorts
CONS:
Some ads
Available only in Ireland
Most escorts do not use the diary feature
---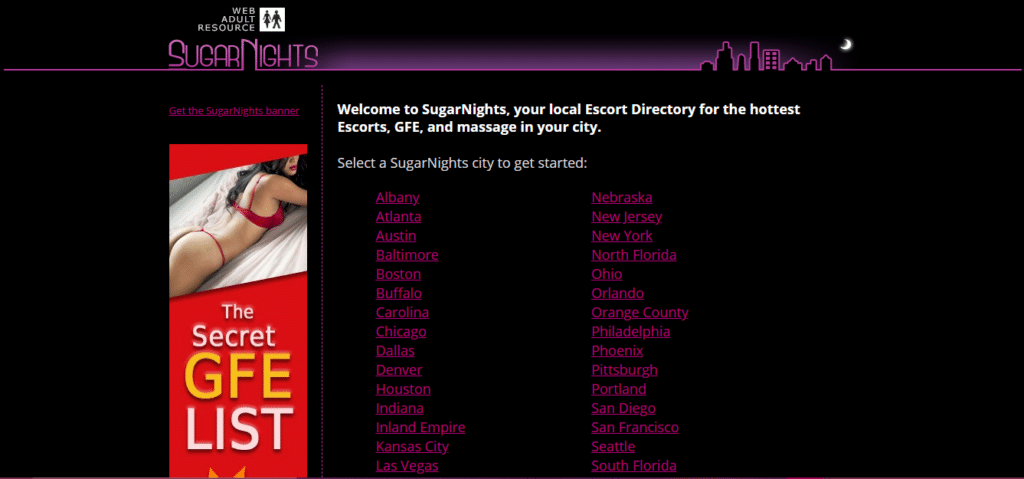 This is not your typical dating platform. SugarNights is the best go-to site for everyone who wants to have some intense sex by curvy BBW escorts. Most of the girls here are skilled in giving back rubs and massages, so if you are in need of some unwinding and release, you can have your happy endings here, thanks to the lovely escorts. If you feel kinky and want to play around but you have no one to play with, then worry no more because SugarNights ladies are down to do anything. Just negotiate some amount and pay them with their fixed rates, then you can get that hardcore sex that your body has always wanted, or maybe have some sensitive talks-about-life session, do your fetishes, kinks, or even BDSM fantasies… anything!
Full SugarNights review here.
PROS:
Escorts are mostly hot BBWs
Easy navigation
Live sex cams are available
CONS:
Mainly focused on the USA
Lots of ads
Few reviews only
---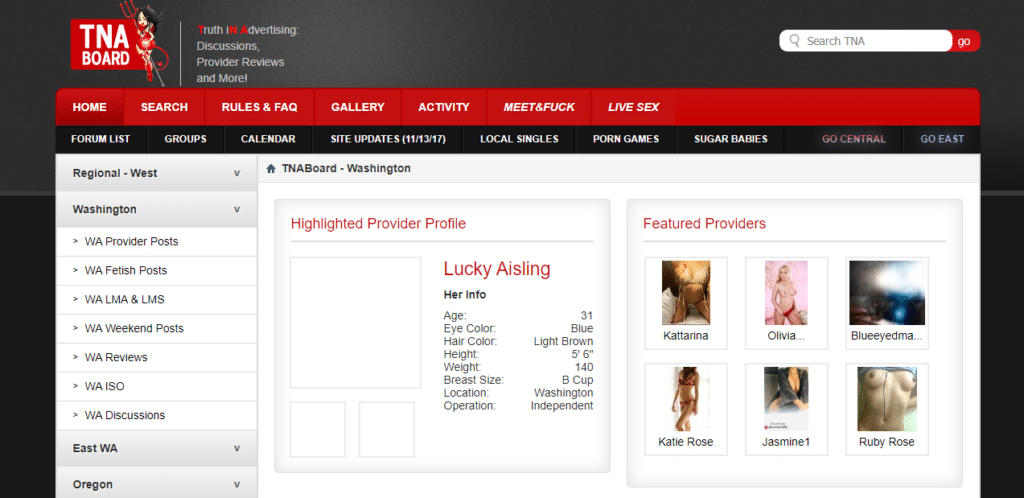 If your brain works in a more "sexy" way, you might have thought that TNA means "Tits and Ass" given the very nature of the site, but no, it is actually Truth in Advertising. Fairly enough, TNABoard really does have a lot of general adverts, especially for escort services. Too bad that the site is available only in the US, so you won't get to enjoy its excellent features if you are from another place. The best thing about TNABoard is that their listing is massive! They do not only even focus on the bigger states and cities, but they also have other less-known and suburban areas so wherever you are in the US, but there is also always some hot escort waiting for you to make transactions with. On the website, you get the chance to read reviews about each girl so you would have an idea as to what their abilities are. You can also contribute some so future clients can also check them out. The girls' services are very diverse — some would gladly do back massages and body rubs, some would go for plain escort services, while some can even give you fetish and kink-themed entertainment. It is really fun since the ladies here are down for anything in exchange for some cash. If you need to let out some steam and enjoy some sensual moments with your chosen escort, go ahead and visit TNABoard right now.
Here's a full review of TNABoard.
PROS:
More than 100,000 user reviews
Verified escort profiles
Daily updates
CONS:
Most features require an account
Few navigation glitches
Plenty of annoying ads
---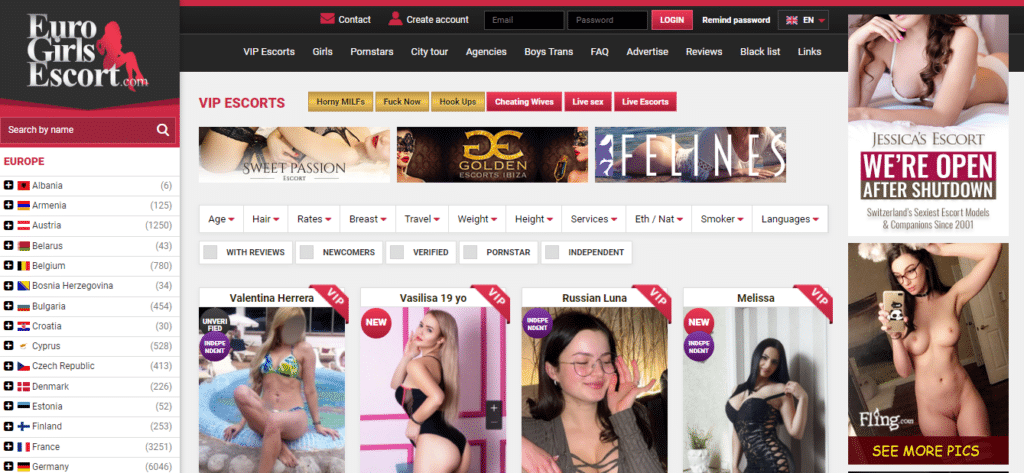 If you are in the European soil and want to have some Euro girl by your side, then worry no more because this site is the perfect one for you. EuroGirlsEscorts does an excellent job of connecting hot ladies with people who are looking for some solace and intimate time that will surely give a big smile on your face. There are ladies in almost every part of Europe… so wherever you are, there is always someone nearby ready and available to do anything just for you. Escort profiles are very detailed, which makes it easier for clients to choose and pick one that really suits their tastes. Some details included are hair, skin, and eye color, age, ethnicity, services provided, and fixed rates. The website also looks sleek and fancy, so you will have a great time browsing on-site and proceeding to your fun night with your escort.
PROS:
Fully-accomplished profiles
Hot Euro escorts
Easy navigation
CONS:
Some Euro locations only have a few to no escorts at all
Some ads
Only a few reviews by other users
---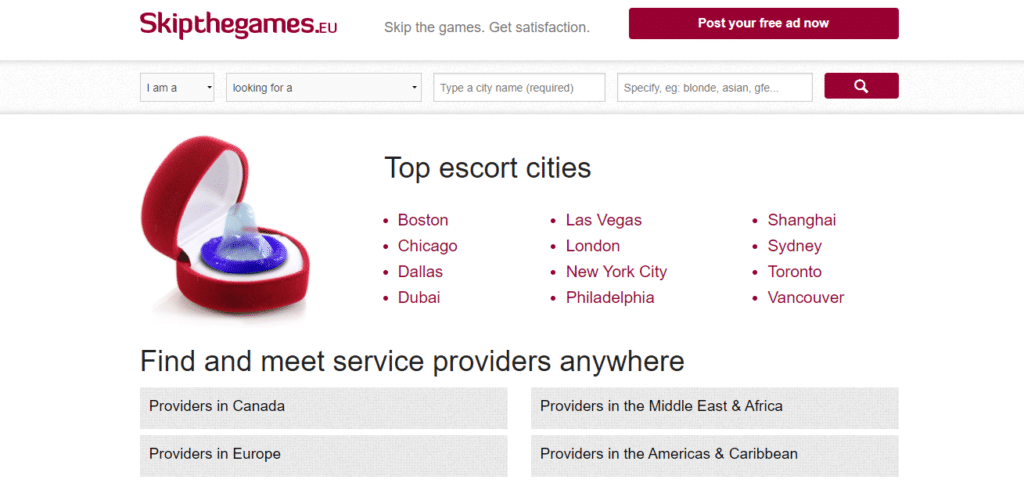 With the users' safety in mind, SkipTheGames is one of the top escort platforms that will not disappoint. You can see how hands-on the staff is with the site, from the smallest details to interacting with the audience. Moderators of this site keep the user's experience very engaging and smooth. Their simple filtering features is one of the best things about this site, as it makes everything easier for those who want to look for their ideal escorts. Their search engine makes it easier to browse through adverts and eventually find data you've been meaning to see. It is more of a site that helps you find services, it does not directly hand over the escorts to you. If you specify your preferred gender and other personal preferences, you will be redirected to galleries of female escorts, starting from the latest uploads. Independent escorts can be available for contact with SkipTheGames, you can reach them out via email or phone numbers provided on-site.
Click here to find our more about Skipthegames and it's alternatives.
PROS:
Hot escorts all over the world
Very easy to use
No annoying ads
CONS:
Lack of advanced filters
You will be redirected to lots of sites
Basic-looking website
---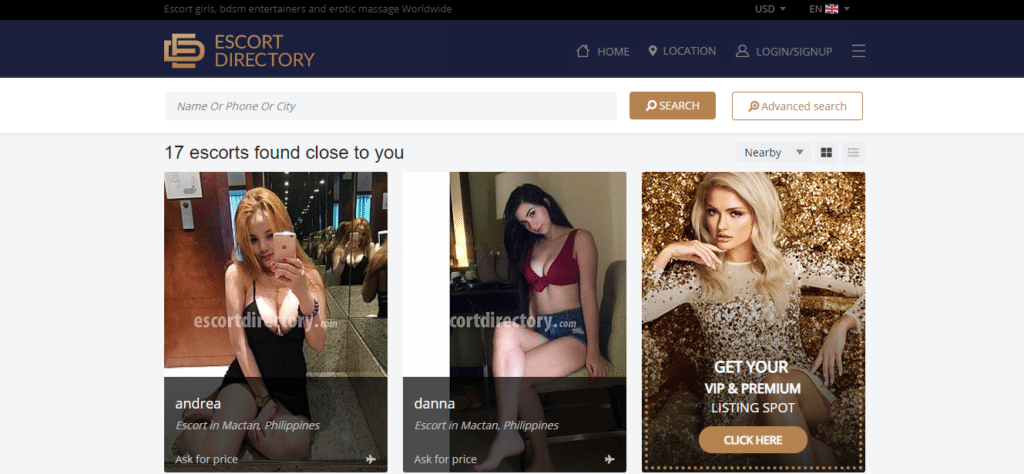 On this site, you will find the best body rubs and massages and of course, escort babes! Escort Directory will do all the hard work for you. As the site is established to be a premium site for everyone who wants to look for escorts, massage services, and different agencies all over the world. Escort Directory has made things easier with their massive number of listings; now you can find someone to spend some time within just a few clicks. Their homepage would show you all the local offers near you. If you want to check out other places, then you would need to make use of the navigation on the left. Once an escort has caught your eye, simply click on their profile and check out their details and contact info so you can connect with them.
PROS:
Modern design
Easy navigation
Lots of escorts
CONS:
Some locations have no escorts available
Plenty of ads
No advanced search
---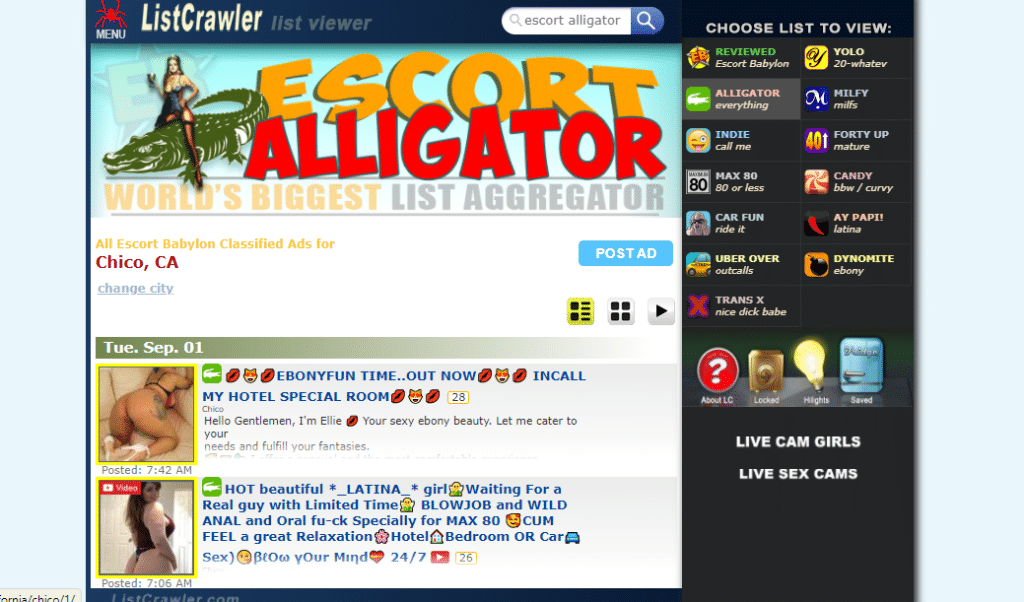 A London-based escort site that actually changes its URL once you press enter after typing it out, you will then be redirected to Escort Alligator, although these two are actually just the same. The site is very strict with their visitors, especially with verifying their age so of course, since it is an adult site, you would need to be 18+. This site has a great feature where you can look at different cities away from yours. You will then see hundreds of classified ads by both professional and amateur escort girls. List Crawler is more widely used in North America but you really won't regret trying out this site because of the hot girls that could easily warm up your bed in just a few negotiations. They even have listings in Quebec, Montreal, and many other places. List Crawler would be a very big help if you are going to travel and you want to accompany you for fun (and of course, exciting sex!). Although the website looks pretty outdated due to its old existence and fewer updates, the site still serves its purpose well so you must try it out.
Here's a full review of ListCrawler.
PROS:
Daily adverts
No strict registration
Optimized for mobile use
CONS:
Outdated design and interface
Mainly based in North America only
Only a few elite providers
---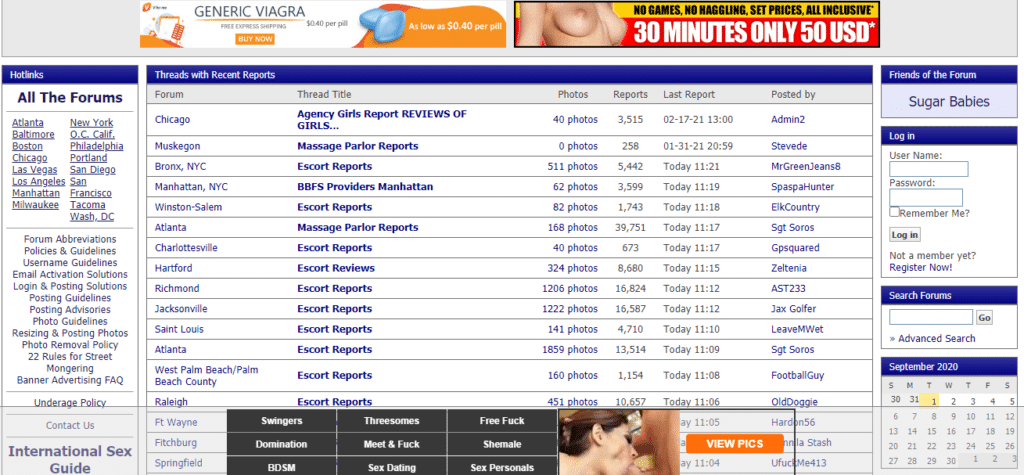 Living up to its name, this website really is like your ultimate sex guide if you are in the USA. The site offers sections of every state and there you will find escort reviews, forums, and plenty of classified ads that are mostly 18+ like strip clubs, sensual massages, gay bars, and more. The forum on this site is very interactive, with daily updates from different users who like to share their latest sexcapades. There are also queries and suggestions for good hotels and escorts around the area. Everyone is looking out for each other on the forums and some would even share scam-related experiences so others can be aware as well. Their forums are so diverse that you could actually look up just about any topic, especially adult ones, and you will find people talking about it. But the best part of the USA Sex Guide is their extensive sex and escort reviews, especially with specific destinations. Everyone is encouraged to share their experiences and here you will find interaction and open-mindedness from everyone.
Here's a full review of USASexGuide.
PROS:
Offers great sex-related advice
Interactive forums for men about sex and more
Free escort reviews
CONS:
Outdated designs and interface
A lot of ads
Sign-up needed
---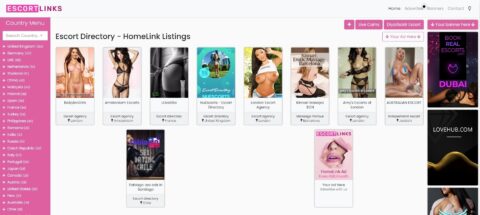 Escort-links is a top-notch escort directory site featuring best rated escort agencies, private escort girls and etc.
The best part about it — it doesn't matter where you are in the world — they have dozens of different escorts in many different countries.
With escort-links you will easily find independent call girls, agencies, and massage parlors, with over 2000 established businesses listed in more than 69 countries.
PROS:
Multinational site with 69+ countries available
Site design is very clean and user-friendly
High-quality escorts
CONS:
---
Last Word
Most of the listings on these sites are in English so you won't have to worry; escorts are also usually English speakers. These websites are known internationally so translation services are also offered if needed. You can easily pick up some new playmates via these escort listings and proceed to meet out somewhere you both agreed to. Of course, even while doing sneaky and sexy fun activities like engaging in escort services, your safety should be a top priority. Make sure you meet up with your preferred escorts in a public place first before you dive right into her sweet pussy.
And I know selecting one or a few escort sites from all the vast ocean of offers is hard. But I can assure you that you can NEVER go wrong with:
#1: Adult Friend Finder — click here to visit;
#2: Dating.com — click here to visit.
#3: Bedpage.com — click here to visit.
All these escort sites are home to hot ladies that can offer you the best sex of your life. Whether you are just in town and need some good ol' fuck, or you are overseas or in another place and you want to relieve your stress by some hard fucking session, these escort sites are perfect for you. You simply need to refresh your location and you will be redirected to some fresh new dates wherever you are. You can party all night with some sexy Japanese geisha, or you can bar hop with an Irish hottie for the night, or visit Thai massages that offer happy endings – all these and more can be experienced if you just check these sites out. 😉
All 106 Other Sites in This Category Worth Checking Out:
Empire Escort & 12 Must-Visit Escort Sites Like EmpireEscort.com Show Me 12 Alternatives for EmpireEscort.com Greetings, Dudethrill fans! Today, we're diving deep into the scandalous world of EmpirEscort, the fresh face in the online escort scene. Before you raise an eyebrow and wonder if their youthfulness is a red flag, remember, it's not the years; the […]