Updated on: December 8th, 2023
Skokka Review (2023)
& 12 Skokka.com Alternatives for Sex Classifieds & Escorts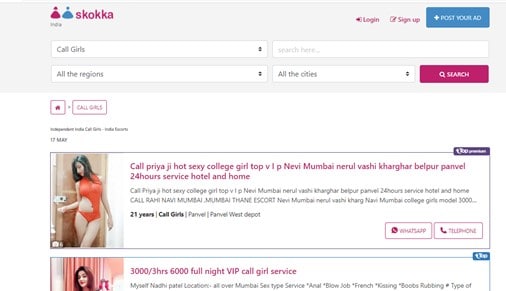 Do you want to experience something new? Are you bored? Are you feeling lonely? It is high time to review a new site described as "The Adult Dating Reference." This website is popularly known as Skokka.com. Skokka.com is insanely popular, with over 30,000+ unique visitors every day. These numbers suggest high demand and only go to show how successful the site is. The overwhelming number of site visitors might result from the many offered countries found on the front page's list.
Official URL: https://www.skokka.com
If you are vehemently looking for a new experience, perhaps there is one choice that you may or may not have considered previously. An escort may be requested at any time. So, what is stopping you? If you have some spare cash and are tired of your hand being the only contact you get these days, it cannot hurt to give it a try anyway.
As a popular adult classified website, you will get everything you crave here in Skokka. You will find romantic massages, male escorts, transgender escorts, lesbians, gay escorts, fellow swingers, and adult meetups on it, in addition to hot call girls. Plus, much like any other classifieds' platform, you can advertise any services or interests you have. Indeed, a suitable site for a one-stop-shop for all things about sex.
Escorts in Different Spots of The World on Skokka
I suppose this is the right time to talk about the countries Skokka has on its menu. The site's front page greets you with a list of locations where they offer people searching for love or just to sell you sexual favors. Bolivia, Brazil, Chile, and Columbia are just a few of the Central and South American countries. Guatemala, Mexico, and a few other countries are on the list too.
Europe is depicted minimally. The United Kingdom, Spain, Germany, and Ireland are all visible. Skokka also has picks from the Netherlands, Australia, New Zealand, Singapore, and India if you're looking for any Asian play. When you select a specific country, a list of cities appears. For example, you can find listings in Canterbury, Liverpool, Bristol, and a few other cities in the United Kingdom. In countries like Argentina, Chile, and Peru, the number of sub-locations mentioned astounds me as well.
Let us Get a Short Tour at Skokka
When you first visit Skokka's site, you will see that it has several different links that will guide you to immediate advertisements that you may be interested in. Escorts, exotic massages, and transgender experiences tend to be the three primary groups they support. In addition, you can insert different items into the search bar at the top of Skokka and use the dropdowns to narrow down the kind of adult service you are searching for. In other words, never expect to find free furniture, decent discounts on used exercise and home equipment, or trailer rental contact information on this website – it is indeed designed for mature service sharing.
You can also use the website for gay escorts, meet new friends, seek queer love, and sway, as seen further down on the homepage. I wanted to check in the friends' section for the kinds of posts you will find out of curiosity. With this, I have discovered many standard hookups and, as you would imagine, more men are very interested in doing the entries.
On the other hand, it seems like Skokka does not offer you a simple way to sort entries by gender or age like any other escort site. It is also inevitable to notice that not many people come here searching for a non-attached commitment fun. Hence, most visitors are mindful that getting what you want requires spending money.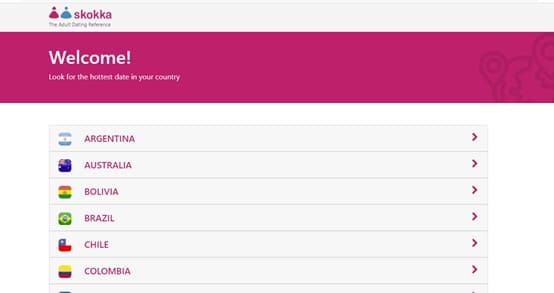 Experience the Site's User-Friendly Functions
You can start searching after you have navigated your browser to Skokka's Call Girls site. The site's configuration and interface are straightforward, and they should be quick to use. You can customize your search at the top of the page by broadening or narrowing your search results as required. For example, you should type in a keyword (site suggestions: Sexy, School girl) and then pick a country and city.
You will have the ability to see all of the call girl advertisements on Skokka until you have decided on your search terms. Then, they will be shown in a list format, with one photograph, the venue, the girl's age, the post title, a glimpse of the ad's body information, and the number of images in the post.
When you see a post that appeals to you, click on it to see what's on offer. Some girls have extensive profiles with a wealth of knowledge about themselves, like what they wear, how they dress, what they will do for you, their hobbies and interests, and so on. Others would be straightforward and to the point, not wasting any time on irrelevant information. You have the choice now of picking and selecting what you want.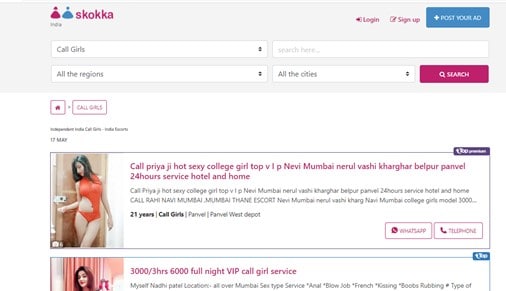 The Ladies in Skokka
Overall, I believe Skokka is an excellent place to go if you're looking for a call girl. The web is well-designed, simple to navigate, and posts are generally descriptive and helpful. From what I could see, all of the girls are very beautiful. Skokka seems to be a decent site to visit whether you are a long-time fan of the call girl lifestyle or have never ordered an escort and have always been curious. The only drawback and this is a concern I have for most escort ad pages, is that there is no way to see the girls' ratings.
I believe that more websites should accept this because it is so essential to the whole process of ordering an escort. You wouldn't employ anyone to do a job without first evaluating them, right? Moreover, the ladies on this site are undeniably attractive and oozing with sex appeal. Skokka serves a wide range of countries in Eurasia and South and Central America, and it is especially good at locating good Indian escorts. In addition, Skokka's India section is by far the most comprehensive and location-specific of any country on the web. So, no matter where you are, may that be in India or anywhere in the world, there is a great chance you will be able to find a good lady to make you excited all night long.
Other Interesting Facts About Skokka
Skokka's listings for their girls include an extensive synopsis and a revolving thumbnail gallery. I think they keep the listings fresh since the date is displayed at the top of the screen. Also, it is highly admirable that users of Skokka are not required to sign up for any membership. In reality, as far as I can tell, they only allow escorts to list their services and not let users to sign up. In the corner of the screen, there is also a telephone button. It instantly presents the phone numbers necessary connecting and interacting with some lovely escorts.
In addition, even if you do not want to pay for a complete escort experience, you can also try seeking a little or more rub and tugs? A couple of girls in Skokka give themselves up for a variety of indulgent massage practices, much as on other escort pages. I saw something like "prostate massage" and "erotic sensual body to body massage." This allows users to avail a variety of surprising services in Skokka.com.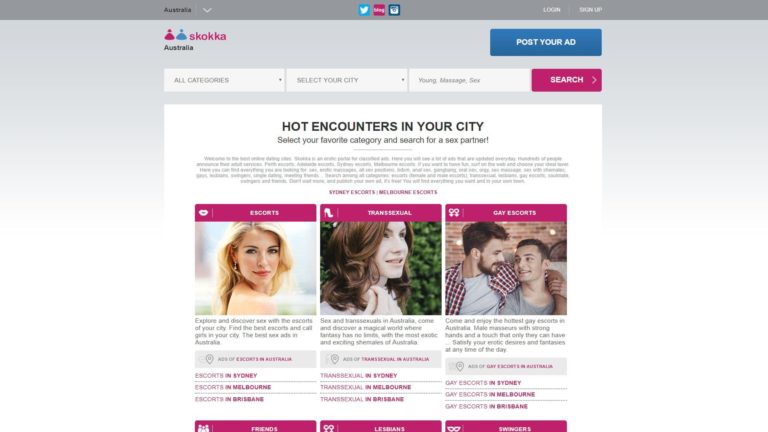 Pros and Cons of Skokka.com
PROS:
Plenty of escorts with escort listings all over the world
Advertisements for casual encounters
Respond to ad on-site
Several thumbnails and good display
Accessible to search and use
No membership required
CONS:
Could not find user reviews
Average site features
Some advertisements do not display pictures
Prices are sometimes not listed
---
12 Skokka.com Alternatives for Sex Classifieds & Escorts: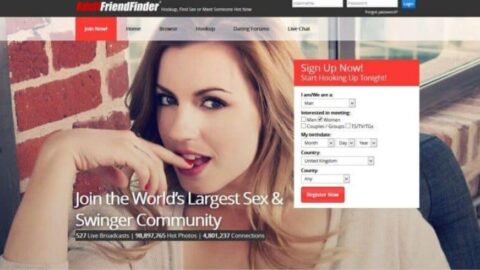 The website Adult Friend Finder is widely popular worldwide and has over eighty million members seeking casual and sexual encounters with different girls. Also, this website became popular in the United States and provided an excellent platform for users to seek a perfect sexual match using its communication features.
Further, it offers many casual arrangements, including polygamous relationships, monogamy, couple sharing, FuBu, and many others. Indeed, it is a great website to explore sexual preferences and spice things up in bed, especially among single people and couples willing to scrutinize their sexuality. With easy navigation and a fast way of the registration process, the users will be finished within 5 minutes or below.
Here's the full review of AdultFriendFinder.
PROS:
Free registration
Members of the site are seeking casual relationships
Open for bisexuals and gay members
There are plenty of features for communicating with each other
Members are allowed to create blogs and groups for information exchange
Free feature in watching videos and viewing photos
Members are allowed and free to share any types of videos and photos
CONS:
There are more males than females
---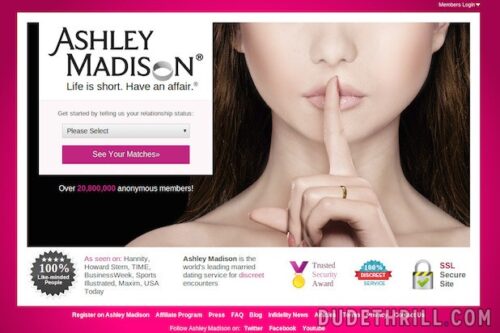 The Ashley Madison escort website is not just a typical escort website you see online. Founded back in 2001, the website provided committed people, married or in an attached relationship, the freedom to seek any discreet affairs with someone. Until this moment, Ashley Madison remains to offer a free-of-judgment environment, and affairs are not discouraged.
Over the years, the services offering of the Ashley Madison website is changing according to the demands and changing lifestyle and ways of cheating of members. This website has many interests, including the perks of having polygamous, monogamous, open relationships, threesomes, and others. The extraordinary features became popular and continue to be on top-up to this day, gaining reputation worldwide.
Click here for AshleyMadison full review.
PROS:
Maintains photo and personal information discretion
Encourages discreet photo uploading
Free registration and easy registration process
Available as apps on Android and iOS phones and don't require too much memory space
A large community of members around the world
CONS:
Some profiles do not provide many details
Some don't fill out profile information
---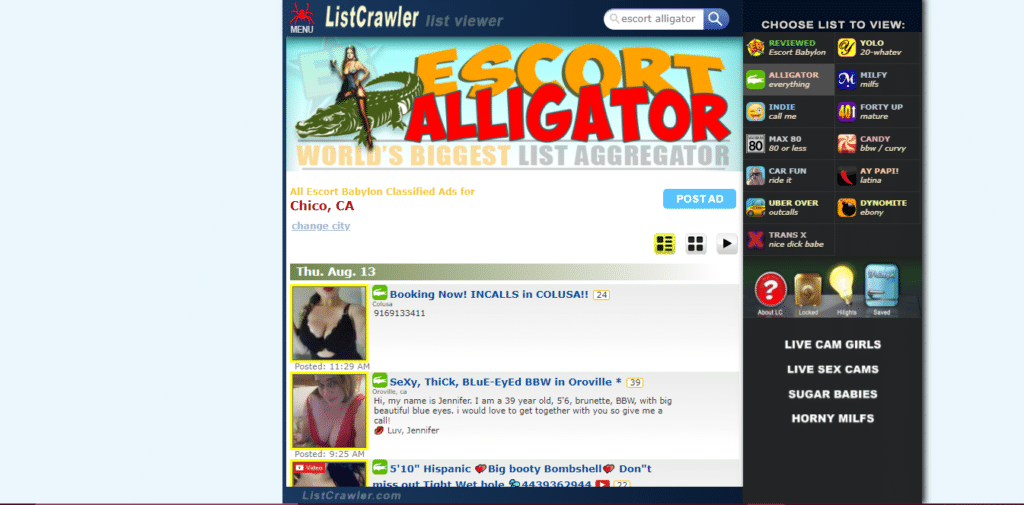 A London-based escort site that actually changes its URL once you press enter after typing it out, you will then be redirected to Escort Alligator, although these two are actually just the same. The site is very strict with their visitors, especially with verifying their age so of course, since it is an adult site, you would need to be 18+. This site has a great feature where you can look at different cities away from yours. You will then see hundreds of classified ads by both professional and amateur escort girls. List Crawler is more widely used in North America but you really won't regret trying out this site because of the hot girls that could easily warm up your bed in just a few negotiations. They even have listings in Quebec, Montreal, and many other places. List Crawler would be a very big help if you are going to travel and you want to accompany you for fun (and of course, exciting sex!). Although the website looks pretty outdated due to its old existence and fewer updates, the site still serves its purpose well so you must try it out.
Here's a full review of ListCrawler.
PROS:
Daily adverts
No strict registration
Optimized for mobile use
CONS:
A bit outdated design and interface
Mainly based in North America only
---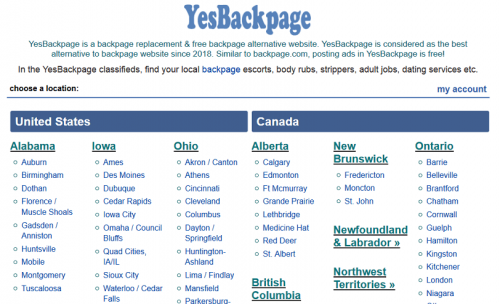 It has caused many customers to look for other solutions or alternatives in response to Backpage's exit from the industry. Thus, the rise of YesBackpage, a successful, reliable, and well-known backpage alternative that brings all the goodness of classic "Backpage" into a whole new different style. Just like the most well-loved Backpage, the YesBackpage allows people to post and publish employment ads, property listings, and even porn services and escorts service providers. Just name it; they have it!
Get Yesbackpage's full review here.
PROS:
Simple registration process
Very popular among users of Backpage.com
Effective and reliable alternative to Backpage.com
Finding Escort and other services are simple, quick, and straightforward
The design and usability of the website is strategically user-friendly and straightforward
Free posting of advertisements
Plenty of services section offered, so you can find everything you need
CONS:
Website design could use some improvements
---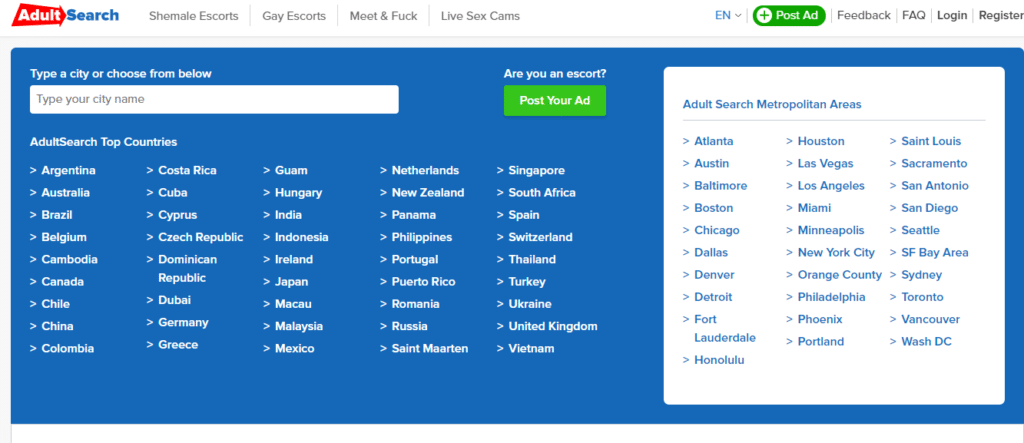 Probably the most popular escort site among them all, AdultSearch is known for its extensive list of escort information and services worldwide. Whether you are on a vacation or just want some new pussy around your area, you can count on AdultSearch to get you to some of the hottest chicks that you could easily pay and have sex with. Lots of options are in store for you once you visit AdultSearch; you will see lots of listings and escort services offered. They are available in almost every major city, or even in some suburban areas if you are lucky! All of their babes are HOT so you will surely have a good time with AdultSearch. You can filter your search so you can easily get to your type of girl for the day/night and you have their profile pictures to enjoy looking at. The escort girls on this site accept various payment methods as well.
You can check some additional info about Adult Search and similar sites here.
PROS:
Hot babes on their list
Very popular among escort service clients
Available worldwide
CONS:
Some fake profiles
Limited search features
Some cities have no escort listings at all
---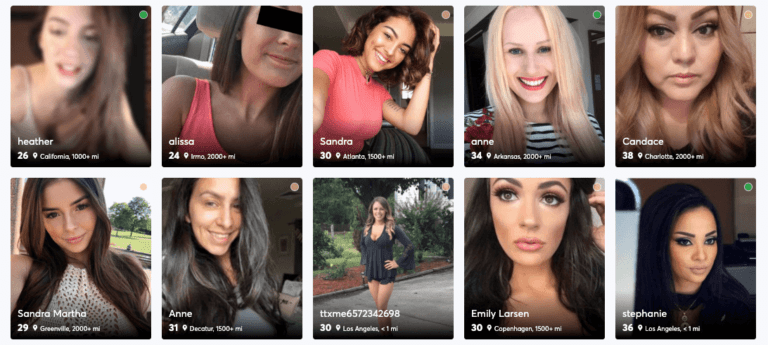 Claiming to be the number one site for married people and those in the attached relationship a platform to cheat. Such a site provides confidential and anonymous experience and personal information for people to experience. They accommodate people committed and married and ready to spice up their sexual experience to the next level.
Your face is blurred and protected to keep you unidentified to everyone and concealed. Users are even allowed to keep things discreetly while searching for a perfect match all over the world. And the moment things heat up, but suddenly you are about to get caught, the site has an emergency button or popularly known as the Panic button, wherein you can click and divert yourself to an unsuspecting site. As of now, it has over six million worldwide members from different categories.
PROS:
Simple and easy steps in free registration
The site is available for download for iOS and Android users
Most of the members are from Sweden, Poland, and the Netherlands
Exclusive photos with corresponding private keys
CONS:
Premium members only have perks in sending messages and viewing
---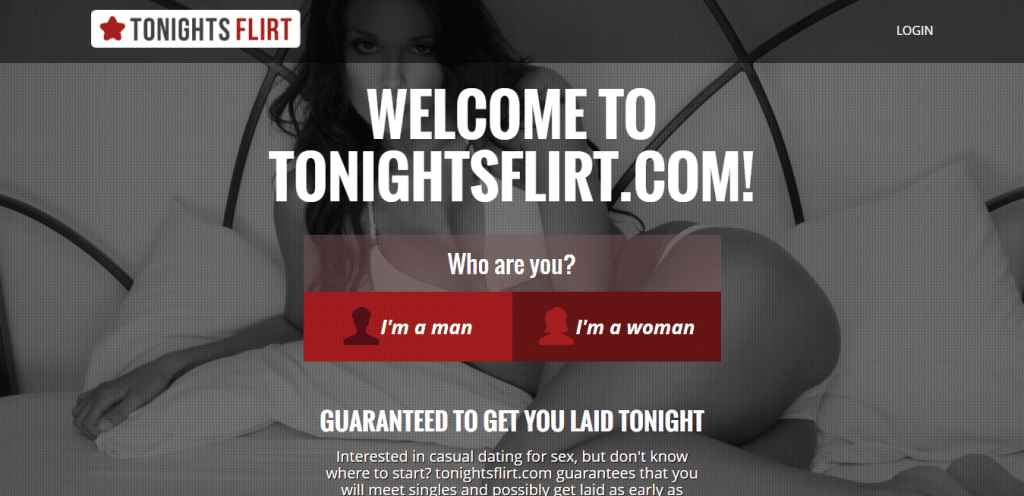 Curious about casual sex but don't know how to get started? Well, TonightsFlirt promises that you can meet singles tonight and probably get laid! This website is the most visited flirting location on the Internet today and uses award-winning techniques. This includes powerful search engines to ensure that you reach your maximum erotic power. Using only a few bits of information about your wants and desires can connect you to millions of users worldwide. Indeed, TonightsFlirt has a unique pairing and searching system ensuring that you and your potential matches are fully compatible.
PROS:
Registration is free and simple
Millions of members worldwide
Browse your matches for free
One of a kind searching and matching system
CONS:
You need to be at least 18 years old to register
---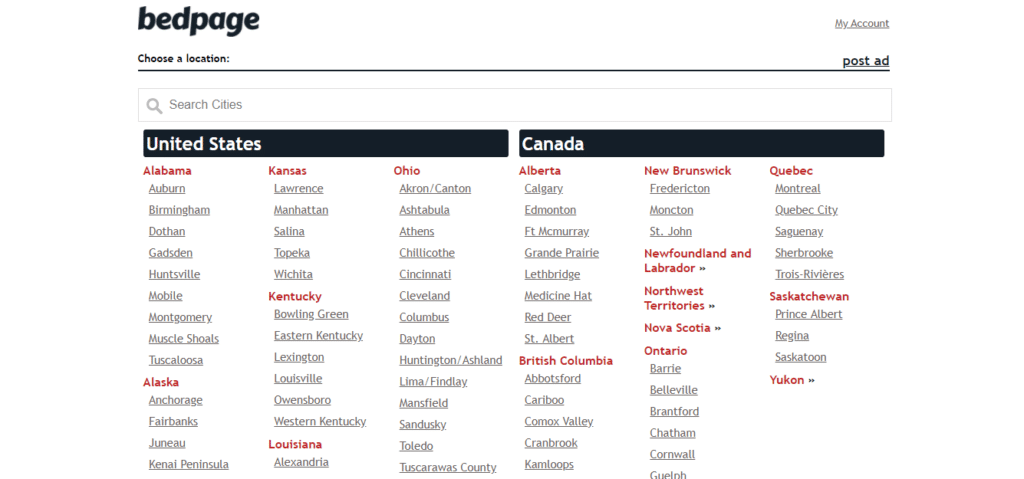 The BedPage escort website's main priority is the services they provide. This one has a wide assortment of escort girls that will fulfill multiple sexual wishes and demands.
Besides, you can also select escorts from Asia, Europe, and North America or any places from the extensive list of areas. On the other hand, the clean and straightforward layout and critical elements often facilitate the better performance of the website. It provides a user-friendly design and easy connectivity —making it more essential for everybody.
PROS:
A long list of cities included on the site
The user interface and layout of the site is straightforward and simple to operate
The website adopts a confirmation procedure to assess every profile account
CONS:
Advance sorting is not available
---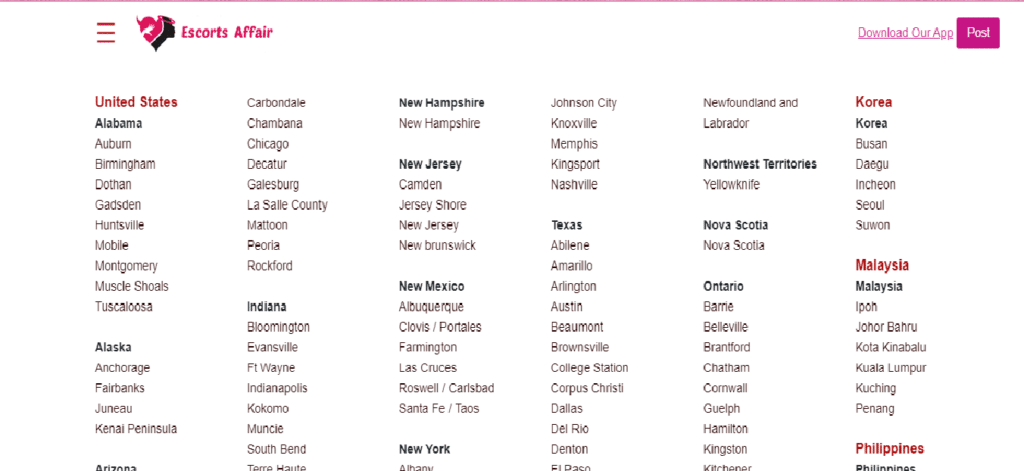 Escorts Affair makes the full escort service more favorable and easy. The website offers a reasonable price for mind-blowing sex in return. It also has gorgeous ladies willing to make love with anyone — married, single, or in a committed relationship, for instance. Indeed, Escorts Affair became the most popular venue among married people because it allowed them to explore their sensual side. Besides, they can fuck gorgeous and hot escorts they only wish in their dreams.
Here's a full review of EscortsAffair.
PROS:
The registration process is free and follows simple steps only
The list of escorts is pretty long, and many are available within your local area
The site caters within your local areas and worldwide
CONS:
Check the laws within your local area that is against escorting service
---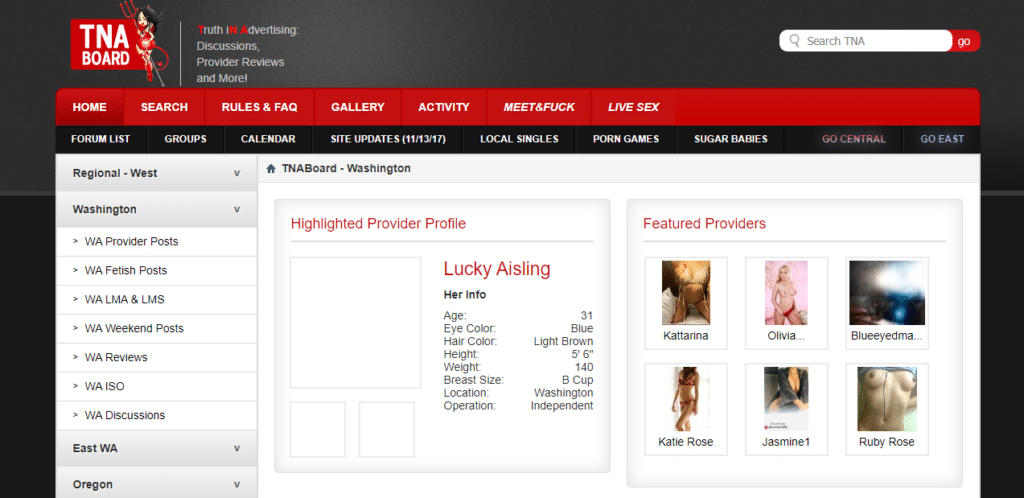 Truth In Advertising or abbreviated as TNA, shows great features on its homepage and a recent list of uploads available. There are some adverts showing girls delivering special services for members. The listing in TNA is huge and even included Alaska, Colorado, and Arizona. Also, the escort service of this site offers a great alternative to most of the top escort sites in the world. The best thing about this is completely free of charge and loaded with a selling bonus feature. Check out the features of their website and grab the opportunity of what you love.
Take a look at TNABoard review.
PROS:
Over a hundred thousand reviews
Escort adverts are verified
It has daily updates on its website
CONS:
Need account on some features they offer
Some issues on its site navigation
---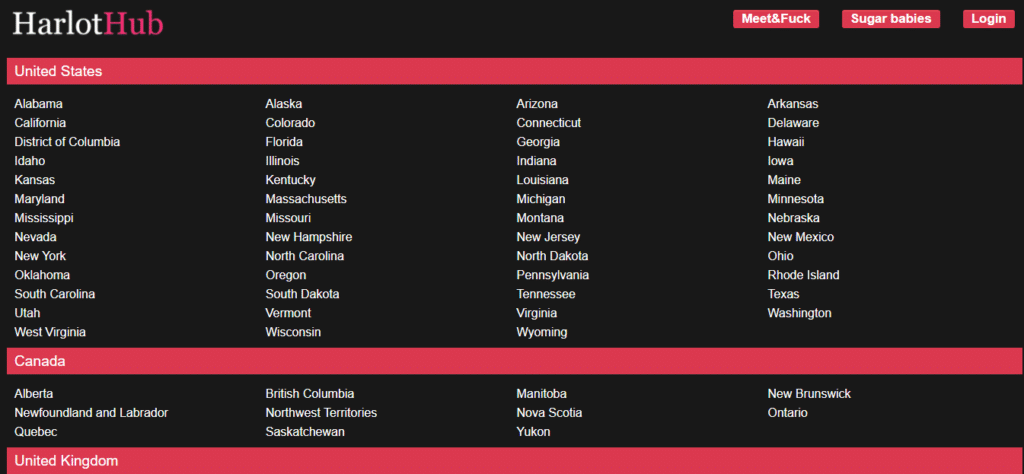 Harlot Hub provides a fantastic venue for independent escort and easy navigation for users. On this website, the users have the freedom to select and pick the best chick on the list. Users can quickly determine their preferences through the comprehensive information provided on the escort's account.
You can choose according to the physical look, hair color, ethnicity, age, and other specifications you yearn for. However, the only downside of this platform is its limited coverage. It caters only within the Western area and does not cover internationally. Regardless though, it remains the best as it provides free of all its services.
PROS:
The process of registration is easy and simple
The site does not allow scammers and spams on their website
If an account is proven malicious and fake, the site automatically suspends it
CONS:
Plenty of advertisements
Not available worldwide
---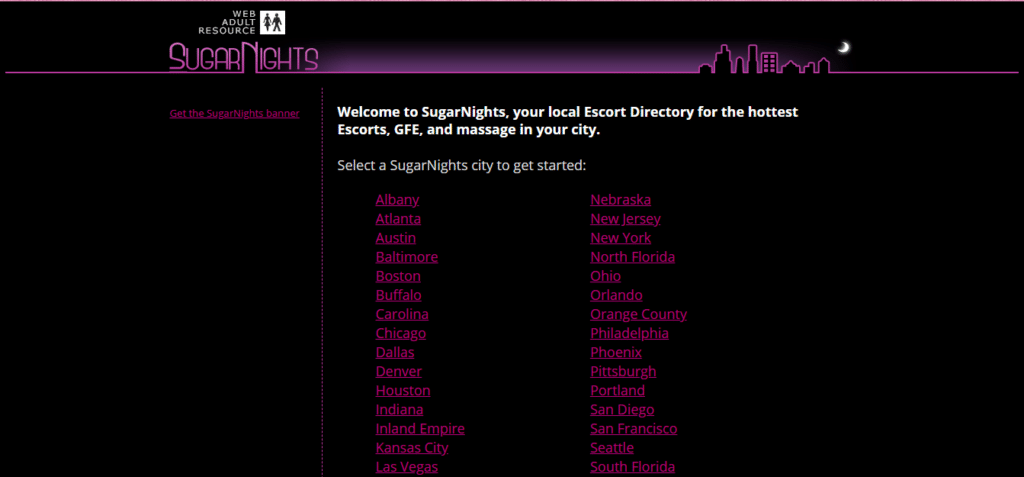 Are you seeking sugary sweet nighttime? Indeed Sugarnights is here to rescue. Being one of the famous escort services online can help you hook up with genuine and authentic people. The website assures that scams and other unwanted deception should not be concerned.
Mainly, they specialize in providing a fantastic connection to members like massages, escorts, entertainment, and an experience to have a girlfriend, with a worth its price. There are numerous available cities listed on their website, and you can select what is convenient for you through a map available for viewing. When you ultimately decided, plunge yourself into the most extraordinary services this website can offer.
A full review of Sugarnights here.
PROS:
A wide array of escorts to choose from
Straightforward and easy to understand, the interface of the site
Navigating the site is not complicated
The site was set up many years back
CONS:
Focuses mainly on the United States
Advertisements are plenty
Website owner's identity is hidden
---
Conclusion
This website is another tick on your list of escort selections. The wide range of countries available makes it even more helpful and accessible to enthusiasts like you. It allows several choices to meet every individuals' escort standards. The ladies provide the service one is craving for. With their information listed, it will not be challenging to get your happy hour.
It would only take you about 30 seconds to see how many girls in your area are using Skokka, so it doesn't seem like too much of a hassle for you to check. Overall, a great website with some useful features – it could use a little polish here and there, but all in all, this website has pleased me. I will highly recommend using Skokka.com to everyone out there who seeks fun and excitement.
Here's a quick view on my top 3 favorite Escorts Sites apart from Skokka.com:
Enjoy the Fun!
All 110 Other Sites in This Category Worth Checking Out:
NewYork Exgirlfriend & Top-12 Escort Sites Like New-york.exgirlfriend.com Show Me 12 Alternatives for New-york.exgirlfriend.com Hey there! We all know the struggle of finding escort services online, hoping to find that diamond in the rough – the perfect escort model who'll make your heart race and your desires sing. In this wild world of the Internet, it's […]