Updated on: December 4th, 2023
DaddysList
& 12 Must-Visit Escort and Call Girl Sites Like DaddysList.com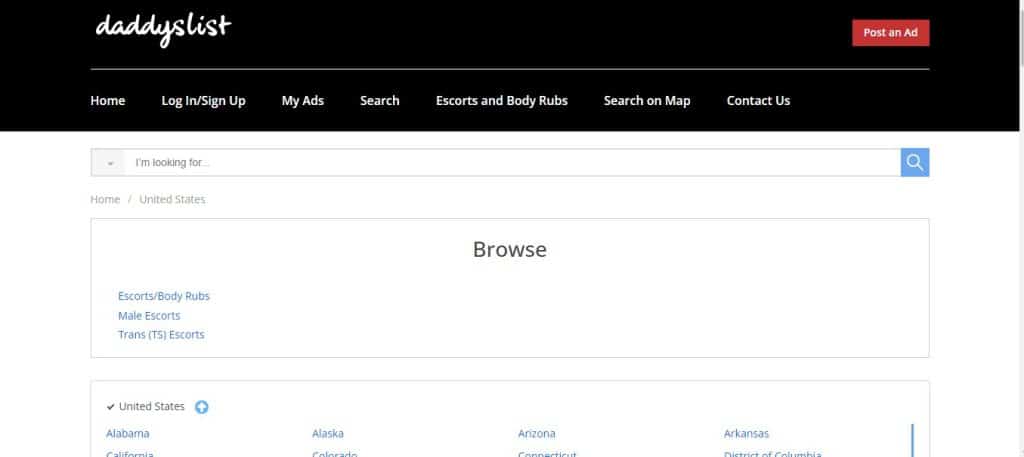 Welcome to a not-so-average corner of the internet, folks. It's Dudethrill, your trusty guide to all things intriguing in adult entertainment. Today, we're about to dive deep into the enigmatic waters of DaddysList.com. If you landed on this website by accident, you'd probably think it's just another run-of-the-mill classified ad directory, right? Well, hang on because this seemingly wholesome site has a clandestine secret — a local escorts directory. That's right, we're peeling back the layers to reveal what's going on here. No worries, Dudethrill got your back!
Official URL: https://daddyslist.com
Time for DaddysList's Stardom in the Escort Service Scene
So, you've stumbled upon DaddysList, and it's got you curious, right? Well, you're not alone, my fellow dudes. This place has been around for quite some time, but lately, it's been buzzing with more activity than a beehive during summer. I can't precisely pinpoint the cause of this sudden surge, but I have a hunch we're all here for similar reasons.
Back in the day, around 2011, when Craigslist decided to kick its adult ads to the virtual curb, DaddysList was born. It makes you question if DaddysList sprang to life to catch all those eager folks left adrift in cyberspace without their usual go-to. It's like they saw an opportunity and thought, "Hey, why not give these folks a new home for their cravings?"
Well, whatever the reason behind its creation, DaddysList is now a bustling hub for those with… let's say, unique tastes. And if you're here, you're probably one of us. So, dive in, explore, and see what adventure awaits. Just remember to keep it respectful and consensual, folks!
Is DaddysList a Craigslist Wannabe? Let's Give it A Shot!
The first impression I got from DaddysList.com was like discovering Craigslist's long-lost sibling, who's trying a bit too hard to look modern. They've thrown in a few icons and some colors, but it's like putting a neon sign on a wooden cart – it doesn't quite cut it.
Here's the kicker: I scoured that homepage like a detective looking for a hidden treasure map, and you know what I found? Absolutely no details of anything related to escort service! They're trying to keep a straight face while hosting the most secretive party in town. They've got classifieds for everything, from housing to job listings, but not a whisper about what you were looking for. I'm all for subtlety, but this is next-level stealth mode.
I thought, "Alright, let's give this a shot and see if I can find hot escorts." But boy, was it a wild goose chase! It's like trying to find a needle in a haystack while blindfolded. If there's a secret passage to the adult section, I must've missed the Hogwarts Express.
Ultimately, it feels like DaddysList.com might be playing a prank on its users. They've got the classic Craigslist vibe with a touch of wannabe modernity, and they're keeping their adult section hidden like it's the last piece of chocolate in a house full of kids. For someone like me who values a smooth user experience, this is like navigating a maze blindfolded.
Daddyslist's Sleek and Polished Page Turned A Clearance-Sale Hosting Site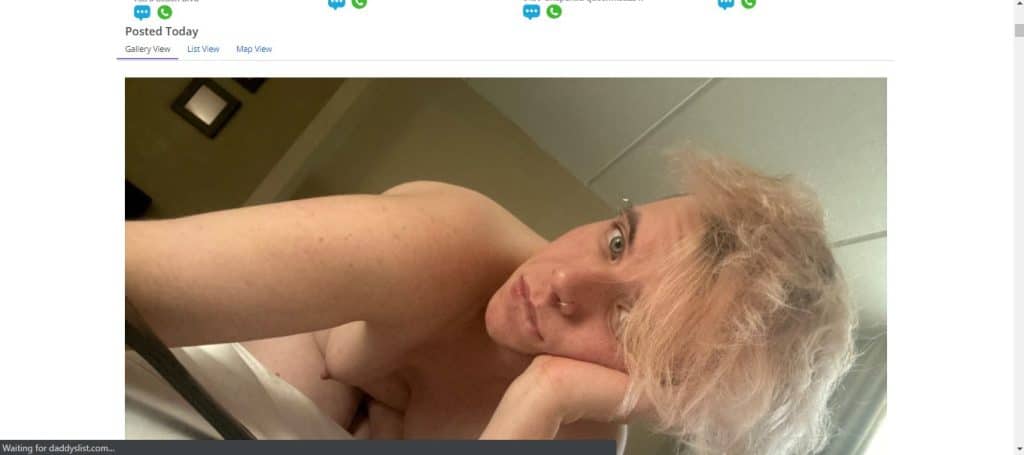 You won't believe the quirky twist you'll discover on DaddysList's escort page – it's like entering a whole new dimension, a digital funhouse. It's almost as if they hired a different team or switched to another software universe because it couldn't be more disconnected from the homepage if it tried. A somewhat sleazy aura suddenly overshadows the sleek, modern vibe that once oozed from the site; it's lost some of that polished charm and now looks like it's hosting a clearance sale.
Furthermore, picture this: the main website is like a chaotic carnival, with numerous categories, a virtual smorgasbord where almost anything goes. But when you stumble into its escort page, it's as if you've entered a secret club with an exclusive invitation-only vibe. There are three subcategories, and they all seem to scream, "We're here for one thing and one thing only."
Perhaps the site went on a diet, shedding all the extra baggage to focus on the essentials: Massages, Escort Service, and Male and TS Escorts. And yeah, I get it, "TS" isn't the textbook term, but let's face it, a shitload of horny dudes keep typing into the search bar. So, it's like the website's inside joke, a wink, and a nod to those in the know. It's like DaddysList saying, "Hey, we get you, and we've got you covered!"
Not The Biggest List of Escorts Available But Promising Babe Selection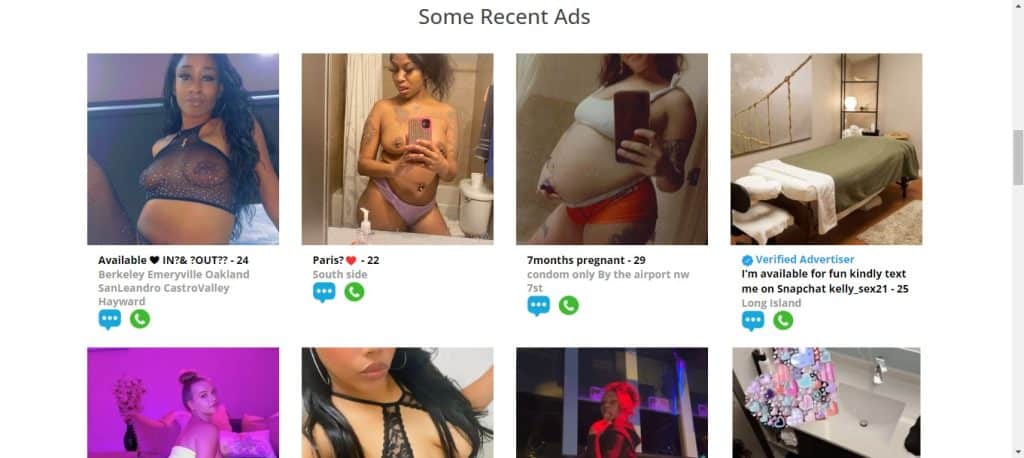 You know what would be a game-changer? A filter to set your preferred distance so you can adjust just how far you're willing to embark on an adventure. But, let's face it, with the scarce listings, it's like picking your poison from a nearly empty cocktail menu.
Of course, New York is the city that never sleeps, right? Even when chilling in the suburbs, I'll still mark my spot as New York when diving into the world of escort sites. It's like the golden ticket to the grandest escort directory. But the kicker is, as bustling as New York is, it's the quietest library compared to the escort sites I've got in my secret stash.
Moreover, I am cooking up this Dudethrill article, and guess what? Around three to five female escorts decided to grace the site with their presence this month. Don't get me wrong; vintage listings can be a delight on some sites, where you might snag that nostalgic shirt you've been hunting for. But for an escort service platform? It's a whole different ball game. These providers might have already hung up their boots.
Also, speaking of this month's offerings, there's a sizzling hot babe on the scene, offering both in and out calls at the sweet price of a Benjamin per hour. DaddysList doesn't shy away from the explicit stuff, and those steamy pics had me doing double takes. Also, many of these escort ladies provide a flood of details in their profiles.
No Registration Needed! Jump Into The Action Here At Daddyslist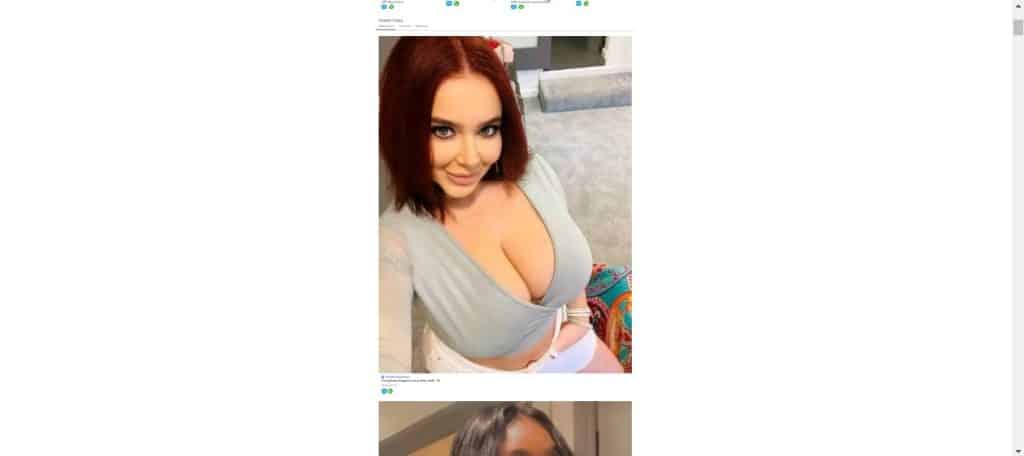 Well, here's the scoop: You can jump into the action on this site without registering; no need to surrender your precious email or create an account. You can dive right in, and the contact details are accessible as plain as day. In fact, if all goes swimmingly, I might just be planning a little soirée once I wrap up this Dudethrill review. No need for luck-wishing here; I've got the charm and the funds in the bag!
Meanwhile, when it comes to finding the escort directory, it's almost like they've hidden it better than a treasure chest on a pirate ship. Are they secretly trying to give it the old heave-ho, but they're too polite to tell their users to hit the road? These website navigation quirks might be why you'll find fewer hot escorts than grains of sand, even in the bustling metropolises. Generally speaking, it's a bit of a downer for users. But let's keep our chins up and hope for smoother sailing!
Daddyslist Is Still Not Covering Worldwide Escorts Yet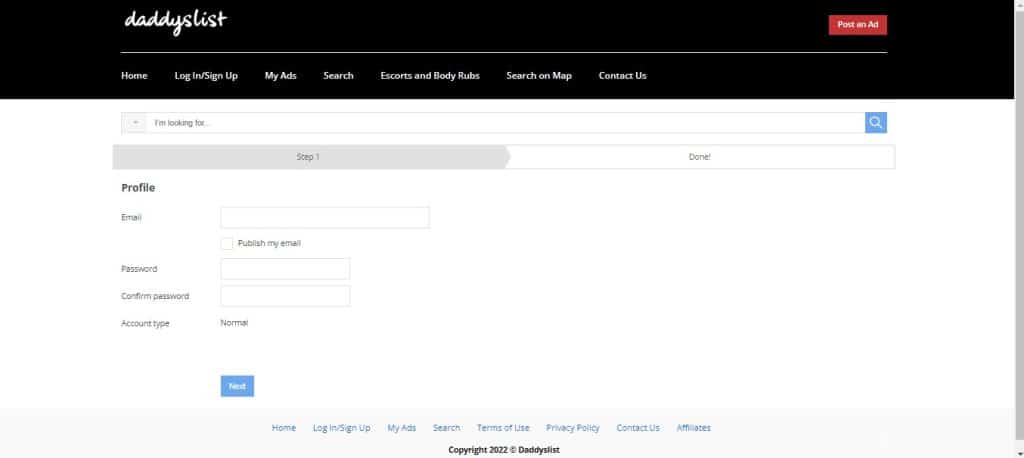 Let's take a trip down memory lane for a second. So, Craigslist, the OG online classifieds, went global, and that's probably why they still pull in a whopping thousands of monthly visitors. Here's the twist: DaddysList, on the other hand, never gets on a world tour, but they've got their bases covered across the USA and Canada. You can play detective with your location, narrowing it down to your state, province, or city.
Meanwhile, let's talk about the escort main page, where hopes can soar or take a nosedive, depending on your perspective. Imagine this: a lineup of drop-dead gorgeous women awaits your attention. We're talking about a dazzling array of options, from petite Asians to, let's say, fiery redheads and sultry escort MILFs. Certainly, everything feels like a buffet for your eyes, but here's the kicker – only four premium escorts reign supreme over North America.
Finally, if you're counting on those "Recent" escort ads to save the day, think again. Seven to eight have seen the light of day in the past two days. So, depending on your area, your options might be as slim as a wafer-thin mint. Tough luck or a quest for the perfect match?
Escort Models Are Hotter Than A Habanero In A Heatwave!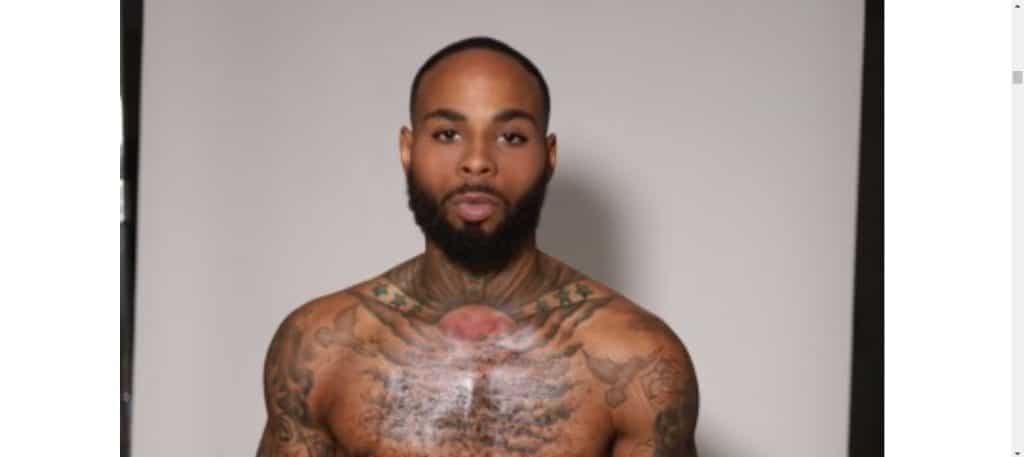 Finally, it's time to talk about the escort models, dudes – they're hotter than a habanero in a heatwave! The options are practically pouring in like a buffet at an all-you-can-eat restaurant, and here's the icing on the cake – they're flaunting videos and photos on their profiles. It's like a sneak peek before the main event – you know exactly what you're signing up for.
But hold on, it's not just about the sizzle; DaddysList's lineup is a range of diversity. I'm talking about options galore for your GFE adventures, massages, and everything in between! So, whether you're looking for a cozy night in or a thrilling escapade, this place covers you. Time to spice up your life, dudes, and explore the kaleidoscope of possibilities that DaddysList serves up on a silver platter!
Pros and Cons of DaddysList.com
PROS:
Lots of escort service options
Excellent list of escorts, girls, men, and TS
Models post naughty content on their profiles
Signing up is not a requirement to browse
CONS:
No available feature for escort review
---
12 Must-Visit Escort and Call Girl Sites Similar to DaddysList.com: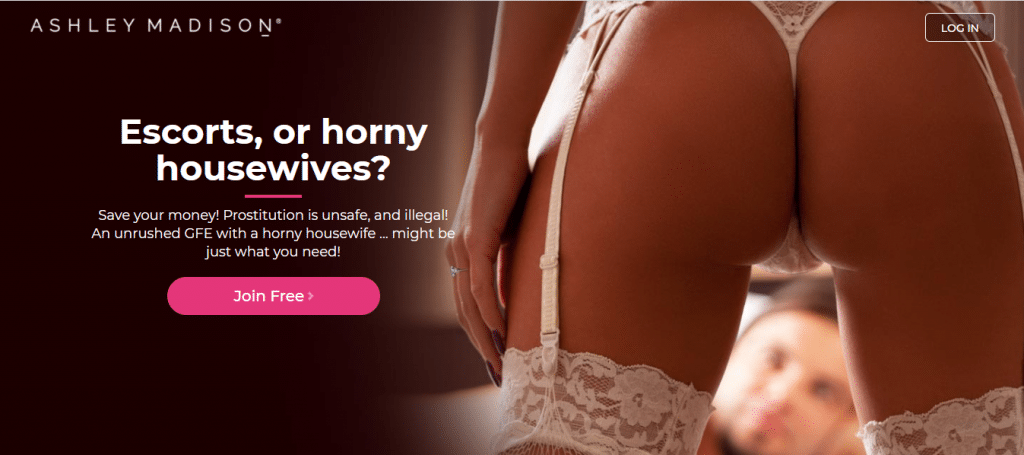 The Ashley Madison escort website is not just a typical escort website you see online. Founded back in 2001, the website provided committed people, married or in an attached relationship, the freedom to seek any discreet affairs with someone. Until this moment, Ashley Madison remains to offer a free-of-judgment environment, and affairs are not discouraged.
Over the years, the services offering of the Ashley Madison website is changing according to the demands and changing lifestyles and ways of cheating of members. This website covers many interests, including the perks of having polygamous, monogamous, open relationships, threesomes, and others. Due to the extraordinary features, it became popular and continues to be on top-up to this day, gaining reputation worldwide.
Here's the full review of AshleyMadison.
PROS:
Maintains photo and personal information discretion
Encourages discreet photo uploading
Free registration and easy registration process
Available as apps on Android and iOS phones and don't require too much memory space
A large community of members around the world
CONS:
Some profiles do not provide many details
Some don't fill out profile information
---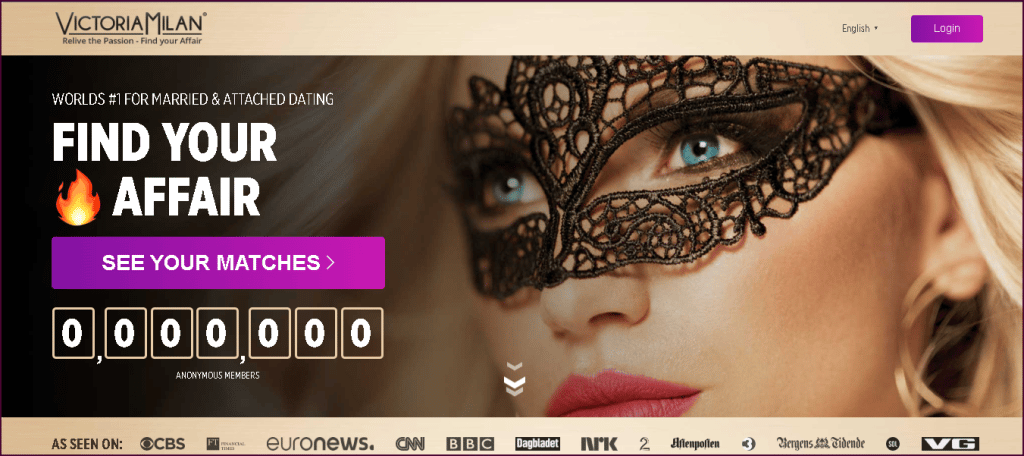 They claim to be the number one site for married people and those in the attached relationship a platform to cheat. Such a site provides confidential and anonymous experience and personal information for people to experience. They accommodate committed and married people and are ready to spice up their sexual experience to the next level.
Your face is blurred and protected to keep you unidentified to everyone and concealed. Users are even allowed to keep things discreetly while searching for a perfect match all over the world. And the moment things heat up, but suddenly you are about to get caught, the site has an emergency button, popularly known as the Panic button, wherein you can click and divert yourself to an unsuspecting place. As of now, it has over six million worldwide members from different categories.
Click here for a full review of VictoriaMilan.
PROS:
Straightforward steps in free registration
The site is available for download for iOS and Android users
Most of the members are from Sweden, Poland, and the Netherlands
Exclusive photos with corresponding private keys
CONS:
Premium members only have perks in sending messages and viewing
---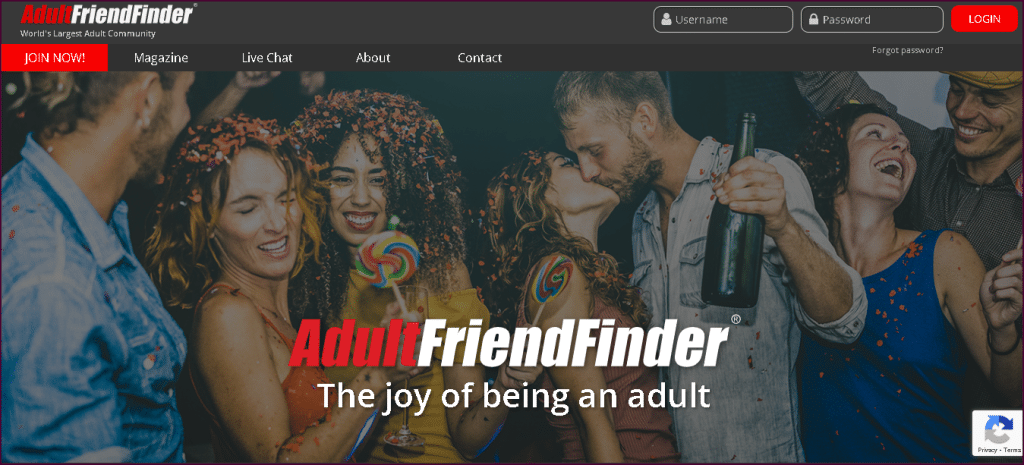 Adult Friend Finder is widely popular worldwide and has over eighty million members seeking casual and sexual encounters with different girls. Also, this website became popular in the United States and provided an excellent platform for users to seek a perfect sexual match using its communication features.
Further, it offers many casual arrangements, including polygamous relationships, monogamy, couple sharing, FuBu, and many others. Indeed, it is a great website to explore sexual preferences and spice things up in bed, especially among single people and couples willing to scrutinize their sexuality. With easy navigation and a fast registration process, the users will be finished within 5 minutes or below.
AdultFriendFinder review here.
PROS:
Free registration
Members of the site are seeking casual relationships
Open for bisexuals and gay members
There are plenty of features for communicating with each other
Members are allowed to create blogs and groups for information exchange
Free feature in watching videos and viewing photos
Members are allowed and free to share any types of videos and photos
CONS:
There are more males than females
---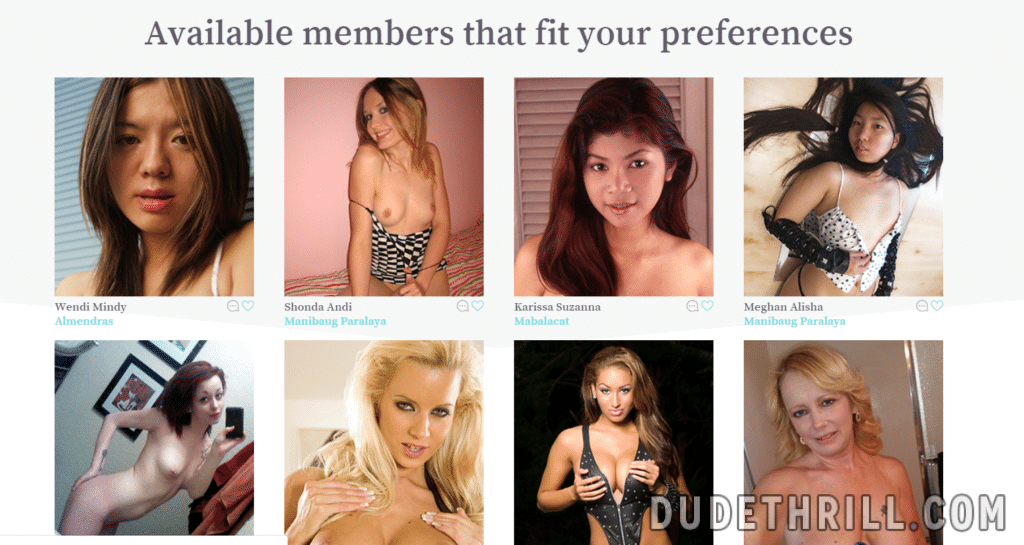 With all the escort websites across the Internet, only a few stand out. One of these is 2fuck.com, an Escort website with three million registered members worldwide. It is progressively growing every day. The website boasts genuine and authentic services for everyone who craves sex every day.
Once you become a member, your profile will automatically undergo compatibility matching and provide you with lists of members compatible with your preferences. It is easy to say that 2fuck.com does not randomly search for members for your convenience but instead employs an analytic process to make matching more accurate.
Click to see the full review of 2fuck.com.
PROS:
Members worldwide reach up to millions and growing each day
The design of the website is user-friendly and straightforward
Free registration for everyone
CONS:
Premium members have exclusive features that can only access them
---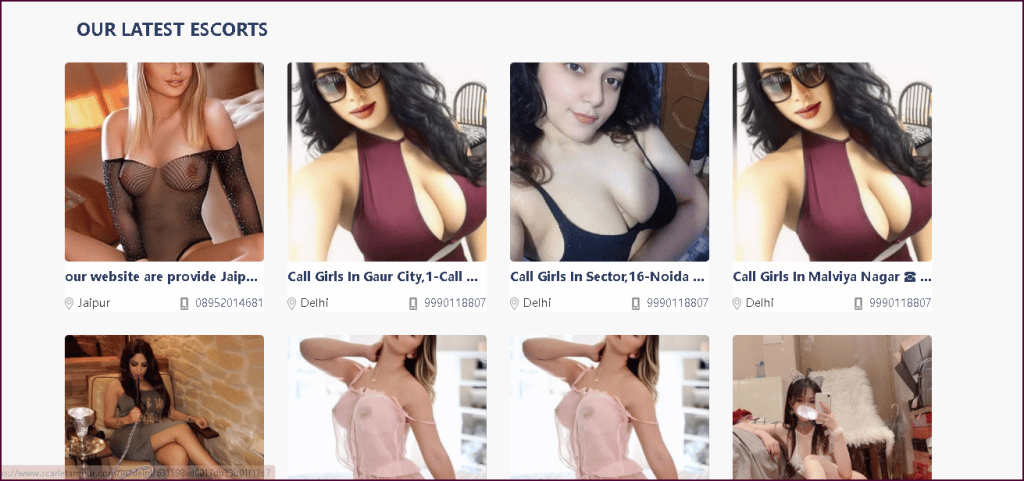 Sometimes, when you crave a gorgeous companion, safety and reliability are always at risk. Next thing you know, you've been scammed! Luckily, users can choose an outcall or incall service when using ScarletAmour. This site is a Chicago-based network featuring profiles of single, attractive women across the metropolis. ScarletAmour currently serves fourteen fantastic locations all over the globe and features many ads from legit, verified, and stunning lady escorts, many of which are sufficiently extensive.
Check out the full review of ScarletAmour.
PROS:
Lots of hot models
Caters worldwide in 14 different countries
Reasonable prices
Simple navigation and practical layout
Free browsing
Verification is meticulous
CONS:
Some models are pretty pricey
Requires registration
---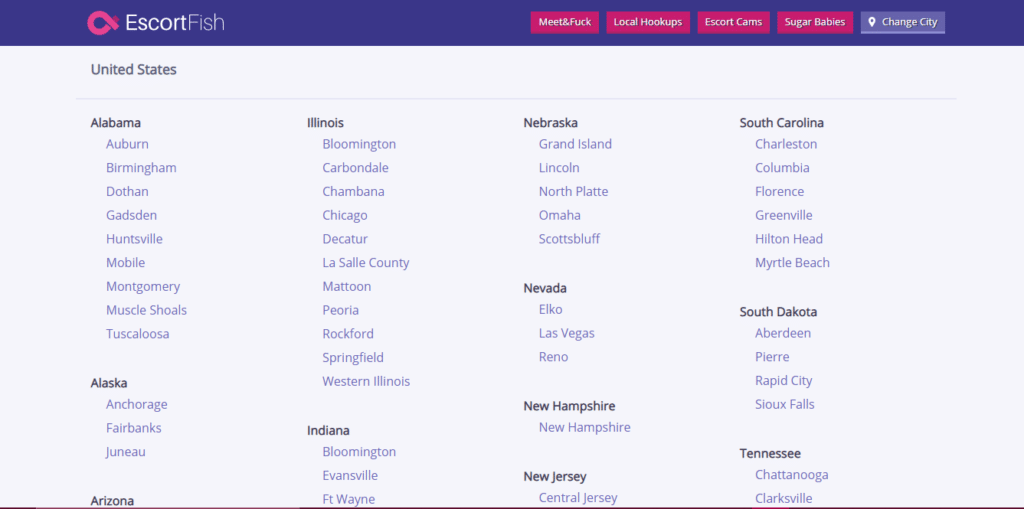 Dudes actively sought out sexual gratification at any opportunity, no matter what. Even I have spent my precious hours entirely on my own. So instead, I pay them in solitude playing around the Internet with my cock (and a bucket of lube) jacking off.
However, there are moments when getting several erotic interactions with actual humans, typically involving my hard cock inserted into several of her holes, is a much wiser choice. And there's no other place that could go a fast way to getting a line that up but, EscortFish!
If you need a classy girlfriend to escort you to your house, a date, companionship, or just valuable services, you can always check out EscortFish. Although I have bitches in multiple locations, EscortFish.ch has listings throughout the United States and Canada. Geez, I'm excited to see what this escort site could further offer to hungry, horny lads like us.
Take a look at the full review of EscortFish.
PROS:
Thousand of escorts listing available across the United States and Canada
Website is free to use
No need to register or log in
Caters to hundreds of cities
CONS:
Limited searching filters
It would be better if it has an Information Section
---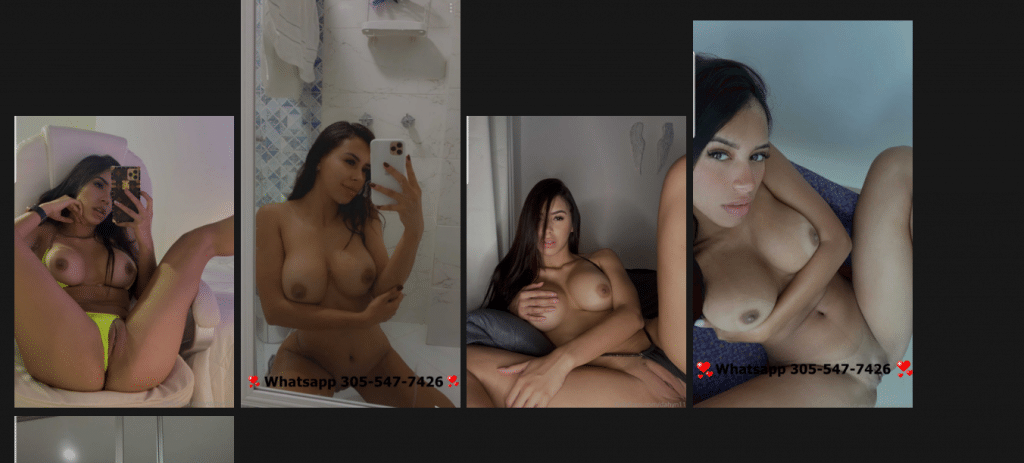 Harlot Hub provides a fantastic venue for independent escort and easy navigation for users. On this website, the users have the freedom to select and pick the best chick on the list. Users can quickly determine their preferences through the comprehensive information provided on the escort's account.
You can choose according to the physical look, hair color, ethnicity, age, and other specifications you yearn for. Yet, the only drawback of this platform is its limited coverage. It caters only within the Western area and does not cover internationally. Regardless though, it remains the best as it provides free of all its services.
Here's a full HarlotHub review.
PROS:
The process of registration is easy and simple
The site does not allow scammers and spams on their website
If an account is proven malicious and fake, the site automatically suspends it
CONS:
Plenty of advertisements
Not available worldwide
---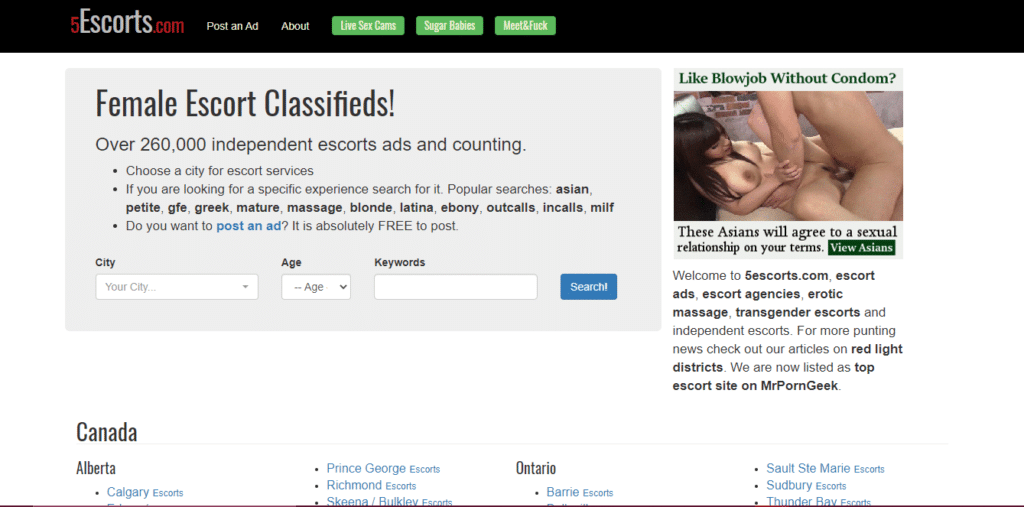 Not everyone is fortunate to have partners; hence when things get horny and hot, some people turn to alternative options like porn sites. However, watching pornographic materials will never be enough. People would desire a more real-life experience, for instance, a no-strings-attached relationship, and get to spend a quick time making out. Good thing that society never ceases to evolve and experiment on services that satisfy and cater to people's desires, fantasies, and urges over the years. Escorts and sex dating sites are commonly the getaway solution to society's dry and lonely sexual urges.
The best example for this is the 5Escorts, a top escort agency that provides a wide range of escorts of various sex, ages, nationality, body, and beauties. It might sound confusing how this site is called 5Escorts, but for me, it is a splendid platform that deserves a 5-star recommendation. Wherever you are in this world, if you search for escorts, this is the best place you should visit. They have approximately 250,000 independent benefit providers worldwide that deliver escort device satisfaction.
Read the 5Escorts full review.
PROS:
Over 250,000 escort profiles are available
Authentic and legitimate female escorts
Secured and safe usage of the site
The website is modest and stress-free to use
Extremely popular mainly in Canada and the United States
Growing community
Payments and orders are encrypted and ensured safe
CONS:
Dominantly focuses on North America
Sorting in advance is not available
Searching functions is limited
---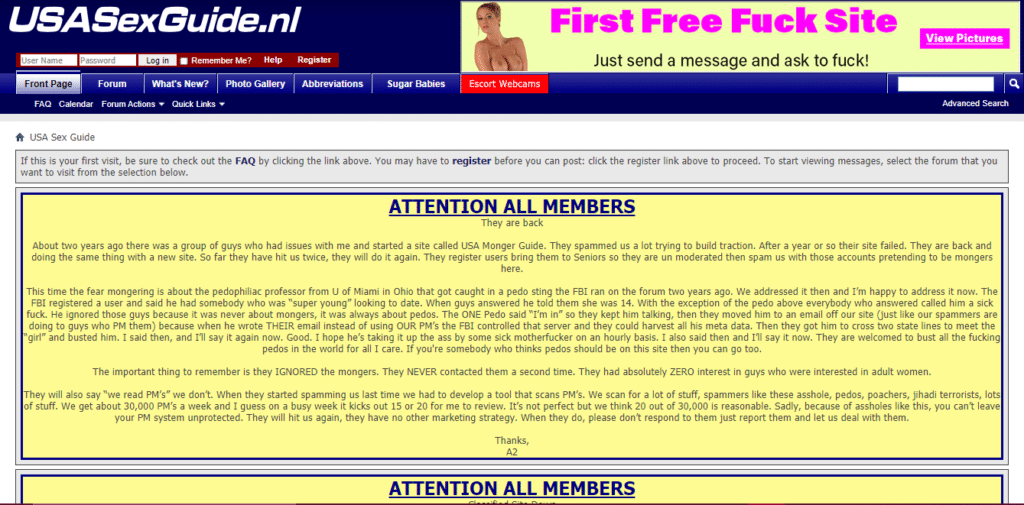 Are you eager to connect to people, have a great time, meet new friends, discover strip clubs, and hire gorgeous escorts around the US? Well, let me introduce you to USASexGuide, a popular website that gained more than half a million members and continues to gain more users every day.
Check out the full review of USASexGuide.
PROS:
Free registration
Members of the site are seeking casual relationships
Open for bisexuals and gay members
There are plenty of features for communicating with each other
Members are allowed to create blogs and groups for information exchange
Free feature in watching videos and viewing photos
Members are allowed and free to share any types of videos and photos
CONS:
There are more males than females
---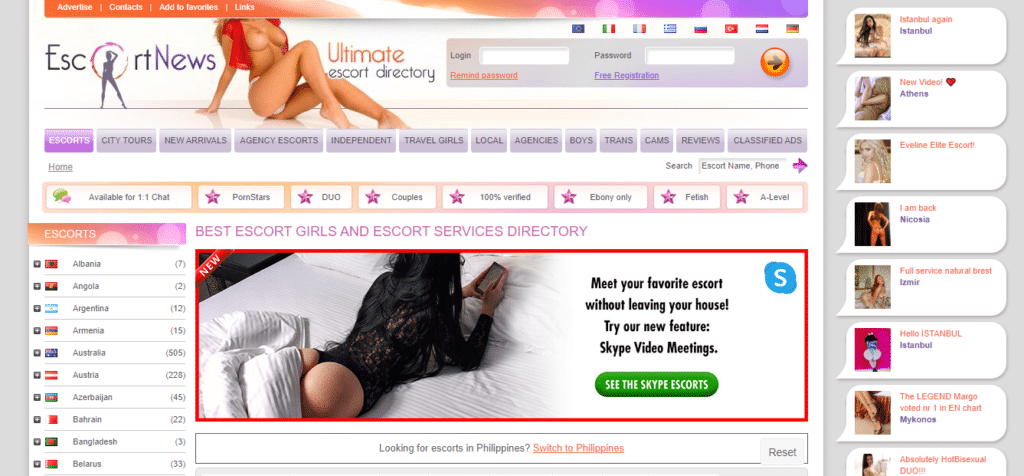 EscortNews is an independent escort site with an enormous listing of hot and gorgeous women. You will find the most sought-after girls and amazingly stunning escorts on this site. It also offers convenient features for the users, including advanced searching, communication tools, and a simply-designed interface. So, if you are fascinated and feel like exploring your sexual dreams and deepest sensual fantasies. Take a visit and splurge into the world of escorting.
Click to see the full EscortNews review.
PROS:
Top-no choices of girls
The website design is straightforward, fun, and easy to navigate
Features are plenty
The index is organized pretty well
There are available reviews to read
CONS:
Focuses primarily on large cities
---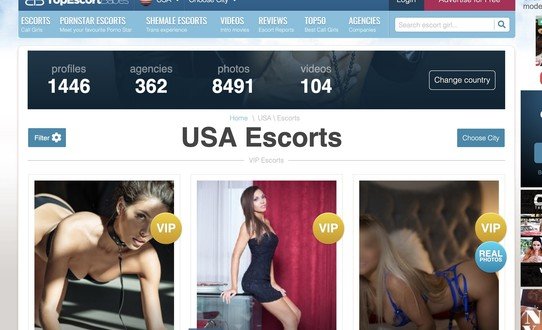 As the internet grows, escort services have increased on various websites. Many of them have gorgeous, super-arousing female escorts. Functionalities and credibility, however, differ significantly from one brand to another. So, if you're an erotic seeker and your dream is to spend one of the sexiest moments of your life, you should pick out the best suitable escort platform there is. One of these relevant websites is Top Escort Babes.
Top Escort Babes is an escort service website we all know about. They offer intimate companionship on demand if you ever need some late-night company! The website provides information on the thousand most well-known pornstars, women, shemale escort models, and celebrities worldwide.
Learn more about TopEscortBabes with this full review.
PROS:
It has thousands of escorts and plenty of featured agencies worldwide
Supports multiple languages
It does not require registration
It has a built-in messaging feature
Indicates suspicious accounts using the "Suspicious Profil" badge
There are pornstars available as escorts
Simple, elegant, and great design
A fast and smooth browsing experience
Supports mobile browsing
Plenty of escort categories to choose from
CONS:
Lacks searching features
Some escorts are pretty expensive
---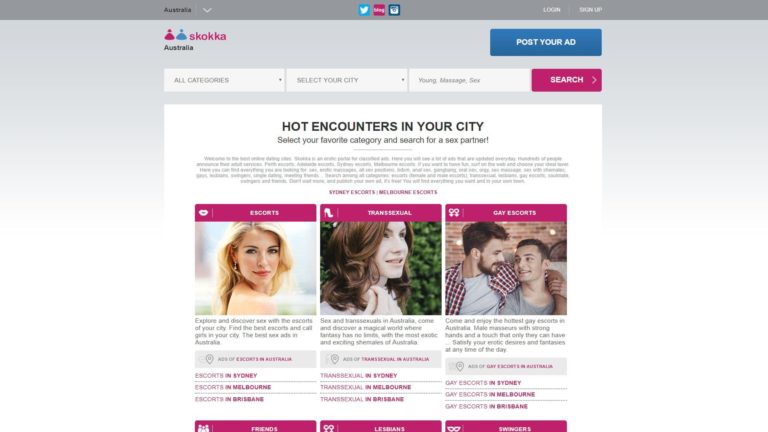 This website is popularly known as Skokka.com. Skokka.com is insanely popular, with over 30,000+ unique visitors every day. These numbers suggest high demand and only show how successful the site is. The overwhelming number of site visitors might result from the many offered countries on the front page's list. If you have a little cash and somewhat bored of your hand is the only contact you get these days, it cannot hurt to try anyway.
Check out the full review of Skokka.
PROS:
Plenty of escorts with escort listings all over the world
Advertisements for casual encounters
Respond to ad on-site
Several thumbnails and good display
Accessible to search and use
No membership required
CONS:
I could not find user reviews
Average site features
Some advertisements do not display pictures
Prices are sometimes not listed
---
Conclusion
In conclusion, if you're hunting for hot women, TS escorts, and other adult services, I've got to be honest here – DaddysList might not be your go-to choice. The selection is about as sparse as a desert in a drought. But don't lose hope just yet! Over at Dudethrill, we've got a collection of fantastic escort sites that could cater to your desires. You can expect more user reviews to guide your quest and numerous ad entries. The silver lining? DaddysList does make it a breeze to spot who's on duty in your neck of the woods, as long as you've bookmarked this. So, I think there's nothing to lose if you take a sneak peek, right? Happy hunting, amigos!
All 110 Other Sites in This Category Worth Checking Out:
NewYork Exgirlfriend & Top-12 Escort Sites Like New-york.exgirlfriend.com Show Me 12 Alternatives for New-york.exgirlfriend.com Hey there! We all know the struggle of finding escort services online, hoping to find that diamond in the rough – the perfect escort model who'll make your heart race and your desires sing. In this wild world of the Internet, it's […]