Updated on: January 26th, 2022
AdultFriendFinder
Review of AdultFriendFinder.com – My Honest Opinion
If one of your hobbies is surfing the net and exploring new stuff, you have probably crossed paths with AdultFriendFinder.  Adult Friend Finder, or now more commonly known as AFF, has been in the industry of swinging and dating for more than a decade. It is not surprising that they have already established their name as one of the top dating and swinger site in the whole world. They have launched the site on the year 2006, since then they have just become even more effective in their industry as more and more people have opted to become their member. Despite all the other new sites that have come play and compete in the same industry, AFF has still become the better option for a lot of people when it comes to looking for a match to date or just to hook up.
This site is just one of the developer's original website which caters to the swinger market and other people who are into short hookups and possible life partners. There are other sites of similar niche that are launched by the same developer which are equally great. Adult Friend Finder's advantage is that it was launched earlier so it attracted more visitors first.
Basically, the site is all about looking for someone who can potentially be a short-term or a long-term partner. It has all the basic features of a dating site but it gives you more than just the partner that you need. The developers made a very smart move of incorporating features of porn sites into this dating site. As a result, you get a site with all kinds of people — singles, those who are in an open relationship, those who are just looking for fun, or even couples who are into exciting sexual relationship dynamics. Aside from this pool of people, you will get to have a more sexual and interactive experience on this site. Your imagination is the limit when it comes to possible sexual encounters you can get out of this site. It will surely give you a wild ride. The level of excitement in your experience will be based on how much you are willing to spend.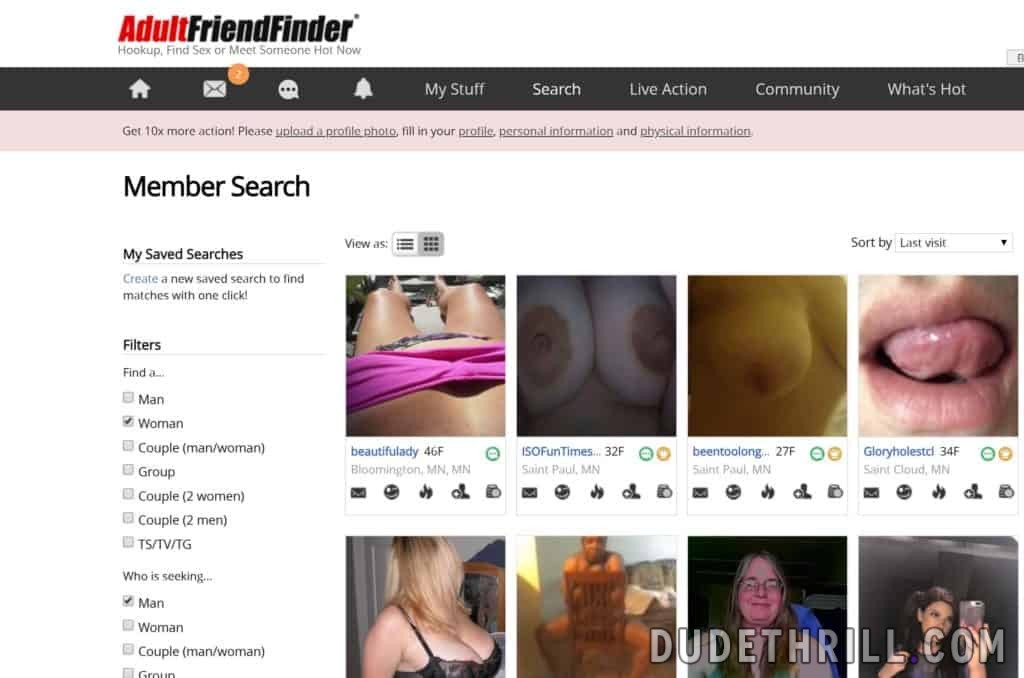 Site visitors can choose their level of participation from those who just freely browse the site and check on every person you find interesting or to be very active on it. The site has a Connexion feature which gives the member the option to have a real – like virtual sex with another person through video while you are. It also supports paired devices (sex toys) which allows you to send sensations to your partner. If you are not willing to pay, you will not be able to get in touch and enjoy these features. But as earlier stated, for those who are willing to splurge for these kinds of excitements, the site has a lot in store for you. However, this doesn't mean that for those non – paying members, there is no longer any chance for you to get a date. There is! You just have to set up your profile and make it interesting, upload nice photos and just wait for other members to connect with you.
Adult Friend Finder is mainly a dating app but members of the site do not merely find dates. Some find real friends in the course of their interaction since the site is really a huge community of real people. It has average monthly visits of over 25 million where visitors spend roughly 10 minutes every time they visit. Most of its visitors come from the United States comprising more than 50 percent of their visitors. In the 2nd place in the United Kingdom, and the third is from Canada, having a total number of 80 million users around the world. With this number of visits and users, the site still continues to gain more and more members and users.
The increasing number of site members is a result of the constant updates and improvements done by the developers throughout the years. What was once just a simple dating site has become a home to all those who want to explore different sexual niches and adventures without the fear of being judged by the people. Since people visit the site for more or less similar reasons, it is a breath of fresh air for its members, it is their sexual safe haven.
Signing Up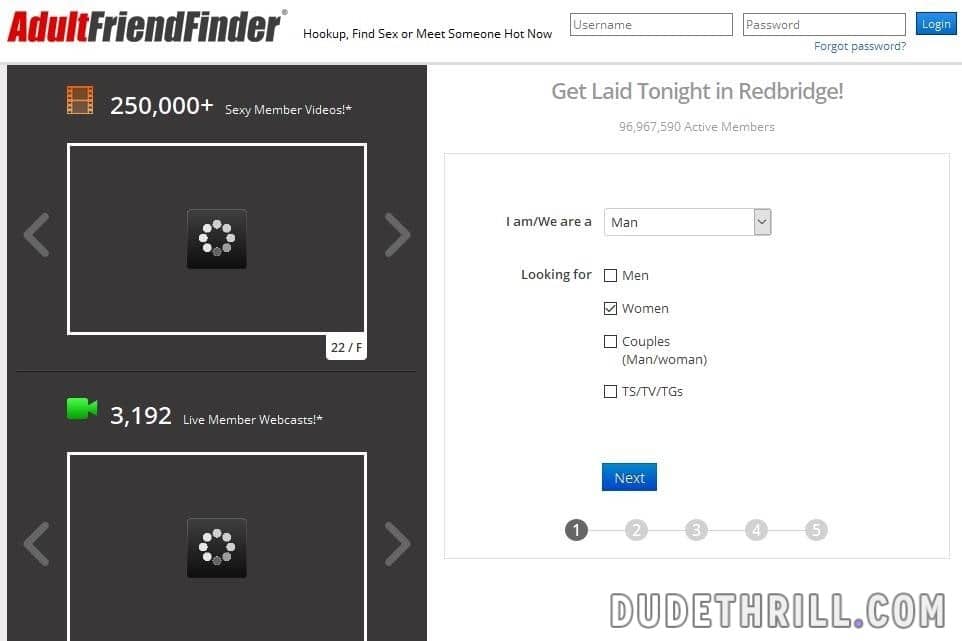 The site has a very smooth registration process. There is no need to fill out a lot of information about you. It can literally take less than 5 minutes and you are done. You are just basically asked of your sex, interests, your birthday so that they can make sure you are of legal age, the country where you came from, and the province. There is also an option for couples who choose to register as one. This information is all asked through a tick box and a drop-down option. The site will also ask you about the persons you are interested to meet which you can select as many as you like, if you have a lot of interests.
In the second part of the registration, you are then asked for your email address for verification that you are actually a real person, your unique username and password, and a short introduction of yourself for better chances at finding the person of your interest. This is also where you should write about the people you are interested in especially if you have a very specific interest. After these are all set, you can now login anytime at Adult Friend Finder. During the log in process you can opt to use the username you created or your email address, then your password, and it will direct you to your account where you can see the latest activities in the site. The site does not oblige you to upload your photo in your account, but it has highly recommended for more chances of interaction.
Site Tour
When logging in to your account, you are immediately greeted with lots of options and possible matches on the page.
Since the site has a very vast number of members, it is normal to have thousands of members who are simultaneously online, and the site never runs out of recent activities in the feed. You can actually start looking for your match from there.  The majority of its members provide for very sexual and adult content through videos, blogs, photos, or even through live streaming where they openly show their nude bodies.
Messaging and Communication on Adultfriendfinder.com
There are a lot of ways to connect and interact with members in the site ranging from life which is a more aggressive way of interacting, to the wink feature is a more subtle option. Chats can be made in the chat rooms, and you also have the option to make a blog of your different sexual expressions. Communication in the site is a basic and essential feature that whether you are a paying or a non – paying member, there is always an option to communicate for you.
Extra Features

This site is full of surprises. It has a lot of extra features that you can rarely find in just a single site. It is basically jam-packed with things to do, it caters to the different needs and wants of its members.
Chatrooms and Groupchats
The site is a very huge community of people from different walks of life have almost the same, if not actually the same, goal which is to look for a partner in whatever context. To further this goal, the site has made a public chatroom where members can just free his mind and share about his different interests and desires. As a member, you can join the different chatrooms or you can make one.
Sex Academy
For the newbies who are still in the exploration stage of the different sexual kinks, the site has a Sex Academy which provides for online instruction on the how-tos of different sex positions and deeds. This feature has prepared for instructional videos on the proper ways of doing anal, or oral sex. It also gives out tips on having better chances of meeting people on the site.
Contests
The site has daily contests and the winner is determined through who has the most likes. Contests vary from theme to theme and anyone can submit their entry.
Live Cams
For those whose of you who are into live-action, who wants to see the people in the site real-time, there is an option for you to do that. One of the best features of the site is what they call the live cams where you can see who are live at the moment and you can see who is broadcasting real-time. You can also choose to be the one broadcasting.
Hotlist
When you have been visiting the site for a few times already, you can find people who have become your constants or your favorites. You can put these people in your hotlist so that you can easily find them again the next time.
Wink
Flirting is one way of getting someone's attention and if you're too shy to actually start a conversation, you can simply click the wink button and send it to the person you are interested in.
Gift Giving
If you are the type who expresses your appreciation through the sending of gifts, you can also do it through the site. AFF gives you the option to send virtual gifts to people.
Blogs
Members can document their sexual activities in a journal. Other members can also share their stories in their sex stories page which could be derived from fictional to be like experiences.
Payments of AFF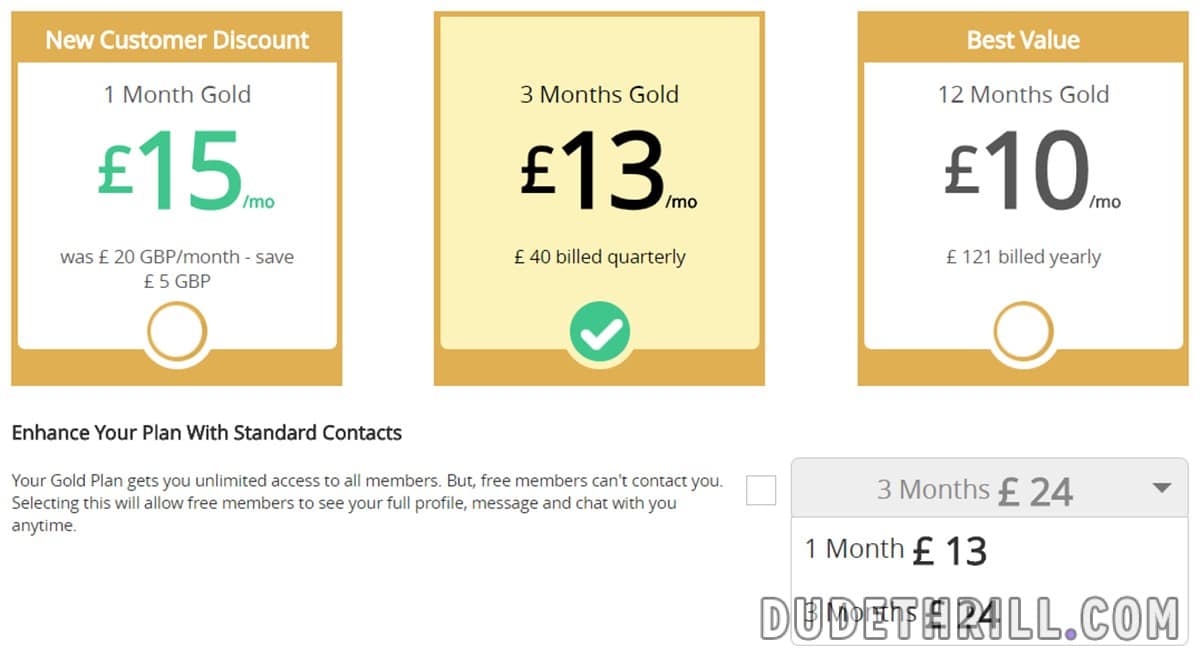 As a member of the site you have the option to either remain a non-paying member or to subscribe for the monthly membership. Paying for the membership fee entitles you to more features that are unlocked which means more fun. Paying members have the option to be a member for a month, for three months, or for a year. Members are categorized in three: the basic member Who are non-paying, the silver members, and the gold members. The different types of membership have different features that they can enjoy.
Security and Safety
Since the last time they had a security issue, the site has been improving and re-improving their security and safety especially when it comes to the details of their visitors and members. Currently, they are being protected by a third-party system which puts layers of encryption so that the security on the site will not be breached.
PROS:
The search tool is really dependable, it can filter to the most specific details you want to filter
You never run out of people to connect to because of its massive membership and wide reach
it has an app for easier access which is available for both Android and iOs users
aside from the current app they have you also have the option to use the mobile version of the website
There are a lot of features that it is impossible for you to run out of things to do

CONS:
The male to female member ratio cannot be determined
The site is not for people whose goal is mainly to have friends or just looking for a platonic relationship
Frequently Asked Questions (FAQs)
Is the site AdultFriendFinder legit?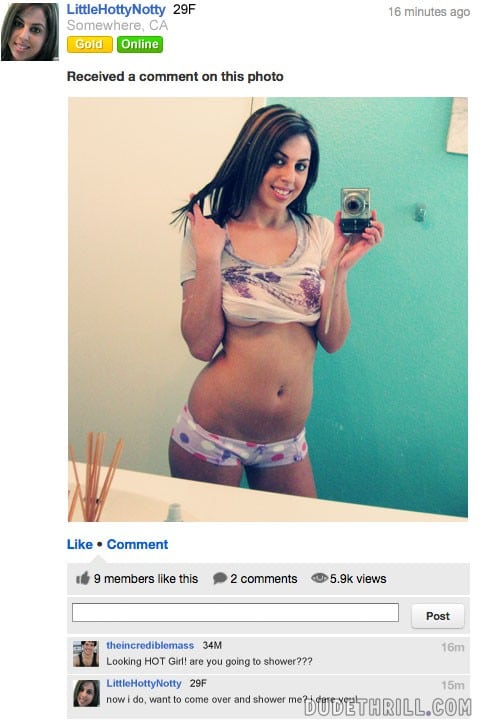 Definitely yes! It is a legitimate adult dating site that has been un the industry for more than a decade. It has established its name worldwide with 80 million members throughout the world.
Is AdultFriendFinder effective?
Yes! Members actually find people to date or hookup with through the site. With its vast membership with people of similar sexual enthusiasm, it is almost impossible not to find someone you can be whether you are a paying visitor or not. This is what keeps the site on the field up until now.
If I have skipped updating my profile, can I still update it?
Yes. If you need to update your profile to be more catchy, you can do so by following these instructions:
Log in to the site with your username and password.
Click the "My Account" link at the top of the page.
Choose one of the three links in the Profile section that allow you to update your desired section.
Be sure to fill in all of the sections on the profile and be sure that you check your spelling.
Click the "Save" button to finalize your changes.
Can I retrieve a forgotten password?
Yes, if you forgot your password, you can just click on the "Forgot Password" link. It will then ask you for your username and email address. An instruction on the retrieval of your password will be sent to your email. You just have to follow the instruction and you're back on track.
Can I turn off the auto-renewal feature of the site?
Yes, the auto-renewal feature may be turned off. This feature was actually placed for convenience. However, for those who do not wish to eir membership, this feature may be turned off by logging in to the site, then click the "My Account" link, and then go to the "Billing History & Credit Card Info". You will then see the product status and just tick the button OFF under the product status.
Are my details safe with the site?
Yes! Your details are definitely safe with the app and are maintained by a third-party system that protects and encrypts the information input in the site.
Do I need to download the AFF app to access it on my phone?
Not necessarily. You can still enjoy the AFF site without downloading the app. The site has a mobile version that makes you access the site through your phone even without the app.
Conclusion
If you are still thinking twice about registering for AdultFriendFinder, it is noteworthy that the site has won a number of awards as the best dating site by different award committees for several years. But if you are all ready for some action and adventure, you can easily register to AdultFriendFinder.com. You will surely enjoy! In my personal opinion – it's really worth it. So just check it out and see for yourself.