Updated on: December 5th, 2023
9 TOP 'One Night Stand' Websites – How To Get a One Night Stand Easily?
It is human to have sexual desires. It comes in all shapes and sizes, and some people can easily deal with it, while some cannot contain these needs. We know that at some point, these sexual desires need to be and WILL BE fulfilled in one way or another. But oftentimes, people usually get into relationships since it's the easiest way to… get laid. But we can't deny the fact that some people would prefer engaging in a "One Night Stand"; those who want to fulfill their sexual needs and desires without being entangled in committed relationships.
Hook-ups are an easy option for you to let out your suppressed sexual desires, but looking for another person who's down for the same thing can be quite difficult, which is why we have compiled a list of the best websites you can check so you won't have any problems getting a hot and sizzling night with a stranger.
So without further ado – let's dive in the list of the best "ONS" sites: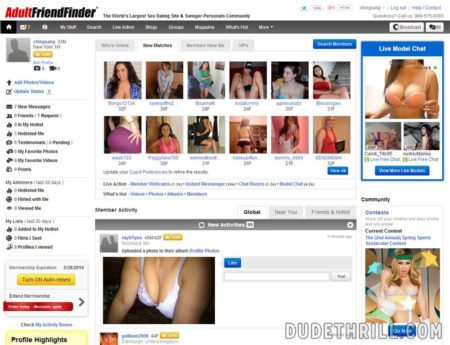 With their tagline, "Hookup, Find Sex or Meet Someone Hot Now.", it is pretty obvious that this site is going to aid you in what you're looking for. Upon visiting their website, you will be welcomed by a video of a hot girl talking about finding sex within this community. AdultFriendFinder is one of the best in their niche; it's the perfect place to look for new friends (with benefits!) without the hassle and games.
For people looking wanting some good time, this website is heaven since you can easily score some sexual encounters, find regular hook-ups, or anything you can think of that's sex-related. This site's match feed is very appealing for those wanting a good time since it's pretty unfiltered and offers many types of sex. This one's not really for those looking online for plain friends since almost everyone here knows what they want and in just a matter of time, they'll have it.
You can also check my more in-depth review of Adultfriendfinder here.
This "all about sex" website boasts an average of 25 million users visit AdultFriendFinder every month, with most of its traffic coming from the United States, United Kingdom, as well as Canada. Different from dating sites out there, this website is your best bet to instant communication and gratification.
PROS:
Registration is very easy! You'll be done as fast as 30 seconds, at most. You'll only need to provide your e-mail address, unique usernames, and passwords, then you're good to go.
Some parts are similar to dating sites where you get to post and inviting picture and introduction, to attract more potential hook-ups. You also get to personalize your profile with bold items such as women's cup size and men's length.
They also have their own "AdultFriendFinder" version of a Purity Test, where users with higher scores are most likely the ones who's been through various kinds of nasty
You're in for A LOT of potential matches. You can also choose from various preferences and get to filter which specifications you would want to see in your possible matches
CONS:
– For guys, getting a Gold membership in this website is pretty much a "standard". Some girls wouldn't even bat an eye on matches that aren't Gold members, so this membership appears to be some proof of credibility
– Being in the website would sometimes make you feel like you're in some sort of a "sex dungeon", with all the pictures of genitals and hot poses almost everywhere (although it is not a bad thing). Their site is designed like it's meant to scream "scam" in big, bold letters and the outdated graphics aren't helping as well.
– It doesn't have a mobile app version yet
---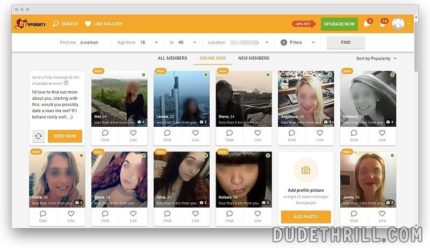 Want to be in a naughty community where hook-ups can be scored as easy as 123? With BeNaughty, everyone gets to showcase their nasty sides, skip the small talk, and get right to the agenda immediately. Their site lives by this simple rule: go for it if you want, skip if you don't. Just like any hook-up app, this isn't for the commitment believers out there; it appeals more for those who want to explore and experience various sexual encounters without the annoying labels. No need to be coy and shy since everyone here wants the same thing. Just be open-minded, show your nasty, then you're in for a good treat once you meet a match.
PROS:
The site is strict with their user's identities, to avoid fake profiles as much as possible. No celebrity pictures and duplicate accounts (or even just photos that have been uploaded before, or have been in another account) will be thoroughly checked. No nudes, or any form of pornography on your photos!
"Cute or Not" game is available for users to have a glimpse of other people and potential matches
It offers "Full Safe Mode", where only verified members can send you messages
CONS:
Only women with accounts can send messages to other users. For the guys, they would need to avail of their fee-based services to send messages.
Their free services offer the most basic features only, it would be a whole lot different of an experience if you're a premium member.
It has an app version but only available to Android users
---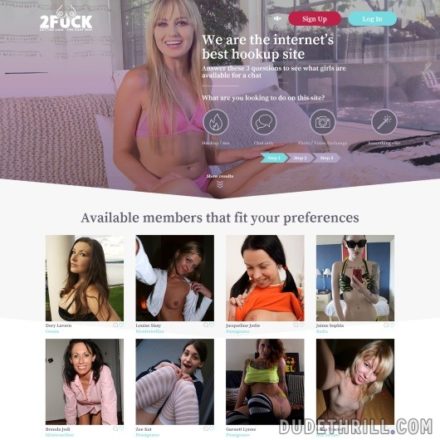 As evident in their name, this online dating site is made for everyone who is just game for some casual sex and random hook-ups. Whatever your situation is — whether you recently broke up with someone, just trying to have fun and live life, or simply bored and want to just shout "YOLO!" and enjoy the thrill and satisfaction of relieving your pent up sexual desires and needs — this site is the answer to them all.
Upon signing up, you'll be asked as to what you are looking for, what types of people could turn you on, and even to details like fetish and other similar choices. Once you've completed the items, the site will provide results and you can scroll down to your possible choices.
PROS:
2Fuck's crew puts their users' discretion, safety, and security as their top priority.
Even just a free membership can allow you to have an unlimited supply of profiles from all over the world
It has that "social network" feel to it, once you visit the website. It even boasts of over 2 million users and for a hook-up website, that enough speaks volumes.
CONS:
Just like the other paid memberships, you'll miss a lot when you're just using a free membership account. But then again, that's all up to the user if they'd spend a penny for the extra (and much better!) features
---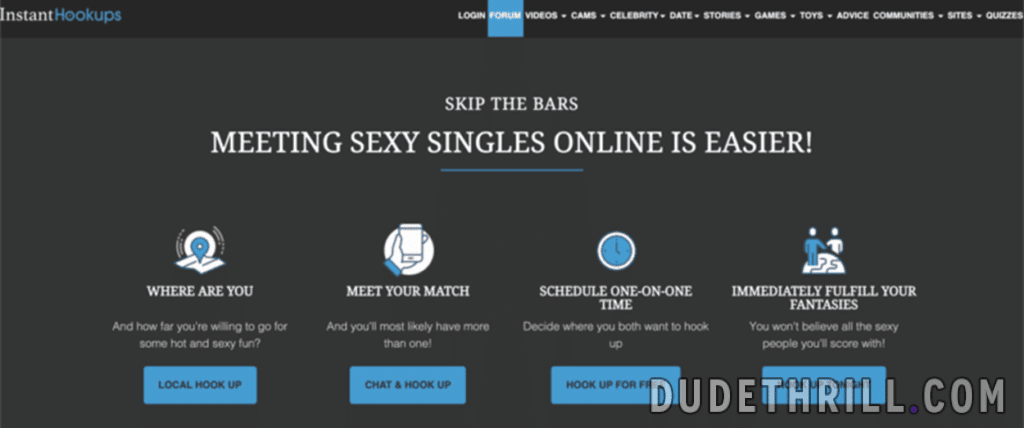 For those who aren't particular with the looks, this is the best site for you. Although the physical appearance of a person has always been a factor especially when you're in the online dating and hook-up scene, you won't have to worry about that on this website since everyone just has the same goal: TO GET LAID. And it has an impressive number of users: currently 3.8 Million and counting!
This site just puts their unique game to a higher level is by maintaining a 50/50 male-female ratio. They are pretty strict with their gender ratio, and again, that itself would put other sites to shame. This gender balance would mean lesser chances for rejection and more for conversations and hook-ups. The whole thing's pretty easy as well, with plenty of ways for users to meet and mingle with the available people.
PROS:
Upon signing up, you can easily explore for users near your location, or just rely on their AutoMatch feature
Their system uses advance technologies, especially with AutoMatch, which is GPS-based
Even with a basic membership, you can still receive and send messages
CONS:
Limited registration for male users so you'll have to check from time to time if it's open
If you ever encounter problems within the site, they do not provide phone support as they only have live chat and e-mail customer service
Their designs look pretty basic and outdated; they could use a bit of some upgrade here and there
---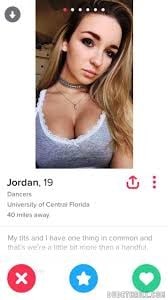 No one's probably surprised about this, though: Tinder might be the most popular of them all. People come here to search for easy hook-ups. Lots of stories and experiences have originated from Tinder. And since it is the easiest and most familiar hook-up app, most people could share a thing or two about their Tinder escapades, especially ones that involve hot one night stands and some steamy time with someone they just swiped right online.
To help you score higher chances of getting laid, you'll need to upload your most provocative and attention-grabbing photos, so the opposite sex can swipe right on you. If you and the other person swiped right on each other, which means you're matched (since in the Tinder world, swiping right or tapping the heart means you like/accept this person).
PROS:
You can have a fully-functioning account even with a free membership (but of course, better features are in for those who'd spend extra money for it. Yes, we're talking about unlimited swipe and Passport features!)
Matches are based by proximity and with whooping 26 million users from all over the world
No need to fill up registration pages; you can just simply connect your Facebook or provide your mobile number and you're good to go!
CONS:
Lots of bogus accounts and con artists are creeping around the app, so be careful and don't trust easily (although this also applies to every online site and app, in general)
Search options aren't that impressive (actually, it's close to none at all since you'll just have to wait for what's served in your feed for possible matches to your location proximity.
Account security isn't that great either. And since you will be forced to use Facebook to create an account, well, scammers and those good-for-nothing catfishers can just create fake accounts
---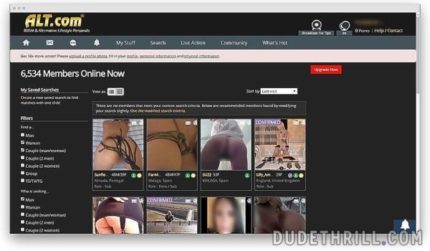 This is the perfect site to let out all your BDSM fantasies. Not for the shy and faint-hearted, people here would perfectly play with around their wild fetishes: whips, bondage, chains, you name it. This site gives you your dose of one-night stand prospects based on your location. You can even see users' videos, talk dirty through chat, and then finally meet to fulfill each of your sexual fantasies involving BDSM.
With over a million users worldwide, you'll be up for a different kind of hook-up heaven once you sign up on this site.
PROS:
High response rate = easily find someone for a hook-up (since this site has many users already)
This site has been around for quite some time, subsequently proven by the number of its members, which is also continuously increasing
CONS:
Fake profiles are rampant
Customer service isn't that commended and when you subscribe to a paid membership, you'll most likely find recurring charges popping up on your account
For basic things like changing your username, you'll have to spend a dime on it
---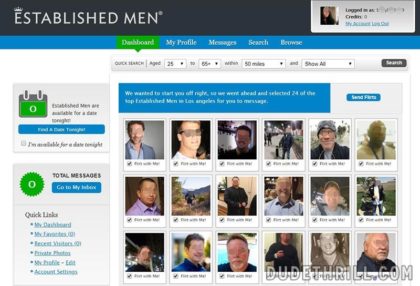 When they said "one night stand", that's just about it. On this site, there are a lot of older men, especially married ones, who just want to have a good time… nothing more, nothing less. It makes people live up to the term "casual sex", because for the married guys here, who are established (given the site's name), are not after any kind of drama or plans of breaking up with their wives and families. Everything casual is the trend here, just some hot fun and someone to fulfill their sexual desires with.
But wait, Established Men isn't all about married guys! There are also lots of single men out there, ranging from the young ones to the older ages. Established, that's what most of them are. We already know what that is all about, right?
PROS:
Lots of rich daddies are in this site (some of them are literal daddies, that is.)
Established Men's team reviews every profile so there would be some that they'll accept (once they see it as a legit one) or reject it outright (to minimize fake profiles and scammers)
Being in the website, you'll feel the non-judgmental environment. Everyone can mind their own nasty business and no one's going to give a damn, no one's going to point fingers and call you weird names, either
CONS:
Paid subscriptions are a bit pricey
Some accounts are inactive and despite Established Team's effort in reviewing every account, there are still some fake ones out there
---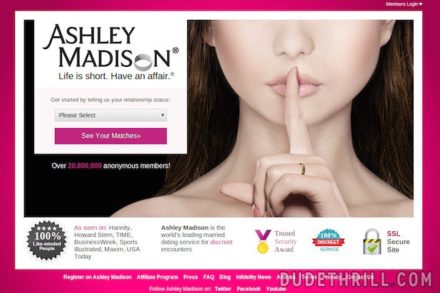 This would seem like Established Men's female counterpart. If you're up for the thrill of having a one night stand with a total stranger, well, in this site, you'll find plenty of beautiful people looking for casual sex… outside of their marriage. Yes, extra-marital sex, that is.
Married people who are tired of their boring routine-like lives, come to Ashley Madison and spice things up with someone having the same idea of getting laid and bang someone new. Although this whole idea is a taboo for most, well, you could still find users who aren't attached to anyone yet, but this site has somehow become a sanctuary for those who want to enjoy sin and pleasure.
PROS:
This site is mainstream, to the point where we can say that it could be a household name already
It provides insightful blog articles about the site's whole agenda: one night stands.
Tightened privacy protection for users (especially since most of them could use that privacy)
CONS:
Since it is a really popular website, there are also lots of fake profiles floating around
It was involved in a huge data breach issue way back in 2015, exposing their users who were supposed to be discreet in their affairs
---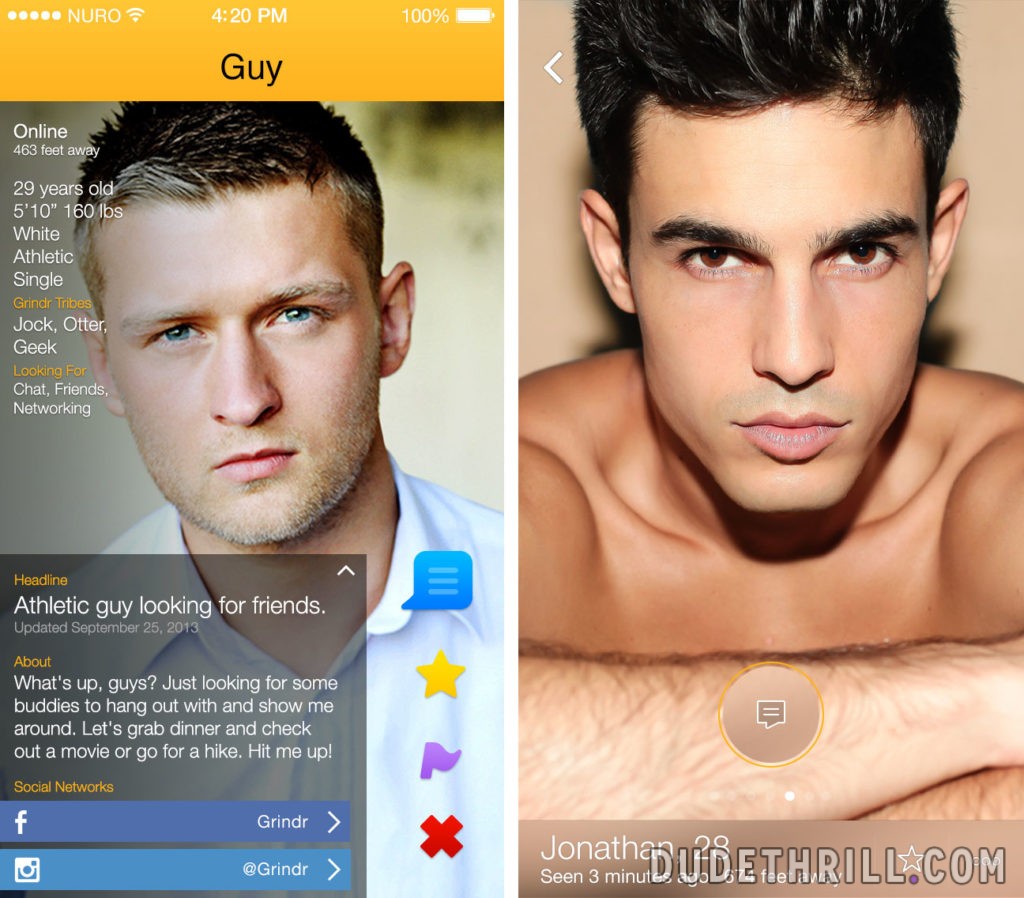 This is probably one of the most popular websites for sexually active men. With over 28 million users, this dating platform gives a chance to the gay and bisexual singles to be away from the mainstream straight-exclusive sites. Since it is easily available for mobile phone users, most users can accomplish an account in just a few easy steps.
After being involved in some controversies, Grindr is now known for emphasizing user's sexual health, particularly HIV status, by adding that sensitive information in their profiles. To increase the chances of getting matched and finally have a good time, you'll want to fill your basic information to attract potential hook-ups.
PROS:
Emphasizes sexual health, especially HIV status
Customized emojis, or popularly known in the Grindr lingo as gaymojis
Introduced Discreet App Icon, which allows users to choose how the app's icon will appear on their phones
CONS:
Perhaps you'll encounter some small talk or two, with many subscribers, some of them would be on a much slower pace towards hooking up
Dick pics — you won't even need to ask for it. People just suddenly hit you up and boom!
The app is a bit problematic since it gets glitch from time to time
Last Word
These are just some of the long list of hook-up sites you can check out if you want some good time without ever bringing up relationships and commitment talks. Being in the online dating and hook-up scene can easily give you that self-esteem boost, and with all these apps and websites, the possibilities are endless. Hook-up platforms like the ones above lets you cut to the chase and skip the boring small talks, and just immediately go down and enjoy some sexy time with a stranger who's also up for it.
When hooking up, you can either lie or be honest about anything — anyway, you're just sharing a bed and some hot stuff for a while and then boom, you'll go your separate ways. Remember to always keep your seductive powers up your sleeves, that way you'll attract more prospects, and be able to score easy sex in no time.
If you're having a hard time selecting 'the perfect' one to sign up to — I really urge you to try as many as you can to know for sure.
However, if you don't really have time or motivation for trying out every site – the TOP 1-3 first ones will do the job for you guaranteed!
If you have anything to suggest or add from your experience — feel free to do so in the comment section below.
All 110 Other Sites in This Category Worth Checking Out:
NewYork Exgirlfriend & Top-12 Escort Sites Like New-york.exgirlfriend.com Show Me 12 Alternatives for New-york.exgirlfriend.com Hey there! We all know the struggle of finding escort services online, hoping to find that diamond in the rough – the perfect escort model who'll make your heart race and your desires sing. In this wild world of the Internet, it's […]