Updated on: October 1st, 2023
TSMasseur
& TOP 12 Erotic Massage and Escort Sites Like tsmasseur.com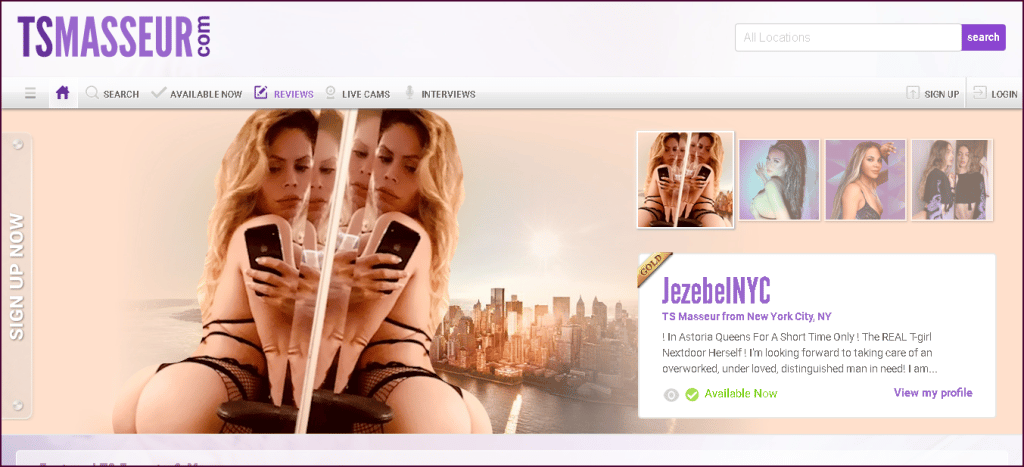 Masturbators and gorgeous suckers—along with some chicks with enormous dicks—will be the topic of my review now. If you're looking for shemale massage performers, TS raunchy masseurs, and even trans escort services, my recommendation will be on top of your list. To kick things off, we'll check out TSMasseur, a worldwide network of amazing trans hookers and lovely shemale masseuses. Basically, my goal is to assess and examine this site since I know that not all of them strictly adhere to their own self-promises. For starters, TSMasseur is visited by hundreds of thousands of people monthly, so I got a reasonable sense of what to expect when I visited. But let's see if we can nail down the facts.
Official URL: https://tsmasseur.com
Enjoy Erotic Massages at TSMasseur.com
In the sexual entertainment industry, you've certainly visited some escort websites once or even multiple times in your entire life. Trans hookers are a particular interest for many sites, whereas others offer both dudes and ladies in their listings. Regardless, it's clear that not every site is one and the same, and few offers unique escort services.
In fact, this isn't the first time I've come across websites that appear like amateurs have put them up. However, whoever oversees TSMasseur is desperate to establish a remarkable first impression. The lavender or purplish color scheme on the white background is a stylish and sophisticated choice for the site's fabulous aesthetic goal. Well done, TSMasseur! It's cool that perhaps pendant hangs and beautiful purple silk drapes could make the space seem like a grandiose palace.
Above all, the TSMasseur reviewing system is much better than practically all similar transgender-oriented websites. A good number of users and providers—would be pleased if all escorting or erotic massage sites were designed in this manner.
For one thing, there would be significantly lesser scams and unreliable interactions. This is basically a pretty powerful massage-based escort database, and that aura permeates the entire website.
Remarkable Site Features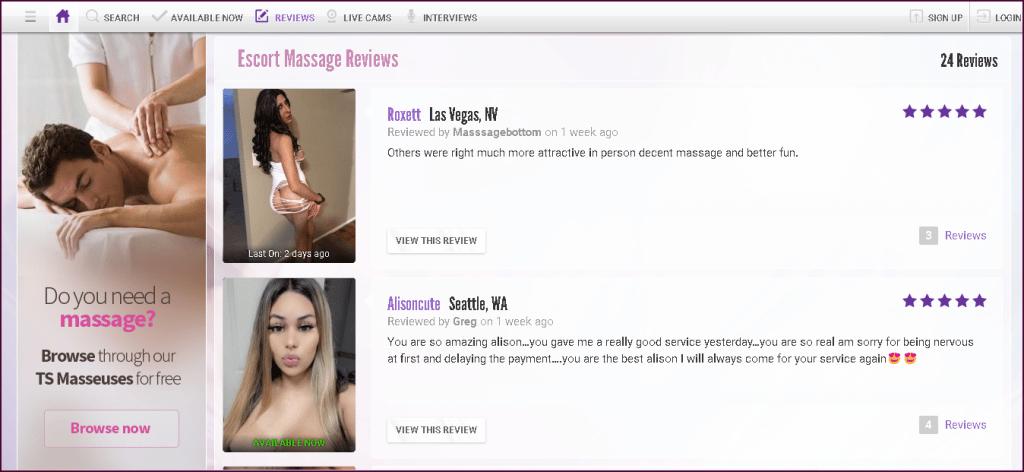 TSMasseur has the most reliable reviews available on the page. So if you're having doubts or trouble deciding which escort to choose, the reviews could help you a lot! The site is now accepting reviews from you. If you want, you can check out the 'Leave a Review' icon and see the recommended trans escorts of other users.
Are you constantly on the move? The site is here for you every step of the way. Effortless yet extremely effective — the TSMasseur's mobile version is a powerful tool for those on the go. You've access to EVERYTHING from the online option, directly at your fingertips. Certainly, TSMasseur convenient mobile version will 'wow' you with its ease of use, speed, and intuitiveness.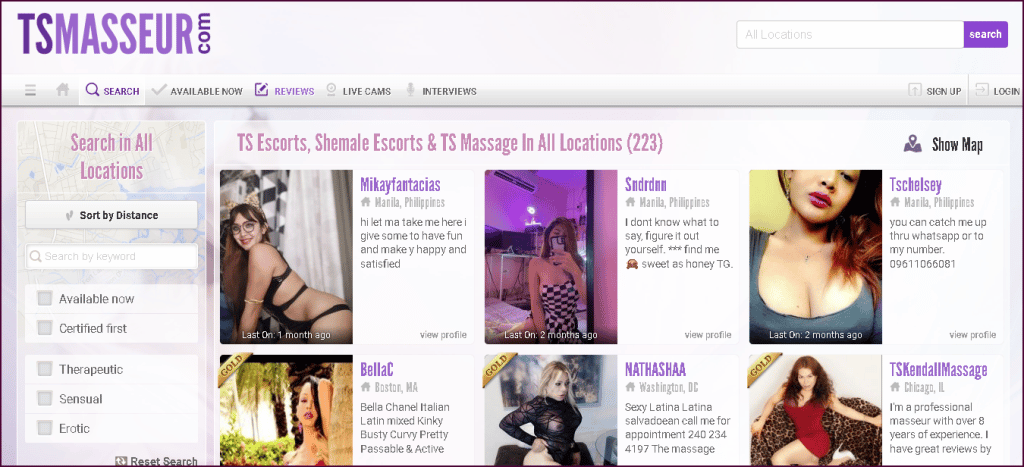 Regardless of where you're in the world, you can always contact a gorgeous TS masseuse to help you relax. Whether in the middle of the metropolitan area or out in the country, our GPS-Based Searching feature can help you find perfect Masseurs in your region. The searching tool will never show you just a few results; instead, you'll always see a complete screen escort. TSMasseur believes that the more and more options you have, the better!
Like always, Certified Masseurs are invited to participate in the fun at TSMasseur, but don't expect to find Nudes here. But, of course, beneath the restrictions, all customers of erotic massages will appreciate having access to the masseuse's secret photo galleries.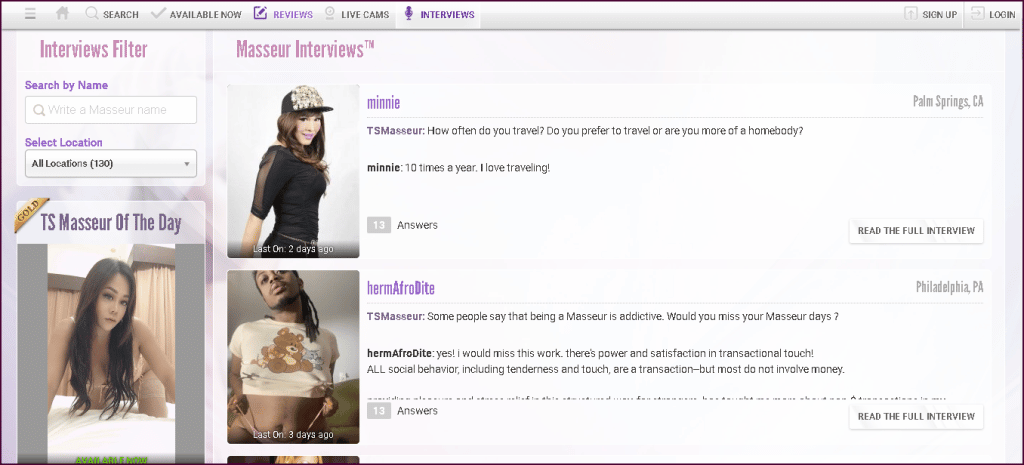 You can get to know the masseur you're interested in hiring before making the final booking step. Using the TSMasseur's 'Interviews' is a terrific method to understand the details of your massage session and perhaps learn which masseur offers excellent and more personalized rubdown.
Website Layout That's Out of the Box
No other escort masseur website gets near to its amazing creative group's minimalism style, an extensive array of functions, and user-friendly usability. It features a high-quality full-screen display that adapts to the size of your screen, regardless of the gadget you're using. Without a doubt, TSMasseur sets the bar high for competitors to reach.
The TSMasseur's Special Sensual Massages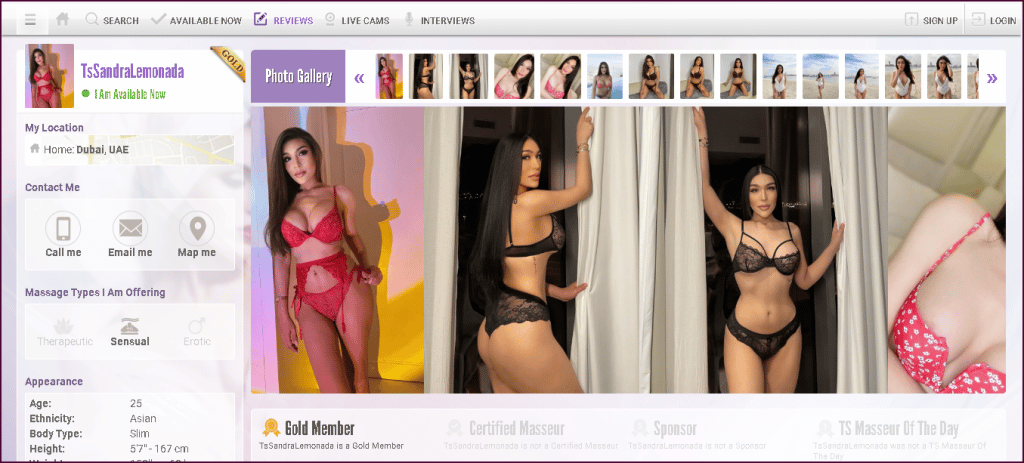 Suggestive or sensual massages are a terrific technique to increase sexual connection and trust. The core of seductive massage is making your lover feel good about themselves through direct contact. So, the giver and receiver are not just people in the act but two distinct individuals that establish more profound connections. It sounds like a thought-provoking experience, right? And since this is a sensual massage service, just forget about covering your f*ck and buttocks because a trans escort masseuse won't bother seeing your private parts. It's part of the session!
Sensual massage, on the other hand, is a talent that can be learned, just so the work you perform on your girlfriend is enjoyable for both of you. But that is just a hassle. Another option is to have a gorgeous trans masseuse of TSMasseur teach you the basics of 'rubdown.' This is where they will demonstrate how to do basic massages. Following these fundamental techniques, you may experiment and take the massages in an entirely new route!
Trannies' Therapeutic Massage Service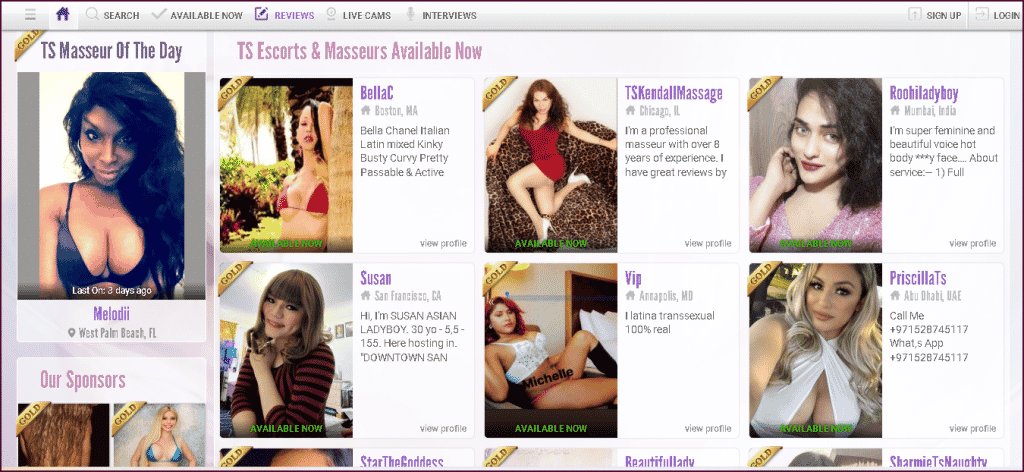 The TSMasseur's therapeutic massage is a stress relief that is intended to have a healing effect. It is different from a relaxation massage, intended to let anyone loosen up and unwind. It is common for therapeutic massage to have a calming experience, although this is rarely the purpose of the therapy or sessions. These methods may be learned at many different massaging institutions and numerous clinics and treatment facilities.
Treatment objectives might differ significantly depending on who is doing the massaging and their aims. Medical professionals sometimes prescribe massage as a vital component of a bigger therapy approach. In fact, consistent therapeutic massages can relax muscles, enhance muscular strength, and improve performance for those undergoing physiotherapy for an accident. As with other medical therapies, these massages could be performed to complement trauma healing, cancer therapy, and more.
The full body massage may be conducted on fully clothed and naked customers. Treatments may be customized to meet the individual client's demands using methods from various therapeutic approaches. When considering massage, clients must be mindful of speaking up about their sensitive regions and health records so the masseurs may change the nature of the procedure and prevent triggering health issues.
Ultimate Erotic Massage Service of TSMasseur.com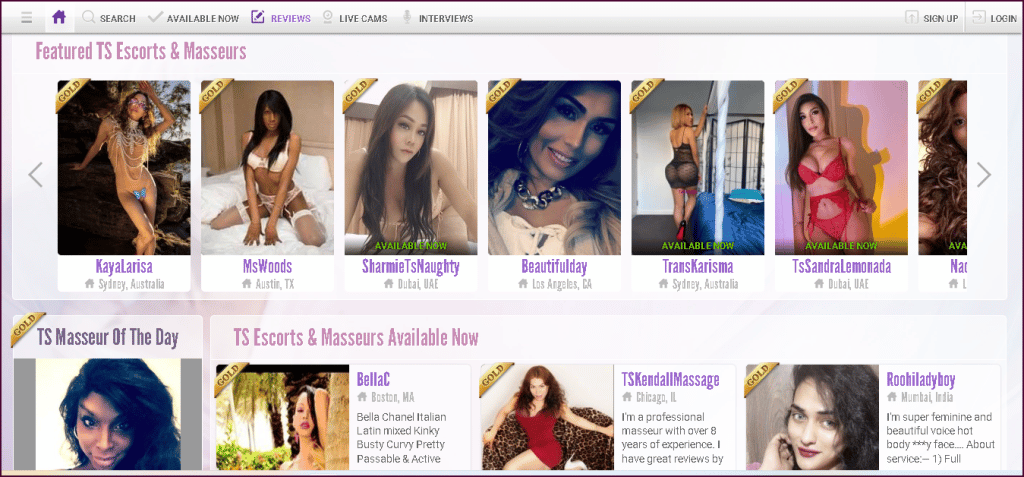 We have come to the core and best seller of TSMasseur: the erotic massage service! The purpose of erotic massages should provide the customer with unexpected, interesting, sensuous, and mind-blowing sexual pleasures. But remember that erotic massage service is performed by appointments ONLY, and you need a qualified specialized masseur who is both sexually skilled and enjoys performing it just to make it happen. This sort of massage allows the horny client to request exactly what they want, whenever they want, all without the worry of being ripped off by the masseuse.
As a customer, you may decide whether you want a unique, unexpected adventure or prefer to stay within your comfort zone. Several erotic masseurs in other sites or places consider intercourse and blowjob as an activity beyond the scope of any erotic escort masseurs could do. But here at TSMasseur.com, all are subject to the details of the contract agreed by the customer and trans masseuse.
An erotic touch from TSMasseur escorts could be a journey into the great roots of the soul. Also, erotically oriented massages are not just about stroking your naughty bits or triggering your pleasure points; instead, they're about enhancing your sense of well-being. Since sexual contact is optional at TSMasseur's erotic massage, the boundaries are determined by consensus, considering each party's unique characteristics, requirements, skills, and restrictions.
But why is an erotic massage of TSMasseur.com very effective among horny fans? Well, according to most specialists, arousing satisfaction occurs not on your cocks but instead between their ears. Yes, that's right! It's a point filled with excitement and anticipation. But of course, in such a romantic atmosphere, it's critical that the customer and the masseur have a solid connection or chemistry.
Membership Packages You Can Get on TSMasseur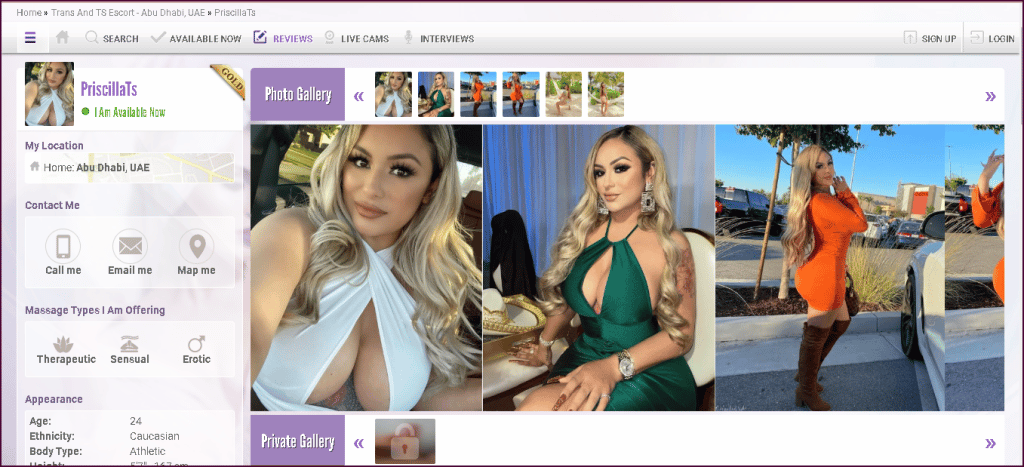 Basic Membership
Basically, the basic membership of TSMasseur.com is free, and you don't have to worry about any monthly payments or hidden charges. But of course, you can only enjoy a limited number of perks on the page, including browsing the masseur list and booking them through email. Depending on your preferences, you can also have your personal site email and customize your profile. Finally, basic members can access profiles who viewed your account. Compared to other sites, TSMasseur offers a lot more features to explore and manage your page, so I don't think being a free member would make you miss lots of opportunities around the site.
Premium Membership
The site's premium membership costs $9.95, charged monthly. Premium members could enjoy all the perks of the basic members while exploring more extra features like viewing secret /personal photos of trans masseuse without asking permission. Also, you can enjoy having a 'Verified Member Status' and attract more attention from masseurs. Finally, premium perks extend to writing/submitting escort reviews.
Pros and Cons of TSMasseur
PROS:
Lots of trans escorts and masseurs
Fantastic design and intuitive features
Organized and easy to use
Free registration
A basic account has lots of perks
Helpful escort reviews and interviews
Reliable massage services
CONS:
Premium membership is affordable
---
TOP 12 Erotic Massage and Escort Sites Similar to tsMasseur.com: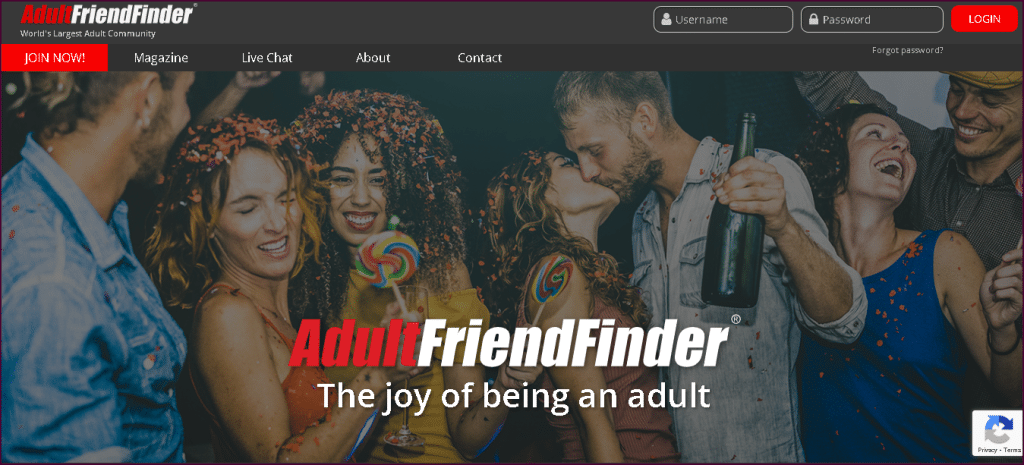 Adult Friend Finder is widely popular worldwide and has over eighty million members seeking casual and sexual encounters with different girls. Also, this website became popular in the United States and provided an excellent platform for users to seek a perfect sexual match using its communication features.
Further, it offers many casual arrangements, including polygamous relationships, monogamy, couple sharing, FuBu, and many others. Indeed, it is a great website to explore sexual preferences and spice things up in bed, especially among single people and couples willing to scrutinize their sexuality. With easy navigation and a fast registration process, the users will be finished within 5 minutes or below.
Here's the full review of AdultFriendFinder.
PROS:
Free registration
Members of the site are seeking casual relationships
Open for bisexuals and gay members
There are plenty of features for communicating with each other
Members are allowed to create blogs and groups for information exchange
Free feature in watching videos and viewing photos
Members are allowed and free to share any types of videos and photos
CONS:
There are more males than females
---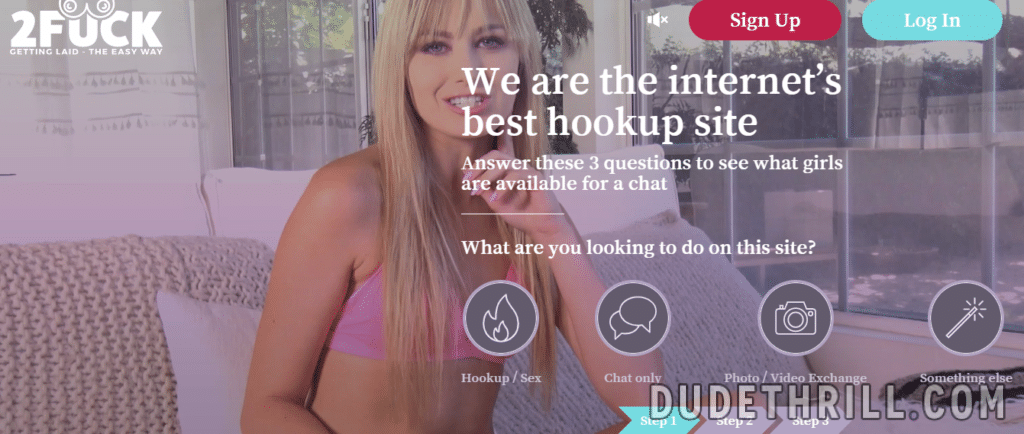 With all the escort websites across the Internet, only a few stand out. One of these is 2fuck.com, an Escort website with three million registered members worldwide. It is progressively growing every day. The website boasts genuine and authentic services for everyone who craves sex every day.
Once you become a member, your profile will automatically undergo compatibility matching and provide you with lists of members compatible with your preferences. It is easy to say that 2fuck.com does not randomly search for members for your convenience but instead employs an analytic process to make matching more accurate.
Click here for 2fuck's full review.
PROS:
Members worldwide reach up to millions and growing each day
The design of the website is user-friendly and straightforward
Free registration for everyone
CONS:
Premium members have exclusive features that can only access them
---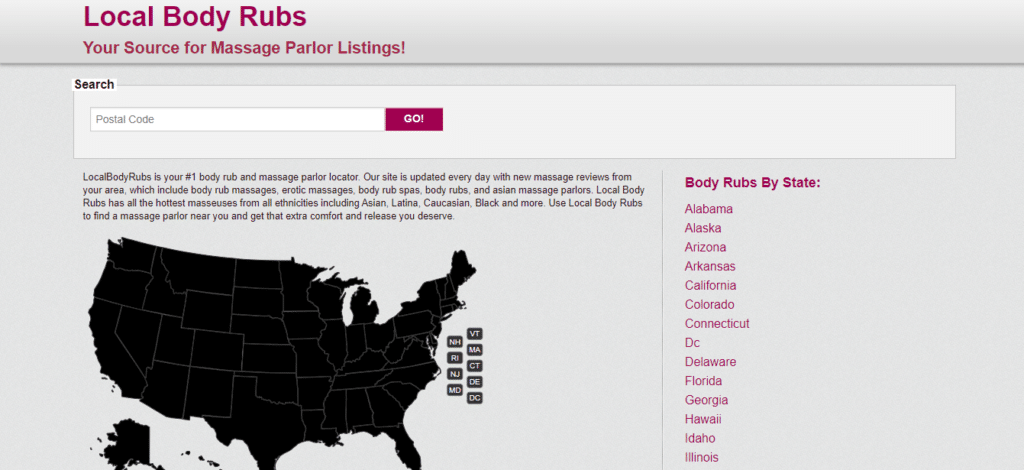 This website is updated daily so you can always go and check for massage reviews, especially those around your area. No matter what type of massage you've availed, your reviews will be much appreciated here since lots of users check from time to time before they also avail of such services. Local Body Rubs feature massage parlors with the hottest masseuses so you won't ever regret going in for some extra service, and to think that they all come from various ethnicities. It would be a definite eye feast that you can enjoy while going for that extra comfort and stress release that you deserve. Massage parlors are discreet and lowkey so you won't have to worry about your identity being exposed if ever you avail for one of their erotic services.
PROS:
Has a long list of available massage parlors
Most of their masseuses are from different ethnicities
Directions are well-provided as well as contact details
CONS:
Some services cost quite a bit
The website looks plain and boring
No advanced search and other features
---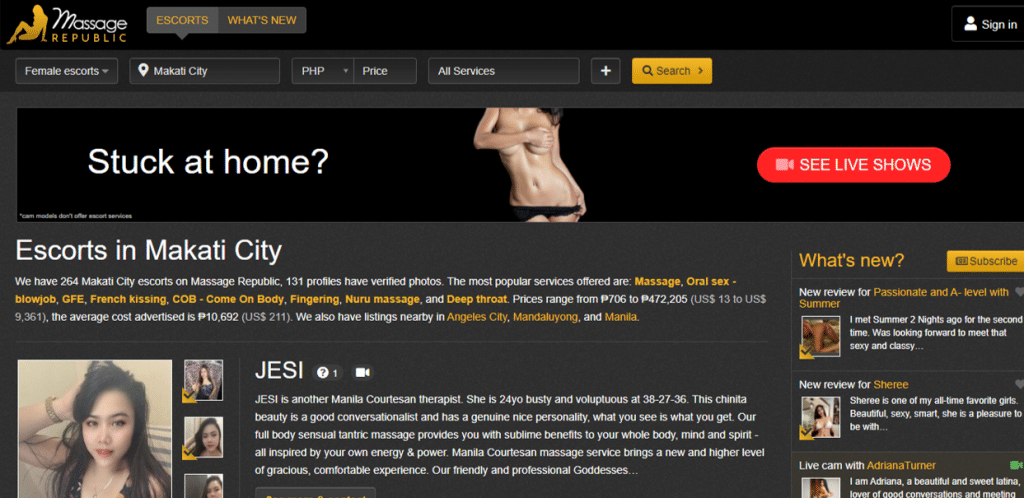 If you're bored and lonesome and want to get hitched, Massage Republic is a great place to go. You can have a session, then have a pretty fantastic time and feel much more relaxed as a result. Fortunately, Massage Republic is a well-designed and well-organized site too. The site offers intimate relations and enlightening, not just in choosing the appropriate escort but also in terms of what to do with her beforehand, throughout, and after your transaction. Remember that the escorts are not free, but the site is.
Click for a full review of Massage Republic.
PROS:
Free access and no registration are needed
Variety of locations to choose from
Almost every locality is represented
Good site design
Efficient sorting and advanced search options
Hot diverse escorts
CONS:
Not available in all areas
The US escorts are not applicable
---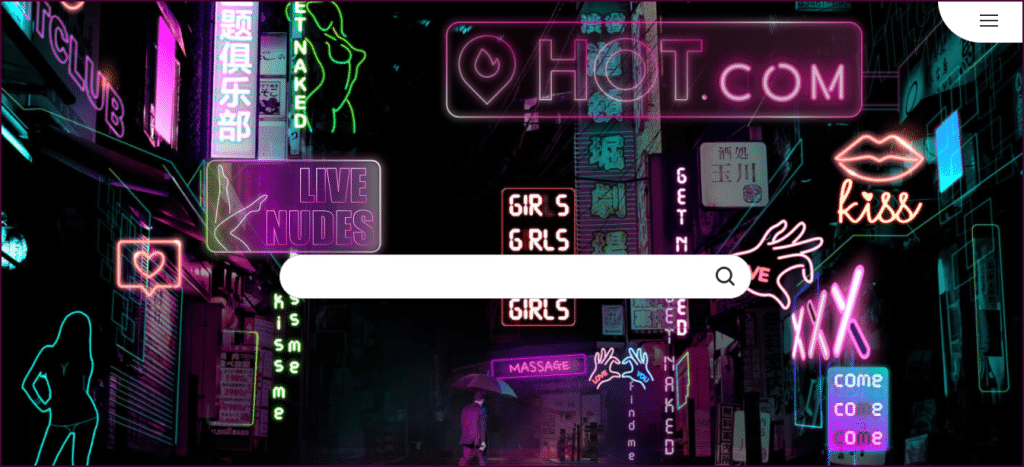 Since you are here, I'm pretty sure you're looking for a high-quality escort service and service provider, right? Well, you've come to the right place! Stop jerking off to nonsense porn videos all day when you can experience it with real women. Hot.com is among the finest escort service sites I've ever visited. Generally, Hot.com works like an aggregator site that collects promising posts from numerous sources. From the looks of this site, I can already tell your escort browsing would be epic and spicy!
Check out the full review of Hot.com.
PROS:
Free ads
Posting is free
Locations are extensive
Offers nearby escort services
Webpage design is great
Straightforward usability
CONS:
Aggregate ads
Limited search/filter feature
No escort reviews
---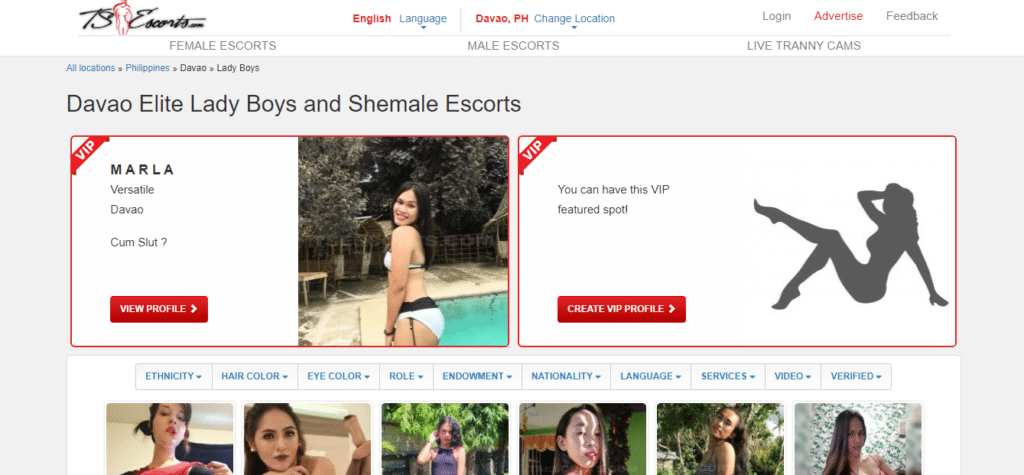 TSEscorts.com is a pretty good website that you should check out. It has just about everything you could ever want out of a shemale escort site, and it offers all of this information for free. You don't even have to make an account to enjoy what this site has to offer. Isn't this the most crucial part of the experience? I think TSEscorts is one of the best places for you to schedule a hot shemale to fuck with, and that's coming from a guy who has had many experiences with tranny escorts.
PROS:
vast selection of VIP and ordinary escorts
Worldwide coverage
all the info and photos are available for free
CONS:
some regions are empty
no dark mode
boring design and outdated look
---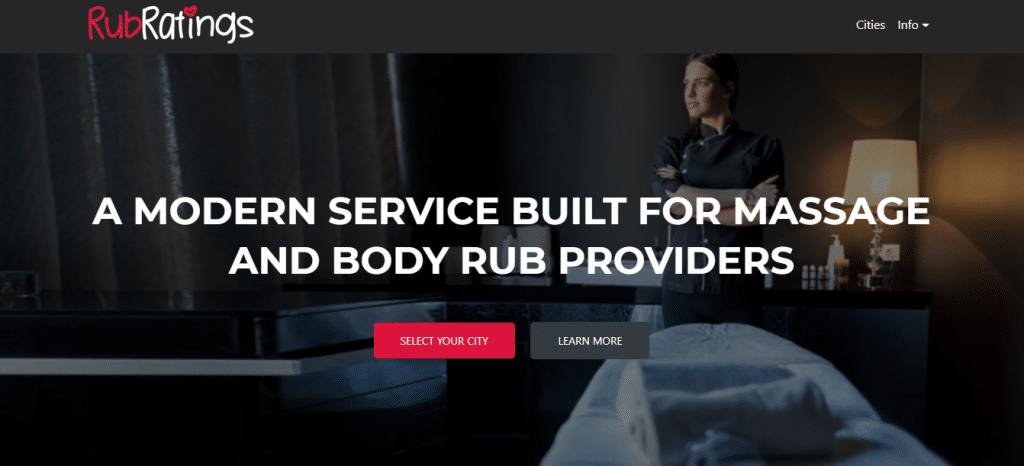 RubRatings prides itself in creating a platform where horny customers can effortlessly connect with reputable heaven-like massages and erotic rubs services. It doesn't matter where that is, as long as it's high-quality standard services. But certainly, it would be better if within our respective local communities.
So, if you're looking for a place to find heaven-like massages and erotic rub pleasure, RubRatings is the place for you! The platform offers an easy-to-use and cost-effective way for escort masseuse to promote their sensual offerings to all interested folks.
Take a look at the RubRatings review.
PROS:
Top-notch escort masseurs
Skilled escorts
Many locations included
It has escort reviews available
CONS:
There are few states not available
The page is still under development
---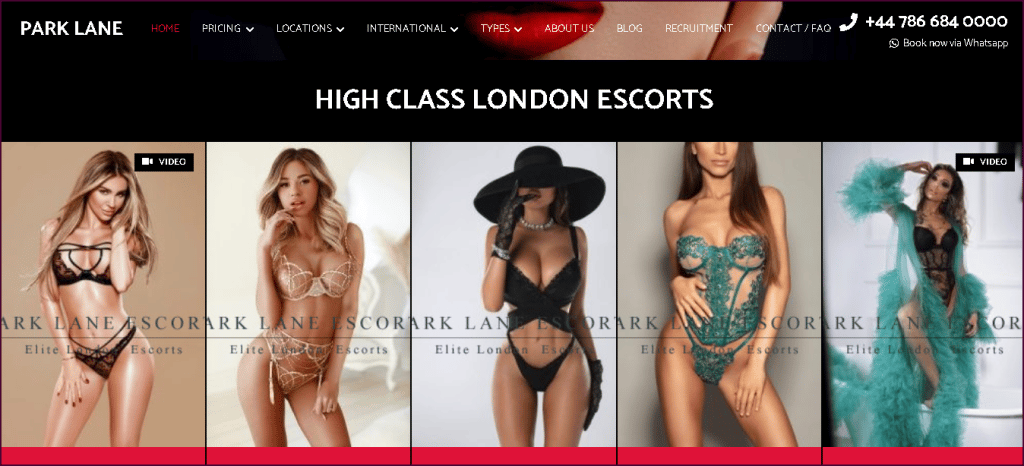 Park Lane Escorts they are all about high-quality London escort services. Throughout the history of adult entertainment and escort services, this site has strived to be the best in all aspects. Also, its services have evolved over time, and now it also provides low-priced London escorted services. Better buckle up because once you get hooked on Park Lane Escorts, you'll never be able to resist the seductive temptation of their services and escort models.
Here's a full Park Lane Escorts review.
PROS:
Lots of high-end escorts in London
Caters to different types of escorts and user's needs
Easy to use
Some escorts have an affordable rate
Blogs and articles are helpful and interesting
Luxurious models
Sophisticated site
Strict rules in picking models
CONS:
---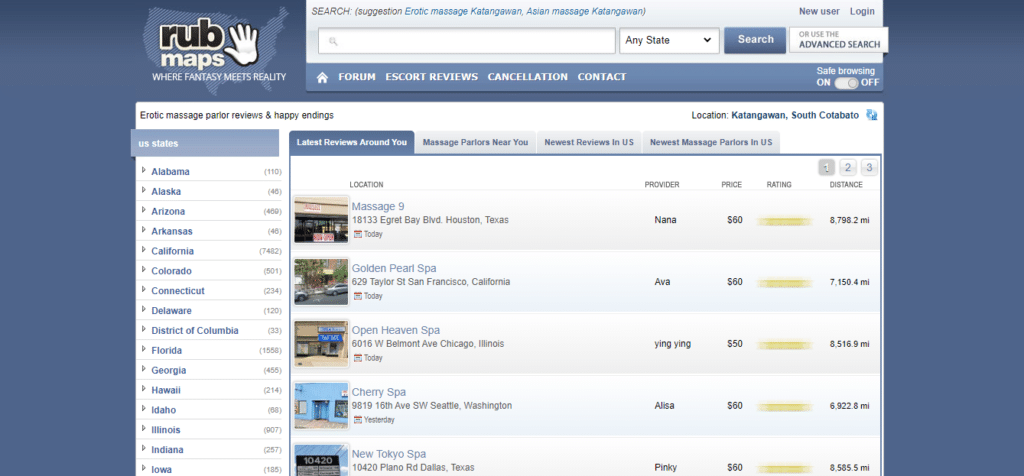 If you have tried using Backpage and scored some mind-blowing blowjobs or handjobs for just $30, then Rubmaps can be a must-try for you. It lists all the massage parlors that offer "happy endings," These parlors will also show the masseuses' names and their rates for the erotic massage and other sexual services. You also get to read reviews written by other satisfied clients to know what to expect once you avail of their services. The site is also easy to navigate, so you will not have any problems browsing and searching for listings.
Check out the full review of Rubmaps.
PROS:
A cheaper way to get laid
Easy access to massage parlors with happy endings
You get a relaxing massage and mind-blowing sex
CONS:
$20 monthly payment to read reviews
Few spam ads and fake listings
Not totally for escorts
---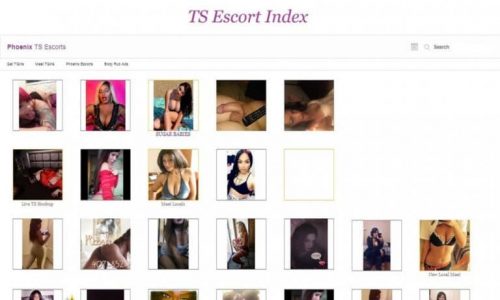 TSEscortIndex gives people the opportunity to exchange highly-quality, no-strings-attached sex for cold, hard cash with trans women. TSEscortIndex collects postings from other websites and places them in one location —making it more convenient. Also, the pictures are arranged in sequential order. One of the most valuable features of TSEscortIndex is its open access to advertisement history, promotions in other cities, and phone numbers. Essentially, this allows people searching for transexuals who are up for some tremendous escorting fun to check whether or not profiles are genuine.
PROS:
Amazing database
Easy to use and smooth browsing
Image-based adverts
CONS:
It has a limited search function
Caters in North America only
---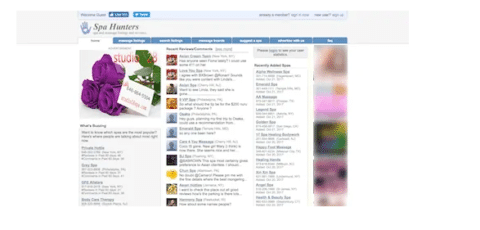 Introducing a very massive forum that allows members to comment and rate every massage parlor they've ever been into, Spa Hunters is now one of the best sites that are similar to RubMaps and even Backpage. Top Recommendations are also being updated now and then so if you have some time to spare, or you just want to relax after a long and stressful week, then Spa Hunters can come and help you out. Special "talents" can also be found on this site. These are beautiful ladies who can give you massages and a hard-on so you will enjoy your stay in any parlor of your choice.
PROS:
Lots of massage parlor locations
Massive forum with honest reviews
Happy endings are offered in most parlors on site
CONS:
Website looks unorganized
Only a few features
Very few images on the listings
---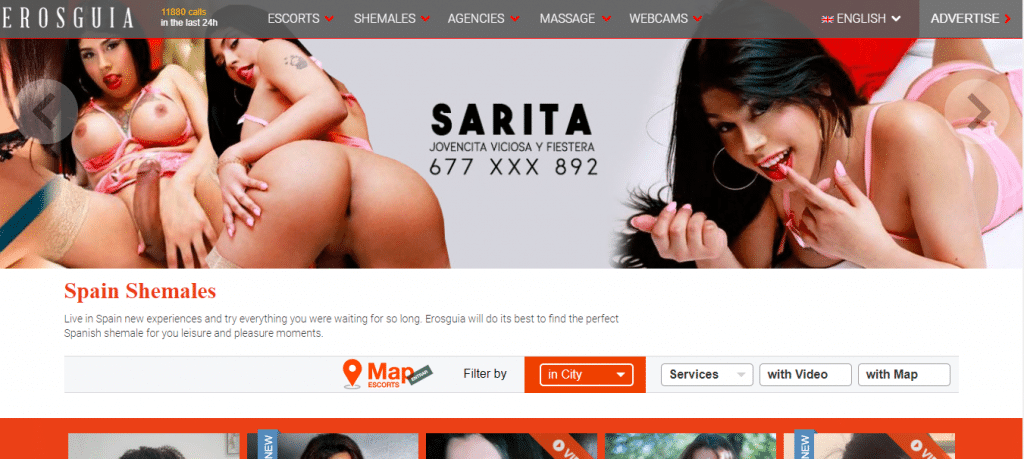 Erosguia is a full-service escort company that operates in Spain. They can be found in Barcelona, Madrid, and all other Spanish cities. Isn't that fantastic? If Erosguia is indeed what it claims to be, and this escort service can show that the escorts are genuine, this may be one of the finest escort services in Spain! Sure, a lot to expect from an escort website, but Erosguia can undoubtedly handle anything. I have reviewed loads of escort sites, and numerous escort platforms are no good in customer service. However, when Erosguia emerged in the scene, many people could experience authentic escort services they've been deprived of.
So, unlike many escort websites, Erosguia only has women and trans escorts available. While this means that the most beautiful women in Spain are denied their temptation, the rest of us get our fun. I certainly have to admit that the escorts on this platform are of very high quality. Currently, I'm looking for escorts in Barcelona, and there are 236 escorts open for booking. Every single one of these escorts is stunning, and there's a great mix of ladies and shemales as well.
Check out the full review of Erosguia.
PROS:
Thousands of diverse female and shemale escorts
Profiles have plenty of details
Website design is so simple but easy to use
CONS:
Caters to limited areas only
No verification process
---
Takeaway
TSMasseur doesn't need any promotion or marketing schemes just to become a trend in the adult entertainment industry. Just by hearing the name of it, you already know what unique escort experience you can find here. So, anyone needing a trans masseur or shemale escort services can quickly turn to TSMasseur.com for help and recommendations.
Apart from that, it's among the most stunning escort service directories I've encountered these past few weeks, featuring thousands of entries from across the globe. A simple search of your ideal city or town should be enough to verify whether any local businesses provide their erotic masseurs and escort services. TSMasseur is packed with all the necessary features, ease of use, speed, and intuitiveness that will 'wow' you on every visit.
All 106 Other Sites in This Category Worth Checking Out:
Empire Escort & 12 Must-Visit Escort Sites Like EmpireEscort.com Show Me 12 Alternatives for EmpireEscort.com Greetings, Dudethrill fans! Today, we're diving deep into the scandalous world of EmpirEscort, the fresh face in the online escort scene. Before you raise an eyebrow and wonder if their youthfulness is a red flag, remember, it's not the years; the […]