Updated on: December 7th, 2023
Sugar Daddy Meet
& Top-12 Awesome Sugar Baby/Daddy Dating & Hookup Sites Like SugarDaddyMeet.com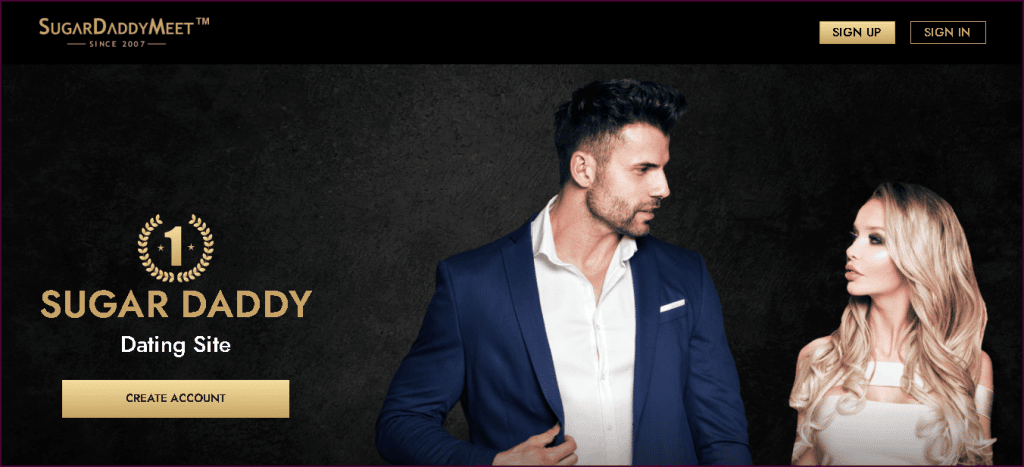 Have you been dreaming of getting a sugar baby? Or have you thought of landing a generous and wealthy sugar daddy? Sugar Daddy Meet can help you fulfill any of those dreams. SugarDaddyMeet.com is among a handful of specialized online dating websites that bring together wealthy "daddies" in the world's 20 most industrialized countries and young, obedient "babies."
Official URL: https://www.sugardaddymeet.com
This Dudethrill review is essential for any free-spirited bachelor considering trying their luck in the sugar-daddy/sugar-baby dating world. Of course, there are plenty of questions in your head, like the site's reliability and prices. So, before signing, let me educate you first about the sugar-dating and what SugarDaddyMeet can do for you.
The Exciting and Intriguing Pleasures of Sugar Dating at SugarDaddyMeet.com
The SugarDaddyMeet site has been helping people of different ages discover successful connections since 2006. This site is a discreet and reputable dating site where wealthy and powerful men may connect with beautiful women who need financial support. But to increase the centralization among its members, SugarDaddyMeet restricts its services to only the world's twenty wealthiest nations.
Although my experiences with this kind of lifestyle have been positive, I recognize that the "Sugar Dating" community is still young compared to the traditional dating world. Fortunately, SugarDaddyMeet.com has been very helpful to many users worldwide and continues to impress thousands of people daily.
Exploring The Site's Services and Features for The First Time
Sugar Daddy Meet works just like the other hookup and dating sites online. You can rely on it depending on how you work with your profile.
As you know, a dating profile is essential when looking for a relationship because it offers a little glimpse of your personality, interests, and physical attributes. Sugar Daddy Meet requires you to put up excellent profile information, so the girls would easily pick you right off the bat.
Currently, Sugar Daddy Meet offers two registration options: one for the sugar baby and the other for the sugar Daddy. Once done, you must wait several moments before photos and videos are posted on the page. The mods of Sugar Daddy Meet may take time to check and authenticate your content to ensure it is appropriate and follows the rules of Sugar Daddy Meet.
Reliable Navigation, Intuitive Design, and Effortless Matching at SugarDaddyMeet.com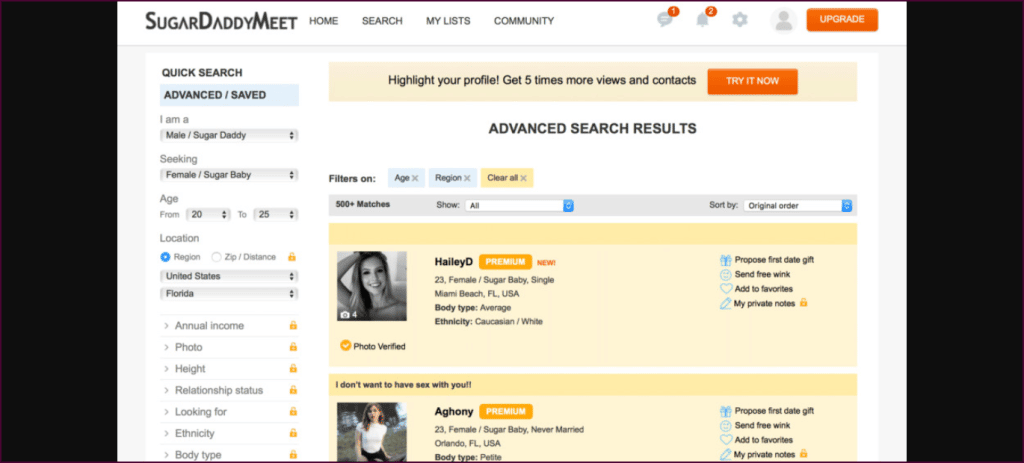 Among sugar hookup and matchmaking sites, SugarDaddyMeet stands out as a frontrunner. It's a cutting-edge system that goes directly to the goal. Suppose a person is interested in meeting women or men within their vicinity. In that case, they may do so conveniently and quickly without digging across a sea of useless trash to discover potential partners.
Despite a few minor issues that will be addressed in the nearish term, I am pleased with SugarDaddyMeet. It offers services that not merely live up to but purposefully surpass the standards of newcomers and seasoned pros in sugar relationships.
After logging in, users can enjoy the site the way they often do after logging in on Facebook, Instagram, and other social networking pages. You are free to engage in fun and interactive activities such as posting comments, liking content, expressing your opinions through posts, and sending direct messages to users they want. Also, you can find people within a specific or nearby area and explore some matches.
Loyal Sugar Daddies and Sugar Babies: The Backbone of A Successful Dating Site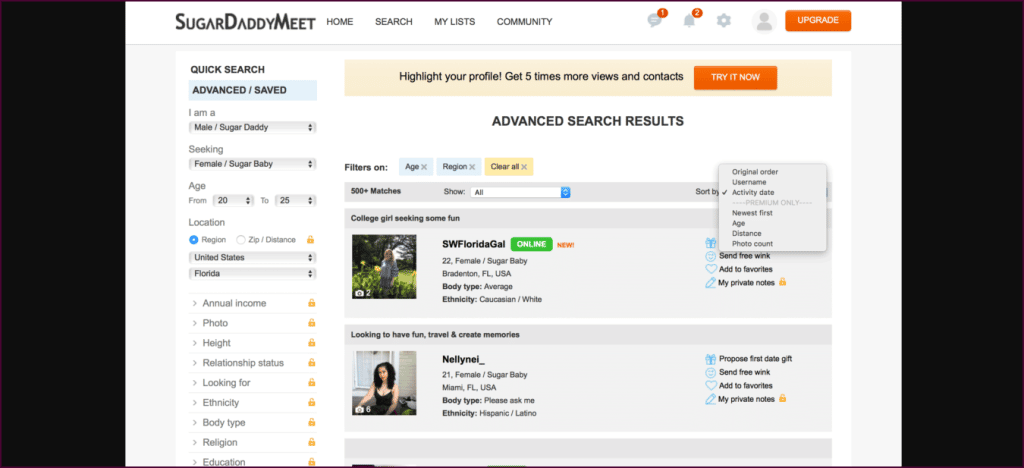 SugarDaddyMeet boasts over 5M+ members worldwide. That's a fucking massive amount of sugar baby/daddy fans! But, note that despite its millions of fans, the online users of SugarDaddyMeet only reach around 1M+. Yes, it's not as massive and jaw-dropping as 5M, but still, those numbers are enormous.
Most of its members, comprising an estimated 60%, came from the US, while the remainder is from the United Kingdom and other parts of the world. It's also surprising to see the ratio between sugar daddies and sugar babies. So far, the majority of its members are 80% in favor of the latter and within the age range of 18 to 25. Of course, they are gorgeous and hot. Typically, they are here to attract wealthy members to become their sugar daddies and seek arrangements favorable to their terms.
Like other dating websites in this niche, the members are divided into different categories: sugar babies and sugar daddies. All sugar daddies use premium accounts, which are typically easy to recognize. As expected, they are at SugarDaddyMeet.com to find a sugar baby to spoil in terms of finances, expensive gifts, and other luxury matters.
Boost Your Matches with Detailed Profile Information at SugarDaddyMeet Page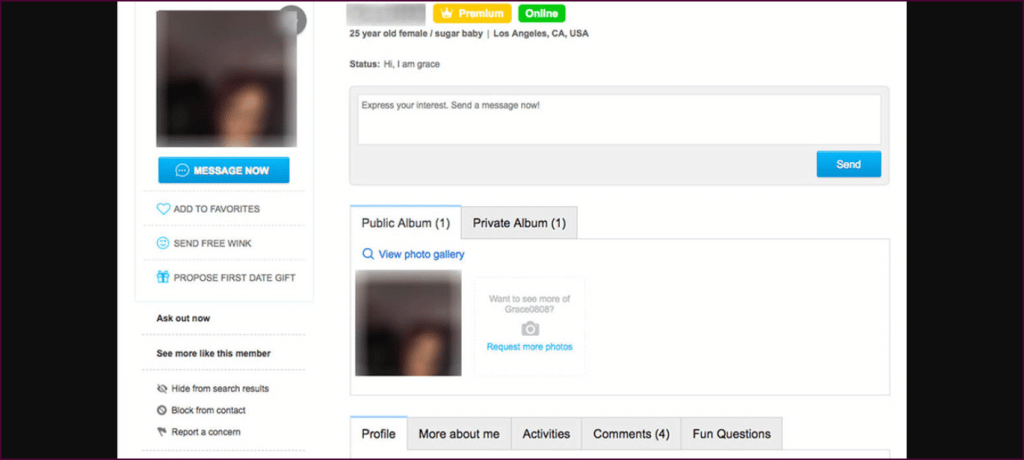 As a premium sugar dating site, one should expect to see high-quality profiles and top members. Of course, I was not disappointed while browsing this site because the profiles here are detailed and contain authentic, high-quality pictures. However, anticipate that most male users prefer a discreet identity and do not disclose any photos on their profiles. In fact, many of them still need to post a public profile picture on the page.
What Makes A SugarDaddyMeet Profile Perfect and Detailed?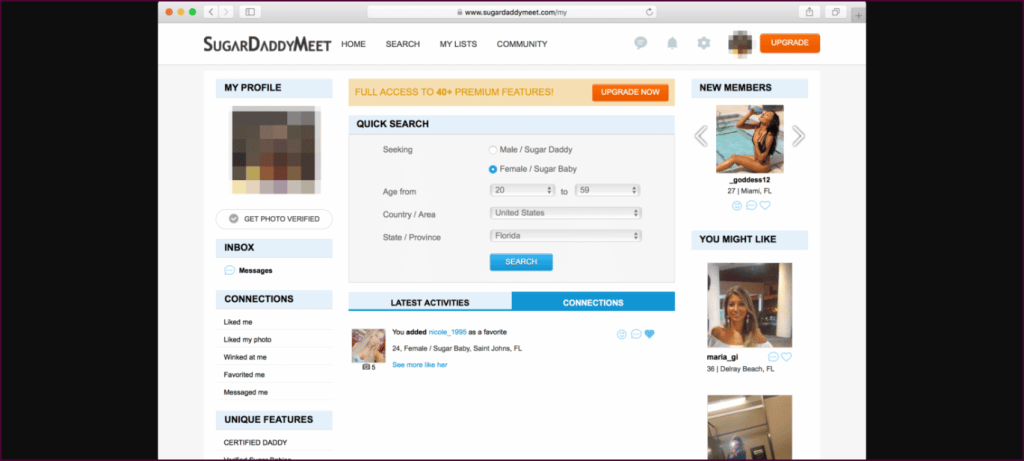 The SugarDaddyMeet site provides a detailed profile to build up. This means that the more you provide information and media on your account, the more it offers potential matches and dates. Of course, this also means that you will get more accurate dates suitable according to your preferences, interests, and needs.
Here is some information available on your profile; completing it could widen your searches.
Basic Profile — contains basic information like gender, status, age, income, and more.
About Yourself — includes a brief description of yourself and your interests so that other users can evaluate your personality.
Series of Questions — you are free to answer some SugarDaddyMeet questions that will further enhance the matches accurately.
Things You're Looking For — comprise all the details you're looking for in a Sugar Daddy or Sugar Baby.
Gift Wishlist — the coolest feature on the user profile that explicitly states your gift preferences, especially on a first date.
Cool and Unique Features You've Never Seen Before!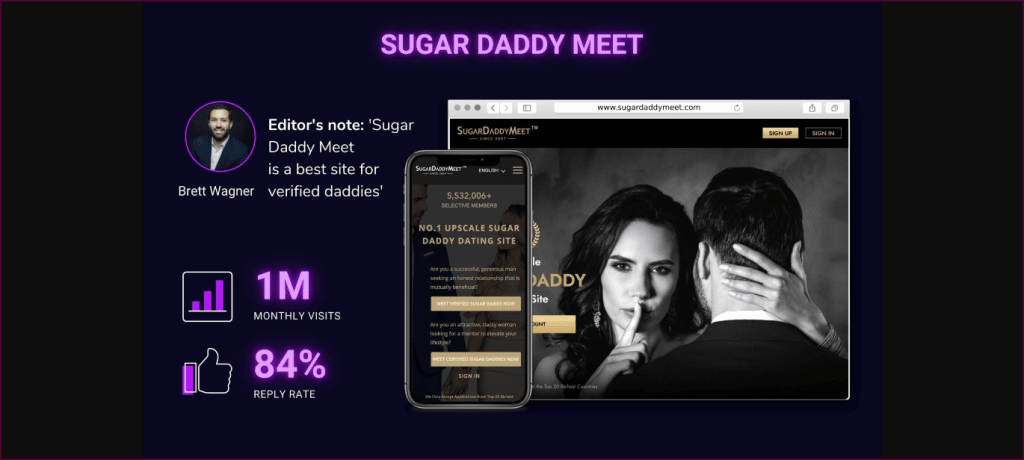 Don't Let Her See It; Use the Unsend Message Feature
This feature is unique, and I wish all dating sites would incorporate this tool in their platform. Unsend works when you want to retract the messages you have sent for whatever reason: it could be embarrassing, spontaneous, or something just out of the ordinary. You can now easily "unsend" it without worrying if the other party might read it. Sadly, the end user will receive a notification of the unsent text; however, they won't be able to see the content.
The "Spark" feature is handy when locating any nearby dates. It is helpful among users who want to find potential matches right off the bat with no trouble traveling and whatnot. Additionally, Spark also works like magic because once you are interested in someone and they also feel the same way, the system will send you a notification instantly.
The SugarDaddyMeet's "Let's Meet" feature is very familiar, primarily if you use the Tinder app. It works just like Tinder, wherein the other users' profile photos will be on display, and you can tap the "X" button if you're not interested and the "heart" button if otherwise.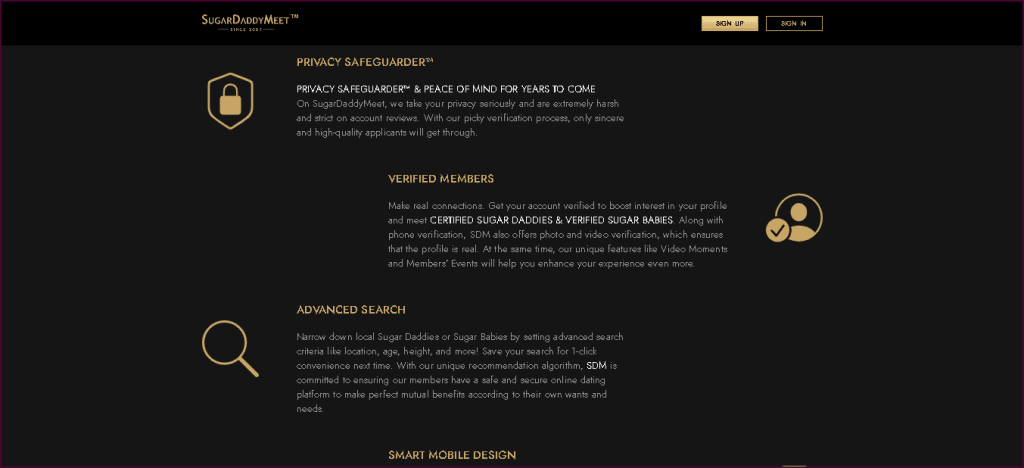 Capture Her with a "Wink"
This SugarDaddyMeet feature is widespread in any dating platform online. Certainly, the Wink tool is straightforward to use and cool addition to showing you're interested in someone. On top of that, SugarDaddyMeet's wink feature is free to use and can be accessed even if you are not using a premium service. Definitely, the feature is a unique way to test other users' compatibility without paying the subscription first.
The Certified Sugar Daddy
This badge of recognition is given by the SugarDaddyMeet site to show you're a verified and authenticated user. Your account has undergone verification and enjoys being in the spotlight. Additionally, your account will always be on the top searches and receives a massive connection from gorgeous sugar babies. Of course, the more you receive messages and "likes" from the ladies, you can have as many sugar babies as you like.
Helpful Sugar Dating Tips and Advice
In the world of sugar dating, we can also expect that some wealthy users are new to this lifestyle. That's why the SugarDaddyMeet site gives opportunities and helpful information to all sugar daddies who find sugar dating a tough challenge. It contains relevant advice that might be helpful to understand the "dos and don'ts" of sugar dating and some tips on a successful relationship.
Pick The Right Membership Plan and Enjoy the Limitless Perks of SugarDaddyMeet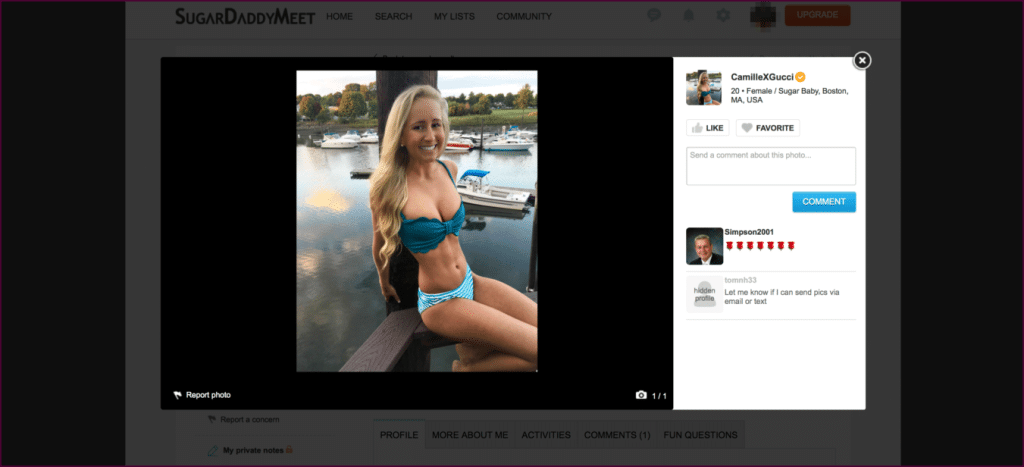 I was surprised to see the membership packages available on SugarDaddyMeet.com. Most of the time, these prices could go as high as the clouds, but they have kept their standard prices here. I don't understand why they are being reasonable when their users are wealthy as fuck. Anyway, that's not my problem, so here's the overview of the membership options available on this site:
1-Month Membership — $50
3-Month Membership — $90
6-Month Membership — $144
This is affordable compared to other dating sites I found before. When you think about all the premium service features and massive sugar baby selection available on SugarDaddyMeet, you'll realize that the membership fee is a great bargain. Nevertheless, despite enjoying many advantages of using the premium membership, the basic account can provide similar quality service. And that's enough to find suitable traits wherever you are in this world!
Pros and Cons of SugarDaddyMeet.com
PROS:
Verified users
Uses roulette-matching system
Millions of members worldwide
Most Sugar Daddies are from the Top Wealthiest Countries
Easy registration
CONS:
Limited to sugar dating only
---
Top-12 Awesome Sugar Baby/Daddy Dating & Hookup Sites Similar to SugarDaddyMeet.com: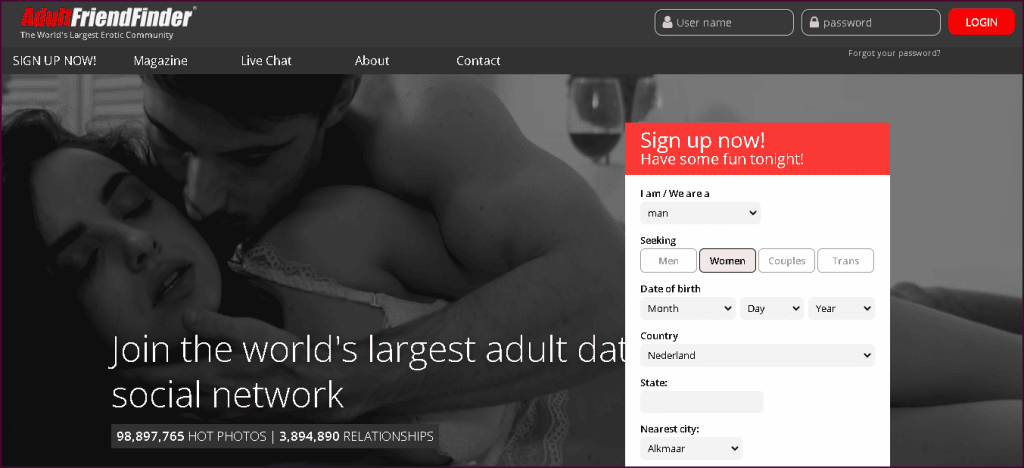 The Adult Friend Finder website is famous all over the world. It has more than eighty million members desiring erotic interactions with multiple women. Similarly, it provides numerous flirtatious relationships, such as casual connections, monogamy, couples, fuck buddies, and many more.
Indeed, this is an excellent experience that spices things up in the bedroom, especially between open-minded people willing to examine their sexual orientation. Finally, registration is relatively stress-free and straightforward, so members finish it in less than five minutes.
Here's the full review of AdultFriendFinder.
PROS:
Registration is free and fast
The members of the website are active in looking for casual hookups
Plenty of options in terms of communication
Watching videos and viewing images are free
You can write blogs and engage in a group conversation
The app is available for download and compatible with both iOS and Android devices
CONS:
The number of male participants is larger
Limited options for free basic accounts
---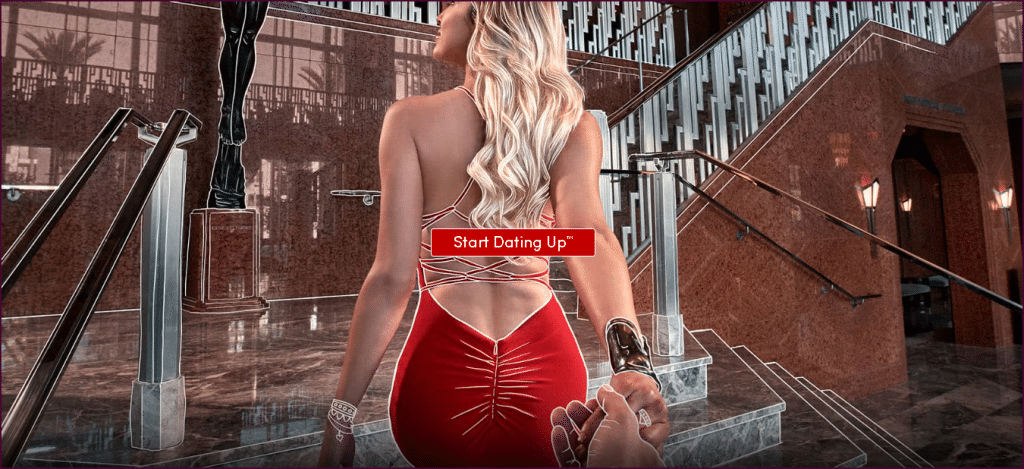 A niche dating platform that attracts daily visitors is Seeking Arrangement. Since this is not a regular matching website, its design could throw off several individuals who occasionally come on this. Nevertheless, it does a brilliant job of providing a secure atmosphere for the type of partnership and interaction it promotes. Moreover, it is intriguing to discern that it has a fair number of people internationally for a platform that contains a relatively fundamental concept.
Seeking Arrangement is a place for youngsters to engage sugar mommies and daddies who could deliver monetary support and encouragement for them. Sugar babies must provide love, sex, affection, and lengthy connections in exchange. Seeking Arrangement redefines an ideal relationship as it undermines the conventional means of internet wooing. The site delivers an oasis where you can incorporate enjoyment with a company.
Click here for a full review of Seeking.com.
PROS:
The verification process is strict
Within just five days, the site guarantees users can find ideal arrangements
It has over ten million members actively seeking and involved worldwide
The majority of members are from the United States
The registration process is easy and swift to finish
Free sending of messages to other verified members only
CONS:
Few fake sugar baby accounts
Requires permission to view a private gallery of other members
---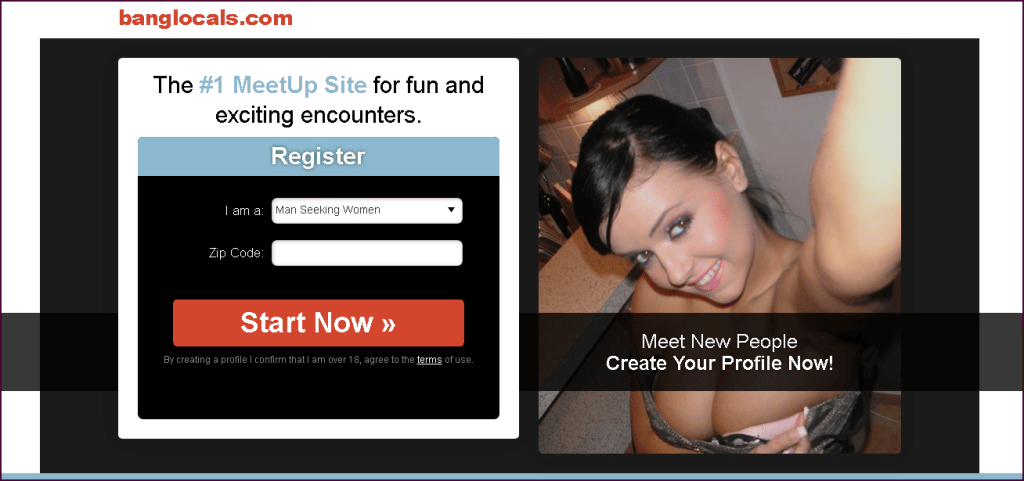 Banglocals is a must-visit website for people looking for a perfect match for sex, dates, and casual affairs. Regardless of the number of competitive websites out there, it has remained on the top spot today. Indeed, our lives are a shitload of work and stress. All we want is relaxing and calming ways to release it. Certainly, a great buddy who will stimulate our sexual desires can make life full of enjoyment. Good thing, Banglocals is a sex dating website that uses a simple process in registration. So, everyone will right away experience pleasure. Indeed, everyone has the chance to find a hot, sexy mate.
PROS:
People can create a sex date network
Free to search profiles of other members
View galleries of images and videos
People can give ratings to hot members
Registration is free and easy
Encourages to post personal images or upload public content
You can contact people through text or e-mail
CONS:
No x-rated videos
No trial period
---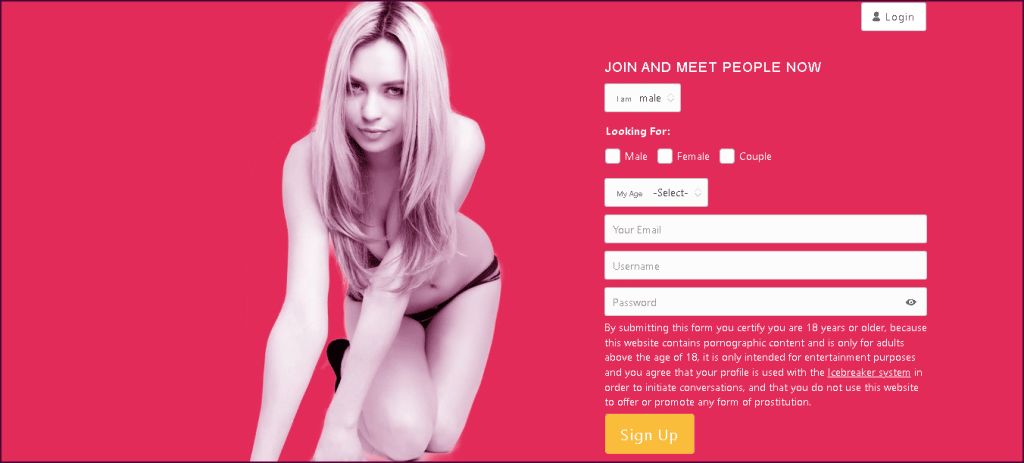 A perfect website for casual relationships and sex hookups is called FuckBook. Here, you are given opportunities to find swinger encounters, sex dates, and many more. This is convenient for people seeking a no-strings-attached relationship as quickly as possible. From the name of this site itself, you know exactly what you are getting into once you scroll through the platform. The interface and features of the FuckBook are straightforward and convenient compared to other swinger dating sites on the internet.
Click to see the full review of FuckBook.
PROS:
Profiles created are numerous
The website has a design that is easy to navigate and use
Signing up is fast and instant
Membership is affordable but with lots of advantages
CONS:
There are annoying advertisements on the site
---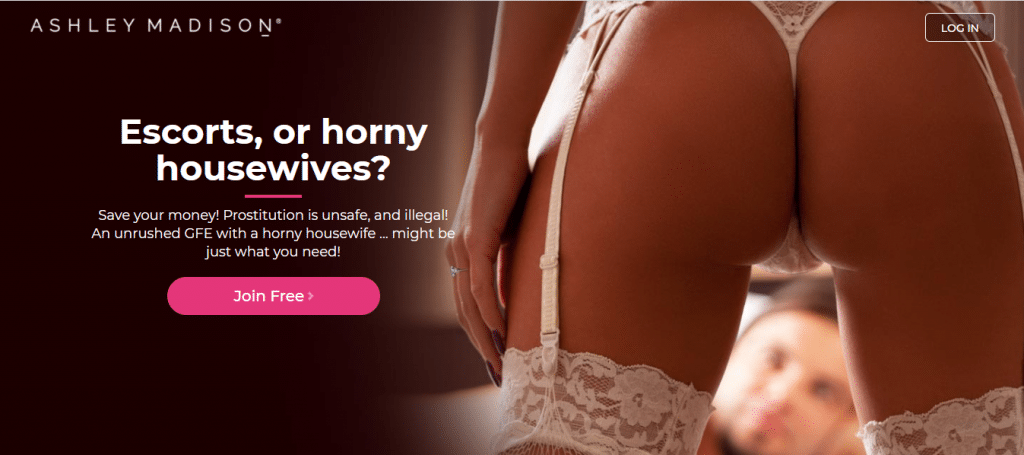 Top-notch website in terms of hookups and adult dating, Ashley Madison has been around since 2001. If you are in a monotonous relationship or want to get out of the routine of married life, then this website is just right for you. Indeed, all types of sexual affairs are welcome here, and no one will judge you. Also, the members can engage with many members across the world and enjoy sexual entertainment.
Above all, Ashley Madison listens to its members' feedback and the changing demands of people's lifestyles to improve their features. Everyone is free to explore all types of relationships, including polygamy, threesomes, and many others. Thus, Ashley Madison remains on top of the game despite the competitive industry of online dating.
Check out the full review of AshleyMadison.
PROS:
Encourages the members to upload discreet photos
The site offers free registration and follows a simple process
Protection of images and sensitive data from spams
You can download this through Google Play and App Store
Low storage requires and will not occupy too much phone storage
Members are enormous and from across the world
CONS:
Several accounts do not provide details about themselves
---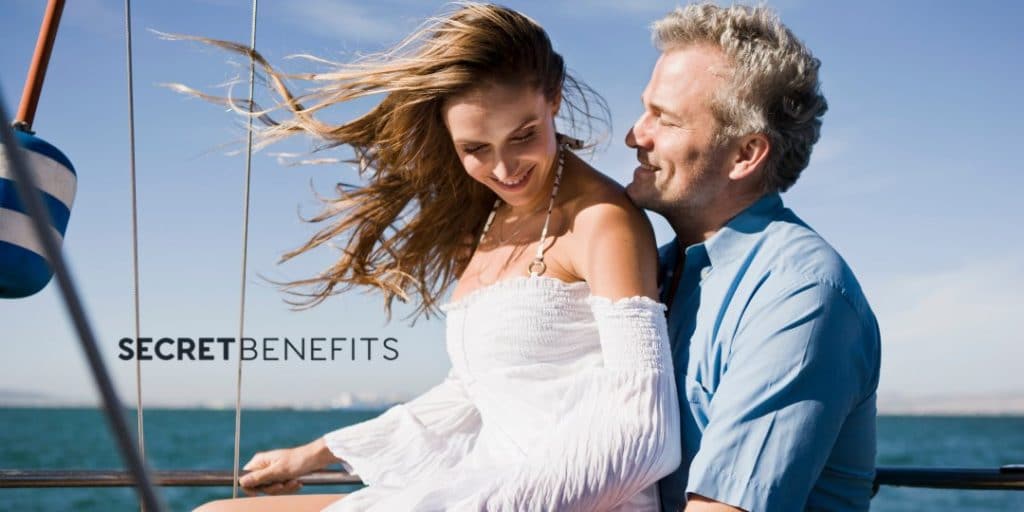 One of the primary goals of SecretBenefits is to establish formal deals and relationships with SugarDaddies. They will provide funding and support to sugar-babies in exchange for love, affection, and loyalty. Although SecretBenefits is a hookup website, it is not really the pretty typical one you see lurking online.
It contains a long list of SugarBabies and sugar-daddies of all types and has proven to be a reliable resource for seasoned daters and newcomers to the field. So, if you're feeling curious and oddly interested in the sugar-daddy lifestyle, or you're a charming girl interested in being a sugar-baby, SecretBenefits is definitely a hassle-free solution.
Take a look at the full review of SecretBenefits.
PROS:
Plenty of babes
Easy and short sign-up process
Profiles undergo authentication
Women are free to use
CONS:
---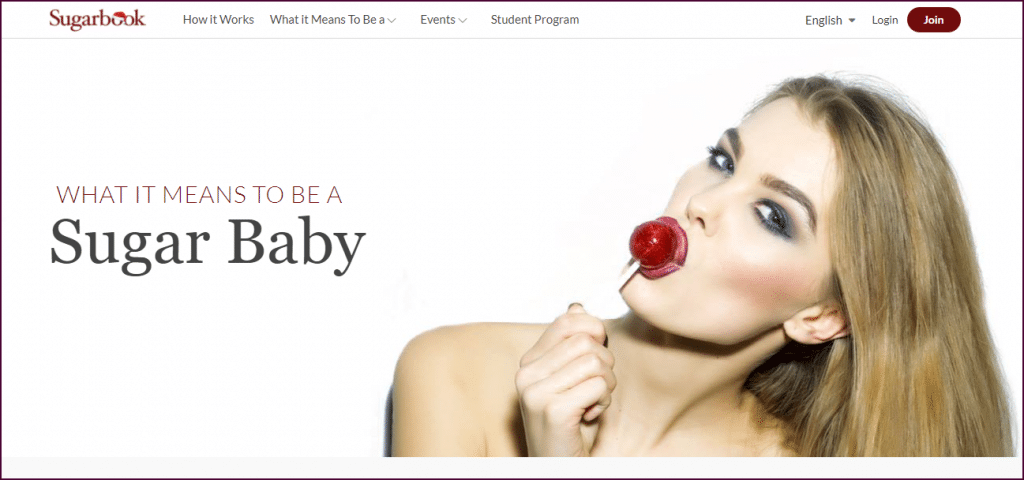 SugarBook is effective in finding sugar daddies, sugar mommies, and everything in between. There are many sugar babies and sugar dating sites out there, but there aren't enough potential sugar daddies to go around. That's why, this is quite popular to both sugar baby addicts and desperate sugar babies. It made thousand of girls worldwide feel the luxury of life. In fact, I've seen so many young girls flocking day by day to the site, hoping to meet millionaires and billionaires for some awesome casual fun.
Here's a full Sugarbook review.
PROS:
Large user base mainly in Europe
Advanced search and filters
Generous free membership
Modern designs
Verified members
CONS:
Not yet available in the US
No mobile app
---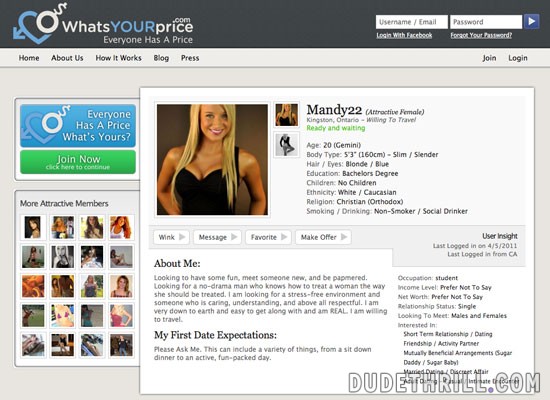 If you're looking to find the best sugar babies and daddies on the internet, this is a must-visit site. Despite being a pretty new platform after being made in 2010, What's Your Price has shot up in popularity. The site has a large population of members from the United States, with around a million users, and continues to grow by the day as an online dating auction website. The site is very user-friendly, with fewer options to make users confused. Free users also do not have much functionality, and as for paid users, they get to the job at hand – making bids and initiating contact right away.
Although there is only a minimal set of features on this site, it is built with brilliant designs that look great and have options that are pretty basic but useful. The site also comes with 24/7 customer support and many other forms of addressing questions that may come up. Registration can be done quickly as there are only a few details needed before you can set up your account. Once you're done, you can immediately start browsing through the site and enhance your profile to make it more attractive to other users, guaranteeing more matches and dates.
Read the WhatsYourPrice full review.
PROS:
Making bids for dates
No subscription fee
Lots of attractive singles
24/7 customer support
CONS:
Pretty new concept
No mobile app
Expensive rates
---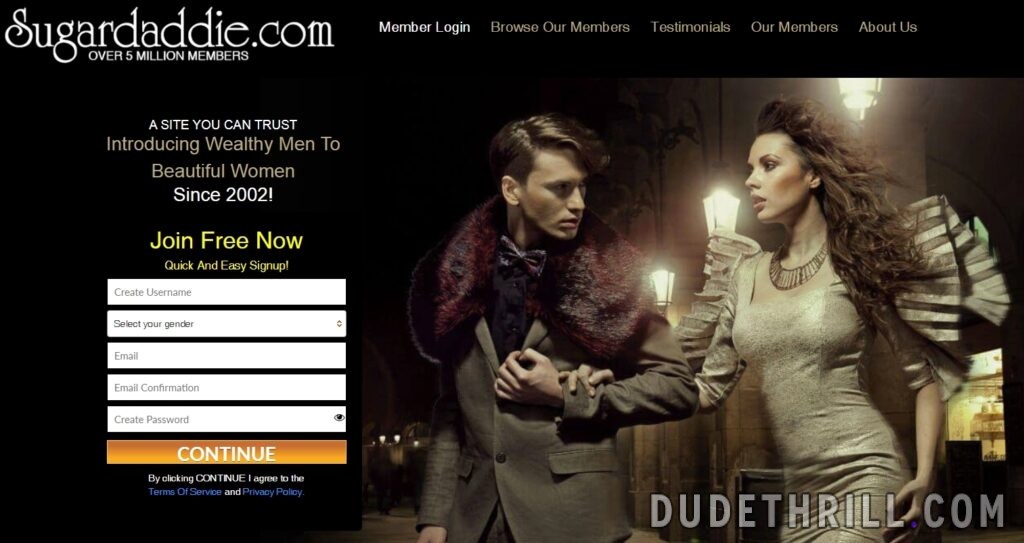 With easy sign-ups and an excellent user interface, you will find it bliss looking for sugar daddies on this site. You'll start with entering your essential details, which will be used for matchmaking purposes. For sugar babes, you will be asked to introduce yourself subtly, and the site's moderators will verify your profile before you can start browsing through their gallery of profiles. SugarDaddie has excellent search features and but you will need to upgrade to a premium membership so you can start messaging anyone.
One unique thing about SugarDaddie is that they have a "quality score," which improves your chances of getting perfect matches. It is based on your activities and profiles completeness, so the more detailed and informative your profile is, the higher your quality score. They also have this "Meet My Match" feature where you are randomly matched with some Sugar Daddie and decide if you go "yes" or "no" on them. Although this quality score sounds uncalled for, it is still unique and can be taken positively.
PROS:
Great for some quick sex from beautiful ladies
Unique features
Detailed profiles
Members can set goals and earn "scores"
Easy sign-up
CONS:
No verification for financial info
Sugar babies have stiff pricing policies
---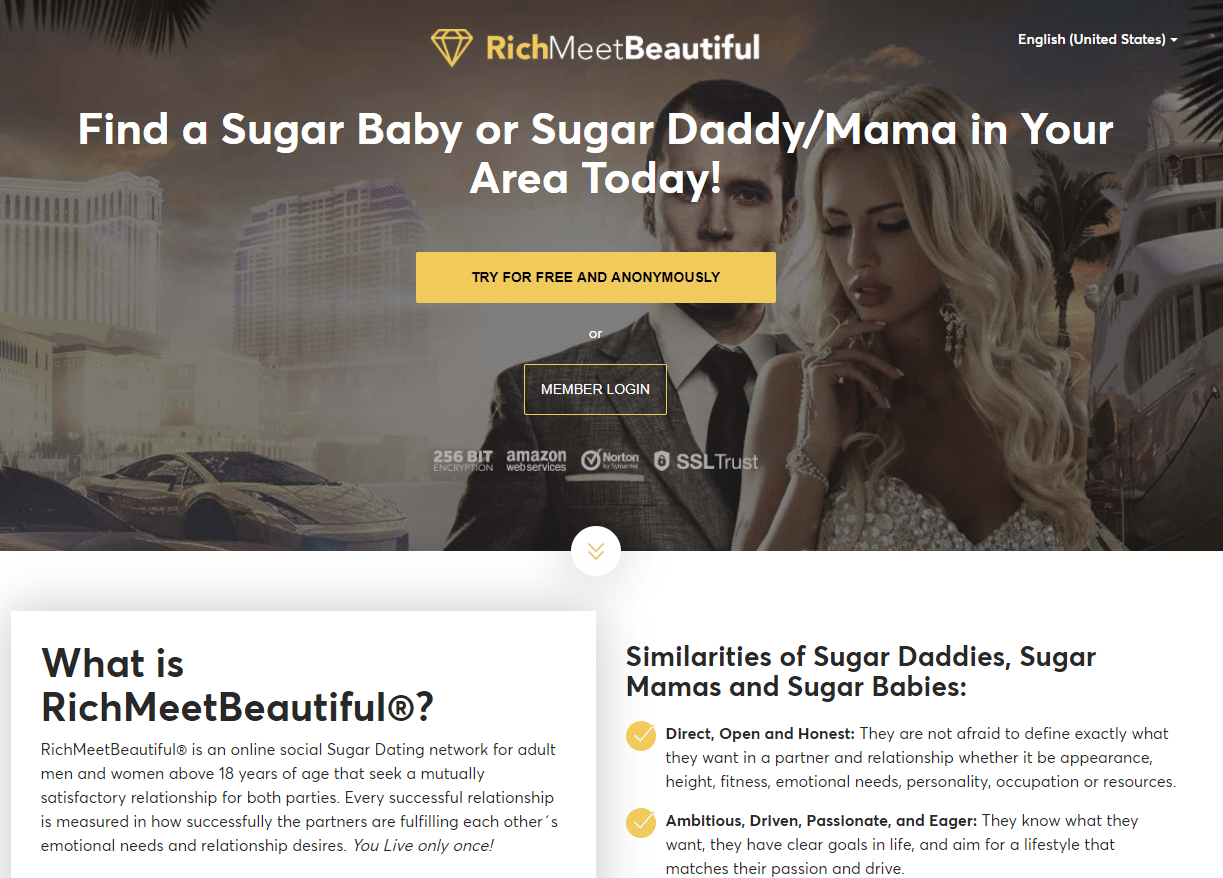 Founded in 2017, Rich Meet Beautiful is one of the quickest growing sugar dating sites, with positive reviews and a large user base for rich and elite singles looking for their perfect match. This site aims to connect the wealthy sugar daddy individuals of the world with their beautiful sugar baby partners. Rich Meet Beautiful is projected towards men and women of diverse backgrounds and net worth which all want the same thing — love and companionship, a relationship with mutual respect, intellect, love, and passion.
The sign-up process on Rich Meet Beautiful is straightforward and smooth. All you have to do is fill in your username, email address, gender, password, and birthday, all of which are for free. There is no time limitation – you can use this free membership forever. However, to get full access to its features, you will need the Premium membership. The Premium membership is required to send messages to other members, so it would be better if you start searching up potential dates or matches then proceed in getting paid membership once you set your eyes on specific users to contact.
PROS:
Large user base mainly in Europe
Advanced search and filters
Generous free membership
Modern designs
Verified members
CONS:
Not yet available in the US
No mobile app
---

If you're up for fun, flirty, and informal atmospheres where you can meet rich men and get something from each other while connecting on a very intimate level, MillionaireMatch is the best pick for you. Now you can find fun and luxurious dates that will hopefully lead you to something. Among sugar baby/daddy sites, this one's a star among them all. It has a great matching system where you get to meet people with whom you can share your mindset, sexual chemistry, and fantasies.
Combining a busy atmosphere of older men and younger women, MillionaireMatch gives you a sexy, discreet yet classy, and friendly feel. Most members are unashamed and confident in their skins — everyone openly talks about their desires, both monetary and sexual. Everyone is open-minded with no surprises, so it is fun to explore.
PROS:
Great selection of sugar daddies
Classy-looking website
User-friendly and easy to navigate interface
CONS:
The sugar daddies-babies ratio is not equal
---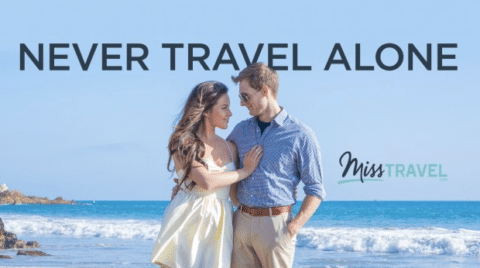 If you travel but have no one to explore new places with, this may be the site for you. Miss travel is for the sugar babies who want to travel but are a bit out of budget, and for sugar daddies who also want to travel but needs company. Just the perfect match!
This site is similar to all other dating sites, but instead of paying off student loans or giving allowances, the benefits come as free trips worldwide. All you need to do is invest effort in making your profile appealing to the market you want to attract.
The site matching doesn't work like magic, and you can't get overwhelmed with the idea of immediately traveling. Since the site shows you the general and the detailed aspects of the user profiles, you have to make sure that you know your potential travel buddies.
PROS:
Advanced search features
High member activities
Quick and easy registration
Worth the price you pay
CONS:
No App available
Limited special features
---
Conclusion
After exploring every corner of the SugarDaddyMeet site, it is suitable for anyone looking for a sugar-dating lifestyle. I recommend this to newbies interested in meeting their perfect matches and curious about real sugar dating pleasures. You can maintain a discreet identity without worrying about your security. Trust me; its robust system provides impressive confidentiality among all its users. Also, the cool features of SugarDaddyMeet make it stand out from the competitors. Indeed, it's only sometimes you will find this kind of service for a reasonable price.
All 110 Other Sites in This Category Worth Checking Out:
NewYork Exgirlfriend & Top-12 Escort Sites Like New-york.exgirlfriend.com Show Me 12 Alternatives for New-york.exgirlfriend.com Hey there! We all know the struggle of finding escort services online, hoping to find that diamond in the rough – the perfect escort model who'll make your heart race and your desires sing. In this wild world of the Internet, it's […]