Updated on: May 23rd, 2022
Ashley Madison Review (2022): 100% Honestly About AshleyMadison.com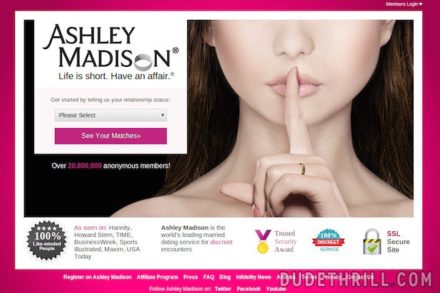 Ashley Madison, a not-so-typical dating website, started way back in 2001. Unlike most dating sites that target single individuals into forming a new relationship with strangers, AshleyMadison.com is made for people who are already committed, be it in boyfriend-girlfriend relationships, or even already married. It is meant to be used by these people to have extramarital relationships and have sex with someone else other than their partners… in the most discreet way possible. Although cheating and affairs are a big taboo wherever you go, with Ashley Madison, it's an environment where such extramarital acts are encouraged and not frowned upon by anybody.
Ashley Madison has been around for so long and cheating is also not new, especially with the rise of technology and online platforms, a lot of people have turned to Ashley Madison to get their desires fulfilled. Their audience is mostly individuals who are into mono or polygamous, open relationships among many others. Since it offers a different twist which is not common to your usual dating site, Ashley Madison has gained immense popularity and gathered users worldwide.
Back in 2015, Ashley Madison was devastated by a scandal that has become publicized for everyone to see. The website's database was hacked, exposing users' personal details to the public. It caused quite an uproar among users and the public in general, especially since it was supposed to be kept confidential. Despite that big hurdle in the website's history, they were able to rebuild the site, geared up for a new image, and successfully addressed every security concern, and further improve protection for users. Even until now, Ashley Madison is still very well-known, with countless reviews and traffic every day. If you want to know if it lives up to its hype, read on, and discover more detailed information about the website.
Member Initiated Contact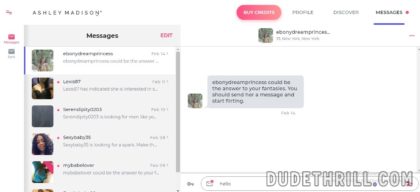 This website offers a premium feature called "Member Initiated Contact" which is available for full members, allowing male members to open and even reply to messages sent by females without spending any of their credits. A message will be considered as "Member Initiated Contact" if it is from any female member who sent it first, and not a reply sent to a male member. It is only considered member-initiated if a male never sent her any messages first. Examples of "Member Initiated Contact" includes messages you receive when you are added to her Favorites, or when she sent you a Wink or Mail, when you collect messages, or when she gives you access to her own Private Showcase and if you have this feature, you can always reply for free.
As long as your subscription is still ongoing, you won't have to use credits when responding to women's initiated contacts.
If you ever want to cancel your subscription, you can find it in the "Manage Profile" tab, then "Credit History". If your credits were used after opening and replying to a message, then you probably contacted the user first by sending a message, adding her as one of your Favorites, sending a Wink, or letting her access your Private Showcase first. But if you still think that you shouldn't have been charged using your credits, you may directly contact their Customer Service.
Features of AshleyMadison
Instant Messaging
You can easily chat with anyone online and you can chat with multiple users all at the same time without extra charges.
Custom Mail Messaging
The website's system email is just like your typical email. It is very safe, easy to use, confidential, and can be accessed whenever you log in to your account. To send one, you just have to visit a member's profile and click "Message Me". When initiating such contact, you will be charged with 5 credits.
Collect Messages
This feature allows female members to initiate contact with any male member. When the male member you've sent the message to replies, you will be charged with 5 credits.
Priority Mail
This one allows male members to have their messages marked as "Priority", making them stand out among others. Since it is a "Priority", it will go to the top messages of a female member's mail inbox and the male member will also be notified once the message gets opened.
Gifting
With the use of credits, you can Send A Gift and equip it with sweet messages and give it to someone you like. To send one, just visit the liked member's profile and look for the "Send me a gift" button.
Winks
Everyone can send free winks. Just access the member's profile and look for the "Send me a wink" button.
Photos & Private Showcase
With Ashley Madison, you have the option to keep your identity more private and discreet by editing or blurring out your profile pictures. If you have an admirer who wants to see the unedited versions of your picture, all you need to do is send them a Key so they can access your Private Showcase. You can revoke access given to any member at any time.
Favorites
To keep track of your liked members, you can simply add them to your Favorites list. When someone adds you to this list, you would know as it is already a form of "Member Initiated Contact". You will know your admirer's identities with the use of this feature.
Blocking
For any reason, you can easily block another member by clicking "Block this profile" on their page. Again for any reason, you can unblock anyone at any time.
Search Tool
You can easily search for another member using Quicksearch, the website's toolbar, or make use of their advanced search features.
Members & Great Traffic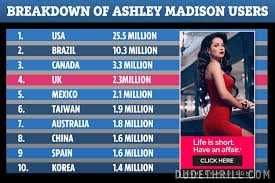 Knowing how unique their target audience is, it isn't even surprising that the website is home to more than a million users from all over the world. Most of the users are from big countries and are usually middle-aged and above. As an "affair site," people can easily arrange any meetings of some sort, communicating with strangers regardless of the fact whether they're in a committed relationship or not. When you check individual profiles, you'll find that it's common to see married people looking for extramarital relationships. The website boasts of quite a huge number of users and people who frequent here are mostly open-minded ones. You won't have a problem in looking for matches since you can have a lot of choices in getting together with same-minded people. All you'd have to do is check people out and strike a conversation
Hassle-Free Sign-up Process
Ashley Madison's sign up process is very easy to understand. It doesn't require a lot of information and it works perfectly that way since its nature is all about discreet relationships. You just have to specific with your current relationship status and some basic info as well. All the information you'll feed during the sign-up process will reflect in your profile, which will then be the first thing other users would see and attract them to you. The sign-up is totally free and very convenient, taking just less than five minutes and you're good to go. You'll have to upload a profile picture and you can edit some parts of it to cover a bit of your face — another measure by Ashley Madison to keep users anonymous.
Making Contact on AshleyMadison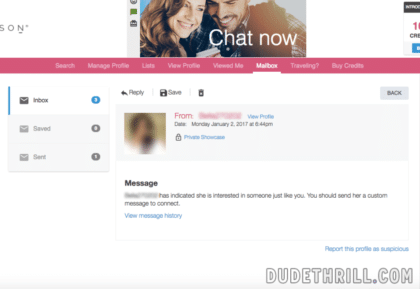 Women can start conversations with other users for free, while men would have to use and avail credits to do that. They offer the necessary features to help with establishing communication, with basic chat features to be the first one on the line.
Users can create their "Favorites" list, consisting of profiles they like and are interested in. You can also send winks and unlike other sites, this one is a free feature. Winks, in the online dating scene, helps in showing interest to a specific person. One unique feature of Ashley Madison is their private showcase key. This allows another user to view your photos without the privacy edits, letting them see the real picture behind it. Virtual gifts are also a thing in Ashley Madison, although it is not for free since you would need to have some credits to send one, and the number of credits would be a factor on which gifts you would be able to send.
Their Profile Quality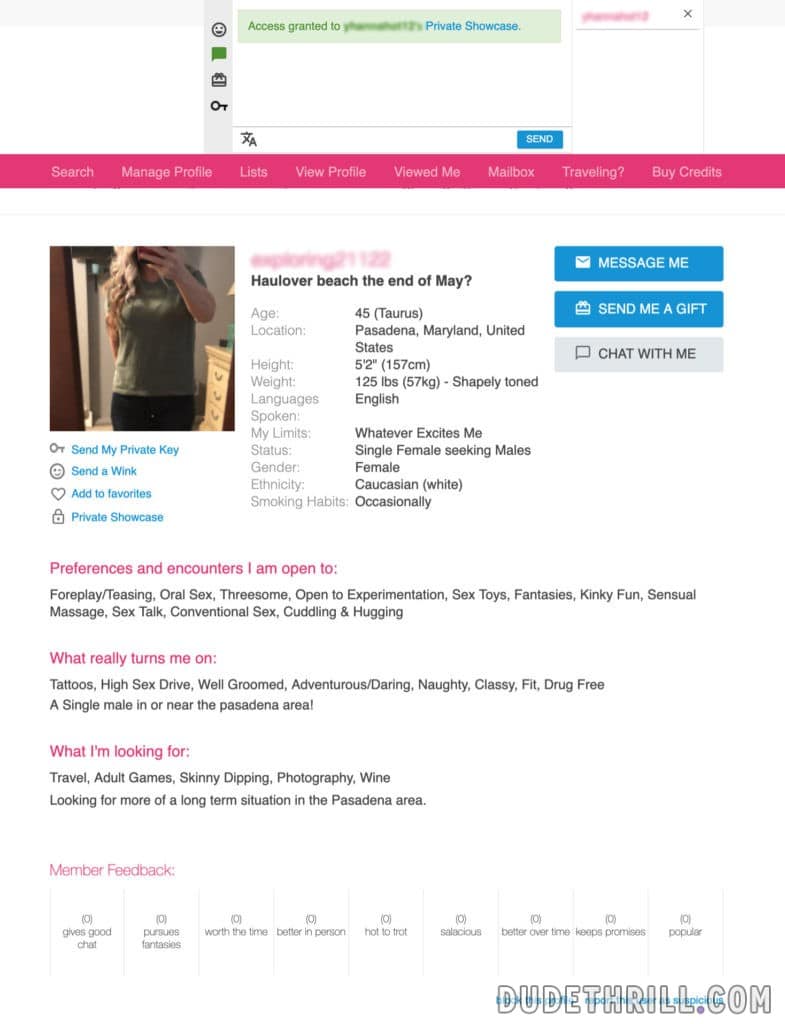 Because of the website's nature, where people are supposed to be discreet in giving out their information, you won't be able to find detailed profiles. As it is known as a cheating spouse online dating site, everyone is reserved and discreet in terms of sharing any information about themselves. You won't need to provide a name; all you'd have to indicate is a unique username and it would already serve as your identification. Your profile will only show the most basic details there are: location, age, gender, zodiac sign, and some insights on what relationship are you meaning to find on the site.
If there's someone who caught your eye, you can easily check them out on their profiles and see if you are compatible with each other based on the available information. Checking out profiles can be done for free; no need for credits or card info. Pictures can also be vital to attracting attention so you can edit a bit from your uploaded display photos, you can put masks or any basic edits to hide your identity, and people can only see the unedited version once you give them your private key.
Ashley Madison's Mobile App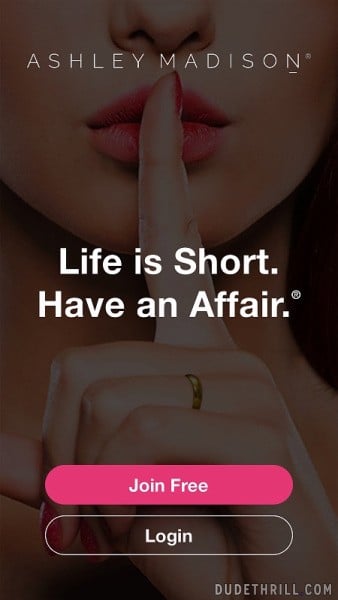 One great thing about Ashley Madison is that it's already free to download on both iOs and Android devices. It is just the same with the desktop version with all the same important features. It's just a lite app so you won't have to worry about it taking too much space on your phone.
Mobile apps are a more convenient option since most people are always on their phones daily. When purchasing credits, it will be processed via iTunes or Google Play accounts. Another common-sense consideration by Ashley Madison is that its mobile app icon doesn't look suspicious and can just be hidden easily. It also has its "swipe" feature like most dating apps nowadays, for the easier liking of profiles. The app also enables you to find people near you and check who's viewed your profile.
Website Design And Interface
Ashley Madison's website layout and design are very user-friendly. It is easy on the eyes and you can easily work your way around its interface. Regardless of age and exposure to technology, anyone can still use the site and be able to get familiar with its features easily. Its menu bar shows all of its features and important pages so users can just take a look at it whenever needed. One weird or perhaps off-putting about their website is that the placement of the menu bar is almost halfway on the page. You'll need to scroll up to the lower part to get to it, unlike most websites where menu bars are located in the upper portion. The site uses the color white and pink for highlights so it is just easy to look at.
Credits, Fees, and Other Features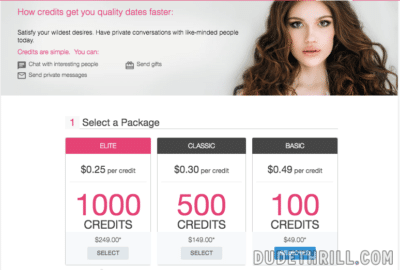 For women who want to communicate with male users, they can avail of this feature for free. As for others (women-women, men-men, etc.), they would need to have some credits before they can start initiating conversations. Unlike most of the dating platforms which require monthly memberships, Ashley Madison uses credits that are bought per package.
Credits needed for various features are not the same; some would need more than the others. Basic features like opening messages, sending, and initiating emails would usually cost 5 credits. If you are replying to someone you already contacted previously, you won't need to use credits for that anymore. As for the chat feature of Ashley Madison, you'll need to spend some credits for a specific duration only: 30 credits-30 minutes, 60 credits-60 minutes, and so on. Sending gifts usually cost you more credits, starting from 20 up to 50 credits. Overall, the credit system and packages of Ashley Madison is quite reasonable. They accept payments via Paypal, credit cards, and other options based on your location.
These Are the Special Features of Ashley Madison: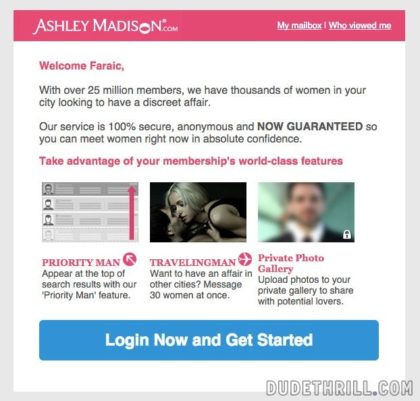 Favorites List
Users can create a list of their favorite profiles and up to 100 of them can be added onto the list. It is free for use so you can easily remember the profiles that have caught your eye
Photo and Identity Discretion
Every member is given the privilege to keep their identities private. An uploaded photo can be edited so further hide some parts of the face; you can either add stickers, masks, or blur/censor a bit of it. This ensures that users won't easily have their identities known by others. When you have someone you like already, you can give them access to clearer versions of your photos.
Sending Winks
Just like how it is in real life, winks indicate your interest in another person. If you've got a person you're crushing on, you can just visit their profile and find a smiley face that's labeled with "Send Wink", then the other person will be notified about it. They'll know by then that you are interested in them.
TravelingMan
For users who are always on the go, this is very useful during travels. You just need to spend some bucks and you will be able to send messages to at least 30 girls who are in a specific area (or somewhere you are traveling to), then you can get to know them days before you arrive at their place.
Priority Man
A paid feature which gives your profile a boost. It helps you stand out on the common page for members and gives you more chances to be seen by more people and appear on different search pages.
Message Plus
This feature allows you to message or talk to users you've already had contact with. It comes as a free trial when you purchase credit packages and will be valid for 30 days only. After that, you'll have to pay if you still want to continue using the feature.
To sum it up, here are some inputs you might want to consider if you are thinking of joining the well-known Ashley Madison bandwagon…
Pros & Cons of AshleyMadison.com
PROS:
Easy sign-up
Hassle-free registration process
Just a few information needed to sign up
Relationship status needs to be specified
You can easily send emails or chats
Virtual gifts are available for sending
Sending messages is free for women
Lots of unique features offered to both Guest and Full Members
Has a mobile app for both iOs and Android
CONS:
Most users don't fill their profiles completely
Posers lurk in the site from time to time
Profiles are not detailed, so less information will be known (which is somewhat good for privacy)
FAQs
How Contact Details Work?

Ashley Madison assures users that their private information won't be given to any marketing companies. Any details from users will not be sold, rent, or given away, such as email addresses or other personal info, to any other company or entity, no matter what circumstance. They are also very clear and transparent with their Privacy Policy so if you're interested in the site, you may check that info on their links.
Signing up as a Guest Member is free of any charges. You will be able to use quite a lot of features even if you're only using it for free. Some of it includes the following: receiving winks, sending and receiving photos, adding members to your Favorites, replying to anyone with a Full Membership, and do basic searches. If you want to send custom messages, initiate chat conversations, send any priority messages, or send gifts to further express your liking for someone, you'll have to pay for an upgrade and become a Full Member. Just look for the "Buy Credits" options on the main menu upon logging in to your account.
After Signing Up… What Now?

You can start by completing your profile, uploading up to 12 photos, and providing more information about yourself. The more details found on your profile, the more attractive it is to fellow users since they will know some things that could serve as your common ground, which will be useful for future conversations.
You can also use the search feature to find members who might spark up your interest. If you want to initiate contact with any member, you would have to upgrade as a Full Member and get credit packages. Having more credits means being able to enjoy more features including chatting, initiating messages, and so on. Being able to access these features will help you communicate with potential matches on a more personal level.
Can I Also Find "Singles" On Ashley Madison?

Yes, there are many singles on this website and most of them are looking for attached people and their reasons vary. Single people usually have nothing to risk so they'll have to try harder to meet someone who's okay with someone not in a relationship. Those who are committed, however, tend to empathize with each other due to their similar circumstances, making it easier for them to meet and connect.
Is Ashley Madison Legit?

The website is real, yes, but they cannot guarantee the authenticity of every single profile since there are times where posers or catfishers tend to lurk around. Despite that, Ashley Madison ensures that their users' privacy will always be kept confidential no matter what, especially since they already experience a huge data breach scandal before. The website's moderators actively monitor every photo uploaded, as well as every text change especially those for public viewing, so everything will be safe and would comply with their standards.
Private messages are not monitored by anyone from the website to give everyone their much-needed privacy, but they sure do not tolerate harassment, any kind of slurs, threats, or insults sent to other members. Solicitation for any goods or services, advertisements, and any form of spamming is also unacceptable. Upon signing up, Ashley Madison will never ask for any information from you, much more send them to your home or office. Their main value is privacy, discretion, and anonymity.
Last Note
Ashley Madison promotes extramarital relationships and is an environment away from the judging eyes of the public. Most users are open-minded and people exploring other options despite being committed in a relationship are widely accepted here. It has been around for a very long time now and since then, it has always provided a safe space for people who wants something new… to spice up their sex lives or whatnot.
If you are one of these individuals who could be looking for something similar, then Ashley Madison might be the perfect online dating platform for you. You won't have to worry about your identity getting exposed since they swear by their precautionary measures in maintaining confidentiality.
What are you waiting for? Sign up now on AshleyMadison.com and have that sense of liberation being in such a non-judgmental community with people who has the same situations as you.