Updated on: October 2nd, 2022
Whiplr
& Best 11 BDSM and Personals Sites Similar to Whiplr.com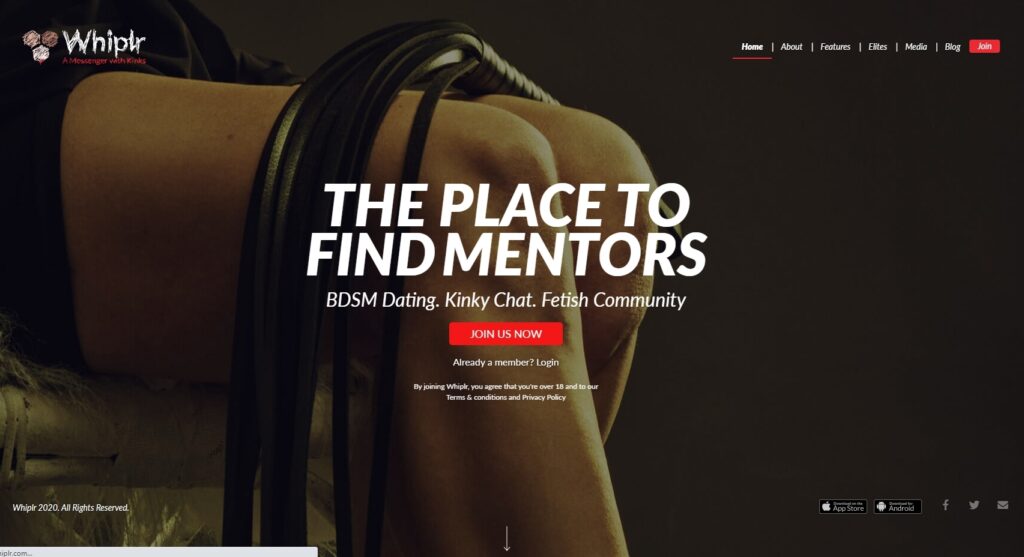 The Whiplr's Site Itself
Whiplr is basically an app-based adult dating platform that caters to individuals looking for casual sex and BDSM hookups. Its niche is for those who are into fetish dating and no strings attached arrangement because apparently most of its users are just into casual setups. So this definitely is not the place for those who are looking for a serious relationship. This is quite the definition of the word kinky. With this, the site highly encourages kinky stuff including extreme sex fetishes and the likes of BDSM. This has been the reason why the site continuously attracts a lot of users.
You won't be surprised that the site has millions of members from different parts of the world, although a huge percentage of its members come from the greater United States. The site has really gained popularity based on its appearance and endorsements in various publications. If you still don't think this site will provide you with what you need, read on.
Registration and Signing Up
Just like all other dating sites and apps, Whiplr has a pretty straightforward registration process. Since the site is primarily catering to those who are into casual and short-time arrangements, there is not much information requires by the site during the registration. The whole registration process will only take about 5 minutes.
In signing up, you have to go to the sign-up page. Afterwhich, you are directed to a page where you have to fill in the necessary information. First, you are asked to indicate your gender and the gender of your preferred hookup partner. Second, you have to put an email address and a password of your option to be used in logging in with the site.
At this point, you also have the option to pick your username. Choosing a username is actually a fun part since most of the users pick creative usernames that are descriptive of their personalities. So might as well do this for better first impressions. You can do lots of different catchy wordplays for an impressive username. This might save you a lot of time looking for potential hookups. Lastly, you have to disclose your date of birth and your current location. After providing all this information, you are all set for your sexual exploration and escapade. You can log in anytime you want with the credentials you used.
Profiles on Whiplr
After setting up your account, you can start pumping up your profile. There are questions that are being asked to further your profile information. Questions are pretty simple so it is not that tedious. Most of the questions are for "knowing more about yourself" however, you always have the option to answer the questions in-depth or in a straightforward manner. It isn't new to the industry that most of its users want their membership to be incognito as much as possible.
On a different note, the answers you're providing will help with the matching system. This will be used to give you the most compatible match you can have. Hence, it is still important to answer the questions with the truth even if it's not that elaborate.
What is an extensive profile if there are no pictures in it? You can upload as many pictures as you want but you just have to take caution. Contrary to what the site is promoting – all sex, you are not allowed to post offensive content. Well, of course, just because you're in a hookup site doesn't give you the privilege to go all sleazy about it. Despite this, you can always have a pretty hot photo of you that will surely attract your possible match. Your photo is the first thing most people will look at so you have to make a very good impression through it.
It should be noted though that this rule against forbidden content is not that of the site but of the app distributors. They also have their own set of rules for proper regulation and developers should abide if they want continued patronage from the distributer's users.
The Whiplr Mobile App
Whiplr is generally available as an application that is compatible with both Android and iOS systems. On the other hand, its official desktop site Whiplr.com has limited access and is only available in the United States. This should not worry you though, since its app is fully functional. It has the best graphics and an interface that is pleasing to the eyes. Whatever system you may be on the app does not disappoint.
Whatever features there are in the desktop site, it is also available in the app and even better since you can access it anytime and anywhere with the app. So, whether you decide to download the app or not, you still get to enjoy all the perks Whiplr has to offer.
Pricing and Value for Money on Whiplr.com
When it comes to the prices on the site, its female members need not worry about it since they can have full access to all its features for free. However, this is not a very good thing for the male members since they have to cash out a little more than the average pricing to be able to enjoy the same features. Since signing up with the site is for free, you always have the option to remain in that status. You won't be able to access several interesting features in this status though.
For those who are willing to shell out some bucks, the site offers different packages with different features unlocked. These packages range from $19.99 up to $99.99. Is the site worth it? Well, it will always depend on your interest. Some users find the site worth every penny they spend, well some have a rather average experience on the site.
So, it's really up to you to find out whether or not the site is worth the subscription you spend.
Whiplr's Support
When using online platforms, it is but usual to encounter some technical problems or difficulties along the way. This should be the least of your worries when it comes to Whiplrt since the site has a dedicated team assigned for its Customer Support. The team handling this is available 24/7 to assist you with your queries and problems.
The same team regulates the posts of the users and makes sure that the guidelines set forth by the site are not violated by any user. If there are incidents where a user is exhibiting improper behavior, the team will investigate the incident. They will then impose the proper penalty warranted by the said violator.
Good and Bad About Whiplr.com
PROS:
Safe to use with its secure login system
Free full access to female members
Maintains moderator teams 24/7
CONS:
Website is only accessible in the US
No nude photo policy
Paid membership can be expensive
---
TOP 11 BDSM & Personals Sites Like Whiplr.com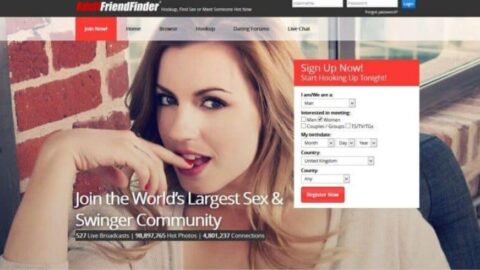 Don't get fooled with its wholesome face value. The site has been famous for all kinds of sexual arrangements there is. If you're looking for hookups whether a regular one or the kinky ones this is the place to be. You are guaranteed a partner on this site. Just not for serious relationships, though.
Want to know more? Check out our AdultfriendFinder review here.
PROS:
Reputable site
There are loads of members
Lots of features for self-expression
CONS:
No matching algorithm
Premium features costs
---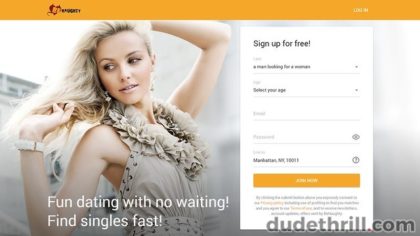 Be Naughty has lived up to its name. It has been branded as the site where you can find the naughtiest people. Not only are there singles looking for hookups on the site, but there are also couples and even groups. It claims to provide a whole new adult dating experience to its members.
Benaughty review and opinion here.
PROS:
The quick and easy sign-up process
No annoying ads
Readily available customer support
CONS:
---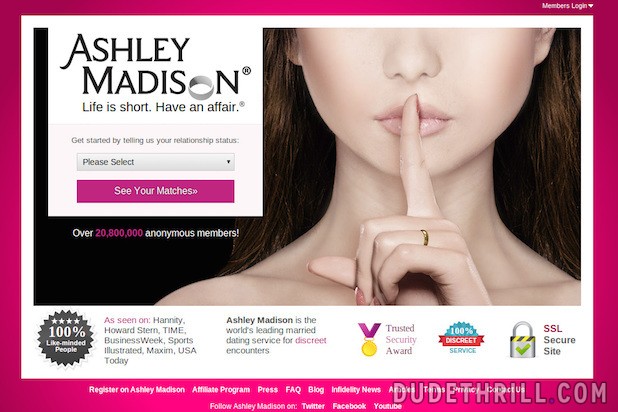 Ashley Madison is definitely not your typical dating site despite looking like one. Ever since the day it was launched, the site has always been branded as the place where extramarital affairs are encouraged. Through the years the site thrived with that brand and has even broadened its scope to more than just extramarital affairs. The site offers different kinds of sexual arrangements depending on your interest including BDSM.
PROS:
Lots of like-minded individuals
The quick and easy registration process
It has an app that is available for both Android and iOS
CONS:
There are few payment options
---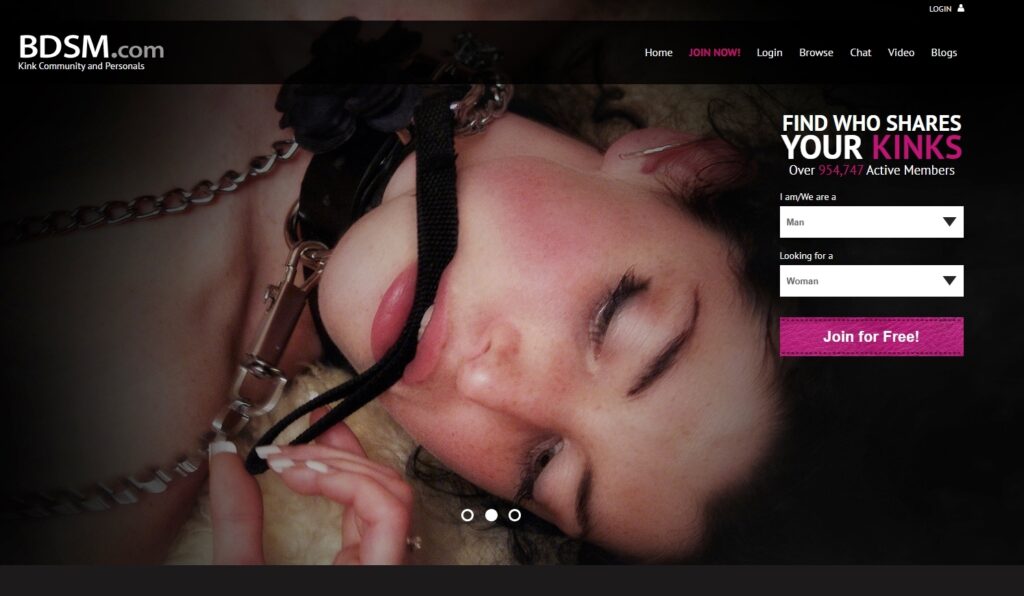 BDSM is one of the most reliable sites when it comes to kinks and BDSM since it is part of the wider Friend Finder Networks. You are guaranteed that the site is not a scam and that it will for sure give you results — and good ones at that. Being run by one of the largest and most established entertainment companies, it is expected that it has some similarities with its sister networks. So if you are not a newbie in the industry, going through the site will be a walk in the park for you.
PROS:
It has a huge membership base
It gives you access to other alternative networks of similar niche
Lots of interesting features
CONS:
Very limited access for free accounts
There are fake profiles
Tedious profiling
---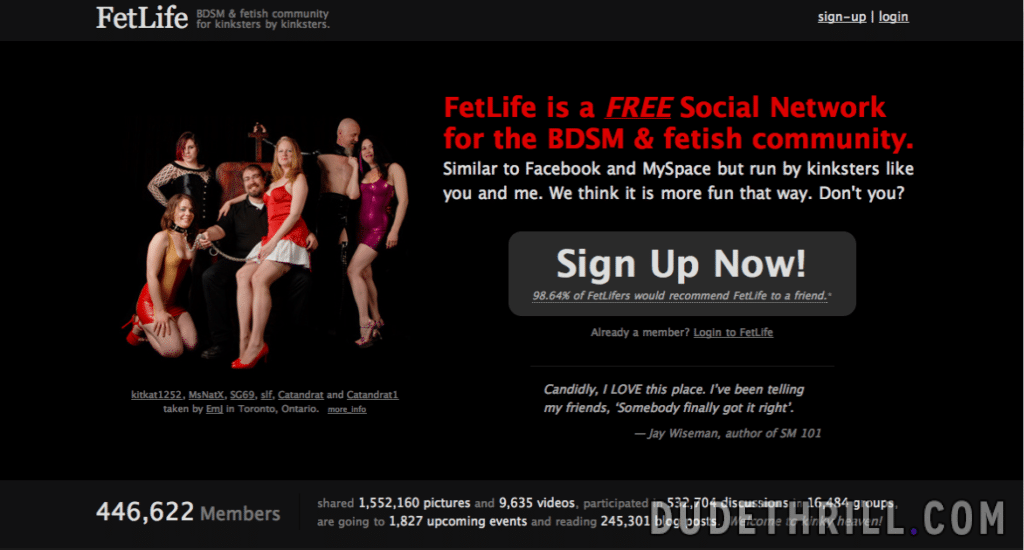 Fetlife is one of the more popular sites when it comes to fetishes and kinks so you would really expect that you'd meet a lot of people here. However, despite the huge number of membership, the site has a pretty friendly environment contrary to other people's assumptions on these kinds of websites. If you are wholly into kinks and BDSM, the site members will surely welcome you with open arms.
Here's more about Fetlife and it's alternatives.
PROS:
The community is accepting and supportive
Membership is very affordable
Variety of kinks
CONS:
The interface is a bit outdated
Some users are very discreet in a disadvantageous way
---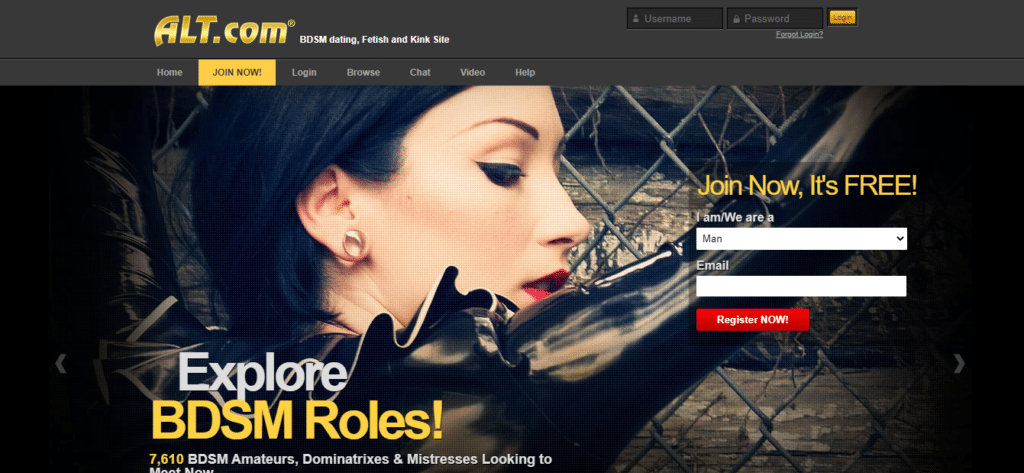 Alt will give you a wide variety of options. From the most casual hookup to the alternative world of kinks and fetishes. This site will never disappoint. There are a lot of things you can do on the site, from looking for a partner to enjoy your sexual adventure or you can either just scan through the videos that are already posted on the site.
Check out Alt.com and its alternatives.
PROS:
Lots of active members throughout the day
Free membership available
Secure site
CONS:
The interface is a bit complicated
Profiling can be tedious
Presence of fake profiles
---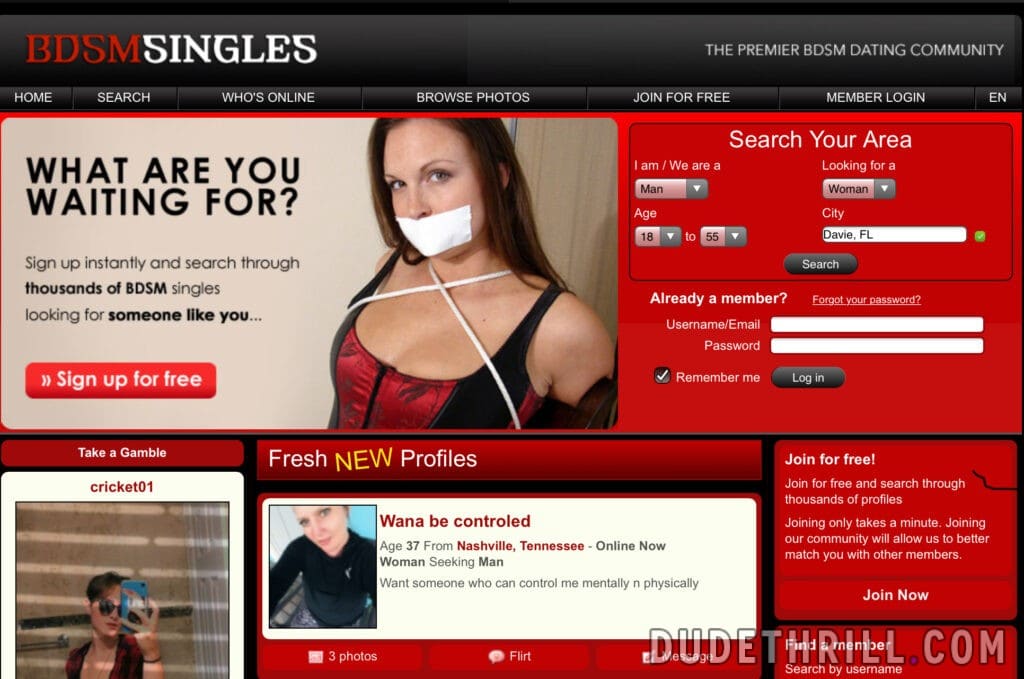 BDSM Singles was launched by one of the established entertainment networks in the industry, Online Dating Systems LTD. Together with its sister sites, BDSM Singles has continually provided exciting sexual adventures especially for singles who are into BDSM and other fetishes. The site offers amateur porn that you can indulge. It has various features for both premium and free members. As a free member, you can access the live webcam shows of some performers.
PROS:
Offers a free trial period
The easy and very convenient sign-up process
It has a system to get rid of dummy accounts.
CONS:
Annoying ads
Limited features for free members
No app available
---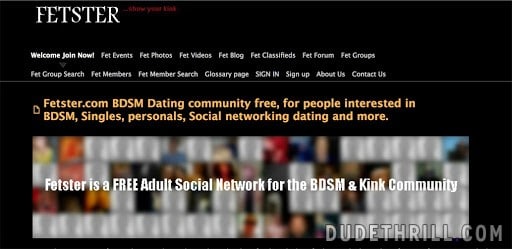 Fetster is a go-to place for both BDSM newbies and pros. The site is just a haven of all things BDSM. If you check out the site you will notice how much information there is about BDSM. You will surely get a lot of information about kinks and BDSM you never expect and will never learn in other regular media. Another best thing about this site is that it is completely free. You can be part of its community without spending a single penny.
PROS:
Very informative
Totally free
Accepting community
CONS:
The design could use some upgrade
No real-time feature
Members are not as many as other similar sites
---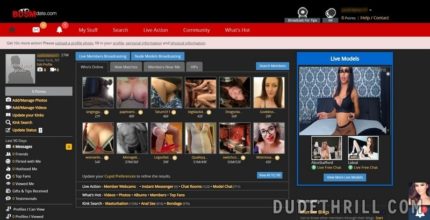 BDSM Date is not just a mere site where you meet random people. This site has become a community of its own for people who are into different unconventional sexual arrangements. For those who are actively seeking kinky partners, submissive, or dominants, this is the place for you. The site is fully accessible for those who are members of its community where members can freely post their photos. You can also have a premium account for easier access to other members' profiles.
PROS:
All out kinks and BDSM
Members' privacy is guaranteed
Lots of options for communicating
CONS:
Restricted in some countries
Languages available are limited
You must be a member first to be able to browse the site
---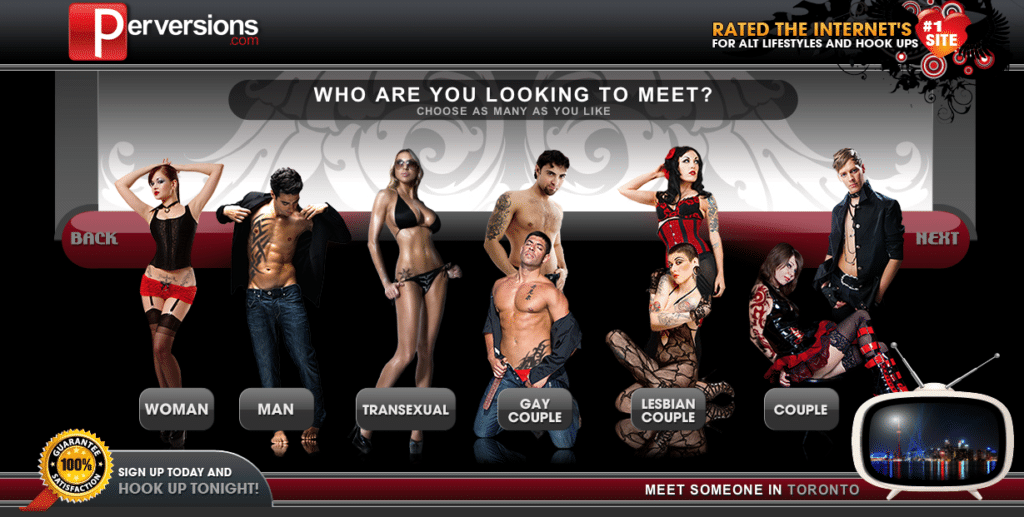 Perversions.com is one of the leading adult dating sites with a niche. It has been known to provide for alternative lifestyle dating that includes kinks and BDSM. The site boasts of its millions of members with new members daily. It offers a lot of ways to communicate including emails. Despite its large number of members, there is not much competition on the site. So, you can take your time browsing through the profiles of potentials.
PROS:
One of the largest membership
Lots of fun features
Affordable price and definitely worth it
CONS:
Free account has very limited access to features
Annoying redirects
---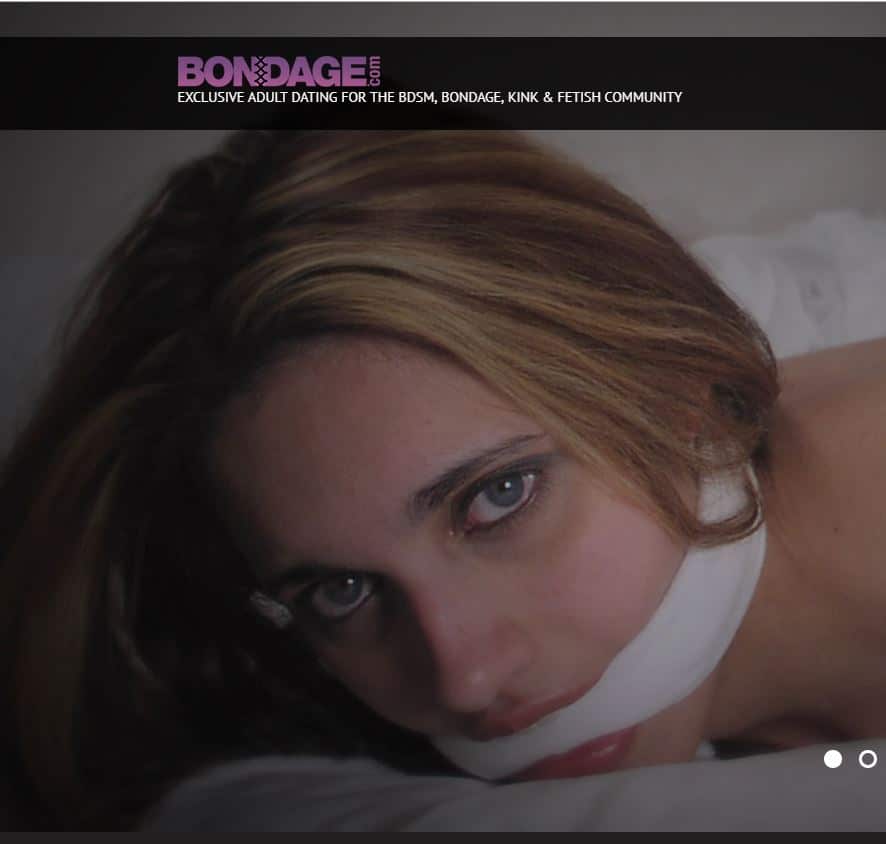 Contrary to the image the site is projecting, it actually has a relaxed and friendly community. Bondage is part of the bigger Friend Finder Network. As such, you are assured that the site is well maintained and is a legit site. It has a pretty decent number of members, but despite not being as being not as huge as its other competitors, most of its members are active. You can see in the Bondage Club where members interact in their forum sharing personal experiences and opinions.
PROS:
User-friendly interface
Regular updates on the blogs and forums
Active and supportive members
CONS:
Messaging is only for paid membership
Presence of fake profiles
Verdict
If you have been holding off your urges because you think these urges are too unconventional to be accepted, hide no more. Whiplr.com and the sites abovementioned are just the top sites that accept sexual arrangements that are extraordinary and other unique fetishes. Arrangements of this kind are no longer new and have been gaining acceptance all around the world.
If it's hard for you to choose from these 11 sites, my TOP 3 would definitely be:
#1: Adultfriendfinder.com
#2: AshleyMadison.com
#3: and Fetlife.com
So treat yourself to the taste of these different flavors offered by these sites!