Updated on: December 4th, 2023
We Are HER Review
& 12 Best LGBTQ+ and Other Sex Dating Sites Like weareher.com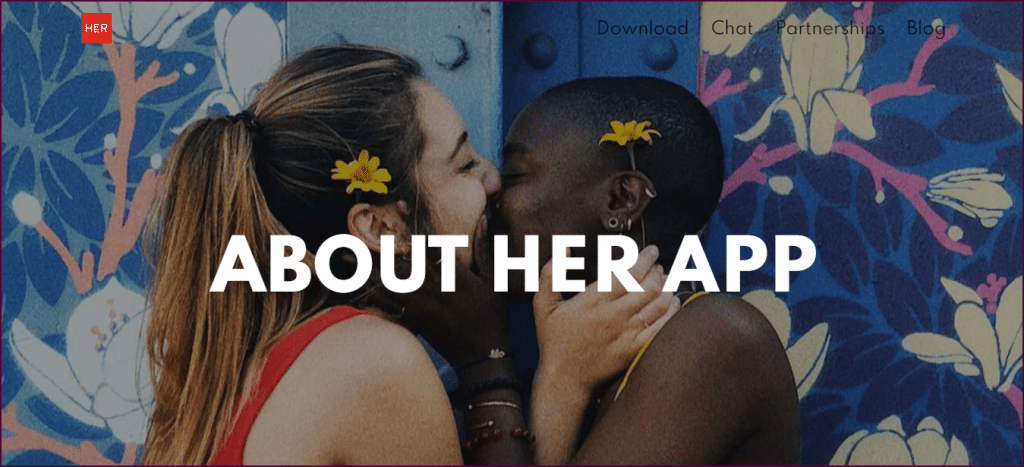 I've got good news for all the LGBTQ+ community because there's a new app that can deliver a safe and open platform for all of you. Introducing… HER! Perhaps, you've heard or seen this app online since it's pretty popular among bisexuals, trans, lesbians, gays, and all LGBTQ+ communities. It boasts unique features, security, chats, and matching systems that improve your hookup journey. But the question really is, "Is HER really LGBTQ+ friendly?" "Does it live up to their claims and user expectations?" Those are the things we'll find out in this review. So, let's start!
Official URL: https://weareher.com/
It's for HER!
If you're part of the LGBTQ+ group, the apps oriented for straight users can be a little intimidating. Most of the time, the features and services were designed to make heterosexual dating and hooking up more convenient, leaving the LGBTQ+ aside. But now, the tables turned after the release of HER. Initially, this app was not meant to cater the LGBTQ+ users instead of queer women. In fact, the app used to call the Dattch app and was established for lesbian's hooking up in 2013. It was only until 2018 that the developers renamed it "HER."
Currently, HER has over 4M+ members, and the app is available for download on all Apple and Android devices. After years of improving and implementing the demands of users worldwide, HER is now among the most extensive and sought-after dating apps for the LGBTQ+ community.
Moreover, HER is an inclusive app that only caters to the needs of LGBTQ+ users, so everyone can freely talk and engage with people of similar sexuality. Currently, the app is soaring in popularity around the United Kingdom, United States, Netherlands, Brazil, Canada, Thailand, and Australia. But of course, it covers the whole world, so there's no reason not to meet someone overseas.
The Members' Area of HER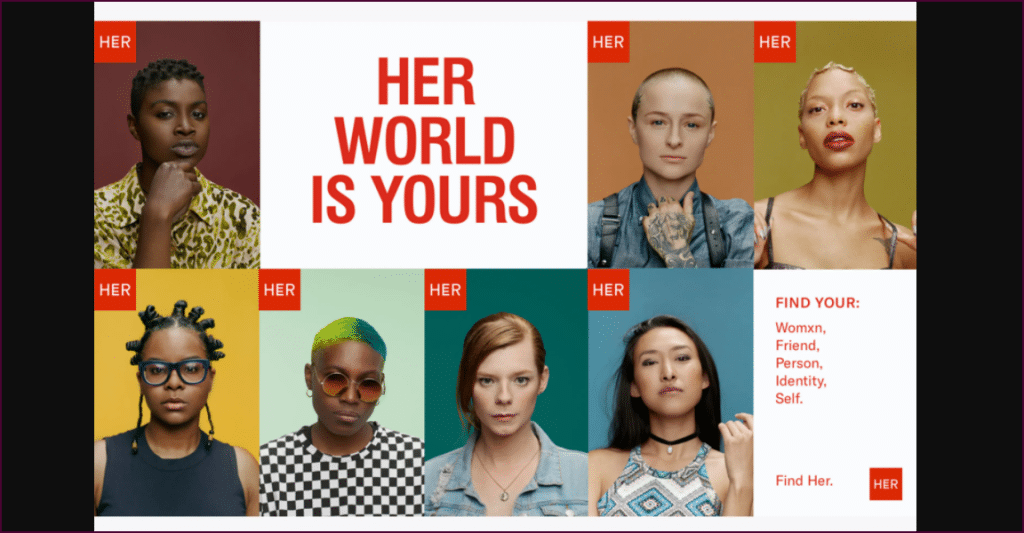 As I said, HER is an inclusive app for LGBTQ+, so there is no room for straight users allowed inside the members' pool. Also, you can't fool its system because it undergoes a verification process to ensure that only LGBTQ+ are registering. Despite being inclusive, the app has gathered over 4M+ members, showing how much the LGBTQ+ community has appreciated this app.
HER is promoting openness and a welcoming environment. So they are encouraging all the members of the LGBTQ+ community to become a member of this app. Regardless of being exclusive to female LGBTQ+, the app aims to please the world to show off their rights to express their sexuality with no shame and doubt.
Anyway, despite being a hookup app, HER has plenty of members looking for serious relationships. Although the app does not discourage such long-term connections, it's pretty surprising that the users are actually finding true love on the app. I suppose now is the moment we should stop assuming that hookup apps and sites only work for casual flings and one-night-stands. Possibly, that's the finest way to clarify why there's a shitload of female LGBTQ+ around here.
Is HER Effective Hookup and Dating App?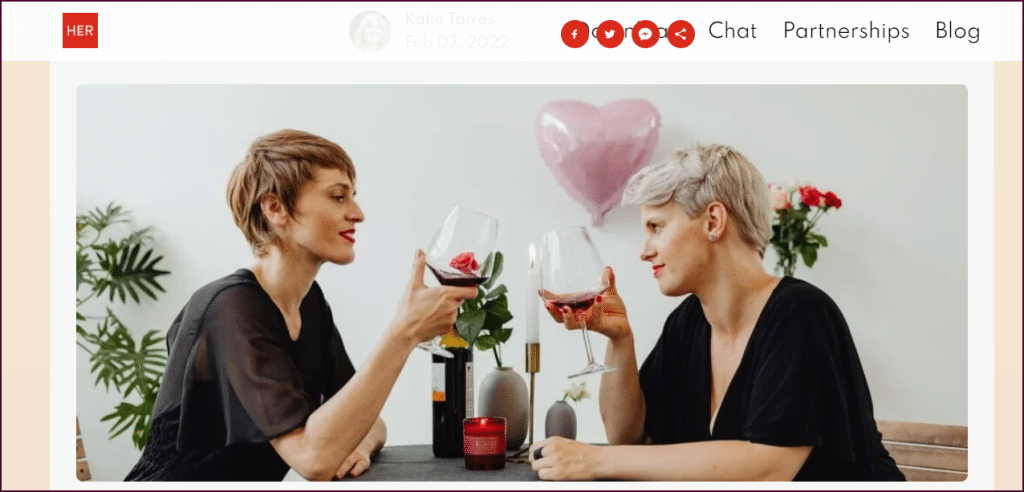 HER is definitely an impressive and effective hookup/dating app, especially among the LGBTQ+ members because everyone can openly express their sexual with no reservations for the first time. Sure, it's not the perfect app nowadays since the navigation is pretty complex to manage. But, because of its unique features and massive members' pool, HER definitely helps find casual or serious connections.
Apart from that, HER has no issues regarding fake accounts or scammers. So far, everything's pretty legit, probably because of its strict verification process. Plus, the team behind HER has put 100% of their effort into making sure every member will experience the best perks and journey while using the app. Their commitment to providing pleasant service while keeping the catfishes and fakes away is part of their commitment.
How It Works?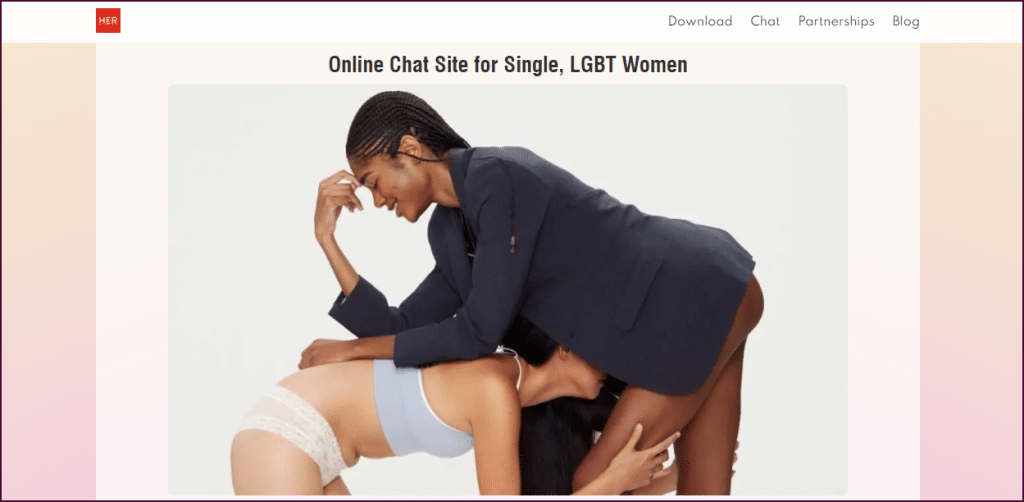 Meet's Swiping Method
Since HER is a modern-day app, you should expect to see a Tinder-like system called the "swiping" method. If you have used the Tinder app, you'll quickly get the hang of HER's method. The developers kept it this way because familiarity is much better than re-inventing a new picking style.
Anyway, just like the Tinder app, HER's swiping method also follows the same rule: swiping left if you're not attracted and right if you are. Once you both swiped right, the system automatically matches you for a chat.
Adding as Friends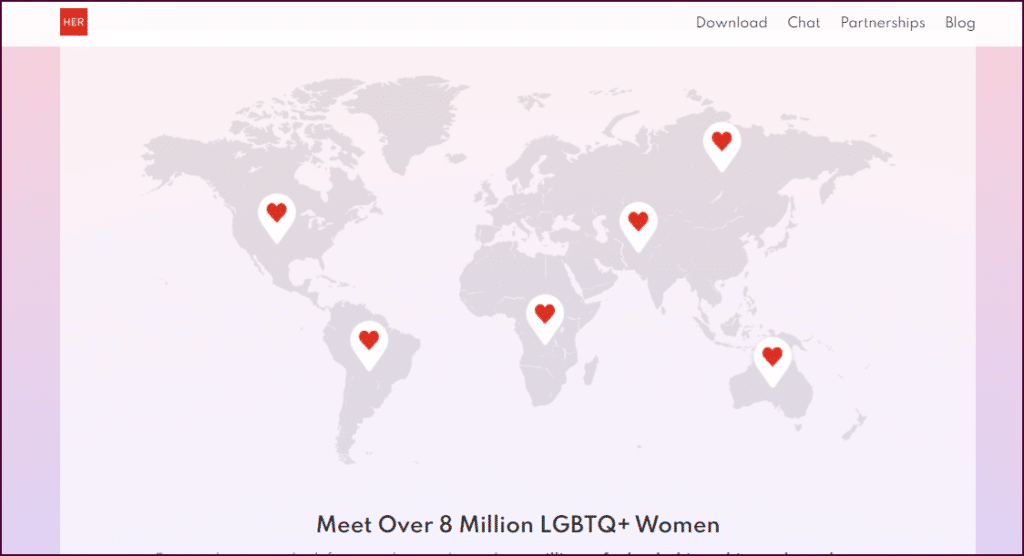 Another way to make connections with other users, HER has a friend list where you can add site members. When these members accept your friend request, automatically, you'll get a chat connection. It's pretty easy and customized according to your preferences.
The Feed
The Feed is another feature available on the HER app that works as a social media app. But unlike social media, this one is more exclusive and interactive. Here you can find your friends' posts and connect with them through comments. It definitely attracts more engagements compared to swiping and adding friends. Like the famous Facebook site, HER allows you to find nearby matches, like, comment, and interact with the LGBTQ+ community members.
On top of that, the Feed is also a good source of information since the developers often post announcements concerning LGBTQ+-related topics and some news. Certainly, it's a great feature to keep informed with the current happenings worldwide. Currently, HER offers Local and Global Feed. The former gathers news and information within nearby locations, while the latter covers worldwide.
Joining Events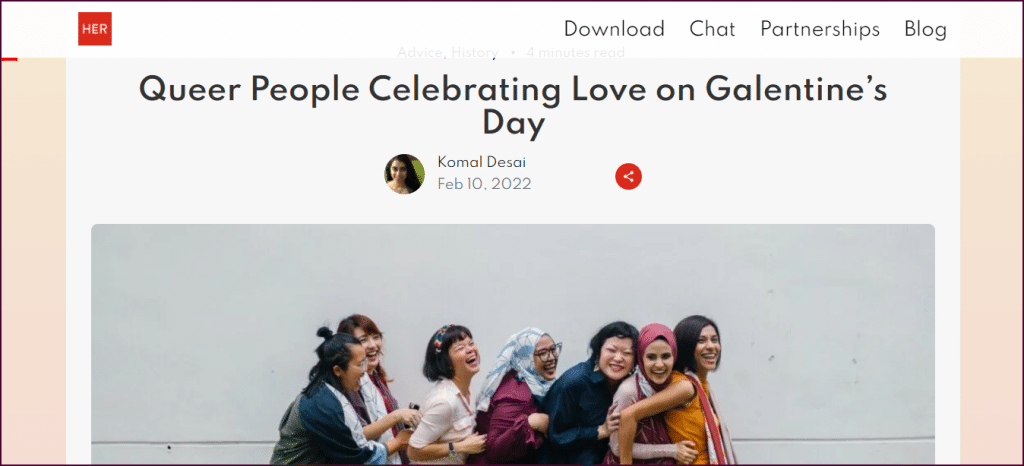 HER hosts "events" within the app, in which you can create connections and meet people. In fact, it's the best way to secure a date since there are cocktails, festivals, and parties organized by HER. Of course, we can't deny the fact that chatting is the core of meeting people, especially when using dating apps. But, nothing is a better way to secure a date than actually asking for it. Lucky for us, HER has a free messaging service, so there are no restrictions when sending photos, videos, and texts.
Sounds good? Better click on the Event page and book your tickets before it's sold out. Invite all your closest friends or see who's coming to the "Event." Don't worry; Event tickets are not expensive as it sounds. In fact, they are affordable and usually come with free stuff, like drinks and food. Certainly, it's worth it knowing by the end of the night; you'll be leaving with a hookup.
Some Cool HER Features
HER is proud of the number of features after years of improvements and upgrades. Definitely, it's among the most incredible things about this app that make it stand out from the rest of dating and hookup platforms.
Sometimes we feel privacy is important, especially when searching for matches online. Right now, you don't have to be concerned about your friends seeing your profile because you can hide using the incognito mode. However, only the premium members (Gold and Platinum) can access this feature.
In my opinion, I love this feature very much because it gives opportunities to rewind the profiles you didn't feel able to swipe. Usually, this is helpful when missed a profile or swiped incorrectly.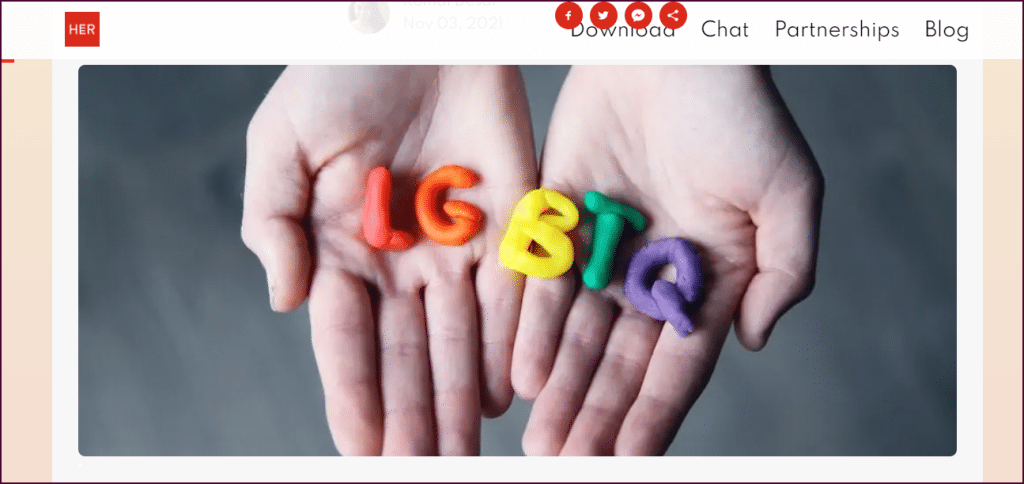 I like the community established in the HER app because it allows every user to open up and express their thoughts to all the members. This is through posting, participating in discussions, uploading photos, and more. By the looks of it, HER is more than just a hookup app, but rather a perfect blend of social media and dating services.
HER's Membership Subscriptions and Prices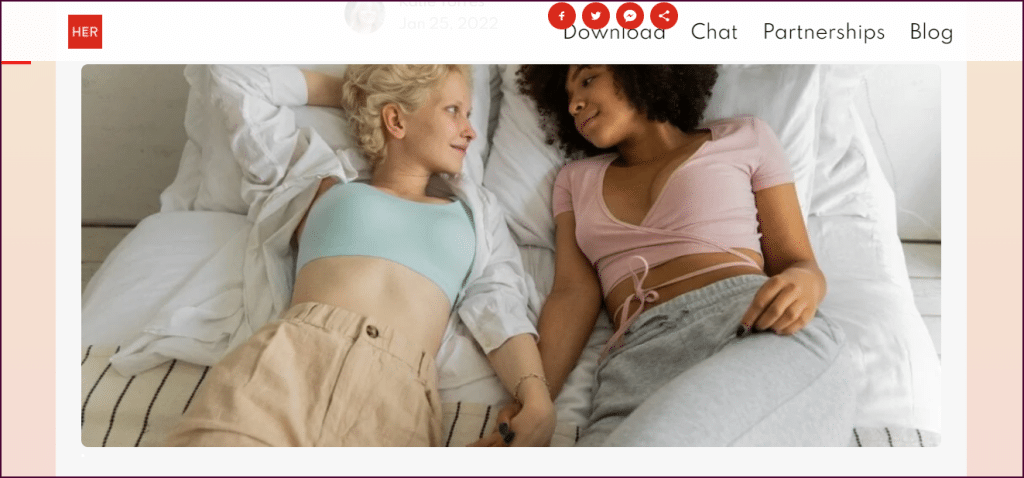 Generally, HER is a free app and offers free chats. However, if you like to experience some of its exclusive features, HER offers membership upgrades through subscription.
Gold Subscription
This subscription package is pretty much a starter pack for the new members. Compared to Platinum Subscription, this one has the most basic features available. But of course, it doesn't mean it's not good.
1-Month Membership — $9.99
6-Month Membership — $44.99
12-Month Membership — $59.99
Regardless of the duration you avail, HER's Gold Subscription allows you to enjoy an ad-free browsing experience and advance filters in searching for matches. Also, you can access the members who liked your profile and change locations whenever you please. Finally, you can switch to the incognito mode when using HER and rewind swipes.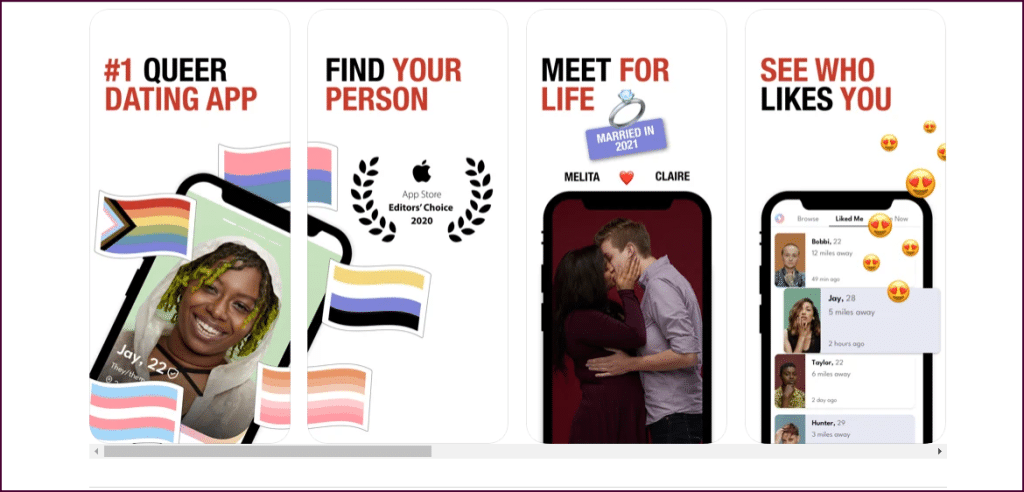 Platinum Subscription
1-Month Membership — $14.99
6-Month Membership — $59.99
12-Month Membership — $89.99
Meanwhile, the Platinum Subscription offers similar features and perks to the Gold Subscription. However, you can enjoy additional features like unlimited swiping, access the online users, read chat logs, and monthly profile boosts.
Pros and Cons of WeAreHER
PROS:
Inclusive to LGBTQ+ community
Design is modern and stylish
Free to use
Most features are accessible for free
Active members
Open and welcoming to all
Uses verification process to ensure security
Numerous features to connect
CONS:
Limited swipes for basic users
No website available
---
12 Best LGBTQ+ and Other Sex Dating Sites Similar to WeAreHer.com: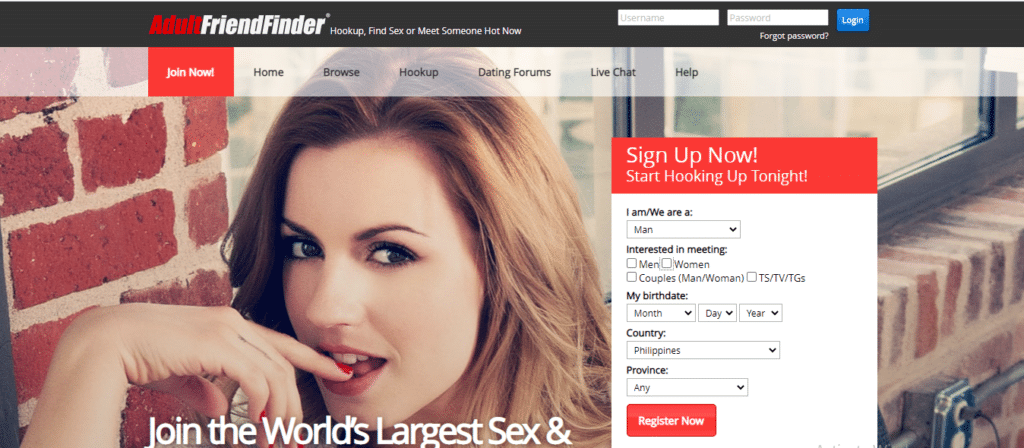 The Adult Friend Finder website is famous all over the world. It has more than eighty million members desiring erotic interactions with multiple women. Similarly, it provides numerous flirtatious relationships, such as casual connections, monogamy, couples, fuck buddies, and many more.
Indeed, this is an excellent experience that spices things up in the bedroom, especially between open-minded people willing to examine their sexual orientation. Finally, registration is relatively stress-free and straightforward, so members finish it in less than five minutes.
Here's the full review of AdultFriendFinder.
PROS:
Registration is free and fast
The members of the website are active in looking for casual hookups
Plenty of options in terms of communication
Watching videos and viewing images are free
You can write blogs and engage in a group conversation
The app is available for download and compatible with both iOS and Android devices
CONS:
The number of male members is greater than the females
Limited options for free basic accounts
---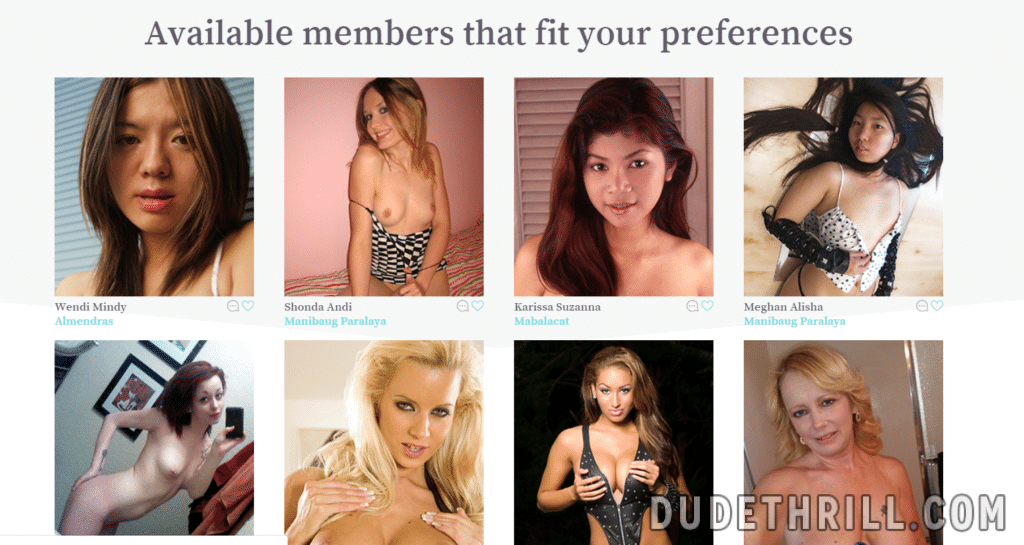 This site might answer if you are tired of the simple dating apps that don't give you the result you need. 2Fuck is entirely new to the adult dating realm, but it has already gained millions of users, a relatively significant number. The site is similar to other social media platforms and provides you with several options for interacting and communicating with other users.
Click here for a full review of 2Fuck.com.
PROS:
Lots of users
Design and interface are pleasing
Joining is for free
CONS:
Can be pricey
Privacy is low
---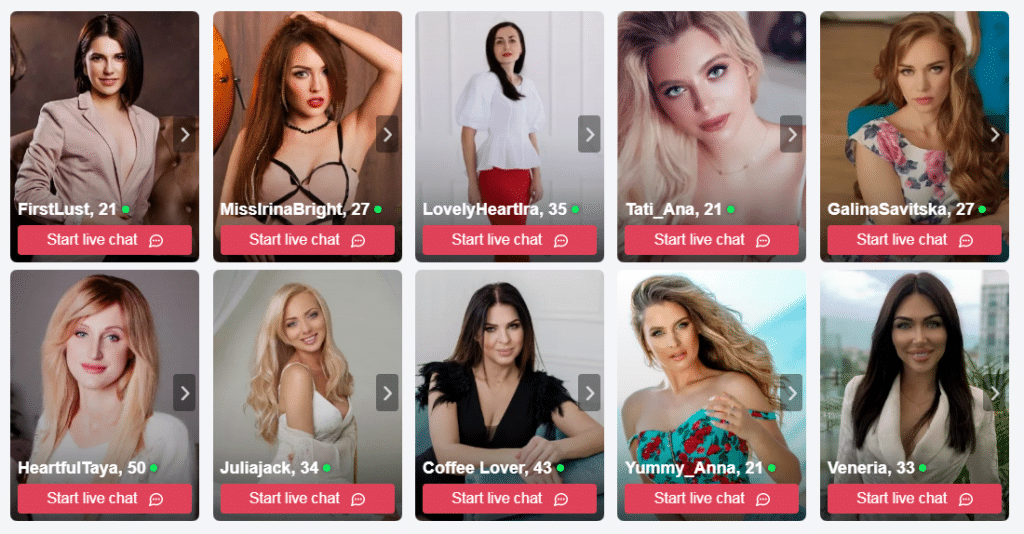 Find-Bride is one of these dating sites providing a popular online matchmaking service for single, desperate men worldwide. Here you can discover and meet hundreds of breathtakingly beautiful women looking for a "perfect" husband. Find-Bride's girls are pretty serious and interested in finding someone they can love and respect. There's literally no room for playdates or no-string attached relationships.
PROS:
View profiles without registration
Amazing navigation
No ads
Thousand women
Plenty of communication features
CONS:
Some women have children
Limited to East European girls
Not all profiles are detailed
---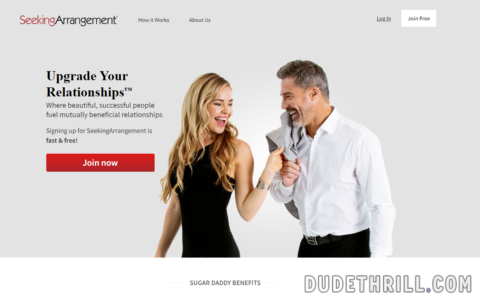 A niche dating platform that attracts daily visitors is Seeking Arrangement. Since this is not a regular matching website, its design could throw off several individuals who occasionally come on this. Nevertheless, it does a brilliant job of providing a secure atmosphere for the type of partnership and interaction it promotes. Moreover, it is intriguing to discern that it has a fair number of people internationally for a platform that contains a relatively fundamental concept.
Seeking Arrangement is a place for youngsters to engage sugar mommies and daddies who could deliver monetary support and encouragement for them. Sugar babies must provide love, sex, affection, and lengthy connections in exchange. Seeking Arrangement redefines an ideal relationship as it undermines the conventional means of internet wooing. The site delivers an oasis where you can incorporate enjoyment with a company.
Click for a full review of Seeking.com.
PROS:
The verification process is strict
Within just five days, the site guarantees users can find ideal arrangements
It has over ten million members actively seeking and involved worldwide
The majority of members are from the United States
The registration process is easy and swift to finish
Free sending of messages to other verified members only
CONS:
Few fake sugar baby accounts
Requires permission to view a private gallery of other members
---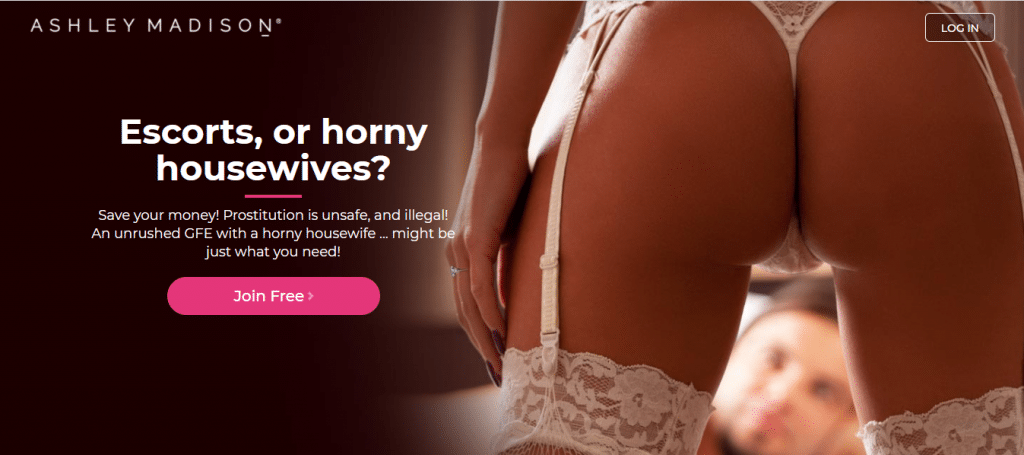 Top-notch website in terms of hookups and adult dating, Ashley Madison has been around since 2001. If you are in a monotonous relationship or want to get out of the routine of married life, then this website is just right for you. Indeed, all types of sexual affairs are welcome here, and no one will judge you. Also, the members can engage with many members across the world and enjoy sexual entertainment.
Above all, Ashley Madison listens to its members' feedback and the changing demands of people's lifestyles to improve their features. Everyone is free to explore all types of relationships, including polygamy, threesomes, and many others. Thus, Ashley Madison remains on top of the game despite the competitive industry of online dating.
Check out the full review of Ashley Madison.
PROS:
Encourages the members to upload discreet photos
The site offers free registration and follows a simple process
Protection of images and sensitive data from spams
You can download this through Google Play and App Store
Low storage requires and will not occupy too much phone storage
Members are enormous and from across the world
CONS:
Several accounts do not provide details about themselves
---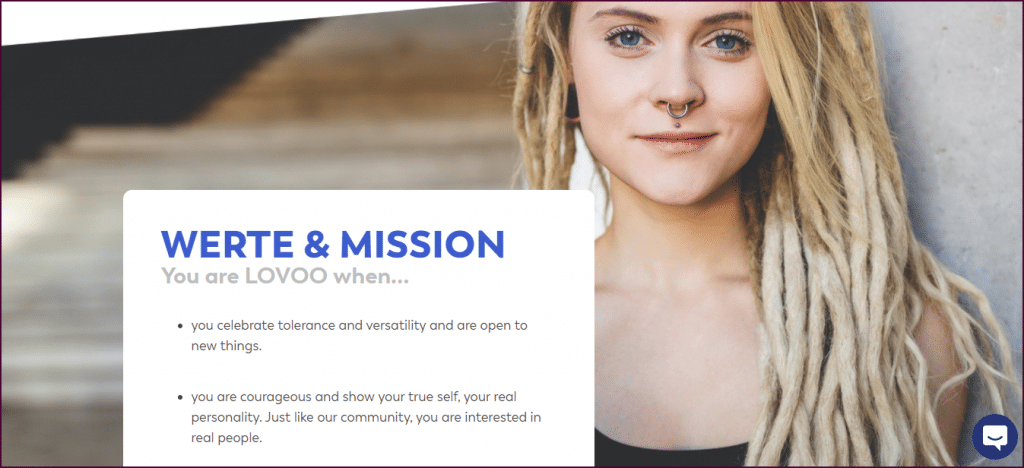 It's no surprise that Lovoo is one of the world's largest, most rapidly expanding, and widely-used dating sites today. There are plenty of singles to pick from its unique 70M+ subscribers. But the site's success is not just about the size of its members; it's also attributed to its focus on improving and continuous development of its IOS and Android-compatible apps. At this point, the number of people finding love on this matchmaking app has risen to almost 4K+ monthly.
Take a look at the full review of Lovoo.
PROS:
Open to all types of relationships —hookup, long-term, dating, casual, friendship, affair, flirt
Free registration
No reported fake accounts
High rate matches
Can register using Facebook
Roulette matching system
Verified members have badges
Affordable premium membership
CONS:
Some profiles have few details
Basic search engine
---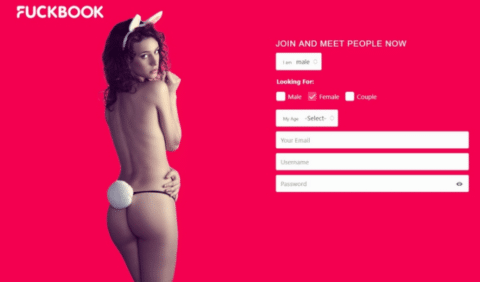 A perfect website for casual relationships and sex hookups is called FuckBook. Here, you are given opportunities to find swinger encounters, sex dates, and many more. This is convenient for people seeking a no-strings-attached relationship as quickly as possible. From the name of this site itself, you know exactly what you are getting into once you scroll through the platform. The interface and features of the FuckBook are straightforward and convenient compared to other swinger dating sites on the internet.
Take a look at the FuckBook review.
PROS:
Profiles created are numerous
The website has a design that is easy to navigate and use
Signing up is fast and instant
Membership is affordable but with lots of advantages
CONS:
There are annoying advertisements on the site
---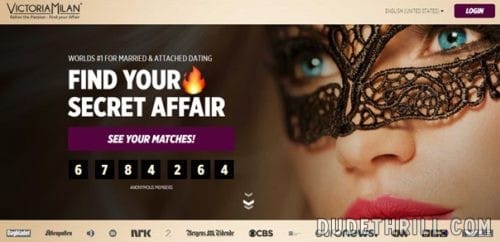 Victoria Milan is one of the favorite dating websites worldwide for cheating couples and committed relationships. Indeed, the website provides a secured and private venue where you can experience sexual connections.
So, if you are lonely or in a monotonous relationship, the website delivers a fantastic escape from this misery. Indeed, it transforms lousy sex life into a more fun and exciting journey. Above all, you do not have to worry about getting caught because the website has a "Panic Button." So, you can exit the page without getting caught.
Here's a full Victoria Milan review.
PROS:
More than six million members across the world
Registration is hassle-free and simple
Design of the site maintains simple and easy to navigate
Features like winks and adding to favorites are free to use
Callout boxes use to address problems, issues, and concerns regarding the site
The app version is available for download on Google Play Store and App Store
CONS:
Video calling is not available
Only the paid members send and view messages
---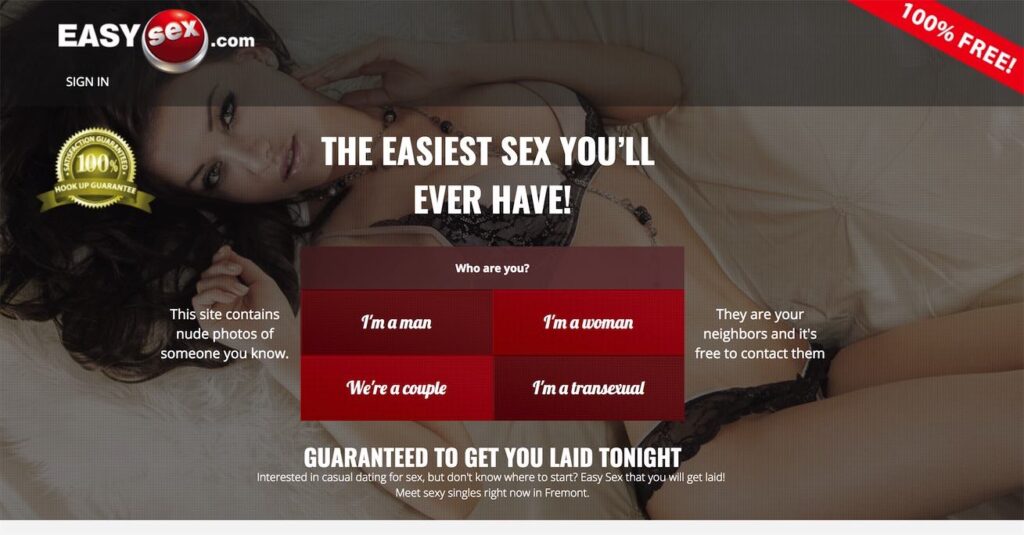 Quick sex and satisfaction of sexual urges are what people are seeking out right now; hence, some sites offer such convenience to people's lives. That includes Easysex.com, wherein adults gather together from all over the world to find their perfect match. In here, casual hookups and no-string-attached relationships are highly encouraged, and members do not judge or discriminate against others. Everyone is welcome to use this site no matter your sexual or gender orientation.
Check out the full review of Easysex.com.
PROS:
Registration is free
Users of this site can add photos pr videos of themselves to boost their profiles
Women are free to use the website and its features
There are available sex toys you can buy
It caters to multiple types of relationships and hookup arrangements
CONS:
A paid subscription is required to access its features fully
---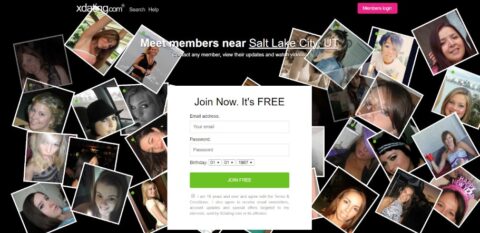 Xdating is a dating site that offers casual, fun times with like-minded people. This site brings everyone interested in one-night-stand encounters and arranges meetups instantly. It employs a matching system that brings along members that appears to be compatible and matches them to make initial connections. If suggested matches get along, then the site's communication features will assist in navigating deeper relationships. Indeed, hookups on this site are extremely easy to achieve. Within just a few moments, you are already talking to a random person that will later turn into a steamy conversation.
Click to see the full Xdating review.
PROS:
Photos categorized to make matching more accurate and precise
The features of the site are almost alike as Tinder app
Maps serve as easy access to locate attractive members
Live cam sex is available
Premium members get special attention and recognition within the site
CONS:
Computer-generated profiles reported as one of its issues
Limited searching capacity
---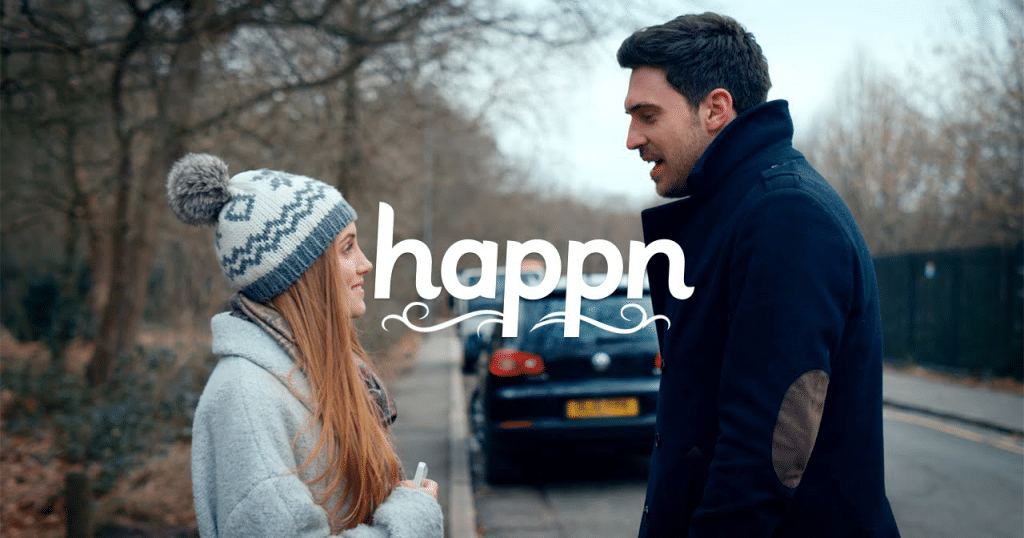 What truly sets Happn apart from its competitors is how they bring a unique way of matching and connecting users within ideal proximity. Unlike other sites that randomly match you with users of similar interest, Happn considers locations along with interest, preferences, and tastes. So instead of wasting hundreds of matches in a day just because they are far away from you, Happn has an intelligent way to make sure you can handpick all possible matches regularly.
Learn more about Happn with this full review.
PROS:
Easy matching and meetings singles
Effective matching features
Signing up is straightforward and fast
The verification process enhances security
CONS:
Cannot send a message without getting "like" back
Chances of finding matches outside your location
---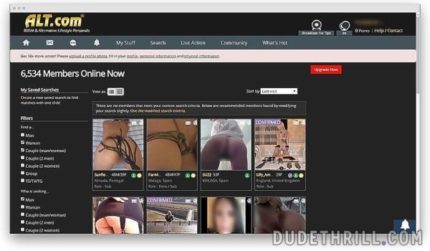 ALT.com is a platform for individuals involved in unconventional types of intimate relationships and intimacy. This site provides options that you can definitely not discover on the most popular platform on the internet today, with anything from unusual fetishes to unconventional dreams. Experience the erotic joy of unconventional sex, providing raunchy bondage sex, BDSM, adventurous sex, romantic lovers, deepest desires, swingers, sex dating, and many more.
Check out the full review of ALT.com.
PROS:
Active members are seeking casual encounters
The user base is large
Free membership to the site is available
CONS:
Interface and design is quite confusing
Limited features for free accounts
---
Bottomline
Without a single ounce of doubt, WeAreHER is among the best LGBTQ+ dating/hookup app in the adult entertainment industry. Apart from being free, the features it boasts really speed up the hookup journey and increase the efficiency of its services. For many LGBTQ+ communities, apps can be pretty intimidating, considering that some hookups are designed to help straight users find their match.
Lucky for us, we have HER app now. Finally, we can easily find and match other members whenever we need dates, hookups, or casual flirting. Sure, the app still has some things to improve, like creating a website version, but overall the features and tools of HER really deliver a great deal of convenience.
All 75 Other Sites in This Category Worth Checking Out:
Top-5 Dating & Casual Hookup Sites That Actually Work in 2023 Perfect for ~20-55 year olds, with & without spouses! These are not some "fake" ones pretending to have girls, they are real, worldwide largest networks. Jump to Top-5 Dating & Hookup Sites Hey, I know that jerking off is quite exciting and cool. But… nothing […]