Updated on: December 10th, 2023
Your Travel Mates Review
& Top-12 Dating and Hookup Sites Like yourtravelmates.com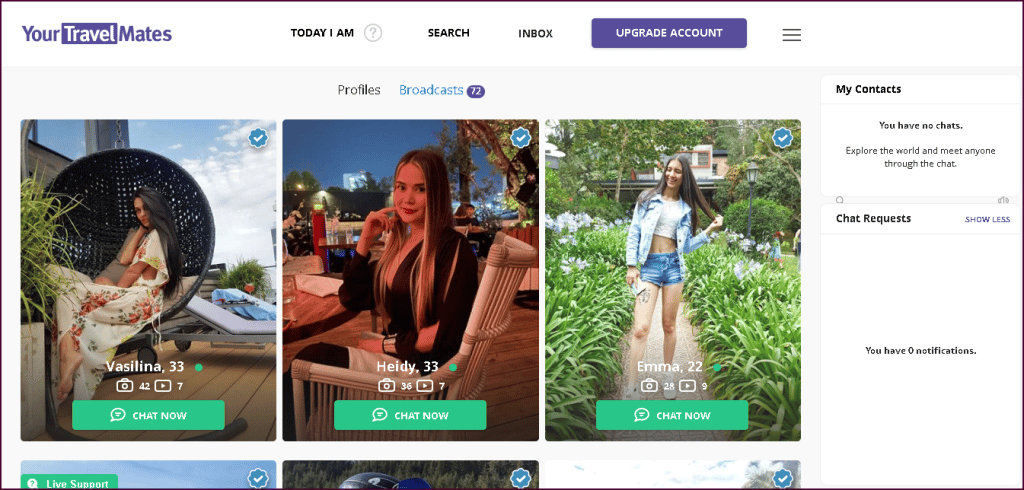 Hundreds of travel-related dating and companion-finding services exist nowadays. A few websites focus on a specific niche, while others cater to a much wider audience. Among these specialized choices is YourTravelMates. It was in 2016 when LOS Networks, sensing an opportunity, launched YourTravelMates, a matchmaking platform specifically geared at people looking for romantic partners while traveling. Unfortunately, the website has not yet become well-known compared to other similar sites on Dudethrill's list. To solve this mystery, I'll try to explore the site today. In this YourTravelMates article, we'll take a good hard look at the site's premium pricing, the services it offers, and the less-than-savory elements of the website that could be to blame for its poor user retention rate.
Official URL: https://www.yourtravelmates.com
Your Travel Mates: Good Source of Travel Date!
Various dating services claiming to unite people who share a passion for exploration are unsuitable investments in your cash and effort. I can say the same with YourTravelMates; however, this one has much to boast about. Compared to other dating services Though many of YourTravelMates' services are chat-centric, they offer travelers a solid array of options.
Let me just warn you that this site has an absurdly high price for credits, and the pool of available individuals is artificially inflated using their so-called "partnered accounts." Credits for the month rarely last longer than expected, so once you finally meet someone intriguing and genuine, better invest in planning how to contact them without using up all your allowances.
Partnered Accounts and Members' Quality
Needless to say, the number of potential suitors you'll find on YourTravelMates will rock your world. Numerous good-looking people have single and authenticated profiles. All of this feels too perfect to be a real deal. To be fair, you're right.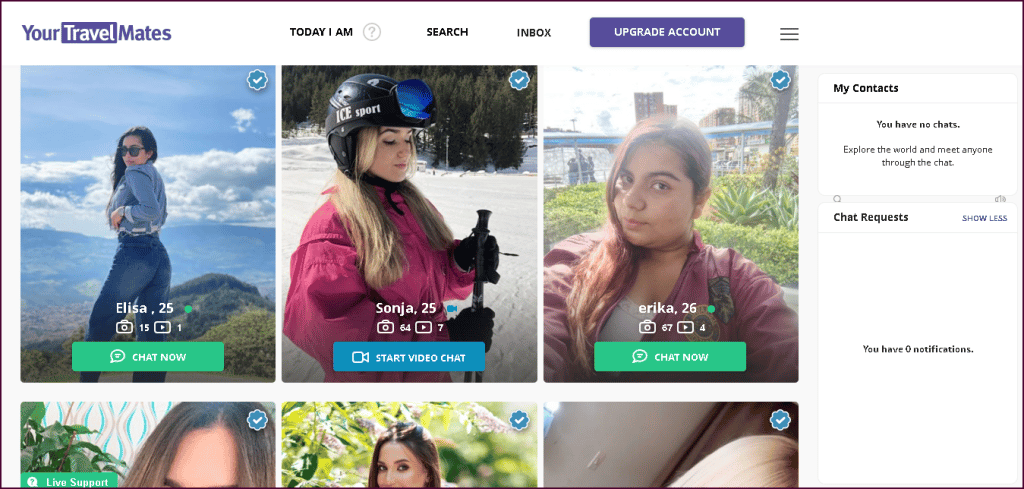 Try checking some of these accounts more thoroughly, and you'll find a warning like, "this account was selected via trusted affiliates and therefore doesn't pay for using the site's useful features and services." Basically, these accounts are just seductive traps to get you to sign up for a premium subscription. Without these public profiles, there aren't many people to choose from; thus, the dating scene is limited and shallow.
Regardless of this deal-breaking truth, the cultural backgrounds of the people that sign up for YourTravelMates range widely. One of the platform's defining features is its incredible diversity, which is anticipated from a matchmaking platform centered on exciting adventures and travels. There are people from across the world and all kinds of nationalities. Approximately 80K+ people are using the service and the so-called partnered accounts. Sixty percent of this membership pool are men, whereas just forty percent are women.
The platform's teen and younger members are relatively low, although a fair proportion of older folks are among them. Undeniably, some users are open to dating people of similar sexual orientation though you must remember that most users are heterosexual men and women.
How Does YourTravelMates Work?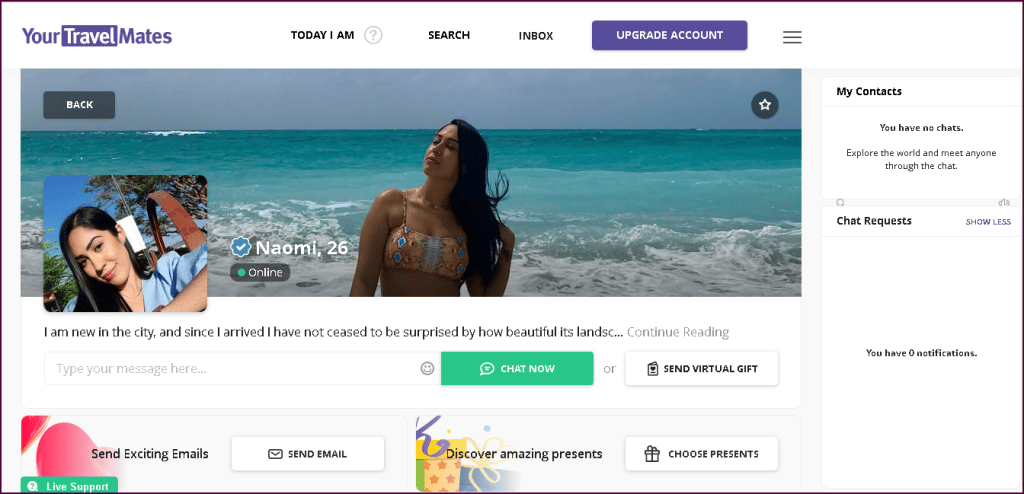 Since its inception in 1993, YourTravelMates has been a backbone of a global online dating community. The "TodayIAm" section of YourTravelMates allows members to modify their relationship expectations anytime. If you're feeling a bit naughty today, change the status to hookups, and you're all set to meet casual affairs. Great, right? This means that YourTravelMates helps discover everything from long-term partners to casual flings.
YourTravelMates provides several channels of communication amongst its members. Using the regular messaging system or live chat feature, you may communicate with your loved ones without cost. If you want to see a response, though, you'll need to buy some credits. Each user can stream their live webcam to all other users in the network. For your part, you are free to tune in to any ongoing show.
Sending a member a little virtual present is a great strategy to stay in contact. Digital presents are available for a few credits, while more expensive items can be shipped in the real world. The website will handle both the shopping and shipping of the presents. As a whole, the platform's communication tools are helpful for those who wish to interact with other users effectively.
Join the Community & Be Stunned!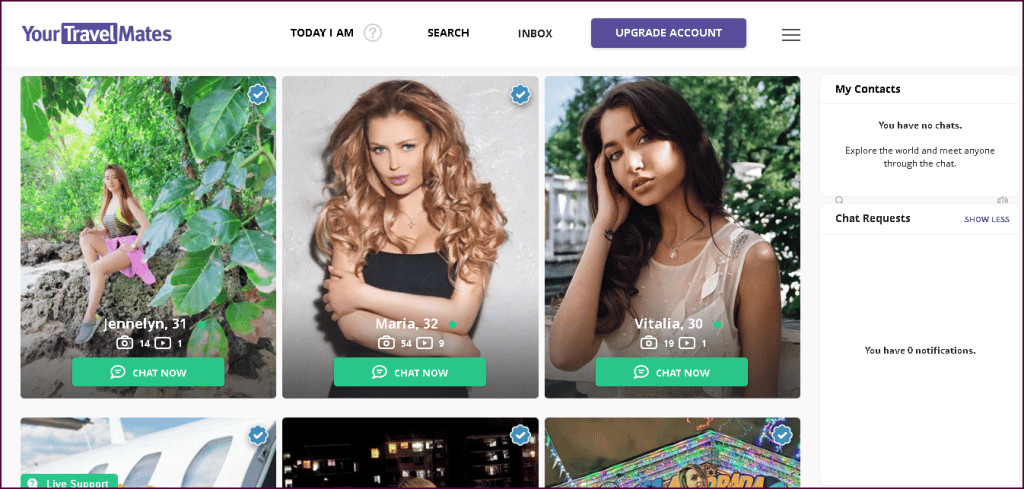 Several people enjoy a pleasing experience on YourTravelMates, but joining the site requires great courage and persistence. You can see if it's worthwhile for your needs by signing up for a free account and testing it out. If you already have an existing Google account, you may register and have YourTravelMates extract your data directly through Google. Alternatively, you can enter your information by hand. Still, it won't be difficult because you need to provide your email id, username or alias, sexual identity, birth date, and city where you live.
These additional questions are part of the registration phase; however, they can be completed later if necessary. Your hobbies, a picture, a paragraph describing the kind of person you're looking for, and a brief description of your character and interests. The registration procedure is straightforward and quick to complete. Though many fields during registration can be left blank, a reasonably comprehensive account will still be created.
YourTravelMates profiles consist of several different categories, including basic information, a description of your dream date, a chat window, favorites, photos, and the "gifts" section. A thorough and up-to-date account will help you get more out of the service because it will provide more accurate recommendations.
Staying Active and Connected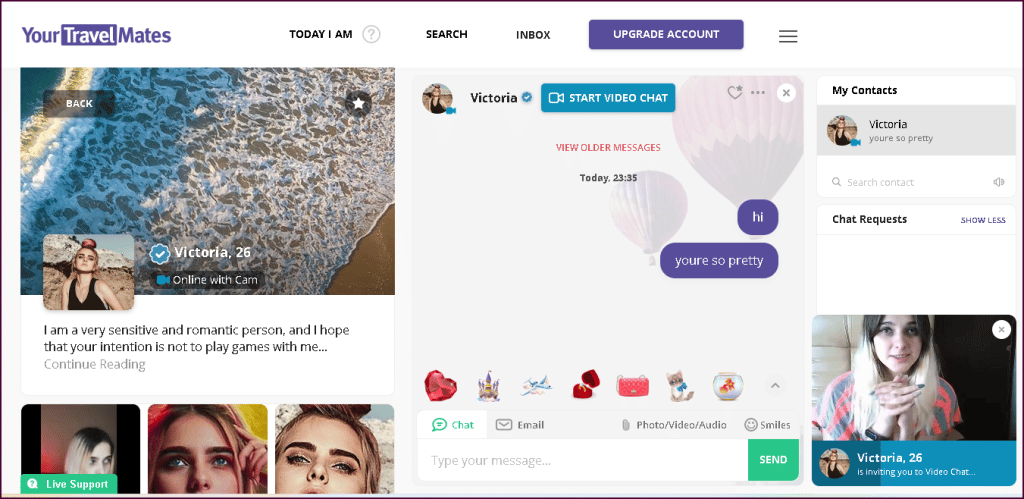 An option to cut down on texting costs is to join a "let's mingle" service. Using this function, you may compose a single email that will be sent to numerous suitable folks who fit your specified age range. Although it costs more than 20 credits to deliver a "let's mingle," doing so is still more cost-effective than emailing 12 separate prospects.
Live Chat is just like the messenger platform found on similar applications or websites. It's a one-on-one chat tool that allows you and your potential partner to exchange messages in secret. YourTravelMates live chat is time-based and costs one credit every min. Due to this, engaging in profound discourse in the real-time chitchat space might be pricey and challenging.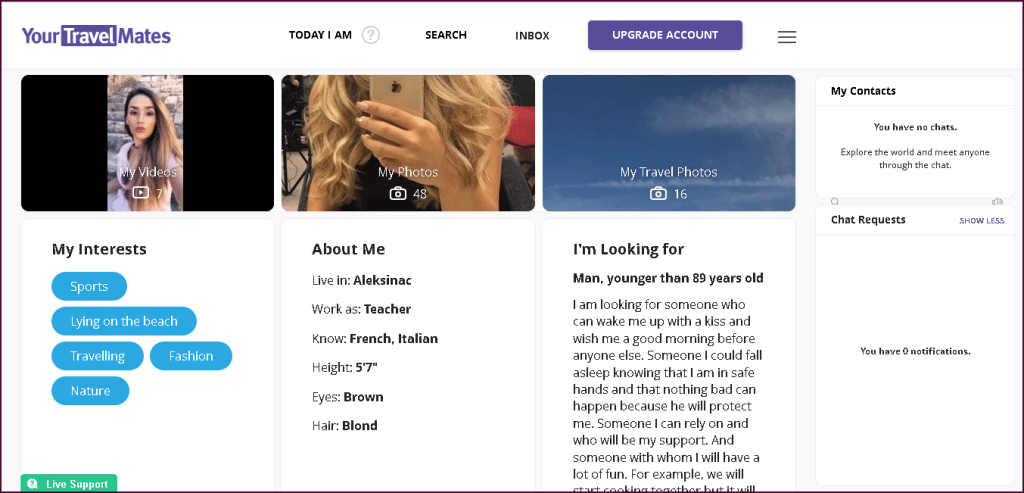 You may make face-to-face interactions with other users in the live chat area. Since there is a required duration and fee associated with these chats, it is recommended that you spend no less than 10 to 15 minutes to avoid wasting your precious credits.
Video calls and broadcasting
Live video shared in real-time, often known as a broadcast, can be viewed or streamed live by anybody with an internet service. To watch a person's live broadcast or participate in the related chat requires the purchase of credits.
If you want to spend hours and craft a thoughtful letter, email is the perfect medium. Your first email and partner's reply will be sent immediately to your inbox. However, the expense of sending or receiving emails is a whopping ten credits.
The YourTravelMates Mobile Application – Is It Worth Trying?
Compared to the computer application, the application doesn't provide much change, but it's significantly more convenient for constantly moving travelers. The functions available in the application and the computer version are the same. The only real distinction is the application's portability; you can access it anywhere from your personal computer. Unfortunately, at this time, the application is exclusively compatible with Android devices. To sum up, the application is an excellent asset to YourTravelMates' collection of valuable tools.
Site Legitimacy and Customer Support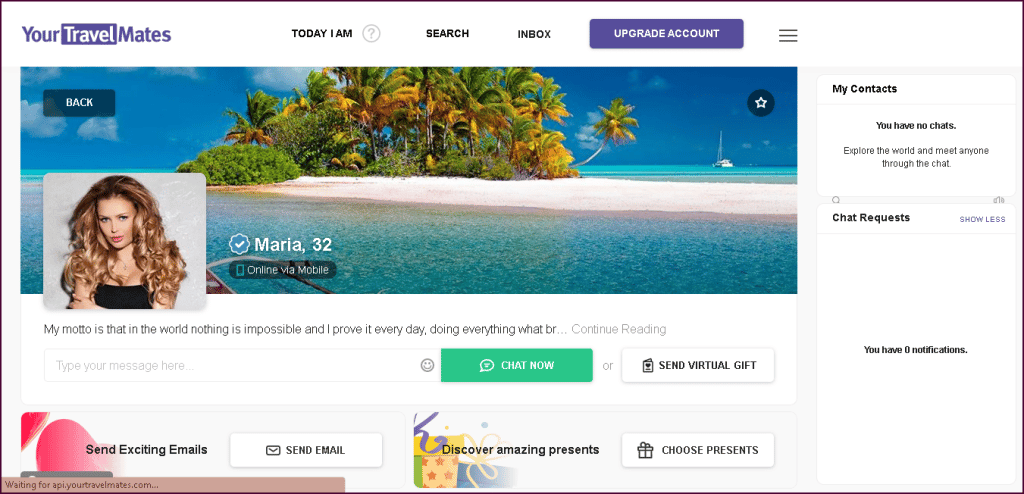 I absolutely don't think YourTravelMates is a fraud. Several of these profiles are entirely legitimate, and those involved in a partnership will disclose that information under the profile disclaimer. Although we disapprove of the practice of using partnered profiles to make YourTravelMates appear more credible than it actually is, the website itself is not fraudulent.
Meanwhile, YourTravelMates' subpar customer assistance is a significant drawback. I found the interactive chat with customer support representatives helpful while reviewing YourTravelMates. Unfortunately, the website's live chat function is not working correctly. I tried contacting them via WhatsApp and yet never heard anything back. While the "Frequently Asked Questions" section is helpful, I recommend that YourTravelMates should improve the quality of its live chat assistance instead.
Credit Cost of YourTravelMates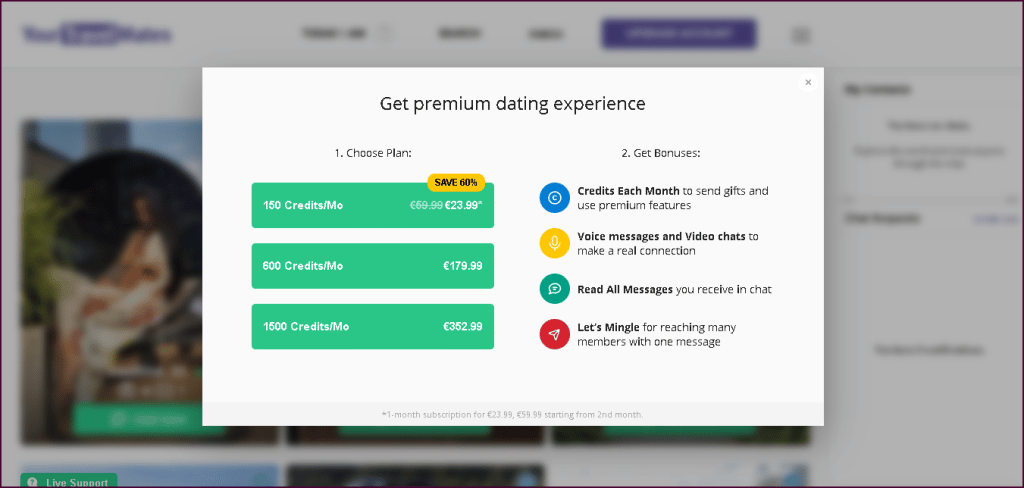 YourTravelMates has average credit prices compared to other dating apps or websites. It offers free features like messaging, viewing other users' accounts, and stream broadcasts. For paid services, the site offers many more options, like viewing message responses, sending online gifts and real gifts, and accessing the advanced search feature. Here's a summary of credit prices currently available at YourTravelMates:
150 Credits – €23.99 (Valid for 1 Month)
600 Credits – €179.99 (Valid for 1 Month)
1500 Credits – €352.99 (Valid for 1 Month)
Pros and Cons of yourtravelmates.com
PROS:
Readily available singles from every corner of the globe
Can buy actual presents for other members using credits
It doesn't cost anything to send your first message
CONS:
Costs associated with using credit can add up quickly
Numerous blatantly phony accounts exist
Not best for locating committed relationships
---
Top-12 Dating and Hookup Sites Similar to YourTravelMates.com: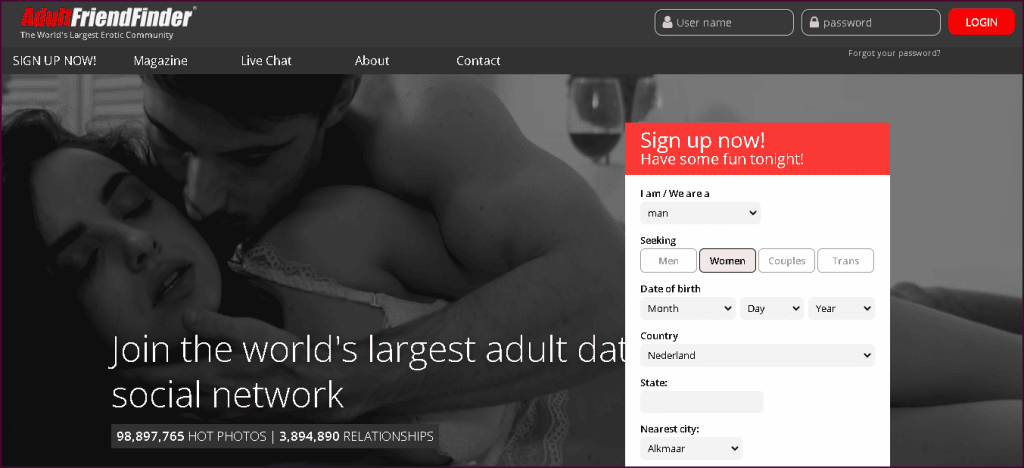 The Adult Friend Finder website is famous all over the world. It has more than eighty million members desiring erotic interactions with multiple women. Similarly, it provides numerous flirtatious relationships, such as casual connections, monogamy, couples, fuck buddies, and many more.
Indeed, this is an excellent experience that spices things up in the bedroom, especially between open-minded people willing to examine their sexual orientation. Finally, registration is relatively stress-free and straightforward, so members finish it in less than five minutes.
Here's the full review of AdultFriendFinder.
PROS:
Registration is free and fast
The members of the website are active in looking for casual hookups
Plenty of options in terms of communication
Watching videos and viewing images are free
You can write blogs and engage in a group conversation
The app is available for download and compatible with both iOS and Android devices
CONS:
The number of male participants is larger
Limited options for free basic accounts
---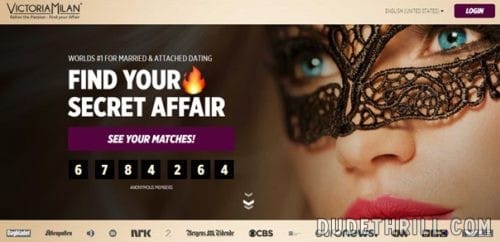 Victoria Milan is one of the favorite dating websites worldwide for cheating couples and committed relationships. Indeed, the website provides a secured and private venue where you can experience sexual connections.
So, if you are lonely or in a monotonous relationship, the website delivers a fantastic escape from this misery. Indeed, it transforms lousy sex life into a more fun and exciting journey. Above all, you do not have to worry about getting caught because the website has a "Panic Button." So, you can exit the page without getting caught.
Click here for a full review of Victoria Milan.
PROS:
More than six million members across the world
Registration is hassle-free and simple
The design of the site is simple and easy to navigate
Features like winks and adding to favorites are free to use
Callout boxes use to address problems, issues, and concerns regarding the site
The app version is available for download on Google Play Store and App Store
CONS:
Video calling is not available
Only the paid members send and view messages
---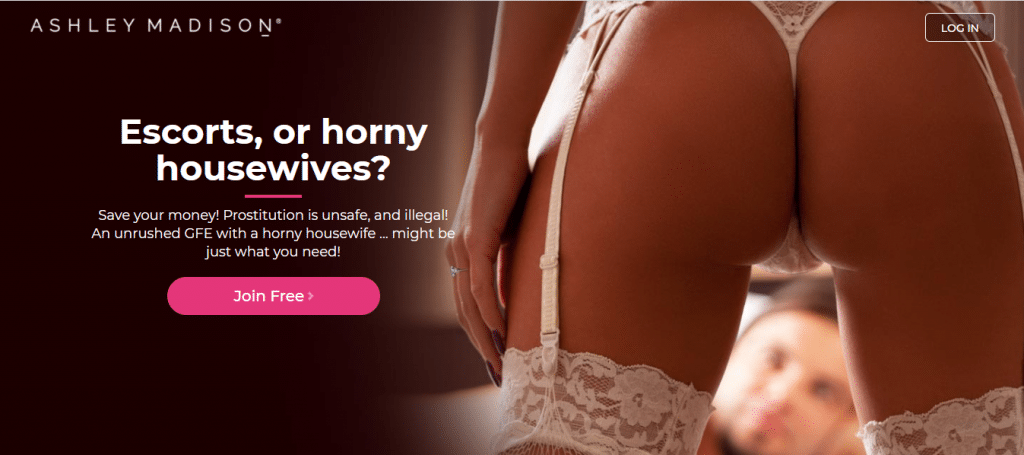 Top-notch website in terms of hookups and adult dating, Ashley Madison has been around since 2001. If you are in a monotonous relationship or want to get out of the routine of married life, then this website is just right for you. Indeed, all types of sexual affairs are welcome here, and no one will judge you. Also, the members can engage with many members across the world and enjoy sexual entertainment.
Above all, Ashley Madison listens to its members' feedback and the changing demands of people's lifestyles to improve their features. Everyone is free to explore all types of relationships, including polygamy, threesomes, and many others. Thus, Ashley Madison remains on top of the game despite the competitive industry of online dating.
PROS:
Encourages the members to upload discreet photos
The site offers free registration and follows a simple process
Protection of images and sensitive data from spams
You can download this through Google Play and App Store
Low storage requires and will not occupy too much phone storage
Members are enormous and from across the world
CONS:
Several accounts do not provide details about themselves
---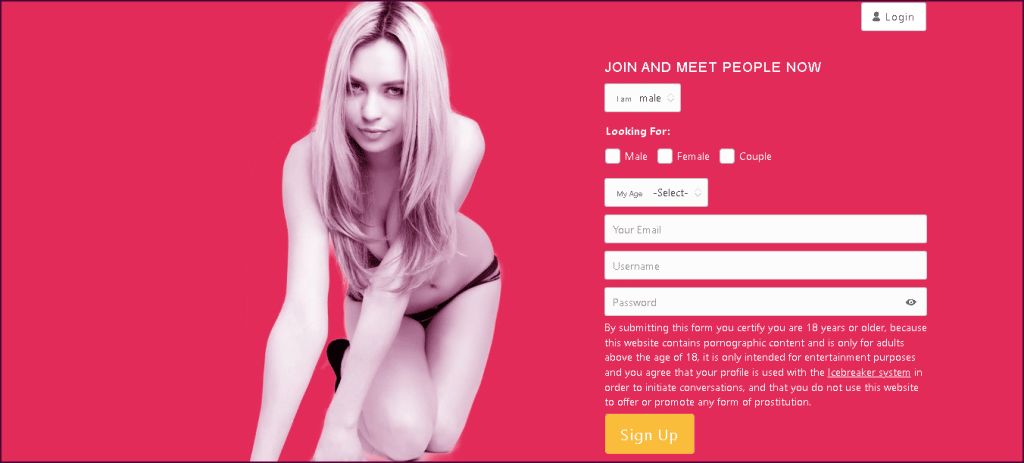 A perfect website for casual relationships and sex hookups is called FuckBook. Here, you are given opportunities to find swinger encounters, sex dates, and many more. This is convenient for people seeking a no-strings-attached relationship as quickly as possible. From the name of this site itself, you know exactly what you are getting into once you scroll through the platform. The interface and features of the FuckBook are straightforward and convenient compared to other swinger dating sites on the internet.
Click to see the full review of FuckBook.
PROS:
Profiles created are numerous
The website has a design that is easy to navigate and use
Signing up is fast and instant
Membership is affordable but with lots of advantages
CONS:
There are annoying advertisements on the site
---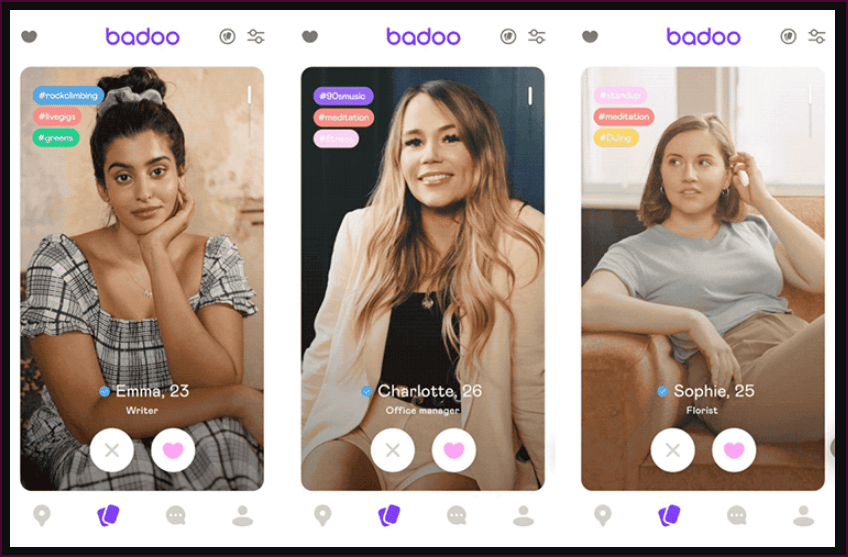 An app named Badoo is ruling the world and is considered supreme in Europe, South America, and Southeast Asia. Badoo has snowballed since its inception in 2006 with a mission to make it as seamless as possible for the user to discover each other. The free and premium dating services of this app target a younger crowd looking for new acquaintances, romantic connections, or just a little bit of fun. It is a terrific option for those who enjoy low-key dating, one-night-stands, hookup, and matchmaking services but have grown tired of Tinder.
Check out the full review of Badoo.
PROS:
App is available for Android and iOs users
Free to send messages
Half billion users
New members adding every day
Lots of amazing and unique features
CONS:
Some features are only accessible by premium users
Site version is outdated
---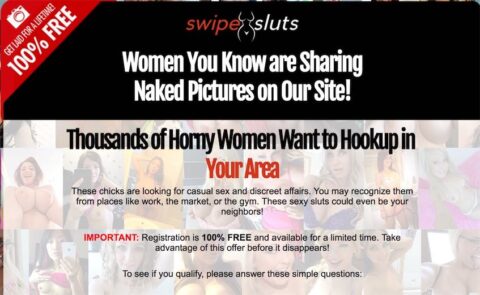 SwipeSluts is the best platform to run into when you are eager to fund those horny women who could fulfill your sexual cravings without having to deal with lengthy chaotic relationships. The site has thousands of seductive ladies to choose from and I'm sure you can find your perfect match easily and quickly. Above all, none of these women will refuse because they are all in this site to find discreet affairs as well.
PROS:
Automatically readjust user's personal details
Users will get notified when a fellow user viewed your profile
You can filter searching options according to age, or location
The deep search feature is available
CONS:
Limited amount of members
---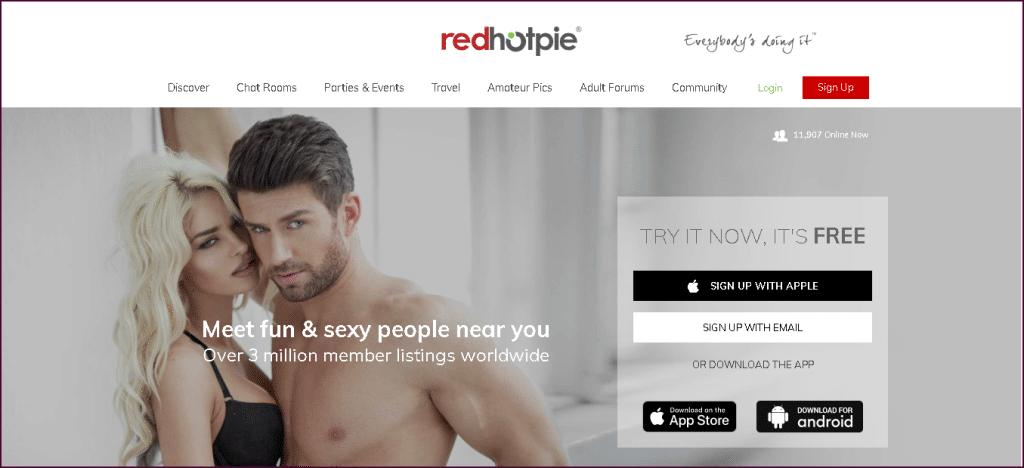 If you think RedHotPie is just a simple hookup site, well, you're wrong! The site is unbelievably more than I expected because its features webcam chats and text-based connections. It is an excellent option for both singles interested in traditional dating, swinger partnerships, and those hunting for hookups.
Over 3 million people have registered to use RedHotPie, making it one of the most popular hookup websites and apps. It has the power to open the minds of men and women alike, and this could show that males are generally open-minded.
Here's a full RedHotPie review.
PROS:
Unique features
Lots of members
Many communication means
Perfect for all types of relationships
Open to all sexuality
It has forums, blogs, stories, and parties available
Verified users
CONS:
Requires registration
Some features need payment
---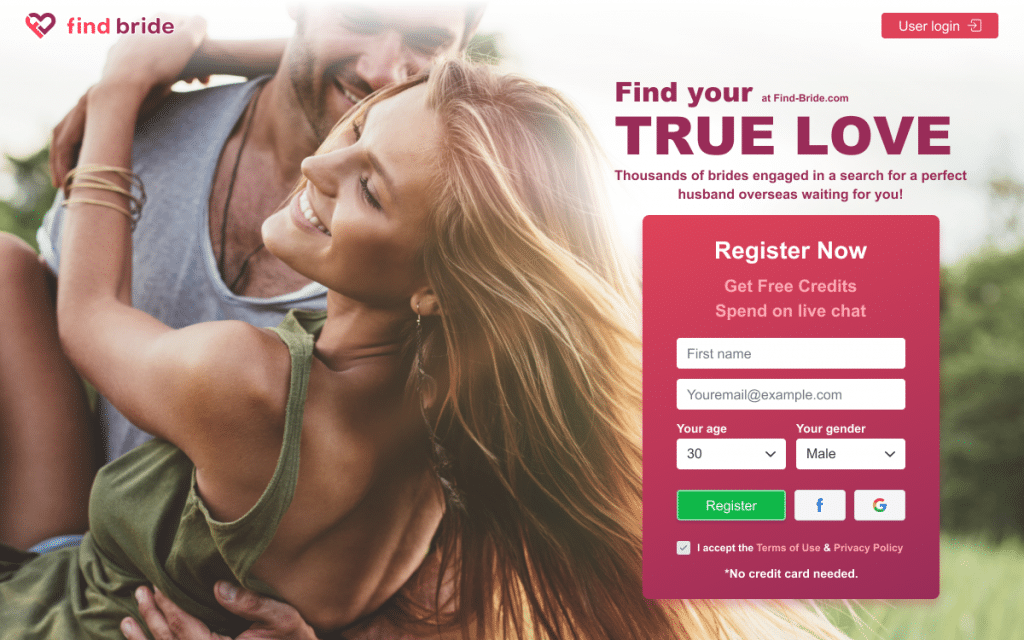 Find-Bride is one of these dating sites providing a popular online matchmaking service for single, desperate men worldwide. Here you can discover and meet hundreds of breathtakingly beautiful women looking for a "perfect" husband. Find-Bride's girls are pretty serious and interested in finding someone they can love and respect. There's literally no room for playdates or no-string attached relationships.
Read the Find-Bride full review.
PROS:
View profiles without registration
Amazing navigation
No ads
Thousand women
Plenty of communication features
CONS:
Some women have children
Limited to East European girls
Not all profiles are detailed
---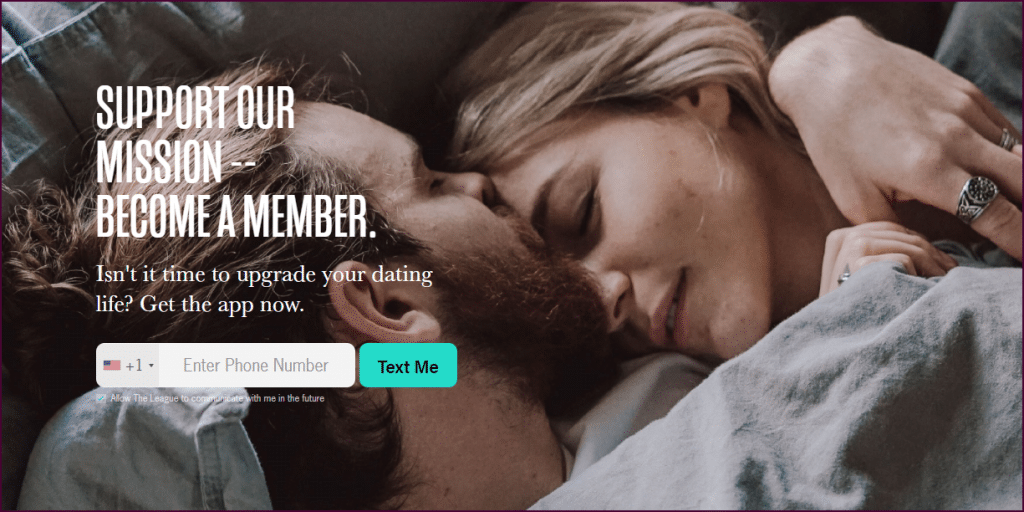 TheLeague is an elite and legitimate matchmaking service that promotes career-minded, hardworking, and enthusiastic adult professionals to discover their dream partner. So, those who put a great value on intellectual prowess and aspirations were this service's primary target audience. By the nature of this site, it's not surprising that some people may be put off by the site's "exclusivity," especially those hoping for a husband or wife in a matter of days.
Check out the full review of The League.
PROS:
Reliable members
Easily link relevant websites and other social media accounts
Robust verification process
It has incredible features and design
Cam2cam chatting
CONS:
Only a few LGBTQ+ members
Long waiting list
Some users are not on LinkedIn
---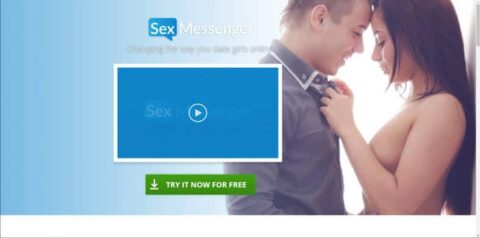 For lonely single males and females across the globe, the Sex Messenger sex dating website has quite a ton to give. Honestly, this website helps you watch several of the website's finest live streaming cams you will ever imagine.
Despite your interests, sexual orientation, or fetishes, there is a good amount of people you can choose from. In your location precisely, a high chance of meeting thousands of new participants and old members is very likely. Currently, people can register for a basic version. But, switching to a paid subscription offers all kinds of fantastic bonus features.
PROS:
Advanced search is amazing
Live cams are hot and always available
You will not encounter fake accounts
Bonus features are available for premium members
Design is clean and relatively simple
Many members from all over the world
CONS:
Many of its features are only available for paid members
---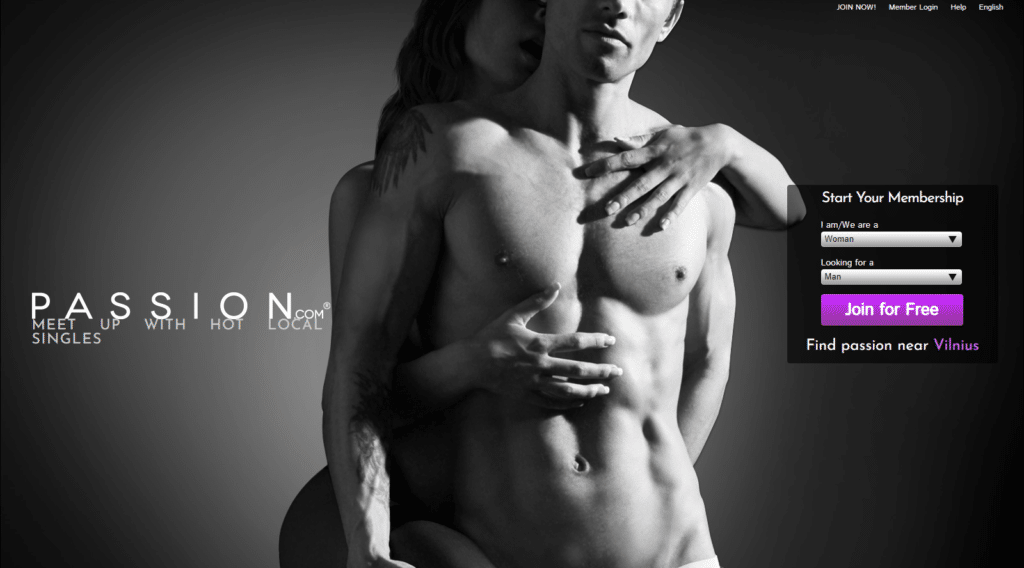 Dwelling between a regular dating website and an adult website, Passion.com pushes people to engage in complete intimate physical connections. Also have made a reputation in the field of personal, singles, and adult dating websites around the world. Since the year the 1990s, it has been growing and taking the internet by storm.
Lustful, playful, and passionate, these are the images and videos that will welcome you when you visit Passion. True to its name, the site will give you the sensual sexual adventure you have been looking for. The site has been growing day by day and has retained a high percentage of active users.
Indeed, the community has increased and currently reaching 90 million members worldwide. Certainly, that number might be overwhelming to imagine. However, it is surprising to learn that there are plenty of active members constantly seeking casual and intimate connections.
Learn more about Passion.com with this full review.
PROS:
Largest personal dating website with over 90 million members worldwide
Free access to instant messenger and chat rooms even for basic accounts
Live Chat and Customer support are available 24/7
Verification of profiles is accurate through the utilization of the ConfirmID feature
Confirmed fake and phony accounts are permanently banned
Viewing of sensual, seductive, and exciting images is available for everyone
The registration process takes only roughly two to three minutes
Sending of virtual gifts is available
Kink searching is available to filter specific interests
Reporting of fake accounts are highly encouraged to suspend permanently
All the members are actively involved and responsive
There is diversity in the gender within the community
CONS:
Male members of this site are higher in quantity compared to the female
The mobile application is not yet available
---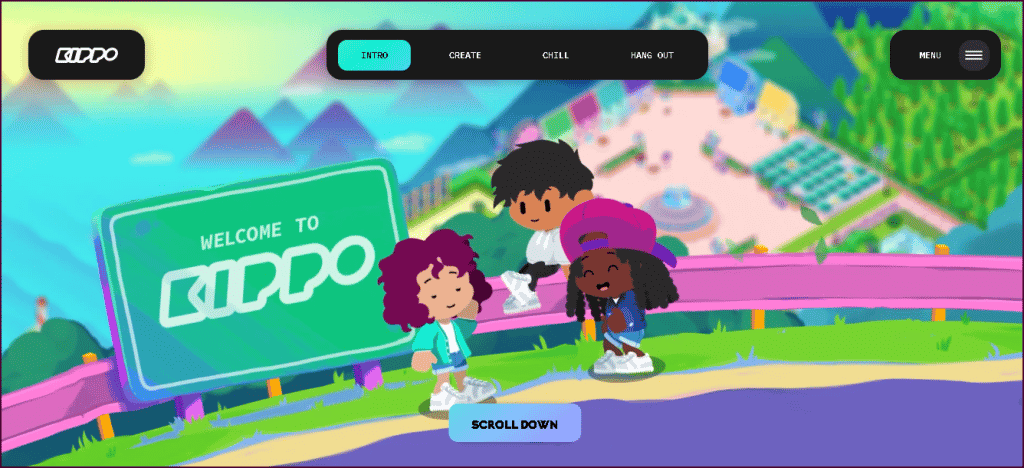 Kippo is a matchmaking and dating service for smartphone devices that allows you to meet new friends who share your desire for a particular community. Sure, the app might be intimidating for gaming enthusiasts, but if you're serious about gaming but also looking for a love companion, Kippo is absolutely a fantastic choice. No questions asked! Good thing I stumbled upon this app; otherwise, I won't be having the best time of my life.
Check out the full review of Kippo.
PROS:
Sophisticated and visually appealing design
Profiles are detailed and showcase your true geeky side
Paid subscriptions are affordable
Focus on socializing and gaming
Convenient and simple
CONS:
Only audio communication is available
No website
Only available as an app
---
Conclusion
Finding a passionate traveling date is easy with YourTravelMates by your side. It's developed with functionalities and tools that facilitate meeting other singles and striking romantic relationships. Plus, YourTravelMates provides a secure environment where travelers may find their perfect traveling companion. Overall, the website is user-friendly and contains a varied and exciting user base, making it a worthwhile asset in dating and hooking up. Perhaps, the only best way to see if YourTravelMates is suitable for your needs is to register for a free account today!
All 75 Other Sites in This Category Worth Checking Out:
Top-5 Dating & Casual Hookup Sites That Actually Work in 2023 Perfect for ~20-55 year olds, with & without spouses! These are not some "fake" ones pretending to have girls, they are real, worldwide largest networks. Jump to Top-5 Dating & Hookup Sites Hey, I know that jerking off is quite exciting and cool. But… nothing […]