Updated on: December 4th, 2023
3Fun Review
& 12 Best Hookup and Dating Sites Like Go3Fun.co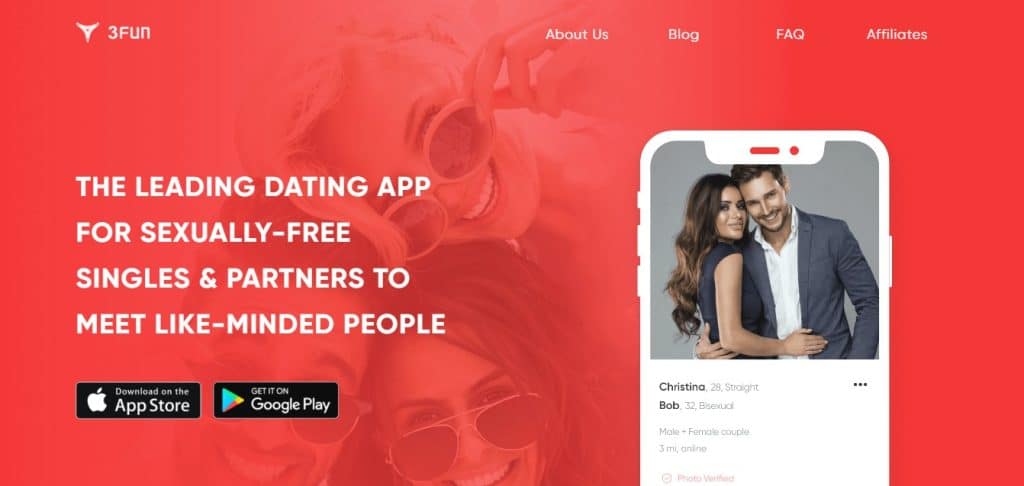 Are you ready to dive into the wild world of dating apps, where swipes lead to sparks and messages fuel the flames of desire? Well, let me introduce you to Go3Fun, the self-proclaimed maestro of dating apps for the sexually adventurous. Basically, it's an app tailored for adults on the hunt for a third-wheel adventure. Now, don't get me wrong, the concept had my curiosity piqued from the get-go. But let's face it: in the world of dating and hookup apps, I've kissed my fair share of frogs. So, I waded into Go3Fun skeptically, wondering if this app would be the Prince Charming of the polyamorous scene or just another frog in the swamp of failed flings. But let's not get ahead of ourselves. Let's see if Go3Fun lives up to its enticing reputation.
Official URL: https://go3fun.co
Experience 3Fun on Your Smartphone or Tablet
When you stumble upon a website named Go3Fun, it's only natural to assume the app follows suit, right? Well, here's where it gets a little quirky. Luckily, the app of this site is compatible with all types of smartphones. They aren't playing with your innocence and creating a scam-looking app. However, remember that when you go hunting in those official app stores, you'll find it's called 3Fun and not the Go3Fun name.
Moreover, let's talk about Go3Fun's name. The site name sounds more like an instruction than anything else, urging visitors to embark on some threefold adventure. It might be a tad weird, but unfortunately, the name 3Fun has been stolen by some other sites. Also, the site doesn't have any functional website. The main page of it is used for promotion only, coupled with guides on where to get the app. Its main features are only available on the app.
Certainly, it's an intriguing option and would have raised eyebrows in the adult entertainment business when implemented years ago. Nowadays, it's a mild annoyance for me, the reviewer, considering that adult sites are a bit easier to dissect than Android or IOS apps. However, for most dudes, I reckon it won't be a deal-breaker. Unless, of course, you're one of those tech-challenged old-timers users. Everybody else seems to have embraced mobile apps with open arms these days.
Thrilling Threesome Experience Brought To You By Go3Fun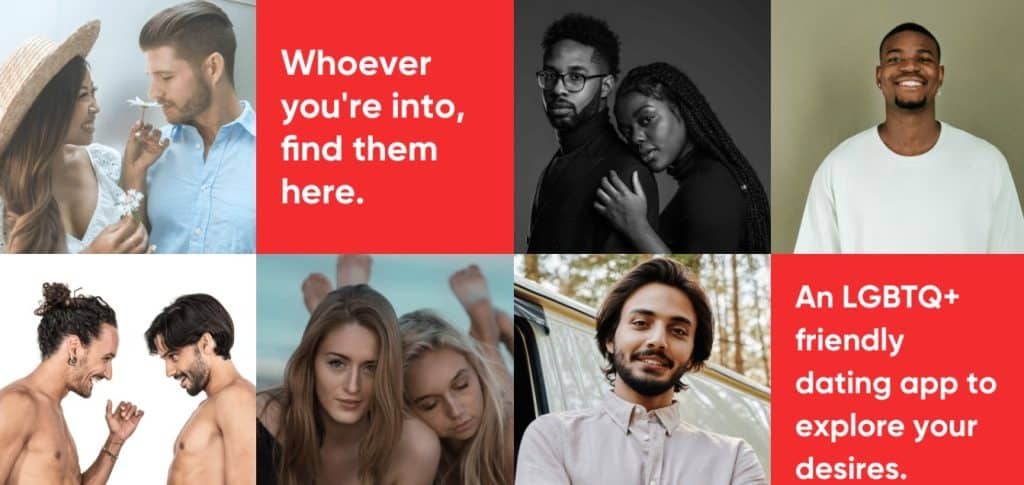 Go3Fun is the app that caters to adventurous adults seeking that thrilling threesome experience! But let me tell you, the excitement doesn't stop there. When I delved into their traffic stats, I was practically on the edge of my seat. We're talking about a mind-blowing 100 million monthly visits! To put that into perspective, it's like a rock concert for lovebirds looking for extra company.
Now, with numbers like these, I couldn't hold my excitement and shake to get into the action, or should I say the interaction. Browsing those local profiles suddenly felt like I was on a treasure hunt for the ultimate connection. The promise of such a vast and diverse user base was like a siren's call, beckoning me to explore and discover new horizons in adult dating.
So, whether you're a seasoned pro in threesomes or a curious newcomer, Go3Fun's popularity speaks volumes about the excitement and potential encounters that await.
3Fun is Oozing with Love to All Sexual Orientations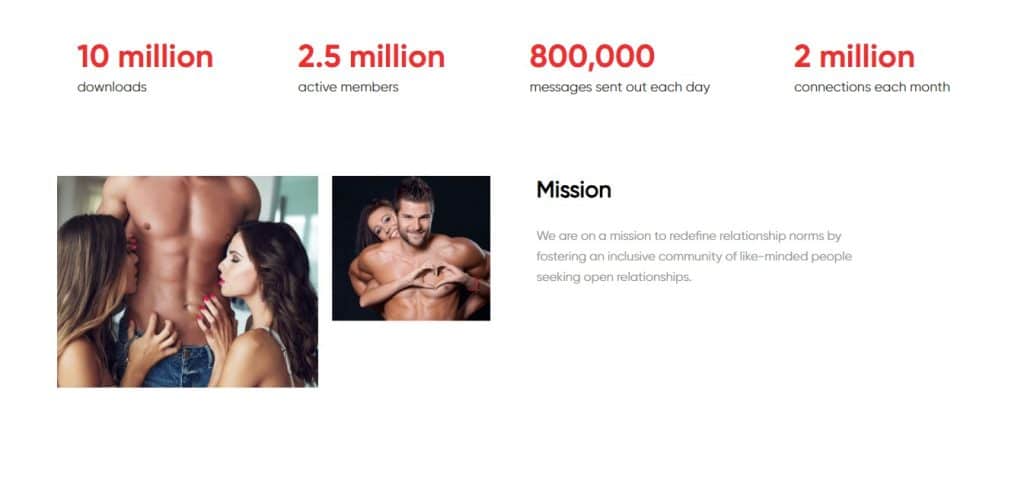 Alright, here's the scoop on Go3Fun – it's not a total dud. They start with some pretty crucial info right off the bat. I mean, let's be honest: a hookup/sex dating app is about as useful as a screen door on a submarine if nobody's using it, right? But these guys aren't messing around. They've got whopping millions of active members doing their thing. That's a number so significant it might make you squint and say, "Are you sure about that?" But trust me, the stats don't lie. With numbers like this one, even the folks who wouldn't win any beauty contests might have a shot at finding a threesome nearby.
Additionally, there's a gold star for them — they're all about inclusivity. I mean, it's 2023, and you'd expect all sex dating/hookup service sites and apps to be open to everyone, right? But maybe it's a tad more crucial for a threesome hookup app. After all, if there's a handful of versions of you, there might be overlapping gender identities in the mix. So, props to them for keeping it open to singles and couples of all sexual orientations. Love is love, and in this case, lust is lust, baby!
Keep Things Discreet and Let Your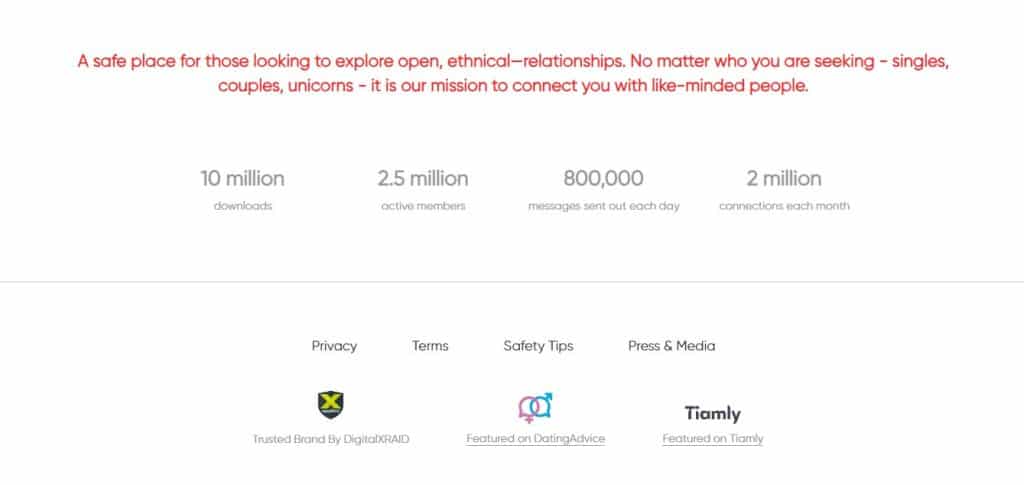 You won't believe the inclusivity here; they've got numerous preferences that will surely fit your orientation. Of course, I tested it firsthand, and once I spilled the beans about the kind of date I was searching for and scribbled a little self-description, I tossed in a couple of images. Also, it's excellent to mention that, unlike many hookup apps that nudge you to provide a whole smiling face, this app has a twist. It suggested that if you prefer a discreet identity, showing a discreet image could be a solid start. This probably widens the dating pool despite playing hide-and-seek. That's cool by me.
Also, here's the cherry on top: they even pop the question during registration if you'd like to shield yourself from specific contacts in your phone. Obviously, this feature is too cool, and some sites should note it. You know, just in case you'd rather keep your quest for a threesome on the down-low from nosy family members or chatty neighbors. Blocking these guys before starting to hook up is such a brilliant idea!
Hit the Download Button and Join Millions of Members Worldwide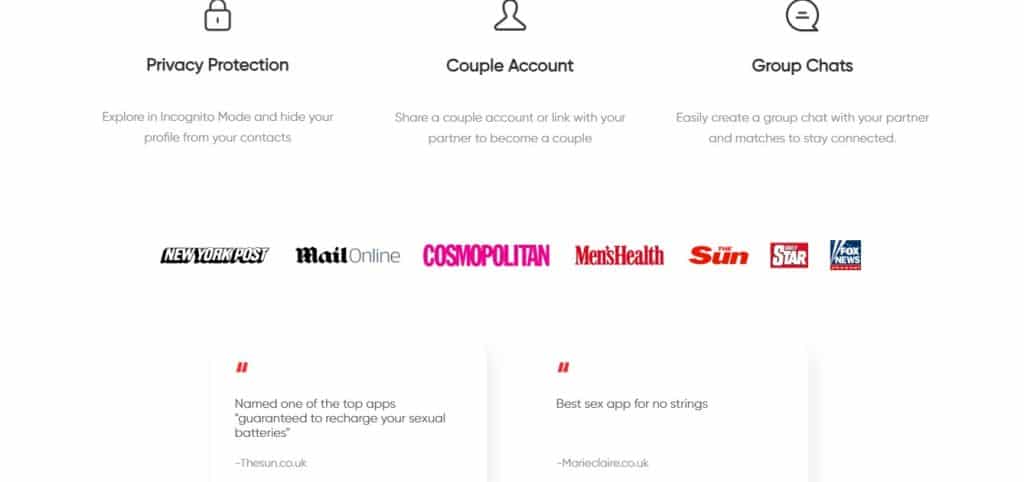 Since there's no need to hit the download button or type in endless login details on Go3Fun, I thought, "Why not get it straight from the Play Store?" So, in a couple of minutes, I became the proud owner of this digital delight. As soon as you fire up the app, you're greeted with cute welcome introductions on the homepage, like the red carpet rollout before the grand signup process. They pretty much rehash all the perks we spotted on the website.
Now, here's the juicy twist – they've got a 'no screenshots allowed' policy. Yep, you heard me right. So, if you're the type who loves capturing every digital moment, well, tough luck! But it's like that age-old dilemma: to screenshot or not?
When it comes to registration, 3Fun plays a little hard to get. You can't just waltz in with your email address and say, "I'm here to party." Nope, they've got some standards. You'll need either your Facebook or contact information to score an invite. It's like an exclusive club where your digits or social media presence are the golden keys.
Go Full Throttle with 3Fun's Affordable Membership Fee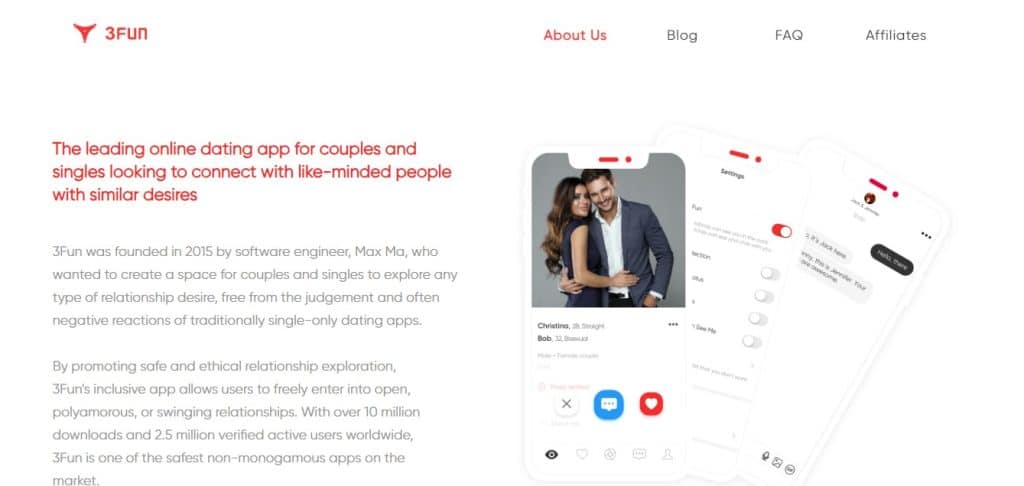 Alright, let's talk cash. To go full throttle with Go3Fun, you're looking at a thirty-dollar monthly fee. Now, it's not exactly a bargain-basement deal, but hey, it's not the most wallet-wrecking either in the world of hookup apps. Considering the hefty crowd in this threesome-centric gig, I'd say it's an affordable fee. Plus, they've got some sweet discounts if you're into the long-term commitment thing, like a six-month subscription that's as cheap as a monthly tenner.
But here's the catch with dating app pricing – it's like deciphering an alien language sometimes. What I got might not be the same as what your friendly neighborhood unicorn or any other user type might get. It's like a secret society but with dating apps.
Furthermore, premium membership opens up a world of possibilities. You can go on a Liking spree, message folks without the pesky matching game, see who's crushing on you, and even explore different dating horizons in various locations. It's like being a VIP in the dating world, and who doesn't want a bit more attention, right? I mean, seriously, I had no idea there were this many fellow adventurers nearby until I joined Go3Fun. It's like discovering a secret society of fun-seekers right in your backyard.
Pros and Cons of 3Fun.co
PROS:
Threesome focused hookups
Millions of active users
Open to all sexual orientations
It has a discreet profile feature
Available for Android and ios phones
CONS:
Not available using desktop/computer
---
12 Best Hookup and Dating Sites Similar to 3Fun.co: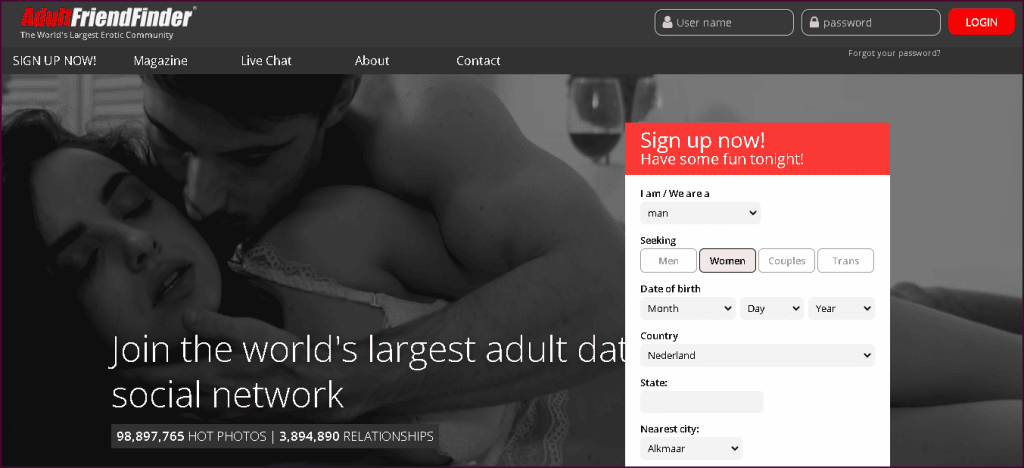 The Adult Friend Finder website is famous all over the world. It has more than eighty million members desiring erotic interactions with multiple women. Similarly, it provides numerous flirtatious relationships, such as casual connections, monogamy, couples, fuck buddies, and many more.
Indeed, this is an excellent experience that spices things up in the bedroom, especially between open-minded people willing to examine their sexual orientation. Finally, registration is relatively stress-free and straightforward, so members finish it in less than five minutes.
Here's the full review of AdultFriendFinder.
PROS:
Registration is free and fast
The members of the website are active in looking for casual hookups
Plenty of options in terms of communication
Watching videos and viewing images are free
You can write blogs and engage in a group conversation
The app is available for download and compatible with both iOS and Android devices
CONS:
The number of male participants is larger
Limited options for free basic accounts
---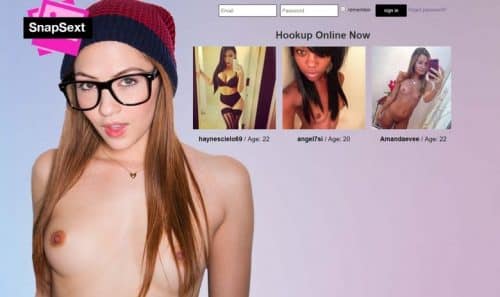 Snapsext is a free dating website for people who aren't afraid to take risks. The platform focuses on visual content such as video chats, images, live streams images, videos, and more. You can casually flirt or go straight to hookup and sex, or anything in between. The audience response to SnapSext has been fantastic because it is attracting a growing audience every day. Many people believe that the website encourages them to express their sexuality entirely and behave however they want, without worrying about repercussions.
Click here for a full review of Snapsext.
PROS:
Most of the basic features are free
Large user database
Real, hot verified girls & guys
Online for 10 years+
Flexible premium pricing
CONS:
Some screening questions when signing up
---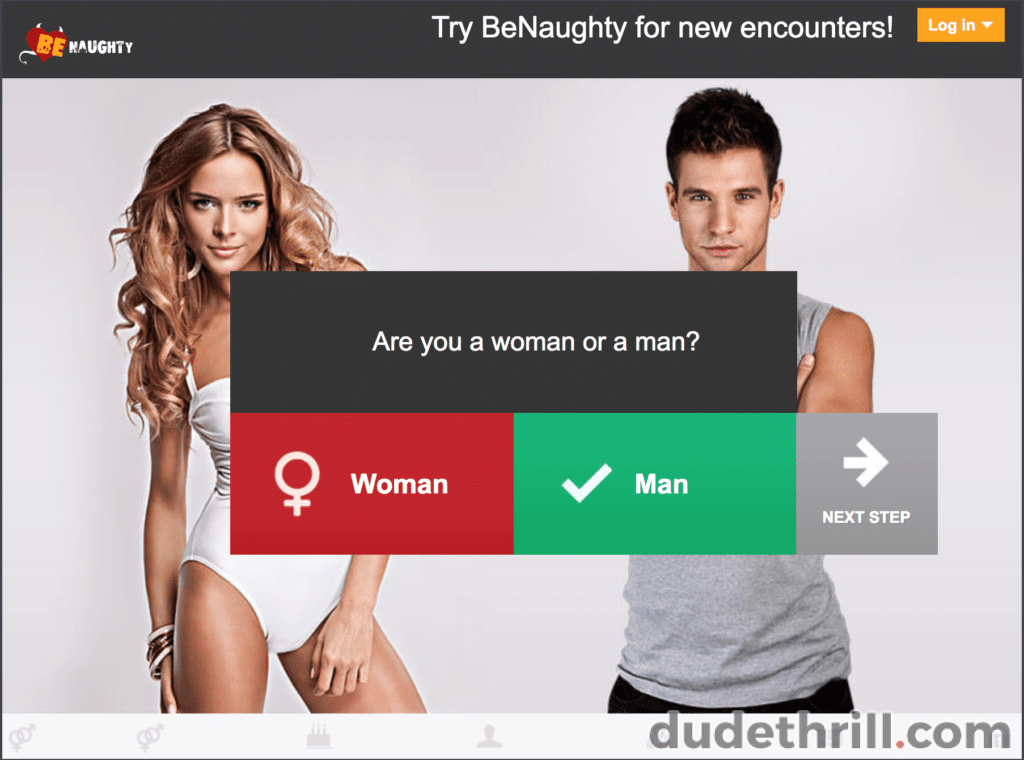 Introduced in 2000, it became an increasingly successful dating website that works in partnership with Flirt, IWantU, and UpForIt to provide proven quality and comfortable environment for the users. Each day it has over 13 million visits, and there are over millions of individuals worldwide considering signing up as official users.
This is indeed a perfect outlet for getting wild and engaging among married people and single individuals in sexual activities and relationships. Your private data sent to the BeNaughty site is safely secured because it uses the SSL Encrypted method and has followed the validation phase for all accounts. Everything enables the entire journey to be more enjoyable and avoids any money-making scheme.
PROS:
Established over 20 years already
Every day, there are an increasing number of people signing up
Members are responsive and active
Free five chats daily for free basic accounts
Easy to navigate and simple interface website design
Video chat is available
CONS:
Some accounts do not provide much information on their profiles
Advertisements are plenty and annoying
Annoying live notifications
---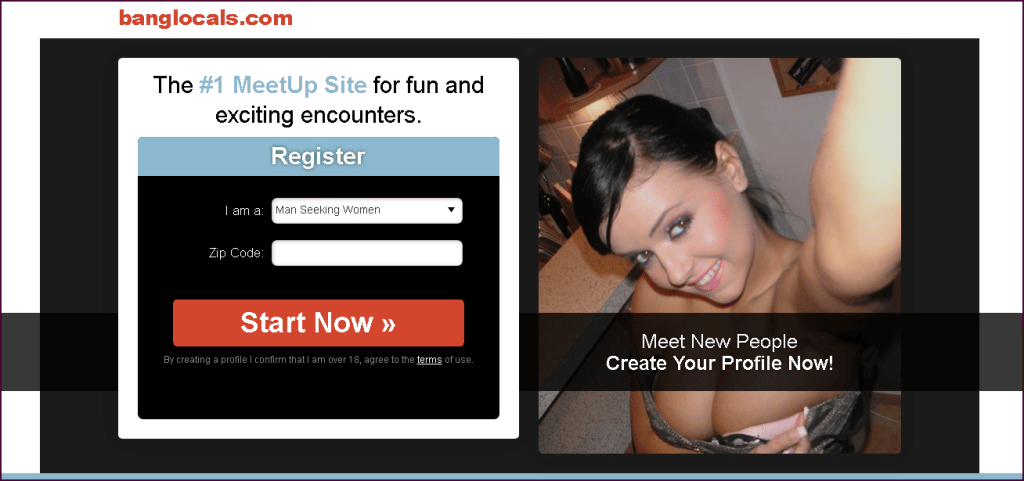 Banglocals is a must-visit website for people looking for a perfect match for sex, dates, and casual affairs. Regardless of the number of competitive websites out there, it has remained on the top spot today. Indeed, our lives are a shitload of work and stress. All we want is relaxing and calming ways to release it. Certainly, a great buddy who will stimulate our sexual desires can make life full of enjoyment. Good thing, Banglocals is a sex dating website that uses a simple process in registration. So, everyone will right away experience pleasure. Indeed, everyone has the chance to find a hot, sexy mate.
Click to see the full review of BangLocals.
PROS:
People can create a sex date network
Free to search profiles of other members
View galleries of images and videos
People can give ratings to hot members
Registration is free and easy
Encourages to post personal images or upload public content
You can contact people through text or e-mail
CONS:
No x-rated videos
No trial period
---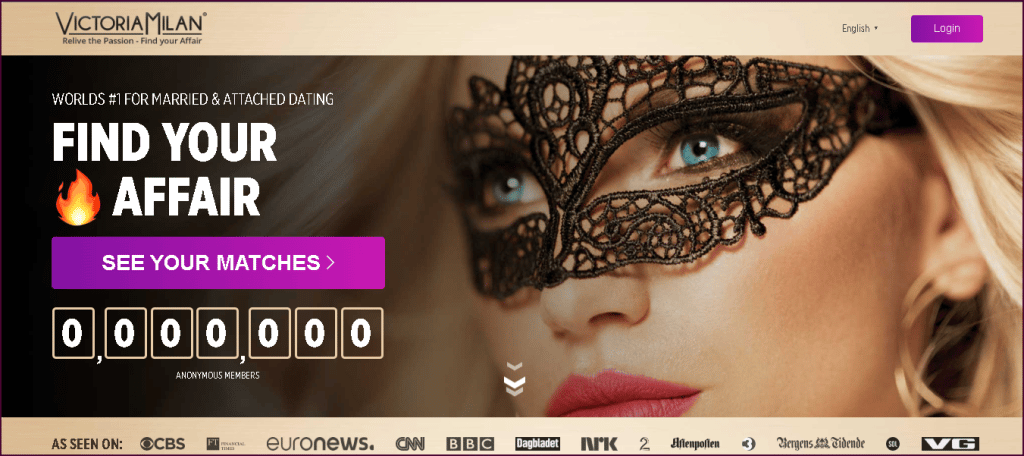 Victoria Milan is one of the favorite dating websites worldwide for cheating couples and committed relationships. Indeed, the website provides a secured and private venue where you can experience sexual connections.
So, if you are lonely or in a monotonous relationship, the website delivers a fantastic escape from this misery. Indeed, it transforms lousy sex life into a more fun and exciting journey. Above all, you do not have to worry about getting caught because the website has a "Panic Button." So, you can exit the page without getting caught.
Check out the full review of Victoria Milan.
PROS:
More than six million members across the world
Registration is hassle-free and simple
The design of the site is simple and easy to navigate
Features like winks and adding to favorites are free to use
Callout boxes use to address problems, issues, and concerns regarding the site
The app version is available for download on Google Play Store and App Store
CONS:
Video calling is not available
Only the paid members send and view messages
---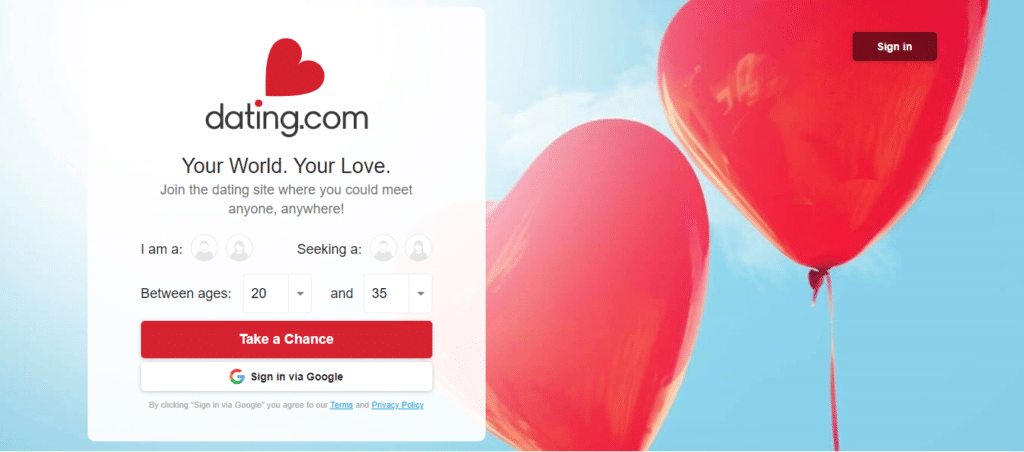 Dating.com is a must-visit website where you can find romantic affairs and hookups. Certainly, it brings all singles worldwide together in one fantastic place where they can start a new romantic connection. Also, it uses unique advanced features that allow members experience dates in more accessible, efficient, and faster ways. Indeed, if you are looking for a reliable website to find fuck buddies, then Dating.com is the best of all.
Take a look at the full review of Dating.com.
PROS:
Members are from various parts of the world
Advance searching can filter based on your choices and interests
Live chat support is always accessible
Registration follows the simple and easy process
It does not require verification of email address after registration
Account creation is free
Tailoring of the search result according to preferences is available
Viewing of Profile pictures is for free
CONS:
The app is only for Android users
---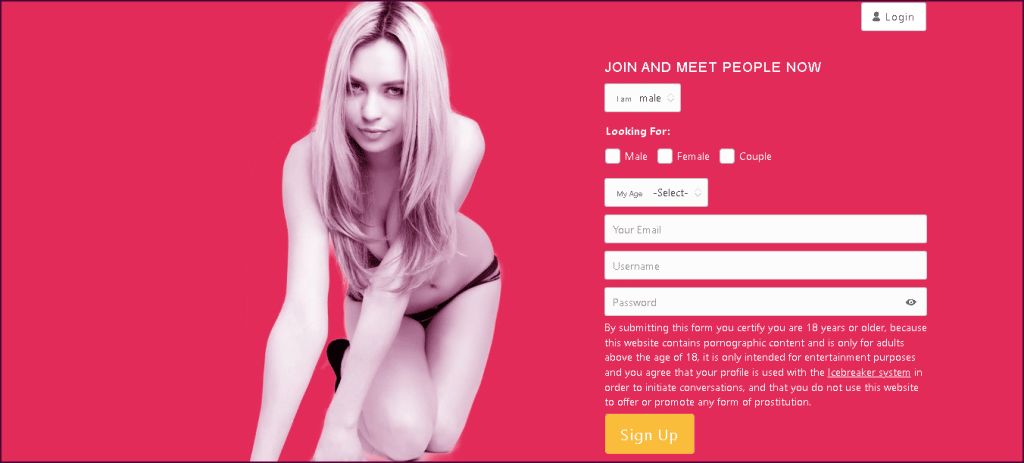 A perfect website for casual relationships and sex hookups is called FuckBook. Here, you are given opportunities to find swinger encounters, sex dates, and many more. This is convenient for people seeking a no-strings-attached relationship as quickly as possible. From the name of this site itself, you know exactly what you are getting into once you scroll through the platform. The interface and features of the FuckBook are straightforward and convenient compared to other swinger dating sites on the internet.
Here's a full FuckBook review.
PROS:
Profiles created are numerous
The website has a design that is easy to navigate and use
Signing up is fast and instant
Membership is affordable but with lots of advantages
CONS:
There are annoying advertisements on the site
---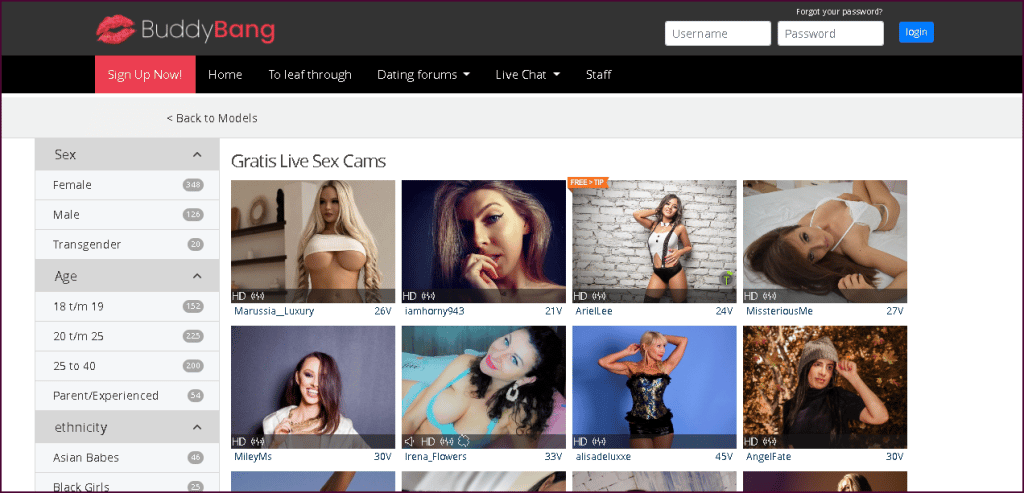 BuddyBang makes it easy to pick a fuck buddy anytime, anywhere. It doesn't promote whirlwind love and serious romance, but it works like a regular hookup database, allowing you to check whoever is nearby and who's available for instant sex. Also, BuddyBang steps up its game and incorporates free live sex cams into the page. It has plenty of selection, from Transgender couples to threesomes and live college sluts. Finally, you can experience casual dating while having fun simultaneously.
Read the BuddyBang full review.
PROS:
Responsive and active users
Everybody is looking for hookups
Helpful searching features
Very affordable packages
Lots of members
Easy to use
CONS:
Some ads when using a free account
Few features are only accessible to premium members
---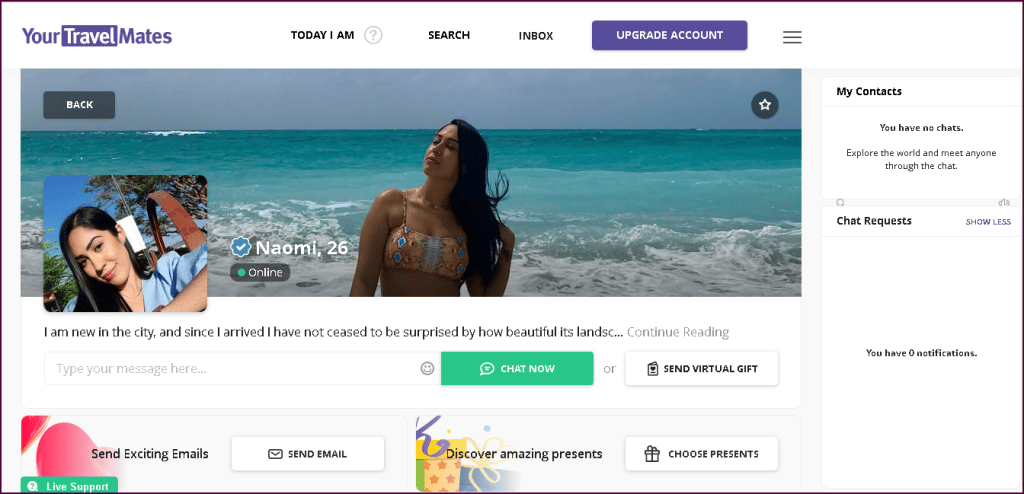 Since its inception in 1993, YourTravelMates has been a backbone of a global online dating community. One of the platform's defining features is its incredible diversity, which is anticipated from a matchmaking platform centered on exciting adventures and travels. Also, the number of potential suitors you'll find on YourTravelMates will rock your world. Ultimately, the website is user-friendly and contains a varied and exciting user base, making it a worthwhile asset in dating and hooking up.
Check out the full review of Your Travel Mates.
PROS:
Readily available singles from every corner of the globe
Can buy actual presents for other members using credits
It doesn't cost anything to send your first message
CONS:
Costs associated with using credit can add up quickly
Numerous blatantly phony accounts exist
Not best for locating committed relationships
---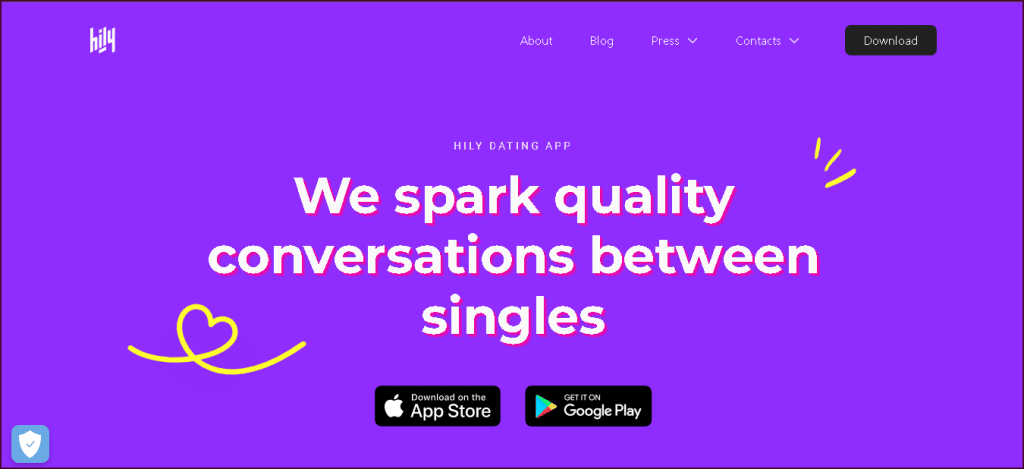 Hily is a newcomer to the virtual hookup and dating industry. It has several features that help locate and initiate contact with a suitable romantic companion. On top of that, the live streaming feature of Hily allows its users to connect in real-time and engage in whatever type of interaction they prefer. Not to mention, it also has a respectable amount of members, and that's enough reason to sign-up.
Click to see the full Hily review.
PROS:
Numerous features
Different modes of communication
Well-designed app and site
Lots of members worldwide
Security is remarkable
Ad-free browsing
CONS:
Membership is quite pricey
---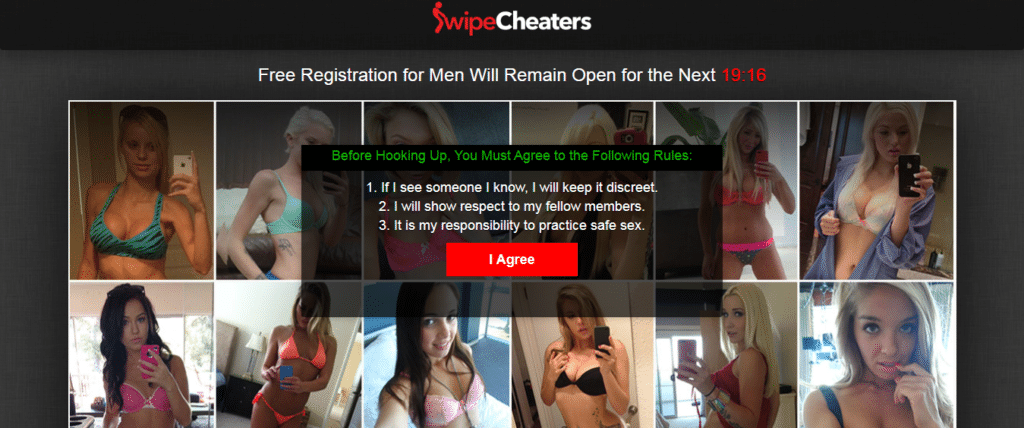 Swipecheaters is an adult dating website that caters to married people and couples. Indeed, members on this site are actively seeking casual sex hookups with no strings attached and just wanting to spice up their sex lives. So, just when you thought that fantastic and hot sex could no longer feel by married couples. Then this platform is a great way to explore your hidden desires in bed.
Meanwhile, you will experience the most convenient way of communicating secretly and safely through text or video chat when you sign up. On top of these, you can also engage in the website's unique feature where you can view explicit live streaming.
PROS:
All members are under protection and security
Mode of payments has encryption
Using the site is simple and manageable
It features intelligent matching to get an instant and precise match
A simple way to communicate
CONS:
There are exclusive perks for paid members only
---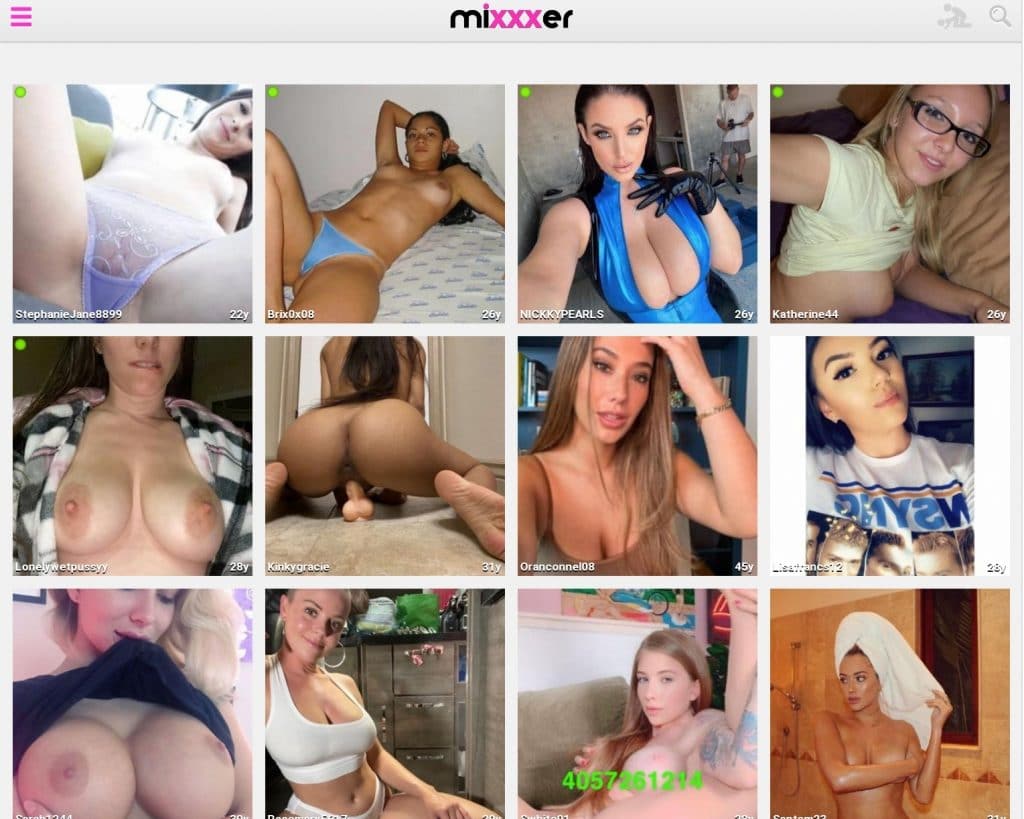 Mixxxer was released in 2014, and once they had gone live, they achieved to pull in over 1M+ new users who found them right away and helped them carve out a niche in the hookup business. The variety of functions and options in Mixxxer promises an effective and efficient way to find your compatible mate and ultimately fulfill your craziest fantasies. The basic features of this hookup site are complemented by a range of additional features that may be obtained on a subscription basis.
Check out the full review of Mixxxer.
PROS:
Simple sign-up process and takes less than 5 minutes
Open to all sexuality and preferences
Security systems are highly effective and reliable
All members are actively seeking hookups
Great features
Affordable premium prices
CONS:
Some fake accounts reported
Only available on mobile phones
The USA has the highest number of members registered
---
Verdict
So, dudes, it's time for me to sign off and get back to some exciting prospects. You know, it's not every day that you find a threesome-themed hookup app like Go3Fun that delivers on its promises. They've made it so darn easy to start, and the best part? You can dip your toes in the water without shelling out for a premium subscription. It's like the appetizer platter of the dating app world – sample first and dive in when ready. So, get out there, have some fun, and may your evening be as promising as mine! Cheers!
All 75 Other Sites in This Category Worth Checking Out:
Top-5 Dating & Casual Hookup Sites That Actually Work in 2023 Perfect for ~20-55 year olds, with & without spouses! These are not some "fake" ones pretending to have girls, they are real, worldwide largest networks. Jump to Top-5 Dating & Hookup Sites Hey, I know that jerking off is quite exciting and cool. But… nothing […]