Updated on: December 4th, 2023
Bumble Review
& TOP 12 Dating/Personal Sites Like bumble.com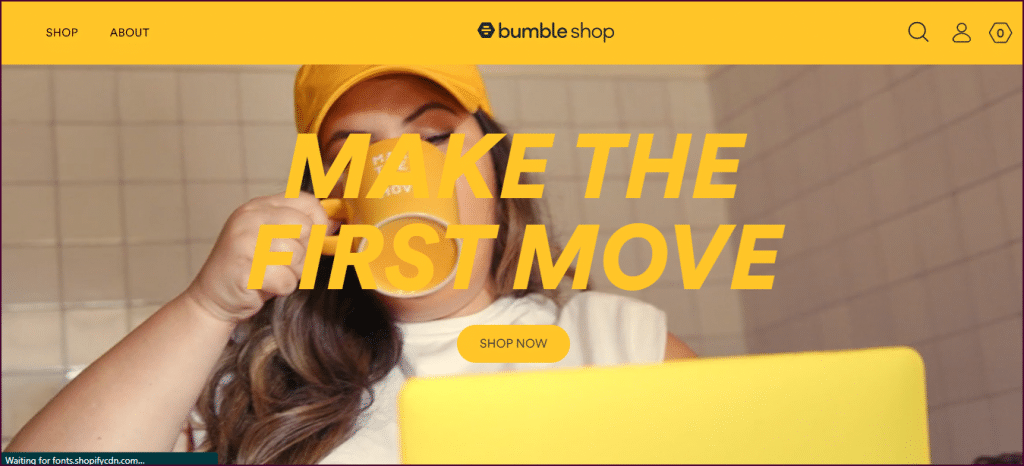 We live in this modern world where people from different parts of the world, lifestyles, sexual orientations, and relationships now have various dating platforms and apps. But despite the countless competition online, there's one that stands out — Bumble.com. This bitch has taken dating and matchmaking to a different level by giving the women a "power" to control their interactions and experiences. Not to mention, the site itself has a promising messaging concept, reliable matching system, secured privacy, and safest dating experience. Seeing the entire site's vision and services, I'm pretty sure there are plenty of features that Bumble can offer, and I'm excited to share this with you.
Official URL: https://bumble.com/
How Bumble Started
Around early 2014, W.W Herd, a longtime Tinder worker, started the Bumble site. He brought a new dating experience for all users, especially women, and took it to a different level. With a "swipe" matching system similar to Tinder, the Bumble has a delightfully liberal twist that many dating apps have failed to see. Bumble provides the ladies complete control over the process of hunting, matching, and dating other users.
Certainly, Bumble is not just among the most popular matchmaking apps on the market, but its innovative and groundbreaking concept allows ladies to enjoy better choices and engagements. In other words, those men having trouble making the first move are relieved of the burden of coming up with a snappy opening remark.
Joining Bumble Community
Using your Facebook profile makes the process of signing up on Bumble much simpler. Bumble incorporates all the relevant data from your social accounts, so manually entering your personal details should no longer be a trouble. I remember there was a time when you couldn't join Bumble if you didn't have any FB profile, and perhaps that thing irritated a large number of possible users. So, those restrictions have subsequently been lifted, and you may now easily register for Bumble with just your contact information.
Moreover, creating a profile is simple and super easy. But don't forget to provide your location because Bumble won't work efficiently if this one's missing. Also, it helps in locating nearby users and connects you randomly with several potential dates. All in all, signing up for Bumble is a straightforward and painless experience.
Bumble Member Ratio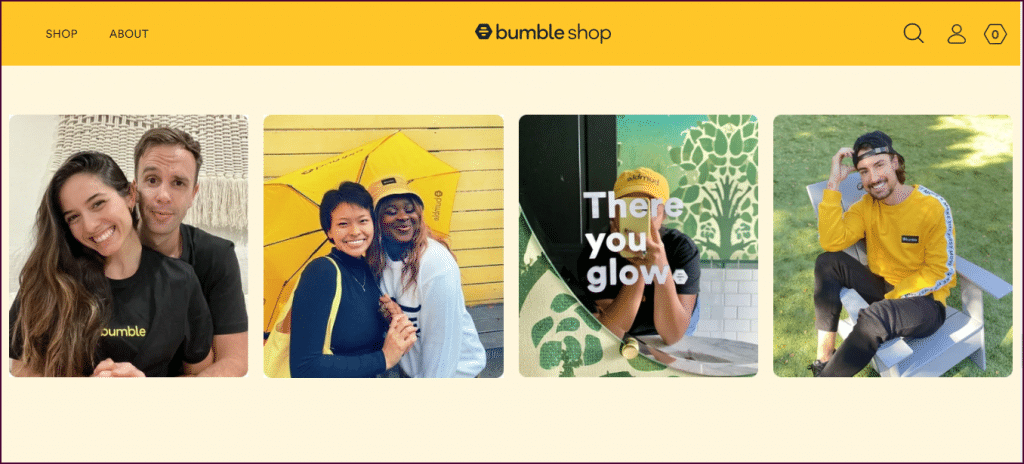 The male and female member ratios are almost evenly split-up on the platform. Although I find this quite surprising for an online dating service aiming to empower the women community. As a matter of fact, Bumble is considered as among the few sites with ideal gender divisions, provided the 47% female participants.
Also, the typical age of active group members in Bumble ranges from the twenties to thirties, while the average age of most members is teens. In fact, 65% of Bumble's users are between 18 and 29, making it the most popular dating app for younger generations. It is an important statistic to keep in mind.
Right now, Bumble is on track to reach 100M+ registered users by 2022, so there are more than enough potential partners to meet. Meanwhile, according to a recent study, 49% of members access the app at least once each day. Compared to commonly used applications such as Tinder, Bumble has higher significant interactions recorded.
Unique Touch of Bumble.com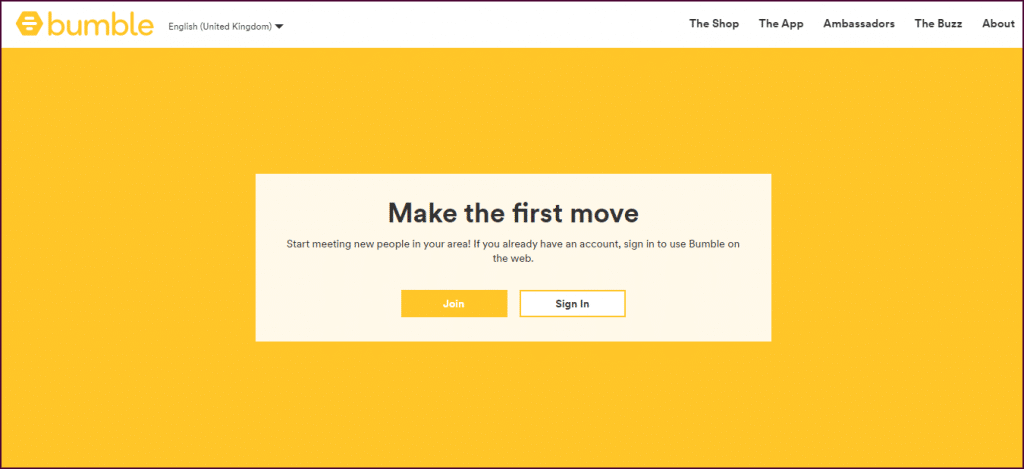 Bumble initially launched as a plain and basic dating service in 2014. Still, the site has now expanded its services and offers to include all types of possible interactions and connections online. As we all know, when desperate singles go to sites like Bumble.com, they often hunt for meaningful partners. But, today, Bumble has improved its capacity by not limiting its interests to romantic relationships or hookups. Even those looking for new closest pals or most valuable business investors might find this helpful site.
To do this, Wolfe set out to build a platform founded on the principles of optimism and inspiration. Meaning, there will be no presence of hostility and harassment acts, but instead, a platform governed by goodness and generosity. Her original strategy was to challenge the norms of conventional matchmaking sites by encouraging female members to initiate contact. That's why it's not surprising that when it comes to sexual bullying and assault, Bumble has a lower percentage than any other dating service.
How Bumble.com Works?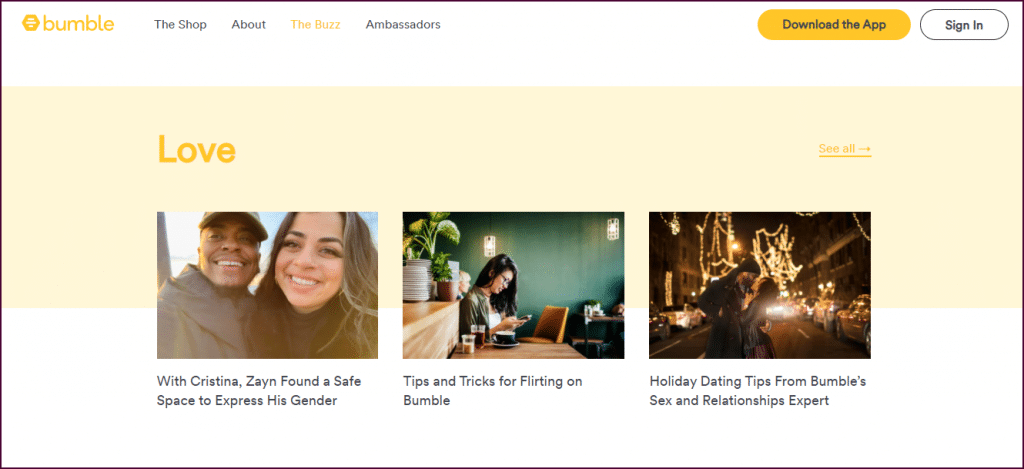 Bumble works effortlessly and straightforwardly. Like I mentioned, the female members have total control over making the initial effort and are generally granted 24 hours to initiate contact. The same goes with the male members; once a female initiates connection, males have a 24-hour reply before it completely disappears.
The limited-time provided by the site is a smart move to encourage all members to immediately respond to connection and take the matching to different levels. I consider this smart since it's the answer to the long-term online matching problem that usually goes nowhere. Once both parties swiped "right," the female user can now initiate the connection and send a quick chat.
Connect with your Match at Bumble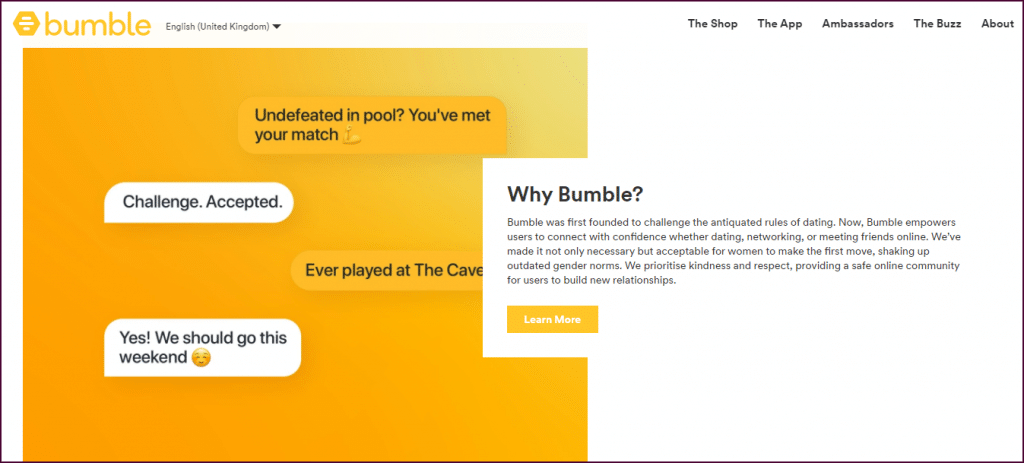 Moreover, Bumble has other interaction alternatives, including in-app messaging, video chatting, voice calling, and audio messaging. Also, there's a newly released feature on Bumble called AudioNotes, and I heard it was released around 2020. This feature lets you record unlimited audio messages and freely send them to all your matches through chat.
Bumble has a convenient feature you can use in terms of video and voice calling activities so that your communication experience would be much more pleasant than other sites.
Meanwhile, the Bumble.com site has a standard limited swiping policy that lasts within a 24-hour period. When you reach the maximum required swipes, you will have to put off one whole day before resetting to normal. But, if that's not enough, you can boost it and enjoy unrestricted swiping using the BumbleBoost feature or BumblePremium subscription.
Their Special Features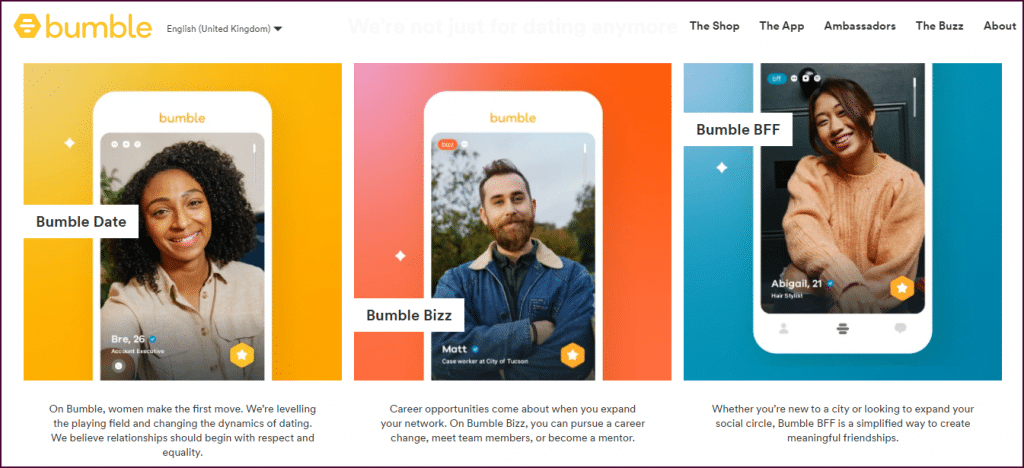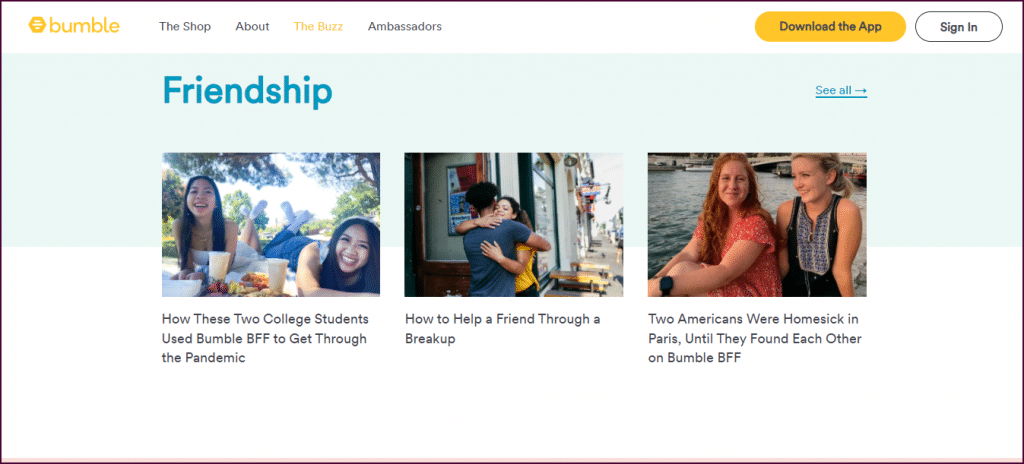 Going on a date isn't your thing? Then you can use the platform to meet new people and make new acquaintances. Simply change to BumbleBff from the standard Bumble screen and find folks who seemed exclusively interested in friendly connections.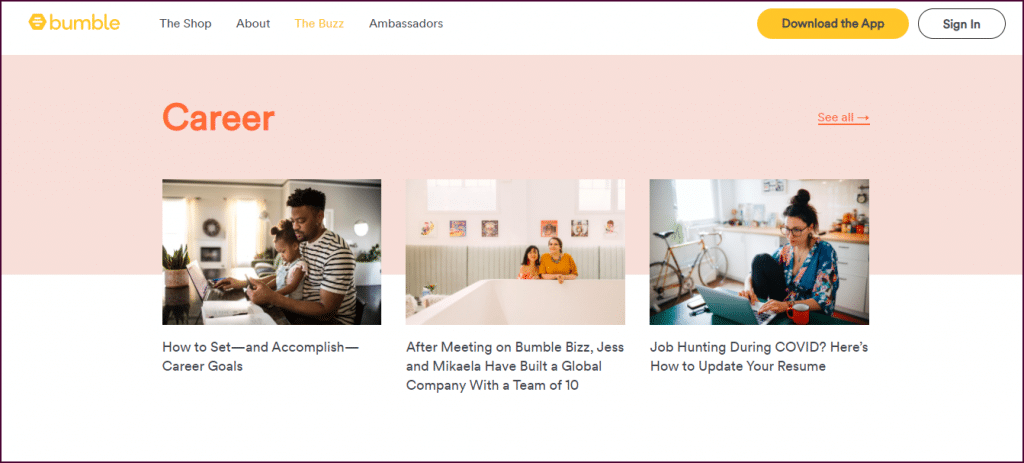 Finding a date isn't always the best use of your time? Anyone who doesn't want to experience intimate relations but instead focuses on business and professional partnerships should use BumbleBizz. This feature is like a dating website counterpart of the professional networking site LinkedIn. Certainly, BumbleBizz is a good-sent answer to your prayer. Why? Because you can now enjoy spending your time looking seriously for investors, subcontractors, distributors, network builders, marketing partners and gaining access to other valuable assets for your business.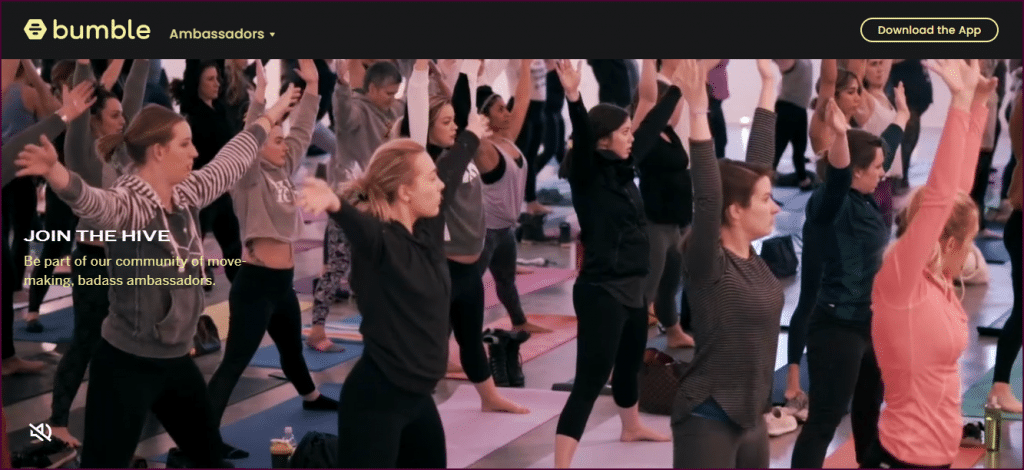 If you have access to Bumble, BumbleBFF, or BumbleBizz, then you are eligible to participate on the BumbleHive. This feature is an "event" where you can meet potential partners in business, relevant connections online, and savvy investors. It also features special meetings and seminars led by numerous experts in different fields and specialties.
When you accidentally swipe "left" on a user and regret doing it, you can use the Bactrack feature to undo your latest swiping activity. However, make sure you upgrade to a paid membership to qualify for this feature.
The dating badge of Bumble.com is a unique addition to make your profile stand out. Provided that this site is a huge promoter of communication, like chats and calls, a dating badge is a great feature to announce you're always ready for anything. It allows users to get to know their matches on a deeper level. Indeed, these new capabilities are a significant leap forward in the company's evolution.
In a partnership with famous networking site Snapchat, the top-quality matchmaking site has added amusing AR backgrounds to video calls. But of course, users can't use extreme "beauty effects" to alter their facial features since Bumble wants to ensure nobody is scamming or cat-fishing anyone during live chats.
The "Incognito Mode" feature is available for female users only, and it allows them to use Bumble.com without being noticed. Just imagine you're using the site with invisible power — all your activities will go unseen even while online. Unfortunately, by the third quarter of 2021, female premium members will use this service exclusively.
In collaboration with Bloom, users of Bumble can enjoy therapy if they have encountered horrible sexual harassment and any abuse.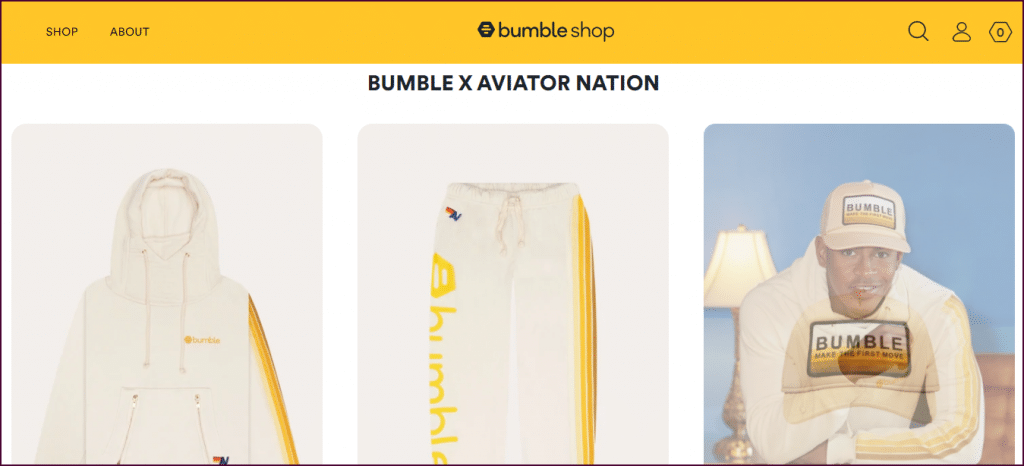 With Bumble shop, you can easily purchase merchandise like hats, t-shirt, games, and other accessories. Perhaps, it's the first dating site that marketed assorted stuff for its users.
Membership and Prices of Bumble.com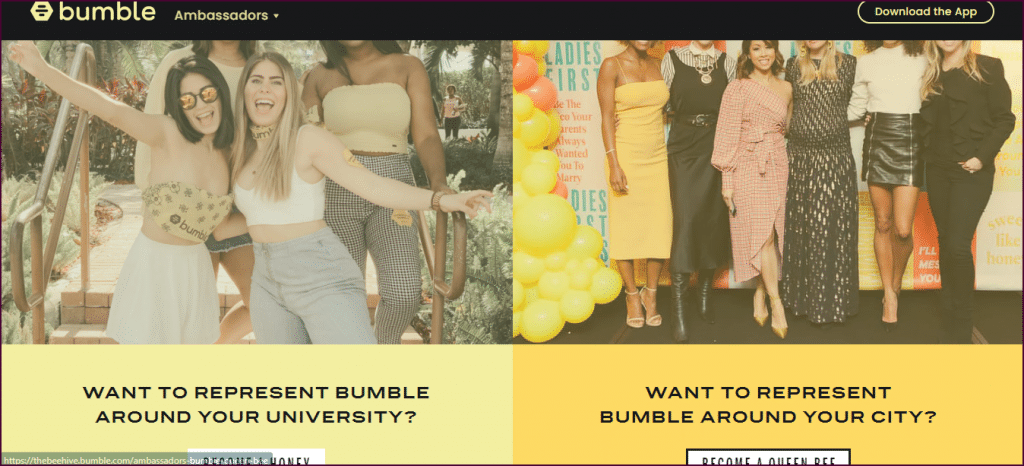 Currently, the Bumble site is offering four affordable and flexible Bumble Premium membership packages. You can choose which subscription is suitable for your budget and needs.
One Week Membership – $7.99
1-month Membership – $32.99
3-month Membership – $66.99
Lifetime Membership – $199.99
Meanwhile, Bumble also offers Bumble Boost with various membership packages available. Here is the rundown of the prices:
1-month Membership – $14.99
3-month Membership – $29.99
6-month Membership – $47.99
Safety of Members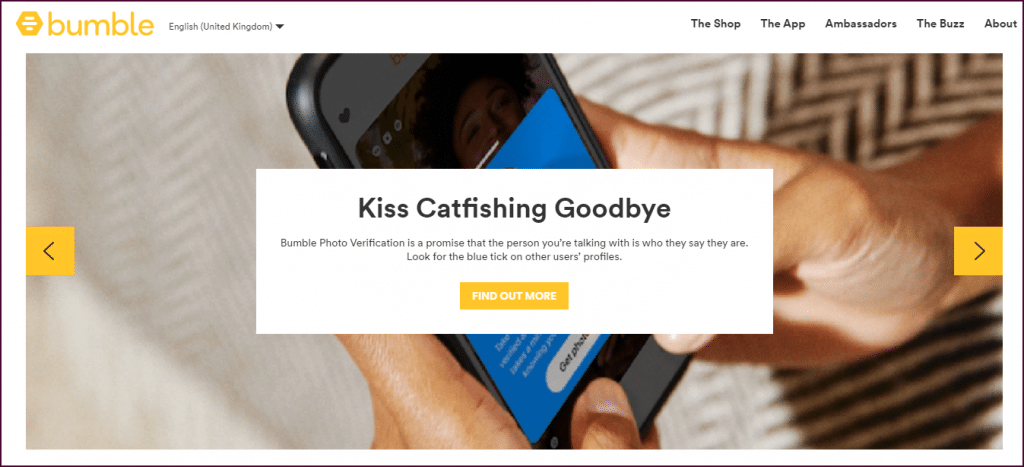 According to Bumble, it doesn't tolerate any cyberbullying, discrimination, or harassment on the site, and any user that breaches Bumble's policies could get blocklisted entirely from the app. A few of the activities that may result in getting banned from the site are through conducting unlawful things, harassing or abusing others for their beliefs, and buying prohibited drugs. Additionally, if you get reported for and the chat conversation sexually without full permission expressed by your match, it's also a ground for banning.
Also, on Bumble, users can ban and report anyone if they have questionable account data or hostile private chat activities. These are all counts for reporting and banning from the sites permanently.
Pros and Cons of Bumble
PROS:
It has numerous unique features
Secured browsing on-site and mobile
It has free features and services
There's an equal quantity of female and male members
Sign-up is easy
CONS:
Premium membership is quite expensive
Lose matches after no response within 24 hours
---
TOP 12 Dating/Personal Sites Similar to Bumble.com: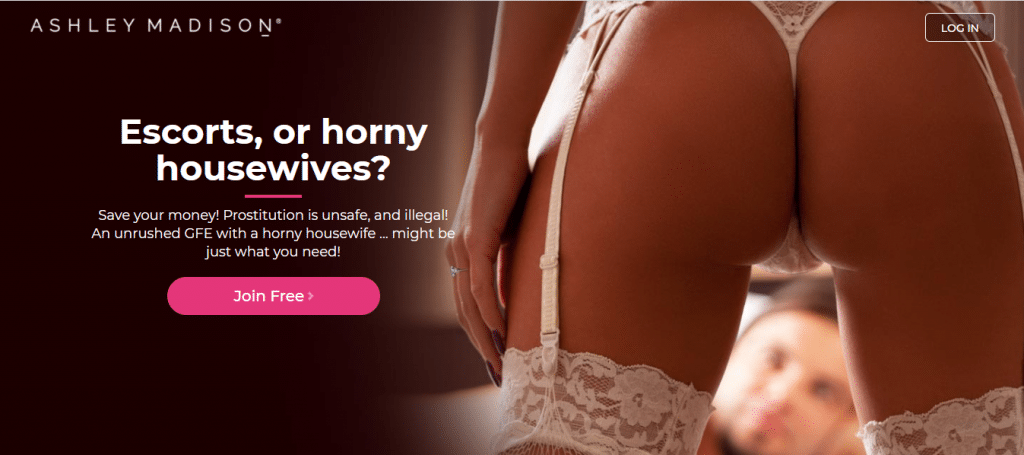 Top-notch website in terms of hookups and adult dating, Ashley Madison has been around since 2001. If you are in a monotonous relationship or want to get out of the routine of married life, then this website is just right for you. Indeed, all types of sexual affairs are welcome here, and no one will judge you. Also, the members can engage with many members across the world and enjoy sexual entertainment.
Above all, Ashley Madison listens to its members' feedback and the changing demands of people's lifestyles to improve their features. Everyone is free to explore all types of relationships, including polygamy, threesomes, and many others. Thus, Ashley Madison remains on top of the game despite the competitive industry of online dating.
Click here for AshleyMadison full review
PROS:
Encourages the members to upload discreet photos
The site offers free registration and follows a simple process
Protection of images and sensitive data from spams
You can download this through Google Play and App Store
Low storage requires and will not occupy too much phone storage
Members are enormous and from across the world
CONS:
Several accounts do not provide details about themselves
---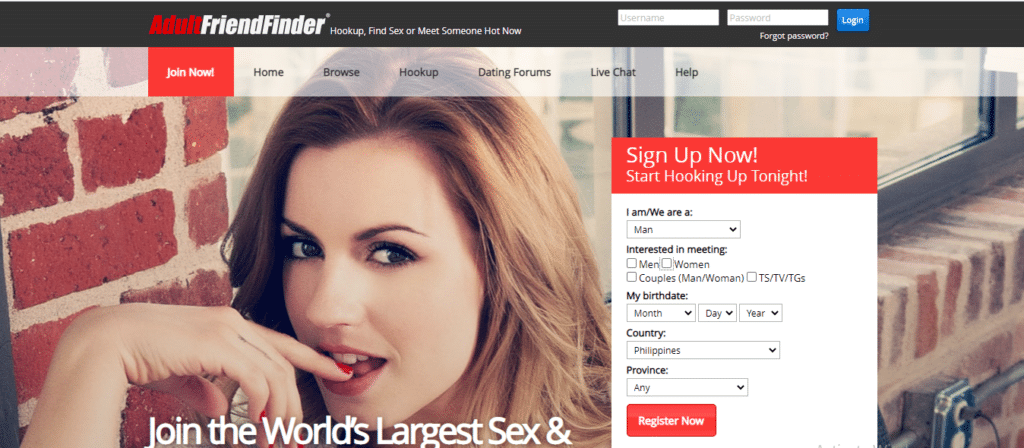 The Adult Friend Finder website is famous all over the world. It has more than eighty million members desiring erotic interactions with multiple women. Similarly, it provides numerous flirtatious relationships, such as casual connections, monogamy, couples, fuck buddies, and many more.
Indeed, this is an excellent experience that spices things up in the bedroom, especially between open-minded people willing to examine their sexual orientation. Finally, registration is relatively stress-free and straightforward, so members finish it in less than five minutes.
Here's the full review of AdultFriendFinder
PROS:
Registration is free and fast
The members of the website are active in looking for casual hookups
Plenty of options in terms of communication
Watching videos and viewing images are free
You can write blogs and engage in a group conversation
The app is available for download and compatible with both iOS and Android devices
CONS:
The number of male members is greater than the females
Limited options for free basic accounts
---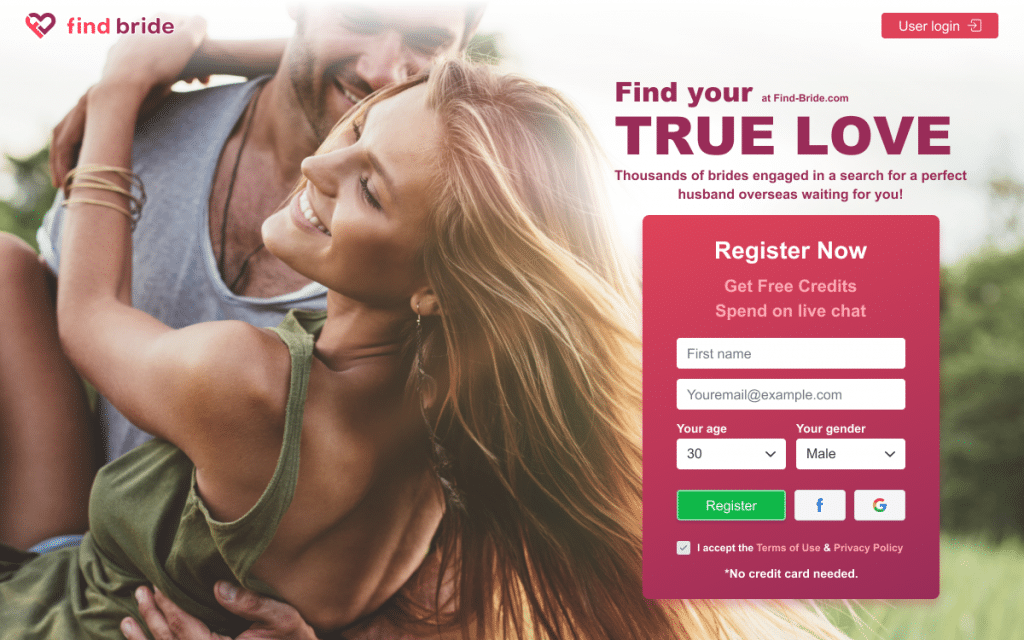 Find-Bride is one of these dating sites providing a popular online matchmaking service for single, desperate men worldwide. Here you can discover and meet hundreds of breathtakingly beautiful women looking for a "perfect" husband. Find-Bride's girls are pretty serious and interested in finding someone they can love and respect. There's literally no room for playdates or no-string attached relationships.
PROS:
View profiles without registration
Amazing navigation
No ads
Thousand women
Plenty of communication features
CONS:
Some women have children
Limited to East European girls
Not all profiles are detailed
---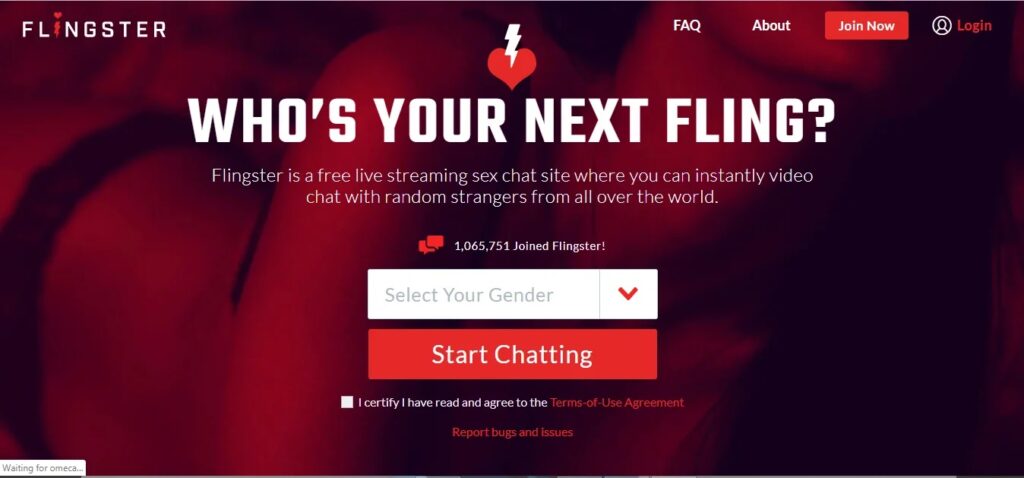 Flingster is an adult dating site for singles to meet, hang, and make out. The registration process on this site is very convenient and easy; thus, it will not waste much of your time. Unlike other dating sites, messaging and video chats are available for use even by free accounts. Other unique features are also exclusive for paid members. Flingster even offers anonymous identity while interacting until you agree to a casual hookup. Right at the point of your cursor, your fan connects already with millions of users worldwide immediately.
Click for a full review of Flingster
PROS:
Everybody is welcome regardless of gender and sexual orientation
Anonymous identity can be an option
The registration process is free and easy
The interface is plain yet easy to navigate
CONS:
There are a few fake profiles reported
---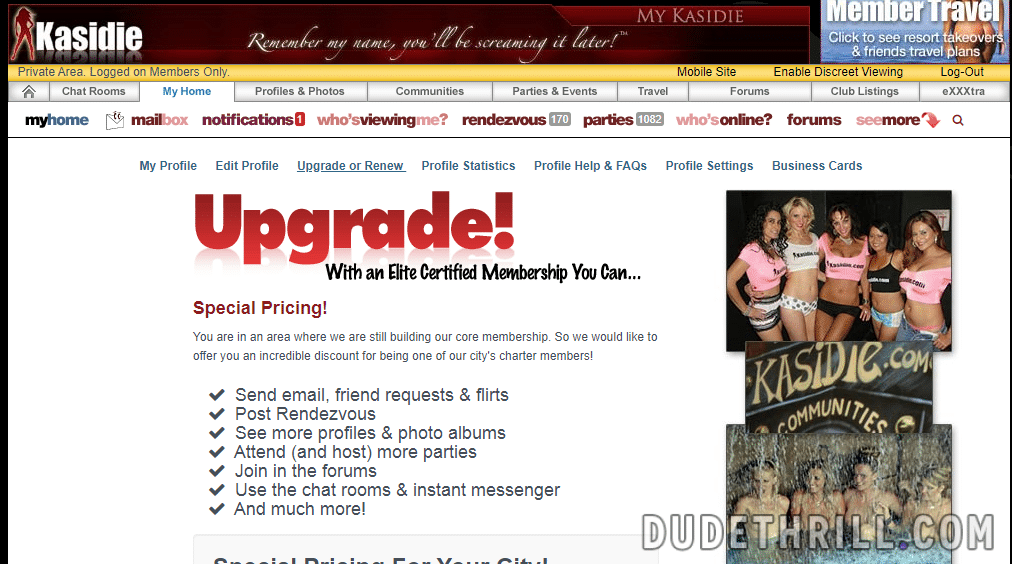 Kasidie is another fantastic website that accommodates the need of people, particularly in the swinger lifestyle. The site caters primarily to couples willing to meet up with other fellow swingers, engage in sexual activities, and attend social events. Kasidie features numerous ways and connections to encounter and practice a swinger lifestyle. The site also features a sex meter; wherein the members can rate according to scale the profiles of other members.
PROS:
There are events held locally, nationally, and internationally
It features travel and rendezvous for a short time hookup
Users base is significant, and many active members every day
CONS:
Free accounts cannot view other members' profiles
---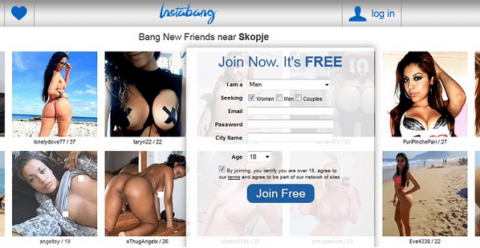 Bringing the community together is Instabang's primary objective. This platform provides users with hectic lives by deliberately developing a promising speedy service. Indeed, there is a quick gratification of sex life among its members. Hence, if you are searching for non-committed partnerships or just occasional connections with people with everyday needs, you are ideally suited to this platform. Indeed, the participants will never encounter problems locating a one-night stand buddy with many sensual girls and young women with attractive bodies.
PROS:
It contains various languages for the most convenient usage of non-English speaking members
Members provide abundant images and videos on their galleries
The advanced searching option is available to make accurate searching
Safe mode feature is available when browsing by blurring any explicit images or scenes while in public areas
Preview of videos is open before making payments
The homepage is straightforward to understand and use
CONS:
There are fake profiles reported
A paid subscription is required to send messages
---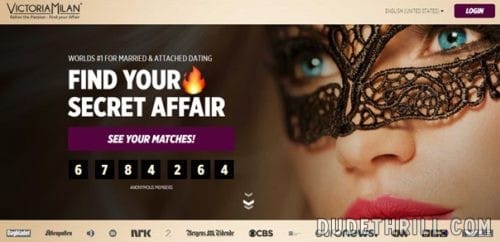 Victoria Milan is one of the favorite dating websites worldwide for cheating couples and committed relationships. Indeed, the website provides a secured and private venue where you can experience sexual connections.
So, if you are lonely or in a monotonous relationship, the website delivers a fantastic escape from this misery. Indeed, it transforms lousy sex life into a more fun and exciting journey. Above all, you do not have to worry about getting caught because the website has a "Panic Button." So, you can exit the page without getting caught.
Take a look at Victoria Milan review.
PROS:
More than six million members across the world
Registration is hassle-free and simple
Design of the site maintains simple and easy to navigate
Features like winks and adding to favorites are free to use
Callout boxes use to address problems, issues, and concerns regarding the site
The app version is available for download on Google Play Store and App Store
CONS:
Video calling is not available
Only the paid members send and view messages
---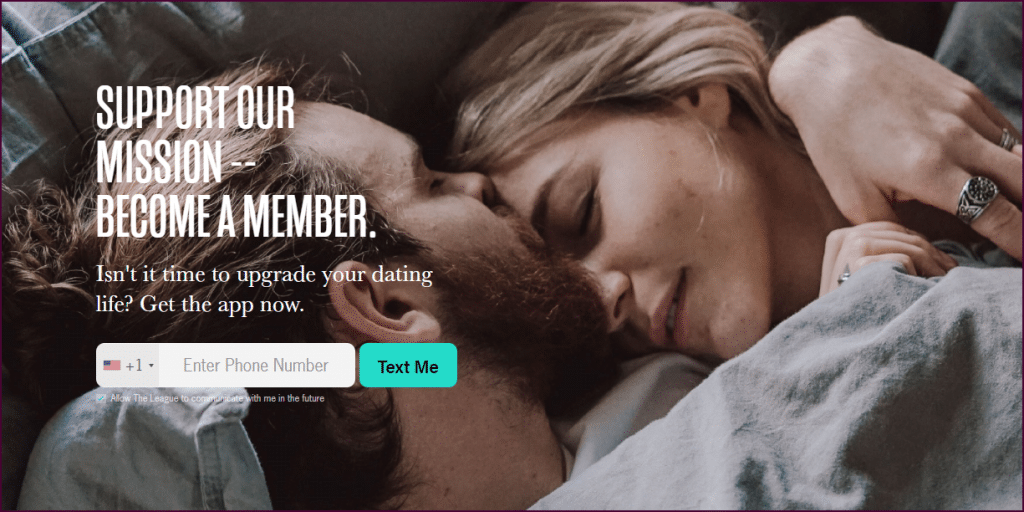 TheLeague is an elite and legitimate matchmaking service that promotes career-minded, hardworking, and enthusiastic adult professionals to discover their dream partner. So, those who set a high-level value on intellectual prowess and aspirations were this service's primary target audience. By the nature of this site, it's not surprising that some people may be put off by the site's "exclusivity," especially those hoping for a husband or wife in a matter of days.
PROS:
Reliable members
Easily link relevant websites and other social media accounts
Robust verification process
It has incredible features and design
Cam2cam chatting
CONS:
Only a few LGBTQ+ members
Long waiting list
Some users are not on LinkedIn
---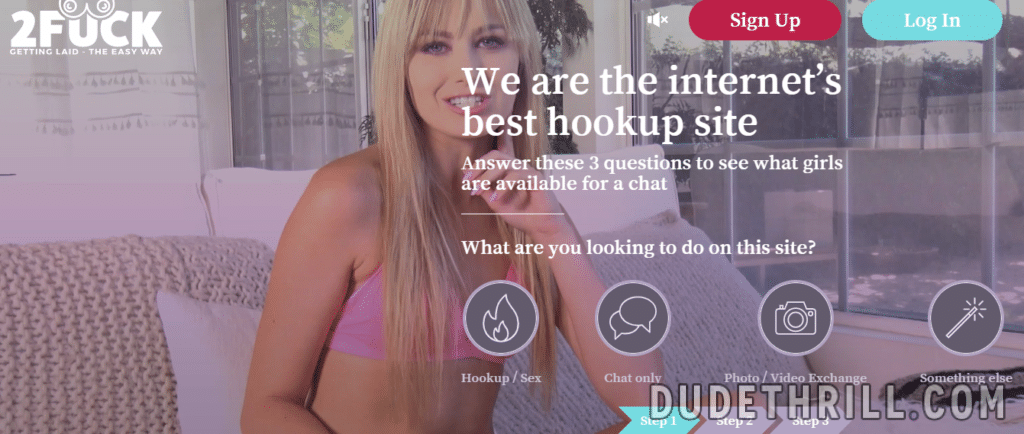 This site might answer if you are tired of the simple dating apps that don't give you the result you need. 2Fuck is entirely new to the adult dating realm, but it has already gained millions of users, a relatively significant number. The site is similar to other social media platforms and provides you with several options for interacting and communicating with other users.
PROS:
Lots of users
Design and interface are pleasing
Joining is for free
CONS:
Can be pricey
Privacy is low
---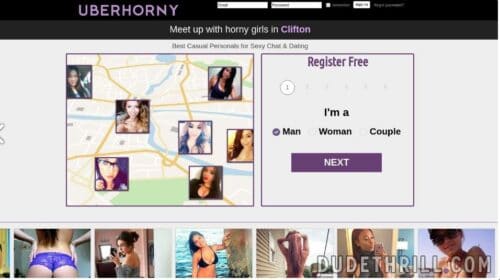 The Uberhorny dating website is a great way to express your romantic and erotic urges in life for people seeking a platform to engage in casual entertainment, date, and passionate relationships. Due to the unique features and services it delivers, it has achieved over 2M+ members worldwide.
In contrast to other dating websites, ample of scams, the Uberhorny encourages genuine relations and interactions. Of course, with a much faster digging of casual connections nearby. Also, Uberhorny provides a trial membership within two to seven days to allow the new members to discover if the platform is worth the investment.
Click here for a Uberhorny full review.
PROS:
There are various women in different local areas
The trial version is available at the lowest price
There are more than two million registered members around the world
Many members of different ages are available
Most members are within the United States
Requires only around three to five minutes of registration
Searching is distributed into categories to help to browse efficient matching
Free sending of likes and winks
Suspected fake accounts get suspended immediately
Verification of profiles is available to increase viewing
CONS:
Reminder for payment of Membership is constant popping
Profiles of members are accessible when subscribed to premium membership
Limited actions and functions if accounts are in a free subscription
---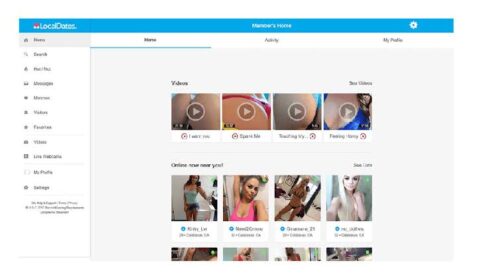 If you are eyeing for the finest dating website that helps people find dates, chat, engage, and meet fellow members with similar interests, then FreeLocalDates is undoubtedly great to try out. The website provides straightforward steps on finding all types of relationships, like one-night-stand, casual affairs, flirting, and even serious commitments.
The website has an excellent operating system that runs smoothly on desktops, laptops, smartphones, and other devices. Coupled with simple design, functionality, and features, indeed, you will find vast chances of finding your perfect date.
PROS:
You can freely choose what form of communication tools you like (chat, instant message, text, etc.)
Numerous members are looking for a hookup, casual affairs, and many forms of relationships
Free sending of messages to other members
Sends notifications of updates
Easy and fast searching of matches using advanced features
Design is simple, minimal, and modern
Can block users anytime
Plenty of active members daily
CONS:
Numerous packages for premium memberships seem confusing
Limited access to features when using trial mode
---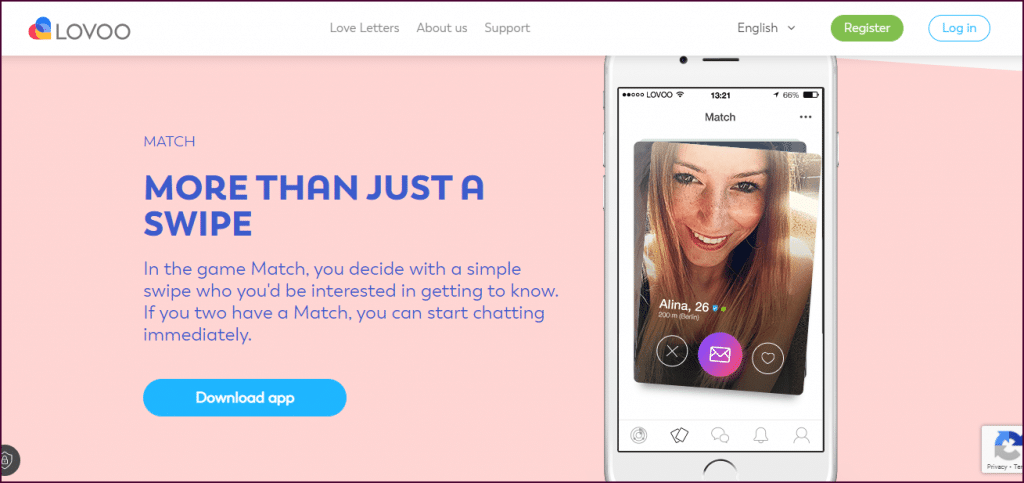 It's no surprise that Lovoo is one of the world's largest, most rapidly expanding, and widely-used dating sites today. There are plenty of singles to pick from its unique 70M+ subscribers. But the site's success is not just about the size of its members; it's also focused on improving and continuous development of its IOS and Android-compatible apps. At this point, the number of people finding love on this matchmaking app has risen to almost 4K+ monthly.
PROS:
Open to all types of relationships —hookup, long-term, dating, casual, friendship, affair, flirt
Free registration
No reported fake accounts
High rate matches
Can register using Facebook
Roulette matching system
Verified members have badges
Affordable premium membership
CONS:
Some profiles have few details
Basic search engine
---
Verdict
As a guy, using Bumble.com is pretty convenient and effortless because now, we don't have to go through the hassle of initiating the chat first. I've used Tinder and other dating apps similar to Bumble, but this one has a more "easy" concept. I've experienced getting rejected or cut off by girls instantly for many years, and I even heard some of my friends had experienced the same. But after visiting Bumble.com, I'm pretty sure you'll experience a more meaningful interaction —and maybe even something "more."
After its operation, this site maintains and improves a secured user experience for everybody. Not to mention, the site's mission is to focus heavily on equality for both sexes. All in all, Bumble.com is a fantastic dating site for women and even for men who enjoy women making the first move.
All 75 Other Sites in This Category Worth Checking Out:
Top-5 Dating & Casual Hookup Sites That Actually Work in 2023 Perfect for ~20-55 year olds, with & without spouses! These are not some "fake" ones pretending to have girls, they are real, worldwide largest networks. Jump to Top-5 Dating & Hookup Sites Hey, I know that jerking off is quite exciting and cool. But… nothing […]