Updated on: December 10th, 2023
PlentyofFish Review
& TOP 12 Singles and Adult Dating Sites Like pof.com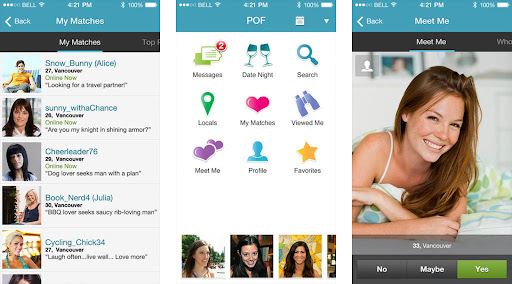 There are certainly many dating websites around nowadays, but PlentyofFish is quite different among the bunch. Its free chatting service has attracted massive participants, and that's why they went straight to the top of the star players in the casual dating game. While new elements like virtual gifts and live video streaming have been integrated, the website is surprisingly traditional and friendly to beginners and less tech-savvy folks. I'm glad to see that PlentyOfFish is attracting a younger audience while keeping their loyal fans.
Official URL: https://www.pof.com
PlentyofFish boasts of having nearly 90M+ members worldwide and possibly the biggest matchmaking platform in the world. Approximately every day, over 3M+ people are visiting the site, and more than 10M+ interactions take place. Woah! According to the site's claims, that's not all; there's a whopping one million connections established each year.
Well, most of us understand that PlentyofFish integrates all the necessary elements found in numerous matchmaking apps and sites. In fact, it combines the functionality and features of an online dating page with a matchmaking system to effectively create a reliable dating experience. However, I've heard that PlentyofFish has had several peaks and troughs over a decade. Thus, if you want to find out if this site is suitable for your dating needs, there's a more in-depth breakdown of this service below.
PlentyofFish: Dating and MatchMaking Features All in One Site
The name "PlentyofFish" may be a somewhat familiar catchphrase to you. It's pretty a common expression we say to a buddy who is overly invested in one bad breakup. When they are crying their hearts out after getting dumped, we just tap their backs and say, "There is a lot of fish in the sea, dude." Actually, PlentyOfFish draws inspiration from that well-known expression, and the fact that the title seems to be quite charming is simply cherry on top.
As their website claims, PlentyofFish (or POF in general terminology) is the adult dating website/app with the highest chat engagement recorded. According to the site, 1B+ chats sent through their site monthly, which may explain why they are making a solid effort to get you to communicate with others. But how is this possible? How can a site have that much engagement? Well, that simple answer is, PlentyofFish offers accessible, open communication with no subscriptions whatsoever. You will rarely see this on most online dating websites. It's among the few online dating sites that can be used straight away after visiting.
While this online dating site doesn't offer as many features or user-friendliness as more advanced ones, it can be appealing to people who are tight on budget but still desperate for love. PlentyofFish revamps from a year and a half ago have rejuvenated the app/site, making it look fresher than it ever has. And because of its innovative and user-friendly interface, the app is currently robust, having survived for nearly two decades now. It was able to maximize its top-notch experience in its latest millennial-targeted revamp, which highlights its status.
Let's Get Started on PlentyofFish!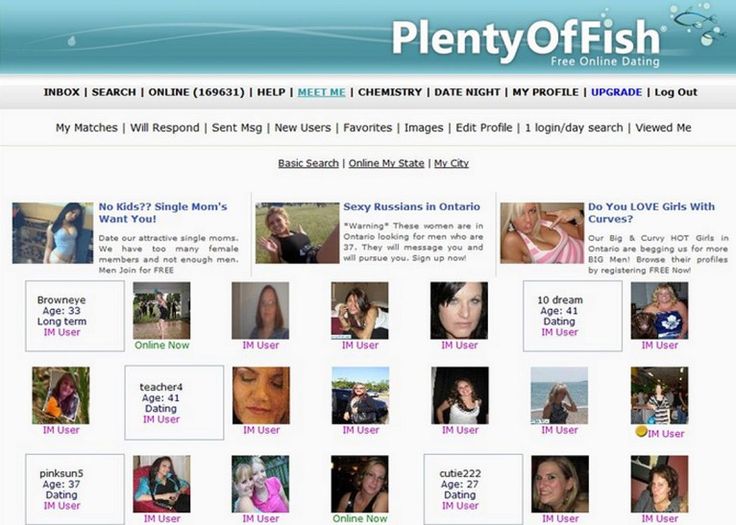 You can use PlentyofFish's dating application on your iPhone or Android smartphone or visit the website on your laptop and create a profile. Android and iOS app versions to go along with a computer version have leaped into the modern-day and can satisfy everyone's preferred platform.
Meanwhile, PlentyofFish's registration is comparatively longer than many of its contemporary counterparts. Usually, dating sites or other sites encourage and boast shorter signup rather than cramming users with endless amounts of unnecessary stuff. However, PlentyofFish doesn't seem to bother. Even with all of the long signup forms, there are no quick solutions I noticed around. It sounds like users have no other option. The app is obviously not afraid to lose people halfway thru the registration process.
PlentyofFish has lengthy profile requirements, with a "series of questions" that takes some time to complete. This stands in stark contrast with several other dating sites which emphasize being up-and-running instantly. The entire survey consists of many sections, and practically all of the sections are required to complete. A total of seventy-three (73) items follow; by completing them, you can increase your date potentials and more accurate matches. After dealing with the basic stuff, you should start by detailing your passions and interests and send a message!
How To Find Dates on PlentyofFish?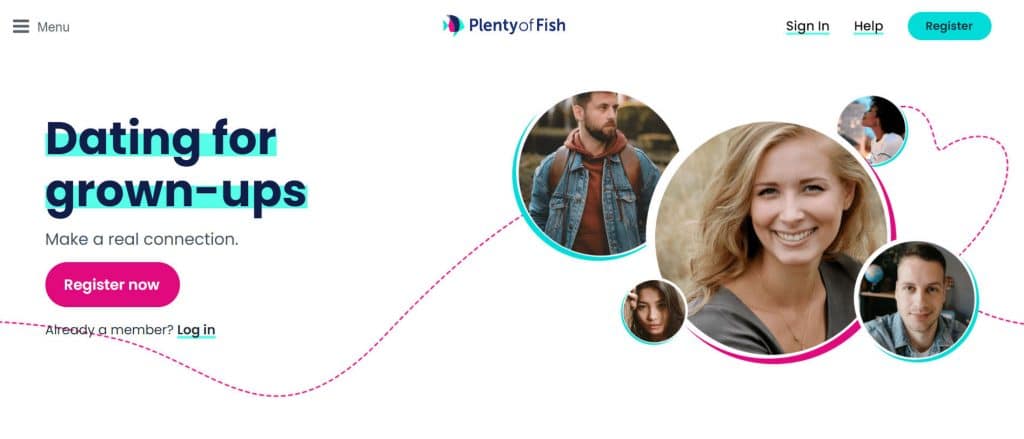 I previously mentioned that the searching tool of the site helps filter millions of community members by highlighting those who have similar and matched attributes with you. It doesn't randomly match you with some stranger just for the sake of "matchmaking." So, if you're genuinely devoted to hunting down Christian girls in your area — you can. But, if you realize you can't resist gingers or petite blondes, you're certainly can find her.
That's the reason why PlentyofFish has a lengthy, tedious registration questionnaire because they don't fool you with phony matches. Essentially, most of the things you revealed about yourself while signing up are used to find your perfect match — and that makes it easy to find interesting people to communicate with.
You can easily message people in PlentyofFish, and it's free to do so. You can compare it to regular texting, in which you can send and receive messages to others without having to pay for them. In fact, you don't have to "match" with other users before you can message them. PlentyofFish is giving you not only free text service but the free will to choose whoever you like. This is something many free services do not provide. But personally, I don't recommend that since it would be such a time-wasting task. Why bother talking to people who aren't your matches? That's already a red flag straight to the dumpster.
Ultimately, no matter what membership you have, interaction is limitless at PlentyofFish. In fact, sending an audio message through your smartphone is just one example of how fantastic their communication works. In most online dating situations, you're unlikely to hear someone else's voice. Unless, of course, you exchange numbers and developed a strong rapport after the getting-to-know phase.
Site's New Features
With the increasing popularity of live streaming, many social media websites have experimented by adding Livestream elements to their pages. And of course, PlentyofFish never lets itself get behind the trend and decided to jump on that ride too with its amazing "Live!" add-on feature.
The Live! is a great feature that lets members arrange a live public stream for the interest of their suitable matches and other users. It's an excellent method to share unique insights about yourself and perhaps discover a little extra of your potential matches before investing a ton of time and energy into them. Plus, other users can send a streamer some digital gifts in hopes of keeping his interest. I guess it's a fantastic idea to interact and flirt.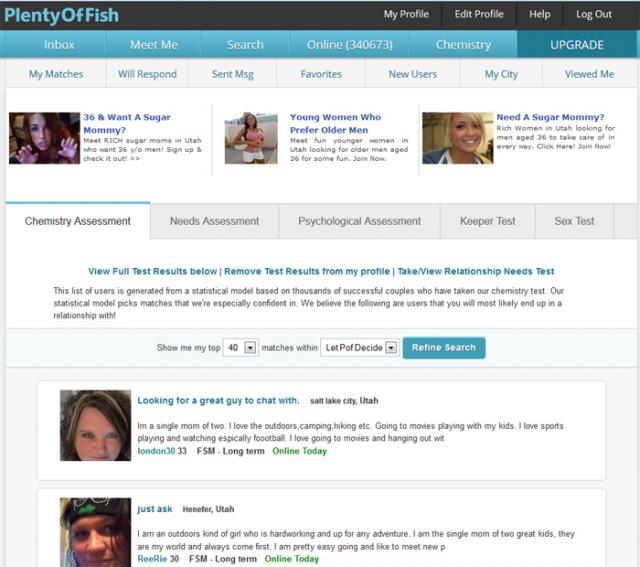 One of the many fascinating features of PlentyofFish is the ChemistryPredictor. It's a quiz that allows the user to take any number of exams, including assessments of their personality, chemistry level, interests, and sexual preferences. It consists of different questions that go from as little as 30 to as many as 100. You just need to choose amongst the best answers and whatever relates to your interests most. Using the test results, the ChemistryPredictor feature can determine your "appropriate" match, so make sure you do it right.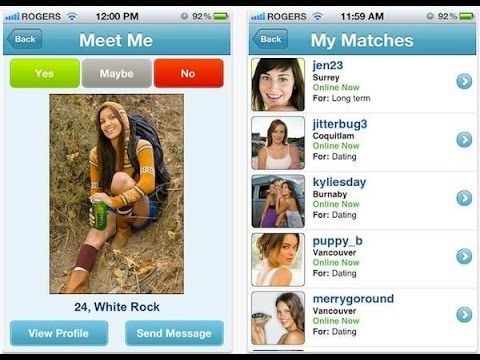 Several online dating sites have implemented interactive, real-life meetings into their places to get out of the awkward, solitary online dating game. It allows members from different parts of the world to connect personally. Oh, you think that's not possible? Think again. Let me introduce you to MeetMe, an interactive feature that's relatively easy to use and very convenient. It works by streaming a bunch of random images of single users, each with its own description.
Simply click "right" on their picture when you see someone "interesting," and it could be a suitable date. But if you don't like them, simply swipe left. It has similar functions as the Tinder app. When you both swiped "right, " the site creates a personal chat so you can start getting to know each other better. Maybe you can arrange a coffee date sometime. So, when you're ready to begin your search, just swipe that button and start your journey! Sounds really exciting.
For everyone who uses PlentyofFish as I do, you know about the ranking system they have called "Nearby." Using this feature classifies users within nearby locations, and they could be your potential mates. How does the site do it? Simple —the application gathers information about your whereabouts by analyzing your phone's location data.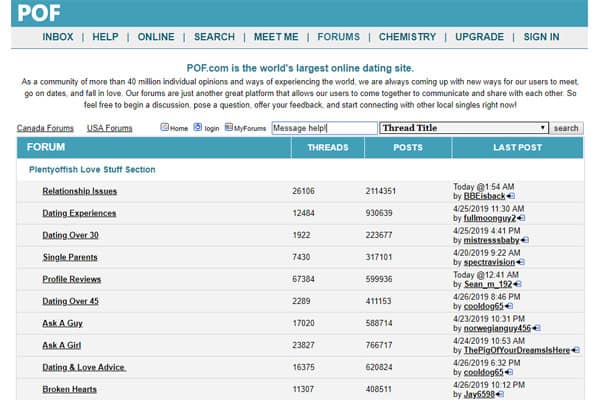 To help PlentyofFish members cope with the stress of the pandemic outbreak, they have a fantastic collaboration with "Shine" and created a program consisting of self-help courses in relaxation, storybooks, comforting audio files, self-therapy courses, practice courses in journal writing, etc. PlentyofFish doesn't only care for your dating experience but also your well-being. How cool is that?
You've finally realized that your message becomes messy after a period of flirting and online dating. Some messages are occasionally lost, and you get no response to messages you've sent. Before you start crying and self-questioning, just know that messages are only ignored most of the time. So, at best you know it's not a direct insult on you.
If that's your usual problem, I've got a solution for you —it's called "PriorityMessages." If a message is sent as a "priority," your messages will go straight away on the top list of the recipient's inbox. However, there's a catch —you need to pay $2 for tokens required to use the service. But hey, I think 2 dollars is pretty well-priced to get the attention of your potential match.
Pros and Cons of PlentyofFish
PROS:
Free registration
Plenty of unique and valuable features that enhance your dating experience
Available in mobile and desktop version
Both app and website are simple to use
Intuitive interface and modern design
Most accurate matches
The search tool is amazing
Sending messages is free
CONS:
Long signup process
Some reported fake profiles
---
TOP 12 Singles and Adult Dating Sites Similar to POF.com: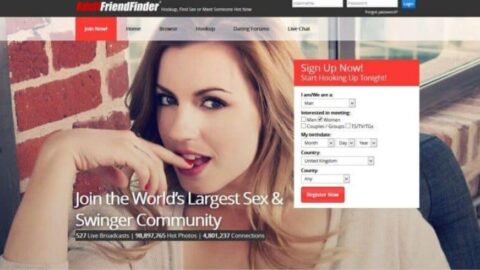 The Adult Friend Finder website is famous all over the world. It has more than eighty million members desiring erotic interactions with multiple women. Similarly, it provides numerous flirtatious relationships, such as casual connections, monogamy, couples, fuck buddies, and many more.
Indeed, this is an excellent experience that spices things up in the bedroom, especially between open-minded people willing to examine their sexual orientation. Finally, registration is relatively stress-free and straightforward, so members finish it in less than five minutes.
Here's the full review of AdultFriendFinder.
PROS:
Registration is free and fast
The members of the website are active in looking for casual hookups
Plenty of options in terms of communication
Watching videos and viewing images are free
You can write blogs and engage in a group conversation
The app is available for download and compatible with both iOS and Android devices
CONS:
The number of male members is greater than the females
Limited options for free basic accounts
---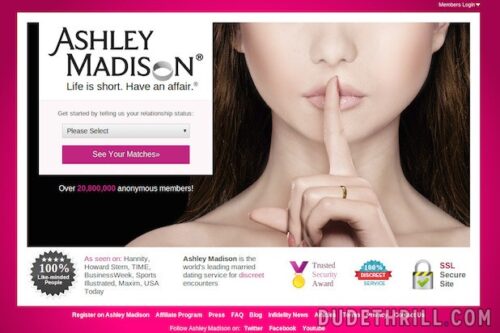 Top-notch website in terms of hookups and adult dating, Ashley Madison has been around since 2001. If you are in a monotonous relationship or wanting to get out of the routine of married life, then this website is just right for you. Indeed, all types of sexual affairs are welcome here, and no one will judge you. Also, the members can engage with many members across the world and enjoy sexual entertainment.
Above all, Ashley Madison listens to its members' feedback and the changing demands of people's lifestyles to improve their features. Everyone is free to explore all types of relationships, including polygamy, threesomes, and many others. Thus, Ashley Madison remains on top of the game despite the competitive industry of online dating.
Click here for AshleyMadison full review.
PROS:
Encourages the members to upload discreet photos
The site offers free registration and follows a simple process
Protection of images and sensitive data from spams
You can download this through Google Play and App Store
Low storage requires and will not occupy too much phone storage
Members are enormous and from across the world
CONS:
Several accounts do not provide details about themselves
---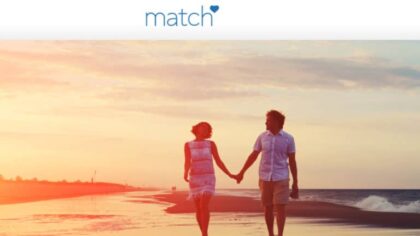 The Match is a great and unique way website that allows singles to find matches and love. It covers worldwide and has been dominating the Internet since 1993. The site even rewarded its initial members a lifetime subscription to their place as a way to celebrate their success. Up to this day, Match is still progressively growing, and many people register. Surely, your money, effort, and time will not be wasted on this platform. Even your online experience is protected through their strict security standards.
PROS:
It has been established and continues to operate for several decades already
App version is free to download in both the App Store and Google Play Store
It has premium members of over eight million around the world
More than 20 million members registered
Registration is quick, fast, and easy
Free viewing of profile accounts
Functionality and usage is guaranteed convenient
CONS:
Message and chats are for paid members only
Only premium members can exclusively access chat rooms
---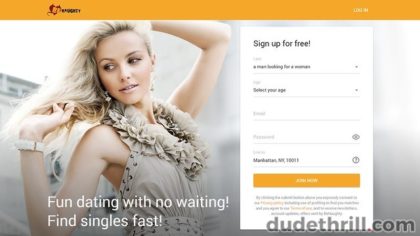 Introduced in 2000, it became an increasingly successful dating website that works in partnership with Flirt, IWantU, and UpForIt to provide proven quality and comfortable environment for the users. Each day it has over 13 million visits, and there are over millions of individuals worldwide consider signing up as official users.
This is certainly a flawless outlet for getting wild and engaging among married people and single individuals in sexual activities and relationships. Your private data sent to the BeNaughty site is safely secured because it uses the SSL Encrypted method and has followed the validation phase for all accounts. Everything enables the entire journey a lot more enjoyable and avoids any money-making scheme.
Click for a full review of BeNaughty.
PROS:
The platform was established over 20 years already
Each day, there are a growing number of people signing up
Members are responsive and active
Free five chats daily for free basic accounts
Easy to navigate and simple interface website design
Video chat is available
CONS:
Some accounts do not provide much information on their profiles
Advertisements are plenty and annoying
Annoying live notifications
---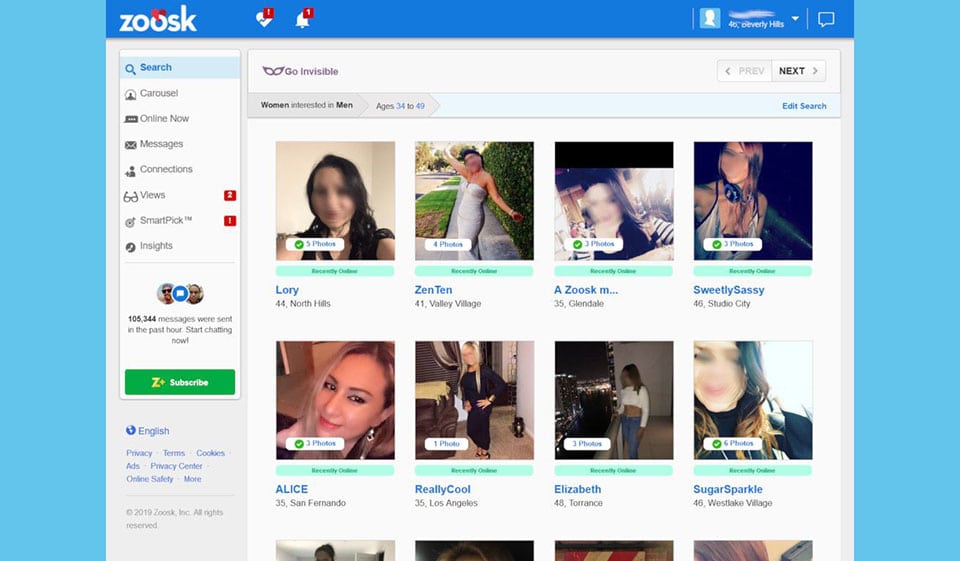 Zoosk has been the place for young singles who are looking for casual hookups. It didn't merely provide for the night's satisfaction to some of its users, though. There are a big slice of users who end up being together in a serious relationship. One of the site's top priorities is the verification of members' profiles. So you don't have to wastefully worry whether who you're talking to is an actual person or not.
PROS:
It has an app accessible for both Android and Apple
Verified Accounts
High member activity
CONS:
The Messaging feature is only for premium members
Site appearance could use an upgrade
---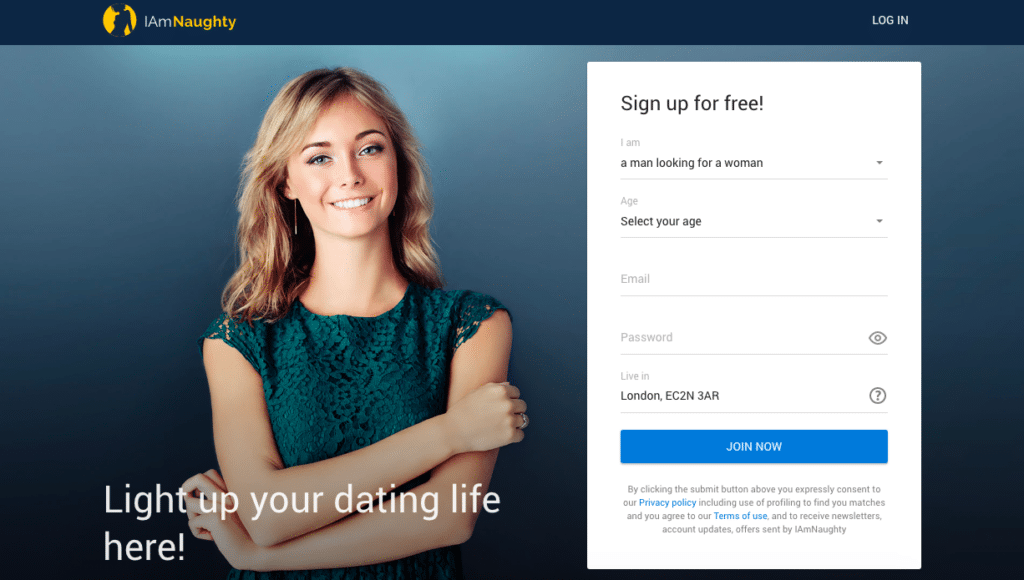 IAmNaughty is a website that has built a reputation in online hookups and dating sites without further introduction. Here, the members are free to explore their kinky sides and flirt with whom they want. Indeed, it has remarkable features that allow easy connections and engagement of the members.
Also, this platform encourages people to post erotic images and sexy videos to increase the higher rate of finding a perfect match. While it also allows the system to link their profiles to other matches automatically.
PROS:
The community is active, and every day they feel determined to find a suitable match
Site developers manually check accounts to assure that spammers are not available
Free chat room feature
Guaranteed great platform to find a suitable partner or casual meet-up
Women can access the whole website for free
CONS:
Viewing other member's images from the gallery is a paid feature
---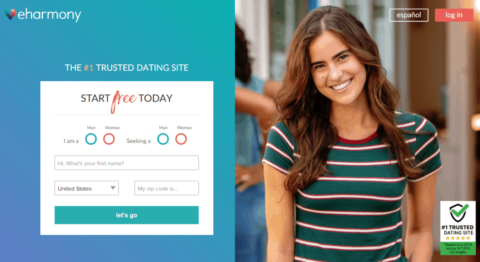 eHarmony is not like your typical dating site as it promotes members to find serious matches that can be capable of long-term relationships. The dating site utilizes a unique compatibility system for matching and narrows down to your considerably possible match. Intending to help its members land on genuine love across the globe, the eHarmony has prevailed to persist in meaningful relationships since 2000.
According to reports, the site creates over fifteen million matches every day, and over 600,000 pairs matched here got wedded. With this, eHarmony has established an excellent reputation through its compelling communication features and deep knowledge of the members' backgrounds. If you are specifically looking for a dating site to meet long-term relationships and profound connections, this is worth trying.
PROS:
A precise and accurate method of matching
Millions of members across the world
Numerous privileges offer for premium members
Website design is simple and easy to understand
Free sending of winks
App version is available for download both for iOS and Android devices
Minimal number of advertisements
CONS:
No communication medium variety
Viewing of profile pictures is exclusive for premium members only
---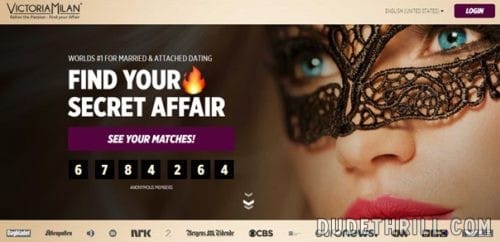 Victoria Milan is one of the favorite dating websites worldwide for cheating couples and in committed relationships. Indeed, the website provides a secured and private venue where you can experience sexual connections.
So, if you are lonely or in a monotonous relationship, the website delivers a fantastic escape from this misery. Indeed, it transforms lousy sex life into a more fun and exciting journey. Above all, you do not have to worry about getting caught because the website has a "Panic Button." So, you can exit the page without getting caught.
Here's a Victoria Milan review.
PROS:
More than six million members across the world
Registration is hassle-free and simple
Design of the site maintains simple and easy to navigate
Features like winks and adding to favorites are free to use
Callout boxes use to address problems, issues, and concerns regarding the site
The app version is available for download on Google Play Store and App Store
CONS:
Video calling is not available
Only the paid members send and view messages
---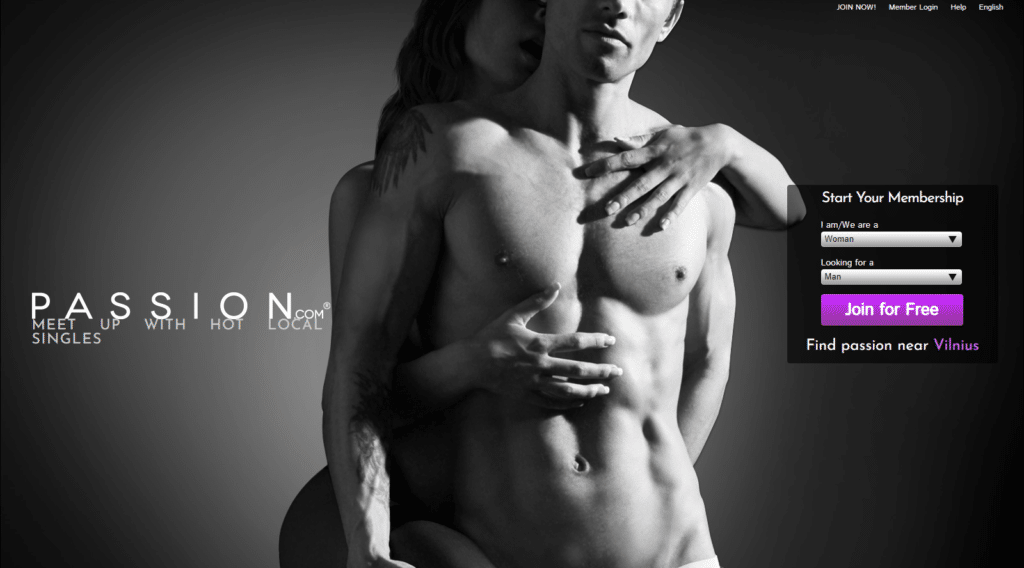 Lustful, playful, and passionate, these are the images and videos that will welcome you when you visit Passion. True to its name, the site will give you the sensual sexual adventure you have been looking for. The site has been growing day by day and has retained a high percentage of active users.
A full review Passion.com here.
PROS:
The site is easy to navigate; very user-friendly
Lots of active members
Most of the active members are for real passionate
CONS:
No mobile application
Limited access for free members
---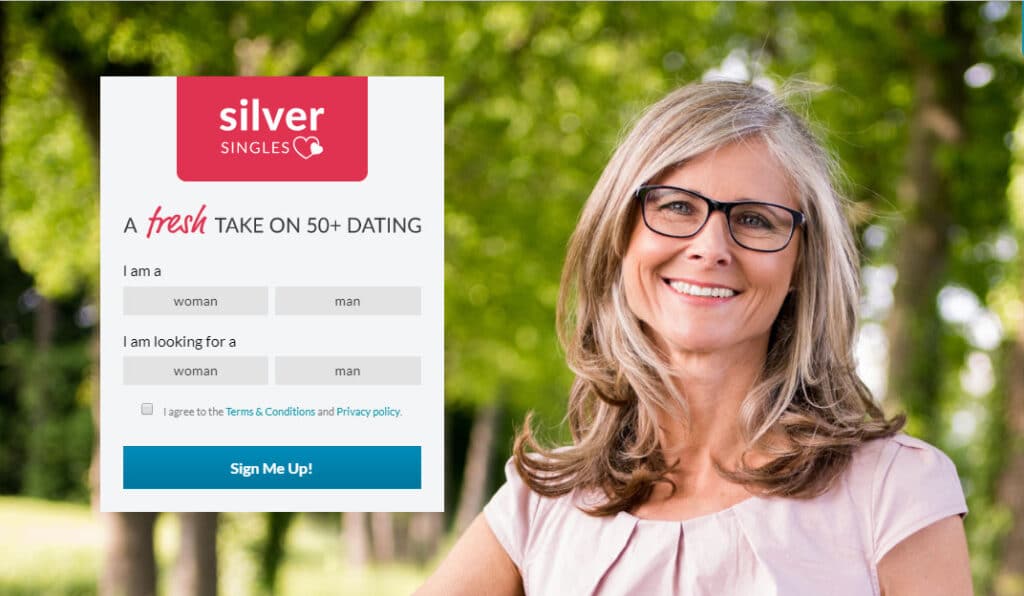 SilverSingles is an excellent site for people in their silver years, meaning aged 50 years and above. It has been in the industry for nearly two decades already and continues to provide its members with the safest and genuine services. When you register on this site, your information is utilized in matching with other members, and the website provides you with names of potential interests. In this concept, the SilverSingles site is widely known in matchmaking, especially for those seeking true love. Indeed, even at your silver age, it is never too late to have your chance.
PROS:
Personality traits provided is the basis for matching
The free and easy registration process
Free sending of smiles
The search filter can be based on your preferences
Even for free accounts, users can see other members' profiles
App version and a desktop version function similarly
Free download for the app version both for Android and iOS devices
CONS:
Paid members can only view other photos
Paid subscription required to use chat messaging feature
---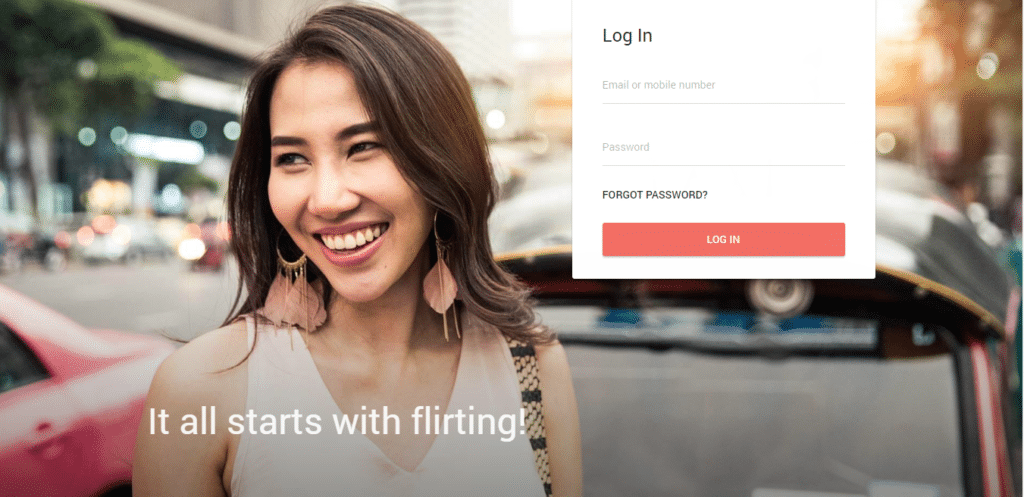 Joining an online adult dating website with an accurate and fantastic number of features is relatively tough to find. Only a few have proven their reputation because of the numerous dating sites lurking on the Internet today. Indeed, one website met users' expectations in terms of romance, flirting, and dating, and that is Flirt.com!
Indeed, for so many years in the business, this website has been a notable brand that competes with other top-rated dating platforms. Indeed, just by merely scrolling, browsing, and clicking, you will have an instant date from the millions of choices around the world. So, what are you waiting for? Join the rest of the world in discovering your luck.
PROS:
Members with suspicious information will undergo anti-scam verification
Fast registration process
Millions of members around the world
Members are young and active, usually between 20-35 years old
There are plenty of active members looking for casual fun daily
Affordable price 3-day Trial is available
CONS:
Only premium members can send messages
Some of the profiles have poor details and information
---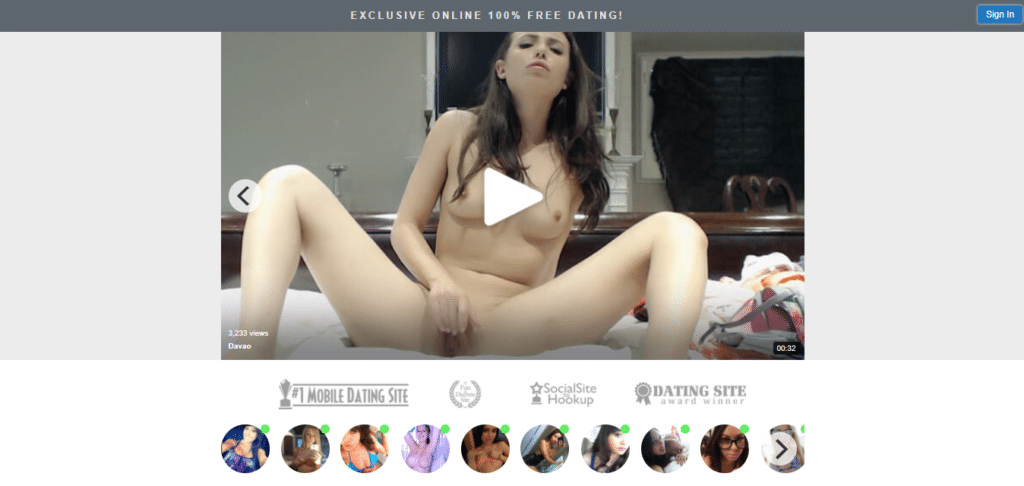 If you are looking for the best dating website that helps people find dates, chat, engage, and meet fellow members with similar interests, then FreeLocalDates is undoubtedly great to try out. The website provides straightforward steps on finding all types of relationships, like one-night-stand, casual affairs, flirting, and even serious commitments.
The website has an excellent operating system that runs smoothly on desktops, laptops, smartphones, and other devices. Coupled with simple design, functionality, and features, indeed, you will find vast chances of finding your perfect date.
Check for review of FreeLocalDates.
PROS:
You can freely choose what form of communication tools you like (chat, instant message, text, etc.)
Numerous members are looking for a hookup, casual affairs, and many forms of relationships
Free sending of messages to other members
Sends notifications of updates
Easy and fast searching of matches using advanced features
Design is simple, minimal, and modern
Can block users anytime
Plenty of active members daily
CONS:
Numerous packages for premium memberships seem confusing
Limited access to features when using trial mode
---
Conclusion
Since the emergence of online matchmaking and adult dating platforms, PlentyofFish has consistently stayed updated with new trends of meaningful interaction. It's common knowledge, so it's not like it's secret or anything, but, in case you're unaware, this is the best-known dating website — particularly across the USA. A subscription offers a sure-fire connection to a massive userbase. If you're new to hooking-up, or dating, I urge you to give it a shot. After all, it's pretty effortless to use and completely free, so you've got nothing to lose.
The PlentyofFish brand seems to be quite savvy at luring customers to their dating service. It's a fantastic way to cross paths with a shitload of exciting people — quick hookups, some pals, short-term flings, and of course, long-term relationships and commitments. But since there are millions of active members here, you may wade through a pool of uninteresting users. If you really want better matches and get more accurate suggestions, state your relationship, interests, preferences, and intentions upon signing up, and it will let your prospects know where you stand.
All 75 Other Sites in This Category Worth Checking Out:
Top-5 Dating & Casual Hookup Sites That Actually Work in 2023 Perfect for ~20-55 year olds, with & without spouses! These are not some "fake" ones pretending to have girls, they are real, worldwide largest networks. Jump to Top-5 Dating & Hookup Sites Hey, I know that jerking off is quite exciting and cool. But… nothing […]