Updated on: December 10th, 2023
NUiT Review
& 12 Best Hookup and Dating Sites Like Nuitapp.com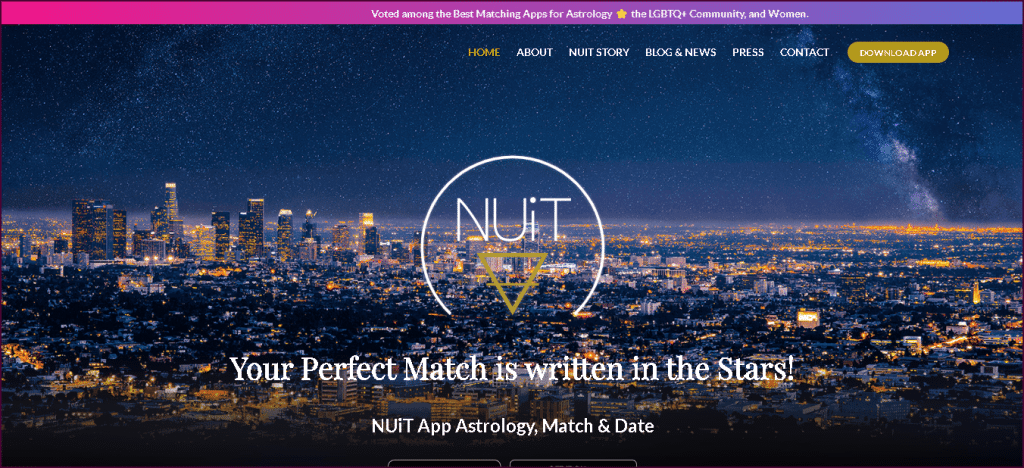 Hey there, stargazers! Are you tired of swiping left and right without finding someone who gets you? Do you need more than a profile picture to know if someone suits you? Well, fear not! NUiT, the astrology-based dating app, might answer your love woes. Sure, you might think astrology is just a bunch of hocus-pocus but hear me out. According to NUiT, your birth chart can reveal much about your compatibility with potential partners, friends, and even family members. So, forget the boring old compatibility quizzes and let the cosmos do the work for you. Trust me, your love life will thank you for it.
Official URL: https://nuitapp.com
Out-of-this-World Dating and Hookup Experience at NUiTApp.com
Alright, folks, let's talk about something out of this world. No, I'm not talking about aliens (although that would be cool). I'm talking about NUiT, the astrology-based dating app that's got the single population starry-eyed. Instead of asking for your favorite pizza topping, NUiT wants to know your zodiac sign because, according to astrologers, that tells them everything they need to know about you.
Also, NUiT takes it one step further by creating a birth chart that explains your drives, wants, and several "appealing" characteristics. It's like having a personalized dating profile written in the stars. And unlike other dating apps that are all about swiping right on someone's looks, NUiT allows you to take your time and explore potential matches at your own pace. Talk about a breath of fresh air!
But among the best things about NUiT is how inclusive it is. The app is a hit among the LGBTQ+ community, with preferences declining to view straight user0073. Certainly, the app offers a welcoming opportunity to users, which is a significant step towards being more inclusive and diverse. Of course, like any dating app, NUiT isn't perfect. The cosmos may have a plan for you but can't guarantee an ideal match. You might still have to deal with the occasional mismatch or ghosting. At least you can blame the planets instead of blaming yourself, right?
Find Your Cosmic Connection Using NUiT's Astrology-Powered Matching System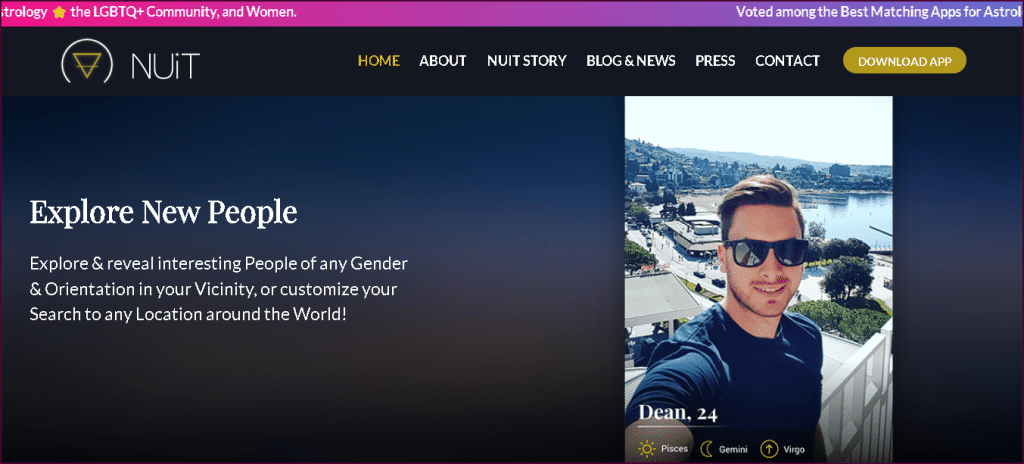 Picture this: you're swiping through a dating app, and every profile comes with a detailed breakdown of your cosmic compatibility. Sounds too good to be true? Well, it's not, thanks to the NUiT app and its astronomical algorithm. Users must enter their birth details, and NUiT will do the rest. It'll transform your birth chart into traits and qualities, explaining your inner workings and providing you with a community of like-minded individuals.
However, you'll receive matching rates and insights before you connect based on your birth chart and the potential matches. That's right; you'll get a glimpse into the stars' wisdom and how they influence your possible relationship, with tips on improving it. It's like having a cosmic love guru right in your pocket. Of course, we can't promise that the stars will align every time. Except with NUiT, you can at least go into each connection with more insight into yourself and your potential partner. So, take the plunge, and let the cosmos guide your love life.
 
Unlocking the Secrets of Love with Astrological Birth Chart Analysis at NUiTApp.com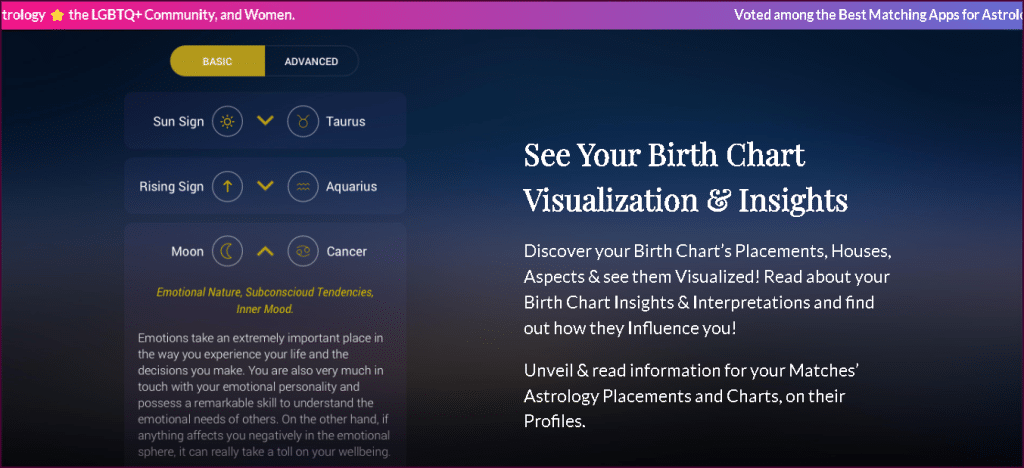 Ready to say goodbye to boring first dates? NUiT App is where you can gain intuitive information about yourself and your potential partner based on your cosmic personality traits. The app provides compatibility records and synastry estimates and offers a shitload of conversation topics to make that first date feel like a cosmic connection.
Also, we're not just talking about the weather or your favorite TV show. We're talking about deep, thought-provoking subjects that will connect you and your date on a whole new level. Not only is NUiT an excellent tool for dating and an informative site for those interested in the power of astrology. You can better understand yourself and the world around you, all while potentially finding someone special.
Additionally, the NUiT founders have heard many success stories from users who have found long-lasting and meaningful relationships through the app. That's their mission, after all: to deliver persistent and deeper connections. Besides, they're not stopping there.
In fact, they're so dedicated to this mission that they're constantly working on new content about astrology to keep users engaged and informed. In the coming months, NUiT plans to create more astrology-related content for its users to enjoy. So whether you're a seasoned astrologer or just getting started, NUiT has something for everyone. Give it a try and see where the stars take you!
Find Love and Friendship with a Cosmic Twist: Unique Way of Connecting You with Compatible Dates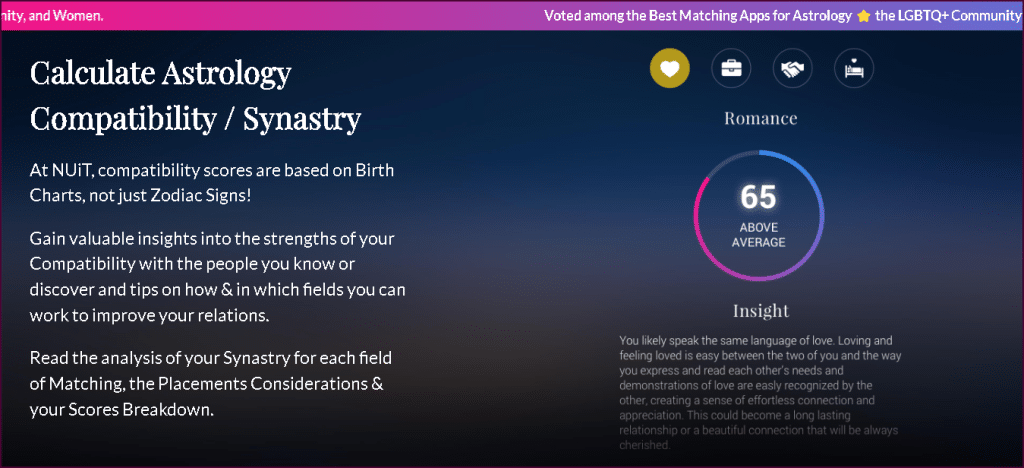 Well, well, well, it looks like NUiT has been the cupid of the 21st century! As the pandemic has forced us to keep our distance, more and more people have turned to the stars for guidance in finding love. Millennials and Gen-Z seek love and the secret to seeing themselves on this app.
Speaking of love, the platform seems to have more members on the ladies' side, but don't worry; it doesn't discriminate against anyone, and is open and friendly to the LGBTQ+ community. Meanwhile, most users are in the US; the app has a global reach and lets people explore their soul mate beyond their geographical region. Who knows? Maybe your perfect match is waiting for you on the other side.
Indeed, there's a world of people to meet out there, and you can connect with them for different purposes like friends, chats, or even potential romantic dates. Plus, with astrology by your side, distance is no longer a barrier to finding a match.
Matching, Dating, and Connecting that Goes Beyond Swiping at Nuitapp.com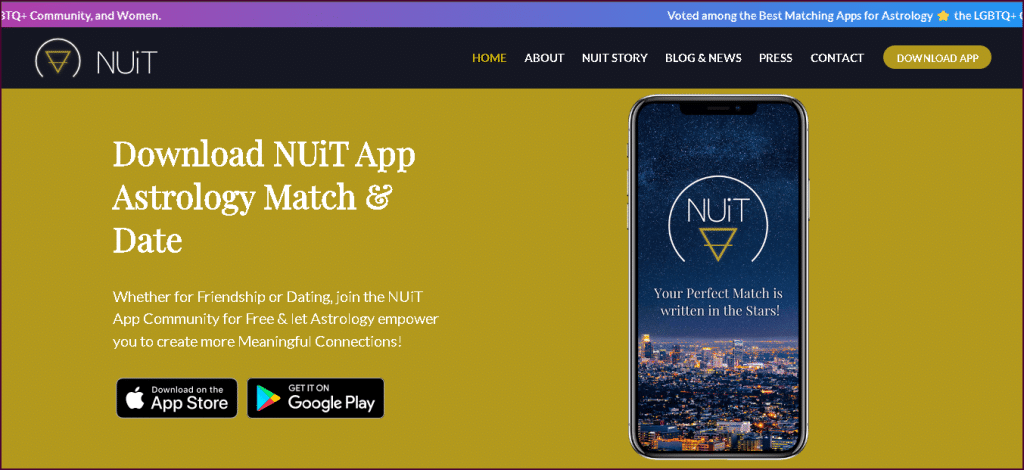 NUiT is more than just a dating app — it's a one-stop shop for all your relationship guides and info. Whether you're struggling with love, work, or friendships, NUiT has your back with personalized personality insights and astrological guidance.
But what if you and your match don't score high on the astrology charts? Fear not! NUiT doesn't believe in giving up on a connection so quickly. With their helpful guidance grounded on your unique charts, you can pinpoint precisely where you have to improve and where the strengths lie to build a stronger connection in the end.
So don't let a less-than-perfect match score discourage you – NUiT has the tools and expertise to help you find common ground and create a meaningful connection. Let astrology guide you to success in all aspects of your life!
Say Goodbye to Superficial Swiping with NUiT: Get to Know Yourself and Others in a Cosmic Way!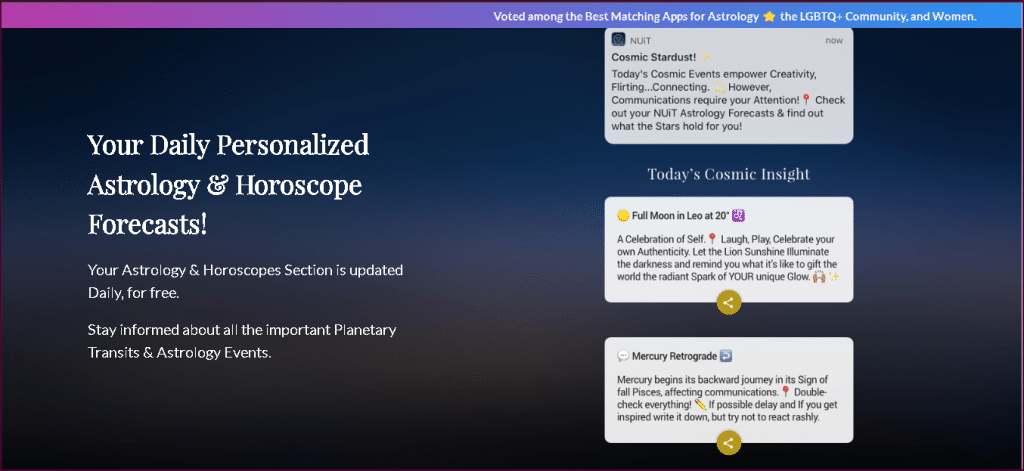 In a generation where we are all swiping left and right to find our perfect match, NUiT App is the refreshing and innovative solution. This app is not just about finding someone to date but understanding yourself and your matches in four essential categories:
Friendship
Romance
Business
Magnetism
Finally, you can say goodbye to superficial connections and hello to meaningful insights that allow you to understand yourself and other people honestly. With NUiT, you won't waste your time on relationships that aren't destined to be. The app establishes your prospects for the initial dates by providing information about the connection's compatibility.
Certainly, there will be no more awkward coffee shop small talk because you'll know before you arrive that this "match" is destined! It's like having a cosmic matchmaker in your pocket, providing valuable insights and advice to help you navigate any relationship.
Whether you're looking for love, magnetism, or a new friend, NUiT has covered you. Plus, the app is LGBTQ+ friendly so everyone can find their perfect cosmic match. Don't settle for surface-level connections – join NUiT and experience a deeper connection and understanding.
Discover the Cool and Unique Features of Astrology-Inspired App!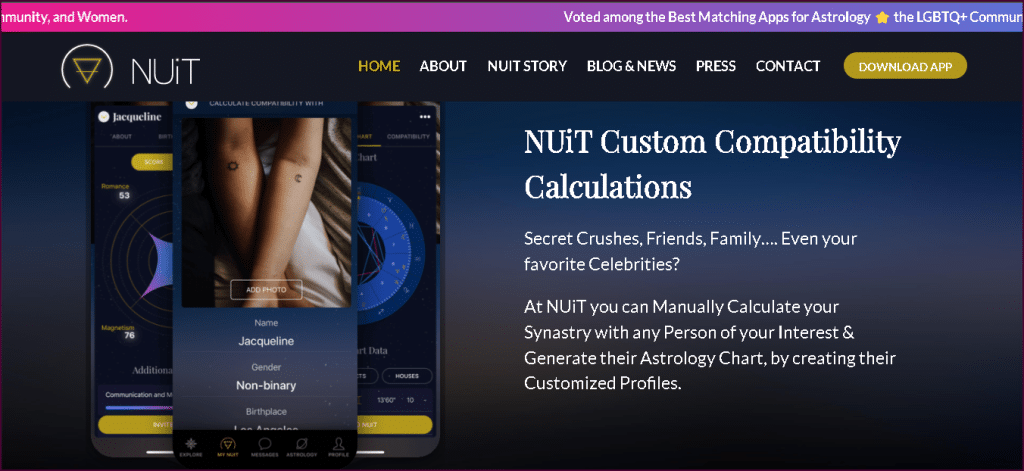 First up, there's a "Search" function. Whether looking for someone in your local area or curious about people worldwide, NUiT covers you. Adapt your searches to various areas and explore different people from all walks of life.
The app also helps you uncover the secrets of your chart's placements — all visualized in an easy-to-understand format.
NUiT also lets you compute your matching status with cute and interesting people, even if they're not using the app. It's like having your astrologer at your fingertips!
Users can get free daily horoscope forecasts without paying a single dime. Stay up-to-date with cosmic energies and see how they may affect your day. So, generate their birth chart and see how you two match up.
Get Ready to Love Without Labels: NUiT App Embraces the LGBTQ+ Group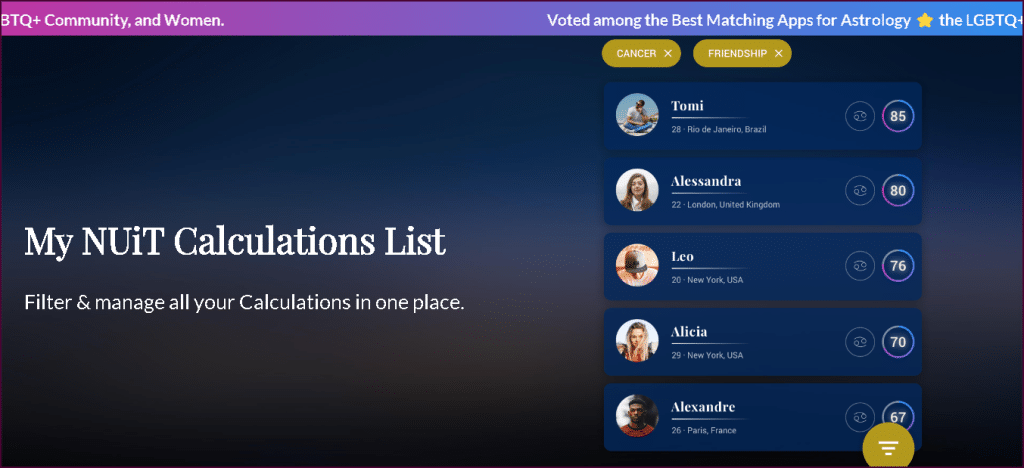 NUiT is ahead of the curve in its inclusivity efforts, recognizing the importance of "non-binary" and expanding its range of gender preferences. The app is a safe space for users who want to feel comfortable being authentic without fear of judgment or discrimination.
In fact, NUiT goes one step further, offering the option for users to hide from hetero users, giving them the power to choose who they connect with. It's all about creating a supportive environment for everyone to find the love, friendship, or business connections they seek.
Certainly, this approach is a breath of fresh air compared to the tired old dating apps that seem to cater only to the heteronormative, cisgender population. NUiT recognizes that love knows no bounds, and everyone deserves to find their perfect match, regardless of gender identity or sexual orientation.
Pros and Cons of Nuitapp.com
PROS:
A unique approach to the matching system
Lots of members
Open to all types of sexual preferences
Welcoming community
Fantastic design and app features
CONS:
Focus more on birth charts and astronomy.
---
12 Best Hookup and Dating Sites Similar to Nuitapp.com: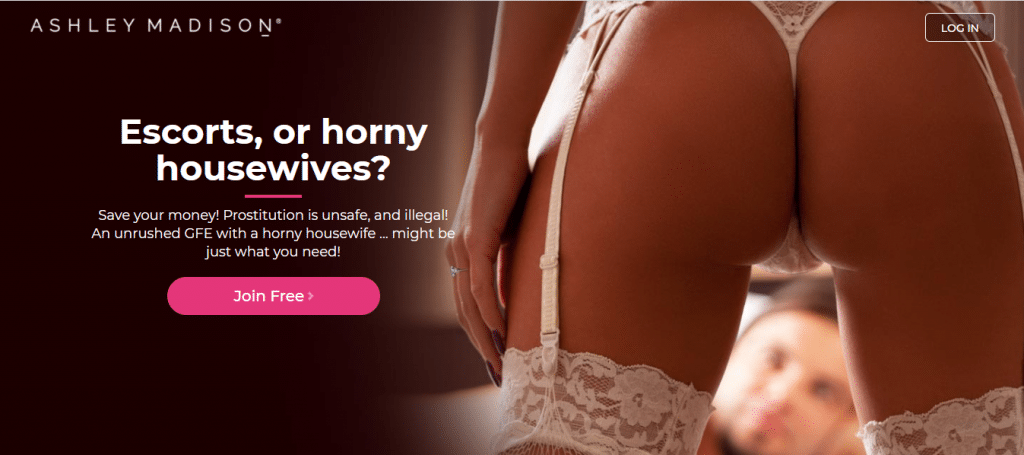 Top-notch website in terms of hookups and adult dating, Ashley Madison has been around since 2001. If you are in a monotonous relationship or want to get out of the routine of married life, then this website is just right for you. Indeed, all types of sexual affairs are welcome here, and no one will judge you. Also, the members can engage with many members across the world and enjoy sexual entertainment.
Above all, Ashley Madison listens to its members' feedback and the changing demands of people's lifestyles to improve their features. Everyone is free to explore all types of relationships, including polygamy, threesomes, and many others. Thus, Ashley Madison remains on top of the game despite the competitive industry of online dating.
Check out the full review of AshleyMadison.
PROS:
Encourages the members to upload discreet photos
The site offers free registration and follows a simple process
Protection of images and sensitive data from spams
You can download this through Google Play and App Store
Low storage requires and will not occupy too much phone storage
Members are enormous and from across the world
CONS:
Several accounts do not provide details about themselves
---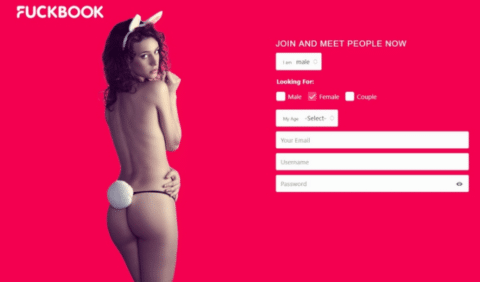 A perfect website for casual relationships and sex hookups is called FuckBook. Here, you are given opportunities to find swinger encounters, sex dates, and many more. This is convenient for people seeking a no-strings-attached relationship as quickly as possible. From the name of this site itself, you know exactly what you are getting into once you scroll through the platform. The interface and features of the FuckBook are straightforward and convenient compared to other swinger dating sites on the internet.
Here's the full review of FuckBook.
PROS:
Profiles created are numerous
The website has a design that is easy to navigate and use
Signing up is fast and instant
Membership is affordable but with lots of advantages
CONS:
There are annoying advertisements on the site
---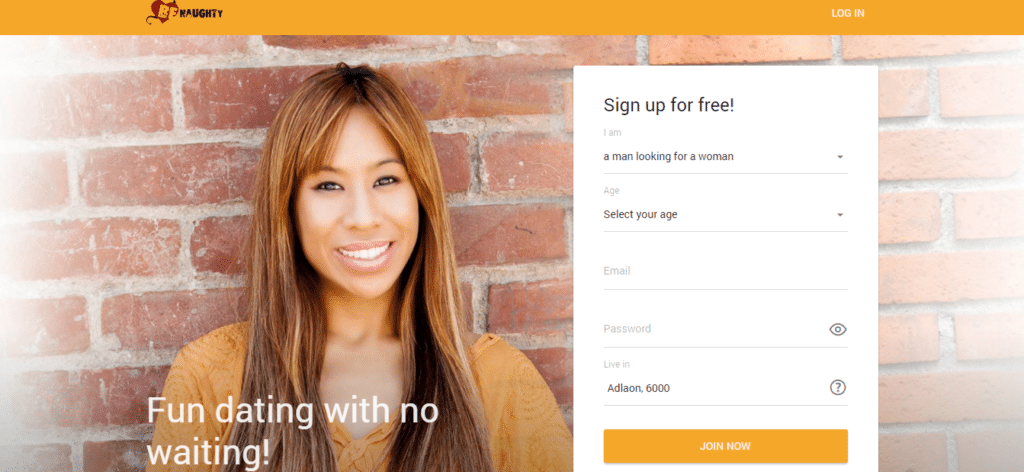 Introduced in 2000, it became an increasingly successful dating website that works in partnership with Flirt, IWantU, and UpForIt to provide proven quality and comfortable environment for the users. Each day it has over 13 million visits, and there are over millions of individuals worldwide considering signing up as official users.
This is indeed a perfect outlet for getting wild and engaging among married people and single individuals in sexual activities and relationships. Your private data sent to the BeNaughty site is safely secured because it uses the SSL Encrypted method and has followed the validation phase for all accounts. Everything enables the entire journey to be more enjoyable and avoids any money-making scheme.
Click here for a full review of BeNaughty.
PROS:
Established over 20 years already
Every day, there are an increasing number of people signing up
Members are responsive and active
Free five chats daily for free basic accounts
Easy to navigate and simple interface website design
Video chat is available
CONS:
Some accounts do not provide much information on their profiles
Advertisements are plenty and annoying
Annoying live notifications
---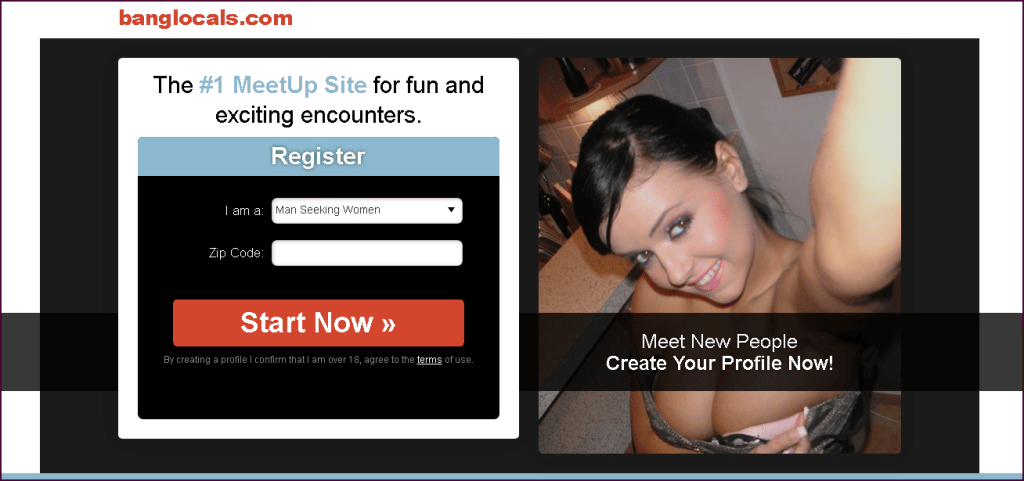 Banglocals is a must-visit website for people looking for a perfect match for sex, dates, and casual affairs. Regardless of the number of competitive websites out there, it has remained on the top spot today. Indeed, our lives are a shitload of work and stress. All we want is relaxing and calming ways to release it. Certainly, a great buddy who will stimulate our sexual desires can make life full of enjoyment. Good thing, Banglocals is a sex dating website that uses a simple process in registration. So, everyone will right away experience pleasure. Indeed, everyone has the chance to find a hot, sexy mate.
PROS:
People can create a sex date network
Free to search profiles of other members
View galleries of images and videos
People can give ratings to hot members
Registration is free and easy
Encourages to post personal images or upload public content
You can contact people through text or e-mail
CONS:
No x-rated videos
No trial period
---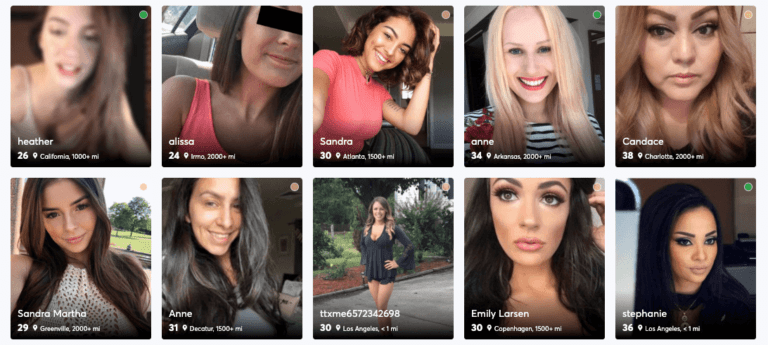 Victoria Milan is one of the favorite dating websites worldwide for cheating couples and committed relationships. Indeed, the website provides a secured and private venue where you can experience sexual connections.
So, if you are lonely or in a monotonous relationship, the website delivers a fantastic escape from this misery. Indeed, it transforms lousy sex life into a more fun and exciting journey. Above all, you do not have to worry about getting caught because the website has a "Panic Button." So, you can exit the page without getting caught.
Click to see the full review of Victoria Milan.
PROS:
More than six million members across the world
Registration is hassle-free and simple
The design of the site is simple and easy to navigate
Features like winks and adding to favorites are free to use
Callout boxes use to address problems, issues, and concerns regarding the site
The app version is available for download on Google Play Store and App Store
CONS:
Video calling is not available
Only the paid members send and view messages
---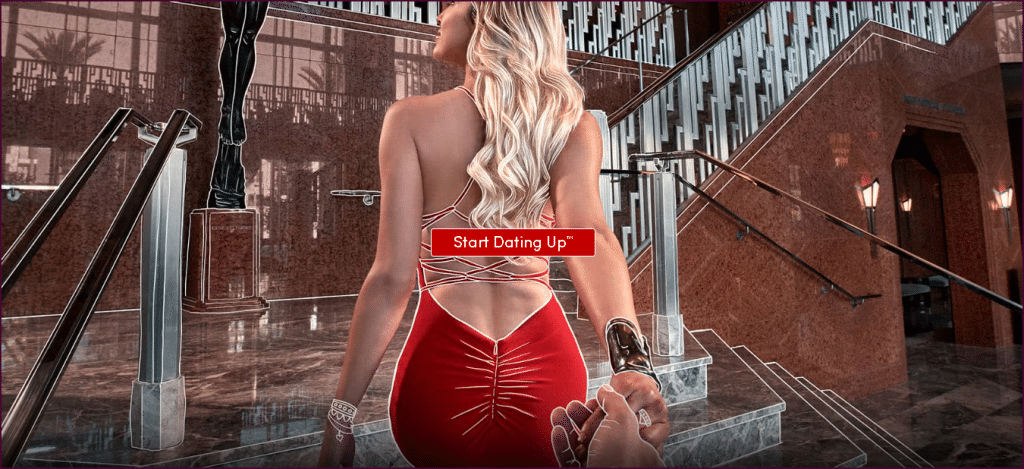 A niche dating platform that attracts daily visitors is Seeking Arrangement. Since this is not a regular matching website, its design could throw off several individuals who occasionally come on this. Nevertheless, it does a brilliant job of providing a secure atmosphere for the type of partnership and interaction it promotes. Moreover, it is intriguing to discern that it has a fair number of people internationally for a platform that contains a relatively fundamental concept.
Seeking Arrangement is a place for youngsters to engage sugar mommies and daddies who could deliver monetary support and encouragement for them. Sugar babies must provide love, sex, affection, and lengthy connections in exchange. Seeking Arrangement redefines an ideal relationship as it undermines the conventional means of internet wooing. The site delivers an oasis where you can incorporate enjoyment with a company.
Take a look at the full review of Seeking.com.
PROS:
The verification process is strict
Within just five days, the site guarantees users can find ideal arrangements
It has over ten million members actively seeking and involved worldwide
The majority of members are from the United States
The registration process is easy and swift to finish
Free sending of messages to other verified members only
CONS:
Few fake sugar baby accounts
Requires permission to view a private gallery of other members
---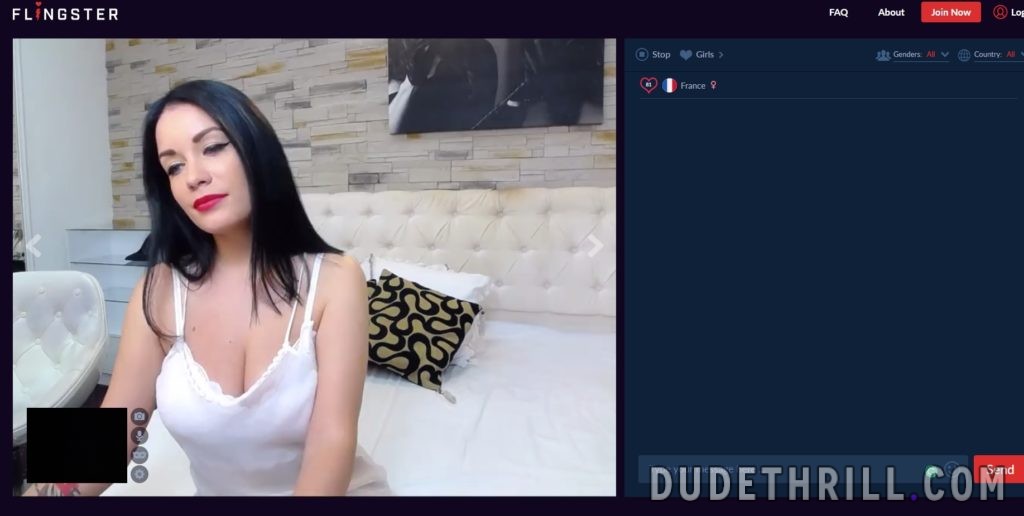 Flingster is an adult dating website for meeting, hanging, and making out with singles. On this website, the application process is indeed speedy and convenient. So, it won't be wasting much of your energy at all. Compared to several other dating websites, even free accounts can use messages and video chats without paying.
On the other hand, paid subscribers have additional features that are indeed unique. Meanwhile, Flingster similarly provides discreet identification while chatting before you consent to a spontaneous, quick fling.
Here's a full Flingster review.
PROS:
Unspecified character is a choice
Everybody is excellent regardless of sexual orientation or gender
The sign-up procedure is available and relatively simple
The site's design is simple; however, understandable to navigate
CONS:
There are occasional phony profiles reported
---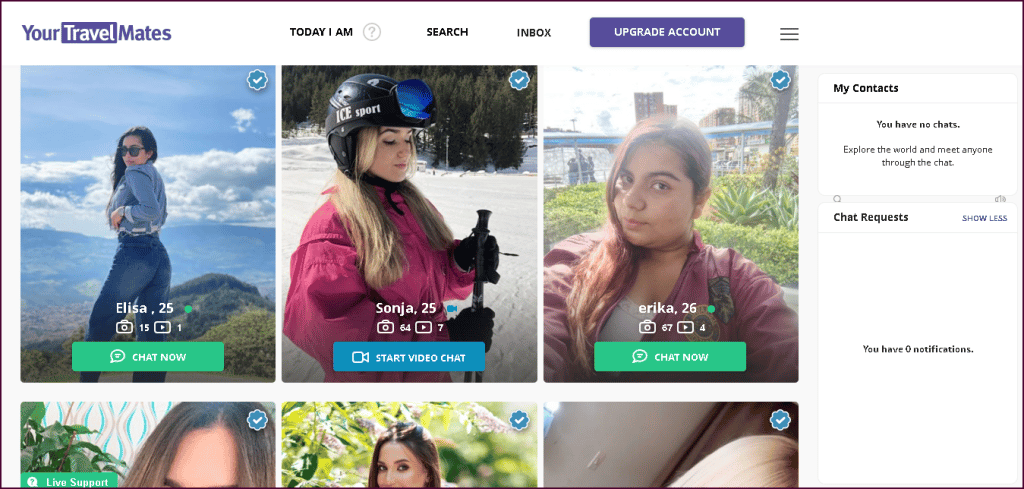 Since its inception in 1993, YourTravelMates has been a backbone of a global online dating community. One of the platform's defining features is its incredible diversity, which is anticipated from a matchmaking platform centered on exciting adventures and travels. Also, the number of potential suitors you'll find on YourTravelMates will rock your world. Ultimately, the website is user-friendly and contains a varied and exciting user base, making it a worthwhile asset in dating and hooking up.
Read the Your Travel Mates full review.
PROS:
Readily available singles from every corner of the globe
Can buy actual presents for other members using credits
It doesn't cost anything to send your first message
CONS:
Costs associated with using credit can add up quickly
Numerous blatantly phony accounts exist
Not best for locating committed relationships
---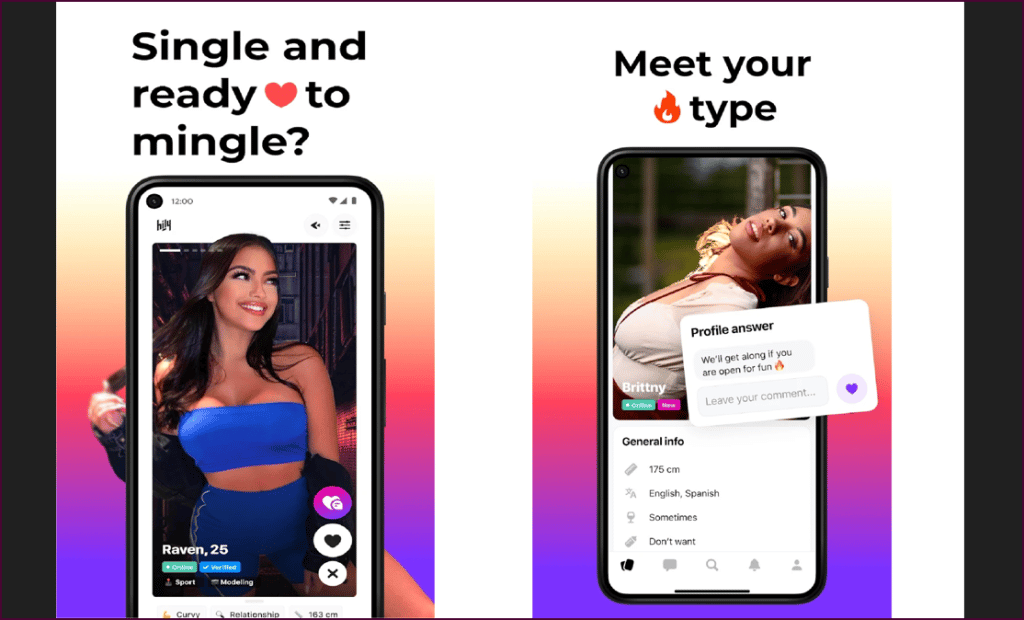 Hily is a newcomer to the virtual hookup and dating industry. It has several features that help locate and initiate contact with a suitable romantic companion. On top of that, the live streaming feature of Hily allows its users to connect in real-time and engage in whatever type of interaction they prefer. Not to mention, it also has a respectable amount of members, and that's enough reason to sign-up.
Check out the full review of Hily.
PROS:
Numerous features
Different modes of communication
Well-designed app and site
Lots of members worldwide
Security is remarkable
Ad-free browsing
CONS:
Membership is quite pricey
---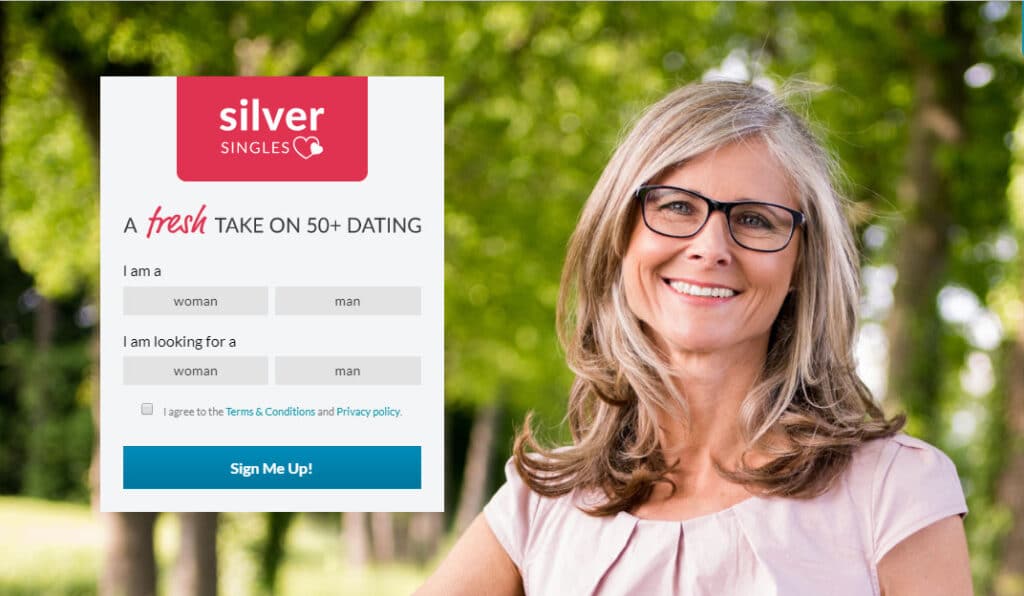 SilverSingles is a great site for people in their silver years, meaning aged 50 years and above. It has been in the business for almost two decades already and continues to provide its members with the safest and genuine services. When you register on this site, your information will be utilized to match with other members and the website will provide you with names of potential interests. In this way, the SilverSingles site is widely known in terms of matchmaking especially for those seeking true love. Indeed, even at your silver age, it is never too late to have your chance.
PROS:
Personality traits provided is the basis for matching
The free and easy registration process
Free sending of smiles
The search filter can be based on your preferences
Even for free accounts, users can see other members' profiles
App version and a desktop version are available and function similarly
Free download for the app version both for Android and iOS devices
CONS:
Paid members can only view other photos
Paid subscription required to use chat messaging feature
---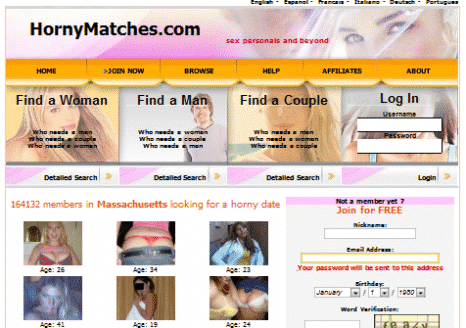 An online sex dating website for adults called HornyMatches includes participating members searching for casual dating and relations. Also, people had no trouble seeking satisfying experiences here, as the title of the website shows. Everyone can find their best matches and enjoy a sexy time together as quickly as possible. Besides, several of its services are for premium members exclusively, like messaging, viewing personal images, and many others. However, some functions are typically available to use by free members.
Learn more about HornyMatches with this full review.
PROS:
Simple design but very easy to use
Active community
Responsive members
The help page is available to cater to issues, problems, and many more
Registration is free and easy to understand
There are many members in any areas
CONS:
Some members reported fake accounts
---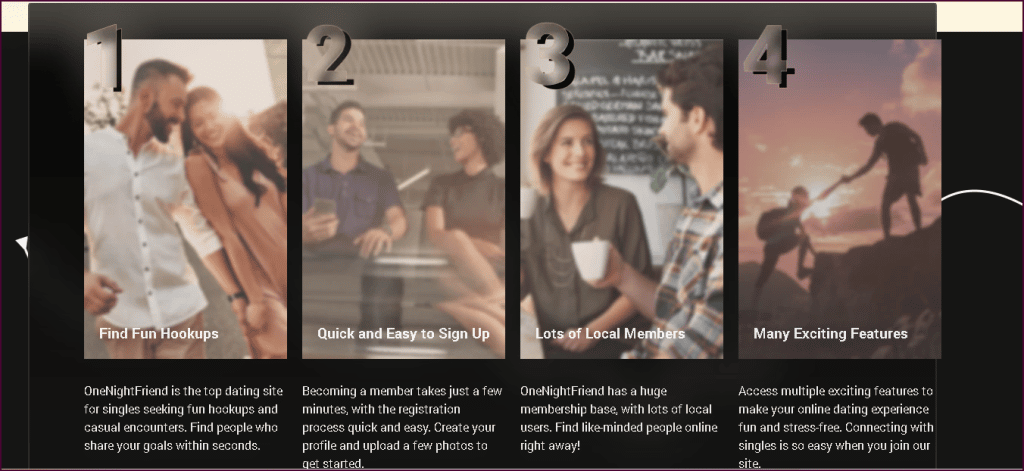 OneNightFriend is quickly becoming a reputable "brand" in the adult entertainment industry. It aims to unite folks for one-night stands and one-time encounters, even without long and serious involvement. Allowing you to connect and interact with other active users at your leisure can make the picking process much less taxing and time-consuming. Once you sign up, you'll gain access to several exclusive possibilities and meet thousands of potential dates. So, if you're a guy looking for some casual fun, I highly suggest you check out this site.
Check out the full review of One Night Friend.
PROS:
Quick hookups
Simple registration process
Plenty of active users
Subscription packages are within the budget
Design and features are effortless to use
CONS:
The app is only available for Apple devices
Has reported scam accounts
Interactive features need a premium membership
---
Bottomline
Let's face it; relationships are not always a bed of roses. They require effort, patience, and, sometimes, a bit of compromise. That's why NUiT and astrology are such a powerful combination. By looking at the stars, you can better understand yourself and your partner. You can also identify potential issues and work on them before they become deal breakers. It's like having a secret weapon that can help you overcome any obstacle.
Even though NUiT is not a magic solution, it's a perfect tool to help you make more informed decisions about your relationships. So, whether you're single, looking for love, or in a committed relationship, NUiT can guide you to a more fulfilling and harmonious connection. Remember, it's not about finding the perfect match but creating an ideal balance.
All 75 Other Sites in This Category Worth Checking Out:
Top-5 Dating & Casual Hookup Sites That Actually Work in 2023 Perfect for ~20-55 year olds, with & without spouses! These are not some "fake" ones pretending to have girls, they are real, worldwide largest networks. Jump to Top-5 Dating & Hookup Sites Hey, I know that jerking off is quite exciting and cool. But… nothing […]