Updated on: December 5th, 2023
Flingster
The 2023 Review of Flingster – Is It Really Good?
Website Link: https://www.flingster.com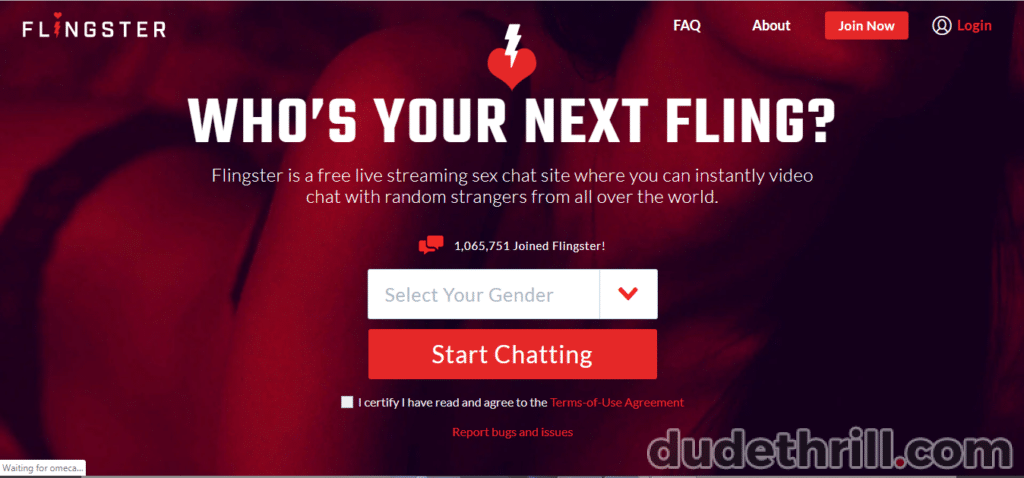 Random chat with strangers has been a trend for quite some time now. It has been a common interest among many people, especially with the rise of technology and everyone seems to be always on the Internet. In the online world, we can easily meet new friends, know some potential partners, or just talk to people and hang around. We've always been warned to never talk to strangers, but there's just something about the anonymity and thrill that online communication brings to all of us… and this is where adult chats like Flingster come into the picture.
If you want to meet like-minded, horny people who want just the same thing as you, you'll love Flingster. There are a lot of adult chat sites emerging now and then; there are some established ones and newer sites as well. There's just something about randomly chatting with a stranger, flirting, and talking about topics both of you would surely enjoy such as sex, hook-ups, and other kinky stuff. No long registrations or verification are needed; you can instantly match with other members in just a few clicks. You're bound to meet one along the way, given that the site is home to more than a million users.
Flingster is one of the biggest online chatting websites and a lot of people swear by the fun and adventure that it brings. The site takes pride in its most important feature: video chatting, since it is all for free and without any restriction. Read on and learn more about this popular chat platform and find out how you can join the fun and bring spice and pleasure to your life.
Flingster In a Nutshell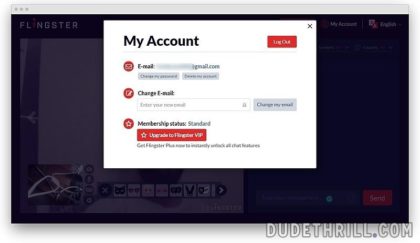 Although most features are free, they still offer a premium membership for additional perks and privileges, especially in terms of search filters and call settings. But the good thing with this site is that whether you're using a free or paid membership, you can always express your interest toward any other member. The site also values its members' privacy and anonymity in so many levels — they have their face mask features that apply to members' photos or videos being edited with face masks to ensure anonymity.
The website is commonly known as random sex and/or dating chatroom via text, voice, or video calls. Instant meetings can easily be made since no registration payments would be needed. Flingster's ultimate goal is to be a community where people can find what they're looking for. Since the website boasts of their free features, you can easily start a conversation with another member, as well as send files or any attachments.
Member Structure and Anonymity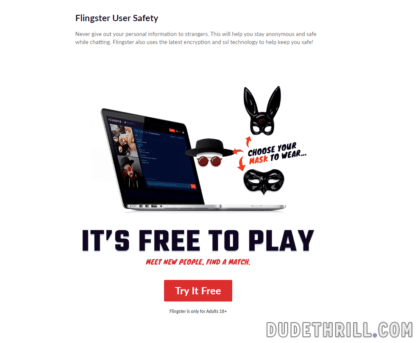 Everyone is free to join Flingster, regardless of gender, relationship status, or any other usual factors that usually come with online chatting sites. Whether you just want to meet new friends, talk to strangers about random stuff, get into a new relationship, or have some one night stands, Flingster is the best site to help you get down to business. You can communicate with anyone on this platform, wherever they are in the world. Aside from the fun, you'll get from having conversations with a stranger, you will also be able to understand and appreciate different cultures and nationalities. Flingster gives you the option to remain as mysterious as possible by letting you put on virtual masks. If you want to be loud and proud, you can also show your full face and real identity to have deeper connections and friendships with others.
As of the latest, United States has the highest percentage of Flingster members, with more than 500k users. If you are aiming for a meetup or hook up, you have more chances of getting to it since many members might be around your area. You can meet a lot of people from different walks of life (except minors, of course). Based on gender, most of the members are from the male population.
Registration and Social Media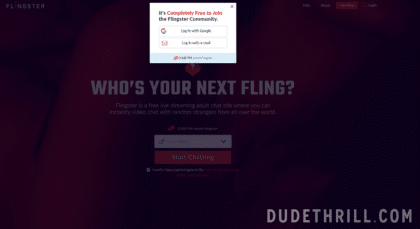 The whole process is such a breeze that you can start chatting with other people after just a few seconds of signing up. If you are not yet willing to pay and would like to observe the community first, you can avail and be satisfied with their trial period offering. To sign up, all you have to do is provide an email address and your age. Once your sign up is successful, you may start chatting one member at a time. One good aspect of this site is that they won't need to verify your email. Upon finishing the whole registration, you may start hitting it off with someone you find attractive among the many members. Unlike most sites where you can connect any social media profile to further give information and some glimpse about you, Flingster doesn't allow such a feature. To think of it, it's a great move by the site to further protect every member's privacy.
You can register on Flingster here.
Making Contact and Starting Conversations on Flingster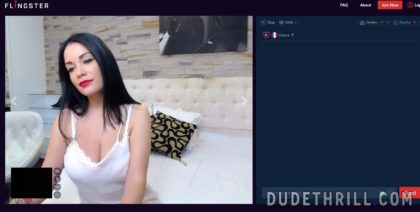 Once you create an account, you will immediately be able to enjoy unlimited chatting with anyone who matches you. If you feel a bit shy, you may opt for text chatting first. Once you get more comfortable, you can progress to talking (voice chat), then video calling. Premium members have the advantage to filter their possible matches in terms of gender and location. Although still random, the matching process will at least consider your preferences. Some members also use their native language in communicating with others so you may adjust your settings to still be able to adapt.
Since Flingster is a popular platform for online dating or hookups, there are instances where some members would have their videos turned on right from the start. Most of the time, those on the other line are naked or are wearing provocative clothes. If you feel uncomfortable with that, you may turn off your camera and make yourself comfortable slowly until you can move on to another contact option.
Members' Profile Quality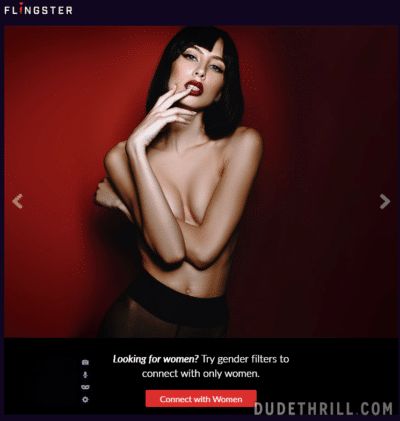 Flingster values its members' anonymity which is why you won't see a lot of information about a person in their profile unless you two start a conversation and he/she divulges such details to you. When you visit a profile, you could only see the person's gender and location, and for some, they would include a word or two about the kind of relationship or topics that will capture their interests. You also have the option to disclose other details like hobbies but you might want to save that for the actual chat conversation.
Since Flingster promises anonymity, they also make sure that members are verified and not just spam or fake accounts. A verification badge will be proof that they are legitimate members and not just some random bot or fake accounts. Seeing this badge would immediately make you feel more comfortable with chatting since you could be assured that you're talking to a real person… although anonymous but that is all part of the thrill.
You can send personalized messages to give a good impression to members that you like. In this site, it is important to express your interest immediately before the other person would move on to the next chat. Take note that Flingster doesn't let you browse profiles after profiles; you'll only see and connect with the members who are randomly selected as your match. Availing the premium membership would allow you to see a current chat mate again.
Flingster's Affordability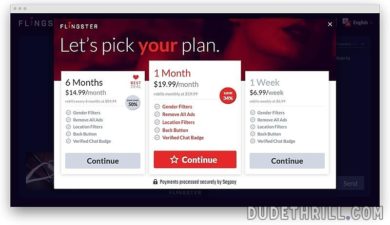 The free version allows you to use all the basic features with some ads here and there, but not too much that it would disrupt your chat experience. Paying for the premium membership will get you a verification badge and more customized filters. Paid users have more control over their whole chat experience and give more security and protection against fakers and dangerous people… plus, it's going to be ad-free once you are a premium member. Paid membership usually ranges from a weekly rate of $6.99 or $19 per month and $89.94 for six months
Payments, Website Design, and Usability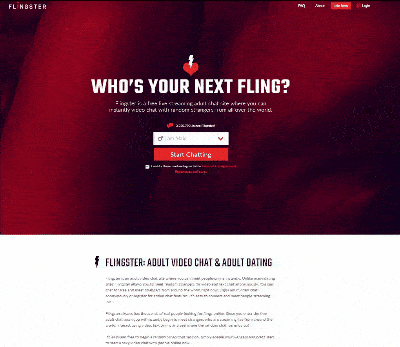 For members purchasing the premium membership, it will be processed by a third-party payment collecting agent, Segpay, with the use of your credit card. Any concerns regarding your billings and purchases will also be handled by the same agent. If you ever decide to cancel your membership during a billing cycle, it won't be refunded. Might as well use up the remaining days you have for your premium and make the most out of your money.
Flingster's design and interface are very simple and straightforward; you won't have to worry if you're not tech-savvy since you can easily navigate your way around its clean and no-nonsense website designs. The website also loads fast, but of course, it will also depend on your internet speed and the available online members whom you can chat with. A mobile app is not yet available, but you can access the site with any browser so you can still use it on your phone.
Flingster's Special Features
AR Face Filters
This feature helps you protect your identity by using virtual masks during a video chat. The variety of filters can be a great conversation starter, too.
Translate
When talking to members who speak in a different language than you do, you may use this feature to still be able to connect despite the language barriers.
Pros & Cons:
PROS:
Affordable premium membership
User-friendly site
Unique but limited features
Fast and easy registration
Not too many ads on free version
Instant and simple chatting with other members
A lot of members all over the world; more possible matches for you
Adult video chats are unlimited
HD quality videos
Free previews are available
CONS:
No automatic logout
Less information is shown on the profile
No verification and lenient registration
Verdict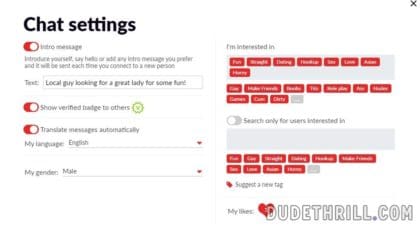 There would be instances where we feel so drained with our jobs and different kind of problems. You need to keep yourself away from distress and keep calm; joining this website will be worth trying especially since you can talk and let out your feelings (even sexual ones) toward a stranger. We can't deny the thrill and adventure that comes along with talking or chatting with other members.
Flingster might just be another hookup or dating app out there compared to the hundreds of similar sites, but one thing that sets it apart from those is their dedication to ensure the members' security and privacy. They have an edge over other sites with their unique features. The sign-up process, although it's great that it's very fast and efficient, it lacks verification which is usually present in other sites. This is to help sort out verified members from those who are fake and would've been a good source for security towards members.
This site is also great for busy people who are open-minded in terms of flings, sex, and hook-ups. I liked how their adult video chats are unlimited. Flingster is one of the most popular adult chat websites and most people in this site are looking for casual sex or random hook-ups. With a massive number of active members, you have higher chances of being able to match with someone who's into adult stuff, as well. Thousands of people are looking for flings nothing serious at the moment, so Flingster will be a very modern and hip app that is perfect for that.
The website is allowing free members to still use the basic features, but the premium membership offers so many benefits.
"Who's your next fling?" — words from the website with its member counter which says more than a million users from all over the world. I liked Flingster and this might be the time for you to join the bandwagon as well.
So is Flingster good? Yes, it definitely is! I urge you to try it yourself and enjoy it.
Your comments are always welcome, so don't hesitate to share your opinion in the comments below.
All 115 Other Sites in This Category Worth Checking Out:
Strip Flix Review & 12 Must Visit Free Sex Cam Sites Like StripFlix.cam Show Me 12 Alternatives for StripFlix.cam Will you join me as I stream on unlimited stripping and babe teasing? There is no other site I could ever think about that is convenient, accessible, and limitless in nudity. We shall dig on sex cam […]