Updated on: September 30th, 2023
XCams & 11 Sex Cam Websites Like XCams.com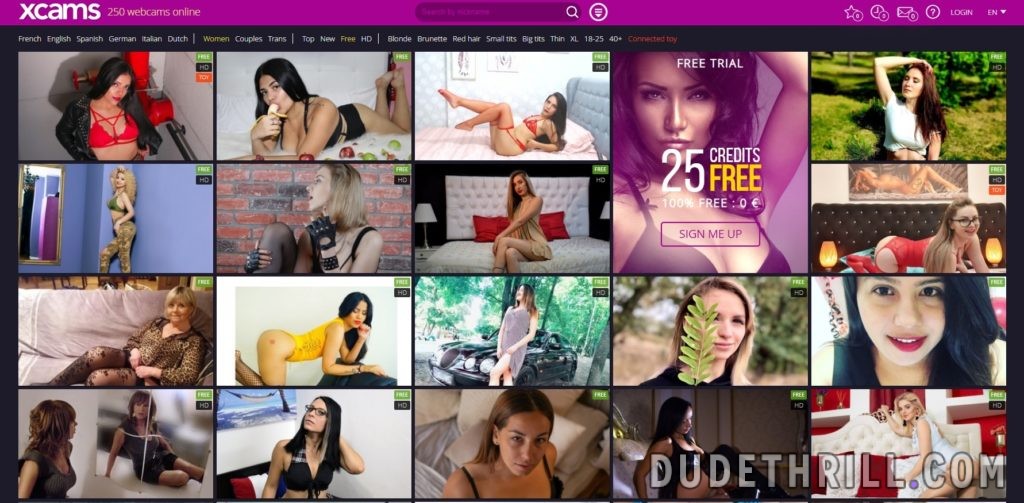 With the rise of live sex cams over the Internet, a lot of sites have been popping up here and there, promising pleasure and entertainment for anyone who is into such stuff. Although there are many cam sites to choose from, we have Xcams which is very popular among adult cam sites.
Xcams gained popularity because of the quality content that they offer together with its premium nature. Upon visiting its homepage, you can immediately know the "number of cams online" and you can start clicking into any of the online models who are ready to give you some premium and erotic pleasure.
XCams Registration
With just a few clicks, you can easily register on Xcams. Account creation is free but you'll be asked to provide your card details for verification, although this step alone will be very discouraging for some. By doing so, you'll actually be charged with $1 on your card but they'll give you a gift of 25 free credits. But when visiting and accessing the site, you won't have to worry since their payment process is 100% secure and it's also encrypted. E-mail verification will be required so you can continue to explore the site and enjoy its pleasurable benefits.
Benefits of XCams.com
XCams will not disappoint you with their searching tools and filtering options. They have a wide array of options to really help you sort out the best and choose based on your personal tastes — from language, model categories, to models' physical stats. In other words, you can sort of "customize" from these choices and eventually land to your preferred sex god or goddess. The exclusive content you'll find in Xcams is just too good to pass on. You can easily sort out and find your best pick among the plenty of hot and attractive models, watch a 15-second preview of them and then directly get into the business. This website helps you fulfill your deepest and darkest fantasies with models who are always game to play roles that you want to see, perform anything for you, or even use sex toys and both of you can reach ecstasy together.
For cam site fans, Xcams is already known for its great and premium content. Although there are still some areas they can improve in, they can definitely give what they promised: fulfill your erotic desires. Here is a list of some sex cam sites that are quite similar to Xcams but also different in their own ways, check it out and see which one would help you get going down to business.
11 Live Sex Cam Websites Similar to Xcams.com: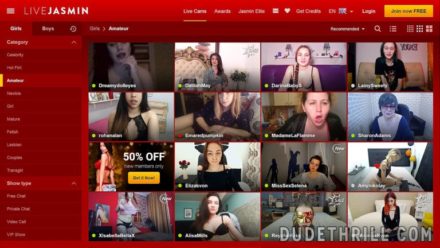 As one of the top and most popular names in the sex cam communities, this site is partnered with a large network of other famous webcam sites. They offer a lot of categories for every user and they make sure to give you an unforgettable and exhilarating sexual session online. With a lot of impressive performers in their list, you can just navigate through names after names and find one which suits your desires. Their performers range from amateurs to well-known professionals and you're sure to find one with whom you can have some sexy time.
PROS:
Hover and/or enlarging feature over thumbnails (to have a glimpse of the live show)
Pretty organized and user-friendly interface
Their advance search and customer features function well
CONS:
You'll need to provide card details for verification
SD quality cams
Some minor features not available
---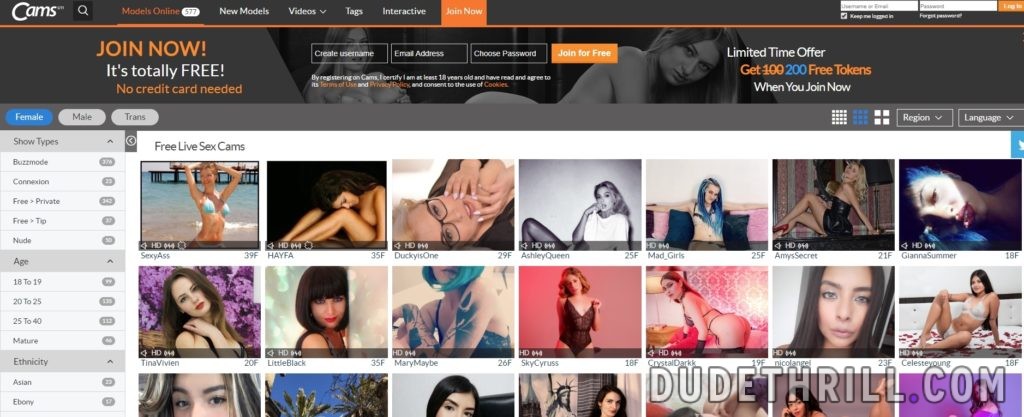 Boasting its wide array of models from all over the world, Cams.com offers a quick sign up process so you can immediately get down to business. It has a streamlined design that displays all the model thumbnails, which can be an advantage for some but hindrance for others. They also allow Guest members to join free video chats but cannot participate in discussions. They have a "model fan club" which gives discounts and exclusive shows of their chosen models.
PROS:
Excellent technical quality
Lots of attractive models to choose from
Hassle-free and quick sign-up
CONS:
No homepage; you'll be greeted with thousands of model thumbnails upon a visit to the site
Free members cannot send private messages to models
No pre-recorded videos of your favorite models
---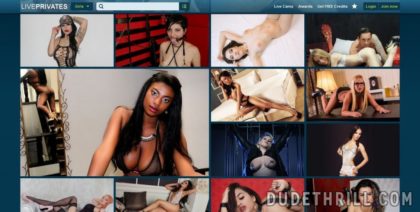 Sometimes called the "sister website" of the popular Live Jasmin, they offer cheaper prices compared to the other one. Live Privates also offers the latest features, with enhanced navigation and interface, making it easier to navigate through various performers and other categories. Other than the cheaper price range, you can definitely notice how similar it looks to Live Jasmin with its homepage and basic features. They also have the "credit packages" like Live Jasmin and lets you be more involved in specific communities of your liking. You can organize your own bio and chat with performers and even hail some favorites. Things are two-way with Live Privates, as performers can also vote for members and win free credits.
PROS:
Around 1000 models are online any time
Offers the best video quality among others
The website is no-nonsense and uncluttered, providing only the most basic needs
Excellent browsing facilities and easy searching
CONS:
They could work on more unique features for the users
Playback and streaming get lag at times
It focuses more on "private shows"
---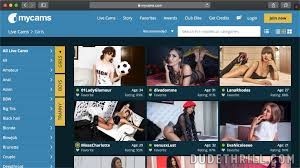 As a co-brand of both Live Jasmin and Live Private, My Cams is another site that looks utterly similar and functions almost the same way with the two. Even the models are the same, but with My Cams, the model selection is more diverse. They also have a "top-rated" portion so you can check out which models to look for who have been rated well by users.  
PROS:
A great and consistent quality of video streaming
No interruptions during live shows
Enhanced search categories
CONS:
Older videos and webcams have pretty bad quality
So similar to Live Privates and Live Jasmin; they could try changing some of their designs 
---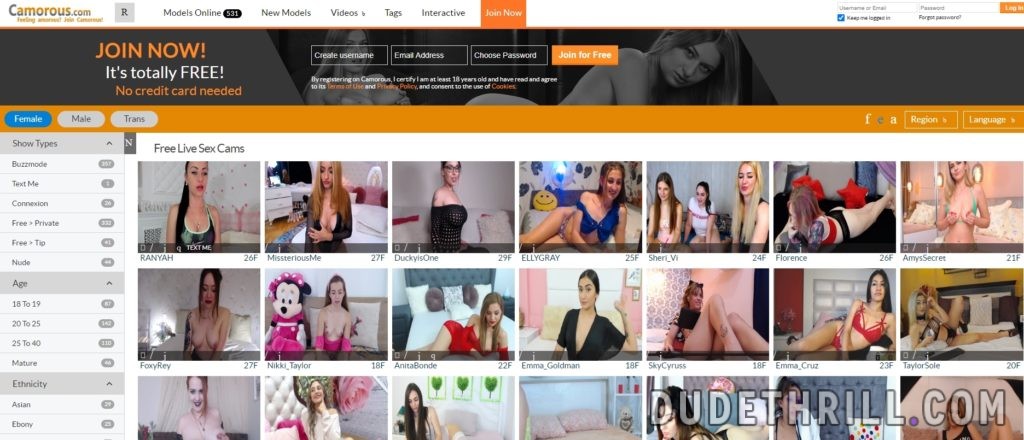 With a well-designed interface and user-friendly features, Camorous offers great cam sex for just a few bucks. You can opt for some great HD live streams by hundreds of hot models and they also have a lot of chat and video options. Guests who don't want to avail the memberships can still watch samples of Livestream videos which are usually just short and some sneak-peek.
PROS:
You can reserve a spot in your favorite performer's scheduled show
They have recorded shows
Easy navigation in the website
CONS:
Too many ads
Some webcams are not in good quality
The plain and basic interface is really off-putting
---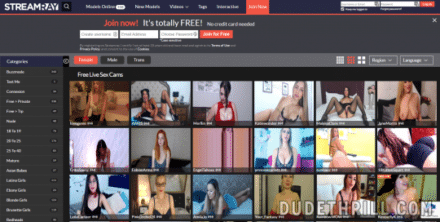 With more than a thousand models ready to help you let off some steam, this website is known for its techie-side, as it utilizes technology in some really advanced ways. One example of this is the feature where you can simulate a model with just a few click here and there, with the use of stimulating devices and allowing you to receive pleasure as well. Among all the sex cam websites available, Streamray are the ones who really lived up to the words "digital sexual revolution".
PROS:
With the use of modern apps, you can show appreciation to models with sending pleasurable vibrations
You can also be gifted with these most sought for vibrations given by models during live shows
Quick sign up process
CONS:
Basic membership offers the least features
Quite expensive prices
---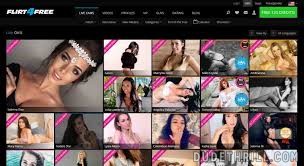 An adult cam site that looks very professional and offers great features, Flirt 4 Free allows you to communicate with performers to your liking. Following the credit system by other cam sites, you'll have to spend a few bucks to enjoy the best features. VIP membership is also offered to further enjoy the best perks from this website.
PROS:
Various chat and video types
You can still navigate and browse through models and videos despite not being a member
Website is thoughtfully designed
You can send virtual gifts to your favorite models such as kisses, teddy bears, or sex toys
CONS:
A bit pricey compared to others
They only have a small number of models
Their interface can still be improved
---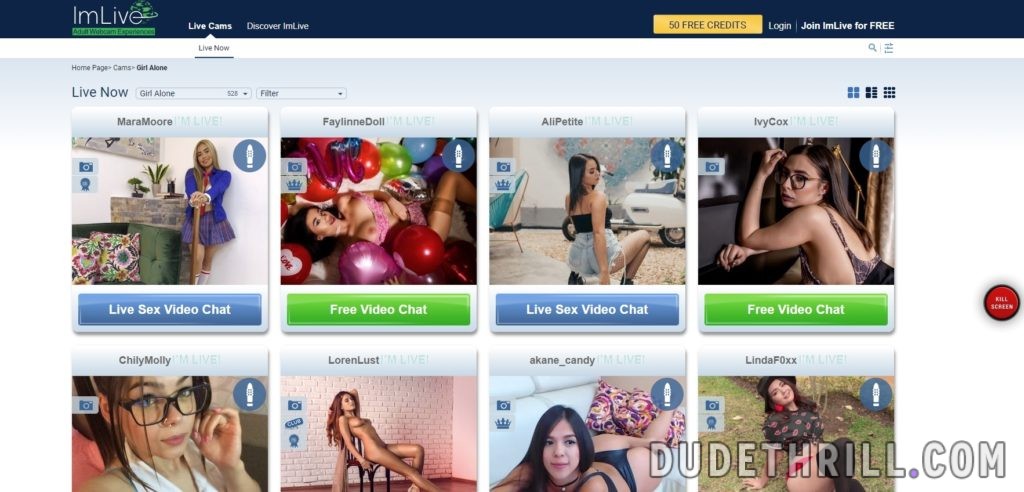 This website won the prestigious AVN Best Live Chat award way back in 2015 (and previously won the same awards in 2011-2012). A thousand performers are usually online at any time and they have tons of performer pics and recorded videos. Upon visiting the homepage of ImLive.com, you can see some limited number of models and other active chat rooms. They also have a diverse selection of models and different body types so you can easily sort them out and find one which suits your tastes.
PROS:
A massive number of performers
Webcam streaming quality is superb
HD video and audio streaming
Live Viewer feature which allows you to watch up to 6 models at the same time
CONS:
Models are mostly amateurs and not professionals
The biggest categories can be searched but take a lot of time
Some features seem unnecessary 
---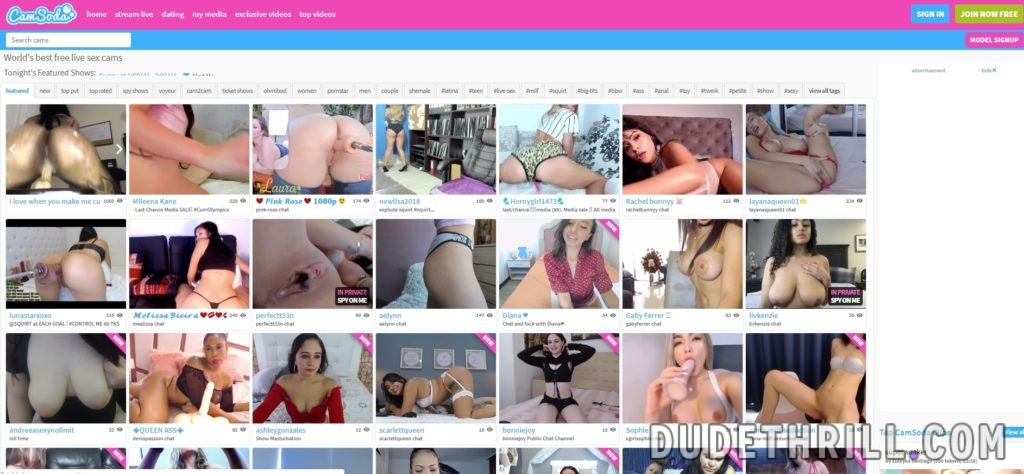 Allowing you to see online models and their current streaming videos upon visiting the homepage is a good feature offered by CamSoda. It's a fairly new site and is already making names and getting attention due to its excellent features. Unlike most sites that just show you some boring thumbnails of models, CamSoda already lets you in with some sneak peek of the actual live stream so you could also check those you are interested in. On this website, the use of tokens becomes the "currency", so you'll have to have a number of tokens before you can avail of any of their services and communicate with models. They have also hopped onto the bandwagon of using technology by sending vibrations via the "Control Her" feature.
PROS:
Photo sets and videos of models can be available for purchase
They have organized categories to make searches easier
Private chats and cam-to-cam features make it easier to find some pleasure with your favorite models
Some models allow members to "spy" on their private shows
Games are included during live shows and results will be the basis for every sexual act done by the model
CONS:
Users may experience slow video playbacks
Sound quality is not that great
---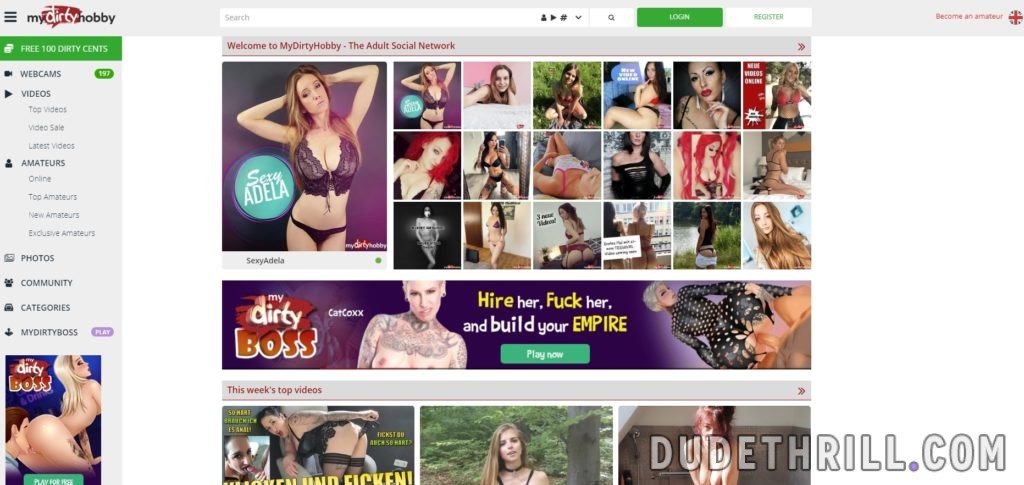 A one-stop site for all your adult entertainment needs. My Dirty Hobby is known for focusing on amateur models rather than professional ones. They offer a wide array of features from basic chats, photo sharing, and webcam sessions and performances. All you need to be part of this amazing community is an active email and voila, you can already become a member of this site. Just like with other adult sites, they also use the "credits" system so you'll need to acquire more of it before you can enjoy most of its features. This site
PROS:
High video quality
LOTS of content and variety to choose from
More than 300k+ videos, 5M+ members, 20k+ amateur models
Modern design which is easy to the eyes
CONS:
Expensive credit system
Videos are limited to streaming only
Some pics are pretty low in quality
No .zip files for photo sets
Some contents might be non-exclusive
---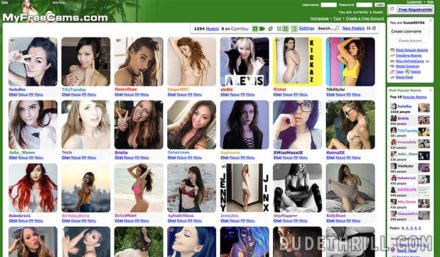 With dozens of lovely ladies who are always down for some fun and sexy moments, My Free Cams is one good site that provides hot ladies doing seductive shows for you. More than a hundred models to choose from and aside from the entertainment and pleasure they bring, you can also connect with them through private chats or group room chats. Most adult cam sites include "free" in their names but My Free Cams is one of the few who really sticks to their roots – you really can watch hot chicks go kinky and do anything you want… for free. Although there are some tokens that need to be purchased, in this site though, even if you're still on a free membership, you can enjoy almost all of the features already.
PROS:
Even with a free membership, you can already enjoy features
The overall quality of videos is pretty good, almost all in HD
Easy navigation and great user experience
CONS:
Their website's design isn't that great — looks so busy and outdated
They don't have an advanced search feature
Private chats can get really expensive
A Few Last Words About XCams
Since adult cams are becoming a trend, there really are a lot of good websites you can choose from. The Internet is really powerful, seeing how we can easily fulfill our sexual desires and pleasures in just a few clicks. Adult fun can now be easily obtained and that's with some reasonable costs, too.
Sometimes, classic pornography from mainstream sites can bore you, or maybe you just want to check some new sceneries… new faces… new sexual activities… All these adult sex cam websites can be a great way to spice things up. To enjoy yourself and make your arousal go wild, you'll just need some little special sites and hot models here and there. Live cam chats will definitely bring you to a heightened sexual drive; just imagine seeing a sexy girl doing webcam sex with you… messy hair, plain white sheets, naked body stretched in bed, waiting for the action to begin and one word from you, it will definitely bring you both to satisfaction. These special and sexual moments happening over webcam to webcam really hit different, with how you know it's all happening in real-time… how you could see that spent and satisfied look on her face when she reaches orgasm, and it would all feel the same for you, too.
All 113 Other Sites in This Category Worth Checking Out:
Fetish Galaxy Review & 12 Best Live Sex Cam Sites Like FetishGalaxy.com Show Me 12 Alternatives for FetishGalaxy.com Welcome! Today, we're strapping in for a journey that's bound to tickle your curiosities and awaken your inner desires. Don't tell me the name "FetishGalaxy" didn't already send your imagination into overdrive. I mean, it's like a cosmic […]