Updated on: December 8th, 2023
BDSMChat Review
& 12 Must-Visit Sex Chat Sites Like bdsmchat.co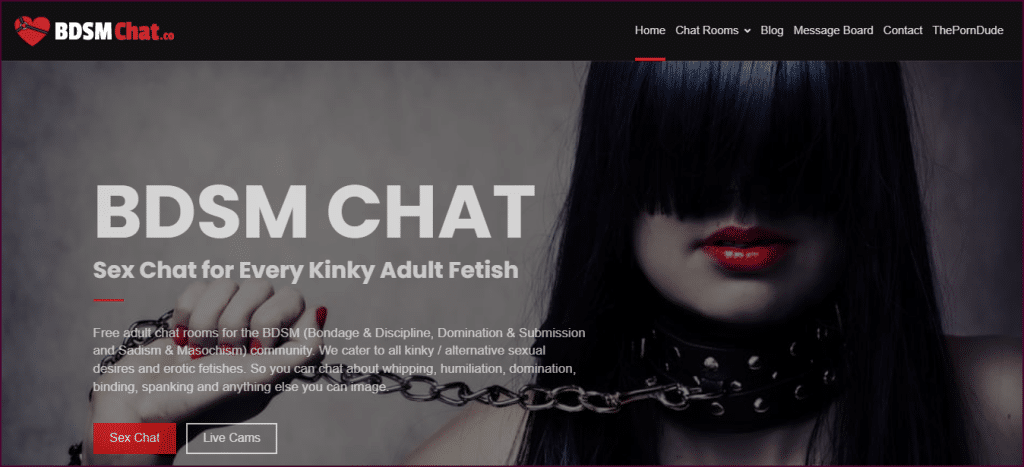 Howdy Dudethrill readers! I'm here again for another review, and this time, we'll focus more on fetishes, kinks, and the naughtiest side of you. I know many of you like to explore their kinky side without the fear of judgment, right? But with thousands of chat and dating sites online, it's pretty challenging to find that perfect platform that will provide comfort, a welcoming vibe, and a sense of exclusivity. Good thing, I've discovered BDSMChat —a free sex chat site that opens its door to all BDSM kinks and fetishes. Be it S&M, knife-play, domination, bondage, choking, humiliation, and spanking, BDSMChat has it —and even more! But with all these great claims, I'm left wondering if this site is really safe for your kinky obsessions. Does it live up to expectations? Let's find it out below!
Official URL: https://www.bdsmchat.co/
The Unique Twist of BDSMChat
Compared to other sex chat sites, BDSMChat caters to a different and unique fetish that only a few of us would enjoy. You will find a shitload of different chat rooms where you can express your erotica-related fantasies freely. It is what BDSMChat is known worldwide.
The chatrooms here cater to plenty of popular fetishes like whips, chains, and disgrace. There are also less popular and life-threatening obsessions, including impact play, choking and collaring. Certainly, BDSMChat has covered a lot of ground regarding people's hidden and kinky sexual impulses. Plus, each chat room has comprehensive information about a particular fetish. So, if you are not entirely familiar with the mechanics, terms, origin, and how people enjoy a specific BDSM act, BDSMChat has loaded facts and relevant information about it.
From what I see, the people behind the concept of BDSMChat don't just create chatrooms and let users get fooled and feel uncomfortable. Obviously, BDSM is a fetish that not all people would enjoy or relate to, so it's better to get geared up with a shitload of relevant information to understand its nature fully. Just in case you get hooked, you already know what to expect.
As for BDSMChat, the team sincerely anticipates that you will take something positive away from this experience. Since they put an all-in effort to deliver a comfortable environment to all users meanwhile, if you have several sex-related concerns, the site's very own forum is a better option. It will surely help you get a more insightful answer from a bigger crowd.
BDSMChat's Informative Blogs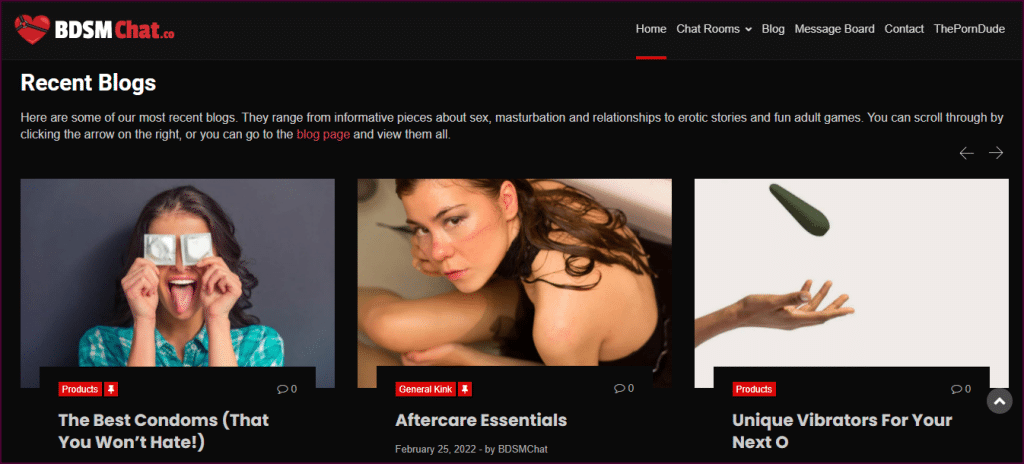 If you think BDSMChat is just about kinky sex and sex chats, well, you're wrong. This site is far beyond your expectations because it also has informative blogs available apart from the goodies. You can see the blogs right in front of the main page, and the topics cover a wide range of subjects.
It has blogs about masturbation, condoms, sex games, kinky sex, relationships, stories, and more from what I've read. Just explore the blogs all you want because they are free. Certainly, the team behind BDSMChat wants to ensure you will not leave the page without taking helpful information with you. I'm pretty sure that all these blogs would give you a much better view of BDSM and kinky-related stuff.
Bondage, Sadism, Masochism, Dominant/Submissive, & Collaring Chatrooms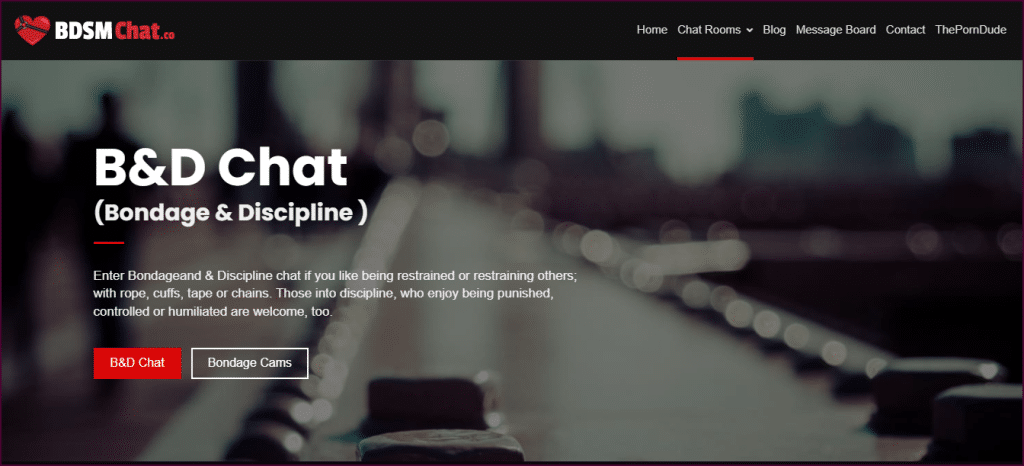 The Bondage & Discipline chat room is open to all kinds of people enjoying acts of restraint or any discipline involving handcuffs, tapes, or leather straps. Plenty of users who participate here prefers punishments, domination, or humiliation.
Meanwhile, connect with users who share similar interests and get pleasure from hurting other people or getting hurt. We all understand how sadism and masochism works, so if you decide to join the Sadism & Masochism chatroom here, better gear up for some sadistic and masochistic actions.
There's also another dominant act that people enjoy to achieve orgasms, called Collaring. When people thought that wearing collars would ignite erotic pleasures, they didn't hesitate to express these to the world. So, if in case you need to connect with people who like collaring acts, BDSMChat's Collaring Chatroom is right here.
Finally, the BDSMChat's Dominant & Submissive chat room is open to everyone who has a kinky interest in being a "dominant" or "submissive" role. Hunt and play with users —who knows, you might find the perfect master or slave suitable to your kinky BDSM role-playing.
Young For Old, Furry, ABDL & Cosplay Chatrooms at Bdsmchat.co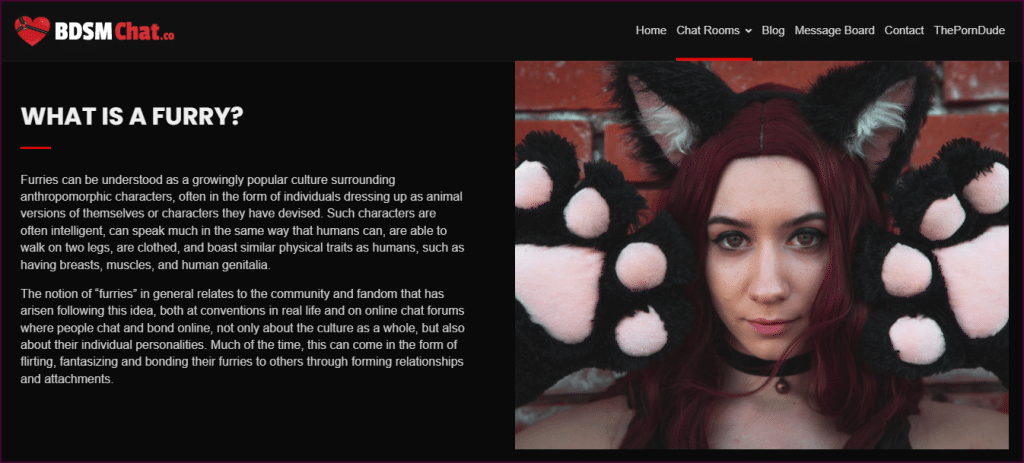 The "Young For Old" chatroom is for users who like to role-play the dominant "Daddy" or the submissive "little girl." Usually, people who do this kinky act as someone else and take roles as younger submissive or older dominant.
Moreover, if you like to explore your interest as Furry, good news —BDSMChat has a Furry Chatroom where users can meet, connect, and possibly meet up with other Furry lovers. The culture of Furry has increasingly become popular these days; that's why BDSMChat created a dedicated venue for them to feel comfortable expressing their kinks.
Also, BDSMChat has an ABDL Chatroom where users pretend to be babies and play dirty, naughty acts. Users who participate in this chat enjoy taking care of adults pretending to be babies. Sounds a bit filthy, right? Well, that's how BDSMChat works.
Ultimately, for the Cosplay fans and lovers of Role-playing, BDSMChat has chat rooms available for your kinky taste. Meet and connect with like-minded users and explore the limits of these kinky cosplaying. I'm sure many of these users have felt satisfaction browsing photos and sharing fantasies with others.
Cuckold, Foot Fetish, Erotic Worshipping, & Anal Sex Chatrooms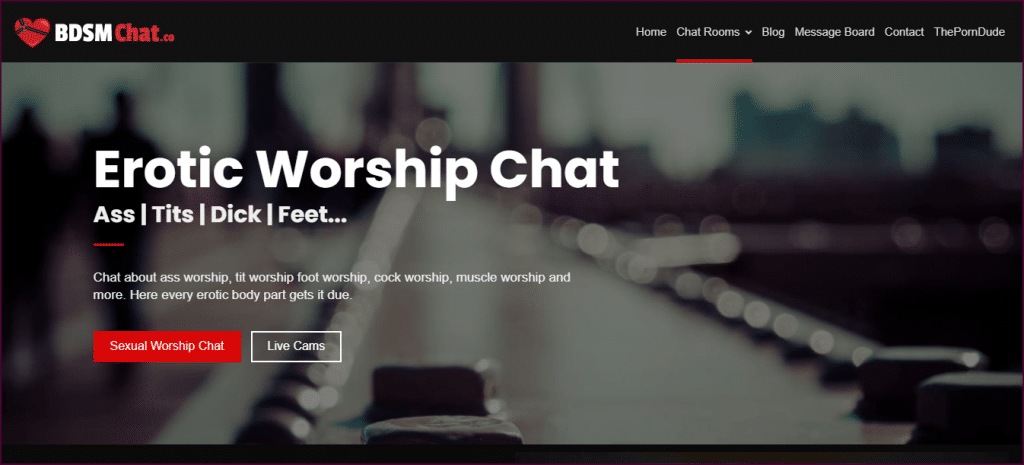 Erotic feet? Sexy toes? Ever dreamed of finding someone who shares similar interests on your feet obsession? Well, the Foot Fetish chatroom will fulfill that dream. Explore this kink by connecting with like-minded users online!
Next is the BDSMChat's Cuckold chatroom is probably among the shadiest areas of the site. Why? Well, plenty of the users here share and expose photos of their sexy cheating wives, affairs, stags, cuckold, and more. Of course, it is also a great platform to hunt for consensual cuckold encounters.
Also, did you know that many people get pleasure from worshipping? Yes, that's right! Erotic Worship is real where people worship anything like cock, foot, and more. Simply join the Erotic Worship chatroom and get ready to feel out-of-ordinary pleasures. Every part of a human body will get the appropriate worshipping it deserves.
Finally, for the lovers of fucking anal sex, stop whining on dating sites because BDSMChat is here to fulfill your anal sex needs. The site has plenty of chatrooms and users who enjoy anything related to anal fucking.
BBW, BBC, Humiliation, & Swinging Chatrooms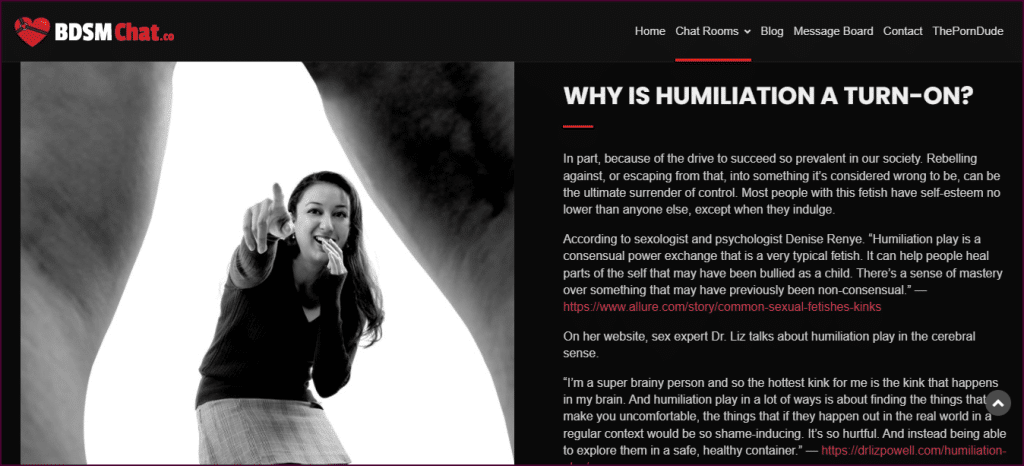 For the lovers of obese women and huge black cocks, BDSMChat has dedicated chatrooms for your pleasure. The site has BBW (Big Beautiful Women) and BBC (Big Black Cock) chatrooms that will surely help you express freely all your hidden desires of fucking obese ladies or getting fucked by massive cock!
Meanwhile, the Humiliation chatroom of BDSMChat is a perfect platform for anyone who enjoys belittling others during sexual acts. At first, I thought it sounded unbelievable, but people actually want this kind of stuff and get orgasms through insults.
Lastly, for swingers out there or who want to try the swinger lifestyle, BDSMChat is perfect for you! It has a Swinging Chatroom with a shitload of like-minded users open for anything! Be it a threesome, orgy, or whatever suits your fantasies.
BDSMChat's Impact Play, Knife Play, Choking Chatrooms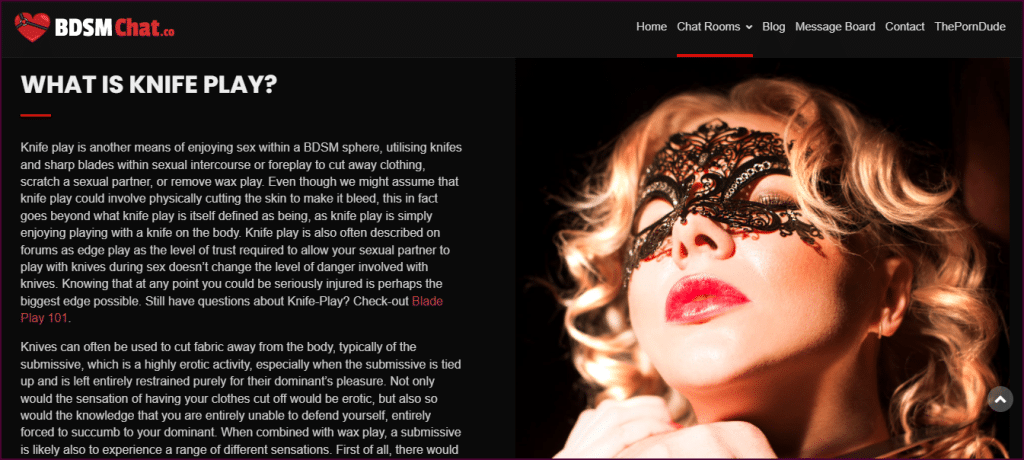 Are your favorite acts involve spanking, paddling, caning, and whipping? Well, BDSMChat's "Impact Play" is here to save the day. It's a chatroom designed to accommodate all of your needs so you can enjoy an erotic spanking.
Meanwhile, anyone reading this and looking for dangerous sexual acts, well, you went to the right place. BDSMChat has a "Knife Play" chatroom that will definitely accommodate your life-threatening needs. I'm not kidding, though, when I said life-threatening because Knife Play acts are a hazardous activity that might lead to disaster if not taken seriously. This fetish is very pleasurable for a few people, so if you're thinking of doing it, this chat room could give you guides for safe practice.
Moreover, just like Knife-play, there is another life-threatening act that many people love to do during sex —Choking. Yes, that's right. That's why BDSMChat has a "Choking" chat room focused on this fetish, allowing users to explore kinky activities without causing near-death harm to themselves safely.
The Message Board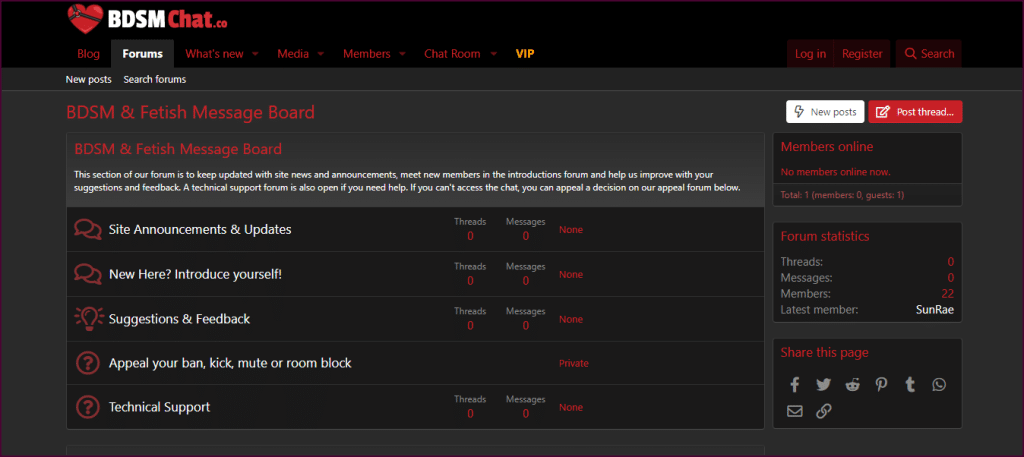 If you think that's what BDSMChat has in store for you, well, you're wrong. It has another feature that I'm sure you're gonna love — Message Board. Yes, that's right! With all the relevant information on each chatroom, plus the useful blogs, BDSMChat never ceases to deliver more excellent, helpful stuff online.
With the site's BDSM forums, every user will have the chance to explore their sexuality and desires further. Also, it would be a good start for newbies of BDSM to learn from a more extensive crowd about their experiences in this lifestyle. Indeed, those things lead the BDSMChat team to incorporate a community forum. Apart from having a venue to share updates, it's also a chance to gather comments and suggestions from the members regarding innovation, improvements, and development on the site.
Meanwhile, if you wish to connect with the tech support team, BDSMChat also has a dedicated subforum on the page. Anyone can freely submit issues and concerns regarding your browsing experience. The whole team will be right there to ensure your browsing goes smoothly. Of course, this forum won't be complete without BDSM Forums available. BDSMChat made sure to create a venue for members to find relatable content and users. Unfortunately, BDSMChat's Message Board has fewer members than its main chat site. But I look forward to seeing more progress in this area since I can sense many potentials.
Pros and Cons of BDSMChat
PROS:
Numerous chat rooms are available
Caters to all types of kinks and fetishes
Active members
Straightforward design and usability
Informative blogs
Can browse as a guest user
CONS:
The forum has few members
Requires registration to enter chat
---
12 Must-Visit Sex Chat and Live Cam Sites Similar to bdsmchat.co: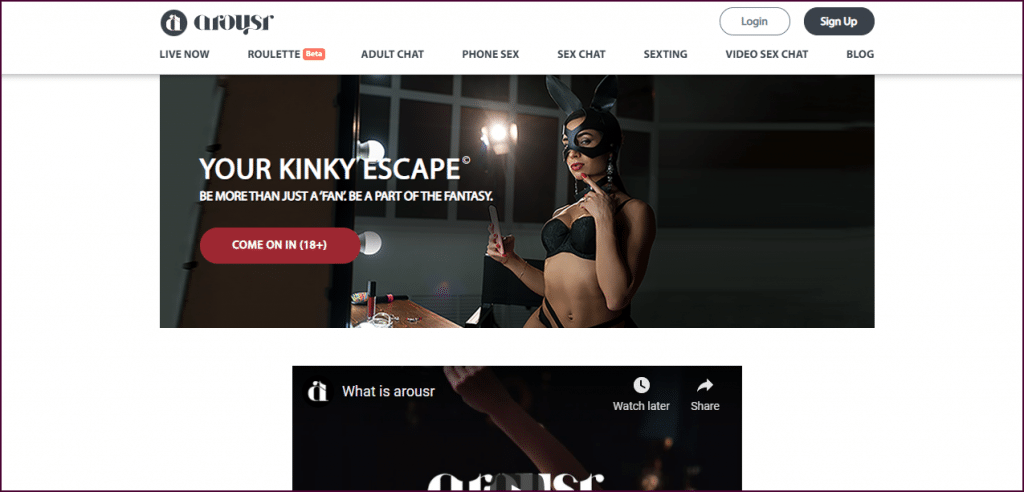 Arousr introduced a genuinely innovative concept, giving us an extra intimate and stimulating experience. So far, it has been the most popular service for people who want to have fun, flirt, and enjoy sex chats casually. If you're looking for a website that's easy to use and has a long list of sexy women, Dudethrill recommends this one above all others.
Here's the full review of Arousr.
PROS:
Simple navigation and layout
Plenty of female members
Free registration plus 100-credit free
The concept is unique and interesting
CONS:
Some shows are pretty expensive
The list of models is not that much
A basic account has ads
---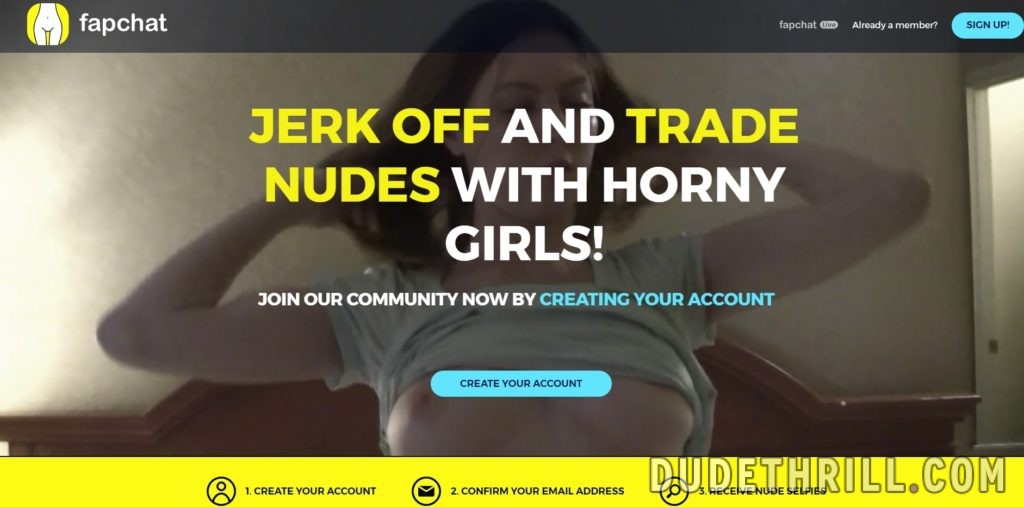 Fap Chat is a platform that helps men like you find attractive single women to take nude selfie photos with and strike up a conversation with. There are thousands of stunning young ladies to choose from, so you're likely to find at least a few that you want.
Click here for Fapchat full review.
PROS:
The website has a simple design and is very easy to use
You can watch real live women performing on cam
Maintains anonymous identity
No bots and fake profiles
CONS:
It has no live chat support service or phone service
You cannot record cam shows
---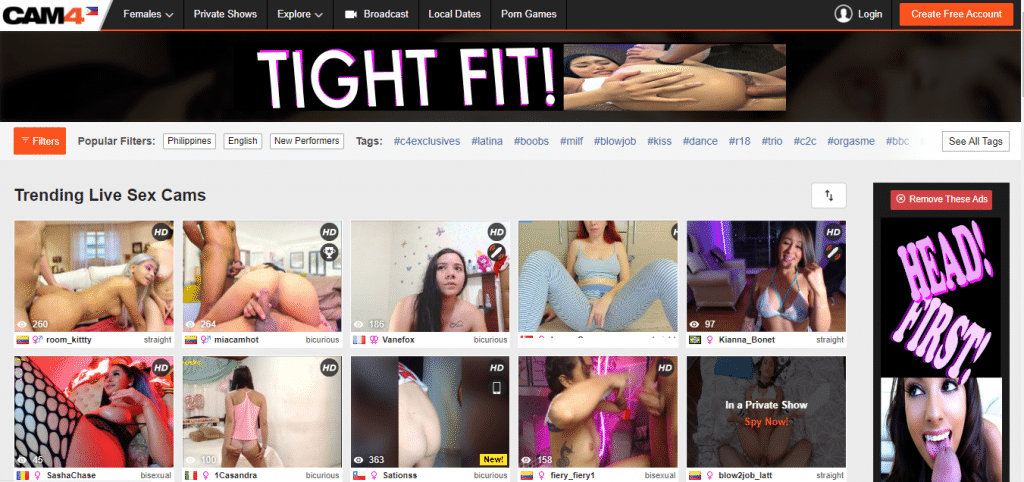 Cam4 is operated by the Granity Designated Activity Company and broadcasts one's own shows and events over the Internet. The first freemium cam site, Cam4, was launched in 2007 and has since gained considerable popularity. Many different types of people—men, women, and gay couples—broadcast their events.
Amateurs mainly use this camera site in making amateur Webcam videos. Customers can buy virtual tokens for an additional fee. They are best used to watch shows and reward the performers, or in the hands of the voyeurs to show you their private stuff.
Thanks to the site's early online porn features, it has gained a lot of popularity, and now it is highly regarded as one of the most valuable webcam sites for everyone who enjoys camgirls. Over the past, people have only used film; nowadays, you can also use the Cam4VR app, which is available on the Cam4 platform, which captures 360° 3D video.
PROS:
Numerous cam models
Plenty of searching options, tags, and categories
Virtual Reality Shows are available
The fantastic customer service team
Offers bonuses upon registration
CONS:
A limited number of cameras in HD quality
---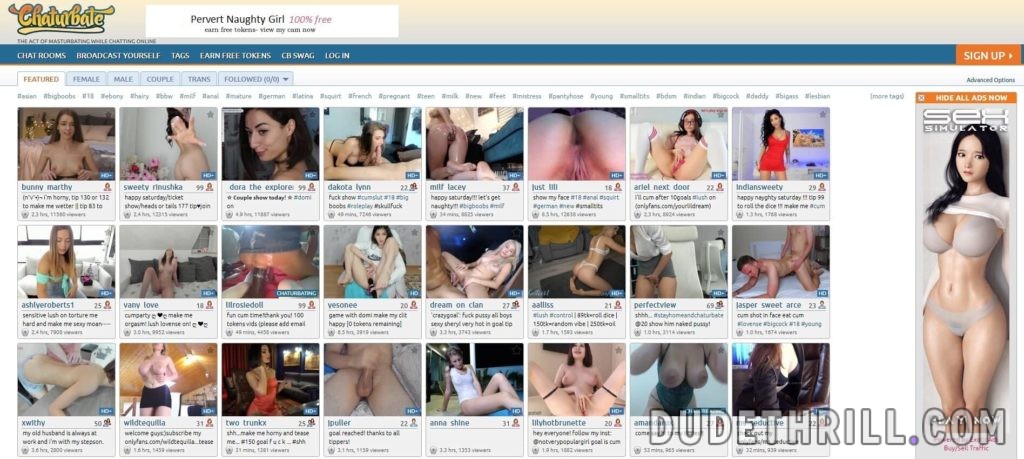 Connecting to people worldwide has never been so easy. Thanks to Chaturbate, unlimited talking is now possible. Plus, you will never spend a dime on it. There are a lot of sexy and beautiful women available for you, 24/7. As a matter of fact, women on this website love kinky stuff, which is always worth your time and attention. Meanwhile, live shows are also available for viewing at a reasonable price.
Click for a full review of Chaturbate.
PROS:
Many cam girls available 24/7 live
No additional fees to expect
Nudes and sex are always a guarantee
Smooth browsing on smartphones and other devices
CONS:
Few videos are in SD format
Expensive private shows
---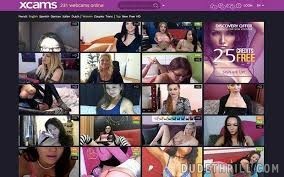 Are you ready to have a sex chat with pretty, sexy, and horny cam girls? Then indeed, you are prepared with the xCams website. Here, you can experiment with professional and amateur cam girls anytime and anywhere you want. Also, users can spend VIP entertainment or private shows for a reasonable price.
PROS:
great site design
advanced filtering
tons of beautiful girls
hundreds of live cams at any moment
some free shows
CONS:
you might spend a ton of money
no non-cam bonus material
---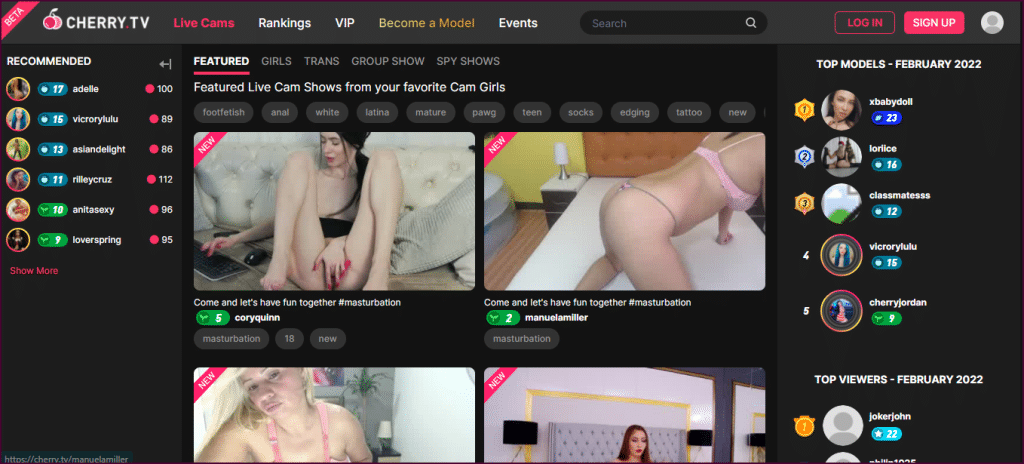 Ever since, Cherry.tv has always been the primary source of adult cam fun, using its innovative features and platform. It has created an excellent way for users and cam models to interact and enjoy each other's company. In fact, it's the life-long goal of Cherry.tv to become the top leading live cam site worldwide and provide a million users with an exciting, unique, and pleasurable way to have fun. Moreover, Cherry.tv has been a popular go-to site of million cam site fans because it's a safe and comfortable place for cam performances. You can have all the freedom to interact, explore, and openly connect with gorgeous cam models.
PROS:
Thousand cam models are available
A diverse selection of models
Cute and fun design
Usability is great
Offer free shows
Free registration
Affordable subscription package
CONS:
Some features are exclusive for premium members
---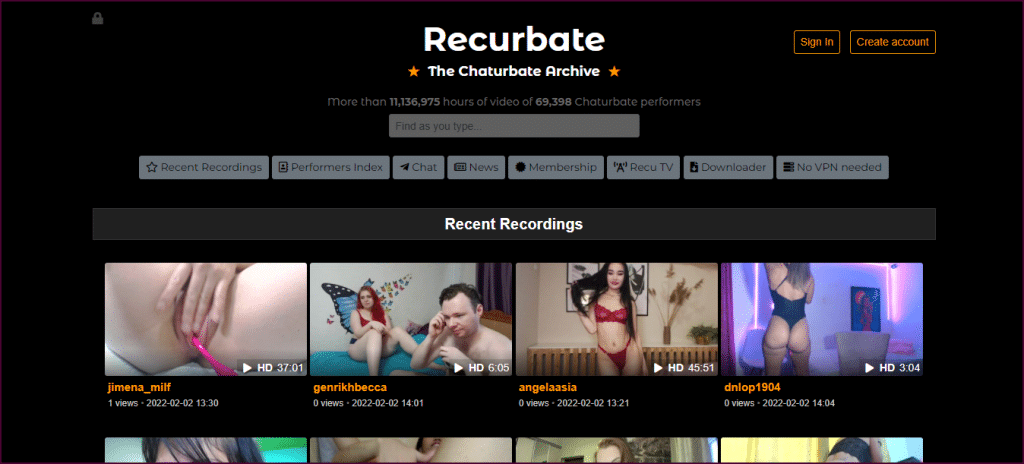 Recurbate is a promising free cam site. You might think that it's another live cam sex site, but Recurbate is actually an archive of all the fantastic cam shows from Chaturbate. Its primary purpose is to give us amazing experiences from actual and legit cam models, be it females, shemales, males, or couples. Expect to see videos here featuring masturbating girls, stripteasing, and other forms of erotic entertainment.
Take a look at Recurbate review.
PROS:
Re-watch cam shows
Massive archive
Thousand models available
Reputable sources
Affordable subscription packages
Free registration
Offers previews
CONS:
Basic users have limited options
Downloading is for Ultimate Members only
One video each day for free users
No tags or search engine
---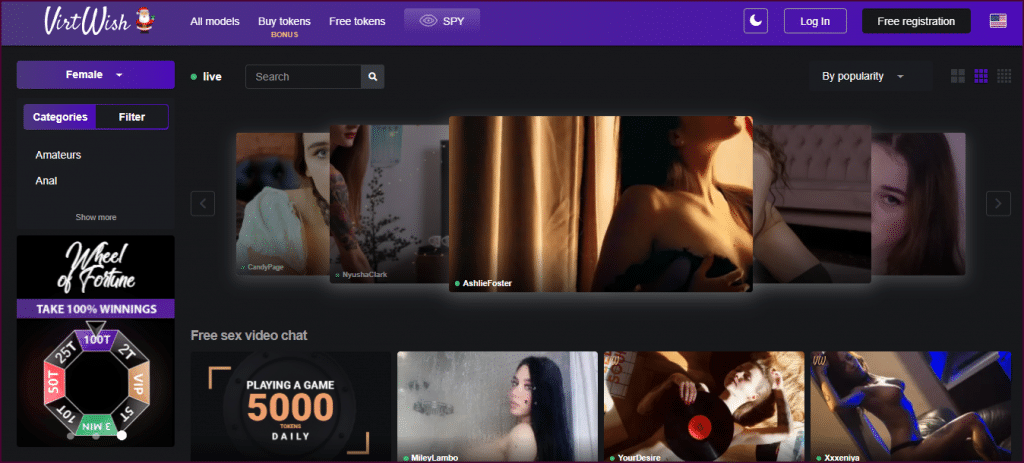 VirtWish is a new solution to your sex cams craving, with the integration of excellent consumer standards in the entertainment industry. Through the use of cutting-edge and state-of-the-art technology, VirtWish intends to establish a pleasing experience that users enjoy.
Every hour of the day and night, stunning women worldwide are waiting to chat and perform on cam with you. Get started by creating an account, and after a couple of minutes, you can already experience sensual performances and communicate with ladies privately with no limits whatsoever.
PROS:
Numerous live cam girls are available
Variety of chat rooms
Free tokens upon signing up
CONS:
Guest can use limited features
Requires strict age verification process
---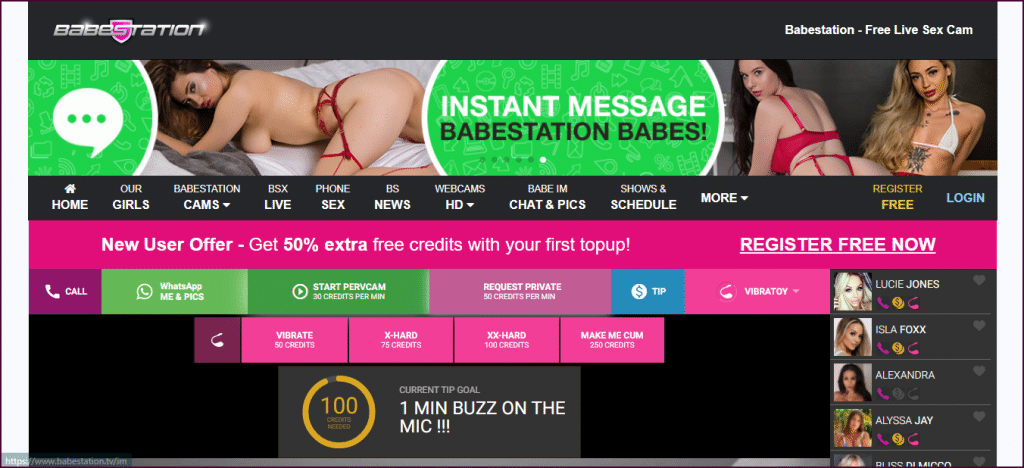 Babestation has been made closer to the viewers by creating an interactive website to fit the evolving advancement of technology. The Babestation.tv offers us excellent options to enjoy different types of erotic entertainment for the sake of pleasure. Certainly, there's nothing more fantasy-triggering service than the Babestation.tv's cam shows. You can watch and enjoy all its models and see which of them can complete your jerking night.
Full review of Babestation.tv here.
PROS:
Amazing cam shows
Thousand cam models are available
Fantastic features
Registration is free
Supports mobile browsing
CONS:
Some shows are expensive
Requires VIP upgrades
Basic account has limited options
---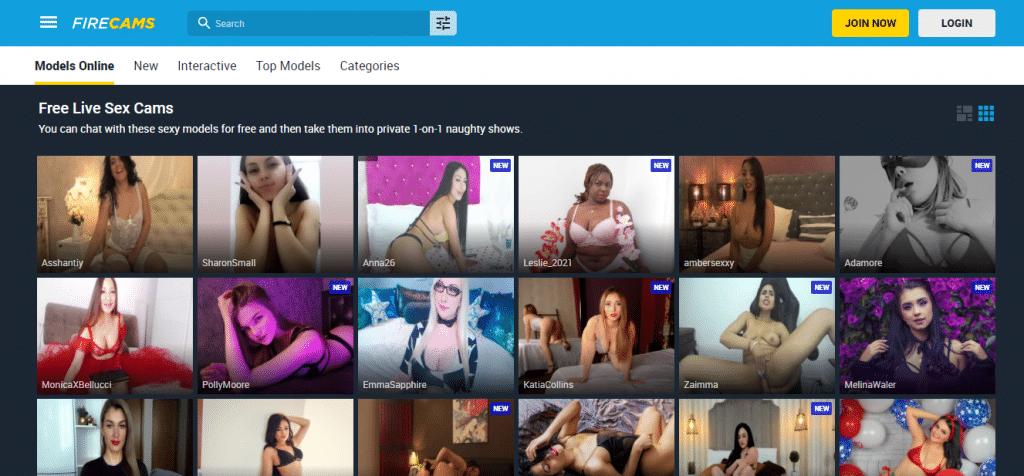 FireCams offers a wide range of live streaming show options and essential features to choose from. Like many other live sex cam services, this one provides interactive shows on sex toys, a large selection of hot camgirls, pre-recorded performances, and exclusive conversations for a modest price (in tokens).
Click for a FireCams full review.
PROS:
Plenty of authentic and verified models
High definition webcams
You can switch SD quality to HD quality cams
Excellent search and filter tools
Affordable chat prices
Lots of freebies for new users
It has a free chat option
CONS:
Pop-ups to signup
Requires tokens to join private chats
---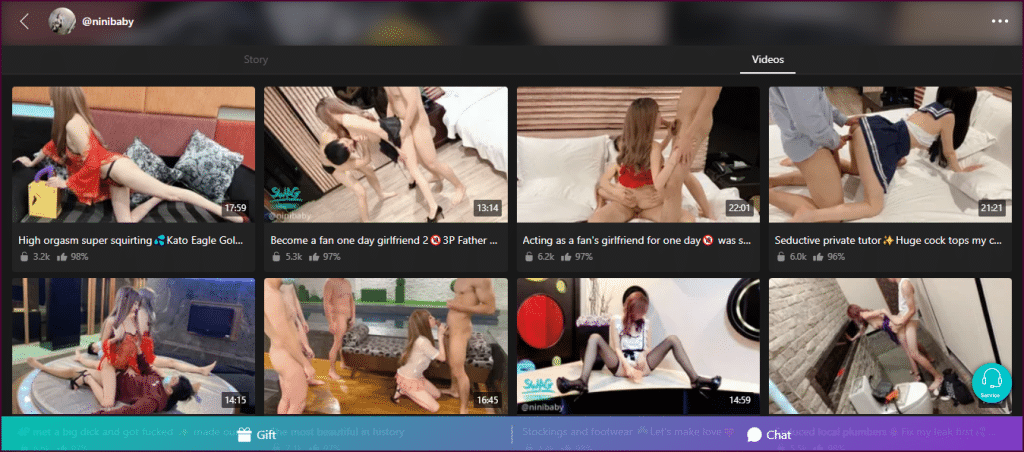 Swag Live claims to be the largest live cam streaming site in Asia. It's an expert in terms of amateur cam shows and features a massive erotic photo and video collection. Swag Live boasts its 1M+ active members, filling up its welcoming community. Plus, the site ensures the privacy and security of its members and cam models. So, everyone, regardless of shape and size, will enjoy the swagger streaming. Certainly, the easy and convenient means of Swag Live to interact with your best-loved and dream girls is the best feature it has. Obviously, this site is hard to beat! You gotta step up your game to compete with Swag Live.
PROS:
GoMassive collection
Numerous online streamers
Cam models are hot and cute
Plenty of videos and pics
Easy registration
Website design is sophisticated and modern
CONS:
Joining chat rooms require diamonds
Limited features for basic users
---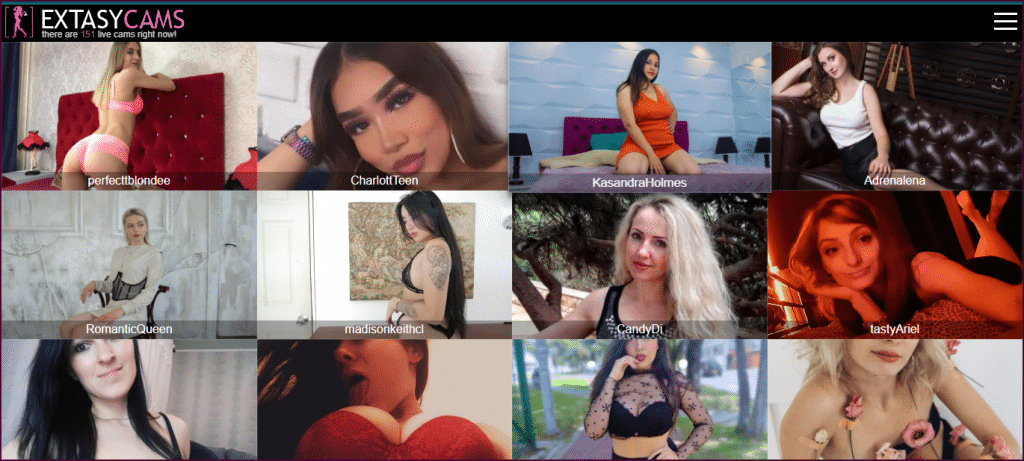 When we visit a sex webcam site, we already have a pre-existing notion of what to expect. Of course, that includes gorgeous cam models, high-quality resolution cameras, and pleasurable cam shows. On that note, Extasy Cams really top those expectations. Extasy Cams is really straightforward in bringing us what we expect it to be. Perhaps, the only twist I was really excited about here is the live show rates. Compared to other cam sites, this one is really reasonably cheap. You can watch live shows and sex for only $0.49/minute.
Check for review of Extasy Cams.
PROS:
Simple design but elegant
Lots of models available
Some cams are HD quality
Very affordable cam model rates
Registration is free
CONS:
Lacking features
Unsatisfactory customer support
Most models have Average quality webcams
Nothing much to do with basic membership
---
Final Thoughts
If you're into BDSM, bondage, choking, foot fetishes, and other kinky stuff, BDSMChat is definitely a great spot to start. If you're a newbie and wish to explore the kinky world of BDSM, the site has relevant information that could help you get ideas on nature, origin, rules, and safety practices. I'm pretty sure that all these details and facts would give you a much better view of BDSM and kinky-related stuff. Unlike other sex chat sites, BDSMChat covers a wide array of fetishes and kinks, so if you think you're ready for some wild fun and adventure, buckle up 'cause this site will change how you see sex.
Plus, everyone is free to express their sexuality and desires without any fear of mock, judgment, and embarrassment. All the members here enjoy a similar lifestyle and come together for unforgettable connections through chats. If that's not enough, BDSMChat also offers useful blogs and forums that fuel interest and excitement about BDSM-related acts. So, if you wanna join the cult, visit BDSMChat today, and unleash your wildest side!
All 115 Other Sites in This Category Worth Checking Out:
Strip Flix Review & 12 Must Visit Free Sex Cam Sites Like StripFlix.cam Show Me 12 Alternatives for StripFlix.cam Will you join me as I stream on unlimited stripping and babe teasing? There is no other site I could ever think about that is convenient, accessible, and limitless in nudity. We shall dig on sex cam […]