Updated on: December 7th, 2023
BongaCams
Website Link: https://www.bongacams.com
The Ultimate BongaCams.com Review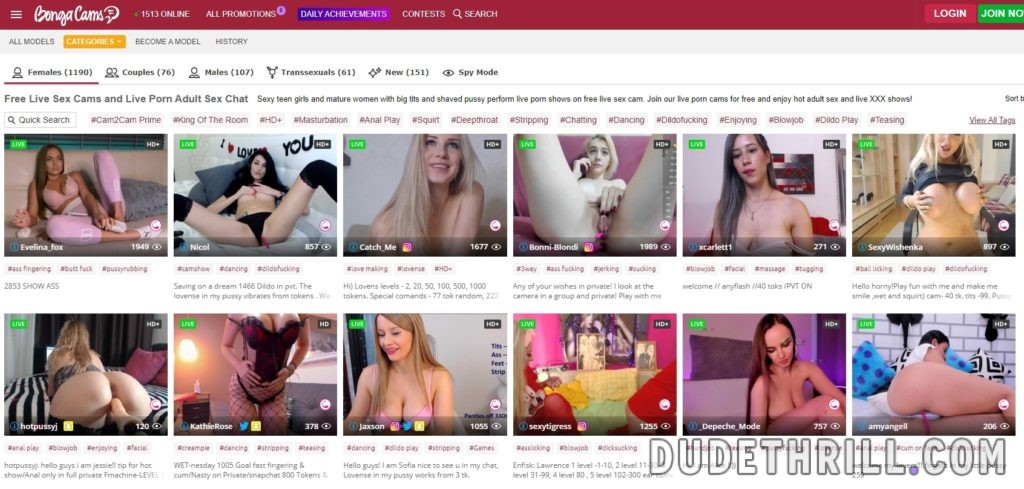 The adult live sex industry has been growing immensely over the last few years. It turns out there are so many people who prefer a personal touch when it comes to adult entertainment and live cams are making that happen.
As you can imagine, with the rising demand for live sex, cam sites have become commonplace. Right now, there are thousands of such websites, each featuring hundreds or even thousands of performers.
But despite this diversity of cam sites, it is clear that BongaCams is one of the few platforms that have managed to really stand out.
So, why is that?
Well, in this post I will be taking a closer look at BongaCams.
I will start off with a brief summary of the website, how it works, and go on to give you a list of features that make it so enticing for people out there. I will also be giving you additional information designed to help make the most out of the site.
What is BongaCams?
BongaCams is a live sex platform that has thousands of models. The site is simply a marketplace that connects performers with clients interested in live cam performances.
The site has been in existence for quite some years and claims to have thousands of models. BongaCams also offers free sex chats and is considered one of the largest and nastiest adult webcam communities.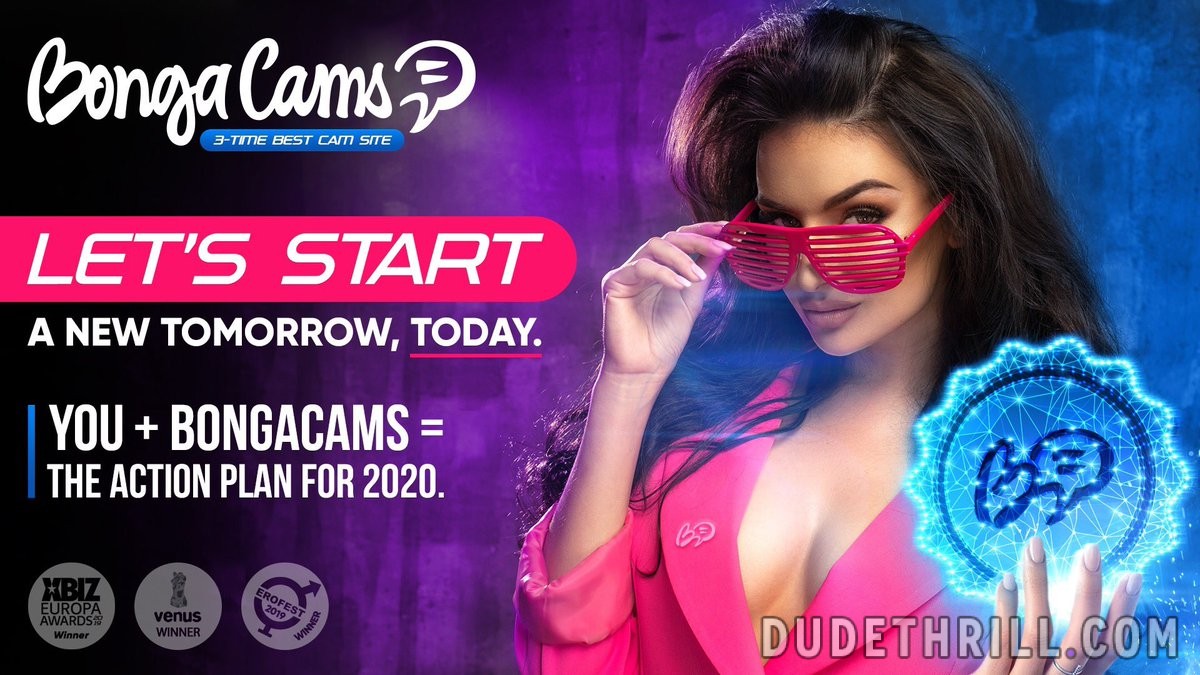 BongaCams says that there are loads of free live sex streams too and additional HD porn videos uploaded by some of its performers on a day to day basis. The site also notes that it has women of all ages, all races, and from literally all nationalities around the world.
New customers get free tokens just for creating an account for the first time. They also get instant access to high-quality adult content even before they pay anything.
What to Expect When You Visit for the First Time
When you visit BongaCams for the very first time, you will be greeted by a welcome offer that allows you to get up to five free tokens once you create an account.
The site layout is also very exciting. It features a list of models populated on the home page. You don't need to search for anything unless of course, you have something specific you are looking for.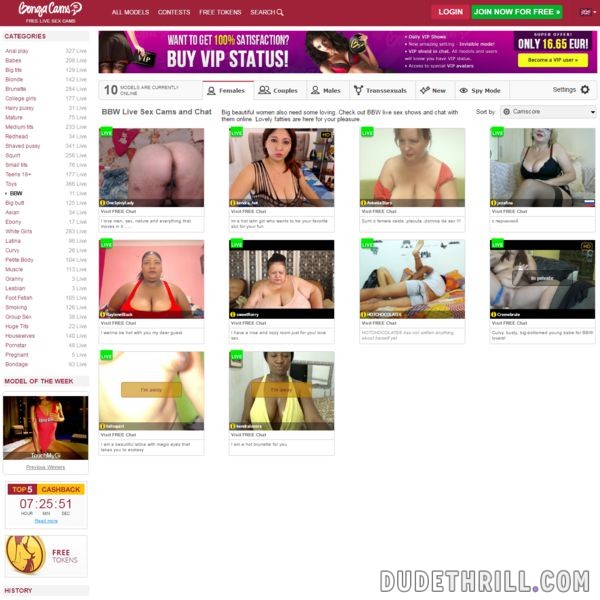 BongaCams is designed to give you access to a wide variety of cam models the moment you visit the website. Just click on the most attractive girl you see on the homepage and start chatting.
You will also notice a menu button on your top left corner that gives you access to all the categories available on the platform. These categories are arranged alphabetically and include things like anal play, BBW, Asian, redhead, and others that will easily tickle your fancy.
There is also a quick search feature that allows you to narrow down the models you are looking for. BongaCams will allow you to search based on gender. You can choose between male, female, trans, and couples in that category. There are also filters for age, region, language, and even appearance. BongaCams says that its biggest goal is to give customers the most authentic personalized live cam experience and these categories do so well to make sure of that.
BongaCams Features
As one of the leading adult cam sites in the market, BongaCams is loaded with an array of top features.
Here are some of the highlights:
The platform has thousands of models. The site says that it has models and performers from all genders, ages, races, and even ethnicities.
BongaCams also features an incredibly effective search feature that allows you to look for models based on your preferred kinks. Whether you are looking for anal play or some other kinky stuff, the search tool makes it easier for you to find what you are looking for.
The website offers easy navigation and a very user-friendly interface. Once you are on the homepage, you can get quick and instant access to an array of live cam girls and performers ready to chat with you.
Sex chat is free on BongaCams. There are also tons of other free videos and live cams that you can start viewing once you open your account. We also loved that new customers get five free tokens as soon as they create an account with the site.
BongaCams also has one of the most affordable voyeur chat features in the market. The service goes for seven tokens per minute and offers exclusive access to steamy sex chats with hot models on the platform.
There is also a dedicated tab on the home page that lists all the new performers coming to the site. The tab is updated every day. It is designed for people who want to try some of the newer performers on the platform.
There is also a spy mode feature that allows users to discretely view and enjoy live sex shows without performers knowing. Spy mode offers a more exciting experience and can unlock an array of excellent content that you won't find in normal live cams.
Customer Support
Customer support is an integral part of the overall customer experience when it comes to live cam sites. BongaCams seems to have an excellent support team. The cam site says that it offers 24/7 live support. The goal is to help users on the platform unlock all the features it has to offer.
The support team also deals with issues of payments and also helps the models set up their accounts if needed. From all the user reviews I looked at, a majority of people who contacted the customer support team were able to get a helpful response in less than 24 hours.
Privacy and Confidentiality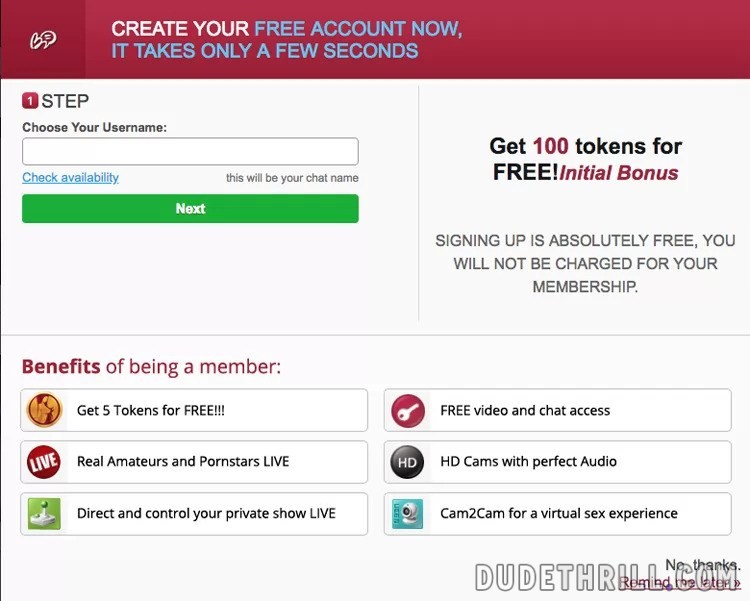 There is no doubt that a lot of people are watching live porn and cam sites like BongaCams are creating a safe and private option to consume this type of content.
The privacy and confidentiality of users is a huge factor. Additionally, cam sites also need to offer excellent privacy guarantees to attract top models. BongaCams scores very well in this case. First, the site is discreet in the way it processes payments from users. The recruitment of models is also done in a very discreet manner.
No sensitive information is needed when creating an account either. Since BongaCams came to existence, there has never been any notable privacy breach of privacy scandal associated with the site.
This is a very good track record and it can only mean the mechanisms the site has put in place to safeguard the privacy of its users and models are working.
BongaCams Promotions
BongaCams loves to take care of its customers and there are a number of excellent promotions right now that you will enjoy once you open an account with them.
You will get an exclusive welcome bonus and a lifetime Gold membership for one single fee. This is a limited offer that also comes with 10 free tokens to start using right away. The onetime fee also gives you unlimited access to chats, access to private rooms, and access to BongaCams's supershows 24/7.
BongaCams will also offer you up to 100 free tokens in mobile bonuses. To take advantage of this offer all you need to do is enter or sign up with BongaCams from your mobile device. However, you will need to purchase any amounts of tokens to fully activate the bonus.
BongaCams is also running a very solid referral program. The site will award you up to 50% of your referrals' first purchase. For instance, if you refer a friend and they end up spending $100 in their fast BongaCams purchase, your account will be credited with $50. BongaCams gives you a unique referral link to share with friends for that amazing bonus.
There is also an exciting daily achievements contest that allows users a chance to win excellent prizes. Normally, BongaCams will have a list of activities you will need to complete during the day in order to qualify for the promotion. This could be something like spending a predetermined amount of tokens or even sending a virtual gift to any of the models. If you can complete all the tasks outlined in the daily achievement challenge, you stand the chance of winning amazing prizes.
Other BongaCams Reviews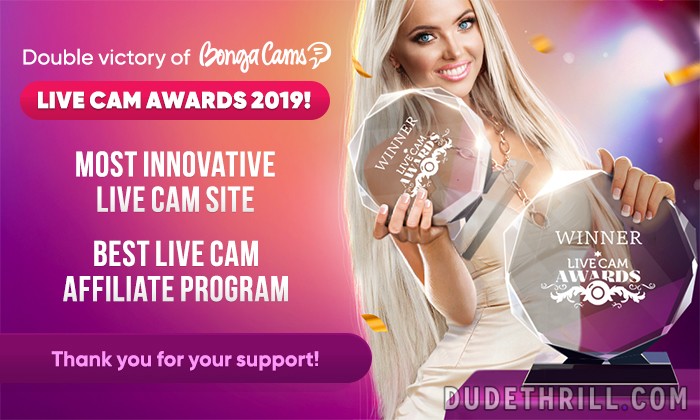 We can sit here and talk about BongaCams all day but let's face it, what really sets a cam suite apart is the experience of other users. This is where reviews come in.
Reviews are basically the feedback that BongaCams gets from its users. I looked at some of it and to be fair, the site is really getting some positive outlook. For instance, there seems to be a lot of users on the platform who believe in the security of the site.
As I have already noted above, privacy and confidentiality are crucial elements in choosing a cam site. People don't want to compromise their identity as they view some of the deranged content online. They want a site that can ensure they are protected all the time and it is clear, from the reviews I have seen, that BongaCams is doing pretty well in this.
The cost of services also looks very competitive. Most users note in their reviews that what really makes BongaCams a great place is the massive variety of free content. It doesn't matter whether you intend to buy tokens in the long run. As soon as you sign up with BongaCams, you can join public chat rooms, start a chat with a model, and even view tons of live cam streams from all over the world.
There are also customers out there who feel that BongaCams has an excellent collection of models. When people visit cam sites, they want to have a new experience each day and even though there are so many factors that lead to that, having a diverse pool of models to choose from is a huge factor.
In addition to this, most reviews have commended the efficiency of the support team and the urgency in which customer concerns are addressed at the platform. If cam sites were defined by the kind of reviews they get, then there is no doubt that BongaCams would easily rank very high.
How Does BongaCams Compare to Other Cam Sites?
The live porn business is huge and as you may have noted, there are dozens of cam sites out there. But how does BongaCams compare with some of these websites? First, the rates at BongaCams are relatively better compared to many other cam sites out there. This is something most customers have captured in their reviews and a close comparison of costs shows that it's actually very true.
To view some other free chat and cam sites online – check out my other article here.
In addition to this, BongaCams seems to have a better collection of models compared to some of its closest competitors. The site claims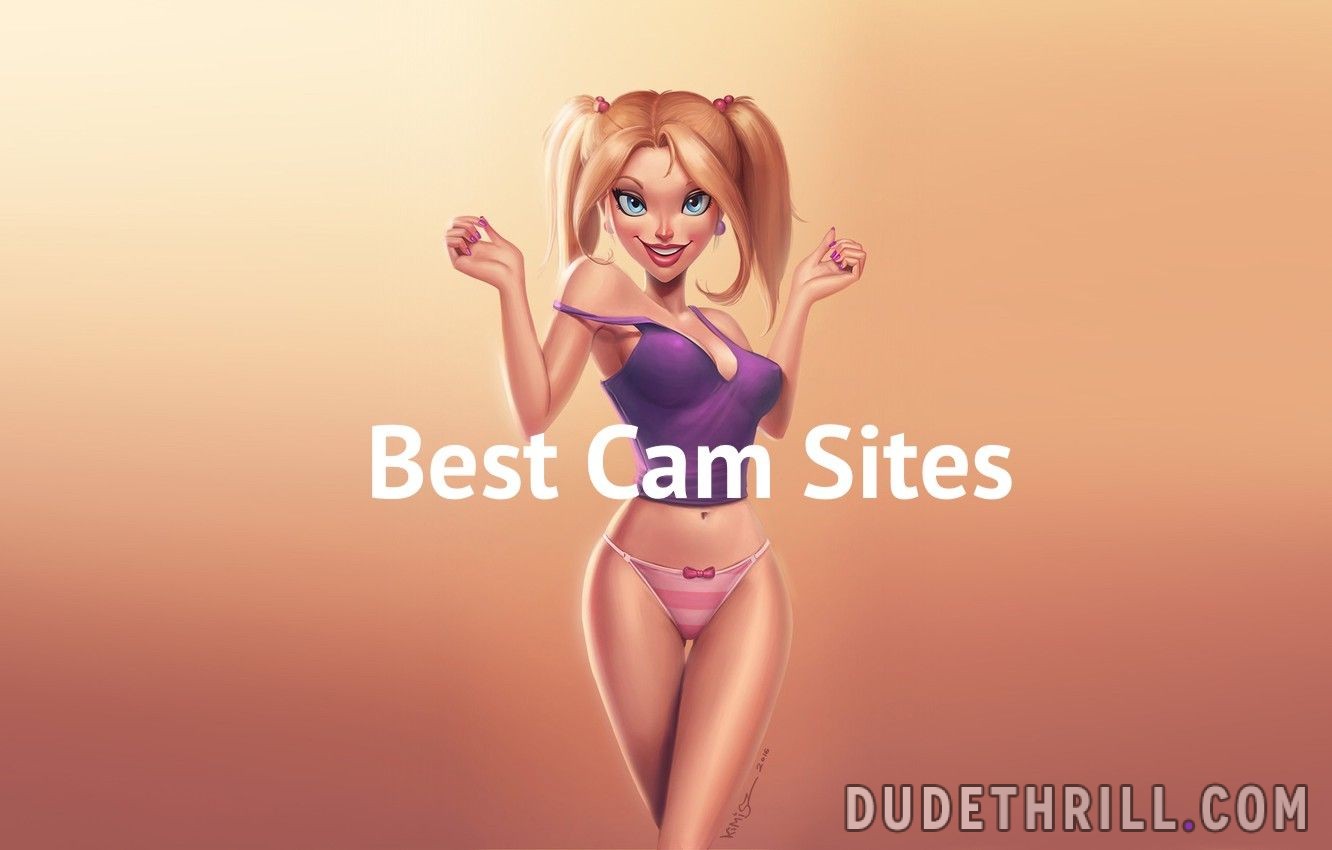 to have thousands of models drawn from all parts of the world. I also loved the massive amounts of promotions that BongaCams offers.
Whether you are a new customer joining the site for the first time or an avid user who has been there for a while, there are dozens of promotions to take advantage of.
Not many other competitors offer these promos. In fact, BongaCams even has a promotion that gives users over 100 free tokens for just using their mobile phones to access the site. You will not get a better deal anywhere else.
Conclusion
Cam sites come and go but somehow BongaCams has managed to stand the test of time. The site has been attracting some of the hottest models out there and its reputation of offering a secure and private platform for its users is outstanding.
The rates also look very good not to mention the fact that BongaCams also has loads of free content for people to explore. While you can still find many different cam sites out there, there is no doubt that BongaCams is by far one of the best options.
It is highly recommended, especially for people looking for one of the largest and the nastiest adult web communities on the planet.
So I really urge you to try out what they have to offer by signing up with them now (register via this link to receive some free tokens)!
Let me know about your experience with Bongacams in the comment section below!
All 115 Other Sites in This Category Worth Checking Out:
Strip Flix Review & 12 Must Visit Free Sex Cam Sites Like StripFlix.cam Show Me 12 Alternatives for StripFlix.cam Will you join me as I stream on unlimited stripping and babe teasing? There is no other site I could ever think about that is convenient, accessible, and limitless in nudity. We shall dig on sex cam […]