Updated on: October 1st, 2023
Camera Prive
& 12 Best Adult Sex Cam Sites Similar to cameraprive.com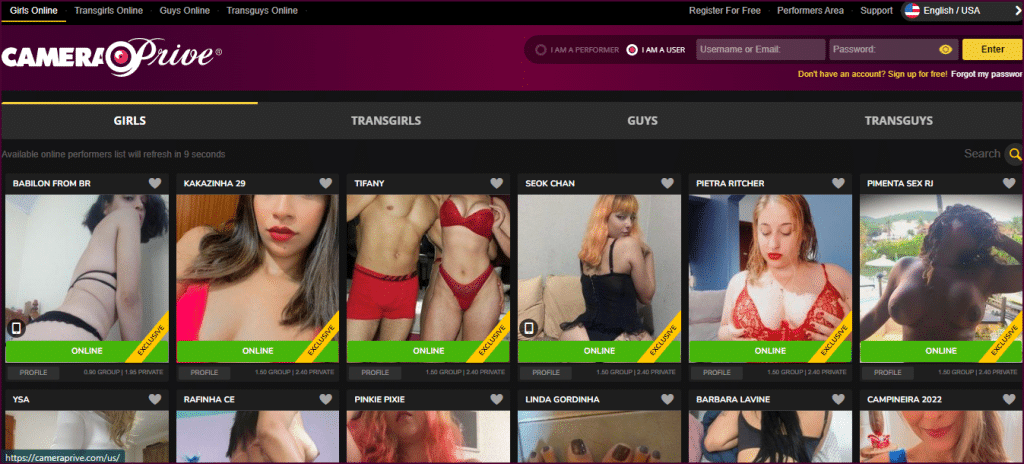 Looking at the internet right now, I can see how much adult entertainment and adult sex cam sites have taken over the world. Probably, that's because we're tired of being alone and wish to experience a fulfilling life by watching and enjoying live shows. Whatever the intention, we can all agree that adult sex cam sites are thriving. And that includes Camera Prive — a cam site that lets you enjoy the pleasures of women, men, and trans cam models from the comfort of your home. Obviously, this site is open to all preferences, and it doesn't discriminate unique tastes. With all these, I'm pretty curious what else this site offers, so I come up with a review. And together, let's dissect this bitch to the bones!
Official URL: https://cameraprive.com/
Daily Dose of Brazilian Delicacy from Camera Prive
Modern-day adult cam sites and gorgeous cam models are the primary sources of erotic entertainment by most people. In fact, upon writing this review, aspiring models and thousand cam sites are emerging into the scene. And with this, I'm always left with a question: how am I supposed to pick which one's the best? God knows!
I've seen cam sites every day; most offer excellent services and satisfying pleasures. But obviously, not all of them are capable of giving us top-notch services, coupled with unique entertainment. Certainly, there's a shit load of things to consider.
Lucky for us, we have Camera Prive, a Brazilian adult live sex site that started giving people cam entertainment in 2012. Surprisingly, I found out that this site is included in the BongaCams channel, and I'm sure it's equally impressive. Currently, Camera Prive is among the highest visited site globally and ranks on top in Brazil.
How Does CameraPrive Work?
Upon the first visit, you might feel overwhelmed with the language system of CameraPrive since it's set in the Portuguese language. However, these can be easily mended using website translation.
You'll find a drop-down menu on the screen listed on the languages available, and just tap it. But if you're on a mobile phone, typically, the site will pop up a translation window according to your location.
Anyway, before starting your CameraPrive business, you have to agree you're of legal age. Afterward, the site automatically redirects you to the main site, where there's a list of live cam models in thumbnail view. Of course, CameraPrive has sorting options available on top of its page, where you can access the models according to gender. Additional sorting options are also available like private, exclusive, spy, and group cam shows.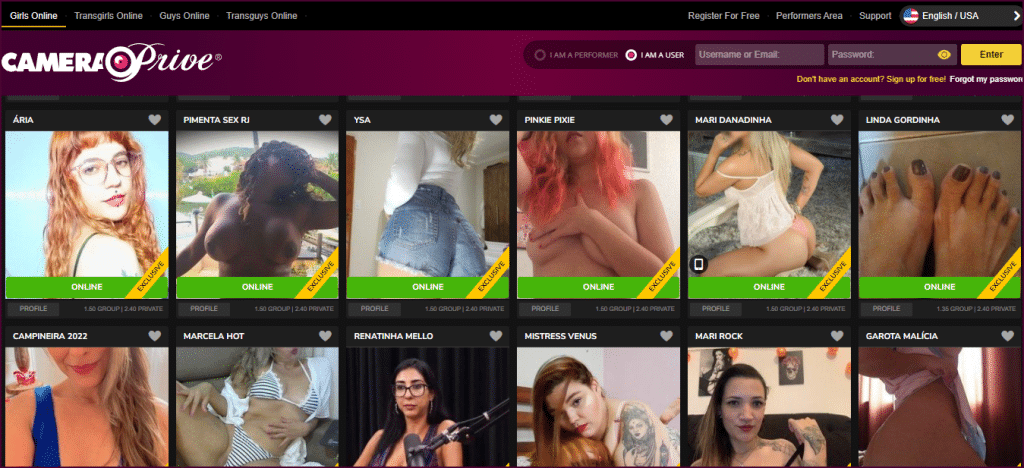 To start, simply click on any model thumbnail, and it will redirect you to the ongoing live session. However, if the model is currently in the private or exclusive chat room, the system will automatically lock you out. Meanwhile, you can likewise check the cam models' profiles because they post exclusive pics and videos most of the time. Luckily, these galleries are available for purchase at affordable prices. Although the rates for each pic and video differ depending on the model, the average rate usually just ranges between ten to thirty credits.
Types of Camera Prive Chats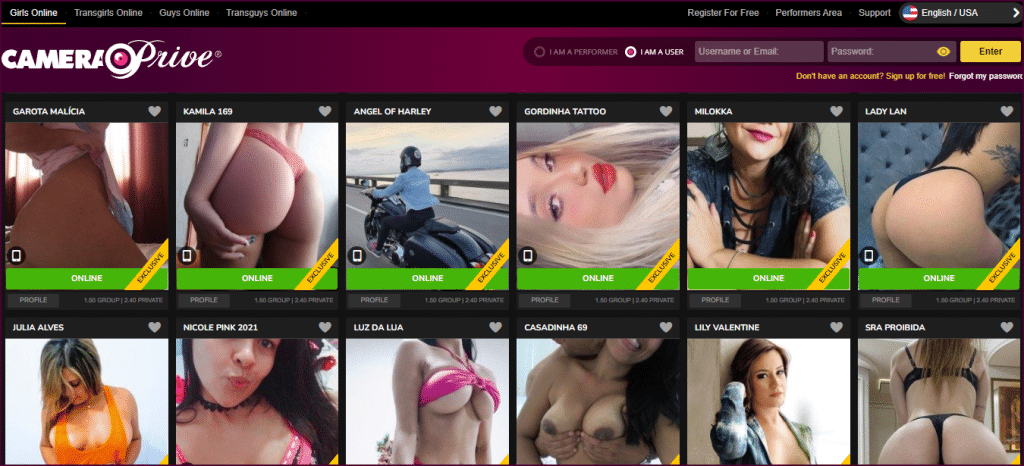 The group chat or show is a collective chat session where users can join in together and watch one model. You can join and chip in the group chat for an affordable per minute.
This chat feature is among the things I enjoy most since I can have a private session with a cam model. Having people around in the chat is an annoying thing to imagine; that's why I always opt for the cam2cam experience.
This type of chat session is pretty similar to the Private Chat; however, the model will have an offline status on the site. Also, spy mode is not available in the exclusive chats. Meaning, you can enjoy "exclusive" shows with the cam model.
For all the voyeurs out there, I'm pretty sure you'll love the spy mode chat of Camera Prive. It lets you spy and sneak into ongoing private chats. The participants within the chat will not know you see their session, but simultaneously you cannot comment or do anything throughout the session.
Prices per Minute in Their Chatrooms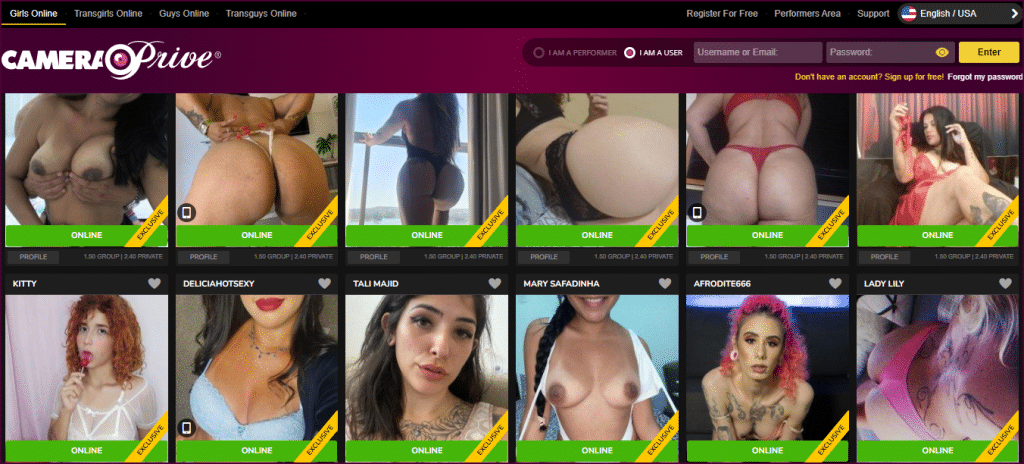 Surprisingly, Camera Prive offers an affordable price per minute session. Now, you can enjoy watching cam shows and strip-teasing girls without spending too much. Camera Prive knows your broke ass couldn't afford live sex cams compared to other cam sites.
Group Chat — Requires 1.2 to 1.5 Credits per minute (approximately $0.39 to $0.49 per minute)
Spy Chat — Requires 1.2 to 1.5 Credits per minute (approximately $0.39 to $0.49 per minute)
Private Chat — Requires 2.25 to 2.4 Credits per minute (approximately 0.743 to $0.792 per minute)
Exclusive Chat — Requires 1.8 to 2.0 Credits per minute (approximately $0.594 to $0.66 per minute)
CameraPrive Usability and Webpage Layout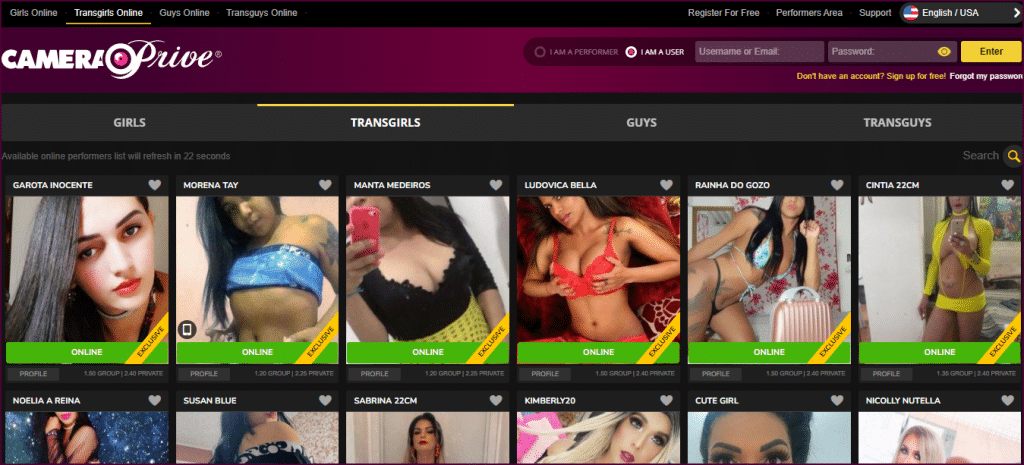 The interface design of CameraPrive is relatively straightforward and intuitive. In fact, it has several useful features that are not complicated to manage. Also, if you're a visitor from somewhere outside the South American region, you'll have no problem with the site language. An automated pop-up window lets you translate Brazilian to any language you prefer. Additionally, if you're coming from the US, just click on the button, and the site switches to English.
Meanwhile, the cam model list is quite extensive, so you have to narrow down the list into more specific types. To limit your search, you can choose from a simple list of live females, trans females, males, and trans males. There is a search function on CameraPrive, but it lacks genre labels or extensive drop-down options that you sometimes find in mainstream cam websites. Anyway, whatever the case, viewing live webcams provided us with no shortage of enticing possibilities.
Perks of Camera Prive Members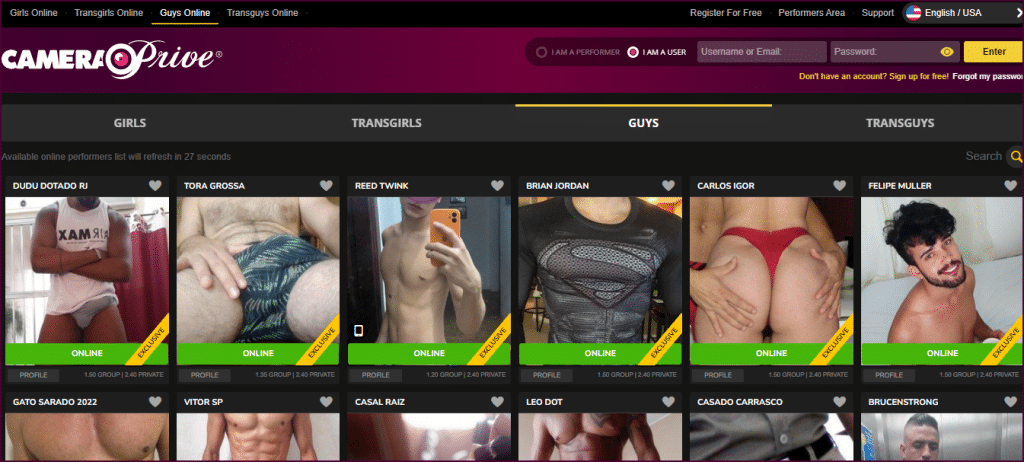 Being a member of CameraPrive opens up to numerous perks, including accessing files uploaded by the cam models. These files could be recorded footage of their live cam shows or other stuff they want to share.
Not to mention, there were also erotic albums filled with hot photos of cam models. Many of them like to entice users with sexy photos and convince them to join the chat. Some of the goodies available here are also accessible for a price, and these goodies are sure-fire exclusive only. Meanwhile, if a particular model captured your attention and you what to get updates when she goes live again, you use the "Follow" feature.
Signing up as a CameraPrive member has no fee, and once you have an account, you're free to participate in free chat sessions. The free chat session is accessible without paying; however, the site requires credit card information. Don't worry, I know that's suspicious, but I've tried it, and CameraPrive doesn't ask for fees. Of course, this free-based chat is within the free-chat perimeter only. There will be charges per minute once you use other chat options like exclusive or spy mode.
Cam Model Profiles at CameraPrive.com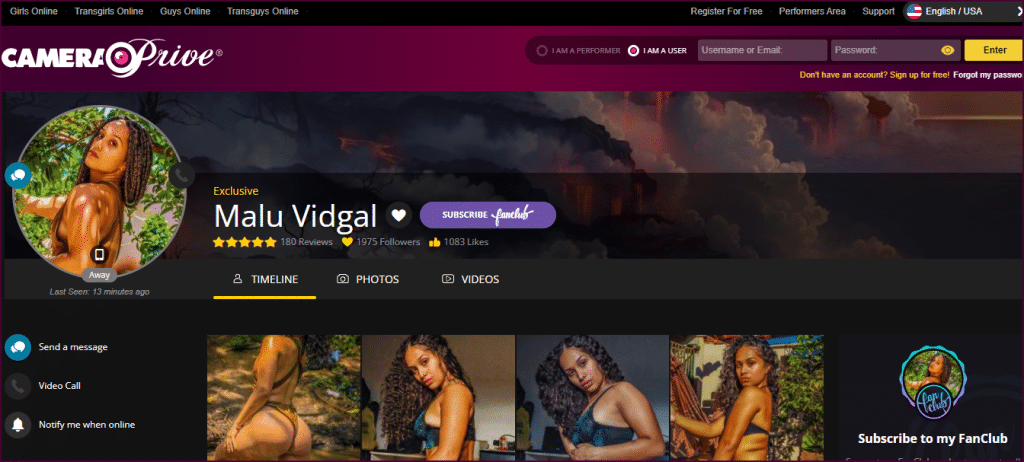 As I mentioned, CameraPrive is a Brazilian live cam site founded in Brazil; therefore, you'll see a shitload of Latina cam models and local Portuguese women on the site straight away. But don't worry, there's no reason to be embarrassed if you're not fluent in the models' native language because CameraPrive has already prepared for this thing when they venture worldwide. The live chats will translate their sentences directly for you, and despite the language issues, you'll understand each other during cam shows.
CameraPrive has a wide variety of male, female, transgender, and couple cam models, with an overall estimated model pool of over 37K+. Even though CameraPrive isn't the "largest" brand in the region, they've managed to carve out their specialty and establish an impressive fanbase through the years. So, for those who feel overloaded by the unending scrolling of other webcam platforms, CameraPrive has a more handpicked group of entertainers at your disposal.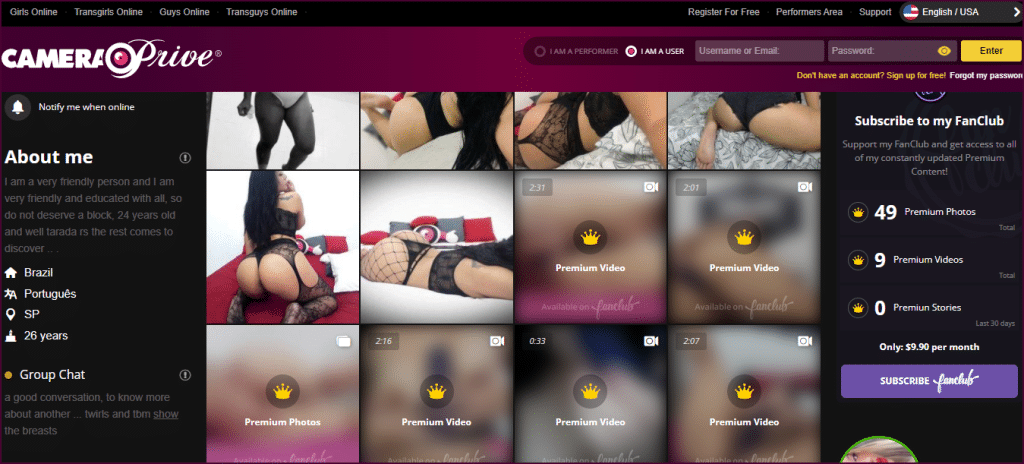 Ultimately, the cam models are sure to please everyone who is a fan of beautiful Latina women, men, and trans. Not to mention, there's an interesting cross-section of people from all walks of life available on the CameraPrive model pool. And I'm pretty sure you'll find a wide range of cam models in various age groups, hairstyles, titty shapes, booty size, and unique personalities. Also, if you prefer men, you'll find plenty of large wankers and muscular hunks on CameraPrive.
What I Don't Like About Them?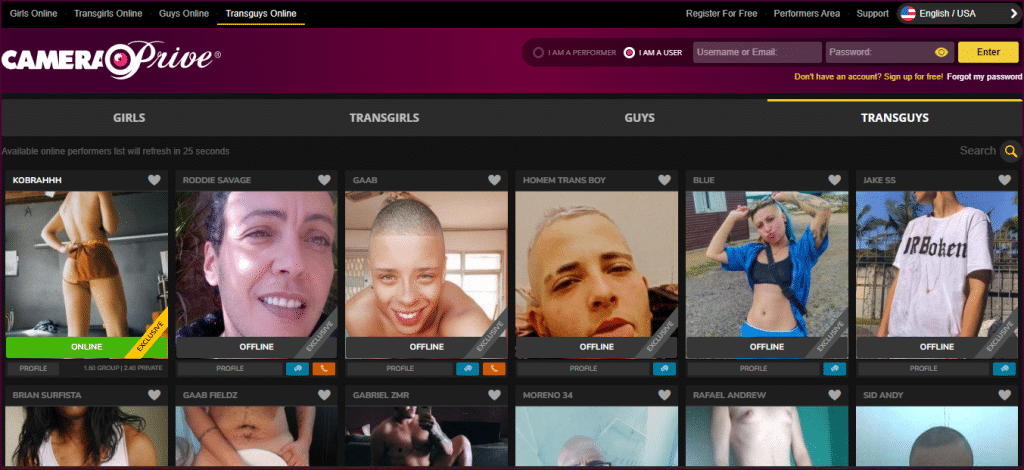 After saying praising words about CameraPrive, I gotta be honest; there are also many things I didn't like about it. First of all, the site has no available advanced searching tool. I couldn't help but notice that the basic model search is pretty limited for an extensive site like this. I found no tools to narrow my search results to largest titties, body shapes, weight, kinks, show genre, and categories.
Also, the webcams of most cam models here are quite the average resolution. Many of them have 480p quality, but I think that's enough clarity I needed. Plus, the site has no minimum cam resolution protocol, so most likely, some of these cam models have cam quality lower than 480p. Honestly, I'm disappointed since I expected a lot from this site, especially its cam quality. Several cam sites out there have promising cam qualities but disappoint you with expensive rates.
Meanwhile, CameraPrive has affordable rates but doesn't provide satisfying cam quality. Perhaps, you can't have all the best in life. Not to mention, many cam models have poor wifi connection, so you may experience plenty of buffering and some pixellated scenes.
Pros and Cons of CameraPrive
PROS:
Affordable prices
No ads
The layout is impressive and stylish
Translation is available
CONS:
Models are primarily a non-English speaker
Some cam models have a poor internet signal
No available advanced search tool
---
12 Best Adult Sex Cam Sites Similar to Cameraprive.com: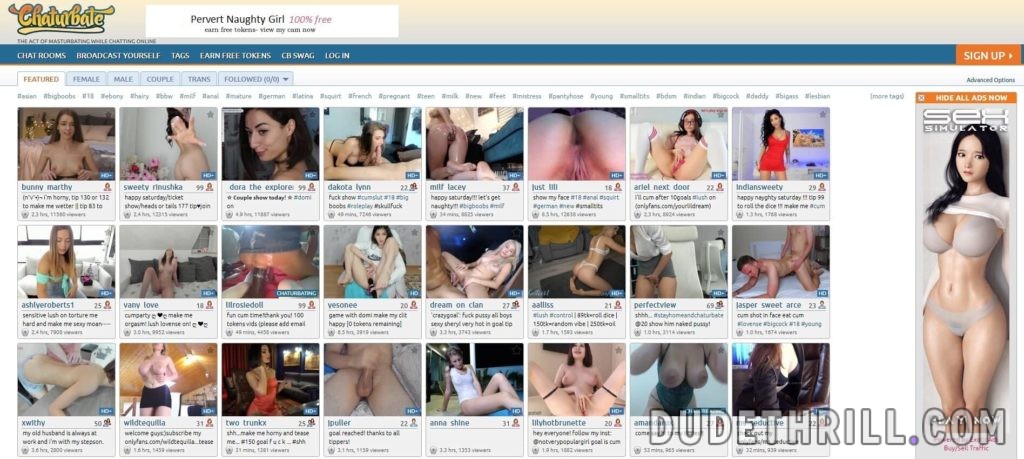 Connecting to people worldwide has never been so easy. Thanks to Chaturbate, unlimited talking is now possible. Plus, you will never spend a dime on it. There are a lot of sexy and beautiful women available for you, 24/7. As a matter of fact, women on this website love kinky stuff, which is always worth your time and attention. Meanwhile, live shows are also available for viewing at a reasonable price.
Here's the full review of Chaturbate.
PROS:
Many cam girls available 24/7 live
No additional fees to expect
Nudes and sex are always a guarantee
Smooth browsing on smartphones and other devices
CONS:
Few videos are in SD format
Expensive private shows
---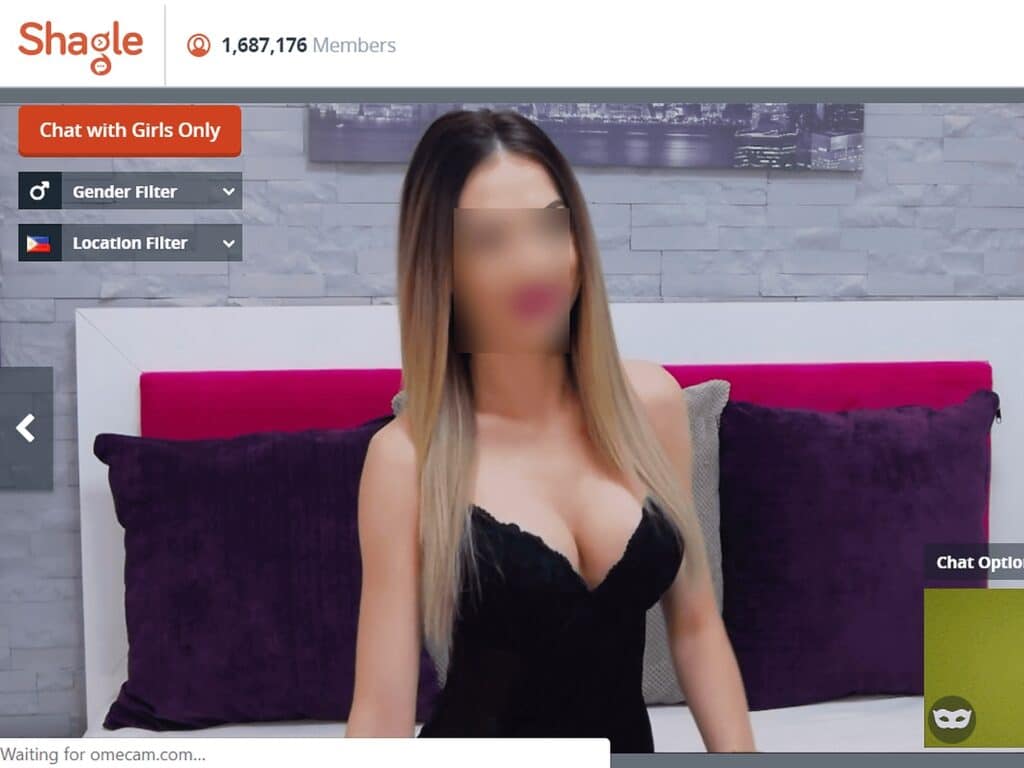 If you are considering a superb venue to video chat with strangers and gorgeous hotties, then certainly, the community of Shagle would be an excellent option for you. You can discover lots of diverse people with various interests on this page.
Hence, creating a connection and understanding are the main focus. Also, it has an outstanding balance of people aged 25 to 55 years old, suggesting that you can always find the right match on this platform regardless of how young or old you are.
Click here for Shagle full review.
PROS:
The intelligent algorithm ensures you will not talk to the same person two times
It has millions of members around the world
A maximum of 5 minutes will require to register
Free members have plenty of benefits and feature to enjoy
Available in 70 different countries
Rule s and regulations are available and required to follow to maintain the user-friendly experience
Features and communication tools are plenty
It does not require personal information to register
Free sending of text messages
Free use of live video chat
No language barriers because of Translation Tool
CONS:
Not available in-app version
You cannot access additional features using a free account
Video quality is average
---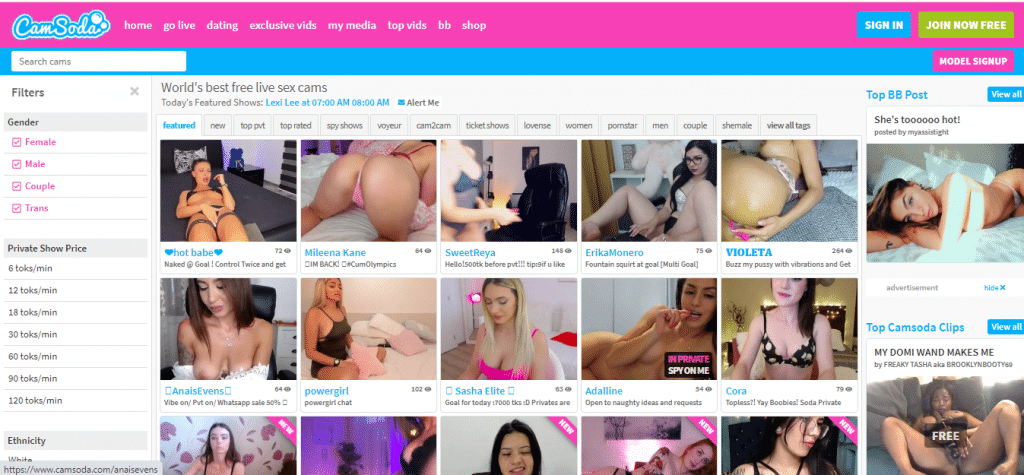 For people addicted to live cam and sex chat websites, Camsoda has got it all for you. The site is unquestionably among the most popular websites in the field of the adult business. So, if you are having a tough period at work, or simply wanting to experience the pleasure of chilling with girls, then this is truly perfect for you. Above all, it has unique functions that help people communicate and talk easily.
PROS:
Excellent design and simple to use
High-quality streaming videos
Lots of cam girls available
Free accounts can still use all the features
Active members are using every day
CONS:
Advertisements are available and annoying
---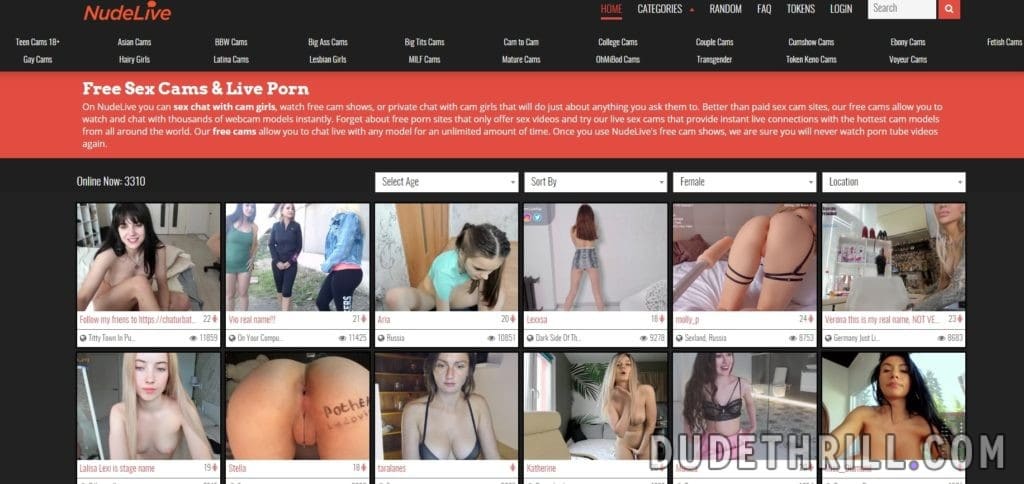 NudesCams is known for many features and offers live feeds, making it stand out from the most cam-site crowds. NudeLive is a relatively new website, but it already has a considerable fanbase and plenty of live webcams to choose from at whatever given time.
Not to mention, this website brings a great blend of real-time cam models, as well as males and females alike. Also, there is a wide range of material that has lumped together here, including "Teens 18+," "Couples," and Bi & Gay," making it easier for you to find what you're interested in and desire.
Click for a full review of NudeLive.
PROS:
Responsive cam girls and cam boys in an extensive database.
Cam models are a lot of fun to watch.
The majority of sex webcams are of high definition.
There are several niche categories from which to choose.
NudeLive is the only place where you can get a random feature
All of the cam models have massive thumbnail previews available
Adding models to your favorites makes it simple to stay informed on when they are available on the website
You can quickly switch from one cam display to other thanks to the convenience of use
The act of sharing your webcam with the actors gives you the feeling that you're watching an actual live performance
Free to use
CONS:
Several features are only accessible when you sign up and register as a member
Private chats and shows can get expensive
---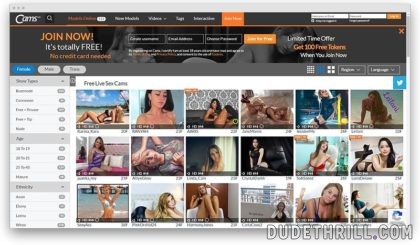 Have you been feeling tired while watching porn all day? Want to try a real sexy cam show for a change? Why not head over to Cams.com and experience real videos from horny models. Once you visit this site, you will never miss any cam shows. Above all, you can interact with the models when you register.
PROS:
Plenty of models available for you
The site is simple, and the design is easy
Division of videos is according to categories
CONS:
You need to register to use the chat feature
Quite expensive membership
---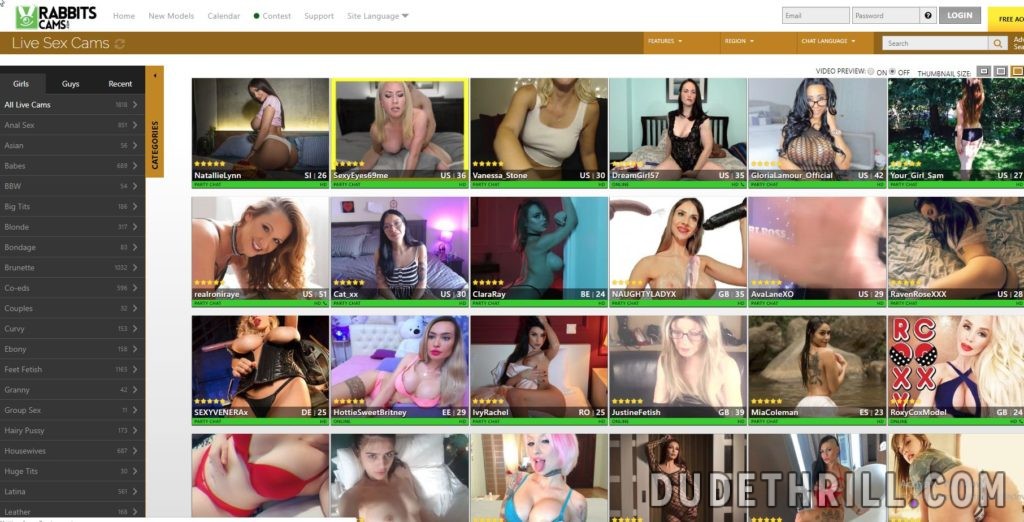 Rabbitscam.com is a relatively new website. However, if you have been visiting cam websites, you have probably heard a thing or two about it, provided that it has been gaining popularity in the industry. It will undoubtedly give you everything you need for a live cam sex chat. It has plenty of model selection, all with different looks, body shapes, ethnicity, and style. Above all, every camera is of High-Definition quality for the best cam experience.
Also, the prices and shows available in Rabbitscams cater to your preferences. Whatever your money can afford is all available here for your pleasure. All the perks of this site, including chats, browsing, and more, are available for free. So, your lazy bug has no excuse not to check it out!
PROS:
Many of the cams are high-quality resolution
Different shows available for everyone
Users can choose from thousands of models available
The Mobile version is efficient to use
No annoying advertisements are available
No auto payment system
No money wasted because of pledge-based payments
CONS:
Basic accounts are very minimal
Some of the cam shows are expensive.
---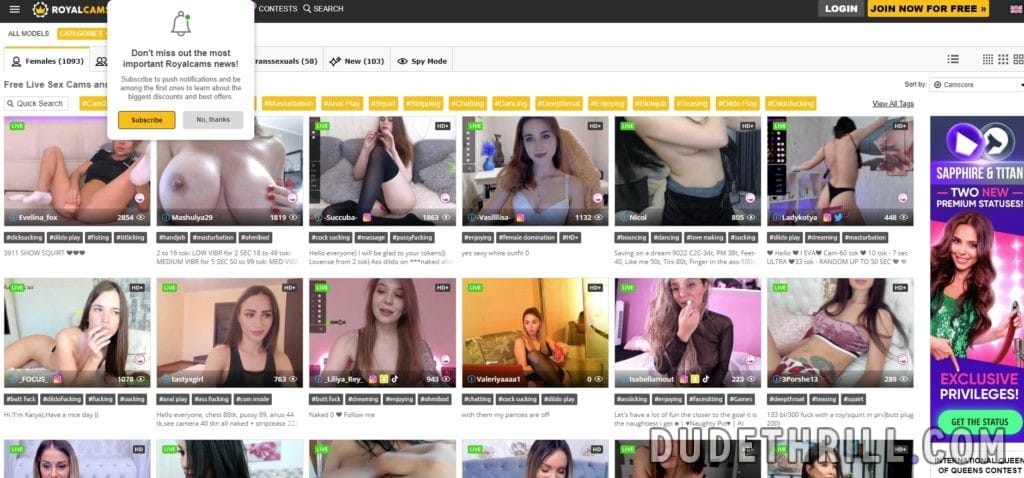 RoyalCams is a fully functional webcam platform. It uses a vast library of models that reflect both genders and orientations. There are four different types of personal chats available, including fully explicit and tip-based completely free chats. Check out our best choice if you're looking for the best adult cams. It's open, simple to use, and well-liked by users, increasing your chances of having a good time.
Take a look at Royalcams review.
PROS:
Plenty of gorgeous girls
Spy/Voyeur style that allows you to see and chat with models.
Uses sex toys
Professional and amateur models
Mobile compatible
CONS:
Sometimes, models take time before going nude
A brief preview of the Visitor Live series
---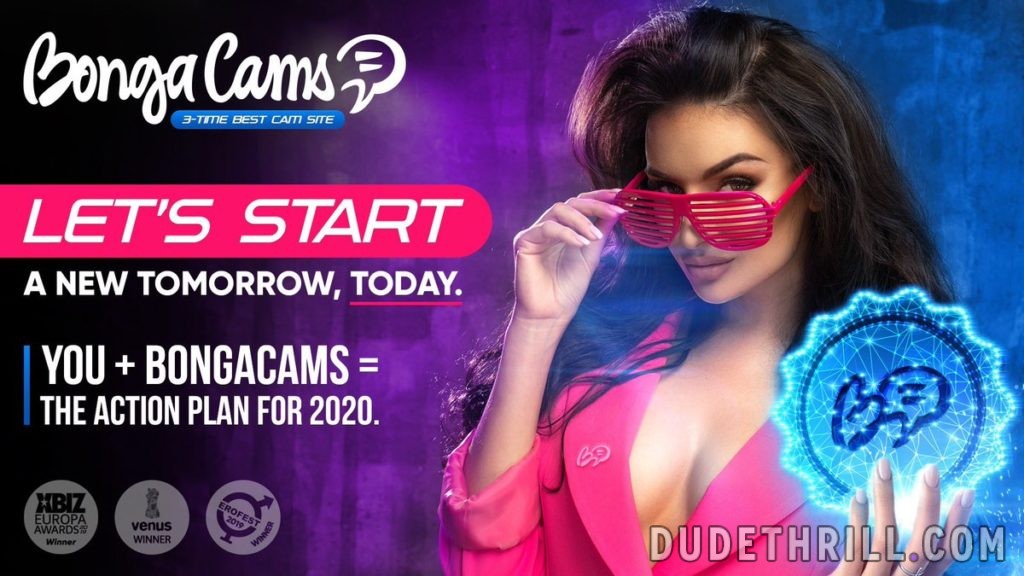 As the name suggests, this is a place for live webcam cams in which you can search for many of the hottest models and one of the most acceptable money system applications nowadays. There are thousands upon thousands of camcorders to pick from, so you're hardly likely to feel upset. And there are countless options to find a decent live stream woman for yourself, on top of it all.
PROS:
There are tons of HD streaming camgirls
Uses token system and incentives
Premium members enjoy special features
CONS:
Annoying pop-up advertisements
Requires paid subscription to use site's features
---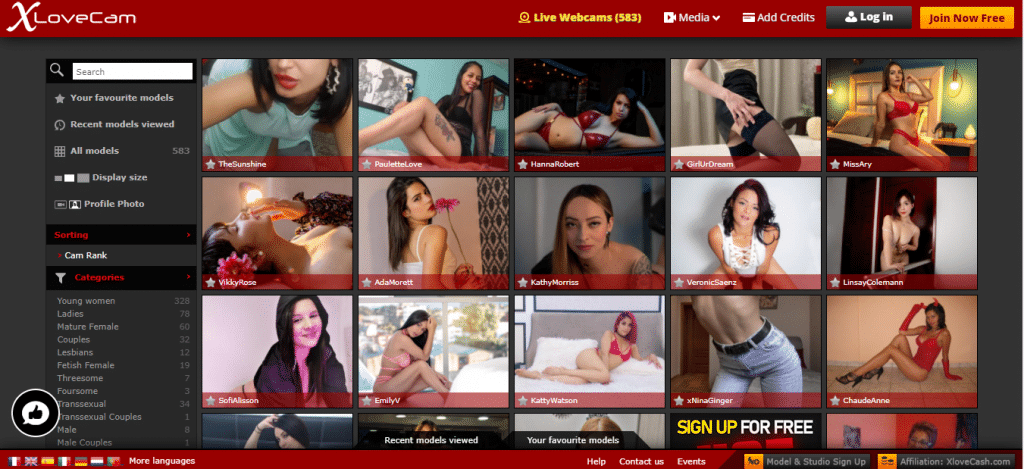 XLoveCam is a platform interesting to check out. Definitely, there is no reason never to try it out. Most of the cam girls in xLoveCams are Latina, Asian, Latina, Black, White, or Arab. They are undoubtedly sexy novice young women, giving you a price-per-minute rate — a reasonably cheap rate. Most of all, finding a camgirl who uses a high-definition camera quality here is again not difficult.
Full review of xLoveCams here.
PROS:
Good variety of camgirls available
High-resolution cameras used
The cheap price per-minute rate
CONS:
High Definition filters for videos is not available
Some private shows are a bit costly
---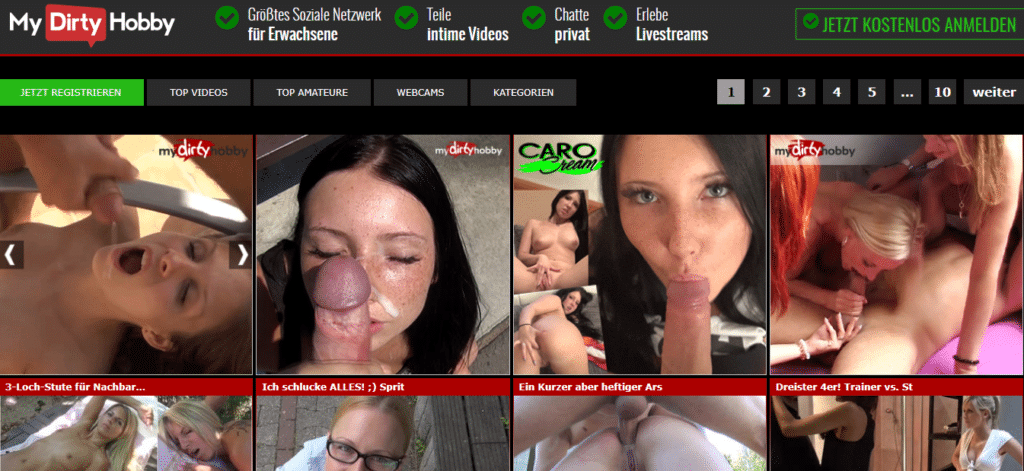 Germany's best live sex cam website, My Dirty Hobby, brings everyone together. Coined as one of the largest adult social networks to ever grace the Internet, MyDirtyHobby is more than just its intriguing and interesting handle; it is a haven for amateurs who like posting homemade sex videos and provocative photosets. It is an interactive community that will live up to one's expectations, especially if you look for a reliable source of adult porn and live sex sessions.
It has plenty of members video chatting and messaging daily. Also, the website allows the members to gain money by joining cam shows. Indeed, My Dirty Hobby has a fantastic set of cam girls waiting to have a naughty time with you.
Click for a MyDirtyHobby full review.
PROS:
Different contents according to specific interests
Design is simple and easy to use
Regular updates
Do not need membership payment
CONS:
Downloading is not available
---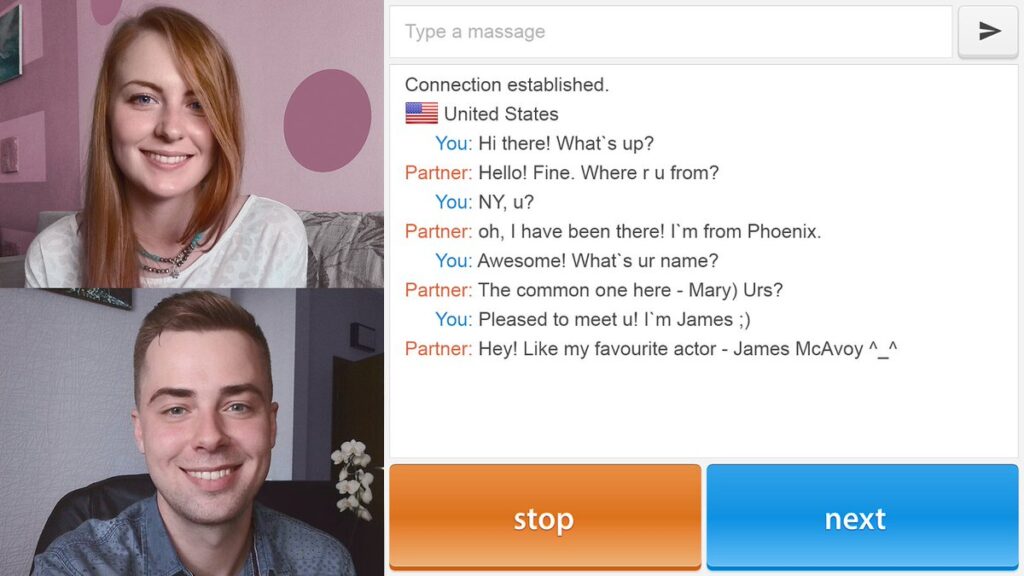 Do you love connecting to different people from across the world? If yes, certainly you will love the CamSurf website. This is where you can find random chat mates and help you find connections worldwide. Coupled with unique features, CamSurf is the best adult cam and video chat website.
Also, the team behind this website designed it to help people find and meet individuals, romantic interests, or simply random users. Not to mention, it is available across 200 countries from different parts of the world. Also, everyone can use it regardless of what area you are in.
PROS:
Fantastic adult cam and video chat website
Free to use
It does not require any registration
User-friendly design and simple to browse
Maintenance of Users' privacy
Implements regulations to maintain positive experiences
Available in 200 countries worldwide
Uses SSL encryption for security and protection
CONS:
No filter option for sex chat only
Requires the people to be at least 18 years old to use the website
---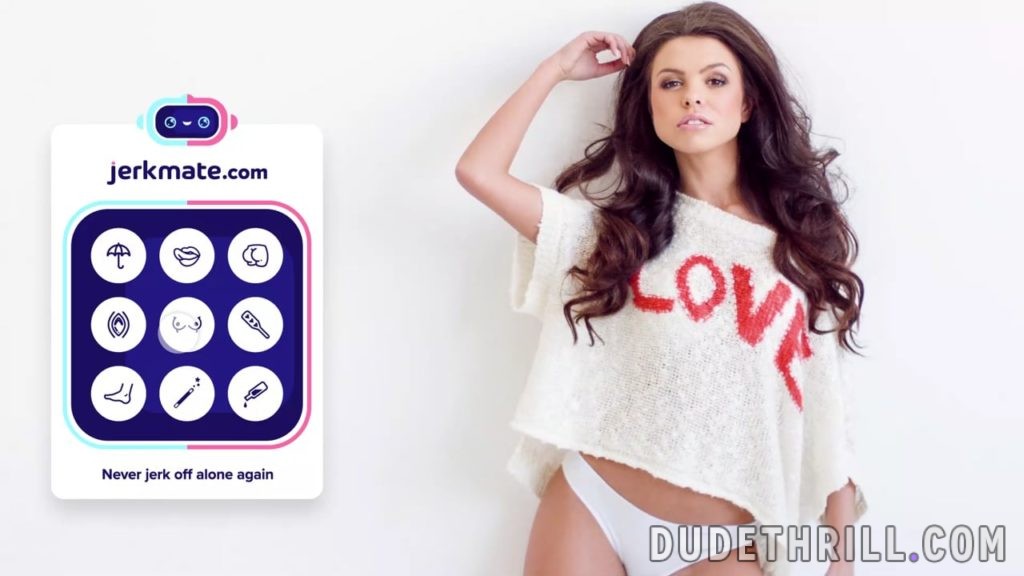 Jerkmate, a live sex cam website that promises every moment is worthwhile. Also, there are a lot of amazing chicks you can jack off at any time. Many of the girls are waiting for AMD, craving for horny men to watch them. Besides, the cameras available on this website are of high-resolution quality, making the whole experience more enjoyable.
PROS:
Different and extensive choices of girls to chat
Live shows are different, and users can pick which they like
Webcams are high-quality resolution
CONS:
---
All 113 Other Sites in This Category Worth Checking Out:
Fetish Galaxy Review & 12 Best Live Sex Cam Sites Like FetishGalaxy.com Show Me 12 Alternatives for FetishGalaxy.com Welcome! Today, we're strapping in for a journey that's bound to tickle your curiosities and awaken your inner desires. Don't tell me the name "FetishGalaxy" didn't already send your imagination into overdrive. I mean, it's like a cosmic […]