Updated on: October 1st, 2023
Cam Smut
& Top 12 Free Webcam Sex Sites Like CamSmut.com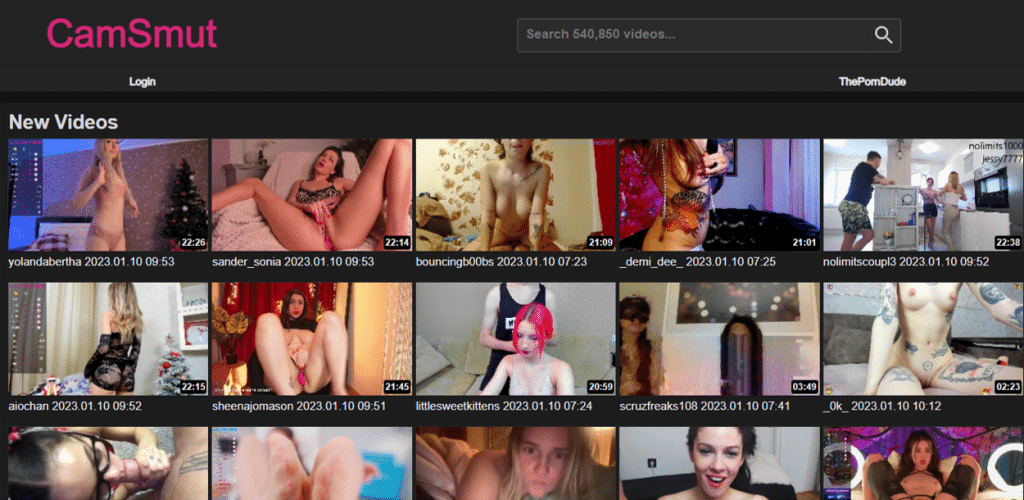 Here we go again, spending time with some recorded live cam performances via Cam Smut. If you do not know the other side of my personality, pal, I am intensely thrifty. Well, I do not share it daily in my reviews because I often spend my money on some deserving porn sites. However, if I am given a chance to enjoy quality erotica without harming my budget, then I am elated.
Official URL: https://camsmut.com
Please do not judge me, as I put a value on my hard-earned money. Anyway, as I mentioned, I also love to splurge on quality porn, especially when I see deserving and tempting platforms. Should I name these venues? Maybe later. Nevertheless, I enjoy some free sites and prerecorded live sex activities. With that, I am happy to share Cam Smut. How does this domain work? Cam Smut displays the horniest exhibitions of babes and offers them freely to the hungry market.
So Many Horny Sluts at Cam Smut!
My eyes and dick are celebrating with the feast of gorgeous babes showing off their sexual prowess. Cam girls are ready to serve our needs with masturbation and teasing in front of the camera. What is more delightful about this page is that you can have these sluts on your jerking plate anytime and anywhere of the day. Their exhibitions are handy, and you can lusciously explore their beauties via the galleries.
Cam Smut caught many's attention with its archive of sexy webcam delicacies. Like other related venues, Cam Smut allows you to stream performances despite missing its live show. Cam Smut and other cam domains became loved by many because they unlimitedly address the needs of perverts. Recorded live scenes have entertained various patrons, but Cam Smut has been around for months, making it a new addition to the lineup.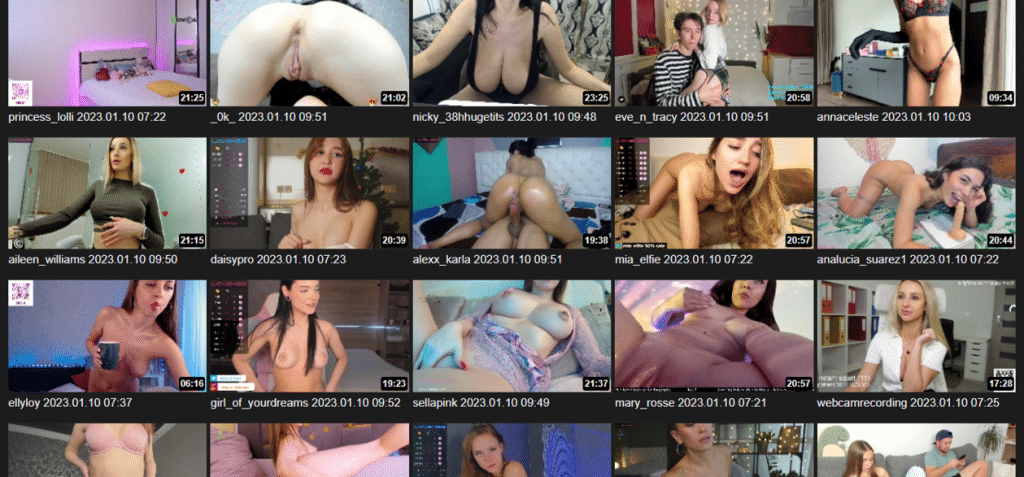 I am starting to get my lube as the homepage enticed me to start the ritual. Perhaps, this is the exact feeling of other perverts visiting the site. Cam Smut considers itself effective in delivering porn materials due to its consistent number of porn fans' visits. Although the data may not be as high as in other domains, reviews show that Cam Smut is doing an excellent standing. In the next part of the review, we shall see the features that would make our quest more worthwhile.
Cam Smut's Free Site with Adverts
Sadly, Cam Smut has included a pile of adverts on its page. I know you might consider this reality already, but no one comes prepared with annoying ads. Do you agree, pal? If so, you must brace yourself with the adverts coming in and out of Cam Smut's zone. However, I shall share some good news. Commercials are not usually seen on the home page, as Cam Smut knows how to hide them for your comfort.
But do not expect much, my friend, as redirects are possible in the arena. I experienced them more than twice, and it has literally tested my patience. Good thing I am inspired to navigate more as I see hundreds of live camwhores tempting me. You may also get dismayed to see some banners and popups at the video players. If only advertisements weren't part of Cam Smut, would the place be as tasty as it claims? Together let us explore.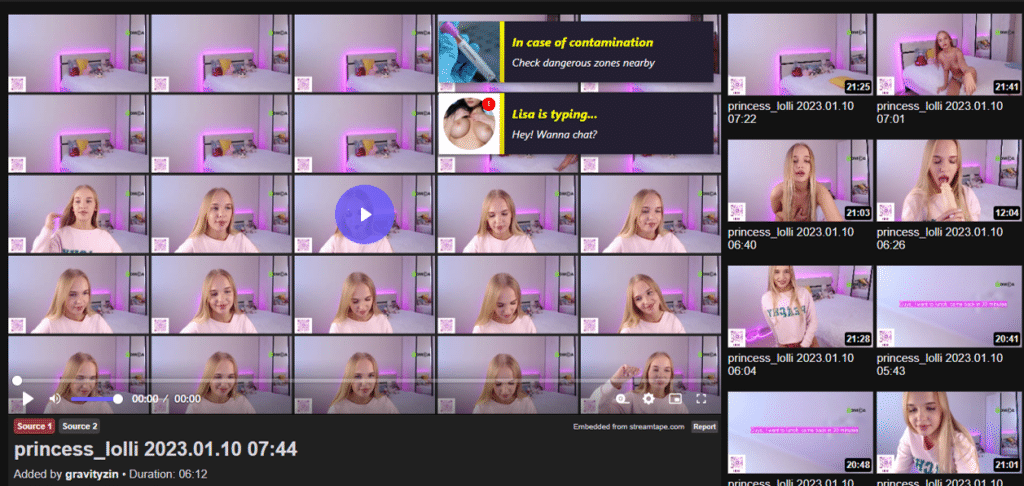 I See a Stale Layout
I am sorry, but I am not impressed with the total Cam Smut layout. Although I was not expecting a grand setup since Cam Smut is a free site, they could have explored more enticing features to allure a broader market. As you open the site, you will not see any icon providing the usual navigational tools. There is an existence of a header, but it only contains the Login detail.
Cam Smut also covered its entire abode with a black backdrop. You can only see slices of pink and white on the texts and site names. As we speak of the page label, Cam Smut disappoints me with its too-simple name display. My eight-year-old niece can actually do this design on her smartphone. What I am trying to point is that the entire arena looks so bland that it may demotivate fappers. The design may not concern you if you are here solely for the materials.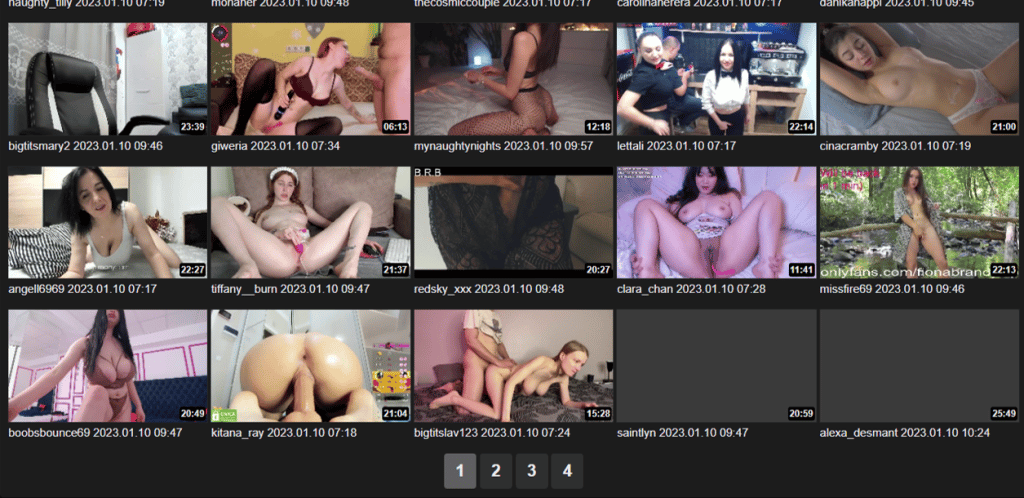 Nevertheless, the vital part here is Cam Smut's functionality. The page sticks to its promise of delivering wild live cam performances, and so the central area provides more than what is expected. You shall see the parade of thumbnails with images of the depicted scene. There is so much nudity, dick-sucking, fingering, and teasing in the area. I am also starting to drool with each piece.
Cam Smut, Give Us More
Cam Smut provides an exciting row of thumbnails featuring women in different scenes of nudity. Some start to undress while others are excitingly flashing their boobs and playing with their pussies. Cam Smut also showcases diverse sex locations. I saw babes doing their masturbation on the kitchen counter, in bathrooms, and in bedrooms. The unlimited use of dildos and sexual tools is also present in the arena.
Moreover, fans craving real and authentic sex scenes can enjoy Cam Smut. There are so many pieces of natural exploration on the main page. I can't help but also be excited about the luxury of a couple of materials. Group sex and threesome escapades are recorded and submitted to Cam Smut's library. I also love to see camwhores playing with their partner's dicks. They enjoy licking, sucking, and giving the best blowjob possible. Some also record these treasures in a POV style, making me wank my dick even more satisfyingly.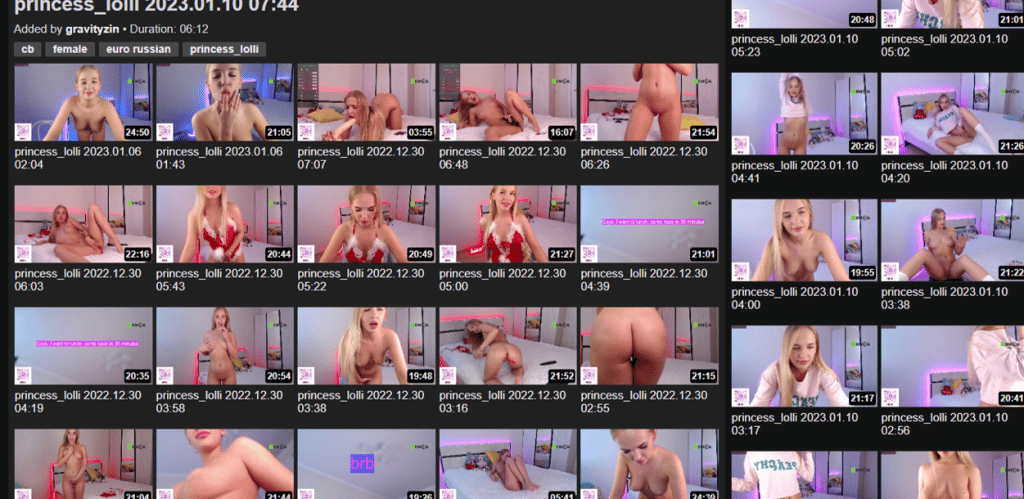 Cam Smut Does Some Good Job with the Scenes
So far, if we speak about the presented materials, I cannot help but appreciate Cam Smut. This free domain has provided random treasures. Cam Smut thoroughly excites fans' dicks and pussies with the random stuff in the gallery. I may not be able to decipher their requirements for a good video, but Cam Smut has not disappointed me with the treats. The performances are actively engaging despite the fact that they are prerecorded.
I can still get the hype and the salacious feeling of checking each cam, babe. Cam Smut is also generous in showcasing some of the famous camwhores in the industry. These pretty ladies at Cam Smut do not waste your masturbatory time simply sitting and smiling for the camera. In fact, they are always game on to do a sexual exhibition for hours. Check out the superb performances, pal; you will never lose anything, just pure cum, and orgasmic release.
They Got Thousands of Shows; Check Them Out!
Another remarkable feature of Cam Smut is its thousands of videos in the library. Initially, I was awed to see the total number of dedicated recorded live shows, but, dude, when I navigated the arena, I can attest that the library is definitely huge. Presently, the page boasts half a million videos to entertain fanatics thoroughly. Cam Smut is delivering 540 850 videos, to be exact. How can you finish this whole experience in a week?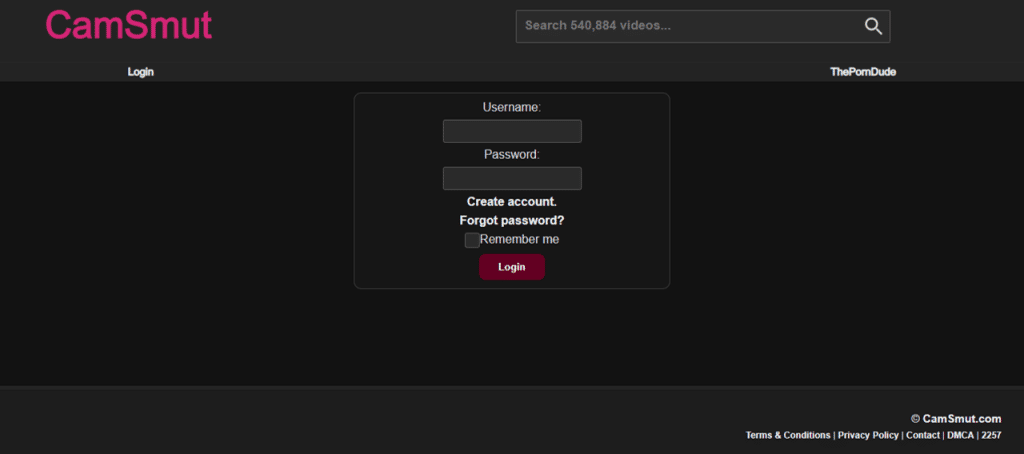 Pal, you will have enough deals to savor. Not just that, Cam Smut is also not stopping giving delicious treats by constantly updating the gallery. Fans can get detailed information as the thumbnails are labeled according to the cam girl's name, upload date, and time. As you can see, significant items were added last January 10, 2023. What more in the coming days? This implies that Cam Smut is vigorously piling more smuts for its fanatics. I won't be surprised if the goodies go up to a million, pal.
The Cam Smut Player & Its Quality
Like most domains, the streaming player at Cam Smut displays the usual viewing function. You can move the video to whichever spot you like. It is also good to note that the videos are full-duration. I see recorded performances ranging from twenty to thirty minutes. Tags and snippets of the entire film are also presented. Boy, I fell for this girl with long curls and a curvy chubby body. Her big breasts allured me as I rubbed my penis up and down.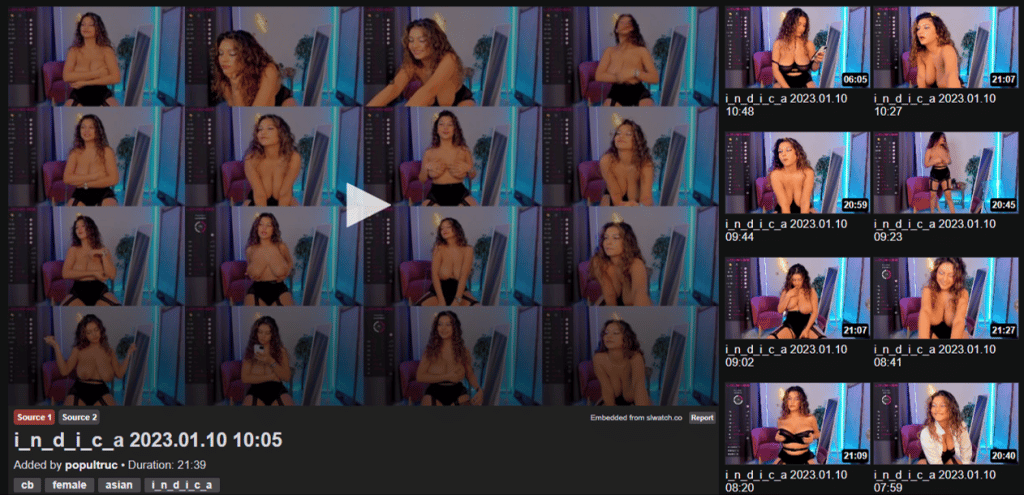 Also suggested flicks are also applicable. Sadly, popups may delay your hobby. You can utilize adblockers and minimize visits to the venue. Furthermore, Cam Smut encourages more of its fans to register to enjoy more deals. They can start interacting with fellow perverts and see the reactions of fanatics. Also, the significant downside of Cam Smut is its lack of sorting tools. The only function I noticed is the search icon.
The Pros and Cons of CamSmut.com
PROS:
Consistent library additions
Free webcam performances
Hot and famous camwhores
More than five hundred thousand recorded flicks
Addresses your favorite live cam fetish
CONS:
Too simple design
Adverts
No sorting functions
---
Top 12 Free Webcam Sex Sites Similar to CamSmut.com: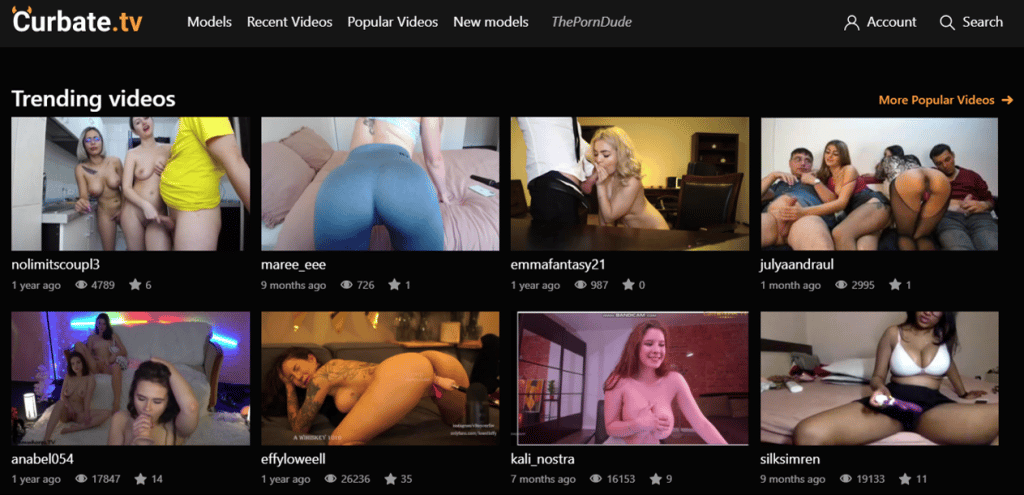 Grab a doze of the morning, afternoon, or midnight delight at Curbate.tv. The page exhibits a wildfire of recorded live cam shows. Porn fans can explore their oozing love for cam performances by navigating this free site. The clean abode makes the stay even more mouthwatering. Not just that, the juicy profiles became even more tempting. Check out Curbate today and immerse in the extreme nakedness
PROS:
Free live cam materials
Sexy and delectable performers
Numerous flicks to jerk
Salivating model indexes
Consistent uploads
Clean site
Easy to access
CONS:
No category segment
Can add more sorting options
---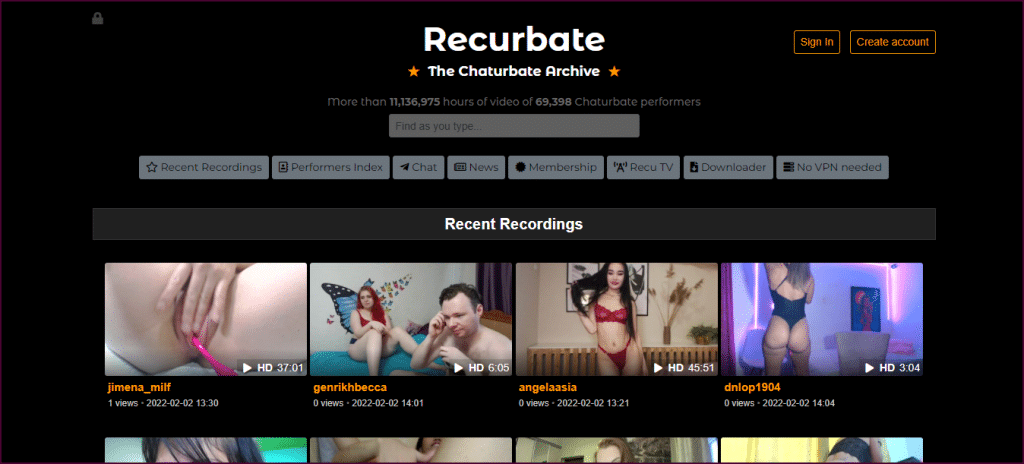 Expect to see videos here featuring masturbating girls, stripteasing, and other forms of erotic entertainment. If you're a fan of Chaturbate and have been watching its live cam shows, then that's the kind of entertainment you'll get at Recurbate. In other words, whatever you miss from the Chaturbate site, Recurbate is here to save all the cam shows, chats, and every live streaming performed by hot cam models.
Visit Recurbate's full review here.
PROS:
Re-watch cam shows
Massive archive
Thousand models available
Reputable sources
Affordable subscription packages
Free registration
Offers previews
CONS:
Basic users have limited options
Downloading is for Ultimate Members only
One video each day for free users
No tags or search engine
---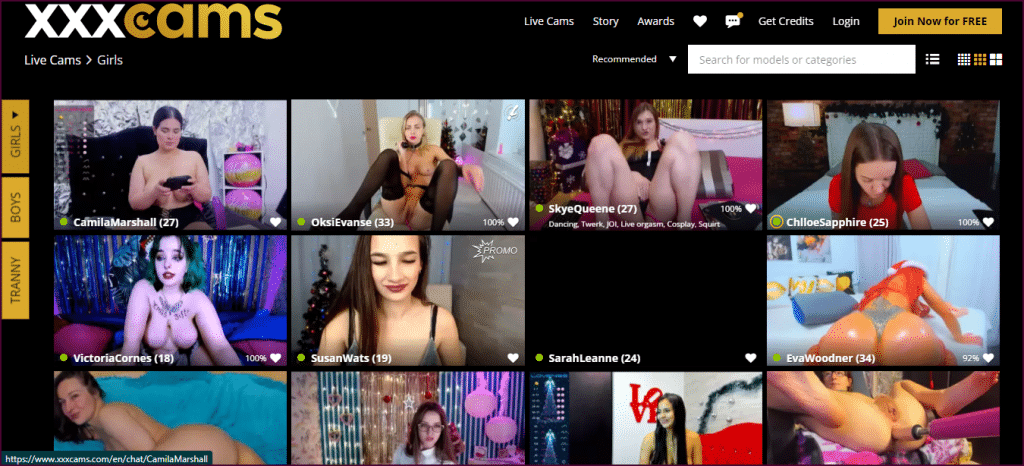 xxxCams is just a regular sex cam site online, but its features and services are no ordinary. As the title suggests, the service features kinky sex cam footage with sexy hot chicks. But, if you're thinking they are just regular chicks putting up a show, then think again. You can enjoy professional and amateur cam models here and even experience an exclusive sex performance with a pornstar.
The xxxCams site will give you breathtaking "seats" imaginable because the majority of them use brilliant high-resolution cameras. Certainly, it's like having front-row seats in a blockbuster Hollywood movie!
PROS:
Shitload of girls to chat
High definition cams
Free viewing of cams once registered
Truly good looking girls
CONS:
No peeking without registration
Private chats are pretty expensive
---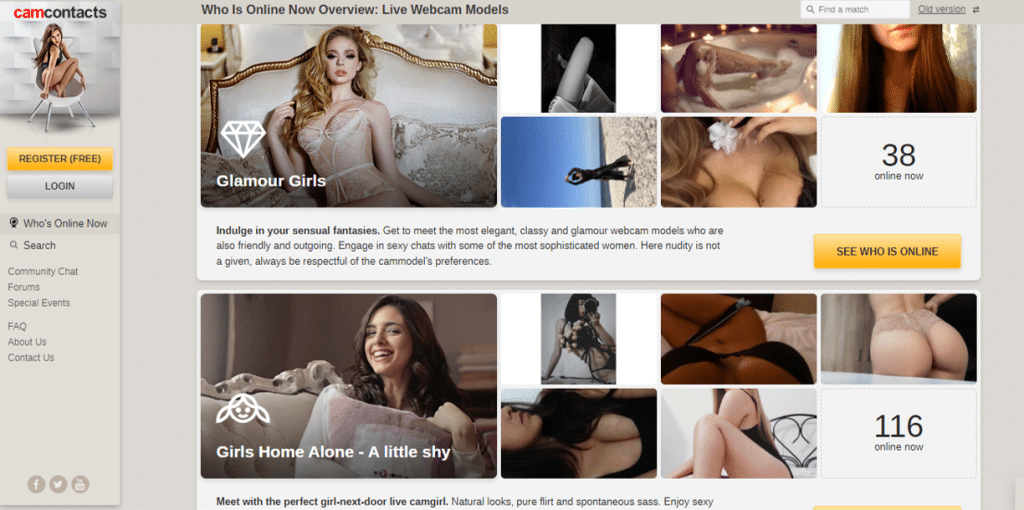 Cam Contacts is undeniably tempting to various sexy cam girls' aficionados. You can have delectable babes at the lowest prices, providing various selections and opportunities for fans to have a sumptuous experience. Users can select females from different categories, locations, fetish, and countries. Not just that, Cam Contacts offers chat options for you to choose from, as the site believes that every porn fan deserves nothing but the best.
Read CamContacts' full description.
PROS:
Engage in various chat options
Affordable chat rates
Hot babes in every corner
Efficient categories
The search function is great
CONS:
Basic site layout and design
Needs to pay to chat
---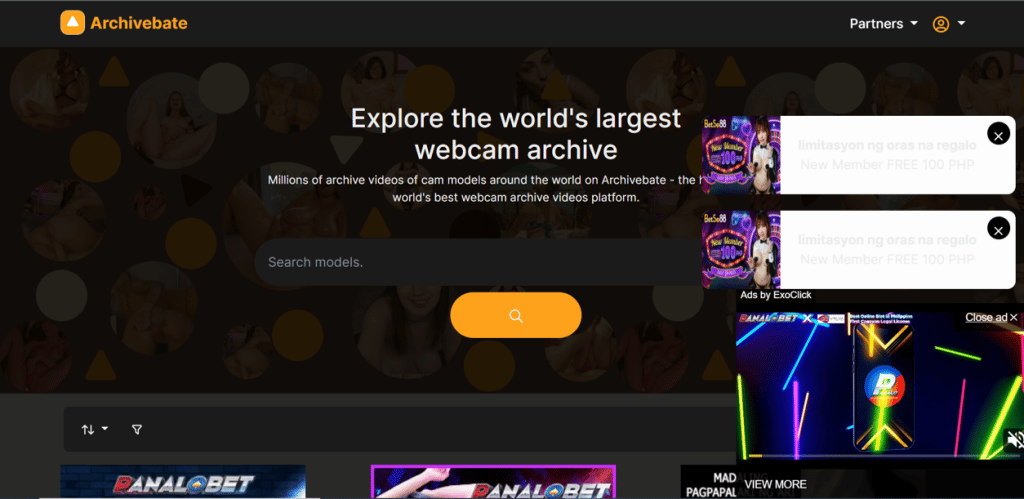 Have your much-awaited live cam babe performance for free at Archivebate.com. The page claims to be a house filled with a nasty and seductive extensive archive of webcam deals. Fans can participate in wild activities from big live cam sites like Camsoda, Chaturbate, and Stripchat. Certainly, anyone can relish the recorded materials and fresh babes in complete nudity, masturbation, and hardcore fucking.
Read this full Archivebate review.
PROS:
Free archive of recorded live shows
Enjoy the finest from big sites like Camsoda, Stripchat, and Chaturbate
Dynamic community
Full videos
Filter options
Thousands of webcams show to select
A gorgeous pile of cam beauties
CONS:
Adverts everywhere
Small thumbnails
No sections
---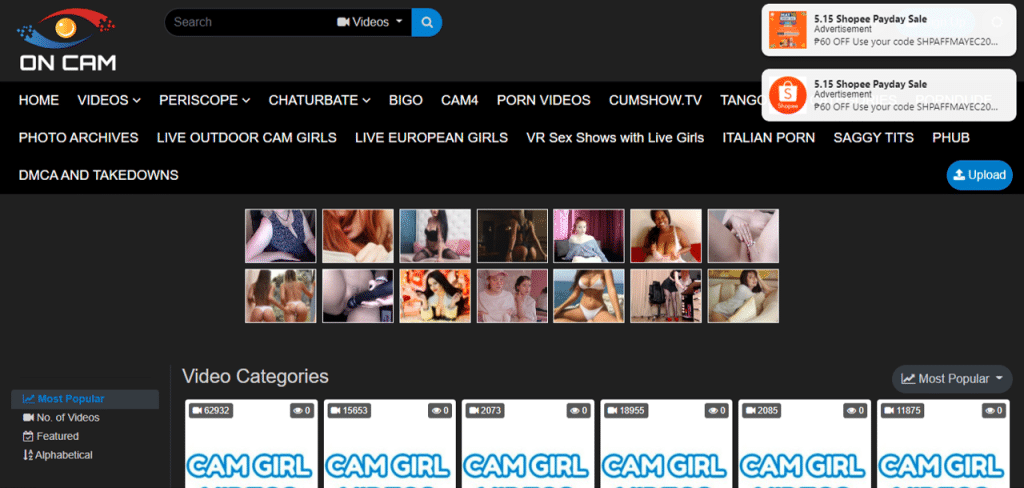 On Cam is a perfect destination if you are in a hurry and want to watch your favorite cam babe's performance. This free site will load diverse content in a mouthwatering selection. You do not need to secure any penny, wait for their live show, or book for your favorite horny female. Thus, fans can jerk anytime and anywhere with OnCam.me repository.
PROS:
Massive collection of recorded live videos
Free orgasmic assortment
Loads of categories to enjoy
Good navigational tools
Filtering and sorting options are available
No need to create an account
CONS:
Advertisements are everywhere
Some standard flicks
More features to improve
---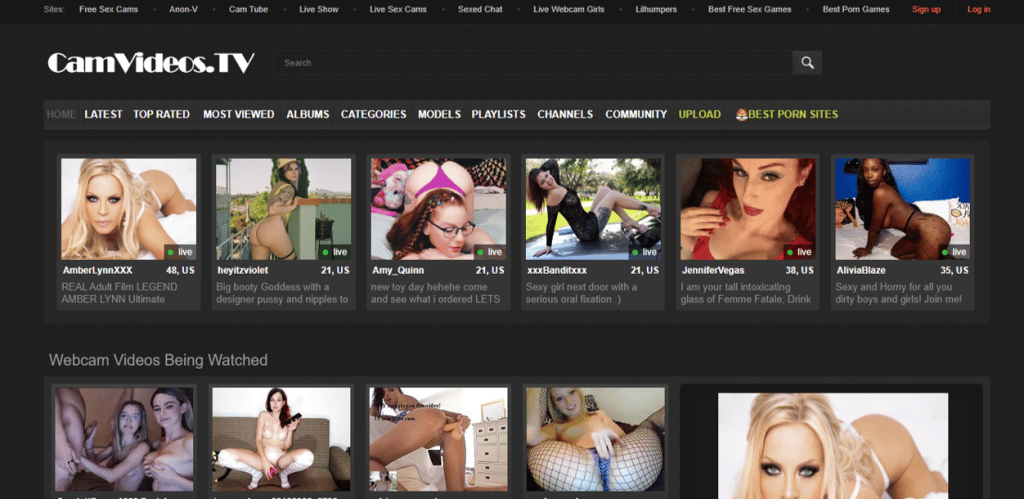 Cam Videos is another explosive domain with quality features anyone will adore. I can say that Cam Videos did a great job when it came to the site's objective. The manner of delivering recorded live cam performances is top of the line. I appreciate the features at hand and the various activities you can do at the arena. Cam Videos' categories are sumptuous that you are tempted to explore great nudity, premium, HD, and hot amateur content. Not just that, the babes are drooling. You can start finding friends, adding a playlist, and uploading your materials.
Take a look at CamVideos' review.
PROS:
On-point categories
Top models
Sorting options available
Steamy recorded performances
Good quality flicks
Helpful segments like channels, find friends, playlists, and albums
Easy to navigate
Well-placed ads
CONS:
Too simple site design and layout
---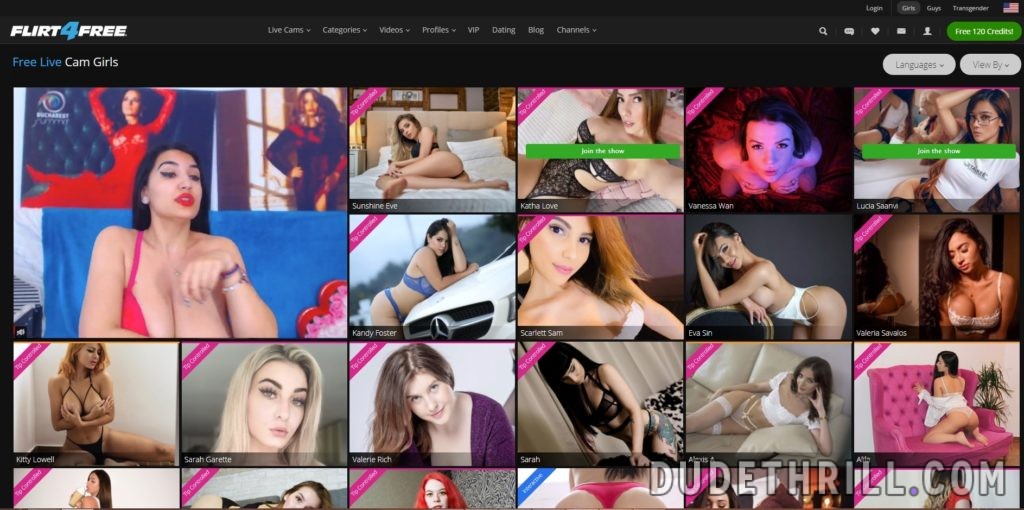 Do you want to start the evening with no strings attached? Would you like to see a never-ending supply of hot young sex action on cam? are you interested in viewing it free of charge? And if that is the case, then you have found the right website.
When you use the Flirt4Free, you can list the girls according to the activities that turn you on. Also, if you discover a model that interests you, you can see when they're coming online every week. Indeed, the Flirt4Free free account will provide you with just enough content for your entertainment.
Read our full review of Flirt4Free.
PROS:
Fantastic live sex cam website
Design and layout is modern and cool
Features are great and work for your convenience
There are pre-recorded videos available
Variety of models you can choose from
CONS:
Sometimes the website buffer
There are expensive private shows
Some dead links
---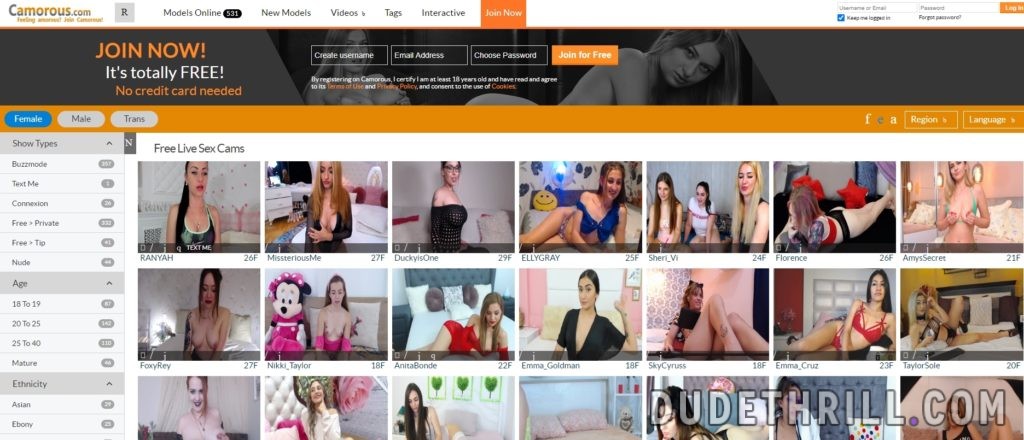 Camorous is all about, you can quickly sign up for free, and then you can start using the site's features. There are some models, though, who would refuse access for members who don't have enough credit on their accounts. But despite that, even if you choose to put some credit on your account or not, you can still get to enjoy a lot on site. Its homepage would tell you everything you could want here — top-rated shows, new models, and even their top-rated girls.
Click here for Camorous full review.
PROS:
Outstanding video and audio quality
HD quality for both streaming and non-streaming videos
Great performances from the models
CONS:
Most models ignore free users
Fewer features to promote user interaction
Lots of ads
---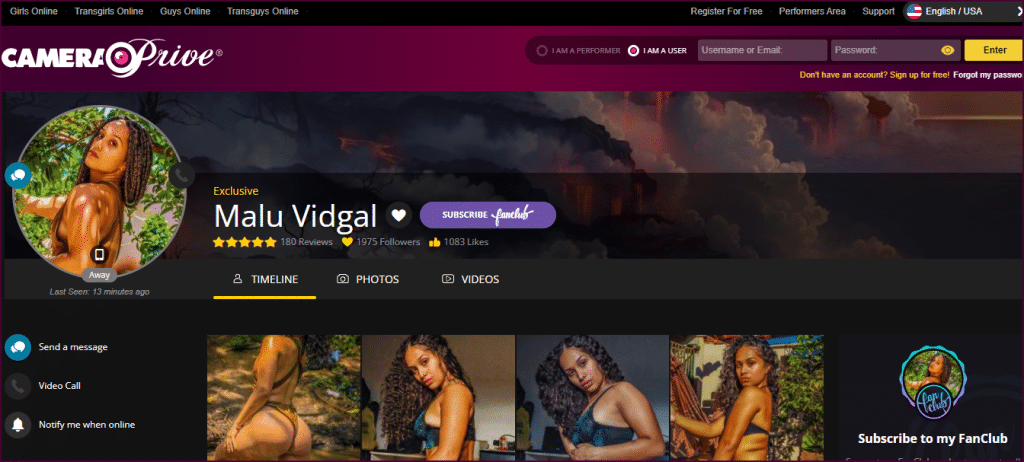 Camera Prive is a Brazilian adult live sex site that started giving people cam entertainment in 2012. Surprisingly, I found out that this site is included in the BongaCams channel, and I'm sure it's equally impressive. Currently, Camera Prive is among the highest visited site globally and ranks on top in Brazil.
Full Camera Prive review here.
PROS:
Affordable prices
No ads
The layout is impressive and stylish
Translation is available
CONS:
Models are primarily a non-English speaker
Some cam models have a poor internet signal
No available advanced search tool
---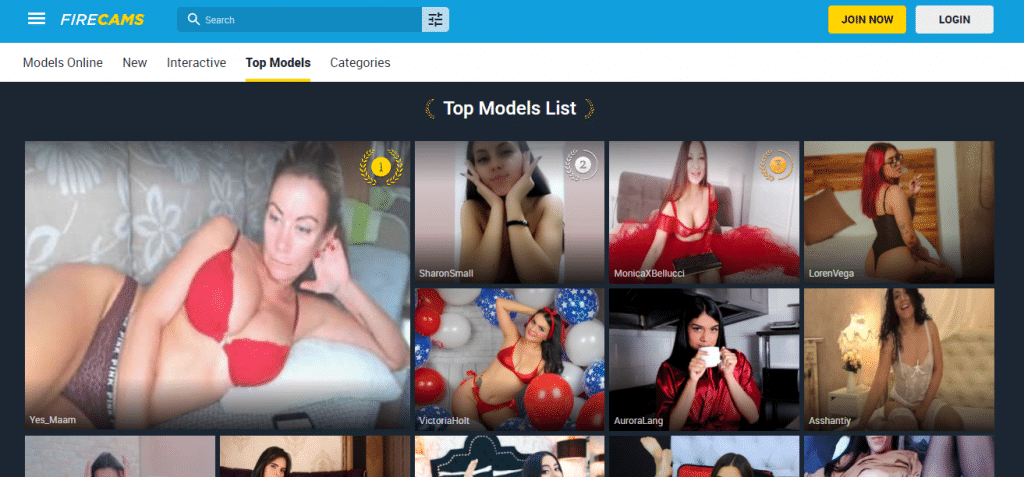 FireCams offers a wide range of live streaming show options and essential features to choose from. Like many other live sex cam services, this one provides interactive shows on sex toys, a large selection of hot camgirls, pre-recorded performances, and exclusive conversations for a modest price (in tokens).
PROS:
Plenty of authentic and verified models
High definition webcams
You can switch SD quality to HD quality cams
Excellent search and filter tools
Affordable chat prices
Lots of freebies for new users
It has a free chat option
CONS:
Pop-ups to signup
Requires tokens to join private chats
---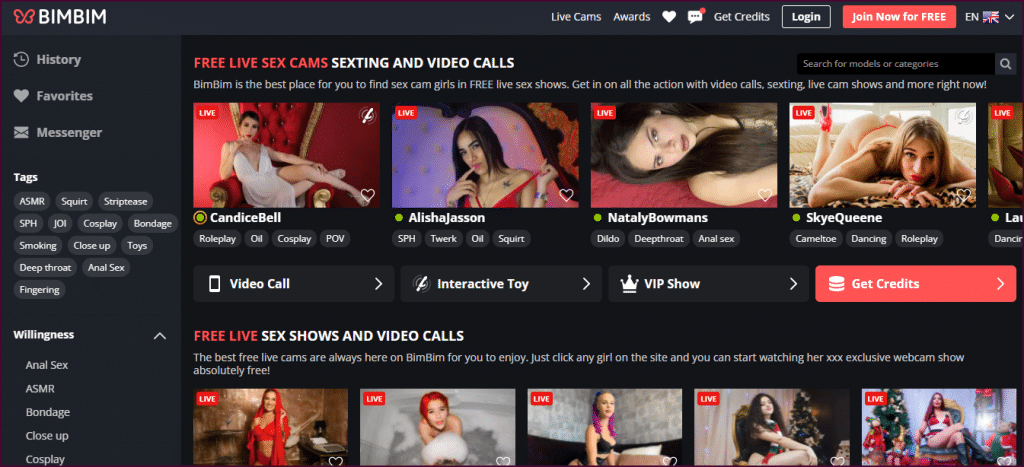 When you join BimBim, you will immediately notice that it functions and acts like a social networking site, coupled with interactive features and excellent services. With an Instagram-like look and experience, BimBim is the ultimate desktop site and smartphone app for real sex cams. They also include well-known and up-and-coming models so that everyone can get the right dose of the perfect cam girl of their dreams.
Read our full review of BimBim.
PROS:
Offers free coins upon registration
It has an impressive collection of content creators
Lots of free stuff
Fantastic variety of live shows
Exclusive chats with Camgirls
Safe and secure
Basic navigation and simple design
CONS:
Downloading is not available
Coin bundles are pretty expensive
Some features require membership
---
Takeaways
Cam Smut gives me the vibes for a complete live cam porn experience. This free site has more than five hundred thousand recorded flicks to wiggle your dicks at. Your favorite scenes come in handy with the constant updates and sensual weekly additions. All the deals run for a long duration and are of decent quality. Sadly, adverts are lurking the video players. No worries, the beauties will make you happy and horny. They got more surprises once you start digging. Enjoy!
All 113 Other Sites in This Category Worth Checking Out:
Fetish Galaxy Review & 12 Best Live Sex Cam Sites Like FetishGalaxy.com Show Me 12 Alternatives for FetishGalaxy.com Welcome! Today, we're strapping in for a journey that's bound to tickle your curiosities and awaken your inner desires. Don't tell me the name "FetishGalaxy" didn't already send your imagination into overdrive. I mean, it's like a cosmic […]