Updated on: June 9th, 2023
BabeStation Review
& (12 Best Live Sex Cam) Sites Like BabeStation.tv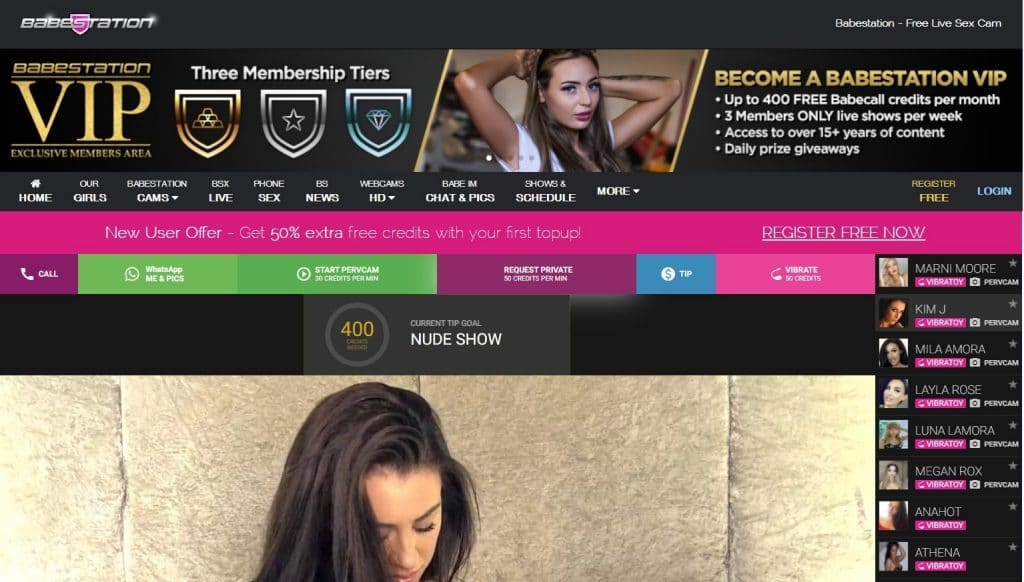 Are you looking for an experienced site that will help you explore your inner desires and needs? BabeStation is right here waiting for you! BabeStation is an adult chat platform that features women in different shapes and sizes. What makes this site amusing is how they enticed the general public with ways in invading the television shows in the year 2002. BabeStation has aired on television in the United Kingdom. They became the first and only version of its kind in the whole country. The show allows viewers to chat and engage live with women performers by utilizing a premium-rate telephone number or through text messaging.
Official URL: https://www.babestation.tv
Truly, how amazing this platform can be! The show is streamed and broadcasted daily which allows the viewers to access the performances each day. With their success in television, the owners believed that it is highly needed to create an expansion. Hence, they crafted a complementary website in 2015. What I love about the website is that it includes more freebies, options, and, explorations than those accessible on the television program. The stations and website that they later on developed were even reviewed as hotter and more hardcore in nature. This definitely allows the rise to fame and success of BabeStation.
How BabeStation Started?
I know you are really getting curious about this site now! Hence, I have researched about how BabeStation originated and became a popular use by the public. The company is owned and run by Cellcast PLC, BabeStation was also co-owned and initiated by Andrew Wilson and Bertrand Folliet. As this station aired in late 2002, the program generated profit for both the channel and its owners. They started with two or three women presenting on the screen while others are taking client's or viewer's calls. These women generally take turns as a performer on screen. As it rose to extreme popularity, BabeStation was able to avail wider and bigger time slots. From one to two-hour performance, they evolved into becoming a three and later on a four-hour long show. Indeed, this displays how BabeStation has captured the needs of the public. The show's slot falls on the eleventh of the evening until three in the morning. Exactly the perfect hours for a hustle and bustle with one's sexual urges and desires.
BabeStation's Offered Features
BabeStation has been loved by the majority because of their beautiful and horny ladies. The shows never get boring as they offer a variety of numbers and performances. I could spend long hours watching the shows without feeling bored as they escalated our spirits and mood each passing hour. BabeStation offers average-looking to beautiful girls. Their women have class and are picked perfectly to make each client satiated and happy.
BabeStation has consistently provided us with good quality performances. Their ladies can perform anything or whatever each client desires. One of the best highlights in using the services of BabeStation is its accessibility. Their content is great and is friendly to the users. Their customer service is also available 24/7. This is evident in how they quickly dealt with technical issues and concerns. Thus, the people behind BabeStation are also very down-to-earth and accommodating to their clientele.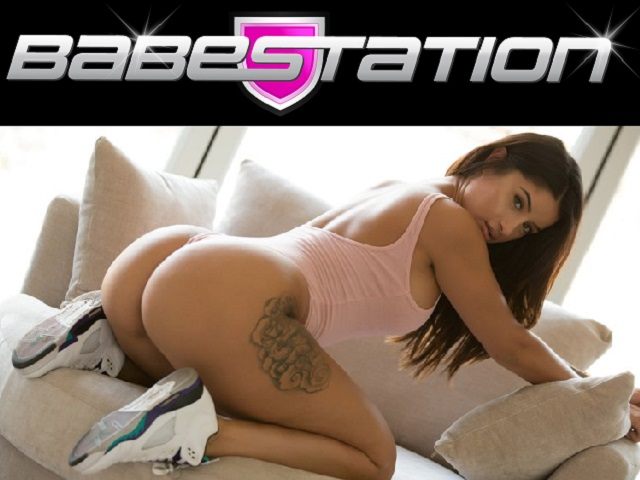 Other Interesting Facts about BabeStation
It is also noted that this site does not only answers one's sexual fantasies but is also a platform for those who want to talk and engage with someone. Ladies in BabeStation are allowed to wear whatever they are comfortable at wearing. Despite dressing anything, each lady must entertain the desires of their caller. Some people usually visit the channel to just express things that they find difficult to showcase. Clients who are generally lonely will get the feeling that they crave while they engage with the women in BabeStation. Some usually need company and long talks for hours too without getting sexual and horny.
Association and Sister Programmes
Because of BabeStation's huge success and acceptance from the public, the creators made sure to address every individuals' sexual wishes. In doing so, they made several sister platforms to serve the growing adventurous viewers.
As early as 2003, BabeCast also streamed on Friendly TV. As BabeStation's sister program, most of the time, they share the same filming studio. The set-up has made presenters to exchange and rotate between these two platforms. Friendly TV was initially viewed in a separate and different channel. Later on, it was then moved to Adult channels like BabeStation. Through the years, Babecast was immediately put into shutting down and was then merged with its big sister, BabeStation.
This station was first seen on the channel 909 of Get Lucky TV. The program was initially created as a gambling and or a quiz platform. However, it expanded and explored a more exciting content. The channel's name was even made extra meaningful because of its sexy and erotic contents. Indeed, they made sure that viewers will feel how extra lucky they were to see presenters that will quench their sexual thirst. Babestation 2 is also known to feature two mouthwatering presenters. The station, later on, was renamed to Babestation Blue.
This channel is a daytime format and version of BabeStation. Lads Lounge aired on channel 906 during a time slot of 5:30 am to 9:00 pm. The channel has experienced different name changes. However, it does not stop them from prospering. The program was renamed to BabeStation Daytime and then to Babestation Daytime Xtra. Despite the changes of name identity, they still serve their clients and is still continuing to air up to this hour and day.
From the name itself, this is a subscription website or a television channel that caters to the public with a solid and hard-core British porn. Viewers love the station's rollercoaster ride of sensual desires. In the year 2013, they decided to change their name to Babestation X. However, a year after, they were relaunched and went with the name BSX. BSX channel started their shows from 11:00 pm until 4:45 am every day.
This is a platform that is an exclusive online channel. It was then initially known as Sexstation. The online channel offers a more sensual, erotic, and vulgar content. This channel includes the utilization of sexual toys and other hard-core materials. Despite their online exclusivity, BSX channel airs some of the Babestation Unleashed programs sometimes.
How Does BabeStation Work?
Clients need to pay to enter or join a private chat. Upon making a payment, they can now make ranges of different friendly to exciting requests. These requests may include removing footwear or clothes, bending over, or playing with hair, and others. It is also important that the client and the ladies build a rapport before doing the next level activities. As mentioned, friendly engagements and conversations are also welcome in BabeStation. Some users spend their hours on the platform seeking companionship with a stranger. Though awkward and different from others, this experience can also satisfy the empty spaces of the viewers' inner being. It is also noted that the night shows which start at ten in the evening, usually offer more sexually revealing performances. So, if you are searching for a related experience, visit the site at these hours.
All in all, BabeStation provides answers to every man's deeper wishes and hidden aspirations. And indeed, how wonderful it is to find this venue that offers great performances, platforms, and services in one. Surely satisfaction is met at BabeStation! What else can you ask for? Stream and watch their live cam performances today.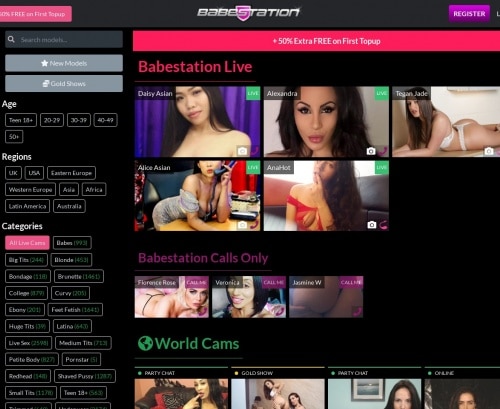 BabeStation's Pros & Cons
Surely, each platform has its own set of good qualities and not, and this does not make BabeStation exempted. The following is the list of the sites' top characteristics and qualities that needs a little extra attention:
PROS:
Great content and User Friendly
Designs are simple and are easy to navigate and explore
Quick and efficient customer service
Good selection of women performers
Easy accessibility of the public
Good quality performances and no dull moments
CONS:
Quite expensive and unaffordable
Too many advertisements that affects the streaming
---
Top-12 Best Live Sex Cam Sites Similar to BabeStation.tv: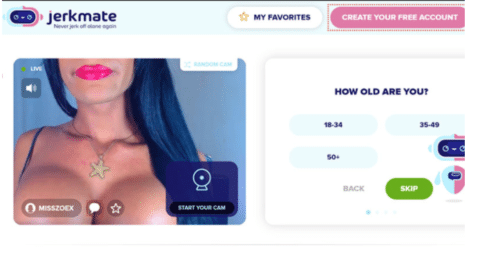 No other promises this site can make but only the assurance that every time allotted will be worthwhile and highly satisfying. Jerkmate is a one of a kind live sex cam website that will address your inner sexual cravings. With a huge number of hot and alluring women, surely, you can reach the climax easily. Many of the performing girls loved to be watched and adored by men and women online. The use of high definition cameras made the experience even more pleasurable. No need to use your imagination as the high-resolution images will make your experience feel like these beautiful girls are within your reach.
Grab here our extensive review of Jerkmate.
PROS:
The site allows a wide selection of women to chat with
Variety of live shows available to choose from
The site utilizes high-quality cameras
CONS:
Offers expensive exclusive shows
---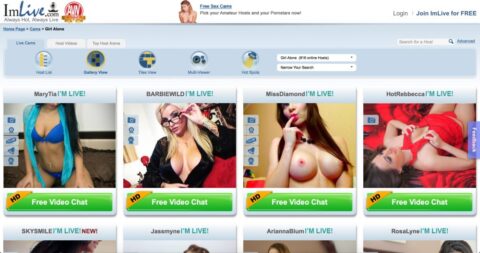 ImLive is considered one of the best live cam site there is. This is based on the awards it got in 2015 and the years prior. It has won at least three times in the Best Live Cam Site category. The site gives justice to these awards though. It has a lot of special features that you will surely enjoy starting from the number of models and performers they have that are from different parts of the world. There are famous porn stars that are streaming on the site as well.
You can read a full ImLive.com review here.
PROS:
Many features for free members
Loyal members are awarded
The site is safe and secure
CONS:
Design could be more appealing
Limited payment options
---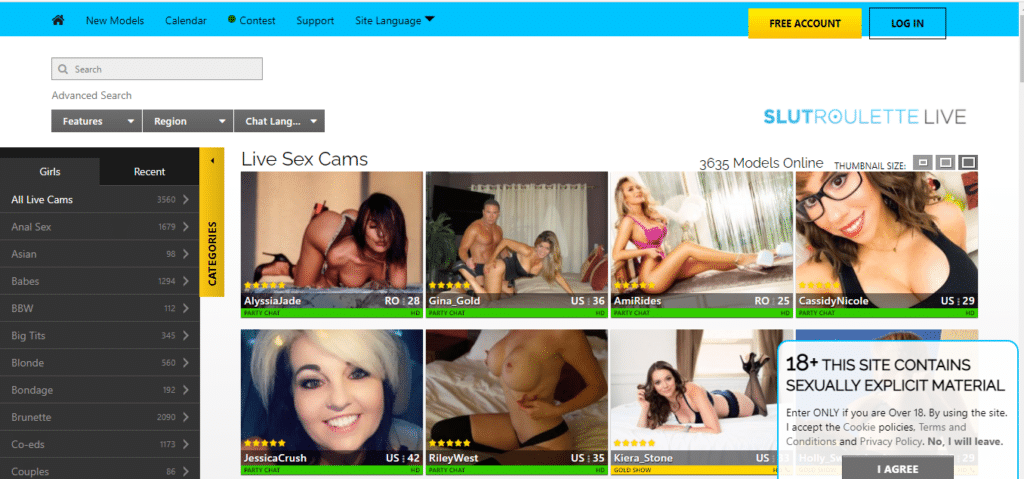 One of the few sites that has proven its quality services is SlutRoulette. Being alive in the business for the longest years, the site has gained enormous admiration and praises from live sex enthusiasts. It has stayed over the years suggesting a site that lends a reliable and reputable performance. Despite the long years of making gentlemen and women happy, the site does not give glimpses of old elements and graphic contents. They generally suit their layouts and designs with the present generation. Hence, proving that services are studied expertly to benefit their clientele. Definitely, visiting the site increases the spice and eliminates a dull and boring night.
Here's a full review of SlutRoulette.
PROS:
The site updates regularly to fit the needs of the general public
The mobile app is accessible to all devices and is very easy to download
The registration process has no hassle
The chat rooms are free of charge
Clients can freely change and switch from one model to another in a second.
Provides a wide selection of categories and models
Gold and private shows are allocated for clients
The website prohibits fraudulent activities to provide effective services to the public.
CONS:
Some of the models are not affordable as they come with expensive rates.
The site does not allow hookups
---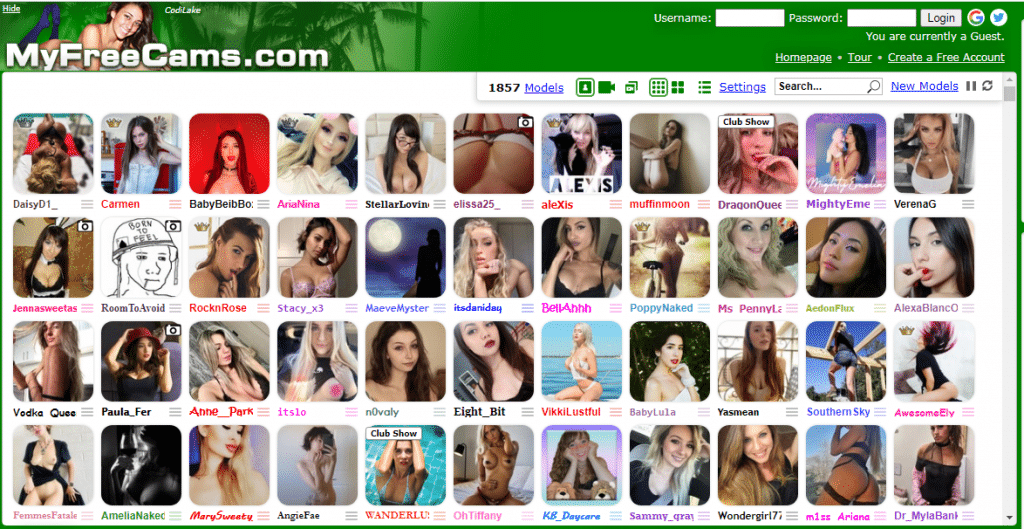 You should not be deceived by the appearance of this site. MyFreeCams is more than what meets the eye. It may look outdated but it has what it takes to compete with other more recently launched live sex cam sites. It has a huge selection of women whom you can easily talk to. MyFreeCams is one of the pioneering sites in the industry and it is an expert when it comes to making its users' experiences worthwhile.
PROS:
Ad-free
There are a lot of models
CONS:
Outdated interface
No bonuses for loyal users
---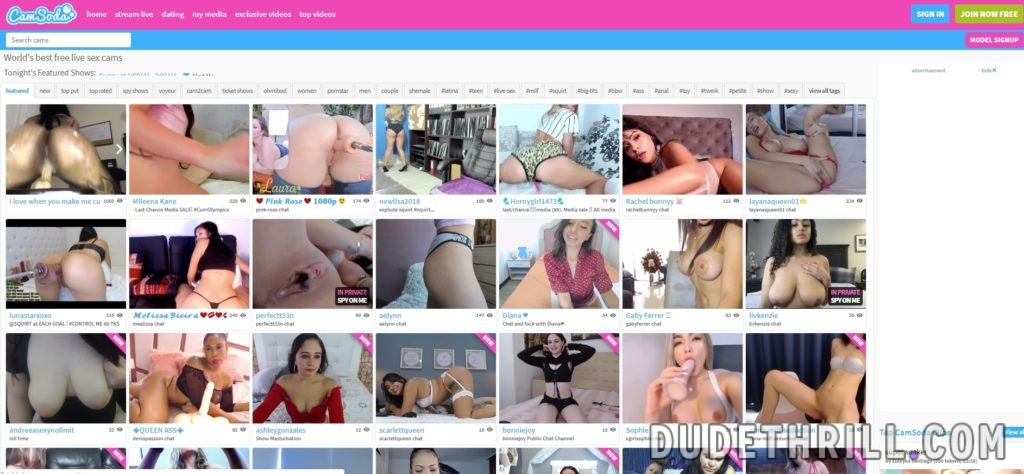 People nowadays, love to render their time in live chats and sex cam websites. One of the most popular sites is Camsoda. Patrons suggest that Camsoda allows them to explore and experience quality service. Camsoda is the perfect fit for those individuals seeking pleasure and wanting to fulfill their sexual fantasies. The site is easy to use and is designed to allow clients to communicate and engage with each other easily.
Check out our extended review of Camsoda.
PROS:
The web design is perfect, simple, and easy to navigate and use.
All videos are high quality
The site lists several available women every day
All the features are still available to those accessing the site with free accounts.
CONS:
Some screening questions when signing up
---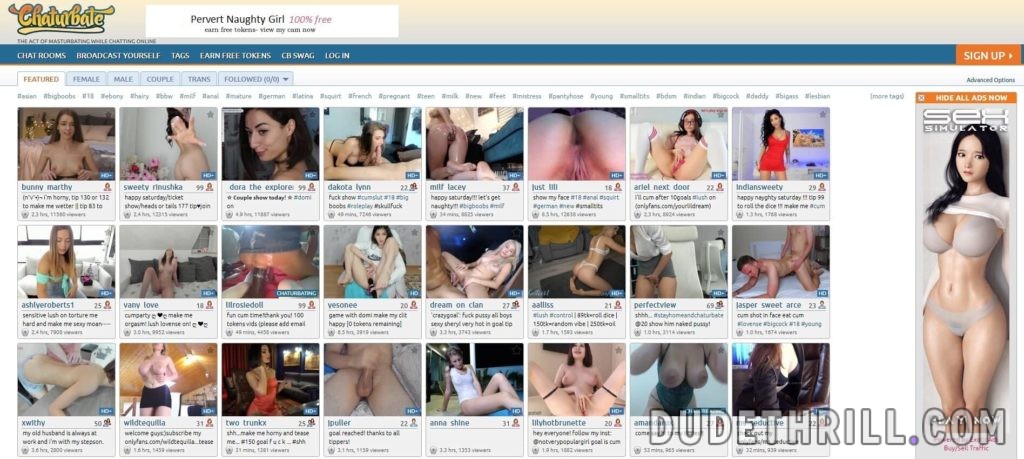 Being able to connect and talk to people anywhere in the globe is made easy and accessible, Chaturbate is a site that allows unlimited talking enjoyable. This site offers a variety of sexy, flawless, and pretty women. The models are readily available any time of the day and week. Women in Chaturbate are known to perform their best and are worthy of your attention. Shows, streaming, and other services in the site are available at a very reasonable and considerate price.
PROS:
Girls are available whenever you want
The site does not have additional fees or hidden charges.
The performances, nudes, and sex are the best and highly recommended
The site is accessible whether browsed on smartphones or any other type of device.
CONS:
Private shows are quite expensive 
 Some of the videos are noticeably in different formats
---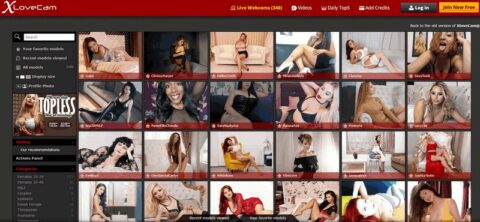 Seeking for a platform that will awaken your senses and stimulate your inner spirit? XLoveCam is the perfect spot for the adventurous you. The exhilarating services they deliver suggest that you should never miss the chance to try it out. They cater cam girls and performers in different races. You could see available hot ladies who are Asian, Black, White, Latina, or Arab. These sexy young and fresh ladies render a pay per minute rate in a very considerate price. The use of high definition camera quality is an additional factor why you should try XLoveCam.
PROS:
They deliver a high selection of hot cam ladies
The cameras give more excitement with their high-resolution quality.
The price is very considerate and cheap per minute.
CONS:
Features like high definition filters for some videos are not accessible
The shows done privately are somewhat costly
---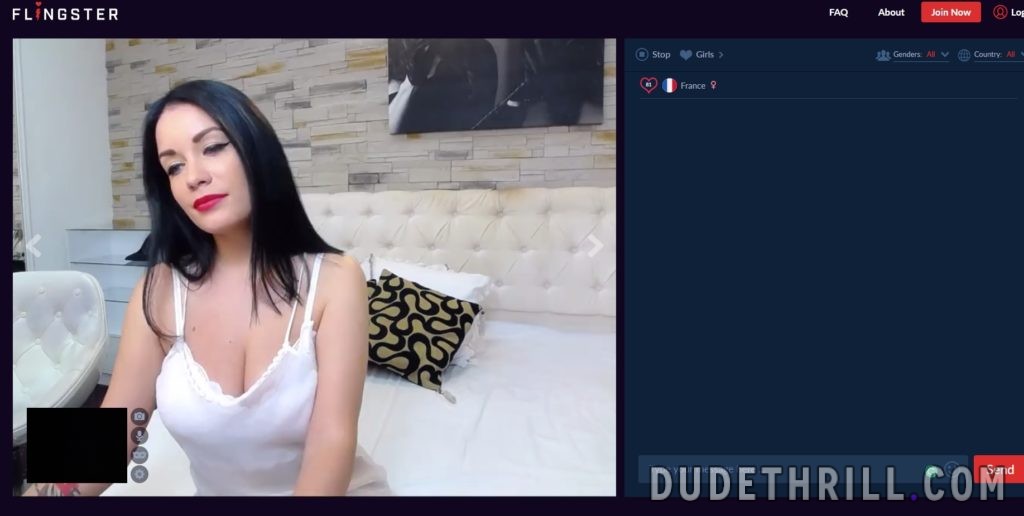 Your sexual adventure will never be complete without trying Flingster. This site is a highly recommended video chat room for meeting, chilling, and hanging out with single ladies and gents. The registration process is fast and convenient for all novice users. With this, your allotted time and energy will never be put into waste. Your use of Flingster will be a productive and satisfying one. The free accounts registered in Flingster can both use the message and video chat platforms without the troubles of paying. On another note, those who paid for subscription will have the freedom and luxury to use other bonus features. What is good about Flingster is that they will provide a subtle identification while chatting before you give in and decide for a swift and spontaneous game.
Get to know more about Flingster here.
PROS:
One can choose to provide an unnamed character and stay confidential as possible
There is no discrimination among users. Everybody is welcome regardless of sexual preference
The website layout and registration process are simple and user friendly
CONS:
Some screening questions when signing up
---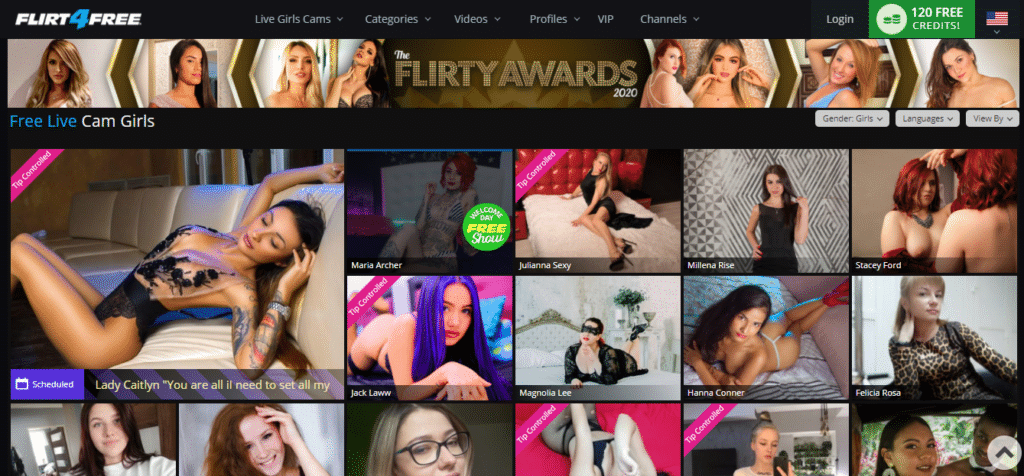 Dreaming of exclusivity in a flood of free webcam sites nowadays? Then better check out flirt4free.com.
Yes, the site is expensive but what you truly get is a top-notch sexual experience done safely and privately. Having an interface like Streamate, expect a clean-user interface with clearer resolutions for your viewing satisfaction. The site has a clear label on what you are paying for and how much it is. There are over 800 male and hot female models here, all can be searched in an organized directory where you can categorize by height, weight, or even by name.
Flirt4free does offer a free trial membership, so feel free to cancel your subscription if ever you find this site unsatisfying ( which I undoubtedly think so). Billing is also so discreet that no one would think that it was from an adult site when it appears on your card statement. This site also offers a free chat function that you can use to " flirt" with the models but if you choose to have a show on private, then you need to shell out some credits and be a member. Also, expect all models to have a high-quality video stream because flirt4free only offers the best for the members.
PROS:
Site is always updating for quality
Free trial membership
Has live and offline models
Notifies member when a favorite model starts a show
Can earn money as a model
CONS:
You have to pay to have the good stuff
---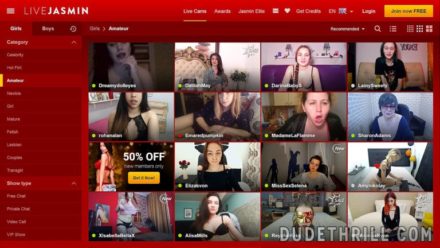 One of the top sites for an adult webcam has been in this industry for years. It has recently gone under reconstruction for better service- and they did just that and more. Coming online again with a boldly red and black theme, the site gives off an elegant yet powerful concept that is overlaid with clearer than water pictures of their beautiful models from all over the world. Not just simple thumbnails anymore but a high-resolution photo that the model chooses herself ( or himself) to let the members know what she (or he) is made of. That definitely made the browsing easier for me. The site has tons of naughty pictures, as well as videos, with no censorship at all. I can choose from over 24,000 models streaming live on their HD cameras.
A cam-to-cam feature is also available, where the model and I can see each other for a more intimate experience. The category side-bar helps to search the perfect model I prefer to chat with and maybe go into private talking. The models' pictures have some icons on the side of the streaming link. This icon is a link to her bio-like what she's into, what turns her on, and what she can do for you. This can also have her video link and other picture galleries that you can access with a certain fee of course. Livejasmin ensures that all their shows or broadcasts are live and not pre-recorded.
If you want to access more of this site, then I suggest that you become a member. Signing up is such a breeze and there are no email verifications, or other personal details to be filled up. Just a shining credit card will do you good with LiveJasmin. You don't have to worry because LiveJasmin is a trusted site and can be entrusted with your credit card details. Rates for LiveJasmin can really make you bleed dry, I must admit. This site is of top-quality, as well as all of its models. Streaming live nudes here always run smoothly with the highest resolution for our entertainment and satisfaction, and it's not surprising that they can charge a lot for those.
PROS:
Models have galleries and pre-recorded videos that can be accessed on their profiles
Offers a cam-to-cam option complete with audio that boost a members satisfaction and experience
Has a high-quality resolution of pictures and videos
Strict security
CONS:
 not much free stuff to enjoy
a bit expensive 
---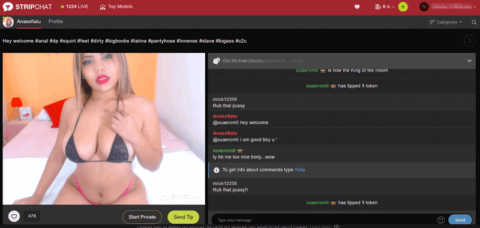 Stripchat provides a perfect venue to convey your hidden fantasies. It has been an impressive selection for individuals who seek to watch the best sex cam clips. The services cater all users regardless of time and day. Hence, one can devour all his time making himself happy by streaming to exciting online videos of different performers. Try the rollercoaster ride with sexy ladies in front of high-quality cameras. Surely, every minute streaming gets even more stimulating.
Here is the full review of Stripchat.
PROS:
They provide a long selection of pretty cam ladies
The site design is user friendly
It offers sending of messages to free
They provide wide selection of live streaming videos
CONS:
The English language is the only language available for users.
Creating private conversations are only allowed to those with premium memberships
---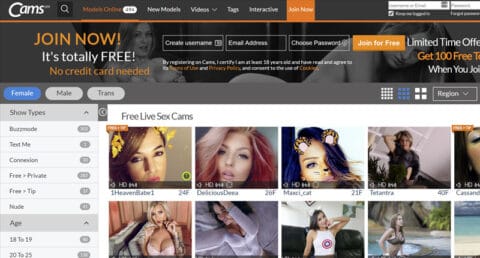 Cams.com is a great site for those who want a wider variety of webcam experience. All the alluring ladies of Cams.com can drive you temporarily insane as they perform your dirtiest tricks and darkest fantasies right in front of you. It has one of the most interactive sites in the adult webcam chat. In exchange for purchasing tokens, the model can play with her toys that you control, and all her reactions are seen on the live private video. With the Connexion shows, on the other hand, you can buy a toy that is also connected to your model and both of you can have the same almost-real life sex experience. What better way to spend your money eh?
Aside from female models, there's also male and trans models that you can chat with- just make use of the sidebar and scroll down until you get what' feels good to you. The best part of being a premium member? You can talk to real-life porn stars like Kendra Sunderland, Alessia XO, and many others just to list a few. Yes, it can give you a run for your money but, just think of the number of contents you receive when you sign up for Cams. com.
PROS:
Paid members can order private shows
Has control of the girls' toys
Can watch recently viewed videos
CONS:
Need to be a member to access photo galleries and watch recorded shows
Members cannot interact with fellow members 
---
Verdict
I personally believe how these live cam sites permit novice and expert users to grab every single chance in exploring their needs. With amazing and money-worthy features, these live cam sites are now a perfect venue to navigate our sensual adventures.
These are my personal Best 3 Live Cam Sites apart from BabeStation.tv:
Indeed, I can say that live sex cams deliver magnificent venue for people that seek to achieve their erotic fantasies. These live cam sites' fantastic features permit viewers and users to travel around their hot and sizzling imaginations that were best put into action. For me, it is also a huge factor how each site utilizes high-quality cameras. This results to a more exciting and wild experience anyone could truly ask for. It makes everyone's salacious and deepest desires run free where sexual fantasies are met with intense satisfaction.
---
All 107 Other Sites in This Category Worth Checking Out:
Sexcamly Review & 12 Best Live Sex Cam Sites Like Sexcamly.com Show Me 12 Alternatives for Sexcamly.com Hey there, fellow pleasure seekers! Are you tired of the same old adult webcam sites with all their bells and whistles? Well, let me introduce you to Sexcamly – the independent, Vegas-based underdog of the webcam world! This small […]