Updated on: October 1st, 2023
Streamate Review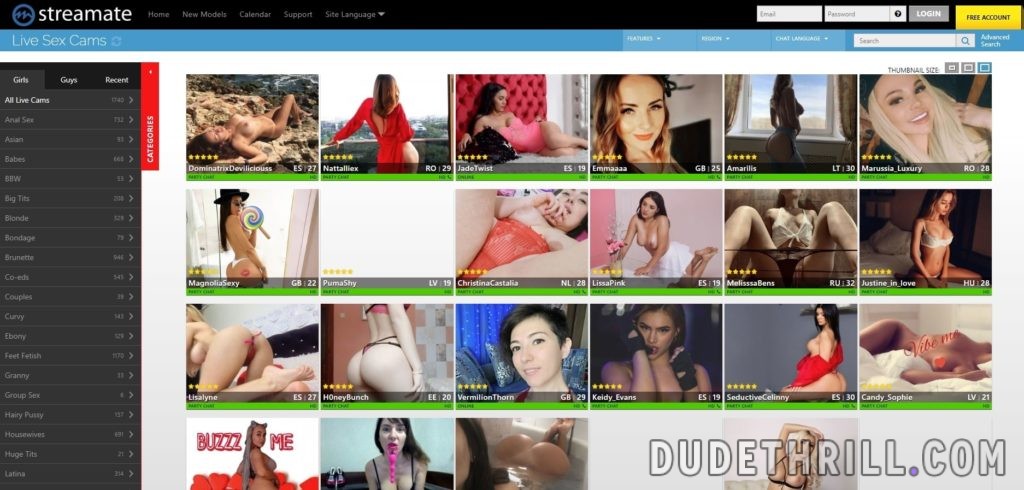 Visit: https://www.streamate.com
Streamate.com is an adult live nude cam site which is based in the United States. It has been one of the leading adult cam sites, and it has earned this status because it gives weight to the needs of its visitors and performers alike. Streamate features a 24-hour non-stop feed of performers who are all ready to be engaged. It provides at least 40 categories for you to choose from and filter your preference on. It provides for quality satisfaction at a very reasonable rate.
How's the Layout of Streamate?
The design of the website itself is pretty much similar to other webcam sites and is truly comfortable and intuitive.
Also, there are ~8 different languages to choose from, so if your main language is not English – no problem.
You will also find a calendar that displays upcoming featured shows of their incredible girls.
Are There Any Good Looking Girls on Streamate?
Yes, of course! There are thousands of girls ready to perform to you. Whether it'd be a private or a public room. And no matter when you connect – you will surely find something suitable for you.
Having in mind that Streamate has multiple thousands of models – they're probably based all across the globe – so it's a 24/7 pleasure gallery for you.
Any Interesting Categories On Streamate?
For sure. You'll basically find all the basic ones that you can find on any other cam site – Asian, Latinas, Big Booties, so on and so forth.
Another great feature I saw is "newcomers" or "fresh category" that basically displays all the new models on the site. And who can deny that watching an amateur is waaay more exciting than a pro(?).
Streamate, however, is not alone in this type of business. There are some other amazing sites you have to check for yourself for more deviant sexual adventures of your liking.
Streamate's Pros & Cons
PROS:
Cam girls are plenty and beautiful
There are available girls veteran on the site
Filtering the streams is possible
CONS:
Advertisements are plenty and annoying
The design of the site is basic
---
13+ Live WebCam Sites Like Streamate.com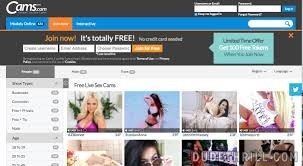 A classic live cam site. One of the oldest sites for adult visitors, it has evolved into a fee-based live sex cam site. The site, being one of the old ones, it has retained its simplicity in its interface. The site is good for all types of viewers — whether you need variety in your camming, or just the usual choice you've been getting. You have a lot of options to choose from — all you got to do is choose.
One of its features is controlling the woman's sex toys in real-time, as if you are just actually together.
Here's a full review of Cams.com.
PROS:
HD quality cam
Affordable fees
No pre – recorded videos which means all the videos presented are fresh and live
CONS:
You cannot communicate with models unless you pay for the membership
Tthere are no pre – recorded videos that you can freely watch
---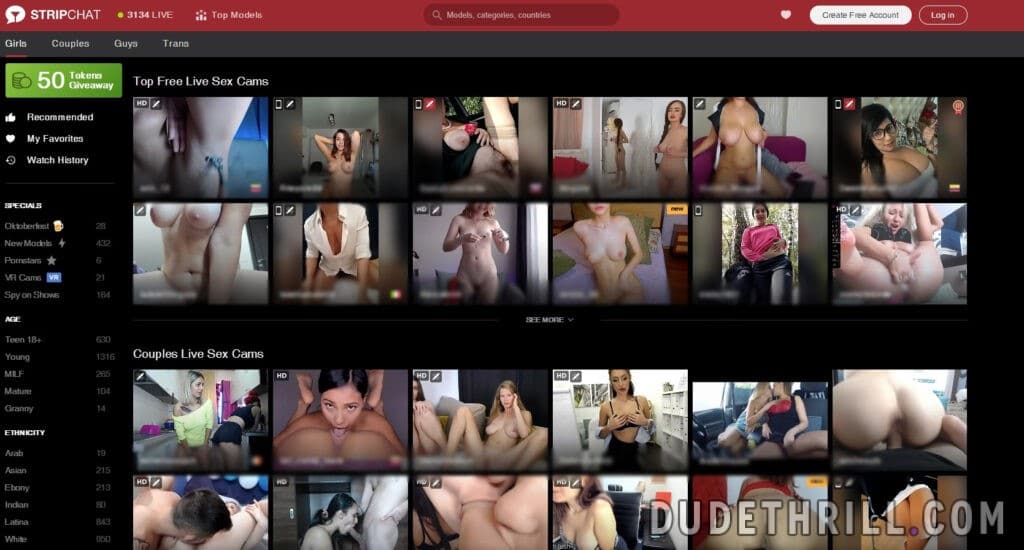 Taking you to the wonders of adult webcam, the site immediately offers you erotic scenes once you open the site. Even without registering, you can surf through the page for some preliminaries. The site really gives importance to their age restriction because it notifies you about it first thing when you visit the site. There are two main things that the site offers you, as its name suggests, STRIPPING and CHATTING. It's then all up to you to make the most of what it has to offer.
PROS:
Easy site navigation
Wide selection of performers
Reasonable fees
CONS:
Search tool is not very helpful
Annoying popups for unregistered visitors
No other language option
Poor customer service
---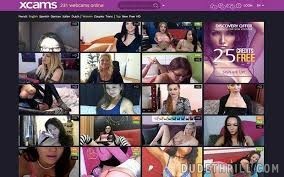 One of the most widely used live sex cam sites in many European countries. Since their biggest market is in the said area, their models are also mostly European. But if you are not from the region, there is no need to worry since their models are really fluent in English, some even are fluent in other languages.
The site is very easy to navigate, so as signing up on it. It supports at least 15 other languages for easier access.
PROS:
The interface is really amazing
Search tool is commendable
HD cams
Solid customer support
CONS:
Few models to choose from
Not commonly used outside Europe
Chats are for a fee
---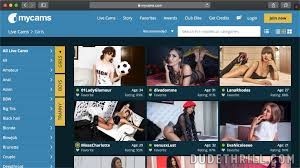 It is hard not to know this site since it is linked to all other established live cam sites that are widely known. It has one of the largest databases of models and performers in the live sex cam sphere. Because of its many options, and the very helpful and advanced search tool, this can be the site for those who are still starting to explore the world of adult live cams — to be introduced to many categories for you to get to pick what it is you are really looking for.
Here's our MyCams review.
PROS:
Free membership
Wide selection of models
Available on mobile devices
Live online customer support
CONS:
No nudes in public chat room
Inconsistent cam quality
---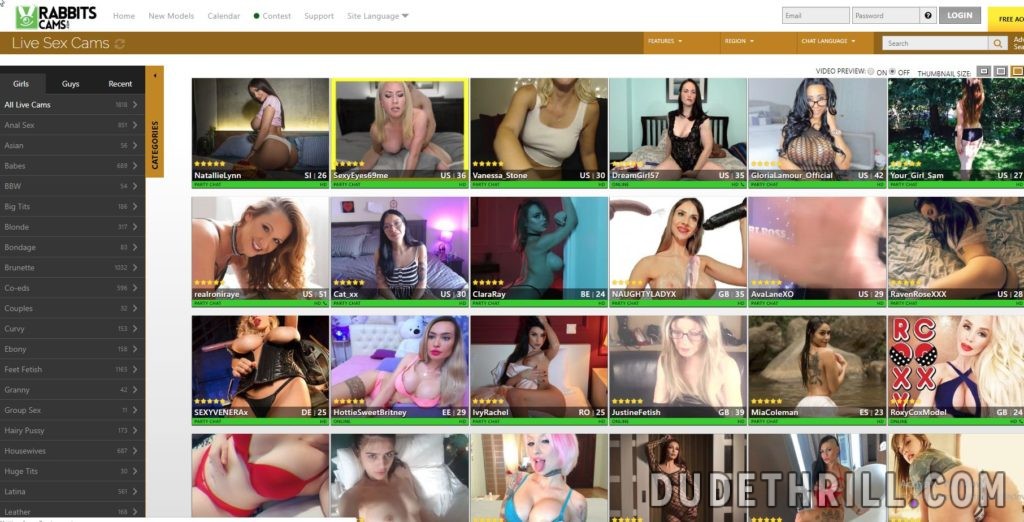 It isn't very hard to discern why this site has been gaining praise and popularity all throughout the world. It is not your usual adult cam site where interactions are limited for that certain moment where one performs and the other pays for the performance. This site actually offers not just the quickie live-action but it also has a place for those who are just looking for a platonic relationship and even for those looking for a serious relationship. But going back to its main purpose, it has thousands of hot models all in varyings shapes and sizes. You basically have someone that will fit the preference without emptying your wallet.
It has one of the easiest navigation system where you can just hover your mouse to the to preview the photo, and just click the play button to see the performer live. They also feature different shows with varying price options.
Full RabbitsCams review – here.
PROS:
Availability of HD cams
Website design is compatible to both mobile and desktop
Wide range of beautiful performer
Lots of performers are online just any time
CONS:
Some performers are expensive
---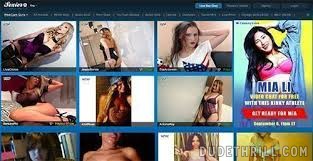 The sexier.com site has been active in the streaming business since the year 1996. So you bet the site knows exactly what they ought to do. People behind this site has also developed other sites in the same realm as Sexier. It offers a lot of categories for the singles, the couples, and for those who have a more specific and complicated preference. There is a language selection option for those who prefer the site to be in their local language. Mere browsing of the site does not require registration. however, just like in all other cam sites, for the more exciting features to be enjoyed, fees are collected.
PROS:
Lots of performers
Advanced search tool
HD cams available
Affordable fees
CONS:
Session timer is not available
Free features are limited
Site design is a bit old – looking, not very pleasing
---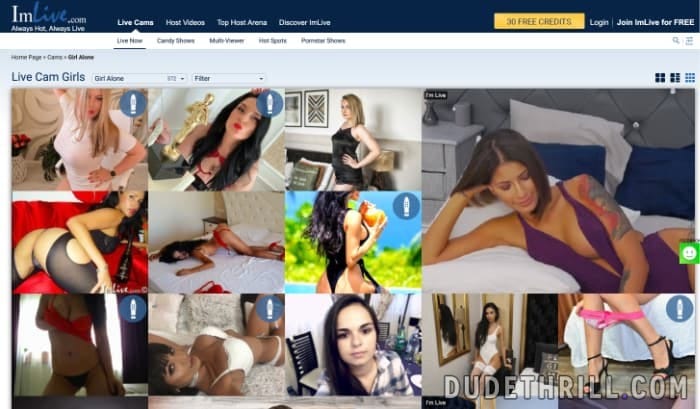 A well – established site known to be one of the world's largest and most popular live sex cam sites. It has 50 million registered members to date. It has been branded as the "best place to be" in the realm of live sex cams. The site has received several awards and citations making it one of the most trustworthy sites. Some features of the site are: top host arenas, outdoor cams, and vibrator shows. It also offers a live threesome for a more exciting live sex cam adventure.
Here's ImLive review in full.
PROS:
You really get what you pay for
Compatible with mobile
Reasonable price
Great shows
CONS:
Layout is a bit dated
Models are not very responsive on free chat
Some models is not on HD
---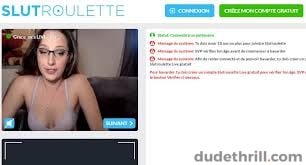 This site is powered by another big site that is leading the industry. In registering, you are greeted by a pop-up that asks for your nickname and a valid e-mail address. Once registered, when entering the site, you are greeted with pre-recorded and looped videos of performers which is why you should probably mind your volume when you visit the site with other people around you. The site gives you a thrilling and surprising experience since entering the site is just your bridge to a wider and more engaging site of professional performers who will satisfy your needs.
Just like all other adult cam sites, the registration is for free but it only gives you access to limited features. For other features, added payment is also required.
PROS:
Free registration
Wide range of options to choose from
CONS:
No hookups allowed, all are limited to camera interactions
Some performers can be expensive
---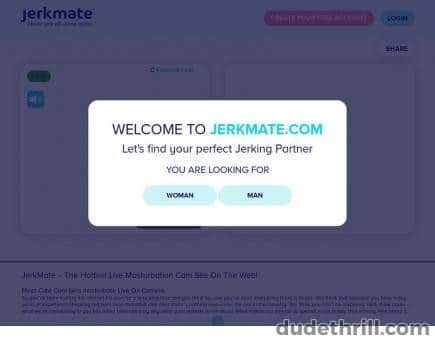 As it name suggests, this site will never let you jerk on your own ever again. There may be a number of amateur performers, but the site also takes pride in their professional performers who will grant your wishes as you please. On a daily basis, the site has thousands and thousands of live channels that you can choose from. You can filter these channels by ethnicity, body type, hair color, sexual orientation, to mention a few, so that options will be narrowed down to the type of companion you are actually looking for.
PROS:
Customizable profile for better matches
Commendable customer service
Solid sound quality
Discreet chats
A lot of payment options
CONS:
Few options for free users
Site's general appearance is not very appealing
---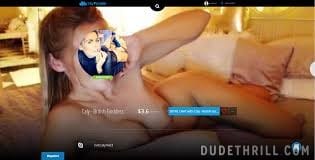 The site is relatively new to the industry but it has been growing and gaining popularity throughout the world. With just less than a decade in the industry, it sure has a promising number of membership and resident models that can already compete with those older, more established sites. Since it is new, its interface has one of the few which has a bright modern touch.
Its feature allows you to book the model in advance for your desired date and time. You can purchase a video of the model through the site as well if there is any available.
Skyprivate review in full here.
PROS:
It has a mobile app compatible for iOS, android, and Microsoft
Also compatible in Linux
Has at least 10 different payment methods for convenient transactions
CONS:
Needs Skype registration and communication is limited through Skype
No free chat rooms
Few search filter
---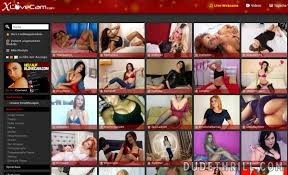 There are a lot of performers and models to choose from who are all ready to get down and go on an adventurous performance with you. The site offers various shows which you can choose from. The shows are neatly organized, you'd be enjoying being on all of it. Before you can enter the show, you have the option to get a sneak peek on what the performers are or will be doing which will give you an idea of what you are about to get yourself into. There are two kinds of shows, the public show which can be viewed by anyone, and the private show which is only for the invited guests. For VIP guests, there is an added perk which is the recorded archived videos which only them have the authority to access.
Their interface already went through some major makeover putting a lot of navigational stuff on the side bar for better viewing.
Here's a full review of XLoveCam.
PROS:
Reasonable price
Compatible on mobile
Minimal troubles
Excellent customer support
CONS:
session timer is not available
Not all cams are HD, and you cannot filter by cam quality
---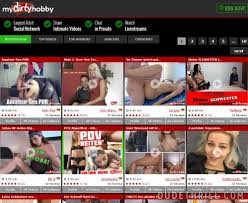 The site has claimed to be "the largest adult social network" which can actually pique your curiosity as to what the site has in store. German-based and maintained, indeed the site has a huge community of performers posting photos and videos of different niches ranging from masturbation, striptease, to orgy, and other kinks. Now who will not be enticed by that? The community uploads hundreds of updates every day so you get fresh new content to enjoy. Since the site is based in Germany, the performers are mostly from the same origin, but you have to option to translate the site into English or Dutch.
Registration is for free but when you start exploring the site, there are features that require payments. You also have the option to have a VIP membership which entitles you to parties and other perks.
Here's a full review of MyDirtyHobby.
PROS:
So many options to choose from
Comprehensive search tool
CONS:
Some features could be expensive
Videos cannot be downloaded
There are some low-quality videos
---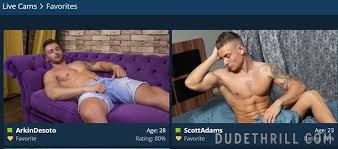 It may not be a wide – range site like Streamate but it sure gives at par excitement and thrill. The site may not be that popular in general since it has a more specific target market but it sure can compete with other similar websites quality-wise. Registration is really simple and with the growing visibility of gay and transwomen the site is gaining audiences recently since it has one of the few sites with quality content for men. Security and safety for both the performers and the visitors is one of the sites' main concerns that they sought the service of a separate entity to deal with everything that requires confidentiality such as the payment.
The site basically offers performers of different flavors internationally. While majority of them are fluently speaking in English, there are also those who speak Spanish, Italian, French, and many more.
PROS:
Simple and easy to browse
2–way cam
A lot of good models
CONS:
Live cams can be expensive
There are cams which are not of HD quality
Last Word
These sites may be similar to Streamate but they are definitely not the same. Each site has different niches to offer, and it always depends on what you need or want at that moment. Having all these options will surely make it way more exciting than it already is.
If you ask me – pretty much all of them deserve some kind of praise. But personally, I'd recommend SlutRoulette, ImLive, and definitely Cams.com.
If you have any suggestions or experience of your own – feel free to share in the comments below. 🙂
All 113 Other Sites in This Category Worth Checking Out:
Fetish Galaxy Review & 12 Best Live Sex Cam Sites Like FetishGalaxy.com Show Me 12 Alternatives for FetishGalaxy.com Welcome! Today, we're strapping in for a journey that's bound to tickle your curiosities and awaken your inner desires. Don't tell me the name "FetishGalaxy" didn't already send your imagination into overdrive. I mean, it's like a cosmic […]