Updated on: December 4th, 2023
Sexed Chat
& 12 Top-Notch Sex Cam Sites Like Sexedchat.com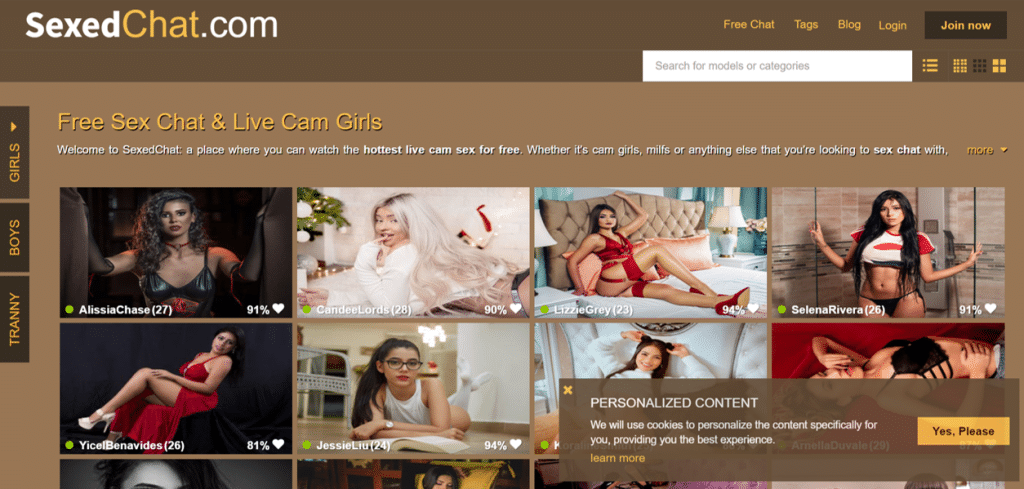 I'd like to roll the dice and check some free sex cam sites. Sexed Chat is my fancy today as I am charmed by the free chat claims and irresistible cam models. When I see free tags, I don't want to take time to focus on hesitations. I would love to immediately grab the opportunity and unload more reasons why Sexed Chat is a refreshing vicinity. Imagine getting free sex cam delights in this porn day and age? It might be too sensually good to be true, but we are here to check what it is really up to. The Sexed Chat site name sounds confident with its abilities. We shall see!
Official URL: https://www.sexedchat.com
Sexed Chat Dedicates A Full Abode of Sex Cam Glories
Sexed Chat gives a delectable offer of delivering free chat goodies to anyone who enjoys the niche. I would like to keep it naughty and simple if you wish to devour cam beauties, Sexed Chat is game on to provide your fetish. Sexed Chat houses any model you want to wank your dick at. The page launches salivating options to pick from. It seems like the venue has been doing the job for years. Honestly, I find it nearly impossible to house an accessible cam site venue, but Sexed Chat is eager to give your dick a surprise. With that, I decided to test and try. I hope this is a win-win situation for us, fappers!
Meanwhile, Sexed Chat also promises endless activities to site-goers. Perverts can do anything you want for free. However, Sexed Chat is transparent enough to share that the domain is a blend of free and paid materials to cherish. Good thing you are not required to spend money if you are on the tightest budget. Sexed Chat gives offline juicy deliverables to make your dick erect and pussy wet. Try to remember the names of your favorite models so you can visit their profiles and performances at Sexed Chat, pal.
Not just that, the site has an interesting home page that serves as the reservoir of your sexual fantasies. There is a massive pile of gorgeous ladies and palpable items. What is nice about Sexed Chat is that you can start maneuvering the page anytime and anywhere. Live sex performances are ready to be streamed, while recorded pieces are overwhelmingly available for fellow perverts. I just can't help but smile over these horny babes as they allure me to try their talents.
Sexed Chat Claims They Provide Extra Special Deals, Hmmm!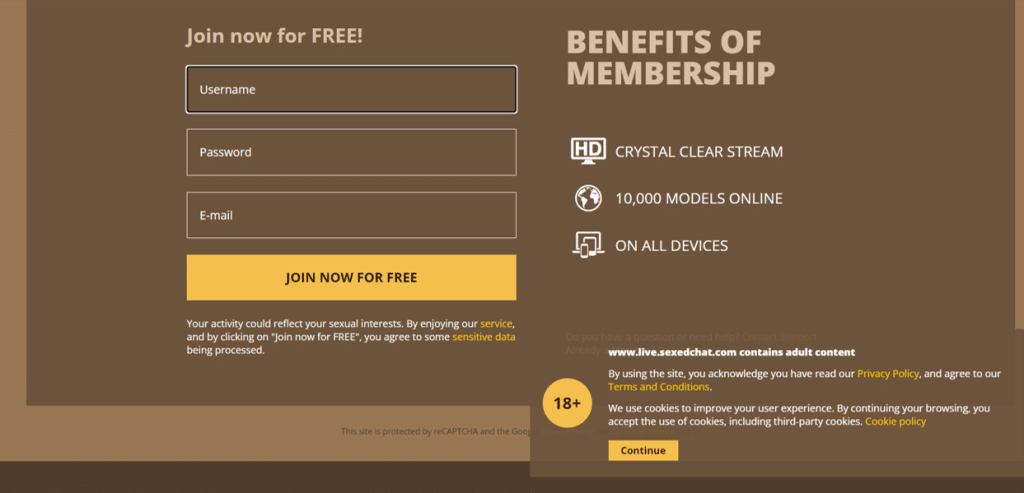 The site considers itself one of the best in sex cam services. It claims to be one because of its free selection and high technology functions—Sexed Chat pacts incorporate top-of-the-line video chat streaming quality. The page also boosts intense speed for a salacious masturbatory habit. In addition, the cam girls are diverse and top notched worldwide. I shall give you a rundown of these babes' locations. I bet you will be in a hurry once you see the sexy sluts seducing you. Presently, Sexed Chat gathers 2000 online models. These thousands of beauties are enough to make your day and night addicting.
Again, Sexed Chat is proud of its crystal-clear streaming capacity. You may expect HD flicks and swift chat performance despite the deal-free access. Sexed Chat has twists to excite your stay at the arena. They got a Call Me Now feature where fans may directly connect with their camwhore crush. Apart from that, there is a credit system where users can securely buy access to exquisite private chats. Yes, pal, I mentioned earlier that Sexed Chat combines free and pay site abilities. You have the power to roam around the arena but must extend a few bucks to send a babe to a private chatroom. This sounds fair and exciting, Sexed Chat!
How Does Sexed Chat Work for Your Benefit?
The sexual process is swift and easy, dude. You have to start with browsing and learning about the collection. Oh, this one here is fun and exhilarating. Everyone enjoys the activity of looking across the salivating babes and investigating what they are up to. Remarkably, the free chat sessions allow you to narrow your choices and see which lady has the potential to erect your picky penis. Navigating around the juicy selections will also empower your stay and gives you the heavenly freedom to harness the overall Sexed Chat methods.
Hence, once you are ready to level up your Sexed Chat experience, you are invited to signup. Again, this is optional, but I suggest you submit to the fun since you are here. Anyway, account enrolment is accessible. You are only asked to submit your email address, username, and password. The login process is also seamless. You are only given a few drooling minutes to wait for the masturbatory email confirmation, and you are good to go. As you finish the first two steps, you are now entitled to join the one-on-one video conversations.
In fact, this third feature is the juiciest of them all. You can do whatever you want with the lady in front of you. Perverts can go intimate and allow the babe to do her thing to make you happy and satiated. This service comes in varying rates depending on the act done, the location of models, and many more. Negotiations are handy, so you must meet halfway with the females. After all, you are doing the adventure for the benefit of each other. Fans can exert their sexual longing and submit themselves to the scorching hot sex cam activities.
Browsing The Site is Tempting and Fun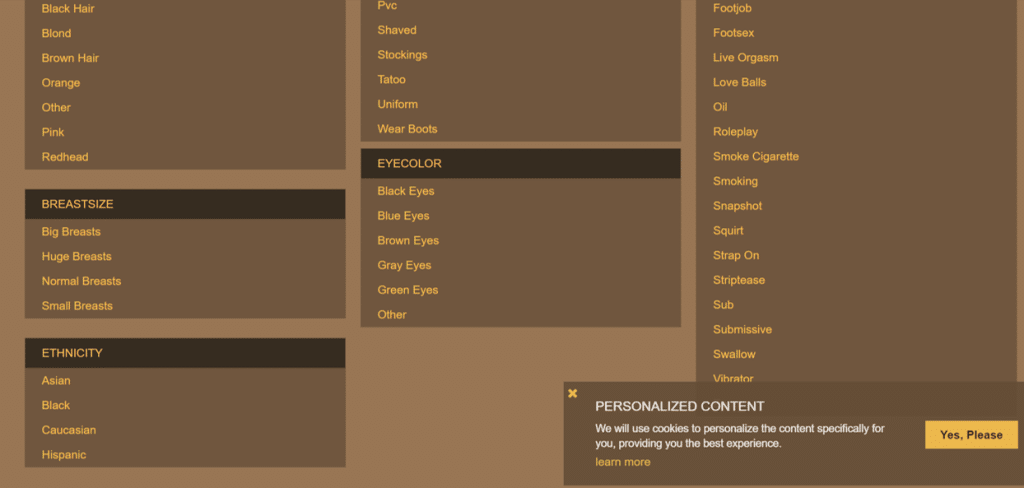 The brown Sexed Chat arena looks simple and refreshing. I adore the presentation despite wanting more complexity. The basic design is good enough for a free abode. The logo comes in the most unadorned font style, and the tabs are straightforward. The search item is located adjacent to the layout options. The valuable buttons like Free Chat, Blogs, and Join Now are highly visible. By default, Sexed Chat exhibits images of the most alluring models. Hotties are presented with their dick-erecting high-quality photos with their screen names and ratings.
This lineup changes from time to time depending on the models' availability. I toggled down and saw various babes calling for my attention. There is a wide variety in the repository; what is nice is that you may readily explore the gender of your preferred model. Pals are selected between Girls, Boys, and Trannies. I can't stop getting hooked on the portraits of these females. They exude charm, seduction, and feistiness. Sexed Chat surely knows how to present the goodies. Much more when you experience the quick navigation and zero-ad home page.
The Models Are A Truly Great Catch!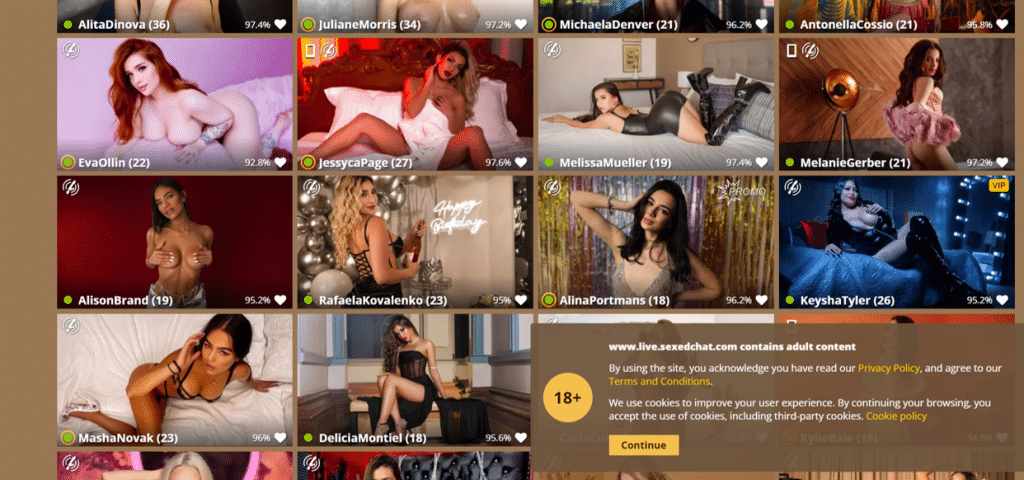 I will reiterate how fancy and fap-worthy the parade of females here at Sexed Chat is. Honestly, the male and trans options aren't disappointing too. My girlfriends love male models and their attributes. I must say, they got the looks and appeal; judging by the number of fans and increasing ratings, the personalities are worthy of attention. Sexed Chat models create tags to describe the services they provide. With this, followers can choose the lady according to their nasty preferences.
Nicely, Sexed Chat categorizes the performers according to a diverse classification. This includes gender, build, hair length, sexual preference, appearance, breast size, ethnicity, and even eye color. A list of choices per category is applicable. Hence, you can narrow the personalities via brown eyes, average breasts, Asian, bisexual, and many others. I love how Sexed Chat specifies Lesbian, Bisexual, Gay, and Straight picks. It is also an excellent addition that users are able to pick the body built of each model. The options are above average, athletic, and petite. You must know my adoration for petite and busty ladies. I am excited to savor them.
The Chats Are Working, and Babes Are More Than Willing
If you aren't ready to take on private chats, you may also try the public ones. Here, you can see what keeps these babes busy. The free performances are loaded with pleasurable content. My dick is itching with the hotties in masturbation using dildos and other sex toys. I am also intrigued with the "willingness" option, where you can negotiate with the babes the activities you want them to execute. You can randomly slide among dancing or teasing, blowjob, live orgasm, roleplay, squirting, strap-on, etc.
They start the kinky show as soon as they know someone is streaming. I had a great time watching Alison Brand, Juliane Morris, Alina Portmans, and a slew of many other live cam whores. I will not contest these darlings' talent in arousing me. More so, the production is commendable with professional cameras and setups. What more when you hopped to the private chat? Intensely, the surprises will make you more over the moon. Intimate conversations have no limits; therefore, babes can execute the sluttiest moves.
The Pros and Cons of Sexedchat.com
PROS:
Flood of models
Language options available
Helpful categories
Sexual preferences and gender are considered
Quality cam shows
Combination of free shows and private chats
Easy to browse
CONS:
Few male and trans performances
Private chats require payment
---
Top 12 Top-Notch Sex Cam Sites Similar to Sexedchat.com: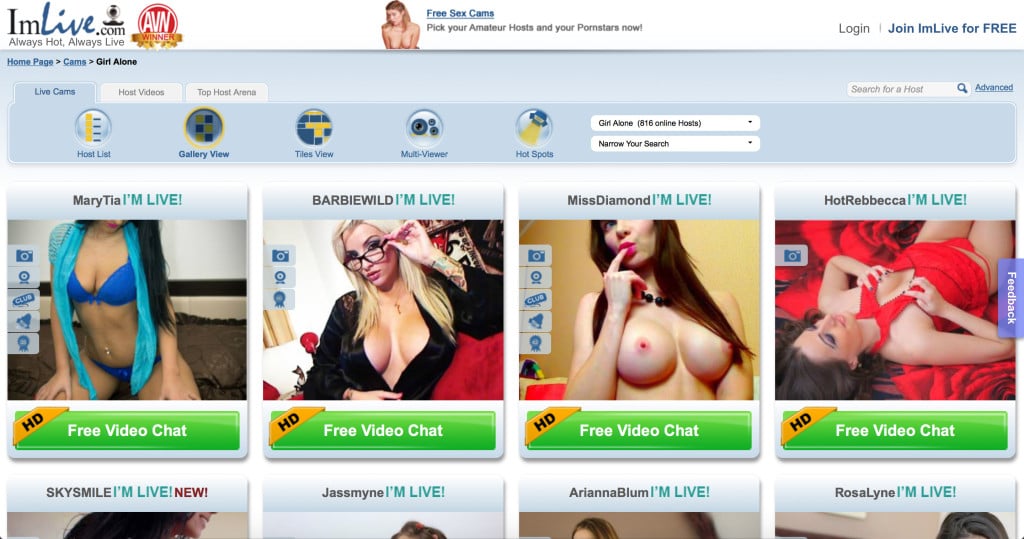 Imlive.com is a unique live sex cam site made for those diverse people. These people are those who really need to incorporate a little more excitement into their stressful schedules. Truly, it is one of the internet's very famous Livestream chat sites and we already understand really why.
Besides, in terms of producing hot females on the internet, Imlive.com presents numerous user preferences. In other words, with just a click of the mouse away, you can indulge loads of free pleasure camcorders with an amateur or beautiful pornstars. Ultimately, to fulfill your sexual urges, these good looking women from all around the globe are all here.
PROS:
Split into three various types namely, Host Videos,
Live Cams, and Top Host arena
Searching is not hard
HD videos with a bunch of sensual and beautiful girls
The browsing experience is considerably simple
Numerous different videos with a collection of distinct varieties all for users' satisfaction
CONS:
A bit confusing which video to watch because of a wide selection
---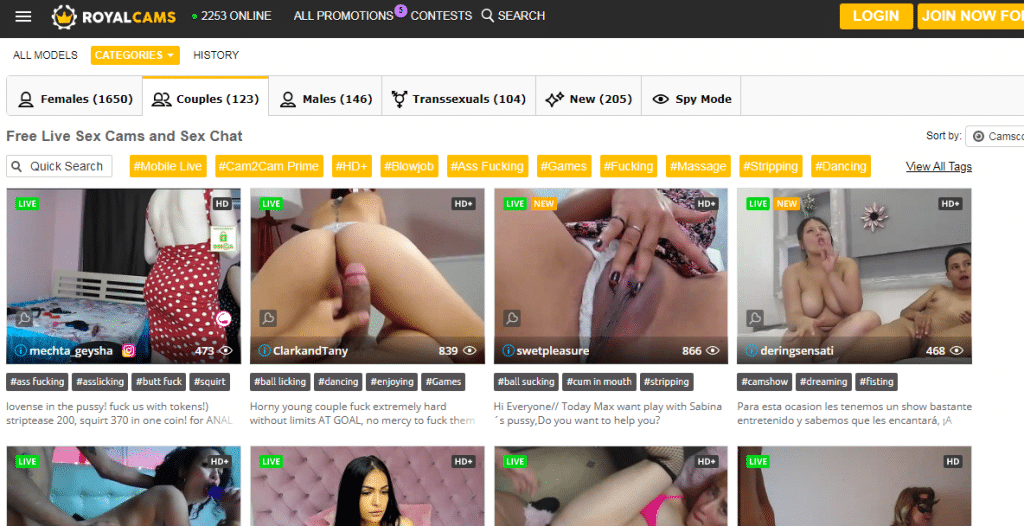 RoyalCams is a fully functional webcam platform. It uses a vast library of models that reflect both genders and orientations. There are four different types of personal chats available, including fully explicit and tip-based completely free chats. Check out our best choice if you're looking for the best adult cams. It's open, simple to use, and well-liked by users, increasing your chances of having a good time.
Grab a quick bite with this Royalcams review.
PROS:
Plenty of gorgeous girls
Spy/Voyeur style that allows you to see and chat with models.
Uses sex toys
Professional and amateur models
Mobile compatible
CONS:
Sometimes, models take time before going nude
A brief preview of the Visitor Live series
---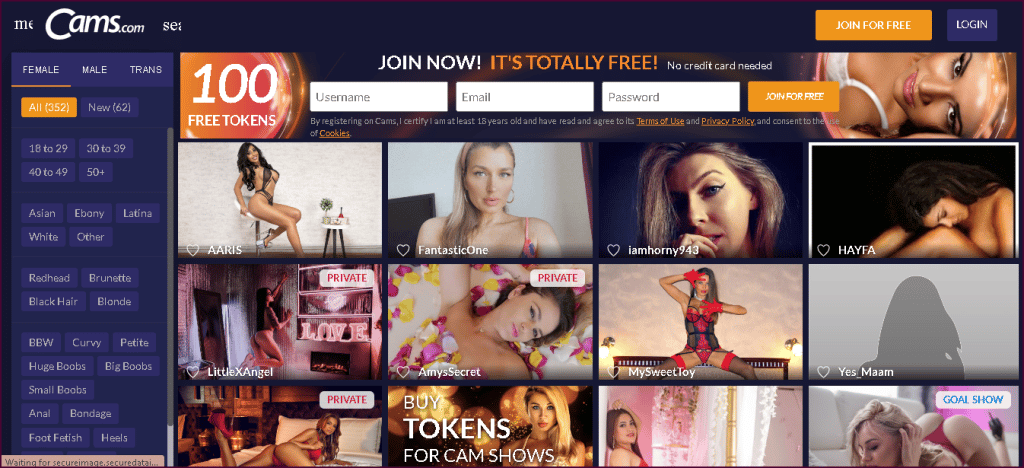 Have you been feeling tired while watching porn all day? Want to try a real sexy cam show for a change? Why not head over to Cams.com and experience real videos from horny models. Once you visit this site, you will never miss any cam shows. Above all, you can interact with the models when you register.
PROS:
Plenty of models available for you
The site is simple, and the design is easy
Division of videos is according to categories
CONS:
You need to register to use the chat feature
Quite expensive membership
---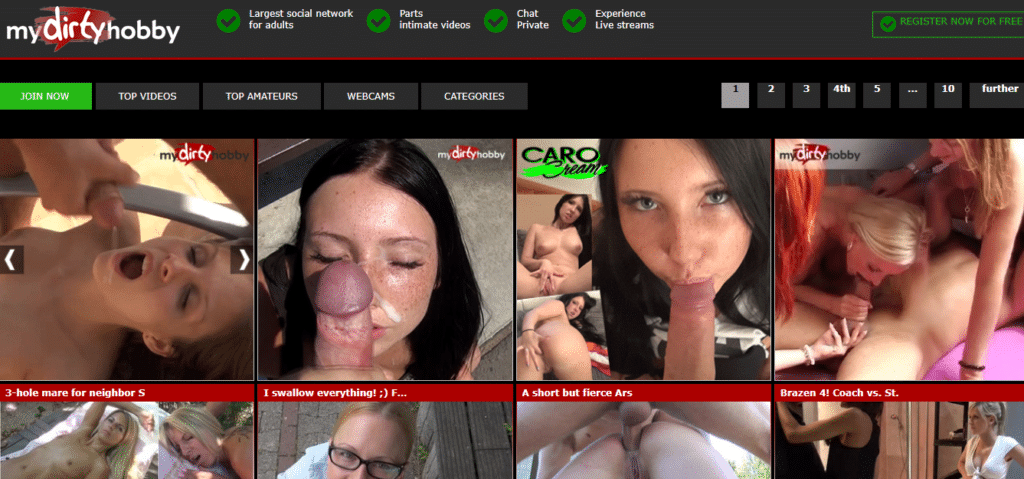 Germany's best live sex cam website, My Dirty Hobby, brings everyone together. Coined as one of the largest adult social networks to ever grace the Internet, MyDirtyHobby is more than just its intriguing and interesting handle; it is a haven for amateurs who like posting homemade sex videos and provocative photosets. It is an interactive community that will live up to one's expectations, especially if you look for a reliable source of adult porn and live sex sessions.
It has plenty of members video chatting and messaging daily. Also, the website allows the members to gain money by joining cam shows. Indeed, My Dirty Hobby has a fantastic set of cam girls waiting to have a naughty time with you.
Read this full MyDirtyHobby review.
PROS:
Different contents according to specific interests
Design is simple and easy to use
Regular updates
Do not need membership payment
CONS:
Downloading is not available
---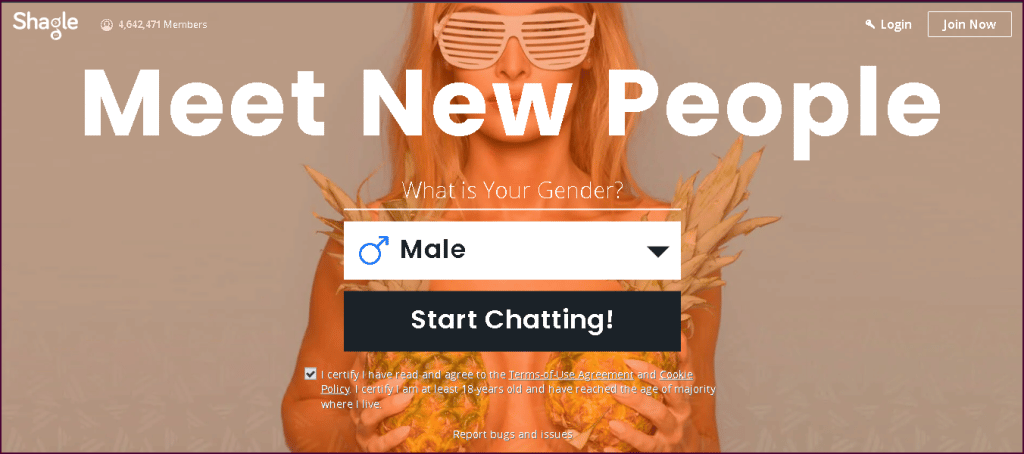 If you are considering a superb venue to video chat with strangers and gorgeous hotties, then certainly, the community of Shagle would be an excellent option for you. You can discover lots of diverse people with various interests on this page.
Hence, creating a connection and understanding are the main focus. Also, it has an outstanding balance of people aged 25 to 55 years old, suggesting that you can always find the right match on this platform regardless of how young or old you are.
Read Shagle's full details here.
PROS:
The intelligent algorithm ensures you will not talk to the same person two times
It has millions of members around the world
A maximum of 5 minutes will require to register
Free members have plenty of benefits and feature to enjoy
Available in 70 different countries
Rule s and regulations are available and required to follow to maintain the user-friendly experience
Features and communication tools are plenty
It does not require personal information to register
Free sending of text messages
Free use of live video chat
No language barriers because of Translation Tool
CONS:
Not available in-app version
You cannot access additional features using a free account
Video quality is average
---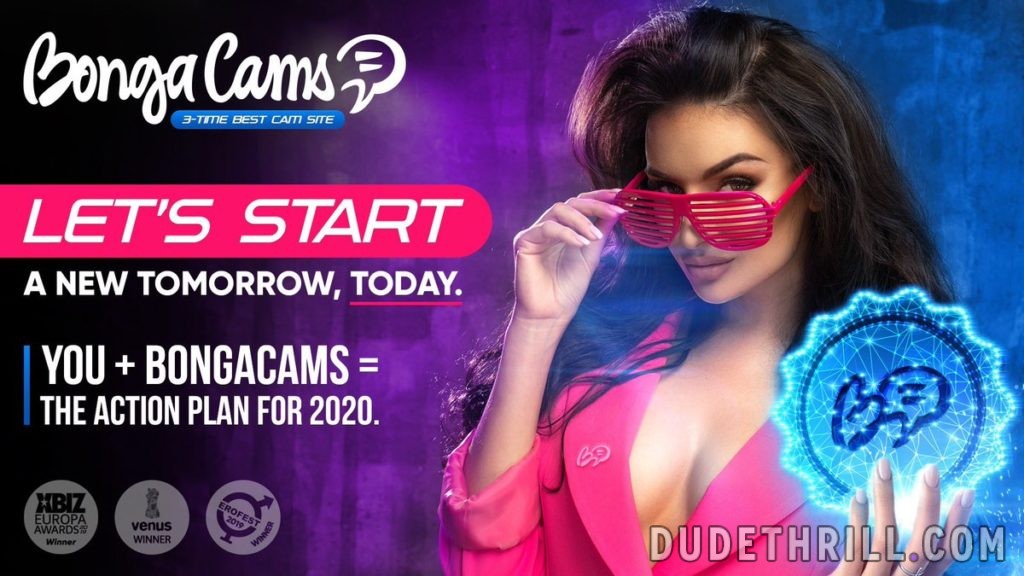 As the name indicates, this is site is for live webcam cams in which you can search for many of the hottest models and one of the most acceptable money system applications nowadays. There are thousands upon thousands of camcorders to pick from, so you're hardly likely to feel upset. And there are countless options to find a decent live stream woman for yourself, on top of it all.
PROS:
There are tons of HD streaming camgirls
Uses token system and incentives
Premium members enjoy special features
CONS:
Annoying pop-up advertisements
Requires paid subscription to use site's features
---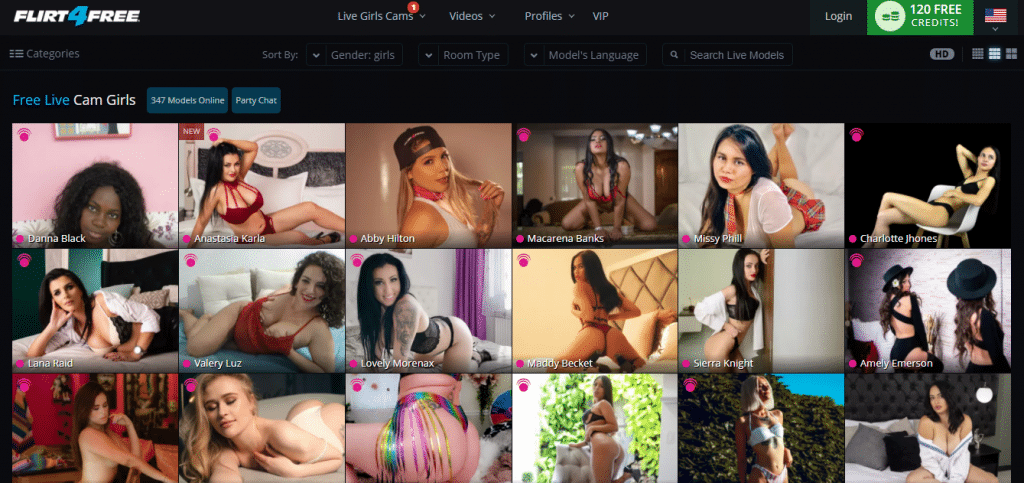 Do you want to start the evening with no strings attached? Would you like to see a never-ending supply of hot young sex action on cam? are you interested in viewing it free of charge? And if that is the case, then you have found the right website.
When you use the Flirt4Free, you can list the girls according to the activities that turn you on. Also, if you discover a model that interests you, you can see when they're coming online every week. Indeed, the Flirt4Free free account will provide you with just enough content for your entertainment.
Take a look at Flirt4Free review.
PROS:
Fantastic live sex cam website
Design and layout is modern and cool
Features are great and work for your convenience
There are pre-recorded videos available
Variety of models you can choose from
CONS:
Sometimes the website buffer
There are expensive private shows
Some dead links
---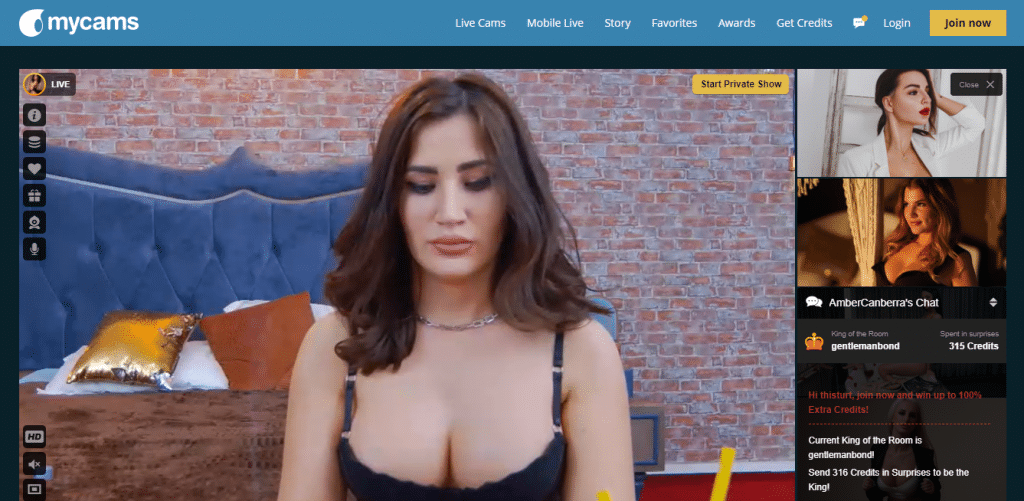 What if you had complete control over all the porn you've seen before? Consider how empowered you would have felt if you had control of how and what the pornstar does. Imagine you as the show's director and an eager babe as your exceptional webcam performer. Would you fall in love if she were clothed in a certain way that arouses you? Even better yet, completely naked! If that sounds appealing, then say hello to Mycams and begin enjoying the perks of kinky sex chat with HD sex cams.
For sure, it is a 100% legit live cam site to satisfy all your x-rated desires. Concerning sexiness, this website has the hottest professional cam models. Additionally, it offers many free features that allow you to communicate with sultry sirens. You will undoubtedly find trannies, big-titted blondes, redheads, transexuals, females, and males with huge dicks. On MyCams.com, they have provided thousands of models and fulfill users' most sordid fantasies.
Here's the full review of Mycams.
PROS:
Large selection of beautiful cam models
High-quality videos and high-end audio performance
You can preview chat rooms
Features and puts spotlight on new cam models
Detailed bios
Customized your profile page
Most features are free to use
Fantastic customer service and live support
Supports numerous languages, including Asian and European
CONS:
No nudes on public chat rooms
Need to pay for private chat rooms to experience nudity
Requires extra credit when using 2-way audio and cam2cam features
---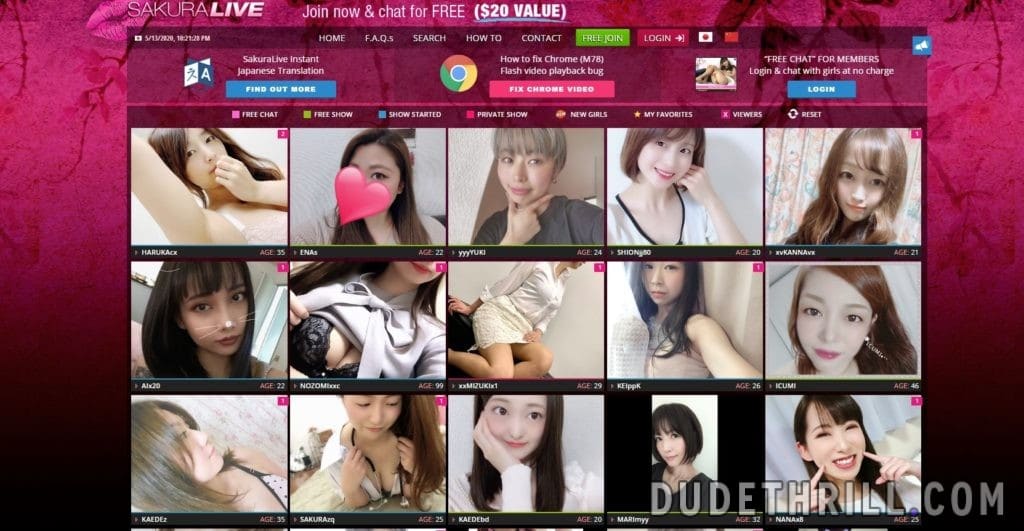 If ever you need to cum chat and live cam with Japanese hot girls this is the site you have to be in. Japan has always been known to be the home of the hottest video performers and actresses. The site is a bit confusing to navigate but generally it is quite basic. Once you figure out the navigation part, there is no turning back. On the homepage of Sakuralive, the performers who are online are being displayed.
The performers are then classified depending on the show they are in whether: private show, show started, and free preview. For those who are not willing to shed a cent for the site, you can always have the free preview option. If in the best events that you find someone that really piqued your interest, you can purchase a masturbation video from the performer wherein you get to be the director of the show.
Read our full review of SakuraLive
PROS:
Real Japanese amateurs
High quality profile pictures
CONS:
Some performers only speak Japanese
Not friendly to mobile devices
Navigation can be confusing
---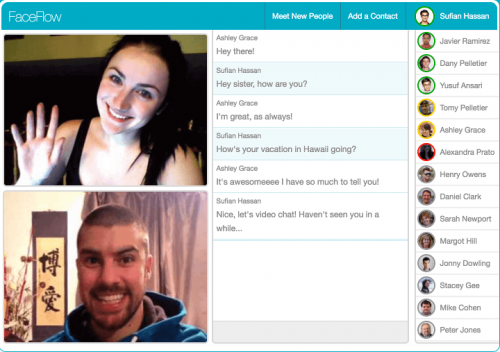 Are you interested in meeting new friends or connecting with someone in person? Do you want to maintain your friendships or keep in contact with friends? Then you must see FaceFlow and take a better feel for how FaceFlow can improve your communications.
This website was created for distant communication with your relatives and friends who may be living thousands of miles away. Later on, FaceFlow became a mix of a dating site and a service that helps you make new friends. Indeed, you can count on it to connect and laugh with your friends. Faceflow is a fantastic option for common messenger apps that demand subscription fees because it is free to use.
Click here for Faceflow full review.
PROS:
The 'Find Random Partner' function helps to meet exciting friendships.
For searching users, basic search filters are available.
Members can be added to your Friends list.
If you are a registered user, your conversations are saved.
Without setting up an account, users can connect as guests.
Verification of email is optional
It is not a requirement to upload a profile photo
It requires 1 to 3 minutes only to complete a registration process
You can use your Facebook account to log in
The majority of the users are in their early twenties
FaceFlow moderators manage the public chatrooms
Free video conference communication is available without restrictions
There are four different languages available on the website
The website is available on multiple devices
Uses WebRTC to ensure high-quality live video chats worldwide
FaceFlow supports Opera, Chrome, and Firefox browsers for chat and video calls
CONS:
Users are using fake profile images
Males outnumber females
Display advertisements appear on the website since they are the website's primary source of revenue
---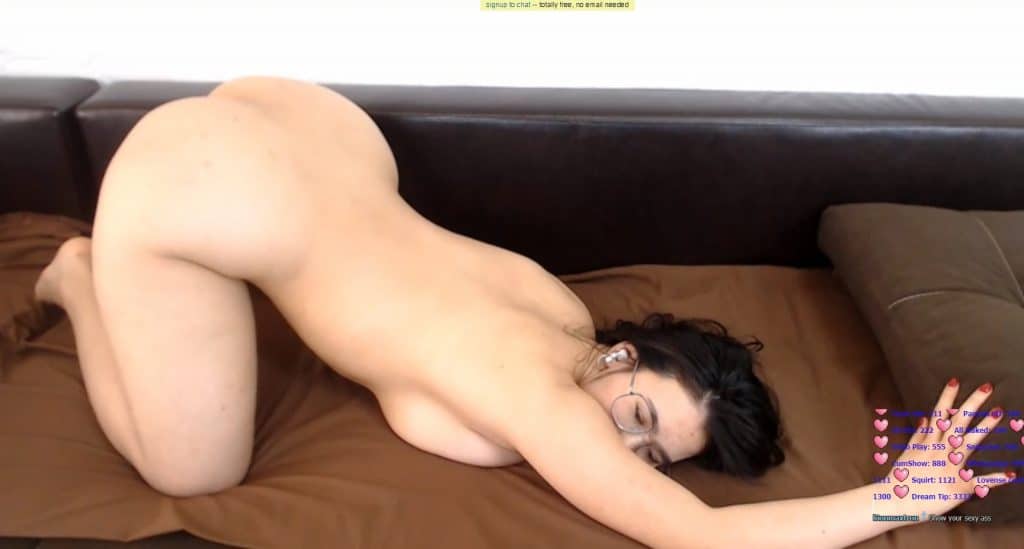 NudesCams is known for many features and offers live feeds, making it stand out from the most cam-site crowd. NudeLive is a relatively new website, but it already has a considerable fanbase and plenty of live webcams to choose from at whatever given time.
Not to mention, this website brings a great blend of real-time cam models and males and females alike. It's as effortless as pressing a button to switch between watching "only men" or "only women" on camera. Also, there is a wide range of material that has lumped together here, including "Teens 18+," "Couples," and Bi & Gay," making it easier for you to find what you're interested in and desire.
PROS:
Responsive cam girls and cam boys in an extensive database.
Cam models are a lot of fun to watch.
The majority of sex webcams are of high definition.
There are several niche categories from which to choose.
NudeLive is the only place where you can get a random feature
All of the cam models have massive thumbnail previews available
The website has a large number of models online
Adding models to your favorites makes it simple to stay informed on when they are available on the website
You can quickly switch from one cam display to other thanks to the convenience of use
The act of sharing your webcam with the actors gives you the feeling that you're watching an actual live performance
Free to use
CONS:
Several features are only accessible when you sign up and register as a member
Private chats and shows can get expensive
---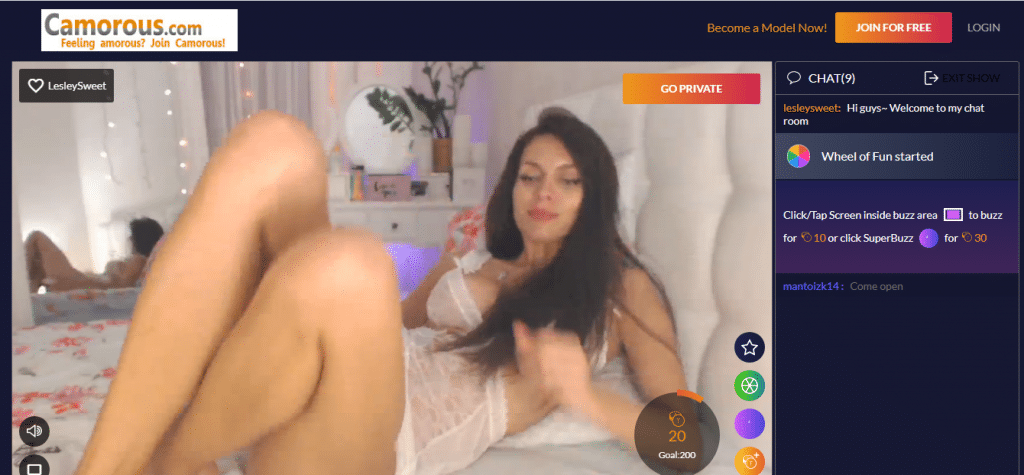 This is a popular website with excellent design and easy navigation. This live webcam site lets everyone enjoy HD video streaming, watching sexy models perform and pleasure themselves, and many more interactive features that will guarantee your fun and sexy time online. Even as a free user, you can watch some of their live streams, except for models that restrict their videos to non-members. If you want to experience first-hand what
Camorous is all about, you can quickly sign up for free, and then you can start using the site's features. There are some models, though, who would refuse access for members who don't have enough credit on their accounts. But despite that, even if you choose to put some credit on your account or not, you can still get to enjoy a lot on site. Its homepage would tell you everything you could want here — top-rated shows, new models, and even their top-rated girls. Your fetishes can also be satisfied here, as they have lots of services and models that can do just about anything that you would want to see.
Click here for Camorous full review.
PROS:
Outstanding video and audio quality
HD quality for both streaming and non-streaming videos
Great performances from the models
CONS:
Most models ignore free users
Fewer features to promote user interaction
Lots of ads
---
Parting Words
There is no sexual excuse not to explore your pleasures with Sexed Chat's accessible live cam performances. The page perfectly blends free cam shows and payment-based private shows. Sexed Chat gathers the models in an arena where everyone can enjoy. Users may quest for their favorite performers via appearance, willingness, gender, sexual preference, build, ethnicity, and more. Not just that, technology is top of the line with excellent streaming quality and swift site features. Sexed Chat's diversity of options is its most incredible lead. Hop in and try it!
All 115 Other Sites in This Category Worth Checking Out:
Strip Flix Review & 12 Must Visit Free Sex Cam Sites Like StripFlix.cam Show Me 12 Alternatives for StripFlix.cam Will you join me as I stream on unlimited stripping and babe teasing? There is no other site I could ever think about that is convenient, accessible, and limitless in nudity. We shall dig on sex cam […]