Updated on: December 5th, 2023
SWAG Live
& Top-12 Best Live Sex Cam Sites Similar to swag.live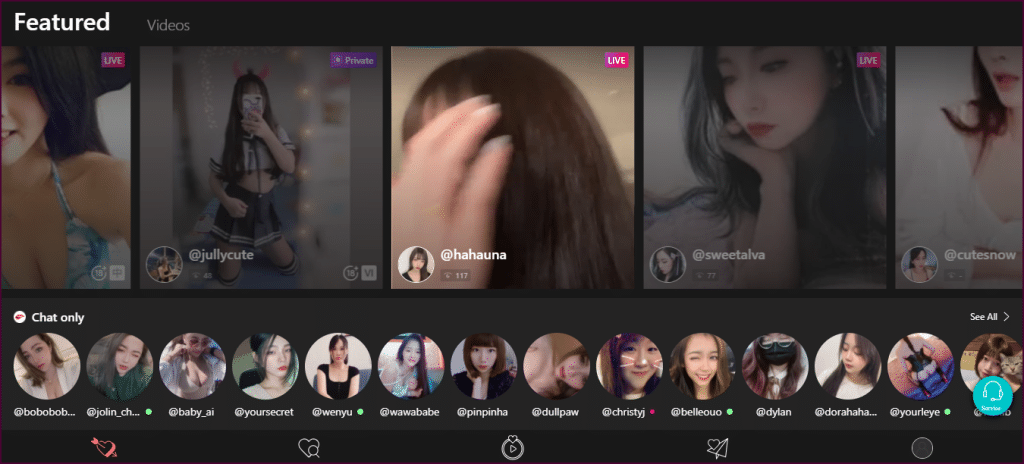 The moment live sex cam streaming was first introduced in the sex entertainment world, its contribution was remarkable. People knew that watching fucking videos is not enough pleasure to visualize deep desires. Definitely, live sex streaming became the King of the adult entertainment industry. Right now, there are plenty of streaming platforms popping online, but Swag Live certainly carved its reputation among Asian Live Cam Sites. Initially, I thought it was a shitload of GenZ wearing swagger clothes and accessories, but thank God; it's waayyy better than I expected. I wonder what Swag Live secret dominates the Asian live cam scene? Let's find out below!
Official URL: https://swag.live
Show Up Some Swag!
Swag Live claims to be the largest live cam streaming site in Asia. It's an expert in terms of amateur cam shows and features a massive erotic photo and video collection. Swag Live boasts its 1M+ active members, filling up its welcoming community. Swag Live also promises to continue bringing you only the hottest and cutest live performers from the different parts of South East Asia, like Taiwan, China, Japan, and South Korea.
I'm sure you're pretty curious why Swag Live could penetrate the world entertainment and dominate the whole Asian scene. Well, the secret remains a secret up to this day. As far as I know, Swag Live has superior technology and a system that enhances the browsing and streaming experience.
Plus, the site ensures the privacy and security of its members and cam models. So, everyone, regardless of shape and size, will enjoy the swagger streaming. Certainly, the easy and convenient means of Swag Live to interact with your best-loved and dream girls is the best feature it has. Obviously, this site is hard to beat! You gotta step up your game to compete with Swag Live.
Create an Account at Swag Live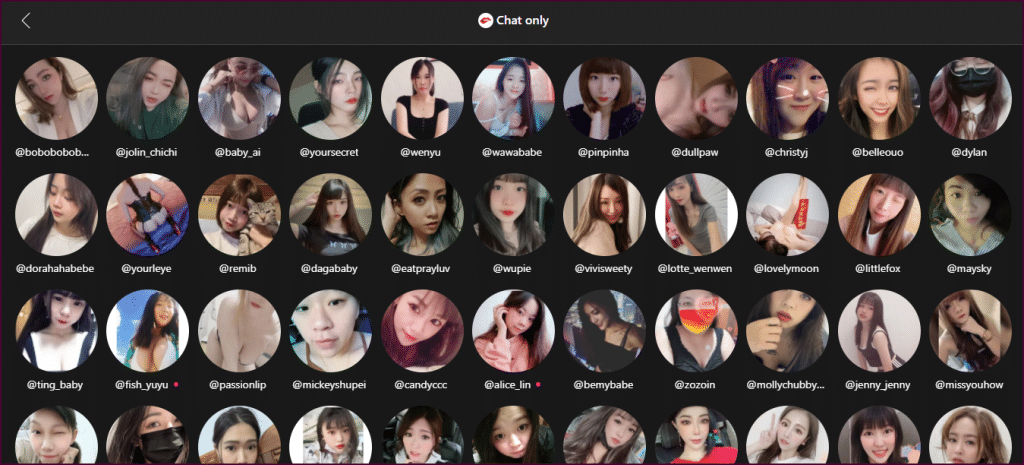 Swag Live is pretty exclusive in terms of cam shows and features. So, if you want to enjoy all of its perks, don't forget to register and get verified. Don't worry; there is no long list of steps waiting for you because the overall process is swift and effortless. Simply visit the official website, or download the app first, whatever suits you.
You'll find the signup button on the main page, and you can start the registration process. It only requires a username and personal password to enter, and when it's completed, you just wait for the verification process to push through. Yes, you read it right. Swag Live has a verification process that authenticates your account as fraudulent or legit.
After completing all those things, the last step would be the Diamonds. To enjoy your Swag experience, use all the site's features and services, and you can only do this using diamonds. These diamonds are the online money you trade for gifts, messages, and entry to chat rooms.
Swag Live's Diamonds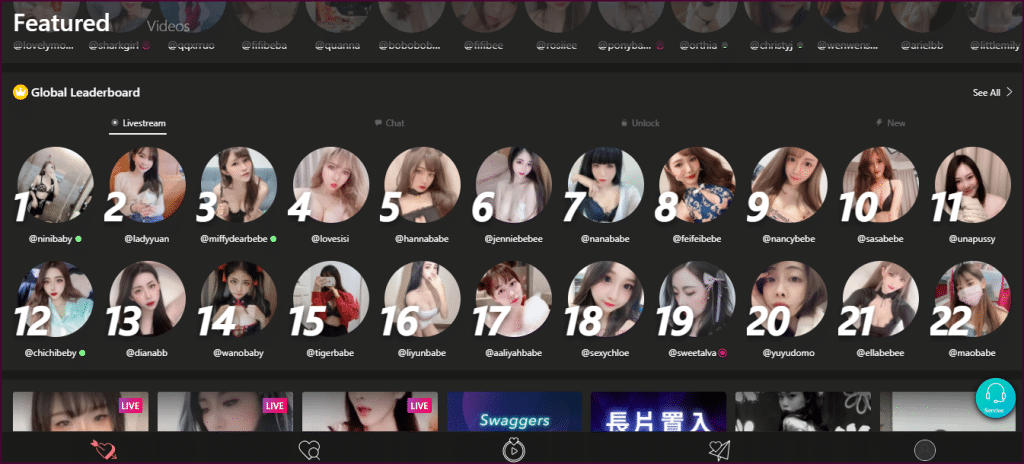 Whenever these wonderful online swaggers start strutting their business, you'll feel the heat rising and your sexual desires awaken! But since this is Swag Live, there's definitely more to it than just sitting back and admiring these beautiful Asian hotties. It's time to start making requests to your favorite streamers now that you've joined in the fun!
But the fun won't start unless there are diamonds in your account. So, start gearing up and purchase diamonds. Here's an overview of the Swag Live Diamond price list:
4,399 Diamonds — $9.99
24,999 Diamonds — $49.99
99,999 Diamonds — $199.99
There's plenty more selection on the site, so better check them out personally. But from the choices, you can clearly see that Swag Live is pretty affordable and reasonable in terms of prices.
Picking the Best Swag.live Streamer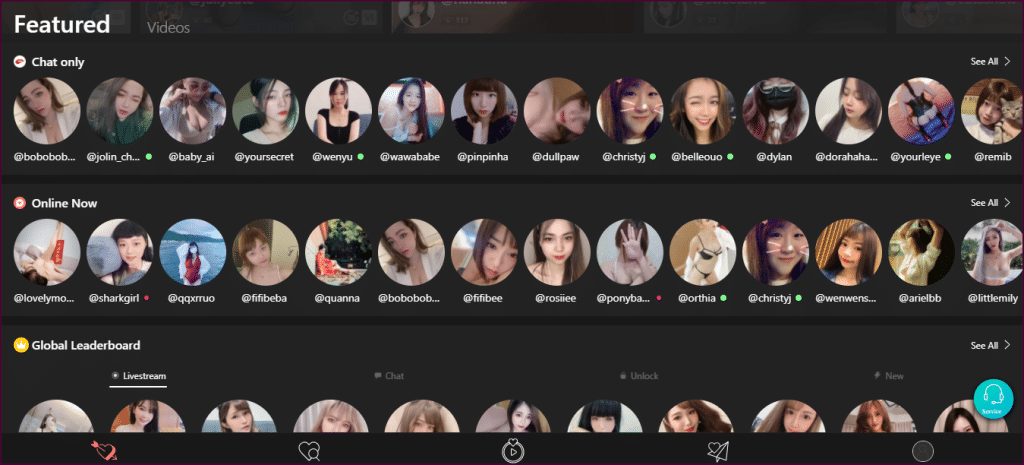 Picking the best Swag Live Streamer is very easy once you get your diamonds and undergo account verification. Head over to the live stream button on the main page, and you'll see the menu bar. Always note that cam models have no similar live schedule, so there will be different sets of performers in the morning and night.
Also, cam models came from different parts of Asia, so time differences are present. Just make sure you know the schedule of your favorite cam model, and it will be easier to catch them online. However, if this is your first-time visit, there will be many choices around the page. Feel free to pick which suits your taste; I'm sure everyone has a lot of unique performances to show.
Remember that before joining any live streaming videos, you have to pay using diamonds. Each streamer may vary on the required diamonds. Usually, the popular cam models will require higher diamond rates than the newbies. Of course, they won't charge higher if their performances won't be worthy.
After joining, you'll see cam models performing a shitload of things, be it masturbating, fucking, kissing, strip teasing, playing with their tits, dancing, etc. Certainly, these streamers can do so many surprising things for your pleasure. Plus, members can demand the audience's requests for performances at the right prices.
Take Control!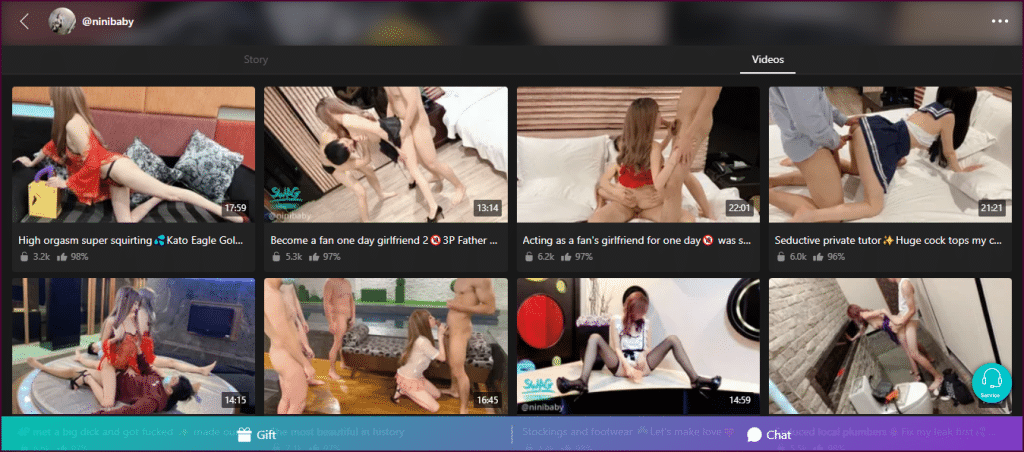 Ready to take control of the live streaming? Well, that's easy with the use of "Gifts." These gifts are similar to tips you can send to cam models online, either a token for a well-done job or demanding performance requests. No matter how unusual your requests would be, cam models would definitely perform it for the audience's pleasure. Currently, Swag Live has different gifts available, and they are categorized into the following commands:
This is similar to first base. Usually, these requests start popping at the beginning of the live cam show. Sweet Command could act as foreplay before gradually increasing to climax. It could also start discovering what the cam model offers as a performer. Some may even go all out to prove their capabilities.
You can level up the cam show by adding little twists —sex toys! Swag Live offers interactive toys where you can request the models to play. Some of these are vibrators with numerous colors, shapes, and sizes. So, be wise with your decisions. Your choices will determine the climax of the show.
Stop being a regular audience and turn into a generous sugar daddy! This command is specially designed for users who like to send cam models some fantastic gifts like a set of jewelry, designer bags, and shoes, a yacht vacation, or whatever. Swag Live has an online equivalent for those luxurious things, and of course, in return, there's a wild performance waiting for you.
The Lascivious Command is probably among the best gift features in Swag Live. You can send them gifts in exchange for live masturbation, squirting, orgasm, and any hardcore activities you enjoy seeing live. Just make sure to request something pleasurable because you are now the key player of the live stream.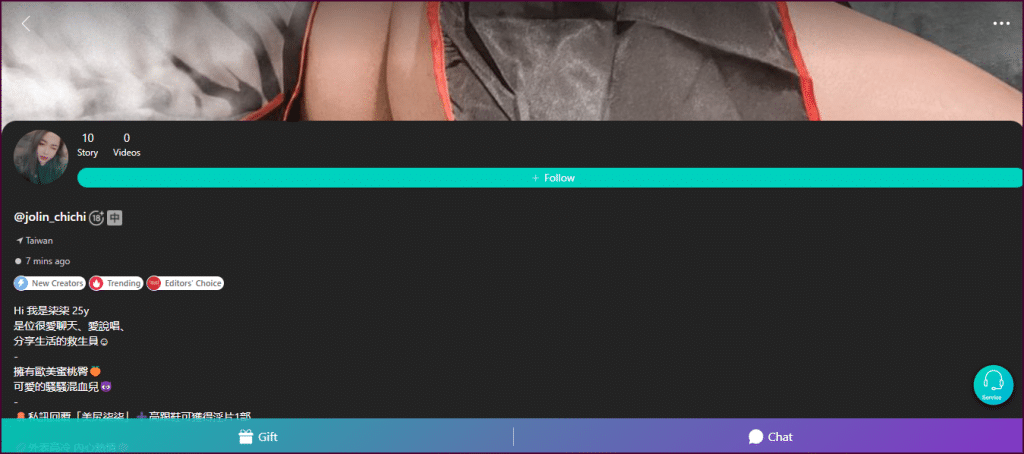 Ultimately, Swag Live gives you all the control over how the cam shows start and end. This way, your deepest desires and wet dreams will come true. Sure, a cam model can perform whatever she wants, and it will be a good show. However, having control of the overall quality of every activity will definitely fulfill more than your expectations. Enjoy some pussy banging, non-stop masturbation, cumming, moaning, strip teasing, and more!
What More?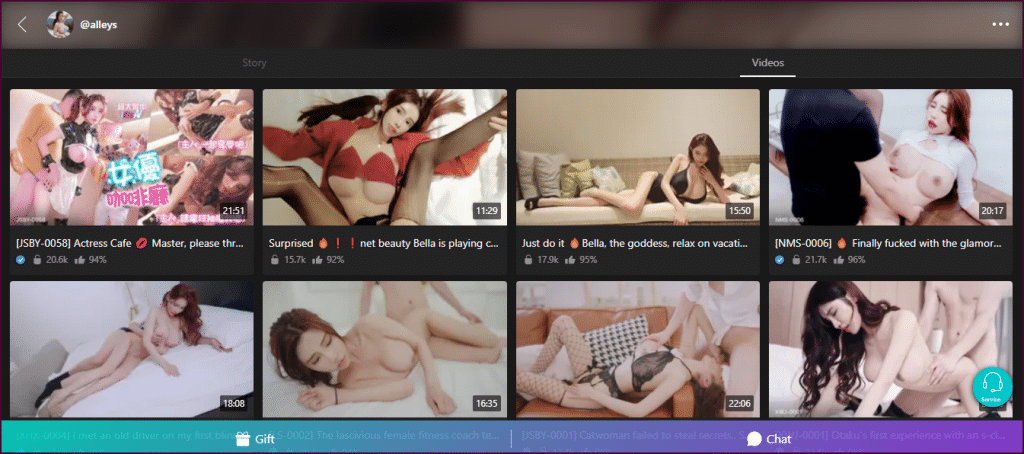 As I mentioned, Swag Live is an Asian live sex cam site, but apart from live streaming, it also has other features and content. Of course, this content will definitely satisfy your craving for live cam performances. Swag Live collected pre-recorded content from the live stream and made these available for anyone who missed their favorite streamers. And if there are videos, there will always be pictures. Yes, that's right. Swag Live has plenty of albums that you can use when jerking off demands imagination and creativity.
Also, I gotta mention that Swag Live is in the Chinese language. But, there are available translations, including Turkish, Spanish, English, and other Asian languages. Some parts of the page have no translations, but I'm sure you'll get the hang of it quickly. What's more important is the swag cam shows that these cam models promise to fulfill for us.
Pros and Cons of Swag Live
PROS:
Massive collection
Numerous online streamers
Cam models are hot and cute
Plenty of videos and pics
Easy registration
Website design is sophisticated and modern
CONS:
Joining chat rooms require diamonds
Limited features for basic users
---
Top-12 Live Sex Cam Sites Similar to Swag.live: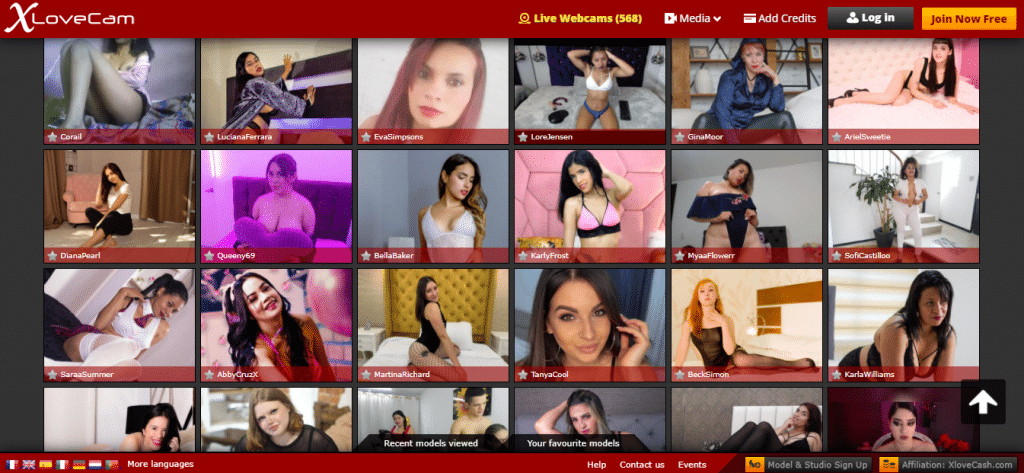 XLoveCam is a platform interesting to check out. Definitely, there is no reason never to try it out. Most of the cam girls in xLoveCams are Latina, Asian, Latina, Black, White, or Arab. They are undoubtedly sexy novice young women, giving you a price-per-minute rate — a reasonably cheap rate. Most of all, finding a camgirl who uses a high-definition camera quality here is again not difficult.
Here's the full review of xLoveCam.
PROS:
Good variety of camgirls available
High-resolution cameras used
The cheap price per-minute rate
CONS:
High Definition filters for videos is not available
Some private shows are a bit costly
---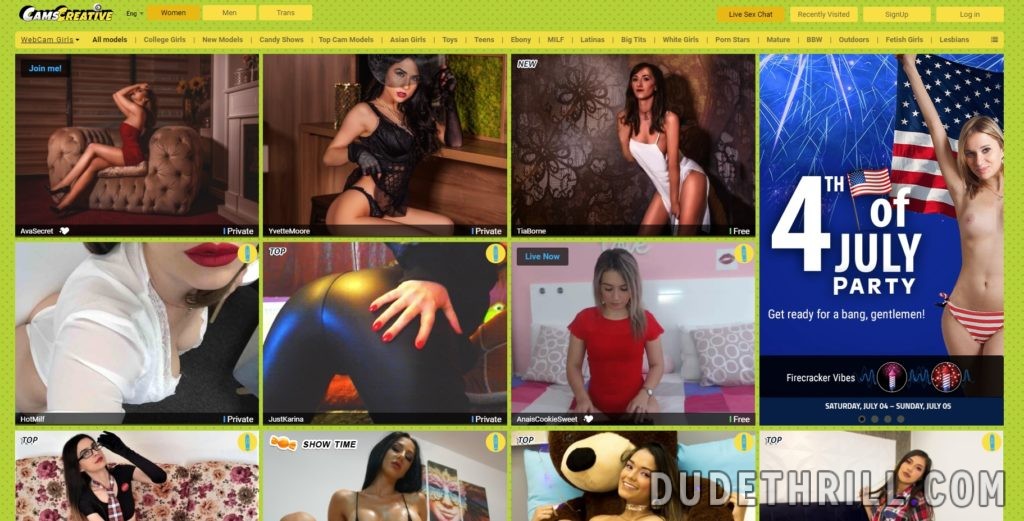 They are pretty new to the adult cam site industry, and they have the best, most creative, and artistic way of introducing their models. Creativity mixed with hot and sizzling sexy babes is how Camscreative do their thing. With the creative and artistic sides shown in every corner of the site, it will really get your blood and juices flowing in the right places, ready for some fun time.
All the sexy babes on the site offer the best experience via webcam, and Camscreative didn't disappoint in their lineup of models. Aside from the usual webcam stuff I've been used to doing with other sites, they also offer exclusive and unique site features, which I definitely enjoyed.
Click here for CamsCreative full review.
PROS:
Unique content and a wide variety of shows
Members can enjoy a lot of freebies and perks
Fetish shows by models are very in-demand
Models can do any task you want during private shows
Lots of show variety to choose from
Models are from different countries worldwide
Great variety of models and not just limited to girls
Couples, transgenders, solo guys are also available for shows
Interactive environment for both users and models
During private shows, users can control the model's vibrators
Affordable pricing with many perks
Excellent customer support available 24/7
200 minutes of free live chat are given to members every month
Videos are made of HD quality
Creative and artsy website design
Virtual gifts can be sent to models to show appreciation
CONS:
No HD marking, so it's pretty tricky to navigate
If you have low credits, models rarely interact with you
You cannot write comment reviews
No indicator for the availability of models (online status)
---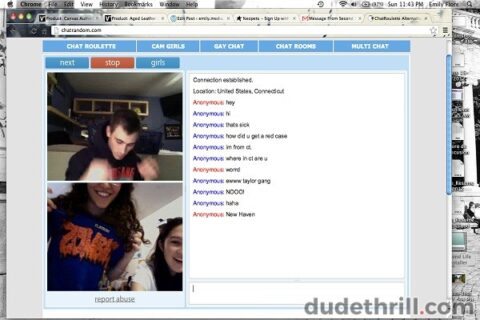 Chatrandom is a free live chat site that allows users to easily connect with people and strangers worldwide. The site started its outstanding service around 2011, and since then, it has become one of the most popular sites today. Indeed, this is the most exciting live chat you can experience. Because the system uses a roulette-type matching and lets you chat with thousands of people every day
PROS:
Registration is free
Users can chat with members from other parts of the world
People can join live chat without registration
There are thousands of active users every day
App version is available for download
Hiding identity is public through "mask."
Free sending messages
CONS:
No profile photo is available
Only Android users can download it
More number males than females registered
---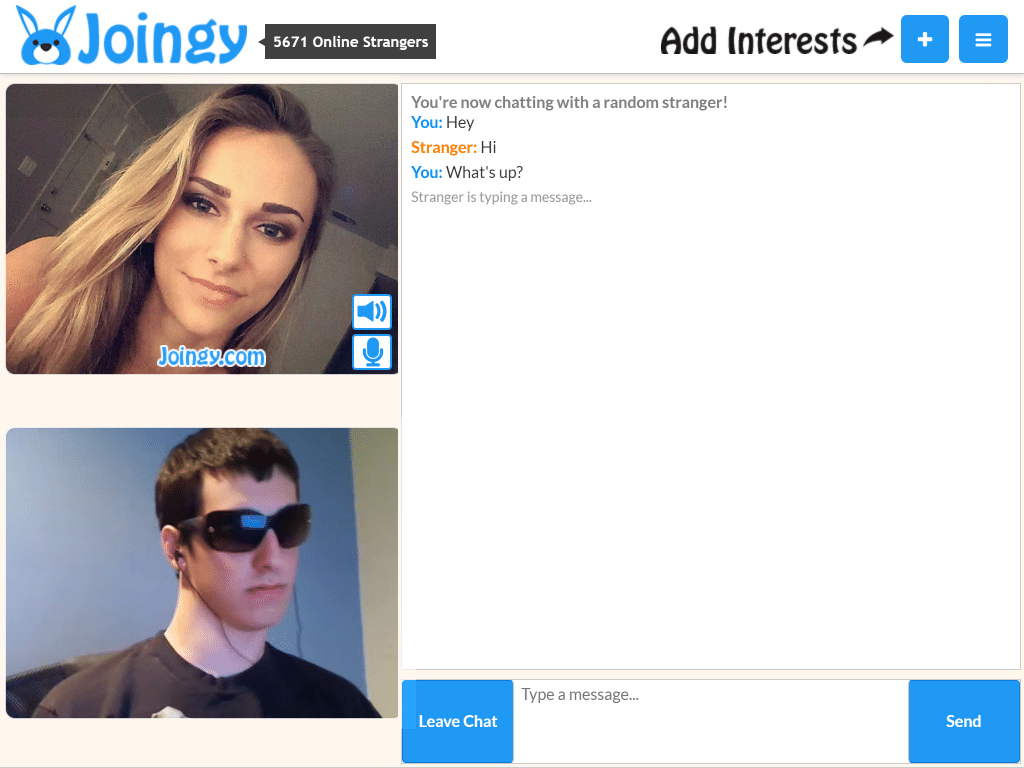 Joingy is a free video and chat service site that allows people worldwide to connect and interact with strangers roulette-type way. For years, this place has served as an excellent venue for many lonely users to come together and chat about fascinating things and simply have fun. So, whether you're looking to have a good time, discover something interesting, make new acquaintances, or perhaps fall madly in love, Joingy is perfect for you.
Click for a full review of Joingy.
PROS:
Easy matching
Supports mobile browsing
Free download of pp
Anonymous identity of users
Available in different languages
CONS:
Teens might be susceptible to sexual stuff
Mixed chat area for adults and teens
No serious connections, just fun
---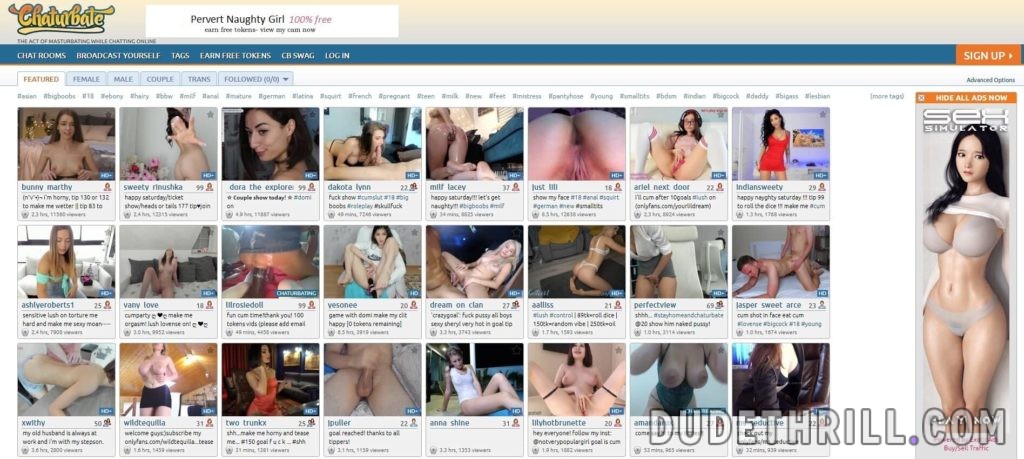 Connecting to people worldwide has never been so easy. Thanks to Chaturbate, unlimited talking is now possible. Plus, you will never spend a dime on it. There are a lot of sexy and beautiful women available for you, 24/7. As a matter of fact, women on this website love kinky stuff, which is always worth your time and attention. Meanwhile, live shows are also available for viewing at a reasonable price.
PROS:
Many cam girls available 24/7 live
No additional fees to expect
Nudes and sex are always a guarantee
Smooth browsing on smartphones and other devices
CONS:
Few videos are in SD format
Expensive private shows
---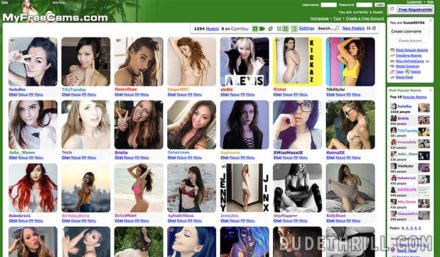 Myfreecams.com is a good cam place to visit. Not only are there no men around, but women make up the vast majority of the actual performers in the site, so any chaser who searches for wieners will find this paradise a curse. This website will undoubtedly cater to any level of consumer, no matter how demanding they can get. Thanks to its incredible selection of active user models and great token rates.
Besides having tens of thousands of quality models, this is one of the most challenging and well-designed sites we've seen on the Internet today —offering hundreds of other fresh concepts every month to keep things new and exciting.
PROS:
You can browse as a guest user
Security is reliable in protecting sensitive data
It has more than 23 million worldwide members
Efficient mobile version and does not take up much space on your phone
Premium membership opens up more amazing features
You can register as a model and earn money
High-quality shows and videos
Wide range of gorgeous and horny cam girls
Customize your profile
Join model's chat room and participate in a conversation
Monitors every user after registration
CONS:
The mobile app is not yet available
Male users dominate the members of the website
---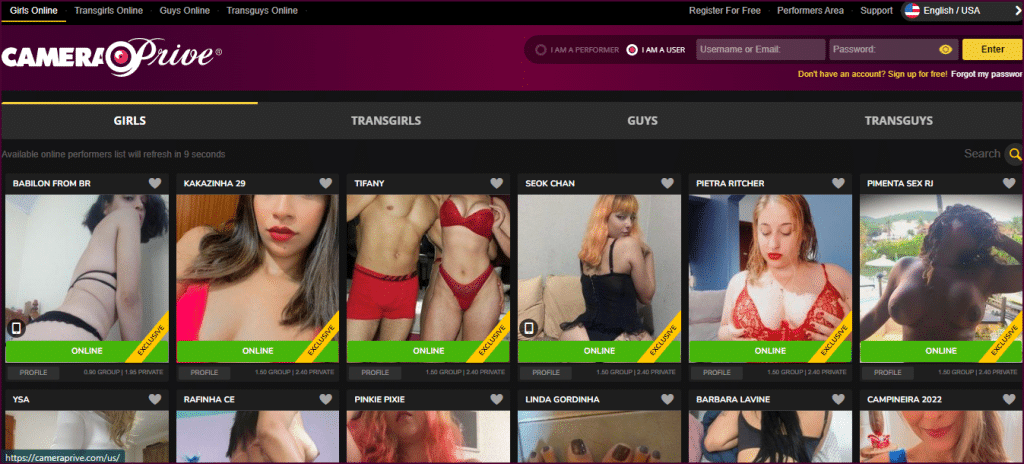 Camera Prive is a Brazilian adult live sex site that started giving people cam entertainment in 2012. Surprisingly, I found out that this site is included in the BongaCams channel, and I'm sure it's equally impressive. Currently, Camera Prive is among the highest visited site globally and ranks on top in Brazil.
Take a look at Camera Prive review.
PROS:
Affordable prices
No ads
The layout is impressive and stylish
Translation is available
CONS:
Models are primarily a non-English speaker
Some cam models have a poor internet signal
No available advanced search tool
---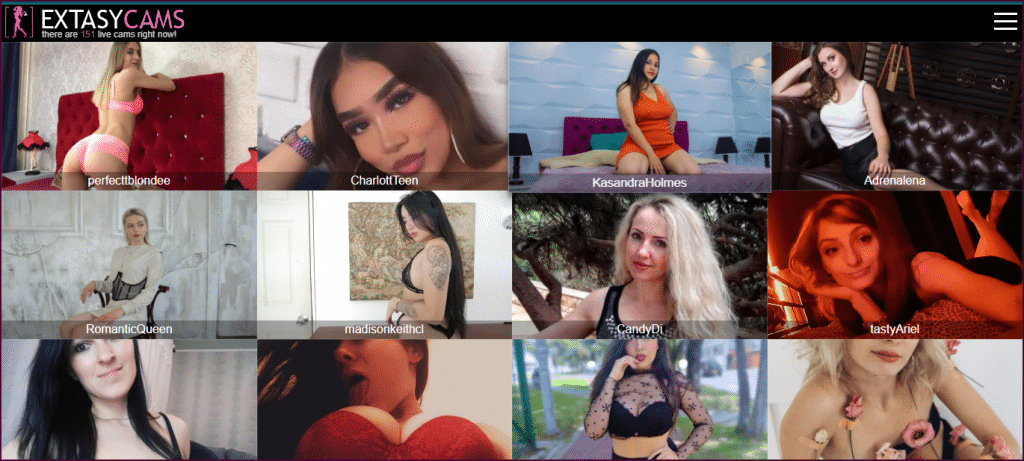 When we visit a sex webcam site, we already have a pre-existing notion of what to expect. Of course, that includes gorgeous cam models, high-quality resolution cameras, and pleasurable cam shows. On that note, Extasy Cams really top those expectations. Extasy Cams is really straightforward in bringing us what we expect it to be. Perhaps, the only twist I was really excited about here is the live show rates. Compared to other cam sites, this one is really reasonably cheap. You can watch live shows and sex for only $0.49/minute.
PROS:
Simple design but elegant
Lots of models available
Some cams are HD quality
Very affordable cam model rates
Registration is free
CONS:
Lacking features
Unsatisfactory customer support
Most models have Average quality webcams
Nothing much to do with basic membership
---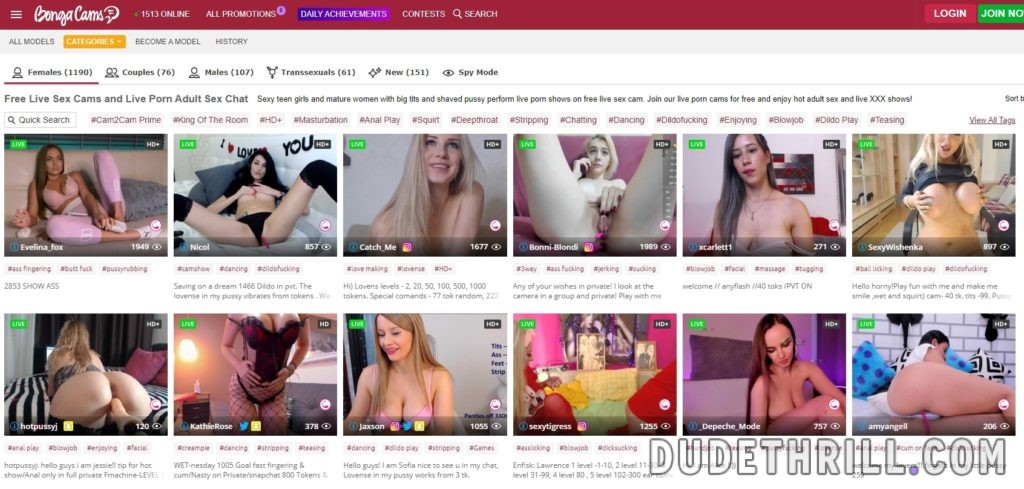 As the name implies, this is a place for live webcam cams in which you can search for many of the hottest models and one of the most acceptable money system applications nowadays. There are thousands upon thousands of camcorders to pick from, so you're hardly likely to feel upset. And there are countless options to find a decent live stream woman for yourself, on top of it all.
Full review of BongaCams here.
PROS:
There are tons of HD streaming camgirls
Uses token system and incentives
Premium members enjoy special features
CONS:
Annoying pop-up advertisements
Requires paid subscription to use site's features
---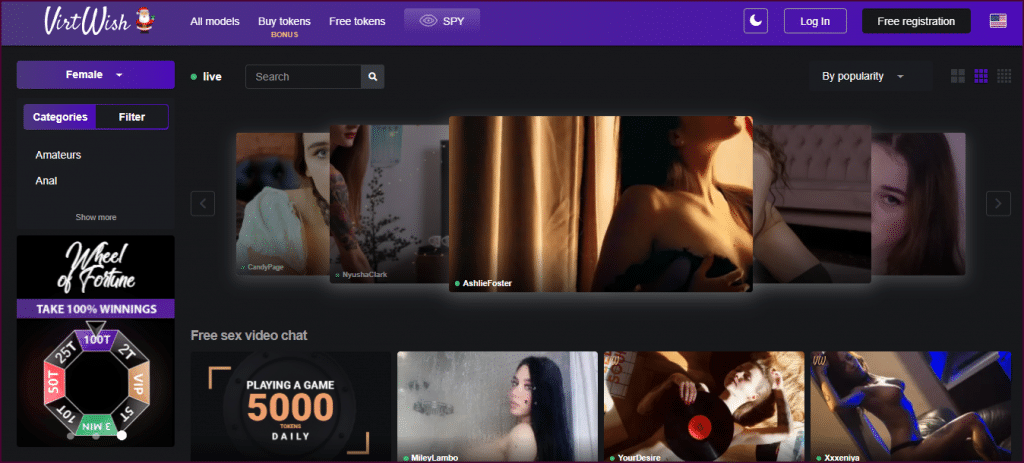 VirtWish is a new solution to your sex cams craving, with the integration of excellent consumer standards in the entertainment industry. Through the use of cutting-edge and state-of-the-art technology, VirtWish intends to establish a pleasing experience that users enjoy.
Every hour of the day and night, stunning women worldwide are waiting to chat and perform on cam with you. Get started by creating an account, and after a couple of minutes, you can already experience sensual performances and communicate with ladies privately with no limits whatsoever.
Click for a VirtWish full review.
PROS:
Numerous live cam girls are available
Variety of chat rooms
Free tokens upon signing up
CONS:
Guest can use limited features
Requires strict age verification process
---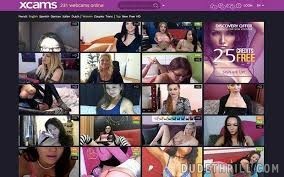 Are you ready to have a sex chat with pretty, sexy, and horny cam girls? Then indeed, you are prepared with the xCams website. Here, you can experiment with professional and amateur cam girls anytime and anywhere you want. Also, users can spend VIP entertainment or private shows for a reasonable price.
PROS:
great site design
advanced filtering
tons of beautiful girls
hundreds of live cams at any moment
some free shows
CONS:
you might spend a ton of money
no non-cam bonus material
---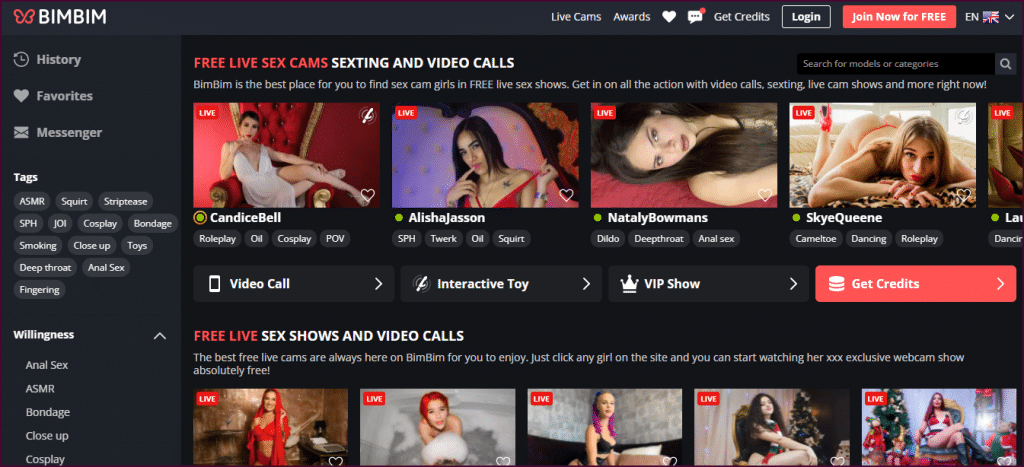 When you join BimBim, you will immediately notice that it functions and acts like a social networking site, coupled with interactive features and excellent services. With an Instagram-like look and experience, BimBim is the ultimate desktop site and smartphone app for real sex cams. They also include well-known and up-and-coming models so that everyone can get the right dose of the perfect cam girl of their dreams.
PROS:
Offers free coins upon registration
It has an impressive collection of content creators
Lots of free stuff
Fantastic variety of live shows
Exclusive chats with Camgirls
Safe and secure
Basic navigation and simple design
CONS:
Downloading is not available
Coin bundles are pretty expensive
Some features require membership
---
Bottomline
Overall, Swag Live really lives up to the expectations. I enjoyed my whole experience because the site blended cam site and social media features in one convenient place. Even the design of Swag.live looks and feels like the interactive system of Instagram and Snapchat. Definitely, Swag Live could surpass other competing cam sites, coupled with its amateur cam shows, pre-recorded videos, and homemade photos. Without an inch of doubt, Swag Live is a gem in the adult entertainment world.
This is certainly the best option to explore your sexuality and admire the best streamers in Asia. They will surely bring out the most pleasurable and memorable experiences you could encounter online. If you're simply streaming porn sites with actresses faking orgasms, then you're totally missing out on the raw pleasure of Swag Live. Better try this site and see what these Asian bitches can do LIVE!
All 115 Other Sites in This Category Worth Checking Out:
Strip Flix Review & 12 Must Visit Free Sex Cam Sites Like StripFlix.cam Show Me 12 Alternatives for StripFlix.cam Will you join me as I stream on unlimited stripping and babe teasing? There is no other site I could ever think about that is convenient, accessible, and limitless in nudity. We shall dig on sex cam […]