Updated on: March 29th, 2023
MyDirtyHobby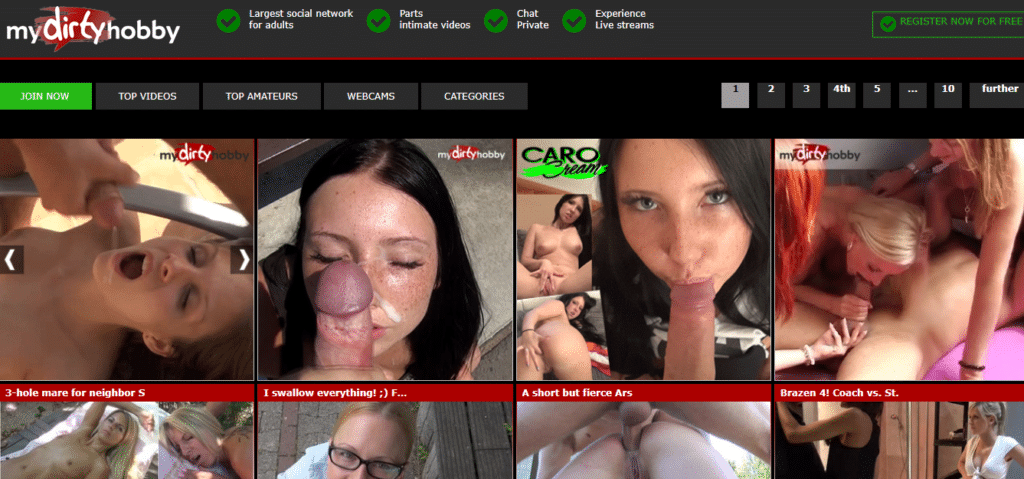 Coined as one of the largest adult social networks to ever grace the Internet, MyDirtyHobby is more than just its intriguing and interesting handle; it is a haven for amateurs who like posting their homemade sex videos and provocative photosets. It is a very interactive community that will live up to one's expectations especially if you are looking for a reliable source of adult porn and live sex sessions.
URL: https://www.mydirtyhobby.com
Get Nasty and Dirty with MyDirtyHobby
Not Your Typical Live Sex Cam Site
The general public who are sexually curious and interested may find virtual sexual communities and online entertainment extremely captivating and useful. So, this is where MyDirtyHobby emerges into the spotlight.
Resembling the content aspects of social media sites like Facebook, this German platform, MyDirtyHobby, has stood up to its reputation of being "the largest adult network" for some time. This adult network has exceeded expectations since 2008.
This website is ideal for newbies, internet porn geeks, and adult filmmakers to exchange and review their images and videos. However, the MyDirtyHobby is different from a dating site (so don't confuse the two). It functions as a gateway where you purchase and enjoy content created by other users on the other site.
Easiest Way To Get Horny
MyDirtyHobby is for people who want something easy and fun, as well as a way to let their minds get dirty. The website's idea focused on the success of amateur and webcam models. Instead of just delivering information, MyDirtyHobby enables members to communicate with others when they're on the site, allowing the time spent on the platform interesting and fun. So, if you're looking for something a little more mature and erotic, you have plenty of options in the adult's section.
Currently, there are about 370,000 videos, and 3.8 million images are available to stream from an impressive 40,000+ amateur models. Not to mention, the platform has gained international recognition, including the Best National Amateur Website from Venus Award in the year 2010 and Best Amateur Portal from Sign Award in the year 2011. It is also among the world's 200 Most Visited Adult Websites and currently among the top 150 most visited websites in Germany. How cool is that?
A Community of Singles and Couple at MyDirtyHobby
The MyDirtyHobby community is huge. There are a decent number of 'fake' accounts on every site with a community or dating component. However, I didn't see any here. At the very least, none of them purely stood out. What was striking was a mix of all those various approaches for social expression, producing movies and images, creating webcam shows, and connections online. There are also features available on the platform, such as following, messaging, making new friends, forming relationships, hookups, or anything you want to experience and explore.
I must admit that I was very impressed by the large number of beautiful women who use MyDirtyHobby as a spot to upload their amateur erotic videos and raunchy pictures. You can see the list of the top-most liked members and view the latest videos and galleries of the most famous ones.
MyDirtyHobby's Top-Notch Design and Usability
The design of MyDirtyHobby is excellent, and navigation is surprisingly straightforward for such a large site. Also, the scenes are not difficult to view, and the left side of the homepage has several simple shortcuts and links. Be sure to check out the most recent information and updates on your homepage. There is also a selection of their featured adult performers included, and you can see all of their top performers, as well.
Every video comes with descriptive information, date stamp, rating score, label, and the cost displayed on the web. You will similarly be able to save the young girl's account to "Top Picks" or add the clip to your list of items to get. Finally, if you want to narrow down your search results, there is a powerful advanced search index provided for you.
How To Become An Official MyDirtyHobby Member?
Creating the Account
Creating a MyDirtyHobby account is the initial member registration process you should take to become an official user of this amazing website. Without a valid account, you wouldn't be able to use its services. Don't worry about though, because the registration process is pretty easy, and take note; you don't have to pay a membership fee.
The registration process is simple to fill out. All you need to provide is a unique username, password, valid email address, and gender. It should take less than 5 minutes to finish signing up, and once it all done, you're pretty much ready to relax and enjoy yourself.
Aspiring Models
Meanwhile, if you want to make some money from MyDirtyHobby, you can sign up as an amateur model. If you choose this course, please be sure to provide valid identification, or a photo file of an alternative identity document, and a clear quality picture while holding ID next to your face. The verification process should take no more than 15 minutes if all requested documentation is in place.
What Makes MyDirtyHobby So Popular?
All of the models display an impressive level of creativity in the site's selection. But for the most part, the quality of their work itself is very high. Now listen carefully and pay attention — when using MyDirtyHobby, there is no option to enjoy free chat. However, each paid live show has a cam2cam feature. Not to mention, each thumbnail of the model displays flags that represent the speaking languages. For instance, if the model can speak English, it has a British flag displayed on her profile.
MyDirtyHobby is certainly a perfect go-to destination for many fetish enthusiasts out there. It is not unusual for many extreme performers to consume urine, swallow cum, follow chastity orders, and come humiliation during live performances. Some of them even take things to the next level, including self-bondage and extreme BDSM.
MyDirtyHobby offers a range of chat rooms that are quick to use and with easy navigation, including basic filters that make it easier to browse. You can effortlessly search keywords when looking for specific preferences like Anal, Bukkake, Golden Shower, Fisting, Submissive, Interracial, and more.
Also, the Advanced Search option of this website will assist you in finding results to a specific gender, age, ethnicity, or physical characteristics, facial features, height, weight, weight, skin tone, tattoos, piercings, and so much more you can imagine. Likewise, you can use the Intimate option to filter models by grooming habits such as hairy, shaved, or half-hairy.
Selection of Models and Kinky Contents
Even though German cam girls overpower this amateur webcam community, you'll also see French, Italian, Spanish, and some parts of Europe like Slovakia and Romania. MyDirtyHobby does not only attract performers from across the city but performers from all over the world too! There is similarly a wide selection of models on this site, including ladies, men, couples, and shemales. Similarly, you can break down the main display gallery to reveal webcam models by country using the helpful "Map" feature located on the homepage's left corner side.
Additionally, you'll come across webcam models that best suit all sorts of "Ideal Body" features. After all, we all don't want the same type of women, don't we? So, MyDirtyHobby helps us find models with either Thick, Normal, Petite, Athletic, Slim, Chubby, and Obese. If you prefer hair colors, you can find models with Black, Brown, Blonde, Gray, and Red. Some extreme 'cam girls' even sport pierced ears, tongues, nipples, and navels too. Certainly, the line-up of over 200 live cam models may not be extensive for this site, but you're sure to find the perfect lady for your needs.
DirtyCents and Payments on MyDirtyHobby
DirtyCents
MyDirtyHobby is using a unique currency method when paying for its services. This currency I'm talking about is called "DirtyCents." Basically, DirtyCents has an equivalent monetary value that you can purchase depending on your paying.
€10.00 – 800 DirtyCents
€15.00 – 1,200 DirtyCents
€25.00 – 2,000 DirtyCents
€30.00 – 3,000 DirtyCents
€35.00 – 3,500 DirtyCents
€50.00 – 4,000 DirtyCents
€75.00 – 6,000 DirtyCents
Service Costs
Private chat – €1.24 to €2.49 per minute
Videos – €1.25 to €37.50 per movie
Photos – €0.13 to €0.63 per picture
Text Chat – €0.13 per message
Membership Options of MyDirtyHobby
The Basic Members of MyDirtyHobby also get rewards once in a while. For instance, when you spend at least around €50.00, you can enjoy a DirtyCents bonus. However, if you search for a greater return and more benefits, I surely recommend you to upgrade from basic to VIP.
1 Month at €19.95 per month for €19.95
2 Months at €17.95 per month for €35.90
3 Months at €16.62 per month for €49.85
12 Months at €12.50 per month for €149.95
Being a VIP member of MyDirtyHobby gives you a whopping amount of benefits. Using the VIP membership, you can enjoy Extra Bonus Days, access to MDH Live Shows, join monthly contests and raffles, VIP passes to exclusive parties, and early access to new videos.
In addition, when you pay for a 12-month VIP Membership, you can savor its exclusive bonus of 20,000 DC for free. Above all, you can access purchased movies and images anytime, anywhere without paying for them again. Cool, isn't it?
Your Safety and Protection on MyDirtyHobby
Is My Data and Payment Information Safe?
It is the most important thing that MyDirtyHobby protects and secures your personal information. They make sure to protect names and email addresses from any hacking or misuse. Also, the amateur models applying for an account have a stricter and more secure process of verification. This helps the members feel safe that they are interacting with real, authentic models.
Meanwhile, the payment methods used by MyDirtyHobby secure the "HTTPS protocol" that provides the highest quality protection for members. They made sure that the payment providers are reputable and member's identities remain confidential. Most of all, it follows discreet user information. Certainly, this is what I like about MyDirtyHobby most because you won't have to worry about receiving a bill to your home/office with the name "MyDirtyHobby" on it.
Are the Accounts on Mydirtyhobby Real?
Currently, MyDirtyHobby does not require too much information from a user upon registration, and so anyone can pretend to somebody else on the site. However, thinking if the person on the other screen is real or not doesn't matter that much because MyDirtyHobby is not a dating website. What's more important here is, you can see gorgeous, hot models and some famous pornstars getting naked around on cam. This is why I'm here, so I don't care much about everybody else.
Anyway, make sure you don't give out credit card details to someone online or transfer money directly to the members. It's important to note that MyDirtyHobby does not tolerate transactions privately. So, it's automatically a red flag if a member asks you for money or card information through the chat. If you encounter this issue, I've got a little tip for you pal, contact the MyDirtyHobby support team and immediately report the user.
PROS:
Massive collection of content
More than a million videos and photos
Different fetishes and kinks can be seen
Variety of babes
Easy registration
Website looks good
CONS:
No zip files for the photo sets
MyDirtyHobby is just one of the many websites that offer live cam sex and adult porn, but it is undeniably one of the best ones out there. You can also check out some of these live sex chat websites that you can enjoy, as they offer different features but will surely give out the same pleasure and excitement. Check out our list below so you can choose one and have some good time.
13 Live Sex Cam Sites Similar to MydirtyHobby.com: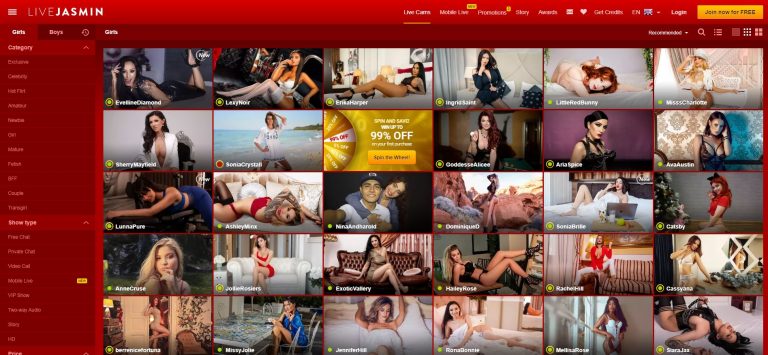 Most people could say that LiveJasmin in the "IT" cam site. It is the best site for your dreams; it provides real and live webcam sessions by cam girls and boys and you get to see them in their full glory. It has been around since 2001 and over the years, it has managed to get its name into place, now being one of the best live cam sites to ever exist. The website itself looks good and really suits an adult's tastes. With its easy to navigate interface, you can just sit back, relax, and enjoy your naughty time. Your "experience" will be worthwhile with LiveJasmin because the site has a lot of features to offer. It also promotes interaction between users with different features. LiveJasmin is home to "VibraToy" which is a special device used by cam girls to give extra service to viewers. You can enjoy Cam2Cam with other users and models, or enjoy a Private Show exclusive for your eyes only.
Check our our more-extensive review of LiveJasmin here.
PROS:
Hot models
The layout is easy on the eyes
Simple navigation
Unique features
CONS:
Free users have limited access
Only 10 minutes for viewing if you are a free user
---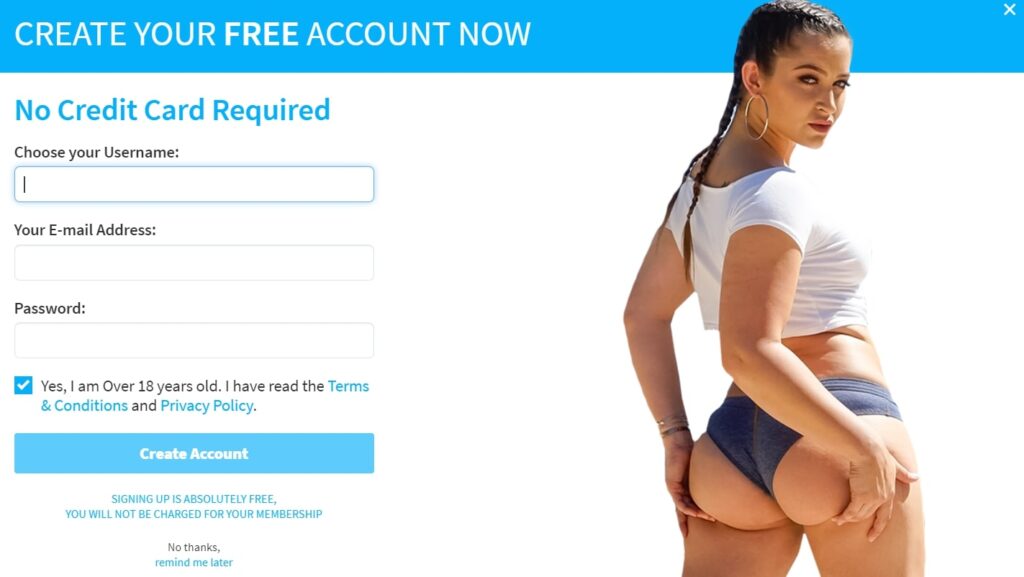 As refreshing as their handle sounds, they really do deliver their goals to every viewer out there. Visit Camsoda.com and you will leave the site feeling satisfied and pleasured well. As cam sites have taken over the Internet, it has now been an easy and accessible source of instant and virtual pleasure. Viewers can converse with others with their free chat feature. One great thing about Camsoda is that there are cam girls 24/7, and they meant it literally. Someone is really out there, online and horny, willing to show viewers how she can have fun and pleasure at the same time. Camsoda also boasts of its advanced search, making it easier for you to look up models. They have LOTS of video concepts and features, one of which is a popular choice by many, their home voyeur cams. Another great thing about this site is that they did well in organizing their tags, model lists, and different categories for easy access.
Want to know more about Camsoda? Read our review and similar sites to Camsoda here.
PROS:
Easy access
User-friendly
Lots of models
Has a lot of video concepts
CONS:
Some ads
Free accounts have limited access
---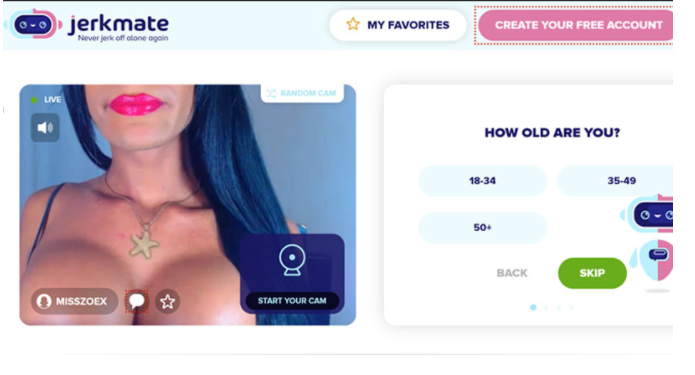 This site lives up to its goal of providing live pleasure like no other. There are lots of models on-site, always willing to masturbate with you. The website's homepage would welcome you to videos of models and their sexual acts, so at first glance you would really know that this is a site that would give you a great time. JerkMate also has lots of unique features, including a robot assistant that helps guide viewers so they can get the best experience on-site. They also give out rewards for the most active members. If you spend lots of money and time on site, eventually you will receive discounts and rebates for your purchases. Their private shows also vary; private, exclusive, Gold, and spy shows. You can simply choose which one to enjoy with a corresponding price. It is also noteworthy that JerkMate's videos are all in HD quality.
PROS:
HD videos
Gives rewards to active members
Video show variations
CONS:
---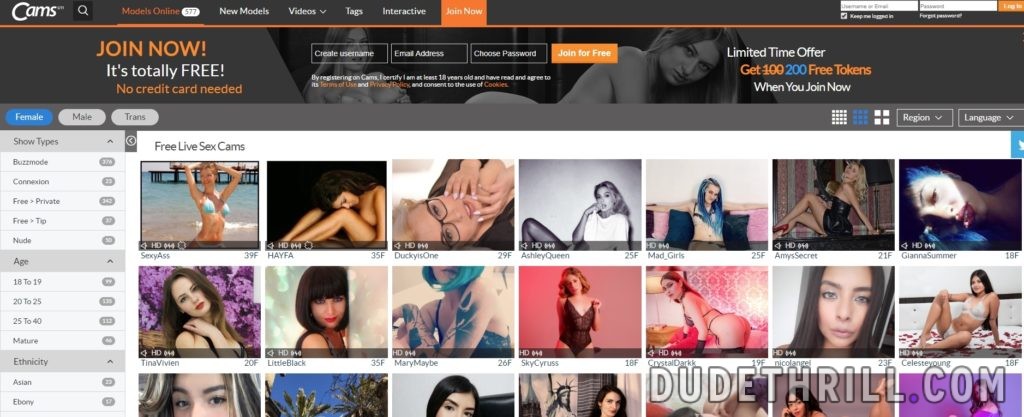 If we are talking about cam sites, then for sure Cams.com would be in the top list. Its handle alone is enough for people to remember, but they also offer amazing perks for members to fully ensure that they have a good time on site. As the site is well-organized, you can easily pick any of their choices offered, and models are all up and ready for you. With Cams.com, the options are endless; you will be in for some steamy time. New models always grace the Cams.com and they even allow people to interact with famous porn stars that frequent the site. They also have forums that will further promote interaction between members and models alike.
We also recommend reading an in-depth review of Cams.com by clicking here.
PROS:
Fresh faces coming up regularly
Viewers can talk with porn stars
Forums made for interaction with fellow members
CONS:
Free users cannot chat with other people first
No pre-recorded videos
Less home-vouyer concepts
---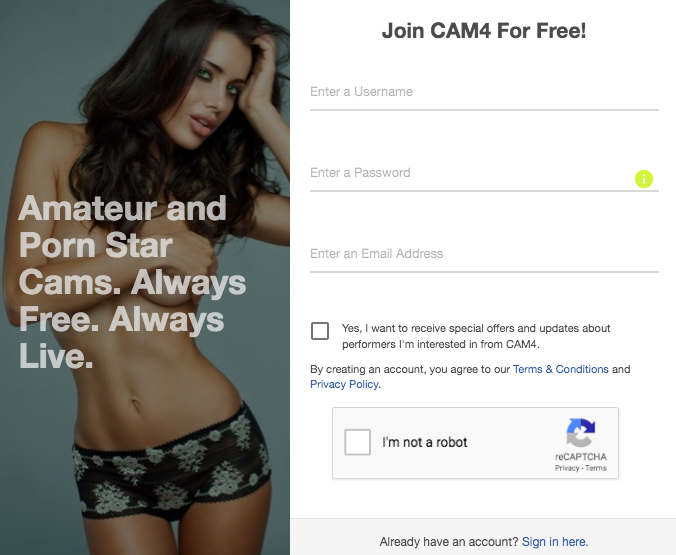 One of the few sites that do not only have female models but they also have males, trans, and even couples. You can hangout frequently on this site and enjoy their impressive features. Users can easily navigate through the site because everything is well-organized and tagged according to their classifications. Their long list of models consists of smoking hot individuals who are always ready to play with you and get fulfilled together. Most of their models also do their sexual activities outdoor so that is also one unique side of Cam4.
Here's a Cam4 review here.
PROS:
Not limited to female models
Male, trans, and couple models are available
Creative show concepts
The very organized tagging system
CONS:
Many ads for free users
Bugs from time to time
---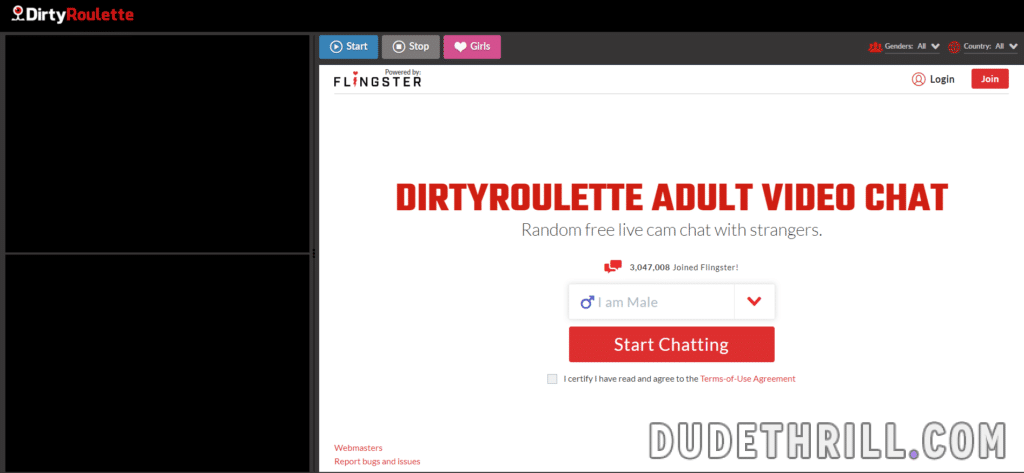 This is the "adult" version of ChatRoulette, a famous online chat website. With Dirty Roulette, you can feast your eyes on models stripping in front of the cam and it doesn't just stop there… you get to be pleasured and have the chance to fulfill your sexual fantasies. Since it is a "roulette" site, you will be paired to a random model based on your set specifications. That way, you will meet someone who fits your liking and possesses your desired taste. It works pretty much like ChatRoulette but focuses more on webcam girls and online sex.
PROS:
Efficient filtering features
Match with random strangers and watch them live
Their models have great webcams so quality is great
CONS:
Credit card info is needed
The audio quality is pretty bad
Some bugs and website tends to get slow
---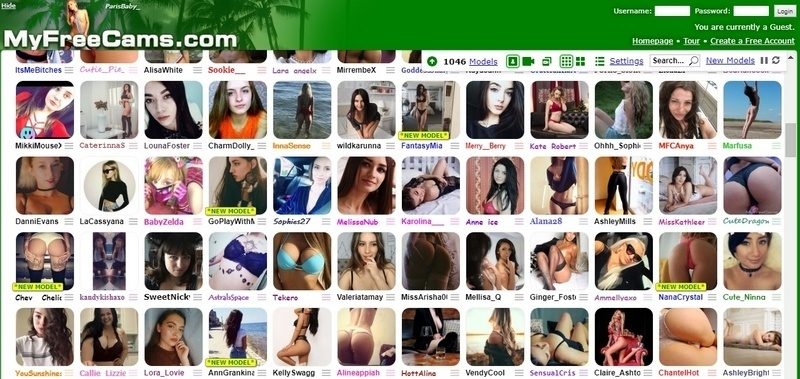 Being one of the first few cam sites, it has earned a reputation of being the go-to website for those who want some temporary fun and online sex. As it has been around for a long time now, they have continuously improved everything — features, design, prices. MyFreeCams is also one of the few sites that still allow viewers to watch free shows, which is unlike most where you can barely enjoy any feature because you are required to go premium for that. They have a long list of beautiful and enticing models that will keep you entertained. All of their models know how to keep their audience within their grasp, and they really know that makes everyone hard and wet.
Check out our MyFreeCams review.
PROS:
Experienced models
A wide selection of cam girls
Some lesbian models
One of the most famous cam sites
CONS:
---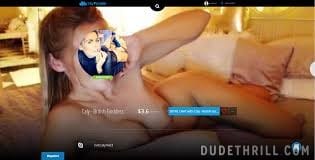 Similar to Skype, which allows 1-on-1 private chat sessions, SkyPrivate makes use of the same platform to meet models, discuss their terms, and start your private shows. You will need a Skype ID since this is where you will put the funds for your chosen model, where every show is charged per minute. This is a very unique concept, one that uses another popular media platform, to promote random chat and live shows. You get to select a model of your choice and you will also be the first one to contact them. You get to have a say on what they would do during the shows. That already includes the rate and the extent of services your chosen model could do.
PROS:
Unique concept
Freedom to choose services
The website looks bright and modern
The long list of professional cam girls
CONS:
Chat rooms are not for free
Skype accounts need to have a balance to be entertained
Some models would only answer queries that are made by people with big balances
---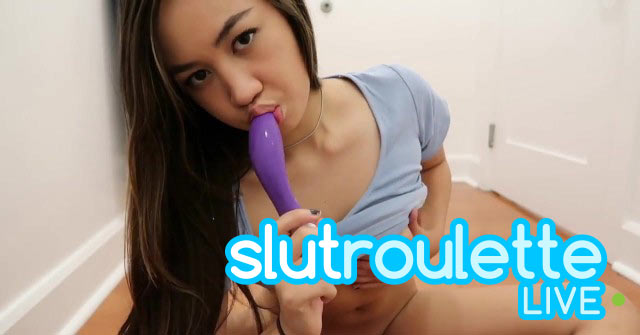 This is the porn version of "Chatroulette", where users get matched to a random cam girl and you can start engaging with them. Since matches are made randomly, you need to set up your preferences beforehand so you will still end up with someone that matches your taste. Unlike the usual cam sites and hookup sites that we have encountered, SlutRoulette keeps the thrill by having things in random. You won't have to waste a lot of time just to end up with someone online because SlutRoulette will do everything for you. All you have to do is sit and enjoy it.
PROS:
Group rooms promote interaction
The model can be changed anytime
Has a mobile app version
CONS:
Lots of reminders to sign-up
Lots of ads
---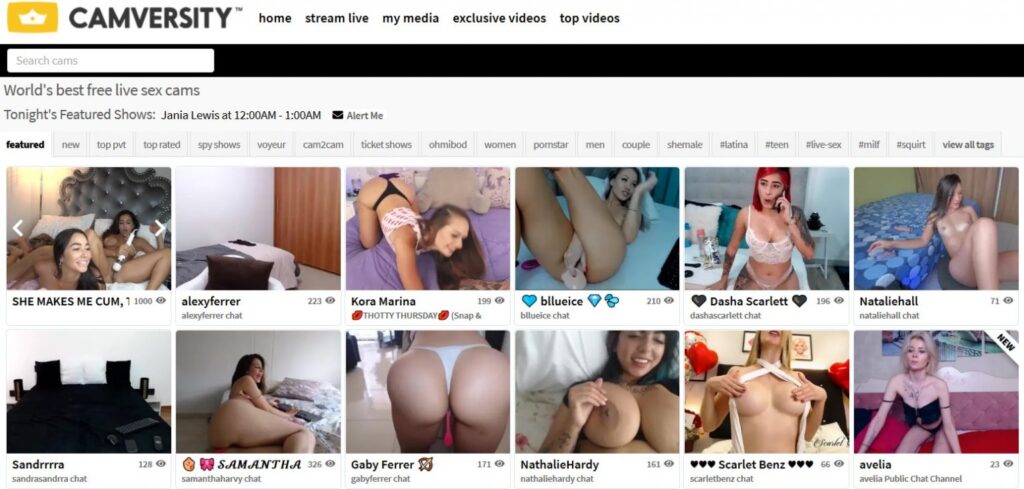 Launched way back 2015, Camversity has managed to keep up with the latest cam site trends and has managed to stay relevant ever since. Although there are only a few models and viewers, it is one of the best live cam sites as of now. The website has managed to have great models and a good-looking website and interface. Its homepage is enough to show you what it feels and looks like to be the one on the receiving end of these live cam shows. Registration is also very easy on this site; you won't even need much info, and credit card details are not important here as well. The site has a pretty much-organized category and tagging.
Here's a full review of Camversity.
PROS:
Several live shows daily
Watch shows for free
Interactive community
CONS:
Models do not respond to free users
Not available on a mobile app
The model database is not diverse
Overpriced private shows
---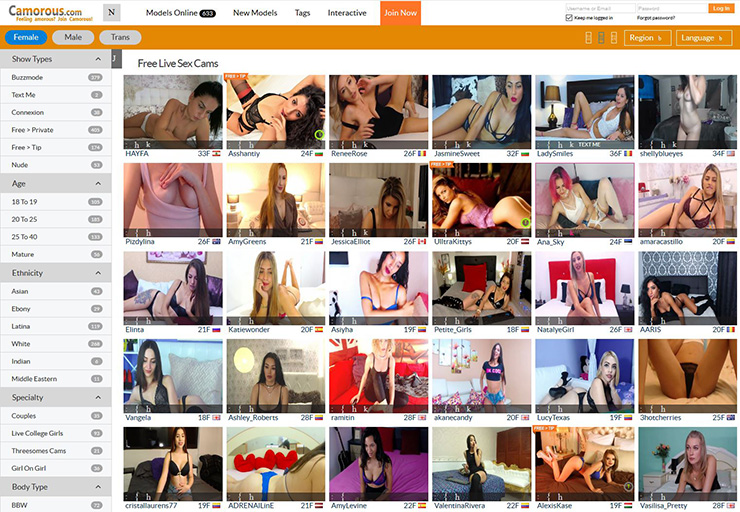 This is a popular website with excellent design and easy navigation. This live webcam site lets everyone enjoy HD video streaming, watching sexy models perform and pleasure themselves, and many more interactive features that will guarantee your fun and sexy time online. Even as a free user, you can watch some of their live streams, except for those of models that restrict their videos to non-members. If you want to experience first-hand what Camorous is all about, you can easily sign up for free, and then you can start making use of the site's features. There are some models though, who would refuse access for members who don't have enough credit on their accounts. But despite that, even if you choose to put some credit on your account or not, you can still get to enjoy a lot on site. Its homepage would tell you everything that you could enjoy here — top-rated shows, new models, and even their top-rated girls. Your fetishes can also be satisfied here, as they have lots of services and models can do just about anything that you would want to see.
PROS:
Outstanding video and audio quality
HD quality for both streaming and non-streaming videos
Great performances from the models
CONS:
Most models ignore free users
Fewer features to promote user interaction
Lots of ads
---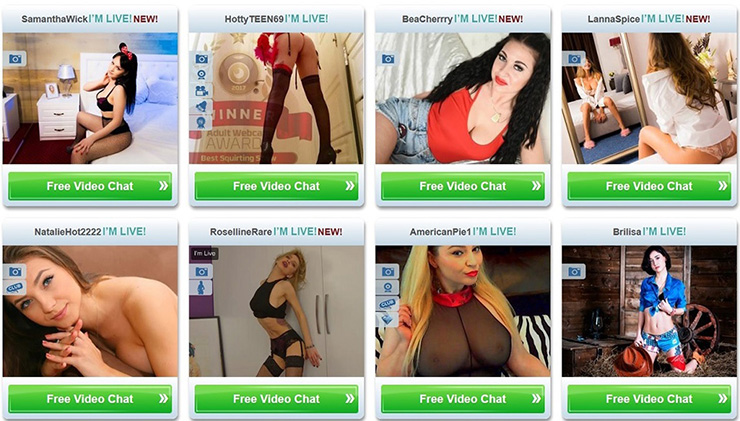 As proven in their numerous awards for being AVN's Best Live Chat Website, ImLive.com is home to thousands of performers ready to tease and pleasure their viewers. The site also boasts of over 600,000 pictures and you can enjoy more than 300,000 recorded live shows. Content-wise, users will always be spoiled with so much to see on this site, and most of their videos are of HD quality. They also have free chat rooms where everyone can interact with performers. Every performer's service and features would vary, as some could host in HD quality while some cannot, but it all boils down to these pretty and sexy models doing whatever you want. It is also notable that ImLive's models are from all over the world, so whatever your types are in terms of girls' ethnicities or race, then you will surely find one here that would fit your tastes.
Don't hesitate and take a look at our honest, extensive review about ImLive.
PROS:
Models are mostly amateurs
Excellent advanced search features
Interactive forums
Different live cam features
CONS:
Only a few fetishes and BDSM categories
---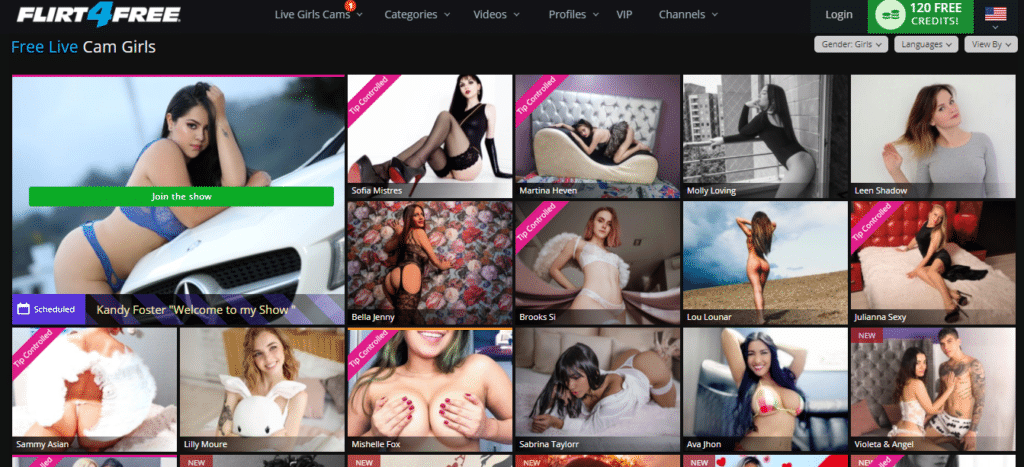 A professional-looking cam site with lots of great features, Flirt4Free is one of the popular go-to for everyone who wants some good ol' cam sex. You can browse the site as a visitor, no fees and charges, and you still get to enjoy most features. But of course, if you go premium, then you can enjoy so much more especially with their well-curated services and perks. They also have lots of performers and they are all smoking hot. And take note, we are not only talking about female models here. There are also male, trans and couples so you can always choose one to your liking. Different types of communication tools are also enabled to ensure viewer's sexy time on site; live chats, recorded videos and sessions, VIP perks, and you can check out profiles or Buy Credits that serves as the currency in most adult sites.
Want to know even more details? — Here you can find an overview of Flirt4Free & it's alternatives.
PROS:
Lots of chat options to choose from
Models from all over the world
Free users can enjoy a lot of features as well
Well-designed and easy interface
CONS:
Fewer models compared to most popular sites
Conclusion
As cam sites have slowly been booming into the modern world of today, more people are drawn to the intriguing concept behind such sites as MyDirtyHobby and others. More people are interacting with models and users, which is way better than the actual and professional porn that they always see. All of the sites above have each and their own features and unique edges over the other, so you will definitely have a hard time choosing which one to try first.
So, if you are looking for cam sites to choose from, you should check sites on here. Every site featured can guarantee you a good and steamy time; pretty and sexy models are available every single time. You can also let them in your different fetishes and kinks so you can fully enjoy your cam sessions. You won't have to do anything at all; your payment will be exchanged for a treatment and eye feast that you deserve.
All 101 Other Sites in This Category Worth Checking Out:
Anacams Review & 12 Best Live Sex Cam Sites Like Anacams.com Show Me 12 Alternatives for Anacams.com Here we are again for another review; this time, it will be about Anacams! It's a live sex cam site that has allowed its loyal users to enjoy life in the comfort of their homes or quickies during lunch […]