Updated on: October 1st, 2023
Babestation.tv Review
& 12 Best Live Cam and Video Sites like babestation.tv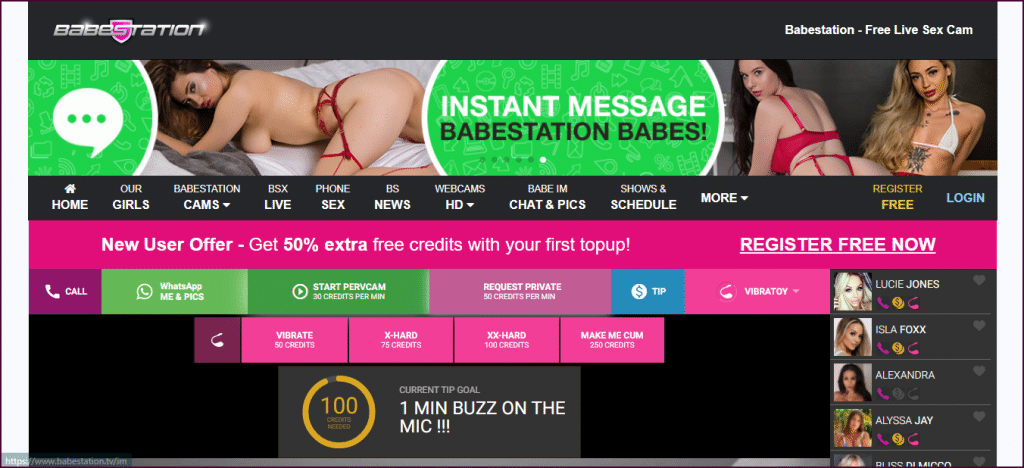 Are you tired of your old live cam and video sites? Wants to experience something different but fun? Well, Babestation.tv might be the answer to your life-long wish. Babestation.tv is probably the oldest and among the pioneering interactive video site in the United Kingdom. It has more than 18+ years of experience in the entertainment industry and effortlessly beat up some dominating cam sites. In fact, it's competing against mainstream platforms like MyFreeCams of being the number one cam site worldwide. There's no doubt how much Babestation.tv can offer in terms of pornstars, cam show quality, interaction, and site features. Certainly, it fuels my curiosity, so I'm going to start dissecting this bitch below!
Official URL: https://www.babestation.tv
Babestation.tv and What It Can Offer
Around 2002, Babestation.tv started operating on SkyTV, and it was among the pioneers in the UK TV that offers a chance to interact with gorgeous ladies on live television or even at the comfort of your home. Since then, Babestation.tv has attracted a lot of viewers and gained loyal followers. So, it's not surprising how it became a sought-after channel and famous after a short period since its launch. In fact, it was aired on other different channels, apart from SkyTV, and maintained its reputation for years.
Now, Babestation has been made closer to the viewers by creating an interactive website to fit the evolving advancement of technology. The Babestation.tv offers us excellent options to enjoy different types of erotic entertainment for the sake of pleasure.
Babestation.tv's Hottest Cam Models
Model Index
There's nothing more fantasy-triggering service than the Babestation. tv's cam shows. You can watch and enjoy all its models and see which of them can complete your jerking night. Babestation.tv is proud of how its service can fulfill the desires of every man in this world through filthy calling and erotic live phone sexting. If you want to have a private moment with a cam model, Babestation.tv has a service called Pervcam where the dirtiest and naughtiest scenes are happening.
Also, it has user areas that is accessible for interaction and feedback on the ongoing live shows. With this, viewers can express their thoughts and compliment the model's performance.
Sought-After Cam Models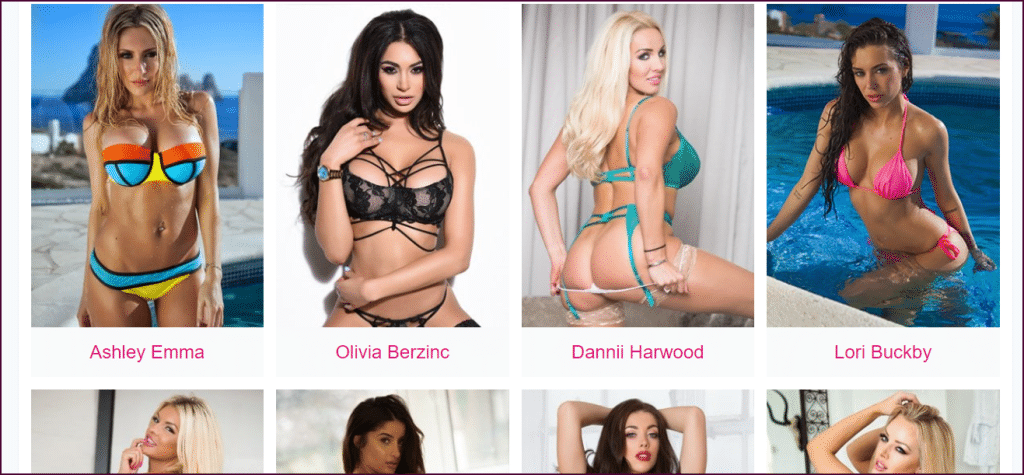 Additionally, after browsing the model index, I can finally say that these models are very hot! Certainly, European beauties are unmatched, and they definitely set the standard! Believe it or not, but scrolling for hours on Babestation.tv page, not once I notice a single ugly bitch. So, watching them stripping naked and masturbating solo is such a heaven-like sight. Oh boy, their tits and butts! I can't even say bad things about it – all of them are perfect! Plus, the cam models love to show them off without credits. Currently, every model has a variety of specialties – be it lesbian shows, softcore performances, erotic cam shows, BDSM, solo masturbation, couples, and more!
Before I fail to remember, here are a few of the most attractive and outstanding Babestation.tv Babes, I've seen so far: Daisy Dillon, Stella Cox, Michelle Thorne, Alice Goodwin, Jess Lloyd, Chloe Gray, Preeti Young, Elena Blue, Tinker Bell, Harlley Q, and Lilly Rose. Of course, some popular girls in the entertainment industry are also here, including Coco Rose, Alexandra, Lucie Jones, Molly Anne, Dannii Harwood, Tegan Jade, and Tanya.
Live Shows and Cam Performances of Babestation.tv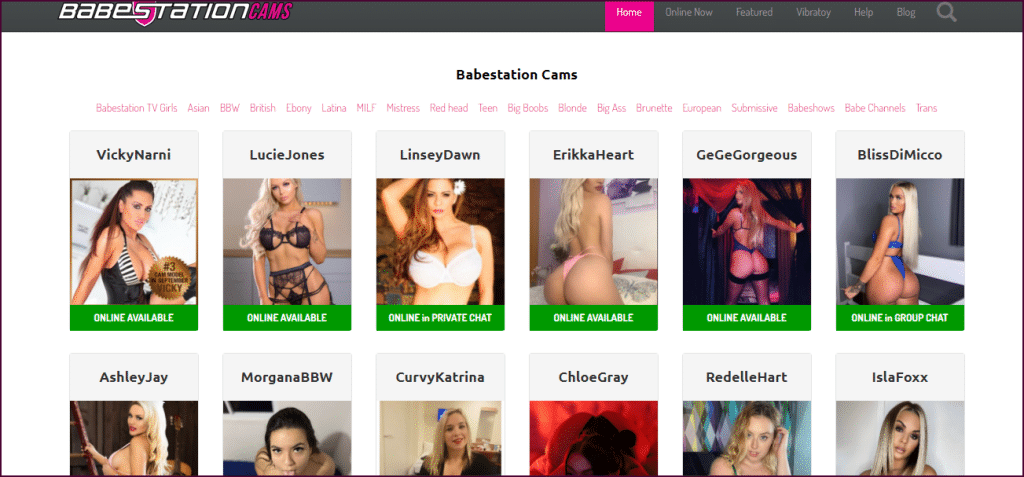 Live shows and cam performances are the heart and core of Babestation.tv. Simply choose a cam model of your dreams and start clicking that play button to join the fun. There are a thousand amazing girls and shemales available on the site right now, so finding that "perfect" show is highly possible. Certainly, the choices here are unlimited, so don't waste most of your time scrolling and deciding. The night is long, pal, so better jerk off every moment you can.
Moreover, Babestation.tv provides free credits for newly registered members. So, when you feel like trying out the shows first, the free credits could cover it up for everything. That should be enough trial before deciding to upgrade to premium membership. Also, always stay tuned for the "Babe of the Month," and you will never know, it's your beloved cam model who won the spotlight. Usually, Babestation.tv will upload more information about them and never-before-seen interviews.
Their Babecall Service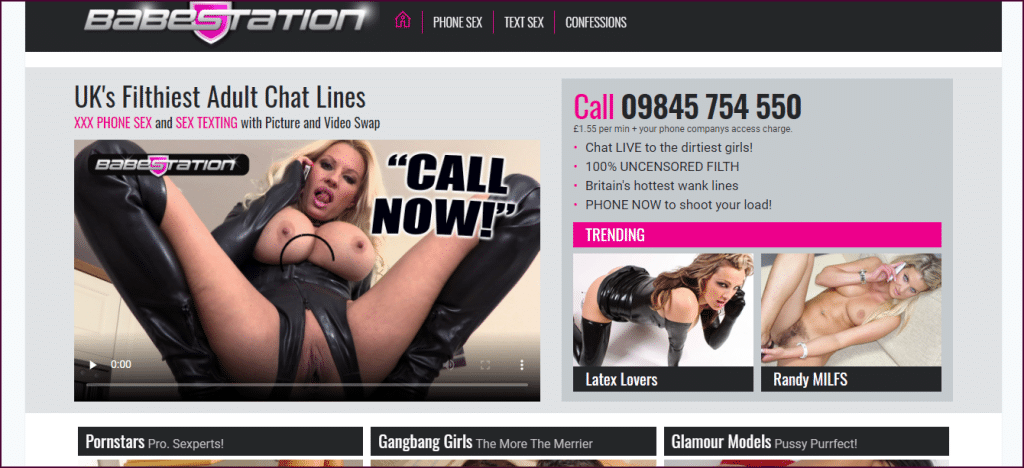 The Babecall is a fantastic feature of Babestation.tv that allows the site members to call models using a computer or mobile phone. You can compare this feature to Skype, where live interaction and a chance for deep connection happen. Of course, the Babecall feature is a flexible service since it can be accessed on whatever device you prefer. As long as the model has numbers provided, you can call them whenever you like. However, the babecall service is not a free feature. You have to purchase credits to use it. Typically, the rate starts at £10.00 to £200.00, and each has a corresponding credit equivalent from 100 to 2000 credits.
The Instant Message (IM) Service of Babestation.tv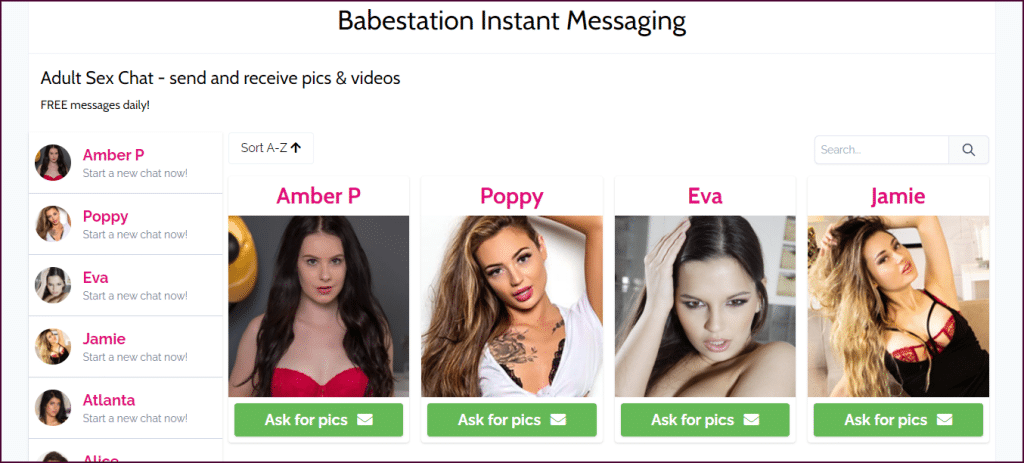 The IM feature of Babestation.tv is something that I really enjoyed because it gives members the freedom to exchange things with any cam model they like. Using this service, the user can send photos and messages to some hot girls and vice versa. Just click the cam model's IM page and send them an epic dick pic. But just so you know, IM is not a free service, so paying for credits is a must! Don't worry, it only needs 30 credits, so that's not much money wasted.
One-on-One Model Interaction using Babestation. tv's PervCam!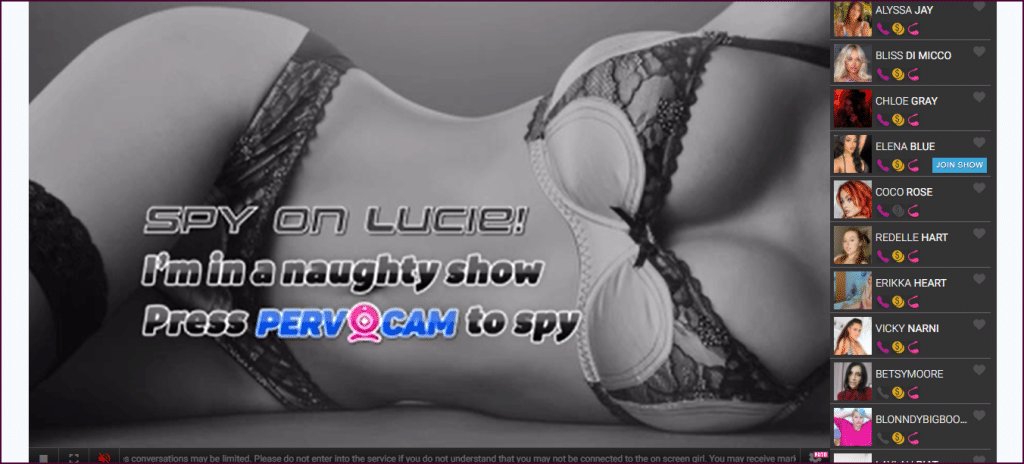 Perhaps, the Babestation.tv's Pervcam is the most popular and most used service. It's not surprising, though, since the service provides the fantastic chance of a real-like connection with cam models. With this feature, any user can effortlessly talk, interact, and flirt with any cam model through cam-to-cam and audio services.
To use this, simply become an official account at Babestation.tv. Since this is not an open service, being a member is the number one requirement. Once done, you need to purchase credits, an in-site money equivalent on Babestation.tv. At this point, you have all the freedom on how you spend credits on models. So, if you're a cheapskate, better look at the right portion of the screen. Usually, this is where free cams are presented, while the Pervcams are just beside it. Pervcams are easily distinguishable because there are "Pervcam" labels on the model's name.
Also, the Pervcam feature charges standard show at 30 credits/minute and private show at 50 credits/minute. You might notice that private shows charge higher credits than the standard because the former offers a more personal and more profound connection with the models. In fact, most nasty things and performances happen during private Pervcam shows, so every minute you spend here is worth it.
VIP Perks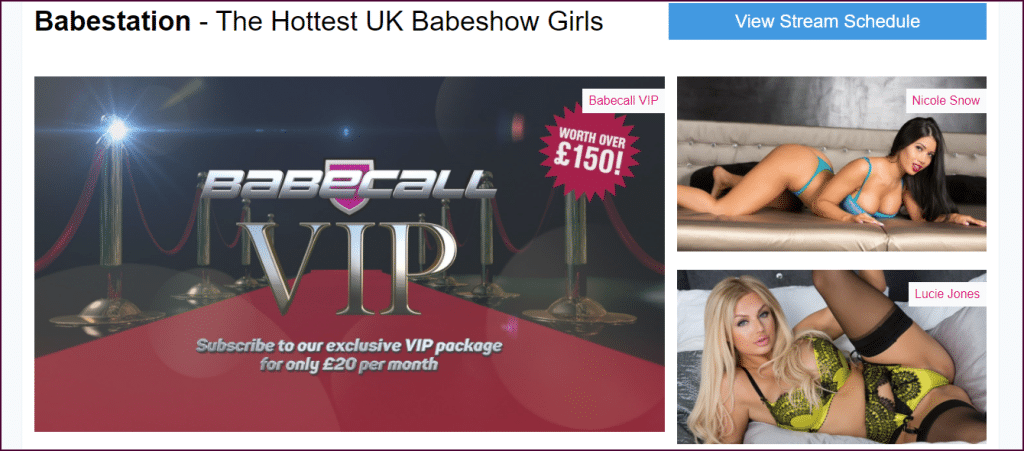 If you become a VIP member of Babestation.tv, you'll enjoy numerous perks like free 400+ credits monthly, all-access to exclusive videos for 15 years, and enjoy regular updates. If that's not enough, you can also enjoy exclusive shows and channels supported by the site. Finally, Babestation.tv will give you a free spin of the Lucky Wheel, and you will win exclusive prizes and discounts!
Silver Membership — £9.99/month
Diamond Membership — £29.99/month (Best Value)
Gold Membership — £19.99/month
Take note each membership differs in perks you can enjoy. In other words, the higher the value, the better the perks you can access.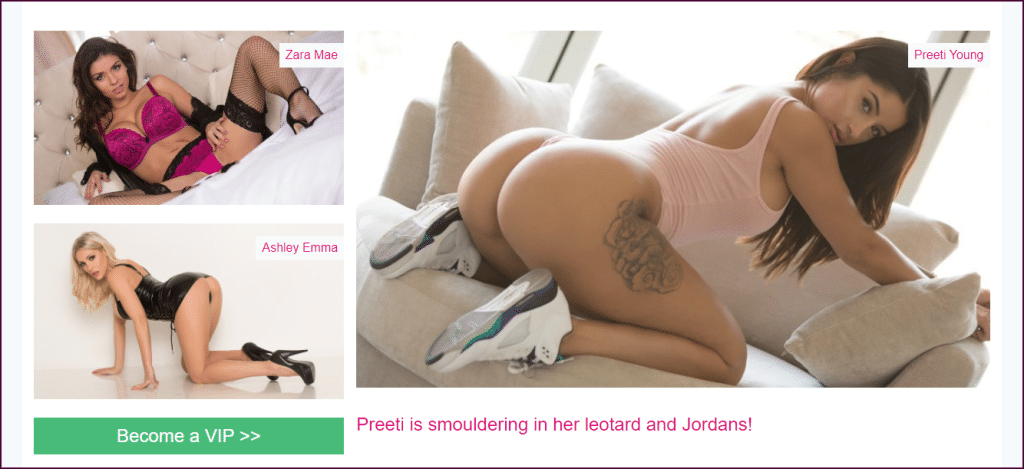 Lucky Wheel
The "Lucky Wheel" is a fantastic bonus when you subscribe to any Babestation.tv Membership. Using this feature, the user can have the chance of winning exciting prices like 1K worth of credits or discounts up to 50% off! Currently, Babestation.tv offers one lucky spin for Silver members, two for the Gold members, and three for the Diamond members.
The Cam2Studio of Babestation.tv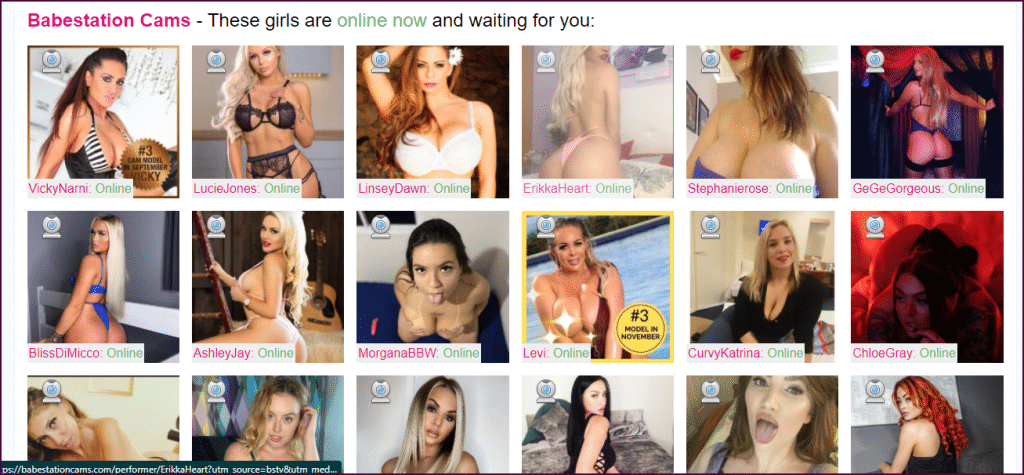 Perhaps, the Cam2Studio of Babestation.tv is the unique feature available on this site. It allows users to easily share their video stream with the cam models they prefer. To use this feature, simply log in to Babestation. tv's member area and clicks on your preferred babe. Once that's done, simply tap the Cam2Studio and begin sharing your live stream video. The babe will see and enjoy your live stream and can give feedback as well. Meanwhile, unlike the cam shows and other private model performances, the Cam2Studio feature only charges £2.00/minute. So, that's not a lot of credits to pay for a worthwhile experience.
Its Gold Shows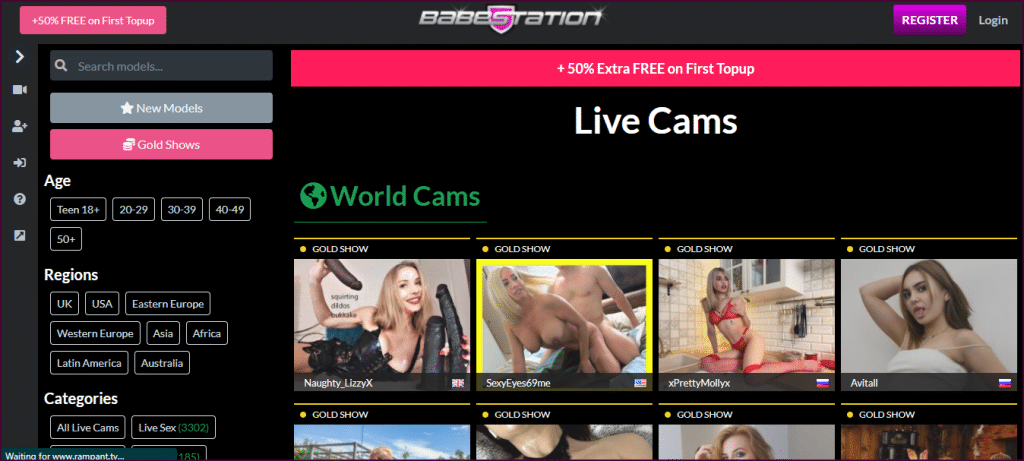 Gold shows… sounds like golden showers but even better. At first sight, I already thought this sounded very familiar. And, of course, I was not mistaken. The gold show is a feature I have seen on other cam sites wherein a model sets a "Credit Goal" before starting a cam show. Meaning, the goal should be met first before expecting something erotic and out-of-this-world performance.
However, if the goal is unfortunately not reached within the expected period, the show will not continue, and your credit offered will be refunded automatically to your account. Of course, this doesn't happen very often because the models usually reach goals as expected.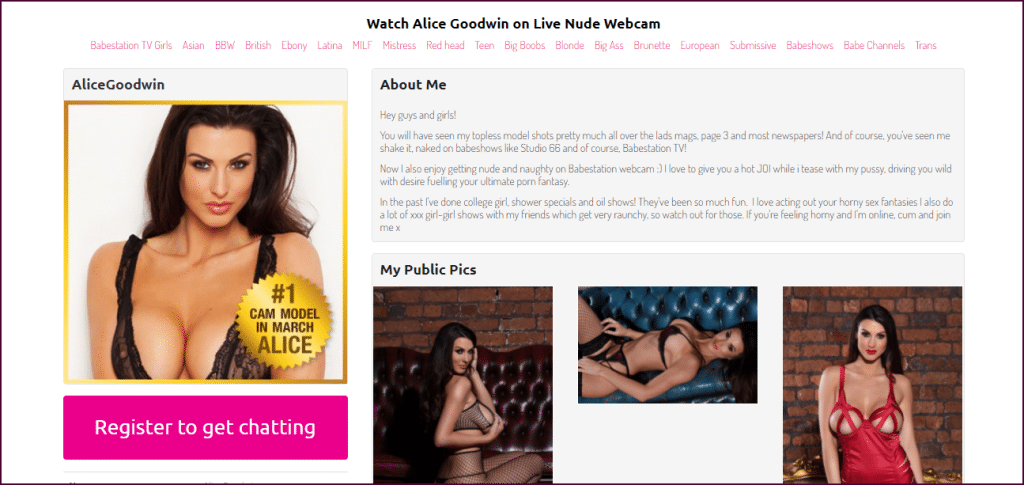 Pros and Cons of Babestation.tv
PROS:
Amazing cam shows
Thousand cam models are available
Fantastic features
Registration is free
Supports mobile browsing
CONS:
Some shows are expensive
Requires VIP upgrades
Basic account has limited options
---
12 Best Live Cam and Video Sites Similar to babestation.tv: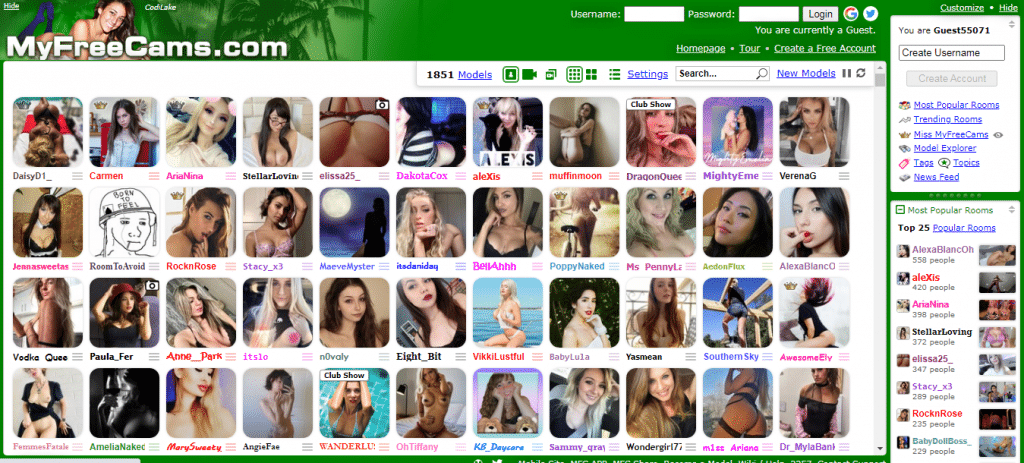 Myfreecams.com is a good cam place to visit. Not only are there no men around, but women make up the vast majority of the actual performers in the site, so any chaser who searches for wieners will find this paradise a curse. This website will undoubtedly cater to any level of consumer, no matter how demanding they can get. Thanks to its incredible selection of active user models and great token rates.
Besides having tens of thousands of quality models, this is one of the most challenging and well-designed sites we've seen on the Internet today —offering hundreds of other fresh concepts every month to keep things new and exciting.
Here's the full review of MyFreeCams.
PROS:
You can browse as a guest user
Security is reliable in protecting sensitive data
It has more than 23 million worldwide members
Efficient mobile version and does not take up much space on your phone
Premium membership opens up more amazing features
You can register as a model and earn money
High-quality shows and videos
Wide range of gorgeous and horny cam girls
Customize your profile
Join model's chat room and participate in a conversation
Monitors every user after registration
CONS:
The mobile app is not yet available
Male users dominate the members of the website
---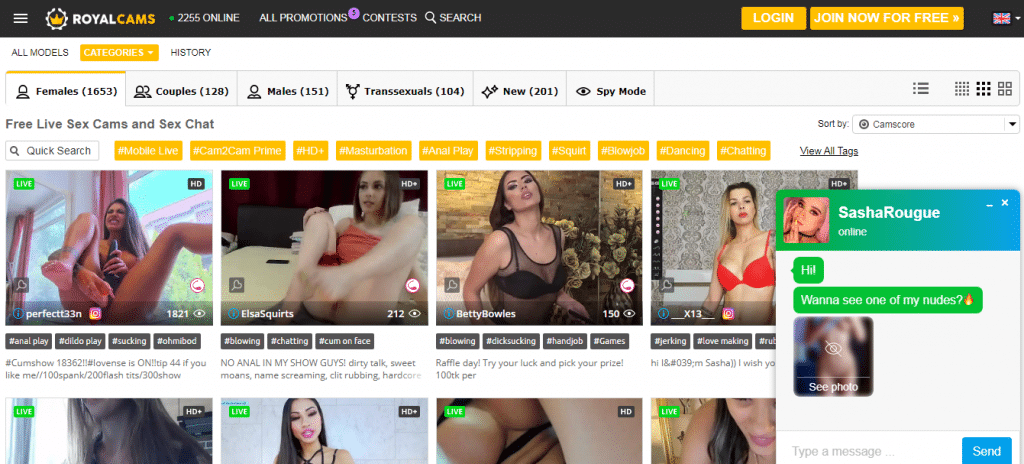 RoyalCams is a fully functional webcam platform. It uses a vast library of models that reflect both genders and orientations. There are four different types of personal chats available, including fully explicit and tip-based completely free chats. Check out our best choice if you're looking for the best adult cams. It's open, simple to use, and well-liked by users, increasing your chances of having a good time.
Click here for Royalcams full review.
PROS:
Plenty of gorgeous girls
Spy/Voyeur style that allows you to see and chat with models.
Uses sex toys
Professional and amateur models
Mobile compatible
CONS:
Sometimes, models take time before going nude
A brief preview of the Visitor Live series
---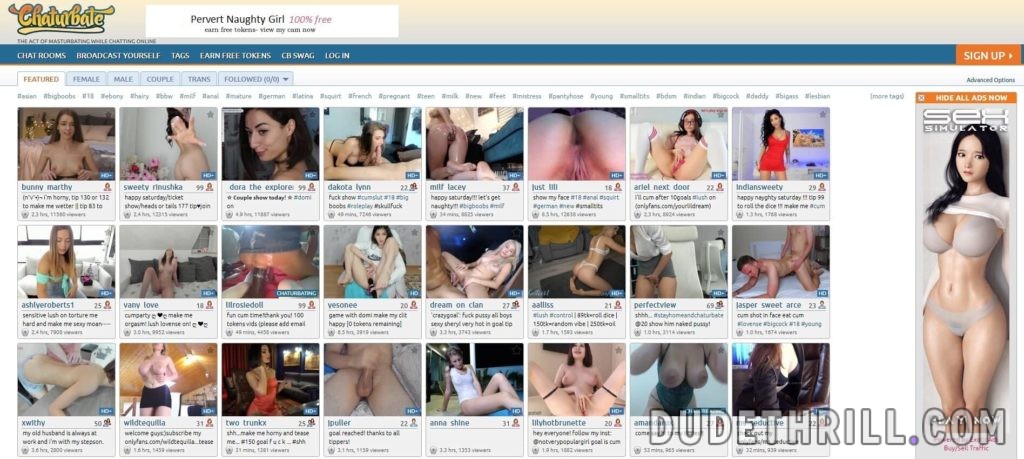 Connecting to people worldwide has never been so easy. Thanks to Chaturbate, unlimited talking is now possible. Plus, you will never spend a dime on it. There are a lot of sexy and beautiful women available for you, 24/7. As a matter of fact, women on this website love kinky stuff, which is always worth your time and attention. Meanwhile, live shows are also available for viewing at a reasonable price.
PROS:
Many cam girls available 24/7 live
No additional fees to expect
Nudes and sex are always a guarantee
Smooth browsing on smartphones and other devices
CONS:
Few videos are in SD format
Expensive private shows
---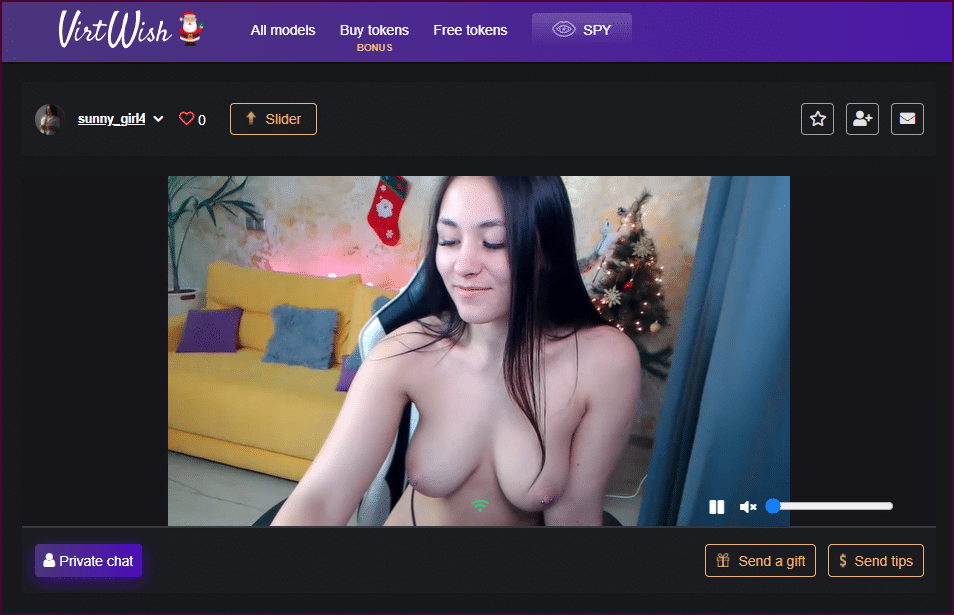 VirtWish is a new solution to your sex cams craving, with the integration of excellent consumer standards in the entertainment industry. Through the use of cutting-edge and state-of-the-art technology, VirtWish intends to establish a pleasing experience that users enjoy.
Every hour of the day and night, stunning women worldwide are waiting to chat and perform on cam with you. Get started by creating an account, and after a couple of minutes, you can already experience sensual performances and communicate with ladies privately with no limits whatsoever.
Click for a full review of VirtWish.
PROS:
Numerous live cam girls are available
Variety of chat rooms
Free tokens upon signing up
CONS:
Guest can use limited features
Requires strict age verification process
---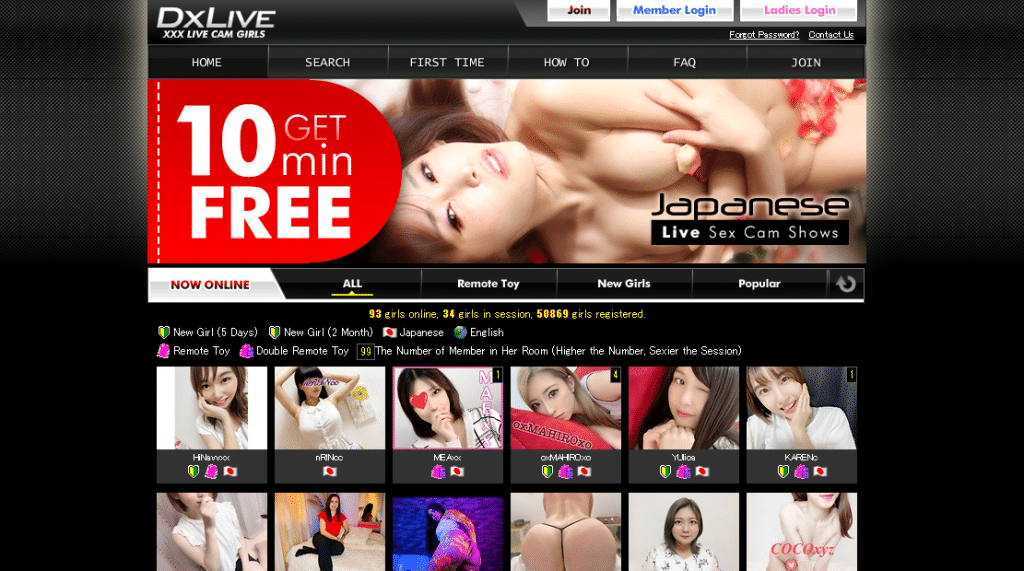 If you're craving for some Asina chick, why not visit DXLive? It's a Japanese-focused live cam site. Although it only has female cam models, they cater to all types of sexual desires, fetishes, and kinks. All the sexy babes on DXLive offer the best experience you can imagine via webcam, and you're surely not feeling disappointed in their lineup of models. Owing to its fantastic cam features, it has gained popularity. It is now highly viewed as one of the most valuable Asian webcam sites for everyone who enjoys Japanese camgirls.
PROS:
Japanese focused niche
Gorgeous cam models
Simple and intuitive design
CONS:
Some cam models can't speak English fluently
Requires account when using some features
You need a flash player
---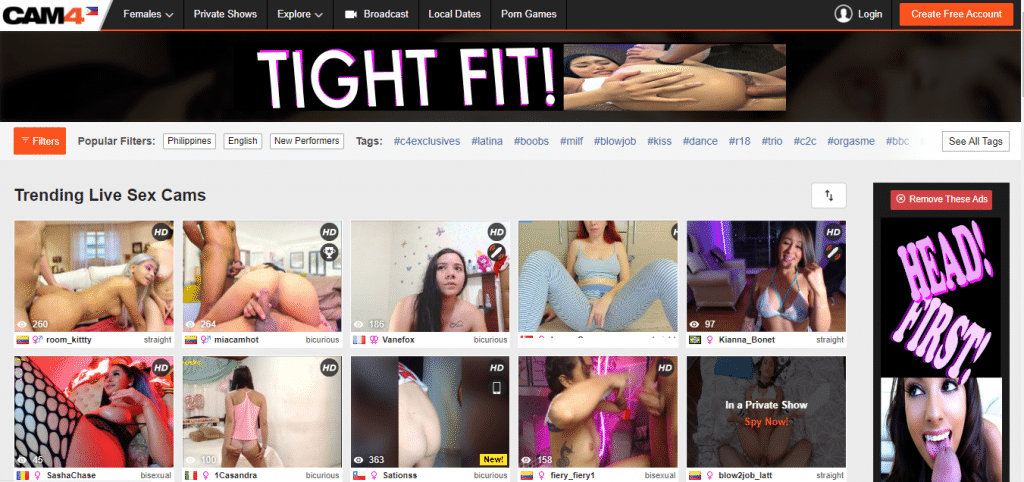 Cam4 is operated by the Granity Designated Activity Company and broadcasts one's own shows and events over the Internet. The first freemium cam site, Cam4, was launched in 2007 and has since gained considerable popularity. Many different types of people—men, women, and gay couples—broadcast their events.
Amateurs mainly use this camera site in making amateur Webcam videos. Customers can buy virtual tokens for an additional fee. They are best used to watch shows and reward the performers, or in the hands of the voyeurs to show you their private stuff.
Thanks to the site's early online porn features, it has gained a lot of popularity, and now it is highly regarded as one of the most valuable webcam sites for everyone who enjoys camgirls. Over the past, people have only used film; nowadays, you can also use the Cam4VR app, which is available on the Cam4 platform, which captures 360° 3D video.
PROS:
Numerous cam models
Plenty of searching options, tags, and categories
Virtual Reality Shows are available
The fantastic customer service team
Offers bonuses upon registration
CONS:
A limited number of cameras in HD quality
---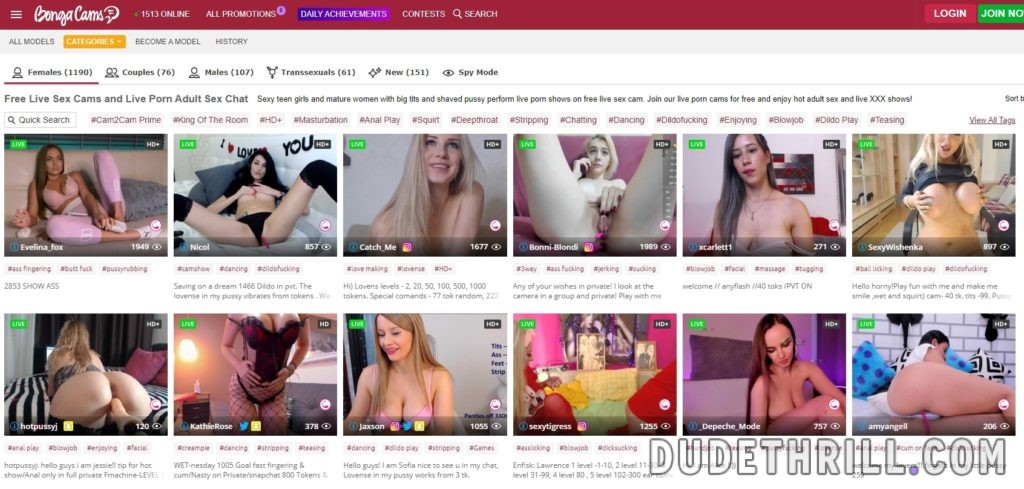 As the name indicates, this is a place for live webcam cams in which you can search for many of the hottest models and one of the most acceptable money system applications nowadays. There are thousands upon thousands of camcorders to pick from, so you're hardly likely to feel upset. And there are countless options to find a decent live stream woman for yourself, on top of it all.
Take a look at BongaCams review.
PROS:
There are tons of HD streaming camgirls
Uses token system and incentives
Premium members enjoy special features
CONS:
Annoying pop-up advertisements
Requires paid subscription to use site's features
---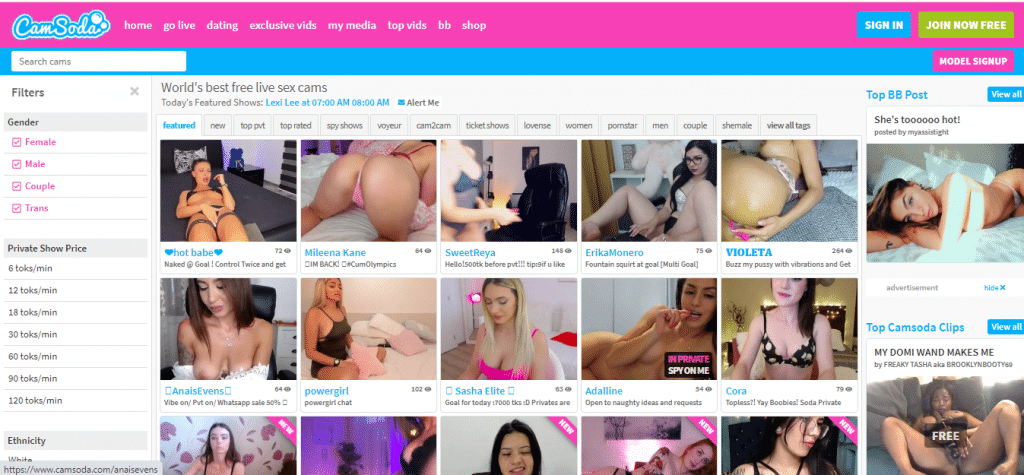 For people addicted to live cam and sex chat websites, Camsoda has got it all for you. The site is unquestionably among the most popular websites in the field of the adult business. So, if you are having a tough period at work, or simply wanting to experience the pleasure of chilling with girls, then this is truly perfect for you. Above all, it has unique functions that help people communicate and talk easily.
PROS:
Excellent design and simple to use
High-quality streaming videos
Lots of cam girls available
Free accounts can still use all the features
Active members are using every day
CONS:
Advertisements are available and annoying
---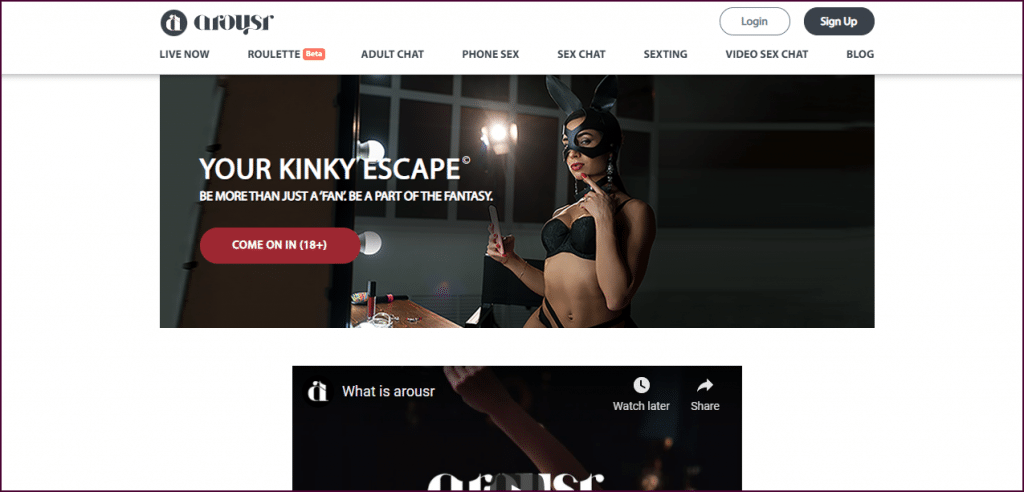 Arousr introduced a genuinely innovative concept, giving us extra intimate and stimulating experience. So far, it has been the most popular service for people who want to have fun, flirt, and enjoy sex chats casually. If you're looking for a website that's easy to use and has a long list of sexy women, Dudethrill recommends this one above all others.
PROS:
Simple navigation and layout
Plenty of female members
Free registration plus 100-credit free
The concept is unique and interesting
CONS:
Some shows are pretty expensive
The list of models is not that much
A basic account has ads
---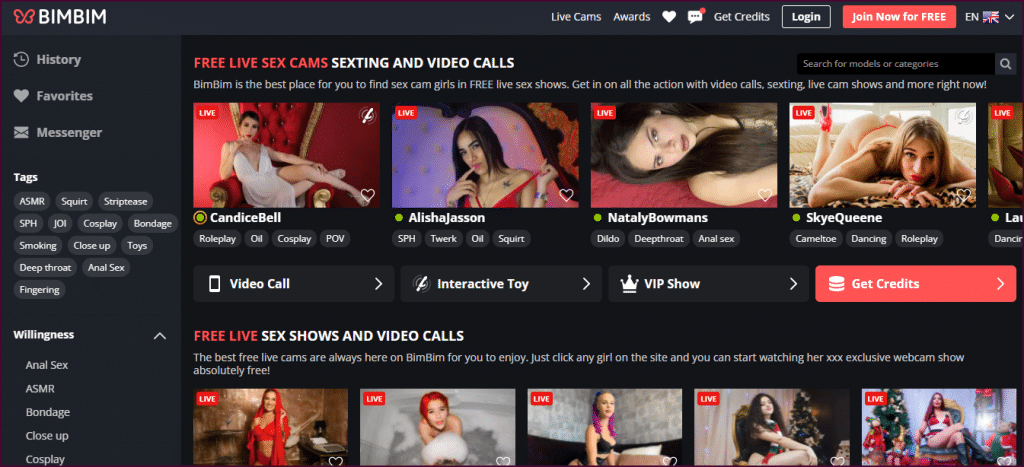 When you join BimBim, you will immediately notice that it functions and acts like a social networking site, coupled with interactive features and excellent services. With an Instagram-like look and experience, BimBim is the ultimate desktop site and smartphone app for real sex cams. They also include well-known and up-and-coming models so that everyone can get the right dose of the perfect cam girl of their dreams.
Click for a BimBim full review.
PROS:
Offers free coins upon registration
It has an impressive collection of content creators
Lots of free stuff
Fantastic variety of live shows
Exclusive chats with Camgirls
Safe and secure
Basic navigation and simple design
CONS:
Downloading is not available
Coin bundles are pretty expensive
Some features require membership
---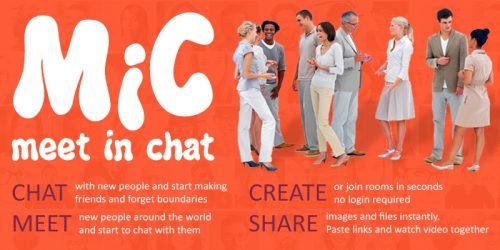 Meet In chat is another must-visit sex chat website. Certainly, it is a new page so that you won't expect many people around here. However, thousands of people are registered here, and all of them are actively looking for a fantastic sexy time. Despite being new, it contains 170 available public chat rooms you can join in for free.
Indeed, you will never feel bored or tired because the erotic activity is happening every second. Also, the website provides options as a guest or official member. In other words, you can use Meet In Chat without registration. Although there are still plenty of available features you can use as a guest, more benefits can enjoy as a member.
PROS:
Gather all people with similar interests in no-string-attached relationships
Plenty of categories and chat rooms are available
It does not require membership to use
Minimal advertisements available
CONS:
Basic design
No FAQ available
---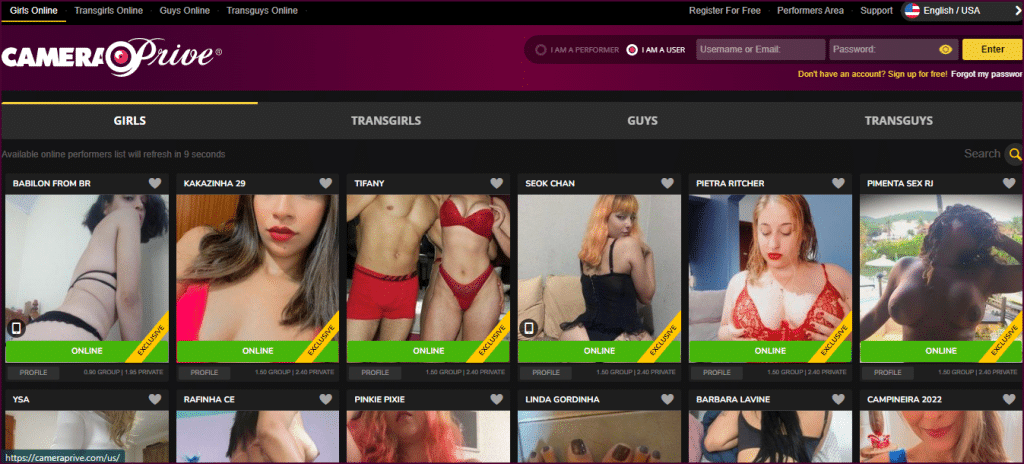 Camera Prive is a Brazilian adult live sex site that started giving people cam entertainment in 2012. Surprisingly, I found out that this site is included in the BongaCams channel, and I'm sure it's equally impressive. Currently, Camera Prive is among the highest visited site globally and ranks on top in Brazil.
PROS:
Affordable prices
No ads
The layout is impressive and stylish
Translation is available
CONS:
Models are primarily a non-English speaker
Some cam models have a poor internet signal
No available advanced search tool
---
Bottomline
Babestation.tv has been in the industry for nearly two decades and its achievements over these years are impressive. It's not every day you will stumble upon a webcam site that offers so many features for interaction and connection with models. Although the credits for different cam shows are somewhat expensive, you can also avail yourself of its free cam performances.
After trying out Babestation.tv for days, I know that it has many promising deals and features. Undoubtedly, the reputation they have built over the years clearly says how the site puts enough commitment to users' pleasures and enjoyment. Years from now, I can already see they will be on top of the game, beating some famous mainstream cam sites. For now, I encourage you to visit Babestation.tv and try it out! I guess it's time that you experienced what I did.
All 113 Other Sites in This Category Worth Checking Out:
Fetish Galaxy Review & 12 Best Live Sex Cam Sites Like FetishGalaxy.com Show Me 12 Alternatives for FetishGalaxy.com Welcome! Today, we're strapping in for a journey that's bound to tickle your curiosities and awaken your inner desires. Don't tell me the name "FetishGalaxy" didn't already send your imagination into overdrive. I mean, it's like a cosmic […]