Updated on: December 7th, 2023
I'mLive
Link: https://www.imlive.com
An Honest Review of ImLive.com – Should You Join?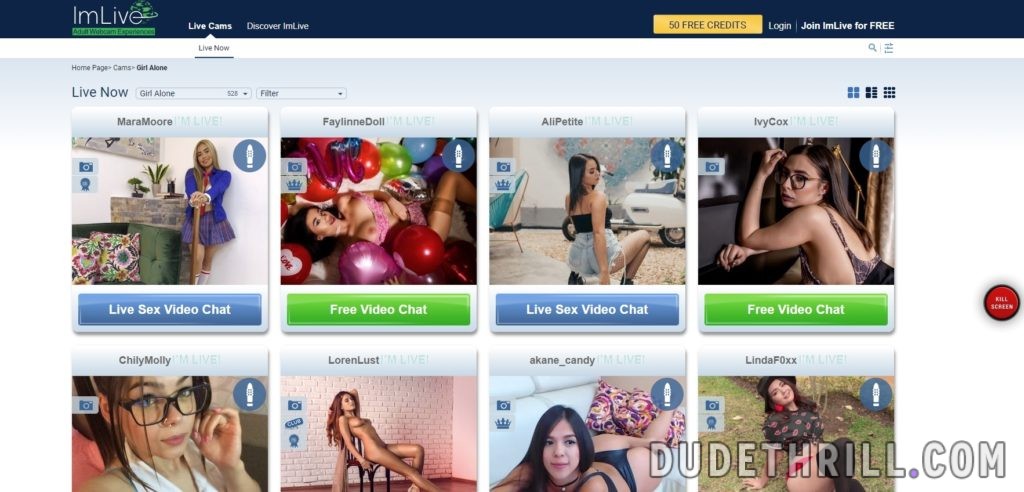 Consecutively winning the Best Live Chat Website award for the years 2011 and 2012 and more, IMLive has been regarded as one of the most popular and widely used live chat websites today. There are plenty of such websites to choose from, but IMLive stands out among them all with their massive collection of pictures and live sessions, which will always fill you up with pleasure. They have been operating for more than 15 years now and have a lot of models on their list. More than 62 million users have been avid visitors of this veteran website and the number still continues to increase up to this day. IMLive offers a lot of cam site features together with a lot of extra perks, making sure that you'll always be having the best time of your life while on the site.
Owned by IML SLU, IMLive has a few sister websites which are run by other companies. These sites share a similar model list, features, and technology for white labels but the difference between them is that all the private information, user accounts, credits, customer services, and some other parts are not shared, assuring users of their privacy.

If you hop on the IMLive bandwagon, you will be welcomed to an intuitively designed website equipped with exciting features, hot performers, and memorable live shows. Hot babes are always available for some live sex chats and they all come from various countries, with the majority of them coming from Europe. IMLive offers a very advanced and efficient search engine, allowing users to be very specific about what they want from a model that they would be having fun with. Choosing from different options and categories, you will be able to filter and finally find your most awaited dream babe. One remarkable feature of IMLive is its multiviewer feature, which allows you to utilize six various cameras and see them all on one screen. It is a great way for you to enjoy more performers and get to see them do their magic, so you can then decide which of these babes would be giving you a private show sooner or later.

Read on and discover more features and perks in our honest review with this live chat website, IMLive.
ImLive's Sign-up Process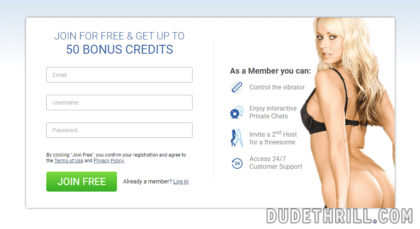 Anyone can join the site for free and just after a minute of registration, you can immediately enjoy the perks that are being offered. You will be introduced to a list of webcam models who are currently online and having their own live shows so you can choose one to your liking. The long list of models provides a wide array of shows. Just like any other live webcam site, they provide private chat and free chat features which helps in communicating with models and other users alike. They have a common-sense consideration for letting users know what's currently happening in a model's live show—all you have to do is drag your mouse over the model's picture.
IMLive doesn't have paid memberships or any subscriptions but instead, they offer a rewards program. Consists of different levels, users are awarded based on their credit purchase consistency and history. The higher your reward levels are, the more discounts and freebies you can enjoy. The rewards program is made up of different levels: VIP, Gold, Silver, and Bronze.
---
---
ImLive's Chat Costs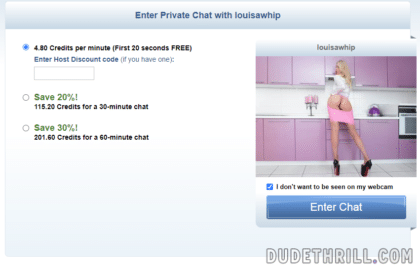 In this website, the models set their own chat costs with specific criteria and options. They have also utilized the credit system, which is popular among adult sites. For private chats, models will set the price and it ranges from 0.98 credits up to a maximum of 5.80 credits per minute. They also allow group chats (aka Candy Shows), which is way different from private chats in terms of prices because it has a fixed entry price. The host will put up the costs in advance, with respect to the ticket price and the show's duration. Usually, it will be around 1 credit or more per minute. They also have Group Cams where two or more models will join together for a show just like how we do video call conferences. The prices for such shows will be based on each model's preferences all added up together. They give discounts of 0.70 credits per minute for the 2nd model and the succeeding ones as well.
Its costs are at par with most cam sites; the majority of models for different shows have their rates per minute. As compared to group chats, IMLive's Candy shows are worth checking out, with the only downside is having to pay upfront since the ticket is not a pay-per-minute basis.
The website offers a lot of credit packages and payment options to choose from. Their credit costs are made up of 2 categories only, PumaPay which is a known cryptocurrency is the most popular one. When you purchase credits with PumaPay, you'll be able to make use of a 15% credit program they actually have it as the cheapest option. The site follows the basic principle of $1=1 credit and the conversion for credit costs and packages is done every 2 minutes.
ImLive's Models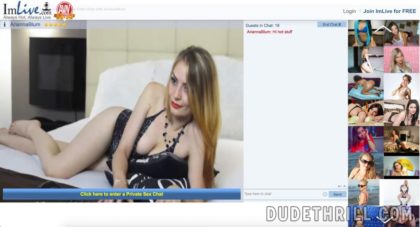 Just like many popular cam sites, IMLive offers plenty of models of all types, shapes and sizes, gender, orientations, and age — basically, just whatever you please. They offer a very wide selection for hot girls ranging from average-looking to legit pornstars and even everything in between. The site attracts more of the amateur girls (comparing to professional and overly matured-looking women from other sites), one reason why their prices are a bit competitive than others.
While the site boasts of more than 63K+ models on their list, most of the online availability of these would only be around 500+, and the majority of that would be women. This site is also open for anyone regardless of their gender orientation and relationship status. There are straight couples, lesbians, hetero and gay couples, threesomes, and many more. You'll never run out of variety if you're fond of this site. IMLive is also graced by popular pornstars' presence from time to time, including the really big names from the porn industry. Some stars who aren't that active anymore in the porn industry still tends to cam regularly so you won't only be seeing feature appearances but real and live contents from them on a regular basis.
---
---
ImLive's Special Features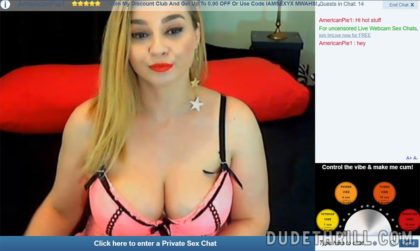 Although they offer most features that you can find in the typical cam sites we currently have today, they also boast of little perks and special treats for every user out there. Just like spy modes, which are not available on this site. For some, it would sound cool and feel thrilling to be watching a spy cam but we have to understand that private should always remain private between two people. Private chats would only be available for you and the specific model you're currently with. IMLive also hosts different contests, raffles, and events, just anything to maintain engagement with users and models as well. Here are some features of IMLive that you shouldn't miss:
Teaser Chats – contains very little to almost no explicit sexual contents; just really living up to its name, to "tease". It would still contain nudity but will usually be limited to tits.
Private Chats – When they said "private", they really meant it. No spy features on it so you can be assured that whatever happens between you and your chosen cam model, it will surely stay between the two of you only
Cam2Cam – this feature is available for private chats so you can really enjoy the moment between you and your chosen babe
Group Chats – aka Candy Shows, where many viewers can watch a live show at the same time
Group Cams – allows a video conference-like show, where 2 or more models perform
Multi-viewer – lets a user watch multiple models and their shows in one screen, all at the same time
Hot Spots – This is where you can check the currently trending topics or videos and the popular models
Virtual gifts – this feature, which is also used by other cam sites, allows users to send virtual gifts to the models they desire
Top Host Arena – this is where you can check the most popular and highly voted models
Themed video contests – the site conducts video contests with varied themes monthly. Models can take part by submitting their videos complying with the theme and users will vote for their favorites
Weekend parties – just like video contests, weekend parties in IMLive have unique themes and models will play with their costumes depending on different fetishes
Pornstar shows – verified porn stars usually grace IMLive's catalog from time to time, with some babes more active than the others. Even the big names from the porn industry will usually have cam sessions here
Model fan clubs – since the site's chat costs vary depending on the model's preferences, they offer model fan clubs where members can get discounts especially if they are frequent viewers. Video purchases for past records are also exclusively available for members.
Recorded videos – special video series, live shows by amateurs and pornstars alike are available for credit purchase
Private messaging – this allows users to converse with hosts via the website's email interface
System and Interface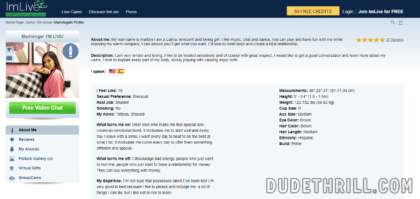 The website runs pretty well and you won't have to worry about lag or excessive loading during search times. There are no drops in the video quality and even during free chats. It runs smooth and well, of course, being around the industry for more than 15 years, they surely have mastered their system and went through crappy phases before.
Although the website's interface may appear to be plain and old-fashioned, it is actually very responsive and customizable depending on your preferences. It is very user-friendly, allowing easy access to menu options and all the features you might actually need. The chat interface is just basic compared to other sites but it works just the same. This part of the website may use a bit of an upgrade but in general, the whole site works like magic and is very polished.
ImLive's Camera Quality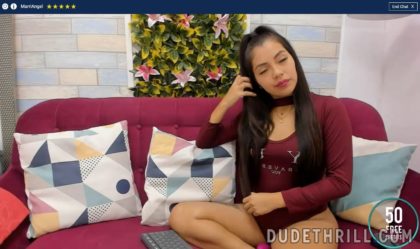 For hosts, they usually do not disclose their camera qualities so we cannot fully distinguish the percentage run in HD or SD. Although as per checking, we have seen most of the hosts' rock in full HD quality. Interactive toys are also allowed although there are only a few models using them. Since this site doesn't allow tipping, sex toys can be used on models' own accord, unlike other cam sites where you'd need to tip here and there just to get them to use such kinky materials.
Pros & Cons
PROS:
Standard membership is enough to enjoy lots of perks
Multi-cam streaming to check more than 2 shows all at once
Private shows are really private… no spy cams lurking around
Programs and live shows are updated on a daily basis
The site puts users' safety and security as their main priority
Amazing controls to help you watch in ease and pleasure
Award schemes are available to give rewards for loyal members
Free members can watch live shows in full-screen mode
CONS:
Payment options are not as flexible
Tokens are a must for private shows
---
---
Last Word
To sum it up, IMLive really deserves its popularity and awards. Being one of the "veterans" in the online camming industry, they provide effective and exciting ways to let people enjoy nude webcam models in the comfort of their own homes. The site boasts of an extensive list of hot babes and impressive filtering options. The thousands of models online are very welcoming and of course, pleasurable. We can go on and on to praise this site's amazing features, including their audio and videos' great quality. But then again, words are cheap so it would be good if you experience this site firsthand. You can check out the website as a free member, and even then you can enjoy a lot of perks and benefits already, even without spending a dime.
All 115 Other Sites in This Category Worth Checking Out:
Strip Flix Review & 12 Must Visit Free Sex Cam Sites Like StripFlix.cam Show Me 12 Alternatives for StripFlix.cam Will you join me as I stream on unlimited stripping and babe teasing? There is no other site I could ever think about that is convenient, accessible, and limitless in nudity. We shall dig on sex cam […]