Updated on: June 6th, 2023
LiveToLives
& 12 Must-Visit Adult Cams and Sex Chat Sites Like Livetolives.com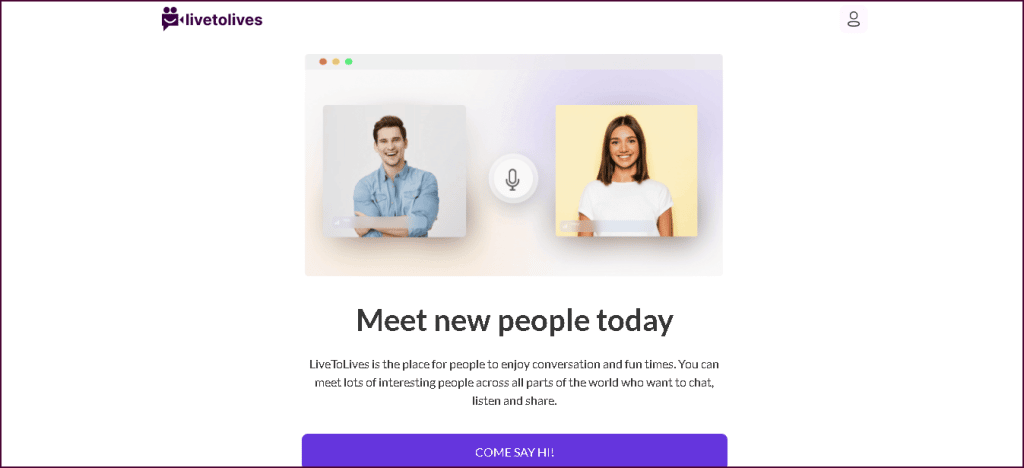 I've been exploring a brand-new place to connect and chat with random strangers worldwide, but hunting the vast Internet is challenging. Fortunately, a friend of mine recommended a new site that delivers the exact things I need, and it's called LiveToLives. The site claims to be where strangers worldwide can experience a safe and smooth conversation anytime, anywhere. Honestly, this is a very bold promise, and I wonder if LiveToLives really delivers. For me, it looks nothing different from other adult cam and sex chat sites in the mainstream, but I guess nobody can tell what Livetolives.com can provide if we won't try, right? So, let's get to the nitty-gritty and explore LiveToLives below!
Official URL: https://livetolives.com
LiveToLives: New Emerging Site for Sex Cam and Chat Fun
I've been here on Earth for a lot longer. While I've had plenty of great talks and memorable experiences, I was completely unaware of the existence of LiveToLives until recently. It's not far from the boastful advertising I encounter on similar sites, but I still wonder if they are claiming the truth. Could it be that I've been having the worst fun and chats my entire life?
The LiveToLives provide a never-ending supply of people eager for chitchat and pleasure. Not quite as spontaneous as the original Chatroulette, but similar in spirit. Truth be told, it was not the flashy slogans or catchy taglines that caught my eye but the sheer volume of visitors that LiveToLives receives daily.
Around April, LiveToLives was lucky to obtain a shitload of 100K+ visitors every month; however, things changed when August came. That daily number of visitors had risen to more than a million! With the promise of quick and simple conversations, it's no surprise that users are rushing to this brand-new social media platform. Of course, as a naturally curious man, I wonder if I could meet people out there that are just as weird as I am.
Is It a Social Network or A Sex Cam Site?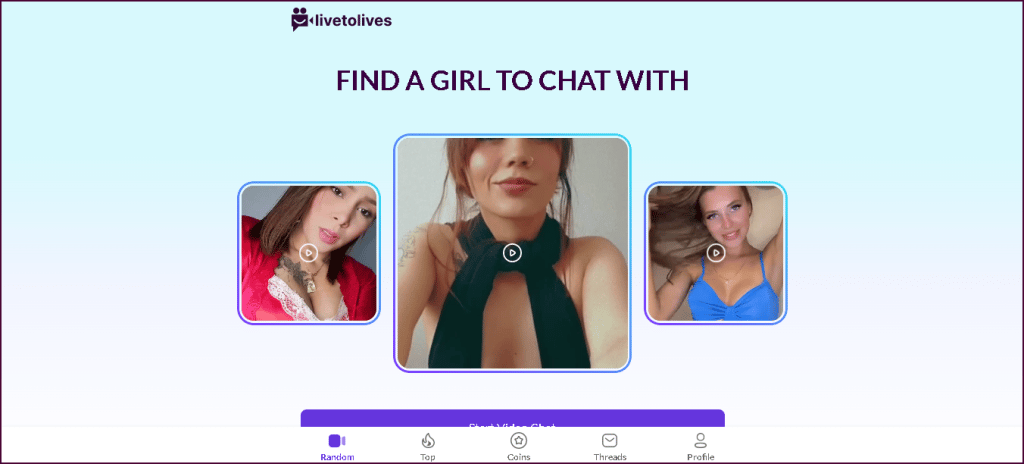 Based on my experience, the girls who chose not to reveal anything led me to believe that LiveToLives is a social networking site, whereas the other girls who showed their private parts as I jerked off made me think otherwise. Since there is no way to look for potential matches based on where they live, I really wouldn't consider LiveToLives a "dating" website or even a social media platform.
However, the site gives the impression of being a webcam platform dressed up as a social networking page. In simple terms, it's a combination of both. Still up in the air if the webcam platform's "friending" feature adds to the overall experience or just adds another layer of complexity. Anyhow, I don't believe it matters that much right now. I'm sure that LiveToLives is just getting started, so there's more spiffing up to accomplish; however, the potential is definitely there.
Suppose you enjoy private video conversations but are interested in trying something unique. In that case, I suggest reaping the trial period perk and checking out LiveToLives The spontaneous chatting option is just one of LiveToLives' special touches that sets it apart from other cam services. And considering that no massive sex acts are broadcast to the crowd, the females are much more likely to interact with you personally than on other major webcam websites.
The Secret to the Success of LiveToLives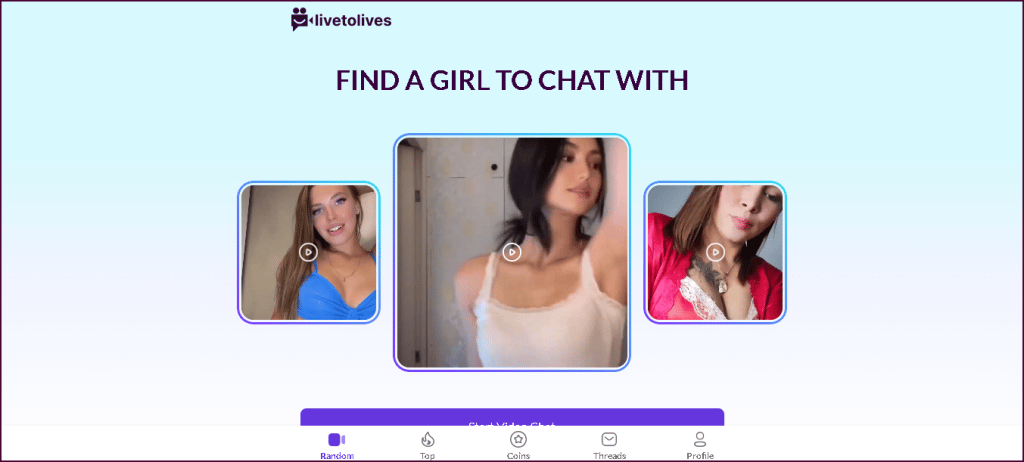 Visualize yourself in a bar, drinking some beer and having fun. Suddenly, a thought struck you, "Will I meet someone tonight?" But God knows who you're meeting that night, what things you'll have in common, or what topics you will discuss. There are endless possibilities; sometimes, they could be outrageous and unexpected. Worst, you might be meeting someone so dull and out of your league that you just want to run away.
Just cut to the chase and hop to LiveToLives. You will no longer endure the tedious small talk and "get to know" stage and just go straight to the business. You can quickly stop the chat or video calls whenever possible and excuse yourself from awkward or uncomfortable conversations. I personally think that's the reason behind the success of Livetolives.com because, as a user myself, the site's features gave me more flexibility and convenience than actual meetings.
Site's Layout and Features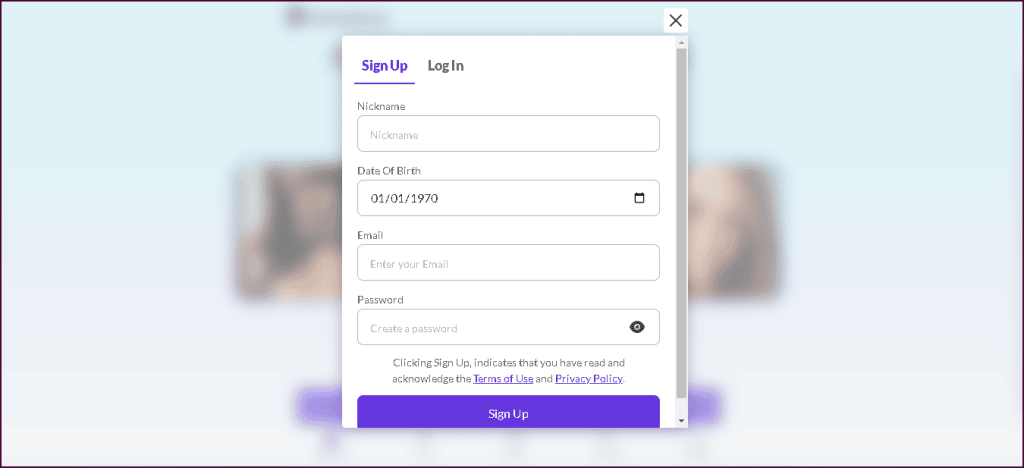 Professionally reviewing adult videos and being a well-known masturbator, I've explored various online dating and adult entertainment services. Most of them exploit some form of sexual pressure to convince you to register online. In fact, websites whose entire reputation aims to appear dirtier typically feature images of girls wearing lingeries, showing off titties, and sample images of gorgeous lovers kissing on the homepage.
LiveToLives, on the contrary, has a homepage that appears to be of the highest moral standards. From the flawless design to the completely safe-for-work images, the appearance of LiveToLives is sophisticated and spotless in every fucking manner. But if my friend didn't recommend this site, I wasn't sure the teaser would have persuaded me to sign up. Things considered, the users here are not bad-looking guys, but I can't help but imagine that they're about to join a business conference with the layout's vibe it projects.
Best LiveToLives' Cam-to-Cam Connection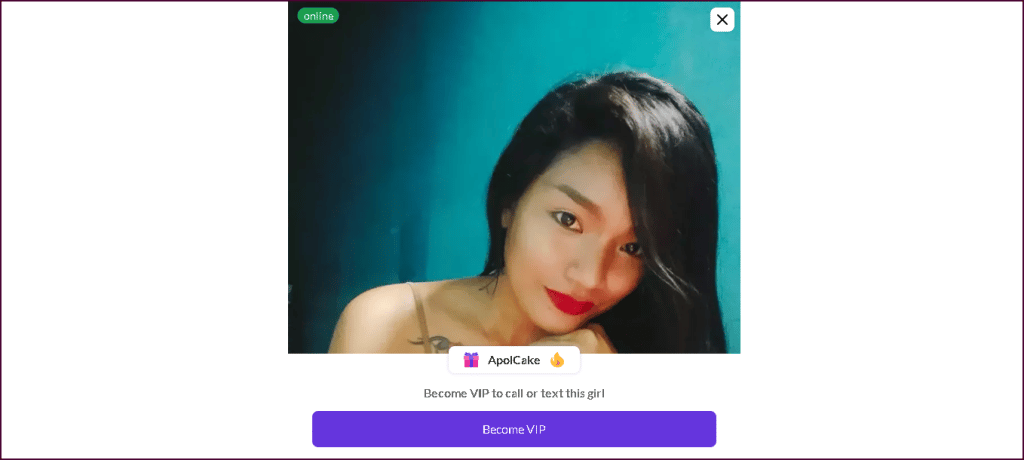 Considering that LiveToLives boasts its great cam and chat experience, you can't blame them for expecting a lot from the site's cam-to-cam feature. Glad to know Livetolives.com really did a great job on it and made me experience the most pleasing and intuitive chat room. I could connect and chitchat with strangers worldwide with ease and support.
The LiveToLives' Cam-to-cam feature works like a chat roulette that enhances users' cam communication and transforms it into a much more enjoyable encounter. You won't have to worry about a long list of questions or providing too much sensitive data just to get the match you need. Plus, what I like most about the LiveToLives cam-to-cam feature is how fast it can connect you to other users in real time. Other sites may require some time, and it usually takes too long for a connection to make.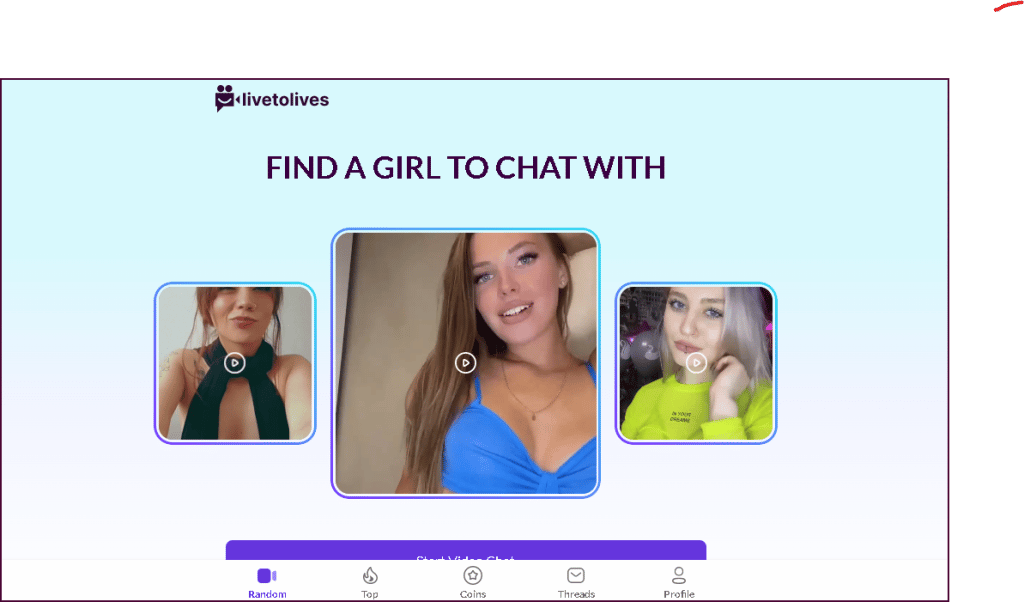 Apparently, according to the site, it's employing the sentiments, suggestions, and voices of people who complained on Comeet, Omegle, LuckyCrush, and other places and put them all to create a fantastic cam-to-cam system. LiveToLives claims to have the best cam experience online, and after using it, I'm pretty convinced. Although it's not the "best" among the bunch, its system and features show market potential and nailed the things that other sites lack.
Every meeting and match on the page has passed the LiveToLives moderating protocols and ensures your safety from scams, bots, and other annoying encounters. Overall, Livetolives.com really lives up to its promises and brings you filthy, seductive, and fun cam entertainment throughout the night. Get started with exciting new connections, discover fascinating, unique individuals, expand your social circle, and reap the rewards of LiveToLives' interactive chat online today!
Quality of Girls, Users, and Guests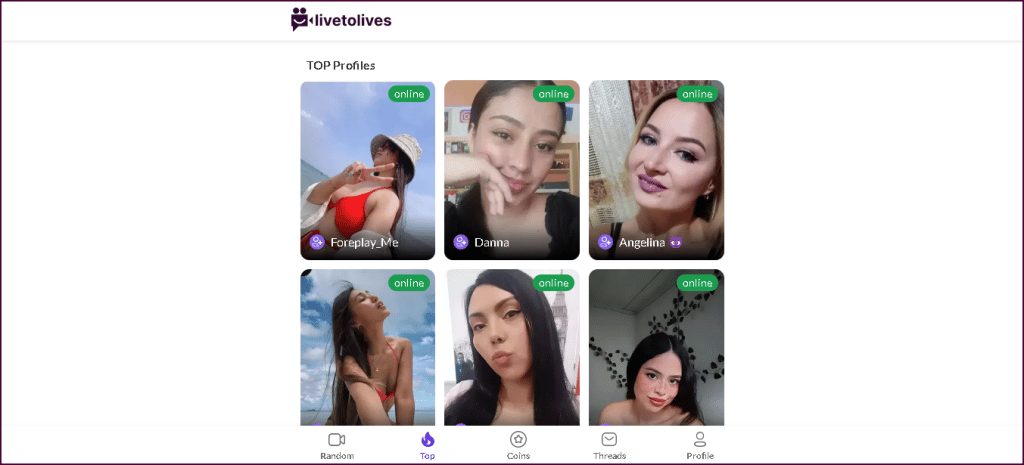 Good news! You'll surely dig this site if you're a male interested in ladies. LiveToLives presents a stunning array of women who are available for real-time video meetings. There are phat-ass girls with pink or blue hair, gym sluts sporting enormous tits, and hipsters with red-colored dreadlocks. There are also a lot of gorgeous white-blonde girls, along with a few Latinas, ebony, Asians, and a few attractive hybrids. Every girl currently online is available for chats; otherwise, you can add them to your friend list.
On this particular night, as I explore the LiveToLives website, at least a dozen ladies must be available. The remaining ones aren't online at the moment, but I can still list them in my Friends section. Although there is a good selection of real girls right now, I'd love to see the website grow in popularity to the point where it has thousands of girls online at any given time.
Special and Useful Site Features of LiveToLives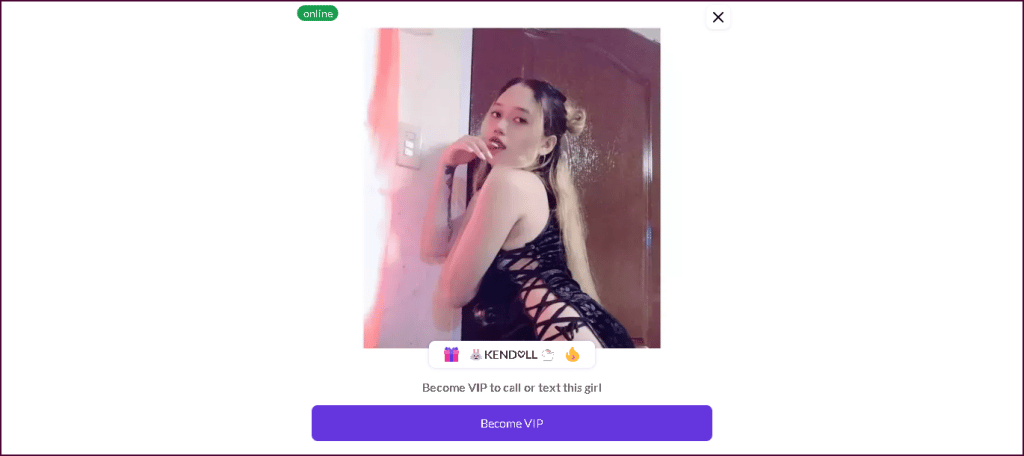 Anonymous Identity — Users can refrain from giving out personal information and stay anonymous throughout the cam-to-cam or chats.
Available 24/7 — There are no peak times at LiveToLives because it's open and active anytime you need to chat.
No Sign-up or Payment Needed — Using the site doesn't need registration or an account. Trying out the cam and chat features is also free.
Enhanced System and Features — Developers of LiveToLives endured incorporating features lacking from other sites. They analyzed the market to ensure that LiveToLives is head and shoulders above the competition.
Safe and Private Webcam Chat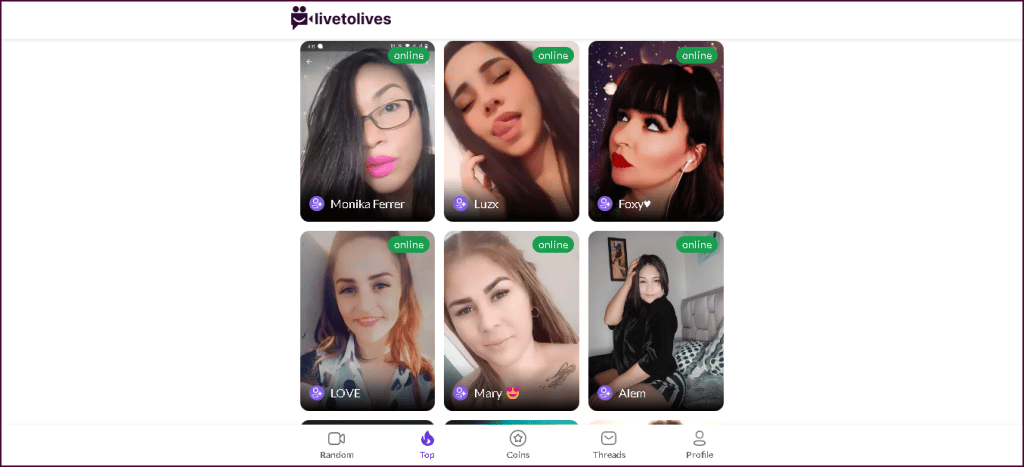 Aside from being a pretty effective way to have random conversations with strangers, LiveToLives' webcam roulette chatting has some serious benefits. LiveToLives is a free service that anyone may enjoy for whatever purpose they see fit, whether that be learning a new language, flirting and finding new hookups, connecting and socializing, or finding a long-term partner.
From my experience, most users here only want to have an online conversation with everyone, or if things "click," it may lead to a serious hookup or even better. Ultimately, these things are effortlessly accessible in the LiveToLives webcam chat. But the site has no limit, and there's also much more to it. As long as you stay lawful and stay away from illegal activities, you can use LiveToLives features for whatever you want.
It makes no difference what culture you're from, how wealthy you are, or whatever values you hold dear. No one's background, socioeconomic standing, or set of core values matters. The anonymity of chatrooms allows people to relax and be themselves among female chat partners. Sounds just like what you need.
Pros and Cons of LiveToLives.com
PROS:
Unique website concept
Features trial membership
Lots of gorgeous women willing to chat
Numerous active users at any time of the day
Automatically translates language based on your location or preferences
CONS:
---
12 Must-Visit Adult Cams and Sex Chat Sites Similar to Livetolives.com: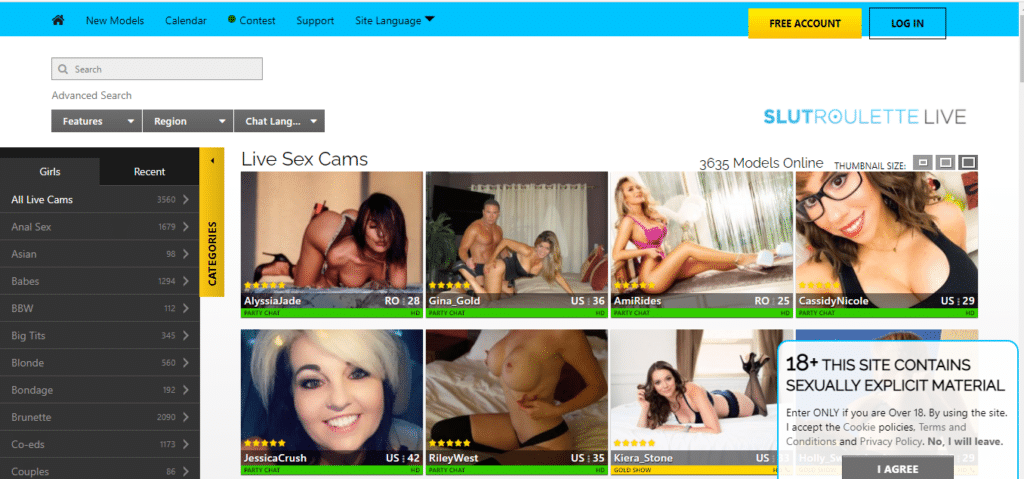 Are you tired out of the same old porn videos? Do you wish to spice things up a bit more and say goodbye to your dull, pathetic night? Say no more because the SlutRoulette website is here to answer your never-ending prayers.
SlutRoulette has been around for many years now. Indeed, it was able to gain the respect and admiration of many live sex cam fanatics. Certainly, there are no traces of old-fashion elements, graphics, and layout you can see. It has pretty straightforward functionality that even newbies would easily understand how it works.
Here's the full review of SlutRoulette.
PROS:
Registration is free and easy
Various selection of Live categories is plenty
The mobile app is free to download
The mobile app is well-matched with all gadgets and phones
Updates regularly
Chatting in chat rooms are free of charge
Free to switch from one person to another in a split second
Private and gold shows are available
Thousand of models to choose from
Community is diverse and shares different interests
Members are active daily
Scams and fraud have no place on this website
CONS:
No hook-ups available
There are some models with expensive rate
---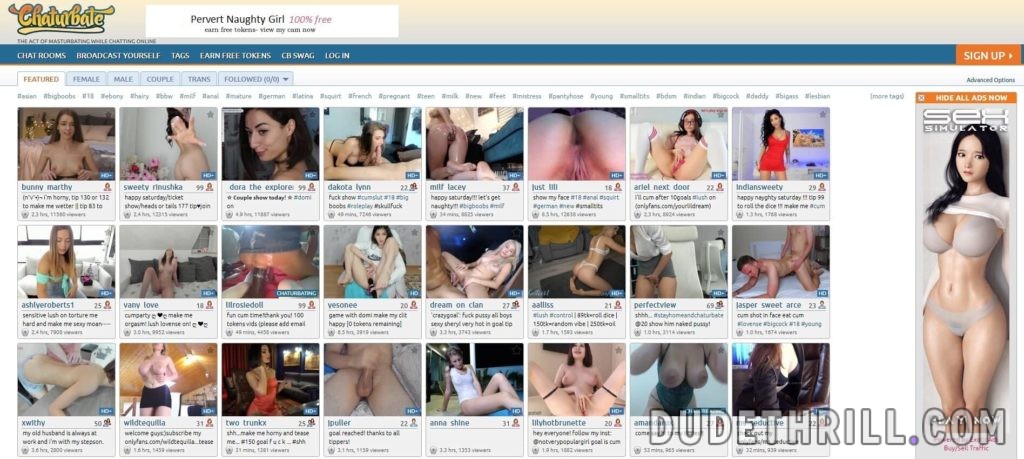 Connecting to people worldwide has never been so easy. Thanks to Chaturbate, unlimited talking is now possible. Plus, you will never spend a dime on it. There are a lot of sexy and beautiful women available for you, 24/7. As a matter of fact, women on this website love kinky stuff, which is always worth your time and attention. Meanwhile, live shows are also available for viewing at a reasonable price.
Click here for a full review of Chaturbate .
PROS:
Many cam girls available 24/7 live
No additional fees to expect
Nudes and sex are always a guarantee
Smooth browsing on smartphones and other devices
CONS:
Few videos are in SD format
Expensive private shows
---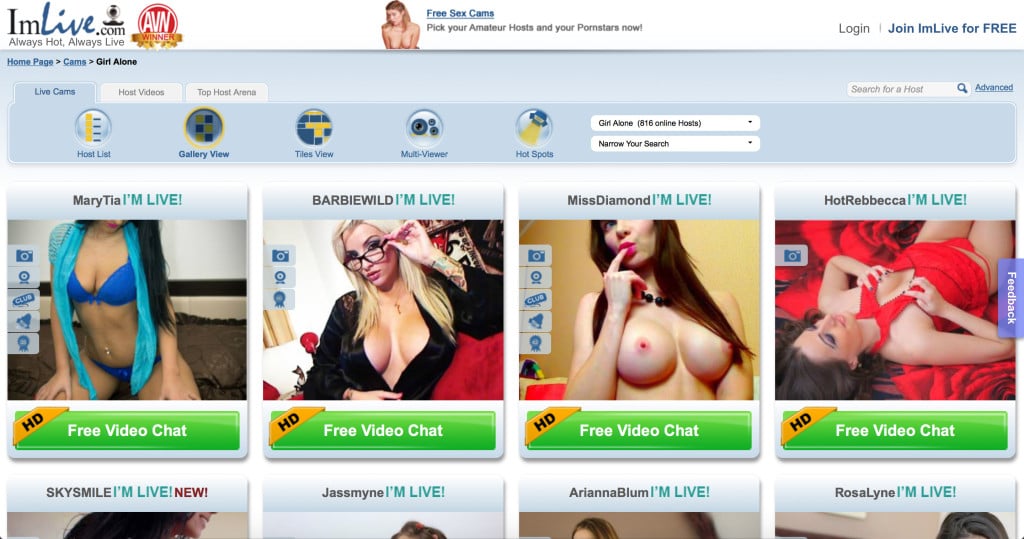 Imlive.com is a unique live sex cam site made for those diverse people. These people are those who really need to incorporate a little more excitement into their stressful schedules. Truly, it is one of the internet's very famous Livestream chat sites and we already understand really why.
Besides, in terms of producing hot females on the internet, Imlive.com presents numerous user preferences. In other words, with just a click of the mouse away, you can indulge loads of free pleasure camcorders with an amateur or beautiful pornstars. Ultimately, to fulfill your sexual urges, these good looking women from all around the globe are all here.
PROS:
Split into three various types namely, Host Videos,
Live Cams, and Top Host arena
Searching is not hard
HD videos with a bunch of sensual and beautiful girls
The browsing experience is considerably simple
Numerous different videos with a collection of distinct varieties all for users' satisfaction
CONS:
A bit confusing which video to watch because of a wide selection
---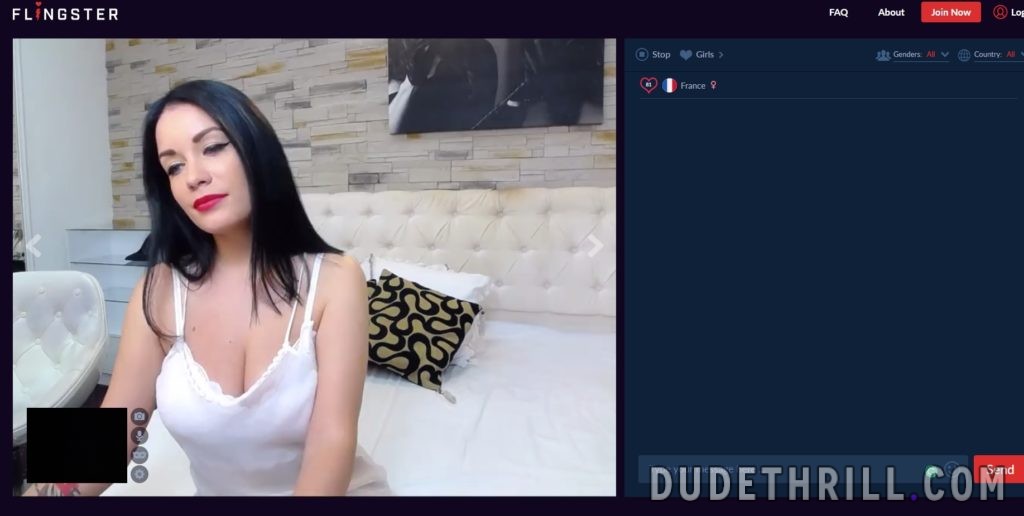 Flingster is a must-visit random video chat for a meeting, hanging, and making out with singles. On this website, the application process is indeed speedy and convenient. So, it won't be wasting much of your energy at all. Compared to several other dating websites, even free accounts can use message and video chats without paying.
On the other hand, paid subscribers have additional features that are indeed unique. Meanwhile, Flingster similarly provides discreet identification while chatting before you consent to a spontaneous, quick fling.
Click to see the full review of Flingster.
PROS:
Unspecified character is a choice
Everybody is excellent regardless of sexual orientation or gender
The signup procedure is available and relatively simple
The site's design is simple; however, understandable to navigate
CONS:
There are occasional phony profiles reported
---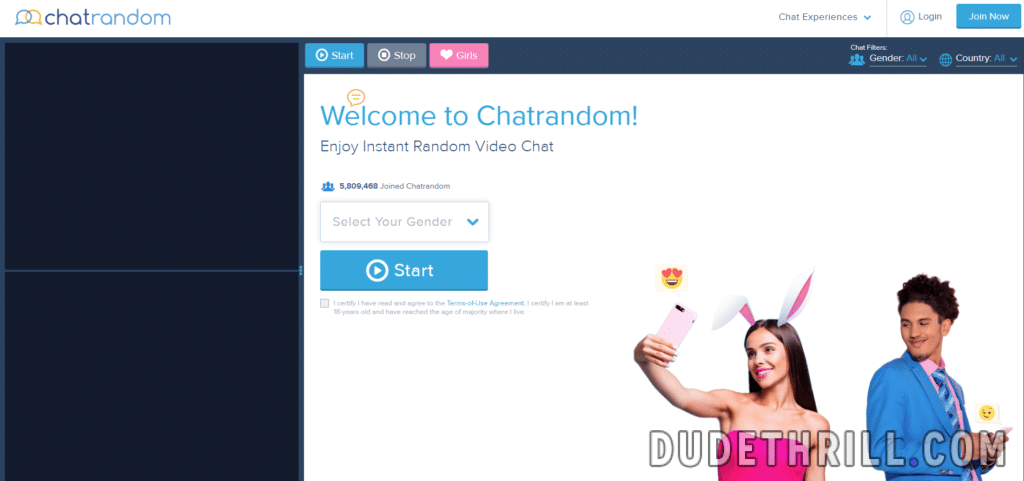 Chatrandom is a free live chat site that allows users to easily connect with people and strangers worldwide. The site started its outstanding service around 2011, and since then, it has become one of the most popular sites today. Indeed, this is the most exciting live chat you can experience. Because the system uses a roulette-type matching and lets you chat with thousands of people every day
Check out the full review of Chatrandom.
PROS:
Registration is free
Users can chat with members from other parts of the world
People can join live chat without registration
There are thousands of active users every day
App version is available for download
Hiding identity is public through "mask."
Free sending messages
CONS:
No profile photo is available
Only Android users can download it
More number males than females registered
---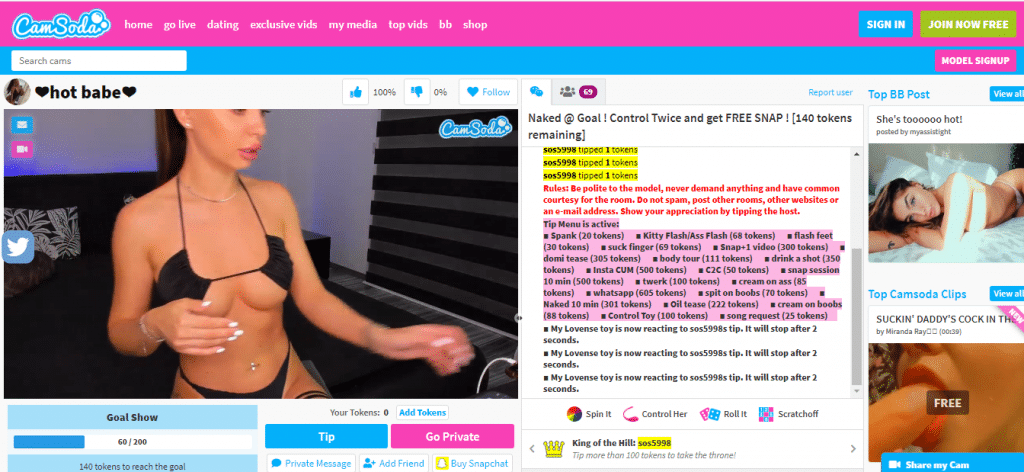 For people addicted to live cam and sex chat websites, Camsoda has got it all for you. The site is unquestionably among the most popular websites in the field of the adult business. So, if you are having a tough period at work, or simply wanting to experience the pleasure of chilling with girls, then this is truly perfect for you. Above all, it has unique functions that help people communicate and talk easily.
Take a look at the full review of Camsoda.
PROS:
Excellent design and simple to use
High-quality streaming videos
Lots of cam girls available
Free accounts can still use all the features
Active members are using every day
CONS:
Advertisements are available and annoying
---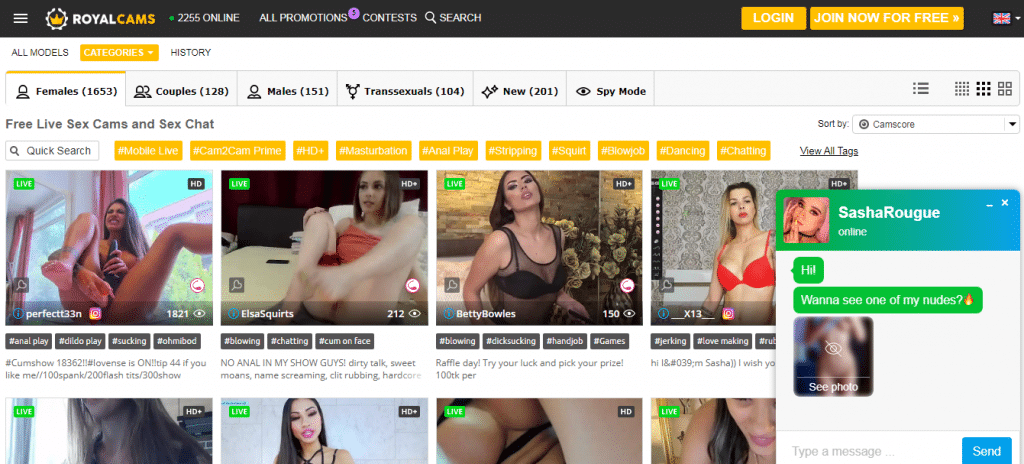 RoyalCams is a fully functional webcam platform. It uses a vast library of models that reflect both genders and orientations. There are four different types of personal chats available, including fully explicit and tip-based completely free chats. Check out our best choice if you're looking for the best adult cams. It's open, simple to use, and well-liked by users, increasing your chances of having a good time.
Here's a full Royalcams review.
PROS:
Plenty of gorgeous girls
Spy/Voyeur style that allows you to see and chat with models.
Uses sex toys
Professional and amateur models
Mobile compatible
CONS:
Sometimes, models take time before going nude
A brief preview of the Visitor Live series
---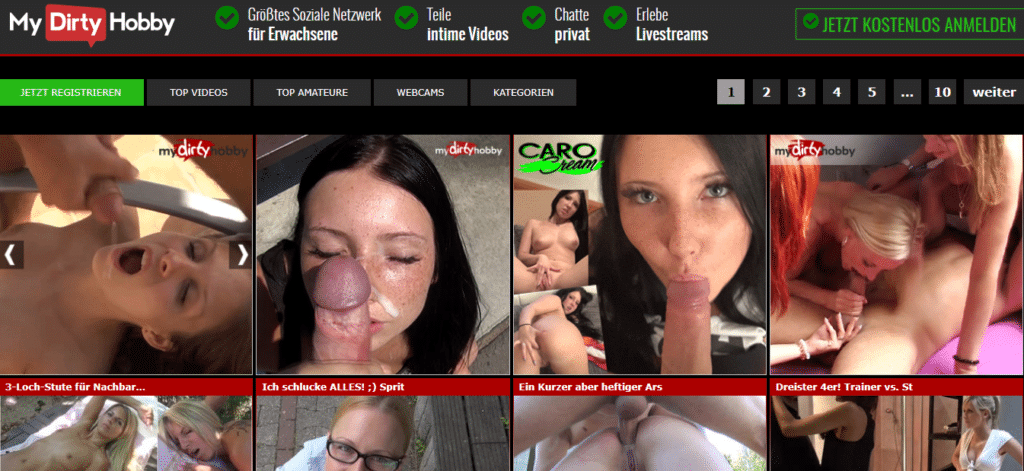 Germany's best live sex cam website, My Dirty Hobby, brings everyone together. Coined as one of the largest adult social networks to ever grace the Internet, MyDirtyHobby is more than just its intriguing and interesting handle; it is a haven for amateurs who like posting homemade sex videos and provocative photosets. It is an interactive community that will live up to one's expectations, especially if you look for a reliable source of adult porn and live sex sessions.
It has plenty of members video chatting and messaging daily. Also, the website allows the members to gain money by joining cam shows. Indeed, My Dirty Hobby has a fantastic set of cam girls waiting to have a naughty time with you.
Read the MyDirtyHobby full review.
PROS:
Different contents according to specific interests
Design is simple and easy to use
Regular updates
Do not need membership payment
CONS:
Downloading is not available
---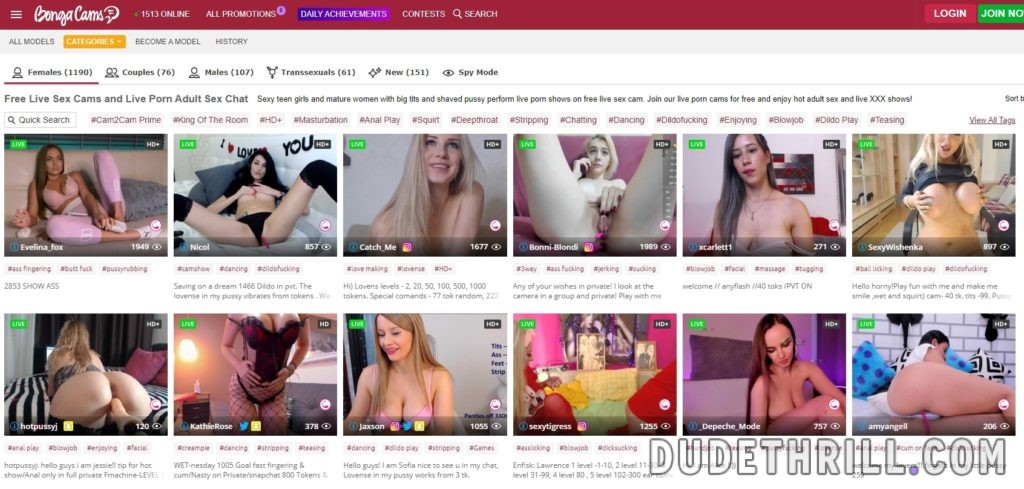 As the name indicates, this is site is for live webcam cams in which you can search for many of the hottest models and one of the most acceptable money system applications nowadays. There are thousands upon thousands of camcorders to pick from, so you're hardly likely to feel upset. And there are countless options to find a decent live stream woman for yourself, on top of it all.
Check out the full review of BongaCams.
PROS:
There are tons of HD streaming camgirls
Uses token system and incentives
Premium members enjoy special features
CONS:
Annoying pop-up advertisements
Requires paid subscription to use site's features
---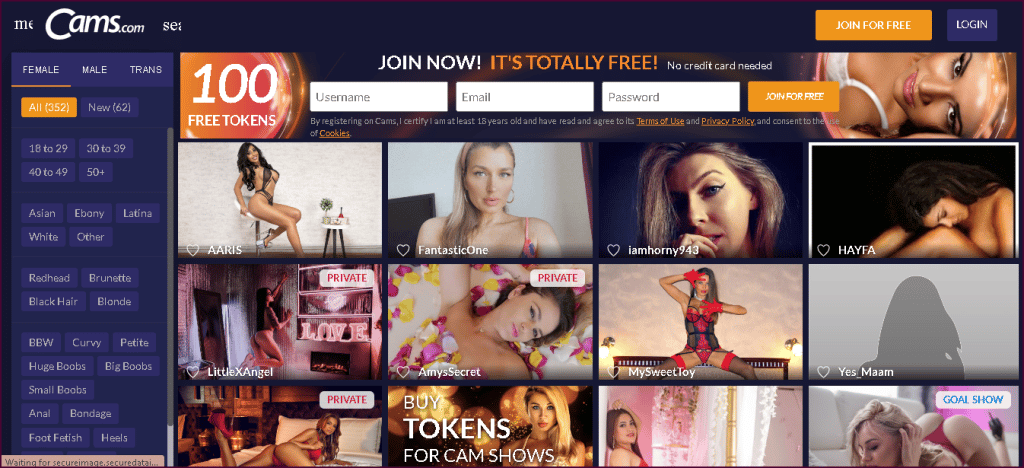 Have you been feeling tired while watching porn all day? Want to try a real sexy cam show for a change? Why not head over to Cams.com and experience real videos from horny models. Once you visit this site, you will never miss any cam shows. Above all, you can interact with the models when you register.
Click to see the full Cams review.
PROS:
Plenty of models available for you
The site is simple, and the design is easy
Division of videos is according to categories
CONS:
You need to register to use the chat feature
Quite expensive membership
---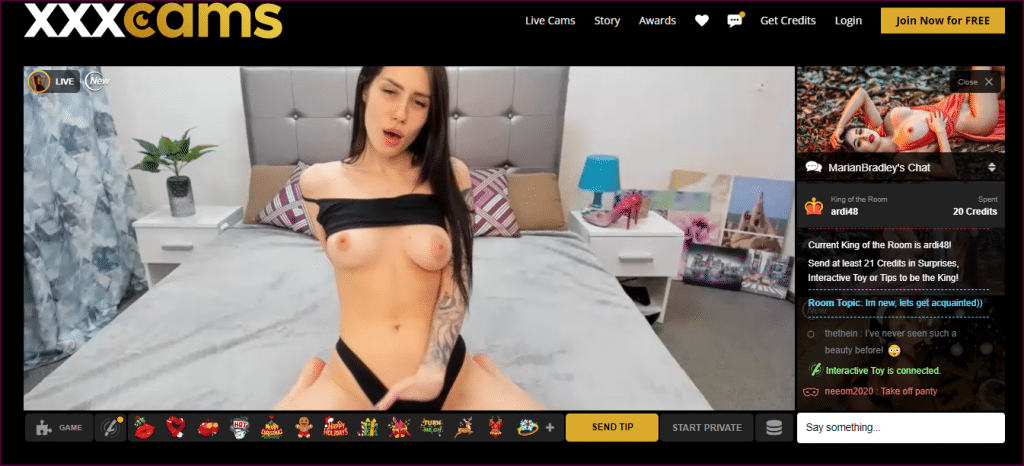 xxxCams is just a regular sex cam site online, but its features and services are no ordinary. As the title suggests, the service features kinky sex cam footage with sexy hot chicks. But, if you're thinking they are just regular chicks putting up a show, then think again. You can enjoy professional and amateur cam models here and even experience an exclusive sex performance with a pornstar.
The xxxCams site will give you breathtaking "seats" imaginable because the majority of them use brilliant high-resolution cameras. Certainly, it's like having front-row seats in a blockbuster Hollywood movie!
Learn more about xxxCams with this full review.
PROS:
Shitload of girls to chat
High definition cams
Free viewing of cams once registered
Truly good looking girls
CONS:
No peeking without registration
Private chats are pretty expensive
---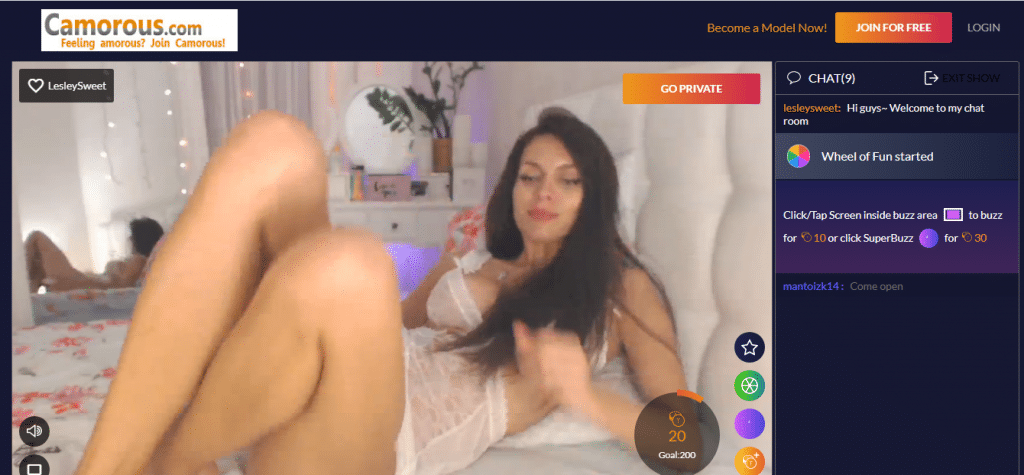 This is a popular website with excellent design and easy navigation. This live webcam site lets everyone enjoy HD video streaming, watching sexy models perform and pleasure themselves, and many more interactive features that will guarantee your fun and sexy time online. Even as a free user, you can watch some of their live streams, except for models that restrict their videos to non-members. If you want to experience first-hand what
Camorous is all about, you can quickly sign up for free, and then you can start using the site's features. There are some models, though, who would refuse access for members who don't have enough credit on their accounts. But despite that, even if you choose to put some credit on your account or not, you can still get to enjoy a lot on site. Its homepage would tell you everything you could want here — top-rated shows, new models, and even their top-rated girls. Your fetishes can also be satisfied here, as they have lots of services and models that can do just about anything that you would want to see.
Check out the full review of Camorous.
PROS:
Outstanding video and audio quality
HD quality for both streaming and non-streaming videos
Great performances from the models
CONS:
Most models ignore free users
Fewer features to promote user interaction
Lots of ads
---
Final Words
If you're bored and want some excitement in your life or to liven things up, you better sign up with LiveToLives. The site has impressive features and an intuitive design that totally makes your online and chatting experience feel better. Many sites nowadays are busy developing tools and services to help them stand out from the crowd, but they forget that a smooth and secure platform is much more critical for any user worldwide. Probably, that's why LiveToLives is already capturing the attention of many cam fans online, and I'm pretty excited about its future in the adult entertainment scene. So, why don't you go out, start meeting beautiful women you've never met before, and enjoy long nights of intimate interaction?
All 107 Other Sites in This Category Worth Checking Out:
Sexcamly Review & 12 Best Live Sex Cam Sites Like Sexcamly.com Show Me 12 Alternatives for Sexcamly.com Hey there, fellow pleasure seekers! Are you tired of the same old adult webcam sites with all their bells and whistles? Well, let me introduce you to Sexcamly – the independent, Vegas-based underdog of the webcam world! This small […]