Updated on: September 30th, 2023
PeeksSocial Review
& 12 Must-Visit Live Sex Cam Sites Like peeks.com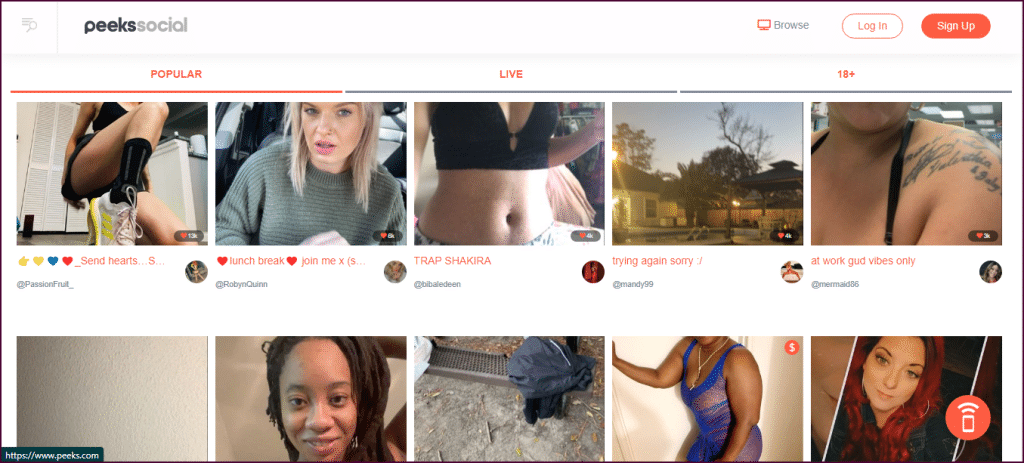 Looking for the "Most Rewarding Live Streaming Platform?" Well, good news, I know a site with the same website slogan. Introducing… PeeksSocial! I'm pretty sure from that slogan itself; you already have a sense of idea what's up with this site. PeeksSocial won't end up in Dudethrill's list if there's nothing worth noting. It has all kinds of streaming shows and thousands of performers anytime. Sure, the site seems a bit unpopular; in fact, this may be your first time hearing this. But one thing I know, PeeksSocial really has the incredible potential of giving as unparalleled adult entertainment! Let's dig this site deeper and see if it reached my expectations.
Official URL: https://www.peeks.com
Let's Take a Peek on PeeksSocial
Peeks, commonly referred to as PeeksSocial, is a live cam and video sharing network. People from various ethnicities, shapes, sizes, and colors gather here to share live streaming videos and perform various activities for the explicit fun and pleasure of the audience. I'm sure you may not have heard or seen this site before, but they attract a thousand visitors daily from different parts of the world.
Obviously, as long as adequate users are making relevant contributions and content on the page, PeeksSocial will be around for a extended time and thrive even more! That's why I'm fucking curious about the niches, models, and streaming services this one offers, considering it survived despite having a lesser member pool. I definitely have a sneaking sense that you, jerks, share my sentiments.
Interestingly, PeeksSocial really provides terrific streams. Many of them are strippers and skilled performers, while others are amateurs. I'm not going to lie; this site has pretty diverse streamers and opens its platform to all interested cam whores. So far, I'm pretty impressed, but I can't say it's perfect at this point. Let's look some more!
Get Started!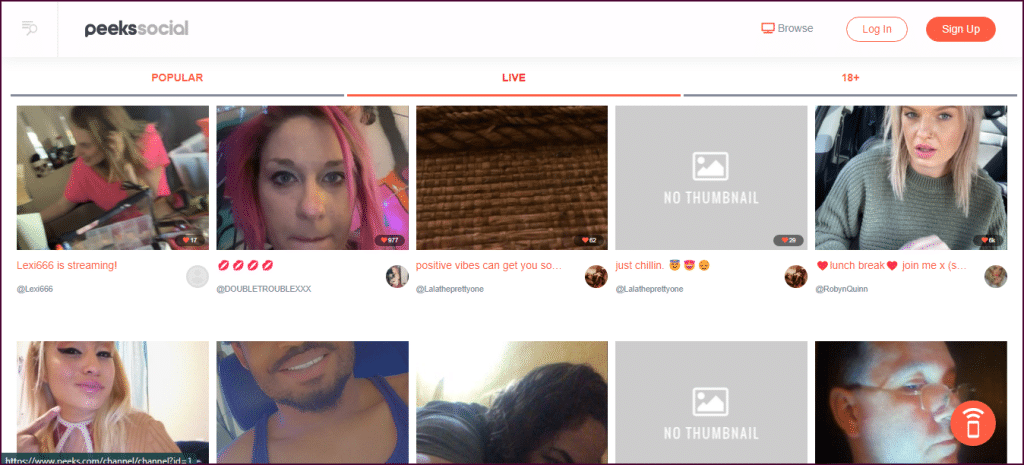 Go Live
As you know already, PeeksSocial promotes open video sharing and streaming services. So, if you think you're ready to show yourself to the world, start broadcasting now! PeeksSocial welcomes all interested users to stream and perform in front of thousands of lucky viewers. Users of this site come from various parts of the world, so I'm pretty sure you can hook up with people from all walks of life.
Get Popular
PeeksSocial may have few members compared to other mainstream sites, but you'll quickly get famous overnight! Yes, that's right! The site brags about its platform's effectiveness in creating superstars through live streaming. If you're an incredible performer, I'm sure you will quickly earn a rightful spot in the Most Popular section.
Get Paid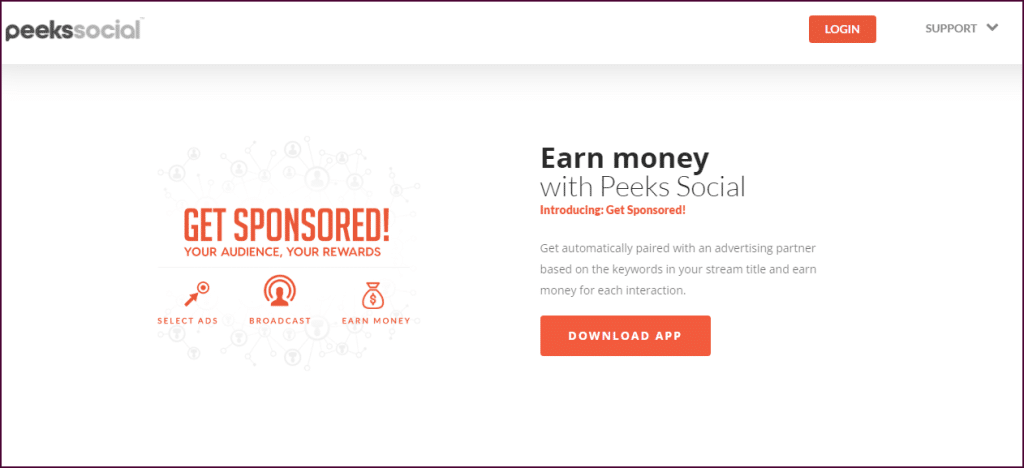 Need money? No problem! PeeksSocial offers ways to earn money by simply live streaming. You can use the site as a money-making machine if you're confident enough. Streamers earn money through tips sent by fans and viewers. If these users enjoy your live streaming, your effort won't get wasted. They are generous in sending money, so better start making content and collect dollars!
Explore More!
For all you know, PeeksSocial focuses its energy and effort on creating unique features that enhance every user's streaming and browsing experience. That's why I'm pretty impressed with how the team behind PeeksSocial organized and managed the site. Users from all over the world can quickly stream special shows or watch erotic videos whenever they want. Not only that, but PeeksSocial also offers fantastic deals that surely save lots of dollars compared to regular live cam sites.
PeeksSocial's Special Web Features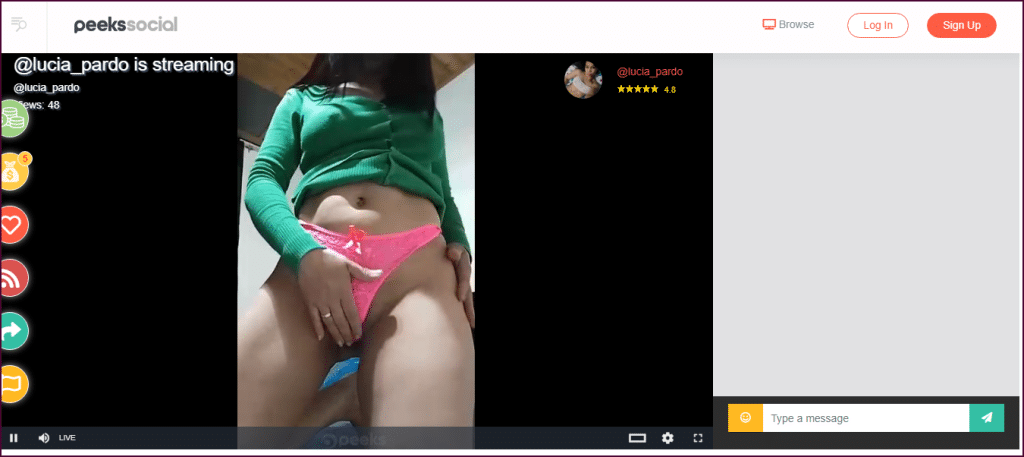 When you're always on the run, your PeeksSocial mobile wallet lets you easily send money across your multiple accounts. Definitely, this site provides a feature that makes your browsing and transactions more convenient. The PeeksSocial digital banking platform keeps records of everything of your profits and funds, so you will never get lost.
Audiences can pay creators directly for the work they've put out there. Every streamer's effort to entertain the audience won't waste because their skills are never taken for granted. Any entertaining and educational content is highly valued in the eyes of the PeeksSocial audience as a whole.
It's possible to communicate on a real-time basis with folks all around the globe! PeeksSocial is a platform that encourages real-world communication and valuable exchanges between users. The chat tool lets you stream and participate in a model live stream dramatically enhances how you connect with performers and other users.
Become a member of PeeksSocial's OfferBox and get amazing offers and discounts delivered to your inbox! As soon as the ad is posted, customers can quickly buy any tangible items or even virtual items.
Streaming Live Video Games
Certainly, PeeksSocial will put you in the middle of the excitement with its real-time video gaming experience. Sit back, and watch your favorite broadcasters fight toe-to-toe in a struggle for supremacy over the game's challenges.
PeeksSocial is a site where you can find top-tier companies and independent creators at a low, low price. Due to its minimal charges, anyone can participate in the site's advertising platform, no matter how large or small your followings. Obviously, it doesn't discriminate against streamers and audiences and welcomes anyone interested.
The PeeksSocial's Blog Section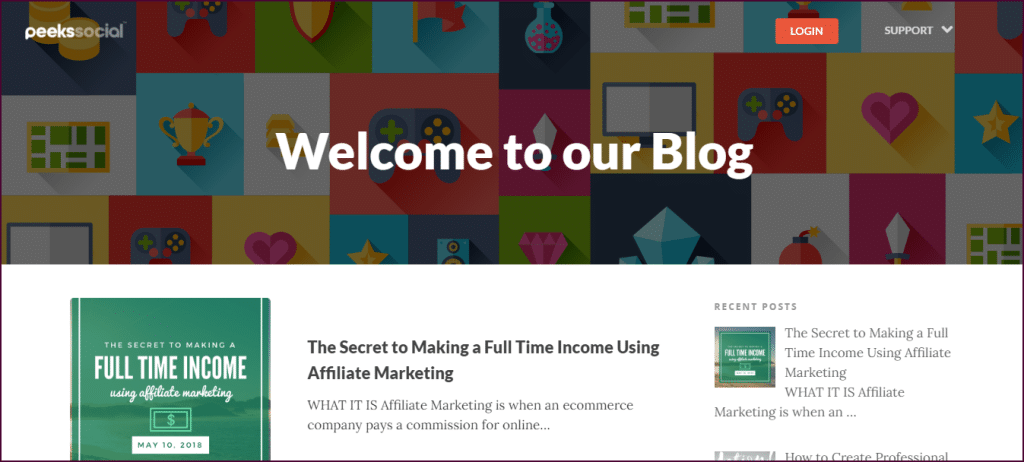 If you think PeeksSocial is just about video sharing and live broadcasts, you're wrong. On top of its unique live cam features, the site also offers awesome blogs. This section has hundreds of information, tips, and guidelines on relevant topics and concerns.
Of course, I checked some interesting articles on the page, like the "100+ Peeks Social Post Ideas." It was an informative blog and really insightful —10/10 worth reading! Also, I clicked another one entitled, "A Complete Guide To Your Peeks Social Virtual Debit Card." Definitely, I learned some valuable tips on managing the site's transaction methods —something that no FAQs could explain.
For beginners, PeeksSocial also has an article about "How to Create Professional Streams and Videos." It was a worthwhile reading experience, especially for a newbie like me interested in live streaming. Girls who like to start a career on PeeksSocial could use this blog for relevant guidelines.
Anyway, the Blog section likewise published some blogs that lean away from adult entertainment. Obviously, PeeksSocial does not focus on erotic niches but covers informative and trendiest subjects today. One example I've read was "The Secret to Making a Full-Time Income Using Affiliate Marketing."
Who Let the Bitches Out?!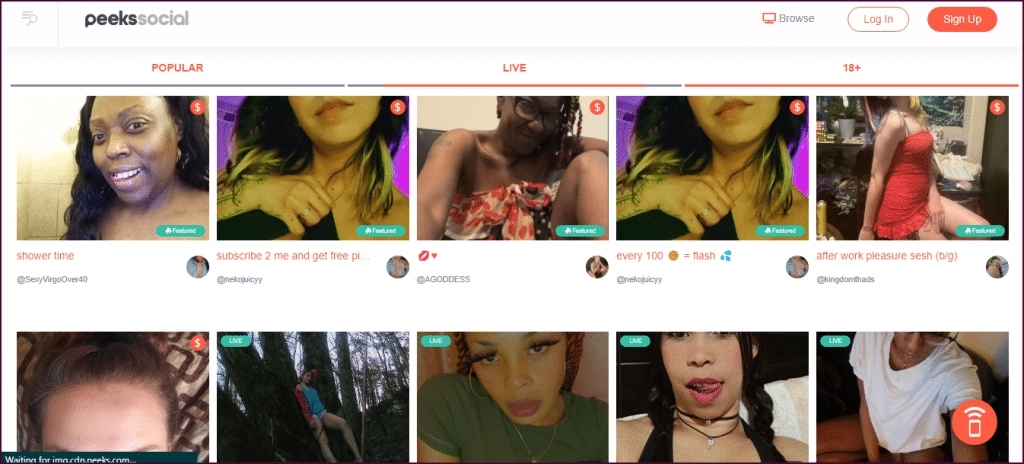 Typically, we see Chaturbate, Stripchat, and other cam sites with hundreds to thousands of live shows on the display. So, picking the best among the rest could be tricky and challenging. However, after browsing for hours on PeeksSocial, I realized the downside of being less popular. Obviously, there were only a few great choices available, plus several videos were even pre-recorded.
Scrolling down the page, there were sections full of xxx videos; some have "Live" logo, while others have "Dollar" badges. The former implies that the current videos are live broadcasting, and the latter shows that the videos are only accessible through coins. Surprisingly, there were videos with both Live and dollar badges, so I got denied access when I tried clicking it.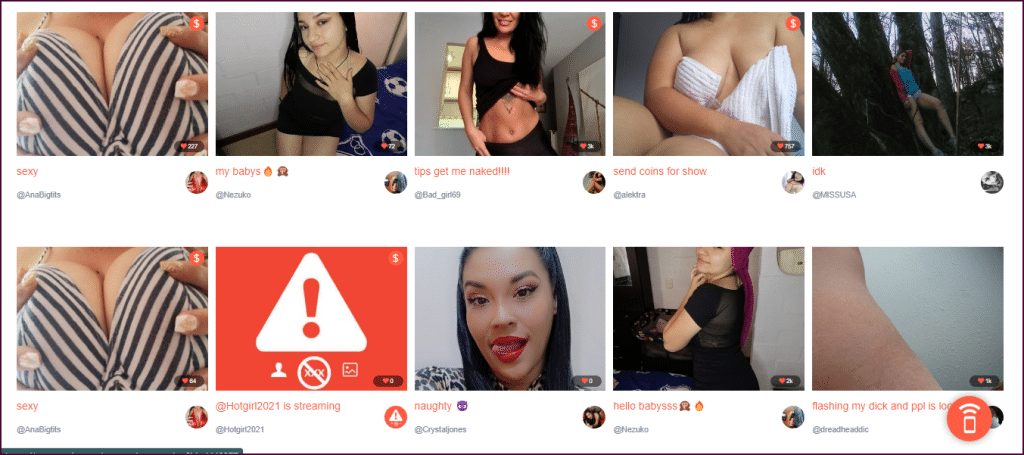 Anyway, I kept browsing the videos and found a sexy ebony girl. She was already in her mid-show, teasing viewers with her pants down. This cutie was performing for tips, so she'll perform her hidden tricks whenever someone sends virtual coins. I hopped in and crossed my fingers, wishing that many viewers were already tossing tips. Luckily, a boatload of horny guys chatting and requesting her some unique performances. Indeed, these mother fuckers look broke, but they aren't cheap in giving gifts to the lady.
Talking About PeeksSocial's Downside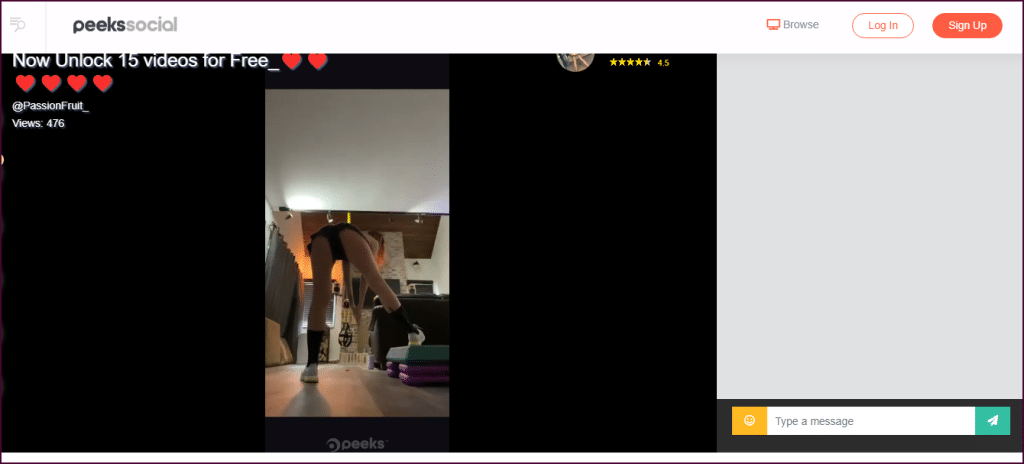 Boy, oh boy, PeeksSocial is really jam-packed with features. But, despite being unique, this site has its downsides too. If you turn out to be a supporter of big, mainstream cam sites and sex chat sites, you may find PeeksSocial a bit disappointing. Why? Well, first of all, the site has comparable services and features to other platforms, but it fails to keep up with the standards.
Plus, I didn't notice any pornstars, amateurs, experienced cam models, or strippers live streaming shows on the page. Perhaps, PeeksSocial is not too attractive or exciting for many of them. One factor I found is there is a limited number of members, and we can only blame this on the site's not-so-famous brand name.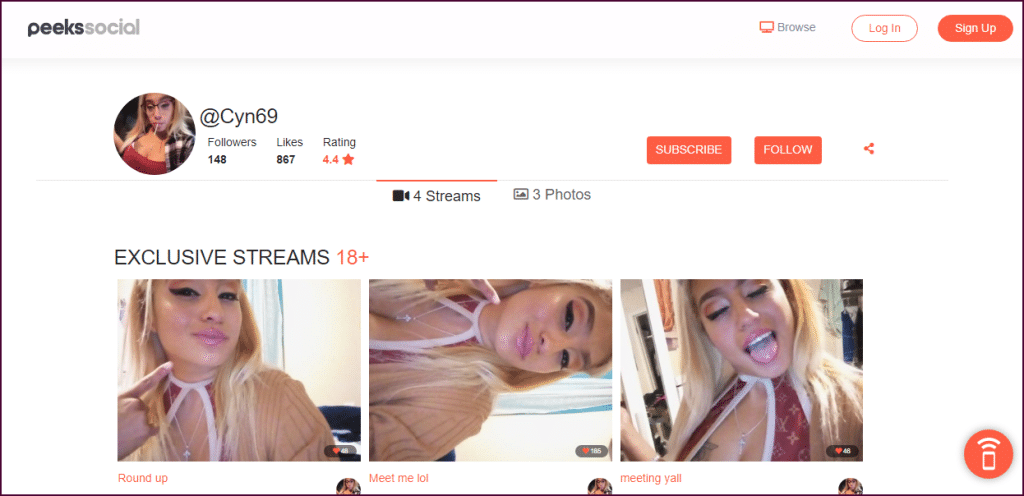 Additionally, several streamers are broadcasting live shows outside the sex realm. What the fuck is going on? I didn't wish to visit a live sex cam site just to watch a bunch of girls cooking or lecturing. We have YouTube for that! Absolutely, it makes a lot of sense why cam performers prefer other cam sites.
Anyway, my point is, PeeksSocial should look closely into their cam shows and performers. Being open to all interested users worldwide is not totally bad, but filtering the best from all the shit might help increase the site's traffic and popularity. And, that's not all; PeeksSocial has pre-recorded videos. In fact, almost 50% of its content is pre-recorded, while the remaining percent costs pennies when streaming.
Pros and Cons of Peeks.Social
PROS:
Lots of adult content
Can make money
Available using mobile phones
CONS:
Limited adult content available
Several videos are pre-recorded
Some streams are accessible when you pay
---
12 Must-Visit Live Sex Cam Sites Similar to Peeks.com: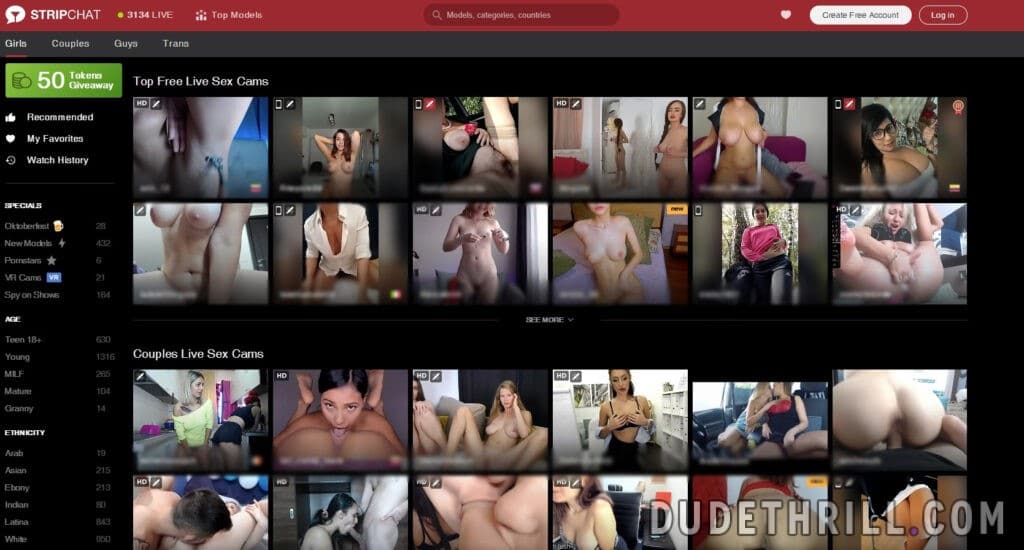 Stripchat, which has been around for five years, has successfully grown into the top 10 best adult platforms and continues to give superb quality and services, making everyone love the site a little more. One great feature that Stripchat offers is that users are not only limited to communicating with models, but they can also chat with other users.
Here's the full review of StripChat.
PROS:
A long list of beautiful models on the site
Simple, cool, and attractive website design
Users are allowed to forward private messages
The website is easily accessible and user friendly
A wide selection of live sessions and videos
Extensive FAQ page
FREE view and chat functionality for guests
Try StripChat For Free
CONS:
Unregistered members get constantly reminded via pop-up messages to sign up (which gets annoying)
English is the only available language feature
Private message chats are exclusive for paid memberships only
---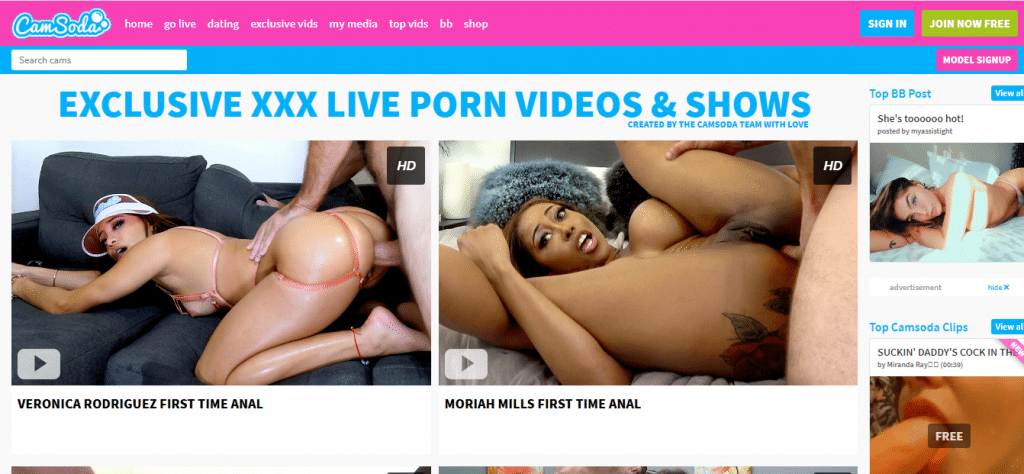 For people addicted to live cam and sex chat websites, Camsoda has got it all for you. The site is unquestionably among the most popular websites in the field of the adult business. So, if you are having a tough period at work, or simply wanting to experience the pleasure of chilling with girls, then this is truly perfect for you. Above all, it has unique functions that help people communicate and talk easily.
Click here for Camsoda full review.
PROS:
Excellent design and simple to use
High-quality streaming videos
Lots of cam girls available
Free accounts can still use all the features
Active members are using every day
CONS:
Advertisements are available and annoying
---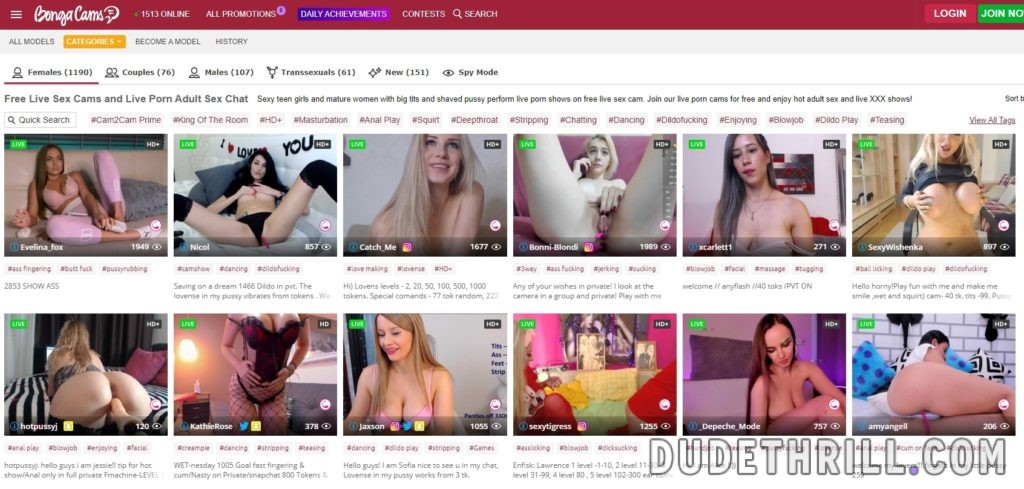 As the name indicates, this is site is for live webcam cams in which you can search for many of the hottest models and one of the most acceptable money system applications nowadays. There are thousands upon thousands of camcorders to pick from, so you're hardly likely to feel upset. And there are countless options to find a decent live stream woman for yourself, on top of it all.
PROS:
There are tons of HD streaming camgirls
Uses token system and incentives
Premium members enjoy special features
CONS:
Annoying pop-up advertisements
Requires paid subscription to use site's features
---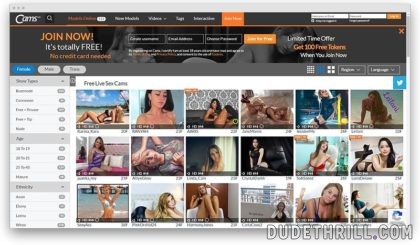 Have you been feeling tired while watching porn all day? Want to try a real sexy cam show for a change? Why not head over to Cams.com and experience real videos from horny models. Once you visit this site, you will never miss any cam shows. Above all, you can interact with the models when you register.
Click for a full review of Cams.
PROS:
Plenty of models available for you
The site is simple, and the design is easy
Division of videos is according to categories
CONS:
You need to register to use the chat feature
Quite expensive membership
---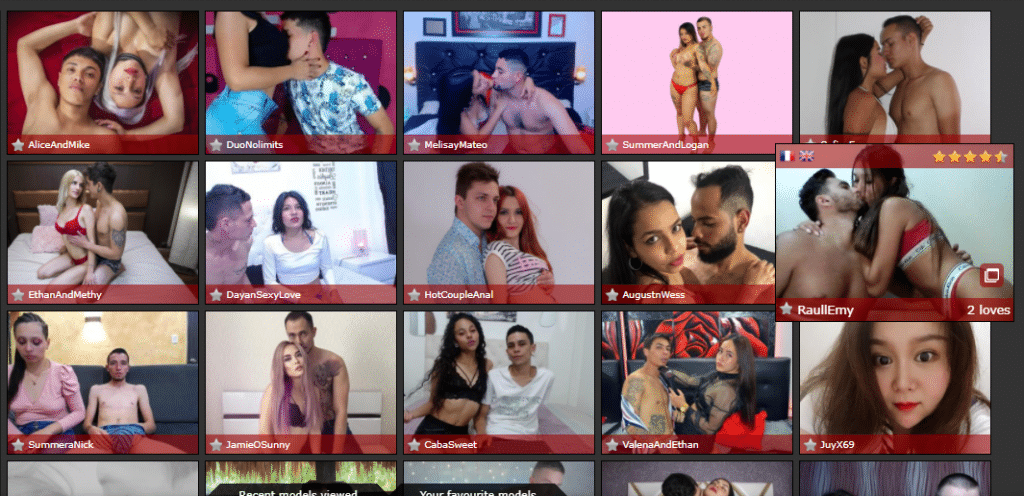 XLoveCam is a platform interesting to check out. Definitely, there is no reason never to try it out. Most of the cam girls in xLoveCams are Latina, Asian, Latina, Black, White, or Arab. They are undoubtedly sexy novice young women, giving you a reasonably cheap price—per—minute rate. Most of all, discovering a camgirl who uses a high-definition camera quality here is again not difficult.
PROS:
Good variety of camgirls available
High-resolution cameras used
The cheap price per-minute rate
CONS:
High Definition filters for videos is not available
Some private shows are a bit costly
---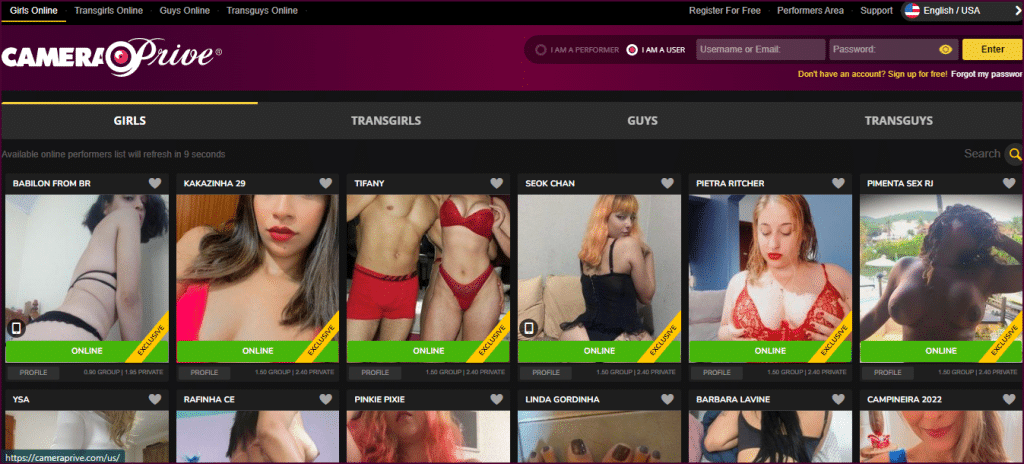 Camera Prive is a Brazilian adult live sex site that started giving people cam entertainment in 2012. Surprisingly, I found out that this site is included in the BongaCams channel, and I'm sure it's equally impressive. Currently, Camera Prive is among the highest visited site globally and ranks on top in Brazil.
Full Camera Prive review here.
PROS:
Affordable prices
No ads
The layout is impressive and stylish
Translation is available
CONS:
Models are primarily a non-English speaker
Some cam models have a poor internet signal
No available advanced search tool
---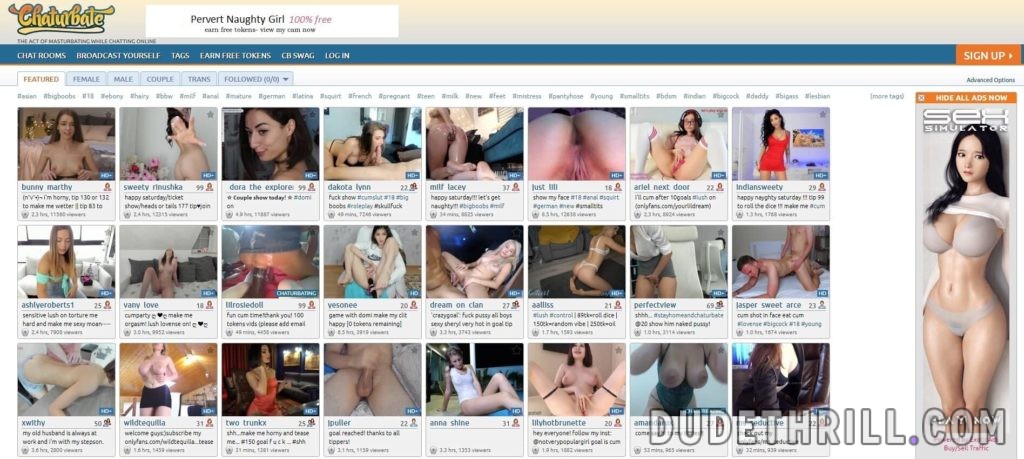 Connecting to people worldwide has never been so easy. Thanks to Chaturbate, unlimited talking is now possible. Plus, you will never spend a dime on it. There are a lot of sexy and beautiful women available for you, 24/7. As a matter of fact, women on this website love kinky stuff, which is always worth your time and attention. Meanwhile, live shows are also available for viewing at a reasonable price.
Take a look at the Chaturbate review.
PROS:
Many cam girls available 24/7 live
No additional fees to expect
Nudes and sex are always a guarantee
Smooth browsing on smartphones and other devices
CONS:
Few videos are in SD format
Expensive private shows
---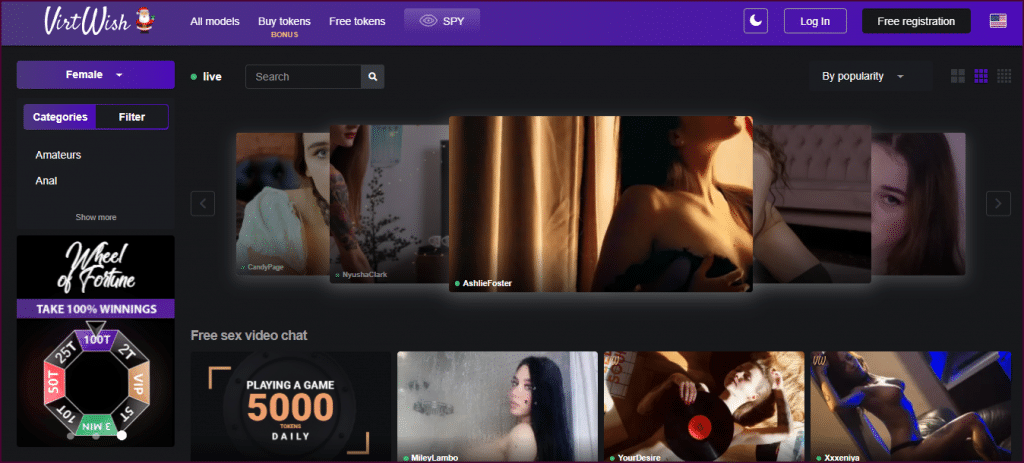 VirtWish is a new solution to your sex cams craving, with the integration of excellent consumer standards in the entertainment industry. Through the use of cutting-edge and state-of-the-art technology, VirtWish intends to establish a pleasing experience that users enjoy.
Every hour of the day and night, stunning women worldwide are waiting to chat and perform on cam with you. Get started by creating an account, and after a couple of minutes, you can already experience sensual performances and communicate with ladies privately with no limits whatsoever.
PROS:
Numerous live cam girls are available
Variety of chat rooms
Free tokens upon signing up
CONS:
Guest can use limited features
Requires strict age verification process
---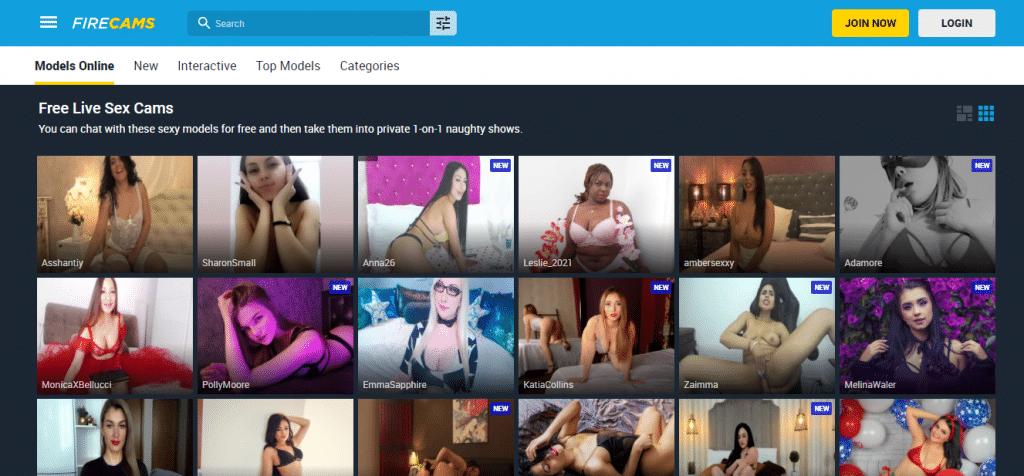 FireCams offers a wide range of live streaming show options and essential features to choose from. Like many other live sex cam services, this one provides interactive shows on sex toys, a large selection of hot camgirls, pre-recorded performances, and exclusive conversations for a modest price (in tokens).
PROS:
Plenty of authentic and verified models
High definition webcams
You can switch SD quality to HD quality cams
Excellent search and filter tools
Affordable chat prices
Lots of freebies for new users
It has a free chat option
CONS:
Pop-ups to signup
Requires tokens to join private chats
---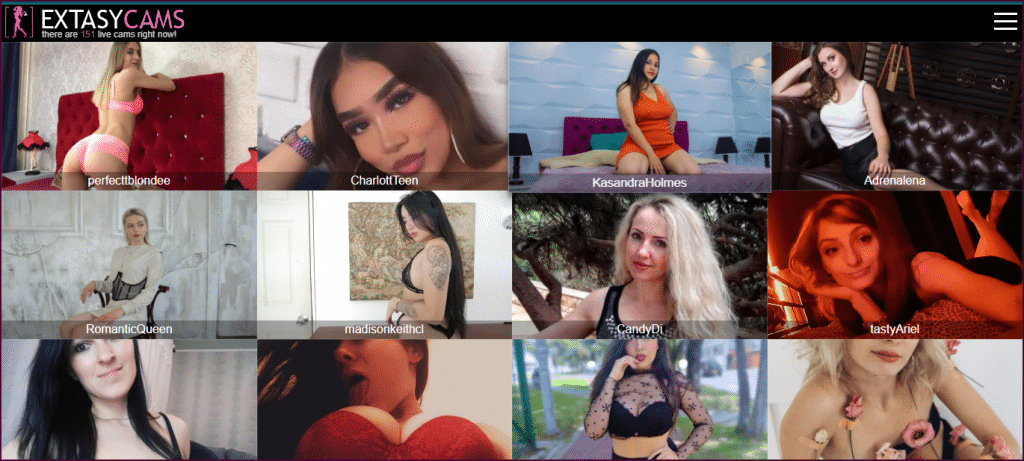 When we visit a sex webcam site, we already have a pre-existing notion of what to expect. Of course, that includes gorgeous cam models, high-quality resolution cameras, and pleasurable cam shows. On that note, Extasy Cams really top those expectations. Extasy Cams is really straightforward in bringing us what we expect it to be. Perhaps, the only twist I was really excited about here is the live show rates. Compared to other cam sites, this one is really reasonably cheap. You can watch live shows and sex for only $0.49/minute.
Click for an Extasy Cams full review.
PROS:
Simple design but elegant
Lots of models available
Some cams are HD quality
Very affordable cam model rates
Registration is free
CONS:
Lacking features
Unsatisfactory customer support
Most models have Average quality webcams
Nothing much to do with basic membership
---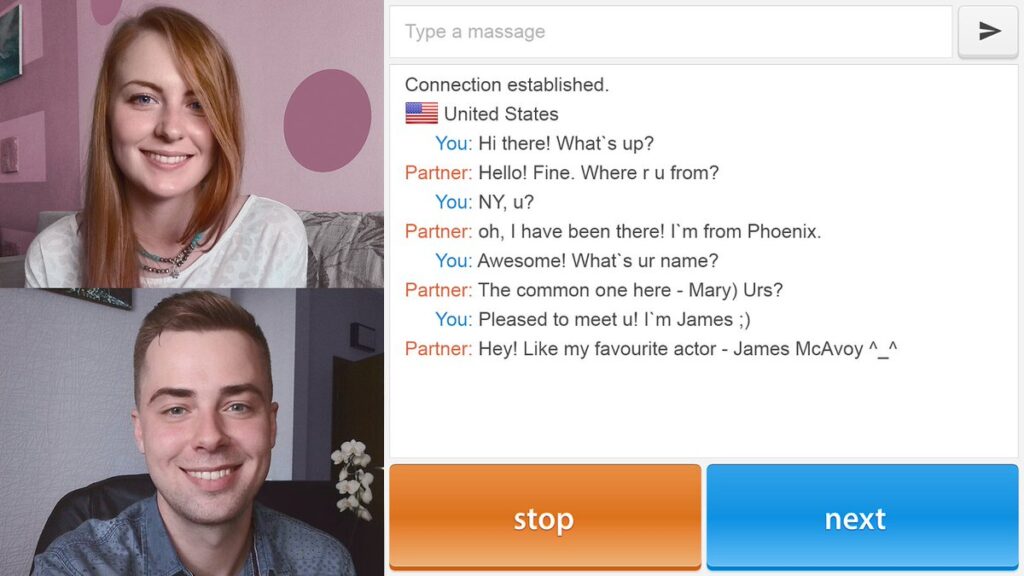 Do you love connecting to different people from across the world? If yes, certainly you will love the CamSurf website. This is where you can find random chat mates and help you find connections worldwide. Coupled with unique features, CamSurf is the best adult cam and video chat website.
Also, the team behind this website designed it to help people find and meet individuals, romantic interests, or simply random users. Not to mention, it is available across 200 countries from different parts of the world. Also, everyone can use it regardless of what area you are in.
PROS:
Fantastic adult cam and video chat website
Free to use
It does not require any registration
User-friendly design and simple to browse
Maintenance of Users' privacy
Implements regulations to maintain positive experiences
Available in 200 countries worldwide
Uses SSL encryption for security and protection
CONS:
No filter option for sex chat only
Requires the people to be at least 18 years old to use the website
---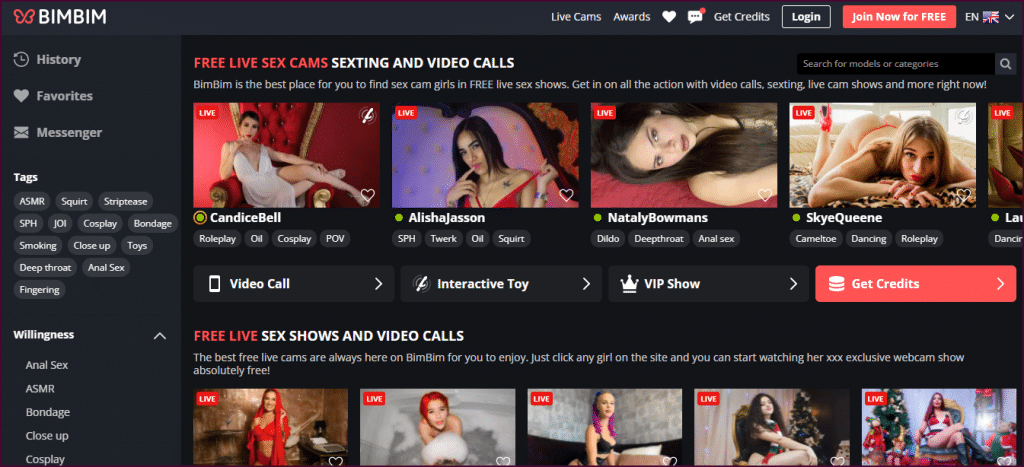 When you join BimBim, you will immediately notice that it functions and acts like a social networking site, coupled with interactive features and excellent services. With an Instagram-like look and experience, BimBim is the ultimate desktop site and smartphone app for real sex cams. They also include well-known and up-and-coming models so that everyone can get the right dose of the perfect cam girl of their dreams.
Click here for a review of BimBim.
PROS:
Offers free coins upon registration
It has an impressive collection of content creators
Lots of free stuff
Fantastic variety of live shows
Exclusive chats with Camgirls
Safe and secure
Basic navigation and simple design
CONS:
Downloading is not available
Coin bundles are pretty expensive
Some features require membership
---
Conclusion
Overall, I don't think PeeksSocial is a crappy website. Perhaps, it's just not something notably impressive and doesn't leave much impact. I have to say it's a pretty mediocre site that could use more improvements and developments. That's not bad at all, but as you know, in the adult entertainment business, being labeled as "mediocre" might be a fate worse than death, considering there is a shitload of better alternatives online like Stripchat, Chaturbate, MyDirtyHobby, and more.
Although I'm not saying, you won't ever stumble into a stunningly beautiful live stripper on PeeksSocial. Of course, you will! In fact, if you're lucky enough, you might get free live sex, but obviously, you'll have a much higher chance of finding this on one of the more well-known cam websites.
All 113 Other Sites in This Category Worth Checking Out:
Fetish Galaxy Review & 12 Best Live Sex Cam Sites Like FetishGalaxy.com Show Me 12 Alternatives for FetishGalaxy.com Welcome! Today, we're strapping in for a journey that's bound to tickle your curiosities and awaken your inner desires. Don't tell me the name "FetishGalaxy" didn't already send your imagination into overdrive. I mean, it's like a cosmic […]