Updated on: December 5th, 2023
Camorous Review
& 12 Live Sex Webcam Sites Like Camorous.com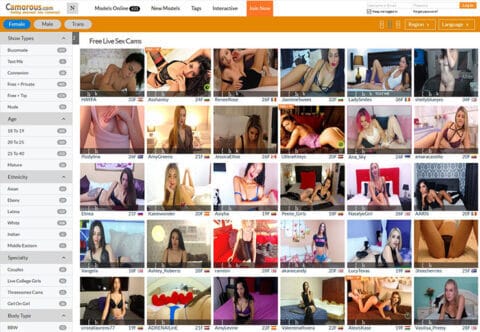 Camorous.com is the modern interpretation of the iconic Cams.com website, with an updated design and functionality. It's a very well-designed and budget-friendly website that gives excellent value. With an impressive live video stream performance and other exclusive video functions, Camorous.com far outshines the competitors. What's more, it leaves out all the extra options that are surely unnecessary for most people. Is this all you dreamed of for a live sex webcam to have? Let's find out more about what this website can offer to horny bitches like us.
Official URL: http://www.camorous.com/
Ultimate Live Sex Webcam Site: Camorous
The catchphrase explains it all —"Camorous is the ultimate live video site!" Camorous allows you to browse thousands of the sexiest live webcams girls on the Internet and enjoy connecting with them. But, of course, you can always sit and enjoy a free chat, or, if you wish, you can get fully involved and observe as you do so.
It's possible to develop friendships and a relationship with your preferred models here using a private one-on-one — where you get even more personal. Learn about individual models by browsing their profiles, and then introduce yourself to them by sharing your biography and images. Also, you can access a model's virtual journal and contact her personally if you enter her fan group.
Camorous not only allows you to watch your beloved stars, but it also allows you to get personal and intimate with the hottest, kinkiest models in the world! The web women are beautiful, and you will never feel disappointed, thanks to the massive database of registered entertainers.
There were around 700 models and performers at the time of this review. Also, one of the best aspects Camorous has is its full-HD live shows and significantly faster to boot up than others. Unlike several other websites that claim to have HD or HQ video but don't, Camorous always deliver consistent performance.
HD Streaming and Quality Videos in Camorous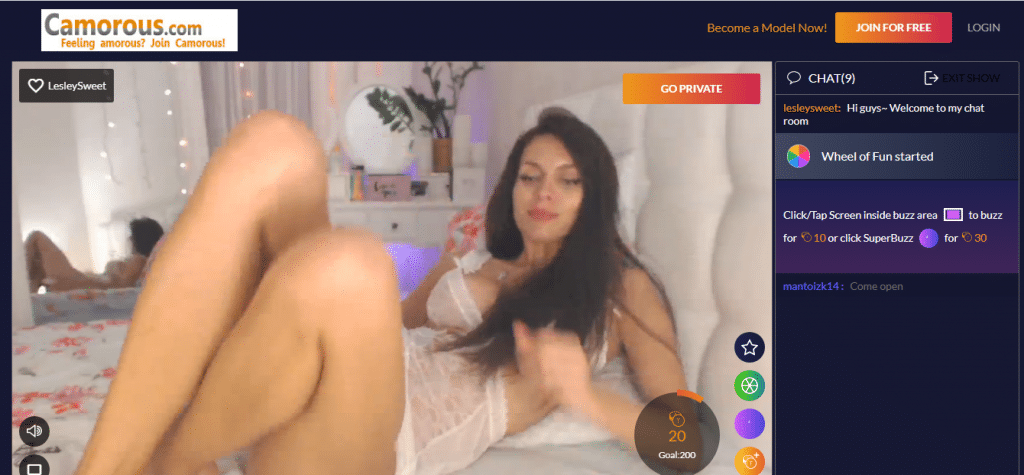 Camorous has excellent video and sound quality, with several performers streaming live performances and filmed sessions accessible in HD quality. Even if your internet service can't accommodate HD streaming content, the non-HD stream videos are still of excellent value. The standard setting of videos in Camorous is medium; however, you can always resize them to either small, medium, fit-to-screen, or fullscreen display.
Last but not least, the performers on Camorous are of an exceptional standard. We've checked several webcam sites where most of the entertainers seem to be a little sloppy or exhausted, and their shows seem to be totally unimpressed and only going through the routine. But Camorous isn't like that! The models here are primarily stunning and seductive. They certainly contribute to the "amorous" reputation and aspect of Camorous! This website has hosted many of the most exemplary models shows we have ever seen online these days.
Chat Types, Live Shows, and Other Features of Camorous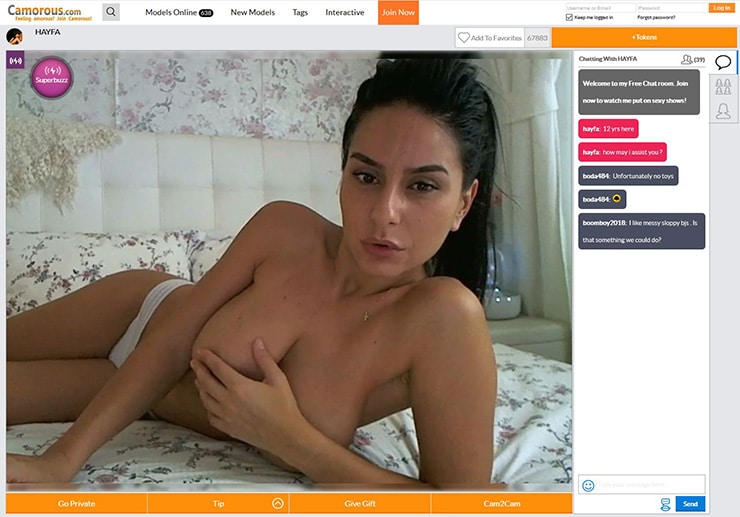 Chats Types
Free Chat is a social chat that acts as a "teaser" to entice consumers to pay for Private Chat. Free Chat allows nudity as long as no sight of nipples and the performance is not sexually graphic.
Cam2Cam is a Private Chat feature that allows members to watch live streaming models for a more immersive experience. This is the highest-paying show per minute, and only the member can start it. Cam2Cam is accessible by users at any time. Once launched, the user video will appear in two places — above the chat message and on your display screen. Models can have several Cam2Cam customers and choose who appears on their display screen.
As a member, you can give a tip, suggest ideas, and donate to the tipping target in Tipping Chat. When the target has reached, models usually encourage members to pay and enjoy the exceptional, stunning performance. During Tipping Chat, the system disables all private shows so that you and models can concentrate on meeting the tipping target. Keep in mind that models can only be naked once the tipping show started.
During Free Chat, members can initiate Private Chat, which is a private, one-on-one show. Private Chat is usually the highest-paying show per minute, and it's a perfect way for models to create a fan base. The private conversations and shows get taped and accessible in the Recorded Shows.
Exclusive Chat is identical to Private Chat, with the exception that voyeurs cannot access this area.
You can have to pay chats with multiple people at the same time using Party Chat; these include the "voyeurs." The prices of this feature depend on the models because they have the full pricing power of Private and Party Chat.
Members who pay-per-minute on Voyeurs can watch model's private shows, but you can't see chat text or hear any music. Generally, you're a Peeping Tom in the Chat, sneaking like a nasty bitch.
Nude Chat is viewable by several participants for just a small fee. Being a longtime Fan Club member, returning customers and new clients can simultaneously watch the model's stream. Indeed, this is an incredible way for the models to earn money quickly and for horny lads to get nasty. As the name of the Chat implies, the models are entirely naked during the Nude Chat. They can also engage in sexual acts however they want.
Live Shows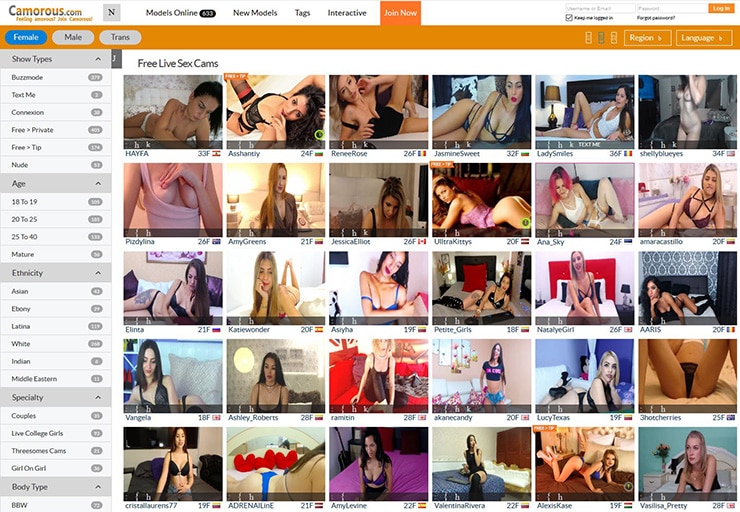 Private live shows often have a cost, and the standard per-minute price here will range from $1.99 to $5.99; I guess it depends on the performer's popularity and reputation. A fresh and unpopular model would never charge as much as a well-known celebrity.
The Group Shows connection is a new feature that allows users to stream the model of their preference in full-on rough performance with a crowd of several other members. The performer determines the price of a group performance, usually about $3 per minute or $10 for a 10-minute show.
The group show will offer you a no-holds-barred value for a lower price of private talk. The obvious disadvantage is that you won't communicate with the model one-on-one like private Chat.
The Fan Club feature is interesting to me and appears to be very nice. Indeed, it leaves you feeling more connected to your favorite models, and full access to all of her material is a must if you are a huge fan.
Model fan clubs are an on-site feature that lets you connect to all of the performer's areas and recorded performances. The first month's cost is usually $15, with subsequent months costing $10. Of course, each model has a unique set of shows and photos to offer.
It's fun to watch the top-rated shows whenever and anywhere you like. Recorded Shows contains recorded performances of the model and packed with the top extreme actions as voted for by the Site's users. In addition, if you are a member of a model's Fan Club, you have unlimited free access to all of its content.
The Recorded Shows section allows you to view each model's recorded shows. For easy viewing, you can sort it according to Most Viewed, Top-Rated, Newest, and Most Commented. However, this feature is only accessible to paid members. In addition, you may search the Recorded Shows section by model's name, gender, category, HD video, and so on.
Other Features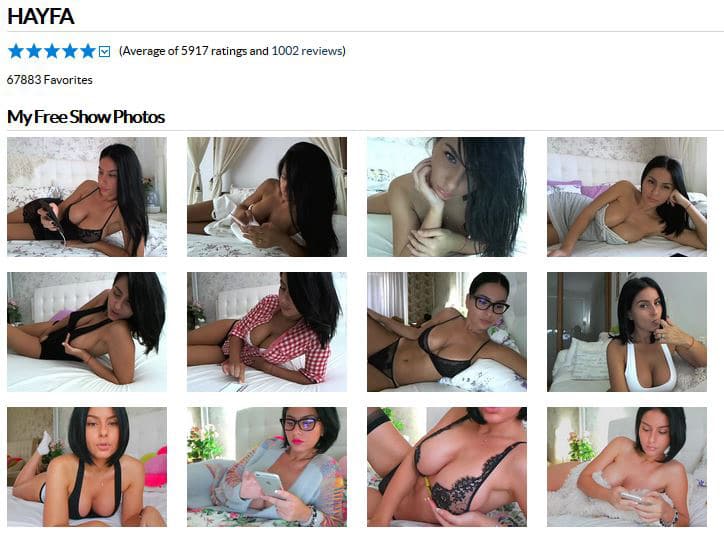 The "Who's On Now" will show you a list of all the online models. It is accessible conveniently and sorted according to popularity.
You can use Model Search, a powerful search feature, to customize your model search and include criteria like gender, age, ethnicity, and hair. Indeed, you will quickly find performances by browsing for the category that interests you.
Performer Photo Galleries
Using Performer Photo Galleries, you can easily view photos taken during performances. This feature is available for free among Premiere and Fan Club Members.
Whisper Feature helps audiences send models private messages that are not visible to other people in the chat group.
Range of Hot Cam Models in Camorous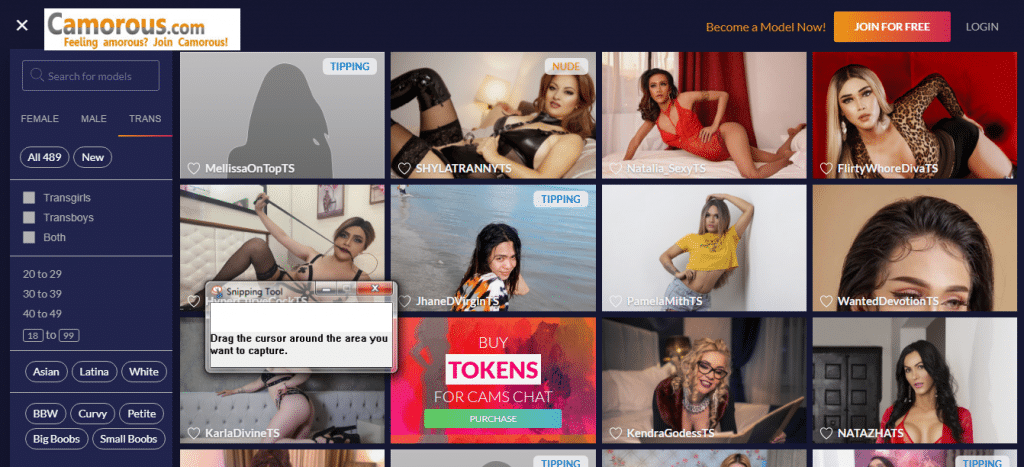 You can sample any live video from Camourous without having to commit to the subscription, even though some models have chosen not to offer streaming videos to non-subscribers. So, to get a true sense of what Camorous has to deliver, you must first register as a free member. However, it's effortless and fast, so you've got nothing to worry about anything.
The website's home page displays the most recently filmed shows, the newest models, the highest-rated models available, and a rundown of your mailbox, fan clubs, and beloved sexy models. Also, suppose you are looking for special and unique cam models. In that case, you can effortlessly use the search option on the homepage and an advanced search engine for an incredible range of additional options.
Indeed, the range of models available in Camorous is incredibly bizarre. They have hundreds of sexy performers, and picking up a few might be a huge struggle. But, with the help of the advanced search feature, you'll be able to discover whatever your bizarre fetish — it has got everything you could search for. Whatever your sexual preference, you can search for models that meet your kink!
Exciting Options and Easy Way to Get Horny in Camorous
Website and Navigation
When you arrive on their homepage as a non-member, the website welcomes you with a standard live video list of the featured girls. In addition, under the company banner, you can find log-in, support, and language options at the upper portion of the page. It is certainly free to browse the currently available models and access their public galleries without registration. However, it's a good idea to sign-up because it provides you full access to their private collections, videos, and other features.
Selecting Webcam Models
The process of selecting a suitable webcam model is relatively quick and easy. You can directly choose one of the girls on the list, or you can sort them according to your preferences and interests. By accessing the search feature from the top bar, you will use the same filters and access other content across categories. These categories include General Preferences, Appearance, Attributes, Language, and Fetishes.
After making up your mind, you will see the model's live video stream. Also, you can type into the Chat and watch the activity on the other end. You can view pictures, archived shows, achievements won, personal biography, and feedback on her shows if you scroll down a little page.
Top-notch Benefits As a Camorous Member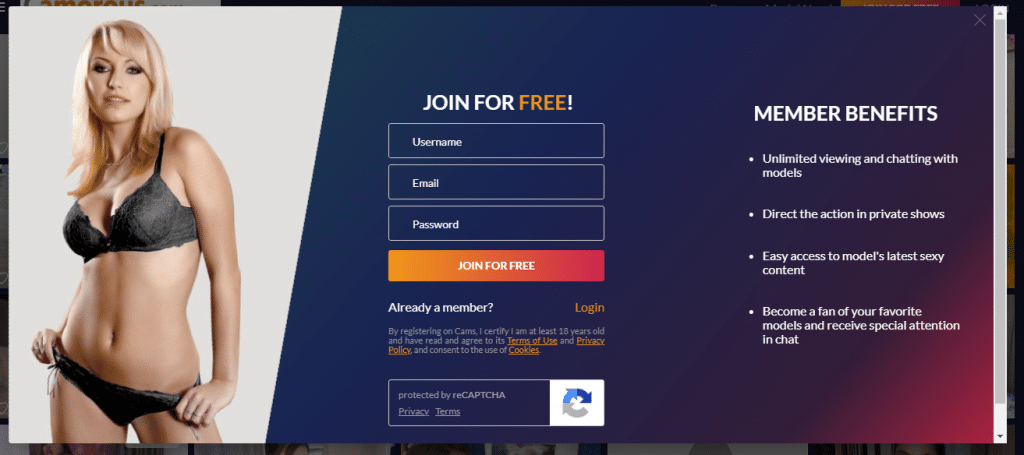 The Basic Membership is your gateway to the website once you have registered for free. You can tip or watch explicit content using credits as you wish. In Public Galleries, you can also engage in free live chat and view photos of models in action. You can likewise browse the pages of models' fan clubs without paying a monthly fee.
If you want to become a Premier Member, you can pay a subscription of $12 annually or $15 for three years. With this, you can get access to a variety of additional benefits, promotions, and exclusive material like links to exclusive photo collections and rough webcams. Similarly, you can contact models directly, get more attention from models, and enjoy five free recorded shows every month. Additionally, you can get discounts of 20% to access a model club and 10% for private video chatting.
If you use Camorous often, you may want to consider upgrading to VIP Membership. You can devote as much as you like every day and enjoy 5% of all purchases made. Also, if you upgrade from Basic to VIP status, you will receive six months of free Premiere membership. While Premiere Members who switch to VIP status receive a free 6-month extension of their Premiere Membership. Enjoy unlimited Live Video Chat and complete access to a more extensive library of video content.
Camorous Pros & Cons
PROS:
Amazing website design
Intuitive and easy interface
Plenty of membership options for your budget
Has plenty of horny webcam girls
A lot of features you can use to make browsing convenient
Free membership has a lot of benefits
HD quality streaming
Caters multiple niches for every taste
CONS:
Plenty of people in a chat room and floods of comments
Prices can get high
---
12 Live Sex Webcam Sites Similar to Camorous.com: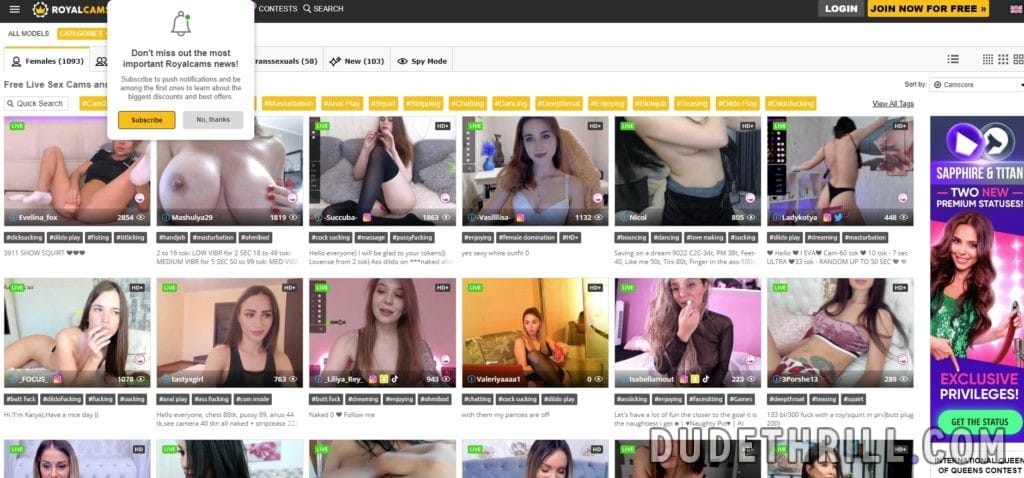 It is a very unassuming site, nothing very fancy on its page, just clean designs for easier browsing and navigation – kind of a good thing, I would say… Signing up with the Site is pretty much straightforward; you can visit it as a free member, a paying member, or even just a guest user. When you are a guest user, however, don't expect to enjoy their exciting features.
Buying tokens and paying for shows and membership is made easy with numerous payment options available. There are a lot of categories to choose from and in different niches. Going into their whole private show will grant you a chance to interact with the model you want. Most of their models are friendly and just ready to bare it all. They also set up contests every month, which could also be a suitable venue for interacting with the models.
Here's an extended review of Royalcams.
PROS:
Wide range of models to choose from
Free chats with full-on nudes and lucidities
Round the clock customer support
CONS:
Some models have low–quality cams
Shows can be expensive
---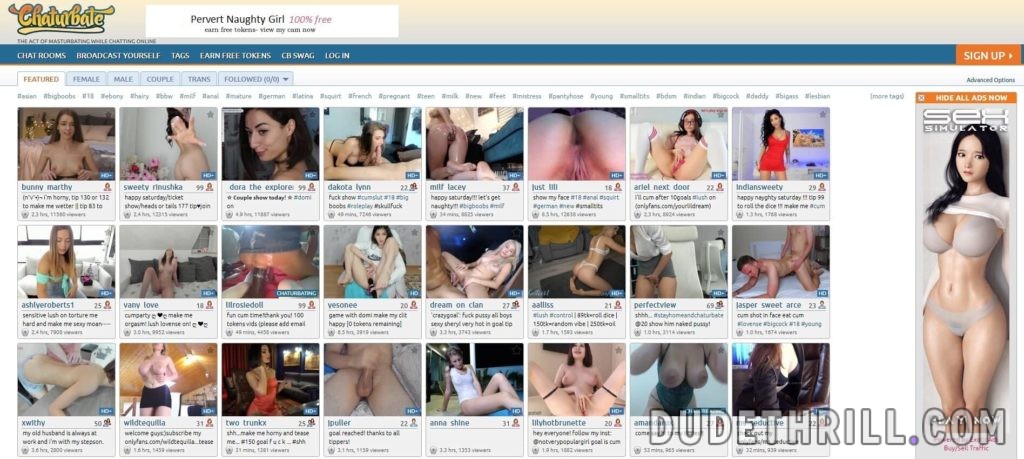 Connecting to people worldwide has never been so easy. Thanks to Chaturbate, unlimited talking is now possible. Plus, you will never spend a dime on it. There are a lot of sexy and beautiful women available for you, 24/7. Women on this website love kinky stuff, which always worth your time and attention. Meanwhile, live shows are also available for viewing at a reasonable price.
Click here for Chaturbate full review
PROS:
Many cam girls available 24/7 live
No additional fees to expect
Nudes and sex are always a guarantee
Smooth browsing on smartphones and other devices
CONS:
Few videos are in SD format
Expensive private shows
---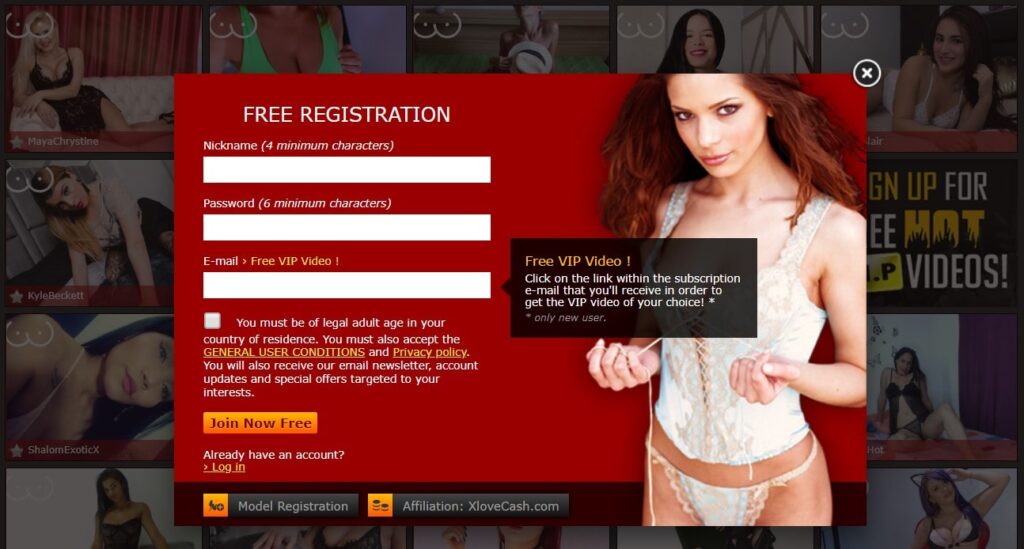 XLoveCam is the platform interesting to check out. Indeed, there is no reason never to try it out. Most of the cam girls in xLoveCams are either Latina, Asian, Latina, Black, White, or Arab. They are undoubtedly sexy novice young women, giving you a price per-minute rate — a reasonably cheap rate. Most of all, finding a camgirl who uses a high-definition camera quality here is again not difficult.
PROS:
Good variety of camgirls available
High-resolution cameras used
The cheap price per-minute rate
CONS:
High Definition filters for videos is not available
Some private shows are a bit costly
---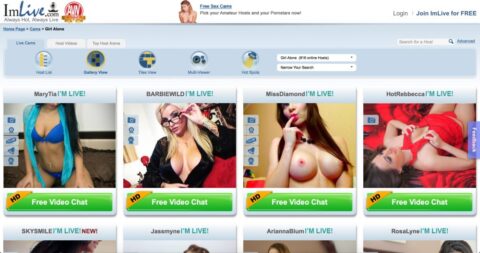 Imlive.com is a unique live sex cam site made for those diverse people. These people are those who need to incorporate a little more excitement into their stressful schedules. Honestly, it is one of the Internet's very famous Livestream chat sites, and we already understand really why.
Besides, in terms of producing hot females on the Internet, Imlive.com presents numerous user preferences. In other words, with just a click of the mouse away, you can indulge loads of free pleasure camcorders with amateur or beautiful pornstars. Ultimately, to fulfill your sexual urges, these good-looking women from all around the globe are all here.
Click for a full review of Imlive
PROS:
Split into three various types, namely, Host Videos,
Live Cams and Top Host arena
Searching is not hard
HD videos with a bunch of sensual and beautiful girls
The browsing experience is considerably simple
Numerous different videos with a collection of distinct varieties all for users' satisfaction
CONS:
A bit confusing which video to watch because of a wide selection
---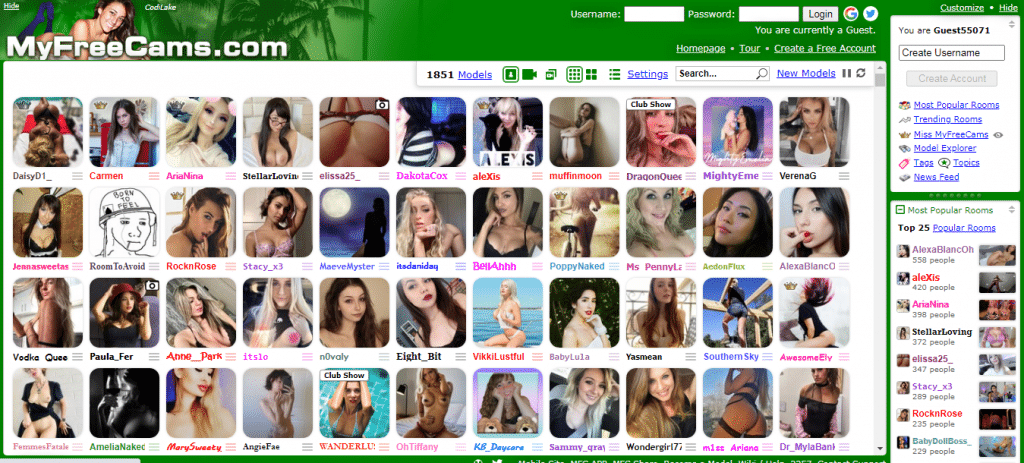 Myfreecams.com is a good cam place to visit. Not only are there no men around, but women make up the vast majority of the actual performers in the Site, so any chaser who searches for wieners will find this paradise a curse. However, this website will undoubtedly cater to any level of consumer, no matter how demanding they can get. Thanks to its incredible selection of active user models and great token rates.
Besides having tens of thousands of quality models, this is one of the most challenging and well-designed sites we've seen on the Internet today —offering hundreds of other fresh concepts every month to keep things new and exciting.
Check out MyFreeCams review.
PROS:
You can browse as a guest user
Security is reliable in protecting sensitive data
It has more than 23 million worldwide members
Efficient mobile version and does not take up much space on your phone
Premium membership opens up more amazing features
You can register as a model and earn money
High-quality shows and videos
Wide range of gorgeous and horny cam girls
Customize your profile
Join model's chat room and participate in a conversation
Monitors every user after registration
CONS:
A mobile app is not yet available
Male users dominate the members of the website
---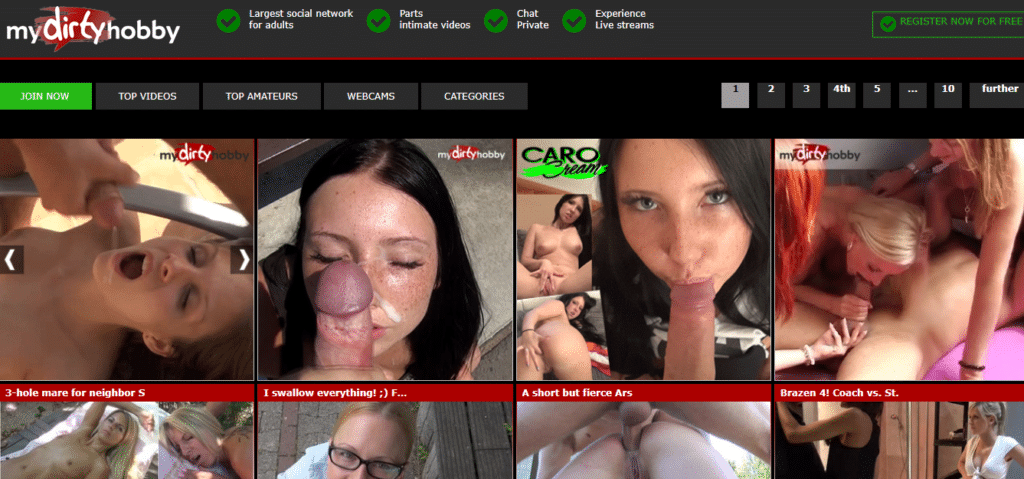 Germany's best live sex cam website, My Dirty Hobby, brings everyone together. It has plenty of members video chatting and messaging daily. Also, the website allows the members to gain money by joining cam shows. Indeed, My Dirty Hobby has a fantastic set of cam girls waiting to have a naughty time with you.
Full MyDirtyHobby review here.
PROS:
Different contents according to specific interests
Design is simple and easy to use
Regular updates
Do not need membership payment
CONS:
Downloading is not available
---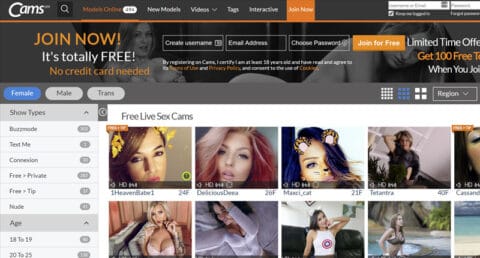 Have you been feeling tired while watching porn all day? Wanting to try a real sexy cam show for a change? Why not head over to Cams.com and experience real videos from horny models. Once you visit this Site, you will never miss out on any cam shows. Above all, you can interact with the models when you register.
PROS:
Plenty of models available for you
The Site is simple, and the design is easy
Division of videos is according to categories
CONS:
You need to register to use the chat feature
Quite expensive membership
---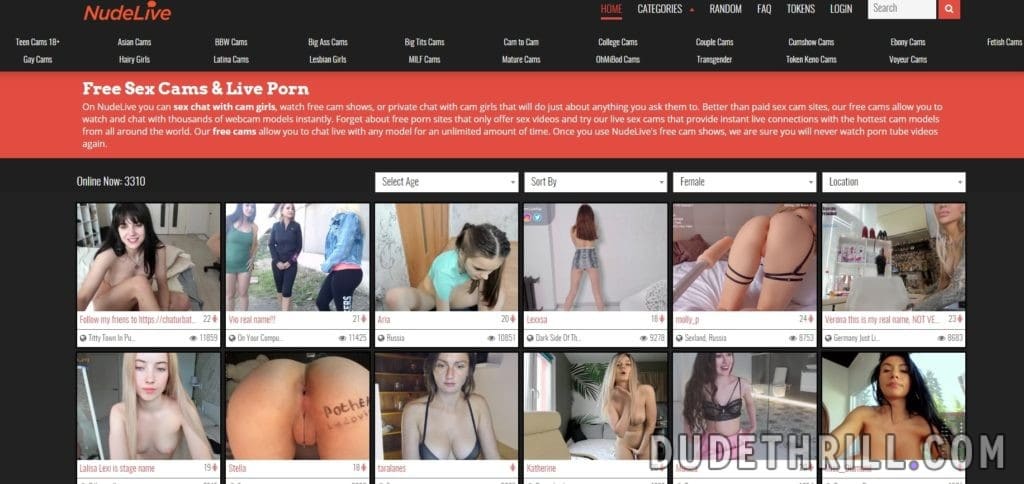 NudesCams is known for many features and offers live feeds, making it stand out from most of the cam-site crowd. NudeLive is a relatively new website, but it already has a considerable fanbase and plenty of live webcams to choose from at whatever given time.
Not to mention, this website brings a great blend of real-time cam models and male and female alike. It's as modest as pressing a button to switch between watching "only men" or "only women" on camera. Also, there is a wide range of material that has lumped together here, including "Teens 18+," "Couples," and Bi & Gay," making it easier for you to find what you're interested in and desire.
PROS:
It has responsive cam girls and cam boys in an extensive database.
Cam models are a lot of fun to watch.
The majority of sex webcams are of high definition.
There are several niche categories from which to choose.
NudeLive is the only place where you can get a random feature
All of the cam models have massive thumbnail preview available
At any given time, this website has a large number of models online
Adding models to your favorites makes it simple to stay informed on when they are available on the website
You can quickly switch from one cam display to another thanks to the convenience of use
The act of sharing your webcam with the actors gives you the feeling that you're watching an actual live performance
Free to use
CONS:
Several features are only accessible when you sign up and register as a member
Private chats and shows can get expensive
---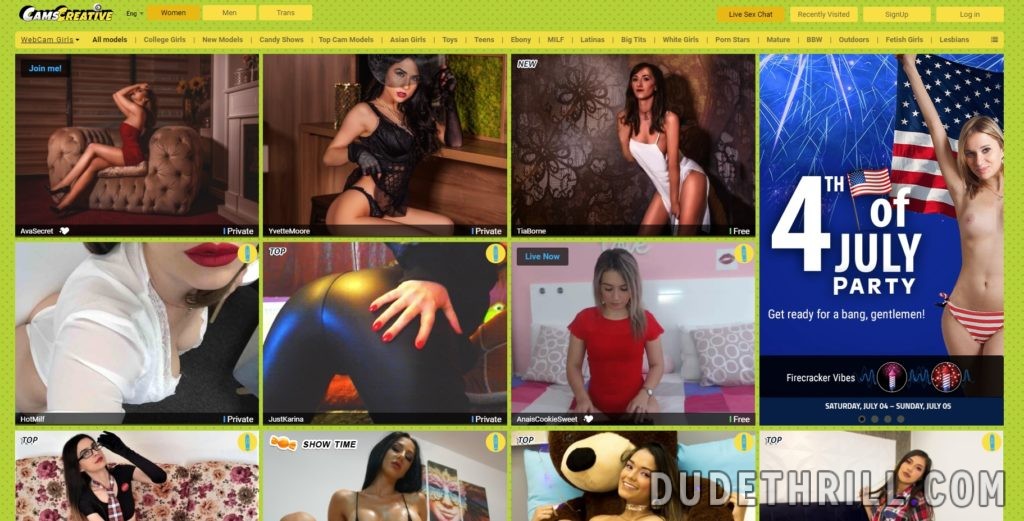 They are pretty new to the adult cam site industry, and they have the best, most creative, and artistic way of introducing their models. Creativity mixed with hot and sizzling sexy babes is how Camscreative does their thing. With the creative and artistic sides shown in every corner of the Site, it will get your blood and juices flowing in the right places, ready for some fun time.
All the sexy babes on the Site offer the best experience they can give via webcam, and Camscreative didn't disappoint in their lineup of models. Aside from the usual webcam stuff I've been used to doing with other sites, they also offer exclusive and unique site features, which I enjoyed.
A CamsCreative full review here.
PROS:
Unique content and a wide variety of shows
Members can enjoy a lot of freebies and perks
Fetish shows by models are very in-demand
Models can do any task you want during private shows
Lots of show variety to choose from
Models are from different countries worldwide
Great variety of models and not just limited to girls
Couples, transgender people, solo guys are also available for shows
Interactive environment for both users and models
During private shows, users can control the model's vibrators
Affordable pricing with many perks
Excellent customer support available 24/7
200 minutes of free live Chat are given to members every month
Videos are made of HD quality
Creative and artsy website design
Virtual gifts can be sent to models to show appreciation
CONS:
No HD marking, so it's pretty challenging to navigate
If you have low credits, models rarely interact with you
You cannot write comment reviews
No indicator for the availability of models (online status)
---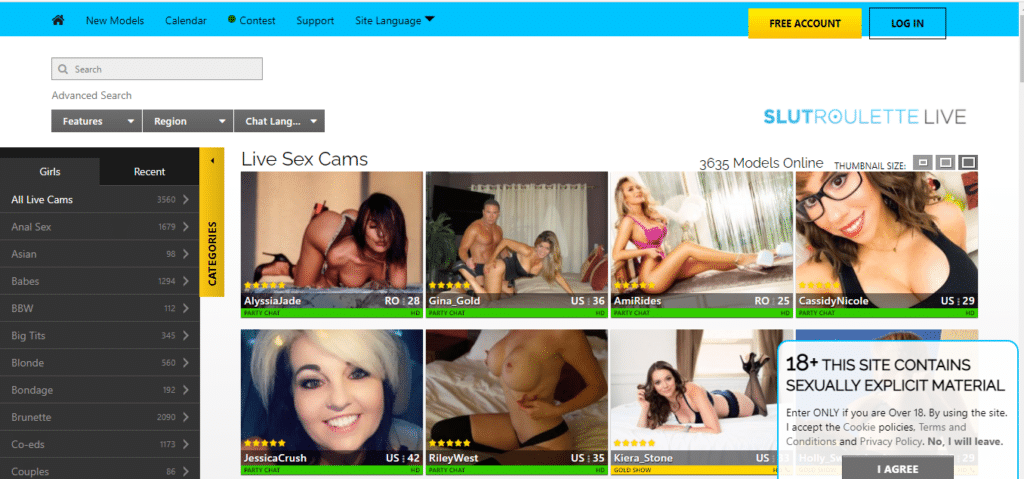 Are you sick and worn-out of the same old porn videos? Do you wish to spice things up a bit more and say goodbye to your dull, pathetic night? Say no more because the SlutRoulette website is here to answer your never-ending prayers.
SlutRoulette has been around for many years now. Indeed, it was able to gain the respect and admiration of many live sex cam fanatics. As a result, it turns into one of the utmost reliable and reputable live sex cam websites up to this day. Indeed, there are no traces of old-fashion elements, graphics, and layout you can see. However, it has pretty straightforward functionality that even newbies would easily understand how it works.
Click for a SlutRoulette full review.
PROS:
Registration is free and easy
Various selection of Live categories is plenty
The mobile app is free to download
The mobile app is well-matched with all devices and phones
Updates regularly
Chatting in chat rooms are free of charge
Free to switch from one person to another in a split second
Private and gold shows are available
Thousand of models to choose from
Community is diverse and shares different interests
Members are active daily
Scams and fraud have no place on this website
CONS:
No hookups available
There are some models with expensive rates
---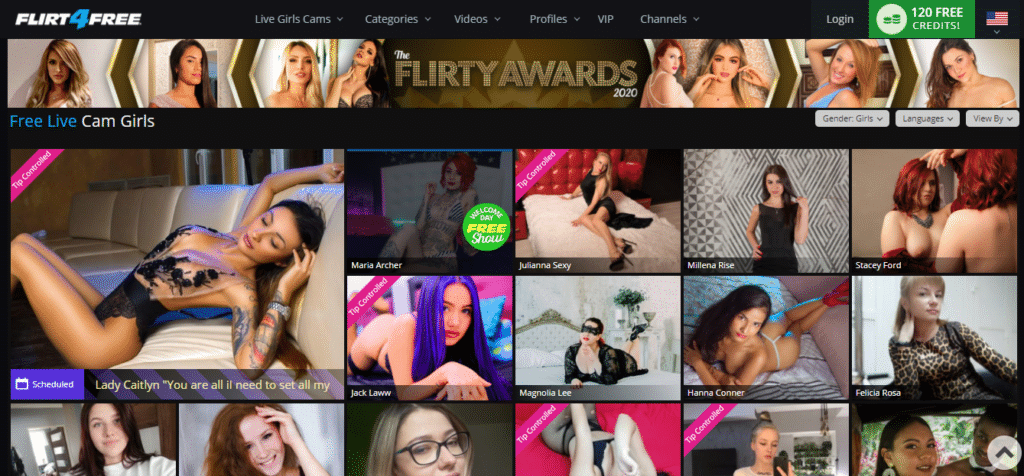 Do you want to start the evening with no strings attached? Would you like to see a never-ending supply of hot young sex action on cam? Are you interested in viewing it free of charge? And if that is your thing, then you have found the right website.
When you use the Flirt4Free, you can list the girls according to the activities that turn you on. Also, if you discover a model that interests you, you can see when they're coming online every week. Indeed, the Flirt4Free free account will provide you with just enough content for your entertainment.
PROS:
Fantastic live sex cam website
Design and layout is modern and cool
Features are great and work for your convenience
There are pre-recorded videos available
Variety of models you can choose from
CONS:
Sometimes the website buffer
There are expensive private shows
Some dead links
---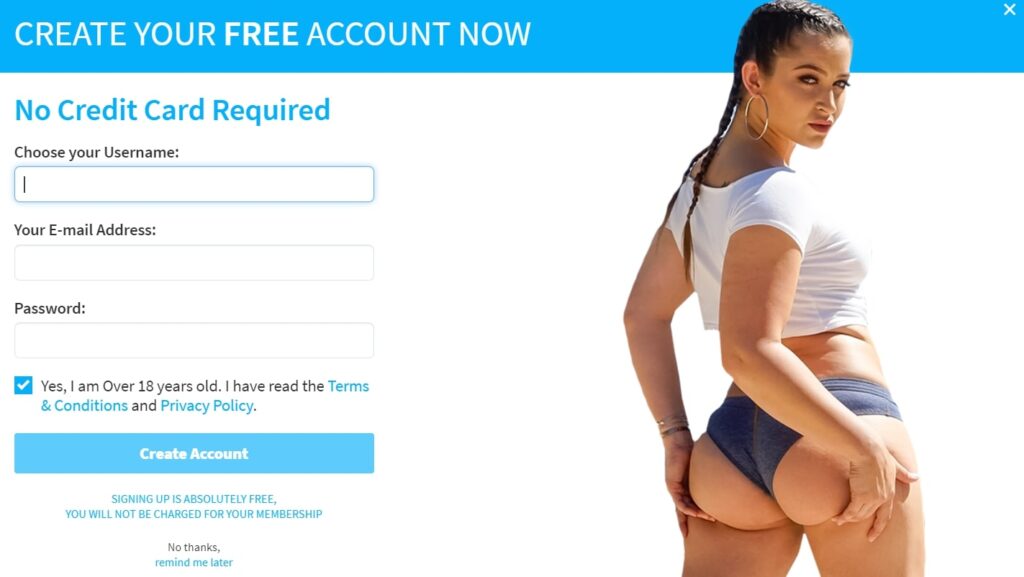 For people addicted to the sex cam and sex chat websites, Camsoda has got it all for you. The Site is undoubtedly one of the most popular websites in the field of the adult business. So, if you are having a challenging phase at work, or simply wanting to experience the pleasure of chilling with girls, then this is truly perfect for you. Above all, it has unique functions that help people communicate and talk easily.
PROS:
Excellent design and simple to use
High-quality streaming videos
Lots of cam girls available
Free accounts can still use all the features
Active members are using every day
CONS:
Advertisements are available and annoying
---
Verdict
I'm very disappointed if this Site doesn't live up to expectations based on its roots at Cams.com. However, aside from my obvious satisfaction, I have nothing but praise for the website and its consistent live show quality. There is certainly plenty of nudity around here, which is excellent for both non-members and paying users. Also, I'm excited about the Fan Club feature of Camorous as it is the first of its kind and promotes closer interaction with the models. It certainly brings models and all their content within arm's reach.
Similarly, the pace and consistency of the live streaming shows appeal to me greatly. It's incredible and unbelievable how quick and seamless it is in HD. Perhaps the only downside Camorous has is its cost. It's pretty much high —but only if you want to participate in the optional events and access to some exclusive material. Although, becoming a Basic Member is enough already as it grants you plenty of benefits, and gets you lots of attention and recognition, too. Genuinely I must say I would seriously suggest Camorous to all live sex webcam lovers out there!
Don't forget to check out and visit some featured live sex cam sites in this review. They are sure to give a fantastic experience for horny folks like us. Here are my top 3 personal favorite live sex webcam sites apart from Camorous.com:
Have fun watching!
All 115 Other Sites in This Category Worth Checking Out:
Strip Flix Review & 12 Must Visit Free Sex Cam Sites Like StripFlix.cam Show Me 12 Alternatives for StripFlix.cam Will you join me as I stream on unlimited stripping and babe teasing? There is no other site I could ever think about that is convenient, accessible, and limitless in nudity. We shall dig on sex cam […]