Updated on: December 8th, 2023
TSMate Review
& Top-12 Shemale and Regular Live Sex Cam Sites Like tsmate.com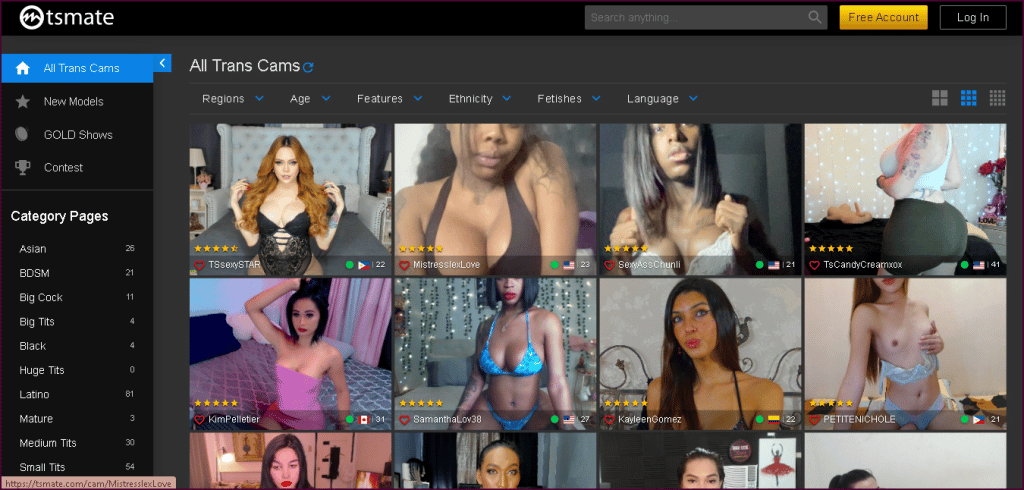 Ahh, trans… what a beauty to behold. Nowadays, chatting, watching, and getting attracted to trans is no longer new. Many people are already obsessed with them because they bring different spices to adult entertainment. That's why our star website for this review is a live cam trans site called TSMate. It has numerous trans models with a promise of zero dull moments and will drive you into the most satisfying live cam show every visit.
Official URL: https://tsmate.com
So far, TSMate is already showing its outstanding side, giving us fantastic search possibilities and comprehensive details of its performers. This way, you can easily chat and interact with any of your ideal trans models. Above all, it has top-quality video resolution and an impressive audio system. However, this information is not enough to convince me and believe that TSMate would be amazing. So, let us take a deeper look inside the dungeon of TSMate.
The Secret Behind TSMate's Popularity
Nowadays, having an adult niche, especially for a site, is no longer surprising; in fact, many are embracing exclusivity and different preferences. Despite it all, a shitload of people is having trouble getting the reliable source and quality services. I'm lucky enough to stumble upon TSMate and able to explore the site with the most detailed and closer look. Obviously, the site is trans-focused live cam chat and features a shitload of gorgeous trans performers.
For everybody's information, TSMate is based in the United States and started operating in 2009. It is under the umbrella of Streamate, a similar live cam site that is equally amazing and among the pioneers in the adult entertainment industry. Perhaps, the only thing that makes this different from Streamate is the models. As I said, this site features trans models instead of vanilla girl performers.
Overall, TSMate features impressive performances and top-notch entertainers. It has a fantastic quality of the show and delivers exclusive chat rooms. I have read several legit reviews of the site's users, and they mentioned lots of promising feedback, like being pretty classy and reliable in all aspects.
The Website Interface and Special Features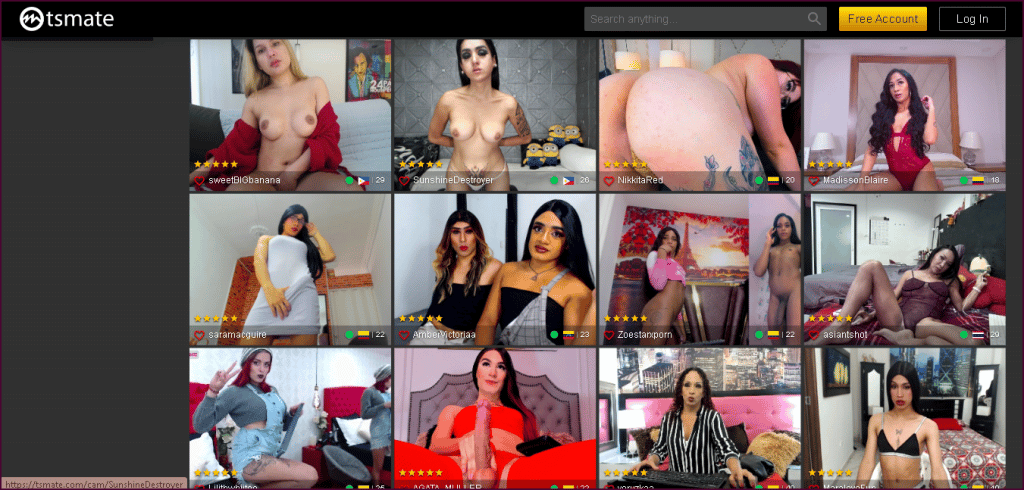 Since 2009, TSMate has been trying to keep up with the development and advancement in technology, which is very apparent on its homepage. I was actually surprised to see that TSMate was able to flow with the challenging innovations happening online by giving us a very sleek and modern interface. The overall design is clean and very user-friendly; you can find anything you want right off the bat. You don't have to go through different sections, buttons, or a few shits just to get what you want.
Public chats were available that you could enter without paying a single dollar, and most were pretty explosive. Several models are open for public chats, but if you want an exclusive one-on-one interaction, you can request private talks. But remember, when things are "exclusive," a reasonable price is permanently attached to them. Nevertheless, I'm pretty sure chats like these are daring and mind-blowing, so it's worth every dollar.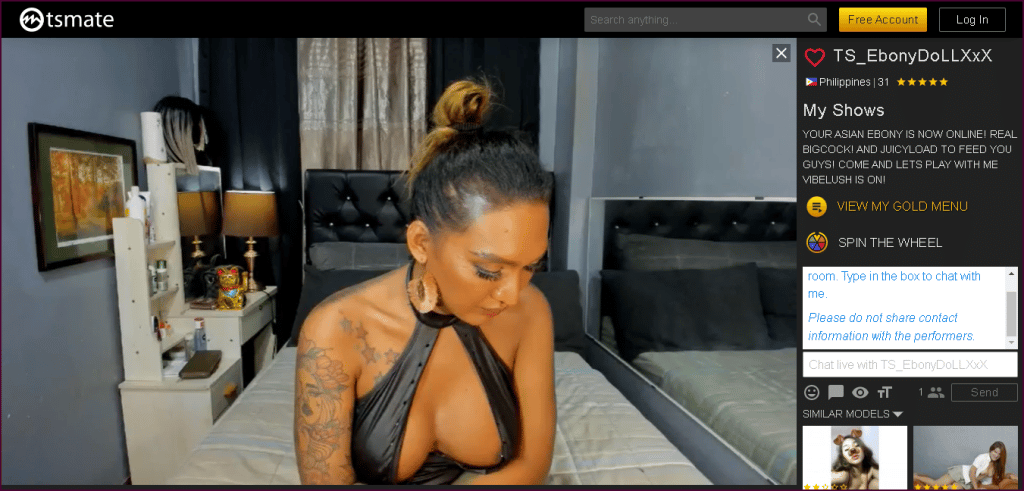 You can instantly find the public chats on the homepage and stream them for free. The only downside of these shows is you won't be able to engage with the performer. To experience the best of the site, you should unlock the premium membership by registering an account and picking an appropriate subscription plan. Typically, signing up here is free, and there is no mandatory charge to pay upfront. However, when things get heated up, it might demand reasonable rates. This is actually very convenient special if you are not using the site regularly.
Meanwhile, TSMate also has an image gallery loaded with gorgeous trans models. Some of these are captured during cam shows while the models take others. These galleries are adjustable by size depending on the viewing preference you like. Additionally, the site has a convenient category section that lets you navigate different category options. If that's not enough, advanced and basic searching tools are also helpful when hunting for specific themes or categories. You can just enter whatever keyword you like and let the system run it for you. This way, narrowing down your options is much more convenient and effortless.
Hot Trans Models of Tsmate.com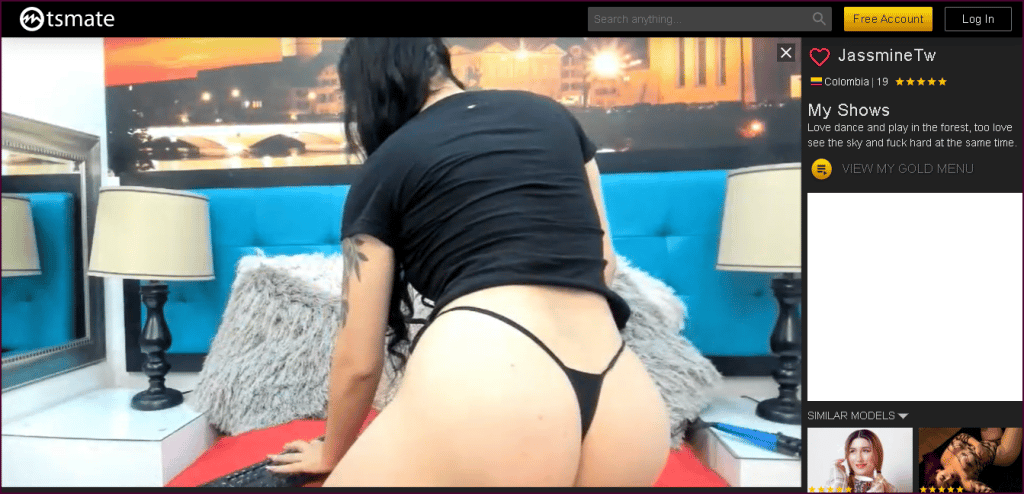 Aside from the content and performances, the main highlight of TSMate is probably the models. For the first time in my life, this is the only time I've seen such an extensive list of performers. There are thousands upon thousands of trans entertainers who offer unique skills and show highlights. Despite the differences, all of these trans are very accommodating and cater to all audience requests. In fact, I haven't encountered a single trans model who showed unsatisfactory treatment and performance.
Also, these models came from different parts of the world, and you may find numerous ethnicities in the mix. However, I've noticed that most of them came from Asia. Currently, the site features around 3,000+ trans models. It may not be a lot for some, but let me remind you that these models are trannies, and they are a rare treasure to find in the infinite world online. So, save your disappointments on other cam sites because I won't be taking any for TSMate.
The site incorporates a rating feature for the models' performances and skills. I really like this idea because you can give feedback and warnings to other users, especially when a performer is trash. If you desire a more personal way to rate them, you may directly write on their profiles and give them favorable feedback. If that's not enough, you can chat with them privately, online or offline. Some models are kind enough to reply, but generally, they don't get upset when they don't. You know the models are pretty busy with their own lives and live cam shows. Just simply catch them up when the live show alerts pop-ups.
TSMate's Model Profiles and Booking Features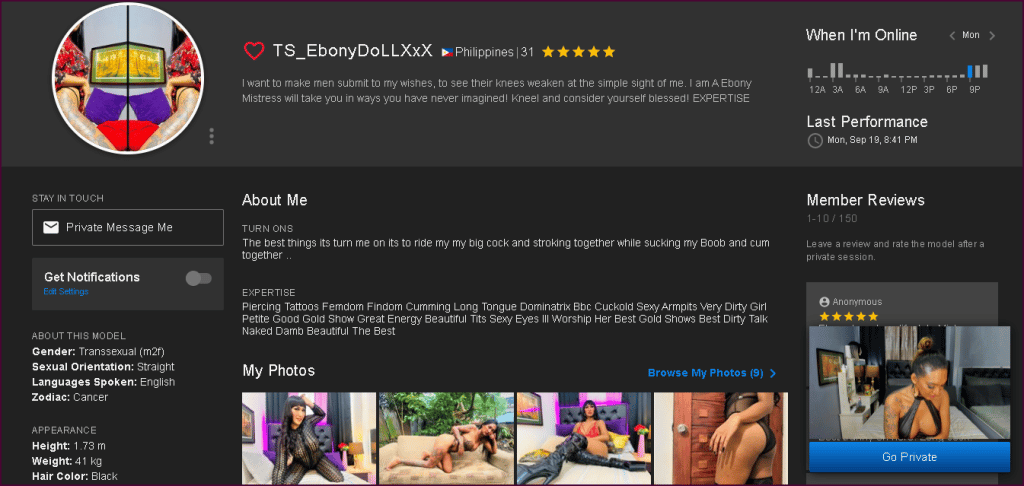 Among all the sites I have used before, this one has the most detailed model profiles. You can enjoy reading them and exploring some personal information about the models individually. It has details about their body measurements, names, ages, birthdays, favorites, and short biography of themselves. Some models also have pre-recorded videos and schedules on their profiles, making it very convenient and effortless to follow their events.
You can insert those bitches to your favorite list and check them out whenever you need. On top of that, the site's system automatically runs its algorithm to give you some top recommendations depending on your specific taste and preferences. It could also detect your chat favorite and recommend you to new trans models with similar traits that might be within your desires.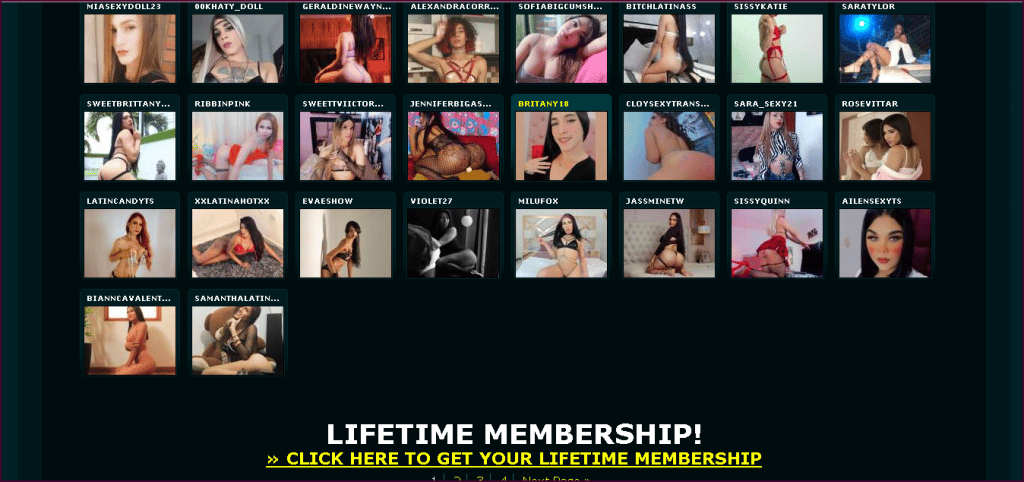 Unfortunately, the profiles are not as perfect as expected. Somehow, TSMate only displays a few images of the models. I wish there were more to determine which men are the best before joining their live performances. Luckily, we are very fortunate because the site offers public chats that don't require registration. So, even without complete gallery samples, you can still evaluate the best trans performer among the bunch by checking them out during live events. This will save you money and time before committing to a private and exclusive chat with the model.
TSMate has a very promising model section that lets you explore them without interruption. There are thousands of charming and hot trans models available, and you are free to pick which one is the best. As a bonus, you can experience top-quality audio and visual features that elevate performance into a spectacular adventure.
It is definitely a handy site that keeps you updated with the models and events and even accommodates pre-booking with discounts. This site offers more features, like numerous party chats and premium shows. Certainly, it's more than what you ask from a live cam site.
TSMate's Chat Rooms and Shows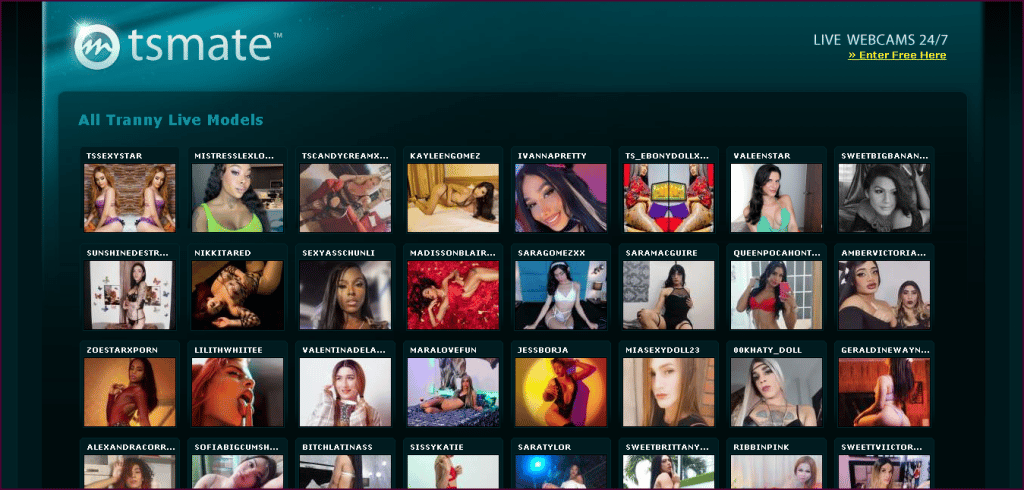 The Gold Show is a special show on this site that allows the users to offer the gold to the models, and as the show sets off, the trans model will provide all the giver's requests.
This type of chat session is pretty standard across different live cam chats. Using this, you can enjoy a cam2cam engagement with the performer. Take note this feature is only available when you switch to private shows.
Private shows are pretty standard in a live cam site. You can experience a one-on-one engagement with any trans model and enjoy an adventure you never expected. Just take note that private shows are not for free.
Just like private shows, exclusive shows are also not free. However, every dollar you spend here is worthwhile because you can experience an exclusive performance with your favorite trans model. No other user can intervene as the show progresses. Unfortunately, this type of show is expensive, so if you are budgeting, you might want to go for a public or private chat instead.
Be Part of the TSMate Community!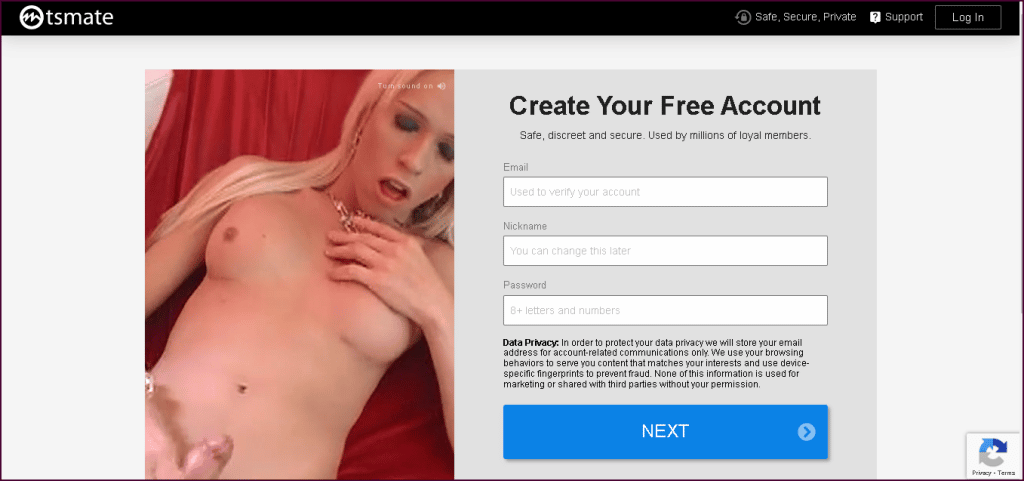 Like other live cam sites, TSMate offers various cam show rates. Primarily, the rates will depend on the demand of the model. This could be a disadvantage on your side; however, many trans models consider this idea very beneficial because they can put up a reasonable price for their skills and experience. Don't worry; many of the site's models offer discounts from time to time and even go on for free public chat sessions.
Additionally, TSMate offers pre-booking that gives you lots of discounts. Many users of this site prefer pre-booking because it's much more convenient and ensures that the model will be present at the time of scheduled booking. You won't have to wait for them to go live; instead, sit back and relax. Plus, pre-booking comes with lots of benefits. For instance, you can discuss the dos and don'ts with a model and even request some quirky performances. Of course, the discussion has no limits as long as you're paying within a reasonable price.
Many of the site's users prefer to use private shows or cam2cam sessions because there's always a guarantee of an explicit performance. At this moment, TSMate has no fixed price on every model, and you should just be based on the average estimated rates below.
Public Chat Rooms — Free Charge
Private Chat Rooms — $1.00 to $2.50/minute
Exclusive Chat Rooms — $3.50/minute
Pros and Cons of Tsmate.com
PROS:
Plenty of gorgeous trans performers
Lots of cam chats and shows available
Convenient and user-friendly design
Support mobile browsing
User-friendly payment methods
CONS:
Free cam shows have no guarantee of explicit performances
Several models could get pricey with their rates
---
Top-12 Shemale and Regular Live Sex Cam Sites Similar to tsmate.com: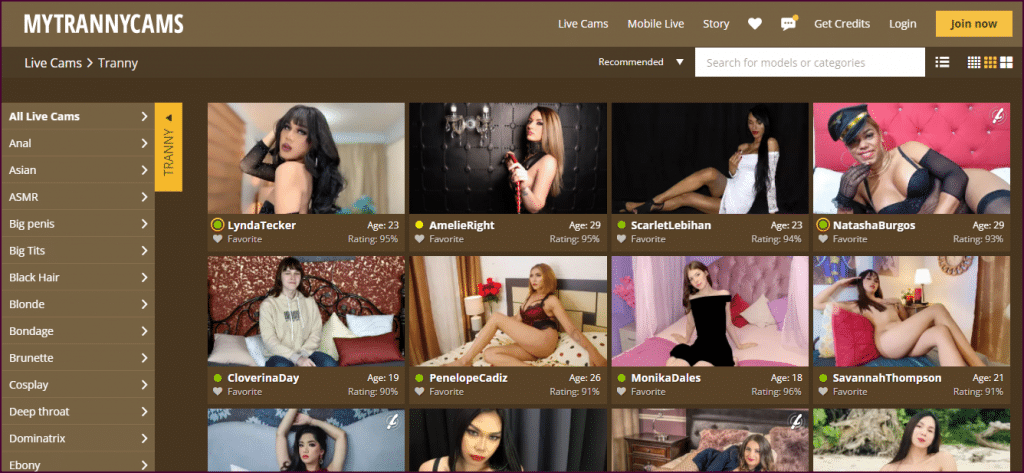 On MyTrannyCams, trans women play down and dirty on the live-stream webcams for unforgettable live entertainment, providing horny audiences anything they could fantasize about as erotic fetishes and more. Just entering the site makes you believe as you've stepped into a fantasy world filled with unbelievably gorgeous women. Every hour of each day, there are nearly 190+ active shemale webcam performers available for your viewing pleasure.
Here's the full review of MyTrannyCams.
PROS:
Plenty of active Trans models
Massive sex chatrooms are available
Premium perks are amazing
Supports mobile browsing
CONS:
Exclusive trans models
Some features require an account
---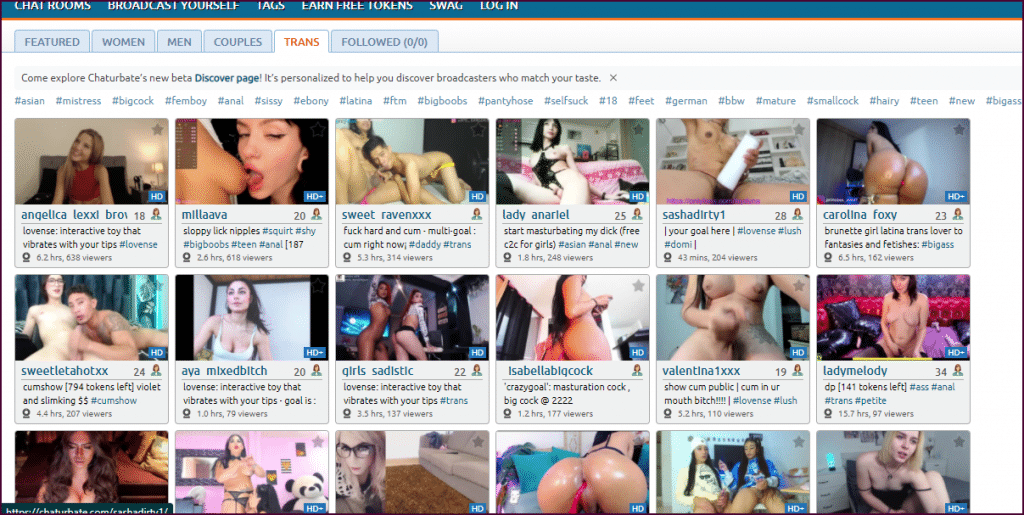 If you like trannies, then Chaturbate Trans is the go-to place for you. It has impressive trans models, all performing professionally and shamelessly. You can do everything you're fantasizing about for so long and enjoy an endless moment with gorgeous trannies.
PROS:
Fantastic list of Trans models
Streaming modes are plenty
High-definition cams
CONS:
Requires token to view live cam shows
Some shows don't use the English language
Not all trannies are doing private cam shows
---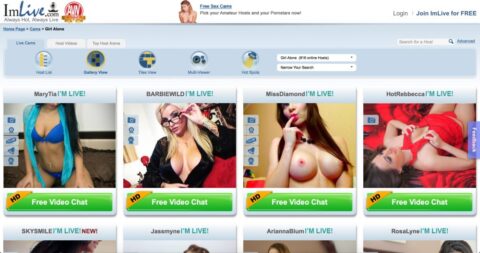 Imlive.com is a unique live sex cam site made for those diverse people. These people are those who really need to incorporate a little more excitement into their stressful schedules. Truly, it is one of the internet's very famous Livestream chat sites and we already understand really why.
Besides, in terms of producing hot females on the internet, Imlive.com presents numerous user preferences. In other words, with just a click of the mouse away, you can indulge loads of free pleasure camcorders with an amateur or beautiful pornstars. Ultimately, to fulfill your sexual urges, these good looking women from all around the globe are all here.
PROS:
Split into three various types namely, Host Videos,
Live Cams, and Top Host arena
Searching is not hard
HD videos with a bunch of sensual and beautiful girls
The browsing experience is considerably simple
Numerous different videos with a collection of distinct varieties all for users' satisfaction
CONS:
A bit confusing which video to watch because of a wide selection
---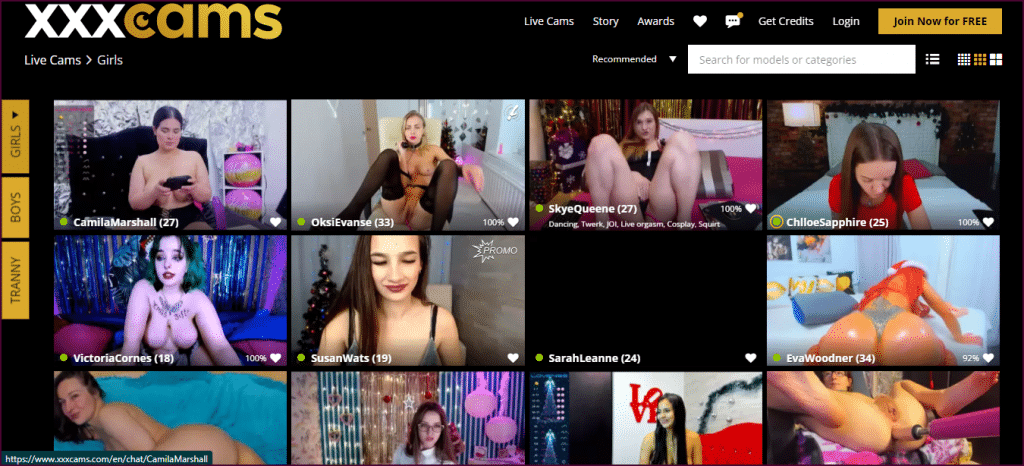 xxxCams is just a regular sex cam site online, but its features and services are no ordinary. As the title suggests, the service features kinky sex cam footage with sexy hot chicks. But, if you're thinking they are just regular chicks putting up a show, then think again. You can enjoy professional and amateur cam models here and even experience an exclusive sex performance with a pornstar.
The xxxCams site will give you breathtaking "seats" imaginable because the majority of them use brilliant high-resolution cameras. Certainly, it's like having front-row seats in a blockbuster Hollywood movie!
Click to see the full review of xxxCams.
PROS:
Shitload of girls to chat
High definition cams
Free viewing of cams once registered
Truly good looking girls
CONS:
No peeking without registration
Private chats are pretty expensive
---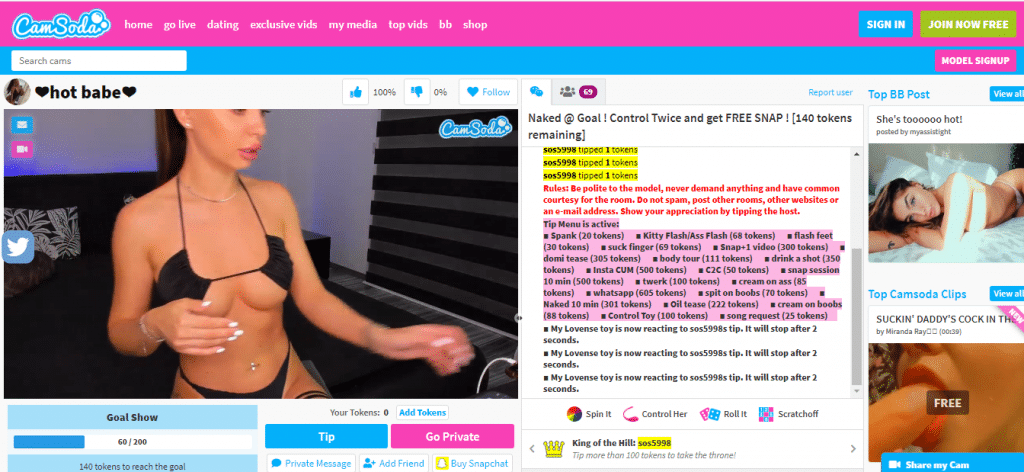 For people addicted to live cam and sex chat websites, Camsoda has got it all for you. The site is unquestionably among the most popular websites in the field of the adult business. So, if you are having a tough period at work, or simply wanting to experience the pleasure of chilling with girls, then this is truly perfect for you. Above all, it has unique functions that help people communicate and talk easily.
Check out the full review of Camsoda.
PROS:
Excellent design and simple to use
High-quality streaming videos
Lots of cam girls available
Free accounts can still use all the features
Active members are using every day
CONS:
Advertisements are available and annoying
---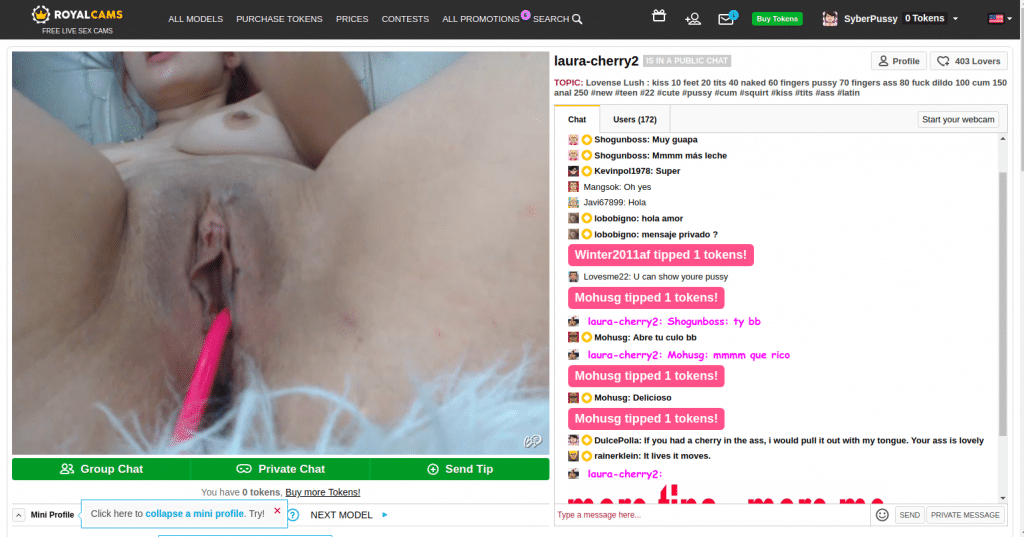 RoyalCams is a fully functional webcam platform. It uses a vast library of models that reflect both genders and orientations. There are four different types of personal chats available, including fully explicit and tip-based completely free chats. Check out our best choice if you're looking for the best adult cams. It's open, simple to use, and well-liked by users, increasing your chances of having a good time.
Take a look at the full review of Royalcams.
PROS:
Plenty of gorgeous girls
Spy/Voyeur style that allows you to see and chat with models.
Uses sex toys
Professional and amateur models
Mobile compatible
CONS:
Sometimes, models take time before going nude
A brief preview of the Visitor Live series
---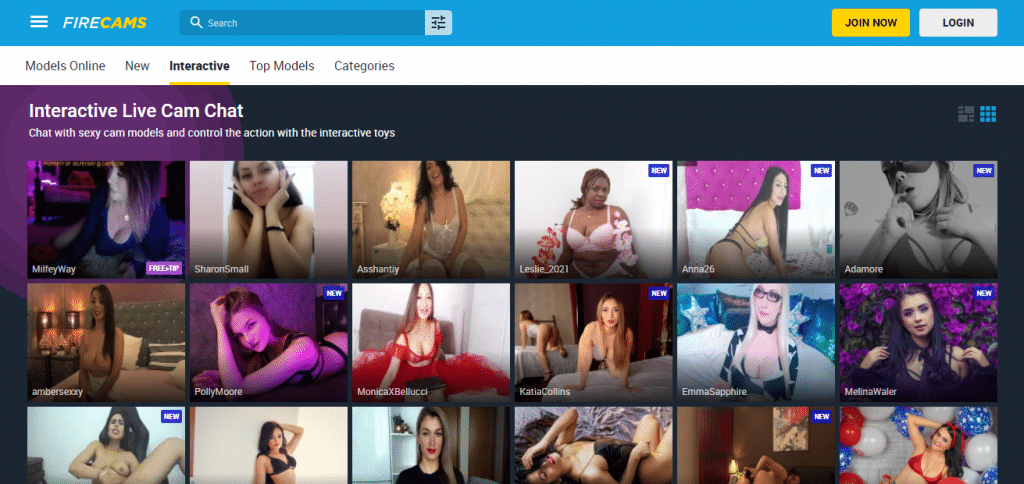 FireCams offers a wide range of live streaming show options and essential features to choose from. Like many other live sex cam services, this one provides interactive shows on sex toys, a large selection of hot camgirls, pre-recorded performances, and exclusive conversations for a modest price (in tokens).
Here's a full FireCams review.
PROS:
Plenty of authentic and verified models
High definition webcams
You can switch SD quality to HD quality cams
Excellent search and filter tools
Affordable chat prices
Lots of freebies for new users
It has a free chat option
CONS:
Pop-ups to signup
Requires tokens to join private chats
---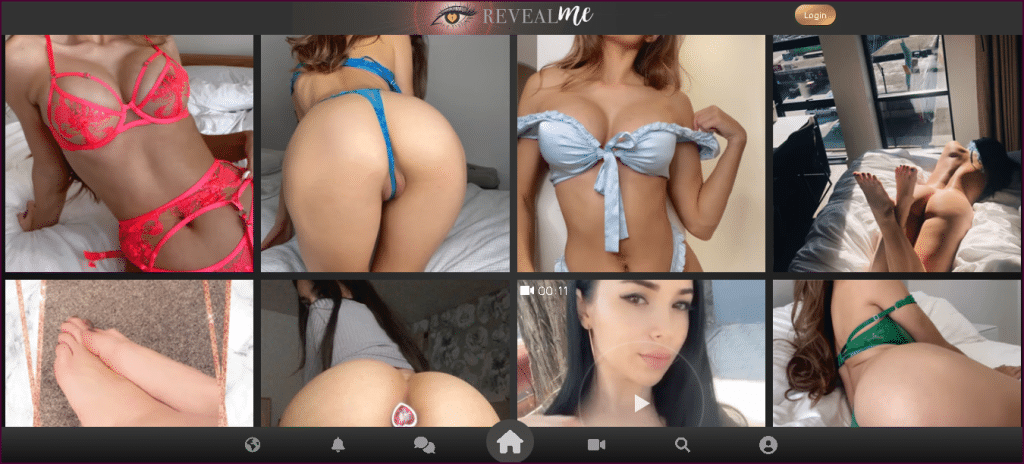 RevealMe has similar features to the OnlyFans; however, it has little cool twists. The team behind RevealMe has developed a few alterations to make it more attractive for sex addicts users online and even the performers. So, instead of trying to get the attention of online users, they are also encouraging models and aspiring amateurs to join the roller-coaster fun!
Read the RevealMe full review.
PROS:
Amazing features
Lots of models
Variety of performers and services offer
Free to register
No ads
Very simple and easy to understand interface
Many category options
Open to all gender and sexuality
CONS:
Requires registration to access
Model prices vary
---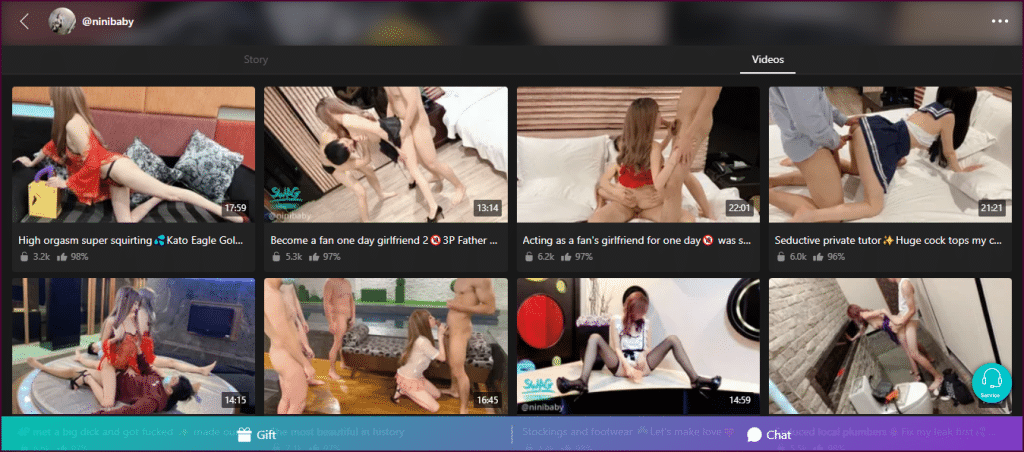 Swag Live claims to be the largest live cam streaming site in Asia. It's an expert in amateur cam shows and features a massive erotic photo and video collection. Swag Live boasts its 1M+ active members, filling up its welcoming community. Plus, the site ensures the privacy and security of its members and cam models. So, everyone, regardless of shape and size, will enjoy the swagger streaming. Certainly, the easy and convenient means of Swag Live to interact with your best-loved and dream girls is the best feature it has. Obviously, this site is hard to beat! You gotta step up your game to compete with Swag Live.
Check out the full review of SWAG Live.
PROS:
Massive collection
Numerous online streamers
Cam models are hot and cute
Plenty of videos and pics
Easy registration
Website design is sophisticated and modern
CONS:
Joining chat rooms require diamonds
Limited features for basic users
---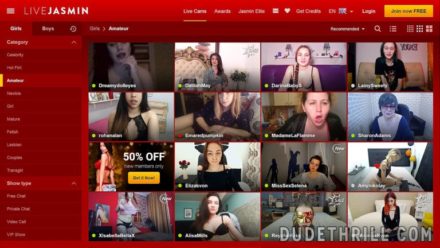 LiveJasmin is one of the first live sex cam websites ever founded on the Internet. All the members of this website are fun and active in looking for hookups, serious relationships, and casual friendships. Similarly, it caters to all types of sexual desires, fetishes, and kinks. In other words, the fulfillment of your greatest and darkest desires will always remain the priority. So, hop on to the page and feel free to choose your favorite models.
Click to see the full LiveJasmin review.
PROS:
Incredible choices of seductive ladies and dudes
Free high-quality photos of camgirl
Huge options of hardcore girls
Free sneak peeks of ongoing special shows
Before purchasing to earn free credits, you have to spin the wheel
Wide-array of fetish varieties
User support assistance is excellent
CONS:
Rates is quite high
No available community boards and forums
---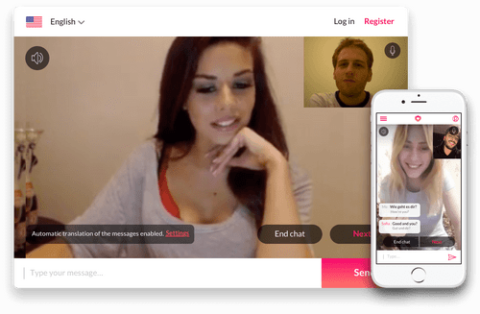 Released in the year 2019, LuckyCrush is the latest website that offers single people casual video chats. LuckyCrush can provide you with the best live sex cam experience ever. Equipped with the best features, members, and opportunities, LuckyCrush has remained to deliver the chance of meeting a perfect sex buddy. Above all, it has a wide range of choices, from being completely exposed to or remaining anonymous to identity throughout live chats.
Learn more about LuckyCrush with this full review.
PROS:
Connects you to random people worldwide
Users can flirt with anyone from various countries
A data breach is not a problem because data is safe within the site
Chat features are comfortable and easy to use
Many girls registering the site are gorgeous and hot
The site employs unique quick searching to make matching more efficient
CONS:
Some features require payments
---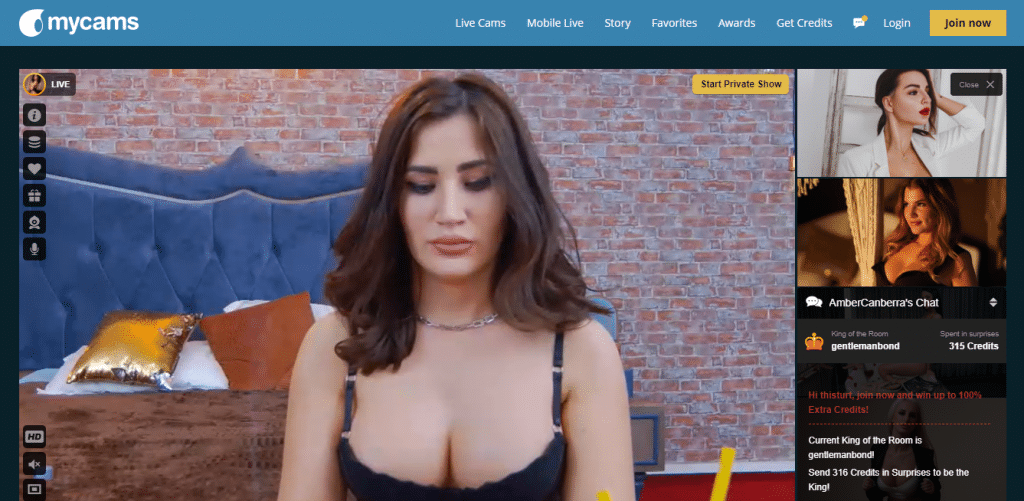 What if you had complete control over all the porn you've seen before? Consider how empowered you would have felt if you had control of how and what the pornstar does. Imagine you as the show's director and an eager babe as your exceptional webcam performer. Would you fall in love if she were clothed in a certain way that arouses you? Even better yet, completely naked! If that sounds appealing, then say hello to Mycams and begin enjoying the perks of kinky sex chat with HD sex cams.
For sure, it is a 100% legit live cam site to satisfy all your x-rated desires. Concerning sexiness, this website has the hottest professional cam models. Additionally, it offers many free features that allow you to communicate with sultry sirens. You will undoubtedly find trannies, big-titted blondes, redheads, transexuals, females, and males with huge dicks. On MyCams.com, they have provided thousands of models and fulfill users' most sordid fantasies.
Check out the full review of Mycams.
PROS:
Large selection of beautiful cam models
High-quality videos and high-end audio performance
You can preview chat rooms
Features and puts spotlight on new cam models
Detailed bios
Customized your profile page
Most features are free to use
Fantastic customer service and live support
Supports numerous languages, including Asian and European
CONS:
No nudes on public chat rooms
Need to pay for private chat rooms to experience nudity
Requires extra credit when using 2-way audio and cam2cam features
---
Bottomline
For those who like trans, this site could be your best option. Apart from having a wide variety of trans models, the quality of the videos is top-notch. But of course, the trans models are the heart and core of TSMate, and luckily we've got an excellent selection set. Most are very approachable and friendly and grant all your wishes for a reasonable price.
I have already visited a few trans live cam sites before; however, this one gives a unique addition to adult entertainment and provides unexpected services. TSMate has a promising quality and convenient website interface compared to other similar networks that will make your browsing and streaming effortless. Overall, TSMate left an outstanding impression, and I can't wait to book again.
All 115 Other Sites in This Category Worth Checking Out:
Strip Flix Review & 12 Must Visit Free Sex Cam Sites Like StripFlix.cam Show Me 12 Alternatives for StripFlix.cam Will you join me as I stream on unlimited stripping and babe teasing? There is no other site I could ever think about that is convenient, accessible, and limitless in nudity. We shall dig on sex cam […]