Updated on: December 11th, 2023
SexKbj Review
& 12 Must-Visit Free Cam Girl Videos and Other Free Porn Sites Like Sexkbj.com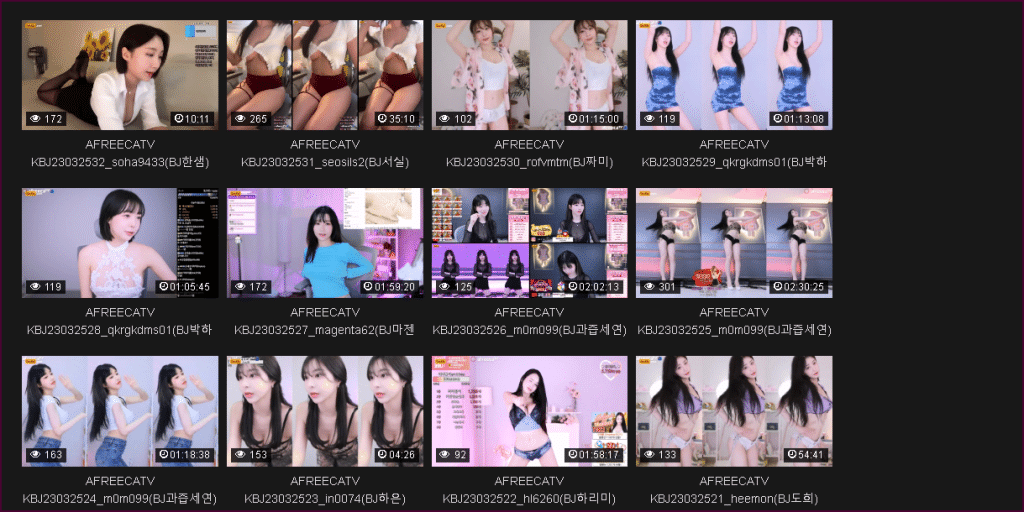 Hey there! Are you in the mood for some steamy Korean action? I hear you, pal! Korea may not be as much in the limelight as other Asian countries regarding the adult industry, but let me tell you, they are just as naughty, if not more! Don't let Korea's profile fool you — the steamy action you'll find here will surely blow your mind. SexKbj has got you covered with their unbeatable selection of gorgeous girls straight out the one genuine Korea. So put on some lube and prepare to get on a thrilling camgirl video!
Official URL: https://sexkbj.com
Unleash Your Inner Voyeur, and Stream for Free on SexKbj!
Hey, hey, hey! Let's set the record straight, the South is the only Korea worth talking about, and we don't give a flying you-know-what about the North's leader and his nukes. He's likelier to keel over from a heart attack than pose any real threat. Now, let's get to the juicy stuff — SexKbj. I bet you're curious about the sizzling hot porn scenarios waiting for you, as well as the cost and other juicy details. Don't worry; we've got all the spicy info you need to satisfy your cravings!
And let me tell you, my friend, SexKbj is a stroke of luck for everyone who wishes to be treated to some steamy Korean cam shows without spending a dime. Yep, you heard me right — all the hot, sexy action you can handle, completely free of charge. There's no need to worry about pesky laws, either —we all know they're not enforced anyway. With an endless selection of sizzling hot cam shows at your fingertips, you're bound to find something that'll tickle your fancy. So, what are you waiting for? Head to SexKbj and start exploring Korea's wildest, kinkiest side!
Indulge in a World of Korean Cam Girls and Thrilling Action on SexKbj
Hold your horses, partner! I know what's going through your mind — why bother checking out Korean camgirls when there's a shitload of stunning ladies from the west who never disappoint with their cam shows? But let me tell you, amigo — there's something extraordinary about Korean camgirls that you won't find anywhere else. Although beautiful white girls are ubiquitous, sexy Koreans are a unique and precious online treasure.
And why is that, you ask? Well, it's because most Korean babes do under-the-knife procedures during their teenage years, which means they're not as naturally beautiful as other women. I'm not trying to offend anyone; I'm just calling a spade a spade. Seoul is known as the mecca of cosmetic surgery, so you can only imagine how widespread it is there. But when you chance upon a genuinely beautiful Korean girl, it's like discovering a needle in a haystack — an exceptional and coveted treasure that will leave you craving more.
So, if you're eyeing something exclusive and thrilling in your cam shows, Korean camgirls are worth checking out. Trust me, once you see the kind of steamy, exotic shows they put on, you'll never want to return to the same boring stuff again.
Discover Erotic "K-Pop" and Embrace the Allure of Korean Culture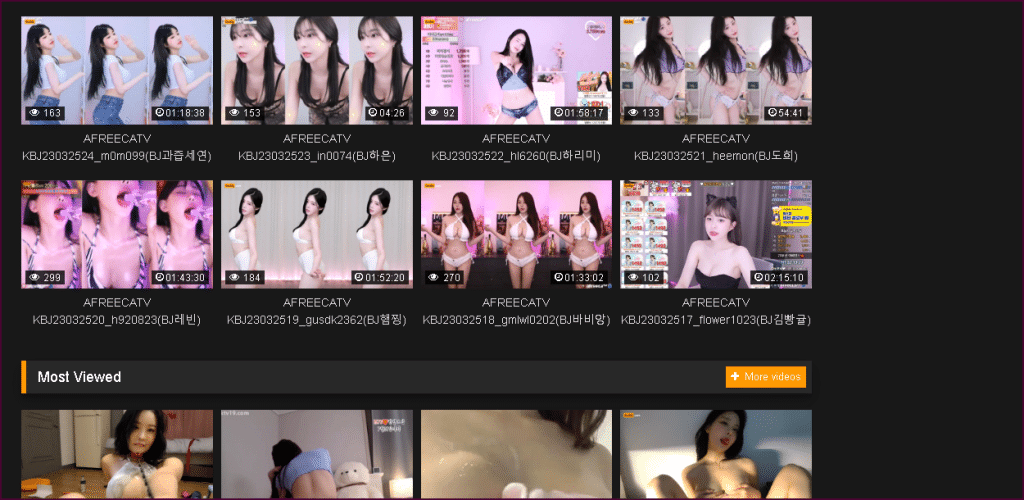 But let's be real here; it's not just about physical appearance. It's about the thrill of exploring something new and exotic. Sure, plenty of gorgeous women in the west put on some amazing cam shows, but there's something special about Korean camgirls. They're not as expected on the internet, and when you come across one, it's like discovering a hidden treasure. And let's not forget about the influence of K-pop culture. When you see a Korean girl on a cam show, an air of mystery and intrigue surrounds her. You can't help but stick around and see what she's all about.
Now, it's true that some Korean cam shows may not have as much nudity as you would expect. But that's not necessarily a bad thing. It adds to the allure of the experience. It's like a game of cat and mouse, where the prospect of seeing more entices you, but simultaneously, you're enjoying the journey just as much as the destination. And when you finally see some action, it's all the more exciting because you've been waiting for it.
,
That's where SexKbj comes in. This site is the perfect place to explore the world of Korean camgirls. You'll find all kinds of girls here, from the cute and innocent to the naughty and kinky. And the best part? You can enjoy all of it for free. So why not take a chance and explore something new? You never know what you might discover.
Enjoy a Sensual Feast with SexKbj's Collection with Hot K-Beauties and Performances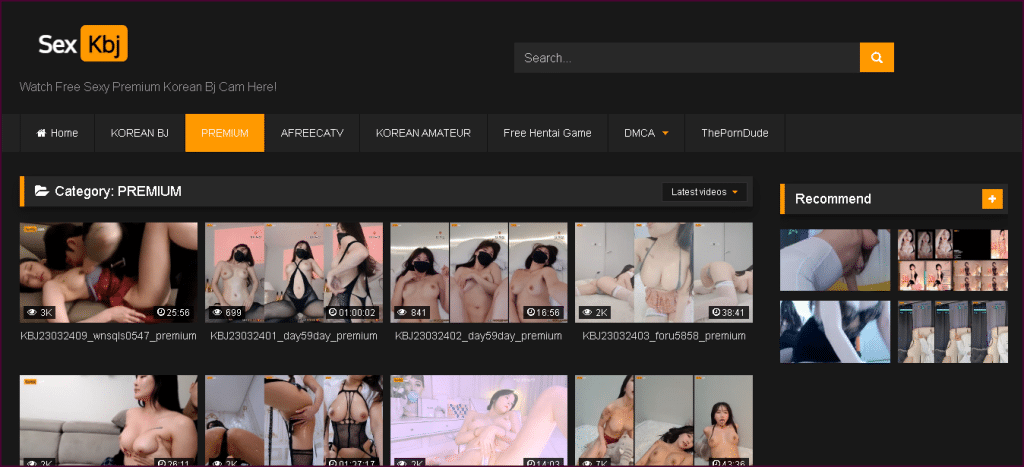 Do you crave something different that taps into the exciting world of K-pop culture? Well, don't blink and hold your breath for a while because SexKbj has a solution for you!
This platform brings together the hottest Korean beauties and serves a delicious feast of thrilling performances that will satisfy your deepest desires. SexKbj boasts a stunning selection of the most beautiful and alluring Korean models ready to dazzle you with their exquisite talents. From sultry stripteases to sensual solo shows, each performance is an attractive display of passion and artistry that will leave you breathless.
You might be thinking that plenty of other sites on the internet offer cam show content, but here's the kicker: SexKbj is one of the rare places that focuses on Korean girls in particular. And let's be real, who doesn't want to see some gorgeous Korean babes in action? I think it's time to ditch the boring and mundane and immerse yourself in a world of excitement, energy, and creativity. With daily updates and an ever-growing library of exclusive content, you'll never run out of new experiences to explore.
Get on an Unforgettable Adventure with a Never-Ending Supply of Videos at SexKbj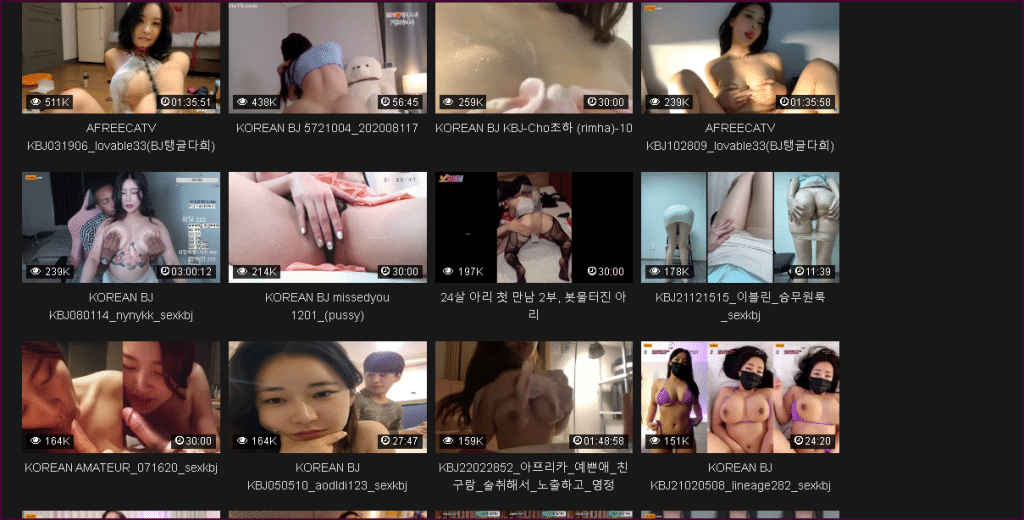 Listen up, folks, because I have some juicy details for you. Are you ready to hear about the motherload of Korean camgirl videos? Brace yourselves because we're talking about thousands of hours of footage here. That's right, SexKbj has a collection of over 4K+ videos, each with several hours of content on average. And let me tell you, these Korean girls are something else. They have the skill to put on a REAL show, and some streams go on for hours. I'm talking about the whole shebang, from the sultry teasing to the steamy action.
Now, I get what you might be feeling. Who has the time to watch all that? Well, fear not because some incredible people on SexKbj make an effort to trim out the most tempting parts for your viewing pleasure. That's right; you can get straight to the good stuff without sifting through hours of footage. And let's be honest here, with that many videos, there's always something new and exciting to discover. I wouldn't be surprised if male Koreans go crazy over this site, and who can blame them? SexKbj is a goldmine of Korean camgirl content, and I know I'll be checking back in for more.
From Excitement to Frustration: The Ad Overload is Killing My Buzz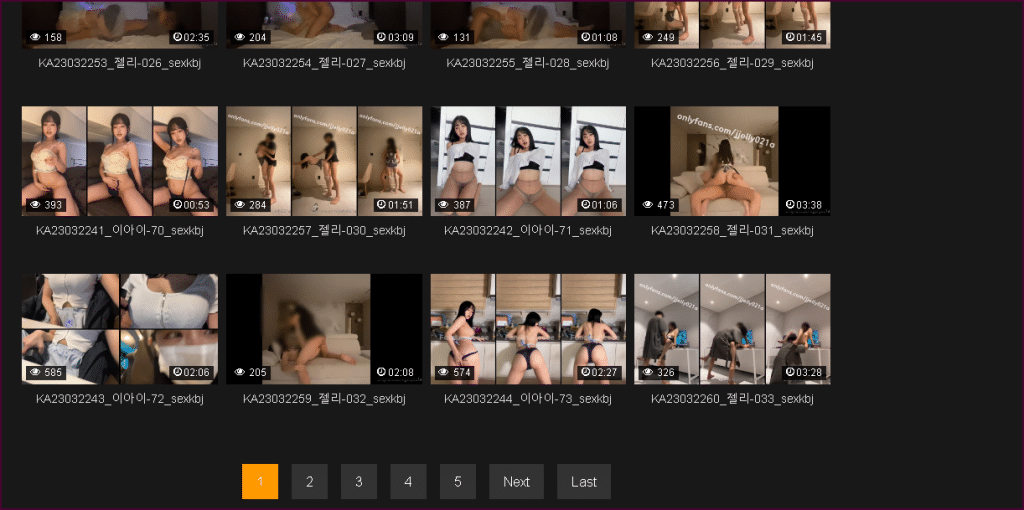 Listen up, folks, because I'm about to drop some truth bombs about SexKbj that you need to know. Sure, you can stream all those spicy Korean cam shows for free, but there's a catch. Brace yourself for a shitload of ads that will make you feel stuck in a commercial break on steroids. I mean, what's the deal with all these ads? Am I right? Don't get me wrong, I get that hosting ain't cheap, but it feels like SexKbj is more interested in filling its pockets with ad revenue than providing a quality user experience.
And don't even mention the targeted ads. It's like they know your life story and are using it to sell you stuff. It's a bit creepy, to be honest. But hey, at least they're giving you relevant ads to your country and region, right? Silver linings, people. But seriously, the amount of ad material on SexKbj is next level. It's like trying to watch a movie on TV, but the commercials are longer than the actual film. So, if you've got the patience to sit through all those ads, then go ahead and enjoy those hot Korean cam shows. Bring a snack or two because you'll be there for a while.
Elevate Your Fapping Session with SexKbj's Game-Changing Features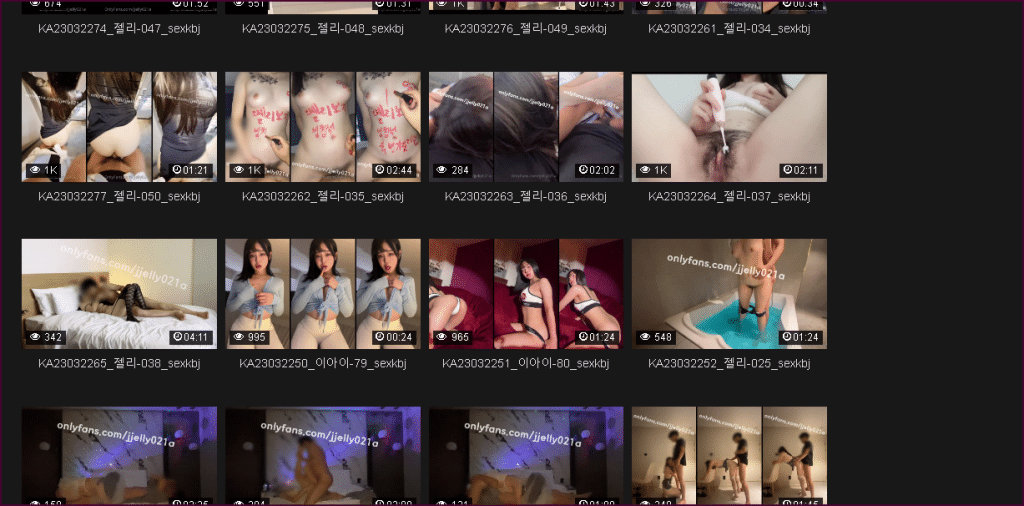 Get ready to experience the ultimate in-home entertainment! SexKbj has a one-of-a-kind casting option that lets you stream your favorite Korean cam girls on any device connected to the same WiFi, including your smart TV. Picture yourself kicking back on your couch and enjoying a steamy private show on the big screen – it's like having a front-row seat to the hottest performance in town right in the comfort of your living room. Don't settle for a tiny screen and cramped quarters when you can upgrade to the full-on, high-def experience with SexKbj.
The casting feature is a game-changer for those who prefer a premium viewing experience. Trust me, the more you watch these videos, the more you will crave that immersive feeling of watching it on a larger screen.
And let's be real; we all have different preferences regarding adult content, but the casting option on SexKbj should not be overlooked. It takes the viewing experience to a whole new level of enjoyment. So, if you're a Korean cam show fan and are looking for a new site to check out, SexKbj is worth considering, especially with its casting feature.
Pros and Cons of SexKbj.com
PROS:
A shitload of excellent Korean cam shows recorded and compiled
Hottest babes from Korea
Free streaming
CONS:
Some ads and pop-ups
Standard website design
Some content may not have any erotic action
---
12 Must-Visit Free Cam Girl Videos and Other Free Porn Sites Similar to Sexkbj.com: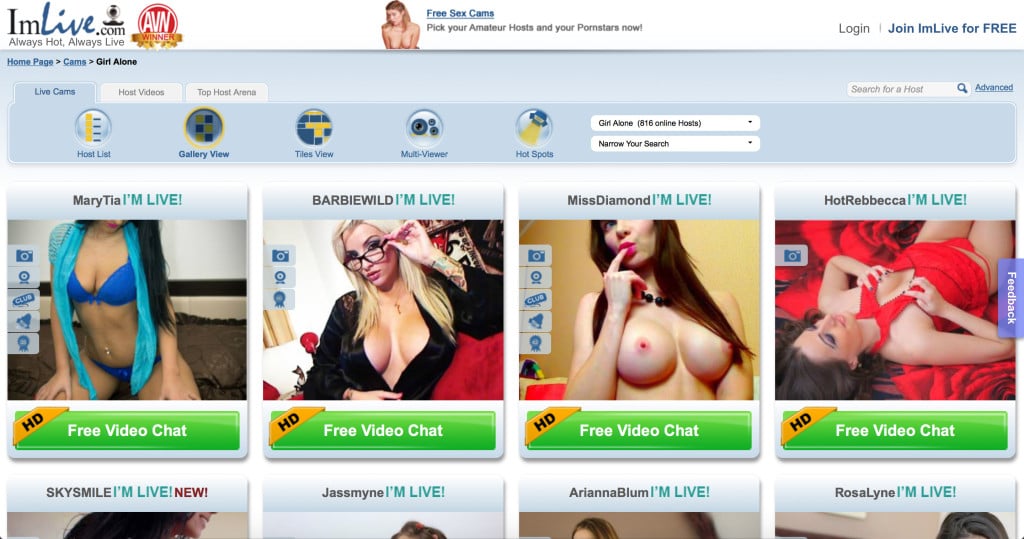 Imlive.com is a unique live sex cam site made for those diverse people. These people are those who really need to incorporate a little more excitement into their stressful schedules. Truly, it is one of the internet's very famous Livestream chat sites and we already understand really why.
Besides, in terms of producing hot females on the internet, Imlive.com presents numerous user preferences. In other words, with just a click of the mouse away, you can indulge loads of free pleasure camcorders with an amateur or beautiful pornstars. Ultimately, to fulfill your sexual urges, these good looking women from all around the globe are all here.
Here's the full review of Imlive.
PROS:
Split into three various types namely, Host Videos,
Live Cams, and Top Host arena
Searching is not hard
HD videos with a bunch of sensual and beautiful girls
The browsing experience is considerably simple
Numerous different videos with a collection of distinct varieties all for users' satisfaction
CONS:
A bit confusing which video to watch because of a wide selection
---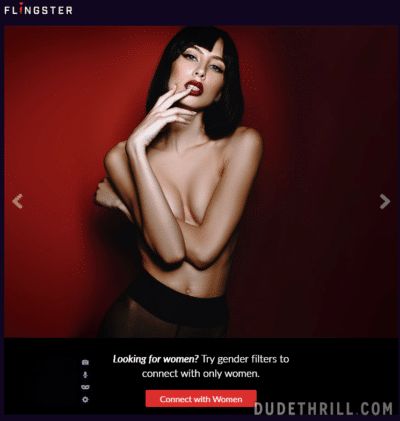 Flingster is a must-visit random video chat for a meeting, hanging, and making out with singles. On this website, the application process is indeed speedy and convenient. So, it won't be wasting much of your energy at all. Compared to several other dating websites, even free accounts can use message and video chats without paying.
On the other hand, paid subscribers have additional features that are indeed unique. Meanwhile, Flingster similarly provides discreet identification while chatting before you consent to a spontaneous, quick fling.
Click here for a full review of Flingster.
PROS:
Unspecified character is a choice
Everybody is excellent regardless of sexual orientation or gender
The signup procedure is available and relatively simple
The site's design is simple; however, understandable to navigate
CONS:
There are occasional phony profiles reported
---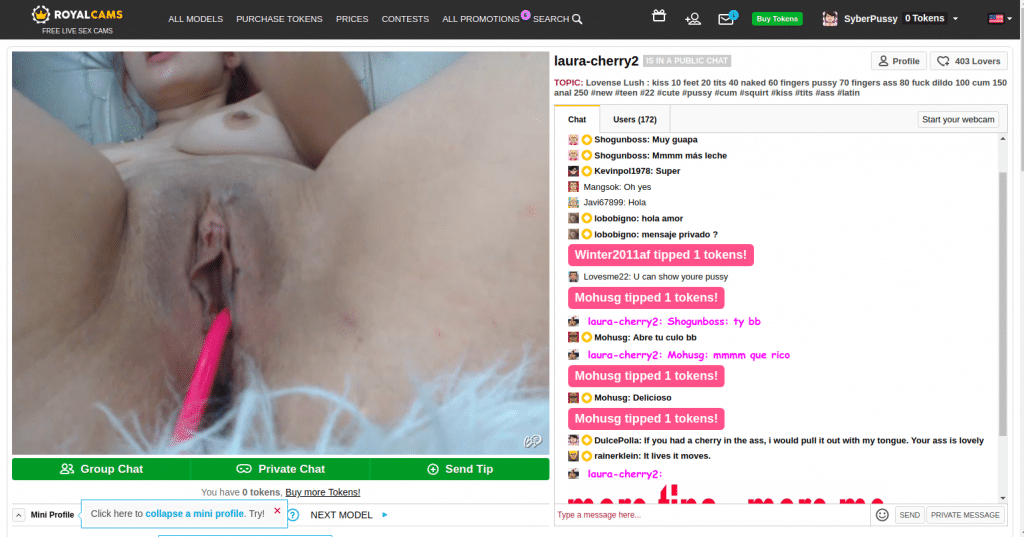 RoyalCams is a fully functional webcam platform. It uses a vast library of models that reflect both genders and orientations. There are four different types of personal chats available, including fully explicit and tip-based completely free chats. Check out our best choice if you're looking for the best adult cams. It's open, simple to use, and well-liked by users, increasing your chances of having a good time.
PROS:
Plenty of gorgeous girls
Spy/Voyeur style that allows you to see and chat with models.
Uses sex toys
Professional and amateur models
Mobile compatible
CONS:
Sometimes, models take time before going nude
A brief preview of the Visitor Live series
---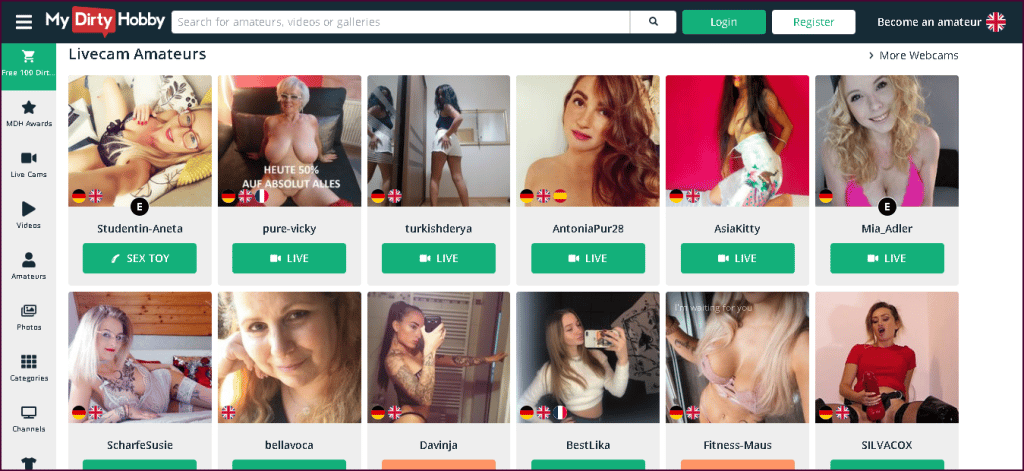 Germany's best live sex cam website, My Dirty Hobby, brings everyone together. Coined as one of the largest adult social networks to ever grace the Internet, MyDirtyHobby is more than just its intriguing and interesting handle; it is a haven for amateurs who like posting homemade sex videos and provocative photosets. It is an interactive community that will live up to one's expectations, especially if you look for a reliable source of adult porn and live sex sessions.
It has plenty of members video chatting and messaging daily. Also, the website allows the members to gain money by joining cam shows. Indeed, My Dirty Hobby has a fantastic set of cam girls waiting to have a naughty time with you.
Click to see the full review of MyDirtyHobby.
PROS:
Different contents according to specific interests
Design is simple and easy to use
Regular updates
Do not need membership payment
CONS:
Downloading is not available
---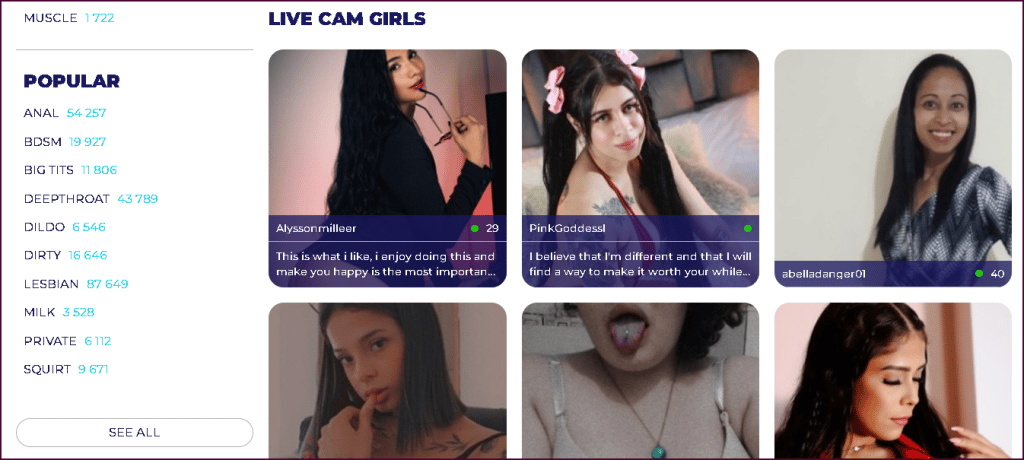 Jerkmate, a live sex cam website that promises every moment is worthwhile. Also, there are a lot of amazing chicks you can jack off at any time. Many of the girls are waiting for AMD, craving for horny men to watch them. Besides, the cameras available on this website are of high-resolution quality, making the whole experience more enjoyable.
Check out the full review of Jerkmate.
PROS:
Different and extensive choices of girls to chat
Live shows are different, and users can pick which they like
Webcams are high-quality resolution
CONS:
---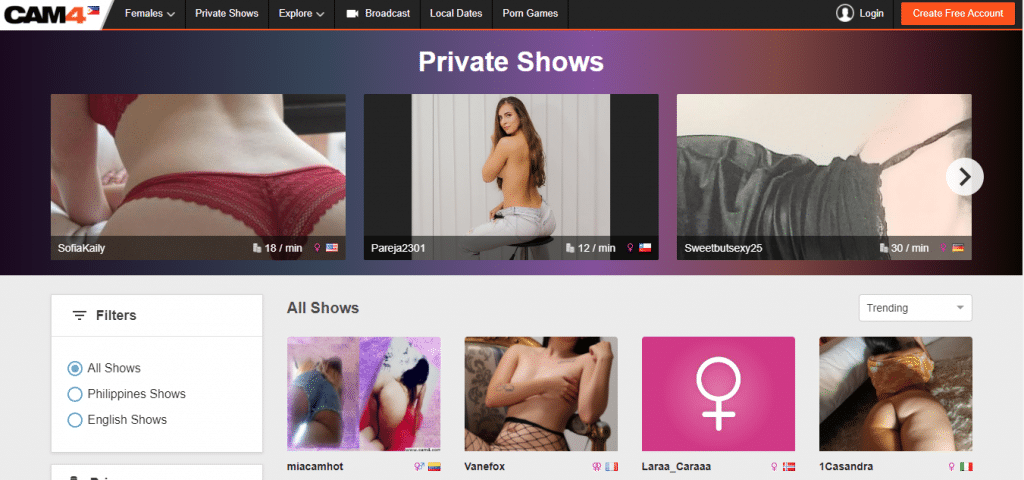 Cam4 is operated by the Granity Designated Activity Company and broadcasts one's own shows and events over the Internet. The first freemium cam site, Cam4, was launched in 2007 and has since gained considerable popularity. Many different types of people—men, women, and gay couples—broadcast their events.
Amateurs mainly use this camera site in making amateur Webcam videos. Customers can buy virtual tokens for an additional fee. They are best used to watch shows and reward the performers, or in the hands of the voyeurs to show you their private stuff.
Thanks to the site's early online porn features, it has gained a lot of popularity, and now it is highly regarded as one of the most valuable webcam sites for everyone who enjoys camgirls. Over the past, people have only used film; nowadays, you can also use the Cam4VR app, which is available on the Cam4 platform, which captures 360° 3D video.
Take a look at the full review of Cam4.
PROS:
Numerous cam models
Plenty of searching options, tags, and categories
Virtual Reality Shows are available
The fantastic customer service team
Offers bonuses upon registration
CONS:
A limited number of cameras in HD quality
---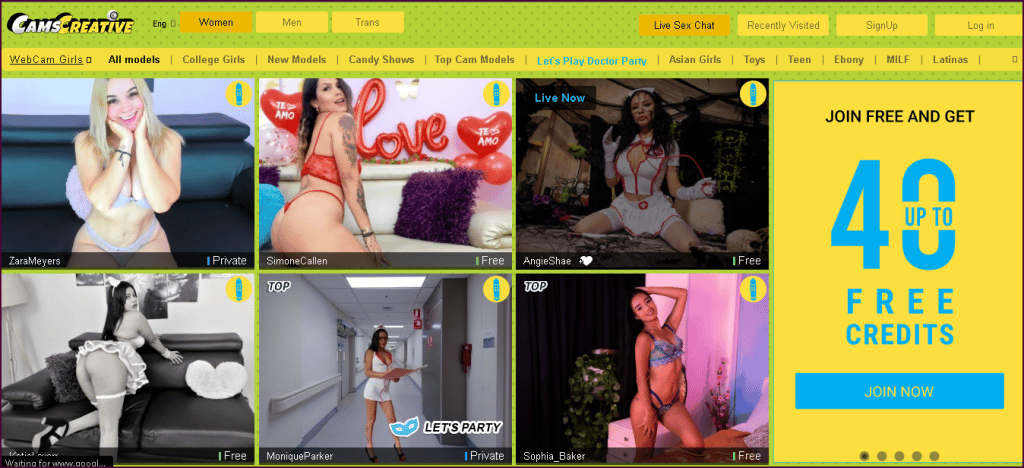 They are pretty new to the adult cam site industry, and they have the best, most creative, and artistic way of introducing their models. Creativity mixed with hot and sizzling sexy babes is how Camscreative do their thing. With the creative and artistic sides shown in every corner of the site, it will really get your blood and juices flowing in the right places, ready for some fun time.
All the sexy babes on the site offer the best experience via webcam, and Camscreative didn't disappoint in their lineup of models. Aside from the usual webcam stuff I've been used to doing with other sites, they also offer exclusive and unique site features, which I definitely enjoyed.
Here's a full CamsCreative review.
PROS:
Unique content and a wide variety of shows
Members can enjoy a lot of freebies and perks
Fetish shows by models are very in-demand
Models can do any task you want during private shows
Lots of show variety to choose from
Models are from different countries worldwide
Great variety of models and not just limited to girls
Couples, transgenders, solo guys are also available for shows
Interactive environment for both users and models
During private shows, users can control the model's vibrators
Affordable pricing with many perks
Excellent customer support available 24/7
200 minutes of free live chat are given to members every month
Videos are made of HD quality
Creative and artsy website design
Virtual gifts can be sent to models to show appreciation
CONS:
No HD marking, so it's pretty tricky to navigate
If you have low credits, models rarely interact with you
You cannot write comment reviews
No indicator for the availability of models (online status)
---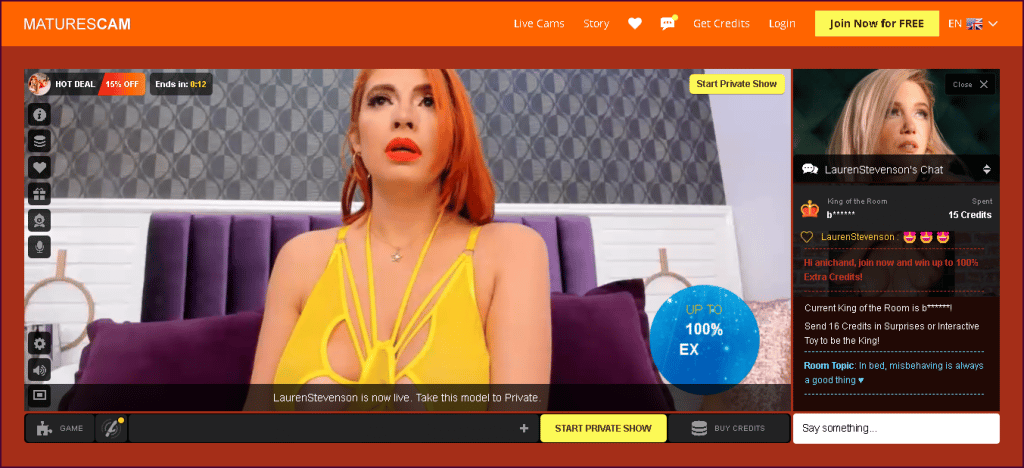 MaturesCam is the ultimate live sex cam site for mature cam model lovers. It's a live sex cam site that offers amazing virtual-reality entertainment. Also, it provides technical innovations and has transformed the live sex cam experience in more fun and exciting ways. MaturesCam also offers some decent quality performances and webcam resolutions. Wherever you look, the view is clear as fuck, and getting intimate with the gorgeous MILF won't be so complicated and time-consuming.
Read the MaturesCam full review.
PROS:
Lots of unique and gorgeous MILFs
Hundreds of active cam girls anytime
Simple interface
Easy to use
Different ways to chat and stream
Unique concept
CONS:
Some private chat rooms are a bit pricey
---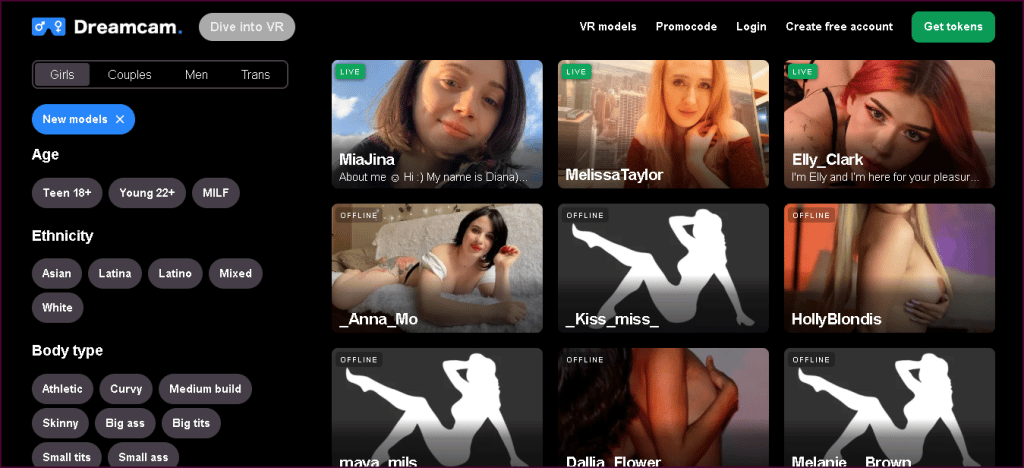 DreamCam has actually been in the streaming business for quite some time, and operating live entertainment shows like sports around 2015. But now, DreamCam walked a new path and made business with the best sites in the live sex cam industry: Xhamster Live and Stripchat. The site offers augmented reality cam shows, intending to provide solid and dependable services to artists and their audiences. Not even the most popular webcam sites have the resources to provide such a high interaction between the viewers and the models they feature.
PROS:
High-quality VR shows
Premium experience
It has a free demo for beginners
An amazing list of cam models
Unique cam experience
CONS:
You need to pay up to use
---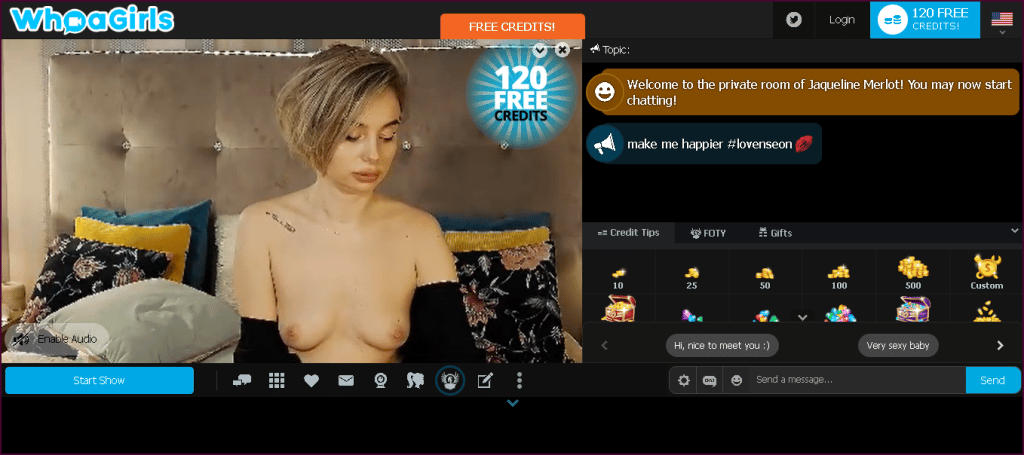 WhoaGirls is just another adult entertainment chat and live-cam site teeming with vibrant women seeking men for chat and sexual encounters. Most WhoaGirls' entertainers are friendly and outgoing and love chatting with the audience. But please be aware that when you check out the site, you're visiting a "white label" replica of an existing live cam platform. So, do not expect a one-of-a-kind adult cam experience at WhoaGirls. But the question is: is it a sham? Luckily, NO — it's NOT.
Click to see the full WhoaGirls review.
PROS:
Lots of chat room options
Plenty of cam models to choose from
Active community
Prices are varied
Safe and secured platform
CONS:
Website design could be improved
The site is a white-label copy only
---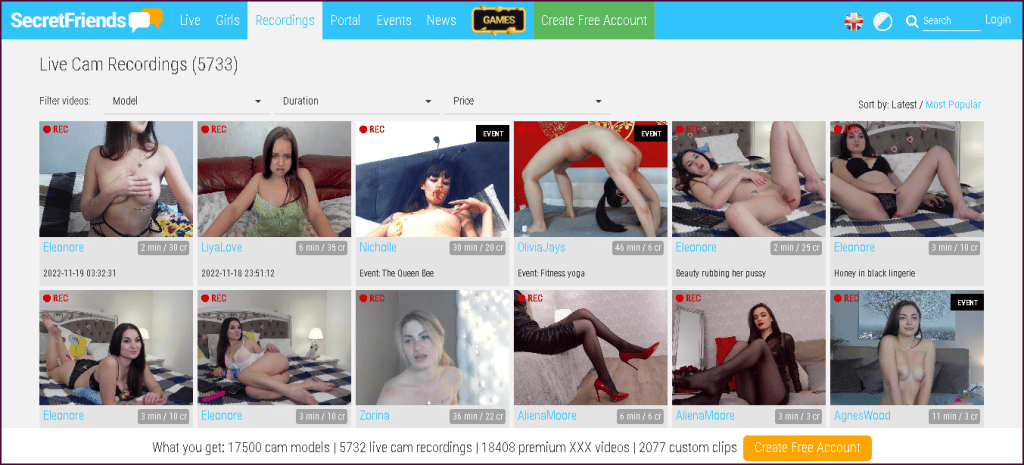 Secret Friends has become the most popular live sex cam platform, with members accessing over 5K+ free pornos. The site also has hundreds of films to stream, a frequently used member's area where cam lovers meet to exchange thoughts on females, activities, and new features, and a gaming section to kill time. They've also zeroed down on locating the sexiest cam girls who aren't afraid to show off their assets and are open to talking for free.
Learn more about Secret Friends with this full review.
PROS:
Lots of chatrooms are available
Some cam models are accessible for free
Intuitive interface
Supports mobile browsing
Lots of unique cam features
CONS:
Some chatrooms are pretty pricey
---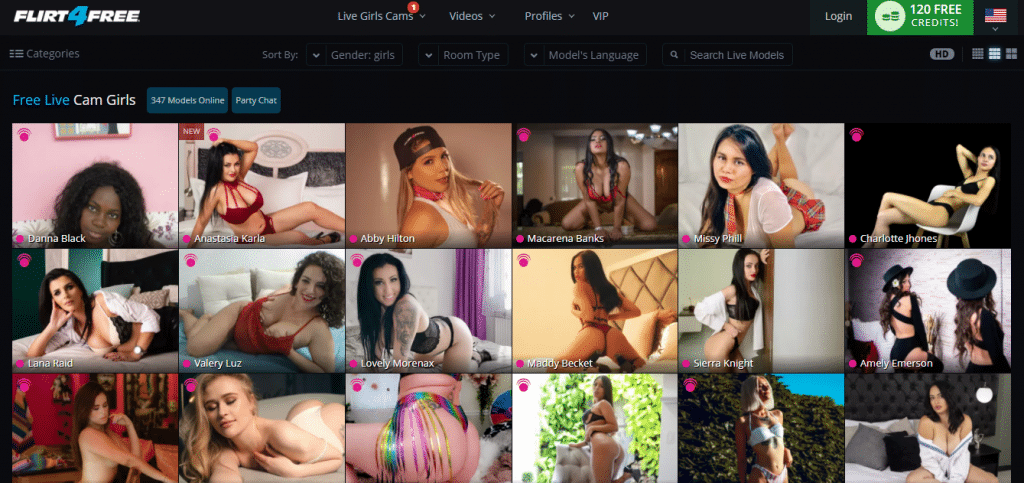 Do you want to start the evening with no strings attached? Would you like to see a never-ending supply of hot young sex action on cam? are you interested in viewing it free of charge? And if that is the case, then you have found the right website.
When you use the Flirt4Free, you can list the girls according to the activities that turn you on. Also, if you discover a model that interests you, you can see when they're coming online every week. Indeed, the Flirt4Free free account will provide you with just enough content for your entertainment.
Check out the full review of Flirt4Free.
PROS:
Fantastic live sex cam website
Design and layout is modern and cool
Features are great and work for your convenience
There are pre-recorded videos available
Variety of models you can choose from
CONS:
Sometimes the website buffer
There are expensive private shows
Some dead links
---
Bottomline
To wrap things up, while SexKbj may have flaws, such as the excessive ads and standard website design, its unique focus on Korean girls and the abundance of cam show content make it worth checking out. Sure, it may not be your first choice, but with its new market and rarity of similar websites, it's worth exploring. So, whether you're a Korean guy looking for a new favorite site or just someone who appreciates cam show content from all around the world, SexKbj is a site that should be on your radar. And who knows, with the Chrome cast feature, you might even want to take your viewing experience to the next level!
All 115 Other Sites in This Category Worth Checking Out:
Strip Flix Review & 12 Must Visit Free Sex Cam Sites Like StripFlix.cam Show Me 12 Alternatives for StripFlix.cam Will you join me as I stream on unlimited stripping and babe teasing? There is no other site I could ever think about that is convenient, accessible, and limitless in nudity. We shall dig on sex cam […]