Updated on: December 5th, 2023
Recurbate Review
& TOP 12 Free Cam Girl Video Sites Like recurbate.com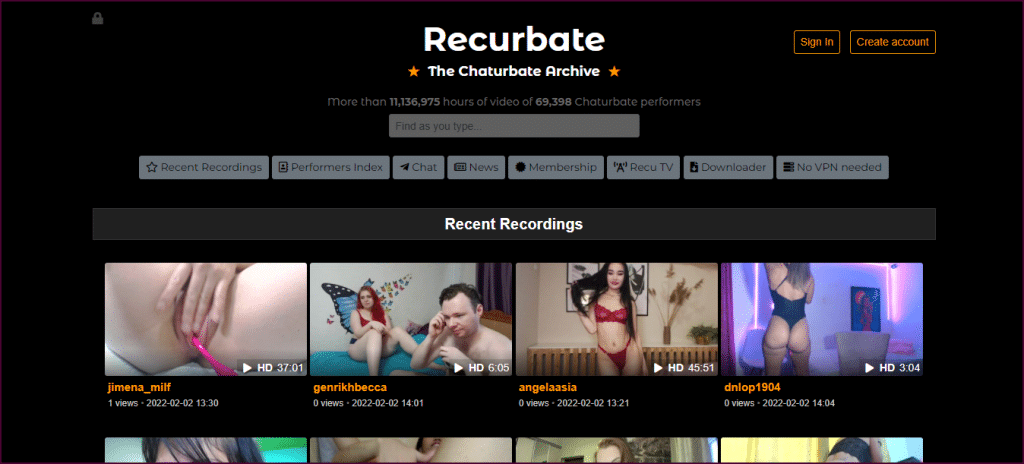 Are you ready to stream cam girl videos? Well, there's Recurbate, an oddly-sound title for a website, but it's a pretty exciting page for all your cam girl needs. I was a bit curious about what this site can offer since they gained over 14K+ visitors regularly, and for me, that's fucking huge! With this, I thought Recurbate had been operating for a long time, but surprisingly the site is only a newbie in the industry. Wow! They get most of its content from Chaturbate, so you already know what to expect here. Pretty sure, Recurbate has jam-packed bizarre shows and exhibitions because that's the kind of entertainment Chaturbate has been giving us!
Official URL: https://recurbate.com
Cam Videos of Recurbate
Recurbate is a promising free cam site. You might think that it's another live cam sex site, but Recurbate is actually an archive of all the fantastic cam shows from Chaturbate. Its primary purpose is to give us amazing experiences from actual and legit cam models, be it females, shemales, males, or couples.
Expect to see videos here featuring masturbating girls, stripteasing, and other forms of erotic entertainment. If you're a fan of Chaturbate and have been watching its live cam shows, then that's the kind of entertainment you'll get at Recurbate. In other words, whatever you miss from the Chaturbate site, Recurbate is here to save all the cam shows, chats, and every live streaming performed by hot cam models.
Recurbate Is A Massive Porno Hotspot!
In terms of quantity, I'm not a newbie on that. I've been to many porn sites, and a massive amount of porno is no longer a shock to me. In fact, I'd be disappointed when there are only a hundred videos available. But of course, cam sites are pretty different compared to porno because it's creating shows and videos every fucking day. That's why, when I saw the massive archive of Recurbate, I was totally convinced. I know right from the start that Recurbate will continue to soar high in quantity because Chaturbate itself is a big fucking cam site worldwide.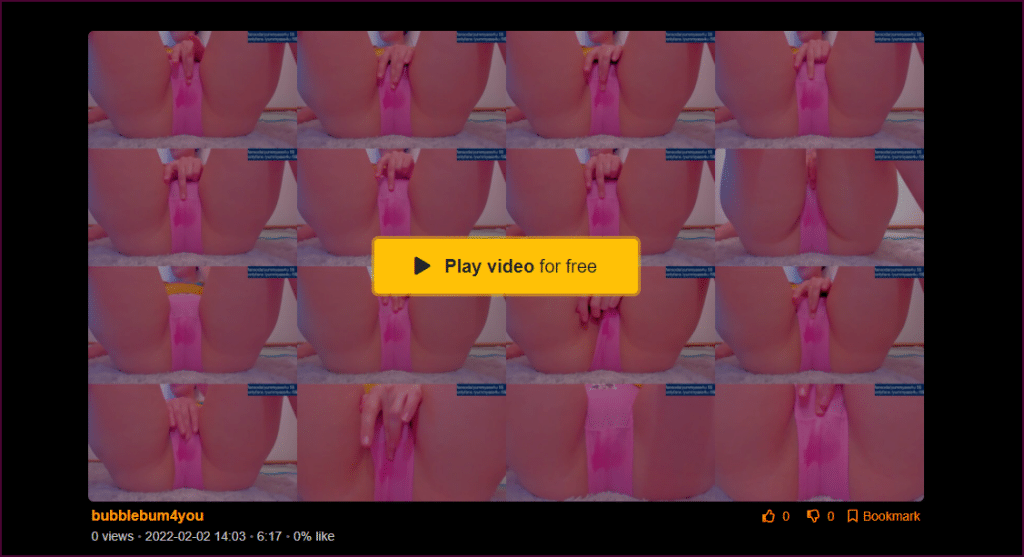 Anyway, when I checked out Recurbate, there were over 69K+ cam models available, accumulating roughly 11M+ hours of runtime. So, whenever you miss a chance on something on Chaturbate, just hop into Recurbate and enjoy the rest of the evening fapping. Perhaps, the only reason you'd hate Recurbate is you'll have a hard time finding a perfect video preference because of its massive collection.
Unlike other sites, Recurbate doesn't use tags or any different kinds of names that could easily filter content. The only thing available is the model index and nothing else. So, if you have a particular cam girl favorite, use the model index section. Otherwise, you're stuck with what the main page shows you.
Is Recurbate Really Free?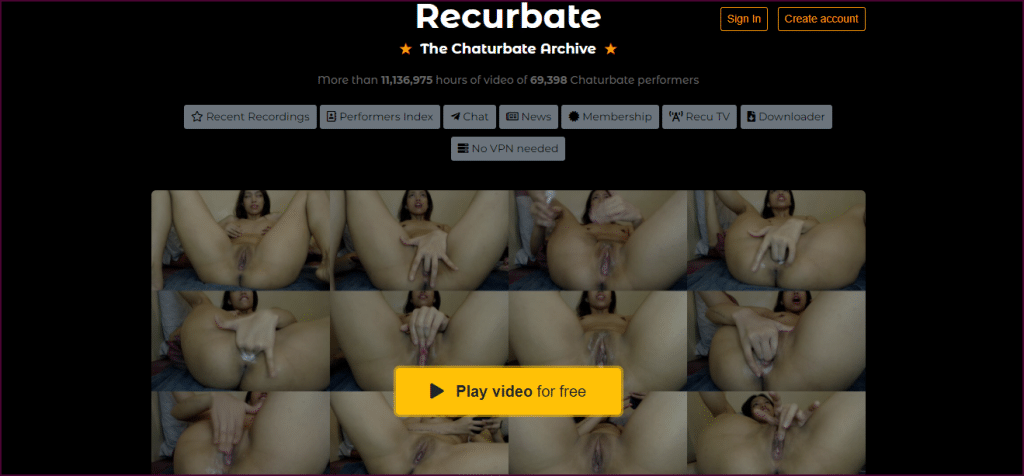 I was ready to put Recurbate to the test and see what this collection was all about. So, I started my nightly fapping session and prepared my lube. While browsing, I found several thumbnails featuring cam models masturbating using large sex toys and fucking vibrators. I thought, "This is it!" finally, I can fap on decent models and exciting, authentic cam shows.
I gotta mention that Recurbate features are moving thumbnails, so you'll enjoy seeing some previews of the videos before clicking them. This way, it will be easier to decide which one is better than the other. Anyway, everything seems great, so why bother?
Though, what frustrates me the most is the restrictions on the site. I fucking thought Recurbate is totally free, and everything available on the site is mine for no absolute cost. But, obviously, I was wrong. The moment I tap on a video to start my fapping, the site says I'm only limited to "one" video each day. Take note of that; every basic user can only watch one video every day. So, if you click on another, Recurbate prompts subscription packages.
Certainly, that was fucked up, and I never really thought I'd be paying on this site since its collection is from Chaturbate. But then, as I said, I was wrong. Currently, Recurbate offers various subscription packages that you can use to enjoy plenty of perks. It's pretty affordable, though, but free would be better. Anyway, I will give more details on the membership later.
Re-watch Amazing Cam Shows at Recurbate.com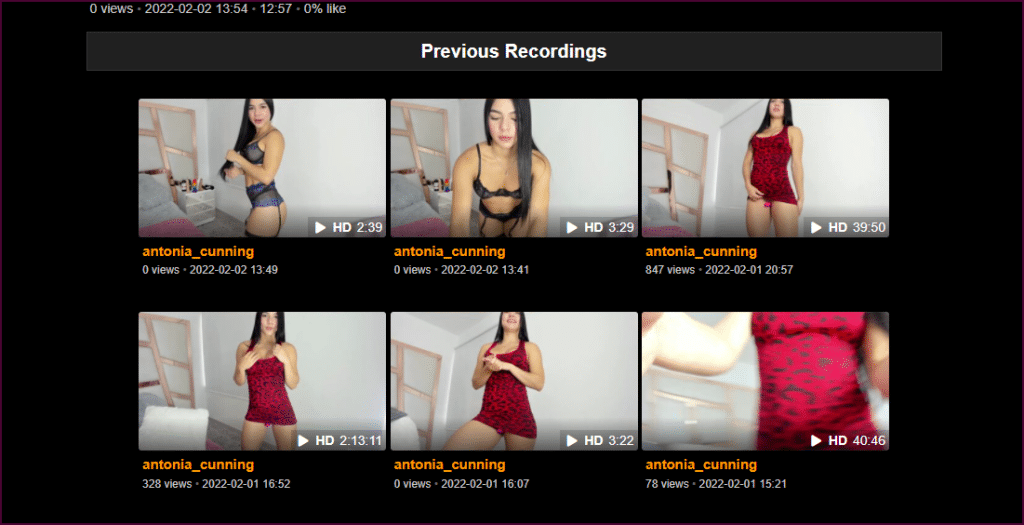 Perhaps, Recurbate's great perk is you can record and download cam shows from your favorite live cam platforms, including Chaturbate, Flirt4Free, Cam4, and more. For Premium and Ultimate members of Recurbate, you can access all the videos with no limits, but only the Ultimate Members can download videos. While the basic users might have to enjoy one video a day.
Despite the restrictions of Basic members, I still like the concept of re-watching shows whenever and however I want. Unlike the live cam sites, if you missed out on your favorite cam models, then you can't make her repeat the performance just for your pleasure. You might have to wait again until the model returns online. But with Recurbate, you can save wasting time and simply watch cam models for as long as you wish.
Record All You Want!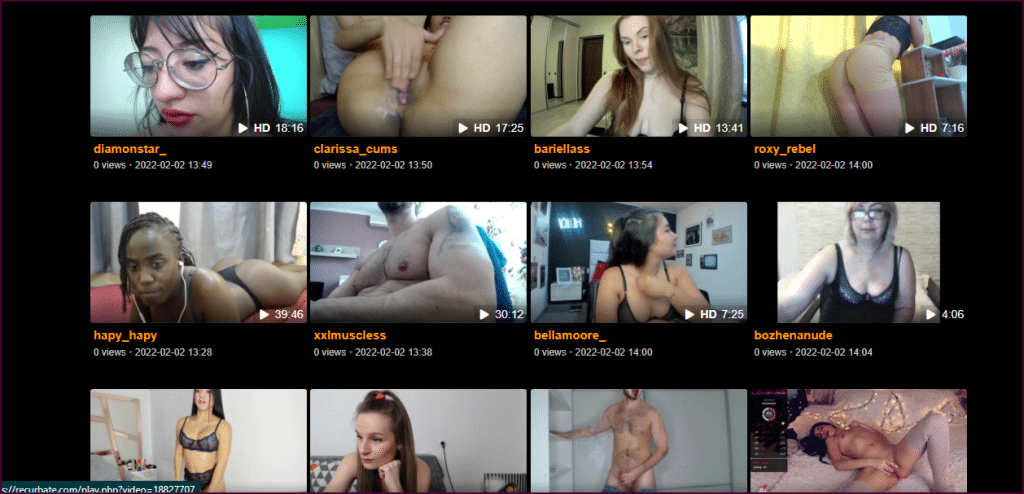 Additionally, you can record shows of your beloved models for an affordable price. They are offering a 3-month and 6-month subscription that allows users to record any shows they wish to see from various cam sites. However, if you're pretty busy during the day and only have time to jerk off at night, Recurbate allows you to record cam shows by setting up a list.
This way, recording will start up automatically, and you can simply stream it when things are ready. Also, there are no limitations to how many shows you can record in a day. Perhaps the only limit you'll experience is how much your storage could accommodate. So, better buckle up and prepare some larger file sizes because you'll be blown with how much you can get from the Recurbate collection!
Amateur and Professional Cam Models of Recurbate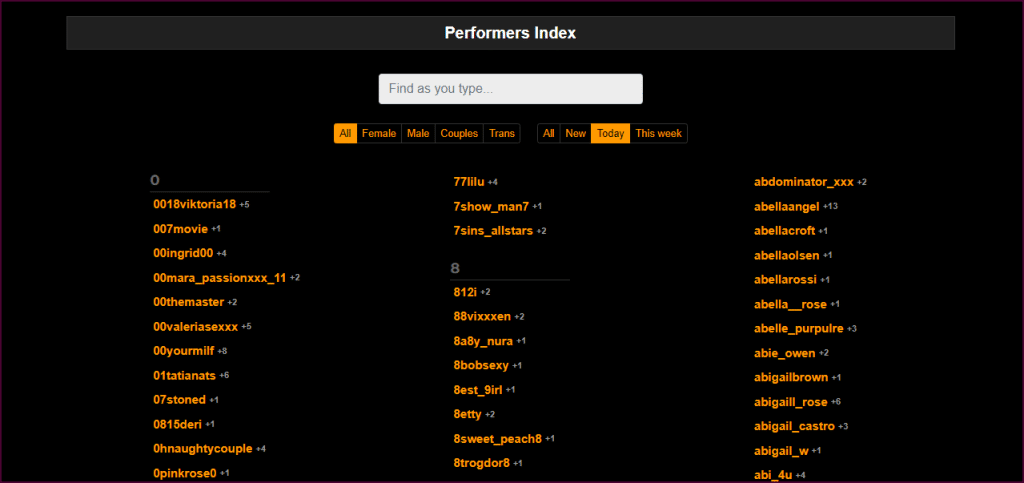 As we know by this point, Recurbate is an archive of other mainstream cam sites that allows us to see and re-watch cam shows of models. Some of these live sex cam platforms are Chaturbate, Streamate, Flirt4Free, and Cam4. So, expect to see high-quality and sought-after cam models around here. Of course, we can't say bad things about these mainstream sites, so seeing unique and gorgeous cam models is not surprising.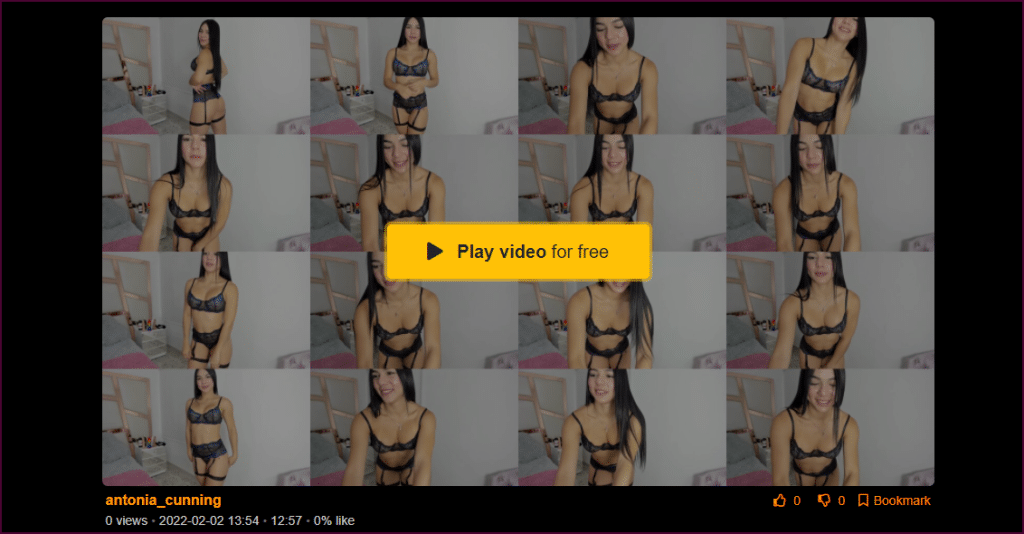 Indeed, the reputation of the cams sites where Recurbate gets its content is on top. They have proven their worth worldwide, so Recurbate's model listing is not jam-packed with worthless bitches. From time to time, you'll come across several amateur teens, horny couples, fucking soloists, professional cam performers, and other cam models around the world.
Despite having different looks and nationalities, these cam models are definitely the best in all aspects. You can quickly tell they understand how to pleasure viewers and tease them to climax. No doubt, it's not a cheap quality service! The more you browse here, the more you get hooked. So beware because these cam models are like heroines you can't resist.
Choose Your Membership — How Much It Costs?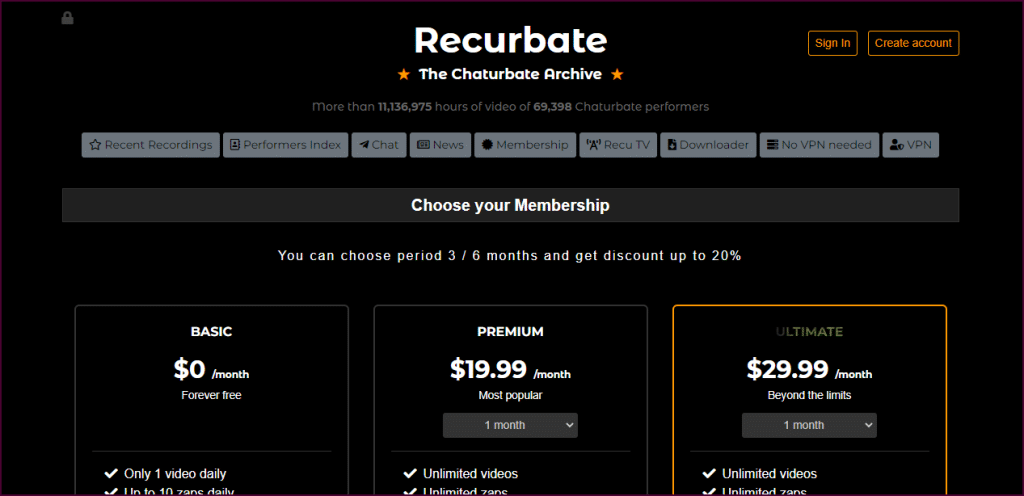 Right now, Recurbate offers three different membership packages, and each comes with a variety of duration and discounts.
Premium Membership
1-Month Membership — $19.99/month
3-Month Membership — $17.99/month (10% Off)
6-Month Membership — $15.99/month (20% Off)
With the Premium Membership, users can enjoy watching unlimited content, a safer browsing experience, use features like bookmarks, add models to record, no ads, and faster streaming.
Ultimate Membership
1-Month Membership — $29.99/month
3-Month Membership — $26.99/month (10% Off)
6-Month Membership — $23.99/month (20% Off)
Meanwhile, with this Ultimate membership, users can also enjoy similar perks like the Premium Membership but include additional benefits, including downloading and streaming exclusive videos.
Basic Membership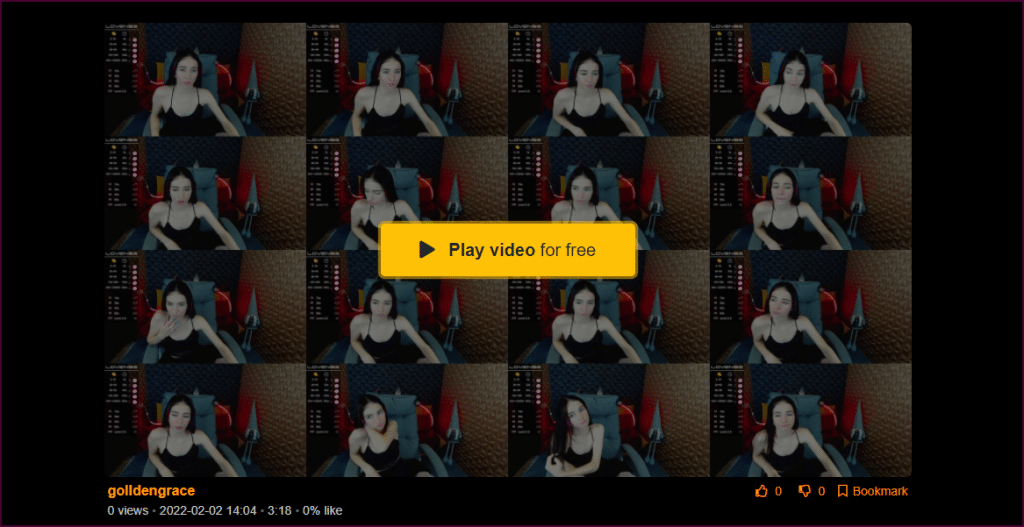 The Basic Membership has no monthly fees, and you can use the site for free. However, the features and browsing you can enjoy limit only one video each day. Also, there will be ads popping while streaming or simply browsing the site. Lastly, you can't download or access exclusive videos.
Pros and Cons of Recurbate
PROS:
Re-watch cam shows
Massive archive
Thousand models available
Reputable sources
Affordable subscription packages
Free registration
Offers previews
CONS:
Basic users have limited options
Downloading is for Ultimate Members only
One video each day for free users
No tags or search engine
---
TOP 12 Free Cam Girl Video Sites Similar to Recurbate.com: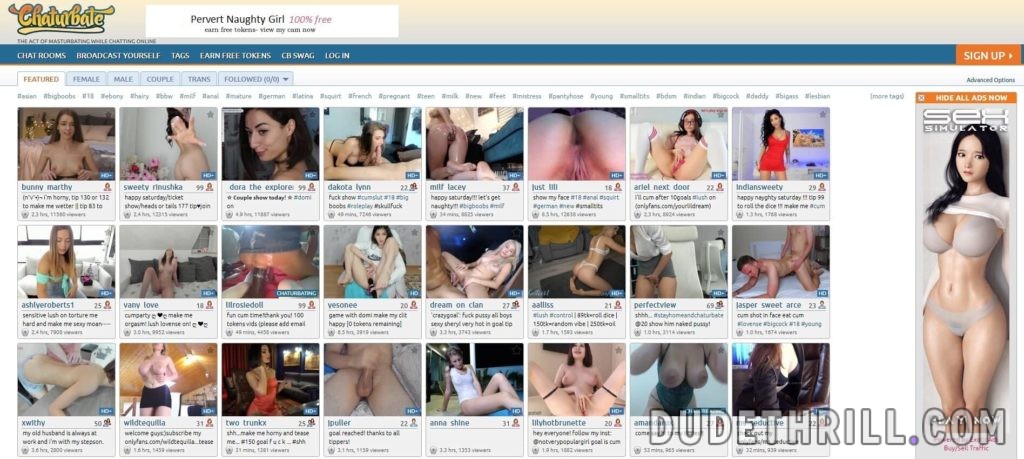 Connecting to people worldwide has never been so easy. Thanks to Chaturbate, unlimited talking is now possible. Plus, you will never spend a dime on it. There are a lot of sexy and beautiful women available for you, 24/7. As a matter of fact, women on this website love kinky stuff, which is always worth your time and attention. Meanwhile, live shows are also available for viewing at a reasonable price.
Here's the full review of Chaturbate.
PROS:
Many cam girls available 24/7 live
No additional fees to expect
Nudes and sex are always a guarantee
Smooth browsing on smartphones and other devices
CONS:
Few videos are in SD format
Expensive private shows
---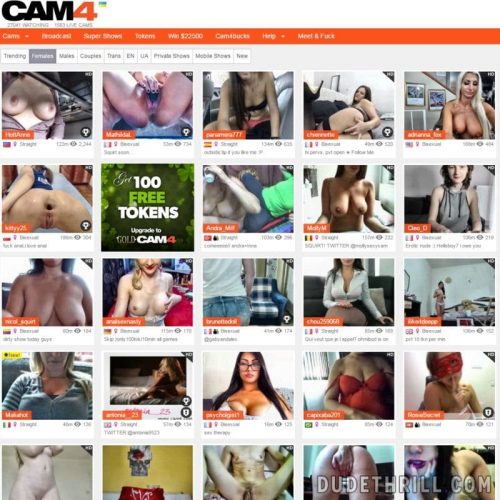 Cam4 is operated by the Granity Designated Activity Company and broadcasts one's own shows and events over the Internet. The first freemium cam site, Cam4, was launched in 2007 and has since gained considerable popularity. Many different types of people—men, women, and gay couples—broadcast their events.
Amateurs mainly use this camera site in making amateur Webcam videos. Customers can buy virtual tokens for an additional fee. They are best used to watch shows and reward the performers, or in the hands of the voyeurs to show you their private stuff.
Thanks to the site's early online porn features, it has gained a lot of popularity, and now it is highly regarded as one of the most valuable webcam sites for everyone who enjoys camgirls. Over the past, people have only used film; nowadays, you can also use the Cam4VR app, which is available on the Cam4 platform, which captures 360° 3D video.
Click here for Cam4 full review.
PROS:
Numerous cam models
Plenty of searching options, tags, and categories
Virtual Reality Shows are available
The fantastic customer service team
Offers bonuses upon registration
CONS:
A limited number of cameras in HD quality
---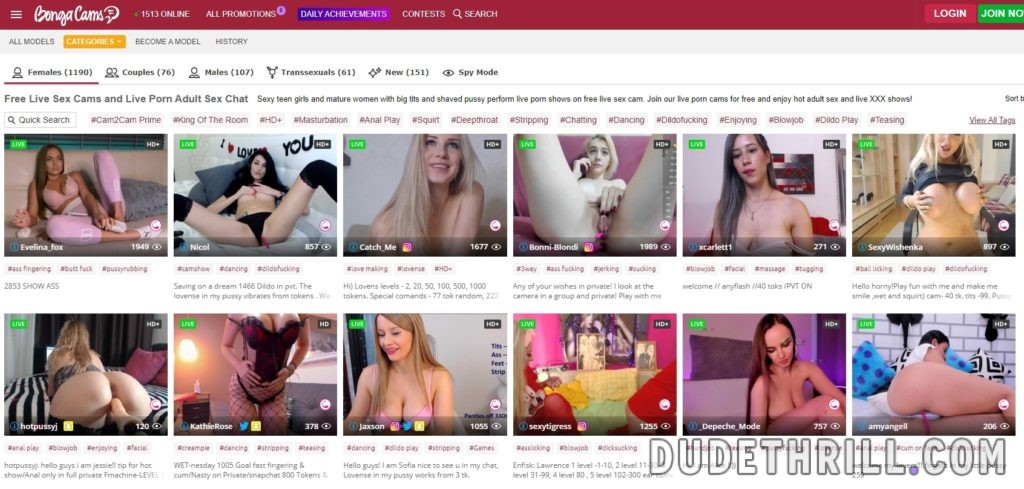 As the name suggests, this is a place for live webcam cams in which you can search for many of the hottest models and one of the most acceptable money system applications nowadays. There are thousands upon thousands of camcorders to pick from, so you're hardly likely to feel upset. And there are countless options to find a decent live stream woman for yourself, on top of it all.
PROS:
There are tons of HD streaming camgirls
Uses token system and incentives
Premium members enjoy special features
CONS:
Annoying pop-up advertisements
Requires paid subscription to use site's features
---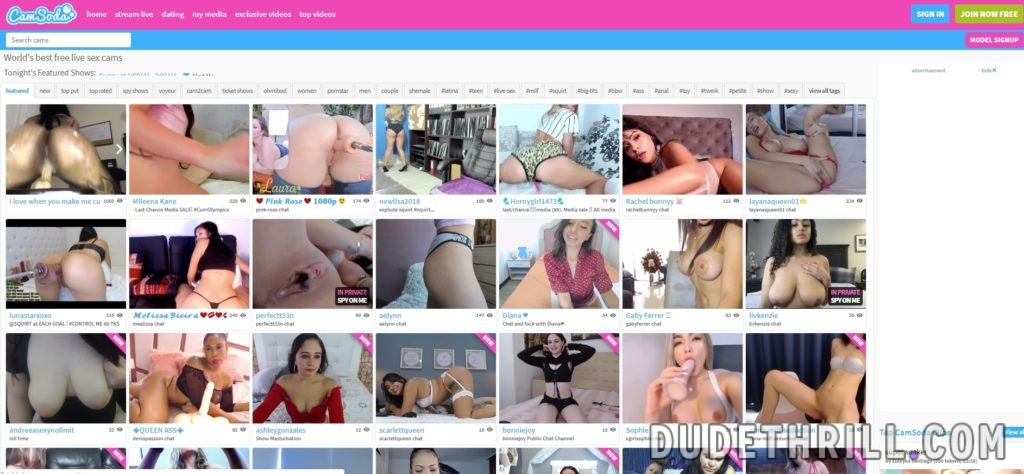 For people addicted to live cam and sex chat websites, Camsoda has got it all for you. The site is undoubtedly one of the most popular websites in the field of the adult business. So, if you are having a tough hour at work, or simply wanting to experience the pleasure of chilling with girls, then this is truly perfect for you. Above all, it has unique functions that help people communicate and talk easily.
Click for a full review of Camsoda.
PROS:
Excellent design and simple to use
High-quality streaming videos
Lots of cam girls available
Free accounts can still use all the features
Active members are using every day
CONS:
Advertisements are available and annoying
---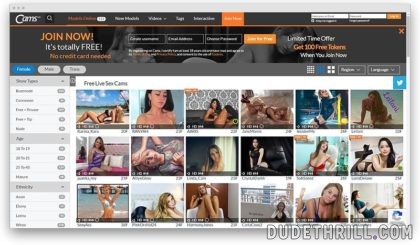 Have you been feeling tired while watching porn all day? Want to try a real sexy cam show for a change? Why not head over to Cams.com and experience real videos from horny models. Once you visit this site, you will never miss any cam shows. Above all, you can interact with the models when you register.
PROS:
Plenty of models available for you
The site is simple, and the design is easy
Division of videos is according to categories
CONS:
You need to register to use the chat feature
Quite expensive membership
---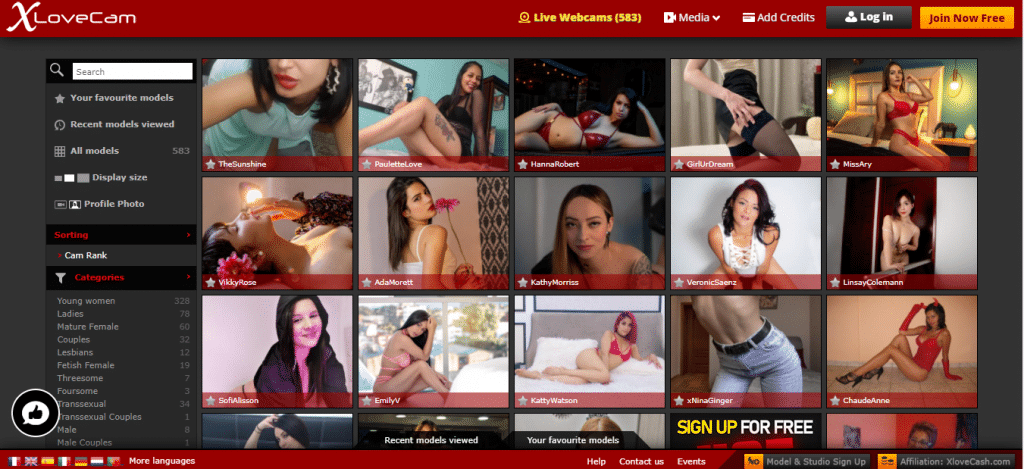 XLoveCam is a platform interesting to check out. Definitely, there is no reason never to try it out. Most of the cam girls in xLoveCams are Latina, Asian, Latina, Black, White, or Arab. They are undoubtedly sexy novice young women, giving you a price-per-minute rate — a reasonably cheap rate. Most of all, finding a camgirl who uses a high-definition camera quality here is again not difficult.
PROS:
Good variety of camgirls available
High-resolution cameras used
The cheap price per-minute rate
CONS:
High Definition filters for videos is not available
Some private shows are a bit costly
---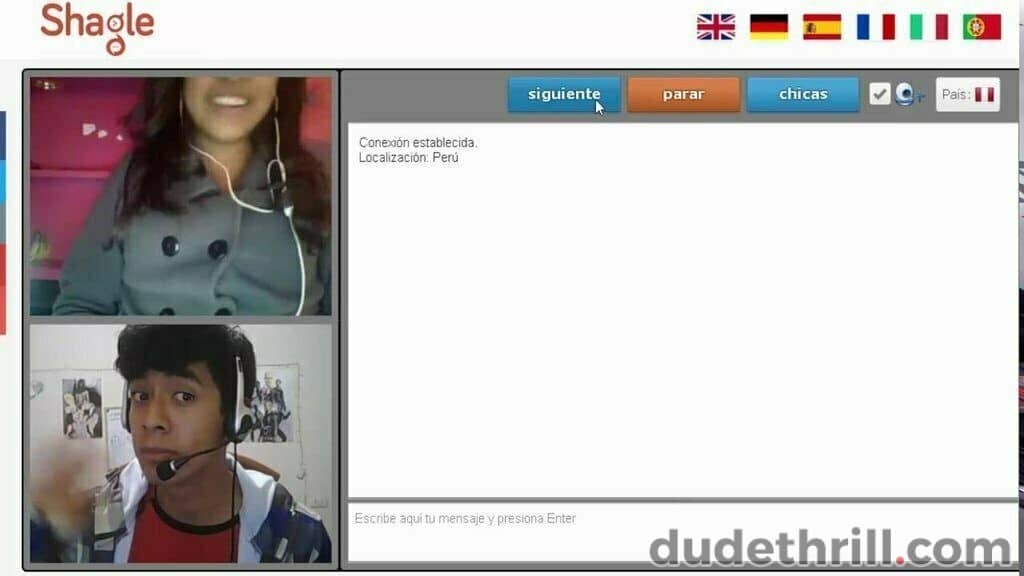 If you are considering a superb venue to video chat with strangers and gorgeous hotties, then certainly, the community of Shagle would be an excellent option for you. You can discover lots of diverse people with various interests on this page.
Hence, creating a connection and understanding are the main focus. Also, it has an outstanding balance of people aged 25 to 55 years old, suggesting that you can always find the right match on this platform regardless of how young or old you are.
PROS:
The intelligent algorithm ensures you will not talk to the same person two times
It has millions of members around the world
A maximum of 5 minutes will require to register
Free members have plenty of benefits and feature to enjoy
Available in 70 different countries
Rule s and regulations are available and required to follow to maintain the user-friendly experience
Features and communication tools are plenty
It does not require personal information to register
Free sending of text messages
Free use of live video chat
No language barriers because of Translation Tool
CONS:
Not available in-app version
You cannot access additional features using a free account
Video quality is average
---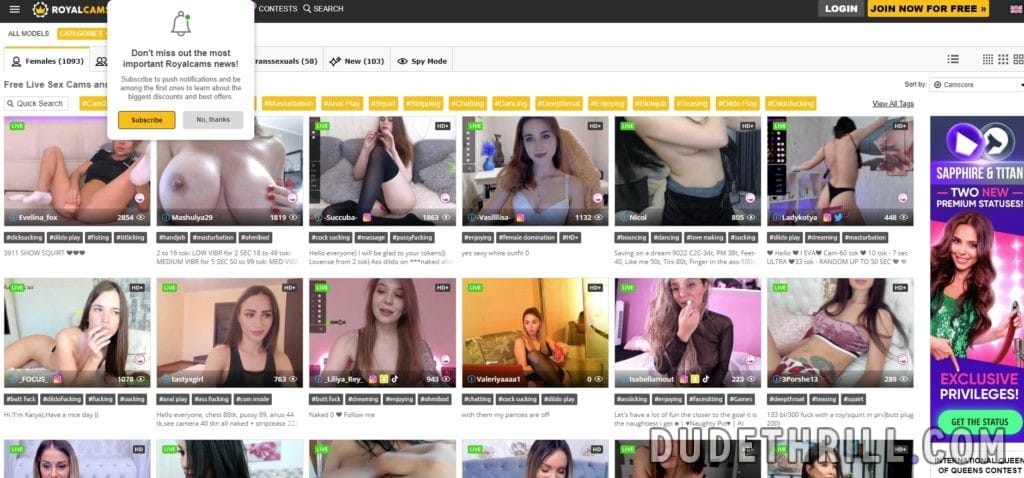 RoyalCams is a fully functional webcam platform. It uses a vast library of models that reflect both genders and orientations. There are four different types of personal chats available, including fully explicit and tip-based completely free chats. Check out our best choice if you're looking for the best adult cams. It's open, simple to use, and well-liked by users, increasing your chances of having a good time.
PROS:
Plenty of gorgeous girls
Spy/Voyeur style that allows you to see and chat with models.
Uses sex toys
Professional and amateur models
Mobile compatible
CONS:
Sometimes, models take time before going nude
A brief preview of the Visitor Live series
---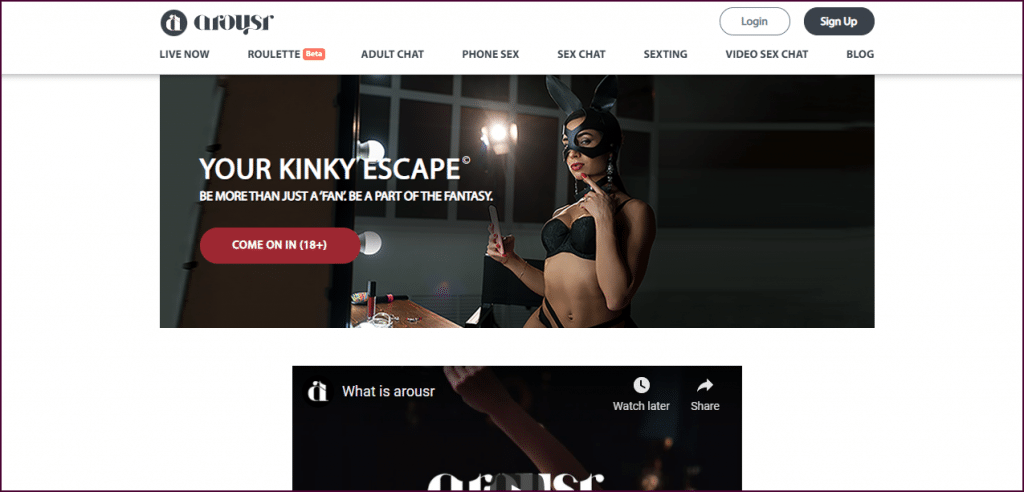 Arousr is in the trial phase and trying to expand its growth strategy to accommodate worldwide users. Regardless, I'm proud to say that Arousr is among the top sexting services in the early phases of development. It also appears to have a bright future ahead of it in contrast to other sex messaging and hook-up sites these days.
Ensuring that everything's comfortable while giving a sexual environment and arousing visitors are the top things our chat models are greatest at. And to provide a safe service, these chat models won't see any of your sensitive data — all thanks to the modern technologies and innovative security of Arousr.
PROS:
Simple navigation and layout
Plenty of female members
Free registration plus 100-credit free
The concept is unique and interesting
CONS:
Some shows are pretty expensive
The list of models is not that much
A basic account has ads
---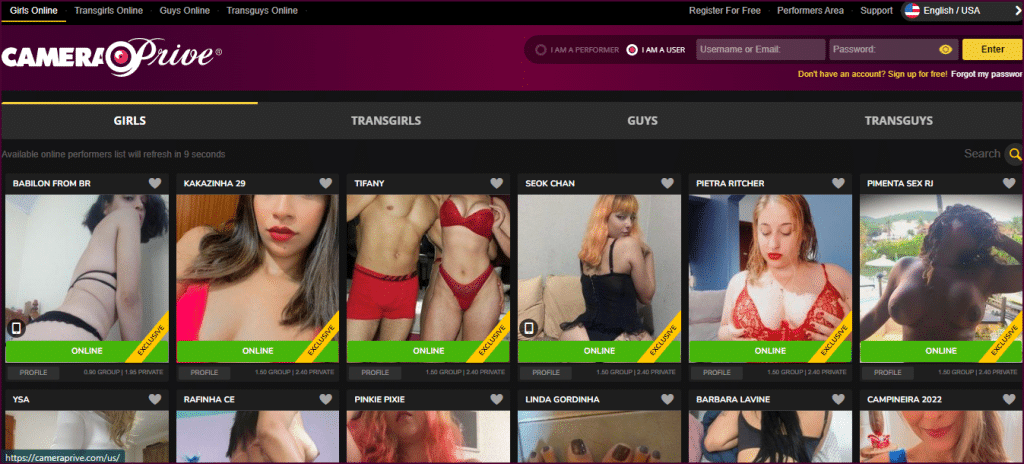 Camera Prive is a Brazilian adult live sex site that started giving people cam entertainment in 2012. Surprisingly, I found out that this site is included in the BongaCams channel, and I'm sure it's equally impressive. Currently, Camera Prive is among the highest visited site globally and ranks on top in Brazil.
PROS:
Affordable prices
No ads
The layout is impressive and stylish
Translation is available
CONS:
Models are primarily a non-English speaker
Some cam models have a poor internet signal
No available advanced search tool
---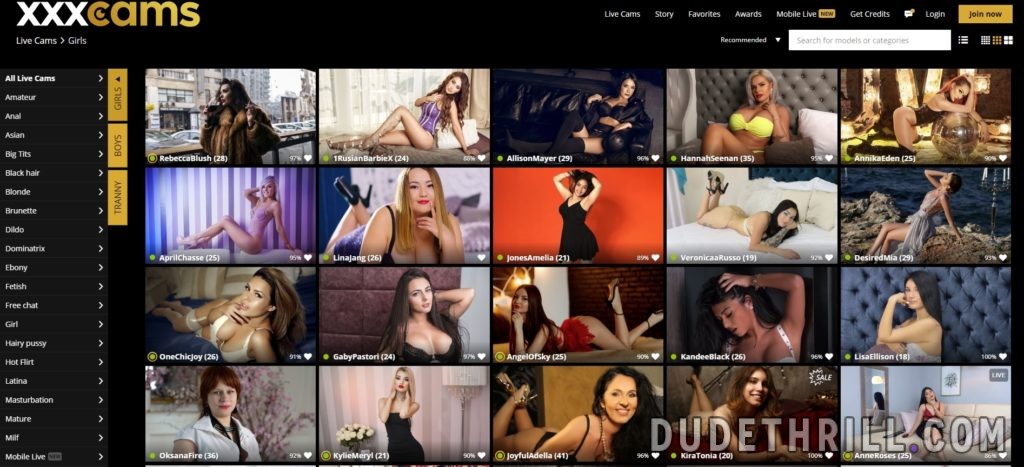 xxxCams is just a regular sex cam site online, but its features and services are no ordinary. As the title suggests, the service features kinky sex cam footage with sexy hot chicks. But, if you're thinking they are just regular chicks putting up a show, then think again. You can enjoy professional and amateur cam models here and even experience an exclusive sex performance with a pornstar.
The xxxCams site will give you breathtaking "seats" imaginable because the majority of them use brilliant high-resolution cameras. Certainly, it's like having front-row seats in a blockbuster Hollywood movie!
PROS:
Shitload of girls to chat
High definition cams
Free viewing of cams once registered
Truly good looking girls
CONS:
No peeking without registration
Private chats are pretty expensive
---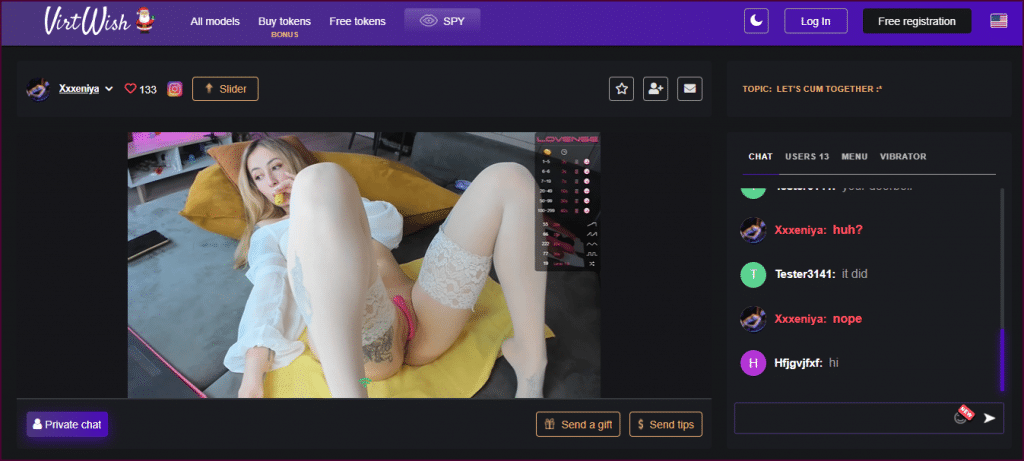 VirtWish is a new solution to your sex cams craving, with the integration of excellent consumer standards in the entertainment industry. Through the use of cutting-edge and state-of-the-art technology, VirtWish intends to establish a pleasing experience that users enjoy.
Every hour of the day and night, stunning women worldwide are waiting to chat and perform on cam with you. Get started by creating an account, and after a couple of minutes, you can already experience sensual performances and communicate with ladies privately with no limits whatsoever.
PROS:
Numerous live cam girls are available
Variety of chat rooms
Free tokens upon signing up
CONS:
Guest can use limited features
Requires strict age verification process
---
Final Words
Honestly, I was pretty impressed with my browsing experience at Recurbate. Although it already has a favorable reputation given its daily visitors and massive archive, I still gave Recurbate my lowest expectations. I never really thought that a newbie site like this one would be this great. Except for the basic member's restrictions, everything is impressive.
Plus, the videos available here are definitely worth watching since they came from reputable cam sites like Chaturbate. If there's anything else I'd like Recurbate to improve, perhaps it would be its basic membership perks. One video each day is such a disappointing offer, especially since those videos are pretty tempting to watch. Additionally, the ads are pretty aggressive when you're on free mode. While I understand that an ad-free experience is part of the Premium and Ultimate memberships, Recurbate could at least tone down pop-ups a little.
All 115 Other Sites in This Category Worth Checking Out:
Strip Flix Review & 12 Must Visit Free Sex Cam Sites Like StripFlix.cam Show Me 12 Alternatives for StripFlix.cam Will you join me as I stream on unlimited stripping and babe teasing? There is no other site I could ever think about that is convenient, accessible, and limitless in nudity. We shall dig on sex cam […]