Updated on: October 1st, 2023
On Screens
& 12 Best Free Cam Girl Sex Sites Like OnScreens.me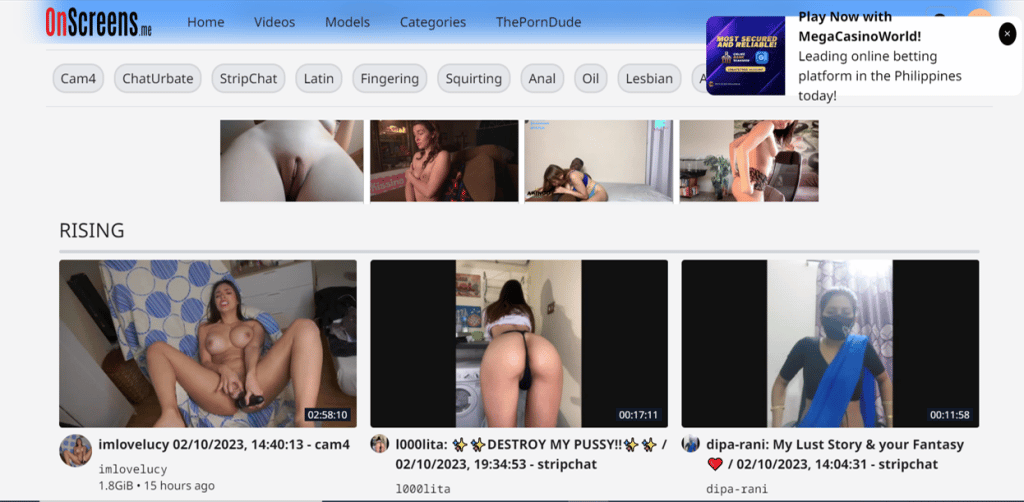 Onscreen sex and porn performances brought to you by Onscreens.me! Sexy sluts are what I am after; nicely, these naked, beautiful, and horny ladies showcase all their incredible talents. Seductive shots, dick-erecting captures, and library-filled nudity are On Screens' expertise. Its wild objective spread like wildfire, and cam whores are persuading you to try. There is no need to go for a distance with On Screens' luxury of free cam items; get starstruck with the unlimited whore flavors and juicy pursuits.
Official URL: https://www.onscreens.me
Thus, what are you waiting for? Have your ass going with the beautiful men and women interestingly exhibiting their salivating secrets. Actually, they aren't secrets anymore; these sluts are more than willing to divulge their every salacious adventure. Indeed, On Screens works more to our advantage. We can drizzle in the likes of Chaturbate, Cam4, Camsoda, and more. I bet you will jiggle in excitement as you unleash a variety of smut for free.
Masturbating with Alluring Camwhores For Free?
Of course! You can do that with no other than On Screens. I know today isn't your first-time savoring accessible pages to wank your dick. On Screens definitely has identical domains in the porn market. What sets the page apart? The answer to this query is what we are gearing in this review. Or shall we say, "Is On Screens another venue to provide the same flavor and experience for free camgirl arenas?" I am heated to share eagerly whatever the answer to these questions, pal.
I understand how much you love free porn and your adoration for these female goddesses opening their legs in front of the camera. Everything is masturbatory, but do the materials fit your dick's liking? Well, On Screens is confident to invite not just a single fapper but a community of perverts. On Screens boasts its completely charismatic archive of prerecorded cam shows. The mere fact that the library is growing is a significant plus. However, there is more that you shall see, pal.
My Dick Looks for Live Entertainment and Savory Televised Pussies. Can On Screens Provide It?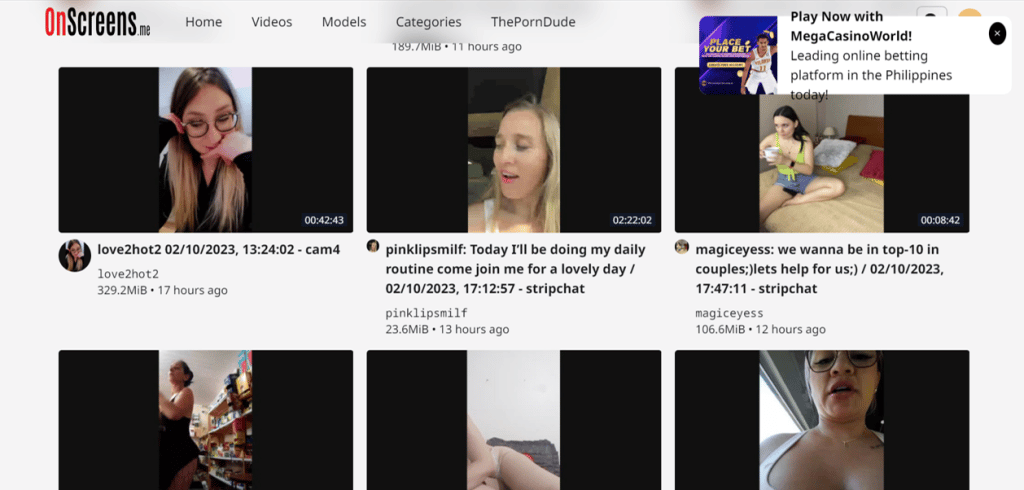 Sadly, On Screens did not give me hints of Live savory porn performances. The page only guarantees that it can deliver prerecorded schemes and captured telecasts of cam babes. If you opt to grab live sexual activities, On Screens may not fit you best. However, if you are like me and love to review some smut and delights in the variety of options, this page is one of the most outstanding options. Apart from the accessible abode, you can relish all the treasures in one sitting.
Fans of the nastiest camwhores flood to On Screens to witness missed episodes. With this, On Screens' number of visits has been steady since its registration in 2021. Although the statistics aren't as overwhelming and thirst-quenching as other cam girl sites, the fact that perverts patronize the page convinces other visitors to try the venue. Hence, we are called to do some salivating job. On Screens welcomes anybody to jerk on its masterpieces. But do not expect much, my friend; On Screens shows significant downsides, you must know.
Overflow of Perverts, Down Pour of Advertisements at On Screens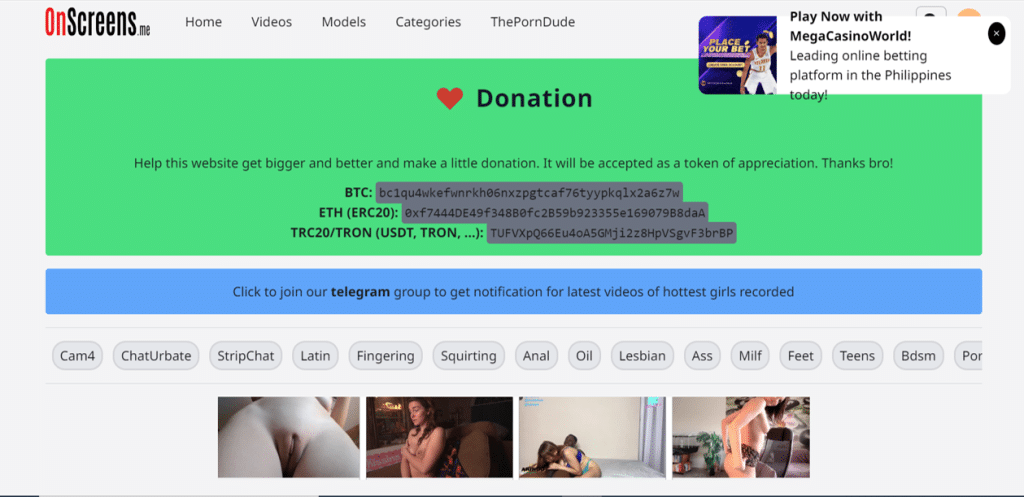 How ironic it is when a page has a good list of horny and active jerkers, yet these numbers also equate to the rain of commercials. This free site could not manage these pop-ups, redirects, and banner ads. Despite expecting this event to happen, I am pretty frustrated with the unhelpful and demanding marketing strategies of various sex products and websites. There is nothing we can do to ease the situation somehow; therefore, accept the parcel of truth behind free cam sites.
Anyway, this experience may serve as a warning for you, pal, if you wish to continue dissecting On Screens' promising treasures. I suggest you fight back against the adverts and show them your resiliency, especially when great content is at stake. Gladly, the perverts on the page are strong enough to match the annoying pop-ups. On Screens, despite its disappointing trait, has attracted dicks worldwide. This scenario isn't surprising with the diverse categories it uncovers. With this, you will appreciate the salacious tags on the header. I honestly like this accessible function, On Screens!
Those Pussies Make My Dick Wiggle in Excitement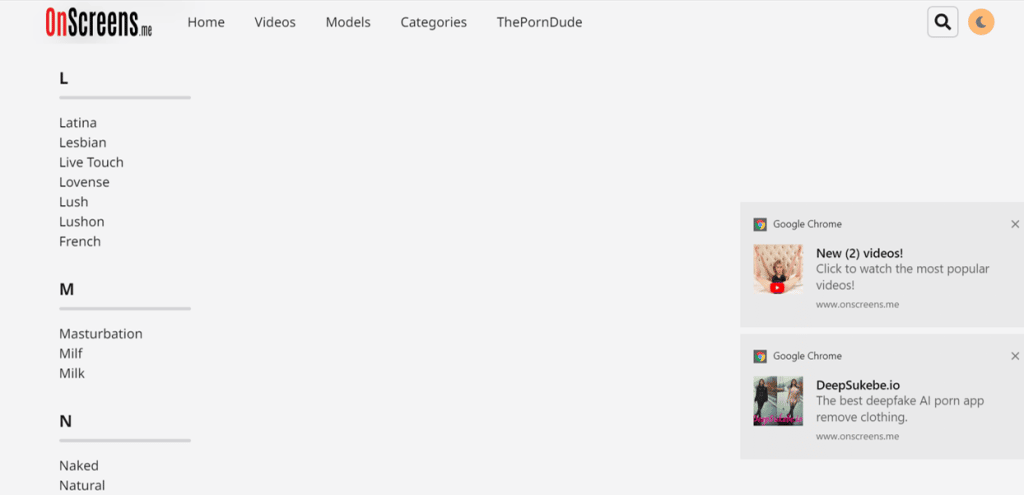 On Screens displays the most drooling pussies you deserve. As you step onto the page, you will immediately see the popular tags for your perusal. Currently, these most searched labels are easily exhibited, so you can readily navigate your addiction for anal, Latin, squirting, MILF, Teens, feet, Cams, Chaturbate, and more. The keywords are knotted according to the latest trends in the repository. Other than that, On Screens displayed a simple layout.
On Screens has no intricate details, purely white backdrop with pinches of colors from the videos and advertisements. It can be a bit boring once you see the white page, so I decided to focus on the jaw-dropping treats. Good thing I also saw an icon that spiced my exploration. Adjacent to the straightforward logo, a night or dark mode selection is applicable. Therefore, you can shift the colors anytime you want. A search item is also located next to the dark mode key so you can maneuver to your favorites swiftly.
Furthermore, some members of the naughty community find it a challenge to locate the search and night mode keys. Why? Because the adverts keep on stealing the limelight. Nevertheless, give yourself an astonishing exploration by rubbing your penis to the Rising Contents and Latest Videos. The thumbnails exhibit the usual information like video duration, adding date, size, name of the artist, and title. Some video labels may give you a little scratch on your head, pal. But one thing is for sure you will see some of the biggest cam websites lurking in the vicinity.
Call Your Friends and Show Them the Recently Uploaded On Screens' Dessert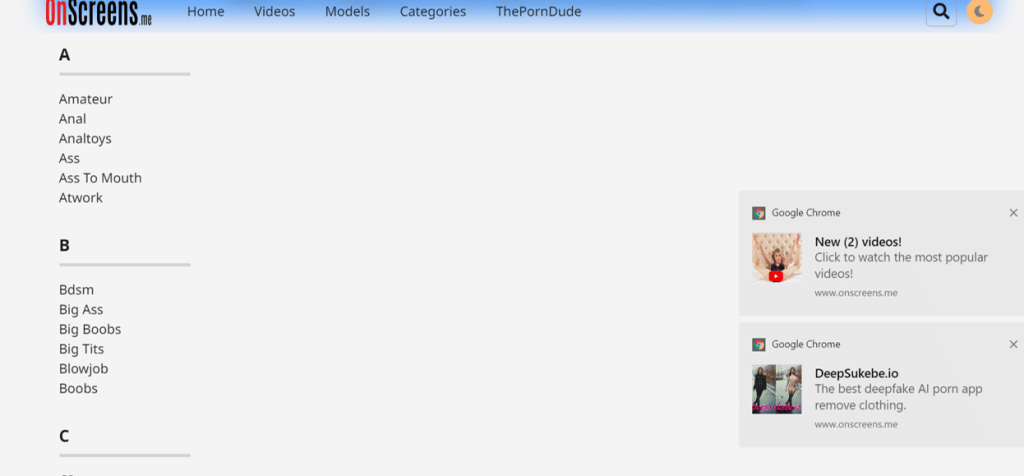 On Screens gives its site goers a feast of uploaded cam shows. It is exhilarating to see a bunch of much-awaited films added daily. Every potential jerker adores a variety of options; thus, On Screens made good reservations for new content. I saw contents added twelve to seventeen hours ago and more. With this, On Screens guarantees a luxurious and trendy experience. However, navigation is entirely compromised due to the operational demands of commercials.
Therefore, your patience may be tested as delays and buffers are displayed. Also, moving around the vicinity can be challenging, creating another downside for On Screens. I waited a few minutes for On Screens to fully reveal its collection. Since the main page looks friendly and similar to other porn venues, you can easily access whichever deal you prefer. Cam show materials leading to Videos, Categories, and Models are accessible.
It's Like I am Watching Movies with On Screens' Full-Length Jerking Escapades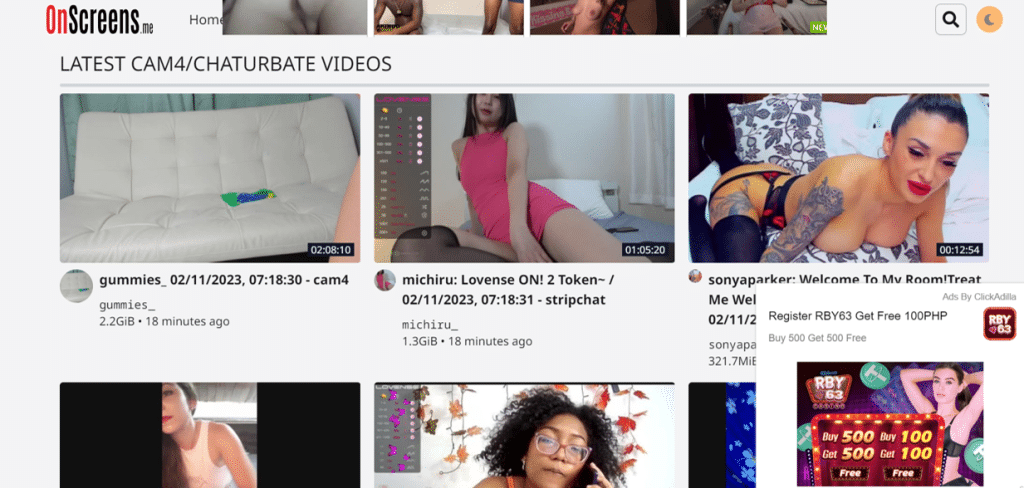 Most of On Screens' recorded videos range from one to more than two hours. I can only count those flicks with less than a ten-minute streaming time. Despite the various weak On Screens traits, I am happy to announce that the smuts are high quality. It is evident that On Screens has several premium resources. The recorded live sex performances usually start with a few chitchats and opening spills.
Later, these horny babes welcome you to their intimate show and do all the niches you are craving. Since the collection is all prerecorded, you must endure the idea that your fellow perverts have already consumed the flicks. Well, I don't think this will dismay you, pal, because the premium selection can be devoured for free. Thus, you can relish the materials without getting bombarded by girls for a fee. More so, I know you are familiar with how expensive these ladies are and their nude circus.
Alluring Models Professionally Performs the Craziest and Horniest Sex Cam Shows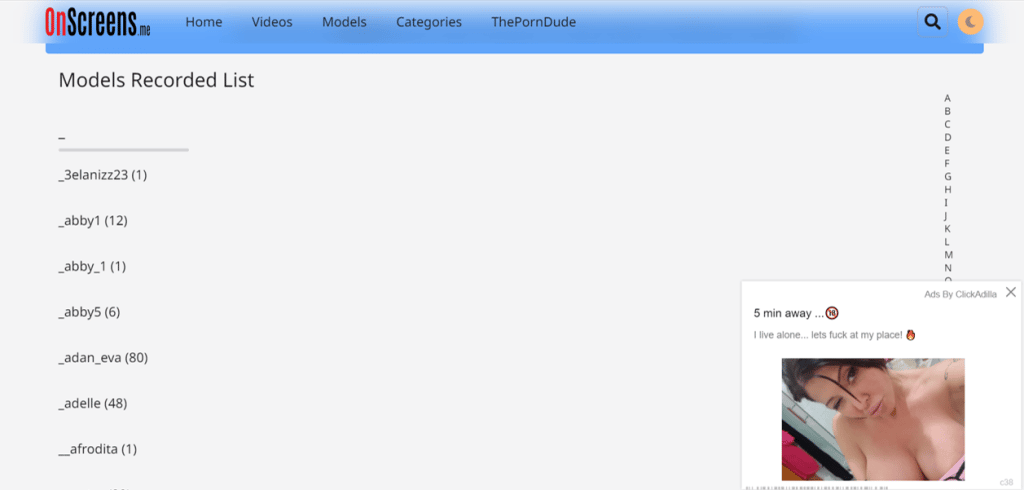 Avid fanatics of live sex cam sites will instantly identify the ladies at On Screens. You will see the likes of 'imlovelucy,' 'loolita,' 'adelle,' and more screen names. If you haven't seen your perverted idols on the main page, you can explore the models' section to see where are the masturbating females. On Screens, list the live actresses in an alphabetical listing so anyone can get the much-awaited results in seconds. Honestly, I was hoping On Screens could improve this area, as the segment only contains a listing with no image of the seductive talents.
Anyway, each name contains the number of flicks they starred in the collection. This allows you to identify how many movies you can binge-watch per model. Some females have a great library of eighty films, while newbies run for one, two, or three. I am confident that the collection will prosper more as the years go by. Not just that, categories are also exhibited via listings. On Screens arranged the niches in an A-Z assortment.
At a glance, fans can directly pick the Latina models, MILF beauties, red-haired gals, and so on. In addition, the masturbator's love for BDSM, anal toys, amateur, big tits, and threesome films are heartily available. Good thing you will have enough items to visit. Incredibly, these treasures can be downloaded too. This drooling task can be executed with persistence and determination, pal. The number of spam may give you a hard time. Trust me!
The Pros and Cons of OnScreens.me
PROS:
Hundreds of camgirls
Prerecorded webcam sex selection
Categories are presented in an A-Z listing
Fans can download
Thousands of webcam videos
Hourly uploads
CONS:
Adverts are a headache
Buffers
Few previews
---
Top 12 Best Free Cam Girl Sex Sites Similar to OnScreens.me: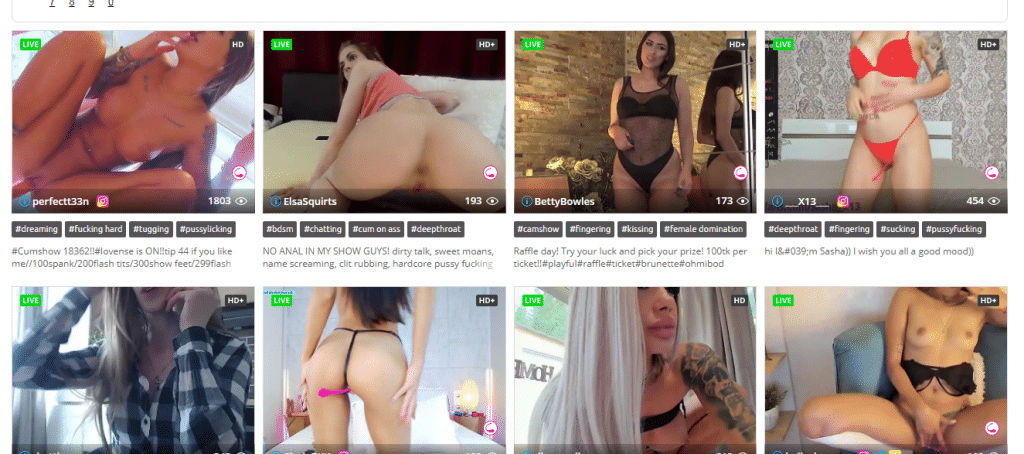 RoyalCams is a fully functional webcam platform. It uses a vast library of models that reflect both genders and orientations. There are four different types of personal chats available, including fully explicit and tip-based completely free chats. Check out our best choice if you're looking for the best adult cams. It's open, simple to use, and well-liked by users, increasing your chances of having a good time.
PROS:
Plenty of gorgeous girls
Spy/Voyeur style that allows you to see and chat with models.
Uses sex toys
Professional and amateur models
Mobile compatible
CONS:
Sometimes, models take time before going nude
A brief preview of the Visitor Live series
---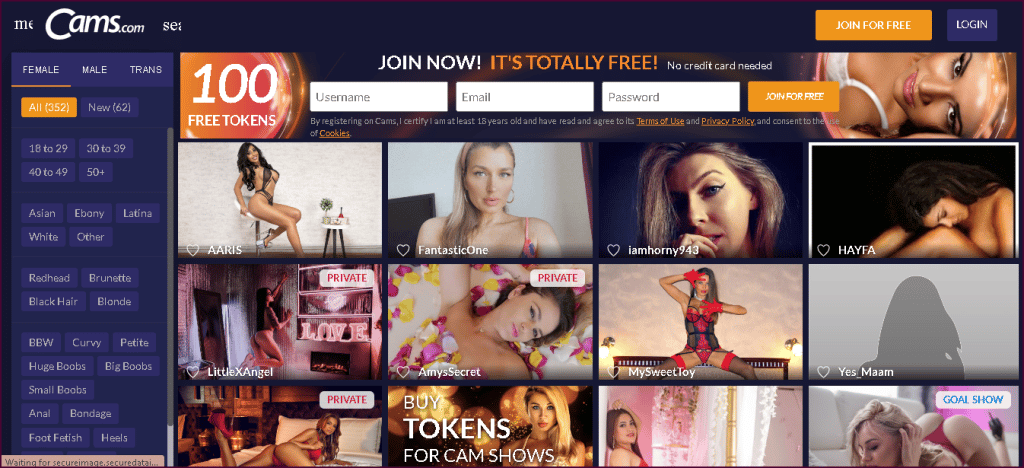 Have you been feeling tired while watching porn all day? Want to try a real sexy cam show for a change? Why not head over to Cams.com and experience real videos from horny models. Once you visit this site, you will never miss any cam shows. Above all, you can interact with the models when you register.
Grab a quick bite with this Cams review.
PROS:
Plenty of models available for you
The site is simple, and the design is easy
Division of videos is according to categories
CONS:
You need to register to use the chat feature
Quite expensive membership
---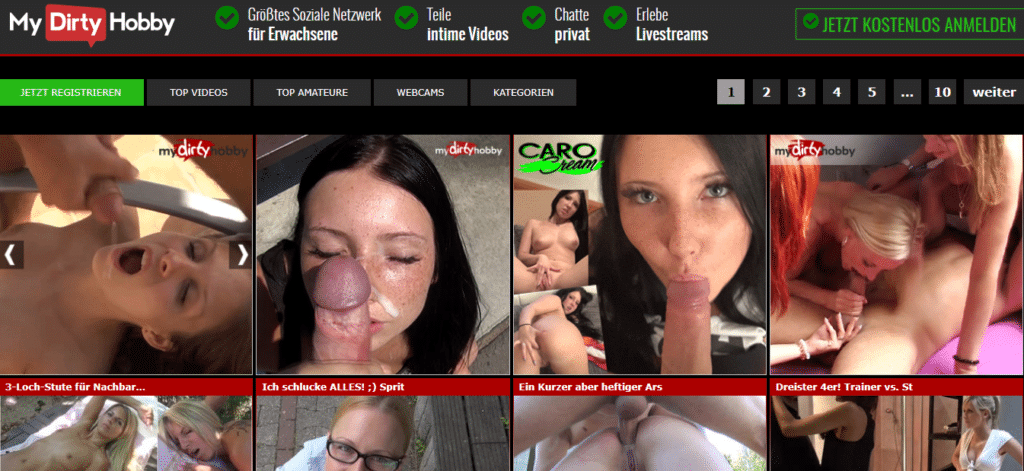 Germany's best live sex cam website, My Dirty Hobby, brings everyone together. Coined as one of the largest adult social networks to ever grace the Internet, MyDirtyHobby is more than just its intriguing and interesting handle; it is a haven for amateurs who like posting homemade sex videos and provocative photosets. It is an interactive community that will live up to one's expectations, especially if you look for a reliable source of adult porn and live sex sessions.
It has plenty of members video chatting and messaging daily. Also, the website allows the members to gain money by joining cam shows. Indeed, My Dirty Hobby has a fantastic set of cam girls waiting to have a naughty time with you.
Full review of MyDirtyHobby here.
PROS:
Different contents according to specific interests
Design is simple and easy to use
Regular updates
Do not need membership payment
CONS:
Downloading is not available
---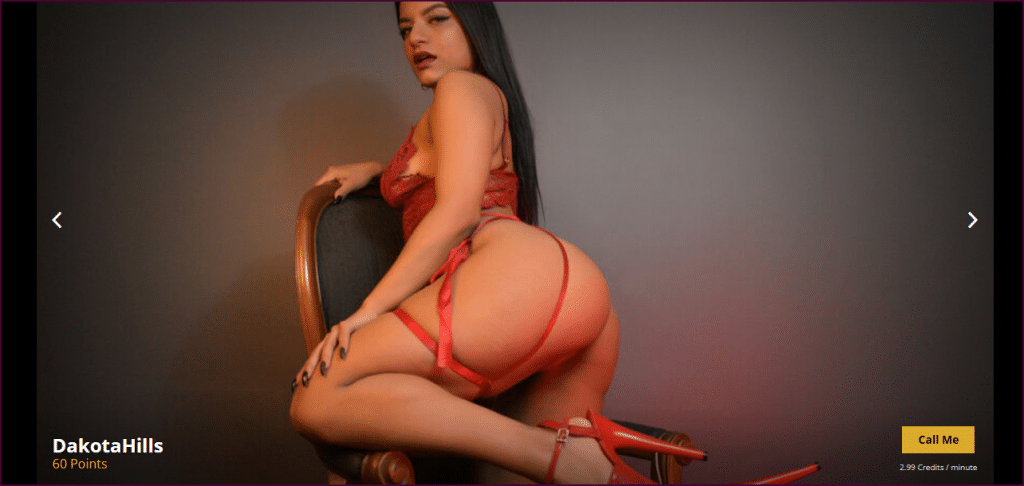 xxxCams is just a regular sex cam site online, but its features and services are no ordinary. As the title suggests, the service features kinky sex cam footage with sexy hot chicks. But, if you're thinking they are just regular chicks putting up a show, then think again. You can enjoy professional and amateur cam models here and even experience an exclusive sex performance with a pornstar.
The xxxCams site will give you breathtaking "seats" imaginable because the majority of them use brilliant high-resolution cameras. Certainly, it's like having front-row seats in a blockbuster Hollywood movie!
Read this full xxxCams review.
PROS:
Shitload of girls to chat
High definition cams
Free viewing of cams once registered
Truly good looking girls
CONS:
No peeking without registration
Private chats are pretty expensive
---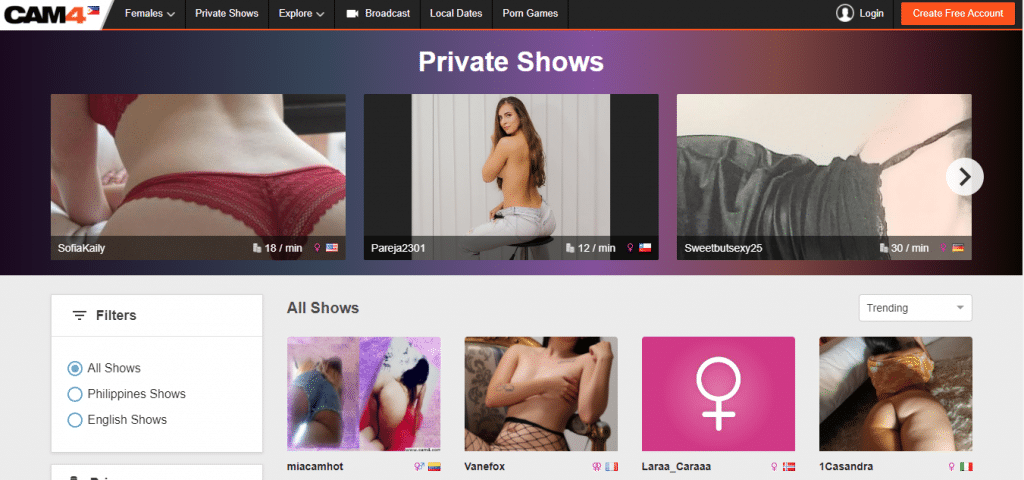 Cam4 is operated by the Granity Designated Activity Company and broadcasts one's own shows and events over the Internet. The first freemium cam site, Cam4, was launched in 2007 and has since gained considerable popularity. Many different types of people—men, women, and gay couples—broadcast their events.
Amateurs mainly use this camera site in making amateur Webcam videos. Customers can buy virtual tokens for an additional fee. They are best used to watch shows and reward the performers, or in the hands of the voyeurs to show you their private stuff.
Thanks to the site's early online porn features, it has gained a lot of popularity, and now it is highly regarded as one of the most valuable webcam sites for everyone who enjoys camgirls. Over the past, people have only used film; nowadays, you can also use the Cam4VR app, which is available on the Cam4 platform, which captures 360° 3D video.
Read Cam4's full details here.
PROS:
Numerous cam models
Plenty of searching options, tags, and categories
Virtual Reality Shows are available
The fantastic customer service team
Offers bonuses upon registration
CONS:
A limited number of cameras in HD quality
---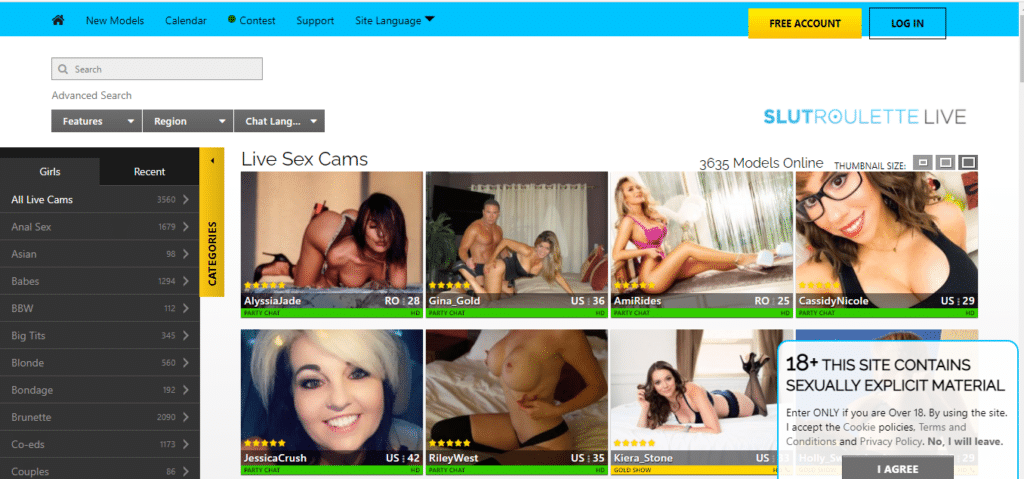 Are you tired out of the same old porn videos? Do you wish to spice things up a bit more and say goodbye to your dull, pathetic night? Say no more because the SlutRoulette website is here to answer your never-ending prayers.
SlutRoulette has been around for many years now. Indeed, it was able to gain the respect and admiration of many live sex cam fanatics. Certainly, there are no traces of old-fashion elements, graphics, and layout you can see. It has pretty straightforward functionality that even newbies would easily understand how it works.
PROS:
Registration is free and easy
Various selection of Live categories is plenty
The mobile app is free to download
The mobile app is well-matched with all gadgets and phones
Updates regularly
Chatting in chat rooms are free of charge
Free to switch from one person to another in a split second
Private and gold shows are available
Thousand of models to choose from
Community is diverse and shares different interests
Members are active daily
Scams and fraud have no place on this website
CONS:
No hook-ups available
There are some models with expensive rate
---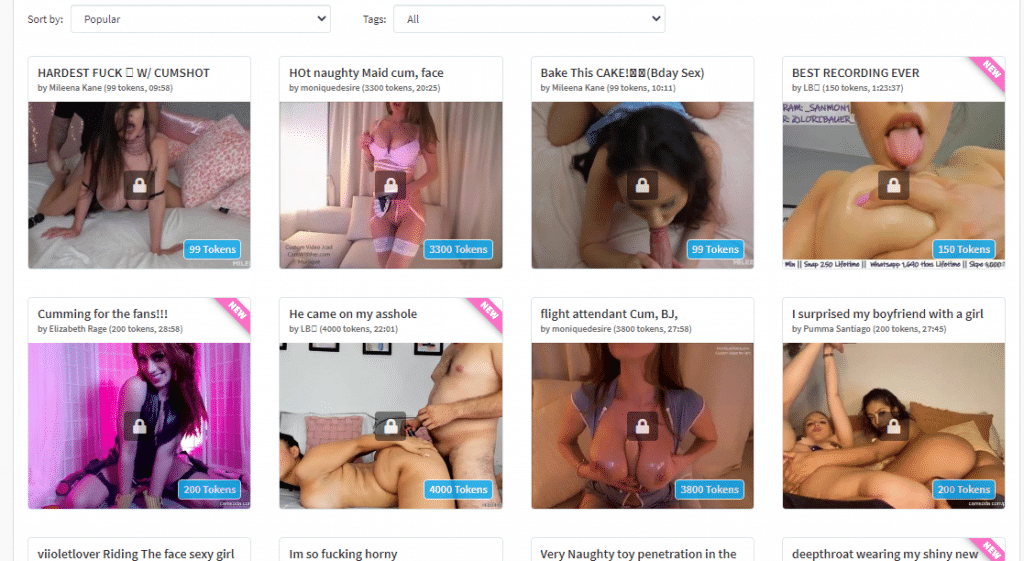 For people addicted to live cam and sex chat websites, Camsoda has got it all for you. The site is unquestionably among the most popular websites in the field of the adult business. So, if you are having a tough period at work, or simply wanting to experience the pleasure of chilling with girls, then this is truly perfect for you. Above all, it has unique functions that help people communicate and talk easily.
PROS:
Excellent design and simple to use
High-quality streaming videos
Lots of cam girls available
Free accounts can still use all the features
Active members are using every day
CONS:
Advertisements are available and annoying
---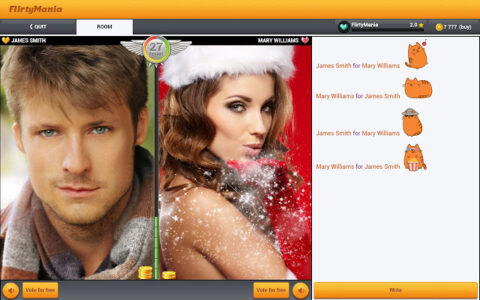 Technology and the internet have changed our lives dramatically through innovative inventions to unique websites that help people communicate easily. One of the most popular site online that has brought millions of active users worldwide is FlirtyMania. Watch recorded sessions, live streams, chat with people, and send gifts online. Frankly, all this exciting stuff is going to make your life more fun and exciting.
Try and pick topics you like, set your camera, and ready yourself for the most erotic sex adventure of your life. There is no room for empty chats on this site because of their active user engagement and thousands of new visitors day-to-day. Find a great chatmate anytime you want. Every day there is always a buddy ready for your dirty imaginations.
Here's the full review of FlirtyMania.
PROS:
A huge number of streamers on the site
Downloading the app is free
Joining public chats is free
The site maintains a positive environment and moderates the chat 24/7
Both website and app versions are compatible with any devices
Video chats are free to use
Huge selection of beautiful streamers
Video calls are in high-resolution
The app and website operate on 3G, 4G, and Wi-Fi networks
CONS:
The price of the subscription is a bit expensive
Watching broadcast is not free
---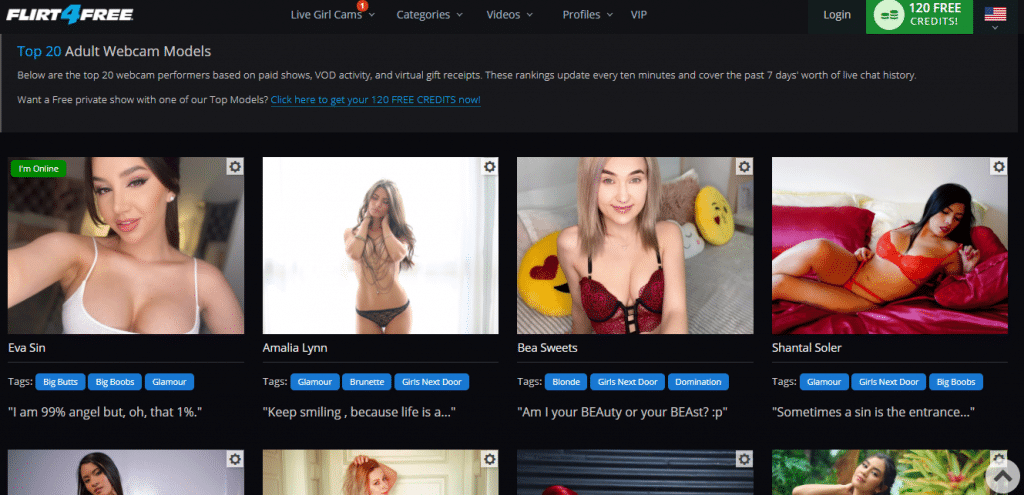 Do you want to start the evening with no strings attached? Would you like to see a never-ending supply of hot young sex action on cam? are you interested in viewing it free of charge? And if that is the case, then you have found the right website.
When you use the Flirt4Free, you can list the girls according to the activities that turn you on. Also, if you discover a model that interests you, you can see when they're coming online every week. Indeed, the Flirt4Free free account will provide you with just enough content for your entertainment.
Read our full review of Flirt4Free.
PROS:
Fantastic live sex cam website
Design and layout is modern and cool
Features are great and work for your convenience
There are pre-recorded videos available
Variety of models you can choose from
CONS:
Sometimes the website buffer
There are expensive private shows
Some dead links
---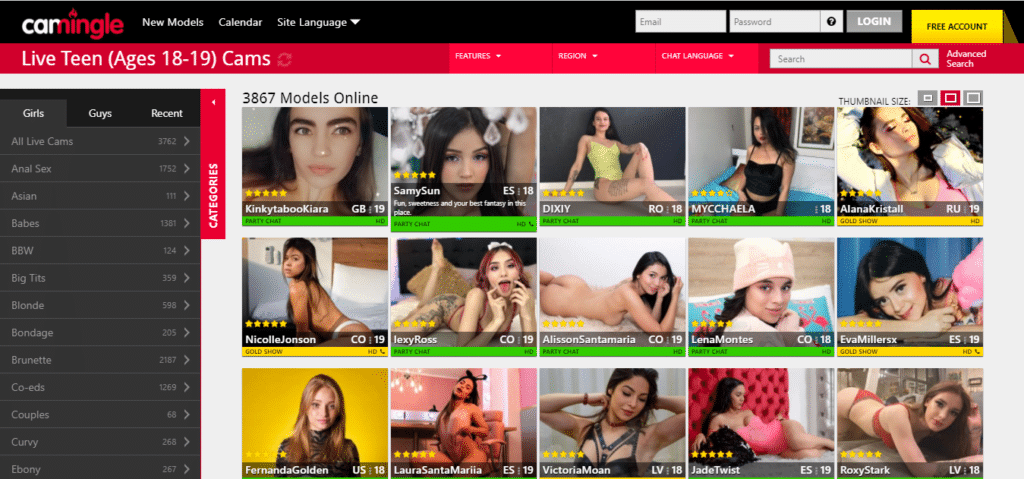 Camingle.com is a one-of-a-kind page that offers the naughtiest experience ever in the history of live cam sites. Meeting strangers, cam-to-cam sessions, and cybersex chatting are just a few of the exciting activities to enjoy here.
Coupled with unique features and a great community, Camingle delivers its services free of charge. Although premium members have several benefits, the website still provides its members an equal chance to enjoy, flirt, and experience once-in-a-lifetime fun.
Click here for Camingle full review.
PROS:
Plenty of active members available every day
It uses high-quality cams for a better viewing experience
Free browsing of public chat rooms
Loaded with beautiful cam girls on live shows
Uses roulette-type chatting
Diverse-looking women on random chat
No registration required
Website layout is straightforward and effortless to use
CONS:
There are several performers with expensive rates
Some features are available for members only
---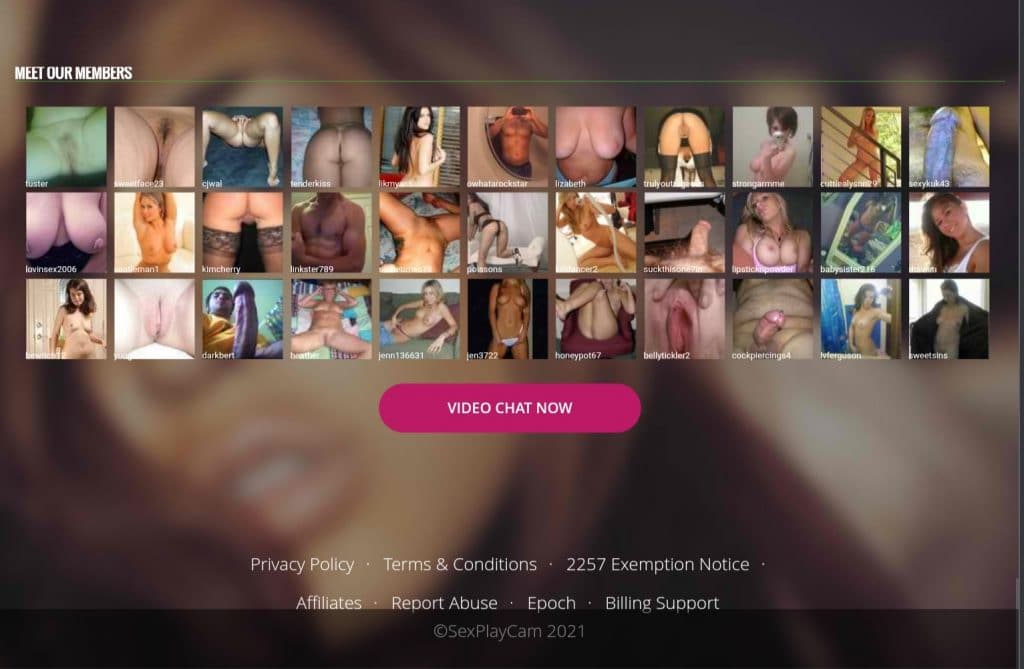 Feelings of isolation may be an absolutely devastating situation. Fortunately, these days it is pretty simple to hook up with stunning webcam girls. All you need is a perfect website and some guts. SexPlayCam is a novel and exciting breakthrough one would hope for on a Live Sex Cam site. Members of this horny sex chatting platform connect with strangers worldwide to engage in live sex chats, plan meet-ups and hunt for intimate encounters.
It offers numerous benefits and helps people to have access to a wide range of sexually explicit stuff. Cam girls are either professional with sold-out cam shows or novices willing to perform in front of a limited crowd. Don't worry; all these are available for as long as the Internet exists. In fact, everyone has the option to view and communicate with cam models even if they're not paying members. What could be better than that?
PROS:
Free sending of messages
Free registration
Live Sex Cam is available 24/7
Plenty of cam girls, both beginners, and pro
Features of paid members are exclusive, and many
Content uploaded by members are an impressive amount
Cam shows are in high-resolution quality
There are special events and contests available for premium users
CONS:
Many cam girls are sticking to private cam shows
Basic website design
Free membership has limited access
---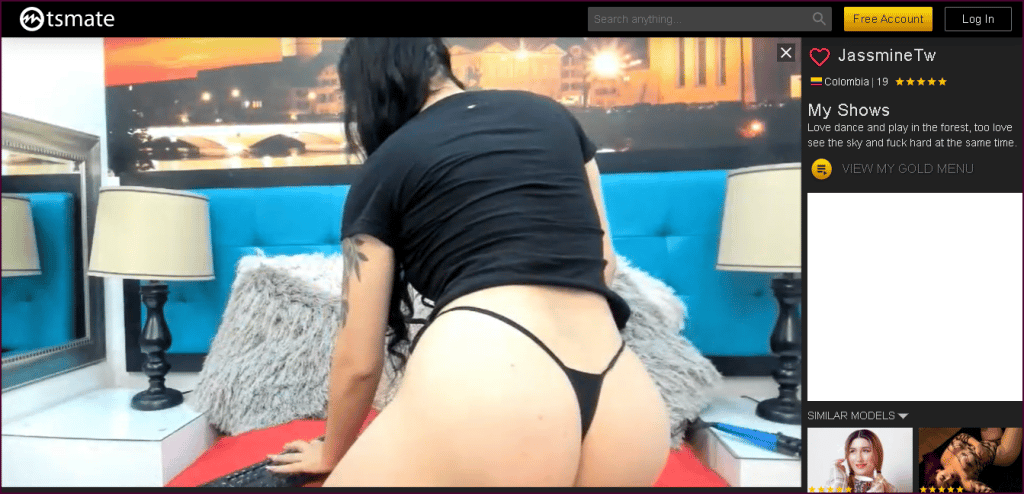 TSMate is another cam site that caters to all horny audiences craving for shemale models. It may sound odd to you, but trannies are best in giving us exciting and out-of-this-world performances. TSMate has trans male and female so that everyone can enjoy Trans-focused shows!
Click here for TSMate full review.
PROS:
Free registration
Special features available
Gorgeous hotties of Trans models
CONS:
Limited free content
Some cams are in SD quality
---
Conclusion
On Screens has an undeniably promising objective in the adult video industry. It opens gates for those adoring prerecorded live cam performances for free. Webcam sex films have grown in massive popularity; thus, perverts are eyeing to grab a handful of these flicks. On Screens tried to deliver your nasty pursuits; however, a few rough roads are also present in the arena. The free collection can be savored with persistence due to existing spam and site buffers. Try the page and devour the salivating archive; it may be worth the effort, pal.
All 113 Other Sites in This Category Worth Checking Out:
Fetish Galaxy Review & 12 Best Live Sex Cam Sites Like FetishGalaxy.com Show Me 12 Alternatives for FetishGalaxy.com Welcome! Today, we're strapping in for a journey that's bound to tickle your curiosities and awaken your inner desires. Don't tell me the name "FetishGalaxy" didn't already send your imagination into overdrive. I mean, it's like a cosmic […]