Updated on: December 5th, 2023
Extasy Cams
& TOP 12 Cheap Webcam Sex Sites Like new.extasycams.com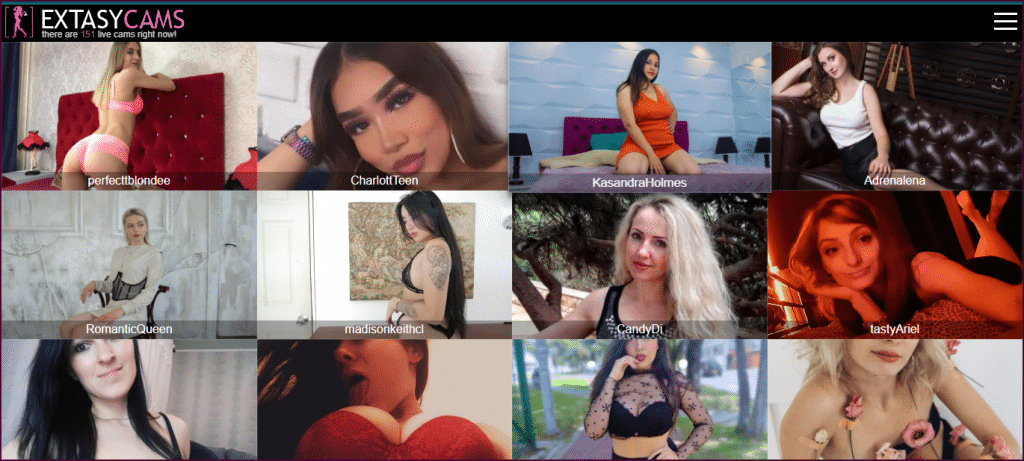 Looking for cheap alternative services for cam sites? How about Extasy Cams? Ever heard of it? Well, this site has a chic look and a pretty sophisticated style design. It's been operating for quite a while; however, Extasy Cams lacks relevant experience. Anyway, I've tested this site myself and found terrific tools and features for an affordable price. Sure, it has pretty few controversies and some bad user experiences, but I'm feeling a risk-taker today, so I'm giving this one a try and seeing how my sex cam experience goes. Save yourself from all the trouble because I got you!
Official URL: https://new.extasycams.com/
Satisfying and Cheap Cam Sex-perience by Extasy Cams
When we visit a sex webcam site, we already have a pre-existing notion of what to expect. Of course, that includes gorgeous cam models, high-quality resolution cameras, and pleasurable cam shows. On that note, Extasy Cams really top those expectations.
However, I gotta mention that while this may be an affordable cam site, there were missing elements that make this a worthwhile choice. Initially, I had a hard time figuring out how to manage and operate the site. It took me a while before things worked out since there's was no guide or some helpful FAQs that could assist me.
Anyway, like most sex cam sites, with open live shows and exclusive chats, ExtasyCams has made things different. Why? It's because I noticed that there are no stripteasing shows or private (cam2cam) chat sessions available. All you can enjoy is a group sex chat show!
But apart from its obvious but witty misspelled name, Extasy Cams is really straightforward in bringing us what we expect it to be. Perhaps, the only twist I was really excited about here is the live show rates. Compared to other cam sites, this one is really reasonably cheap. You can watch live shows and sex for only $0.49/minute.
But, if you want to enjoy every bit of Extasy Cams, there's a subscription package available for only $15 a month. With all these powers, you can easily send users flirty messages, give models well-deserved tips, leave feedback, and enjoy shoe previews.
Familiarizing Extasy Cams' Design and Functionality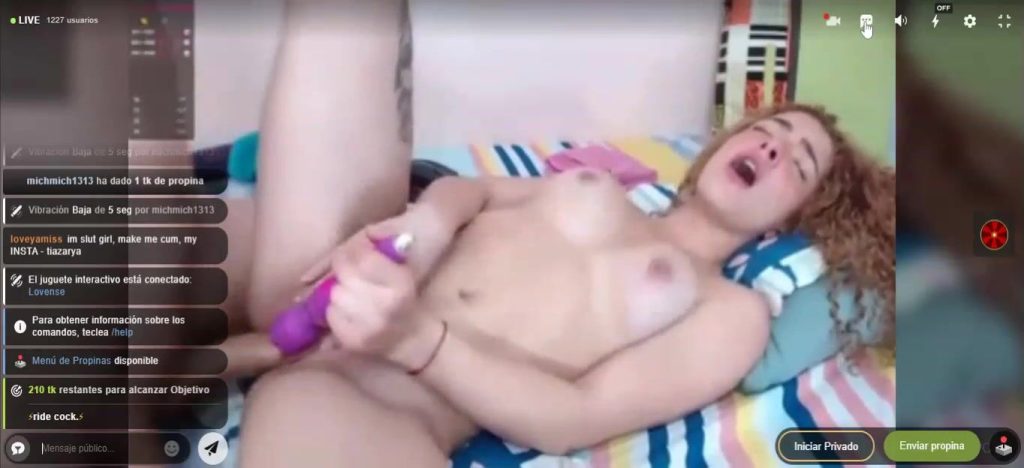 Seeing the Extasy Cams site for the first time was truly impressive. Its main screen has desirable features and little touches of modern-day aesthetics. The color and style choices were something I really liked, and it seems like the developer made an effort to establish eye-pleasing visuals. Upon initial browsing, the site will automatically provide translations options at the upper-right portion of the main screen. Next to it are some buttons for searching and logging in.
Also, there's a menu bar available to find a list of available cam models easily. The upper portion of thumbnail-like galleries of active models is where you can discover the Support Center. Plus, the thumbnail of models has a little sneak peek of their shows, so you'll have an idea of how's everything has been going. Certainly, it's easier to decide whether it's the kind of show you want. Additionally, for a more convenient time, you can effortlessly add some models to the Favorite list and check them out directly the next time you visit.
How Extasy Cams Works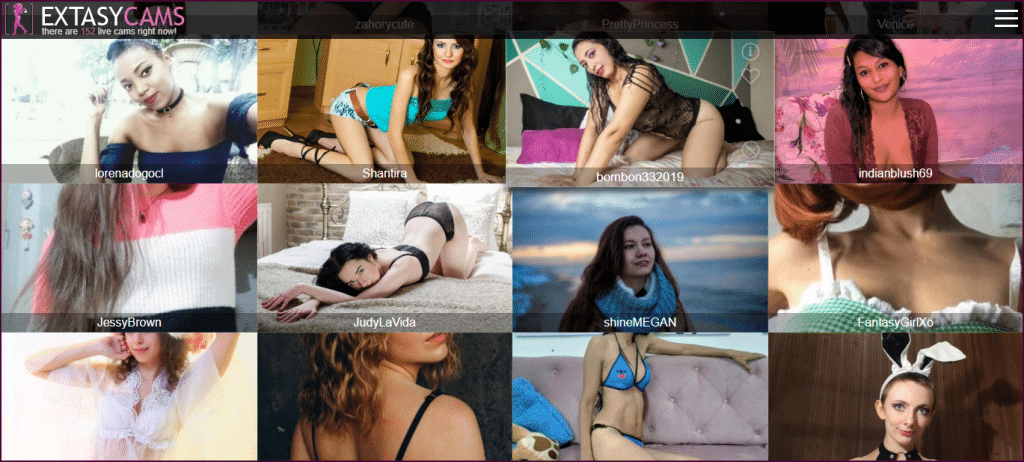 When you can't afford to pay Extasy Cams, then I'm afraid there's nothing more you can do around here. Yes, I mentioned that it's cheap, but it's definitely not free. When I tried clicking on a gorgeous cam girl, I thought I'd be redirected to her live cam show, but sad to say, it didn't. Rather, the system brought me to a series of cam model images playing over and over. Not to mention, registering as a free member doesn't make much difference from the guest's view.
Although it's a relatively straightforward site, without credits in your account won't do any further than browsing and scanning. In fact, you can't even watch previews for free, and it's a total pain in the ass. Certainly, it's such a shame that you'll be forced to subscribe and pay for credits just to check it out. Anyway, once you have enough money in your account, everything will run smoothly. You'll just have to click on any model you like and enter the chat. That's it! Everything is nice and easy after subscription since there are plenty of cam models any time of the day.
Is Extasy Cams Free or Just Cheap?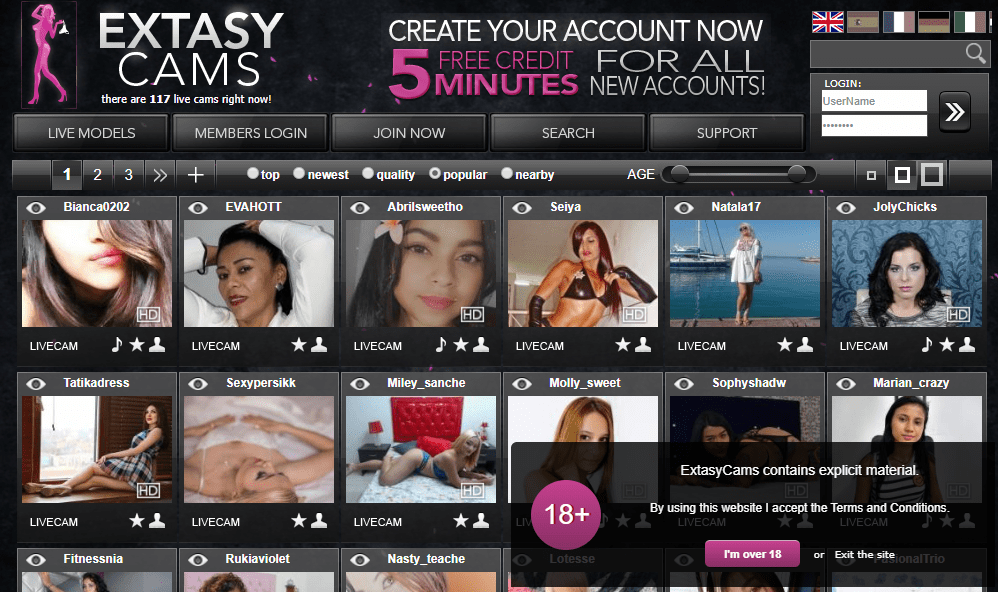 Unfortunately, it's not free. As I mentioned, Extasy Cams is a cheap cam site. However, its services are not served for free. While all of you are maybe sad, we can't make things accessible, especially when there's an entertaining, gorgeous model on one side, stripteasing and seducing you for your pleasure. I don't think you can sleep at night knowing there's a hottie not paid enough for her fantastic service, do you?
So, a little piece of your money would greatly appreciate these girls continuing their undying cam services. By then, you can quickly jump from one chat session to another without a single drop of problem. But of course, Extasy Cams won't let you feel tormented with all the purchases and credits. That's why they offer complimentary credits when purchasing a bundle program. Now, that's a great deal for your broke ass!
Testing the Quality of new.extasycams.com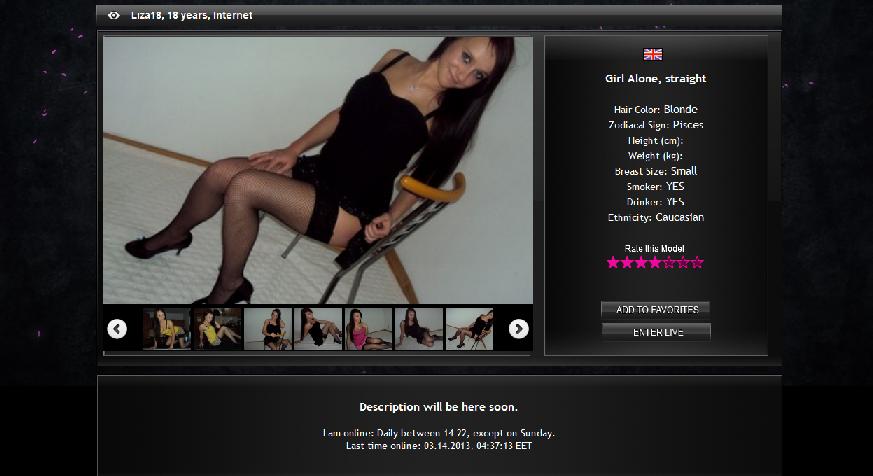 Sad to say, I gotta be honest here, Extasy Cams' quality of cams are not quite as I expected. Since we live in the modern-day world, I thought things would be better, especially in technology and gadgets. But it looks like new.extasycams.com is not quite there yet.
I've seen some cam models with HD labels on their live stream; however, when I clicked on it, it seemed like they are just regular quality cams. No trace of high-definition or even 720p at all! In fact, z if you've been to other cam sites with average-looking cameras, the difference between Extasy Cams is not that much.
Anyway, I believe it's not the site's fault. It should be the responsibility of the cam models to get a decent quality camera for their shows. Sure, I understand that Extasy Cams is a reasonably cheap site; it wouldn't hurt the models investing for a satisfying cam. After all, it's a live cam show.
Additionally, I experienced occasional buffering while watching a sexy brunette fucking her dildo. I was in the moment and almost reaching a climax when suddenly a long pause happened, and now I have to deal with annoying lags. What am I supposed to do? I can't take back that seconds of buffering.
Extasy Cams' Exotic Cam Models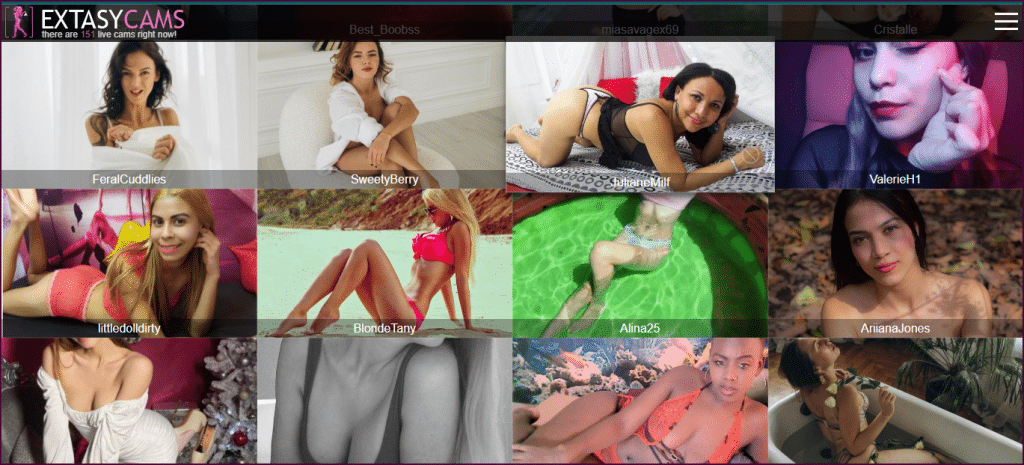 After all the disappointments I had with the quality of cams, good thing there are cam models who make my world go wild. When I was writing this review, there were roughly 260+ models active, and I have to say I'm wew pretty impressive. Sure, some cam sites would have thousands of models available, but this number is enough for me. At least, choosing a suitable model won't be too much hassle.
Not to mention, the cam girls are very seductive. Each of them has its unique beauty, and they've got all the girls, trans, and guys you need. Unfortunately, only a few of them are live streaming using HD cams. In fact, the time I was online, only ten models had HD cam shows, while the rest were streaming using average webcams.
Also, the cam models are pretty diverse here. So, if you're considering for a specific genre, theme, or fetish live shows, you should look somewhere else. Extasy Cams has no "specifics" to offer. Anyway, for me, that's not a problem. I like my girls differently from the others, and I also enjoy exploring what the models can do every other live show. Certainly, it opens up to new experiences.
What I Hate About new.extasycams.com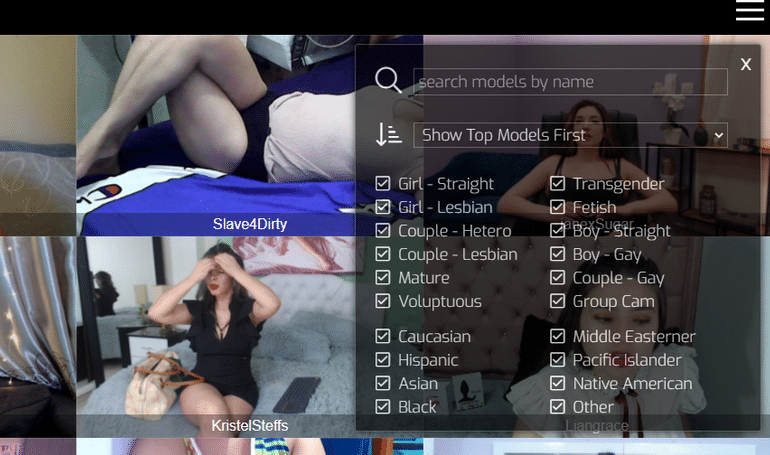 It looks like Extasy Cams is still on its "blossoming" phase, and I can see there are still many things to improve. And I'd like to point out some of those things. First is the chat system. Personally, I feel that the chat feature of Extasy Cams is still needed some work. Although it's not much of a trouble, overall could use some revamping. But I'm pretty sure the site is already working on it since there's an ongoing forum going on where the developers ask the users what kind of features they want to see in the future.
Meanwhile, the support center of Extasy Cams is not also satisfactory. There are technical guidelines for login issues, password problems, credits, and other stuff. However, there's no available FAQs section to find quick solutions to my concerns easily. Also, the customer support service is not reasonably responsive.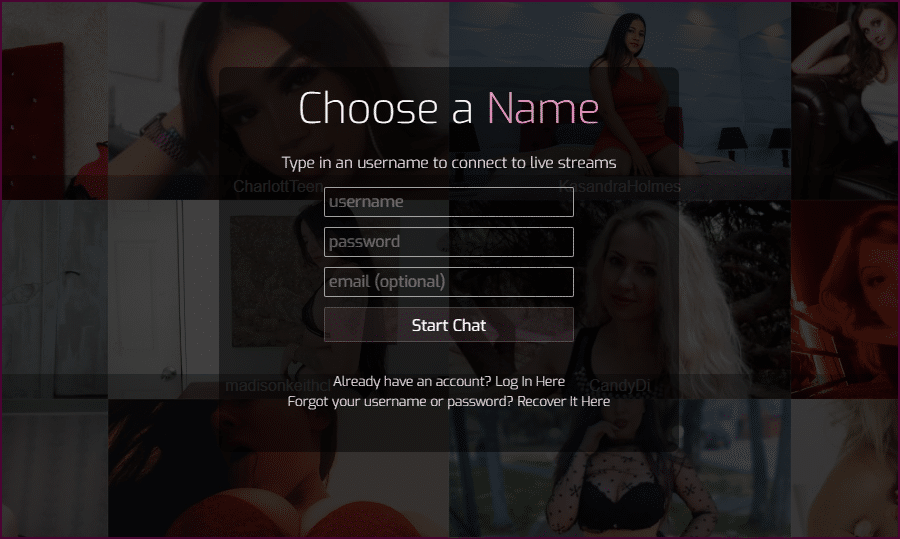 Ultimately, new.extasycams.com really has to do something about its user experience issues. After all, it is us, their users, who will suffer. But even though it's not keeping up with the latest happenings and technology of modern adult entertainment, Extasy Cams has some promising offers. Plus, the affordable cam show rates really attract a shitload of people. Anyway, I look forward to seeing more about this site in the coming months.
Pros and Cons of Extasy Cams
PROS:
Simple design but elegant
Lots of models available
Some cams are HD quality
Very affordable cam model rates
Registration is free
CONS:
Lacking features
Unsatisfactory customer support
Most models have Average quality webcams
Nothing much to do with basic membership
---
TOP 12 Cheap Webcam Sex Sites Similar to Extasycams.com: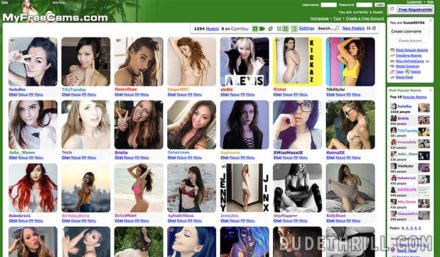 Myfreecams.com is a good cam place to visit. Not only are there no men around, but women make up the vast majority of the actual performers in the site, so any chaser who searches for wieners will find this paradise a curse. This website will undoubtedly cater to any level of consumer, no matter how demanding they can get. Thanks to its incredible selection of active user models and great token rates.
Besides having tens of thousands of quality models, this is one of the most challenging and well-designed sites we've seen on the Internet today —offering hundreds of other fresh concepts every month to keep things new and exciting.
Here's the full review of MyFreeCams.
PROS:
You can browse as a guest user
Security is reliable in protecting sensitive data
It has more than 23 million worldwide members
Efficient mobile version and does not take up much space on your phone
Premium membership opens up more amazing features
You can register as a model and earn money
High-quality shows and videos
Wide range of gorgeous and horny cam girls
Customize your profile
Join model's chat room and participate in a conversation
Monitors every user after registration
CONS:
The mobile app is not yet available
Male users dominate the members of the website
---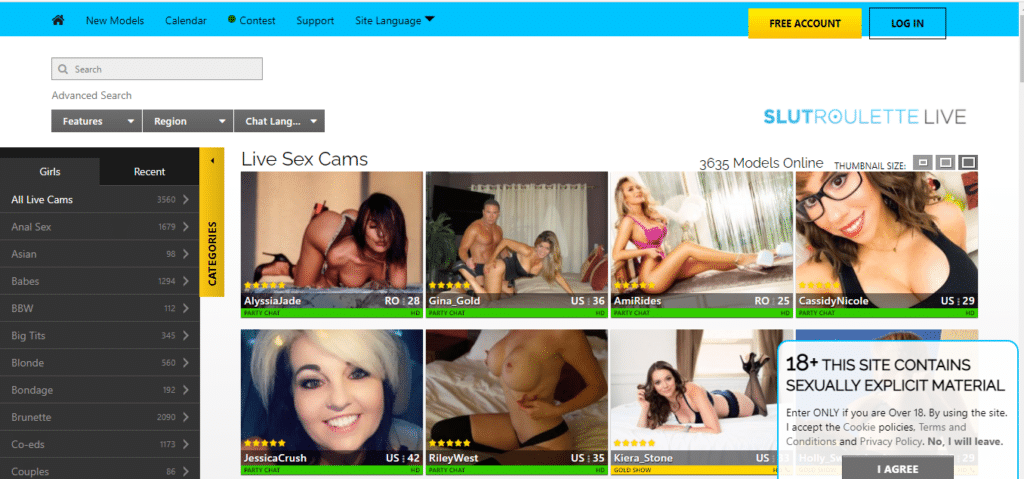 Are you tired out of the same old porn videos? Do you wish to spice things up a bit more and say goodbye to your dull, pathetic night? Say no more because the SlutRoulette website is here to answer your never-ending prayers.
SlutRoulette has been around for many years now. Indeed, it was able to gain the respect and admiration of many live sex cam fanatics. It has become among the most dependable and reputable live sex cam websites up to this day. Certainly, there are no traces of old-fashion elements, graphics, and layout you can see. It has pretty straightforward functionality that even newbies would easily understand how it works.
Click here for SlutRoulette full review.
PROS:
Registration is free and easy
Various selection of Live categories is plenty
The mobile app is free to download
The mobile app is well-matched with all gadgets and phones
Updates regularly
Chatting in chat rooms are free of charge
Free to switch from one person to another in a split second
Private and gold shows are available
Thousand of models to choose from
Community is diverse and shares different interests
Members are active daily
Scams and fraud have no place on this website
CONS:
No hookups available
There are some models with expensive rates
---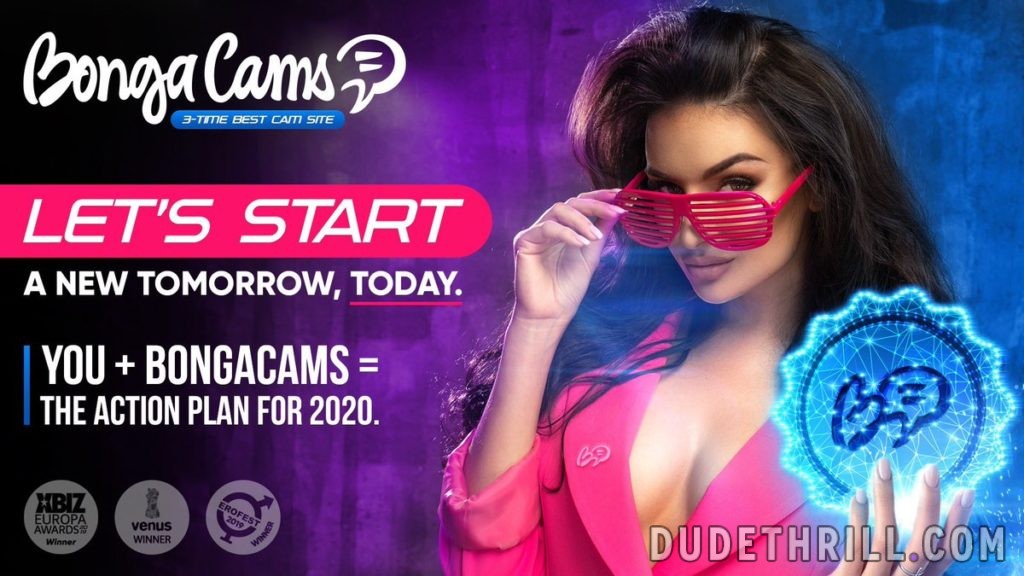 As the name indicates, this is a place for live webcam cams in which you can search for many of the hottest models and one of the most acceptable money system applications nowadays. There are thousands upon thousands of camcorders to pick from, so you're hardly likely to feel upset. And there are countless options to find a decent live stream woman for yourself, on top of it all.
PROS:
There are tons of HD streaming camgirls
Uses token system and incentives
Premium members enjoy special features
CONS:
Annoying pop-up advertisements
Requires paid subscription to use site's features
---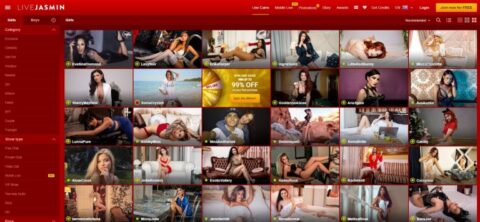 LiveJasmin is one of the first live sex cam websites ever founded on the Internet. All the members of this website are fun and active in looking for hookups, serious relationships, and casual friendships. Similarly, it caters to all types of sexual desires, fetishes, and kinks. In other words, the fulfillment of your greatest and darkest desires will always remain the priority. So, hop on to the page and feel free to choose your favorite models.
Click for a full review of LiveJasmin.
PROS:
Incredible choices of seductive ladies and dudes
Free high-quality photos of camgirl
Huge options of hardcore girls
Free sneak peeks of ongoing special shows
Before purchasing to earn free credits, you have to spin the wheel
Wide-array of fetish varieties
User support assistance is excellent
CONS:
Rates is quite high
No available community boards and forums
---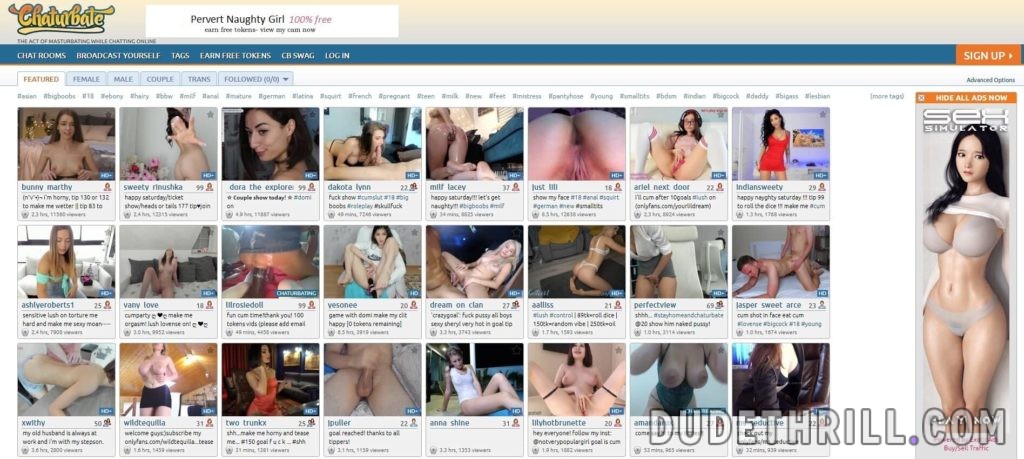 Connecting to people worldwide has never been so easy. Thanks to Chaturbate, unlimited talking is now possible. Plus, you will never spend a dime on it. There are a lot of sexy and beautiful women available for you, 24/7. As a matter of fact, women on this website love kinky stuff, which is always worth your time and attention. Meanwhile, live shows are also available for viewing at a reasonable price.
PROS:
Many cam girls available 24/7 live
No additional fees to expect
Nudes and sex are always a guarantee
Smooth browsing on smartphones and other devices
CONS:
Few videos are in SD format
Expensive private shows
---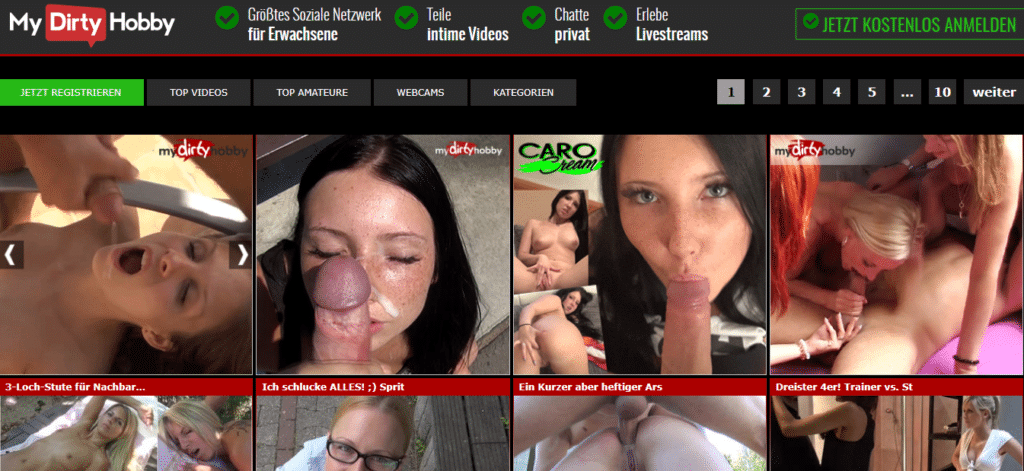 Germany's best live sex cam website, My Dirty Hobby, brings everyone together. Coined as one of the largest adult social networks to ever grace the Internet, MyDirtyHobby is more than just its intriguing and interesting handle; it is a haven for amateurs who like posting homemade sex videos and provocative photosets. It is an interactive community that will live up to one's expectations, especially if you look for a reliable source of adult porn and live sex sessions.
It has plenty of members video chatting and messaging daily. Also, the website allows the members to gain money by joining cam shows. Indeed, My Dirty Hobby has a fantastic set of cam girls waiting to have a naughty time with you.
Full MyDirtyHobby review here.
PROS:
Different contents according to specific interests
Design is simple and easy to use
Regular updates
Do not need membership payment
CONS:
Downloading is not available
---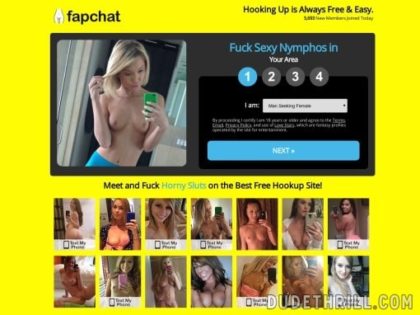 Fap Chat is a platform that helps men like you find attractive single women to take nude selfie photos with and strike up a conversation with. There are thousands of stunning young ladies to choose from, so you're likely to find at least a few that you want.
Take a look at Fapchat review.
PROS:
The website has a simple design and is very easy to use
You can watch real live women performing on cam
Maintains anonymous identity
No bots and fake profiles
CONS:
It has no live chat support service or phone service
You cannot record cam shows
---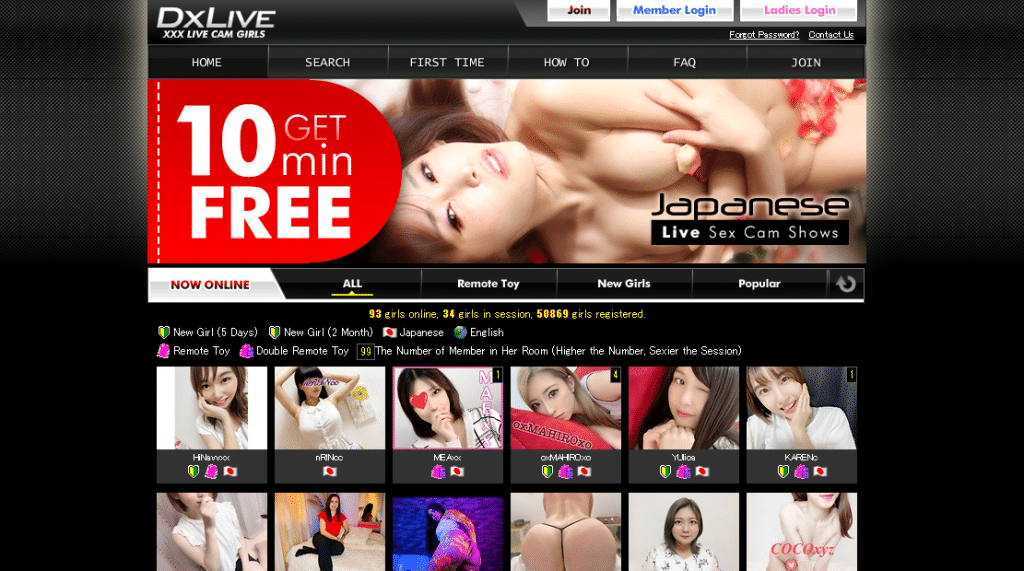 If you're craving for some Asina chick, why not visit DXLive? It's a Japanese-focused live cam site. Although it only has female cam models, they cater to all types of sexual desires, fetishes, and kinks. All the sexy babes on DXLive offer the best experience you can imagine via webcam, and you're indeed not feeling disappointed in their lineup of models. Owing to its fantastic cam features, it has gained popularity. It is now extremely deemed as one of the most valuable Asian webcam sites for everyone who enjoys Japanese camgirls.
PROS:
Japanese focused niche
Gorgeous cam models
Simple and intuitive design
CONS:
Some cam models can't speak English fluently
Requires account when using some features
You need a Flash player
---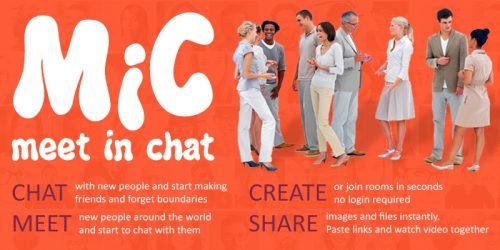 Meet In chat is another must-visit sex chat website. Certainly, it is a new page so that you won't expect many people around here. However, thousands of people are registered here, and all of them are actively looking for a fantastic sexy time. Despite being new, it contains 170 available public chat rooms you can join in for free.
Indeed, you will never feel bored or tired because the erotic activity is happening every second. Also, the website provides options as a guest or official member. In other words, you can use Meet In Chat without registration. Although there are still plenty of available features you can use as a guest, more benefits can enjoy as a member.
Full review of MeetInChat here.
PROS:
Gather all people with similar interests in no-string-attached relationships
Plenty of categories and chat rooms are available
It does not require membership to use
Minimal advertisements available
CONS:
Basic design
No FAQ available
---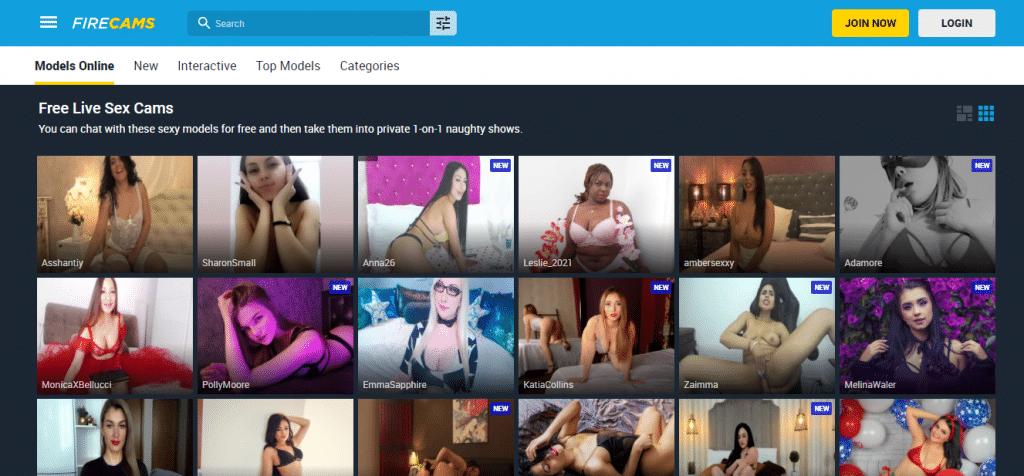 FireCams offers a wide range of live streaming show options and essential features to choose from. Like many other live sex cam services, this one provides interactive shows on sex toys, a large selection of hot camgirls, pre-recorded performances, and exclusive conversations for a modest price (in tokens).
Click for a FireCams full review.
PROS:
Plenty of authentic and verified models
High definition webcams
You can switch SD quality to HD quality cams
Excellent search and filter tools
Affordable chat prices
Lots of freebies for new users
It has a free chat option
CONS:
Pop-ups to signup
Requires tokens to join private chats
---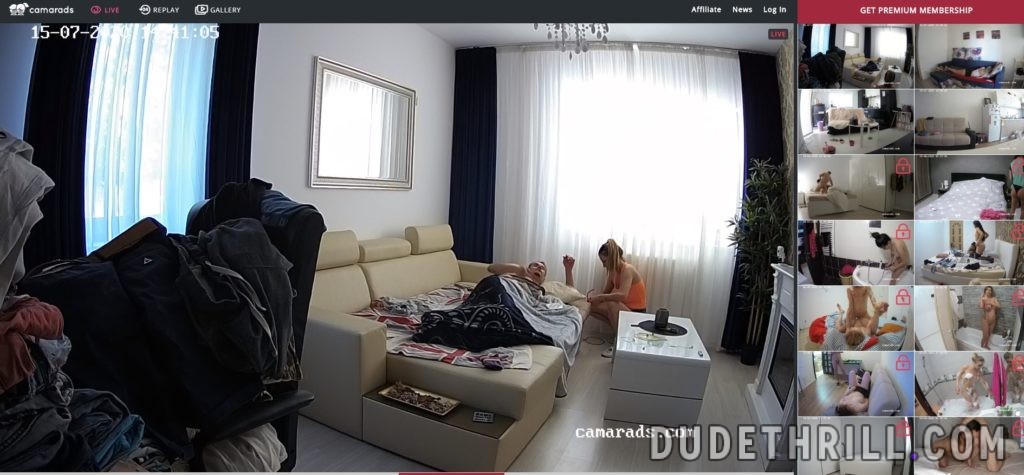 Camarads sounds like an unusual term; however, when searching for a voyeur video moment, the site has a powerful status and is an option that numerous individuals crave. The site includes several residences, and each one has varied people living inside it. These individuals make their situation open for viewing by individuals 24/7 without restrictions. There are streaming live cameras throughout the rooms, and you are there to observe and watch, irrespective of what they are doing.
PROS:
The quality of cameras is excellent and high quality
Users can view the private lives of people
CONS:
Lacking website features
No motion detector and automatic following
---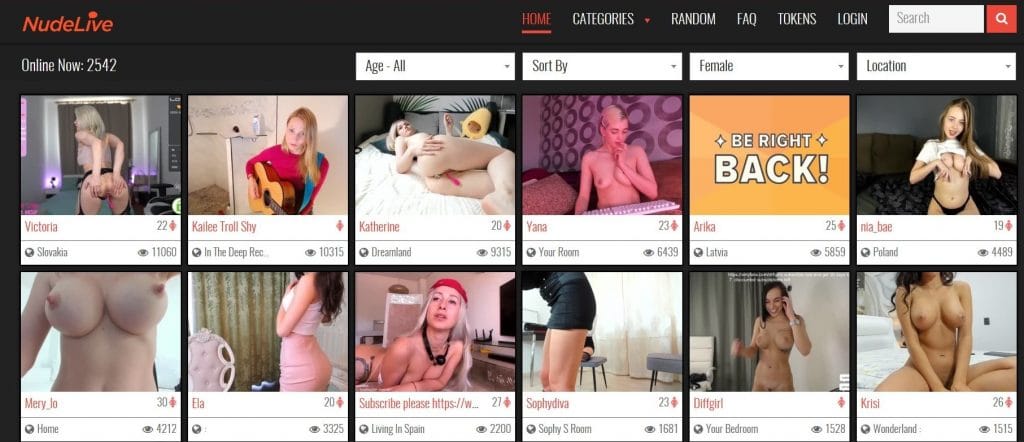 NudesCams is known for many features and offers live feeds, making it stand out from the most cam-site crowd. NudeLive is a relatively new website, but it already has a considerable fanbase and plenty of live webcams to choose from at whatever given time.
Not to mention, this website brings a great blend of real-time cam models and males and females alike. It's as effortless as pressing a button to switch between watching "only men" or "only women" on camera. Also, there is a wide range of material that has lumped together here, including "Teens 18+," "Couples," and Bi & Gay," making it easier for you to find what you're interested in and desire.
PROS:
Responsive cam girls and cam boys in an extensive database.
Cam models are a lot of fun to watch.
The majority of sex webcams are of high definition.
There are several niche categories from which to choose.
NudeLive is the only place where you can get a random feature
All of the cam models have massive thumbnail previews available
The website has a large number of models online
Adding models to your favorites makes it simple to stay informed on when they are available on the website
You can quickly switch from one cam display to other thanks to the convenience of use
The act of sharing your webcam with the actors gives you the feeling that you're watching an actual live performance
Free to use
CONS:
Several features are only accessible when you sign up and register as a member
Private chats and shows can get expensive
---
Final Words
Overall, Extasy Cams is a pretty good live cam site since it's not a scam and offers legit live shows. After all, isn't that all matters? Sure, it has its ups and downs since it's still in its "improving" phase, but one thing I can commend about Extasy Cams is its attempt to offer something different than usual. Plus, the cheap cam model rates give us more time to enjoy every bit of our money.
So, if you'd ask me if I would recommend this site to anyone, all I can say is try and see it for yourself. It's decent enough to make you happy, but if you're too picky with your cam choices or very particular with cam quality, you might end up feeling disappointed.
All 115 Other Sites in This Category Worth Checking Out:
Strip Flix Review & 12 Must Visit Free Sex Cam Sites Like StripFlix.cam Show Me 12 Alternatives for StripFlix.cam Will you join me as I stream on unlimited stripping and babe teasing? There is no other site I could ever think about that is convenient, accessible, and limitless in nudity. We shall dig on sex cam […]