Updated on: September 30th, 2023
BimBim
& 12 Best Free Live Sex Cam and Porn Cam Sites Like bimbim.com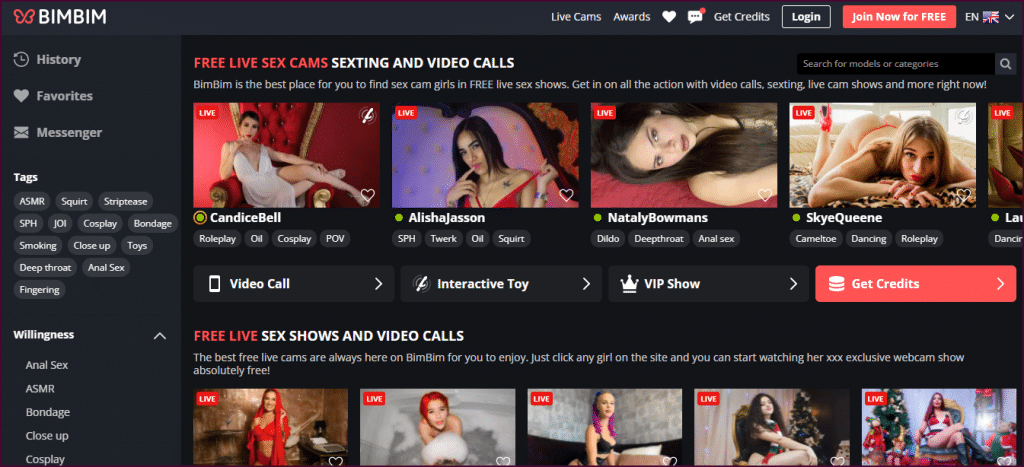 BimBim's famous slogan is "Too Hot For The Public," and just a single look at this fresh cam network makes you want to camp out and spend the rest of the evening fapping. Typically, a new site wouldn't take off like this and takes a while before gaining popularity. But, after doing some background reading, I learned that LiveJasmin is the real brain underneath BimBim's pleasure-seeking appeal. From then on, I realized I was in good hands. Not to mention, when it comes to providing people with what they want best, BimBim really sets the bar high straight from the get-go. Even though this is just a couple of months old, this site has already captivated an unbelievable amount of visitors.
Official URL: https://bimbim.com/
What is Bimbim.com?
This isn't your typical live-cam platform. When you join BimBim, you will immediately notice that it functions and acts like a social networking site, coupled with interactive features and excellent services. Here, users can engage with the site's performers, live streamers, content creators and see their stuff in real-time.
With an Instagram-like look and experience, BimBim is the ultimate desktop site and smartphone app for real sex cams. That's why, when I saw that it offers freebie like 10K coins for new subscribers, I decided to register myself and reap its benefits. Certainly, I had no regrets, and there's more about BimBim features and services below.
How BimBim Works?
When I visited BimBim for the first time, I was pretty impressed with its straight-to-the-point design because the homepage immediately revealed a list of models available. So, I clicked some random model, and the system brought my eyes to her timeline. The model's profile has amazing stories like what you usually see on Facebook or Instagram. But, of course, what makes it different from these social media sites is the content of their stories. Indeed, they are more provocative, naughtier, and bitchy-er than what you typically see.
Afterward, you can send out the model some messages or emoji reactions. You can also call her through video calls or send a virtual gift.
Generally, messages and emojis are free; however, you may have to pay for every minute when using the video call feature. Also, BimBim is very transparent with their prices and model rates, so when you click on the video icon on a particular model's profile, it will pop up her rate per-minute session. You can then determine whether it's a worthwhile investment or not.
Meanwhile, BimBim has a more interactive and profound experience compared to the other webcam sites. Unlike regular sites, the vibe is unique and more exclusive since you can get one-on-one and real-time interaction with the creators. A while ago, I pointed out that there are freebies for new users offered here, including 10K coins, and you can use that freebie for at least ten minutes of interaction.
Basic Interface and Navigation of Bimbim.com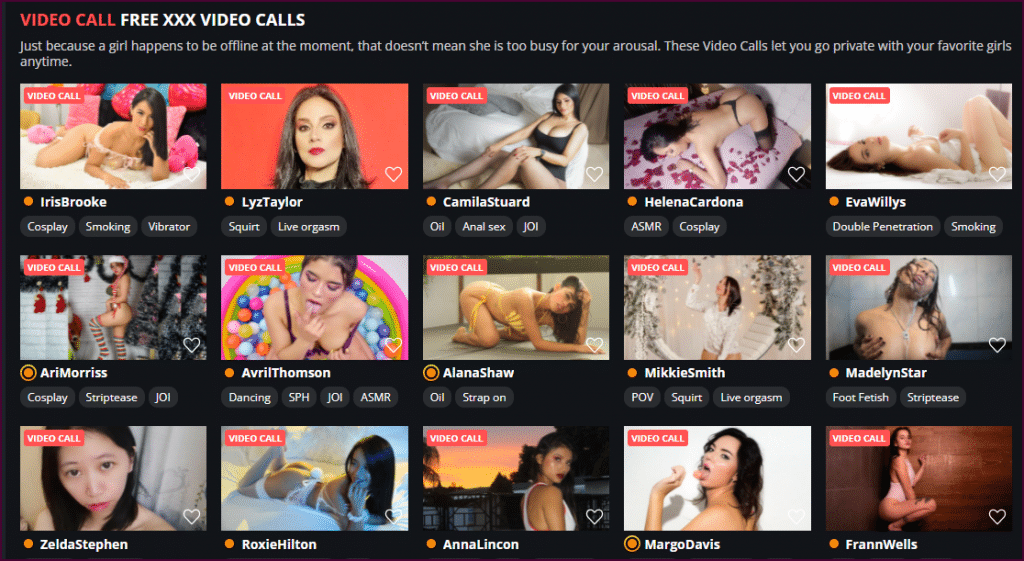 A social networking-like site with a complete commitment to posting filthy stuff is what BimBim appears to be like in design and functions. In fact, the interface on Bimbim is quite familiar if you happen to try Instagram or Facebook previously. It doesn't have similar features or looks, but its vibe somewhat resembles the big platforms.
You are free to pick on some random girls from a dozen streaming video choices on the homepage screen. From what I understand, the cam models with the highest awards appear to be among the best entertainers on this page. So, if you want to feel the best possible pleasure, it's an excellent place to begin your search for a surefire hook. Meanwhile, there's a "New" section dedicated to new models available on bimbim.com, and it's filled with some fresh and thought-provoking content.
In addition to their photos and videos, cam models frequently share erotic, naughty "stories" on their social pages, but unlike Instagram, they are entirely different. All things considered, BimBim has undoubtedly put an excellent effort at developing a social network-like live cam site that is both interactive and highly entertaining for users and cam models alike.
BimBim's Hottest Content & Live Streams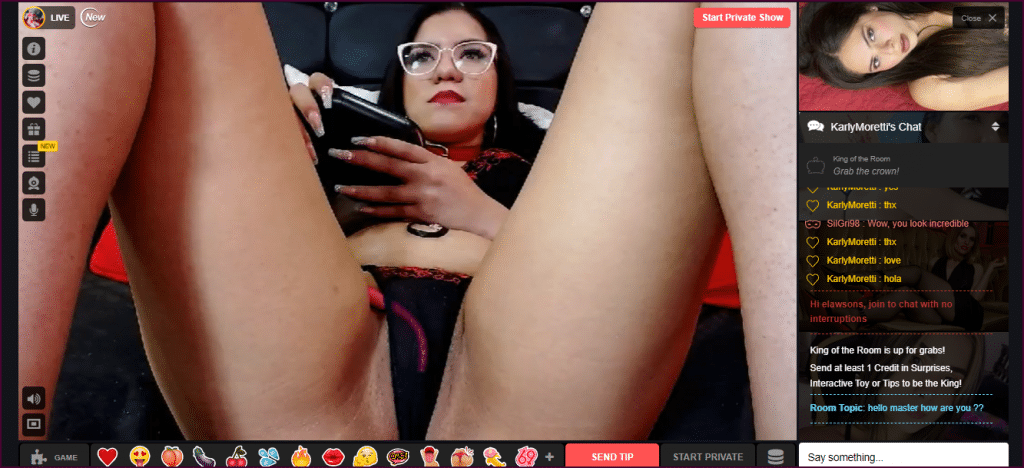 Inside the Bimbim.com database, you may come across several sexy naked streamers and cam models. This group of women enjoys posting highly graphic images and recordings of themselves to their social media accounts and taunting their loyal followers. But what's even better, BimBim models do it with top-notch cams to guarantee that you don't overlook any specifics on their very sensuous bouncy boobs, sexy silky face, and mouthwatering bums.
Moreover, you'll have no problem watching live broadcasts of these dirty streamers since they don't cost anything —not even a cent. If you've ever wondered what it's like to jerk off while a cam girl is twerking her butt on screen, this is your answer. Certainly, the excited wimps on real-time broadcasts won't grow tired of your pounding hard cock, even if you do. So, better start that erotic chat and experience BimBim firsthand. To initiate a conversation with the hottie, simply tap on her live stream to get your own personal visitor account name.
Hottest Cam Girls on Bimbim.com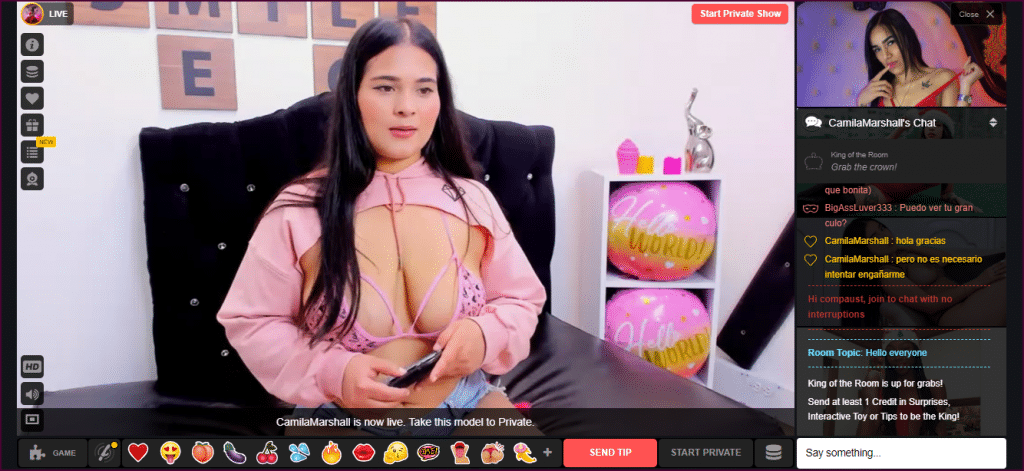 Ohh, cam models… Perhaps it's the core of Bimbim.com and possibly its most exciting feature. As a matter of fact, BimBim built its cam girl catalogue with only the hottest and top-notch models available. They also include well-known and up-and-coming models so that everyone can get the right dose of the perfect cam girl of their dreams. Certainly, BimBim's webcam models push the website to new different heights. That is why BimBim right now is already beyond its impressive video quality, user-friendliness, and clarity of the user experience. So, it's a wise move Bimbim.com spent countless hours and attention into screening through the thousands of online cam models to find only the best.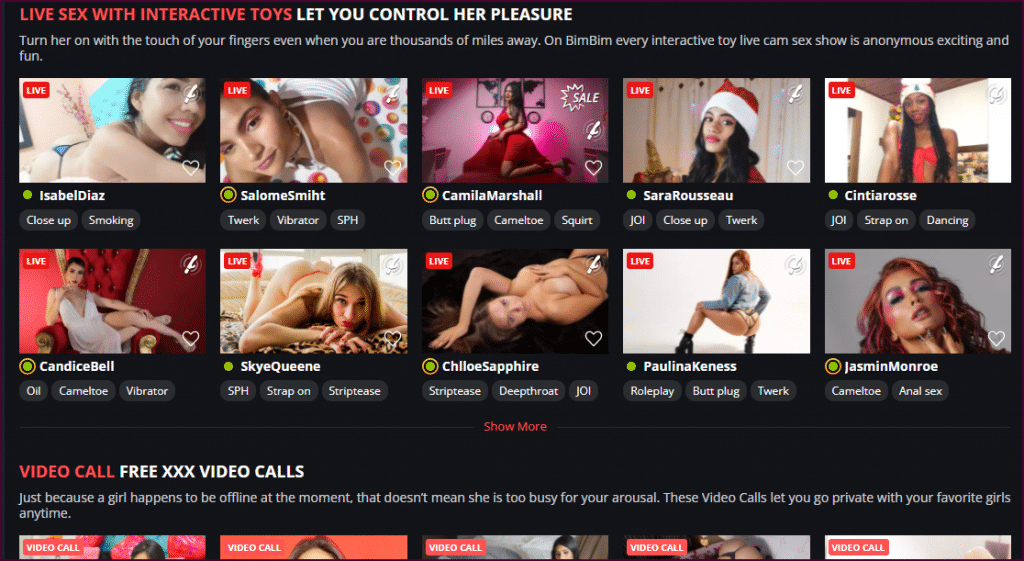 Additionally, it isn't just chatter and sensuous stripping shows that these models are capable of. In fact, they also provide real-time masturbation shows, sex toy fucking, or public sex. After browsing for hours and more, I found out that BimBim's most popular models are typically ebony women, gorgeous teens, attractive MILFs, brunettes, cool shemales, skinny girls, and models with huge boobs. Even with their differences in appearance, they all have the same desire to satisfy your deepest irrational sexual fantasies. So, if you're looking for an outlet for all of your dirty moods and erotic fantasies, then BimBim is the place for you. Regardless of your own preferences, it only delivers users with the finest up-to-date and competent webcam performers.
Sexy Content "Creators" of BimBim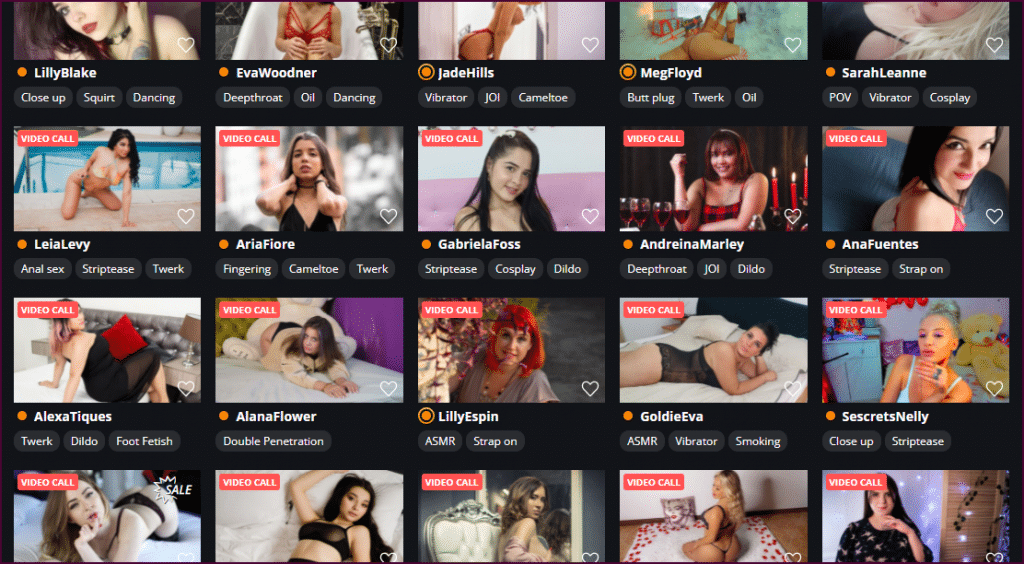 The Content Creators of BimBim are the stars of the show. Plus, they showcase more than a hundred fetishes, kinks, and obsessive themes, executing all types of filthy things you can honestly believe during the live streaming. To be honest, these weird women are a sight to behold and can provide you with a solid boner in a jiffy. Also, the fans can interact with the content creators by chatting with them, watching their best bits, and leaving comments.
Moreover, these content creators are incredibly different in look —from breathtaking brunettes to attractive SouthEast Asian ladies and everything in between. But, the striking similarity among these enchanting beauties is that they all crave getting hammered. Certainly, they're not searching for a spouse or partner; everything they desire is loyal fans who are willing to shower them with much-deserved attention. In fact, you don't even need to be a ballbuster to seduce these women because they're open and game for practically anything.
Their Coin Prices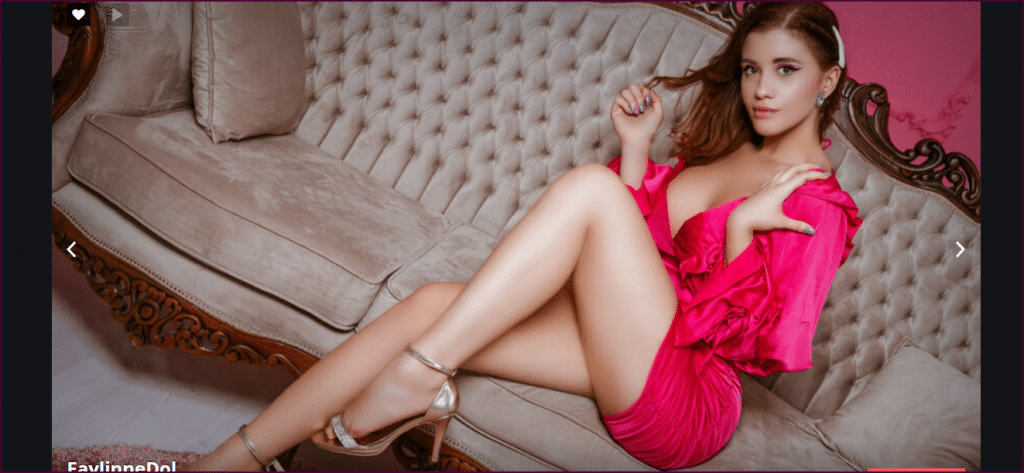 As I mentioned, BimBim offers 10K coins for free upon registration, and these coins could last around ten minutes long. So, if you want to purchase more coins, here's an overview:
1,700 coins – $9.99
3.7K coins – $19.99 (with free 300 coins)
12.7K coins – $59.99 (with free 2.5K coins)
22.7K coins – $99.99 (with free 5.7K coins)
47K coins – $199.99 (with free 13Kcoins)
107K coins – $399.99 (with free 39K coins)
227K coins – $799.99 (with free 91K coins)
The BimBim's Club Elite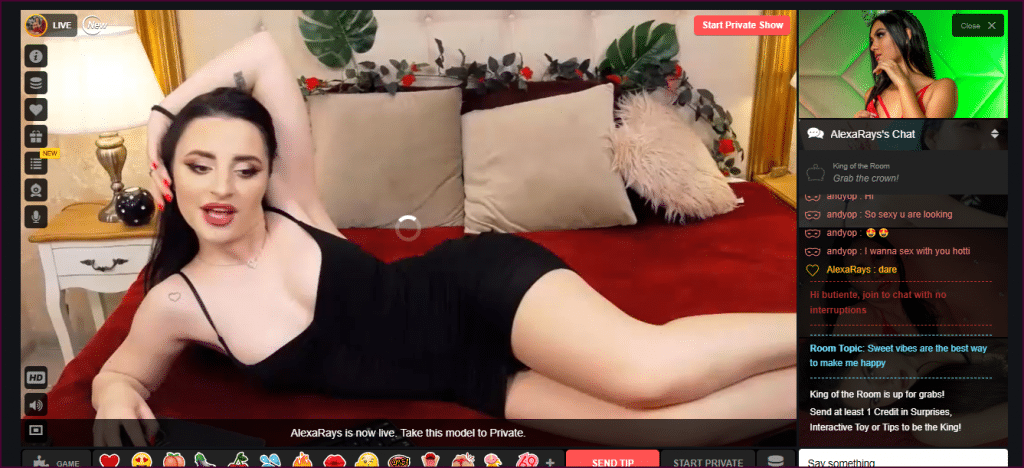 Bimbim.com has an excellent exclusive program called Club Elite. It provides fantastic and all-inclusive features for anyone who can collect "points."
Crush – 15 Points per month
Lover – 50 Points per month
Sweetheart – 250 Points per month
Lancelot – 1K Points per month
Romeo – 5K Points per month
Casanova – 15K Points per month
If you become one of these clubs, you can enjoy some benefits, including sending messages and unique gifts, sneaking on live streams, and earning rankings the more you use the site. You will also enjoy VIP treatments as you enter the chat room. There are more perks you can enjoy as a member of Bimbim's Club Elite program.
Sign-up and Become an Official Member!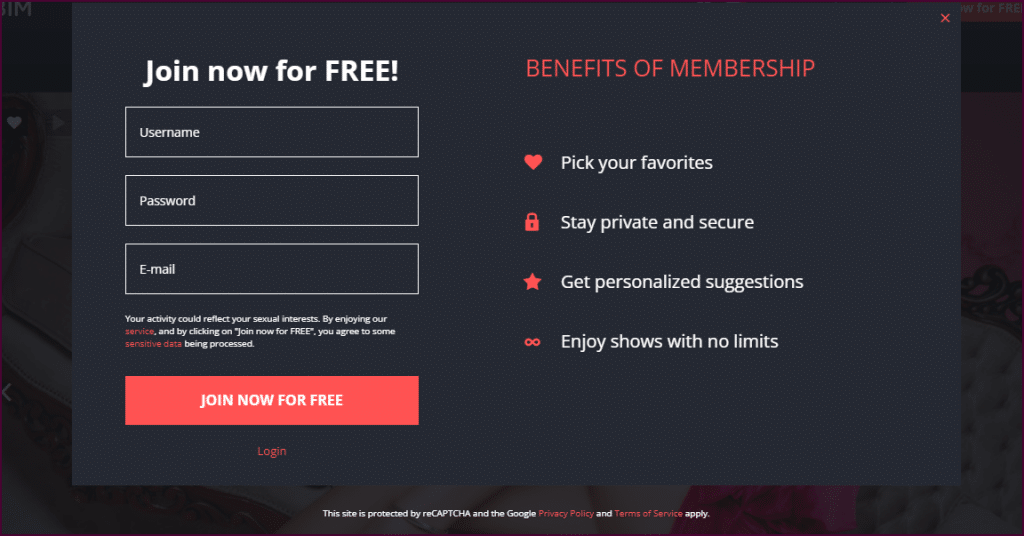 Bimbim.com allows you to watch erotic streaming content for unlimited access, but if you want to enjoy the most out of this online chat service, you'll have to create an account. But don't worry, registration is effortless and should not take much of your time. Just supply a valid e-mail account and essential login details. BimBim, like other reliable live stream sex services, requires you to enter your credit card information upon registration.
I know it's a bit turned off, but believe me when I say, that bimbim.com is secured and reliable. Why? Well, mainly because LiveJasmin, a reputable provider of erotic pleasure, is the operator of this site. Additionally, you will receive free 10K coins valid for around ten minutes of live streaming after signing up —better use it wisely. If you have no more credits available, you can simply purchase additional credits from its affordable coin bundles.
Pros and Cons of BimBim
PROS:
Offers free coins upon registration
It has an impressive collection of content creators
Lots of free stuff
Fantastic variety of live shows
Exclusive chats with Camgirls
Safe and secure
Basic navigation and simple design
CONS:
Downloading is not available
Coin bundles are pretty expensive
Some features require membership
---
12 Best Free Live Sex Cam and Porn Cam Sites Similar to BimBim.com: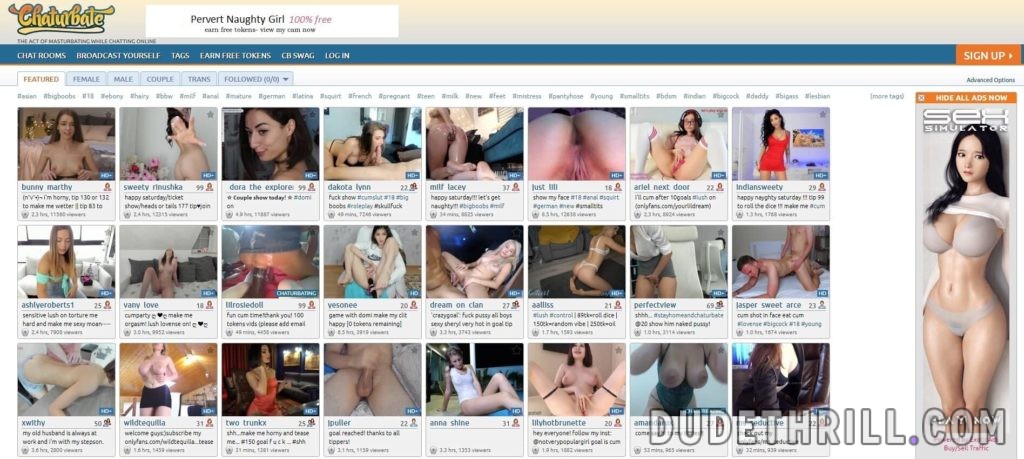 Connecting to people worldwide has never been so easy. Thanks to Chaturbate, unlimited talking is now possible. Plus, you will never spend a dime on it. There are a lot of sexy and beautiful women available for you, 24/7. Women on this website love kinky stuff, which is always worth your time and attention. Meanwhile, live shows are also available for viewing at a reasonable price.
Here's the full review of Chaturbate.
PROS:
Many cam girls available 24/7 live
No additional fees to expect
Nudes and sex are always a guarantee
Smooth browsing on smartphones and other devices
CONS:
Few videos are in SD format
Expensive private shows
---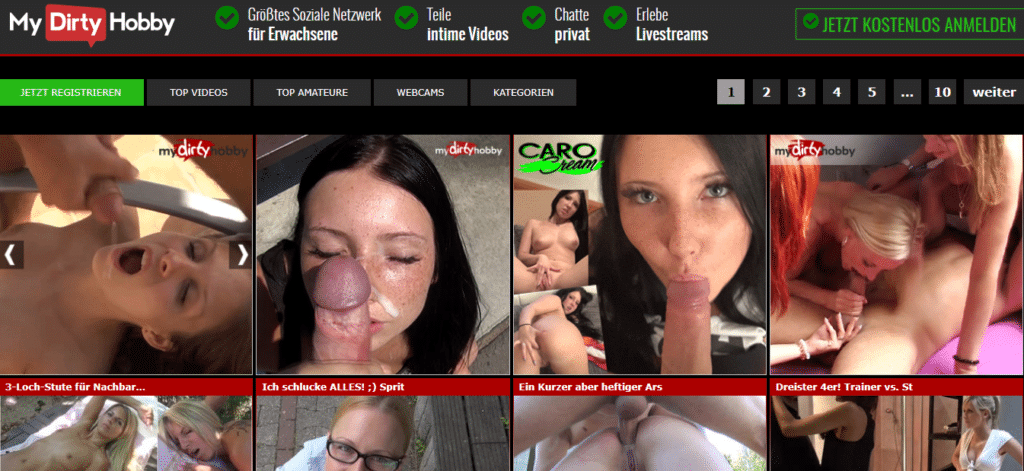 Germany's best live sex cam website, My Dirty Hobby, brings everyone together. Coined as one of the largest adult social networks to ever grace the Internet, MyDirtyHobby is more than just its intriguing and interesting handle; it is a haven for amateurs who like posting homemade sex videos and provocative photosets. It is an interactive community that will live up to one's expectations, especially if you look for a reliable source of adult porn and live sex sessions.
It has plenty of members video chatting and messaging daily. Also, the website allows the members to gain money by joining cam shows. Indeed, My Dirty Hobby has a fantastic set of cam girls waiting to have a naughty time with you.
Click here for MyDirtyHobby full review.
PROS:
Different contents according to specific interests
Design is simple and easy to use
Regular updates
Do not need membership payment
CONS:
Downloading is not available
---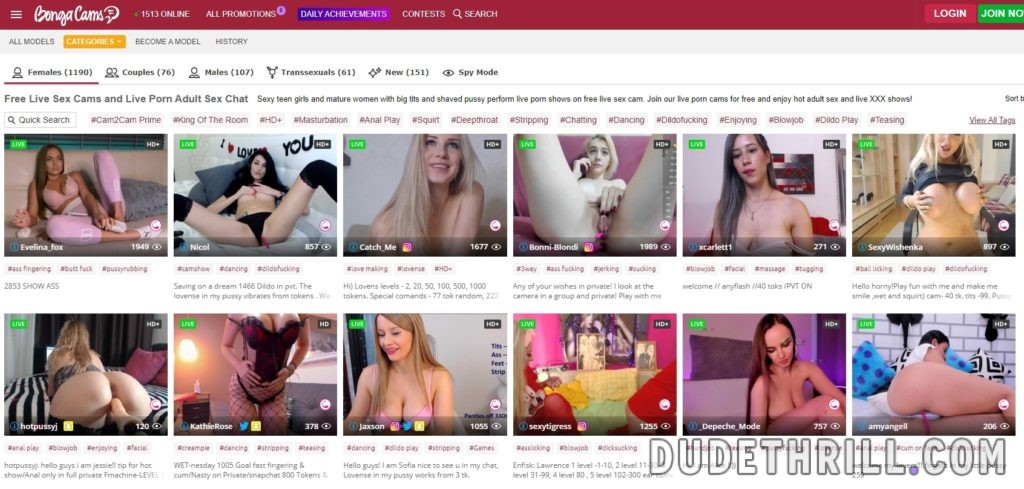 As the name implies, this is a place for live webcam cams in which you can search for many of the hottest models and one of the most acceptable money system applications nowadays. There are thousands upon thousands of camcorders to pick from, so you're hardly likely to feel upset. And there are countless options to find a decent live stream woman for yourself, on top of it all.
PROS:
There are tons of HD streaming camgirls
Uses token system and incentives
Premium members enjoy special features
CONS:
Annoying pop-up advertisements
Requires paid subscription to use site's features
---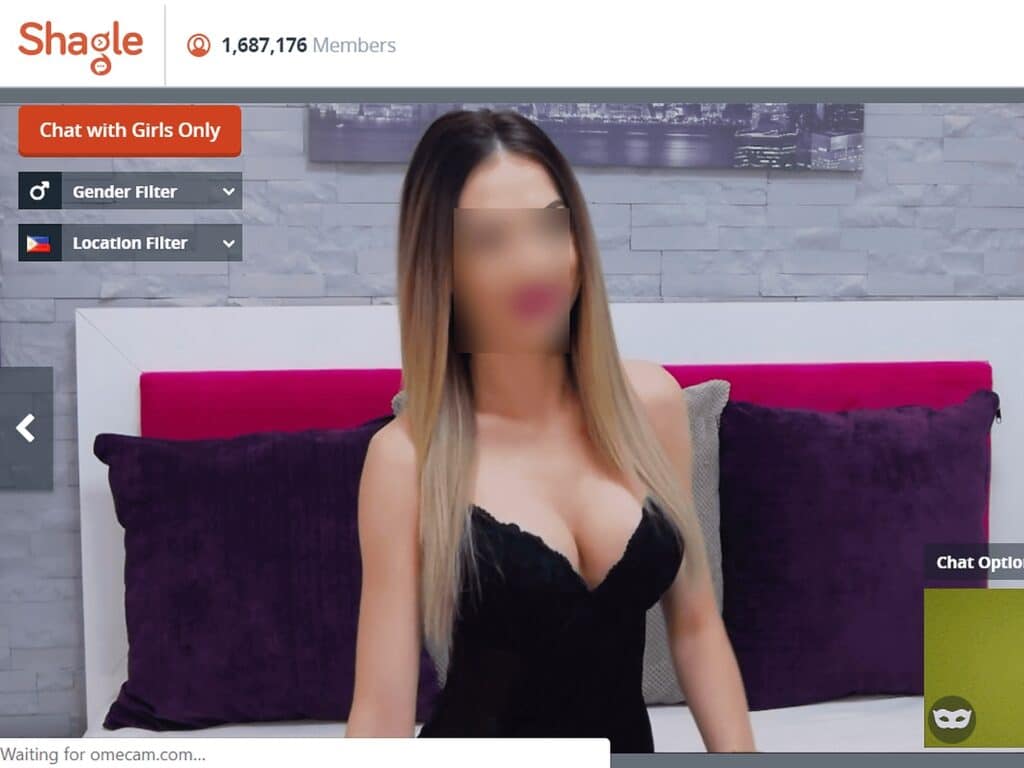 If you are considering a superb venue to video chat with strangers and gorgeous hotties, then certainly, the community of Shagle would be an excellent option for you. On this site, you can discover loads of distinct people with various interests.
Hence, creating a connection and understanding are the main focus. Also, it has an outstanding balance of people aged 25 to 55 years old, suggesting that you can always find the right match on this platform regardless of how young or old you are.
Click for a full review of Shagle.
PROS:
The intelligent algorithm ensures you will not talk to the same person two times
It has millions of members around the world
A maximum of 5 minutes will require to register
Free members have plenty of benefits and feature to enjoy
Available in 70 different countries
Rule s and regulations are available and required to follow to maintain the user-friendly experience
Features and communication tools are plenty
It does not require the personal information to register
Free sending of text messages
Free use of live video chat
No language barriers because of Translation Tool
CONS:
Not available in-app version
You cannot access additional features using a free account
Video quality is average
---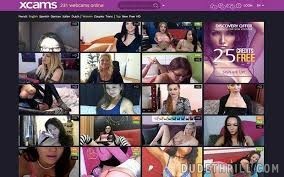 Are you ready to have a sex chat with pretty, sexy, and horny cam girls? Then indeed, you are prepared with the xCams website. Here, you can experiment with professional and amateur cam girls anytime and anywhere you want. Also, users can spend VIP entertainment or private shows for a reasonable price. So, go over to the page and pick your best Latina, Indians, ebony, teens, MILF, and many more!
PROS:
great site design
advanced filtering
tons of beautiful girls
hundreds of live cams at any moment
some free shows
CONS:
you might spend a ton of money
no non-cam bonus material
---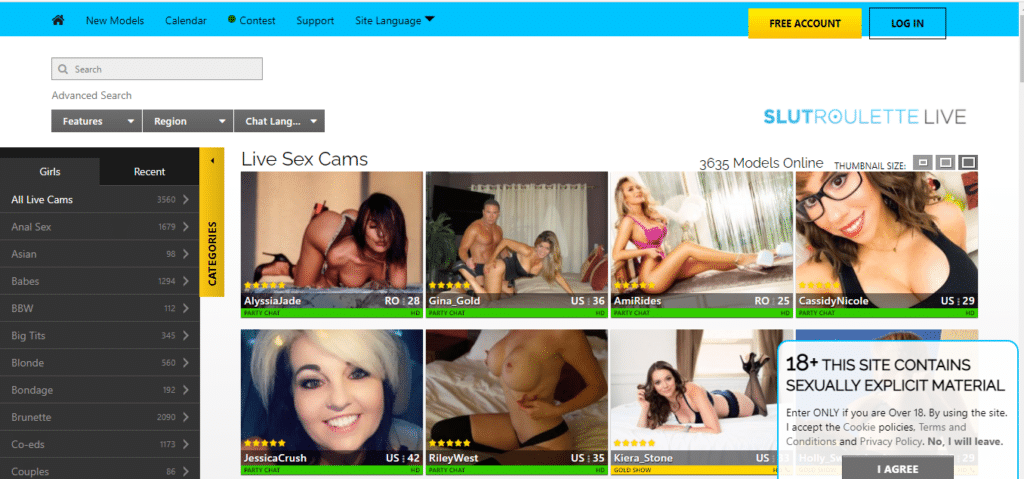 Are you tired out of the same old porn videos? Do you wish to spice things up a bit more and say goodbye to your dull, pathetic night? Say no more because the SlutRoulette website is here to answer your never-ending prayers.
SlutRoulette has been around for many years now. Indeed, it was able to gain the respect and admiration of many live sex cam fanatics. It has turn into one of the most trustworthy and reputable live sex cam websites up to this day. Certainly, there are no traces of old-fashion elements, graphics, and layout you can see. It has pretty straightforward functionality that even newbies would easily understand how it works.
Full SlutRoulette review here.
PROS:
Registration is free and easy
Various selection of Live categories is plenty
The mobile app is free to download
The mobile app is well-matched with all gadgets and phones
Updates regularly
Chatting in chat rooms are free of charge
Free to switch from one person to another in a split second
Private and gold shows are available
Thousand of models to choose from
Community is diverse and shares different interests
Members are active daily
Scams and fraud have no place on this website
CONS:
No hook-ups available
There are some models with expensive rates
---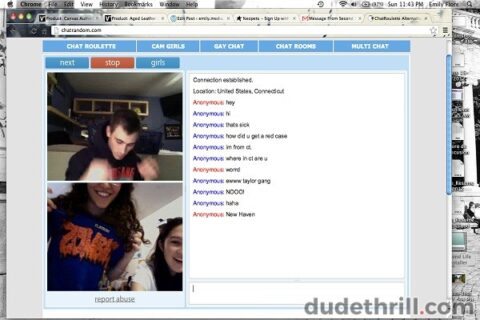 Chatrandom is a free live chat site that allows users to easily connect with people and strangers worldwide. The site started its outstanding service around 2011, and since then, it has become one of the most popular sites today. Indeed, this is the most exciting live chat you can experience. Because the system uses a roulette-type matching and lets you chat with thousands of people every day
Take a look at Chatrandom review.
PROS:
Registration is free
Users can chat with members from other parts of the world
People can join live chat without registration
There are thousands of active users every day
App version is available for download
Hiding identity is public through "mask."
Free sending messages
CONS:
No profile photo is available
Only Android users can download it
More number males than females registered
---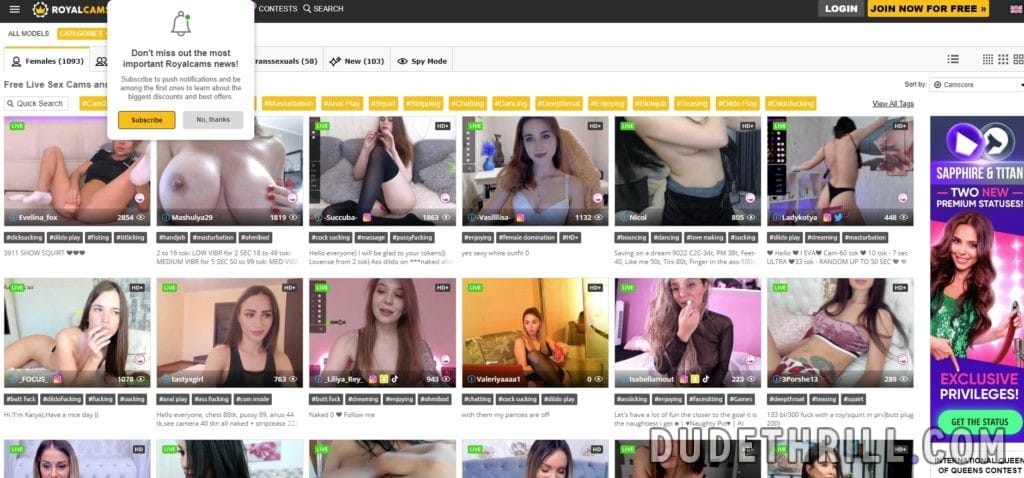 RoyalCams is a fully functional webcam platform. It uses a vast library of models that reflect both genders and orientations. There are four different types of personal chats available, including fully explicit and tip-based completely free chats. Check out our best choice if you're looking for the best adult cams. It's open, simple to use, and well-liked by users, increasing your chances of having a good time.
PROS:
Plenty of gorgeous girls
Spy/Voyeur style that allows you to see and chat with models.
Uses sex toys
Professional and amateur models
Mobile compatible
CONS:
Sometimes, models take time before going nude
A brief preview of the Visitor Live series
---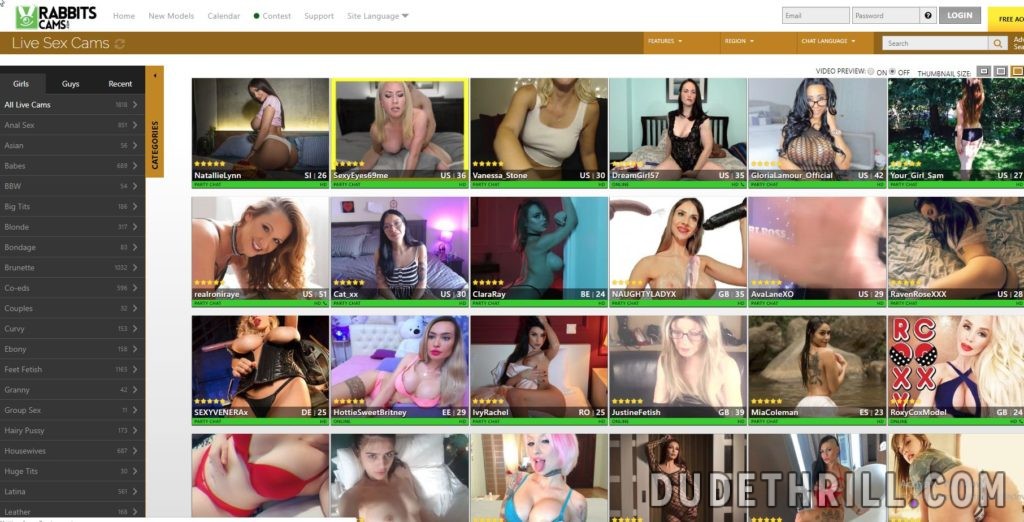 Rabbitscam.com is a relatively new website. However, if you have been visiting cam websites, you have probably heard a thing or two about it, provided that it has been gaining popularity in the industry. It will undoubtedly give you everything you need for a live cam sex chat. It has plenty of model selection, all with different looks, body shapes, ethnicity, and style. Above all, every camera is of High-Definition quality for the best cam experience.
Also, the prices and shows available in Rabbitscams cater to your preferences. Whatever your money can afford is all available here for your pleasure. All the perks of this site, including chats, browsing, and more, are available for free. So, your lazy bug has no excuse not to check it out!
Full review of Rabbitscam here.
PROS:
Many of the cams are high-quality resolution
Different shows available for everyone
Users can choose from thousands of models available
The Mobile version is efficient to use
No annoying advertisements are available
No auto payment system
No money wasted because of pledge-based payments
CONS:
Basic accounts are very minimal
Some of the cam shows are expensive.
---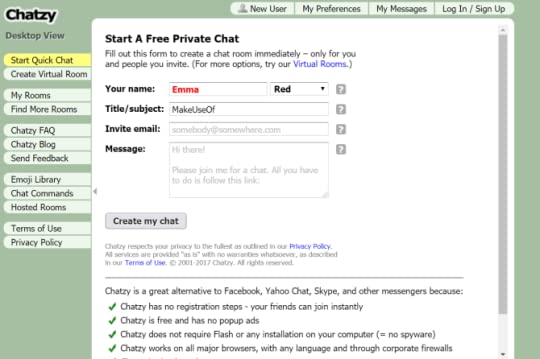 Since Chatzy.com is not a conventional dating website, it sees itself as a credible option to other social media sites like Skype. It's effortless to set up an account, and once you've done it, you can launch chat rooms without sharing any personal details.
Users benefit from creating their chat rooms or joining one of the thousands of available chat rooms on the website. Somehow, Chatzy's concept seems somewhat outdated; however, it does not imply that the website is not highly recommended for romance.
Click for a Chatzy full review.
PROS:
Registration is easy and safe
Has thousand available chatrooms you can join
Huge user base
You can create chatrooms freely and share them with anyone
It has instant messaging available
CONS:
No searching option
Old-fashioned design
No available profile pics
---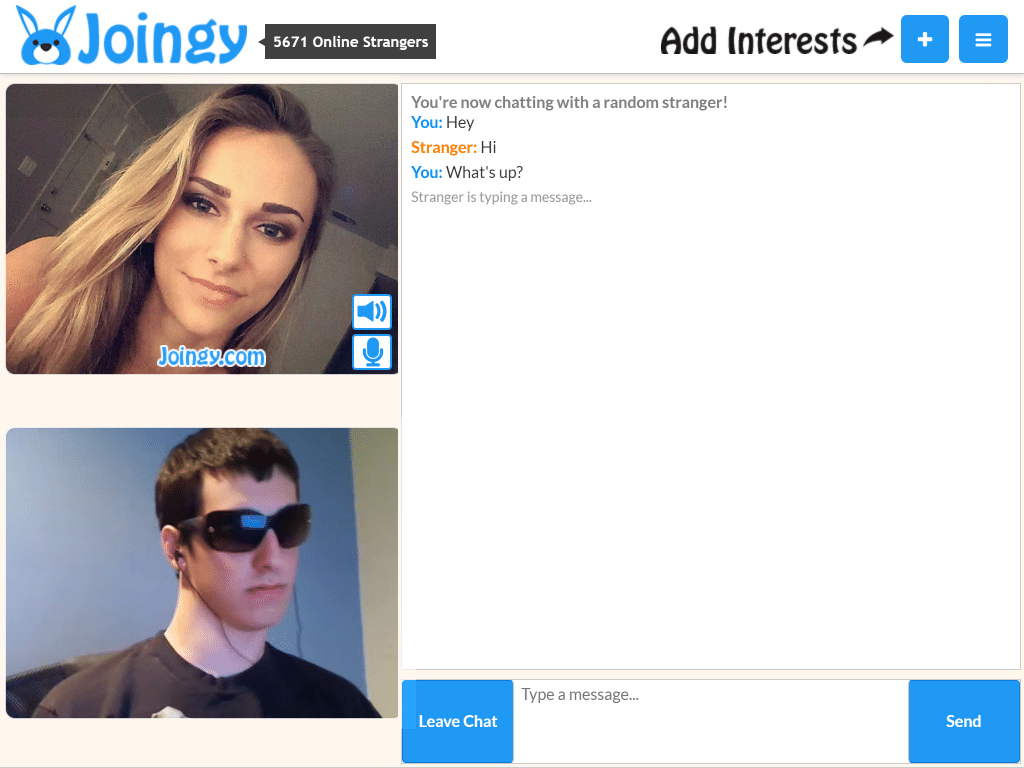 Joingy is a free video and chat service site that allows people worldwide to connect and interact with strangers roulette-type way. For years, this place has served as an excellent venue for many lonely users to come together and chat about fascinating things and simply have fun. So, whether you're looking to have a good time, discover something interesting, make new acquaintances, or perhaps fall madly in love, Joingy is perfect for you.
PROS:
Easy matching
Supports mobile browsing
Free download of pp
Anonymous identity of users
Available in different languages
CONS:
Teens might be susceptible to sexual stuff
Mixed chat area for adults and teens
No serious connections, just fun
---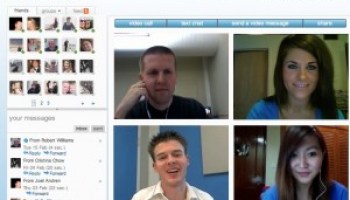 Chatville's ascent to stardom had become the highlight of the world wide web. Chatville tried to penetrate the internet's top sex chat providers for many years, and thankfully it succeeded to grow into what it is now and supports this development with some impressive technologies.
Furthermore, it is among the most visited websites and often used by anyone who wishes to make new friends, find connections, and just have fun. Basically, it's a live cam platform that smoothly combines some promising video chats and social networks features. It allows all users to openly engage and interact with other strangers while maintaining privacy and security.
Check for review of Chatville.
PROS:
Free signing up
Low subscription price
Amazing list of models
Currently hiring cam models
CONS:
Web design is too basic
Some reported fake accounts
---
Bottomline
It's not every day that a modern and exciting sex webcam site comes onto the scene. In fact, most webcam sites are essentially identical, with little to no new content. So, I greatly admire BimBim for attempting to do something fresh and different, making an essential standard of excellence.
So, if you're hunting for a unique way to communicate, BimBim is the place for you. We can speak and connect with beautiful women worldwide, even while on the road with this app. After reviewing other cam sites, Bimbim.com gave me unique feels and different ways to experience a more profound sense of interaction. Perhaps, its effortless navigation is just a bonus on top of what you can enjoy here.
All 113 Other Sites in This Category Worth Checking Out:
Fetish Galaxy Review & 12 Best Live Sex Cam Sites Like FetishGalaxy.com Show Me 12 Alternatives for FetishGalaxy.com Welcome! Today, we're strapping in for a journey that's bound to tickle your curiosities and awaken your inner desires. Don't tell me the name "FetishGalaxy" didn't already send your imagination into overdrive. I mean, it's like a cosmic […]