Updated on: December 11th, 2023
Chatzy Review
& TOP 12 Private Adult Chat Rooms Like Chatzy.com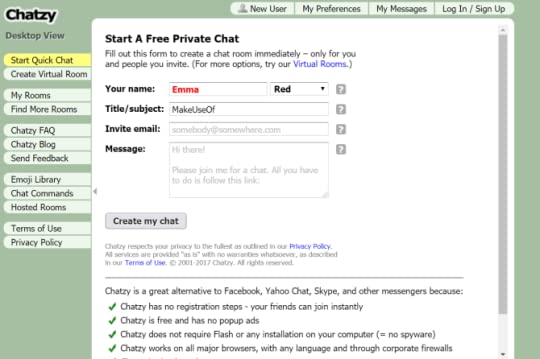 Looking for a great way to send messages to your friends and strangers through chat or email? Certainly, Chatzy would be a good way to go. They don't only provide free services but also have a premium plan to accommodate customers who are more concerned with reliability and sustainability—until now, sending messages and starting up online discussions has never been this simple with Chatzy.
Official URL: https://www.chatzy.com
So, if you are considering for a platform to pursue casual sex with strangers, Chatzy is an excellent way to search for people. But, can you trust Chatzy? Or are they completely bogus when it comes to safety? The following review offers an in-depth look at the website's features and functionality to help you gather solid insights about its overall performance.
Undressing Chatzy: An In-depth Look
With Facebook Messenger and Twitter being so widely used, you don't see much talk about chat rooms anymore. Chatzy, on the other hand, seems to want to keep the chat room legacy going. Chatzy aspires to be a counterpart to Facebook and Skype, and other social networking sites and messaging applications. Anyone can easily register for the service with a simple and short step. There is certainly no identifying information demanded. So, everything you need to do now has a valid email address, and you can enjoy interacting with people anonymously.
It has thousands of online chats to choose from and an overwhelming variety of topics. Most of them are the product of the members' efforts. You can also search for a discussion room with a particular topic you are interested in, and from there, you will discover new friends.
Members of Chatzy
There are people from several other countries such as the UK, India, Canada, France, Germany, Sweden, and the Netherlands, but most of them are American. I was not surprised that most people were on the younger side because it is a modern chat site. However, membership is available to people of all ages. There is also a massive difference between females and males, with the latter being mostly straight singles.
Chatzy.com's Design and Usability
Chatzy is designed for today's youth, but it doesn't ignore simplicity and aims to strike a mix of the two. Features may seem messy at first, but you'll begin to see how useful they are for many different conversations after a while. While the tools and features are intact, the system is perfectly secure, but no added extra features for security.
Sign Up and Become A Chatzy Member!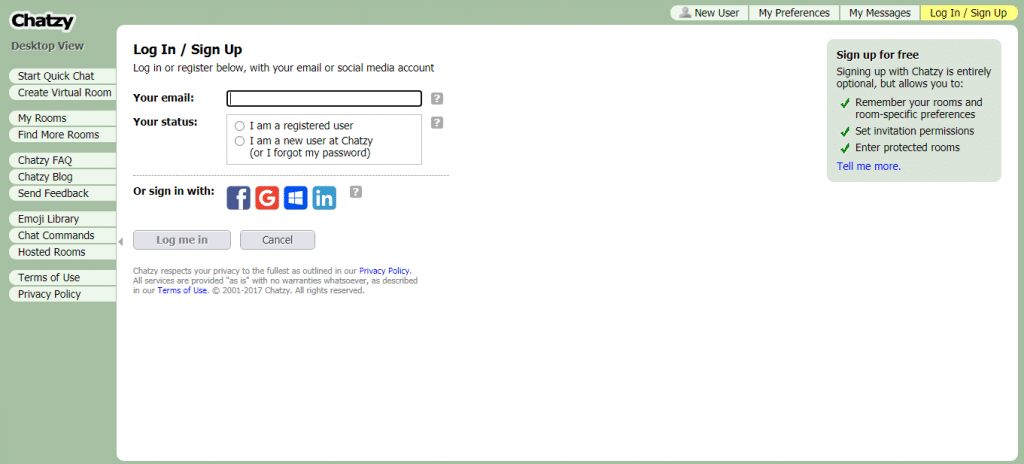 Signing up to Chatzy is a simple and hassle-free process. So, to use most of the website's features, an email address is mandatory. Alternatively, you can register using your Facebook, Google, Microsoft, or LinkedIn account. You don't even need to add any personal details or respond to questions about your interests that are often posed on dating websites.
It will only take a few minutes of your time to create an account. More importantly, one doesn't need to sign up to take advantage of the website's perks. Anyone who is not a member can still communicate privately in the chat rooms. They can also enter private chats if the room administrator has invited them through email.
Despite this, people are still urged to join the platform. When you register, you will have access to exclusive features. The enrollment process is simple and straightforward, allowing anyone of any age to create an account. Bear in mind that the process does not include any personal details or a personality test.
What Makes Chatzy Popular?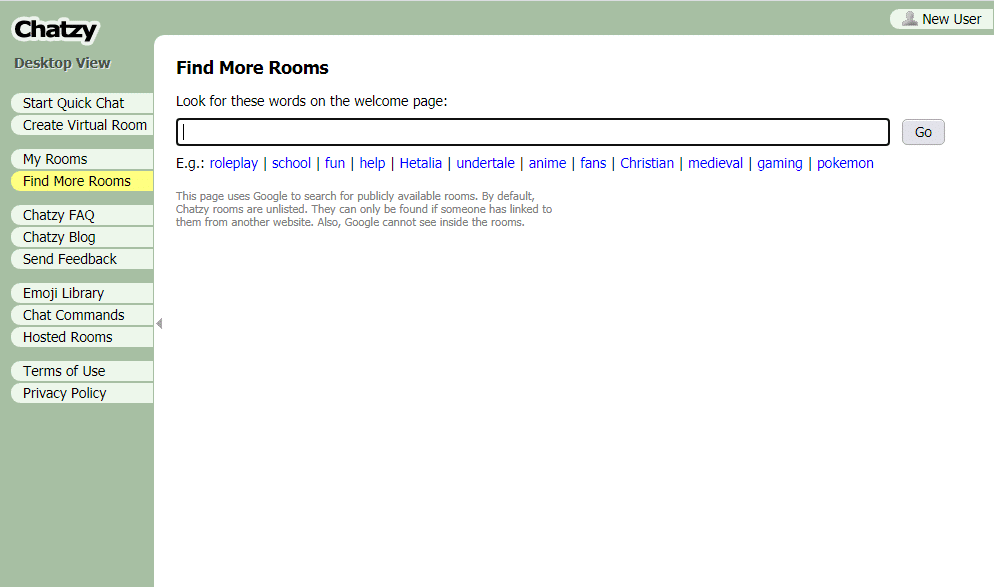 Many of these websites deliver the same services; however, the ease of use and concise layout are attributes of Chatzy. Also, you have the option to choose an image, color, and font for the chat room to improve the appearance and feel of the chat experience.
And most importantly, there are available saved chat activities to help moderators and users effortlessly recall previous chats if they need it. You can also invite as many people as you like without any restrictions, so forming a huge group isn't challenging.
Additionally, the website does not feature ads, making it ideal for users who wish to use Chatzy without interruptions. Typically, in many chat services, popup advertisements are an annoyance for both participants and chat moderators alike.
Get Nasty and Start Chatzy!
The chat conversations on Chatzy are open and unrestricted. Skiing and cooking are especially good topics for a chat room. You can also talk about HBO TV shows or personality tests in fashion magazines. You will discuss or discover your preferences in detail and then meet others with similar interests in BDSM or fetishes. Certainly, there are plenty of users who assert that in Chatzy, you will be able to find a date quicker than other mainstream sex apps.
In the Searching Tab, you can enter topics of interest, search for people, and browse for groups and subjects that match your interests and taste. Chatzy itself does not impose restrictions on conversations and does not even censor explicit topics. Certainly, they remain unbiased on their content.
Further, Chat Rooms have their own set of rules set by the room's creators and administrators. In certain rooms, for example, you can't immediately join a conversation after entering the room. First, you must receive approval from the moderator by writing a personal message. Otherwise, you won't be able to write anything and just rather read conversations of the chat. Meanwhile, if you haven't seen a perfect chatroom that suits your taste, you can create your own and make it personalized. It's free of charge and acessible to all users.
Chatzy Costs and Prices
Chatzy offers two separate premium plans: User Premium and Room Premium. The benefits you desire will determine which subscription you choose. If you want to focus more on the functionality, you want to enjoy it as a consumer. The User premium choice is the way to go. However, if you want additional features for a room you manage, you can choose the room premium option. If you want to, you can sign up for both plans.
The premium upgrade plans are not ridiculously expensive. Each premium subscription comes with a variety of subscription options to suit everyone's needs. Although upgrading to premium is not needed, it will provide your account access to better features.
Free Account
Free Registration
Create quick chat, and virtual rooms
Join chat rooms and send messages
Browse and search chat rooms
Manage and view chatrooms entered
Profile customization
Use emoji and special chat commands
Paid Account
Unrestricted accessibility in all rooms
Send unlimited private messages to all rooms
Unlimited lists
No advertisements
Experience faster chatting and zero timeouts
Uses HTTPS for security and privacy
Invite a limitless number of users into the room
Send private messages within the chat room
No advertisements
Zero timeouts and smooth chatting experience
Room URL customization
Prices
3 Months – $10.00 ($3.33 per month)
6 Months – $15.00 ($2.50 per month)
12 Months – $24.00 ($2.00 per month)
2 Weeks – $10.90 ($5.45 per month)
1 Month – $16.90 ($16.90 per month)
3 Months- $39.90 ($13.30 per month)
12 Months – $129.00 ($10.75 per month)
Chatzy's Special Features To Look For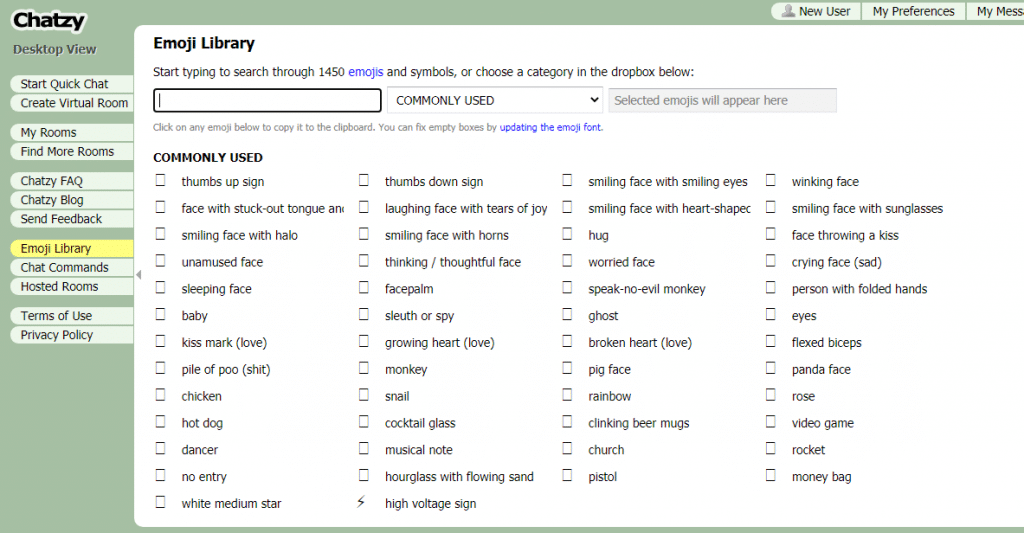 These online chat services all understand how to develop more interesting chat rooms. Most of its capabilities are concerned with providing an exciting and enjoyable chat experience. Besides, it offers helpful features that administrators and chat moderators can use efficiently. It offers the following exceptional features:
The Visitor Status is a personal message added to your visitor pane upon entering the Chatzy website.
The Locally Saved Messages is a section in your Chatzy profile that stores a list of your private messages from the chatrooms you've joined. You can access the Locally Saved Messages through "My Messages."
When they are away or offline, room managers and moderators have the authority to close a session. The intention of administrators in including this feature is for the sake of security.
Global messages work similarly to private messages. However, the only difference between private messages and Global Messages is that the latter is only available to all room managers and moderators of a chat room. But if you're the room administrator, you can easily adjust the Global Messages settings and permit chatroom members to send global messages.
Users can now send private messages to other members or users of the website. These messages are private, and even administrators cannot see them.
In the upper portion of the chat room, you can find the Room Board. This special feature highlights the room rules as a reminder to all members. As a premium room user, you can customize the Room Board anytime you want.
Ignore Visitors is a special feature that allows you to ignore a chat room member. Using this feature, you will not receive private messages or see new posts from this particular user.
Using the Preview Mode, you can silently follow conversations or create chatrooms without triggering system messages. However, this special feature is only available for administrators and moderators.
You have the option of muting a newcomer in your room using the Silence Newbies feature. We define "newbies" as those who arrived in the room without a formal invitation. Only premium rooms can automatically mute newcomers. It is also possible to selectively silence unregistered, inactive, or new users in general.
Pros & Cons of Chatzy.com
PROS:
Easy and simple chat functions
The Mobile version works smoothly as the desktop version
Users who don't follow the rules can effortlessly remove from the system
Free to join public chatrooms
The searching feature is available
Free sending of private messages
Sign up using Facebook, Google, Microsoft, or LinkedIn
It does not require any personal information
Free registration
Free chat room creation
Maintain anonymous user identity
CONS:
No mobile app version available
Uploading profile photos is not possible
Can fake identity easily
---
TOP 12 Private Adult Chat Rooms Similar to Chatzy.com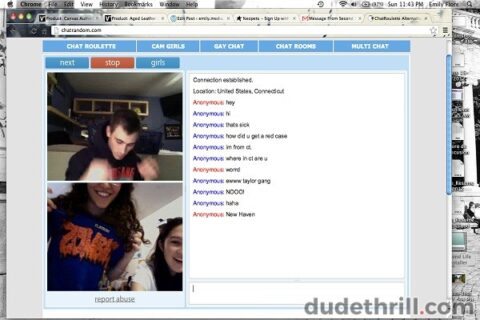 Chatrandom is a free live chat site that allows users to connect with people and strangers worldwide easily. The site started its outstanding service around the year 2011, and since then, it has become one of the most popular sites today. Indeed, this is the most exciting live chatting you can experience. Because the system uses a roulette-type matching and lets you chat with thousands of people every day.
Here's a full Chatrandom review.
PROS:
Registration is free
Users can chat with members from other parts of the world
People can join live chat without registration
There are thousands of active users every day
App version is available for download
Hiding identity is public through "mask."
Free sending messages
CONS:
No profile photo available
Only Android users can download it
More number males than females registered
---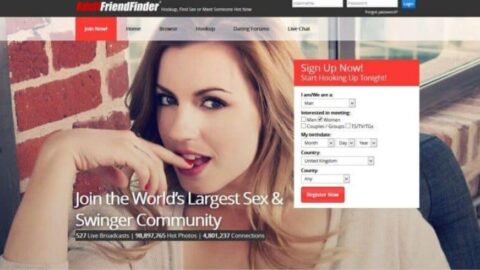 The website Adult Friend Finder is widely popular worldwide and has over eighty million members seeking casual and sexual encounters with different girls. Also, this website became popular in the United States and provided an excellent platform for users to seek a perfect sexual match using its communication features.
Further, it offers many casual arrangements, including polygamous relationships, monogamy, couple sharing, FuBu, and many others. Indeed, it is a great website to explore sexual preferences and spice things up in bed, especially among single people and couples willing to scrutinize their sexuality. With easy navigation and a fast way of the registration process, the users will finish within 5 minutes or below.
Click here for Adult Friend Finder full review
PROS:
Free registration
Members of the site are seeking casual relationships
Open for bisexuals and gay members
There are plenty of features for communicating with each other
Members are allowed to create blogs and groups for information exchange
Free feature in watching videos and viewing photos
Members are allowed and free to share any types of videos and photos
CONS:
There are more males than females
---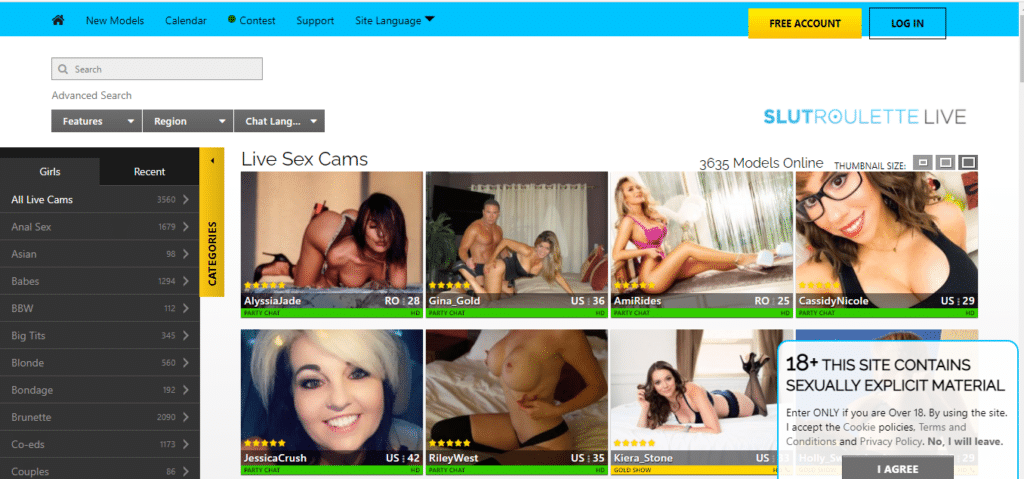 Are you sick and tired of the same old porn videos? Do you wish to spice things up a bit more and say goodbye to your dull, pathetic night? Say no more because the SlutRoulette website is here to answer your never-ending prayers.
SlutRoulette has been around for many years now. Indeed, it was able to gain the respect and admiration of many live sex cam fanatics. It became one of the most reliable and reputable live sex cam websites up to this day. Certainly, there are no traces of old-fashion elements, graphics, and layout you can see. It has pretty straightforward functionality that even newbies would easily understand how it works.
PROS:
Registration is free and easy
Various selection of Live categories is plenty
The mobile app is free to download
The mobile app available compatible with all devices and phones
Updates regularly
Chatting in chat rooms are free of charge
Free to switch from one person to another in a split second
Private and gold shows are available
Thousand of models to choose from
Community is diverse and shares different interests
Members are active daily
Scams and fraud have no place on this website
CONS:
No hookups available
There are some models with expensive rates
---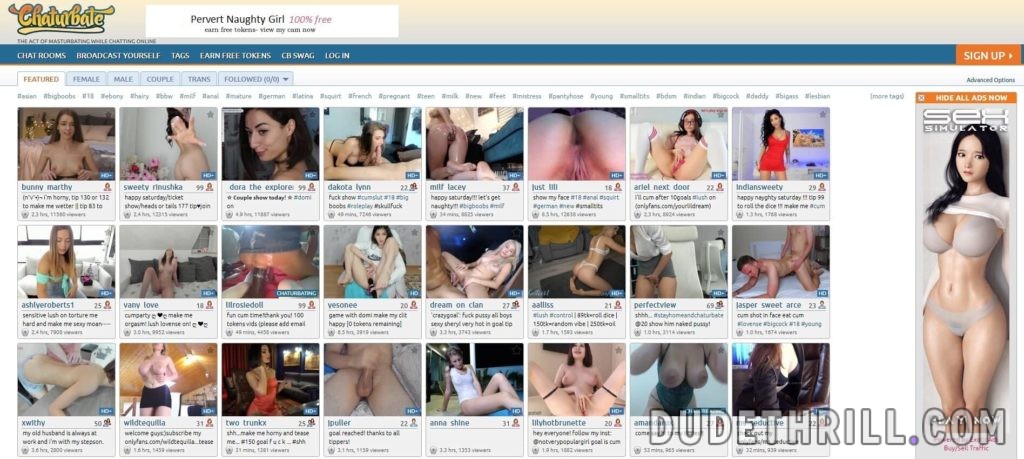 Connecting to people worldwide has never been so easy. Thanks to Chaturbate, unlimited talking is now possible. Plus, you will never spend a dime on it. There are a lot of sexy and beautiful women available for you, 24/7. As a matter of fact, women on this website love kinky stuff, which always worth your time and attention. Meanwhile, live shows are also available for viewing at a reasonable price.
Click for a full review of Chaturbate
PROS:
Many cam girls available 24/7 live
No additional fees to expect
Nudes and sex are always a guarantee
Smooth browsing on smartphones and other devices
CONS:
Few videos are in SD format
Expensive private shows
---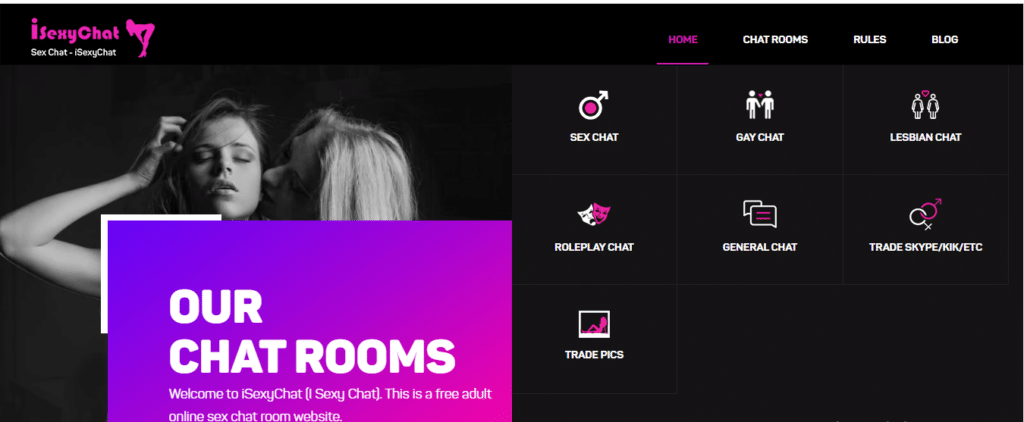 Enjoying sexy chats and connecting with people worldwide is an experience everyone hungry about. Provided that many websites today focus on dating and porn, only a few pages cater to erotic chats. Indeed, iSexychat is a few fantastic websites that offer people a venue to explore sexual and erotic discussions with diverse members worldwide.
Each chatroom has a thousand members who mingle various topics, keeping you glued on the screen. Certainly, iSexychat opens up an exciting opportunity to interact with like-minded individuals and share erotic memorable experiences.
Here's a full review of iSexyChat.
PROS:
Plenty of users active every day
Chatrooms services are free to use
There are a lot of chatrooms to join in
It covers a lot of categories and topics
The website and all its features are free
Offers live sex cam feature
Registration is not a requirement
CONS:
Plenty of annoying advertisements
No advanced search feature available
More male users than females
---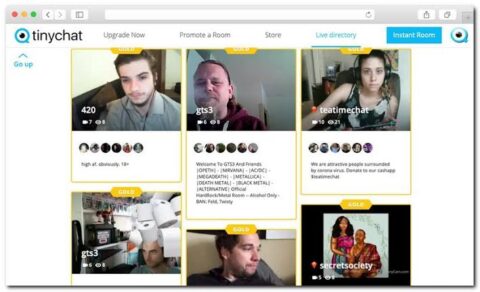 TinyChat effortlessly connects people worldwide in a traditional yet refreshing way of communicating. Certainly, this website has its take in reviving the 90s trend in interaction and incorporate it in modern ways through video and chat rooms.
Indeed, they brought the old chat rooms and made a modern take on them. Surely, what goes around, comes back around. Coupled with amazing features, fresh cool designs, and an amazing user-friendly interface makes the whole TinyChat experience more fun.
PROS:
You can send messages for free
You can add as many as 12 users in a conversation while controlling the number of people coming in
Free use of some of its features
Do not allow showing of explicit contents
An equal quantity of male and female members
All types of sexual orientation are welcome to join
The majority of the members are young
Design is amazing and simple to use
Plenty of features to enjoy and use in communication
There are moderators that review chat rooms
CONS:
The app may take a lot of space
Bugging notifications are available while using
---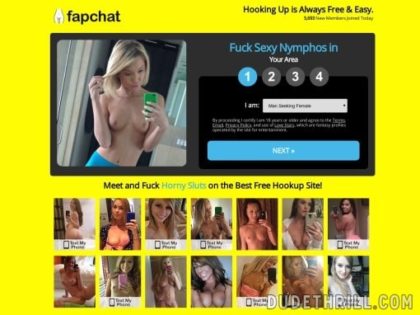 Fap Chat is a platform that helps men like you find attractive single women to take nude selfie photos with and strike up a conversation with. There are thousands of stunning young ladies to choose from, so you're likely to find at least a few that you want.
Take a look at Fapchat review.
PROS:
The website has a simple design and very easy to use
You can watch real live women performing on cam
Maintains anonymous identity
No bots and fake profiles
CONS:
It has no live chat support service or phone service
You cannot record cam shows
---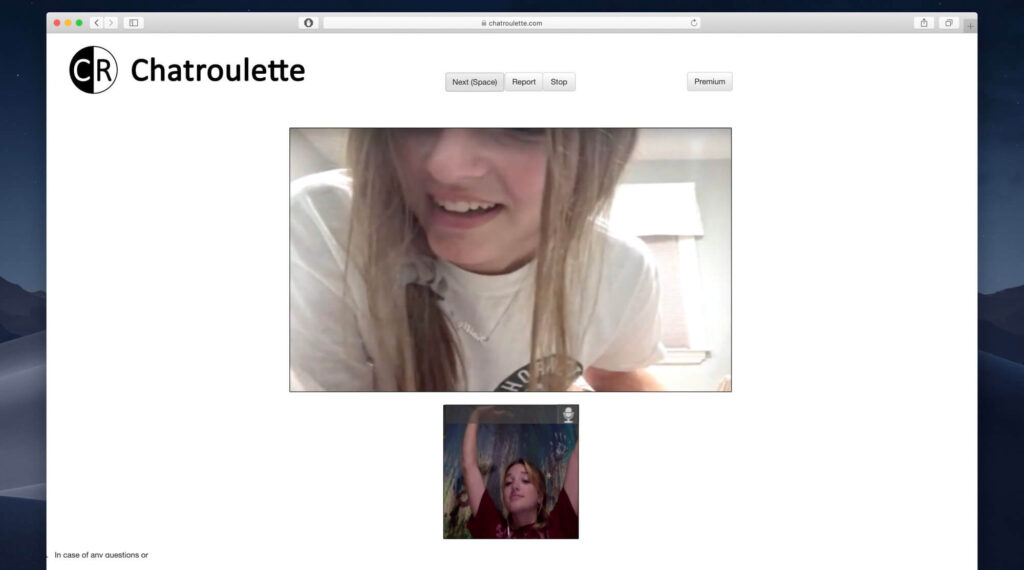 Chatroulette is among the most trendy adult random video chat websites that connect people from different parts of the world together. By the name itself, the website already suggests how it uses a roulette-type matching system — adding fuel and heat to the exciting user chatting experience.
So, if you feel lonely and need some heat through the night, why not find a sexy friend online and indulge in a never-ending erotic moment? Join thousands of people randomly hooking up online, and witness how erotic magic illuminates your life.
PROS:
The website allows anonymous chatting and secures user's identity
Open to all types of sexuality like bisexuals, transgender, male, female, gays
The website is all-inclusive, opening itself to the LGBTQ community
It prevents users from showing inappropriate activities, actions, or exploitation of children
Easy process of reporting abuse, violation, or any wrong actions that occur during chatting
Free use of all the website's features, services, and anything you can find on the page
Requires facial recognition to enter chat
You can effortlessly disconnect from an annoying, unwanted, or uncomfortable match
Registration is not a requirement
Has more than three million unique visitors every month
CONS:
Does not support iOS system
No longer offers text chatting, only video chats
Nudes and sex is rampant
---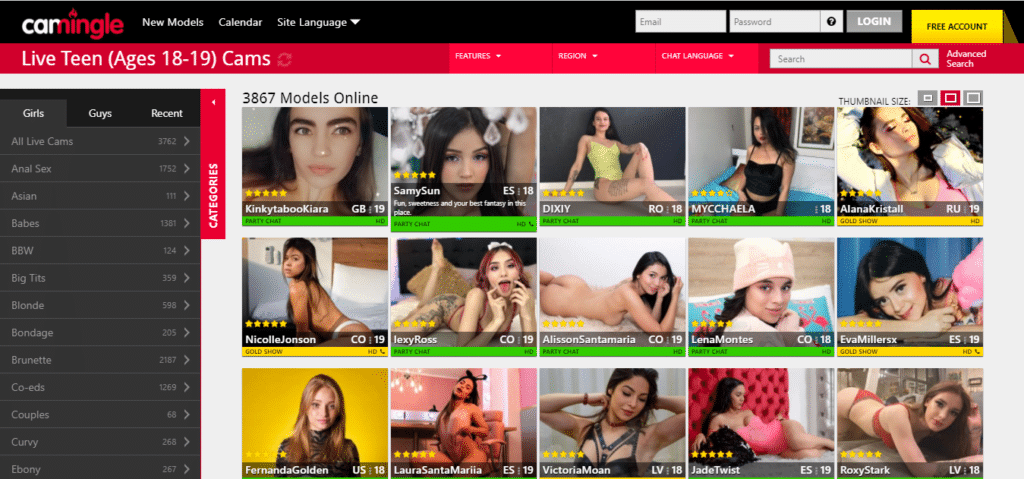 In modern times, dating, hooking up, flirting, sexting, and cam-to-cam sex are opportunities you can explore through dating and live cam websites. With multiple platforms offering these services, Camingle.com is a one-of-a-kind page that offers the naughtiest experience ever in the history of live cam sites. Meeting strangers, cam-to-cam sessions, and cybersex chatting are just a few of the exciting activities to enjoy here.
Coupled with amazing features and a great community, Camingle delivers its services free of charge. Although there are several benefits for premium members, the website still provides its members an equal chance to enjoy, flirt, and experience once-in-a-lifetime fun.
PROS:
Plenty of active members available every day
It uses high-quality cams for a better viewing experience
Free browsing of public chat rooms
Loaded with beautiful cam girls on live shows
Uses roulette-type chatting
Diverse-looking women on random chat
No registration required
Website design is modest and easy to use
CONS:
There are several performers with expensive rates
Some features are available for members only
---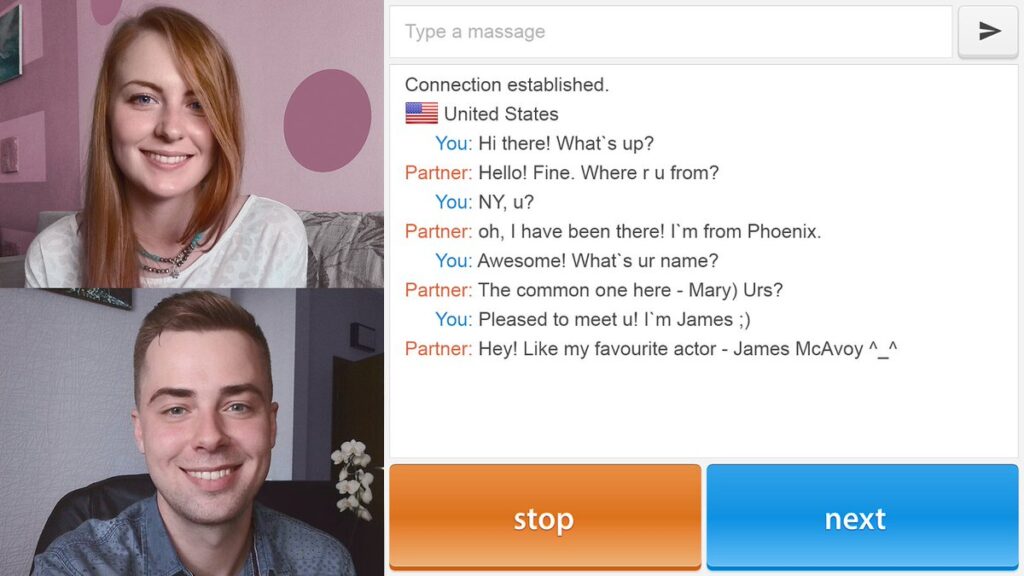 Do you love connecting to different people from across the world? If yes, certainly you will love the CamSurf website. This is where you can find random chat mates and help you find connections worldwide. Coupled with amazing features, CamSurf is the best adult cam and video chat website.
Also, the team behind this website designed it to help people find and meet individuals, romantic interests, or simply random users. Not to mention, it is available across 200 countries from different parts of the world. Also, everyone can use it regardless of what area they are in.
Click for a CamSurf full review.
PROS:
Wonderful adult cam and video chat website
Free to use
It does not require any registration
User-friendly design and simple to browse
Maintenance of Users' privacy
Implements regulations to maintain positive experiences
Available in 200 countries worldwide
Uses SSL encryption for security and protection
CONS:
No filter option for sex chat only
Requires the people to be at least 18 years old to use the website
---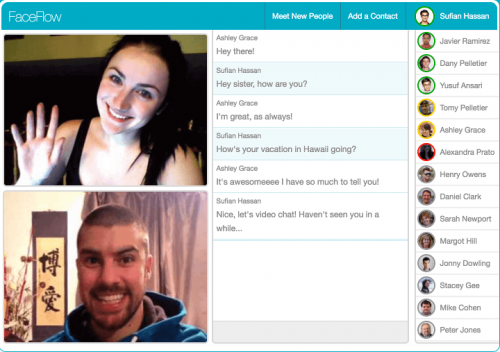 Are you interested in meeting new friends or connecting with someone in person? Do you want to maintain your friendships or keep in contact with friends? Then you must see FaceFlow and take a better feel for how FaceFlow can improve your communications.
This website was created for distant communication with your relatives and friends who may be living thousands of miles away. Later on, FaceFlow became a mix of a dating site and a service that helps you make new friends. Indeed, you can count on it to connect and laugh with your friends. Faceflow is a fantastic option for common messenger apps that demand subscription fees because it is free to use.
PROS:
The 'Find Random Partner' function helps to meet exciting friendships.
For searching users, basic search filters are available.
Add members to your Friends list.
If you are a registered member, your can save conversations
Without setting up an account, users can connect as guests.
Verification of email is optional
It is not a requirement to upload a profile photo
It requires 1 to 3 minutes only to complete a registration process
You can use your Facebook account to log in
The majority of the users are in their early twenties
FaceFlow moderators manage the public chatrooms
Free video conference communication is available without restrictions
There are four different languages available on the website
The website is available on multiple devices
Uses WebRTC to ensure high-quality live video chats worldwide
FaceFlow supports Opera, Chrome, and Firefox browsers for chat and video calls
CONS:
Users are using fake profile images
Males outnumber females
Display advertisements appear on the website since they are the website's primary source of revenue
---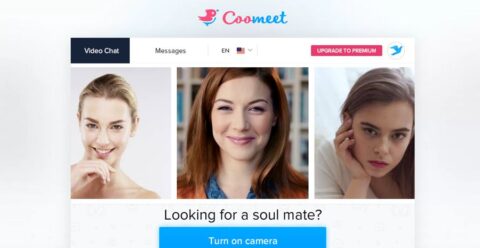 Coomeet is a live cam and chat website that made the life of many people easy and refreshing. There are numerous websites on the internet now that give unbelievable features, and clearly, the Coomeet website is among them. Despite being a new website, it did not prevent it from standing out and deliver users the best chatting performance. Because of its constant striving, it became what it is today.
Most of all, the unique features of the website helped people find their luck in dating and hookups compared to other websites. Thus, if you have not experienced live sex chats before and feeling bored with your life, then head over to Coomeet. Truly, you will experience the perfect live chatting ever, with a bonus of real sex and kinky stuff.
PROS:
Thousands of women active online every day
There are available girls within the 18 to 40 age bracket available so that everyone can find suitable matches
High-quality webcams
Stable video streaming
Free accounts can access all the website's features
An easy and smooth mobile browsing experience
Emojis are available
Private chats and video calls are available
No advertisements
Facebook and Gmail log in are available
CONS:
When doing things out of the guidelines, the website will deduct minutes from the video plan
Choosing the gender of the person you want to talk to is not possible
---
Takeaway & Last Word on Chatzy
If you want to open a conversation about almost anything and everything, Chatzy is a great website to join. Sure, the website has flaws, just like any other site, but it offers its users many benefits. Overall, Chatzy does what it's meant to do and has not strayed from its expected goals. While it's not a suitable place to find love and serious romance, it's a great place to talk to those you may find appealing. In other words, if you're lighthearted and don't like anything serious, this is the platform for you. Make sure to check out Chatzy today and register to some of our featured Private Adult Chat sites.
To give you a swift peek of my top picks websites from those mentioned above, here are my top 4 personal favorites besides Chatzy.com:
Try them — you won't regret it for sure!
All 43 Other Sites in This Category Worth Checking Out:
Talk To Me & 12 Must Visit Sex Chat Sites Like TalkToMe.com Show Me 12 Alternatives for TalkToMe.com Talk To Me! Yes! Are you bored or wishing to get some friends or strangers for a quality conversation? Sounds fun, isn't it? I am extra naughty today, so I swam across my compilation of sex chat sites […]