Updated on: December 8th, 2023
Chat-Avenue Review & 12 TOP Adult and Casual Chat Sites Like Chat-avenue.com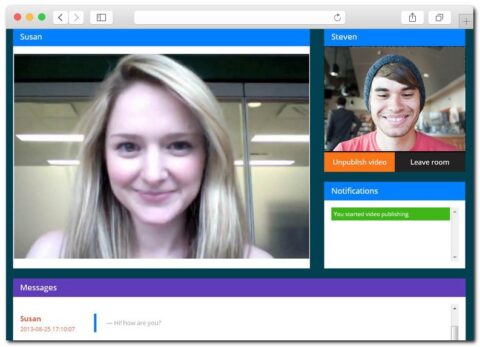 People want connections, and we all want to share our opinions, feelings, and updates with others. Now, this has become much simpler thanks to the internet.
Chat Avenue is a platform where you can talk about a wide range of topics in various chatrooms. Although it's an all-purpose chat website, it also showcases dating chat rooms, sex rooms, and other adult-oriented content.
Official URL: https://www.chat-avenue.com
It's been in existence since 2000, so this is one of the oldest of its kind. The Chat Avenue experience provides a reliable and easy way for people to make new friends in their dating chatrooms worldwide. To learn more about this promising website, let's take a closer look at its features, interface, and other specifics in communication.
Chat Avenue — More Than Just a Chat Site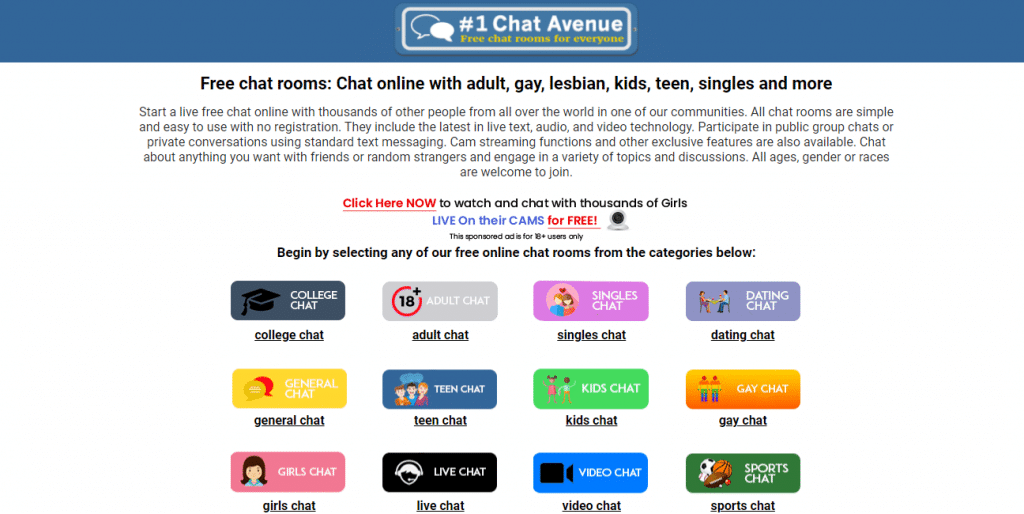 Probably one of the best and trustworthy chat websites is Chat Avenue. It has several chat categories where people can talk about anyone they want. Since its launch, the range of categories for you to select from has not changed. This is a fantastic resource because you can tailor a chat room to a specific subject and don't have to search through thousands of other forums for users who share your interests.
The website's legacy starts in late 1999, specifically in the fall. It was nothing more than a primary chat site for anyone interested in chatting for free. Later, the company registered the website's web address in 2000 after putting a few finishing touches.
Certainly, that led to the growth of the biggest internet community on the entire Earth, called Chat Avenue. It has gained about 4 million users and 90,000+ unique logins per day. Undoubtedly, this chat service is highly effective due to high user activity. Everyone from the United States, Australia, United Kingdom, and Canada is looking for a new partner.
Is Chat Avenue Legit?
Chat Avenue is a free service you can use even if you have not signed up. Connecting through the various chat rooms is the main reason why the service exists. Also, administrators and live chat moderators are present to supervise and control the discussion areas of every chat room. Certainly, many of these accounts are simply interested in getting in chat because they want quick, cheap access to actual people without purchasing it. However, people go into chat rooms to try to annoy or offend other people.
The vast majority of Chat Avenue reviews suggest that the website serves as a legitimate chat room. The website chat rooms' use strongly emphasized on the management representatives, especially regarding age restrictions. A strict moderating of the chat ensures the users adhere to these guidelines. So long as you maintain your security standards, you will still encounter questionable and offensive material from other users. But you reduce the possibility of meeting malicious transactions. Make sure you're aware and on guard.
More Chat Rooms, More Fun!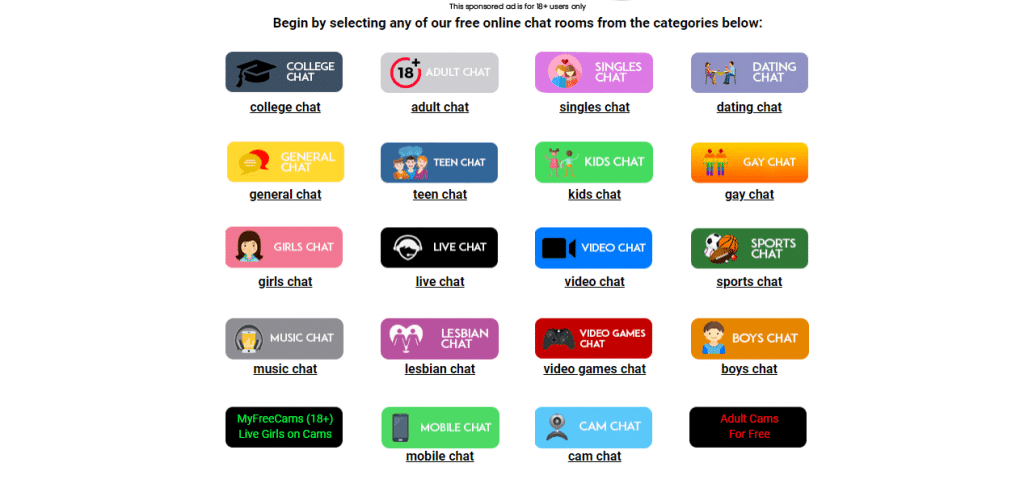 There are 19 different chat rooms available on the website by general statistics, each targeting a specific audience. As previously stated, it has a few areas for users of all ages, sexualities, and interests to meet —where they can have chitchats on a broad range of topics like sports meetings, music, sex, fetish, and computer games chat.
Also, Chat rooms are regularly visited mainly by heterosexual men and women, but male users are much higher. Americans and Europe make up most users, while there are also plenty of users located in Canada. Most people seek an opportunity to connect with others to chat, while others desire a love interest.
There are 19 chat rooms in total:
Adult chat
Boys chat
Cam chat
College chat
Dating chat
Gay chat
General chat
Girls chat
Kids chat
Lesbian chat
Live chat
Mobile chat
Music chat
Sex chat
Singles chat
Sports chat
Teen chat
Video chat
Video games chat
ChatAvenue Design and Efficient Usability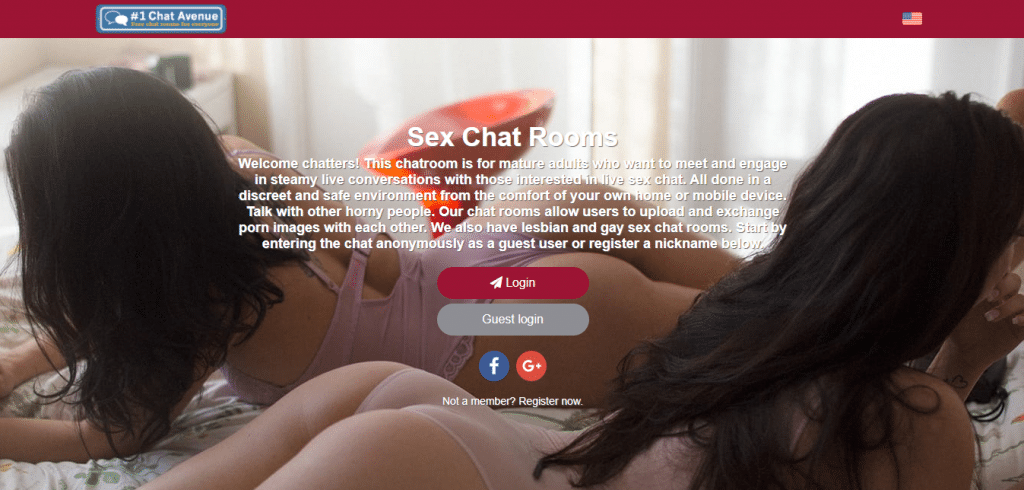 The biggest strength of their success is creativity. Indeed, they have paid attention to the fine details of their interface designs. The website is straightforward, with a style that takes us back to famous websites from the early 2000s. The main item you see when you log in is a variety of chats. In fact, the website is simple to grasp and comprehend.
You'll get a quick overview of the website's intent, background, and benefits. Certainly, this allows you to see how things are connected and directs you to where you need to go. Of course, the magic happens once you have entered any of the chat rooms.
Meanwhile, for every room, the theme is different and is predicated on the subject matter you want to talk about. This engages people more, and you can see the focus of the discussion. Additionally, emojis and customized avatars are features found only in chat rooms. For those who like their eyes to be challenged, this degree of care and attention should be applauded, and others should take note.
Overall, it's generally an easy-to-understand design. All is glaringly obvious at a glance, so you can leap right in and start making stuff without digging. It has unique selling points such as pop-ups that are helpful. Certainly, they are essential in terms of style and security as well. Whenever you join a chat channel, a little pop-up window will appear informing you of the website's guidelines. No doubt, instant familiarity with the first time you use it is essential to minimize improper use of chat. Knowing how to use the service makes the experience better for everyone.
Chat-Avenue.com Registration Process and Profile Creation
The registration process on Chat Avenue isn't overly lengthy. In fact, it's actually effortless, allowing you to begin chatting right away. You don't have to sign up if you want to talk as a guest, but doing so will encourage you to better describe more about yourself.
It would be best to have a unique username, password, and valid email address for the verification process later. After this, you can set up your account by filling out helpful information about yourself. These include gender, age, location, and other specifics you want to share.
Meanwhile, in the "About Me" section, you can write your personal words about yourself in at least one or two paragraphs. If you are eager to meet plenty of people quickly, I will recommend filling out this part in as many details as possible. Next, you can start building your profile by uploading a photo. This will serve as your avatar during chats. Once you have accomplished all these steps, then you are ready to mingle and flirt.
How Does Chat Avenue Work?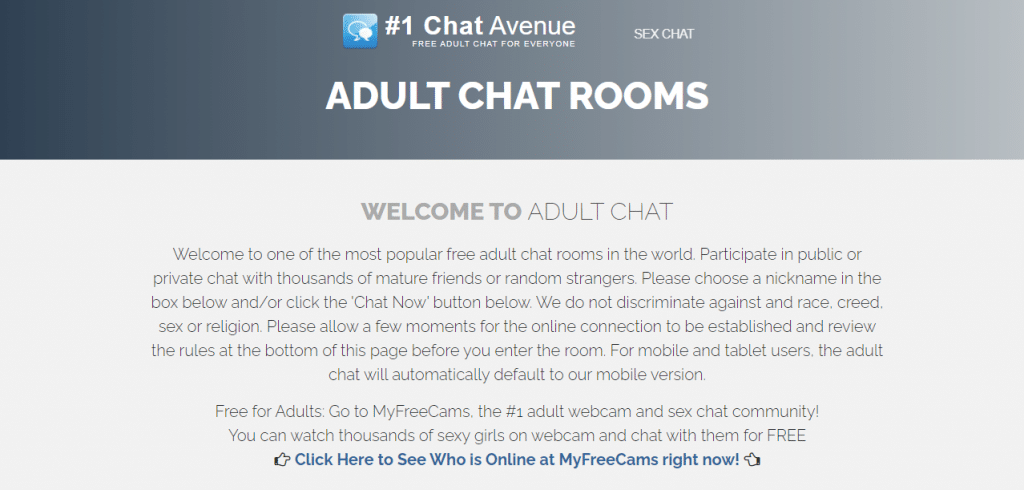 There are 19 different chat rooms to choose from, as stated earlier. They are divided into different categories depending on the subject or target audience. For example, there are chat rooms for College, Gay, Adult chat, Video games, Teens, or Dating. Which category is suitable for you depends on what you're hoping to achieve.
Moreover, it's especially important to highlight the usefulness and importance of casual chat —which is a chance to discover hundreds of people to connect with. If you're hunting for a date with a specific sexual orientation, you can search for one in the Dating, Gay, or Lesbian chat rooms.
The fact that Chat Avenue's group is highly active is one of the advantages of using it. And with each minute, you can see several new users in the chat room. Also, it's important to note that just because some chat rooms are less crowded, you may still find several people interested in talking to you. There will be something on Chat Avenue where you can meet adventurous people to date for any hour of the day.
Users Profile Quality on Chat Avenue
The profiles are basic and contain very few details about the person. Only a username, age, and gender are visible in the profile. You might also see an "About Me" section and an image only if the user decided to write a little more.
For certain people, having very little private information in their profile can be a huge benefit. Certainly, for some users who prefer their privacy, this place is designed for them. They do not have to sign up or include any personal details to use the chat rooms, such as subjects, email addresses, phone numbers, or nicknames. It is excellent for those who want to keep their activities private.
Nonetheless, in some cases, that can turn out to be a problem. If the site lacks an authentication process, anyone can access chats here. So, people who want to annoy others or scam sites could take full advantage of that. As a result, we recommend that users exercise caution while using it. Never divulge any critical information to someone you've only just met.
Types of Membership To Enjoy
There are only two types of membership available on Chat Avenue: Free Membership and VIP Membership. While some of the chat rooms don't offer VIP memberships, the prices in becoming a certified VIP member vary significantly on the chat rooms you joined.
Free Membership
As mentioned earlier, the Chat Avenue website is a free chat service to all its members. Once you join the website, you will have access to the following services and features:
You can sign in using a personal account
Use the website as a guest and maintain anonymity
Chat unlimited
You can change the avatar
Access to private messages
Add members to your Friends List
Join chatrooms
Send "whisper"
VIP Membership
Becoming a VIP member in Chat Avenue is entirely optional, provided that the website is free to use. However, if you want to experience more "involved" chats. For some, VIP membership does not hinder them from enjoying the website, but it offers a fair amount of advantages that will interest you:
You can have a VIP badge beside your username
Send Youtube videos to the chat
You can upload images to the chat
Changer your username as desired
You can view chat history
Change gradient color of username and text
Your profile will appear on the top of the user list
Create your own chat room
Chat Avenue's Advantages and Disadvantages
PROS:
You can join chatrooms as guest, so setting up a profile may not always be necessary
They have a lot of rooms for a wide range of subjects.
The channels are well-suited to the specific discussion at hand
The profile status bar is always running, telling you exactly who is active and who isn't
All the rooms here are very actively involved, and the participants are often interactive
They have quite a years of experience and understanding as one of the industry's best oldest sites
You may message other users in private
Each room has a public chat where everybody can participate.
There are no fees, and each room has emojis and icons depending on the page's theme
Everyone is welcome to use the platform at no cost
The distinction between chat rooms to keep each special and oriented on a particular theme
CONS:
There are a lot of false accounts since the screening process is basically non-existent
There are almost no details about the users on their profile
The interface cannot search for a specific person in chats
You must be extra cautious as there are malicious profiles in the system
---
12 Other Adult and Casual Chat Sites Similar to Chat-avenue.com: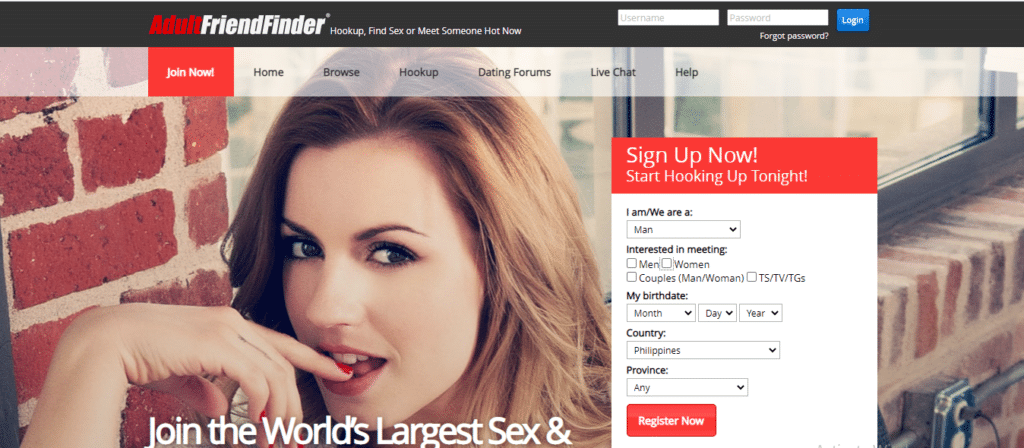 A trendy dating site for those seeking sexual and casual relationships, the Adult Friend Finder is the best venue for these. More than 80 million members are actively pursuing exciting affairs and sexual matches through the site's unique communication features. You can explore your preferences through monogamous or polygamous connections and even fuck buddies and sharing couples.
There are tremendous things you can enjoy on this site and challenges your sexual desires. The Adult Friend Finder website is straightforward to navigate, and the interface is simple to understand. Sign up now and become a member; it will only take less than 5 minutes to do so.
Here's a full review of AdultFriendFinder.com
PROS:
Registration is completely free
Gays and bisexuals are open and accepted
Members have the freedom to create groups and blogs for information about purposes
Number of members actively seeking no-strings-attached hookups
View pictures and watch videos for free
Sharing of pictures and photos is allowed and encouraged
CONS:
Number of male members are present than females
---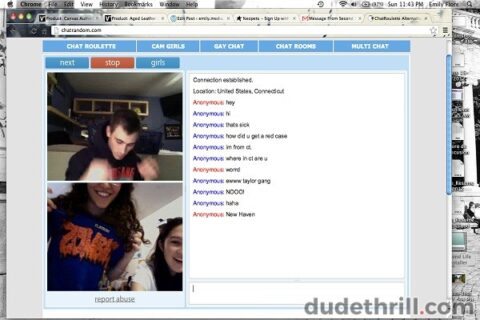 Chatrandom is a free live chat site that allows users to connect with people and strangers worldwide easily. The site started its outstanding service around the year 2011, and since then, it has become one of the most popular sites today. Indeed, this is the most exciting live chatting you can experience. Because the system uses a roulette-type matching and lets you chat with thousands of people every day
Click here for full review Chatrandom
PROS:
Registration is free
Users can chat with members from other parts of the world
People can join live chat without registration
There are thousands of active users every day
App version is available for download
Hiding identity is public through "mask."
Free sending messages
CONS:
No profile photo available
Only Android users can download it
More number males than females registered
---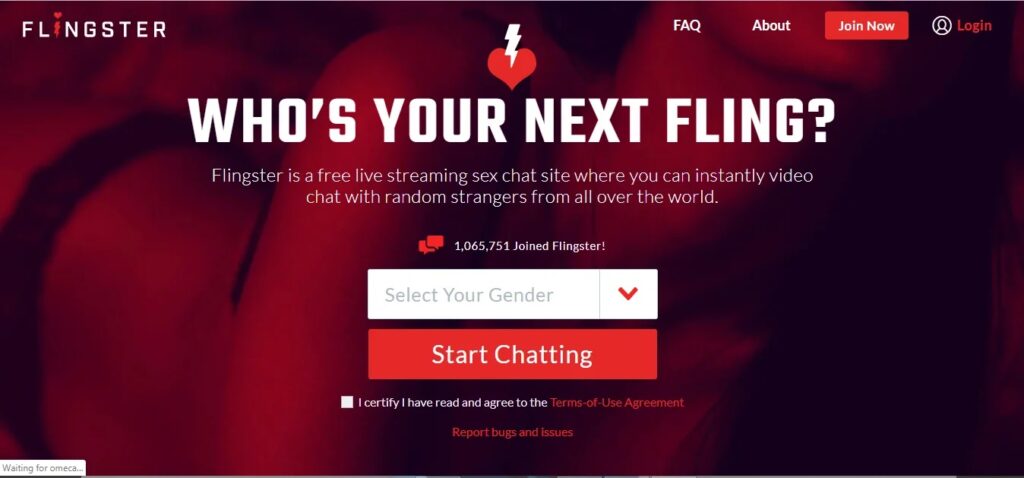 Flingster is a must-visit random video chat for a meeting, hanging, and making out with singles. On this website, the application process is indeed speedy and convenient. So, it won't be wasting much of your energy at all. Compared to several other dating websites, even free accounts can use message and video chats without paying.
On the other hand, paid subscribers have additional features that are indeed unique. Meanwhile, Flingster similarly provides discreet identification while chatting before you consent to a spontaneous, quick fling.
PROS:
Unspecified character is a choice
Everybody is excellent regardless of sexual orientation or gender
The signup procedure is available and relatively simple
The site's design is simple and understandable to navigate
CONS:
There are occasional phony profiles reported
---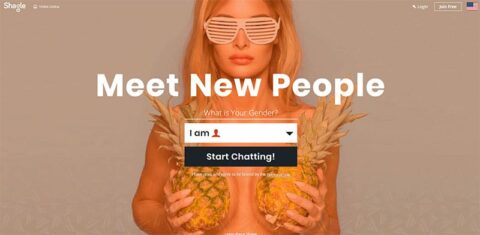 If you are considering for a wonderful venue to video chat with strangers and gorgeous hotties, then certainly the community of Shagle would be an excellent option for you. On this website, you can discover lots of different people with various interests.
Hence, creating a connection and understanding are the main focus. Also, it has an outstanding balance of people age 25 to 55 years old, suggesting that you can always find the right match on this platform no matter how young or old you are.
Click for a full review of Shagle
PROS:
The intelligent algorithm ensures you will not talk to the same person two times
It has millions of members around the world
A maximum of 5 minutes will require to register
Free members have plenty of benefits and feature to enjoy
Available in 70 different countries
Rule s and regulations are available and required to follow to maintain the user-friendly experience
Features and communication tools are plenty
It does not require the personal information to register
Free sending of text messages
Free use of live video chat
No language barriers because of Translation Tool
CONS:
Not available in-app version
You cannot access additional features using a free account
Video quality is average
---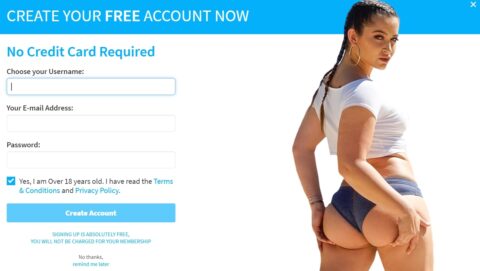 For people addicted to live-cam chat and sex chat websites, Camsoda has got it all for you. The site is undoubtedly one of the most popular websites in the field of adult business. So, if you are getting a hard time at work, or simply wanting to experience the pleasure of chilling with girls, then this is truly perfect for you. Above all, it has unique functions that help people communicate and talk easily.
PROS:
Excellent design and simple to use
High-quality streaming videos
Lots of cam girls available
Free accounts can still use all the features
Active members are using every day
CONS:
Advertisements are available and annoying
---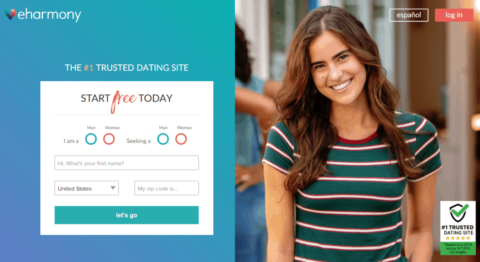 eHarmony is not like your typical dating site as it promotes members to find serious matches that can make them capable of long-term relationships. The dating site utilizes a unique compatibility system for matching and narrows down to your considerably possible match. Intending to help its members land on genuine love globally, the eHarmony has prevailed to persist meaningful relationships since the year 2000.
According to reports, the site creates over fifteen million matches every day, and there are over 600,000 pairs matched here that got wedded. With this, eHarmony has established an excellent reputation through its compelling communication features and deep knowledge of its background. If you are specifically looking for a dating site with the potential of meeting long-term relationships and profound connections, this is worth a try.
PROS:
A precise and accurate method of matching
Millions of members across the world
Numerous privileges offer for premium members
Website design is simple and easy to understand
Free sending of winks
App version is available for download both for iOS and Android devices
Minimal number of advertisements
CONS:
No communication medium variety
Viewing of profile pictures is exclusive for premium members only
---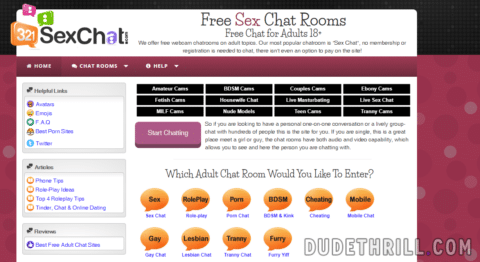 321SexChat is among the must-visit adult sex chat websites on the internet today. Certainly, the horny online community loves the wide-range user base of the website. Coupled with the fantastic variety of fetish chats and categories, 321SexChat gained relatively high visits and registration daily. Since 2002, the year of its launching, the website's undying goal to improve its services and features made an excellent reputation worldwide.
Indeed, it has all the benefits an adult sex website could have. Not to mention, it is safe, smooth to browse, and fun to use. Certainly, there are plenty of sex chats out there that promises you excellent features and easy hookups. However, only 321SexChat can guarantee you a satisfying result.
Take a look at 321SexChat review.
PROS:
Essential features and functions are available for free
The Mobile version of the website is smooth and user-friendly both on iOS and Android devices
Can customize profile accounts
Maintains anonymous identity of the users
Free use of video chat
You have the option to use the free version
Design is simple yet very easy to use
The browsing experience is smooth, and no lags
Plenty of categories and chat rooms you can enjoy
Compatible with all smartphone devices
CONS:
Contains advertisements
Using Private Rooms is not for free
---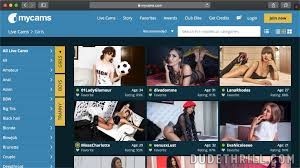 From the famous brands called LivePrivates and LiveJasmin comes an excellent live cam site known as MyCams. So, if you knew the brands mentioned, then all the best features offered by them are all on this site. Besides, there is a massive collection of models available. For instance, shemales, males, females, couples, and lesbians. Cam2cam feature is also available where you can tip models for a fantastic show.
Here's a full review of MyCams.
PROS:
The browsing experience is simple and amazing
Searching filters are available
Live videos and audio are in high quality
It has the most extensive collection of models from around the world
CONS:
No recorded videos available
It will cost extra credit when using the cam2cam feature
---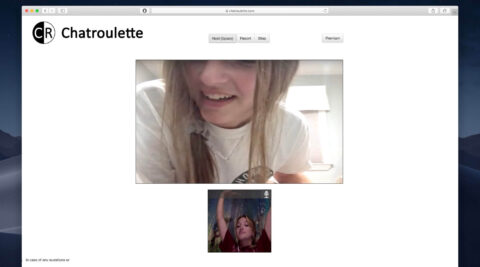 Chatroulette is among the most trendy adult random video chat websites that connect people from different parts of the world together. By the name itself, the website already suggests how it uses a roulette-type matching system — adding fuel and heat to the exciting user chatting experience.
So, if you feel lonely and need some heat through the night, why not find a sexy friend online and indulge in a never-ending erotic moment? Join thousands of people randomly hooking up online, and witness how erotic magic illuminates your life.
A full review of Chatroulette here.
PROS:
The website allows anonymous chatting and secures user's identity
Open to all types of sexuality like bisexuals, transgender, male, female, gays
The website is all-inclusive, opening itself to the LGBTQ community
It prevents users from showing inappropriate activities, actions, or exploitation of children
Easy process of reporting abuse, violation, or any wrong actions that occur during chatting
Free use of all the website's features, services, and anything you can find on the page
Requires facial recognition to enter chat
You can effortlessly disconnect from an annoying, unwanted, or uncomfortable match
Registration is not a requirement
Has more than three million unique visitors every month
CONS:
Does not support iOS system
No longer offers text chatting, only video chats
Nudes and sex is rampant
---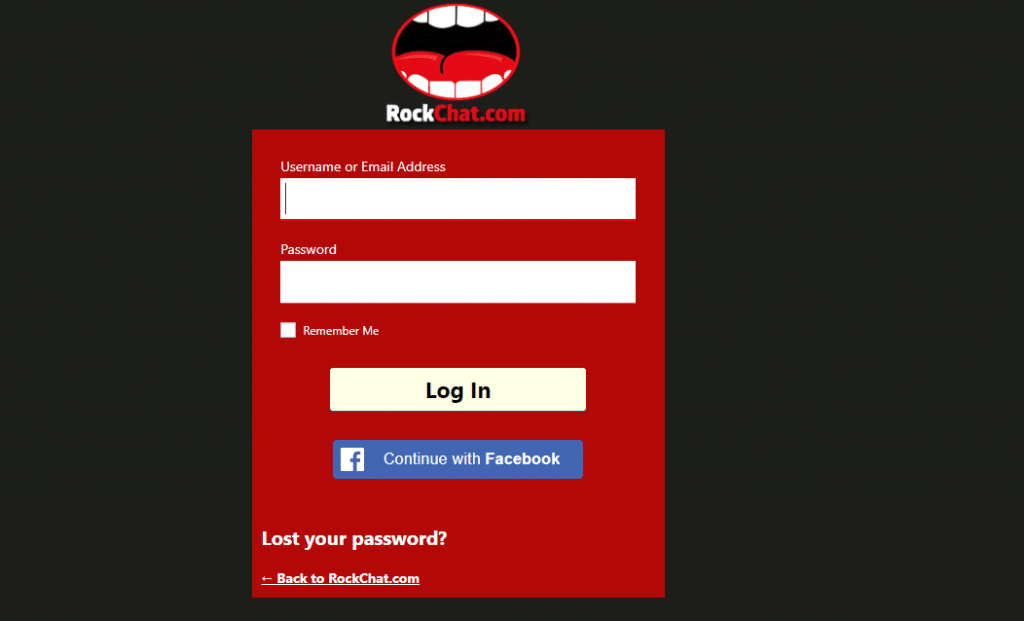 RockChat is a well-known mobile chat platform with enticing features for its friendly members. The website has a simple chatting interface that allows users worldwide to communicate with their potential matches.
To discourage improper accounts from violating security standards, the website is rigorously moderated. After registering on RockChat, a user can easily log in using a username and password. Furthermore, the innovative inbox feature enables to have personal discussions with people worldwide.
PROS:
Free and best chat rooms for mobile phones
Works smoothly and provide users with a wide range of chatting options
The best private chat rooms and mobile chats are readily available to users
CONS:
---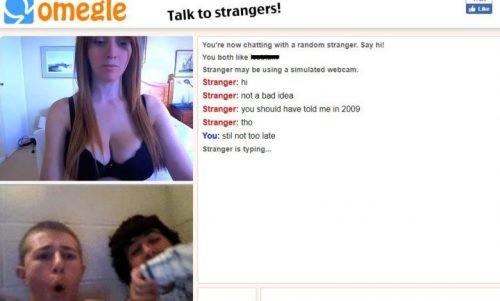 Omegle is a widely known random live cam and sex chat website. Initially, this suet advocate creating and building connections, meaningful relationships, and friendship with random strangers. Something that conquers prejudice in personality, ethnicity, and culture. Indeed, the people behind Omegle aim to provide an excellent platform for everyone that allows them to connect and interact with other people worldwide.
So, if you enjoy chatting, talking, and just having fun, you will undoubtedly enjoy Omegle. With its unique features and design, talking through text or video is easy-peasy! Swift off that loneliness and boredom, and indulge yourself with the pleasure of chilling with random strangers.
Read our full review of Omegle
PROS:
Topics and discussions are limitless
You can personalize your experience by adding interest to make matching more precise
You can use live video for convenient video chatting
Maintains anonymous identity of members
People or users actively replies to messages
There are around 30,000 users you can talk to daily
Best venue to find strangers randomly
No registration required
You may use university-based emails to get matching with fellow university students
You can effortlessly disconnect from boring undesirable chat mates
CONS:
You may encounter perverts
Many users are into dirty and naughty chats
There were some reported bots within the website
---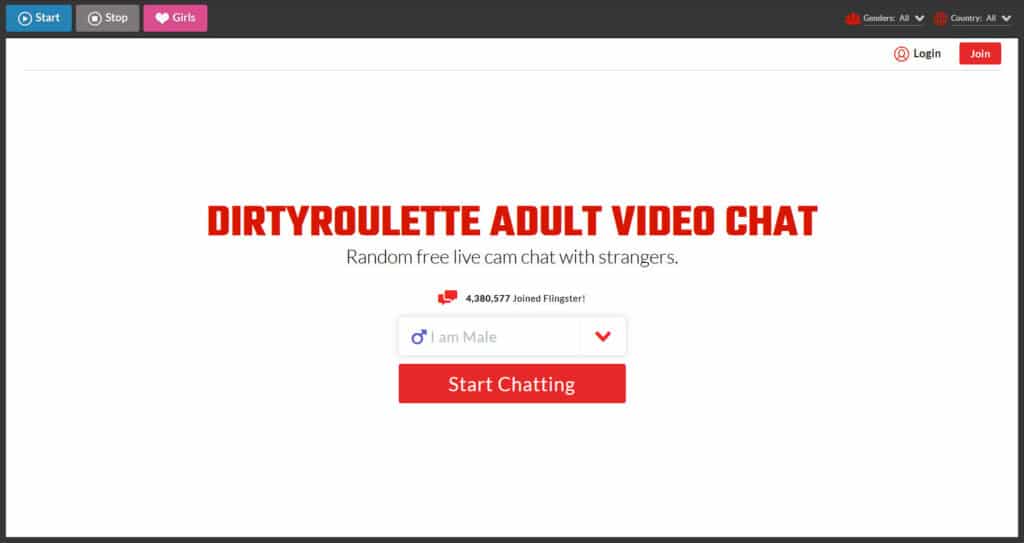 Are you looking for an exciting thrill on-cam? Or are you a couple eager to experience new and amusing chances online? Well, one website is rightfully capable of making everyone feel one-of-a-kind sexual satisfaction, regardless of their interests and preferences.
Let me introduce, DirtyRoulette, a sex chat website that offers the best venue to all your dirtiest, kinkiest, sluttiest desires. DirtyRoulette provides an experience that you can only imagine in dreams. Enjoy watching random strangers get naked, sexplay, and perform online. You can even meet and chat with them anytime and anywhere your urges call.
Check for review of DirtyRoulette
PROS:
Safe, anonymous, and secure browsing using the website
You can use smartphones using its mobile version and experience smooth browsing
You can search people using gender, location, age, or sexual orientation for easy chatting
Effortlessly skip a person with one click if you are not interested
Cam to cam experience
Members are open to any types of sexual activities or naughty conversations
Free access to its features
It does not require registration to use
Protection of data and information is strictly confidential
It does not allow minors
High chances of easy hookup and one-night-stand
CONS:
You cannot browse members ahead
Only uses random or roulette type matching
---
Final Thoughts on ChatAvenue
Chat Avenue has been around for quite a long time and is the favorite option for many people to meet and connect with. Certainly, with the help of this platform, those who are geographically isolated are more likely to connect. It will provide what you desire — even the things you didn't know you wanted.
In our opinion, their user interface is simple and straightforward. There are no fillers or odd tools, and they have basic yet robust functionality. The best thing is that you don't have to go through any verification process just to use all the site features. Although many people are wary of online chatting with random people, it might be just the kind of delightful entertainment you're looking for.
Similarly, they have a variety of chat rooms to choose from. You can pick from several incredibly fascinating chat rooms based on your preferences, and you can use all of them completely free. You can select whatever best fits your needs, and logging in or signing up requires just a few clicks. Undoubtedly, Chat Avenue and several featured adult and casual chat websites here are fantastic venues for flirtatious chitchats. I'm pretty sure you'll have a good time meeting new people and being a part of a small community.
Among the lists of websites above, my personal TOP 3 Adult and Casual Chat Sites besides from Chatavenue.com would be:
Have fun and enjoy!
All 42 Other Sites in This Category Worth Checking Out:
TryNectar & 12 Best Sex Chat Sites Like TryNectar.ai Show Me 12 Alternatives for TryNectar.ai A day in the wild world of TryNectar, I found myself knee-deep in some next-level roleplaying with bots. Now, I won't lie; I'm starting to question if I'll ever waltz back into typical dating – yeah, call it an exaggeration, but […]