Updated on: December 10th, 2023
Talk With Stranger
Top-12 Sex Chat Sites Like TalkWithStranger.com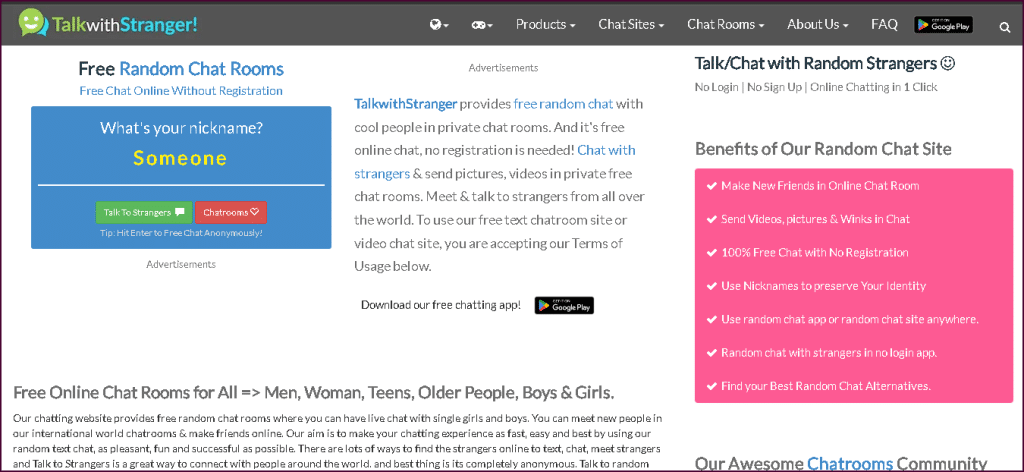 Are you tired of just jerking off to porn? Wishing to sext gorgeous strangers online and level up your daily fapping sesh? Well, you've come to the perfect place! TalkWithStranger.com is an ideal sex chat site that boasts its fruitful dating and sex chat experience. Unlike any other social networking site, Talkwithstranger brings together people from all walks of life. It's a medium that bridges the gaps between various countries, faiths, and ethnicities through different automated communication, including exclusive chats, video calls, and audio-based connections. Let's explore the site below and determine if the claims are valid.
Official URL: https://talkwithstranger.com
Non-stop Chatting, Flirting, and Connecting with Strangers at TalkWithStranger.com
If you're looking for a high-quality platform to enjoy non-stop thrilling chats with strangers, go no further than TalkWithStranger.com. It's home to a vibrant online group where individuals can hang out in various chat rooms and enjoy interactive games with one another.
Users may use the service to engage in private conversations in multiple forms, including audio, video calls, and group chats. Moreover, everyone in the group will have access to limitless chatting. As it turns out, this social site has made it more convenient than ever for individuals to chat without the danger of experiencing harsh criticism.
Certainly, finding someone who shares your passions is easy, thanks to this service. Join a public conversation, set a one-on-one conversation, or create a discussion about whatever you find most appealing. Exchange thoughts regarding esports, entertainment, art, technology, religion, romance, and sex with others interested in the same things.
And hey, you never guess who will come next; it could be your soul mate! Join the TalkWithStranger.com club and have meaningful conversations with new people, discover hidden stories, and generally have more fun with your life.
Opening the Virtual Doors to the Worldwide Sex Chat Fans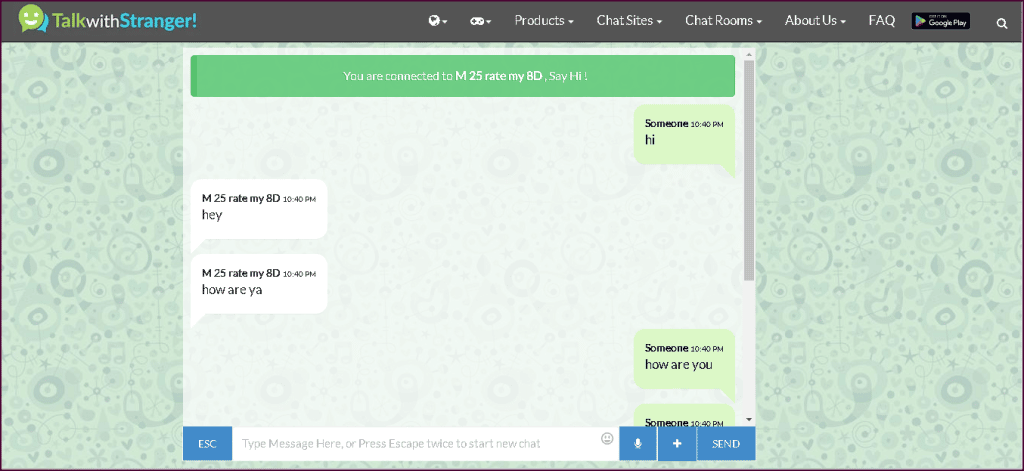 The company behind the site first opened its virtual doors in the Irish city of Limerick around early 2016. Many people found remarkable similarities between Talkwithstranger and popular sex chat sites like Omegle and ChatRandom. But, the site went above and beyond with its services and made sure to have a separate identity and not just a simple copy of the sites mentioned. In fact, the platform has grown over time to provide more and more options for users. Also, the features are costless, so there's no need to worry about spending any money.
It's a diverse group of folks from hundreds of nations that come together here. Anyone above 13 may register and start chatting with other members. You can continue chatting discreetly if you don't want to join up. And since this is the case, accurate and better member statistics are difficult. Yet, a shitload of activities is going on, and countless chat fanatics are using the site simultaneously.
Good-Looking Interface and Effortless Browsing at TalkWithStranger.com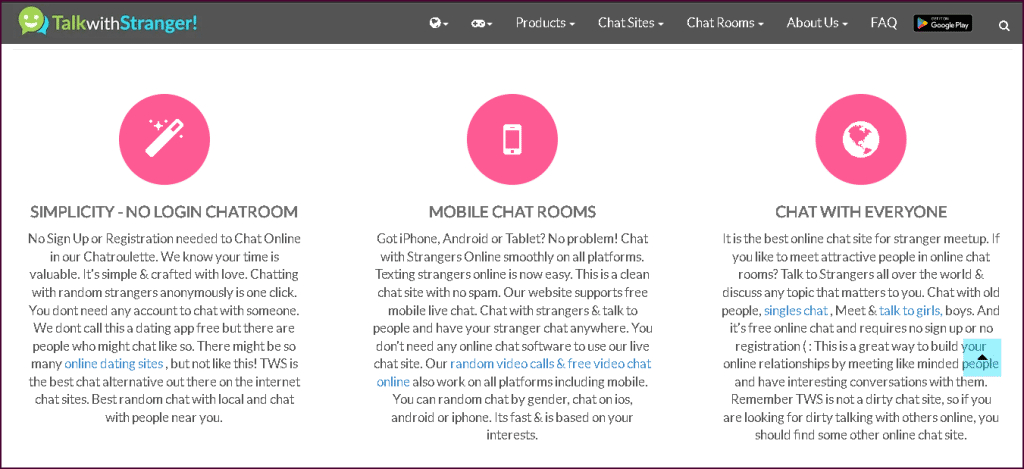 Opening the homepage seems puzzling because of the content volume and ads popping simultaneously. However, as you increase your time browsing the page, you'll soon realize it's cool and effortless to use. Also, TalkWithStranger.com has more features and services than you could ever imagine. Here are a few:
Translate and Change the Language of Your Chats
I've checked it, and so far, the site has over twelve languages available and can translate your current page to whatever language setting you prefer. Finally, with this feature's help, people from around the world can easily communicate with one another on this platform without worrying about linguistic barriers. This is certainly a further step toward successful bonds and matches.
Location-based Chatting for Better Experience
The site apparently went live in 2016, judging by the reports. Currently, it employs over 16 various systems to ensure a seamless service for its users. Talkwithstrangers.com has continued to thrive since its launch. It's also widely regarded as a site that takes a novel strategy and offers its users the best possible experience.
Has Reached A Worldwide Coverage
Regarding international accessibility, it's among the best resources for users anywhere in the globe. It can be used in any country, including the United States, the United Kingdom, Ireland, Mexico, and others. In addition, there are many unique aspects to explore, providing guests with fresh opportunities for participation.
Indulge in Free Random Sex Chats and Flirt With Millions of People Anytime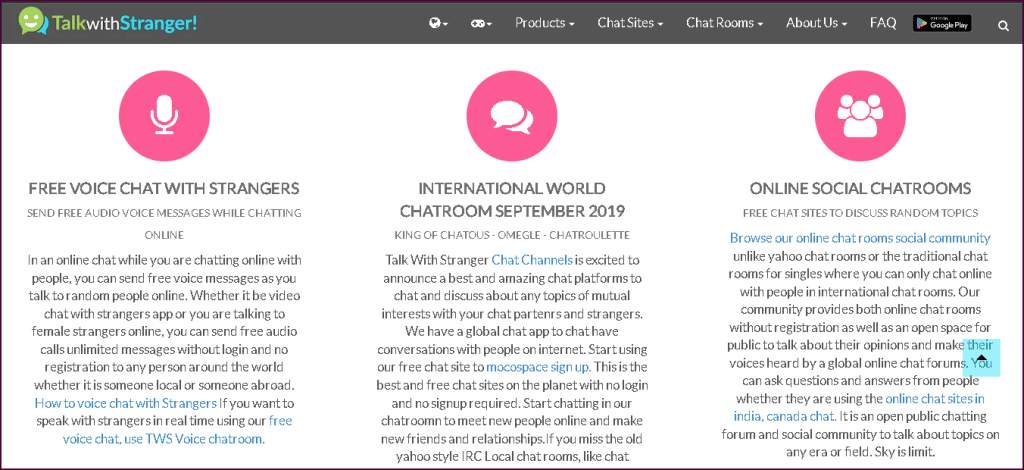 Open and Wild Public Chats
TalkWithStranger.com has public chats that are all available for users. It also has a variety of topics you can pick easily using the search button. And if you want to explore your options, the chat rooms are accessible in the left section.
Random Talks With Strangers
All the participants can engage in a fascinating conversations with strangers online. As they become more comfortable with the tool, they can upgrade to higher-level options like audio and video sessions, but they can get started with messaging first.
You won't know if you'll be paired with a man or a woman. A person's age, religion, and origin won't be displayed, so if you met them through the casual chat option, you'd have to ask.
It's fine to share images, but the recipient must be able to open the file you've sent them, considering the strict rules of TalkWithStranger.com. As you know, chat rooms prohibit links because a shitload of users has abused the free access to the site to promote their own websites or businesses.
Unique Free Chat Features of TalkWithStranger.com and Turning Your Site Experience Even Better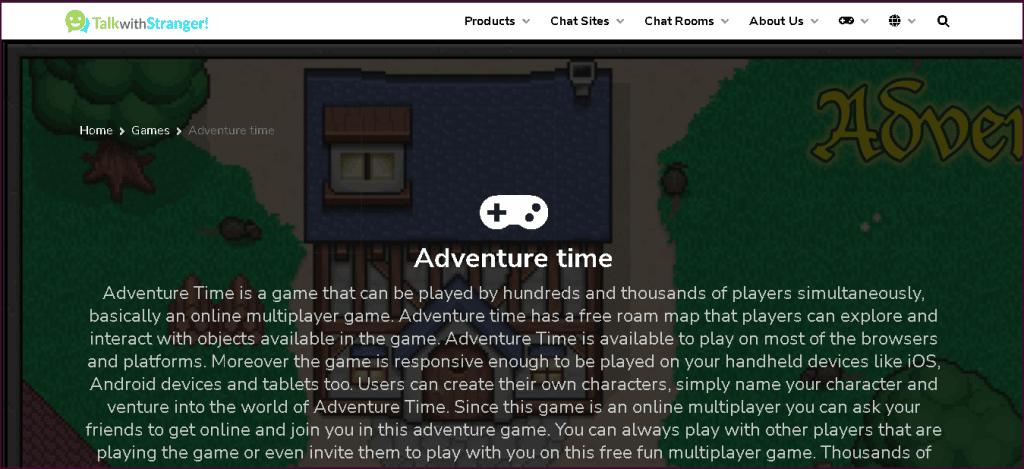 Cool and Exciting Multiplayer Online Games
In addition to facilitating chat, TalkWithStranger.com has various competitive games available for all users to participate in. Several timeless favorites, such as Adventure Time, and some vintage games, are available. But certainly, these top-notch games and other special touches of TalkWithStranger.com ensure that members will never have to leave the site.
Informative Blogs and Helpful Fun Facts
All users will have access to an exceptional blog of TalkWithStranger.com, where they can also share their own content. Users of the site get access to all kinds of articles and can even contribute to ongoing conversations.
Trace that Missing "The One"
Users can quickly and easily locate their missing friends and chatmates if they, unfortunately, get disconnected while in a private room. Compared to other sex chat sites, this function is usually missing or requires a premium plan to access, but luckily TalkWithStranger.com offers it for free. Staying in touch is essential today, and this function will help.
Site's User Profile Quality and Staying Away From Catfishes and Scammers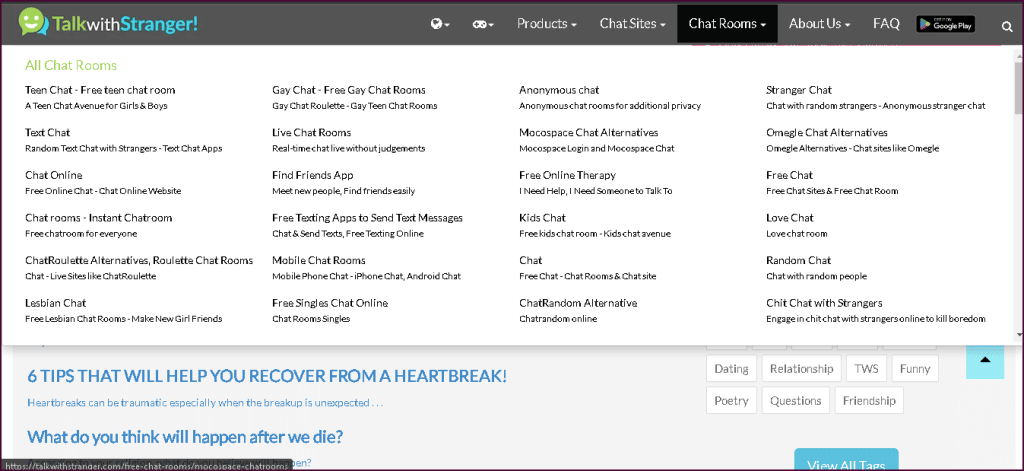 TalkWithStranger, like most online chat rooms, is plagued by dead or phony accounts. I guess we can all blame it on the site's free use of any image for your account, as there are no rules set in stone regarding posting and whatnot.
In fact, I wasn't surprised to see that almost nobody posts actual photos of themselves. They instead post online clipart of cartoons, wild creatures, florals, anime characters, and the like. Additionally, profile pictures are shrunken down so drastically that you need to tap them individually to view their proper size. Also, since nobody can tell their appearance or personality from their pics, it almost seems hopeless actually to go on a date with them.
Moreover, the user's profile is not typically shown as a separate page. So, rather than having a primary personal account, the display is through a pop-up bubble with the user's name, pic, and several communication options. There is no brief description section or another way to provide personal information about yourself. So, chatting with them is the best method if you wish to get to know someone.
Is It Worth It To Give My All-Out Trust to TalkWithStranger?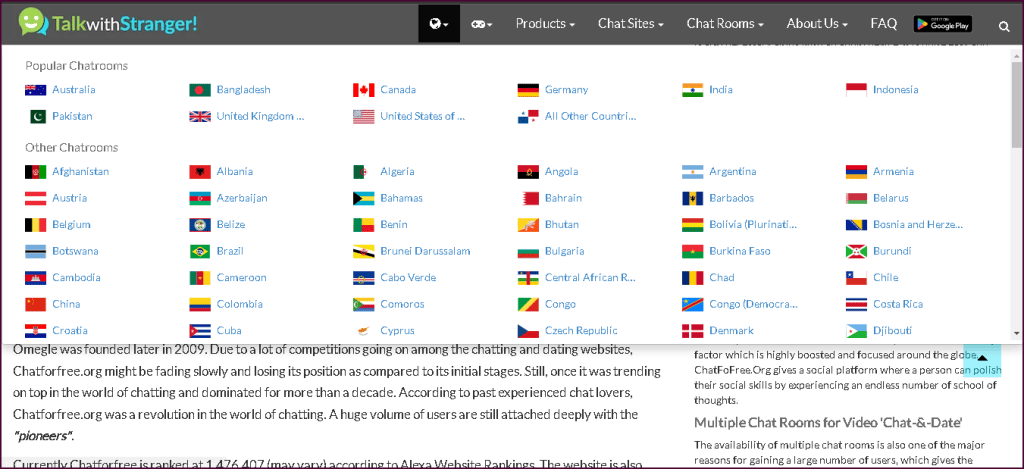 It's reasonable to ask if the site is safe, but in terms of sex chat sites, I guess we can't put our 100% trust. But of course, it doesn't mean that TalkWithStranger.com doesn't offer a user protection system. Currently, the site has moderators who keep the chat safe. Unfortunately, private conversations are limited to public rooms and do not cover private discussions. So, be extra careful when chatting with strangers.
Additionally, TalkWithStranger.com ensures all emails undergo an authentication process. But for now, that's the limit o its power. There's no way to determine or verify other users' ages or additional relevant information. Also, TalkWithStranger.com is very strict in giving out links or external resources during chats. They restrict this act to lessen, if not eliminate, the number of robot users from the page. But if you saw one, send a screenshot to the team, and ask for assistance.
Regardless of the site's means of privacy and security, it's important to stay vigilant and careful when connecting with strangers online. Especially if you're talking to them intimately or sexually, don't ever provide sensitive data like bank accounts, exact addresses, or anything without knowing them well enough.
App VS Website: Which Is Better?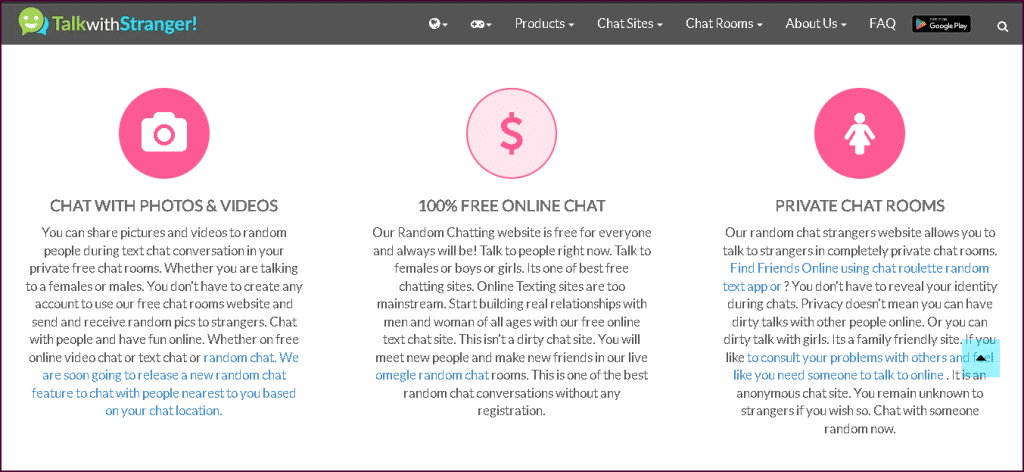 I tried the app and website features of TalkWithStranger.com, and I realized that the former is more convenient and less hassle to use. First of all, the website is chaotic and full of ads. Also, the chat area is relatively small, and you will instead have a much bigger screen area for the ads. Nobody wants that garbage.
So, if you ever want to check out TalkWithStranger.com, I suggest you download the app. There is a much better viewing experience because the pics are scaled in better resolution and size, and the chats look neat and organized. Additionally, sending audio messages is relatively easy because you need to use your phone's mic instead of headsets or headphones. Plus, accessing the audio message is more intricate and complicated.
Obviously, the TalkWithStranger.com app is much better if you need convenience and are constantly on the go. Perhaps, the only drawback of it is not being able to access more than one chat simultaneously, unlike the website version. But I guess that's only a minor issue, and I still think the app is a more incredible option when using TalkWithStranger.com.
Pros and Cons of TalkWithStranger.com
PROS:
Amazing features to communicate
Randomized system
Free access
It has interactive games
Participants are active
CONS:
Missing customer service
IOS compatible app is not available
---
Top-12 Sex Chat Sites Similar to TalkWithStranger.com: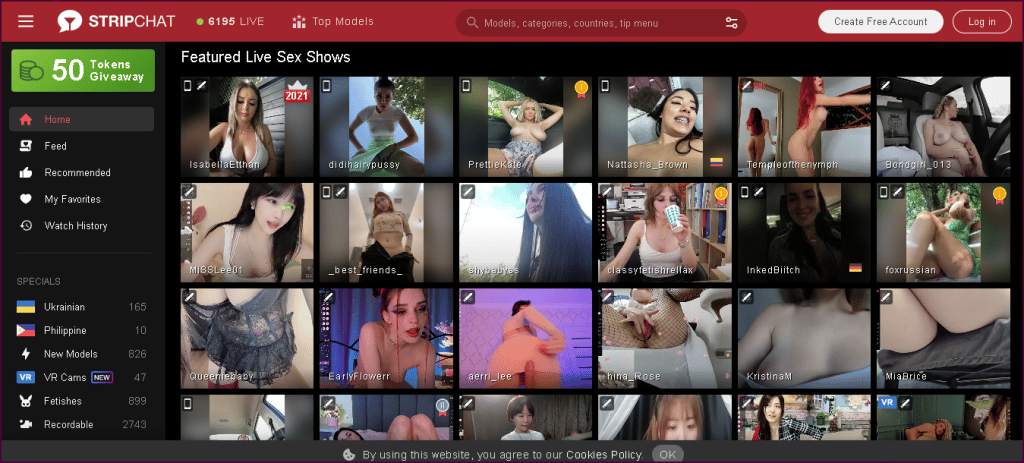 Stripchat, which has been around for five years, has successfully grown into the top 10 best adult platforms and continues to give superb quality and services, making everyone love the site a little more. One great feature that Stripchat offers is that users are not only limited to communicating with models but can also chat with other users. Also, there are plenty of models registered on this website, most of whom are professional porn stars. With its pornographic nature, Stripchat is already a reputable and credible cam site; wherever you are, everyone can enjoy sexual pleasure at their own pace.
Here's the full review of StripChat.
PROS:
A long list of beautiful models on the site
Simple, cool, and attractive website design
Users are allowed to forward private messages
The website is easily accessible and user friendly
A wide selection of live sessions and videos
Extensive FAQ page
FREE view and chat functionality for guests
CONS:
Unregistered members get constantly reminded via pop-up messages to sign up (which gets annoying)
English is the only available language feature
Private message chats are exclusive for paid memberships only
---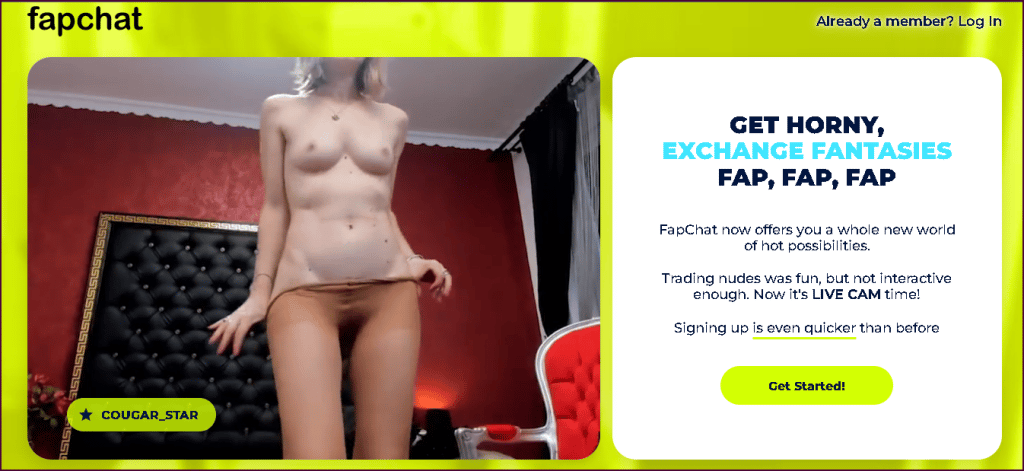 Fap Chat is a platform that helps men like you find attractive single women to take nude selfie photos with and strike up a conversation with. There are thousands of stunning young ladies to choose from, so you're likely to find at least a few that you want.
Click here for a full review of Fapchat.
PROS:
The website has a simple design and is very easy to use
You can watch real live women performing on cam
Maintains anonymous identity
No bots and fake profiles
CONS:
It has no live chat support service or phone service
You cannot record cam shows
---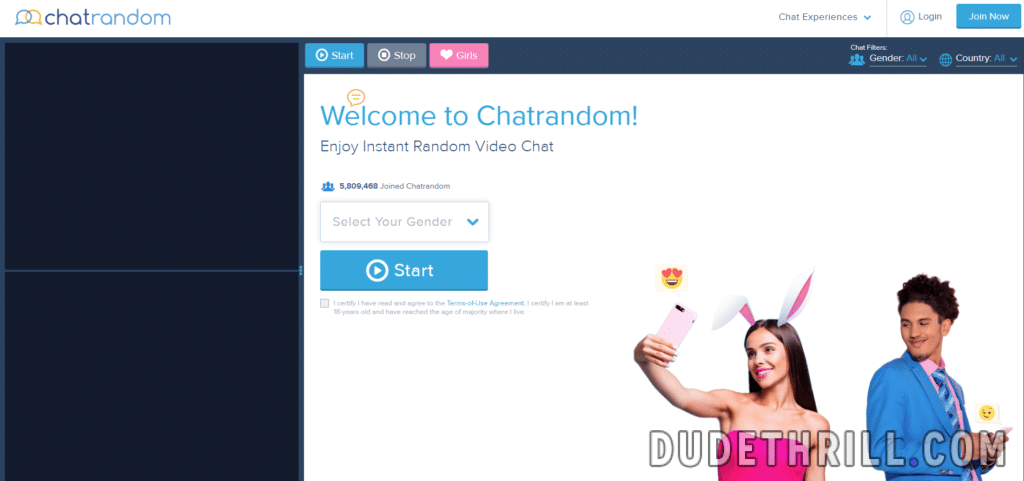 Chatrandom is a free live chat site that allows users to easily connect with people and strangers worldwide. The site started its outstanding service around 2011, and since then, it has become one of the most popular sites today. Indeed, this is the most exciting live chat you can experience. Because the system uses a roulette-type matching and lets you chat with thousands of people every day.
PROS:
Registration is free
Users can chat with members from other parts of the world
People can join live chat without registration
There are thousands of active users every day
App version is available for download
Hiding identity is public through "mask."
Free sending messages
CONS:
No profile photo is available
Only Android users can download it
More number males than females registered
---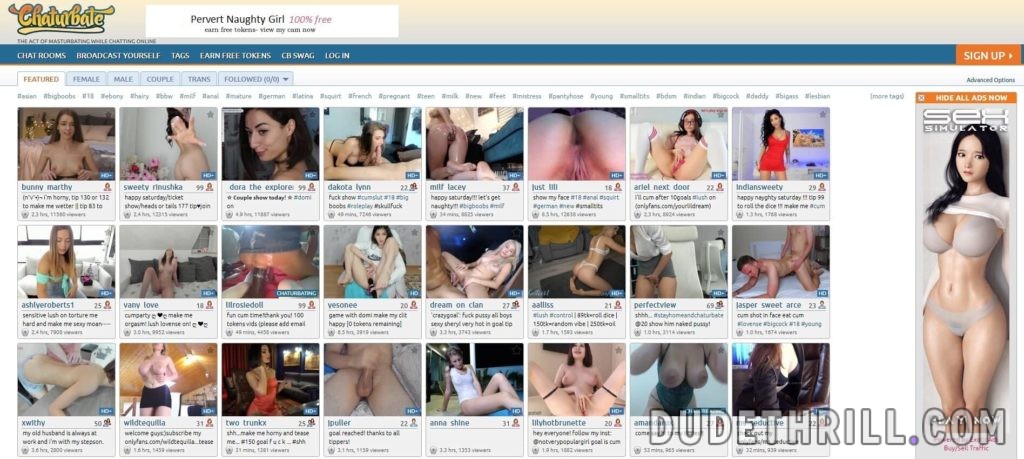 Connecting to people worldwide has never been so easy. Thanks to Chaturbate, unlimited talking is now possible. Plus, you will never spend a dime on it. There are a lot of sexy and beautiful women available for you, 24/7. As a matter of fact, women on this website love kinky stuff, which is always worth your time and attention. Meanwhile, live shows are also available for viewing at a reasonable price.
Click to see the full review of Chaturbate.
PROS:
Many cam girls available 24/7 live
No additional fees to expect
Nudes and sex are always a guarantee
Smooth browsing on smartphones and other devices
CONS:
Few videos are in SD format
Expensive private shows
---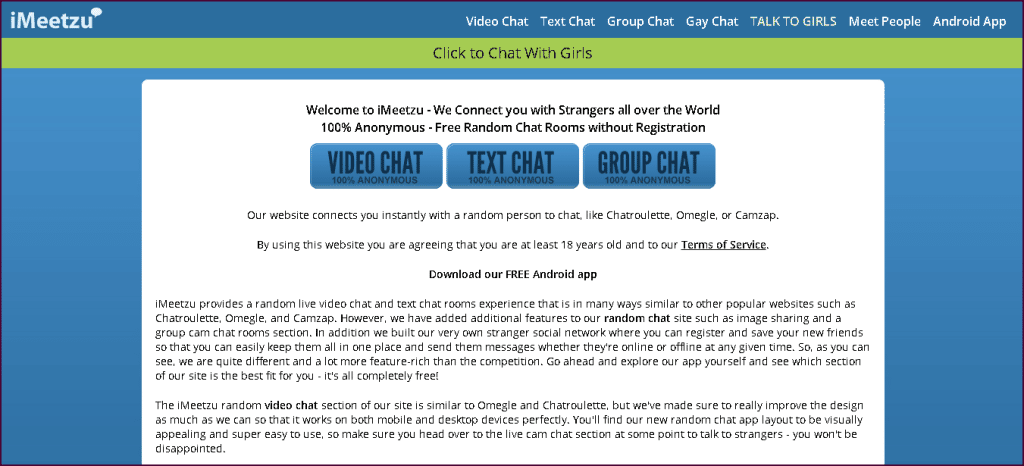 In 2009, the iMeetzu website launched, becoming the first to mix spontaneous online chatting with a social networking component. It also developed its unique social-media-like system that lets you sign up and add users as "friends." Certainly, you'll embark on a thrilling journey into the hearts and minds of like-minded individuals who prowl for new acquaintances and potential partners in virtual romance. It won't cost you a dime to download and play around with its app and discover services that best suit your needs.
Check out the full review of iMeetZu.
PROS:
Numerous chat options
Free to use
No need to register
Active members
Welcoming community
CONS:
The web page looks basic
Beware of scammers
---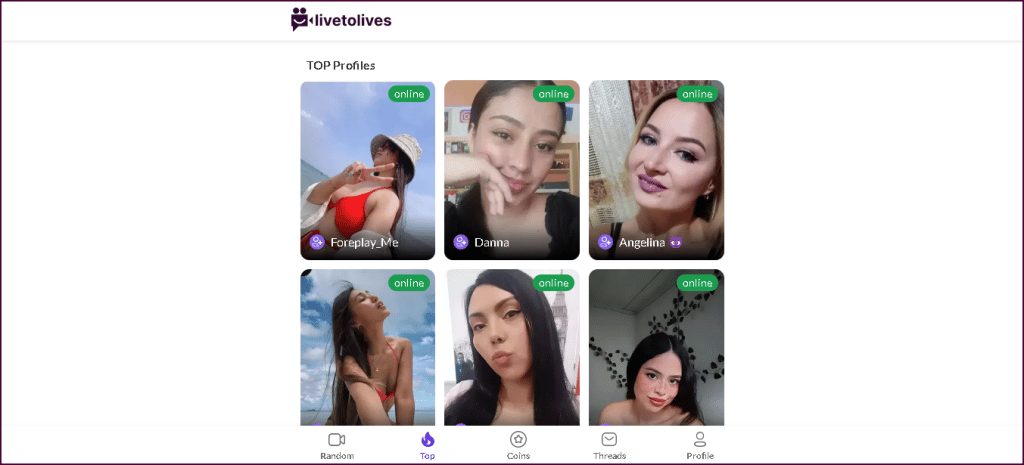 LiveToLives provide a never-ending supply of people eager for chitchat and pleasure. With the promise of quick and simple conversations, it's no surprise that users are rushing to this brand-new social media platform. Also, its Cam-to-cam feature works like a chat roulette that enhances users' cam communication and transforms it into a much more enjoyable encounter. You will no longer endure the tedious small talk and "get to know" stage and just go straight to the business.
Take a look at the full review of LiveToLives.
PROS:
Unique website concept
Features trial membership
Lots of gorgeous women willing to chat
Numerous active users at any time of the day
Automatically translates language based on your location or preferences
CONS:
---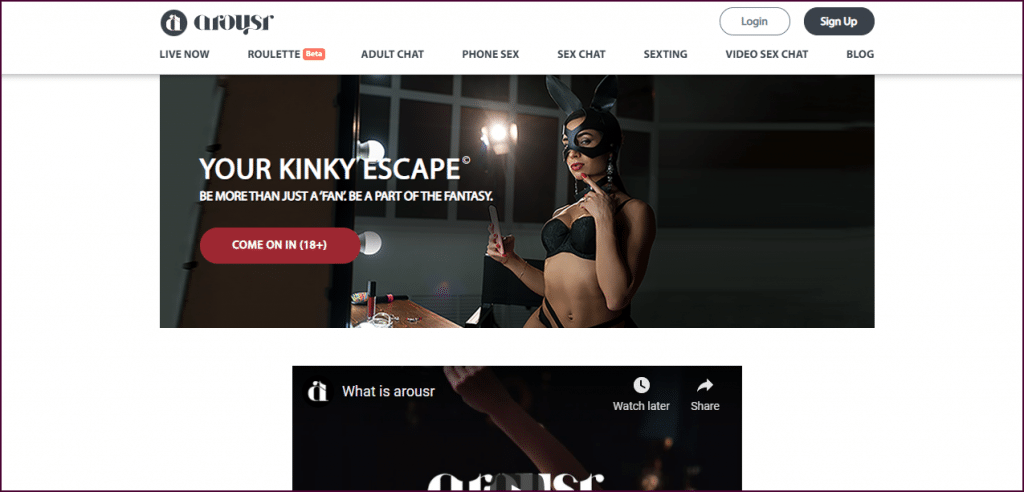 Arousr introduced a genuinely innovative concept, giving us extra intimate and stimulating experience. So far, it has been the most popular service for people who want to have fun, flirt, and enjoy sex chats casually. If you're looking for a website that's easy to use and has a long list of sexy women, Dudethrill recommends this one above all others.
PROS:
Simple navigation and layout
Plenty of female members
Free registration plus 100-credit free
The concept is unique and interesting
CONS:
Some shows are pretty expensive
The list of models is not that much
A basic account has ads
---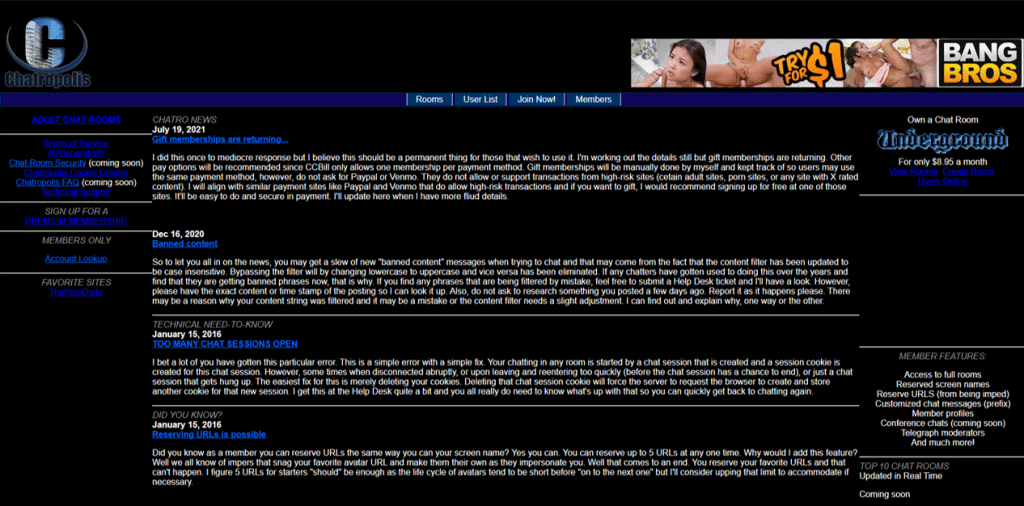 Chatropolis is a chat site is an excellent location for those who love engaging with actual people from all over the world in smaller, more intimate communities. There are also a variety of rooms accessible here that address a wide range of themes considering that they have a total of 49 chatrooms.
There are adult chat areas on the Chatropolis page, and it contains features that will delight website designers and programmers in particular. You may also decide to personalize your screens and your whole account by creating your unique image using photos available on the Web. In addition, the site allows you to create a username and design your profile.
Read the Chatropolis full review.
PROS:
Active since 1994
Wide ranges of themes and topics
Options to chat for free
Total of 49 chatrooms
Adult and intimate community
CONS:
Outdated design
Maximum of 30 persons per chatroom
No porn images and videos
Annoying advertisements
---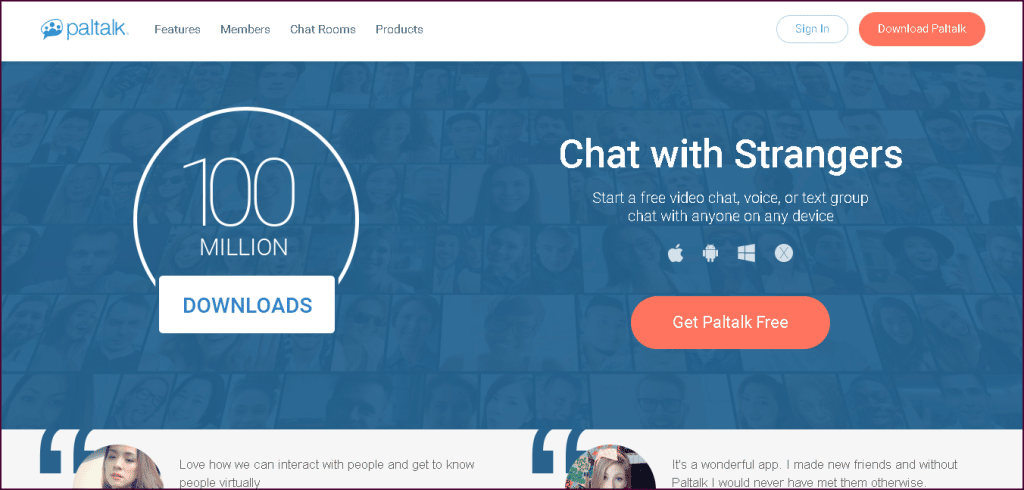 PalTalk has been around for quite some time and is well-known for its user-friendly design and extensive set of tools for encouraging interaction. It calls itself "the biggest and most popular talk chat app," is a robust online community in which millions of users share and see live video feeds. And since you'll make many new acquaintances on the site, successfully dating shouldn't be difficult. If you're looking to make some newfound virtual buddies, you may join up for a membership.
Check out the full review of Paltalk.
PROS:
Reliable chat features and options
Thousand free chats
Open for private and exclusive chats
Strong and reliable texting system
Can communicate without cams
Offers profiles customization
Unlimited viewing of live stream videos
CONS:
Several chats are not appropriate for underage users
---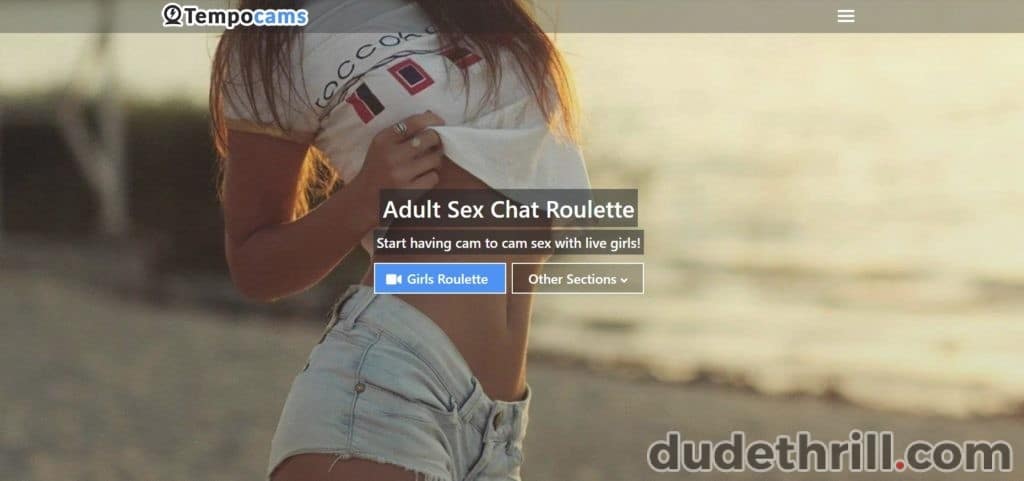 If you're looking for a good alternative to Omegle, the Tempo Cams is what I would suggest. At least, this site doesn't have all those penises and naked girls that are flooding Omegle. I also love the website's interface. When you reach the home page, you'll come across a dropdown box that will ask you to choose the type of roulette experience that you want – gay, shemale, girls, hentai, etc.
With Tempo Cams, you'll find sexy women doing seductive stunts in every cam. So, this might work best to those who would not mind jacking off to fake cams streaming horny women. But then you cannot expect these women to interact with you, at least verbally. I really have no desire to sign up for this site and take advantage of the free account to give at a test. I feel like there are several other adult chat sites that deserve my precious time.
PROS:
Women are very seductive even if they are fake
CONS:
You need to sign up and pay to chat with women who are not the ones on cam
Verifies age before chatting
---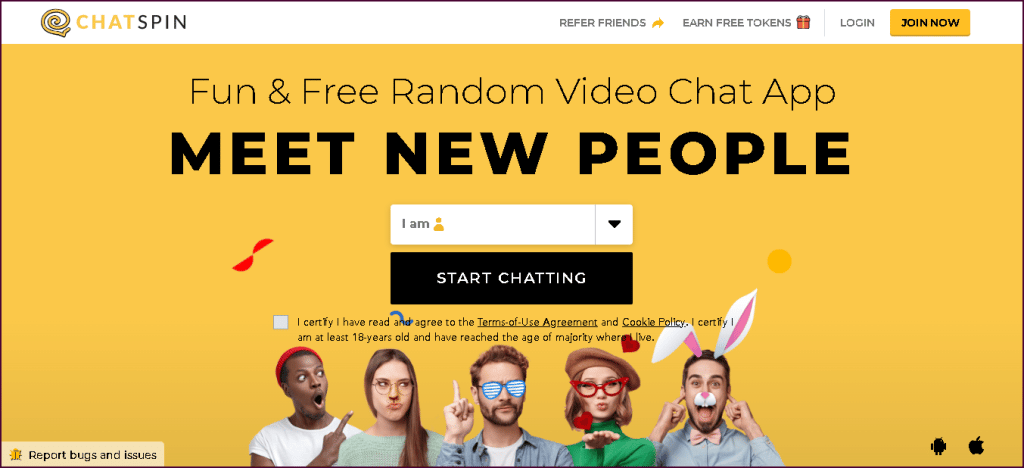 Chatspin is one of the leading random video chat websites worldwide. Boasting its most extensive user base ever recorded, even two video chat websites combined cannot compete. Uniquely, the website was founded to provide a venue for youngsters to enjoy, have fun, and spend a great time connecting. Especially that currently, most of its users are within the age of 18 to 25 years range.
Indeed, for people out there who want to have fun without commitments, Chatspin is perfectly crafted for you. Coupled with a fantastic set of languages and features, you will not certainly experience any communication issues here. Just enjoy, relax, and connect with over 3,000 users daily. With that amount, indeed, you will find a perfect match faster and better.
Learn more about Chatspin with this full review.
PROS:
Signing up does not require debit/credit card information
Plenty of exclusive benefits when using Chatspin Plus
Customer Support is available 24/7
Free use of text chat and video calls
Uses roulette-type chatting
Plenty of video chat features you can use for free
Thousand of active users online every day
The mobile app is downloadable on Android and iOS devices
Has unique seamless browsing experience on mobile
Google and Facebook sign up is available
The fast and easy registration process
Has userbase from different parts of the world
CONS:
Free accounts have limited search features
No verification of accounts upon registration
---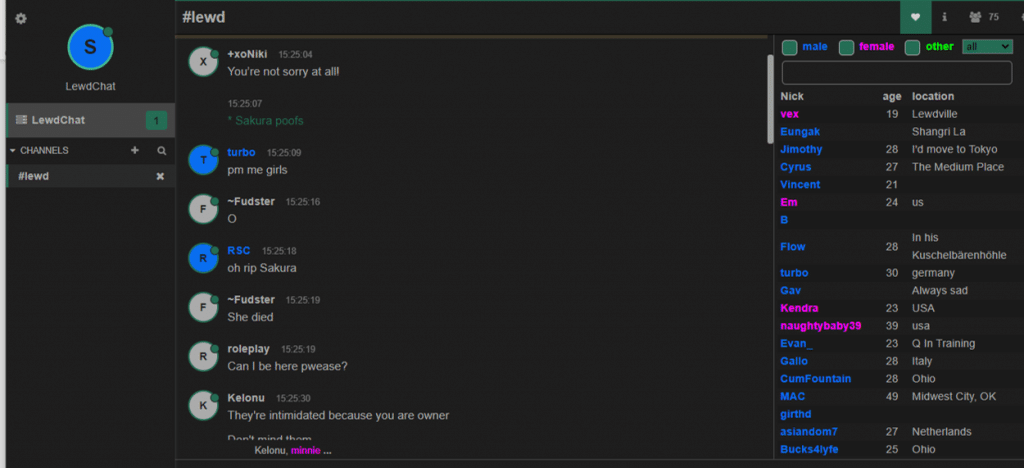 Lewdchat is all about sexual chatting and flirting. This site wants to create an active community through sex chatting, and draws so much attention because they care about the needs and abilities of the public. Everything here is free, smooth, and hassle-free. You do not have to pay money nor share personal details to use the site.
Check out the full review of Lewdchat.
PROS:
No registration required
Protects identity and adheres to anonymity
Chat unlimited
Available 24/7
Can privately message other members
Multiple chatrooms
Straightforward features
Meet like-minded individuals
Completely free of charge
CONS:
Quite a boring design
Limited features
Few site members
---
Conclusion
I believe TalkWithStranger.com is a great place to enjoy great chats and interactive gaming experiences. If you use this site for dating, I guess it would take a piece of massive luck for success, but if you're here for casual sex and other stuff, then TalkWithStranger.com is the best bet.
All its features are easy to use and make your stay here a lot more convenient and effortless. You are also free to discuss anything under the sun — sports, naughty, flirty, economics, politics, and more. Apart from these, TalkWithStranger.com has also reached global coverage, so you'll be able to connect with individuals from various regions.
All 43 Other Sites in This Category Worth Checking Out:
Talk To Me & 12 Must Visit Sex Chat Sites Like TalkToMe.com Show Me 12 Alternatives for TalkToMe.com Talk To Me! Yes! Are you bored or wishing to get some friends or strangers for a quality conversation? Sounds fun, isn't it? I am extra naughty today, so I swam across my compilation of sex chat sites […]