Updated on: December 9th, 2023
iFreeChat Review
& 12 Must-Visit Sex Chat Sites Like iFreeChat.com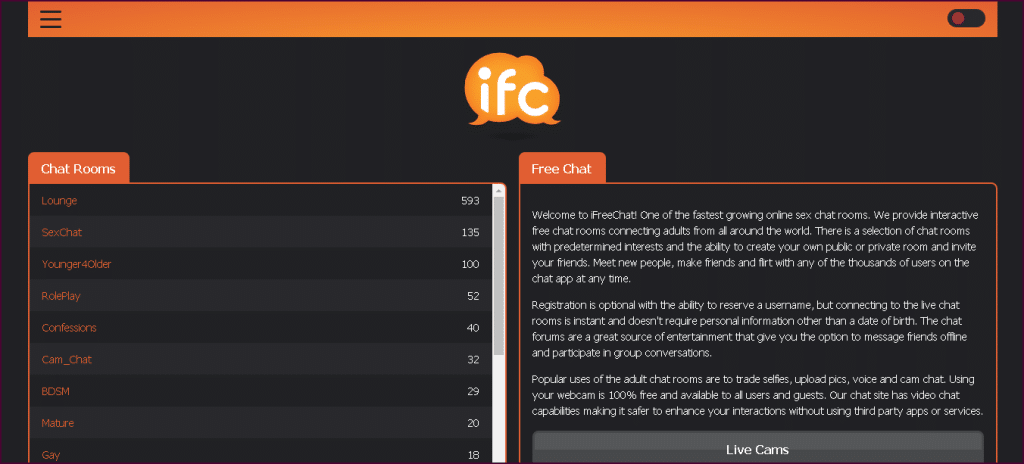 Hey there, fellow pervs! Do you prefer love at first sight? Or do you prefer a more…ahem…physical approach? Whatever your answer, one thing's sure: iFreeChat has got you covered! They claim to be the fastest-growing online chat room website for all the naughty talkers in India, and their numbers don't lie. With a million users dropping by last month to discuss everything from breasts to bulges, it's clear that iFreeChat is the place to be for some risqué conversations. Don't believe me? Let's jump in and see what all the fuss is about!
Official URL: https://ifreechat.com
Namaste, India! Welcome to iFreeChat: Your Online Desi Hangout!
Yo, my dear internet fam! We're all familiar with the "i" prefix in branding, right? Apple has been doing it since before the turn of the millennium, so it's practically a household name by now. When I first heard about iFreeChat, I was skeptical. Is another copycat slapping the letter "i" on their name to sound trendy and tech-savvy? Psh, please. But then I took a peek at their website, and boy, was I wrong.
Believe it or not, the "i" in iFreeChat actually means something relevant. Can you guess what it is? Hint: it's not "internet" or "innovation." Nope, it's something way cooler. The "i" in iFreeChat represents none other than…drumroll, please…India! That's right, folks; iFreeChat is a chat room website explicitly made for the Indian audience.
Now, I know what you're thinking. "Oh great, another website claiming to cater to a specific audience, but in reality, it's just a bunch of generic content with a fancy logo." But hear me out, iFreeChat is the real deal. They've got all the Indian pervs covered and the numbers to prove it. Trust me; you don't want to miss out on what they offer.
Get Ready to Spice Up Your Nights with Free Indian Sex Chats at iFreeChat.com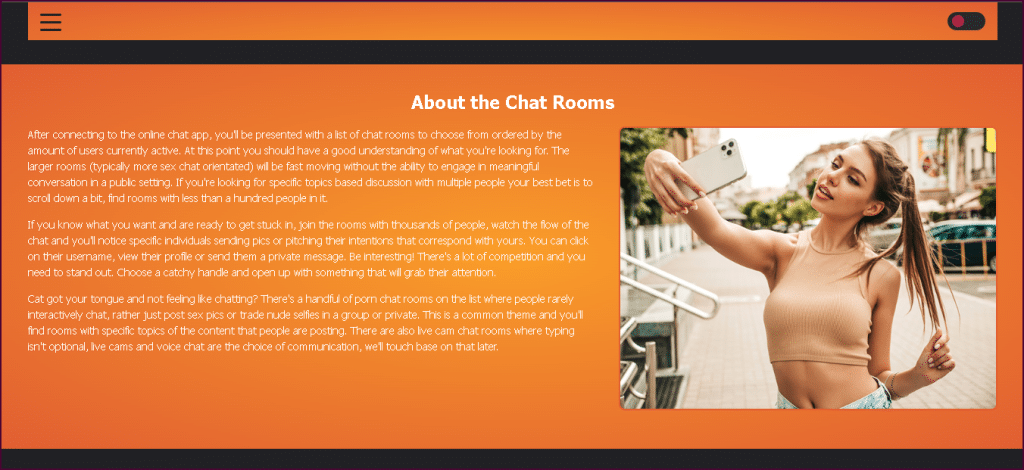 Sometimes you stumble upon a website and can't tell if it's been around for ages or if it's a fresh new face in the online world. That's how I felt when I first laid eyes on iFreeChat. Their copyright date says they've been operating since early 2018, but the layout feels like it's from the early 2000s. But you know what? I kinda dig it.
Sure, the logo could use a little sprucing up, but who cares? iFreeChat isn't here to win a beauty contest. They're all about that text box, baby. Honestly, in dirty talk, words are all you need. So, the simple setup makes perfect sense when you think about it. Why waste precious resources on striking images and fancy graphics when all your users want to do is type out steamy messages?
Now, I know what you're thinking. "But wait, isn't it weird to chat with strangers online about all this naughty stuff?" Well, let me ask you this — have you ever had a crush on someone you've never met in person? Or maybe you've had a steamy chat with someone you met on a dating app? It's not that different, my friends. But the best part here is that iFreeChat makes it easy to find people who are into the same things you are. Plus, you don't have to worry about your appearance or awkward silence — it's all about the words you type into that little text box.
Sure, the site might not look like much, but trust me, it's got everything you need for a good time. Also, why waste money on flashy graphics when you can put it towards something more substantial — like upgrading your sex toy collection? Am I right?
Chat Dirty with Strangers – No Strings Attached!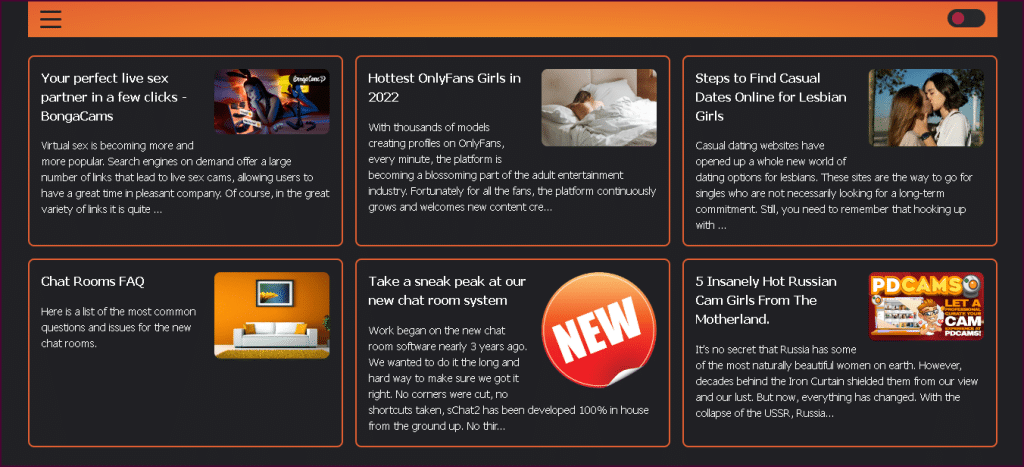 When browsing chat sites, the most exciting thing is a lively and thriving community. Indeed, you can have the fanciest, most high-tech place on the planet, but what's the point if nobody's there to use it? That's especially true for chat sites — the whole point is to talk to other people. So, it's always a relief to find a place like iFreeChat that has people in the chat rooms.
Now, don't get me wrong — iFC isn't going to win any awards for design or user interface. But they've put their energy into cultivating a solid user base. As I write this, Dudethrill, I can see hundreds of people alone hanging out in the "Lounge" section. Of course, not all the rooms are hopping — some niche rooms may be quiet, but others are buzzing with activity.
Also, it's a good thing because the whole site would be pretty pointless without that user base. I mean, what's the point of a chat site with nobody to chat with? So, props to iFreeChat for getting that part right.
iFreeChat's Chatty Chat Room: Where It's Never Too Busy to Talk (and Maybe Flirt a Little)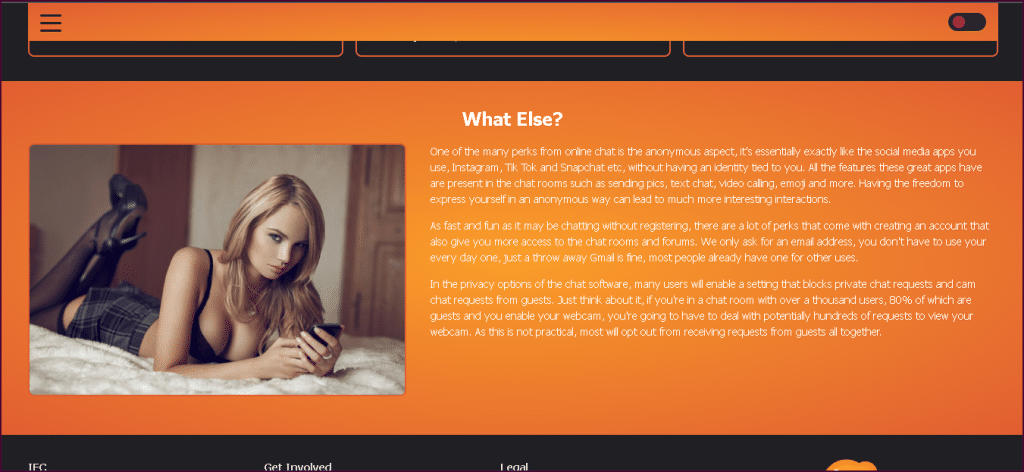 Holy smokes, have you ever seen a chat room as busy as this one? It's like the internet chat rooms of yesteryear came back to life with a vengeance. The presentation might not be the most dazzling thing out there, but it delivers as expected. On the homepage's side portion, you'll see a directory of people; that number is way higher than what they initially advertised on the front page. I double-checked, and almost all the rooms available have significant traffic. In fact, they suddenly put out an all-points bulletin to get more people on board, and I am not complaining!
And boy, are these users talkative! Really, the chats are moving faster than a jackrabbit on a hot date, with sex chats and flirts popping faster than I can keep up. Additionally, the platform opens its page for content like GIFs and pics, so be prepared for some nudity and porn scattered with sex requests and casual dates. Just a heads up, though, a shitload of pop-up ads and unsolicited cock images are floating around.
But despite all that, these chat rooms have a real sense of community. People are chatting away like old friends, and it's clear that they're enjoying each other's company. It's like being at a raucous party without ever having to leave your house. And with all the different chat rooms available, you can find a group of like-minded people to connect with.
Location-Based Sexting Just Got a Serious Upgrade With These Guys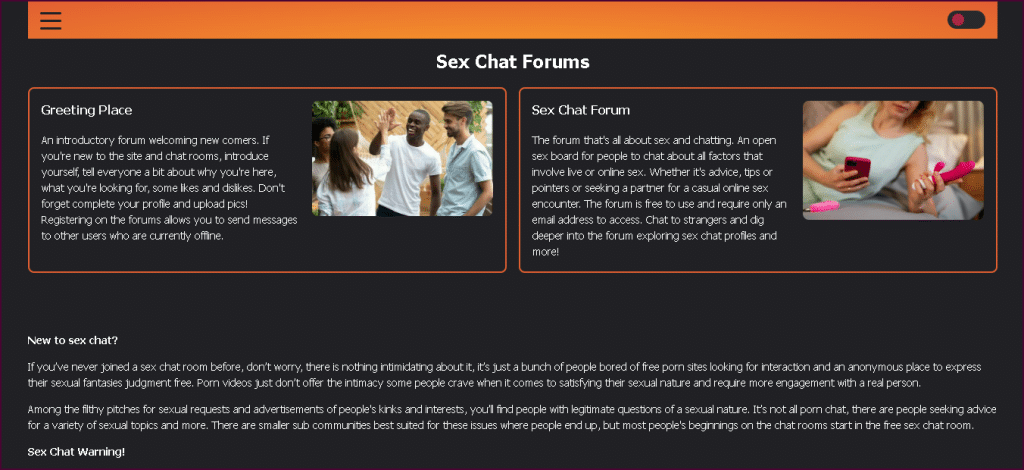 I'm no expert in online hookups, but I imagine it can be a real struggle to find someone nearby who's into the same things you are. That's where iFreeChat comes in. These guys have taken location-based matchmaking to a new level by offering localized sex chat features all over India. And let me tell you, they've got it down to a science.
When you first hop onto iFreeChat, the site routinely discovers your spot. Next thing you know, you're dropped into a chat room filled with local hotties who are ready to chat. Indeed, they've taken the guesswork out of the equation for you. Talk about efficiency! On the other hand, if you're like me and are not too keen on tracking your area, no worries. You can still pick from the list on the homepage. It's that easy.
Anyway, I know what you're thinking: "But wait, won't those niche rooms be empty if they're only localized to one region?" Good question, my friend. But fear not, because iFreeChat has thought of that too. They've cleverly named the chat rooms according to the subject discussed so that even if the localized chats are slow, you'll still find someone to talk to about your deepest desires. Certainly, iFreeChat has room for almost every kink you can think of. Want to chat with other gay folks? They've got room for that. Interested in exploring the world of bondage? Yep, they've got room for that too.
Crash the Party: Join as a Guest and Make New Friends at iFreeChat.com!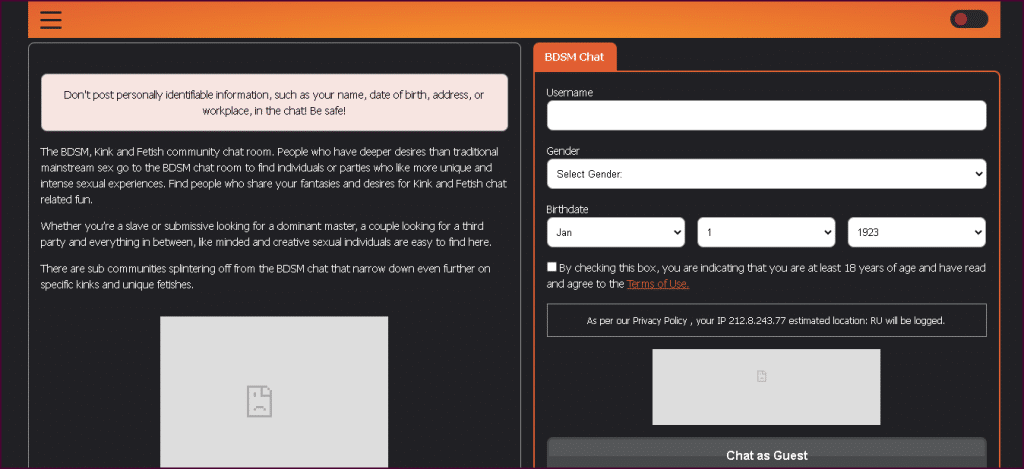 As I entered iFreeChat.com, I was given a simple form to fill out. I had to provide my gender, birth date, and username. The birthdate field was already filled in, but I decided to roll with it instead of correcting it and becoming a centenarian for the day. Hey, if I can join the chat room quickly, I won't complain.
Despite the option to register, I decided to go incognito and clicked the Guest button. Of course, I was met with a warning about reporting any minors and not engaging with them, but I proceeded to the chat room. As with most sites, an adblocker is recommended to avoid pesky pop-ups, which I had to close before I could fully enjoy the chat.
Now, let me tell you, the Lounge was poppin'. It was filled with over 500 users, and I was ready to dive in and chat it up. Unfortunately, I prepared myself for the inevitable spam messages and thirsty DMs that come with the territory before I could. Nevertheless, that's what you get on a site like iFreeChat — unfiltered, unbridled communication. Just make sure you've got an adblocker and a strong stomach. Finally, the real fun began when I made it to iFreeChat.com's room.
Get the Full Experience: Chat with Webcam and Sound!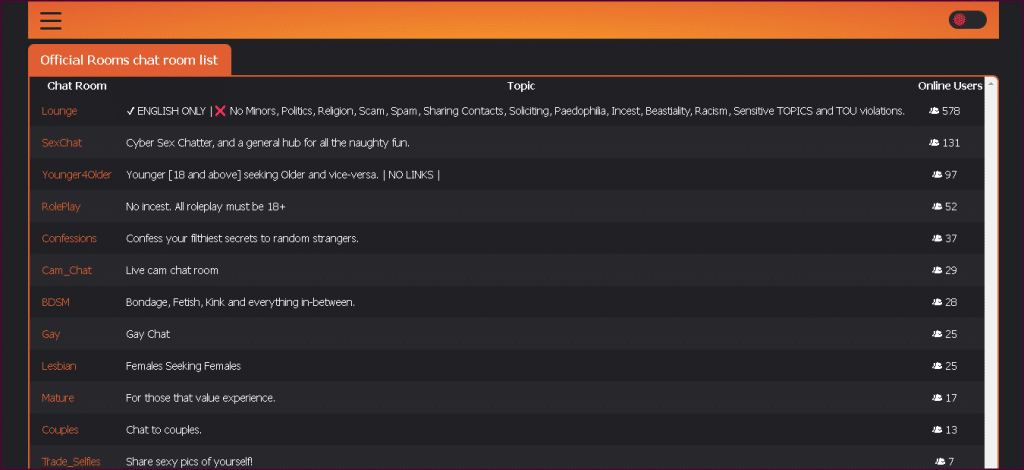 Alright, folks, let's talk about iFreeChat's webcam and sound features. Now, I know what you're thinking – "Woohoo, time to get freaky!" But hold your horses there, cowboy. Even though the site has cam features, there aren't many users using it. Don't get me wrong, a few brave souls were showing off their goods, but it was definitely more of a rarity than the norm.
But that's the beauty of online chat, right? You can never guess what's coming. Maybe you'll stumble across a room full of exhibitionists just waiting to show off their bits and bobs. Or perhaps you'll end up in a room of people discussing their favorite knitting patterns. It's a wild, unpredictable ride – like Russian Roulette, but with less chance of blowing your head off.
No Forms, No Spam: Dive Right into the Fun at iFreeChat.com!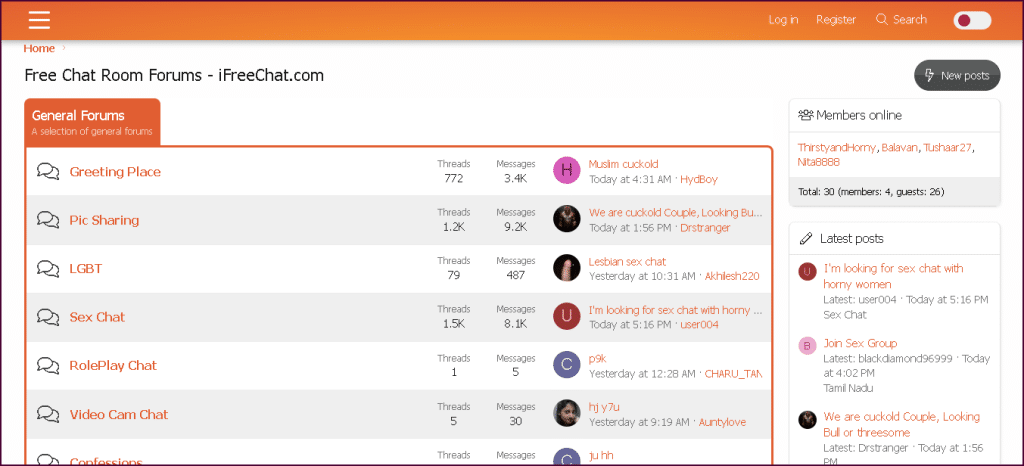 Let's face it; we've all been there before you stumble upon a great chat room, and you're all set to dive in, but then you're hit with a registration form that wants your name, email, mother's maiden name, and a firstborn child. It's enough to make you want to slam your laptop shut and call it a day. But don't worry, my fellow chat enthusiasts, because iFreeChat has your back. That's right, no pesky registration is required here. You can jump right into the banging without dealing with spam emails, sliding your DMs, or spending precious minutes filling out forms.
Moreover, this makes things more convenient for you and opens up the platform for the rest of the world. In fact, you don't need to be a tech wizard or have a Ph.D. in internet navigation to figure out how to get started. It's simple, straightforward, and, most importantly, lets you get to what you came for chatting with like-minded users about your favorite dirty topics.
Pros and Cons of iFreeChat.com
PROS:
Free to use
Sign-up is not a requirement
Active community
Amazing chat features
CONS:
---
12 Must-Visit Sex Chat Sites Similar to iFreeChat. com: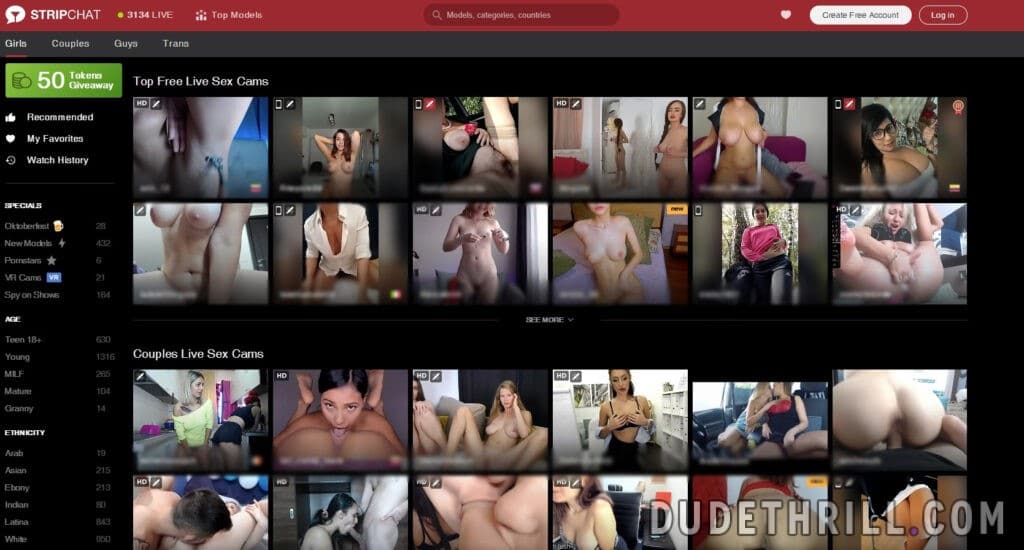 Stripchat, which has been around for five years, has successfully grown into the top 10 best adult platforms and continues to give superb quality and services, making everyone love the site a little more. One great feature that Stripchat offers is that users are not only limited to communicating with models but can also chat with other users. Also, there are plenty of models registered on this website, most of whom are professional porn stars. With its pornographic nature, Stripchat is already a reputable and credible cam site; wherever you are, everyone can enjoy sexual pleasure at their own pace.
Here's the full review of StripChat.
PROS:
A long list of beautiful models on the site
Simple, cool, and attractive website design
Users are allowed to forward private messages
The website is easily accessible and user friendly
A wide selection of live sessions and videos
Extensive FAQ page
FREE view and chat functionality for guests
CONS:
Unregistered members get constantly reminded via pop-up messages to sign up (which gets annoying)
English is the only available language feature
Private message chats are exclusive for paid memberships only
---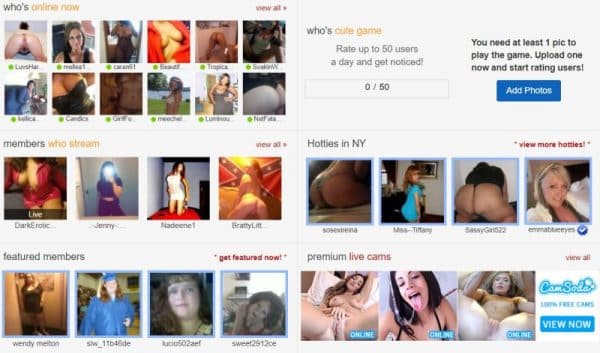 Snapsext is a free sex chat website for people who aren't afraid to take risks. The platform focuses on visual content such as video chats, images, live streams images, videos, and more. You can casually flirt or go straight to hookup and sex, or anything in between. The audience response to SnapSext has been fantastic because it is attracting a growing audience every day. Many people believe that the website encourages them to express their sexuality entirely and behave however they want, without worrying about repercussions.
Click here for a full review of Snapsext.
PROS:
Most of the basic features are free
Large user database
Real, hot verified girls & guys
Online for 10 years+
Flexible premium pricing
CONS:
Some screening questions when signing up
---

Fap Chat is a platform that helps men like you find attractive single women to take nude selfie photos with and strike up a conversation with. There are thousands of stunning young ladies to choose from, so you're likely to find at least a few that you want.
PROS:
The website has a simple design and is very easy to use
You can watch real live women performing on cam
Maintains anonymous identity
No bots and fake profiles
CONS:
It has no live chat support service or phone service
You cannot record cam shows
---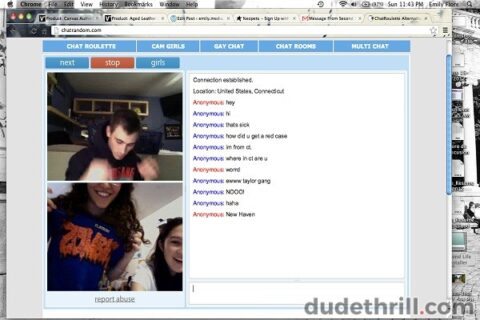 Chatrandom is a free live chat site that allows users to easily connect with people and strangers worldwide. The site started its outstanding service around 2011, and since then, it has become one of the most popular sites today. Indeed, this is the most exciting live chat you can experience. Because the system uses a roulette-type matching and lets you chat with thousands of people every day
Click to see the full review of Chatrandom.
PROS:
Registration is free
Users can chat with members from other parts of the world
People can join live chat without registration
There are thousands of active users every day
App version is available for download
Hiding identity is public through "mask."
Free sending messages
CONS:
No profile photo is available
Only Android users can download it
More number males than females registered
---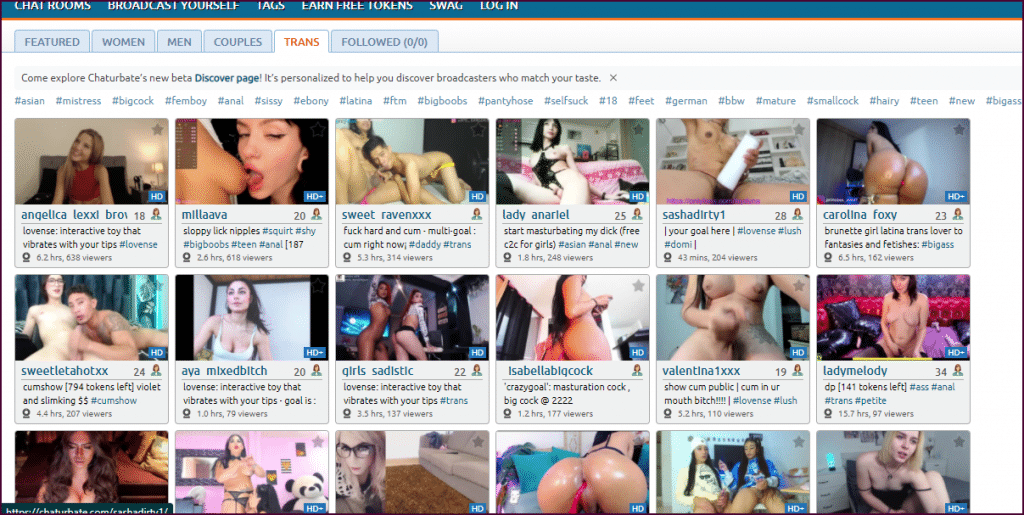 Connecting to people worldwide has never been so easy. Thanks to Chaturbate, unlimited talking is now possible. Plus, you will never spend a dime on it. There are a lot of sexy and beautiful women available for you, 24/7. As a matter of fact, women on this website love kinky stuff, which is always worth your time and attention. Meanwhile, live shows are also available for viewing at a reasonable price.
Check out the full review of Chaturbate.
PROS:
Many cam girls available 24/7 live
No additional fees to expect
Nudes and sex are always a guarantee
Smooth browsing on smartphones and other devices
CONS:
Few videos are in SD format
Expensive private shows
---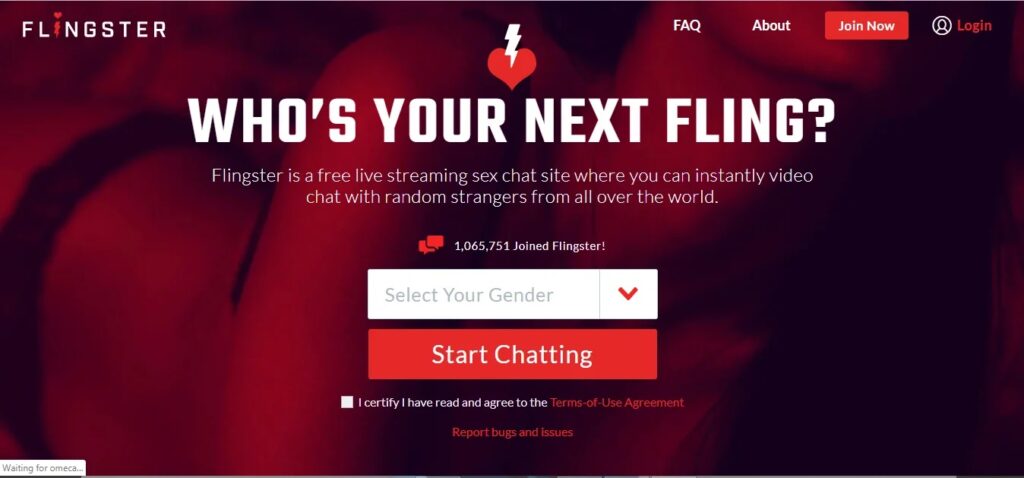 Flingster is an adult sex chat website for meeting, hanging, and making out with singles. On this website, the application process is indeed speedy and convenient. So, it won't be wasting much of your energy at all. Compared to several other sex chat websites, even free accounts can use messages and video chats without paying.
On the other hand, paid subscribers have additional features that are indeed unique. Meanwhile, Flingster similarly provides discreet identification while chatting before you consent to a spontaneous, quick fling.
Take a look at the full review of Flingster.
PROS:
Unspecified character is a choice
Everybody is excellent regardless of sexual orientation or gender
The sign-up procedure is available and relatively simple
The site's design is simple; however, understandable to navigate
CONS:
There are occasional phony profiles reported
---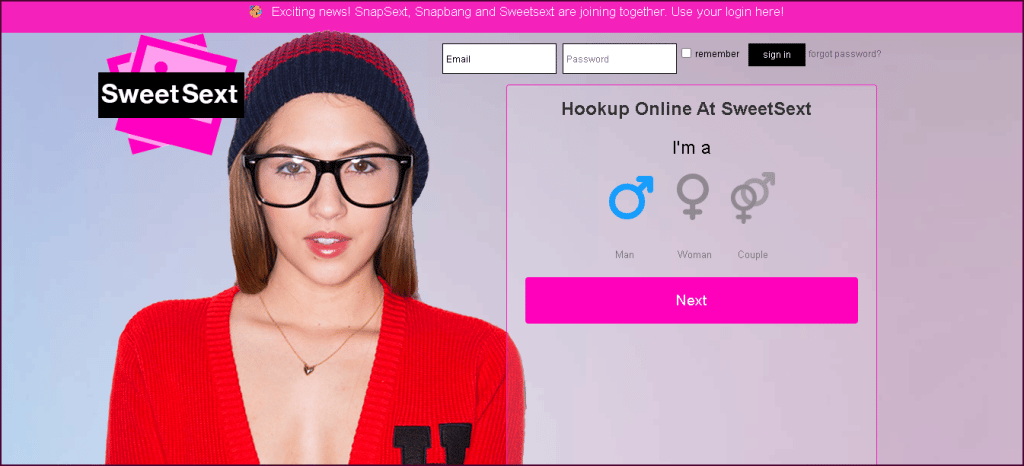 In case you haven't heard of it before, SweetSext is a popular cheating and hook-up application where users can send each other naked photos, tease, and find potential hook-up buddies in their area. This hook-up website allows you to connect to numerous women who desperately desire an affair or casual sex. Fortunately, it's completely free to sign up with SweetSext, and you can even try out their VIP features for a little while using the trial package. The overall interaction is simple and gives us lots of opportunities to cheat and get one-night stands so easily.
Here's a full Sweet Sext review.
PROS:
Lots of active members
Cool features
Easy hook-up
Simple and easy-to-use website
Members are open to all affairs or sexting
Flexible services
Free registration
CONS:
It has a premium subscription
---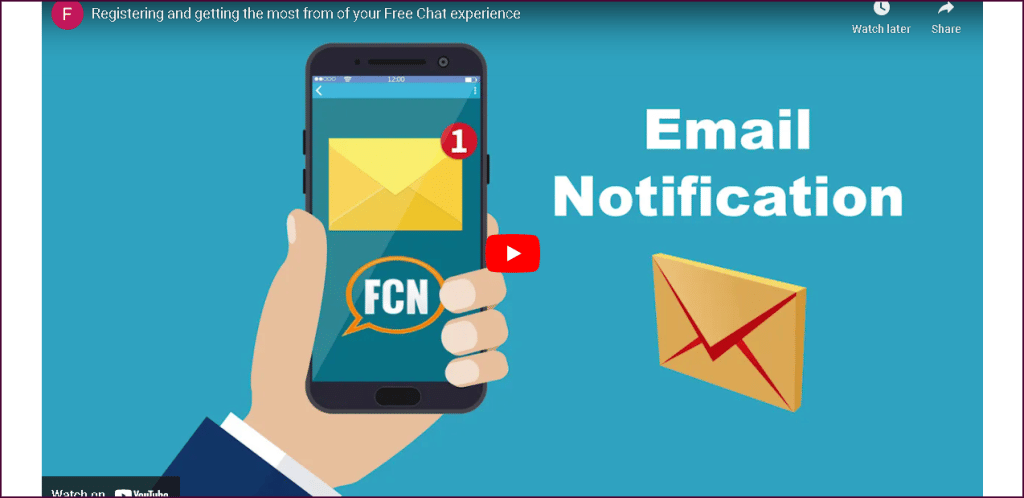 FreeChatNow was established in the 1990s, making it an early competitor for other emerging sexting sites. The site's chat rooms have evolved from simple text message exchanges to more interactive formats, such as video meetings and voice chat sessions, where users can watch and listen to each other in real-time. Even though the site has strict rules and guidelines on each chat room, it's clearly put in there for everybody's safety and privacy. In the end, if one-on-one communication is more your style, FreeChatNow creates a secure environment.
Read the FreeChatNow full review.
PROS:
Lots of chat rooms are available
Free to use
It doesn't require registration
Simple design
Easy to use
Smooth mobile experience
CONS:
---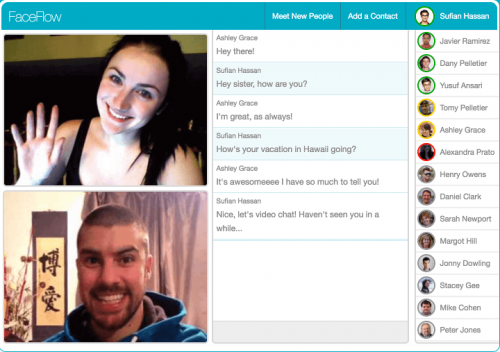 Are you interested in meeting new friends or connecting with someone in person? Do you want to maintain your friendships or keep in contact with friends? Then you must see FaceFlow and take a better feel for how FaceFlow can improve your communications.
This website was created for distant communication with your relatives and friends who may be living thousands of miles away. Later on, FaceFlow became a mix of a dating site and a service that helps you make new friends. Indeed, you can count on it to connect and laugh with your friends. Faceflow is a fantastic option for common messenger apps that demand subscription fees because it is free to use.
Check out the full review of Faceflow.
PROS:
The 'Find Random Partner' function helps to meet exciting friendships.
For searching users, basic search filters are available.
Members can be added to your Friends list.
If you are a registered user, your conversations are saved.
Without setting up an account, users can connect as guests.
Verification of email is optional
It is not a requirement to upload a profile photo
It requires 1 to 3 minutes only to complete a registration process
You can use your Facebook account to log in
The majority of the users are in their early twenties
FaceFlow moderators manage the public chatrooms
Free video conference communication is available without restrictions
There are four different languages available on the website
The website is available on multiple devices
Uses WebRTC to ensure high-quality live video chats worldwide
FaceFlow supports Opera, Chrome, and Firefox browsers for chat and video calls
CONS:
Users are using fake profile images
Males outnumber females
Display advertisements appear on the website since they are the website's primary source of revenue
---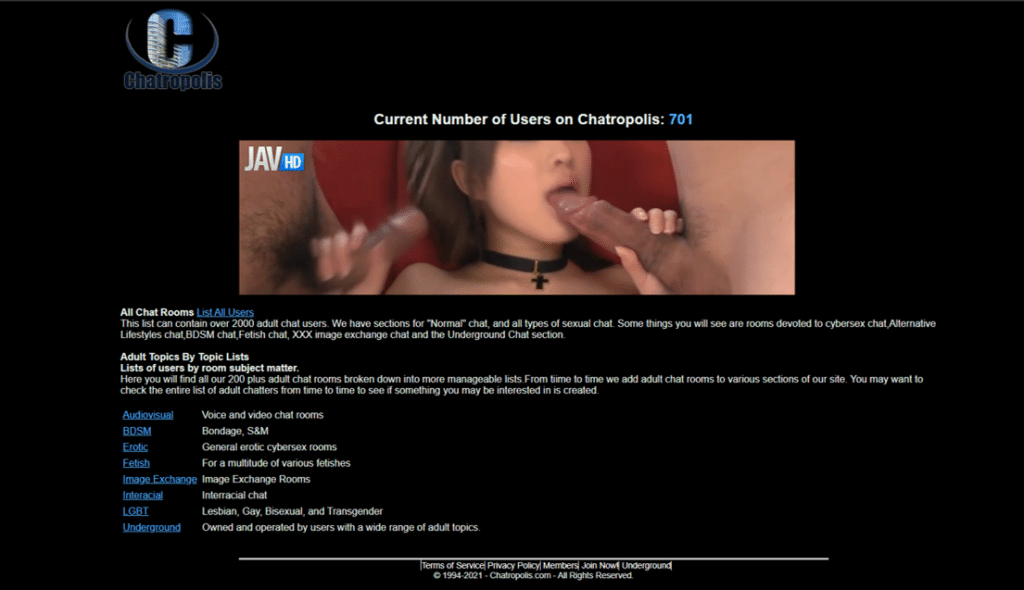 Chatropolis is a chat site is an excellent location for those who love engaging with actual people from all over the world in smaller, more intimate communities. There are also a variety of rooms accessible here that address a wide range of themes considering that they have a total of 49 chatrooms.
There are adult chat areas on the Chatropolis page, and it contains features that will delight website designers and programmers in particular. You may also decide to personalize your screens and your whole account by creating your unique image using photos available on the Web. In addition, the site allows you to create a username and design your profile.
Click to see the full Chatropolis review.
PROS:
Active since 1994
Wide ranges of themes and topics
Options to chat for free
Total of 49 chatrooms
Adult and intimate community
CONS:
Outdated design
Maximum of 30 persons per chatroom
No porn images and videos
Annoying advertisements
---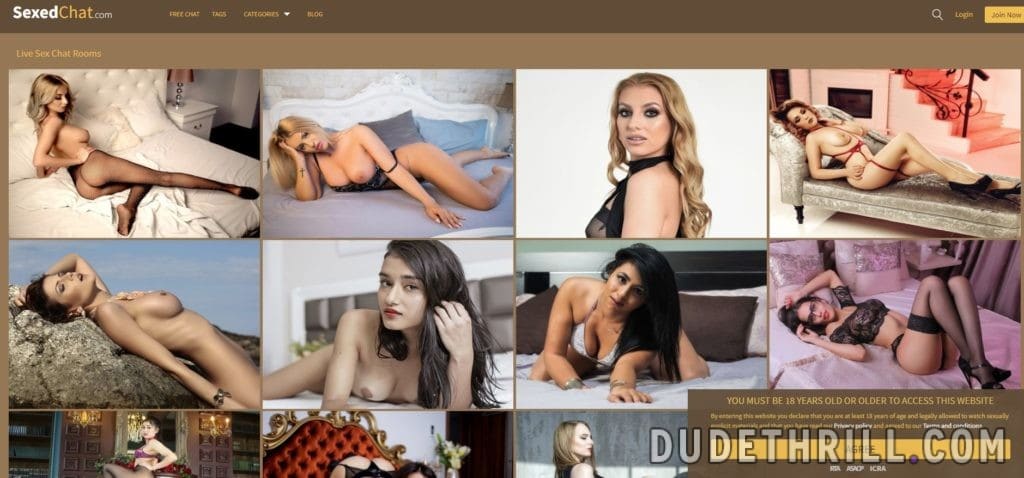 SexedChat is a great live sex chat website with thousands of models performing live shows for your pleasure. You can certainly choose any type of model available from its wide collection. You can either pick a brunette, Latin, Asian or simply a specific fetish for instance. Also, you can gain credits from simply enjoying an adult webcam watch.
Learn more about SexedChat with this full review.
PROS:
Advanced filter feature
Pleasant design
Plenty of cam girls to choose from
CONS:
Limited interesting features
---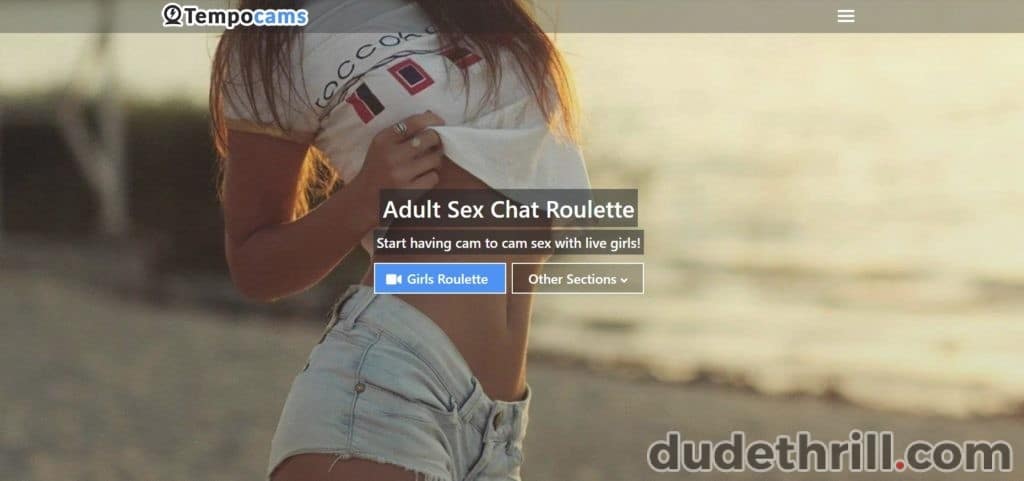 If you're looking for a good alternative to Omegle, the Tempo Cams is what I would suggest. At least, this site doesn't have all those penises and naked girls that are flooding Omegle. I also love the website's interface. When you reach the home page, you'll come across a dropdown box that will ask you to choose the type of roulette experience that you want – gay, shemale, girls, hentai, etc.
With Tempo Cams, you'll find sexy women doing seductive stunts in every cam. So, this might work best to those who would not mind jacking off to fake cams streaming horny women. But then you cannot expect these women to interact with you, at least verbally. I really have no desire to sign up for this site and take advantage of the free account to give at a test. I feel like there are several other adult chat sites that deserve my precious time.
PROS:
Women are very seductive even if they are fake
CONS:
You need to sign up and pay to chat with women who are not the ones on cam
Verifies age before chatting
---
Final Words
Alright, folks, that's my take on iFreeChat. From my experience, it's a pretty decent platform for those looking to chat with like-minded folks without the hassle of registration. Although it's clear that the site caters more to Indians, I'm sure there's something here for everyone — even for International users. The conversations can be unpredictable, but that's just part of the game regarding online chat rooms.
Overall, iFreeChat is worth checking out if you're looking for some dirty talk with the locals. Just be prepared to sift through some ads, dick pics, and the occasional porn loop. And, of course, remember to use your best judgment when talking to strangers on the internet. Stay safe out there, folks!
All 42 Other Sites in This Category Worth Checking Out:
TryNectar & 12 Best Sex Chat Sites Like TryNectar.ai Show Me 12 Alternatives for TryNectar.ai A day in the wild world of TryNectar, I found myself knee-deep in some next-level roleplaying with bots. Now, I won't lie; I'm starting to question if I'll ever waltz back into typical dating – yeah, call it an exaggeration, but […]