Updated on: December 10th, 2023
AdultWork Phone Sex
& TOP 12 Phone Sex Sites and Other Sex Chat Services Like AdultWork.com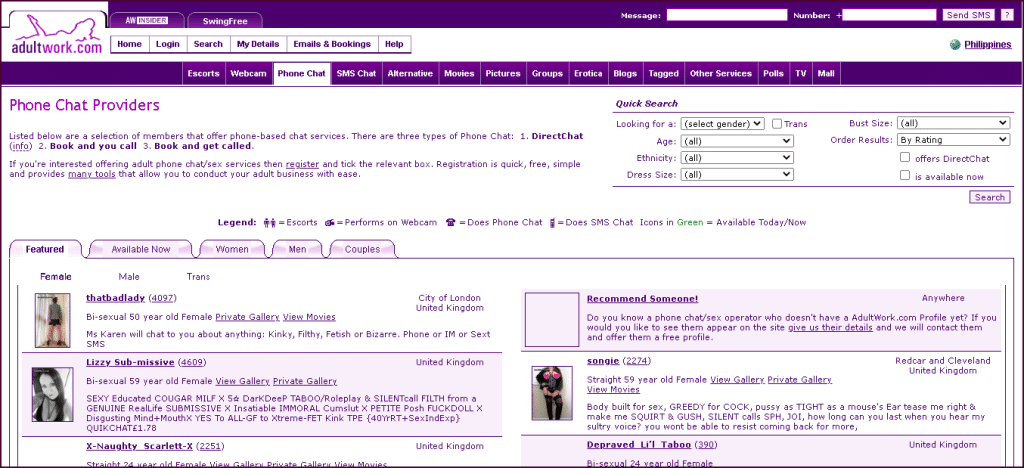 As someone who's been around the block when it comes to porn, I can attest that everyone has their preferred way of getting off. Some people stick to their go-to porn tubes, others swear by photo galleries, and even those who can't get enough virtual reality. But let's face it — sometimes, you just need that personal touch to really hit the spot.
Official URL: https://www.adultwork.com/HomePC.asp
And what's more personal than a sultry voice guiding you through every stroke and moan? That's where AdultWork Phone Sex comes in — a platform where gorgeous women are waiting on the other end of the line, eager to help you blow your load. I get it, sexting and doing nasty stuff on the phone is somewhat outdated, but trust me, it's still alive and kicking. So if you're curious about why there's a shitload of dudes (and gals!) keep calling up these babes, it's time to find out for yourself.
Explore Sultry Phone Sex Experience with 3500+ Hot Pros at AdultWork Phone Sex
When fulfilling your sexual desires, sometimes a little dirty talk is just what the doctor prescribes. But let's be honest; finding someone craving phone sex can be like finding a needle in a haystack. And even if you do manage to find someone, how do you know they're not just some fraud posing as a hot babe?
You don't want to end up chatting with some dude with a high-pitched voice, pretending to be a sultry vixen. That's a surefire way to kill your buzz and waste your time. That's where the professionals come in. By choosing a pro, you can rest assured that you'll get the satisfaction you crave.
It's a good thing that there are now adult directories like AdultWork Phone Sex that can help make your search for the perfect phone sex operator a lot easier. With thousands of professionals worldwide, you're sure to find someone who's just as horny as you are. Plus, you can easily filter your search to find someone who matches your kinks and fantasies.
These experts in the art of phone sex know how to use their seductive photos and compelling voices to get you off and empty your balls. They're in the business of making you a loyal customer, so they'll do everything in their power to ensure your pleasure. With their help, you'll be able to clear your head and focus on what really matters — getting off. Just keep in mind that while the site may not look pretty, the professionals there definitely are.
Unleash Your Wildest Fantasies with Seasoned Dirty Sex Chat Providers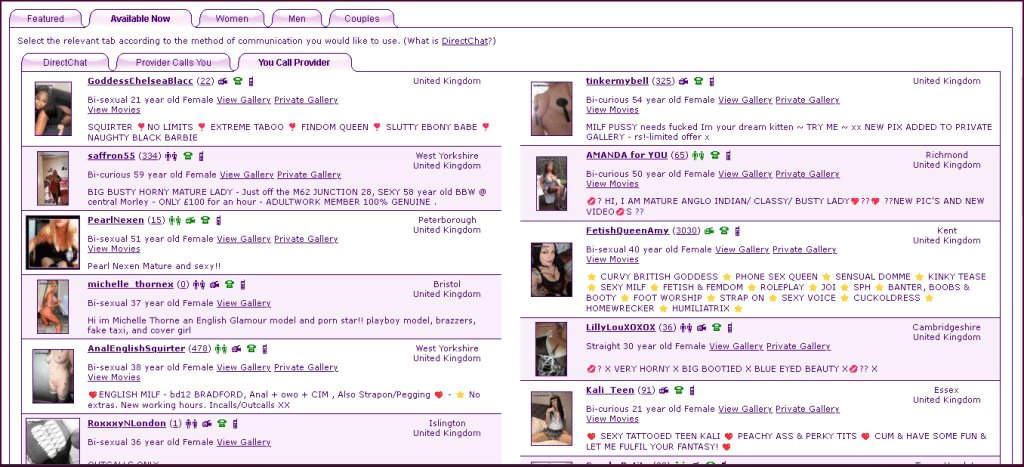 I know you might be feeling adventurous and want to try out an amateur, but let's be real; nothing beats the expertise of a seasoned pro when it comes to dirty talk. You don't want to risk wasting your time and money on someone who doesn't know what they're doing, right?
That's where AdultWork Phone Sex comes in — the ultimate destination for anyone looking for steamy sexting with professionals who know their way around a dirty conversation. With an impressive collection of over 4K+ professional profiles, you'll never run out of options. These seductive goddesses are eager and able to satisfy your every carnal craving, leaving you drained and eager for more. So why pay for something less when you can have the absolute best?
Find Your Perfect Match on AdultWork Phone Sex and Get Ready to Get Off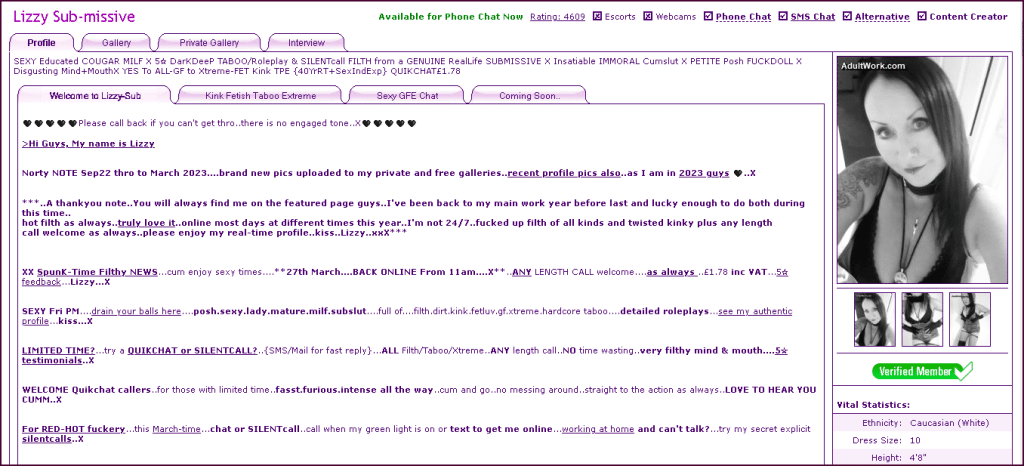 Are you intrigued about navigating the AdultWork Phone Sex website to find your perfect sex chat operator? Well, don't worry because I've got you covered! The moment you land on the site's homepage, you'll be greeted by a banner with the top member for that week. This is followed by a list of featured sex chat providers ready to rock your world.
But wait, there's more! Scrolling down the page, you'll come across a section with the 'most popular' phone sex operators. While there isn't any specific order, these are the cream of the crop, so it's worth checking them out.
And now, the moment you've been waiting for — to see who's online and available for some steamy conversation right now, click on the "Currently Available" tab. With hundreds of members currently waiting to satisfy your desires, you're sure to find someone who can fulfill your every fantasy. Trust me; these numbers are awe-inspiring!
Get Your Kicks with Quick Clicks and Satisfy Your Naughty Cravings with Sex Chat Mates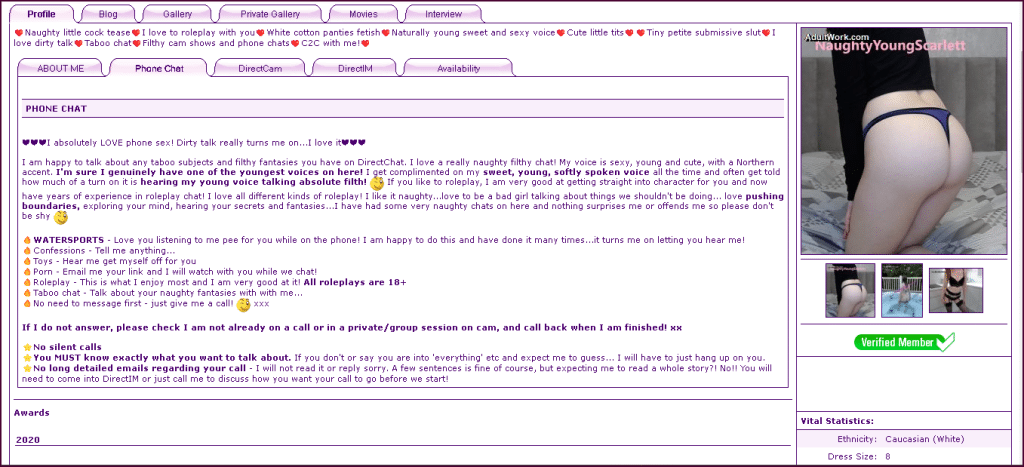 AdultWork Phone Sex makes it easy to find and chat with sex chat providers willing to fulfill your naughty desires. There are different ways to reach out to them depending on your preferences. One option is DirectChat, which is the simplest way to get started with phone sex on this platform. Just dial the AdultWork Phone Sex service, and you're good to go. The best part? You and the operator remain entirely anonymous.
However, if DirectChat isn't your thing, you can choose between calling the sex chat provider or another way around. If you prefer the former, select the operator's profile, click the "book a session" link, and choose a schedule. To avoid being left high and dry, double-check your account and ensure it has sufficient credits before engaging in steamy conversation. Remember, this isn't a charity service, so be prepared to spend some cash if you want to get off.
Alternatively, you can take the initiative and contact the operator manually. Simply tap the requested booking, and once confirmed, the operator will provide you with a number to contact. This process is great if you like doing things by yourself instead of waiting for girls to call. But remember, if you commit to a scheduled call, be responsible and follow through. If you don't show up, the operator could reject your booking in the future. So, get your act together and enjoy your steamy conversation with a seductive girl.
Explore Your Inner Kinkster with Adult Work Phone Sex Powerful Features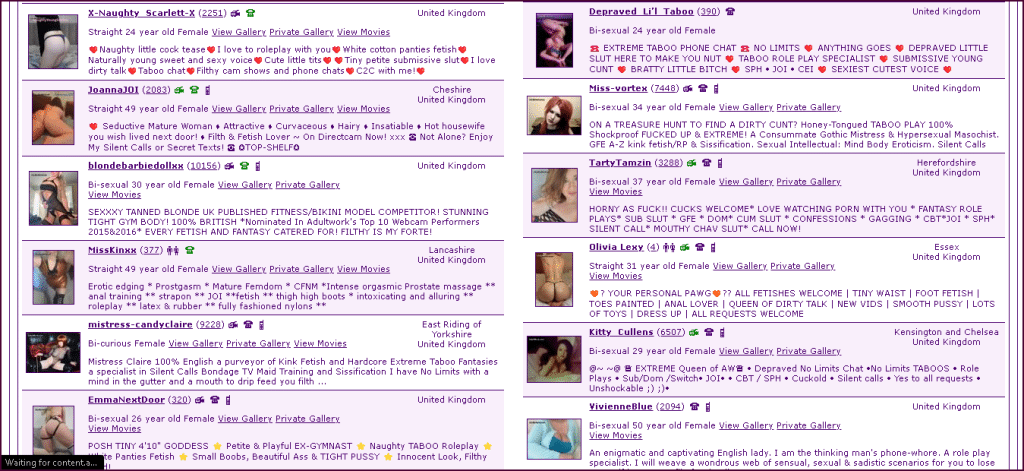 Are you looking for a steamy and exciting phone sex experience? With AdultWork Phone Sex, it's easier than ever to find the perfect phone sex operator who can fulfill your deepest desires. Simply head over to the search bar and click on "phone chatting" under the "Services" section.
Once done, you can refine your search according to various parameters. You can choose the gender, location, sexual preferences, and even specific fetishes of the sex chat providers you want to chat with. The options are plenty, making finding someone who can cater to your unique needs a breeze.
One of the most amazing things about AdultWork Phone Sex is its wide user base and connection with people worldwide. While most service providers are primarily from Europe, the site also offers numerous No matter what you're into or where you are, there is always a phone sex operator waiting to chat with you on AdultWork Phone Sex.
Time for a Revamp! Site's User Interface Needs a Makeover to Spice Up your Chat Experience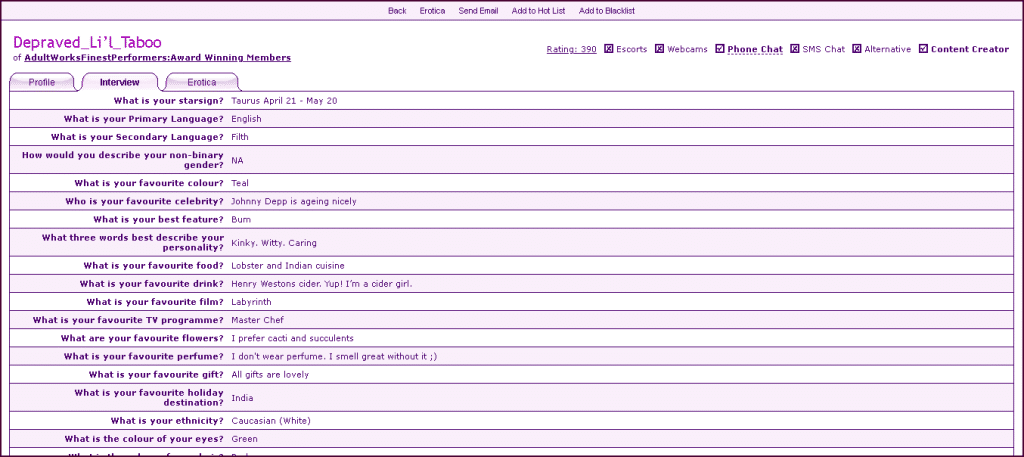 If you're an avid phone sex enthusiast, you might want to consider exploring AdultWork Phone Sex. Although the platform has existed since 2000, the user interface may seem outdated and reminiscent of the 2000s. However, that shouldn't stop you from discovering the shitload of service providers available.
AdultWork Phone Sex offers robust search options, enabling you to find the ideal phone sex operator that caters to every craving. You can find everything you need whether you're into dominant, submissive, or a little bit of both. Additionally, the platform has a worldwide selection of service providers so that you can indulge in various accents, languages, and cultures.
When using AdultWork Phone Sex, you can be confident that you're only getting the best of the best in phone sex operators. These experienced professionals know precisely how to get your pulse racing and your heart pumping, delivering an experience you won't forget. Who knows? You might even find a girl you want to connect with regularly, leading to an incredible bond.
So, don't let the outdated user interface stop you from diving into the thrilling world of phone sex on AdultWork Phone Sex. It's an excellent platform to explore your wildest fantasies with skilled service providers.
Pros and Cons of AdultWork.com/HomePC
PROS:
Thousands of Sex Chat operators
Users and operators are available worldwide
Lots of listings available
Amazing search engine
CONS:
---
TOP 12 Phone Sex Sites and Other Sex Chat Services Similar to AdultWork.com/HomePC: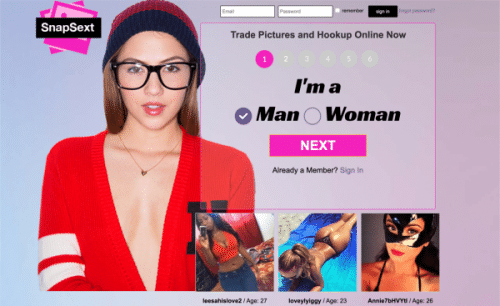 Snapsext is a free sex chat website for people who aren't afraid to take risks. The platform focuses on visual content such as video chats, images, live streams images, videos, and more. You can casually flirt or go straight to hookup and sex, or anything in between. The audience response to SnapSext has been fantastic because it is attracting a growing audience every day. Many people believe that the website encourages them to express their sexuality entirely and behave however they want, without worrying about repercussions.
Here's the full review of Snapsext.
PROS:
Most of the basic features are free
Large user database
Real, hot verified girls & guys
Online for 10 years+
Flexible premium pricing
CONS:
Some screening questions when signing up
---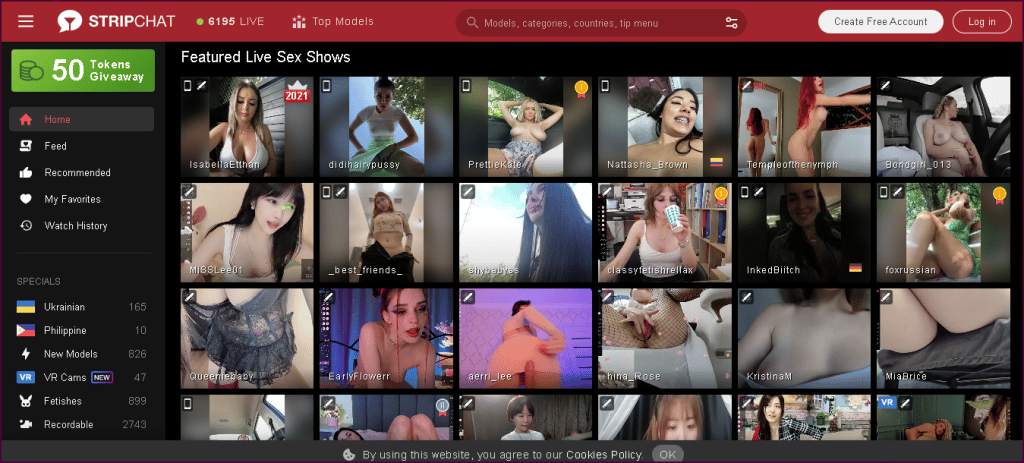 Stripchat, which has been around for five years, has successfully grown into the top 10 best adult platforms and continues to give superb quality and services, making everyone love the site a little more. One great feature that Stripchat offers is that users are not only limited to communicating with models but can also chat with other users. Also, there are plenty of models registered on this website, most of whom are professional porn stars. With its pornographic nature, Stripchat is already a reputable and credible cam site; wherever you are, everyone can enjoy sexual pleasure at their own pace.
Click here for a full review of StripChat.
PROS:
A long list of beautiful models on the site
Simple, cool, and attractive website design
Users are allowed to forward private messages
The website is easily accessible and user friendly
A wide selection of live sessions and videos
Extensive FAQ page
FREE view and chat functionality for guests
CONS:
Unregistered members get constantly reminded via pop-up messages to sign up (which gets annoying)
English is the only available language feature
Private message chats are exclusive for paid memberships only
---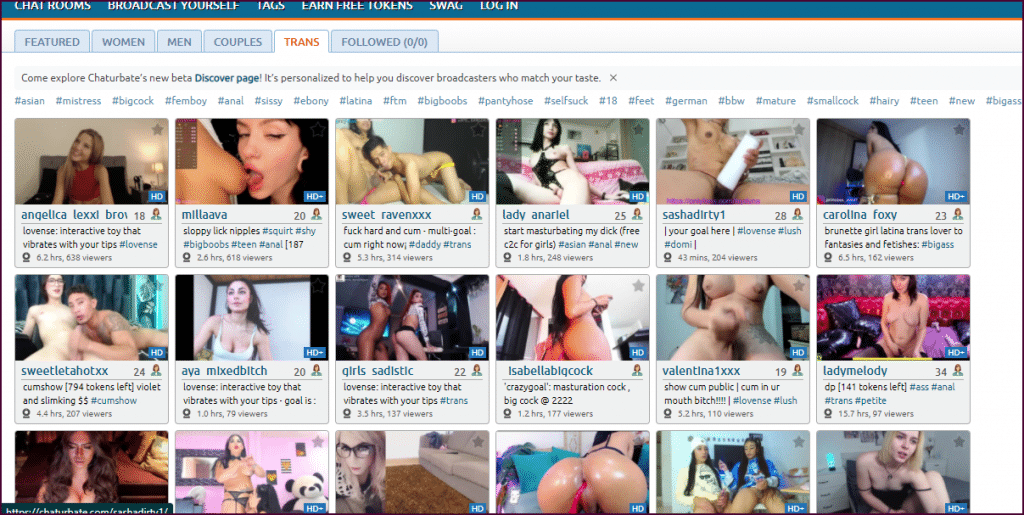 Connecting to people worldwide has never been so easy. Thanks to Chaturbate, unlimited talking is now possible. Plus, you will never spend a dime on it. There are a lot of sexy and beautiful women available for you, 24/7. As a matter of fact, women on this website love kinky stuff, which is always worth your time and attention. Meanwhile, live shows are also available for viewing at a reasonable price.
PROS:
Many cam girls available 24/7 live
No additional fees to expect
Nudes and sex are always a guarantee
Smooth browsing on smartphones and other devices
CONS:
Few videos are in SD format
Expensive private shows
---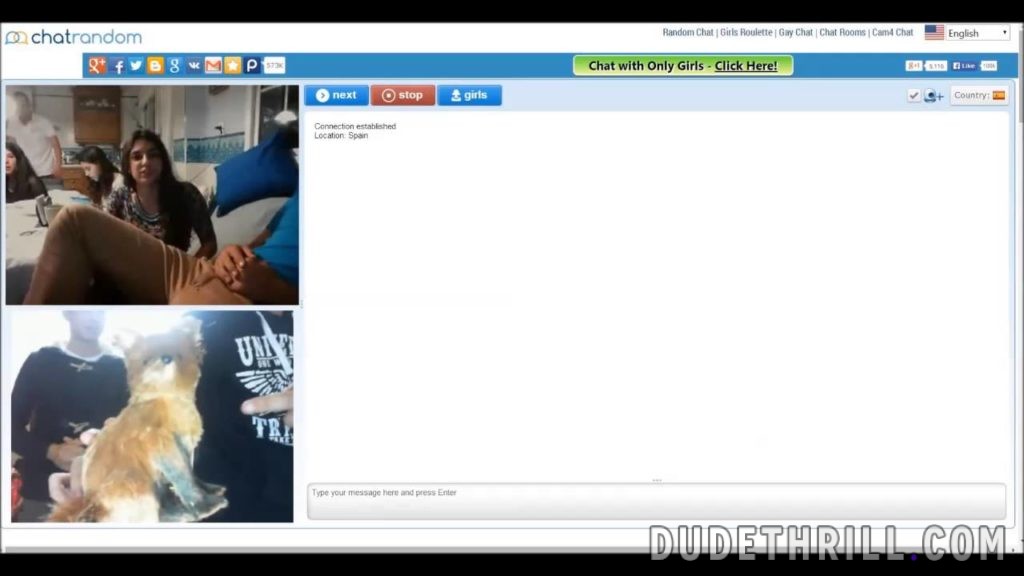 Chatrandom is a free live chat site that allows users to easily connect with people and strangers worldwide. The site started its outstanding service around 2011, and since then, it has become one of the most popular sites today. Indeed, this is the most exciting live chat you can experience. Because the system uses a roulette-type matching and lets you chat with thousands of people every day
Click to see the full review of Chatrandom.
PROS:
Registration is free
Users can chat with members from other parts of the world
People can join live chat without registration
There are thousands of active users every day
App version is available for download
Hiding identity is public through "mask."
Free sending messages
CONS:
No profile photo is available
Only Android users can download it
More number males than females registered
---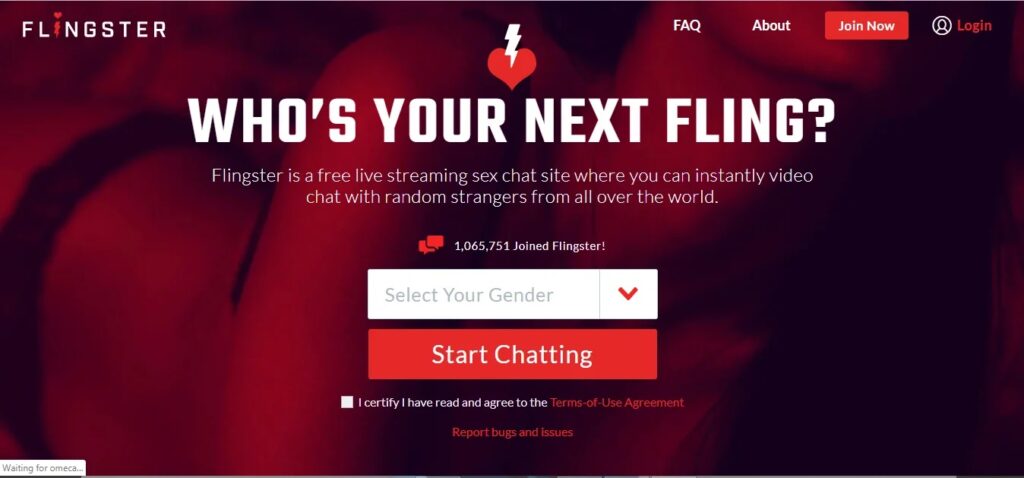 Flingster is an adult sex chat website for meeting, hanging, and making out with singles. On this website, the application process is indeed speedy and convenient. So, it won't be wasting much of your energy at all. Compared to several other sex chat websites, even free accounts can use messages and video chats without paying.
On the other hand, paid subscribers have additional features that are indeed unique. Meanwhile, Flingster similarly provides discreet identification while chatting before you consent to a spontaneous, quick fling.
Check out the full review of Flingster.
PROS:
Unspecified character is a choice
Everybody is excellent regardless of sexual orientation or gender
The sign-up procedure is available and relatively simple
The site's design is simple; however, understandable to navigate
CONS:
There are occasional phony profiles reported
---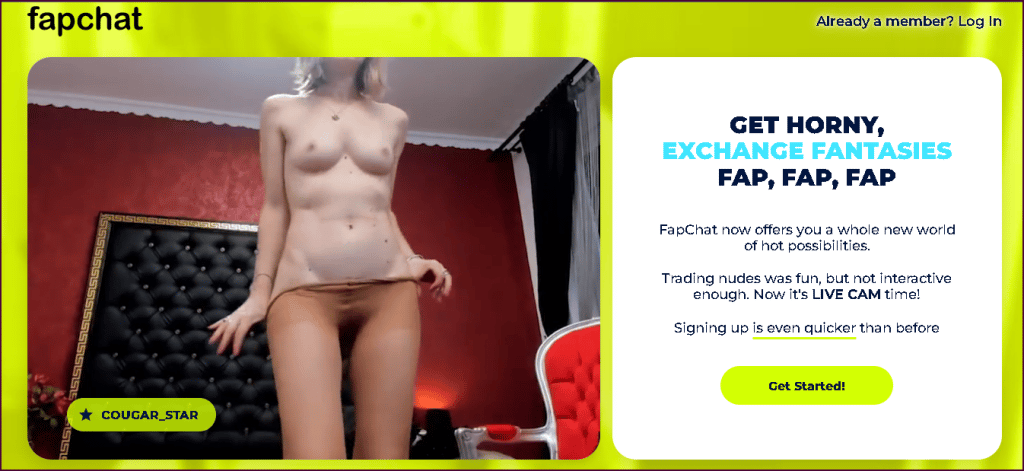 Fap Chat is a platform that helps men like you find attractive single women to take nude selfie photos with and strike up a conversation with. There are thousands of stunning young ladies to choose from, so you're likely to find at least a few that you want.
Take a look at the full review of Fapchat.
PROS:
The website has a simple design and is very easy to use
You can watch real live women performing on cam
Maintains anonymous identity
No bots and fake profiles
CONS:
It has no live chat support service or phone service
You cannot record cam shows
---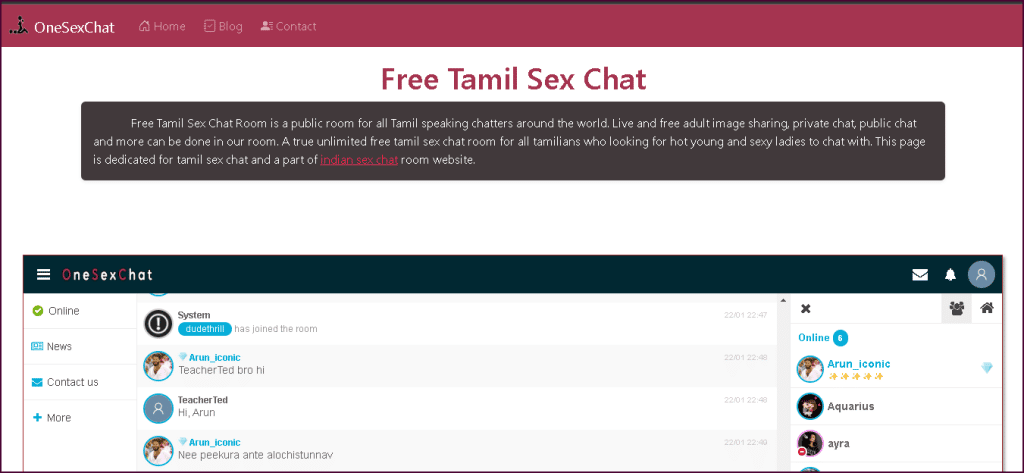 OneSexChatIndia is a sex chat site that offers fantastic free chat features and services. It also offers anonymous service, so you can enjoy non-stop talking, flirting, and connecting without worrying if your identity is at stake. The way they use straightforward navigation and no flashy features makes the entire sex chat experience a much better and easier encounter compared to other competing sites.
PROS:
Free to use
Indian-focused website
Offers international chatrooms
It doesn't require registration
Ads are minimal
Easy to use
CONS:
Not so many users are active
---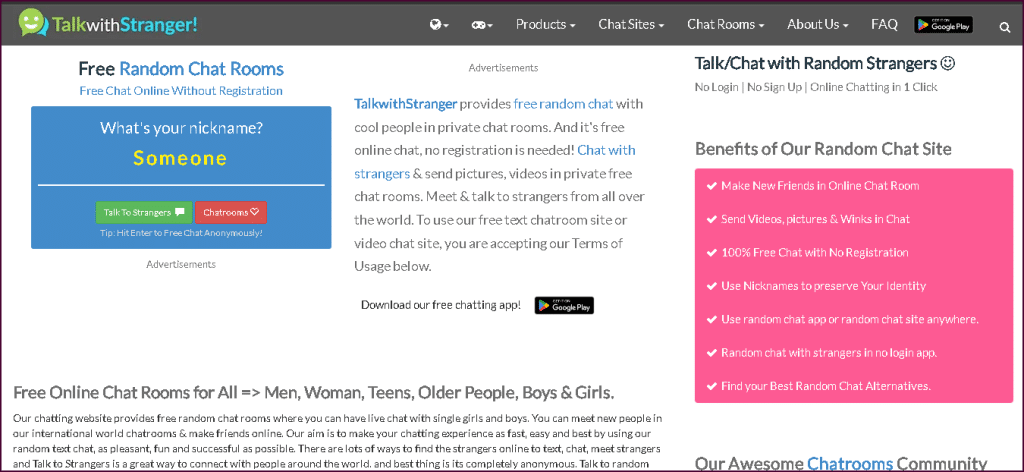 If you're looking for a high-quality platform to enjoy non-stop thrilling chats with strangers, go no further than TalkWithStranger.com. It's has a diverse group of folks from hundreds of nations that come together here, and a shitload of activities is going on, and countless chat fanatics are using the site simultaneously. All its features are easy to use and make your stay here a lot more convenient and effortless.
Read the Talk With Stranger full review.
PROS:
Amazing features to communicate
Randomized system
Free access
It has interactive games
Participants are active
CONS:
Missing customer service
IOS compatible app is not available
---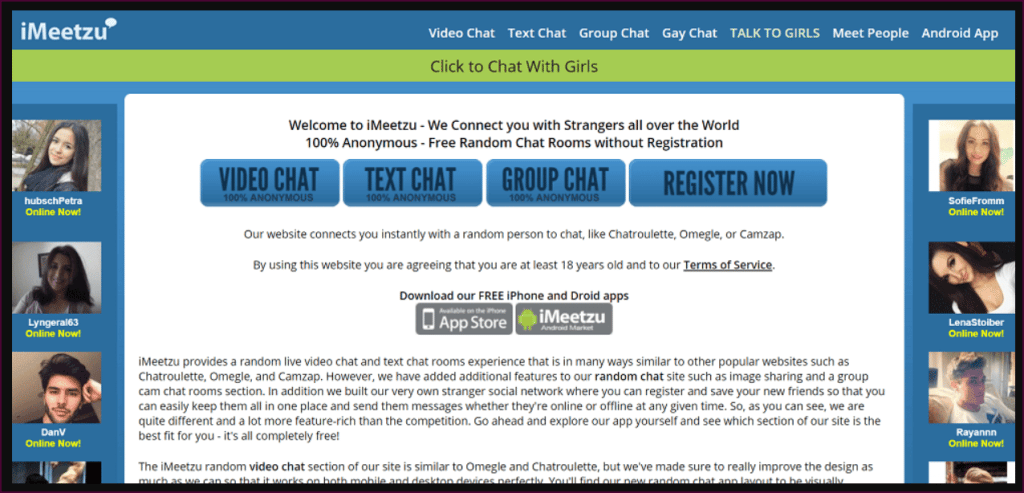 In 2009, the iMeetzu website launched, becoming the first to mix spontaneous online chatting with a social networking component. It also developed its unique social-media-like system that lets you sign up and add users as "friends." Certainly, you'll embark on a thrilling journey into the hearts and minds of like-minded individuals who prowl for new acquaintances and potential partners in virtual romance. It won't cost you a dime to download and play around with its app and discover services that best suit your needs.
Check out the full review of iMeetZu.
PROS:
Numerous chat options
Free to use
No need to register
Active members
Welcoming community
CONS:
The web page looks basic
Beware of scammers
---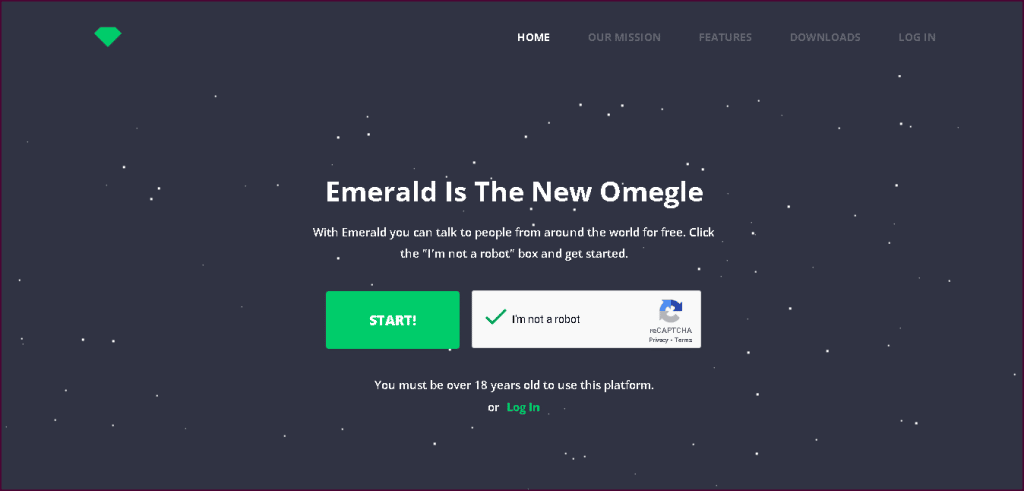 Emerald Chat is a brand new addition to the adult entertainment industry, and to my surprise, it has been getting a lot of attention from chat fans. The site aims to provide people with a reliable matching system based on users' preferences and interests. Its algorithm's pretty convenient and easy to use; you can talk to people without hassle. Everything here is free, and no hidden charges when browsing. Also, it has no bots or spam messages, unlike Omegle; thus, your safety is 100% guaranteed. Finally you can enjoy an endless flow of authentic users.
Click to see the full Emerald Chat review.
PROS:
Lots of users from numerous parts of the world
Verified users
Free registration
Free to use
Premium membership provides more benefits
Reliable matching algorithm
It has a gender filter and karma level rate
Intuitive design and features
Can use without registration
Safe and discreet
CONS:
Some features available to premium members
---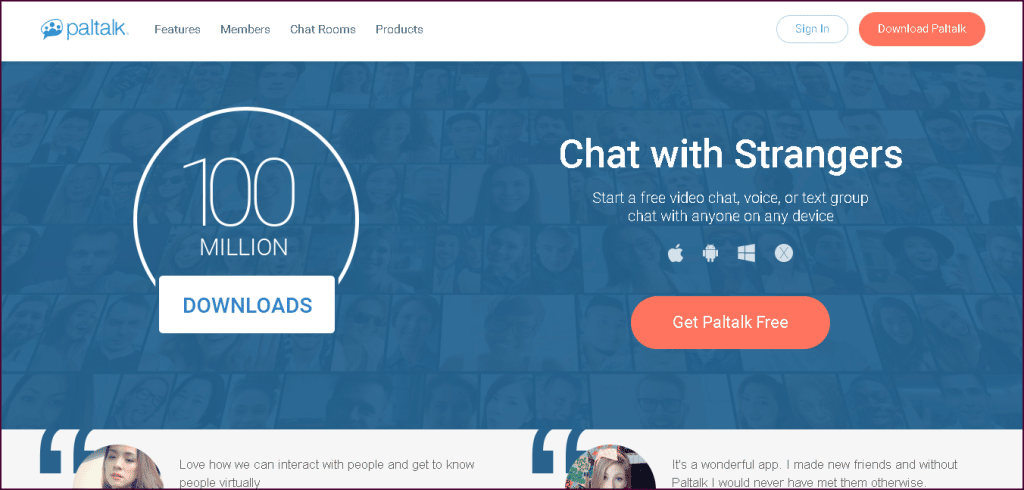 PalTalk has been around for quite some time and is well-known for its user-friendly design and extensive set of tools for encouraging interaction. It calls itself "the biggest and most popular talk chat app," is a robust online community in which millions of users share and see live video feeds. And since you'll make many new acquaintances on the site, successfully dating shouldn't be difficult. If you're looking to make some newfound virtual buddies, you may join up for a membership.
Learn more about Paltalk with this full review.
PROS:
Reliable chat features and options
Thousand free chats
Open for private and exclusive chats
Strong and reliable texting system
Can communicate without cams
Offers profiles customization
Unlimited viewing of live stream videos
CONS:
Several chats are not appropriate for underage users
---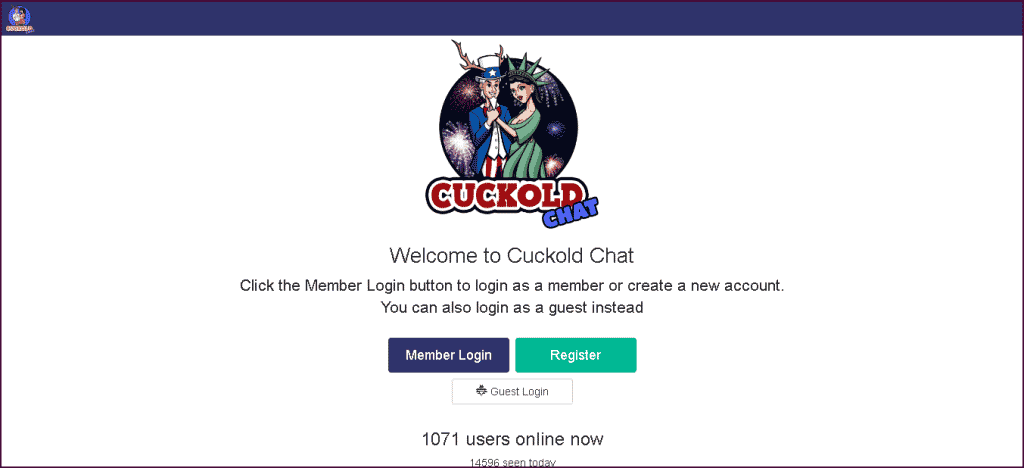 CuckoldChat is very open and welcoming to all people willing or curious to try the cuckold lifestyle. I'm pretty sure that this site will give you much more options and opportunities to explore what's more about cuckolding. This page has primary chat rooms and hundreds of people exchange pics, videos, and messages daily. Certainly, CuckoldChat established a fantastic community and a dream destination for all cuckold lovers.
Check out the full review of CuckoldChat.
PROS:
Active members
Free sign up
Lots of chat rooms available
All cuckolding stuff
Amateur and authentic content
CONS:
Chats can be crowded sometimes
---
Verdict
AdultWork Phone Sex site may have a dated user interface, but don't let that fool you! You are guaranteed a good time with an array of experienced and professional chat service providers worldwide. The search feature makes it easy to find the perfect sex mate to get you off quickly. However, a much-needed facelift is long overdue to make the site more visually appealing and user-friendly. A fresh new look would entice horny dudes to the site. So, let's hope Adult Work Phone Sex invests in some renovations to enhance the user experience and keep us all cumming back for more!
All 43 Other Sites in This Category Worth Checking Out:
Talk To Me & 12 Must Visit Sex Chat Sites Like TalkToMe.com Show Me 12 Alternatives for TalkToMe.com Talk To Me! Yes! Are you bored or wishing to get some friends or strangers for a quality conversation? Sounds fun, isn't it? I am extra naughty today, so I swam across my compilation of sex chat sites […]