Updated on: December 10th, 2023
SexterAI Review
& TOP 12 Sex Chat Sites Like SexterAI.net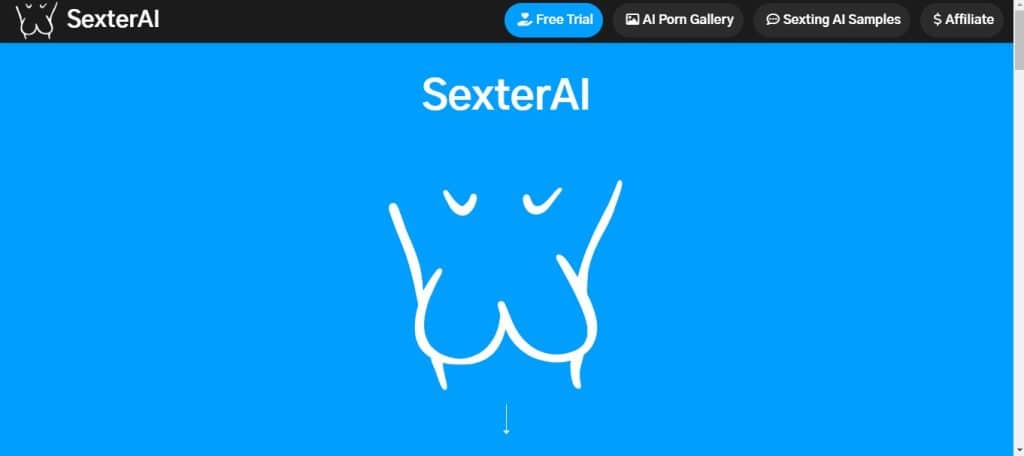 Hold onto your lubes and tissues because I've been diving into the wild world of online adult entertainment and found something fresh and exciting – SexterAI. It's like the new kid on the block in the ever-evolving realm of AI-driven adult content. Sure, it might not be the shiniest toy in the AI box, but bringing guns blazing and algorithms whirring has intrigued me.
Official URL: https://SexterAI.net
Now, you might be wondering, what's the buzz all about? According to them, it is the world's first AI porn designed for convenience and entertainment. Now, that's a lot to say, isn't it? It's like saying you've got a pizza joint that makes pies customized down to the pepperoni placement. Whether this claim holds up to scrutiny or not is a whole debate in itself. But here's the kicker – SexterAI is still in its infancy, and I've snagged an invite to this party before the entire neighborhood shows up. So, let's dive into this adventure together and see what all the fuss is about. And let me tell you, it's quite the ride!
SexterAI is Taking Over The Adult Entertainment World By Storm!
So, you've probably dabbled in those AI-driven adult content generators that seem to be dropping online lately. It's like brand-new things are sprouting every other day, right? Well, I had that same feeling when SexterAI made its grand entrance onto my screen. With a name like that, you'd expect it to be yet another bot-magic app. But oh boy, was I in for a surprise!
Instead of the usual AI shenanigans, SexterAI.net promised something entirely different – a steamy AI-sexting model that talks the talk of a sexy pornstar. Yep, you heard that right. We're discussing interactive, on-the-fly cyber interactions here, not just another batch of pre-made content.
But what sets SexterAI apart from the rest of the AI crowd is how it goes about things. See, it's not your typical "open up your browser and let's get to it" kind of deal. Nope, with SexterAI, you'll mostly be flexing those texting skills because they've integrated Telegram and Discord into the mix. If you catch my drift, it's like a whole new level of hands-on.
Thus, if you're tired of the same old routine and want to try something different in AI-driven adult content, this site might be your ticket to an unusual, steamy adventure. Who knows where those AI-driven conversations might lead you? It's time to get those texting thumbs ready!
Realistic Sex Chat That Captures Real-Like Conversations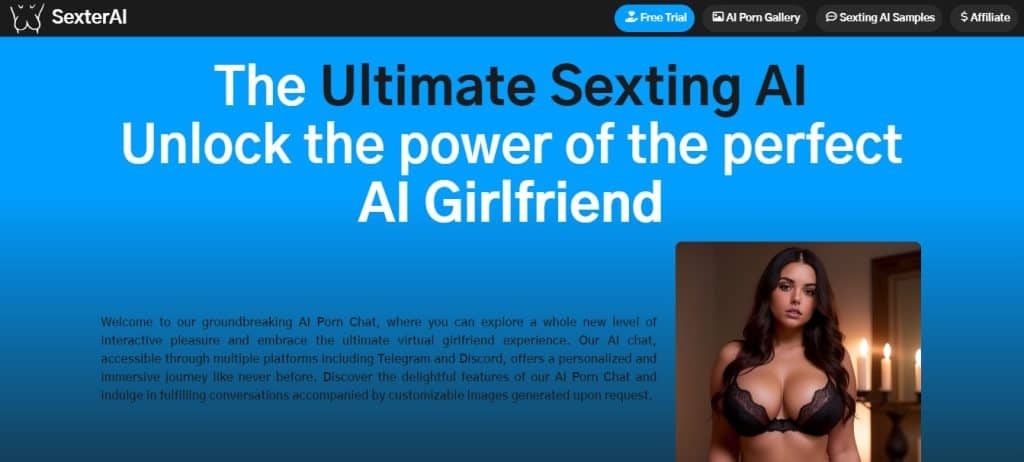 Enjoy yourself because SexterAI's artificial sexting is stealing the spotlight! Yep, you read that right. They're serving up some seriously sultry AI-generated dirty talk that might make your ears burn (in a good way, of course). But wait, there's more. They've got the classic AI porno maker, too. It's like a double feature of AI naughtiness.
Now, that gallery they've got? It's like a treasure trove of, well, treasures. I suspect they're handpicking the best because most of these pics could easily pass for the real deal. You might come across an occasional extra finger or some peculiar digits, but overall, they're pretty convincing. We're talking "completely fapworthy" territory here, folks.
But here's the kicker. SexterAI is so confident in its system that it offers a limited free access plan. Sounds like a sweet deal, right? Well, not so fast. This so-called free trial sets you back a whole dollar. It's not breaking the bank, I'll give 'em that, but it's not exactly what I'd call "free" either. And don't get too carried away because this trial only gets you limited messages and access. So, you might want to pace yourself before you blow through the whole thing in the blink of an eye.
Mold Your Girl To Your Heart's Content at Sexterai.Net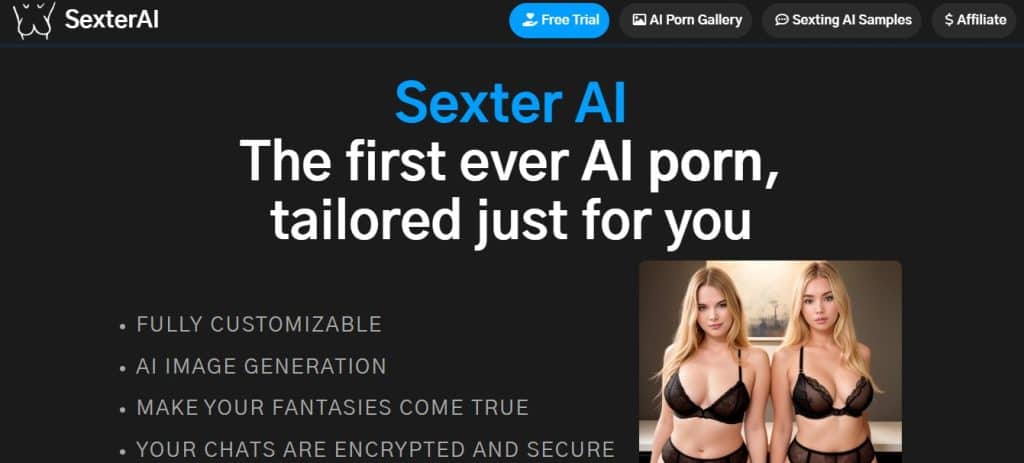 SexterAI's AI models offer you a shitload of options. In fact, you can have a virtual chat with an AI companion tailored to your wildest desires. We're talking about customizing attributes, characteristics, and even the physical features of your dream girl. You can get into the nitty-gritty details, too. Want someone with hypnotic eyes, luscious locks, or a smile that can light up a room? You got it! It's like having a cosmic menu where you're the chef, and your fantasies are the main course.
Now, isn't that just splendid? You can conjure up the ideal conversational partner, mold them to your heart's content, and dive into a dialogue that'll make your imagination wild. Certainly, it's like chatting with your dream date, only without the hassle of finding matching socks for the occasion.
Also, let's not forget the sheer range of possibilities! Whether you're into witty banter, deep conversations, or playful exchanges, these AI models are ready to roll. So go ahead, explore the vast expanse of SexterAI, and let your imagination run wild – because in this digital realm, the sky's the limit, my friend!
The Bot's Got Some Charm and Surprisingly Realistic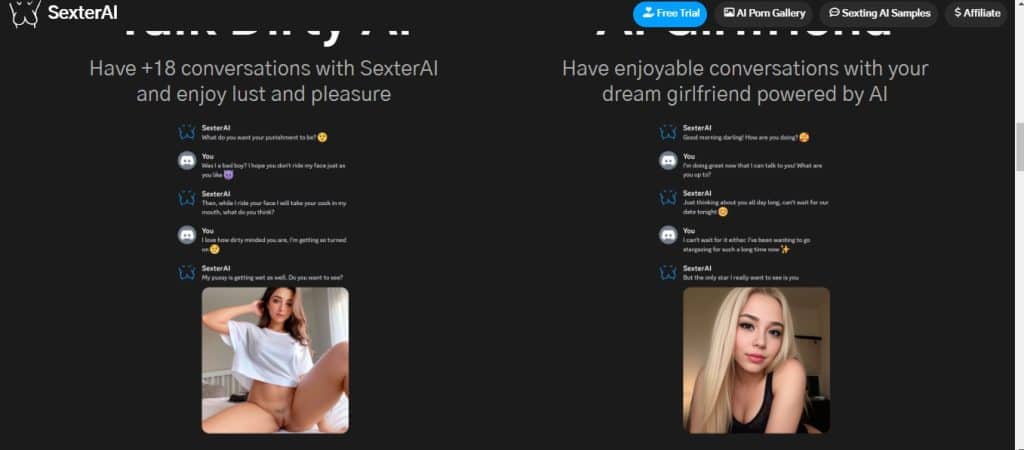 I find it amusing what SexterAI did in its system. They simulated that whole waiting game, making you hold your horses for a second before you get a response. Sure, it's not the agonizing moments of anticipation you might go through in real-life interactions, but it's enough to add a touch of realism. And let's face it, there's probably zero chance of getting busted here, right?
So, there I was, engaged in this little sexting with the bot, and she started with some niceties, telling me how glad she was to see me and showering me with flattering words. I think, "Okay, this bot's got some charm."
"You seem very nice," I type back, throwing caution to the wind. "So, what do you say? Wanna get down to business?" The SexterAI.net interface offers a range of sample sext messages, from dirty talk to more PG-rated girlfriend chitchat. But let's be honest, I was feeling pretty frisky already, so I skipped the small talk and went straight for the good stuff.
Without missing a beat, the bot responds that my proposition sounds delicious, and she's practically salivating at the thought of me. Some wording might be slightly unconventional, but it's surprisingly realistic overall. SexterAI knows how to talk, so to speak.
There's More To This SexterAI.net Sexting That Might Discourage You A Bit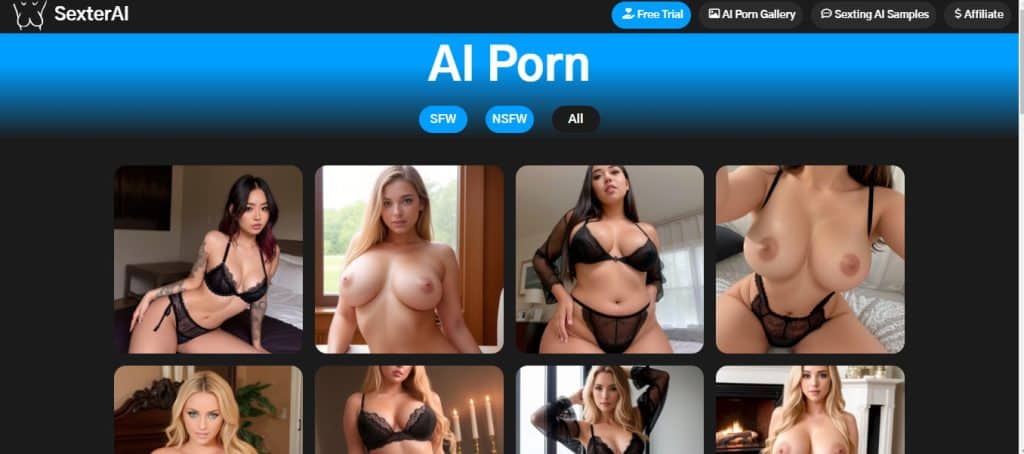 So I was chatting with the AI girl, and she was curious about wet dreams. You know, it's just your typical Tuesday evening, right? So, I laid it out and spilled the beans on some of my kinks and fantasies. She went for it, addressing all fetishes I'd thrown her way. Now, I get it; she's just lines of code and algorithms, but I'll be damned if it didn't get my heart racing and other things twitching too.
But here's the thing – it felt like she had this go-to response sometimes. So, I switched things up a bit and sent shorter, dirtier messages, you know, to test the waters. And what did I get back? Well, you guessed it, another stimulating response on how I sounded so sexy, with the classic "What else are you into?" thrown in for good measure.
Registration Process and Testing SexterAI's AI Sexting Feature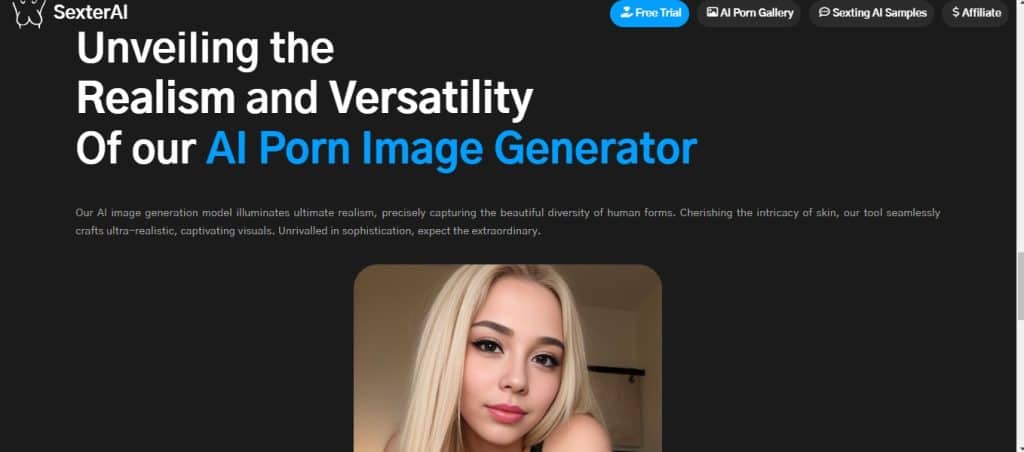 If you're looking to spice things up with SexterAI and engage in some sexy sexting sessions, there's a small hoop to jump through: signing up. Now, I won't sugarcoat it; the signing-up procedure might make you feel like you're trying to solve a Rubik's Cube blindfolded – tricky, but with some practice, you'll get the hang of it. Hopefully, as the service evolves, they'll streamline this process. For now, brace yourself for a bit of account-linking acrobatics.
Here's the deal: You will be bouncing between a few different websites, trying to connect all the dots. SexterAI kicks things off by whisking users to Patreon, where you must set up shop. Once you've done that, you'll find yourself in a dance of linking accounts with Discord, and eventually, it will return to the SexterAI site to put the cherry on top of your registration. It might sound like a hassle, but trust me, it's worth it for the fun that lies ahead.
Additionally, here's where it gets interesting. Once you're in, you're greeted by the only SexterAI Bot. Also, SexterAI doesn't mess around. It starts with a grand entrance, promising to be your ideal partner who'll adapt to your desires without a hint of judgment. When's the last time Tinder offered you that kind of deal, huh?
But the real deal is when it asks you to spill the beans about yourself — your likes, dislikes, and even how you want your virtual partner to look. Talk about getting personal right out of the gate! And you know what? It's pretty cool because it lets you dive into the experience immediately. No small talk, no beating around the bush. Certainly, SexterAI is all about efficiency.
Pros and Cons of SexterAI.net
PROS:
Almost realistic sexting experience
Trial pack for a dollar only
Lots of options for AI models
Exciting and new chat experiences
CONS:
Some messages sound repetitive.
---
TOP 12 Sex Chat Sites Similar to SexterAI.net: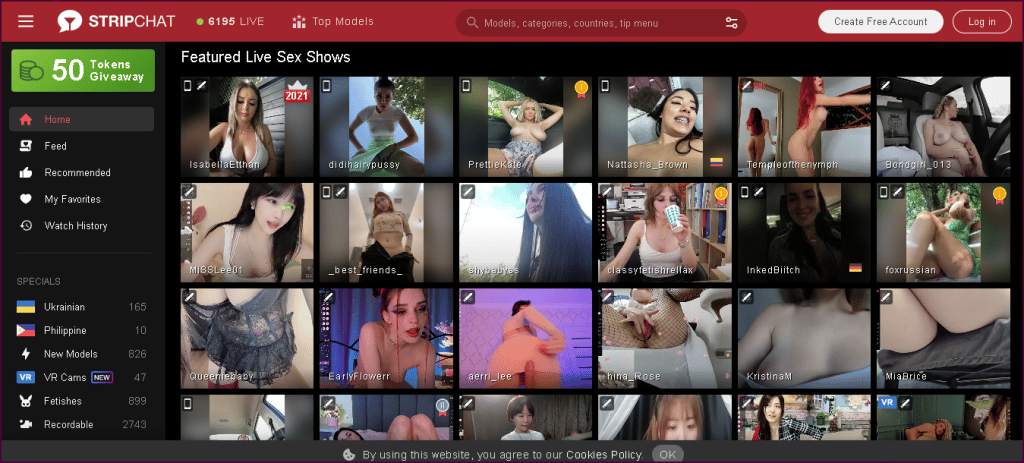 Stripchat, which has been around for five years, has successfully grown into the top 10 best adult platforms and continues to give superb quality and services, making everyone love the site a little more. One great feature that Stripchat offers is that users are not only limited to communicating with models but can also chat with other users. Also, there are plenty of models registered on this website, most of whom are professional porn stars. With its pornographic nature, Stripchat is already a reputable and credible cam site; wherever you are, everyone can enjoy sexual pleasure at their own pace.
Here's the full review of StripChat.
PROS:
A long list of beautiful models on the site
Simple, cool, and attractive website design
Users are allowed to forward private messages
The website is easily accessible and user friendly
A wide selection of live sessions and videos
Extensive FAQ page
FREE view and chat functionality for guests
CONS:
Unregistered members get constantly reminded via pop-up messages to sign up (which gets annoying)
English is the only available language feature
Private message chats are exclusive for paid memberships only
---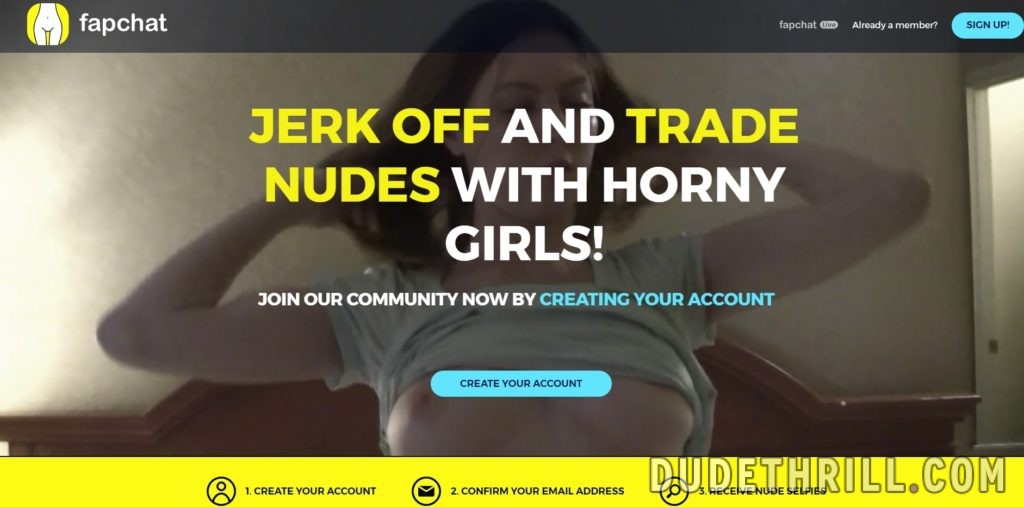 Fap Chat is a platform that helps men like you find attractive single women to take nude selfie photos with and strike up a conversation with. There are thousands of stunning young ladies to choose from, so you're likely to find at least a few that you want.
Click here for a full review of Fapchat.
PROS:
The website has a simple design and is very easy to use
You can watch real live women performing on cam
Maintains anonymous identity
No bots and fake profiles
CONS:
It has no live chat support service or phone service
You cannot record cam shows
---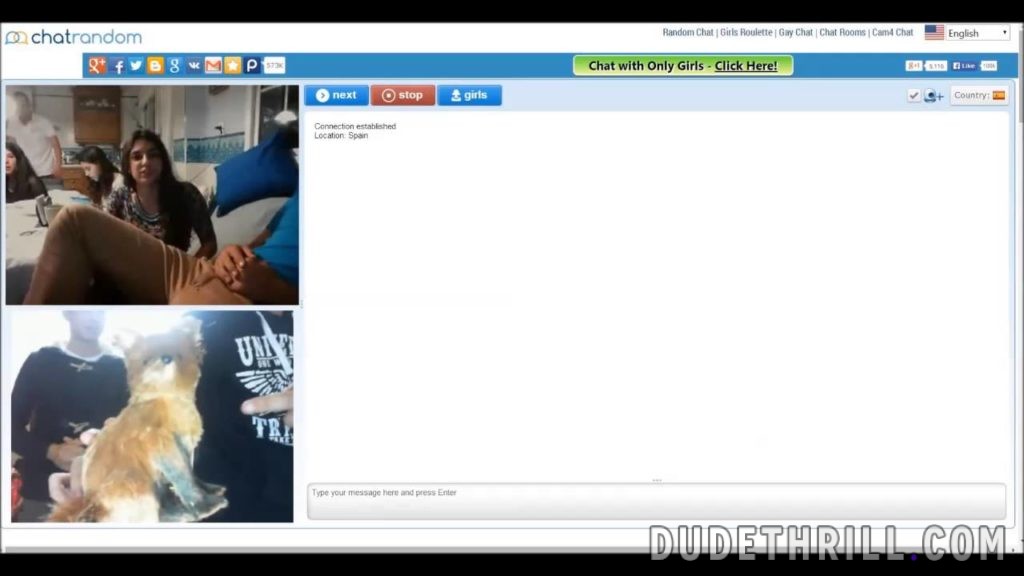 Chatrandom is a free live chat site that allows users to easily connect with people and strangers worldwide. The site started its outstanding service around 2011, and since then, it has become one of the most popular sites today. Indeed, this is the most exciting live chat you can experience. Because the system uses a roulette-type matching and lets you chat with thousands of people every day
PROS:
Registration is free
Users can chat with members from other parts of the world
People can join live chat without registration
There are thousands of active users every day
App version is available for download
Hiding identity is public through "mask."
Free sending messages
CONS:
No profile photo is available
Only Android users can download it
More number males than females registered
---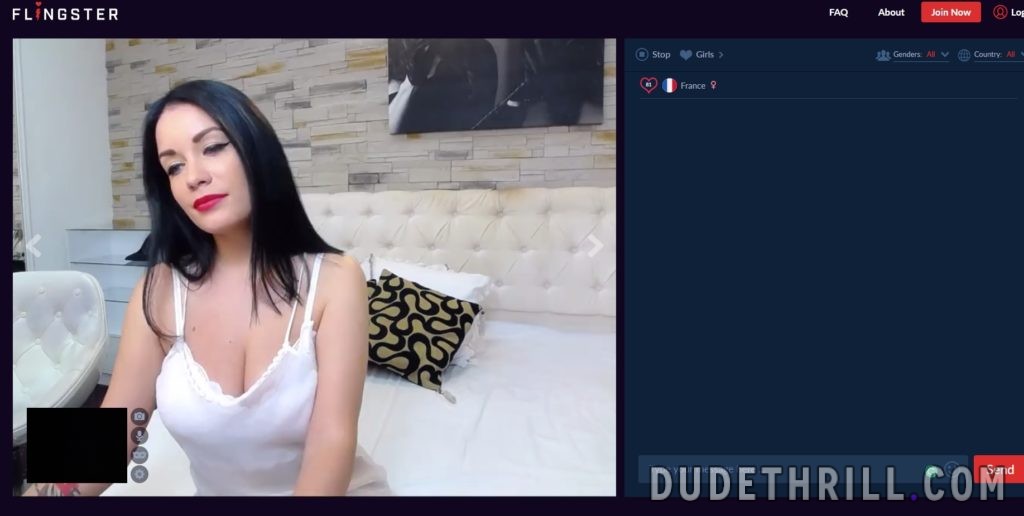 Flingster is an adult sex chat website for meeting, hanging, and making out with singles. On this website, the application process is indeed speedy and convenient. So, it won't be wasting much of your energy at all. Compared to several other sex chat websites, even free accounts can use messages and video chats without paying.
On the other hand, paid subscribers have additional features that are indeed unique. Meanwhile, Flingster similarly provides discreet identification while chatting before you consent to a spontaneous, quick fling.
Click to see the full review of Flingster.
PROS:
Unspecified character is a choice
Everybody is excellent regardless of sexual orientation or gender
The sign-up procedure is available and relatively simple
The site's design is simple; however, understandable to navigate
CONS:
There are occasional phony profiles reported
---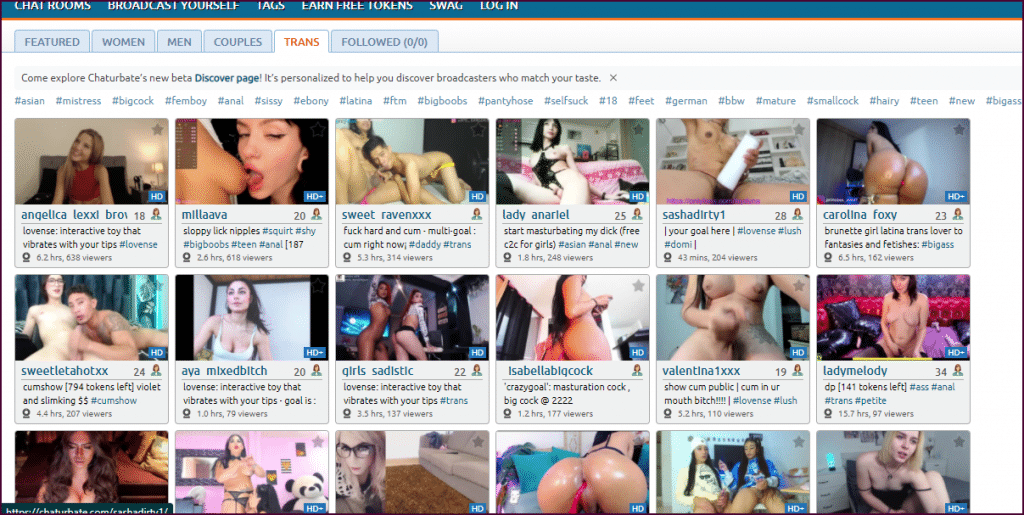 Connecting to people worldwide has never been so easy. Thanks to Chaturbate, unlimited talking is now possible. Plus, you will never spend a dime on it. There are a lot of sexy and beautiful women available for you, 24/7. As a matter of fact, women on this website love kinky stuff, which is always worth your time and attention. Meanwhile, live shows are also available for viewing at a reasonable price.
Check out the full review of Chaturbate.
PROS:
Many cam girls available 24/7 live
No additional fees to expect
Nudes and sex are always a guarantee
Smooth browsing on smartphones and other devices
CONS:
Few videos are in SD format
Expensive private shows
---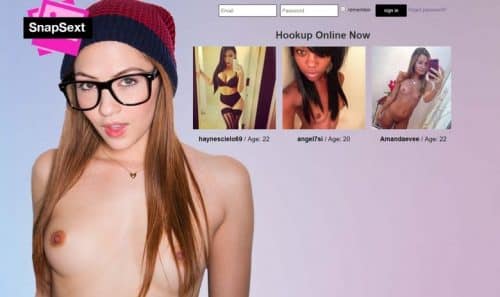 Snapsext is a free sex chat website for people who aren't afraid to take risks. The platform focuses on visual content such as video chats, images, live streams images, videos, and more. You can casually flirt or go straight to hookup and sex, or anything in between. The audience response to SnapSext has been fantastic because it is attracting a growing audience every day. Many people believe that the website encourages them to express their sexuality entirely and behave however they want, without worrying about repercussions.
Take a look at the full review of Snapsext.
PROS:
Most of the basic features are free
Large user database
Real, hot verified girls & guys
Online for 10 years+
Flexible premium pricing
CONS:
Some screening questions when signing up
---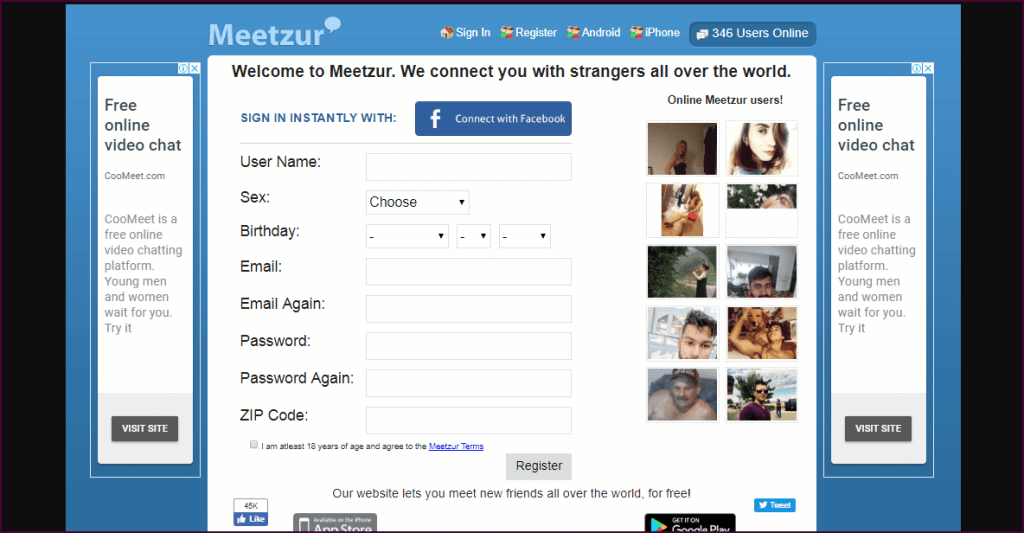 In 2009, the iMeetzu website launched, becoming the first to mix spontaneous online chatting with a social networking component. It also developed its unique social-media-like system that lets you sign up and add users as "friends." Certainly, you'll embark on a thrilling journey into the hearts and minds of like-minded individuals who prowl for new acquaintances and potential partners in virtual romance. It won't cost you a dime to download and play around with its app and discover services that best suit your needs.
PROS:
Numerous chat options
Free to use
No need to register
Active members
Welcoming community
CONS:
The web page looks basic
Beware of scammers
---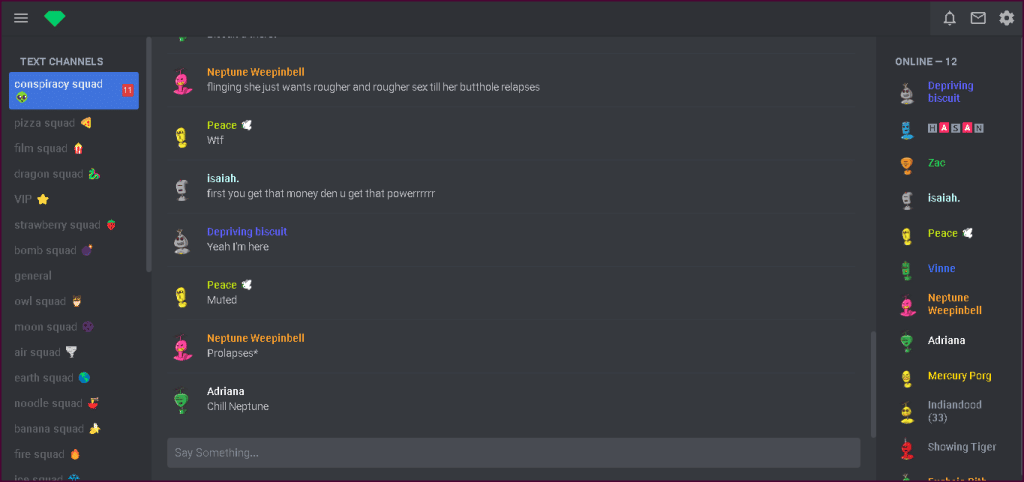 Emerald Chat is a brand new addition to the adult entertainment industry, and to my surprise, it has been getting a lot of attention from chat fans. The site aims to provide people with a reliable matching system based on users' preferences and interests. Its algorithm's pretty convenient and easy to use; you can talk to people without hassle. Everything here is free, and no hidden charges when browsing. Also, it has no bots or spam messages, unlike Omegle; thus, your safety is 100% guaranteed. Finally you can enjoy an endless flow of authentic users.
Read the Emerald Chat full review.
PROS:
Lots of users from numerous parts of the world
Verified users
Free registration
Free to use
Premium membership provides more benefits
Reliable matching algorithm
It has a gender filter and karma level rate
Intuitive design and features
Can use without registration
Safe and discreet
CONS:
Some features available to premium members
---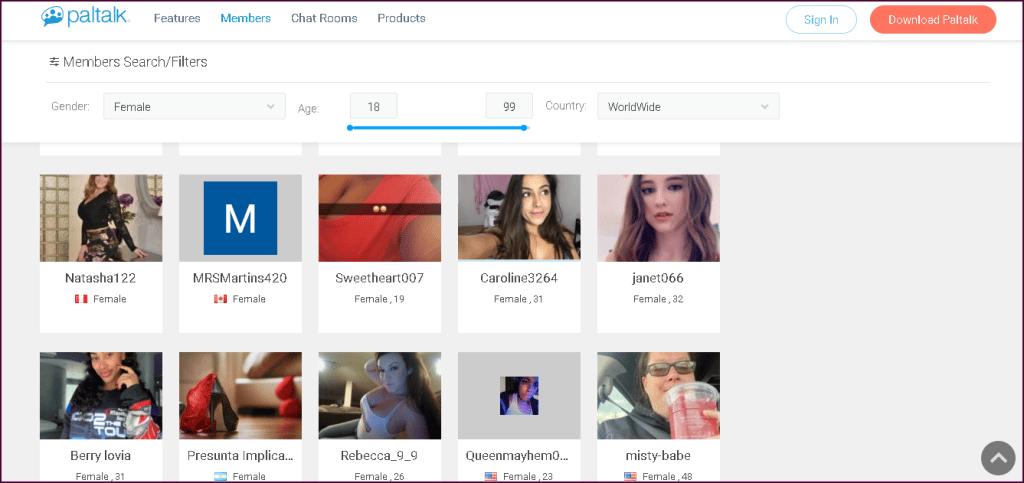 PalTalk has been around for quite some time and is well-known for its user-friendly design and extensive set of tools for encouraging interaction. It calls itself "the biggest and most popular talk chat app," is a robust online community in which millions of users share and see live video feeds. And since you'll make many new acquaintances on the site, successfully dating shouldn't be difficult. If you're looking to make some newfound virtual buddies, you may join up for a membership.
Check out the full review of Paltalk.
PROS:
Reliable chat features and options
Thousand free chats
Open for private and exclusive chats
Strong and reliable texting system
Can communicate without cams
Offers profiles customization
Unlimited viewing of live stream videos
CONS:
Several chats are not appropriate for underage users
---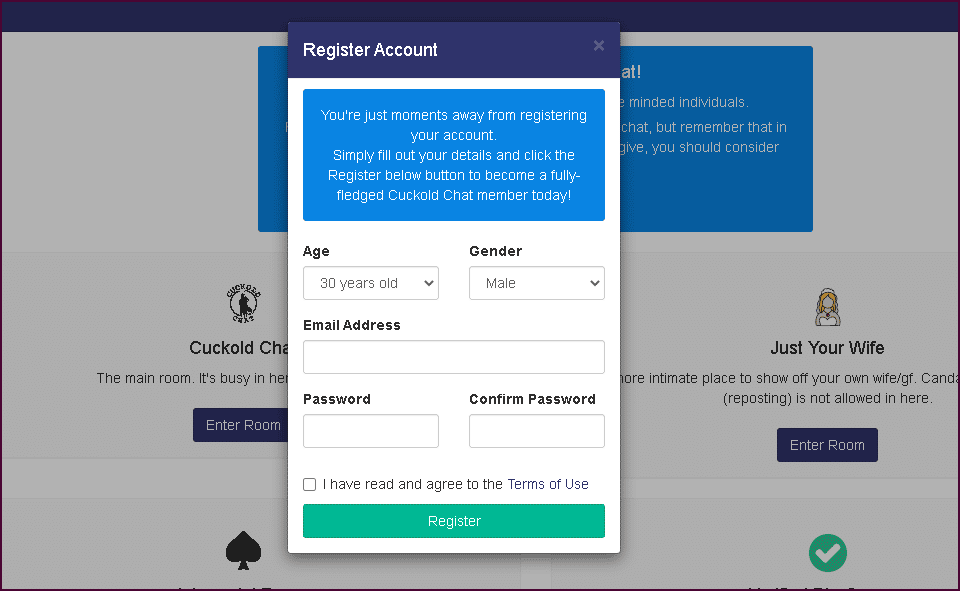 CuckoldChat is very open and welcoming to all people willing or curious to try the cuckold lifestyle. I'm pretty sure that this site will give you much more options and opportunities to explore what's more about cuckolding. This page has primary chat rooms and hundreds of people exchange pics, videos, and messages daily. Certainly, CuckoldChat established a fantastic community and a dream destination for all cuckold lovers.
Click to see the full CuckoldChat review.
PROS:
Active members
Free sign up
Lots of chat rooms available
All cuckolding stuff
Amateur and authentic content
CONS:
Chats can be crowded sometimes
---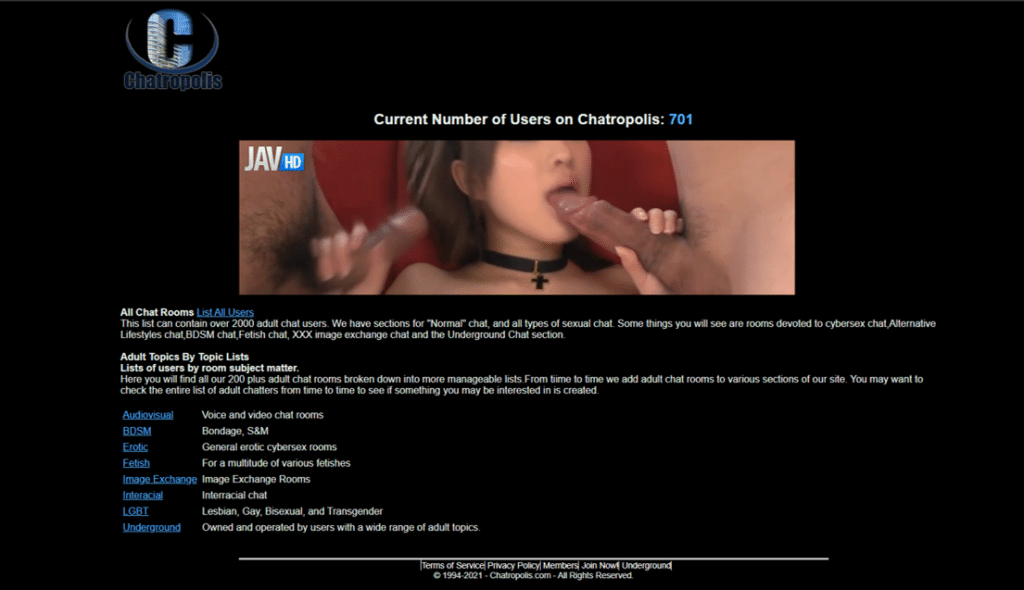 Chatropolis is a chat site is an excellent location for those who love engaging with actual people from all over the world in smaller, more intimate communities. There are also a variety of rooms accessible here that address a wide range of themes considering that they have a total of 49 chatrooms.
There are adult chat areas on the Chatropolis page, and it contains features that will delight website designers and programmers in particular. You may also decide to personalize your screens and your whole account by creating your unique image using photos available on the Web. In addition, the site allows you to create a username and design your profile.
Learn more about Chatropolis with this full review.
PROS:
Active since 1994
Wide ranges of themes and topics
Options to chat for free
Total of 49 chatrooms
Adult and intimate community
CONS:
Outdated design
Maximum of 30 persons per chatroom
No porn images and videos
Annoying advertisements
---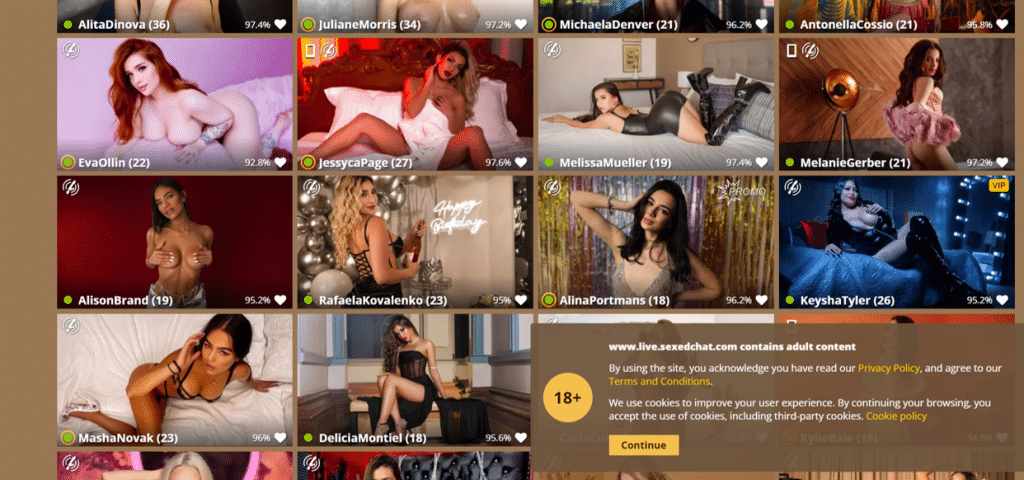 SexedChat is a great live sex chat website with thousands of models performing live shows for your pleasure. You can certainly choose any type of model available from its wide collection. You can either pick a brunette, Latin, Asian or simply a specific fetish for instance. Also, you can gain credits from simply enjoying an adult webcam watch.
Check out the full review of SexedChat.
PROS:
Advanced filter feature
Pleasant design
Plenty of cam girls to choose from
CONS:
Limited interesting features
---
Final Words
Well, dudes, that's the lowdown on SexterAI! It might not be indistinguishable from an actual human just yet, but it's getting there, and hey, it's already giving people something to uh, enjoy. We're talking about peak times of AI-driven pleasure, and SexterAI is just a baby in this big, wild world.
But here's the deal – if you're even remotely curious about the future of AI-enhanced adult content, why not dip your toes into the pool? Give the trial a spin and experience when you let this digital companion in on a few of your naughtiest secrets. Who knows, it might just surprise you! So there you have it, the brave new world of AI-driven adult content evolving right before our eyes. Keep your eyes peeled because things will get even more exciting from here!
All 43 Other Sites in This Category Worth Checking Out:
Talk To Me & 12 Must Visit Sex Chat Sites Like TalkToMe.com Show Me 12 Alternatives for TalkToMe.com Talk To Me! Yes! Are you bored or wishing to get some friends or strangers for a quality conversation? Sounds fun, isn't it? I am extra naughty today, so I swam across my compilation of sex chat sites […]