Updated on: December 5th, 2023
Greatest 10 Adult Chat Sites (Like Dirty Roulette, Omegle and More)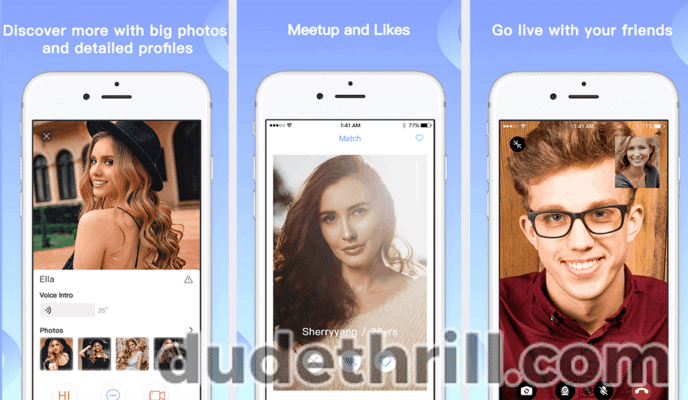 You sure have been to a casino at least once in your life. Thus, you're probably familiar with what roulette is. In this game, players bet on specific numbers on a wheel and a croupier will spin it so the ball can move to certain directions. When the ball ends up on the number you have bet on, then you win!
This is how adult chat roulettes work too. But instead of a wheel, a computing system will randomly connect you to other adults out there with whom you can enjoy sex chats. Sometimes, you may have to endure hours of waiting just to be able to chat with some random individuals.
But what really frustrates me when using these dirty roulette chat sites are those they call the "dick beaters!" You know, those men standing in front of the camera with their penises in full attention? They remind me of soldiers on salute. In as much as I hate looking at these, you can't help but see. Well, you would not know what's waiting for you as you wait for a random stranger to chat with.
I'd immediately click the next button fast just to avoid them. But you know what some of these dickheads do? They end up reporting me and claim I'm the one who is holding my dick and jacking off! And to make matters worse, the website believes them and ends up banning me! It's absolutely crazy, right?
When you're banned, you won't get access to the site for around 30 minutes or so, which is just frustrating, especially since you don't even do anything! Here's what I want to tell those crazy men flaunting their penises on cam – women are not at all interested in seeing any of that shit! Well, perhaps there are a few women who might love seeing these things but definitely not the majority.
Most of the time, women go on dating roulettes to look for someone they can have an interesting conversation with. They don't want to see a man showing his penis on cam right before you get to say hi! It is for this very reason why a lot of women now avoid going to these chat roulette sites.
Although, some do and men take their chances. So I did a list of websites that have at least some opportunity to meet a real girl.
Some History of Chat Sites (for nerds)
But first, if you're a bit nerdy let's take a closer look at the history of chat portals to understand how these chat roulettes have evolved. Chat portals started in the 80s. At that time, CB Radio and Usenet were used. It is only around the 90s when the classic online portals came to the picture. But the chat portals at that time were completely different to what we have today.
In the early age of digital technology, a lot of users would use these chat rooms in order to pretend to be someone they were actually not (you can actually find similar things happening nowadays, especially in some adult chat sites). They just love the thrill of meeting someone in cyberspace who has no idea who they really are. Of course, that's still the case today. But most of the time, people these days go to chat rooms hoping to meet and eventually date a person for real (for example Tinder…). However, there are also those that just need a cyber friend that they can talk to.
The chat portals in the 90s were actually the basis of today's social media sites. Whether it's the IRC, MSN, or AOL chats, these sites have given people an idea on how to use the cyberspace to look for potential friends and perhaps, a partner in life.
And as the chat sites have continued to evolve, the chat abbreviations have also changed completely. If you have tried using chat sites in the early age of the digital world, then you must be familiar with these words:
Be right back = BRB
See you later = CUL8r
Perhaps, a few are still being used today, such as ROFL, LOL, FML, ASAP, etc. But it's rare to chat with someone today who is still using the abbreviations above.
As you see, the history of chat sites started pretty early. But what we have now is totally different from what they used to be. It's clear that chat sites have greatly evolved and will perhaps continue to evolve in the coming years.
Nowadays, chat sites are available in three different categories – IRC, instant messaging, and webchat. IRC means Internet Relay Chat and it works using its own software and server. For these chat portals to work, Java is required.
This is a great choice for starters and there's no longer a need for additional software to get it installed. Instant messaging is perhaps the most popular mode of chatting these days. Well known examples are Facebook Messenger and WhatsApp of course.
Ok ok, enough of that, we're not here to just listen to some history… Let's dive in into the adult and thrill world.
Best Adult Chat Sites for 2022:
Despite the many options available for chatting in the Internet these days, I'd still prefer adult roulette chat sites. Well, who does not want to chat with likeminded individuals who want to indulge in a bit of adult fun with you?
So, I did try a few adult chat sites out there and here are my top recommendations: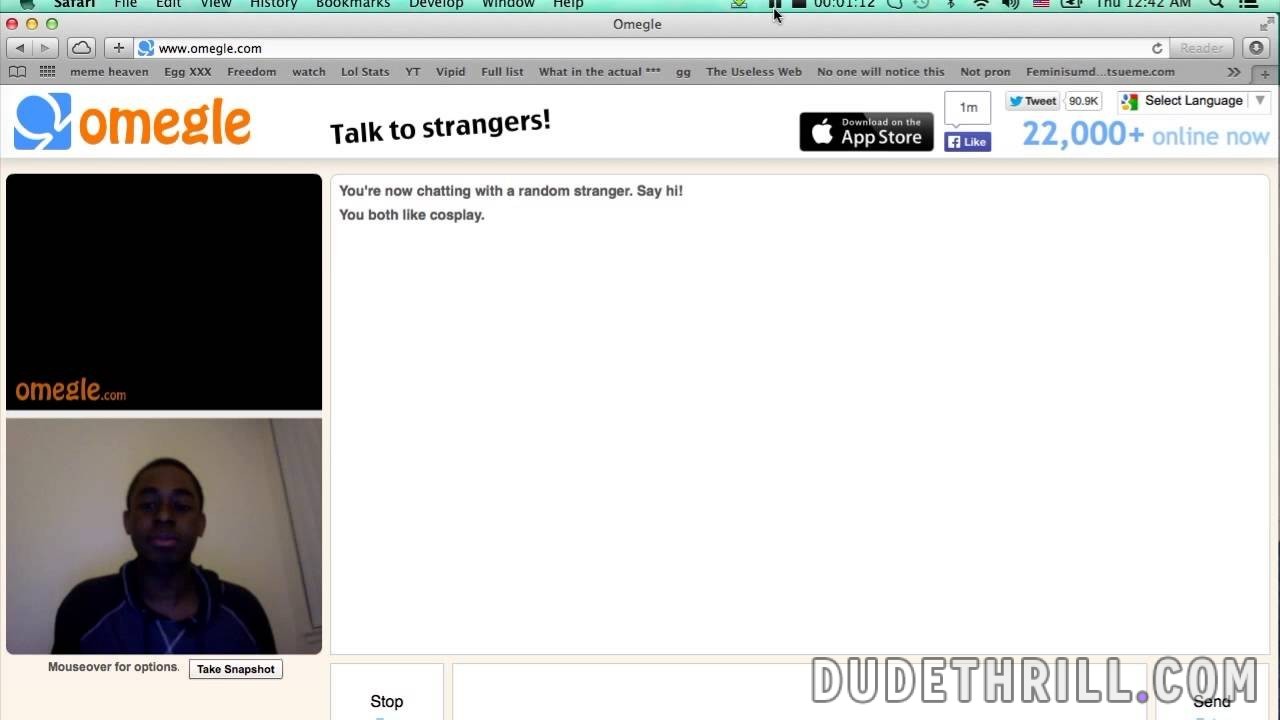 Omegle is a popular adult chat site and I can no longer count the number of times I've used it. But to be honest, I'm not really sure if the person I'm talking to is real. I bet some of the responses of my chats are randomized messages.
Yet, I did have a great time with Omegle. What I really like about Omegle is that it allows you to immediately enjoy an adult chat roulette experience without having to sign up. You also don't need to pay for any membership just to be able to use the site.
You simply have to go to the site, click the next button and it will immediately request access to your cam and mic so you can get on to the game! In Omegle, you will have two options for communicating – Chat or Video. With chat, you get to communicate with the other person through text only. They won't see you or hear you. If you want to be able to talk to the person and see them, then choose the video option.
Although I did find Omegle a nice venue to interact and enjoy a bit of adult play, it's also a place where you'll find tons of men wanking their penis in front of you, whether you like it or not.
Here's a full review of Omegle and its alternatives.
Pros
No need to sign up or identify yourself
A user-friendly site with easy-to-use controls
Women are valued but they are a rarity
Cons
Despite being an adult site, there are lots of young users
The person on the other end can record you without your knowledge
Tons of men showing their penises
Users disconnect very easily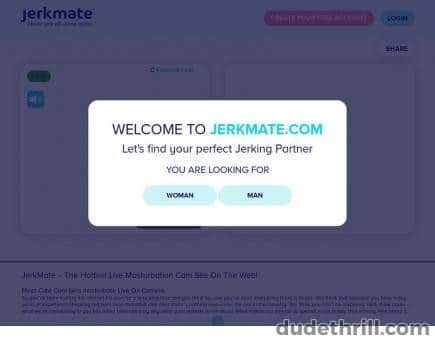 If you want a site that will allow you to jerk off as much as you want to, then I'd suggest going to Jerkmate. In fact, their motto says it all.
But Jerkmate is not your average chat roulette site. It's somewhat similar to Chaturbate or MyFreeCams. These sites are filled with women trying to make a living out of showing themselves on cam. Sure, you'll be treated to a lot of ass and boobs, but this also comes with a fee.
You are also free to show off your danger, but you'll have to pay for that as well, which is pretty strange – paying people just so you can flaunt your package!
But the good thing about this site is that they will let you choose the gender of the people you want to interact with!
Here's a full Jerkmate review.
Pros
Real cameras
You are free to show your dick
Cons
You have to pay to see others nude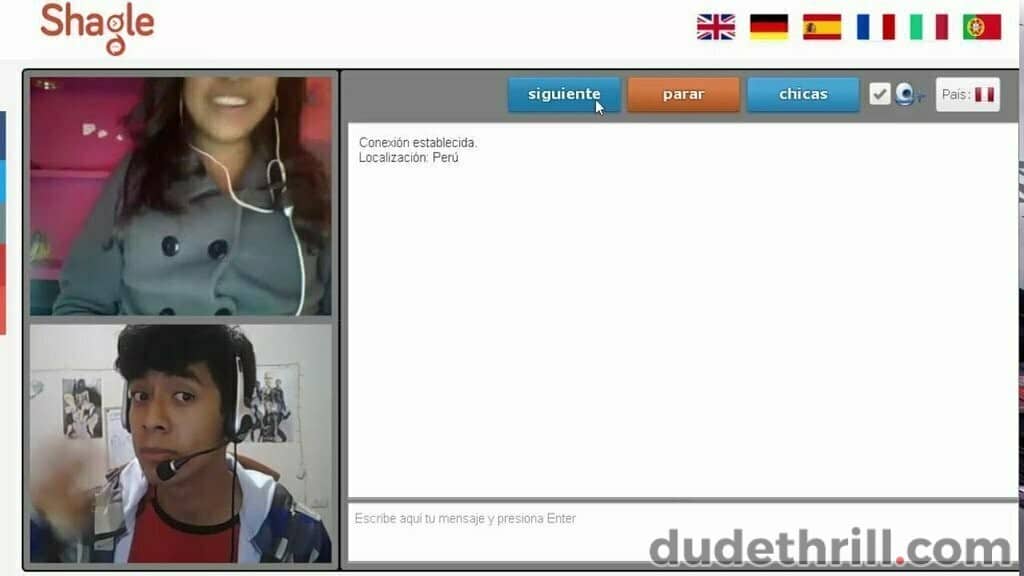 Shagle sounds like a funny name but this is one of those sites that I didn't know what to expect. They claim to have millions of users monthly and thousands of visits every single day. Well, I don't really think that it really has that much users, but who knows…
My experience was.. interesting. On my first use, I encountered four guys on camera happily displaying their jerking action and eventually a girl appeared out of the blue! But what's strange is that the video quality of the girl is very clear and it seems like it was taken out of a porn movie. Obviously, what they are showing there are some cam streams to lure new users!
Plus, when I tried chatting with those girls on cam, they never responded back. That just confirms my observation that what they are showing is pre-recorded.
But they do have a button that says "Chat with Girls" only. However, this would require you to upgrade your account to a verified member and that will cost you $20 per month. I declined because I'm not really sure if I'll be getting exactly what I paid for.
But don't take 100% my word for it – maybe i just had a random experience. I urge you to try it yourself.
I guess if you get a subscription – they'll do a good job filtering out random dudes and hook you up with some real girls.
I've also found a few good things about the site. First, each camera displays the flag of the country from where the person is from so you'll know the nationality of the person you are chatting with. Another good thing about the site is that they don't allow users to exhibit violence, drug use or animal cruelty.
But what's really funny is the fact that they suspended my account for claims of nudity when I never did it. What I did was place my hand into the camera to try to shoo away those dick beaters. Unfortunately, the camera took a screenshot of my hand's palm and perhaps their system though it's some sort of foreskin. It's totally not cool!
But another good thing about this site is that they filter the gender of the users. Therefore, you will have the option to chat only with women or men!
Check out our full review of Shagle.
Pros
User layout looks professional
Option to filter users by the male, female, couple, etc.
Cons
Tons of dick beaters
Camera's dick detector will ban anything
They use fake cam screams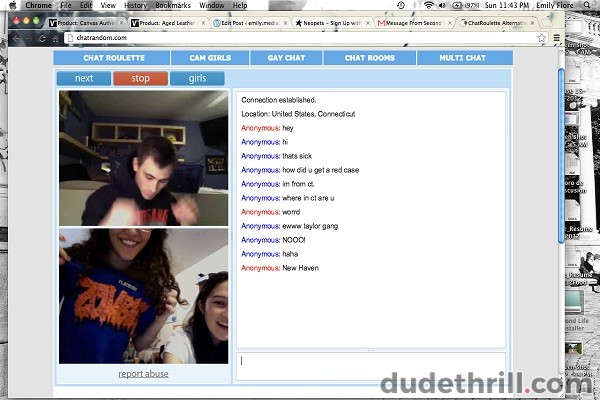 ChatRandom is a classic example of a cam-to-cam roulette chat site. They seem to have copied everything from Shagle. They followed the same format and pretty much everything else! The only difference is the color.
According to ChatRandom, they now have 3 million users on their site. But I am really doubtful about this statement. When I used the site, I only encountered a few dick beaters and a couple of professional cam girls. So 3M users is maybe an overstatement, but.. they're definitely growing, so you should check them out.
You can check our full, in-depth review of Chatrandom here.
Pros
Good rating on the Google Play Store
Fast performance
Cons
Fake sex roulette cam models
The mobile browser version freezes a lot
Too many men users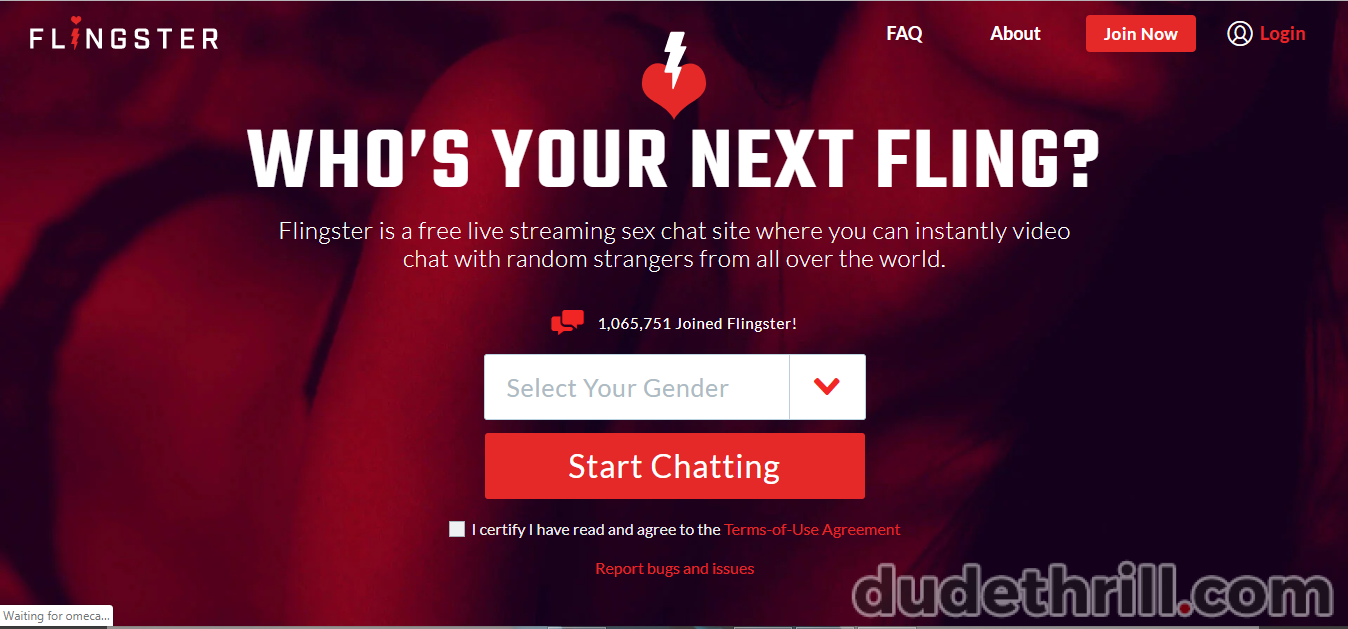 Flingster is somewhat similar to Dirty Roulette. As a matter of fact, I feel like they are one and the same. I was hesitant to include this site on this list, but I believe everyone should know a thing or two about it.
One of the first things I noticed is that this site caters to the random strangers around the globe. You'll literally see tons of penises over there as well, inevitably. Most of the guys seemed like they have gobbled hundreds of Bologna sandwiches as seen on their protruding bellies. Because of this, I only spent less than 5 minutes on this site. Plus, the fake cam popping up all over the place was a bit annoying!
But you'll also find some girls there as well. Perhaps another thing I appreciate about this site is that they will put a mask on your face so none of the people you get to interact with can recognize you.
Pros
No fake cam girl shows
Easy to use and free
I love the overall design
Cons
You'll drown in a sea of penises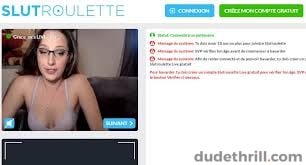 Slut Roulette might sound like a cool name, but the experience was somewhat familiar. The moment I opened the site, several 'naughty' girls on cam immediately welcomed me.
It's clear that these girls are not 'real' because they are shown in high-resolution videos that seem like it's a clip from a movie. They have also displayed the names of these girls and when I searched some of them in Google, I found out they are also streaming on other sites, which proves that my theory is right.
These girls are trying to make some $$. For instance, a model named Pinklipz is on Livecams.com and appeared on SlutRoulette as well. This means she's performing for both sites at once. Which is not necessarily a bad thing…
You will need to sign up for a free account to be able to use the site. They also give you the option to upgrade to premium membership.
So if you're comfortable to chatting with paid models – i guess you should try it out. They look really good though…
In-depth review of SlutRoulette.
Pros
Gives you a couple of alternatives to sign in.
Gorgeous girls
Cons
Hired roulette video chat cams
Cam goes black when used on a mobile browser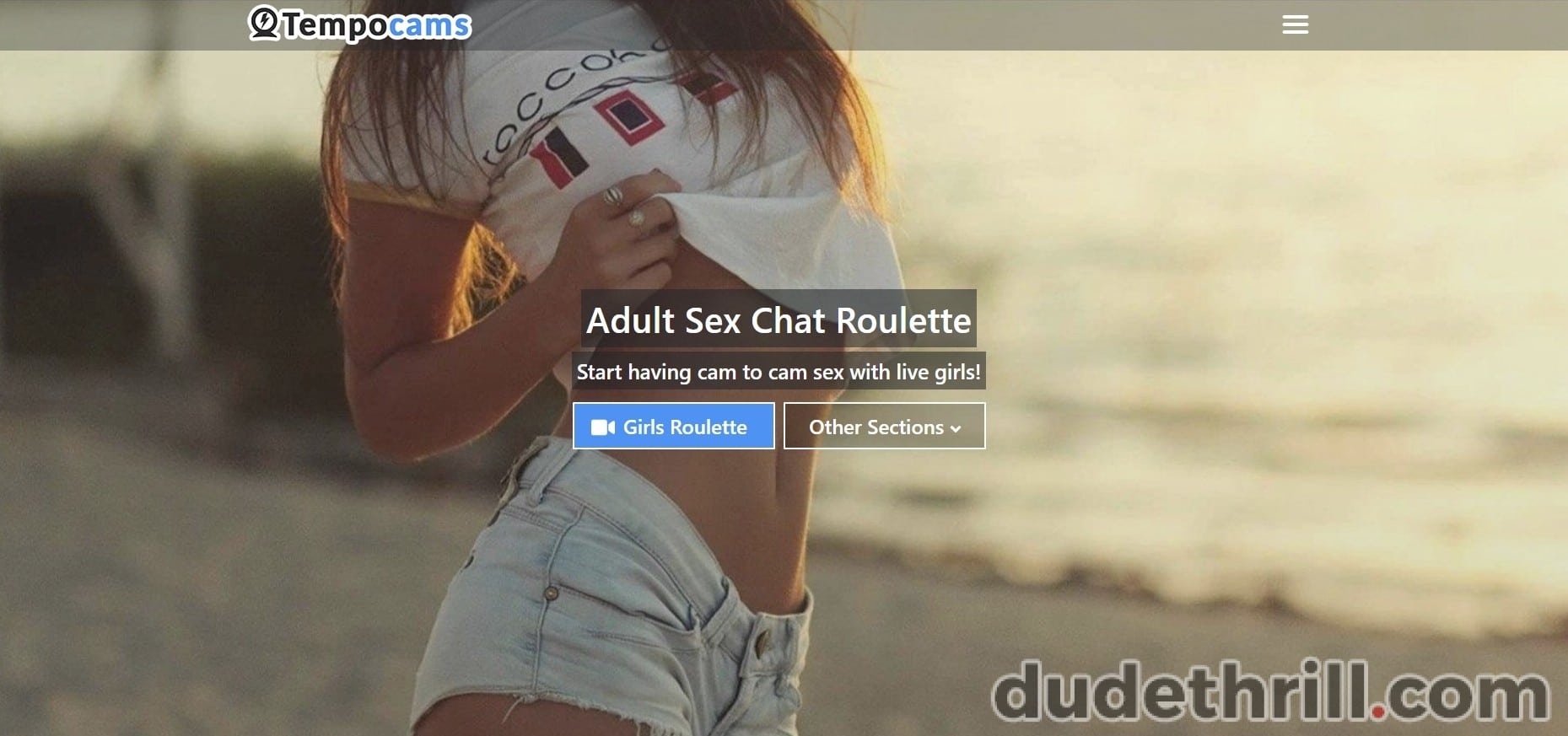 If you're looking for a good alternative to Omegle, the Tempo Cams is what I would suggest. At least, this site doesn't have all those penises and naked girls that are flooding Omegle. I also love the website's interface. When you reach the home page, you'll come across a dropdown box that will ask you to choose the type of roulette experience that you want – gay, shemale, girls, hentai, etc.
With Tempo Cams, you'll find sexy women doing seductive stunts in every cam.
So, this might work best to those who would not mind jacking off to fake cams streaming horny women. But then you cannot expect these women to interact with you, at least verbally.
I really have no desire to sign up for this site and take advantage of the free account to give at a test. I feel like there are several other adult chat sites that deserve my precious time.
Pros
Women are very seductive even if they are fake
Cons
You need to sign up and pay to chat with women who are not the ones on cam
Verifies age before chatting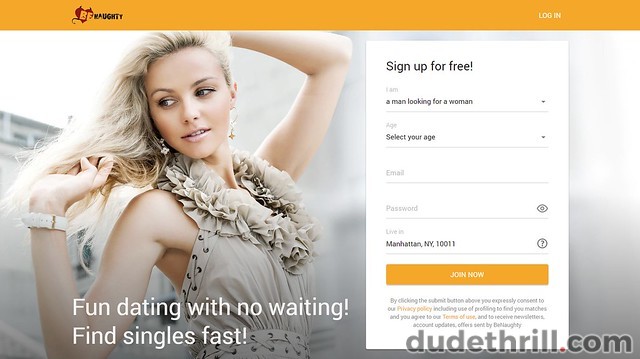 BeNaughty is one of those sites that came up on the search results when I searched for the best adult chat sites online.
It works like a naughty site for hookups and there are thousands of registered members. I tried browsing some of the profiles and one of the things that immediately caught my attention was the various X-rated content that includes revealing photos on users' profile.
The profile of the members of the site has a chat icon that you need to click if you want to initiate a conversation with such a member. Also, they allow members to send private messages to each other for free. There's an option to use the mass-messaging feature for those who want to engage with several members at once.
Here's an extended review of BeNaughty.
Pros
120,000 users active weekly
There are always women online
No fake profiles in the site
You can share photos and videos in chat
Cons
There are no options to log into the site as a couple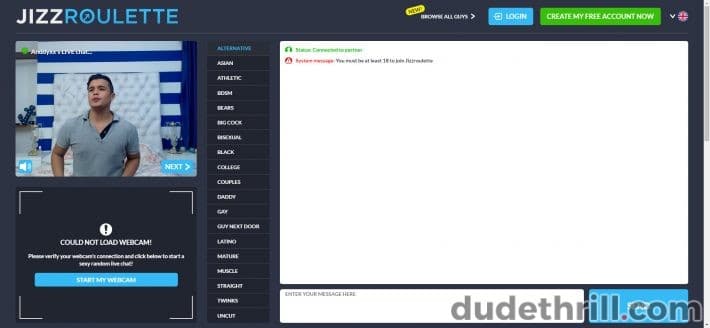 Jizz Roulette is another adult chat site that got my attention. However, I was a bit skeptical because when I searched in Google the name of one of the guys that were featured on the site, it took me to a website known as CamUltimate.
From what I discovered, I can say that this website might be using some fake cams or perhaps they are broadcasting on two sites. Regardless of the method they are using, this website is clearly for gay audience. So if you're looking for some gay cams or etc. – i guess that's one of the best places.
Pros
You'll be entertained looking at male models jacking off
You can only see them performing but they won't see you if you don't like
Cons
Forced credit card subscription
There are plenty of popups constantly asking you if you're at least 18 years old
You will be asked to sign up for an account to chat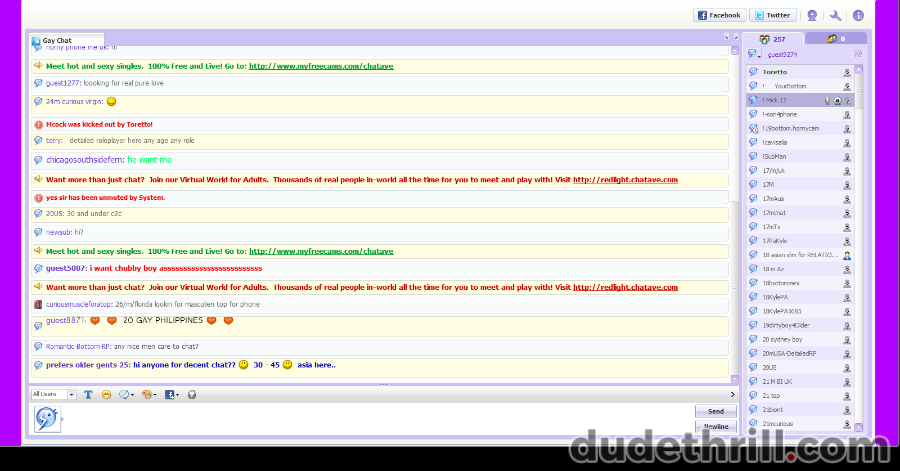 Chat Avenue is not only an adult chat site. It caters to different groups of users, including kids and students. If you want some adult fun, then you should go to the chat room for adult members. In the adult chat room, there's also a room for singles, gays, and those who are looking for potential dates. It is free to join in any of these chat rooms.
Chat Avenue is a fun way to interact with other people and develop your social skills. It's also a great venue to attract potential dates that can become your partner. If you come across a profile that you admire, simply send a message in private and it's up to you on how to heat things up!
The moderators of the site are doing their best to keep the website clean and free from dick beaters. If you're a member, you can help by reporting anyone who is not abiding by the website's rules.
Pros
Very active chatrooms
There are a lot of chatrooms available for every topic
Each chat room is customized according to the room topic
There are chat room moderators
Video chat is available in some rooms
Cons
There is no way to tell if someone is posing a fake identity
The site itself is a bit spammy
Conclusion
Of all the adult chat sites I have listed above, which among them do you think is the best? While I really would want to recommend an adult chat site to those who want to have a bit of fun with other like-minded individuals over the Internet, I just can't point out specific one. I guess you should try a few of yourself and see if it meets your needs.
And I don't intend to burst your bubble, but some of sites are seriously full of fake people that are trying to take advantage of gullible users. Most of them are filled with professional masturbators and fake models that are trying to lure people in.
If you know of any adult chat site that you think is worth your time and money, then feel free to leave us a comment! I might add it to this list.
All 42 Other Sites in This Category Worth Checking Out:
TryNectar & 12 Best Sex Chat Sites Like TryNectar.ai Show Me 12 Alternatives for TryNectar.ai A day in the wild world of TryNectar, I found myself knee-deep in some next-level roleplaying with bots. Now, I won't lie; I'm starting to question if I'll ever waltz back into typical dating – yeah, call it an exaggeration, but […]